Looking for the best things to do in downtown Los Angeles? We've got you covered. Art? Check. Museums? Check. Restaurants? Check.
It's all here.
So what are you waiting for, start creating your itinerary for your trip to Los Angeles! Take the Chelsea neighborhood in Manhattan, bring it out to California, and you've got downtown Los Angeles. It's got incredible art museums, restaurants, and other interesting landmarks that are some of the must-see sites and best things to do in Los Angeles.
And what makes Downtown Los Angeles even more interesting is that it's made up of smaller areas, such as the Arts District, Chinatown, and Little Tokyo. This guide covers a list of things to do in downtown Los Angeles for first-time visitors including activities in all three of these areas.
What to do in Downtown Los Angeles
Broad Museum
221 S Grand Avenue
Combine art and architecture, and you've got the Broad Museum. This is one thing to do in the arts district that you will want to make sure you don't miss.
The building itself is a futuristic, textural design that is modern and photogenic. Once inside, you'll be greeted with a vast collection of contemporary art from renowned artists, including Jeff Koons, Takashi Murakami, and Andy Warhol.
There are over 2,000 works in the Museum, featuring more than 200 artists. If you have an interest in art, this is a must-see destination in downtown Los Angeles and one of the best museums in LA.
Walt Disney Concert Hall
111 S Grand Avenue
Right across from the Broad Museum is another architectural sight to behold, the Walt Disney Concert Hall, designed by Frank Gehry. The silver, winding ribbons that comprise the building is where the Los Angeles Philharmonic calls home.
In the auditorium, you can catch performances from classic, contemporary, and jazz musical acts. The interiors are as stunning as the exteriors, and it's considered the most acoustically perfect hall in the world.
You can also do a tour of the building and see exhibits about its history. This is one thing to do in downtown Los Angeles that you should add to your itinerary if you enjoy music or architecture.
Take advantage of complimentary tours given between 10 AM and 3 PM every day. At the front desk, you can take a guided or self-guided tour of everything but the auditoriums. For self-guided tours, use your phone or complementary devices to listen to all kinds of details about the architecture and LA Philharmonic.
Los Angeles City Hall Observatory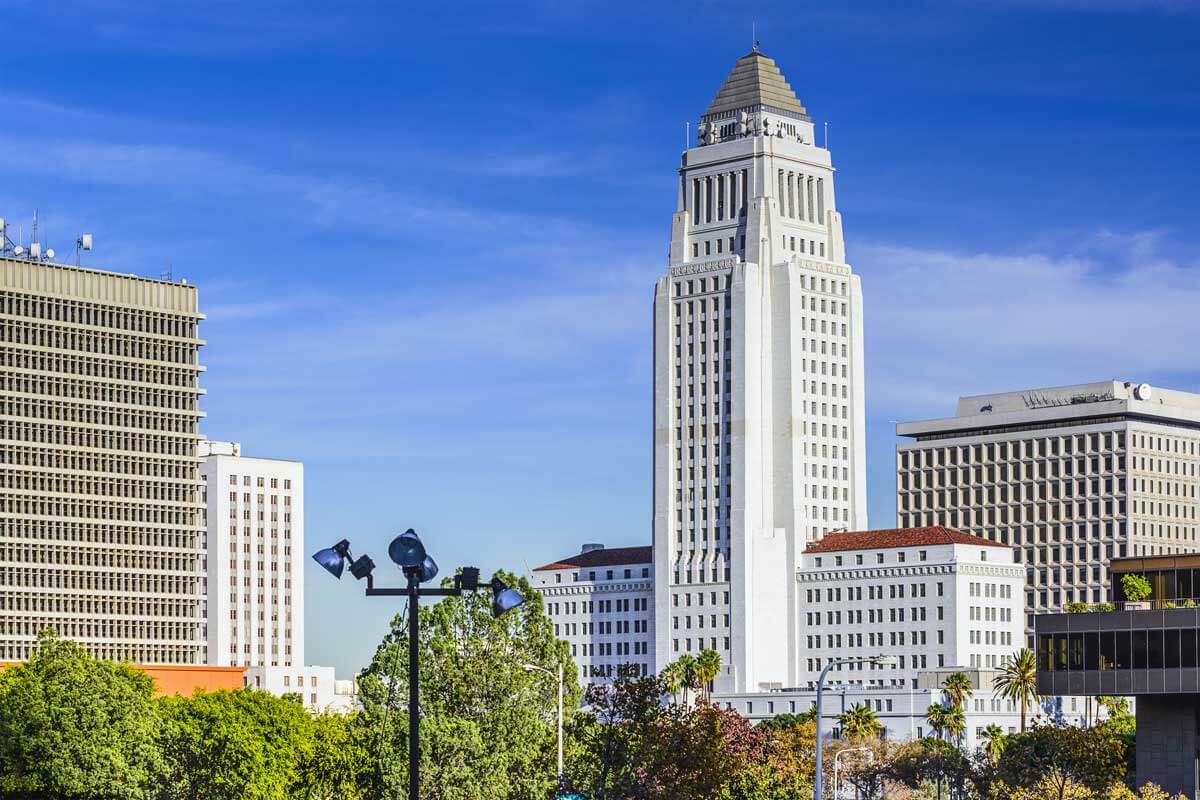 201 N Main Street
Sitting atop Los Angeles City Hall is the Observation Deck and one of our favorite viewpoints in Los Angeles. Here, you can get panoramic views of the city, so get the camera ready. There's something special about taking a step back and seeing a full view of the city, which makes this worth a stop if you can make it during their open hours.
From the 27th floor, you can see other popular things to do in downtown Los Angeles like the Walt Disney Concert Hall from above as well as other notable landmarks like the Hollywood Sign and Griffith Observatory.
It's free admission and open during typical business hours on weekdays only. While you're here, you can also check out Grand Park, which has picnic tables, a playground, and a splash pad.
Things to know: The visitors' address is 201 N. Main Street. The observation deck is free to visit but you must check-in and acquire a visitor's badge, bring a valid ID. Parking is under City Hall East at 200 N. Main Street and visitors have to pay. Only open from 8 am to 5 pm on weekdays.
MOCA
250 S Grand Avenue
The Museum of Contemporary Art, otherwise known as MOCA, is the only artist-founded museum in the city located on Grand Avenue in downtown Los Angeles. The museum prides itself on hosting exhibitions that are innovative and first-of-their-kind.
Here, you can explore the almost 7,000 objects on display, ensuring you'll have plenty to gaze at if you're into iconic contemporary art and artists.
Inside you'll find famous modern art pieces from 1940 (when the style started) and beyond. Walkthrough installations and check out photography, paintings, and other media.
There's also a gift shop and dining hall. Find metered parking lots and cheap garages off Grand Avenue, and bus stops outside the MOCA. There's a fee for admission with a discount for students. Kids under 12 enter for free.
Keep in mind that the museum is closed on Tuesdays.
Angels Flight Railway
350 S Grand Avenue
If you want to give your feet a rest while continuing with your tour of things to do in downtown Los Angeles, the Angels Flight Railway is the perfect option.
You'll hop in one of the funicular railway cars for a brief ride between Hill Street and Grand Avenue on Bunker Hill. The railway is over 100 years old dating back to 1901, so it really is one of the city's coolest old landmarks!
It is located just across the street from another attraction on this list of awesome things to do in downtown Los Angeles, Grand Central Market.
The Last Bookstore
453 South Spring Street
Calling all book lovers, this is one of the best things to do in downtown Los Angeles for you! The Last Bookstore has new and used books and records you can browse, against the backdrop of a visually striking interior. They boast over 250,000 books and records, as well as galleries to visit and art to view in this multi-floor establishment.
And you'll find quirky and creative design elements incorporated in the store; there's a makeshift tunnel made of books! The Last Bookstore is located in the Spring Arts Center.
Grammy Museum
800 W Olympic Boulevard
This is an absolute must-see in downtown Los Angeles if you are interested in any aspect of music, including music recording technology and the history of legendary artists.
The Grammy Museum features over two dozen permanent and temporary exhibits that will give you an immersive experience. It opened its doors in 2008, which coincided with the 50th anniversary of the Grammy Awards. Spend an afternoon here, enriching your music history knowledge!
Walk Through The Arts District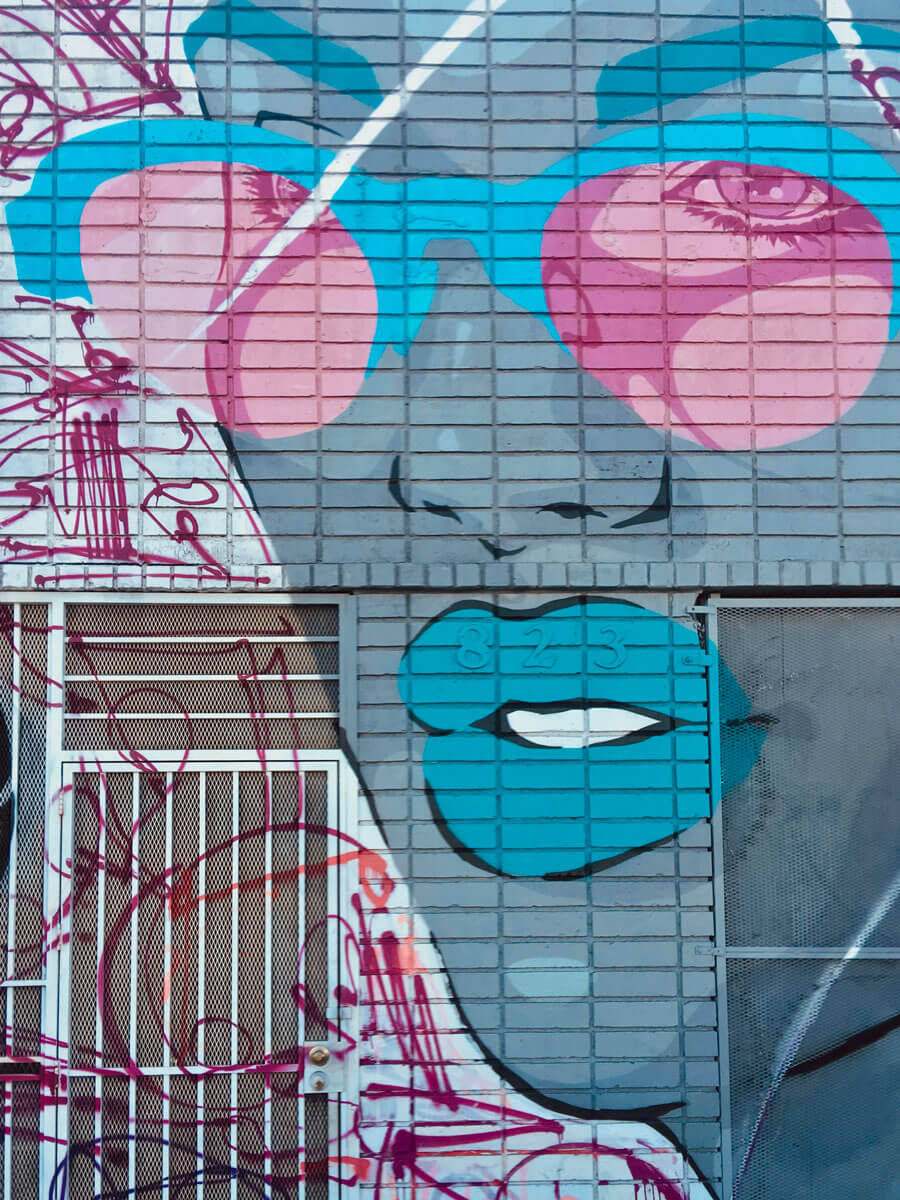 One of the best places to explore in downtown Los Angeles is to explore the Arts District on the eastern end of DTLA. This neighborhood and area is filled with, well, you guessed it – ART! From galleries to museums and murals, this is a really cool area to explore.
For things to do in the Arts District, check out Art Share L.A. (801 E. 4th Pl) which is an old factory building turned into a working artist hub that offers classes, exhibitions, and events to nurture your inner artist.
The Architecture & Design Museum's (900 e 4th St) sole focus is, as can be expected from the name, architecture and design exhibitions.
Another one of the best things to do in the Arts District is check out the Institute of Contemporary Art (1717 E 7th St). This contemporary art museum is independently run and they don't 'collect' their art as they exhibit works of local Los Angeles, domestic, and international artists.
For dining, check out Bavel for Middle Eastern fare, Zinc Cafe & Market for standard California cuisine and cocktails, and Guerrilla Tacos for tacos and margaritas.
And for shopping, Row DTLA (777 S Alameda St) is a collection of restaurants, shops, bars, and event spaces housed in the former American Apparel manufacturing facility.
Spire73
900 Wilshire Boulevard floor 73
Dinner with a view is the perfect way to describe Spire73 which is one of the best things to do in downtown Los Angeles if you're looking for the perfect sunset spot.
Situated on the 73rd floor of the Intercontinental Hotel is this beautiful rooftop lounge. Its claim to fame is that it is the highest open-air bar not just in the United States, but in the Western Hemisphere.
Spire73 offers incredible views of downtown Los Angeles, fire pits, and an impressive selection of food and drinks.
Things to know: Located in the InterContinental Los Angeles at 900 Wilshire Blvd on the 73rd floor. Reservations are recommended. Familiarize yourself with their dress code which is business casual. Valet Parking and the parking lot is available at 900 Wilshire Blvd, both are paid options.
Chinatown
One of the most interesting cultural neighborhoods in downtown Los Angeles is Chinatown where you can find restaurants, art galleries, grocery stores with imported goods and hard to find ingredients, bars, and more!
The Chinese American Museum (425 N Los Angeles Street) has history exhibitions about the Chinese American community in Los Angeles, the first museum of its kind in Southern California.
If you would like to take a photo (selfie, perhaps?) in Chinatown, stop by the Dragon Gate (intersection of N Broadway and Cesar E. Chavez Avenue) for a gorgeous and well-lit picture not to mention a nice monument commemorating the mutual cooperation and prosperity for the local Chinese-American community here in Downtown Los Angeles featuring two dragons symbolizing harmony and good luck.
Another beautiful cultural sight is the Thien Hau Temple (756 Yale St), which was transformed by Vietnamese immigrants over three decades ago as a Taoist temple dedicated to the ocean goddess Mazu.
For one of the best culinary spots in the city check out Far East Plaza (727 N Broadway) which has a mix of old-school and modern Asian food stalls – some of which gather crowds with long lines to get some of the tastiest things to try at this popular food hall.
You could easily spend hours just exploring Chinatown when visiting downtown Los Angeles! Just make sure you come hungry and schedule around enjoying the food here or even a snack from Far East Plaza.
Little Tokyo
Having the distinction of being only one of three official Japantowns in the United States, as well as being declared a National Historic Landmark District, is Little Tokyo – another one of the best things to do in downtown Los Angeles.
One place to scope out in this area is the Japanese American National Museum (101 N Central Avenue), which has worldwide recognition for its exhibitions on the Japanese American experience.
Right across from this museum is the Geffen Contemporary at MOCA (152 N Central Avenue), so you can get your fill of even more artwork in downtown Los Angeles at the largest of the three MOCA museums featuring contemporary art.
If shopping is your thing, check out Japangeles and Pop Little Tokyo (141 Japanese Village Plaza Mall) for clothes, accessories, and other fun items. For a good dining option, try Suehiro Cafe (337 1st St) for a little bit of everything.
Grand Central Market
317 S Broadway
If there's anything you've learned about downtown Los Angeles so far, it's that there are some seriously good options for food and this is no exception. Another food destination that you should add to your list of things to do in downtown Los Angeles is Grand Central Market. This 30,000 square foot establishment has plentiful food and retail options that showcase what California is all about.
It is the oldest and largest public market in Los Angeles, and it's been around for just over 100 years.
A fantastic afternoon can be spent here, browning the 40 stalls in the market and tasting a variety of cuisines. They also host a variety of events, so be sure to check out if there are any going on during your visit.
Bradbury Building
304 S Broadway
Another architectural masterpiece to see in downtown Los Angeles is the Bradbury Building. It is the oldest commercial building in LA and has a sunny Victorian court, open cage elevators, and marble stairs. You can marvel at the elaborate iron railings while taking in the beautiful visuals here.
Clifton's Republic
648 S Broadway
Clifton's Republic is the newly re-opened version of what was formerly Cliffton's Cafeteria (the city's oldest cafeteria-style restaurant) which has a heartwarming backstory. Clifton's originally opened during the Great Depression in 1935 and the owner provided meals to people who couldn't afford to pay for them. It reached the point in the 1940s where 10,000 people would visit Clifton's per day and get a meal.
Currently, visitors can enjoy the three-story atrium with a redwood replica as the centerpiece, a tiki bar, Monarch bar, and a cafeteria to check out. The building itself is a masterpiece let alone the whimsical decor on the inside making this one of the best things to do in downtown Los Angeles if you're looking for something a little different to do!
Union Station
800 N Alameda St
Another historic landmark to check out is Los Angeles Union Station, which is the biggest railroad passenger terminal in the Western United States.
The work on the station began in 1933, with the purpose of bringing together three local railroad terminals. The architecture here uses the Mission Moderne style, which makes this not only a historically interesting spot but also a scenic one as well.
There are dining options, artwork on display, and tours of the station, which makes this a great spot to visit and one of our favorite things to do in downtown Los Angeles.
Olvera Street
One of the best things to do in downtown Los Angeles is check out the historic Olvera Street which has deep roots in the city's history and is located in the El Pueblo de Los Angeles Historic Monument, which signifies where early settlers traveled from northern Mexico to this area and created a farming community more than 200 years ago.
Currently, El Pueblo is a living museum and is the oldest part of the city. Olvera Street is a Mexican marketplace where you can visit shops, restaurants, and if you happen to get your timing just right, you can attend one of the traditional events they put on during the year.
If you've ever been to Old Town San Diego, this has a similar feel and full of fun activities to do just like Olvera Street in downtown Los Angeles!
---
And there you have it! There is so much to see in downtown Los Angeles, and lots of places to add to your list of things to do in the city. Historic sites, cultural neighborhoods, great food, museums, and more! It's all here. So what are you waiting for, start creating your itinerary for your trip to Los Angeles!