A visit to the island of Taiwan, China's small neighbor in the sea, means you'll most likely end up in the metropolitan hub of the country. Taipei is full of vibrant night markets lined up with stalls of delicious food, artsy neighborhoods, impressive architecture, gorgeous scenery, natural hot springs, and charming neighboring villages to visit. We came to Taipei without many expectations and left feeling like it's one of the most underrated cities in Asia.
While you could easily spend a week discovering hidden treasures in this underrated city we have put together best things to do in Taipei that you cannot miss on your visit!
Below we have the address, admission if applicable, and hours of operation for all these awesome things to do in Taipei!
---
Planning a trip to Taipei? Check out our full guide on where to stay in Taipei by neighborhood to help you pick the perfect spot in the city near all the best things to do in Taipei.
Taipei 101
Visit Taipei's landmark building and former Taipei World Financial Center, it's quite a stunner. Besides being a great focal point for photography from all over the city, you can go shopping here and enjoy some food at their impressive food court in the basement. Check out the Taipei 101 observatory for a bird's eye view of Taipei!
From 2004 to 2010 Taipei 101, standing at 101 stories high, was the tallest building in the world, until the completion of the Burj Khalifa. Now the second tallest building in the world, but Taipei 101 still has Burj Khalifa beat on one important thing. The Taipei 101 is the world's largest green building thanks to their efforts of conserving energy and recycling that goes on inside this impressive structure.
If you already haven't noticed, the design of this structure is incredible. The building is also designed to withstand earthquakes and the frequent tropical storms that go through here during monsoon and typhoon season.
We loved coming at night and seeing this massive structure all lit up at night, it seemed to be a different color each night we visited too!
Purchase tickets online in advance to check out the observatory on the 91st floor and receive a discount on one of the best Taipei attractions.
---
Taipei 101, No. 7, Section 5, Xinyi Rd, Xinyi District, Taipei City, Taiwan 110
9:00 am to 10:00 pm, admission $500 NT
Elephant Mountain
Want an even better view of one of the best Taipei attractions?  Another one of the best things to do in Tapei is head on over to to Xiangshan station and set off for the 20 minute hike up stairs to Elephant Mountain where you can get a great view of the city and an epic photo of Taipei 101.
Also known as Xiangshan Hiking Trail, Elephant Mountain is a short/easy hike in the middle of the city. This is a nice place to get a small dose of nature in the middle of the metropolis. Although be prepared to sweat, the hike isn't long but the humidity in Tapei can be brutal. We happened to show up during some rain but that wasn't going to stop us and its a good thing we didn't let the rain ruin this chance for us because it rained alot during our trip and the view was absolutely worth it.
The hike isn't too difficult but requires you to go UP! There are three different viewing decks, many people make the mistake of leaving after going to the first platform. If you continue past this there are two more extraordinary views, so don't miss out as this is easily one of the best things to do in Taipei for epic views.
The first platform is around 10-minute hike, this is the most crowded so if the crowds bother you just continue along. The next platform is another 5-10 minutes walk, and the third final one is the best viewing deck and is just a bit further.
What's awesome about this Taipei attraction is that you can do it any time of the day. This is an extremely popular spot at sunset with photographers if you go this time of day the advantage is it won't be as hot.
Make sure you bring water if you do this hike mid day, or any time of the day. While it's short, it's a bit steep and it's easy to dehydrate in weather conditions like this.
---
Getting to Elephant Mountain: Get off at Xiangshan station and walk towards the temple, you will find a staircase and sign here to start your ascent up Elephant Mountain!
Chiang Kai-shek Memorial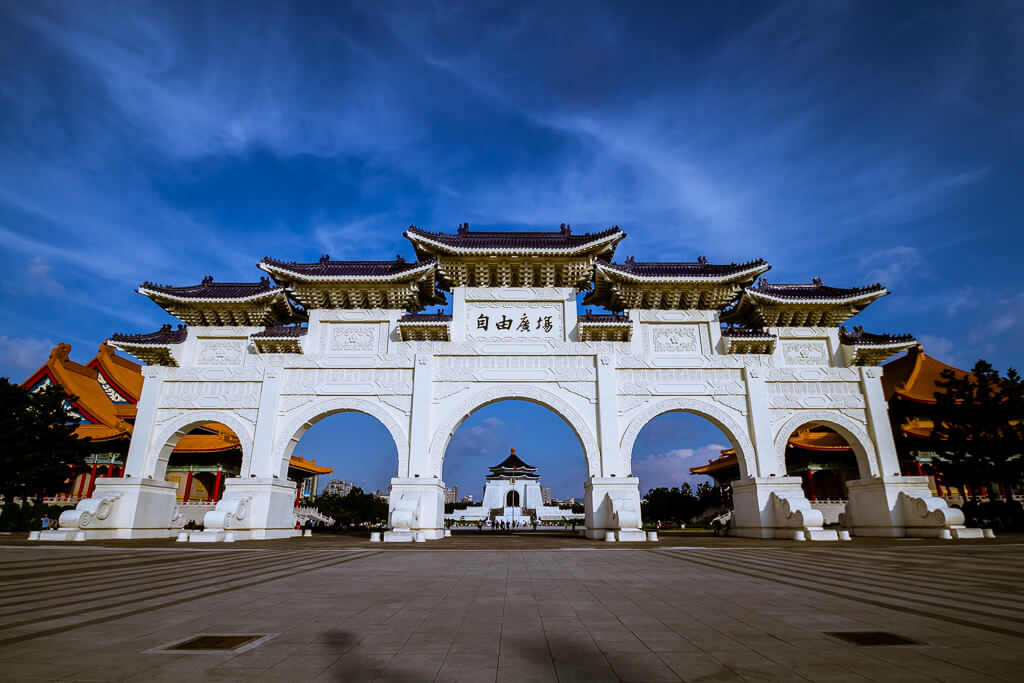 This beautiful national monument is one of the best things to do in Taipei. Erected for the former first president of the Republic of China, this memorial has great photo opportunities and a changing of the guard ceremony every hour that's a must when visiting this Taipei attraction.
The memorial was designed by C.C. Yang, also known for his work for designing The Grand Hotel. The blue and white represent the colors in the Republic of China flag. There are also symbols of the Chinese Nationalist Party in the vaulted ceilings. The giant bronze statue of Chiang is facing west with a symbolic and hidden in plain sight meaning towards to Presidential office and China.
We were a little bummed out during our trip as there was a giant Doraemon installation up blocking our view of getting the hyperflow video we wanted, but we still made it work! Which is a bit comical that in such a significant historical monument a giant Doraemon was able to have a full on display. I still regret not getting a photo of Doraemon here because we were sad we couldn't get the shot we wanted.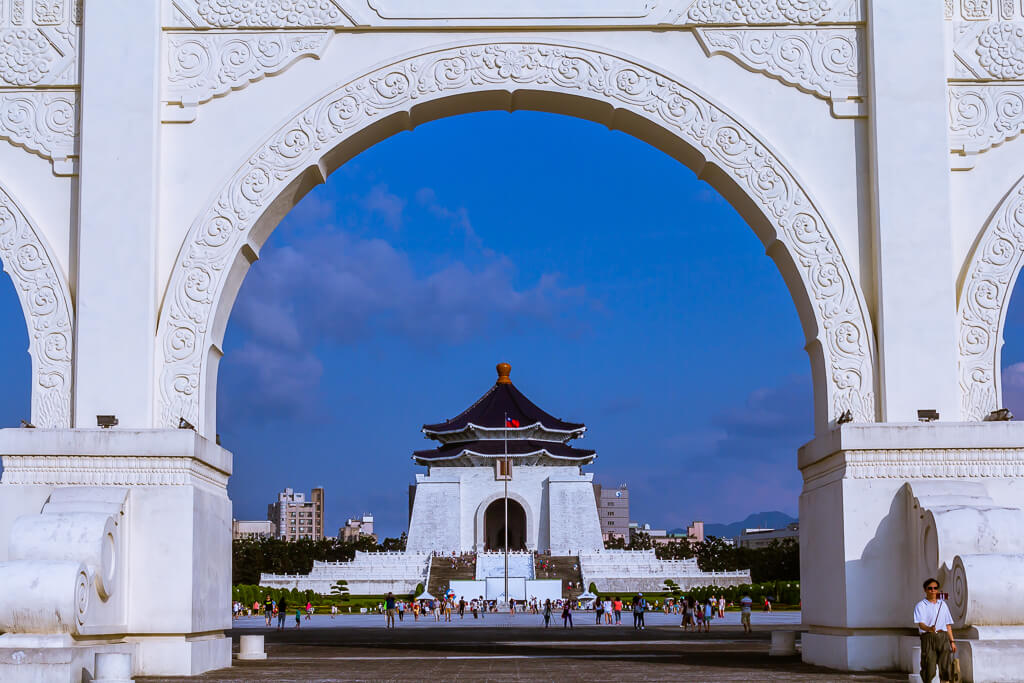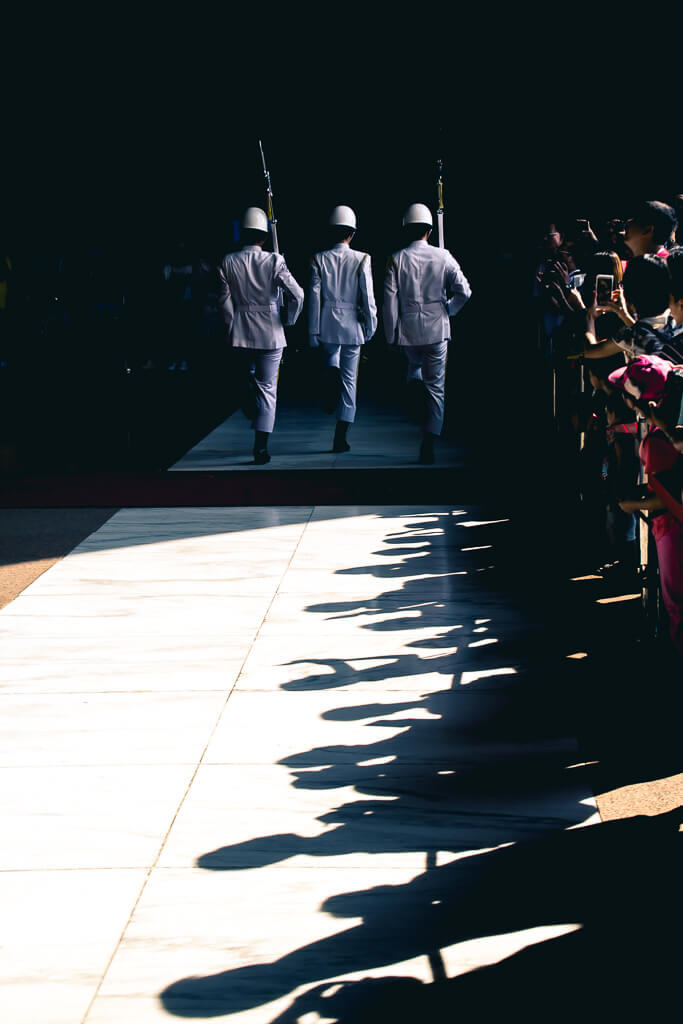 ---
No. 21, Zhongshan S Rd, Zhongzheng District, Taipei City, Taiwan 100
9:00 am – 5:00 pm, free admission
Taipei Night Markets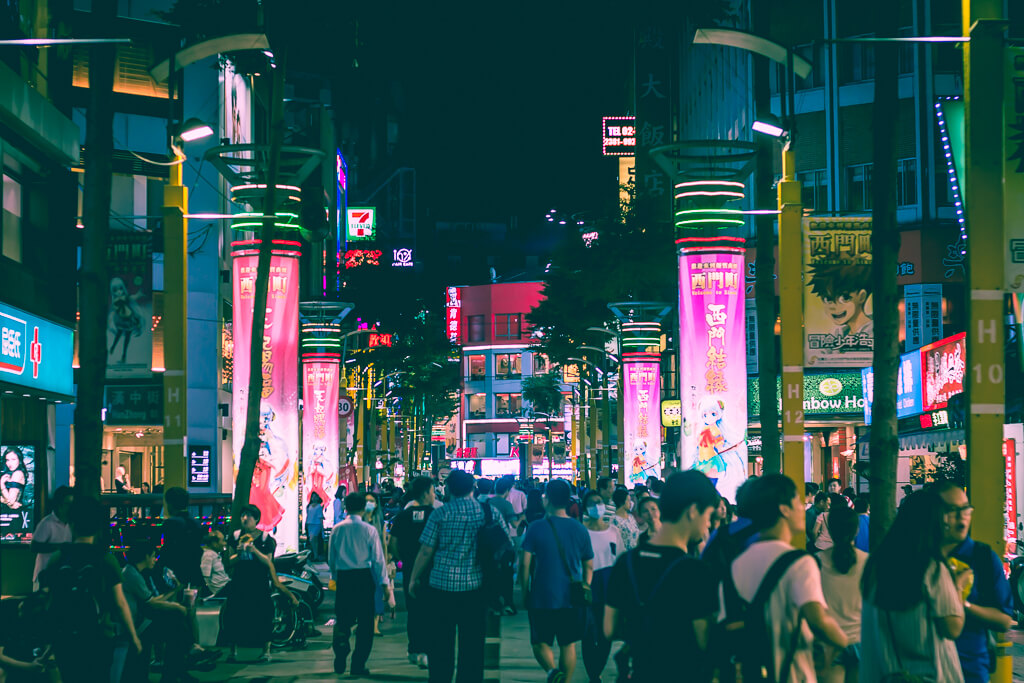 Probably our favorite thing to do in Tapei is the incredible foodie scene this city has to offer! Eat your way through foodie heaven at ANY of Taipei's night markets! Each night market is unique and there are a whopping 17 throughout the city and each are a unique Taipei attraction in their own right. Some have shopping and even temples nearby.
The streets are lined with food stall after food stall, some with food stands with seating areas, games, and shopping all along either side of the street and sidewalk. Come hungry with a friend if possible so you can split and sample as many dishes as you can fit.
Taipei Night Markets
Dalong Night Market – a smaller night market that is not so frequented by tourists and close to the Confucius and Paoan temples in Taipei.  
Gongguan Night Market- The biggest night market in Taipei's south district, this night market isn't just for great food there's also alot of shops and cafes in this area. Located in a business district and located near a university there's a younger vibe here.
Guangzhou Street Night Market- A great night market close to central Taipei and near Longshan Temple. This night market has some great games and food. Also commonly known as BangKa Night Market and connected to the HuaXi Night Market. 
HuaXi Street Tourist Night Market- This is considered the first tourist night market in Taiwan! HuaXi Street market as mentioned above is connected to Guangzhou Street night market and next to Longshan Temple and the Bopiliao Historical Block. What's great about this market is that is traditional and open all day long inside the red, palace looking archway with stalls on either side.
Jingmei Night Market- A night market in the south of Taipei is frequented by locals. During the day this is a traditional Chinese market and by night where locals can buy produce and groceries, by night it opens up stalls and is a great place for a fill. 
Liaoning Street Night Market- One of Taipei's smallest markets in the Zhongshan District and only covering one street. There's not as much shopping here but still some great food. This is also where the Heysong Museum is located.
Linkou Night Market- Located in the Xinyi District with a beautiful backdrop of one of the best Taipei attractions; Taipei 101. This street night market is a newer market and only open on Wednesdays and Sundays.
Nanjichang Night Market- Located in Wanhua this is another night market to go if you want to experience a night market that is not frequented by tourists. This market is also open during the day, but most vendors and visitors come out at night.
Ningxia Night Market- This is one of the oldest and historical night markets in Taipei. Even though the night market is relatively small with around 20 stands its considered one of the best for Taiwanese food and even dubbed as the 'Stomach of Taipei'
Raohe Street Night Market- The oldest night market and one of the best Taipei attractions in our opinions is the Raohe Street Night Market. The food here is divine and the market is located right next to Ciyou Temple. Don't miss the pork buns right by Ciyou Temple, you will be able to tell which one it is by the line.
Shida Night Market- Located in central Taipei city and near universities this is one of the best night markets in the city for food and shopping for clothing and accessories. This is a popular place for university students to hang out.
Shilin Night Market- This is the biggest and most famous night market in Taipei. If you only have time to visit one night market, this is a good choice as there are tons of food stalls, shopping, and games with a great location in the city.
Shipai Night Market- Located in Beitou this is another great night market for some of the best local Taiwanese food. This night market opens late afternoon but if you want to be here during the peak times come after 7 pm.
Shuang Cheng Street Night Market- This night market is for those who are looking for just food! There are no shopping options here but people love coming here for the variety of food stalls. Another perk about this market is that it's not overpacked with visitors like some of the other more popular and larger markets in the city.
Tonghua Street (Linjiang Street) Night Market- A small but mighty and fun market right next to Taipei 101. This is a great option if you are exploring this area to see some of the best things to do in Taipei.
Yansan Night Market- Located in Datong, Yansan Night Market is another that isn't frequented by tourists so it has a more local feel to it and is less crowded.
737 Night Market- Located in Neihu District in a residential area this is not a popular night market for tourists due to its location. However, this small night market is packed full of flavor even with its small size. If you have the time be sure to visit.
If you only have time for one night market in Taipei then you need to check out the king of all of Taipei's night markets, Shilin Night Market. Shilin is the most popular and largest of the night markets in Tapei. Everything we tried here was delicious. Read our other post to find the other Taipei night markets we visited on our trip.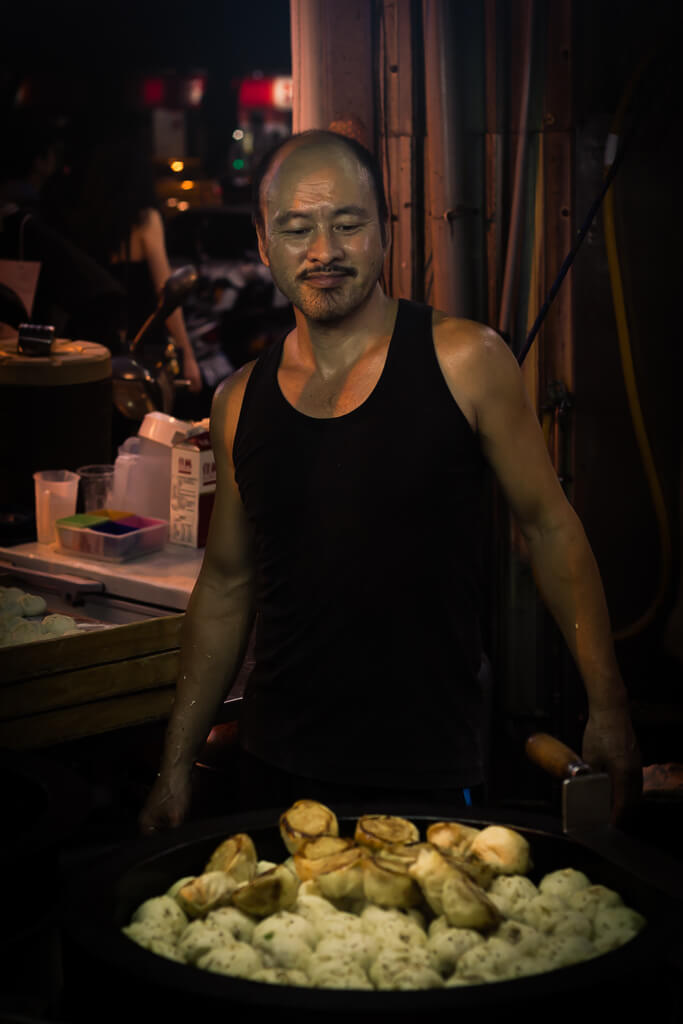 ---
Shilin Night Market: No. 101, Jihe Road, Shilin District, Taipei City
Bopiliao Historic Block & Longshan Temple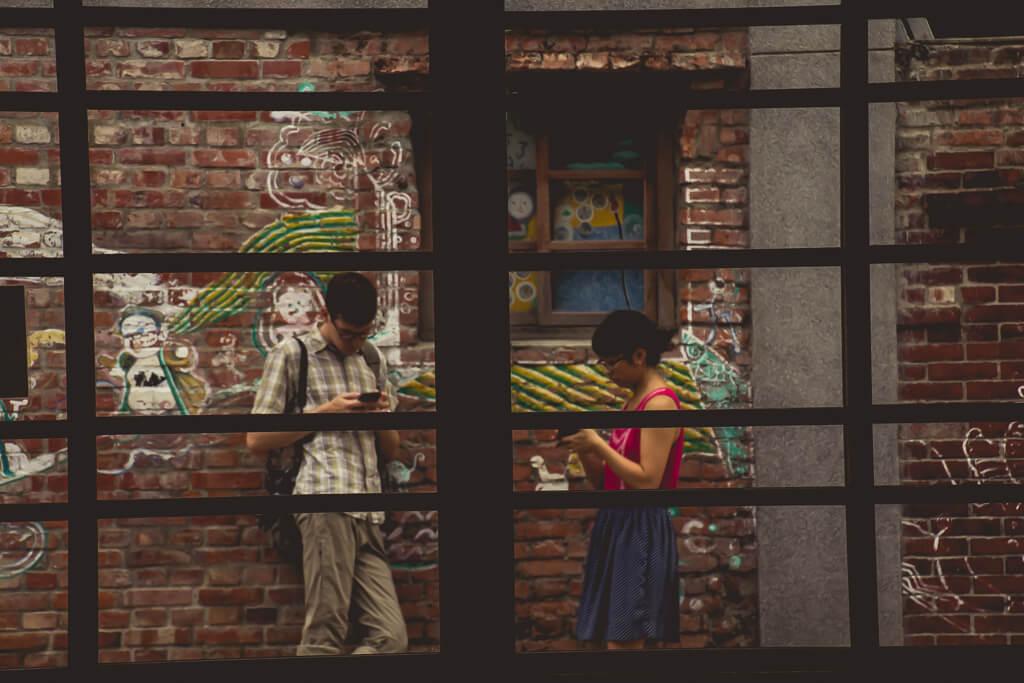 This historical street is one of the best things to do in Taipei if you're looking for a cool spot to photograph. Stroll through the historical block and get an idea of what old Taipei looked like. While we were visiting a lot of a lot interior was vacant, but looked renovated.
This was the original road that connected to Longshan Temple which is located right next to Bopilao Historic Block and is another great Taipei attraction to visit. This area is now preserved by the government to help restore and preserve the different styles of architecture and this cultural area.
Historically, during the late 1800s, this was home to one of the most commercial areas of the city. This is where alot of trade happened during the Qing Dynasty. It wasn't until the early millennium that the local government started to restore and protect this area.
Since there isn't a ton of things to do at Bopilao we recommend strolling through and visiting the Visitor Center while admiring the different mixes of architecture and photography opportunities. After, head to Longshan Temple just a few steps away and another one of the best things to do in Taipei.
Longshan Temple has been destroyed over and over again throughout the years from earthquakes but has been rebuilt by locals to preserve this ancient and important temple. The temple dates back to 1738 and is considered to be Taiwan's most loved temple. More than one religion is worshiped and practiced here. This temple has a mix of Buddism, Confucian, and Taoist faiths and worshipers. It's quite interesting to see how inclusive this place for religious practice is.
---
No. 101 Guangzhou St., Wanhua Dist., Taipei City 108, Taiwan
Visit the World's First Cat Cafe Ever!!!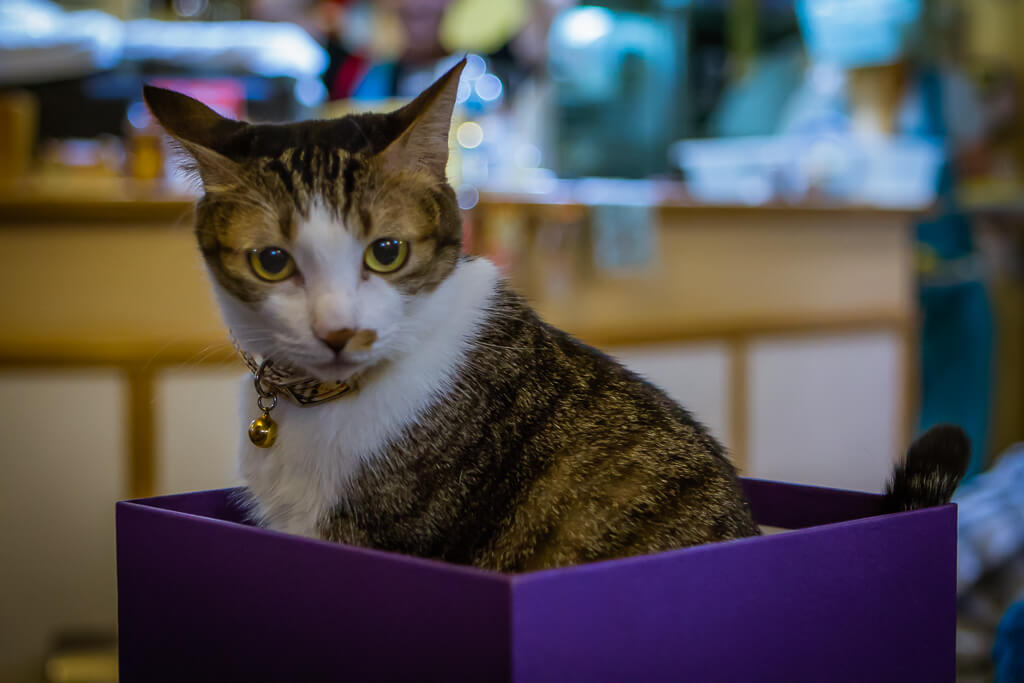 Calling all cat ladies! If you're a cat lover like I am, then this next thing to do in Taipei is for you! Taipei is home to the first cat cafe ever!Cat cafes have been taking the world by storm and popping up even in cities throughout the US and in Europe. I have been a big fan of visiting different cat cafes throughout Asia after living in Korea.  It's a tough call to say which is our favorite, but Cat Flower Garden might top the cake.
Not only is it a laid back atmosphere where you feel like you're hanging out in your Grandma's living room, but the cats are friendly and we even were seated at a table with our very own sleeping kitty. But the best part is you aren't limited to just cats here, they have birds and dogs too!!!
The only requirement is to buy a drink which are priced very reasonably. This ended up being the most inexpensive cat cafe experience we've had to date and in our opinion one of the best things to do in Taipei!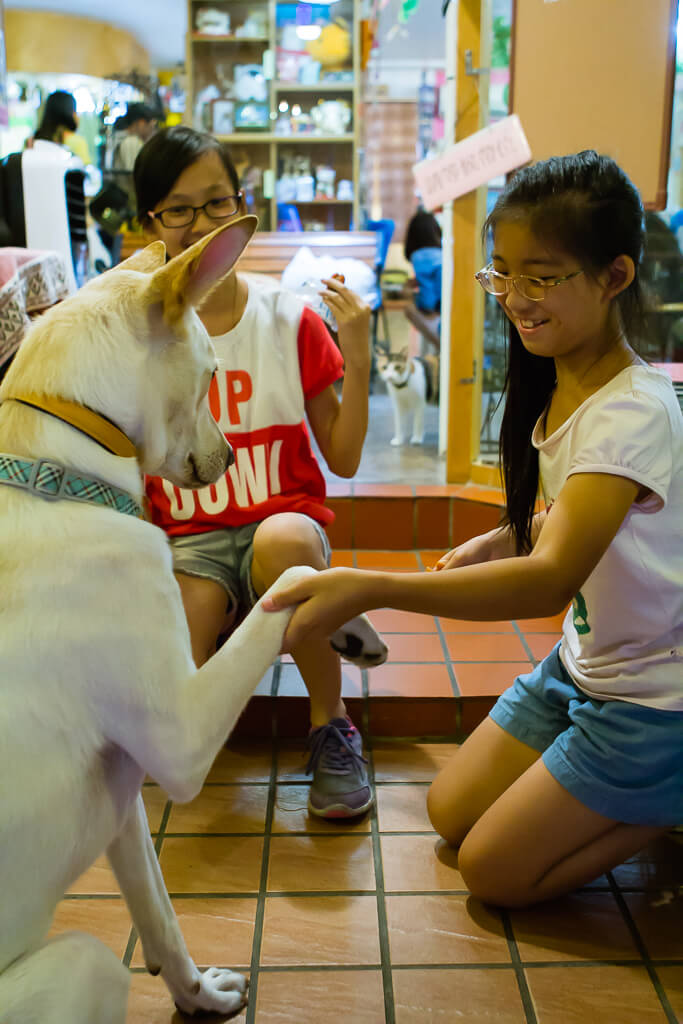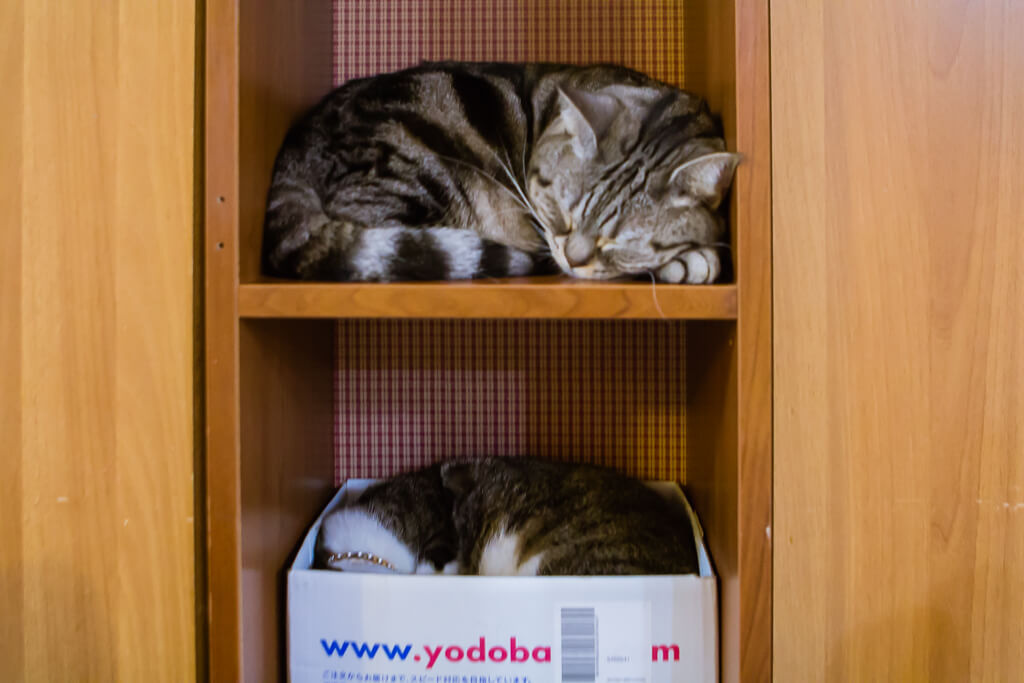 ---
No. 129, Fuhua Rd., Shilin Dist, Taipei, Taiwan
12:00 pm to -10 pm
Huashan 1914 Creative Park
Once a winery during Japanese rule, now a creative park full of museums, exhibits, trendy cafes and restaurants, and even an upside down house is one of the most fun things to do in Taipei! Huashan 1914 Creative Park is a great place to spend an afternoon especially if you have kids, or not!
Located in the Zhongzheng District, right nex to the Guanghua Digital Plaza computer market, this multipurpose creative place has a youthful spirit and has become a popular Taipei attraction.
While we were visiting there was a Where's Waldo exhibit and a Studio Ghibli exhibit that we actually saw in Seoul during our time living there. We were most intrigued by the upside-down house this time though!
---
No. 1, Section 1, Bade Rd, Zhongzheng District, Taipei City, Taiwan 100
Jiufen
So our next pick for best things to do in Taipei isn't actually in the city center of Taipei but right outside of the city. This picturesque, storybook village is located on a mountainside overlooking the East China Sea.
One of the biggest attractions in Jiufen is Jiufen Old Street. Visitors fill the lantern dotted streets that are lined with adorable tea houses, street food, restaurants, and shopping. The entire experience, even though it's crowded, sweeps you away.
This is one of the Taipei attractions we were most excited about visiting thanks to our love of charming villages and Studio Ghibli films! If anyone is a Studio Ghibli fan (aka the Disney animator of Japan) or Hayao Miyazaki fan Jiufen was his inspiration for the village in the Academy Award winning Spirited Away. It's no wonder why because the streets are filled with real life whimsey.
You can spend as little as an hour here up to an entire day. It just depends on your schedule and how much you want to pack into your Taipei trip. We loved seeing the city go from light to dark and the lanterns lighting up as dusk approached. There was just something magical about being in this setting while this was happening.
Many people tie in some of the best of the surrounding area around Taipei including Jiufen, the waterfalls at Shifen, and the Natural GeoPark formations at Yehliu in a day trip from Taipei. You can take a tour hitting up all three locations in a day, purchase your tickets online in advance and receive a discount!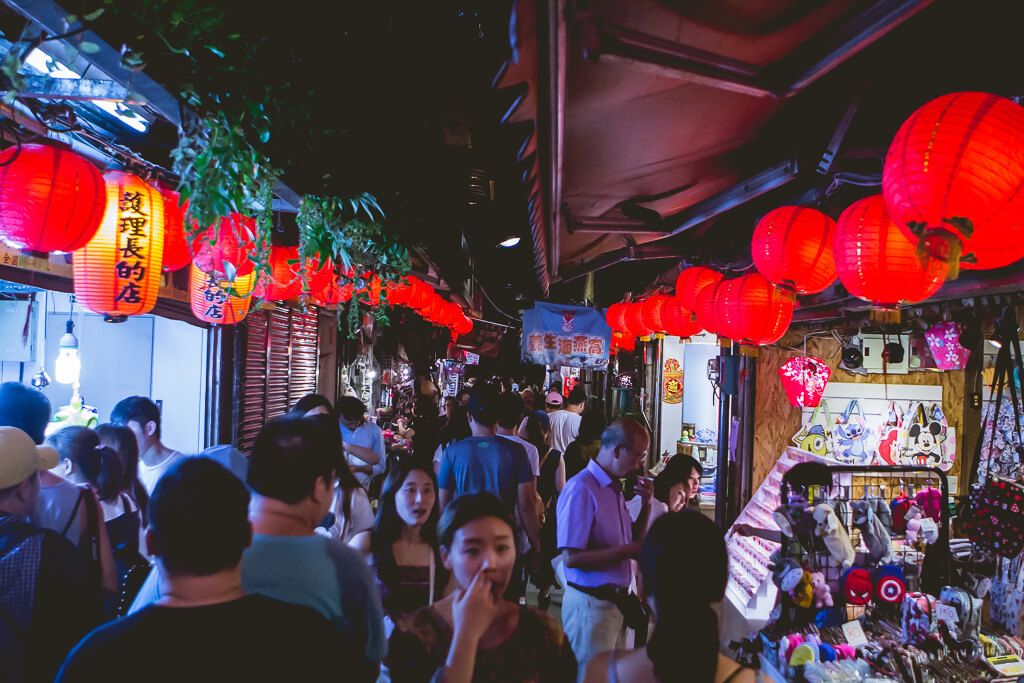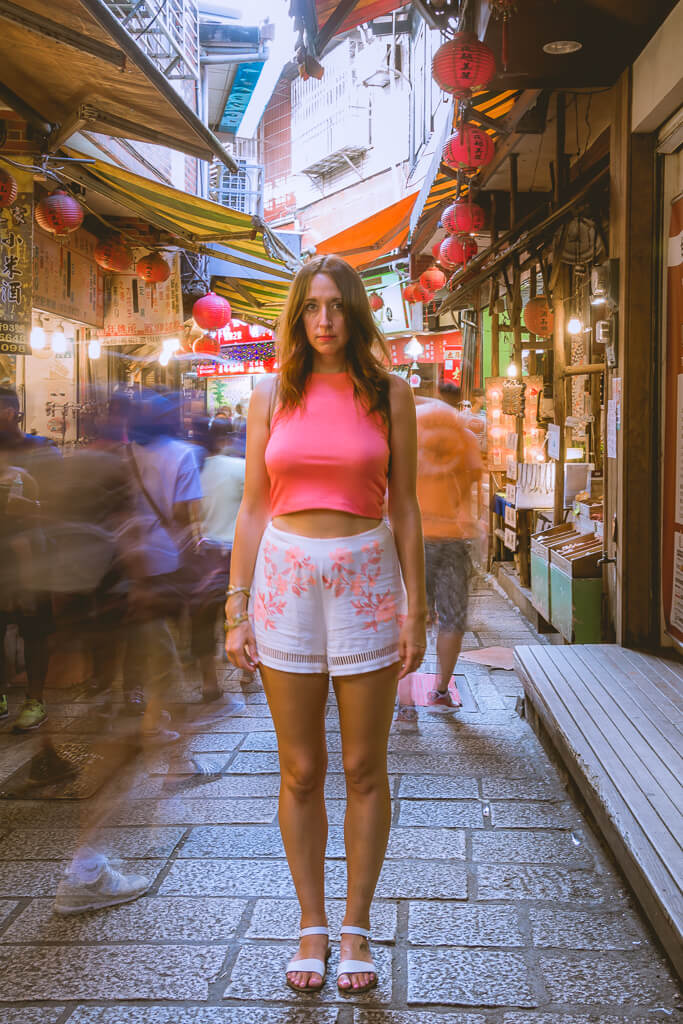 ---
Ruifang District, New Taipei City, Taiwan 224
Can you tell I'm a cat lady yet? Another must see Taipei attraction is the Houtong Cat Village. This is purrrrfect to visit if you're already going to Jiufen you better make an extra stop nearby at the Houtong Cat Village.
The locals in Houtong, a small mining town on the outskirts of Taipei, famously take care of the street cats in the area making it an eden or sanctuary for kitties. The cats here rule the town and everyone knows it. It's really heartwarming to experience a place that takes care of its furry critters the way they do. You will notice food is left out and all the cats are docile and friendly towards visitors.
You'll quickly notice the locals know how to capitilize on their kitties. There are plenty of shops and boutiques full of cat merchandise and even bakeries selling cat shaped treats (for the hoomans). This almost feels like a cat amusement park.
For cat lovers, this is one of the best things to do in Taipei, from the OG cat cafe to an entire cat village! Taipei is for feline friends.
---
Ruifang District, New Taipei City, Taiwan 224
Yangmingshan National Park
One of the best things to do in Taipei for nature lovers is head to Taipei's most famous national park. Just a short bus ride from Taipei city center is Yangmingshan National Park.
This is where you can find the country's tallest dormant volcano, Seven Star Mountain. There's plenty of hiking to be done here and Yangmingshan is also famous for its hot springs and sulfur deposits.  We did make it here but didn't get to check out the gorgeous views thanks to the rain! If you try to plan your trip to Taiwan around rain you will be out of luck. This place is famous for this kind of weather. We could barely see 5 feet in front of us but still managed to walk through the beautiful Arrow Bamboo Trail through the mist.
We were too uncomfortable to pull out our camera from under our soaking rain ponchos and regrettably didn't take a photo of this experience. Even though it was raining, the Arrow Bamboo Trail felt mystical with the steam and fog.
We will have to try it again next time, be sure to check the weather before going to prevent a mishap like ours unless you're curious about the Arrow Bamboo Trail. During our trip, the weather forecast was incorrect every day while we were in Taiwan, so perhaps it's all based on luck anyway.
This is definitely one of the best Taipei attractions if you're looking to find some nature really close to the city. From hiking trails to hot springs you can't help but oooh and ahhh at the incredible scenes here. We look forward to coming back and trying again.
Hot Springs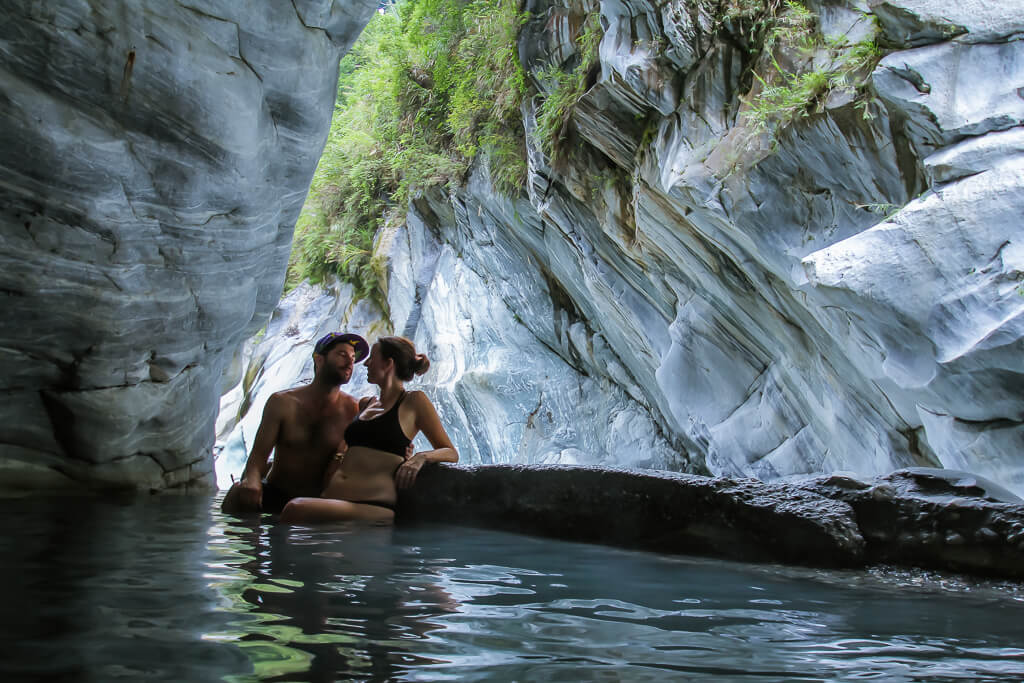 Did you know Taiwan has tons of natural hot springs? This is one of the best things to do in Taipei if you're looking to feel refreshed and relaxed.
After enjoying our own private natural spa in Taroko Gorge we were hooked. The most popular and easy hot springs to access via subway is Beitou hot springs. There are natural pools free to the public in the open or spas you can pay and access private pools.
There's also Wulai Hot Springs which is where we were going to go then decided to try and hike in Yangmingshan instead. As you can tell from above, we made the wrong choice for that day. What's really cool about Wulai Hot Springs is that its an actual town located not too far from Taipei. The hot springs are a natural river that you can go down and enjoy rather than going to a facility that sources the hot spring water. This seemed like one of the most authentic natural hot spring experiences.
Enjoy the small, adorable town of Wulai and head across the small bridge and enjoy the public natural springs next to the river. You also have the option of paying and going to a private spa as well. For more information check out My Several Worlds visit!
Yehliu Geopark
Visit this natural wonder of northern Taiwan, an easy day trip and one of the coolest things to do in Taipei. Tourists flock here to see these natural rock formations that look like they were left behind by the extraterrestrial.
The most notable formation is known as the "queen's head." This formation does have a striking resemblance to a Queen's head! A local told us that this famous formation won't be around forever apparently, over the years it's been slowly disappearing thanks to erosion and rude tourists. So if you go, please respect the queen and the geopark, no touching!
Where to Stay in Taipei
There are some really incredible areas to stay in Taipei and it can be overwhelming to pick for a first time visitor. That's why we made a guide for where to stay in Taipei by neighborhood. Or you can browse from Booking.com by neighborhood below.
---
Did we miss any of the best things to do in Taipei or Taipei attractions? Let us know in the comments below! We will book the next ticket to Taipei and make sure we go see it! 😉
Only have one day in Taipei? Check out this post to see what you can't miss!
---
Found this post about the best things to do in Taipei helpful? Bookmark for later or share the love below on Pinterest!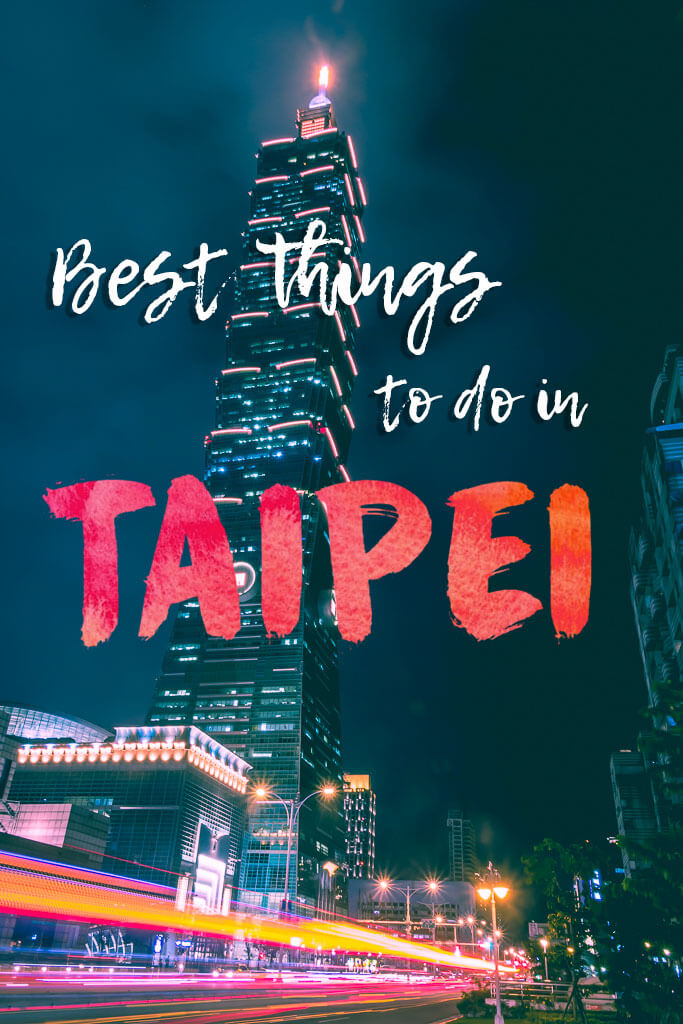 Disclaimer: This page contains affiliate links. By purchasing through the links on Bobo & Chichi you will help us keep the site up and running at no extra cost to you.