In our opinion, Penang street art, especially in its capital city of Georgetown, is some of the best we've ever seen. We spent a good two days wandering the streets intentionally and unintentionally finding the different murals and installations throughout the city.
We loved the added character the street art gave this UNESCO World Heritage site. Each of the beautifully antiqued, colonial buildings were charming enough! When you add some awesome and famous artists' work on the walls, you've got yourself one awesome place to explore.
If you're making a trip to Malaysia, we recommend coming to Penang for a few days to enjoy the beauty of artists leaving their marks on the walls. We have highlighted some of the most notable street art you'll find in the streets of Georgetown.
Penang Street Art — What You'll Find
The Work of Ernest Zacharevic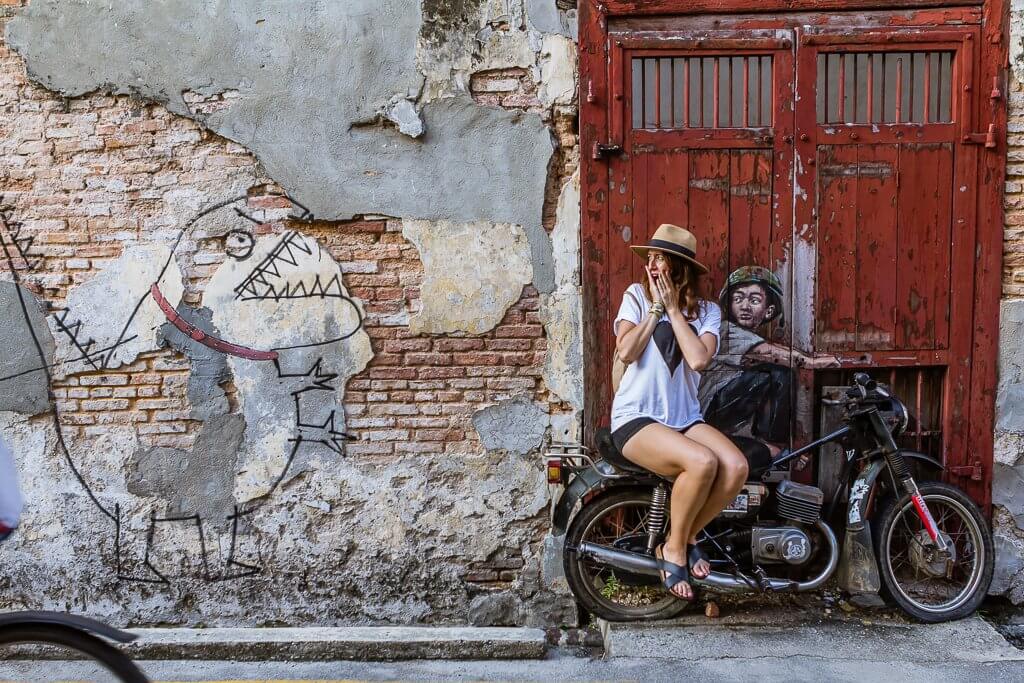 The most famous Georgetown street art includes the work from Lithuanian artist, Ernest Zacharevic. His work is famous for its 3D like appearance. He often mixes paintings and murals with objects from the surrounding streets. Zacharevic was invited in 2012 to come to Penang and do many installations throughout the city. This collection is known as, "Mirrors George Town."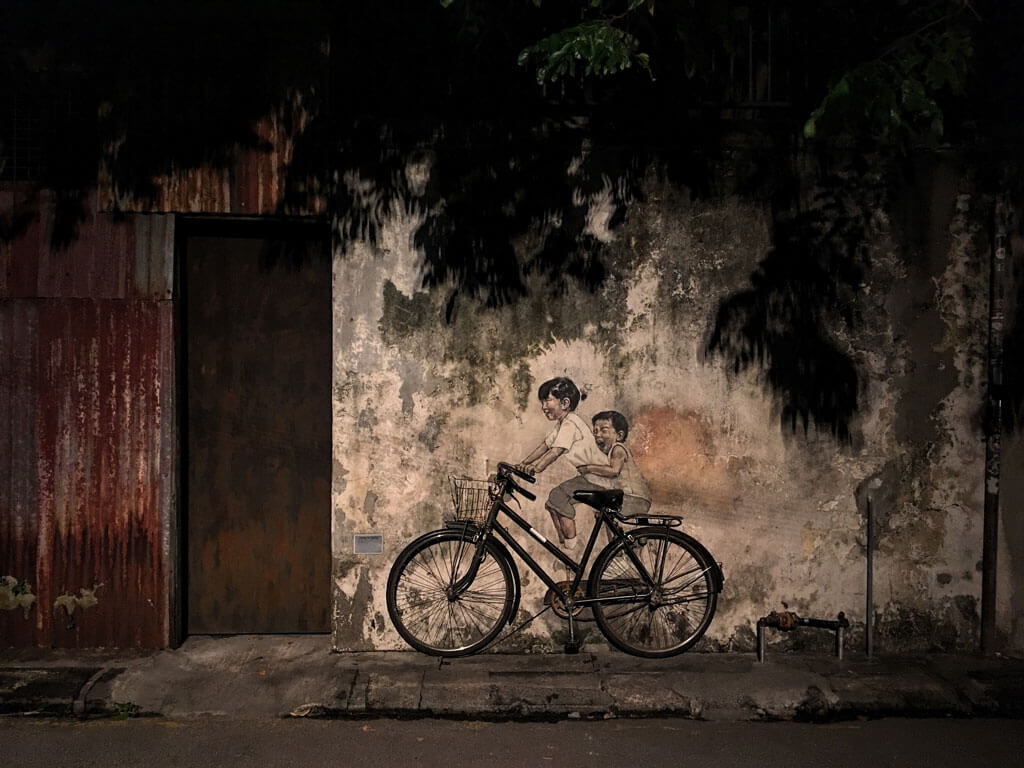 During our free guided tour from Georgetown's tourist information office, our guide told us, "Children on a Bicycle," gained a lot of popularity. Tourists flock here to get a photo with this installation, and it's increased the overall tourism in Georgetown dramatically.
Thanks to, "Mirrors of Georgetown," you can now find more and more street art popping up allover the place from other artists inspired by Zacharevic. Wandering the streets you're likely to run across at least one if not a few of his work.

Tips
Expect a crowd near "Children on a Bicycle"
No need to search for, "Children on a Boat," on the Chew Clan Jetty, this piece has disappeared over the years.
Checkout Ernest Zacharevic's site for more of his work.
101 Lost Kittens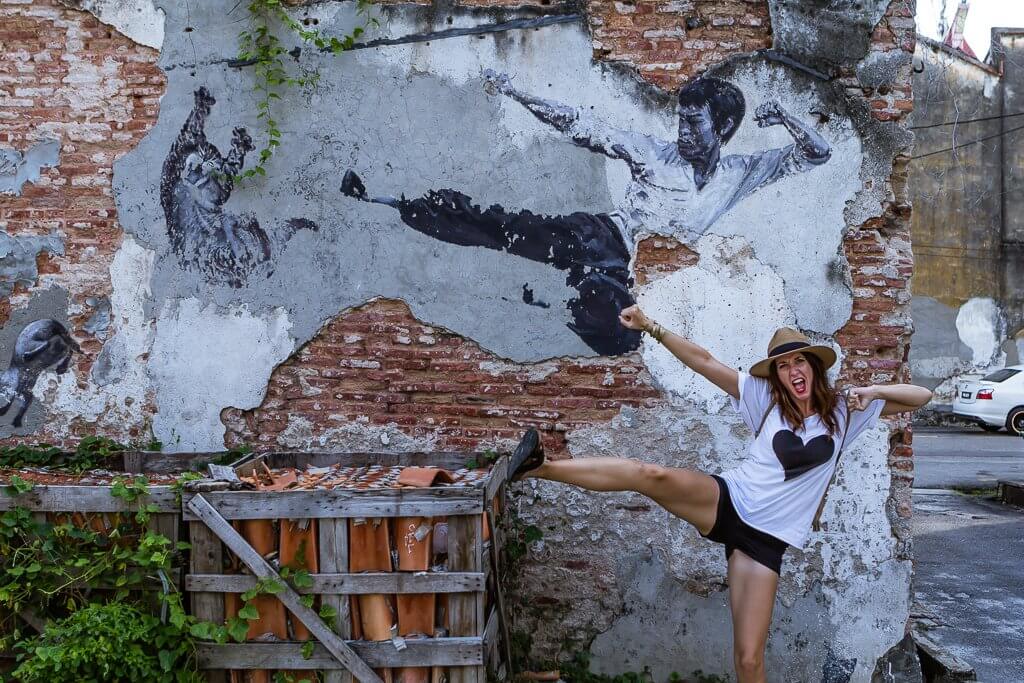 As you're exploring Penang Street art you may notice a few murals dedicated to cats. As a crazy cat lady, I found these to be masterpieces! We didn't find all 12 of the cat themed street art, but we did find a few wonderful ones.
The back story behind, "101 Lost Kittens," is that Thai artist Natthapon Muangkliang and Malaysian artists Louise Low and Tang Yeok Khang teamed up with Artists for Stray Animals (ASA) to spread awareness on stray animals.
It must be working because we noticed that some locals leave food out for the stray kitties in the streets! How sweet!
If you want to see these you better hurry! We read on this blog post by Lady Travel Bug, that the paint used was meant to wash away after two years. However, this post was from 2013, and it's now 2016 and we were able to find them all!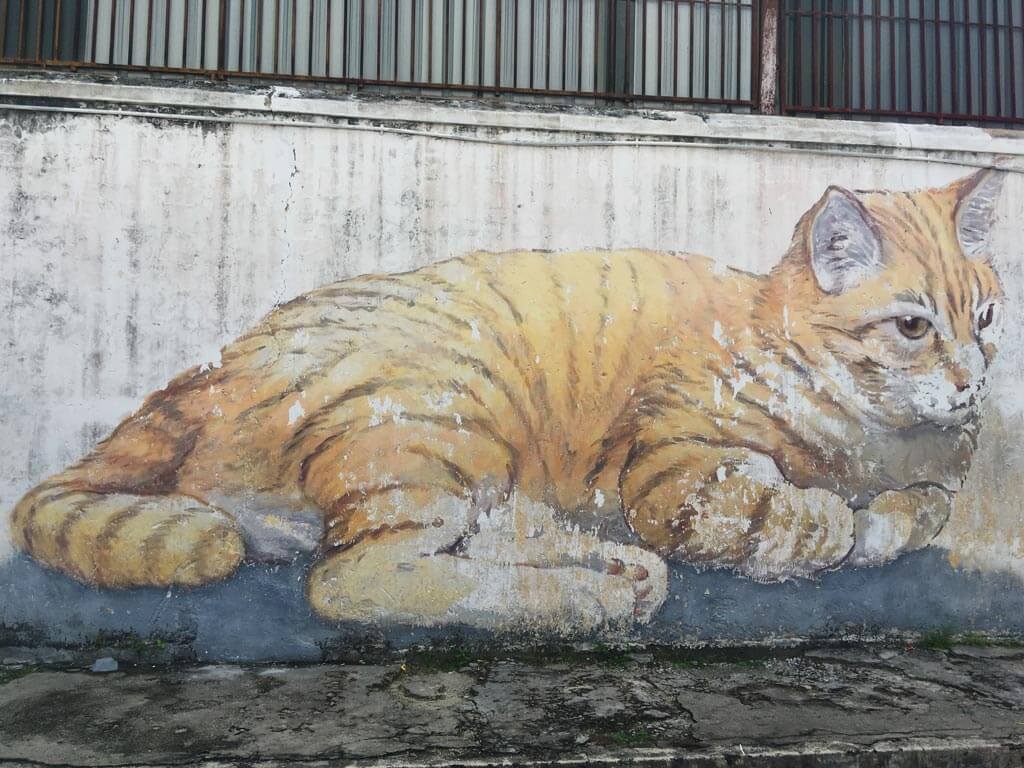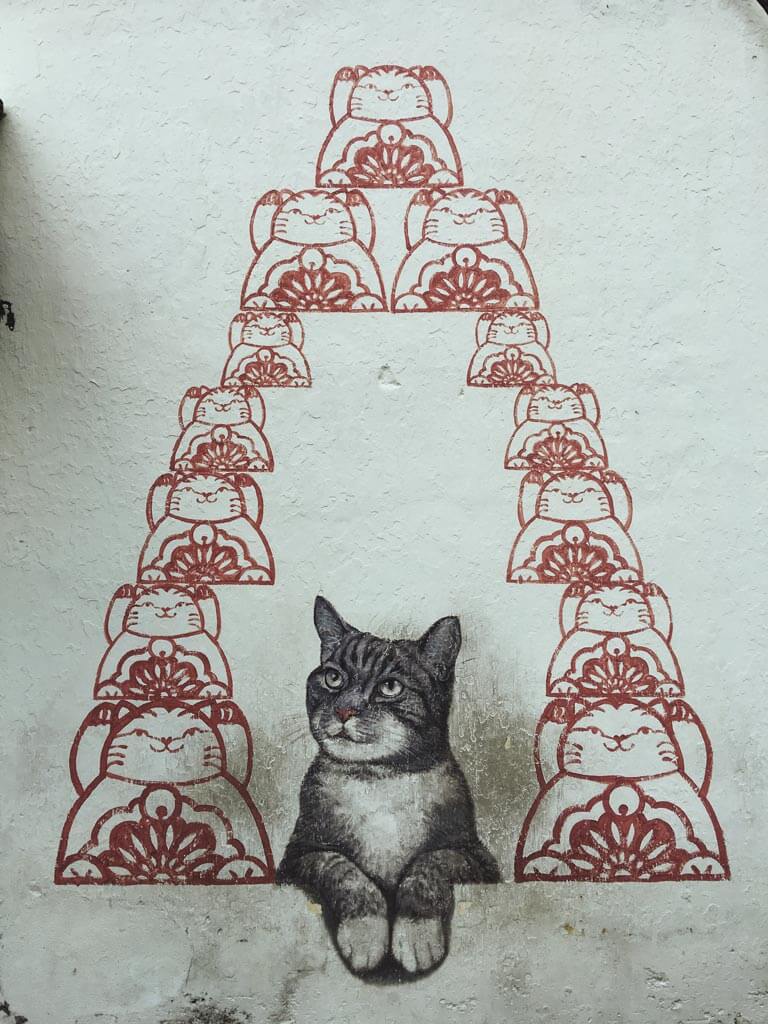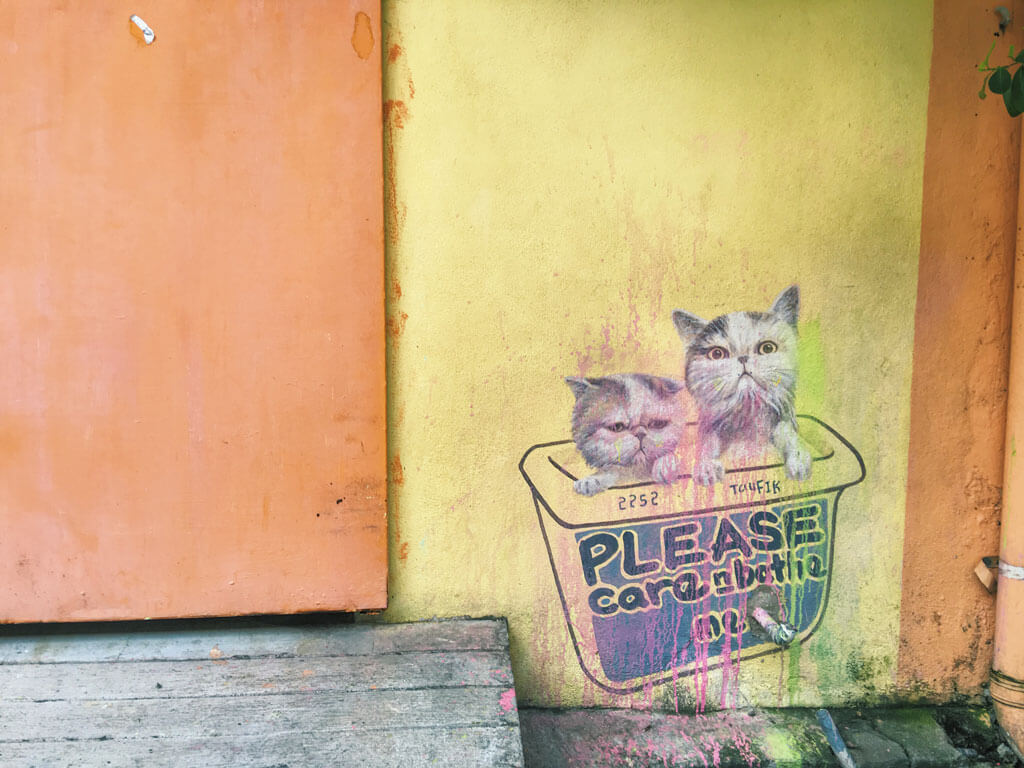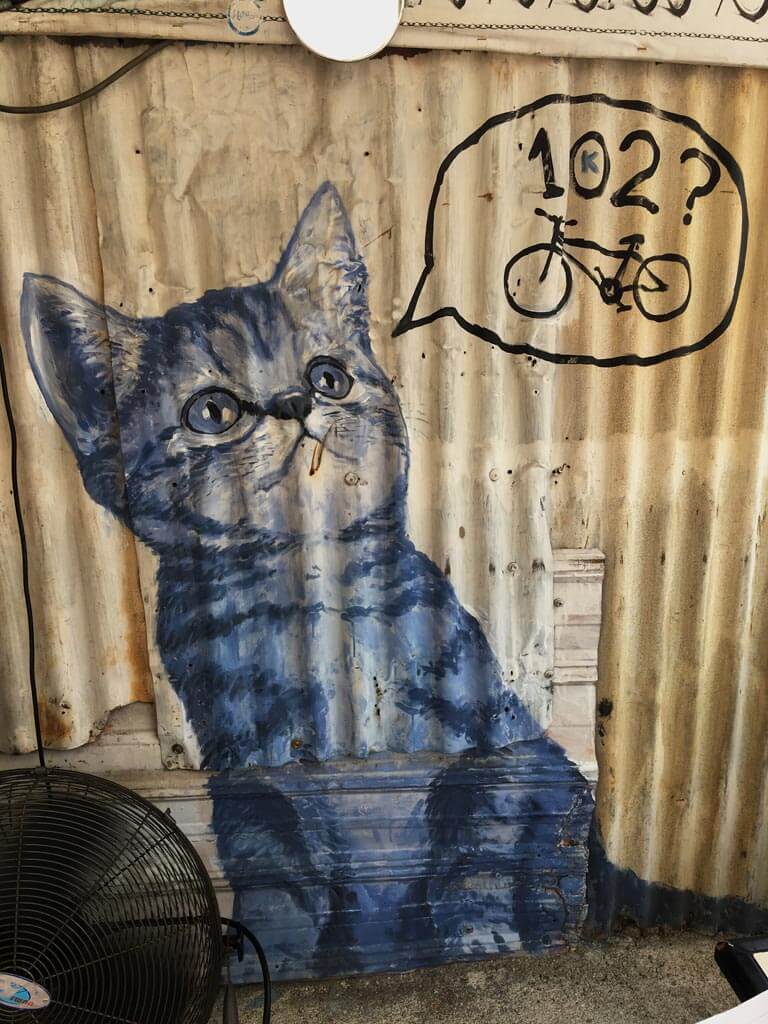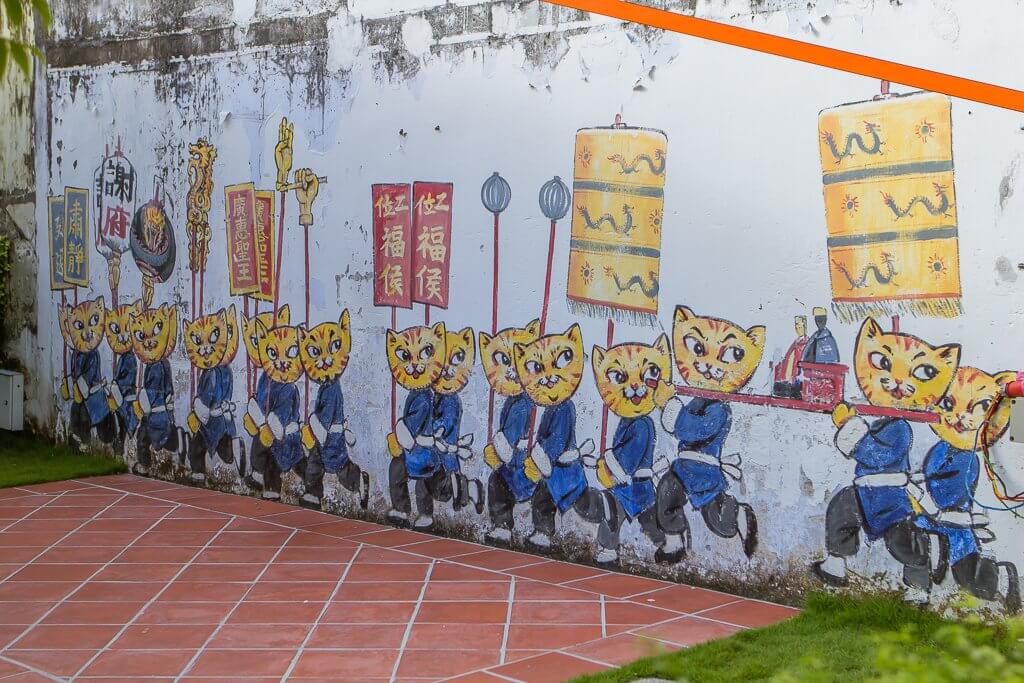 Marking Georgetown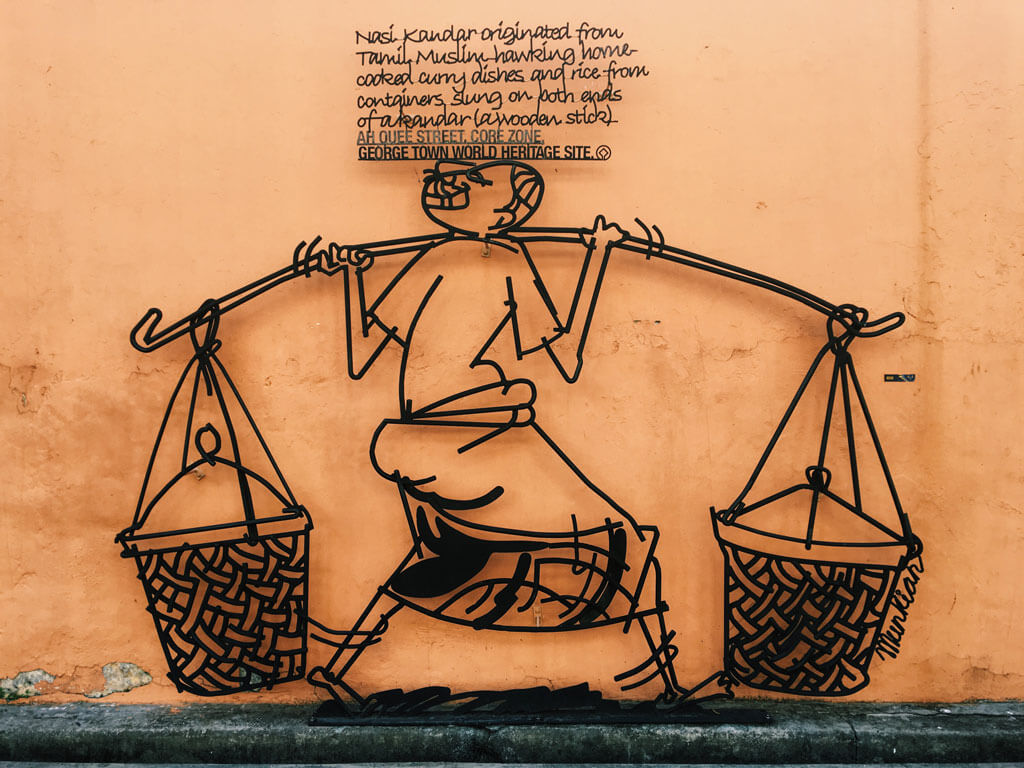 Even if you're not looking actively, you're guaranteed to see at least one of these iron sculptures scattered throughout Georgetown while walking around.
We saw these EVERYWHERE, and they are all unique and tell a different story. These stories about something historical or notable that happened on the street where it's located and some of them are even considered to have a bit of humor.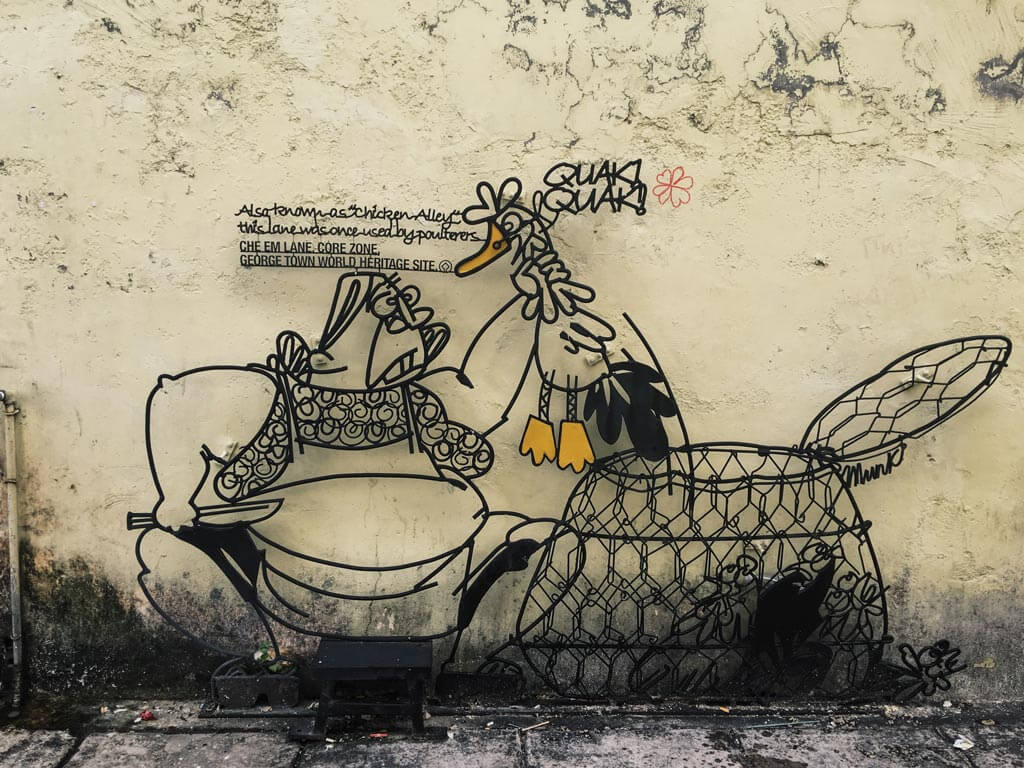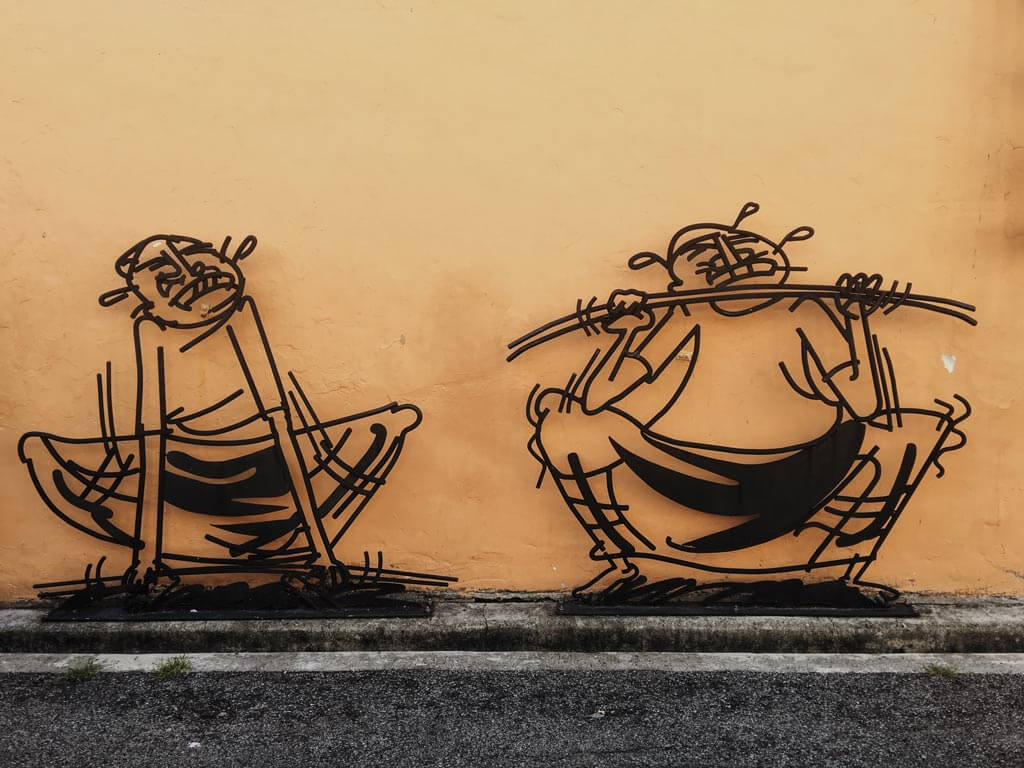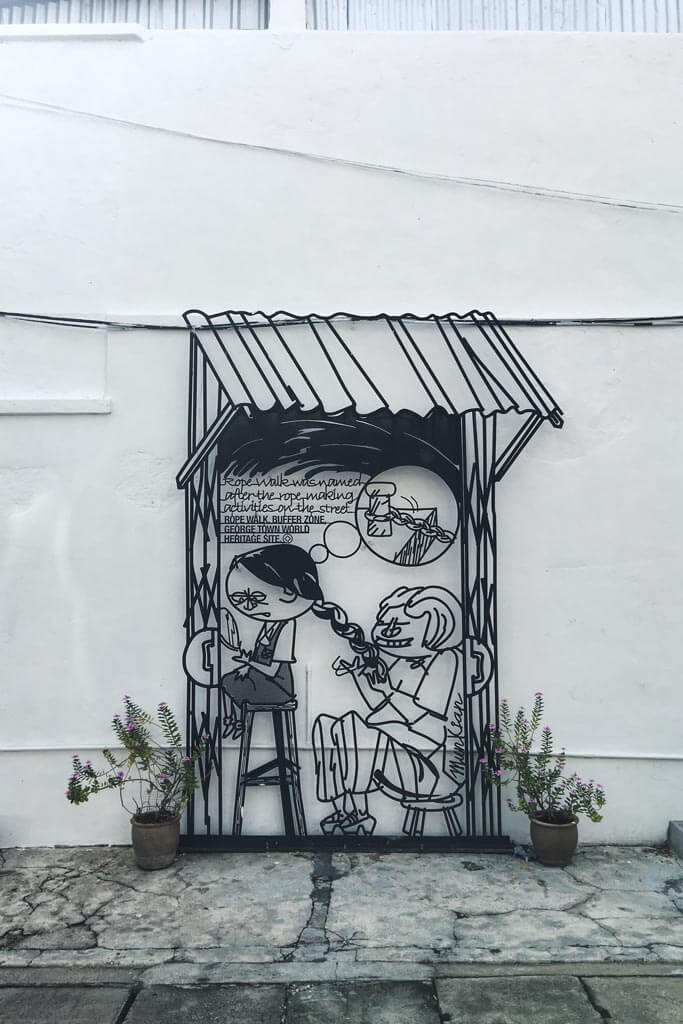 More Georgetown Street Art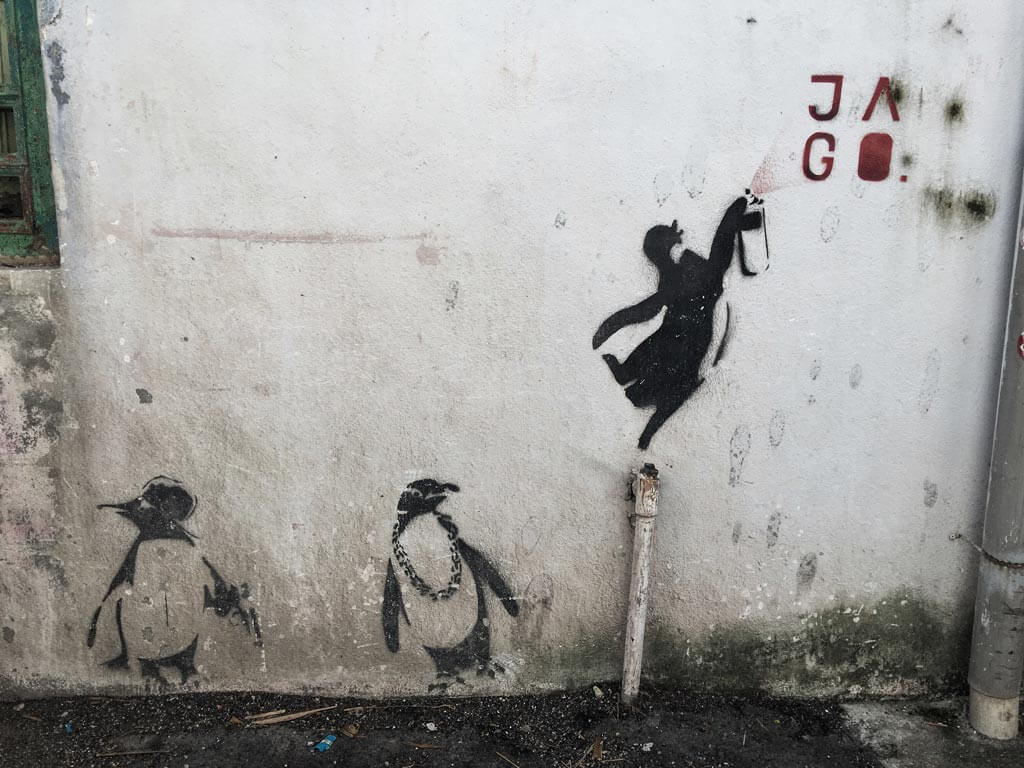 Be sure to pay close attention to little nooks and crannies throughout Georgetown, there are hidden lesser known gems scattered throughout the city. We found it like a fun hide n seek game to find as many pieces of street art we could find throughout this charming AF place.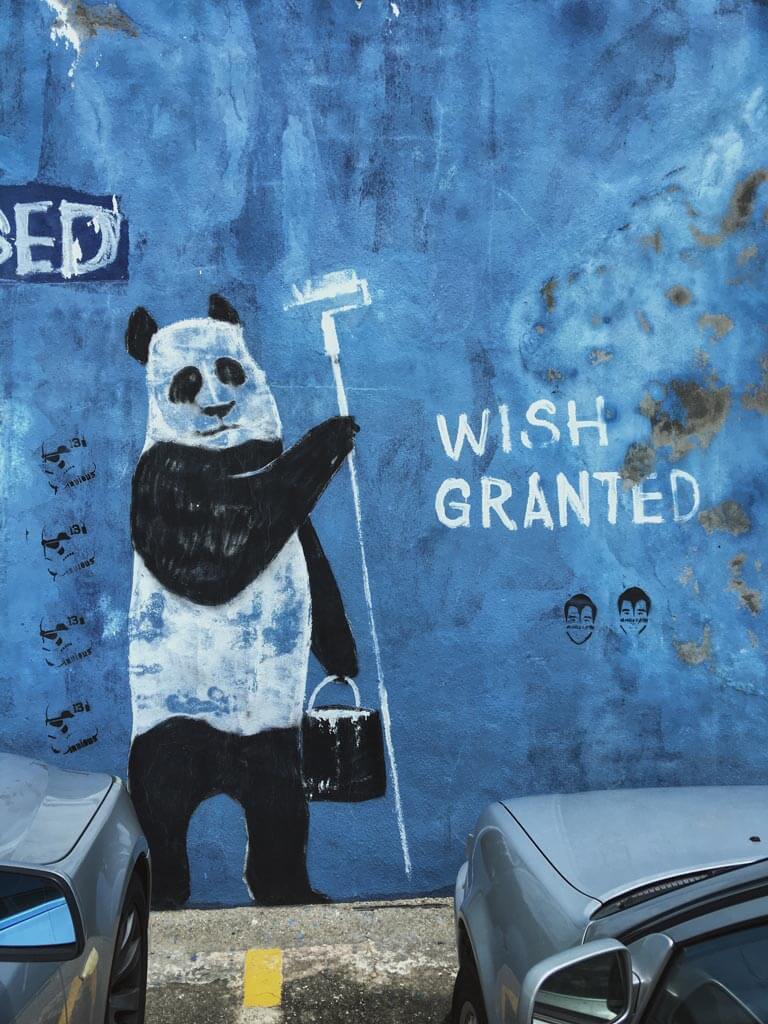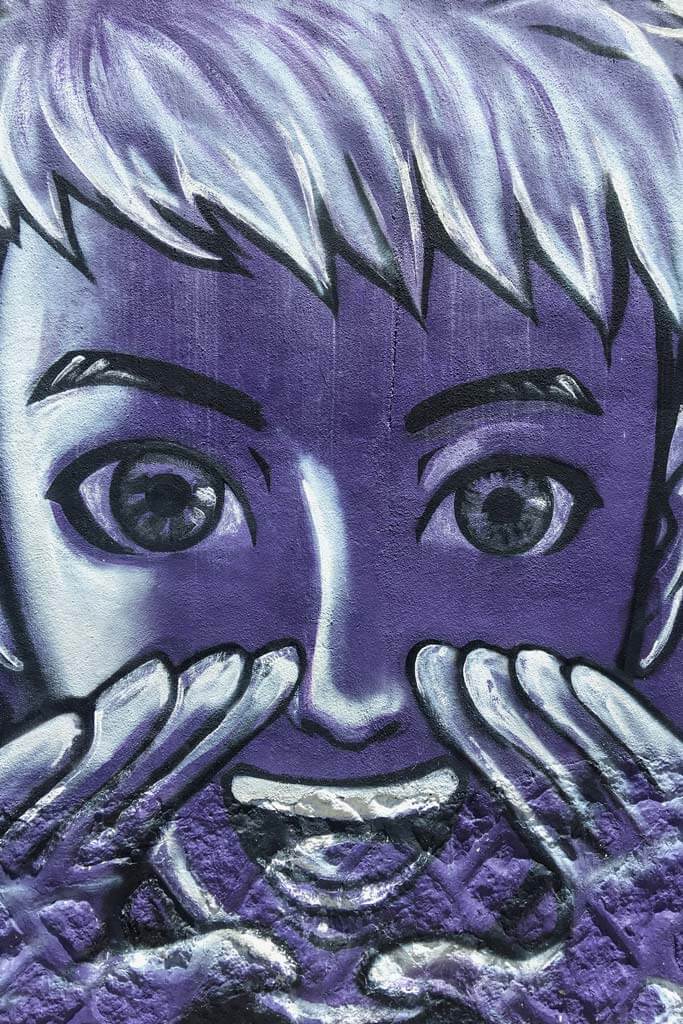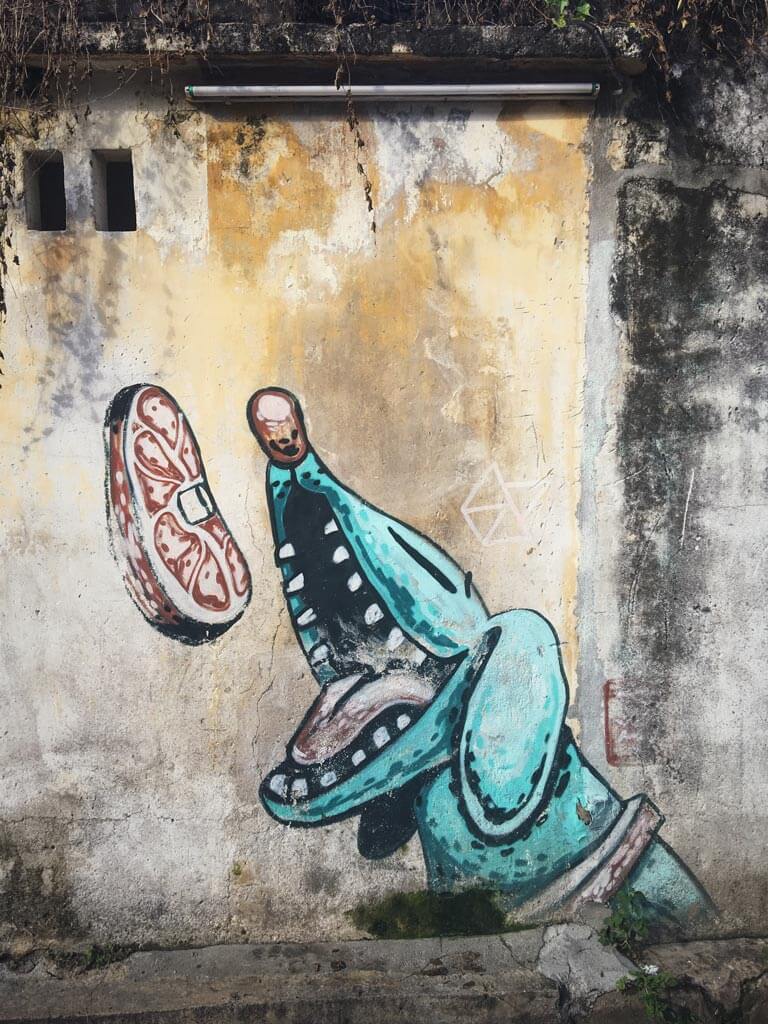 Check out this map with the locations of all of Penang Street Art to plan your hunt successfully!
We really enjoyed wandering the streets and finding pops of art all over the place. It really adds to this already beautiful UNESCO site. Not to mention the food is to die for!
Have you seen the Penang Street Art scene? What's your favorite? Let us know!
Sharing is caring! If you liked this post, share the heck out of it on Pinterest below!