Looking for the perfect weekend escape? Look no further than the charming and historic Havre de Grace, Maryland. Located where the Susquehanna River meets the Chesapeake Bay, there are tons of incredible things to do in Havre de Grace to make a wonderful weekend getaway.
Coming from New York City, we were pleased to discover that a road trip to Havre de Grace was only 2.5 hours, the same distance it takes us to get to some of our favorite Upstate New York weekend getaways and the Catskills. Little did we know, that we'd discover a place that we'd happily visit again.
Located in Harford County, Maryland, and just a 45-minute drive from the city of Baltimore, Havre de Grace is steeped with natural beauty, a vibrant downtown, a storied past that goes back to the founding of the United States of America, and plenty of things to do to fill a weekend getaway.
Speaking of the history of Havre de Grace, this destination has quite a storied past from being a significant trading hub thanks to its waterfront location and was defended by a local hero before the city was burnt down in the War of 1812 by the British.
We encourage you to explore and admire the historic architecture while you're here, from Victorian mansions and estates to a charming lighthouse on the waterfront.
And for those interested in the flavors of Havre de Grace, you'll be pleasantly rewarded with the bountiful seafood options available from the Chesapeake Bay, enjoying craft beverages along the Libation Trail, and of course, the freshest ingredients from all the nearby farms including some incredible 'cow to cone' ice cream stops you won't want to miss – there's even a dedicated Ice Cream Trail you can check out!
Without further ado, let's get into all the amazing things to do in Havre de Grace, Maryland for the perfect weekend escape!
Things to do in Havre de Grace
Concord Point Lighthouse and Keeper's House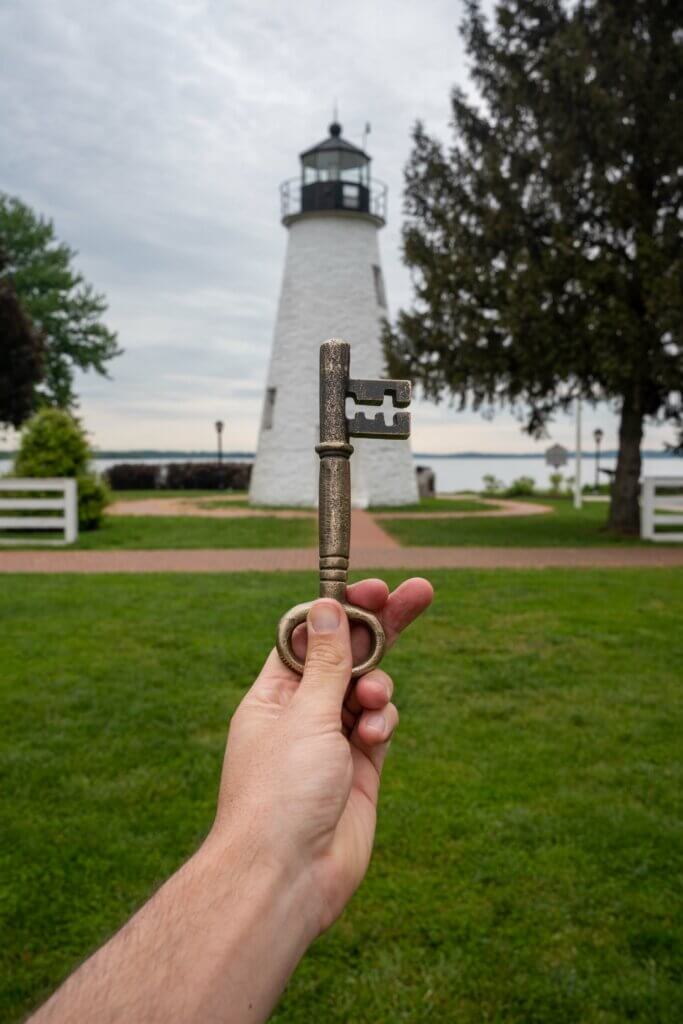 One of our favorite things to do in Havre de Grace was learn all about the Concord Point Lighthouse and Keeper's House which is situated at the point where the Susquehanna River opens to the Chesapeake Bay.
This historic Havre de Grace attraction dates back to 1827, and until it was automated in 1920, it used 9 lamps that the lighthouse keepers would refuel every night with whale oil to help ships navigate the waters.
Before being fully automated in 1920, the keepers of Concord Point Lighthouse included generations of the O'Neill family, including women which was not very common for that time in history.
What makes this one of the most astonishing historic Havre de Grace stories to tell is that of John O'Neill, a lightkeeper here during the War of 1812 and it would be generations of his family that would go on to take care of this lighthouse for generations to come.
On the morning of May 3, 1813, when British forces attacked Havre de Grace, O'Neill bravely defended the town pretty much on his own from incoming troops by manning a cannon on Concord Point.
It was quite literally him vs. an army. He was captured and it is believed that his daughter, and her bravery, is what convinced British Admiral George Cockburn to release him. It was on this day that Havre de Grace was set on fire and destroyed much of the town.
It was after this, John was appointed the first lightkeeper when the lighthouse was constructed in 1827.
There's a cannon memorial next to the lighthouse for John O'Neill and his bravery as well as an annual celebration and event called Defender's Day that honors his legacy and courage during the war.
You can learn more about the fascinating history of not only this lighthouse but also the lightkeepers who took care of it in the lightkeeper house museum, located in the old stone house facing the lighthouse.
Then, standing at 36 feet tall, visitors have the opportunity to climb the narrow, winding staircase up to where an even more narrow ladder leads you to the top where you can look out and see the views.
Open April through October on the weekends. If you're visiting off-season, you can still admire the lighthouse from its exterior.
Stroll Down Washington Street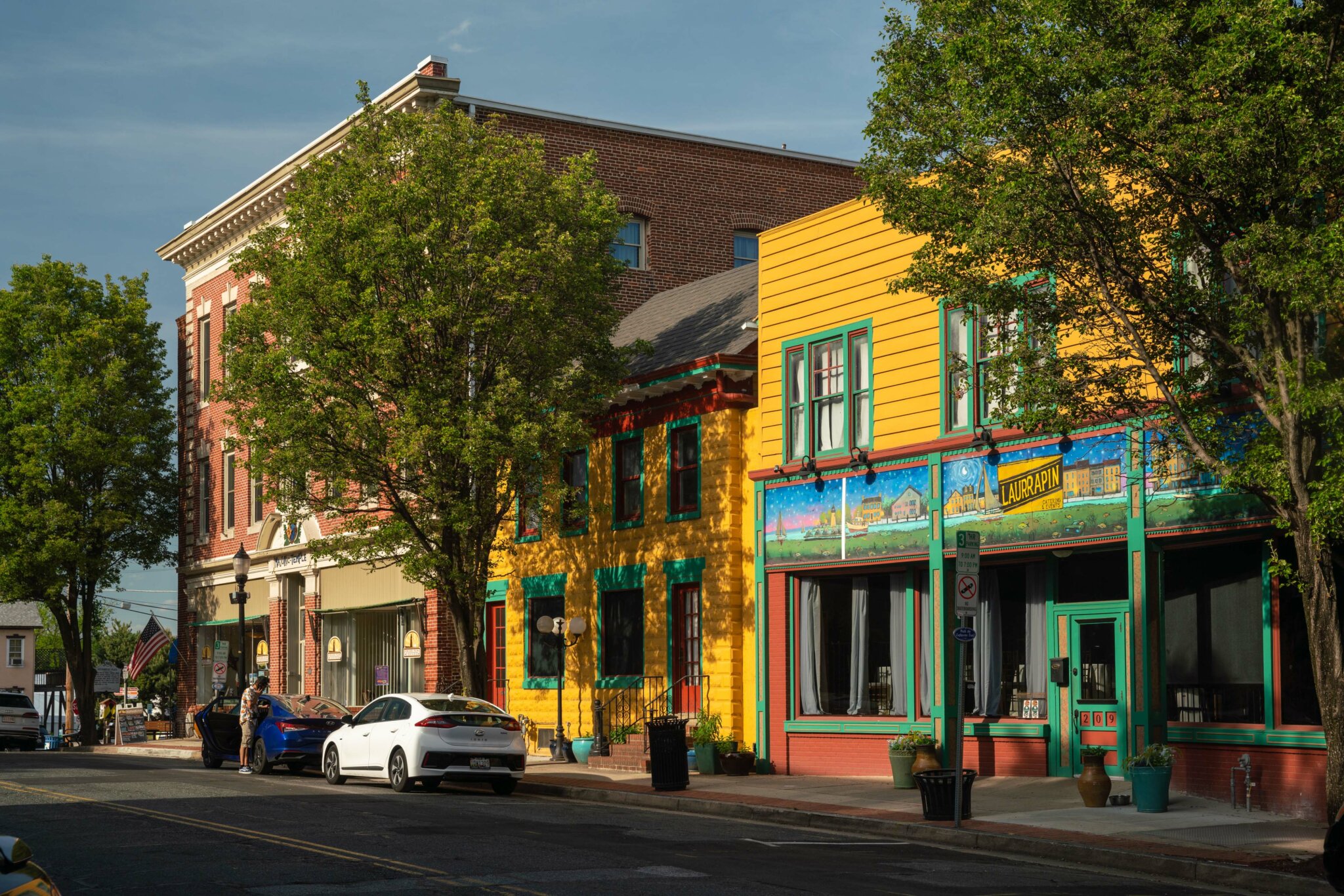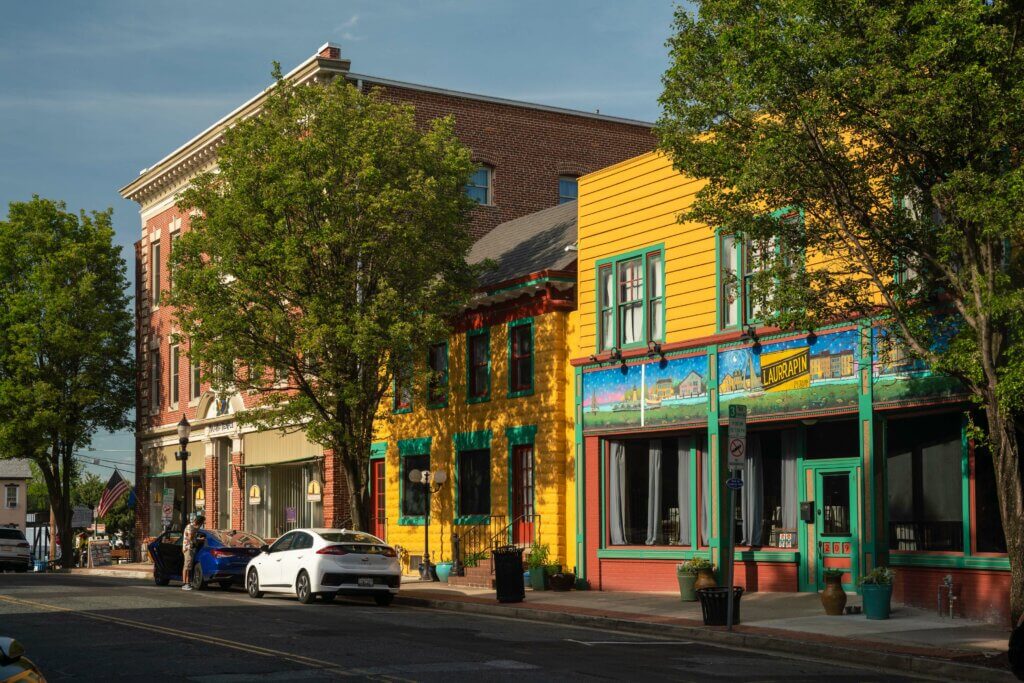 During a weekend in Havre de Grace, you're going to want to browse all the great things happening on Washington Street! This adorable main street is lined with storefronts that are home to unique shops, independent boutiques, cafes, and places to grab a bite to eat.
This is one of the most perfect things to do in Havre de Grace on the weekends as many of the shops are only open the latter half of the week!
Our favorite shop we came across was JoRetro Vintage Market which specializes in vintage goods from clothing to home goods! We both were impressed with the sheer amount of mint condition vintage Pyrex bowl sets they had on display as well as other vintage gems and vintage-inspired goodies in the store. I went on a shopping spree and found a few vintage pieces of clothing that felt like winning the lottery!
A lot of the store's focus is on mid-century, which we adore, and discovered they even have their own Airbnb listings that are fully decked out in mid-century retro decor you can stay at too!
And for Pyrex and vintage lovers, there's an annual festival held here on Washington Street at JoRetro too at the end of April you can attend to shop all things vintage and Pyrex from over 50 vendors!
If you need a pick-me-up, head to Concord Point Coffee which serves up just about any coffee drink you can imagine plus some inventive lattes and pastries.
Speaking of pastries, head over to Les Petits Bisous Macarons for French macarons that are just like little kisses, hence the name! You can't miss the pretty pink storefront either.
And if you're looking for a great breakfast or lunch spot, head over to Vintage Cafe, an old-school diner that serves up all the diner classics for breakfast and lunch.
Antique Shopping in Havre de Grace
Another one of our favorite things to do in Havre de Grace during our getaway was check out all the antique shops! We already wanted to buy everything in JoRetro, including a vintage bar on display that we were trying to justify finding a space for in our New York City apartment and vintage Pyrex sets, but there were more great antique shops that were worthy of spending time browsing downtown too!
Seneca Cannery Antiques has 3-floors of antiques to shop with just about anything you can imagine here. This former cannery building is now home to troves of treasures from over 50 dealers in 20,000 square feet of space! I found a really cool antique suitcase I couldn't pass up and brought home with me, but there was so much to see here.
Another excellent stop you need to check out is Bohouka's Antique Mall & Beer MuZeum on Union Avenue. The entrance alone caught our eye and we had to stop with all kinds of interesting statues and life-size figures that will surely catch anyone's attention. You'll want to take your time browsing the 9,000 square feet of floor-to-ceiling antiques and don't miss the upstairs level where the Beer MuZeum is housed!
All of the antique shops mentioned are open daily!
Havre de Grace Decoy Museum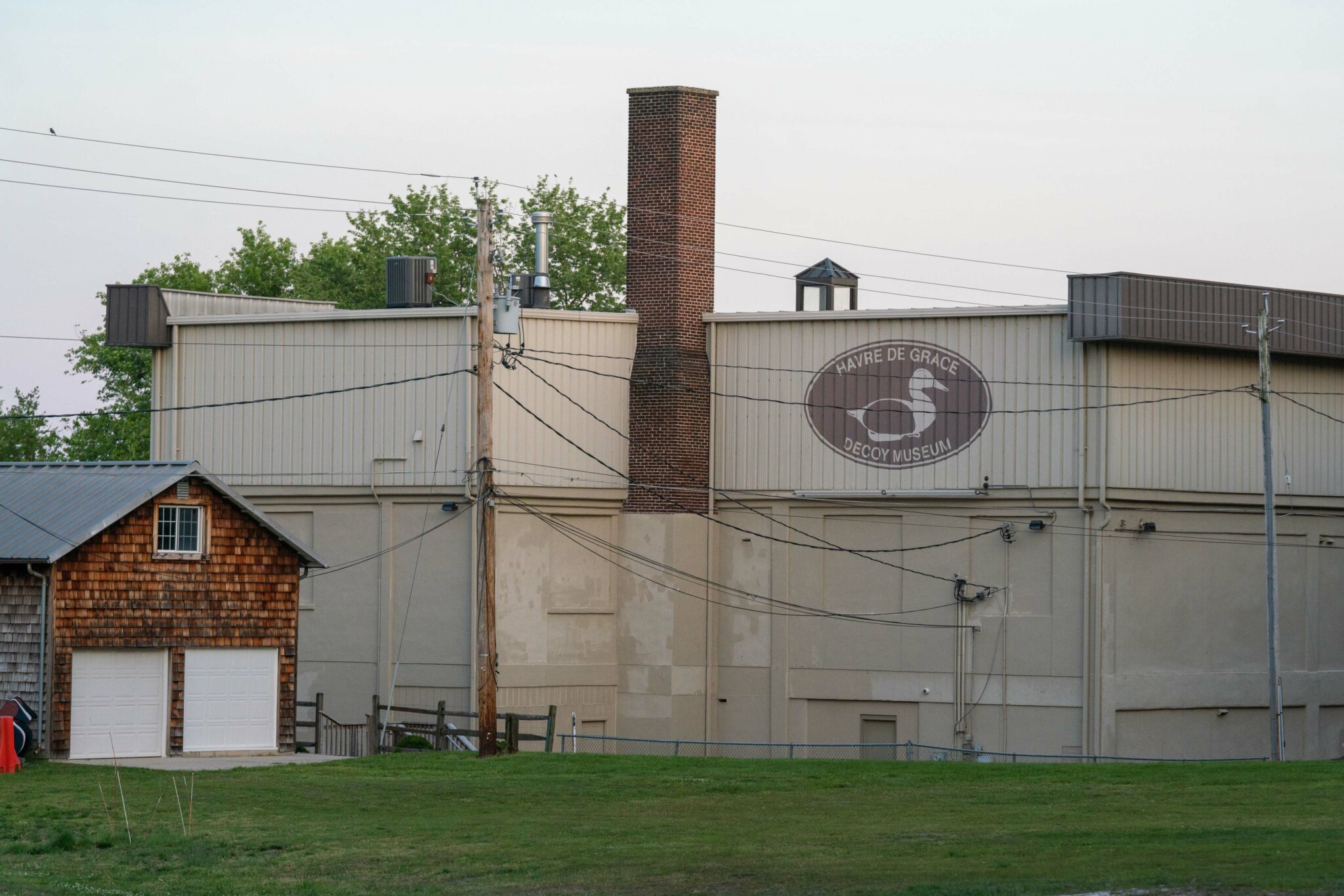 Did you know that historic Havre de Grace is the decoy capital of the world? If you're wondering what that means, it's referring to carving wooden decoy waterfowl for hunting purposes.
Using decoys to hunt is an ancient technique and was popularized during the Middle Ages in Europe and spread to North America through colonization. While this type of hunting isn't new, it was the 19th century when carving elaborate decoys was popularized in the Chesapeake Bay area as waterfowl hunting played into a huge part of the local economy.
The Havre de Grace Decoy Museum not only covers the history of the importance of local waterfowl hunting but details the craftsmanship that goes into creating these decoys as well as an impressive collection of them on display you can see.
While using decoys for hunting is still a practice used to this day, there have been modern modifications to the practice including rules and regulations to ensure sustainable hunting practices for the modern hunter.
If you're interested in diving into the history and cultural significance these decoys represent to the Chesapeake Bay area, this is one of the best things to do in Havre de Grace, Maryland for you!
Open daily throughout the year, $6 admission fee.
Havre de Grace Maritime Museum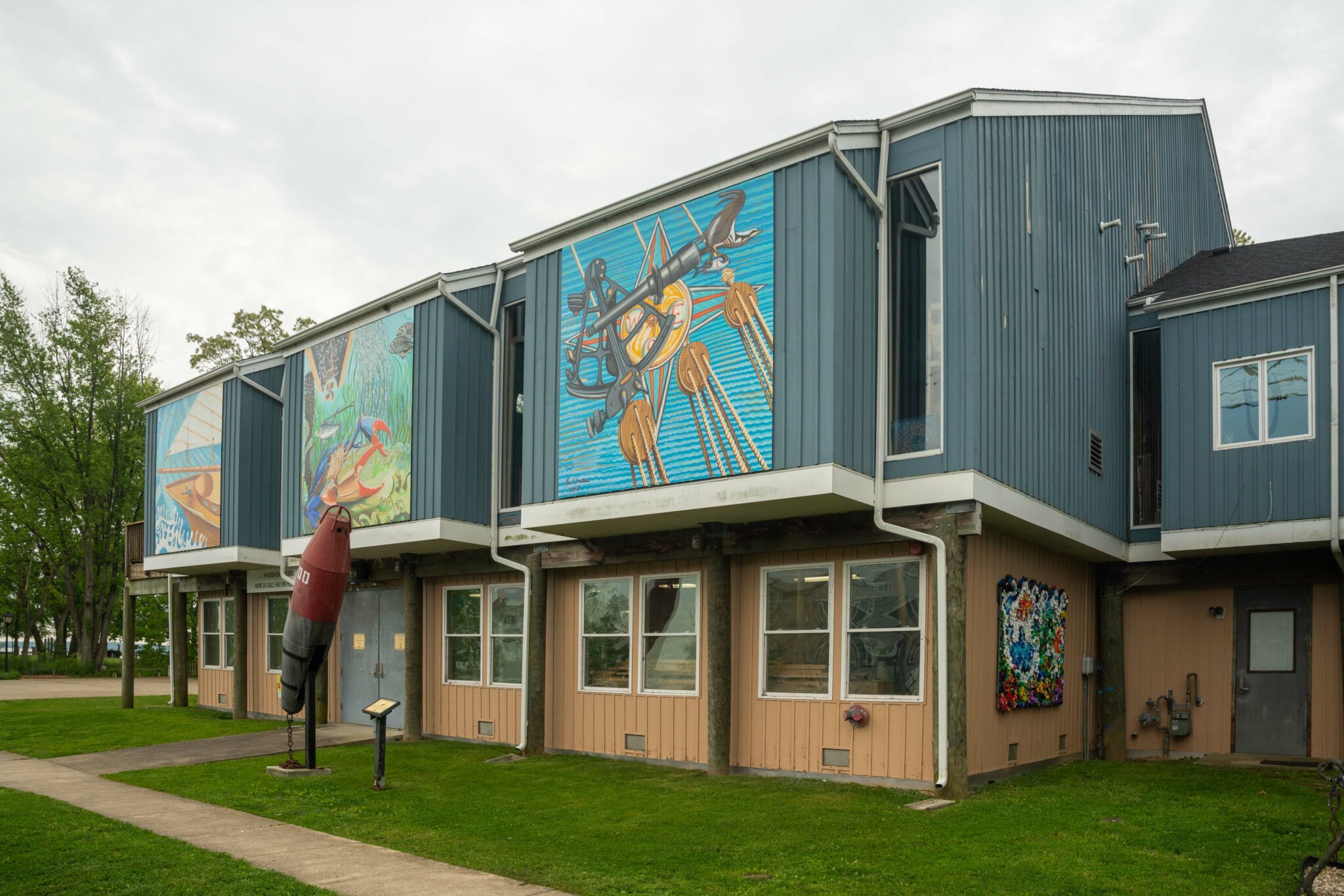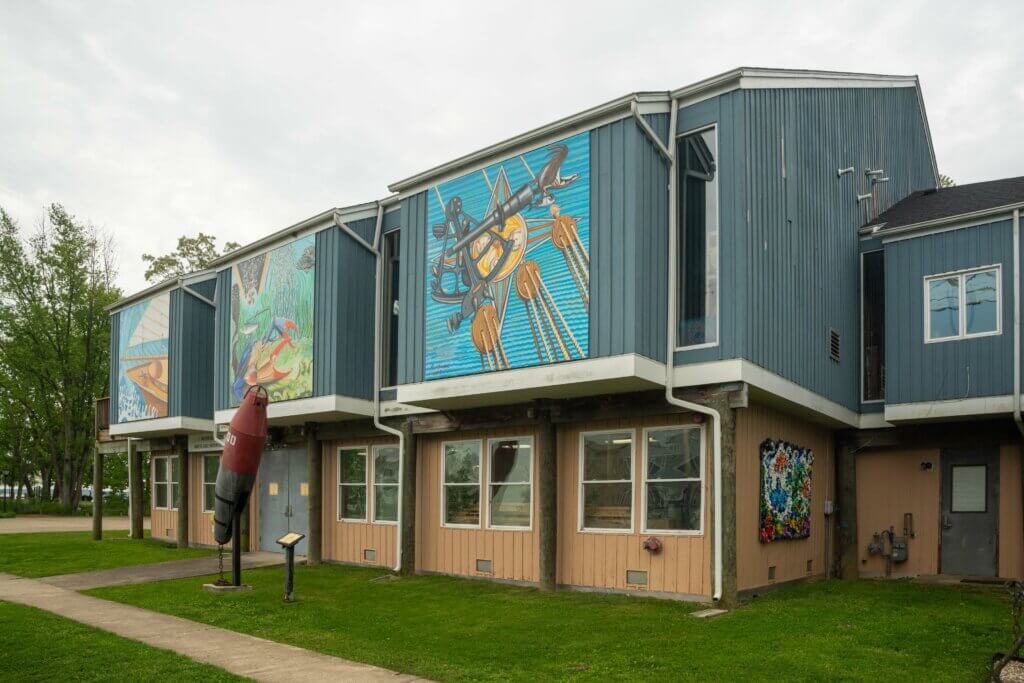 Continuing on for amazing things to do in Havre de Grace for history buffs, you'll want to check out the Havre de Grace Maritime Museum, located right along Concord Point Park and Promenade.
The museum focuses on the maritime history and role of the Chesapeake Bay and Lower Susquehanna River detailing its role back tens of thousands of years when Native Americans were stewards of the watersheds here, during European colonization, to the modern-day role that these waterways play into the continued culture and heritage of this region's maritime importance.
A visit to the museum will give you insight into what role maritime history has played on the local economy and environment as well as the craftmanship of shipbuilding, fishing equipment, and even navigational tools used to explore by water through collections and exhibits on display.
Open Wednesday – Sunday, $5 admission
Susquehanna State Park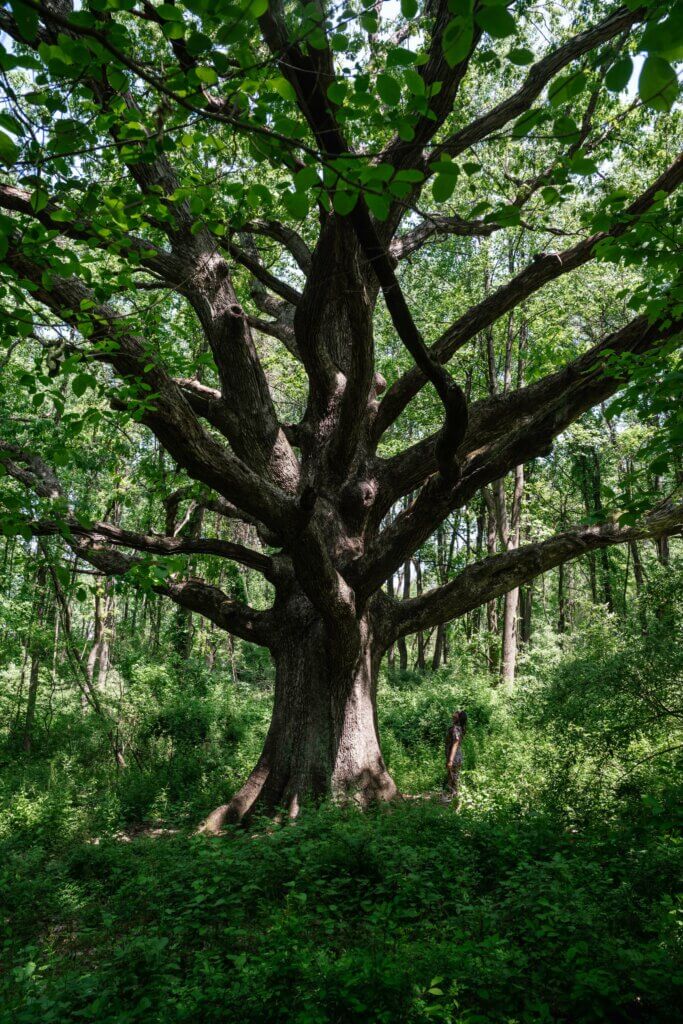 During your weekend in Havre de Grace, Maryland you do NOT want to miss on the ample outdoor opportunities that await for you here including Susquehanna State Park located just a few miles outside of town situated along the Susquehanna River teeming with outdoor activities like hiking trails through their dense forest, picnic areas, fishing opportunities, and historic sites.
Be sure to stop in the Rock Run Historic Area for gorgeous lookouts of the Susquehanna River and historic landmarks like the Carter-Archer Mansion, Jersey Toll House, and a working gristmill.
We spent most of our time here on the Deer Creek Trail Loop. This 2.5-mile loop took us around 90 minutes to complete and it was truly the perfect way to round off our weekend in Havre de Grace before heading back to New York City as we made this our final stop.
This trail starts and loops back to end at the Deer Creek Picnic Area (it's easy to follow, look for the entrance by small sign about halfway down the parking lot along the wooded area and follow the green loop with signs marked Deer Creek Trail).
The trail is in a heavily wooded area surrounded by a blanket of lush greenery every direction you look with trees draping with vines, birds chirping, and a neatly maintained single-track trail that takes you to an impressive champion White Oak tree about halfway on the loop.
The trail actually leads to two Maryland champion trees (aka a super-size tree) but unfortunately, we discovered that the second champion tree, a famous beech tree, was taken out by a storm about a month prior to our visit, and the massive tree lay fallen in an open patch of grass when we got to it.
We were sad to see the gentle giant had taken a fall recently, but the Champion White Oak tree was honestly enough on its own that made this trail rewarding towering over us. Not to mention, the White Oak is also the state of Maryland's official tree too!
The trail has some ups and downs, which make it an easy to moderate trail to take a hike on. And if you're looking for a longer hike you can easily branch off at any of the forks to the blue or red trails too.
Steppingstone Farm Museum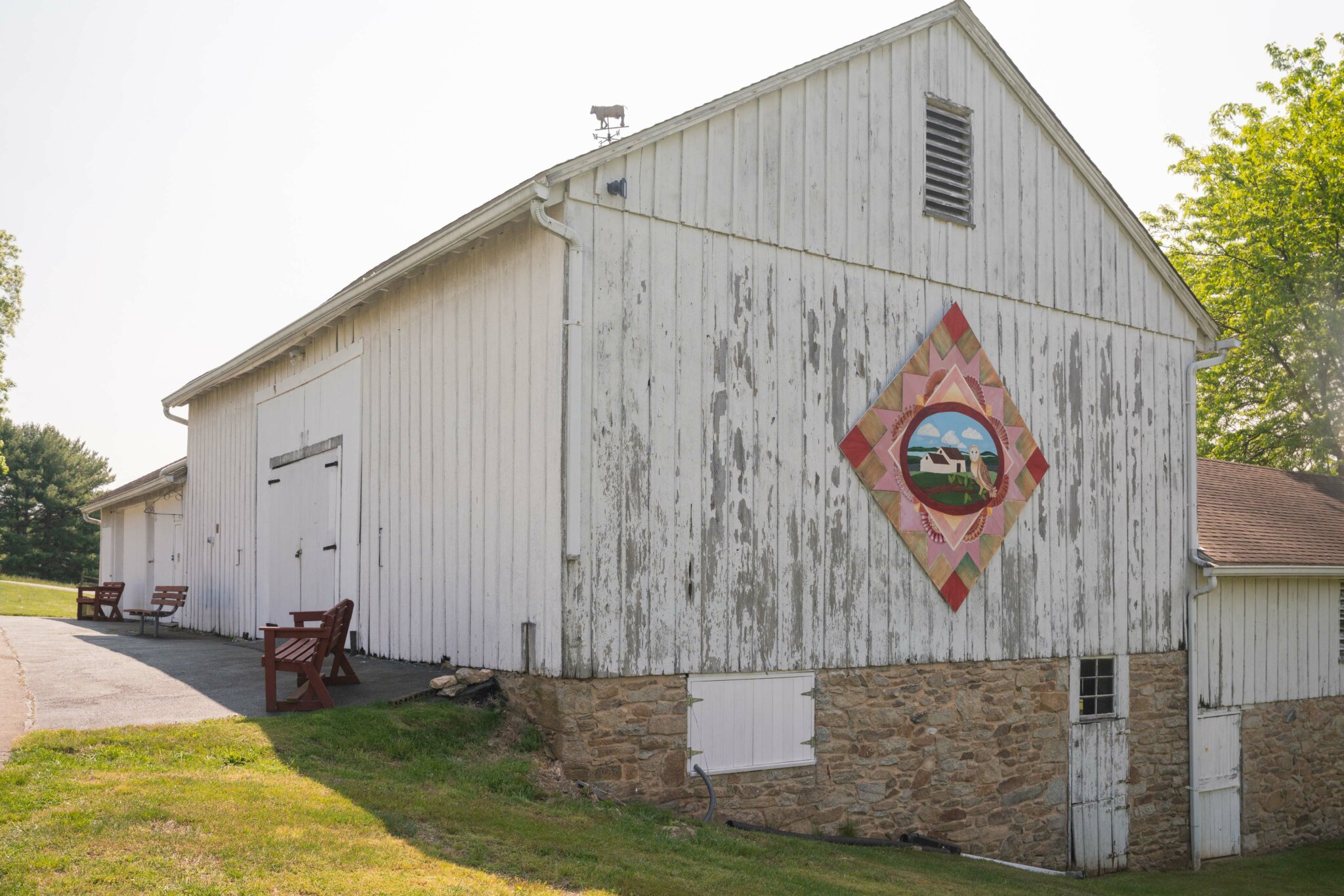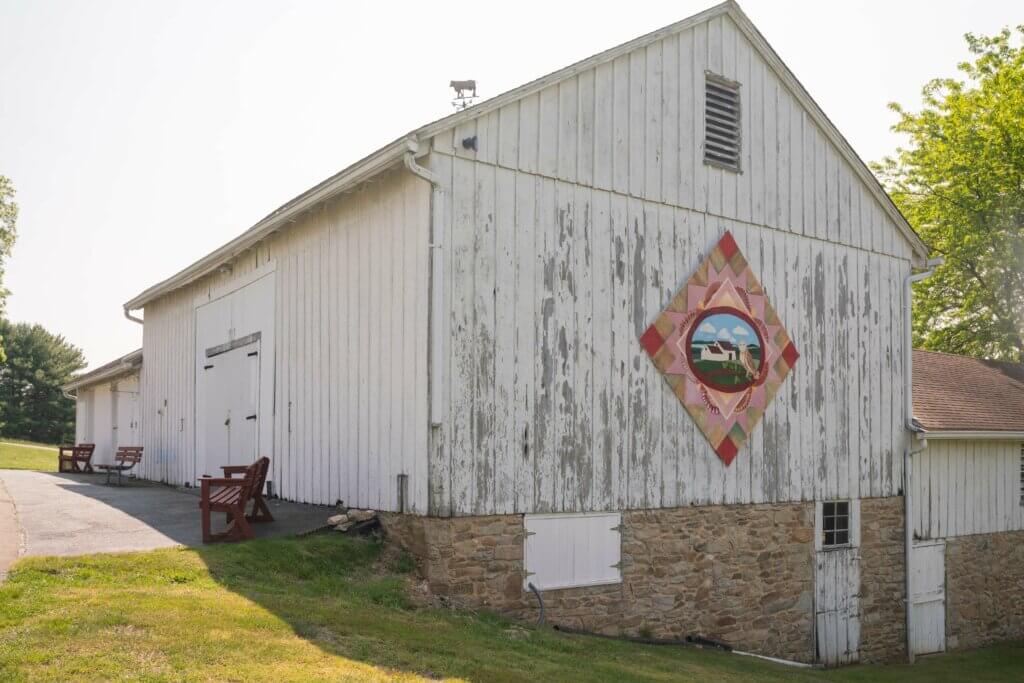 Another fun stop during your weekend in Havre de Grace, Maryland located just outside of Susquehanna State Park is the Steppingstone Farm Museum which takes you a step back in time to experience the rural heritage of Harford County.
Join a tour, or demonstration, or visit the museum that all focuses on traditional farming practices. There are also restored buildings that you can walk through to give you a glimpse of the local rural past like a smokehouse, farmhouse, schoolhouse, blacksmith, and more.
There's a chicken coop you'll want to pay a visit to, be sure to check out all the names of the hens and rooster in there!
The grounds are open daily, but the buildings and museum are open seasonally from April through October on the weekends.
Eat all the Crab You Can!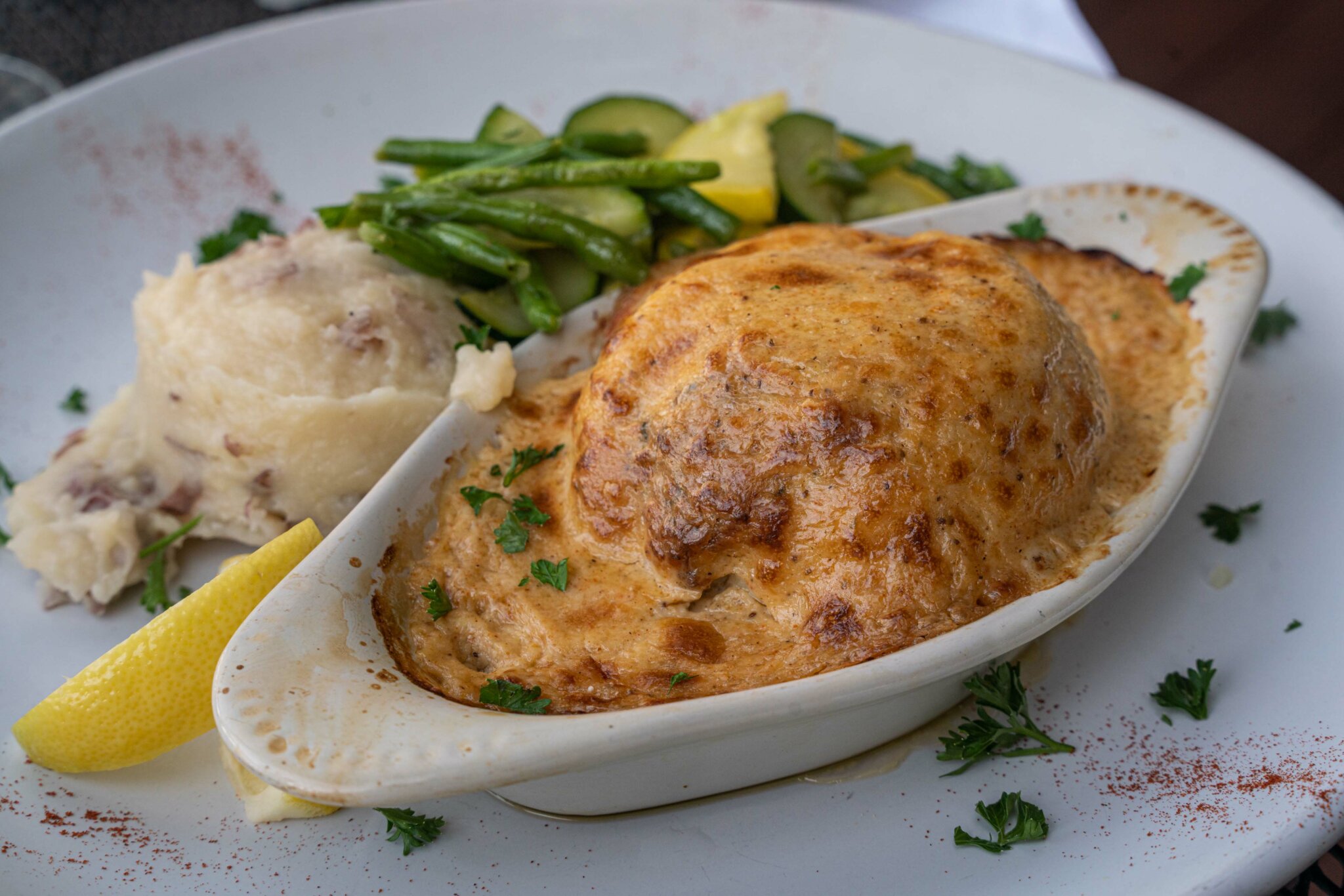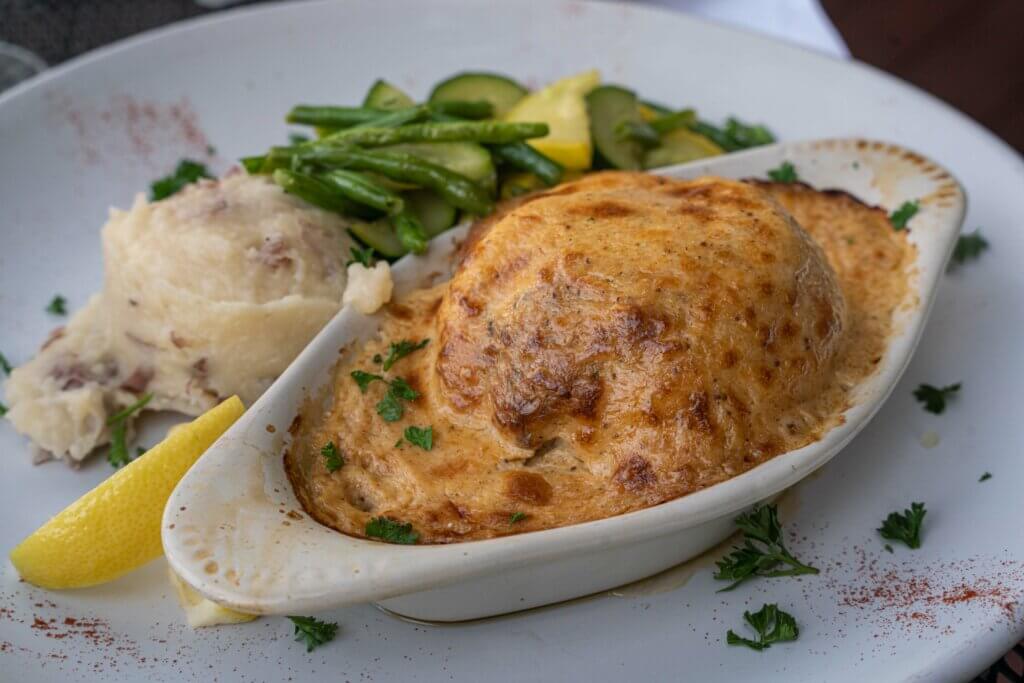 The Chesapeake Bay is famous for its abundant crab population! So for all the foodies out there, one of the best things to do in Havre de Grace, Maryland is eat your weight in dishes featuring the local crab!
You'll find crab steamed, boiled, made into crab cakes, and all other types of dishes including savory crab dips topped off with melted cheese and paired with soft pretzel sticks, crab sandwiches, creamy crab soup, vegetable-based crab soup, and my favorite way it was prepared was flounder stuffed crab.
You'll find that the menus feature blue crab, as this is the type of crab that's commonly found in the Chesapeake Bay.
In Havre de Grace, we enjoyed great crab entrees from both MacGregor's and Tidewater Grille.
MacGregor's is a fish-focused American restaurant that has a great outdoor deck overlooking the mouth of the Susquehanna River. They also have a large indoor dining area and bar too.
Tidewater Grille is located right on the mouth of the Susquehanna River with an ample outdoor dining space offering great views of the water with lawn games. They also have ample indoor seating and are known for their surf n turf menu.
Either way, if you're eating local crab anywhere in Harford County, chances are you're going to have a crab-tastic time as it's all locally caught and restaurants here know how to prepare their local specialty well.
Check Out All the Colorful Murals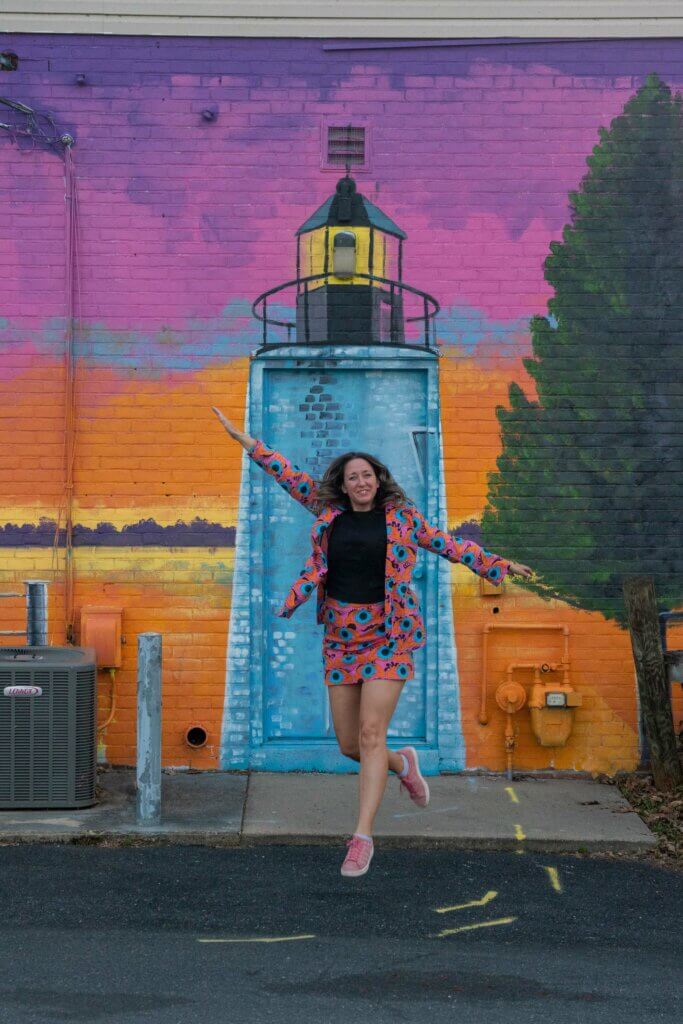 As you're wandering around historic Havre de Grace, Maryland you'll most likely notice the splashes of colors all of the city through its many murals.
Most of the murals you'll spot around town are by local artists Ezra Berger or Shawn Forton, as you see a few you'll start noticing which artist each mural belongs to by their own distinctive artistic flair they put into their pieces.
You'll find murals all throughout Havre de Grace and even painted crosswalks on Union Avenue! There's actually a public art map for Havre de Grace which also includes sculptures and statues too if you're curious to hunt them all down, otherwise, you'll be pleasantly surprised to see them as you're spending time downtown during your weekend in Havre de Grace.
You'll also find a whole collection of murals that depict the storied past of historic Havre de Grace at Graw Alley, which is a part of Harmer's Town Art Center, a soon-to-be community art space and center where you can not only see artists at work, but also browse their galleries, or join art classes and workshops that are still underway.
Graw Alley is the public outdoor space connected to Harmer's Town Art Center opening late summer of 2023. This is where you can find a little piece of greenspace to read a book or join one of the community events that will take place here including live music performances.
Graw Alley is named after the former historic race track that was here and every aspect of the park is designed to depict and pay tribute to Havre de Grace's past through all the murals by Ezra Berger including the very race track that the park is named after where the prolific Seabiscuit can be seen portrayed in the painting as he won his legendary 1938 race in Havre de Grace!
You can also spot other historic events from the days Havre de Grace was used for rum running, the O'Neill's at the Concord Point Lighthouse and his heroic attempt to defend the town during the War of 1812, Underground Railroad activity, and more through the vibrant collection of murals.
For being a small town, Havre de Grace, Maryland really has a rich cultural scene including seven museums and of course all the public art on display like these murals throughout the town and at Graw Alley.
Take a Stroll at the Havre de Grace Promenade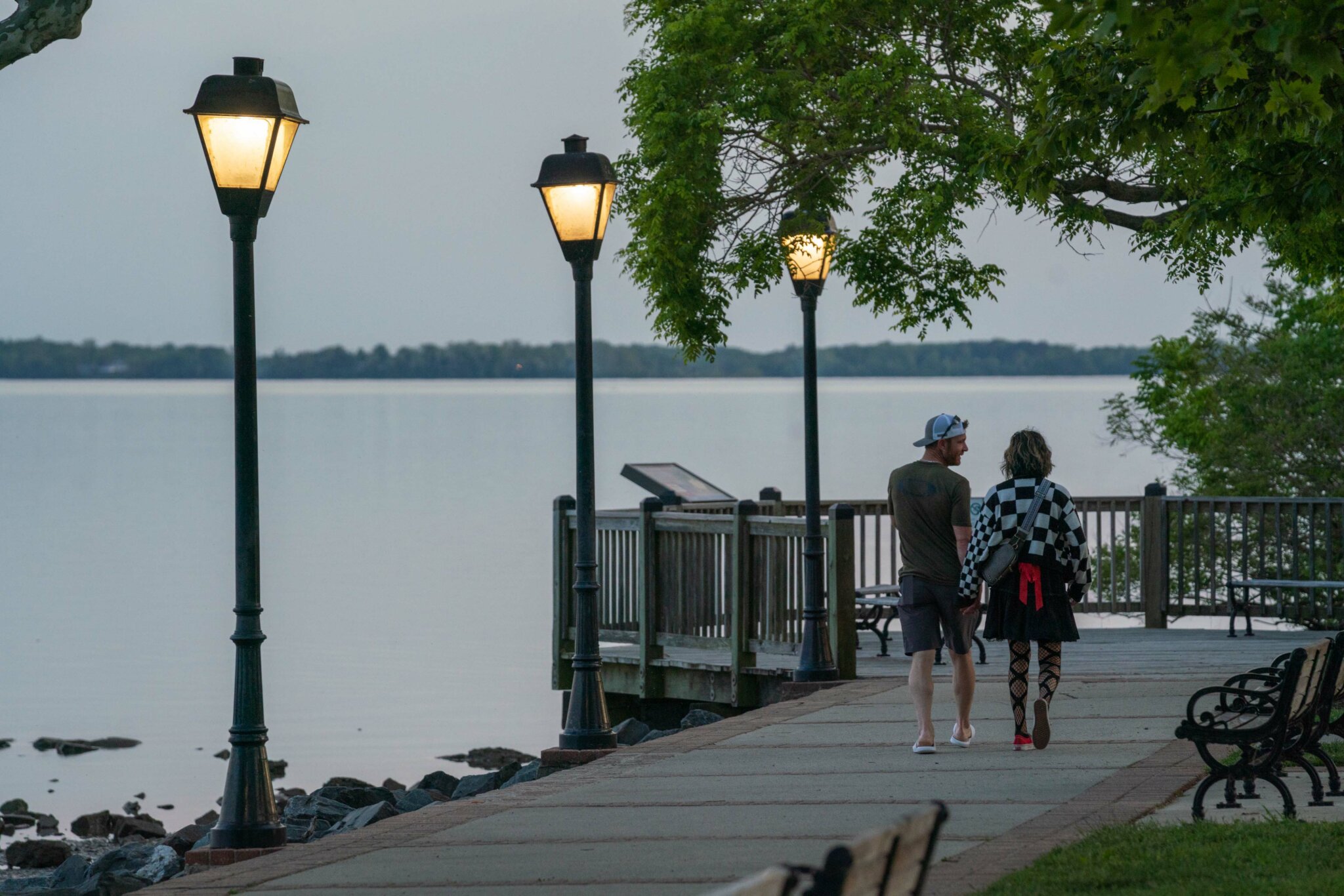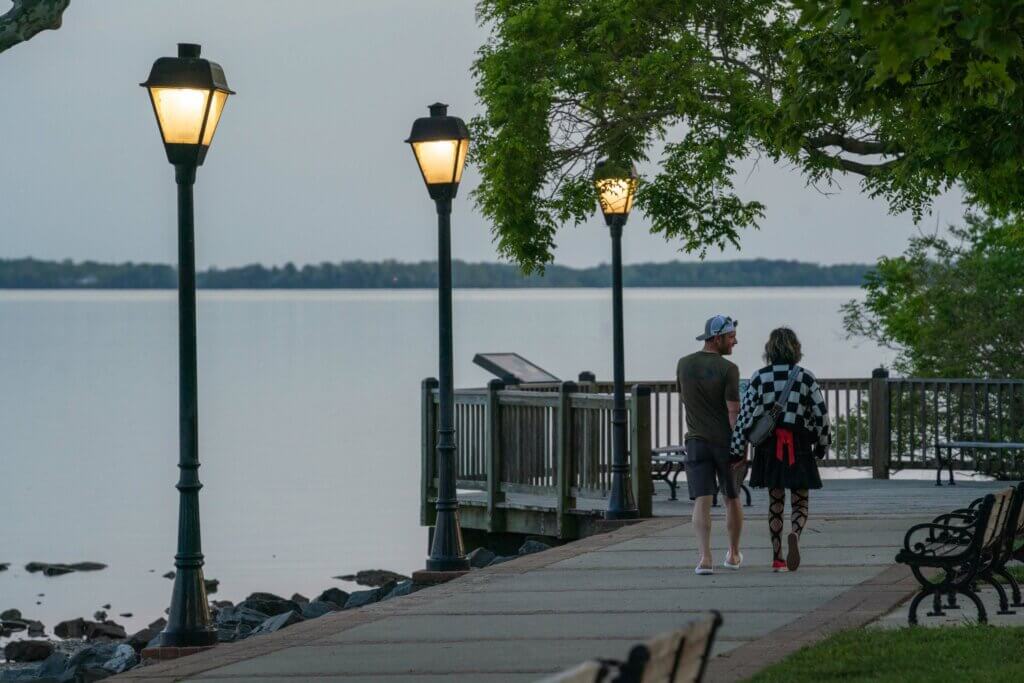 One way to unwind on your weekend getaway and one of the best things to do in Havre de Grace at sunset time is take a stroll at the Havre de Grace Promenade, located right along the waterfront where the Susquehanna River meets the Chesapeake Bay.
Also known as the Havre de Grace Boardwalk, this wooden accessible pathway stretches .75 miles in length from Concord Point Lighthouse to Tydings Park offering stunning views of not only the flora and fauna that surround you, but of the water as well.
We had such a picturesque visit. The water was completely still and it reflected the purple and light blue hues in the sky like a mirror on the water.
Don't forget to look up as you might catch a glimpse of a bald eagle, osprey, or other birds that frequent the park. We actually even saw a baby snapping turtle on our walk too, so don't forget to look down as well!
After you're leisurely stroll along the boardwalk, make your way to one of the sweetest things to do in Havre de Grace by grabbing an ice cream cone at Bomboy's Homemade Ice Cream which is a short walk from Concord Point Lighthouse.
Walk Along the Lafayette Trail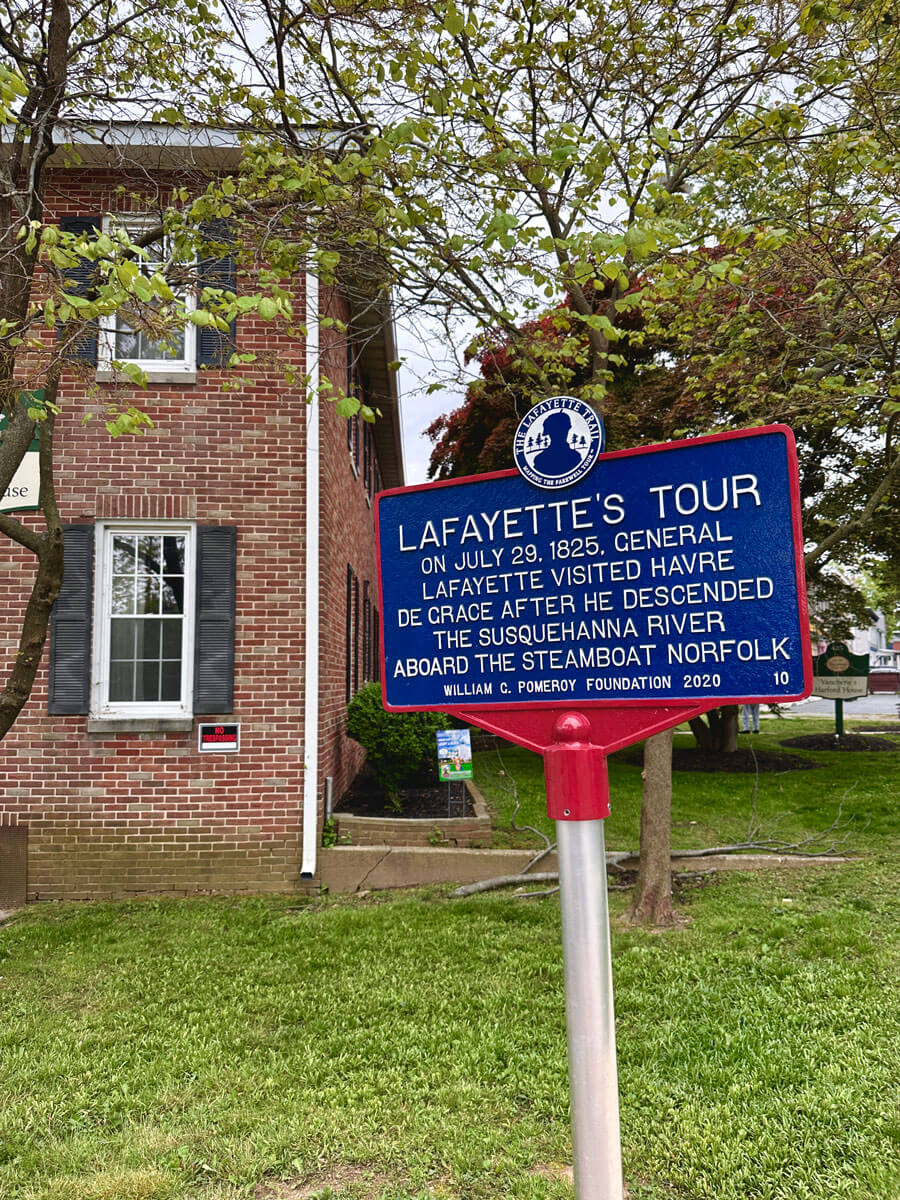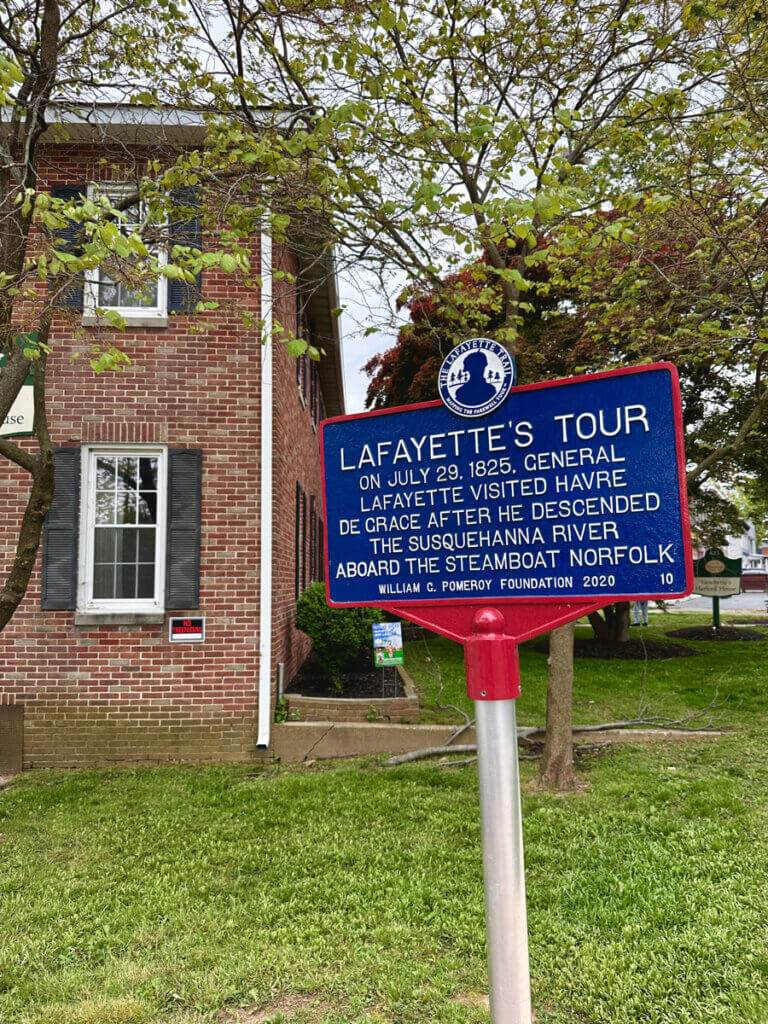 Everyone give it up for America's favorite fighting Frenchman! LAFAYETTE! Okay, so Hamilton fans will get that reference. But another way to explore historic Havre de Grace is by taking a walk along the blue-marked sidewalks that indicate the points of interest along the Lafayette Trail.
Named after General Marquis de Lafayette, who you might all know from history books as being a Frenchman who played a large role in helping during the American Revolutionary War.
En route to meet General George Washington in Philadelphia in 1782, Lafayette paid a visit to Havre de Grace and apparently loved what he saw and admired the views of the waterfront. It is said he declared, "C'est Le Harve" as the waterfront views reminded him of Le Harve, a port city in France and because of this encounter, the name became Havre de Grace.
The Lafayette Trail has several stops along the self-guided tour on a 3-mile loop throughout town starting at a Lafayette statue at Legion Square (425 N Union Ave). You can find the trail map by downloading DISTRX Lafayette Trail Mobile App on your smartphone.
Things to do Nearby Havre de Grace in Harford County
While you're spending a weekend in Havre de Grace, you'll want to do some exploring around Harford County to see what else this beautiful county has to offer! Here are a few things to do nearby Havre de Grace, Maryland that we checked out on our trip!
Visit Bel Air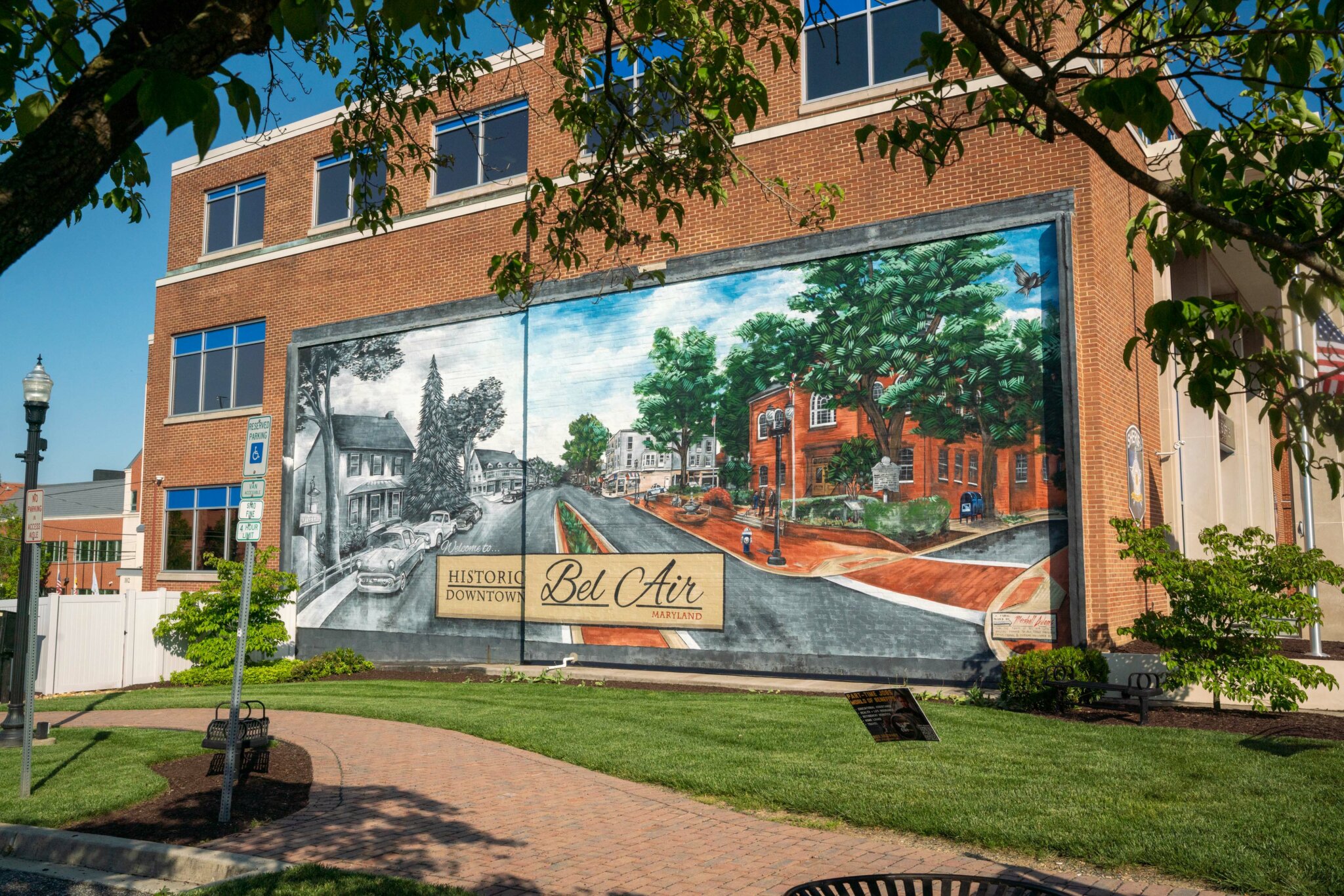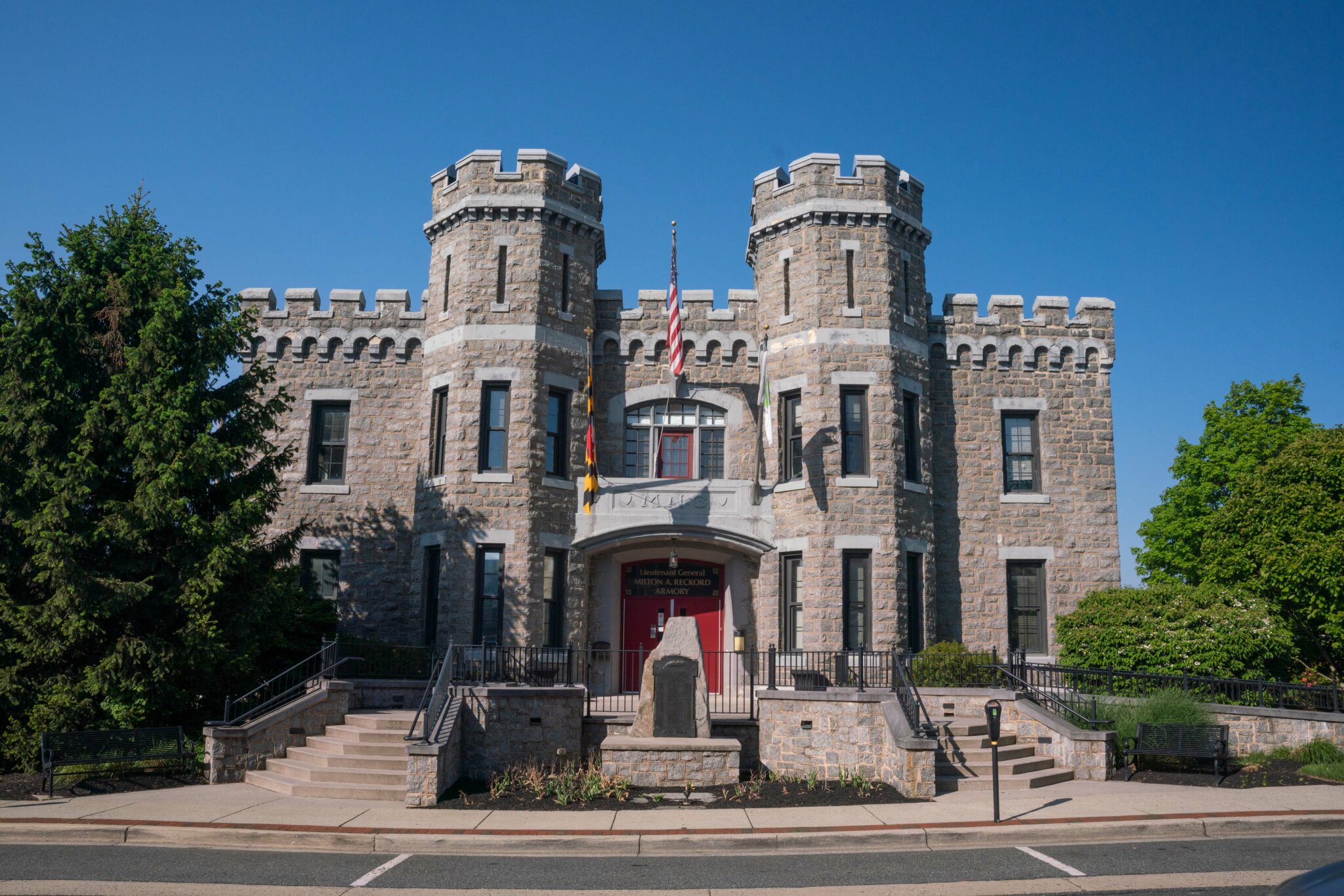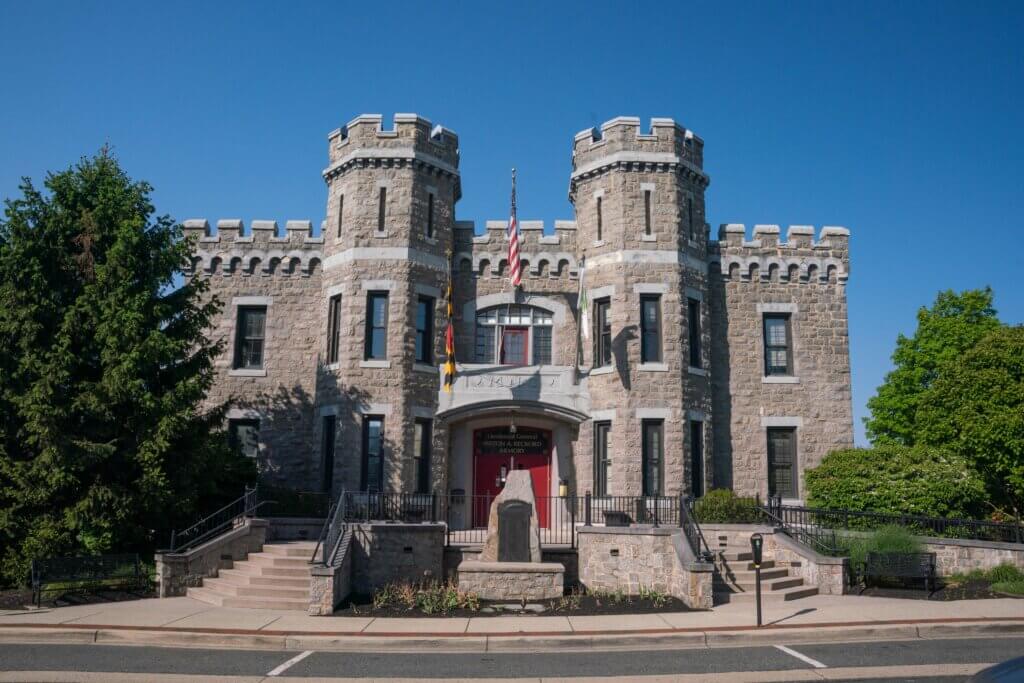 The town of Bel Air also is the county seat to Harford County and is definitely worth a stop! We recommend taking a stroll down Main Street to browse the shops like REB Records for their impressive new vinyl collection as well as CDs and used vinyl in their bargain bins, Tommy's On Main offers all kinds of cool vintage home goods and finds, and Aroma Candle Studio gives you the opportunity to pour your own candle to name a few!
While you're walking on Main Street you'll notice local landmarks like the Bel Air Armory (the castle-like building).
There are also breweries in Bel Air that are worth making a stop at, we really enjoyed the beers we tried at AleCraft Brewery which also has cool artwork done on all their labels. If you fall in love with any of them they sell posters of them and support local artists all while doing so. They also had board games if you wanted to chill here for a bit too.
Finish off your visit to Bel Air by enjoying a meal at Magerk's, a sports bar with Philly-famous foods like cheesesteaks and 'Eagle' style wings made up of a mixture of Old Bay seasoning, hot sauce, and cheese whiz which was surprisingly AWESOME!
Not to mention, they have a great happy hour and if you're into sports, this might be the best place to catch a game.
Rocks State Park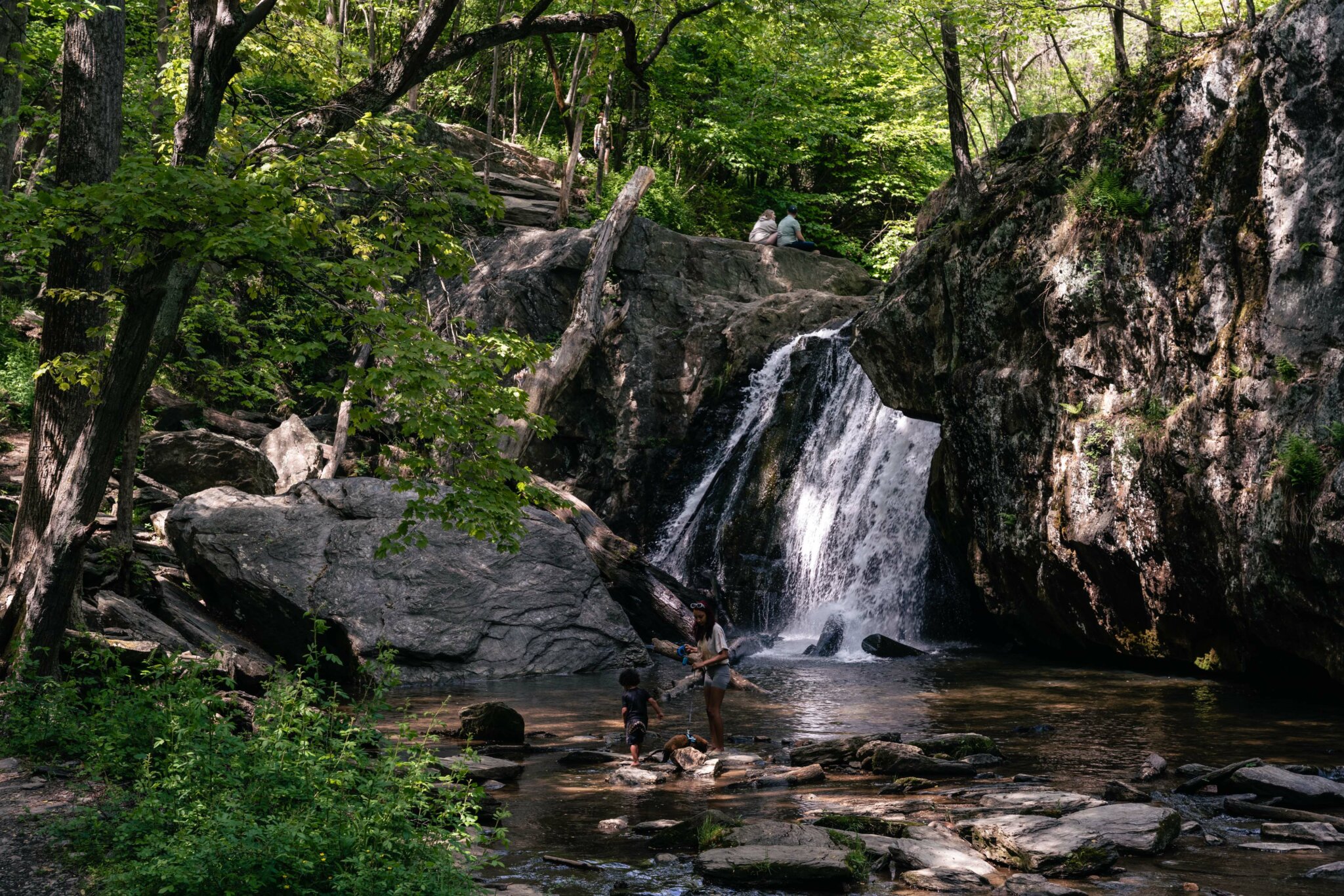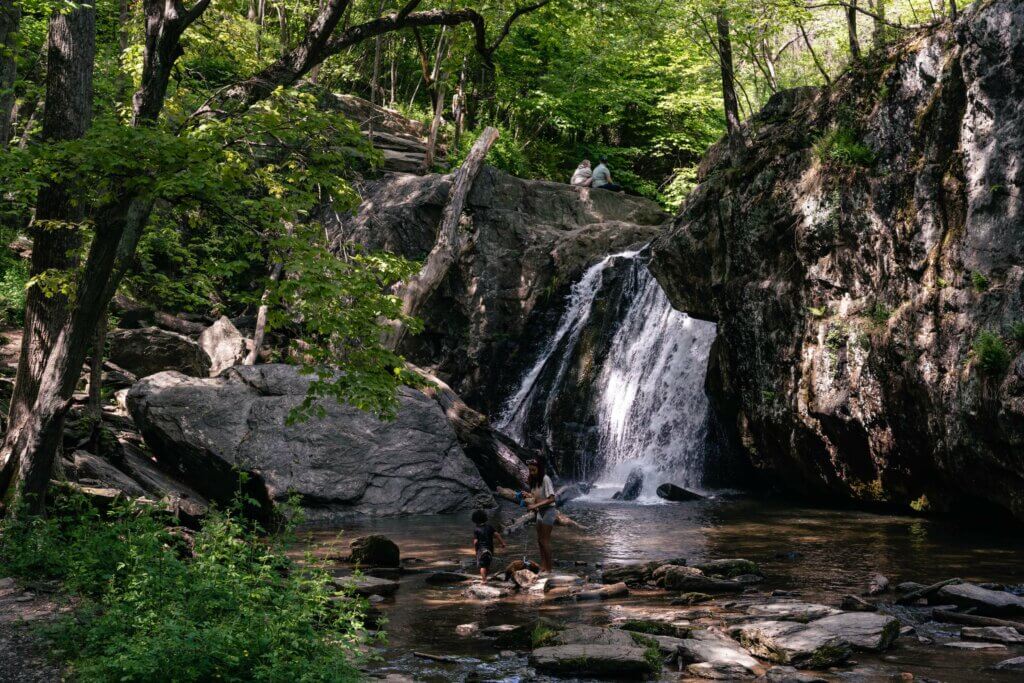 Another beautiful natural retreat in Harford County and one of the best things to do near Havre de Grace, Maryland is visit Rocks State Park.
Not only can you visit Kilgore Falls, the second largest falls in the state of Maryland and famous for being a filming location for Disney's 2002 film adaptation of Tuck Everlasting. (Speaking of and side note, the Champion White Oak Tree we saw in Susquehanna State Park looked just like the tree from that film as well – but it was not used as a filming location.)
At Kilgore Falls, also known as Falling Branch Falls, you can hike or wade in the waters under the falls. The water was lower during our visit and it was easy to cross the creek barefoot to get to the other side. There are trails here and you'll spot locals with their dogs enjoying this little forest oasis.
Another not to be missed highlight of Rocks State Park is the King and Queen Seat, a large rock outcropping and overlooking a staggering 190 feet-high offering panoramic views. Historically, this natural throne was believed by Native American tribes to represent a seat for a king and queen and it's believed their leaders would hold ceremonies on these rocks overlooking Deer Creek.
If you visit the Queen and King's Seat, just be extremely careful as this is a highly exposed and dangerous area. You can hike up to the seats from the Rock Ridge Picnic Area on the Red Trail or park at the Park's Main Office and walk over to the top.
There are also several places in Rocks State Park to enjoy a picnic and hike too!
Road Trip to the Different Barn Quilts of Harford County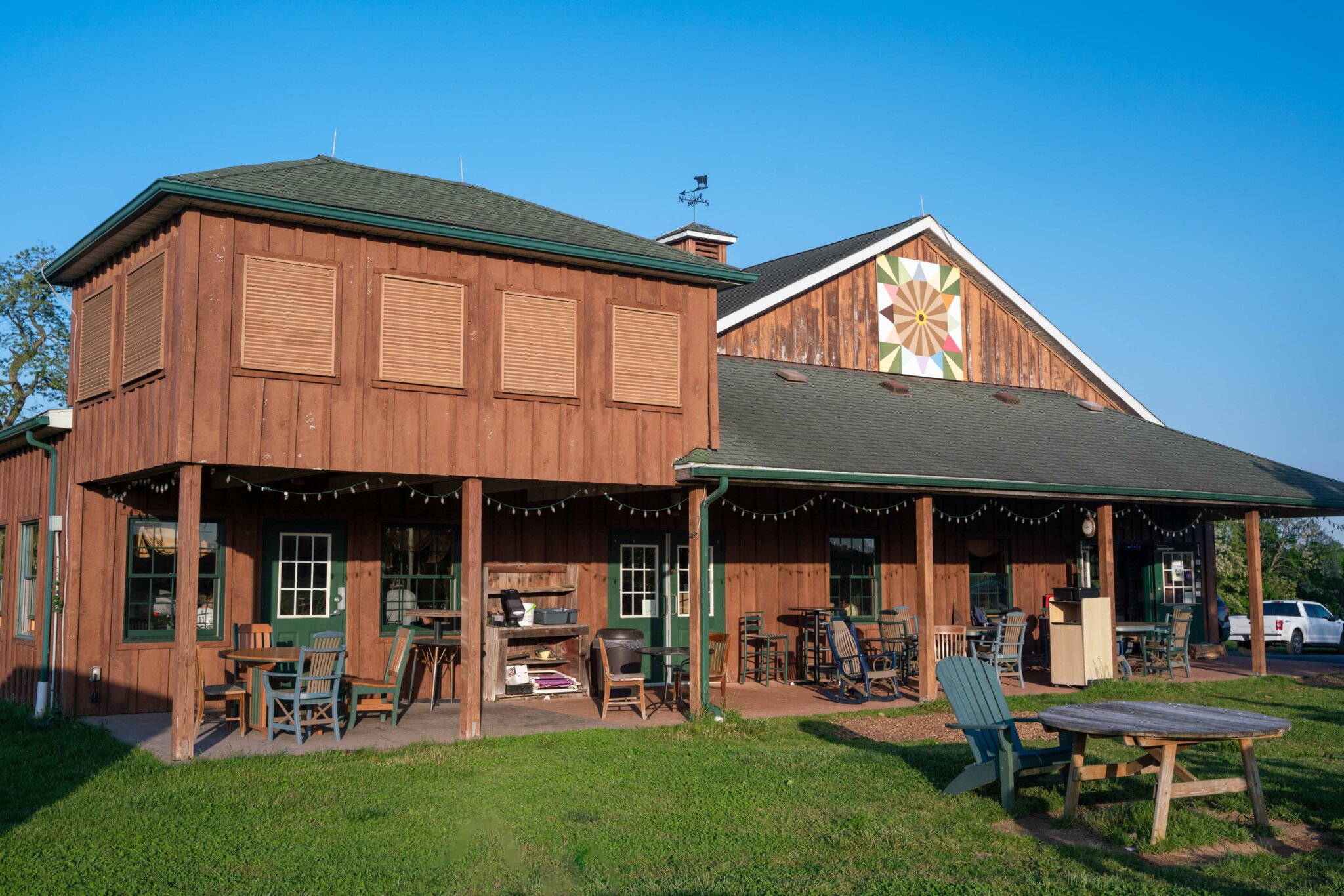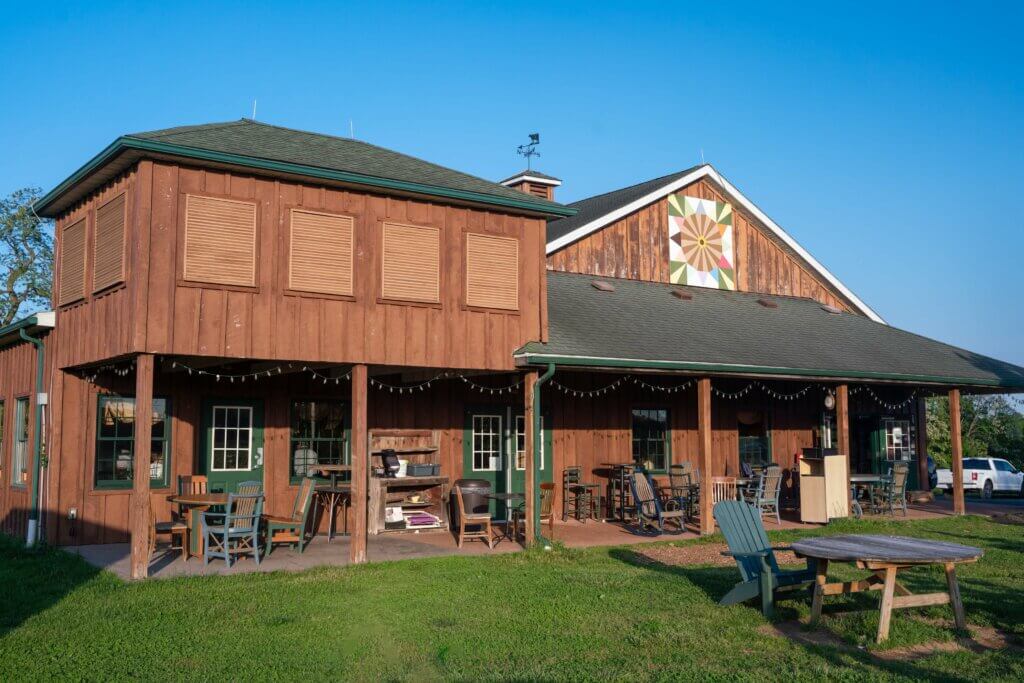 If you love a good scenic drive with a scavenger hunt, you'll want to see how many of the different barn quilts you can find along the Barn Quilt Trail of Harford County.
Along various historic farms and rural homesteads, you'll find painted quilt patterns and designs marking these sites. This initiative was to promote agriculture preservation and tourism in the area, which has always been significant to the culture and history of Harford County.
With nearly two dozen stops, this has become a fun scavenger hunt to add to your weekend in Havre de Grace and explore the beauty of Harford County!
You can find a full list and printable map, or just see where your curiosity takes you during your trip and see how many you encounter! Without seeking these out, we encountered two at Broom's Bloom Dairy and the Steppingstone Farm Museum, however, we have something fun to look forward to hunting down on our next visit!
Ladew Topiary Gardens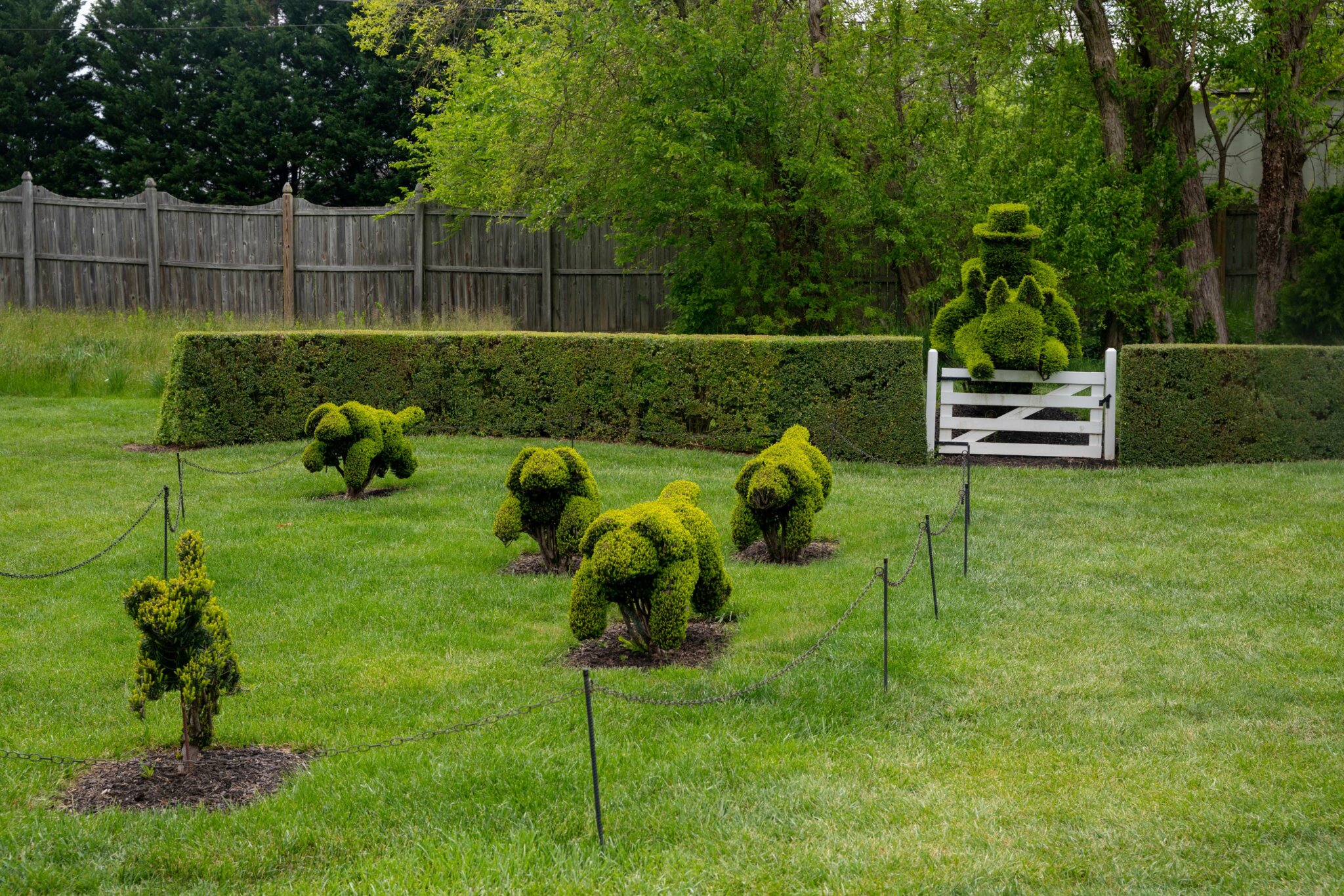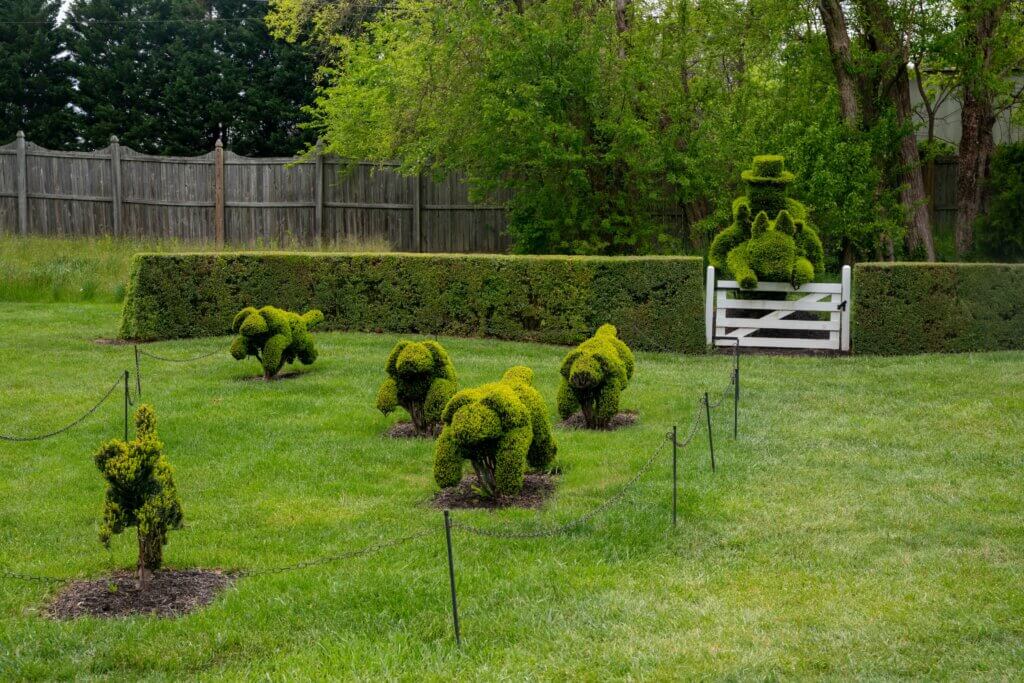 A visit to Havre de Grace, Maryland must include a drive and visit to Ladew Topiary Gardens, one of the top 10 topiary gardens in the world and what was called the most significant topiary gardens in the United States!
Located on the historic estate of Harvey S. Ladew, a topiarist, and huntsman combined his passion for the two by purchasing land in Monkton, Maryland where he'd bring his dream of creating an estate around his vision and creativity to life.
The gardens are expansive and include 15 garden rooms, where you can find secluded themed gardens in between topiary designs. The entire garden is arranged around vistas and axes giving the visitor a true visual experience while exploring the grounds.
Ladew found this property while on a fox-hunting trip and many of the designs incorporated here are influenced by landscapes and fox-hunting trips to the United Kingdom.
In fact, one of the best topiary displays here is a fox hunting scene! A few of the nearly century-old designs that were the original designs of Ladew that you can still find on the property include the fox hunt scene, swans, and a Chinese junk boat with sails.
While we only had time to visit the gardens on our visit, which were truly mesmerizing, if you have time be sure to book a tour inside the home as well. Ladew's oval library is said to be one of the most beautiful rooms in the country.
Open seasonally April through October daily except they are closed on Wednesdays. From May through August, the grounds are open for Twilight Tuesdays on Tuesdays until 8 PM. Adult admission is $17.
Broom's Bloom Dairy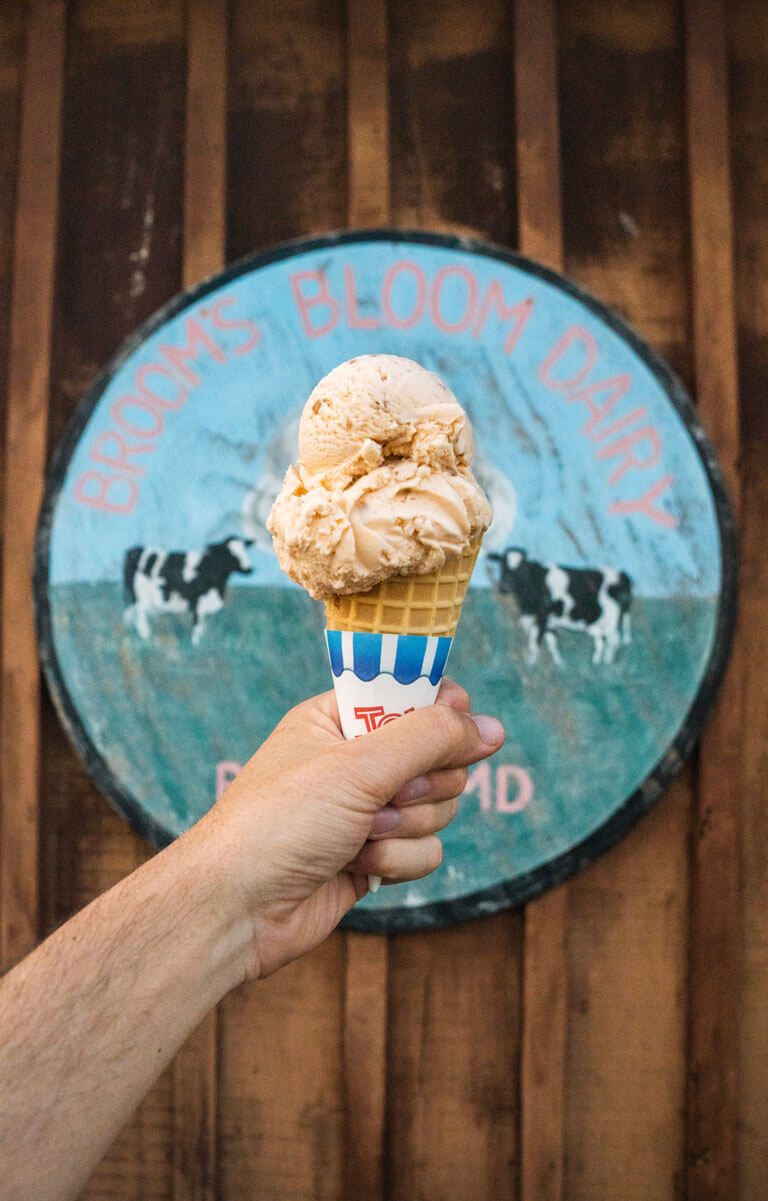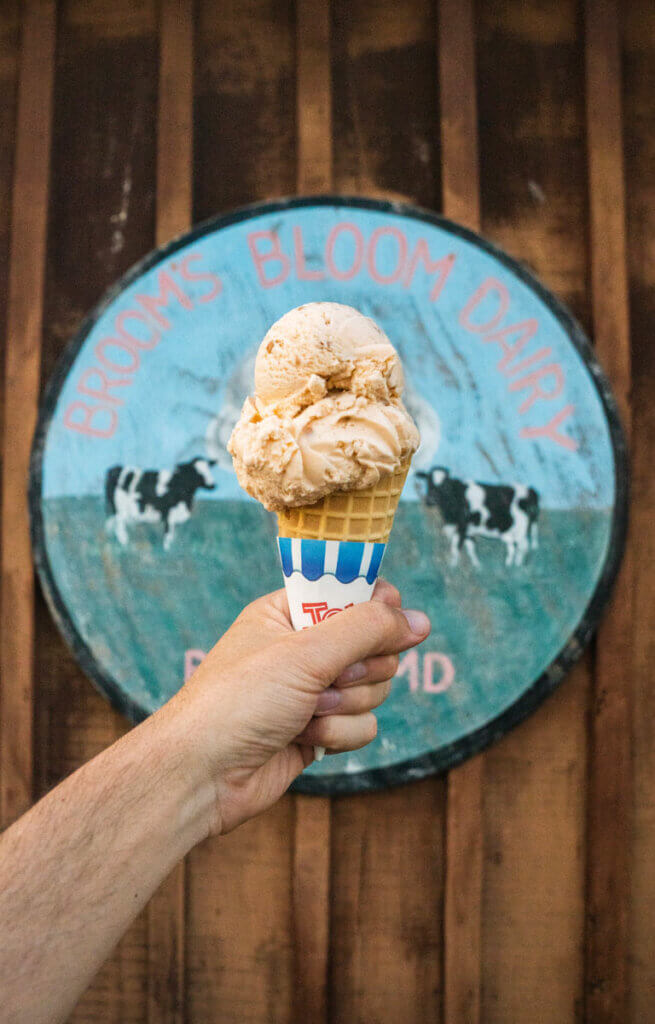 One of our absolute favorite stops during our weekend in Havre de Grace, Maryland was on our way back to town after visiting Bel Air at Broom's Bloom Dairy. This fully operational dairy farm offers farm-to-table dining and the best 'cow to cone' ice cream!
This is a perfect road trip stop too as they have a full section of farm-fresh ingredients from meat to cheeses and of course, a full menu if you're hungry and plenty of scrumptious flavors of ice cream to try!
There's a beautiful outdoor seating area with picnic tables and views of the farm. Be sure to also catch a glimpse of their barn quilt design too as it's a stop on the Barn Quilt Trail!
Better yet, they stay open until 8 PM, so you can make this the perfect post-dinner stop for dessert!
Closed on Mondays
Where to Stay in Havre de Grace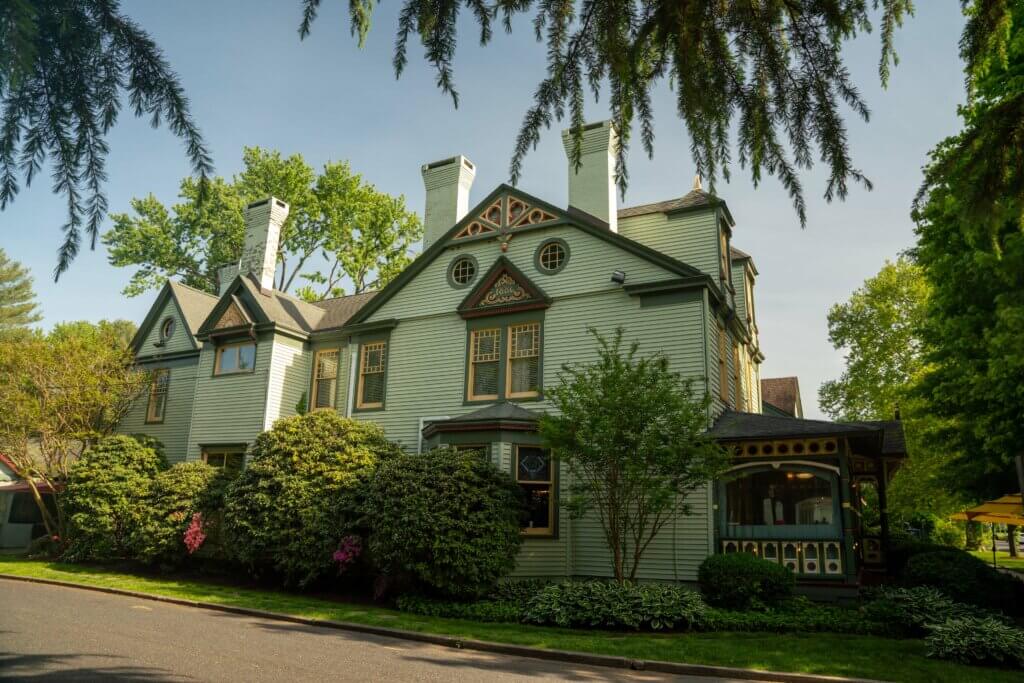 Without a doubt, an amazing place to stay while exploring all the best things to do in Havre de Grace, Maryland on a weekend getaway is at the charming Vandiver Inn.
Set in a historic mansion walking distance away from all the historic attractions and downtown, the Vandiver Inn offers bed and breakfast style accommodation in the main mansion and two houses on the grounds.
Each room has its own personality and sense of historic character furnished with antiques and original details from the home, our room had a gorgeous original fireplace, clawfoot tub, and balcony overlooking the gardens.
Be sure to ask an Innkeeper about all the stories tied to this mansion as it has a storied past that also plays into details you may overlook while walking through the common areas.
The hospitality here was fantastic, including the nightly manager reception in the common areas and complimentary hot breakfast during our stay.
While visiting historic Havre de Grace, Maryland it's fun to spend your getaway in one of the historic homes!
---
Enjoyed this guide to all the amazing things to do in Havre de Grace, Maryland, and nearby for a perfect weekend getaway? Bookmark for later or share the love below on Pinterest!