I
f you are looking for a day trip outside of Seoul then visiting the Pocheon Art Valley is a great place to spend the afternoon. The city of Pocheon has turned an old abandoned rock quarry into a park where you can wander around the grounds and enjoy the scenery and what the park has to offer. When you arrive to the Pocheon Art Valley you need to purchase tickets. We bought a ticket that included admission for the both of us plus a round trip ticket on the monorail that takes you up the hill to the rock quarry. You may want to take the monorail up, but it is slow and the lines can be long. So if you are like us, you may not have patience and can just walk down the hill when returning.
You get dropped off at the top by the carved out abandoned rock quarry that is now filled with spring and rain water. This spot is the most beautiful in the park and a unique experience in Korea. We were smart and packed some snacks and drinks to enjoy at a picnic table along the water. There is also an outdoor stage right on the water where Pocheon Art Valley will sometimes hold performances.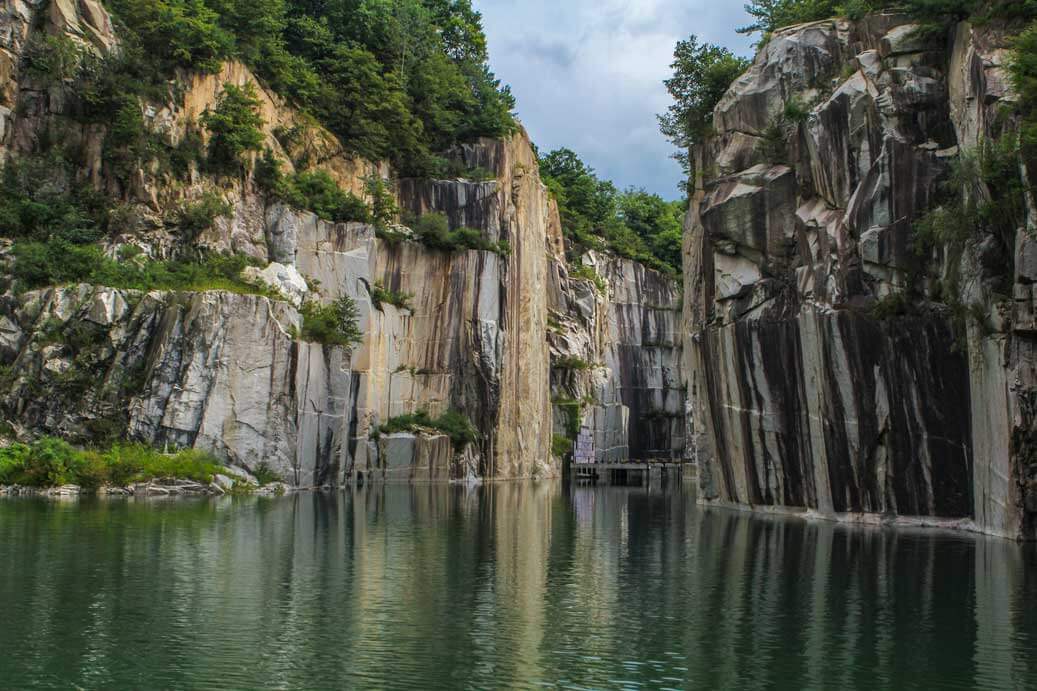 If you explore further up you will see some fun outdoor sculptures and a space museum. The museum is free so there is no reason not to check it out. It is targeted mostly for kids, but it is a nice break from the heat or cold depending on what time of the year you are visiting. They also have nice restrooms in this facility.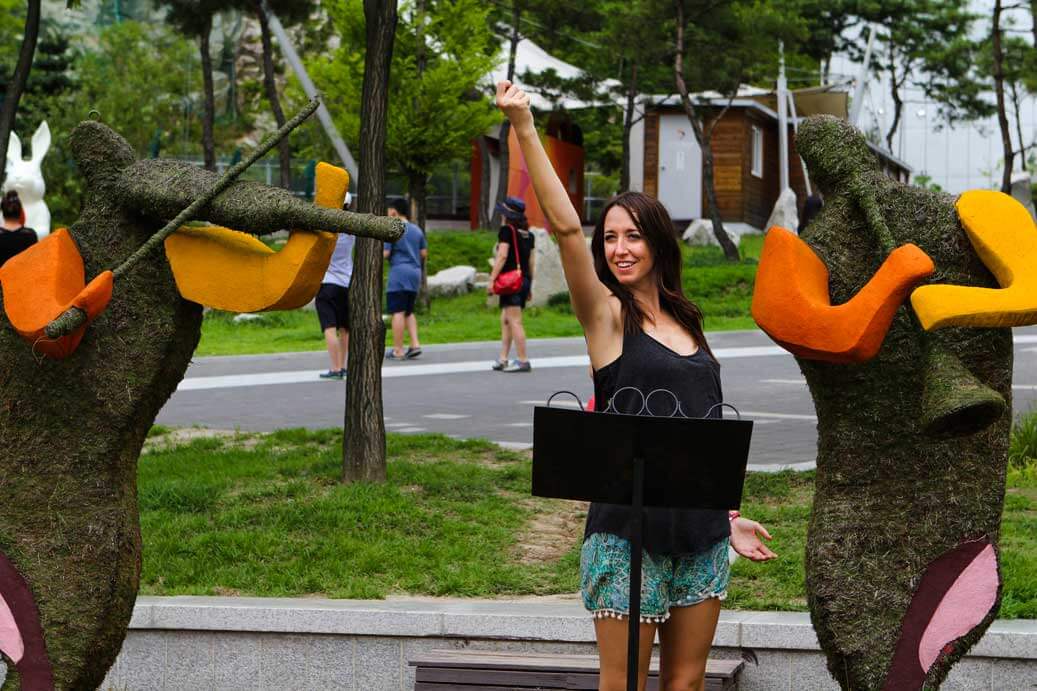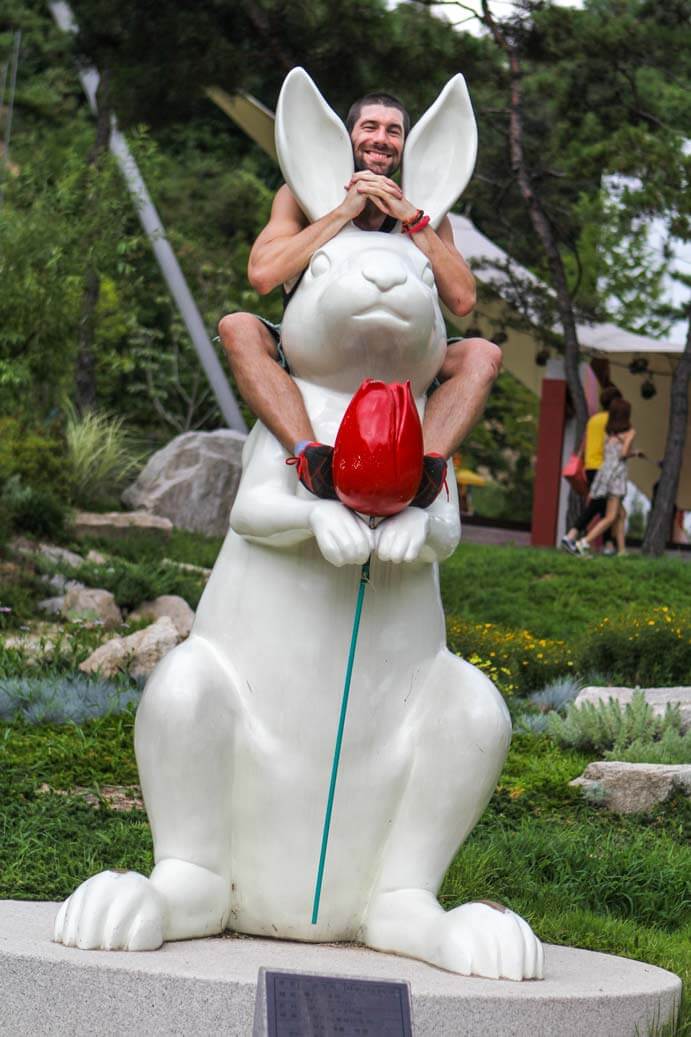 As you are making your way back down to the departure monorail station you will see an open area with more sculptures from various artists and another entrance to the water-filled quarry. We had a great time posing and photographing us with the sculptures like everyone else. From here you have an awesome view of the mountains. We were lucky to be here on a clear day with blue skies which made the backdrop even more beautiful.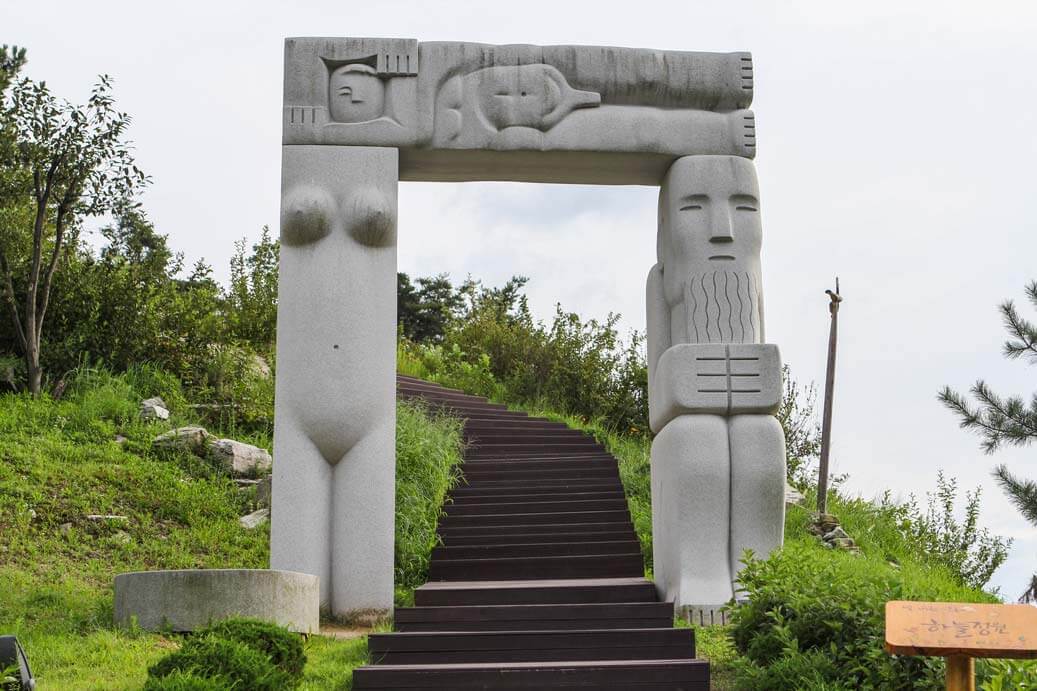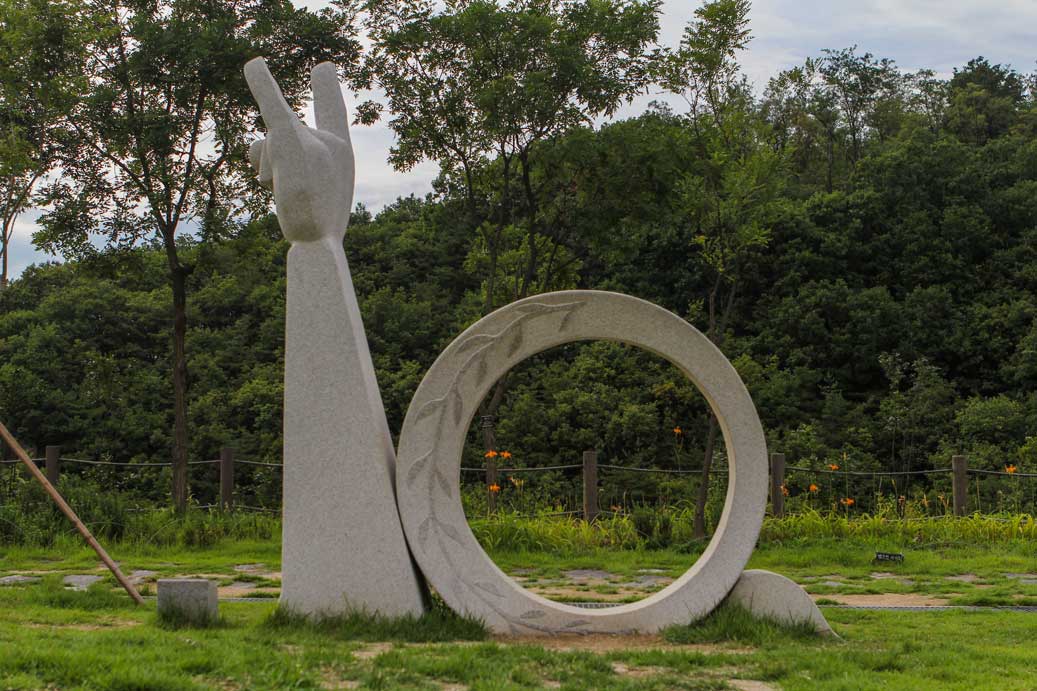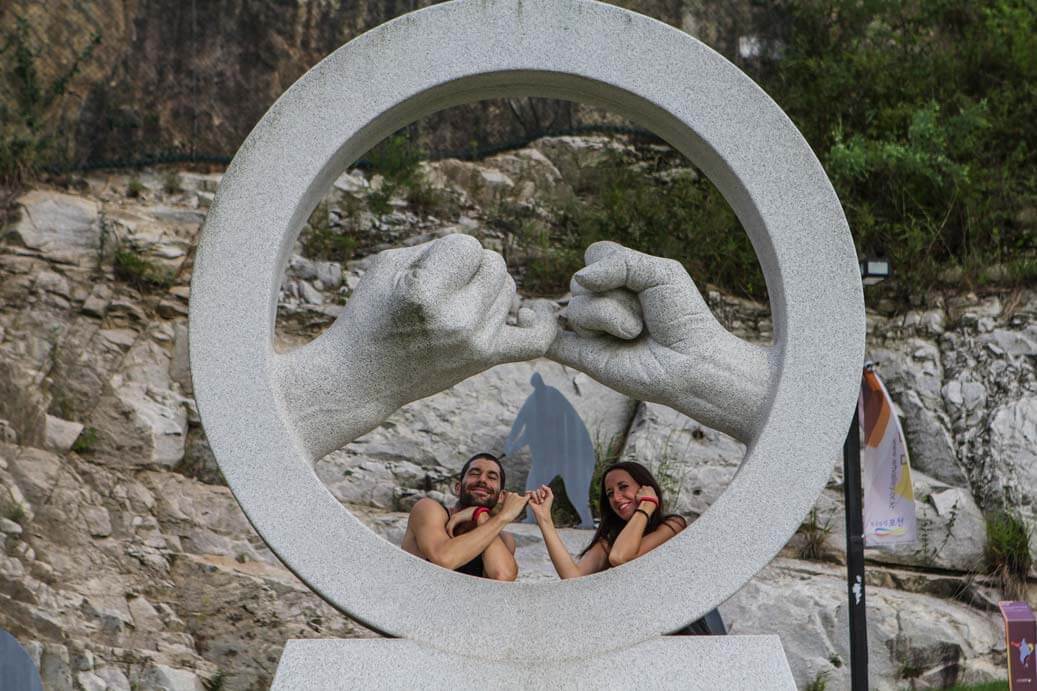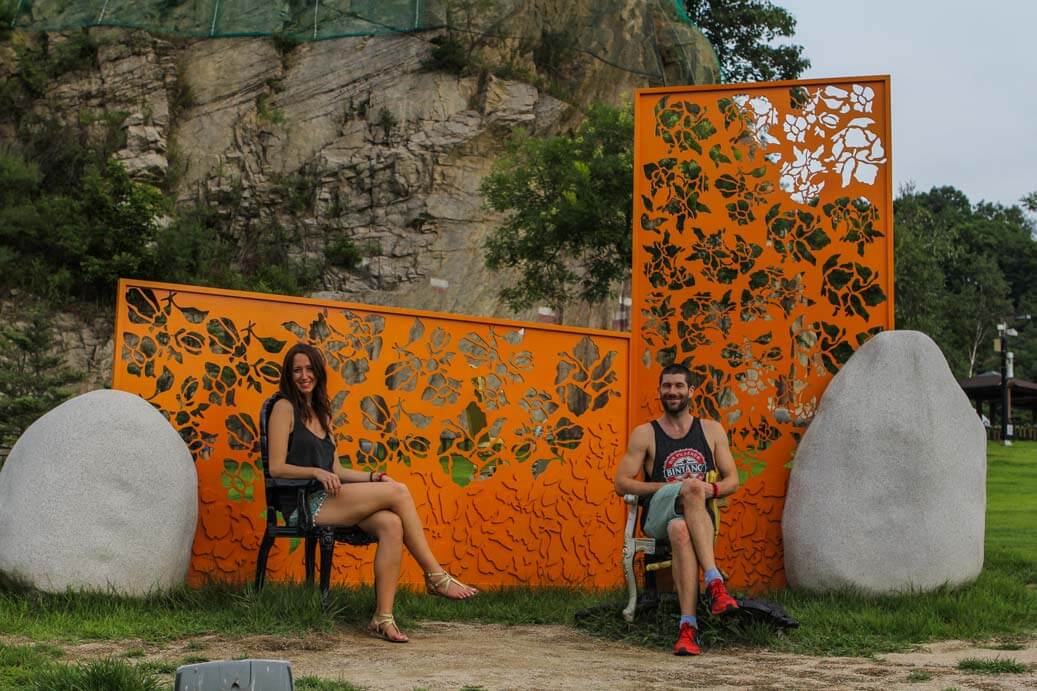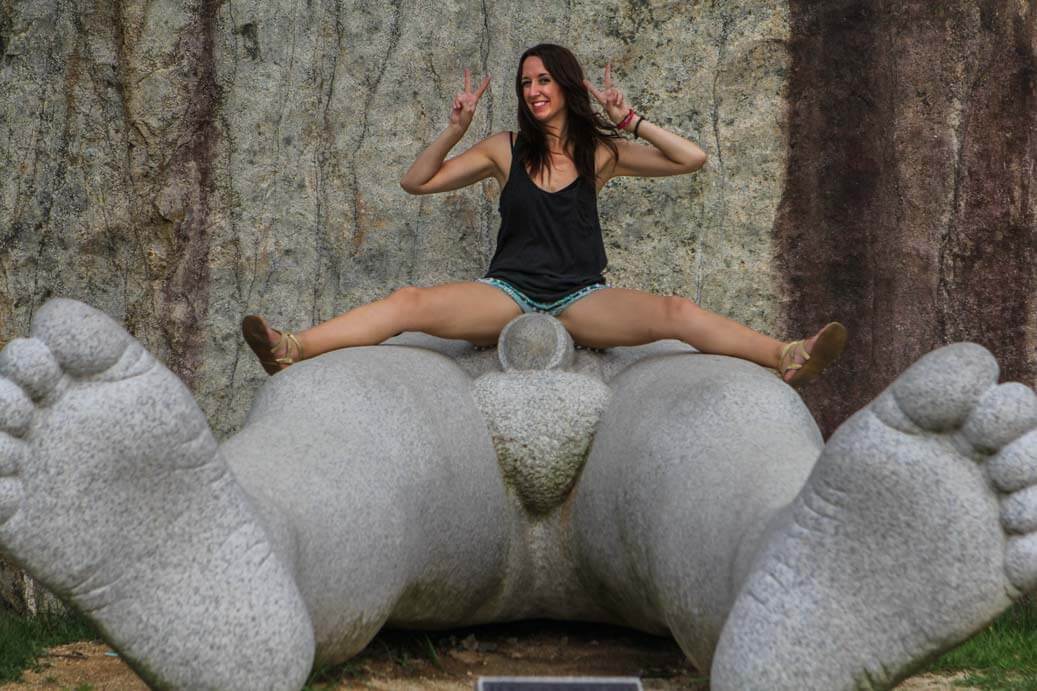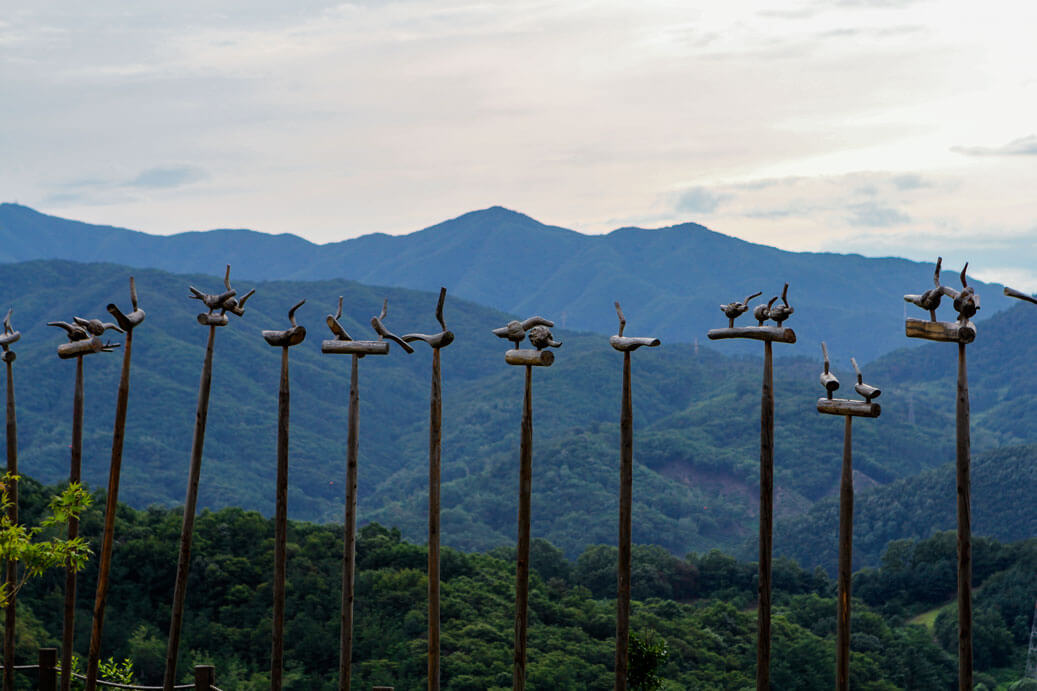 If you get hungry, there is a café at the top and even an igloo made of empty makgeolli bottles. There is also a small mart and a place to eat at the bottom next to where you buy the tickets to the park.
We easily spent two hours here just enjoying what the park had to offer. It would have been interesting to see a live performance in one of the outdoor theaters. The Pocheon Art Valley was worth the long ride to visit because it was pretty different compared to the different parks we have been to in Korea. The view is unique and is a great way to spend a pleasant afternoon.[/text_output]
Directions to Pocheon Art Valley
To get to Pocheon you can take the bus from Uijeongbu subway station. Take bus 3 – 38-3 to get there. Or simply click the directions button on the map above, and get directions from wherever you are. Let the bus driver know which stop you want just to be safe they know the english name well, and will gladly tell you when to get off. You will see a road to the right with a sign that says Pocheon Art Valley.
Unfortunately, the bus leaves you about a mile walk away from where you need to be. It was a very hot day with high humidity so we were lucky that friendly locals were willing to hitch us a ride to and from main entrance.
It can be challenging to get here without a car, but definitely doable if you are patient and okay to wait awhile for a bus to come.
Or even better! Check out a day trip to Pocheon including Herb Island and Pocheon Art Valley, you can purchase tickets at a discount here.
Have you ever been to Pocheon? Share your experience or comment below. Like or Follow us on facebook, instagram, or on twitter
Disclaimer: This page contains affiliate links. By purchasing through the links on Bobo & Chichi you will help us keep the site up and running at no extra cost to you.