One of the most incredible areas to explore in South Korea and full of amazing places to visit is the Gyeonggi Province which surrounds the entire city of Seoul. Because of Gyeonggi-do's location and proximity to Seoul it makes visiting accessible to those who are traveling to Seoul as most of the Gyeonggi Province attractions are within an hour or so of the city center.
From national parks to mountains, to amusement parks, unique restaurants, artist havens, and even the DMZ and border to North Korea, there's really something for every type of traveler in the Gyeonggi Province.
After living in Seoul, South Korea for nearly 3 years, we've traveled extensively through Gyeonggi-do and can confidently recommend our favorite highlights and things to do in the province including affordable and easy alternatives to the popular DMZ tours where you still get to catch a glimpse inside the elusive North Korea as well as learn more about the relations and tensions between the two countries historically.
Enjoy our guide to all the amazing places to see in Gyeonggi-do!
Disclaimer: This post was in collaboration with the Korean Tourism Organization, as always all opinions and experiences are our own. We did after all live here for nearly 3 years, so we are excited to have partnered with the official tourism board to give you this guide!
Where is Gyeonggi-do?
The Gyeonggi Province is an easy and popular place to access for visitors to Korea because of its proximity to Seoul, the capital city. The location of Gyeonggi-do is in the name itself translating to "the area around the capital" or the province around Seoul.
This actually makes visiting attractions around the Gyeonggi Province really easy and convenient because many of the attractions listed below are accessible by the subway or a subway/bus combination.
For a base point, the capital city of Gyeonggi Province is Suwon, mentioned later as one of the top things to do in the area. Gyeonggi-do is the Northwestern province of South Korea located in the central-western Peninsula of Korea that also covers half of the DMZ, demilitarized zone, separating North and South Korea, the other sharing the border with the north is the Gangwon Province.
While it may seem confusing, Gyeonggi-do surrounds Seoul but does not include it or parts of Incheon including the Incheon International Airport. On a map, it sort of looks like a donut with Seoul being in the center.
Major cities in Gyeonggi Province (Gyeonggi-do) include:
Ansan – coastal city southwest of Seoul on the Yellow Sea
Anyang – a satellite city of Seoul located 13 miles south of the city just north of Suwon
Gwangmyeong – directly to the west of Seoul and home to the world's largest IKEA store
Paju – the nearest city to the DMZ located along the 38th parallel just south of Panmunjeom, the village between North and South Korea
Pyeongtaek – Located in the southwestern portion of Gyeonggi-do, this is home to the Osan Air Base and Camp Humphreys United States military bases.
Suwon – the capital of the Gyeonggi Province, home to the Samsung Digital City headquarters, and Hwaseong Fortress
Uijeongbu – located on the northern end of Bukhansan National Park, this is a famous military city and where buddae-jiggae (army stew), one of the most popular Korean dishes and comfort food was invented during the Korean War. This is also home to the fictional 4077th Mobile Army Surgical Hospital in the TV series M*A*S*H*
Amazing Places To See in Gyeonggi-do
Bukhansan National Park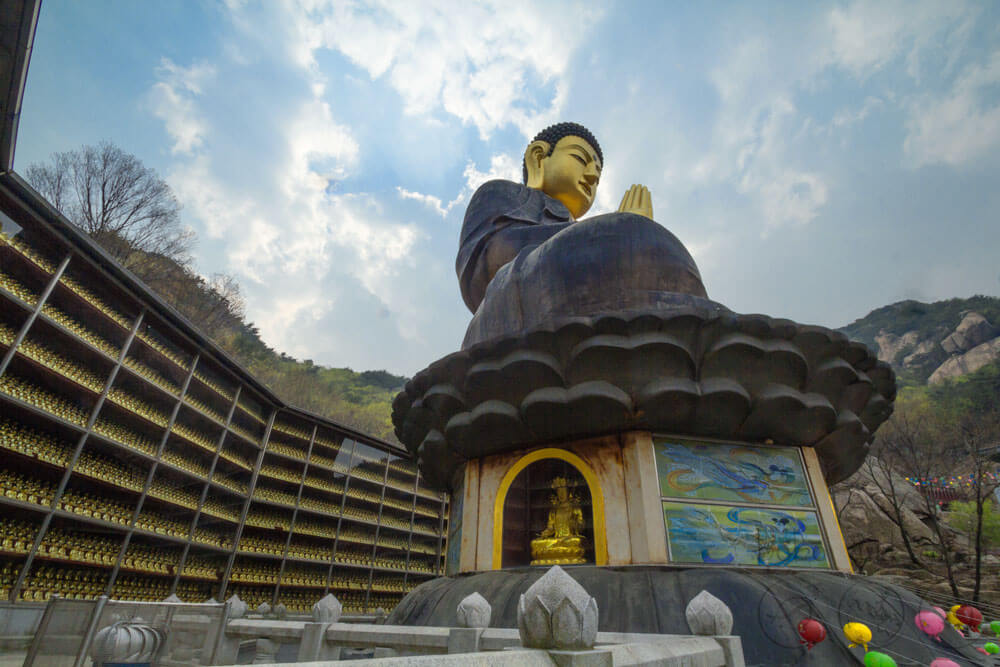 One of the coolest things about Seoul, in our opinion, is that there is a National Park within the city limits stretching through the Gyeonggi Province. Bukhansan National Park will always be one of our favorite national parks of Korea and one we frequented often!
Surrounding the city and easy to access, Bukhansan offers many different hikes including some that include the city's fortress wall and fortress gates to protect Seoul from foreign invasions. The distinctive granite peaks make a wonderful backdrop when visiting Seoul. We love how convenient Bukhansan is to access in Seoul, there are many different entrance points.
Our favorite hikes include the largest peak, Baegundae Peak, and the easy Golden Buddha hike. Bukhansan is definitely worth a visit while you're in Seoul!
Everland Resort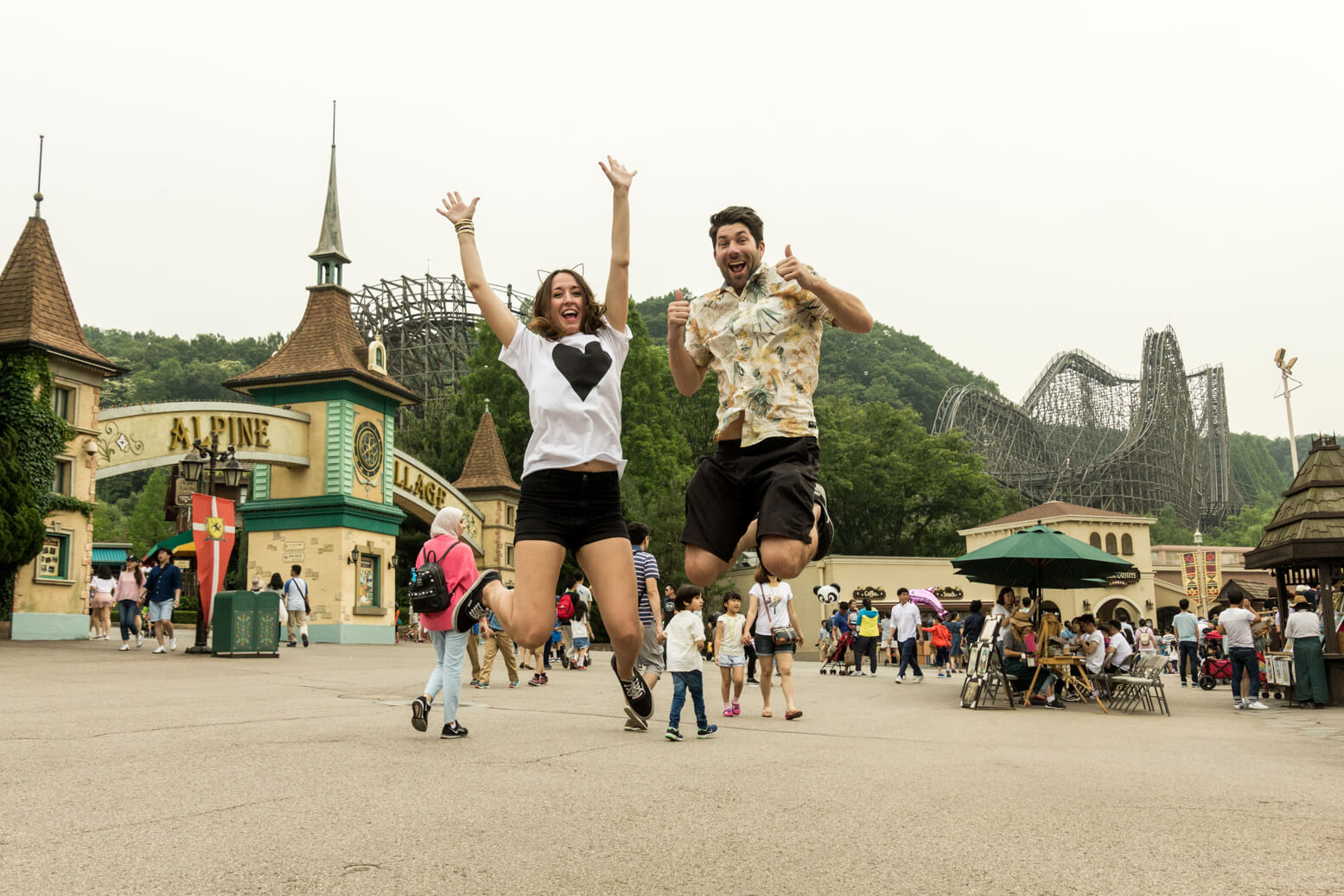 If you're a fan of amusement parks you will want to check out Everland Resort in the Gyeonggi Province about an hour outside of Seoul in Yongin. This is so much more than your typical amusement park, full of rides and different themed areas of the park, Everland also has a full-on zoo including safari rides with amphibious vehicles!
Another reason why this is one of the most amazing places to see in Gyeonggi-do is that it has a wide variety of options and festivals going on each season from Halloween activities to winter parades and sledding with a lighting festival with tons of lights, to flower festivals in the spring. There's something special going on here every season!
There are great accommodations options in the park, or you can take the bus back to Seoul since it's so close! In the summer season you also have the option for extending your stay to visit their neighboring waterpark, Caribbean Bay!
Learn more information about Everland in our guide!
You can buy your tickets in advance online to avoid a long wait which includes transportation to and from Seoul.
Suwon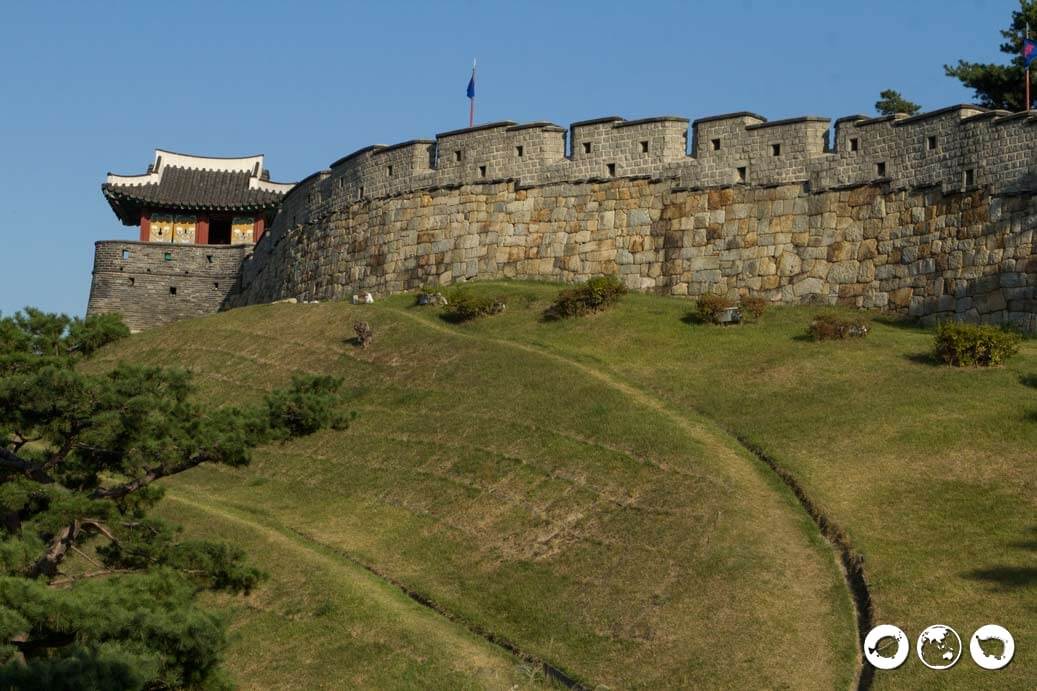 An hour south of Seoul is another one of our favorite places to visit in Gyeonggi Province and also happens to be a UNESCO World Heritage Site! The historic city of Suwon, which is home to the Samsung electronics HQ as well as the only walled city that remains in Korea.
The star attraction at this Gyeonggi-do hotspot is the Hwaseong Fortress that was built during the Joseon Dynasty to surround the city and protect the tomb of Prince Sado. This was the city during the Joseon Dynasty days, but now the city of Suwon expands outside the old fortress city walls.
If you have extra time, head over to one of the more unique things to do in Gyeonggi-do, the Haewoojae the Toilet Museum in Suwon.
Korean Folk Village
Located in Yongin just outside of Seoul in the Gyeonggi Province is one of the best immersive and educational attractions! Take time to see traditional Korean culture, architecture, and enjoy a day at this open-air museum.
The village is not all folk either, they even have some modern-day activities and carnival rides that we know are not from the Joseon Dynasty along with restaurants and shops to pick up a great souvenir from.
If you're lucky you might even end up witnessing a traditional Korean wedding while you're here! You will have opportunities to watch a multitude of traditional live performances, tour traditional Korean homes, try your hand at Korean traditions, and wear hanbok – Korea's traditional clothing.
Be sure to read about our full day at the Korean Folk Village in Yongin, Gyeonggi-do.
Garden of Morning Calm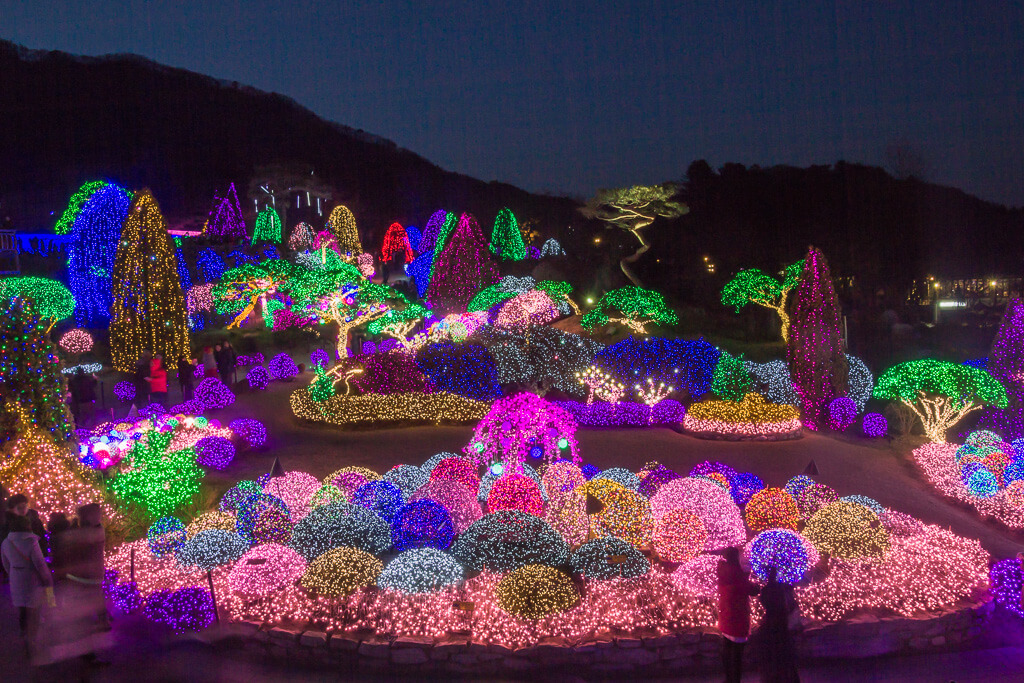 One of our all-time favorite escapes from Seoul and places to visit in the Gyeonggi Province is the Garden of Morning Calm located in the Gapyeong valley. If you didn't know, South Korea is nicknamed the "Land of the Morning Calm," so this arboretum and garden space has a fun play on words as well as actually having a calming presence.
This is another one that's great any time of the year because there's always something special happening each season. The Garden of Morning Calm offers several gardens to explore over 5,000 species of plants with rare flowers and tree species, natural and aromatherapy products for purchase, and vendors selling food and souvenirs.
Visiting while the leaves are changing colors or the flowers are blooming or in bloom might seem like the best time to go, but each year in the winter from December to March the Garden of Morning Calm boasts their Lighting Festival which is one of the more popular winter activities in Korea where the entire garden is illuminated with colorful lights!
You can join a tour hitting up a few of the best spots in Gyeonggi-do outside of Seoul including the Garden of Morning Calm, Petite France, Ganchon Railbike, and Nami Island! See details and book here.
Petite France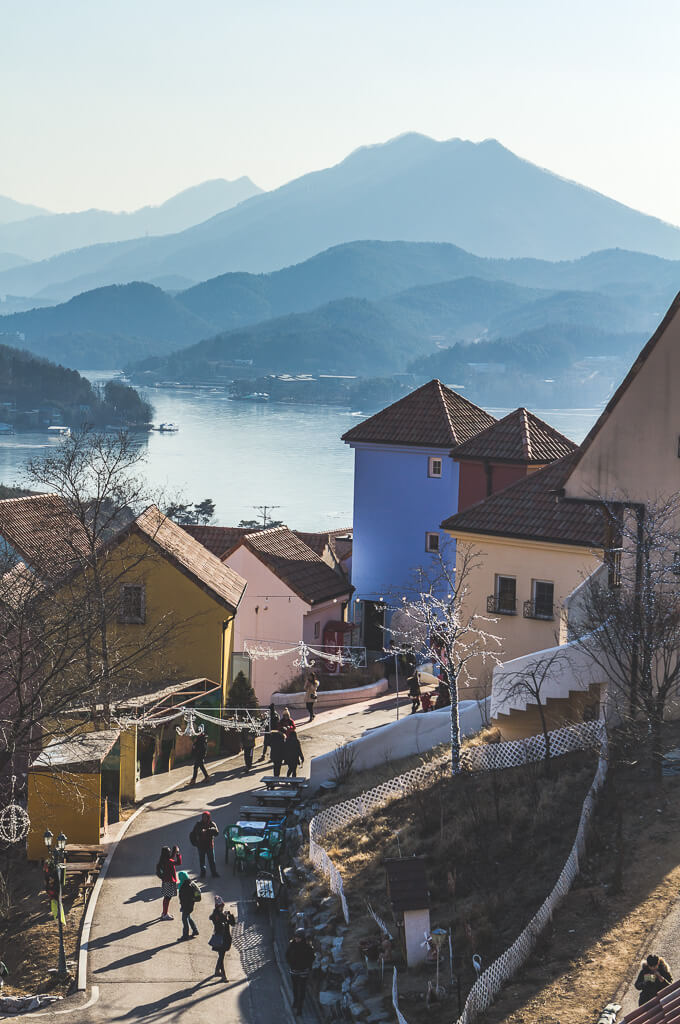 One of the most charming day trips from Seoul combined with the Garden of Morning Calm or Namiseom Island in the Gyeonggi Province is the small, French cultural village of Petite France in Gapyeong. This entire village pays homage to Antoine de Saint-Exupéry's famous novella and storybook, Le Petit Prince, aka The Little Prince.
This enchanting village is made up of a cluster of 16 colorful overlooking the scenic Cheongpyeong Lake and has statues of the Little Prince around the village.
You will find live musical performances, marionette puppet shows, orgel demonstrations, and other French cultural performances brought to you here in Korea. You might even fool yourself for a second that you're actually in The Little Prince!
You can join a tour hitting up a few of the best spots in Gyeonggi-do outside of Seoul including the Garden of Morning Calm, Petite France, Ganchon Railbike, and Nami Island! See details and book here.
Seoul Grand Park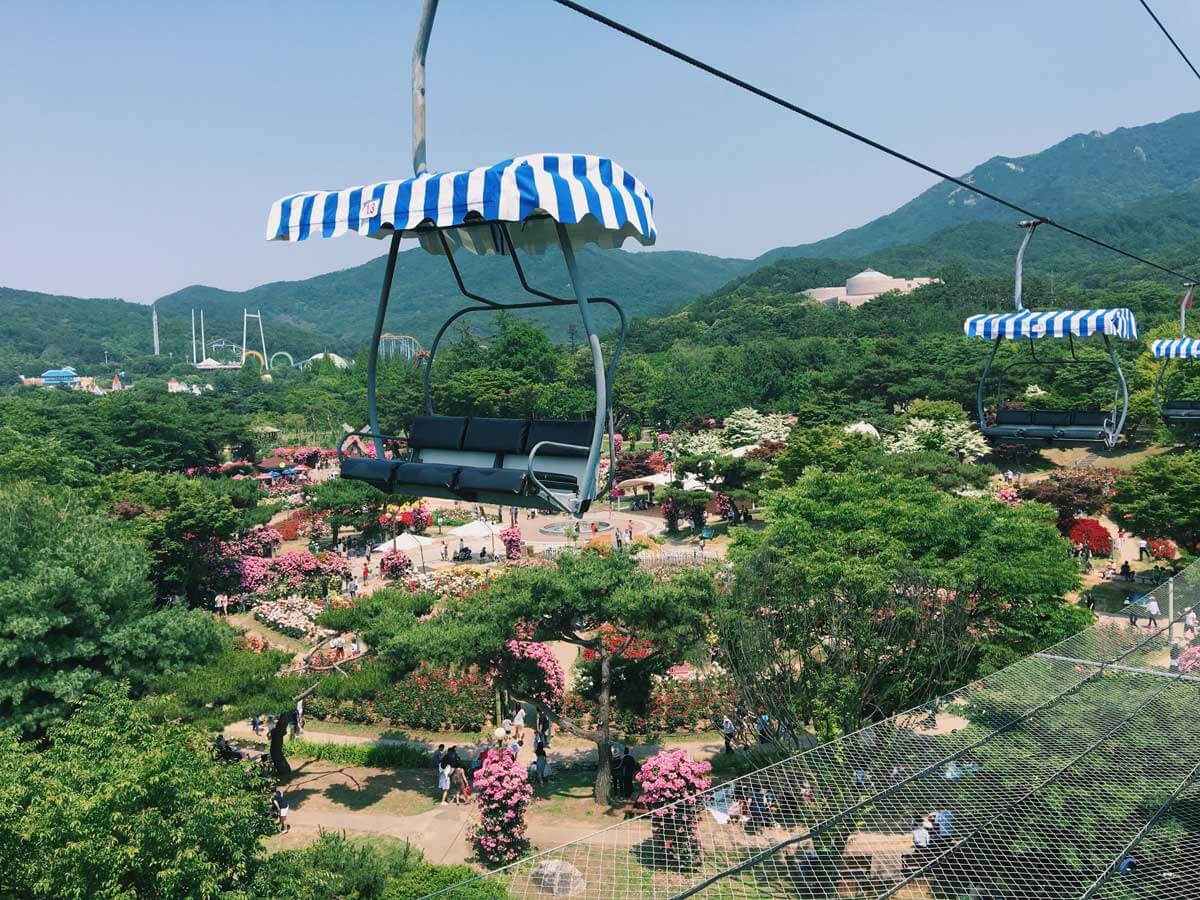 Another amusement park to add to your Gyeonggi Province exploring is Seoul Grand Park located in Gwacheon in the south of Seoul. Seoul Grand Park is a park complex made up of Seoul Grand Park Zoo which is HUGE and spread out enough that it has chair lifts to get you around the park, gardens, Seoul Museum of Modern Art, and is where you can find Seoul Land, another amusement park with rides.
Each of the parks here in Gyeonggi-do has different admission tickets and fees, if you only have time for one we really enjoyed the Seoul Grand Park Zoo because not only is the park large enough to spend a few hours, it also was where all the gardens were!
Anyang Art Park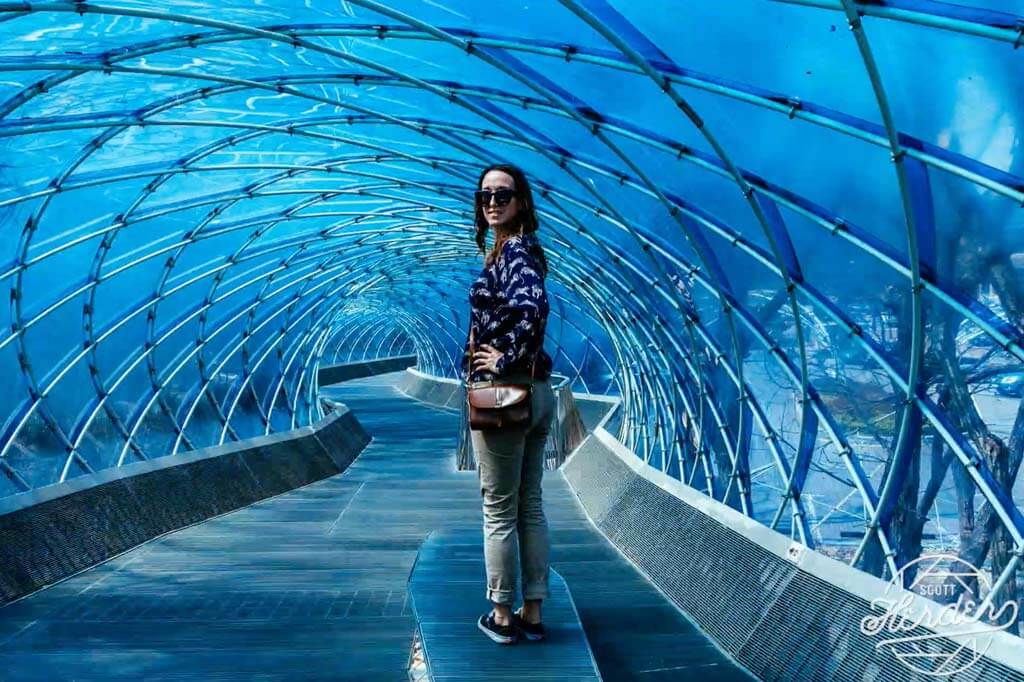 This is one of the most interesting and hidden gems near Seoul in the Gyeonggi Province. Just south of Seoul is Anyang Art Park, a large open air space on the side of a mountain that has outdoor sculptures you can climb on, photograph, or wander through.
The art installations are pretty spread out so you will want to give yourself some time to explore the park as there are over 25 to check out from giant maze-like stairs to mirror installations to The Peak, an asymmetrical viewing tower with views of the Art Park, Gwanak Mountains, and sweeping views of the landscape of Gyeonggi-do.
When you're done, there are several eateries and cafes around including a restaurant on a waterfall as well as temples to explore.
Heyri Art Valley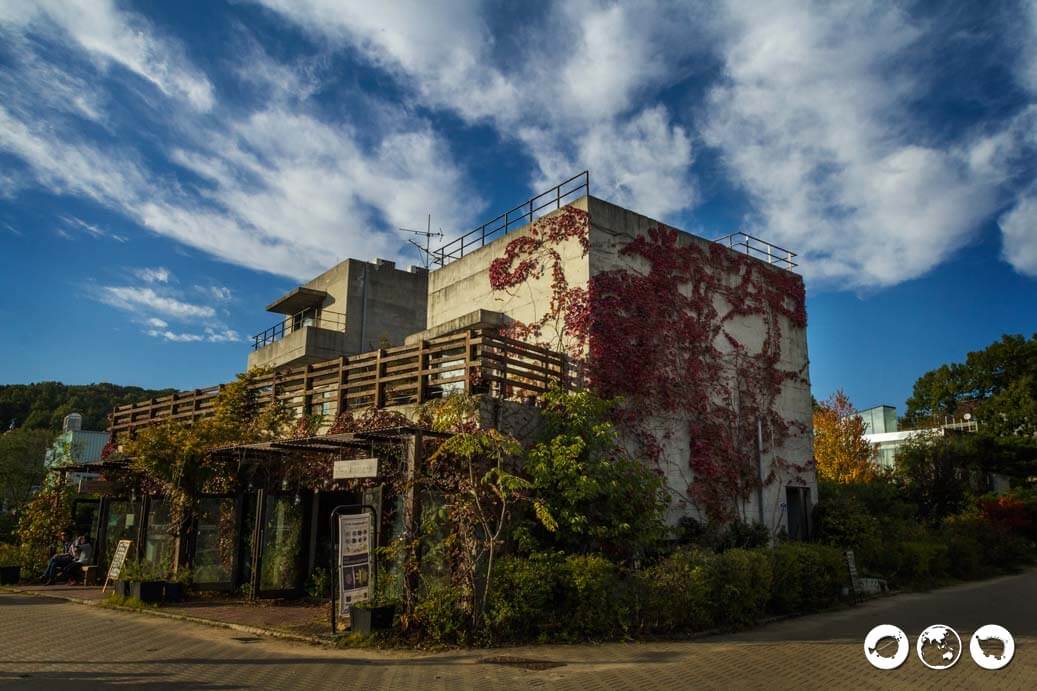 Tucked away in the city of Paju in the Gyeonggi Province just 6 kilometers away from the DMZ, the North Korean border is this hidden gem that many visitors to South Korea don't have an opportunity to explore as it never makes it on the top to do lists even though this was one of our favorite places to visit just outside of Seoul.
This village was created by creatives like artists, writers, and painters and is where you can spend a whole afternoon exploring the 50 galleries, museums, shops, cafes, restaurants, furniture stores, places for kids to play, and places for a pretty stroll.
This artist compound is where over 500 artists live and work and is open to the public to visit for free with the exception that a few of the galleries and museums have an admission fee. Since there are plenty of food options here you can really spend a good part of your day here.
Odusan Unification Observatory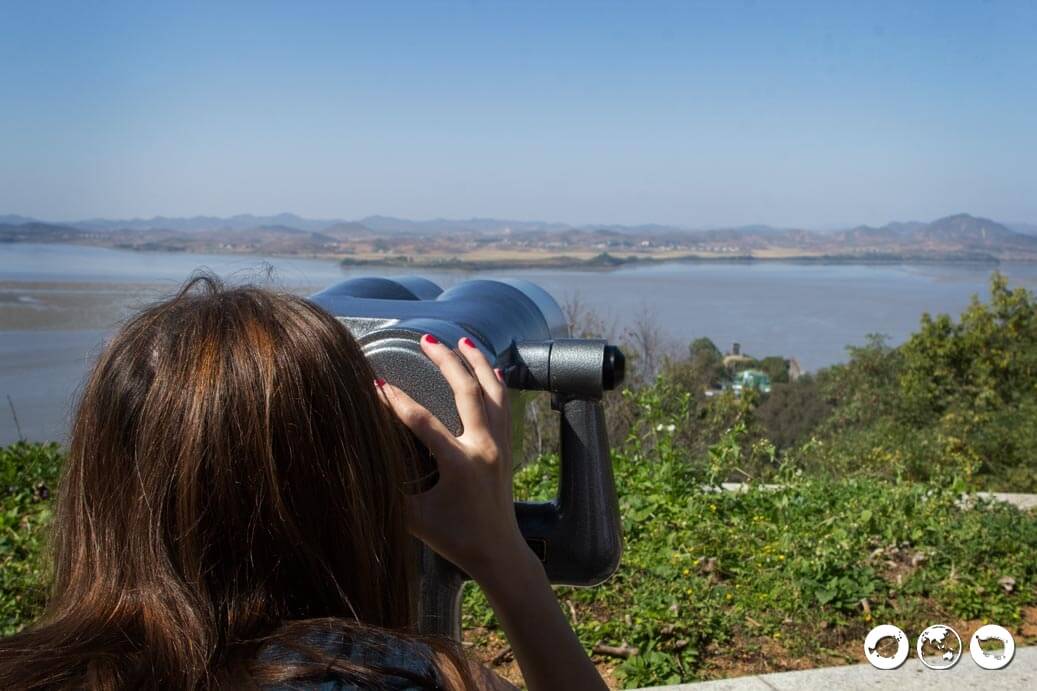 Just a short walk from Heyri Art Valley in Paju located in the Gyeonggi Province is one of the best ways to pique your interest into the elusive country of North Korea without actually stepping foot in the country or taking one of the standard DMZ tours.
This is also a great option for seeing the DMZ if you're on a budget as the typical tourist tours can get costly and the entrance fee here is only 3,000 KRW (~$2.70).
The Odusan Unification Observatory and tower sits on a mountain where you can not only see into North Korea with the naked eye but on a clear day, you can even see some of Seoul's skyscrapers which really sinks in the reality of how close the capital city fo the country is to the DMZ and border.
There are 5 floors with observation decks with binoculars so you can get a closer look into a village on the North Korean side. We were told this was a propaganda village and if you take a close look through the binoculars you will see that they look like a shell of an apartment building and you may even see a few people walking around which are rumored to be staged. While we don't have evidence to prove this is true, you can read about our experience at the Odusan Observatory here.
There is also a museum inside that talks about the tensions between the two countries and attempts of unification as well as a failed attempt to build a train from Seoul to Pyongyang that was planning on running all the way to Paris!
You are able to also buy products from North Korea here like soju, but we must warn you we did not enjoy the North Korean version of soju at all.
For any of the Gyeonggi DMZ activities, please note that you will need to bring your passport with you!
Dora Observatory & 3rd Infiltration Tunnel at the DMZ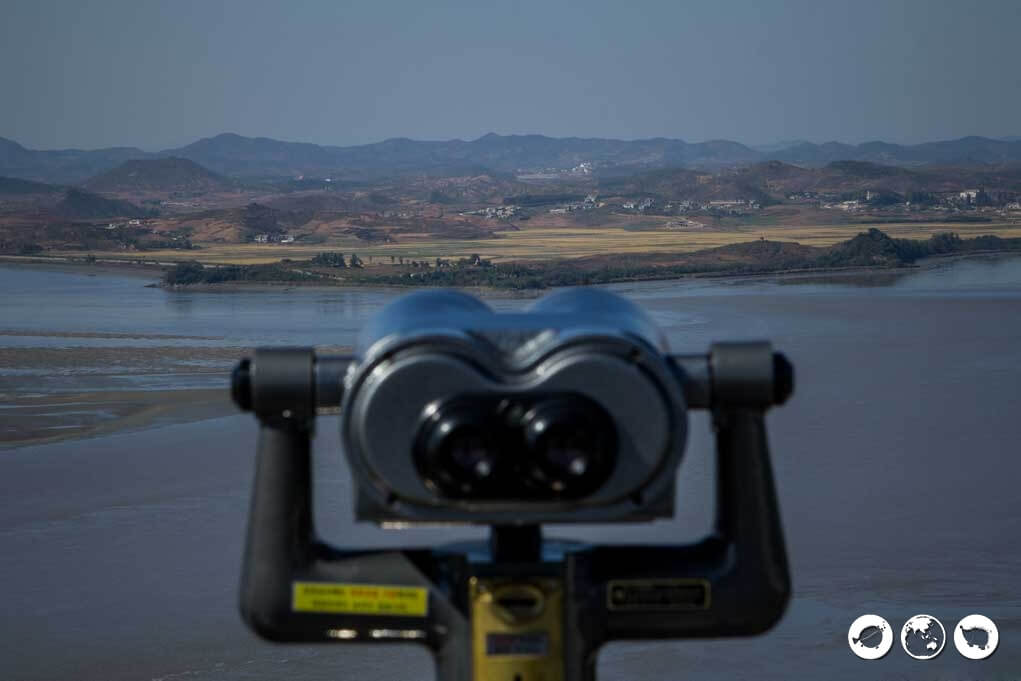 Another Gyeonggi-do stop on the 38th parallel, aka the DMZ (demilitarized zone) that separates North and South Korea in Paju is the Dora Observatory. Much like the Odusan Unification Observatory, the Dora Observatory gives visitors a glimpse into North Korea from South Korea with the naked eye or the binoculars they have available.
Located on top of Mount Dora in the Gyeonggi Province, the observatory offers sweeping views where you can see a North Korean propaganda village and the city of Kaseong where the remains of the Manwoldae Palace lay as this was the capital of Korea during the Taebong Kingdom.
Nearby is another historic landmark in Gyeonggi-do right at the border, the Third Infiltration Tunnel which is one of four known tunnels (there are suspected to be up to 20 and current searches still take place) found between North and South Korea built by the North as an attempt to sneak into Korea.
In 1978, South Korea detected an explosion underground that they discovered was a planned surprise attack on Seoul from North Korea that could move 30,000 armed men per hour which defied the Korean Armistice Agreement between the two countries after the Korean War.
For any of the Gyeonggi DMZ activities, please note that you will need to bring your passport with you!
These Gyeonggi Province DMZ attractions are very difficult to do on your own so we recommend joining a group tour that takes you to both sites picking you up and dropping you off back in Seoul. You can learn more and book tickets here.
Pocheon Art Valley & Pocheonseok Rocks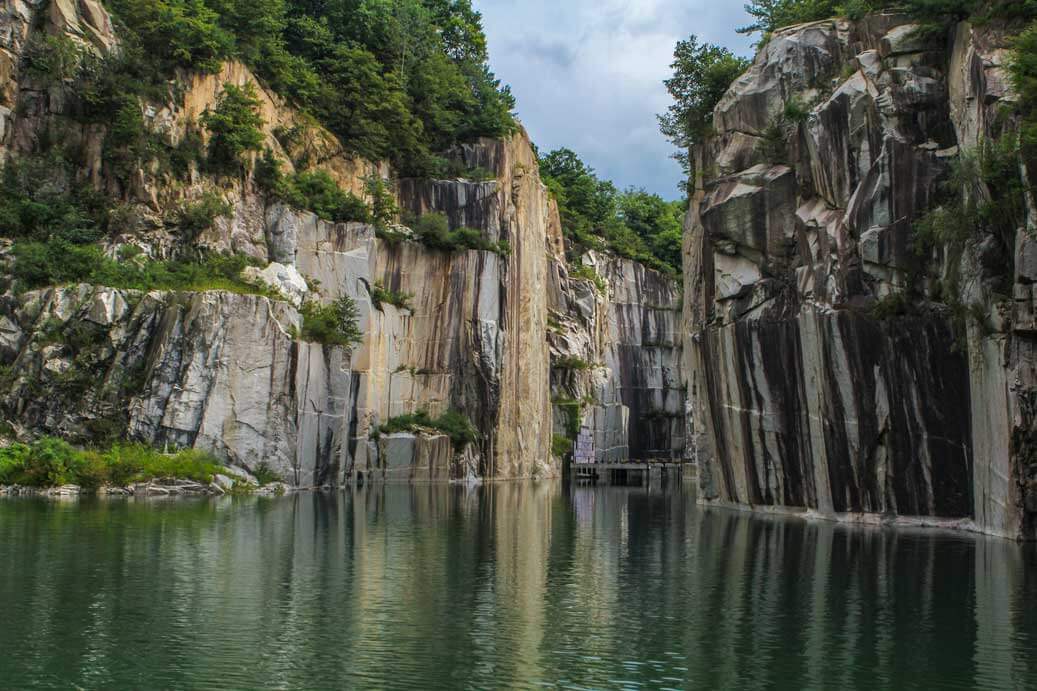 One of the most scenic areas we witnessed in Gyeonggi-do are the mountains and landscape of Pocheon situated between Seoul and the Gangwon Province, which are home to the highest mountain range in the Gyeonggi Province.
Located in an abandoned rock quarry is this really cool, outdoor art space full of outdoor art sculptures, views, and even a really beautiful glimpse of the former rock quarry and the emerald green water that flows through it which makes Pocheon Art Valley a great day trip from Seoul.
This area is the country's first environment restoration project and the rocks from here are semi-famous as the Pocheon granite was used in many restoration projects around Seoul including the Cheonggyecheon Stream and was also used as construction material in famous buildings in Seoul including the presidential Blue House.
Don't miss trying Pocheon makgeolli while you're here either! Their regional makgeolli was one of our favorites, and we REALLY loved our makgeolli!
Pocheon Herb Island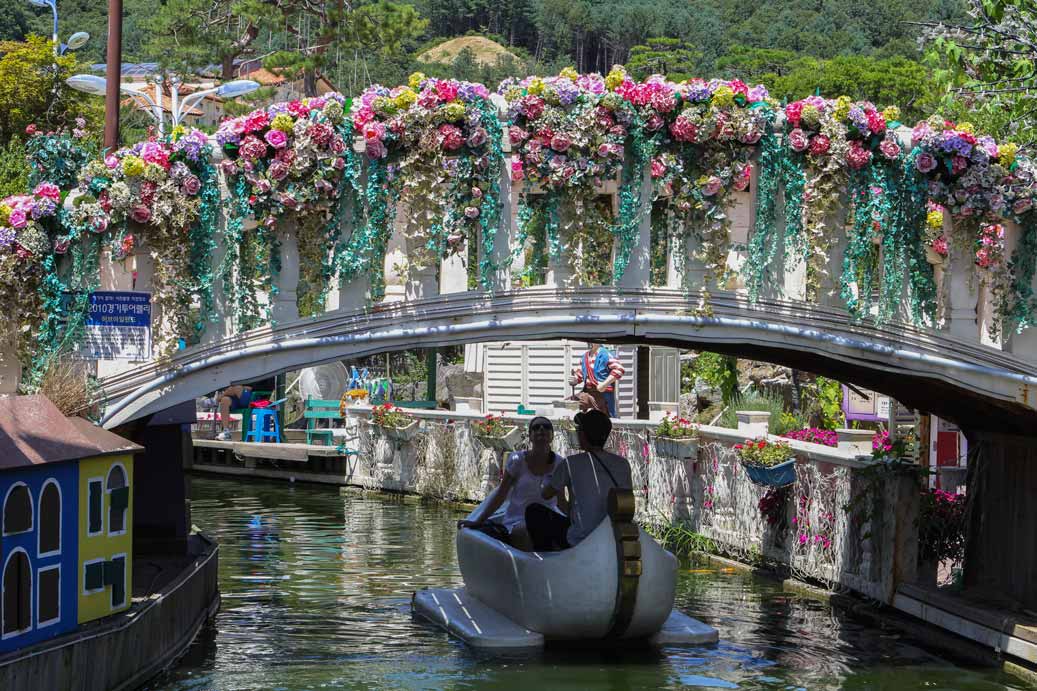 Welcome to perhaps the most random theme park we have ever seen! That's not a bad thing either, this Gyeonggi Province hidden gem is located in Pocheon and is full of surprises! Pocheon Herb Island theme park is also a botanic garden which grows Mediterranean herbs on over 80 acres along with a theme park modeled after Venice, a French farm, and all the other random characters from the Smurfs to Snow White and even a clown-themed restaurant!
This is another Gyeonggi-do attraction that is great any season because besides being fun to play and explore outside in the more mild months, the winter boasts a lighting festival!
Shop for herbal and botanical products in their shop, enjoy a romantic flower-filled gondola ride, visit the mini-museums, and sit with Santa on a bench in front of the Trevi Fountain.
There's a bakery, cafe, and restaurant here too!
The Very Unique Deulmusae Restaurant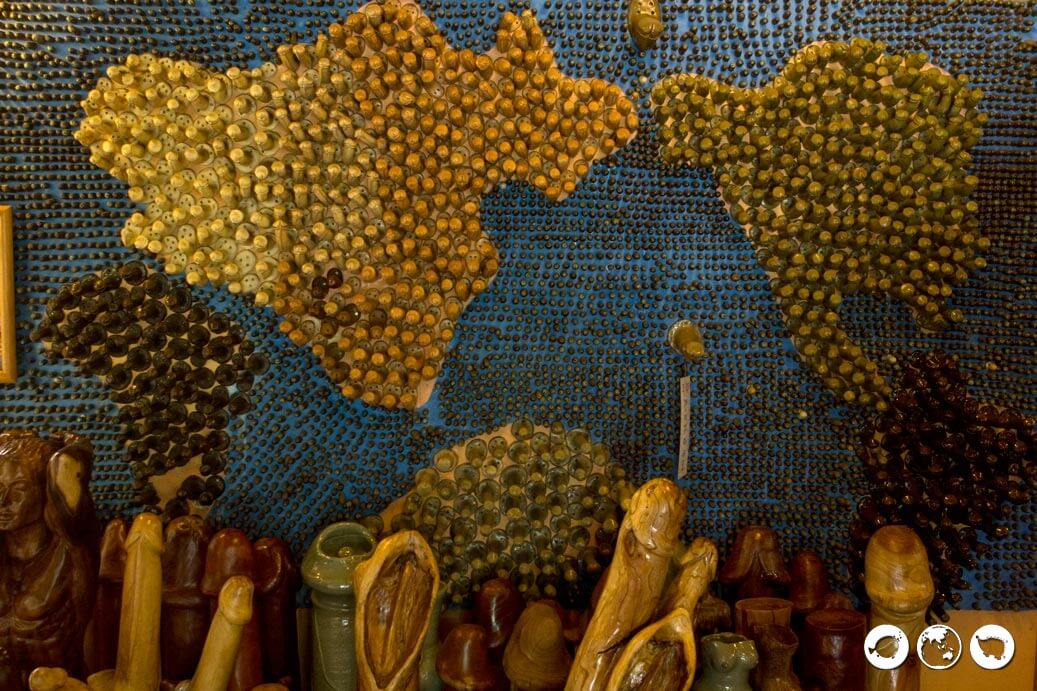 This one is a bit NSFW, but hear us out. This is another hidden gem of the Gyeonggi Province that sounded so unique that we had to check it out for ourselves. Located in Pocheon, Deulmusae, or the penis restaurant is a phallic family restaurant that has this part of men's anatomy in just about every corner you look at the restaurant from the dishes to decor to erect statues leading the way.
There are a few female anatomy pieces floating around too, you will have to keep your eyes peeled for these!
While this may seem shocking to Westerners like ourselves, the penis is a cultural symbol of fertility, strength, and power in various places around the world. This is also not the only attraction in South Korea dedicated to the stories and legends around the cultural significance of this male body part, there is a Penis Park and plenty of phallic figures also at the volcanic Island of Jeju's Loveland.
So why does this restaurant have all of this you may wonder? In the 1990s a Buddhist monk visited the property and noted that the restaurant, which is located in a V-shaped valley, had too much female and cold energy, the yin of yang in Chinese culture.
The owner took this to heart and brought the yang by bringing in more wang (sorry, I couldn't resist) and added phallic figures all around to balance it out. There is even a full-on ceramic studio here who handcrafts the phallic plates, cups, and pitchers used at each table. There's also a considerable amount of woodwork too, the entire restaurant is like an open-air museum too worthy of appreciation.
---
Enjoyed this guide on all the amazing places to see in the Gyeonggi Province (Gyeonggi-do) in South Korea? Bookmark this guide for later or share the love on social media!