What is the Elephant Valley Project?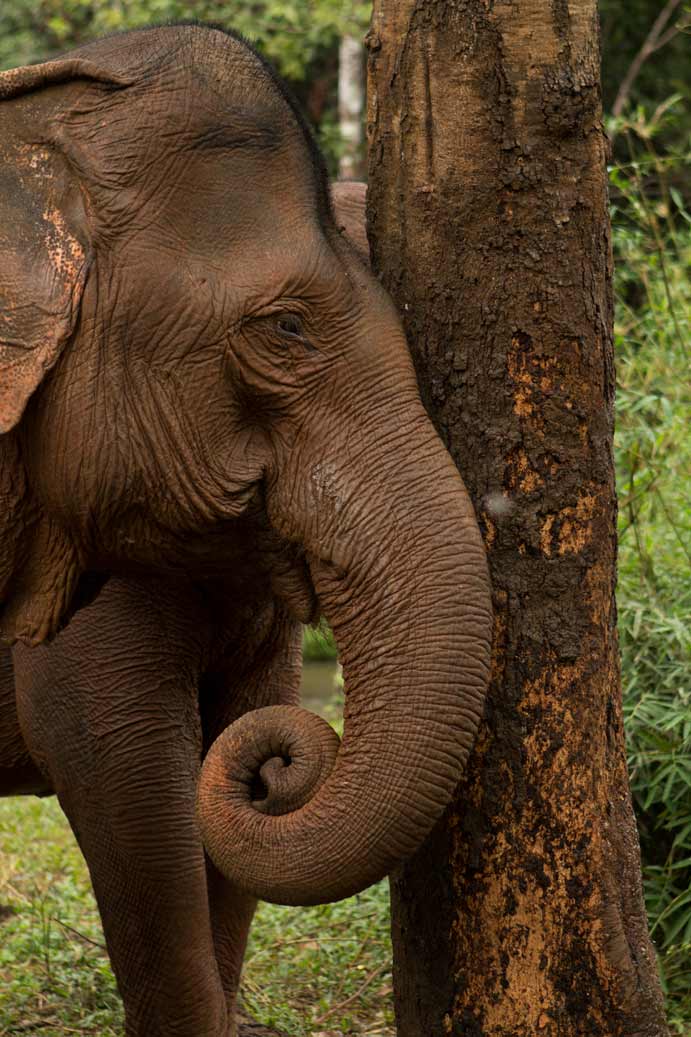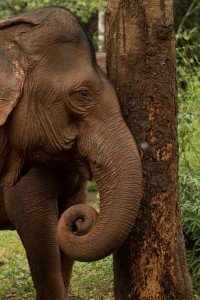 The Elephant Valley Project is located in Mondulkiri Province of Cambodia and offers a responsible way to enjoy seeing elephants while visiting SouthEast Asia. Many people will ride elephants while visiting Cambodia and Thailand and have many photos to prove it. We were some of the people who wanted to add ride an elephant to our travel bucketlist until we realized the dark backstory of the elephants who are forced into these jobs. The elephants who have jobs are often beaten, abused, starved, and overworked. Elephants are not meant to carry weight on their backs, so riding elephants usually cause damage including abscesses and infections.
The elephants who are at EVP were overworked for years in the logging industry. The elephants were used like tractors and also have horrific background stories about their abuse and scars to prove it.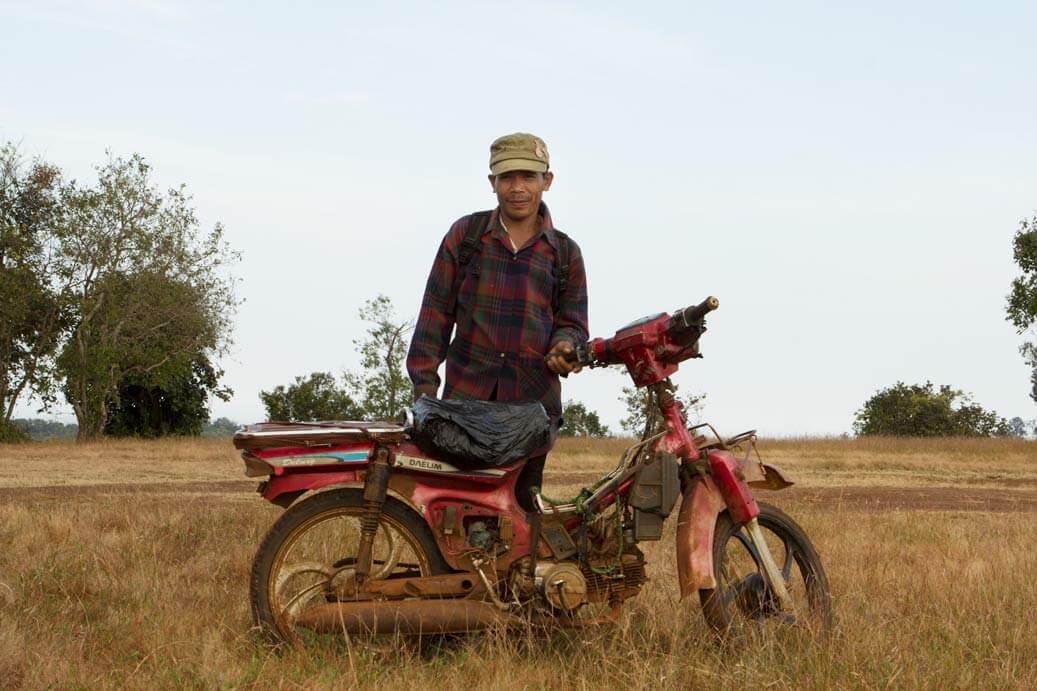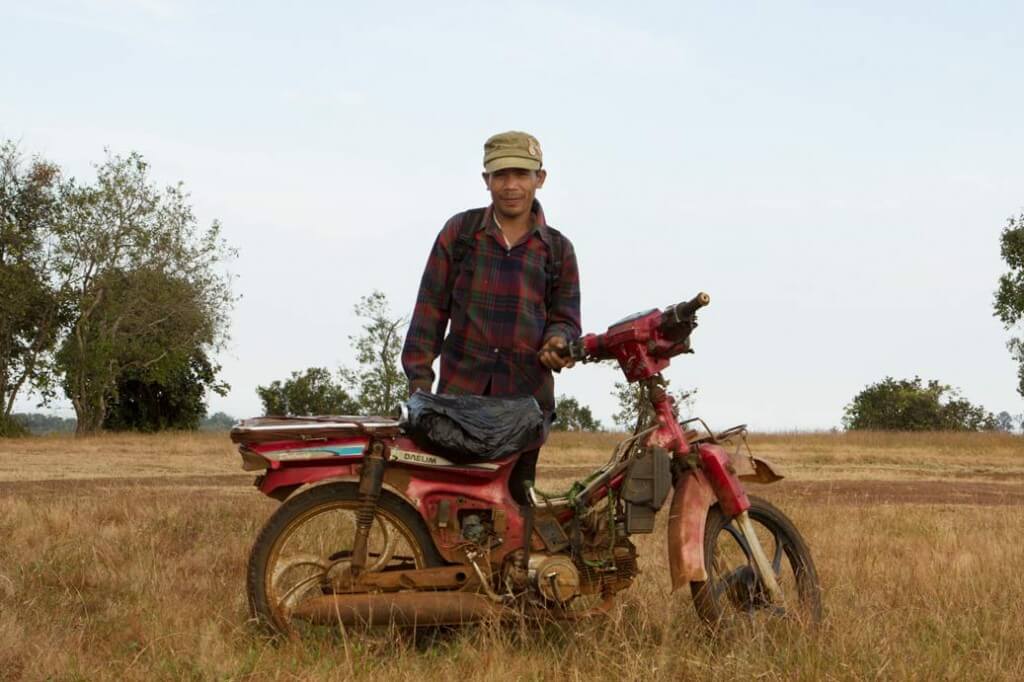 Most locals in the Mondulkiri Province live off of roughly $2 a day. So giving up their elephant, a way living for their family, is not an option. Since elephant owners can't let their families starve in order to save their elephant, many elephants are left in hard labor and the population of these magnificent creatures keep dwindling. EVP offers an incentive for elephant owners to bring their animals to their land to rehabilitate and learn what its like to be an elephant again. EVP gives the owner a weekly salary and offers their family health care, which is a huge benefit for the owner. Not only does EVP benefit the daily lives of the abused elephants, but they benefit the community and culture of the people around.
Through the beautiful terrain and jungles rests the perfect paradise for elephants who have forgotten what the wild looks like. These elephants get to roam the land with their mahout (elephant caregiver) in which the elephants have a positive and past relationship with. There are banana trees, fresh vines, and tons of foliage for the elephants to chomp down on. Not to mention the river that runs through the land for the elephants to bathe and drink.
All the money for this project comes from the visitors. There are various packages and length of stay options available. We participated in the in 3 days and 2 nights for a total of $235 per person. This included meals and sleeping accommodations. What you pay for in this experience is considered a donation and you are now a volunteer at EVP. During your stay you will get to observe elephants up and close and get dirty with some of the everyday chores around EVP.
This was definitely an unique, educational, and rewarding experience. We highly recommend this if you are visiting Cambodia for an extended stay. This trip was worth the money spent, especially since we knew our contributions were benefiting the animals and their local community.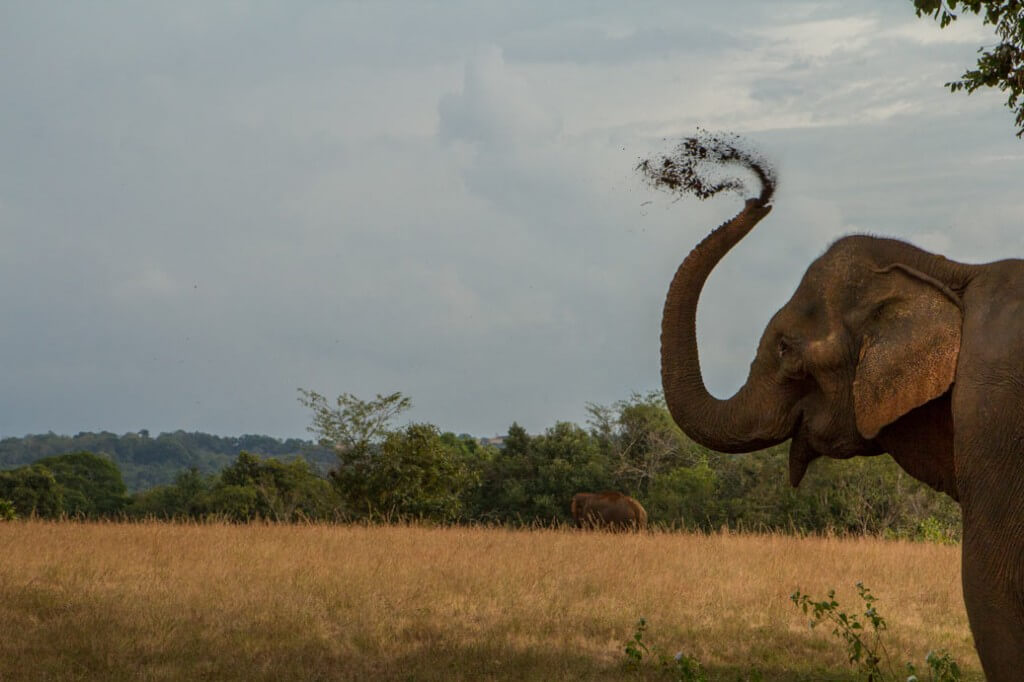 If you want to find out more information about EVP and are interested in giving a donation check out their site here. http://www.elephantvalleyproject.org
Our Experience
When we arrived to EVP we got a debriefing of what they were all about and what our donations pay for by a staff member before they split the volunteers into groups and split up. Some people we sent to observe elephants and some to do volunteer work like chopping down banana trees.
Most of the time was relaxing and educational, but on day two we had to do real work! Scott, our friend Nick, and I got sent to a banana tree farm to cut some trees for Onion, the elephant who was a little sick and needed some extra nutrients in her diet. The farm was beautiful and we carried chopped down banana trees to the van. We thought we were done, but we had only gotten the easy banana trees at this point. We had to go along a path down stairs near the basecamp and find ripe banana trees. It was fun chopping away at the banana trees with a machete like knife until we had to start walking through some tall grass. Scott and I had just got done watching Wildest Indochina where an episode focuses on the jungles of Cambodia and the creepy crawlers living in them. So we are well aware of what kind of poisonous snakes and spiders roam these lands. The workers thought we were crazy for being skittish when walking off the beaten path. As we were going down the path we encountered a poisonous, vicious centipede that was killed on the spot by the employee. She told us a story of how vicious these things are. Now I was officially over banana chopping. If that wasn't enough, we had to carry the banana trees up the stairs. We got a great workout in the blistering heat and were definitely ready for lunch.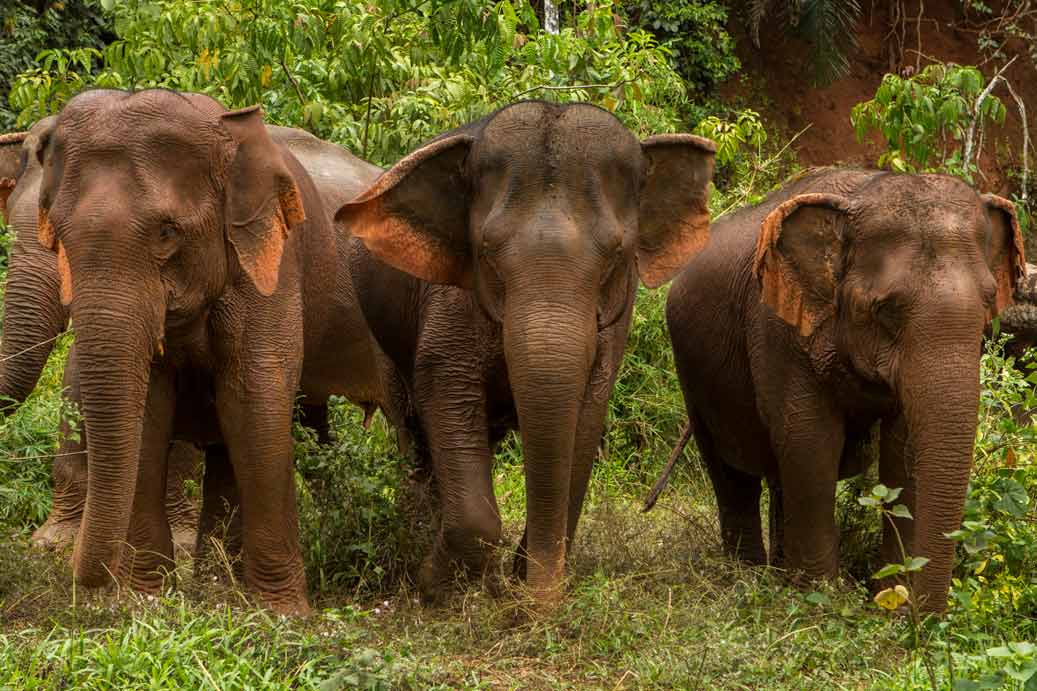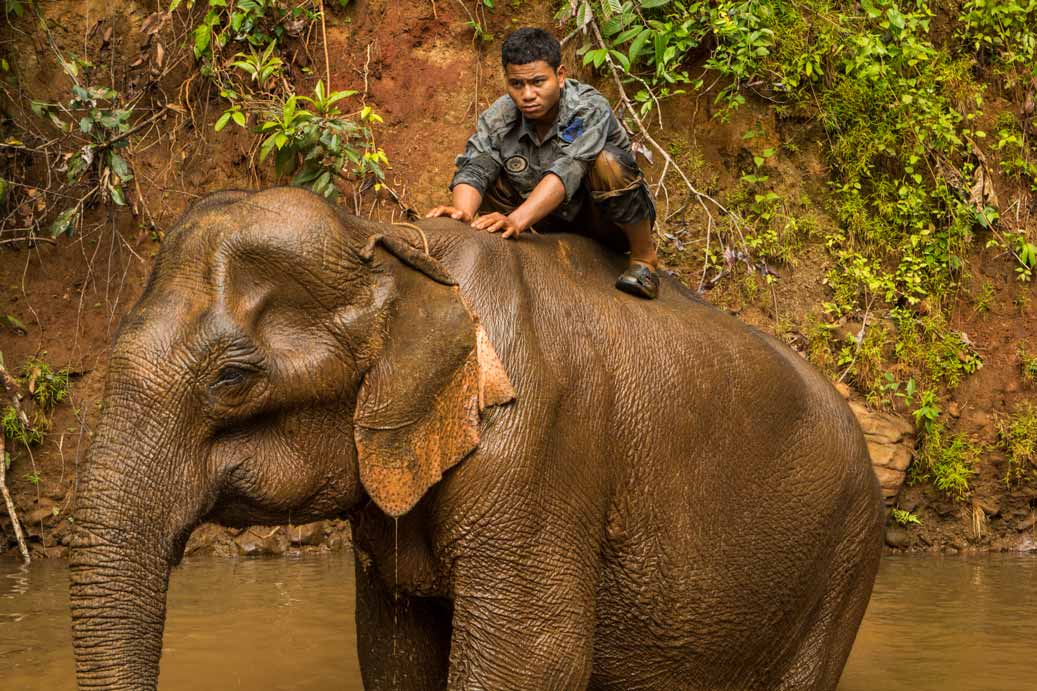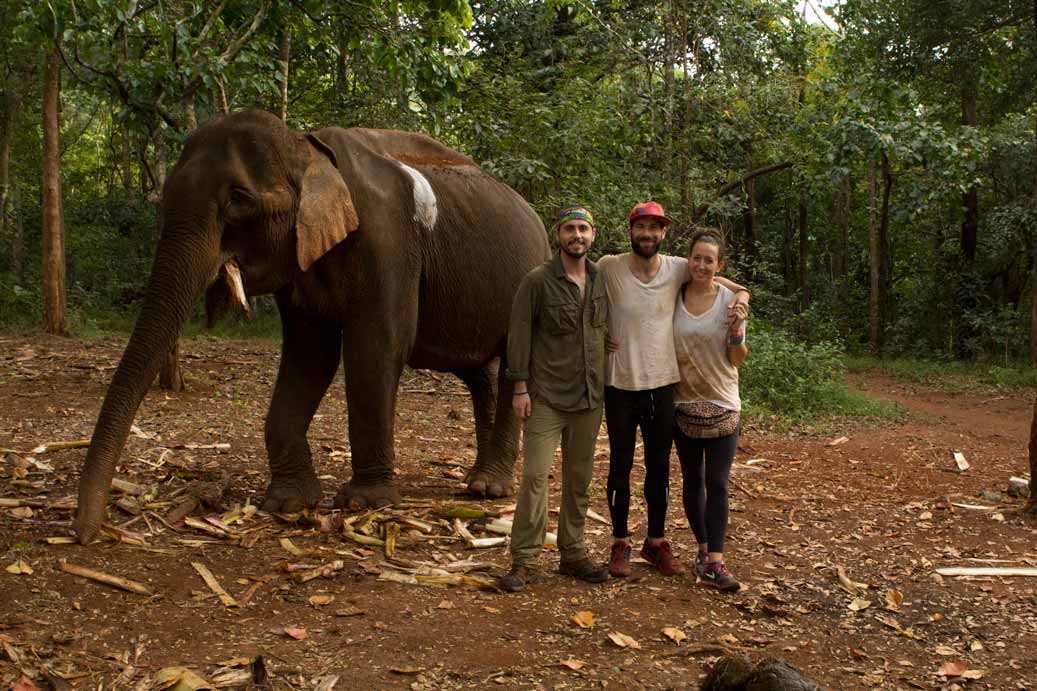 *Note: Since our stay at EVP we regret to inform you that Onion the elephant passed away.
Lunch was delicious and made by local women at the basecamp. After lunch you are able to take a nap or read a book in the most charming, bungalow balcony that has an amazing view. The rolling white clouds against the blue sky with the green, lush jungle below. We were relaxed and taking in the moment. We were lucky because we were able to hear the song of gibbons in the valley. What a great bonus.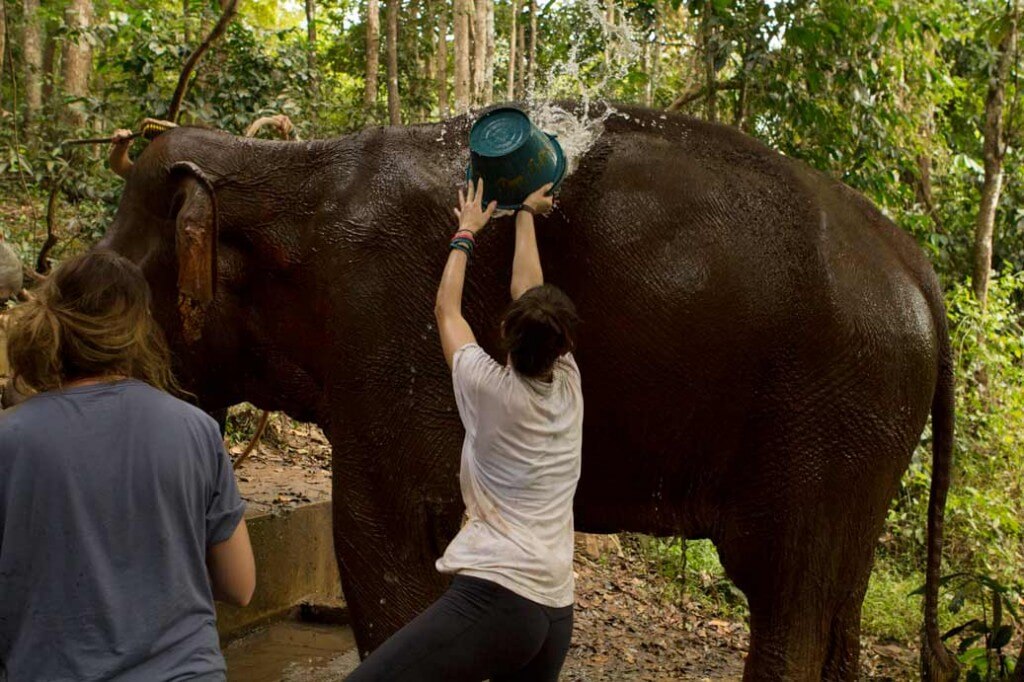 After lunch on day two we were able to wash two of the elephants with buckets of water and scrub brushes. Scott and I both agreed that this was one of the highlights of this experience. We were able to work hands on with the elephants and get soaked with them. It reminded me of the days where I had to wash cows on my family's farm growing up.
At 4:30 pm everyday they would gather everyone and haul us back to Sen Monorom to clean up before dinner and rest in our hostel.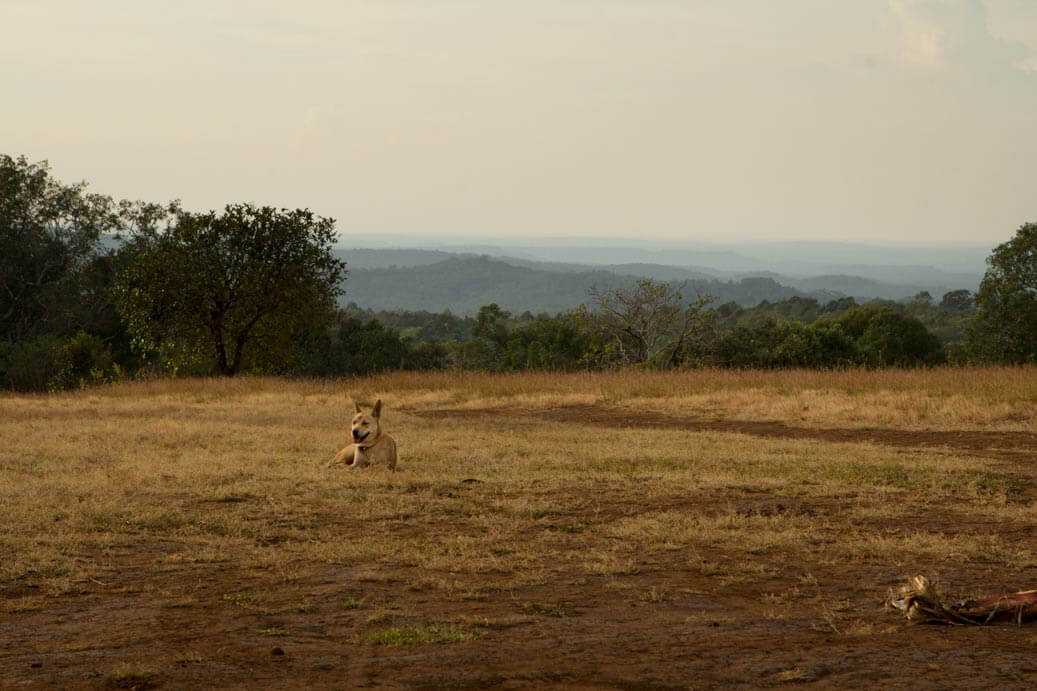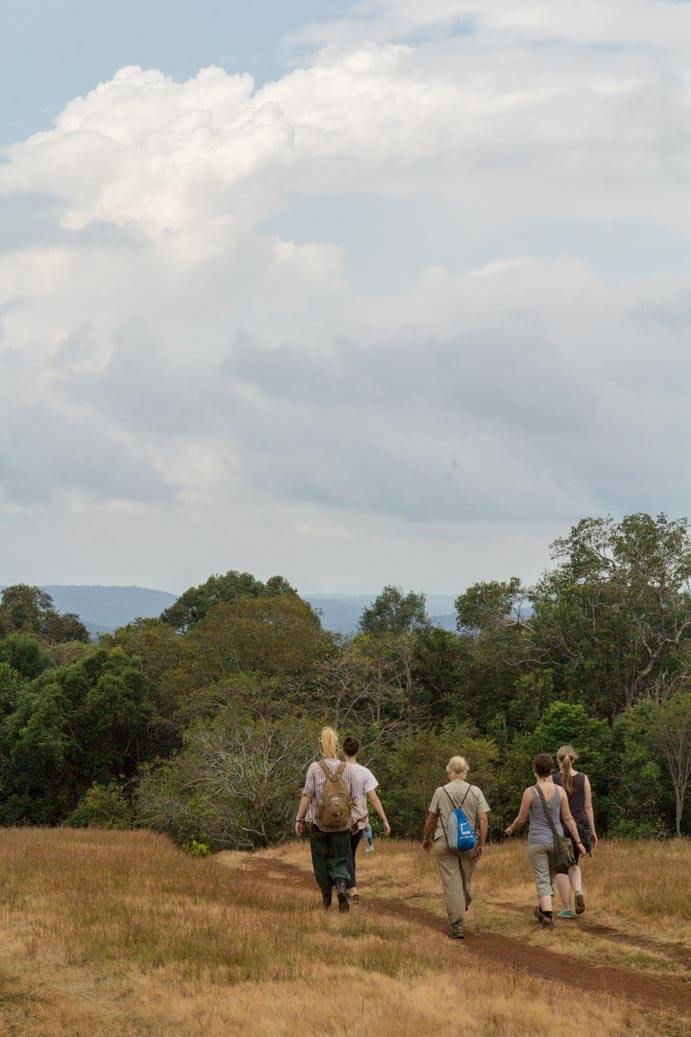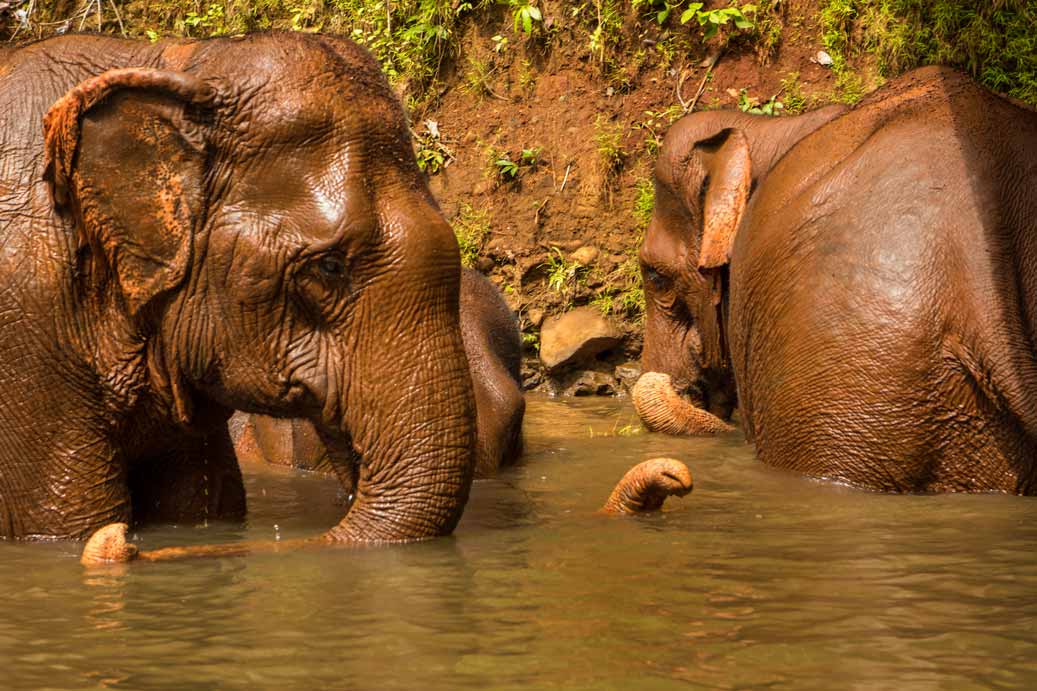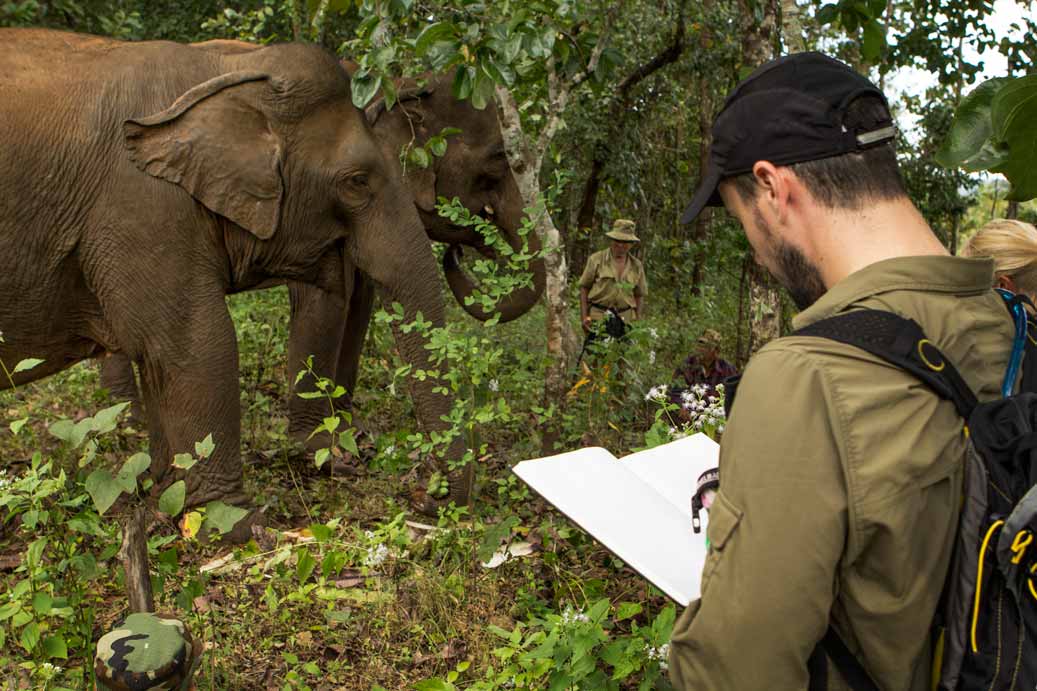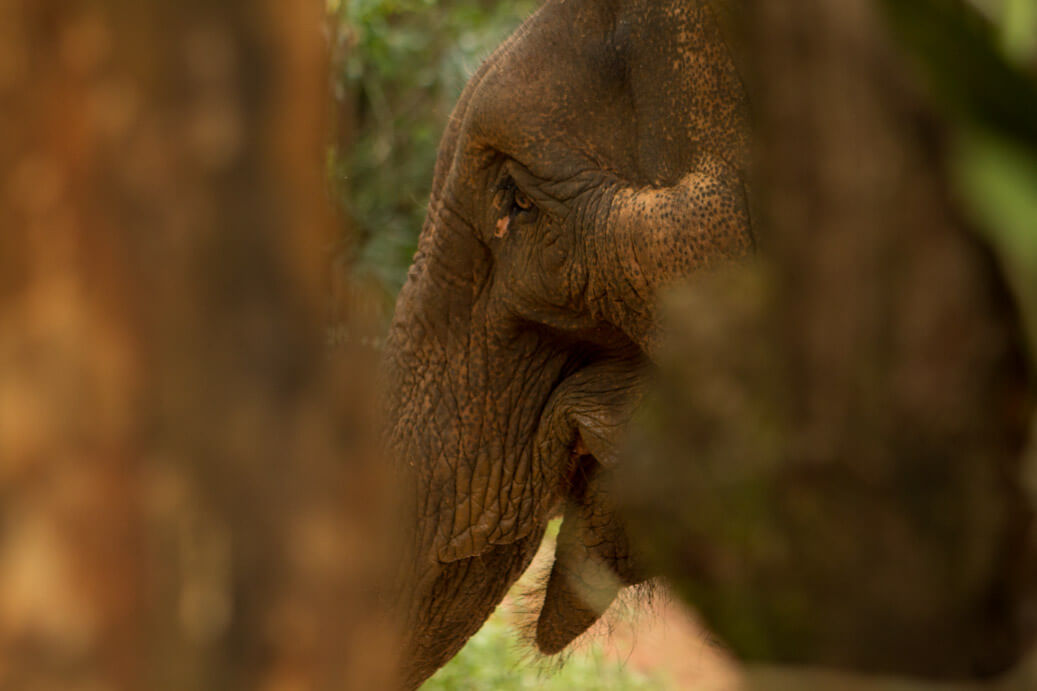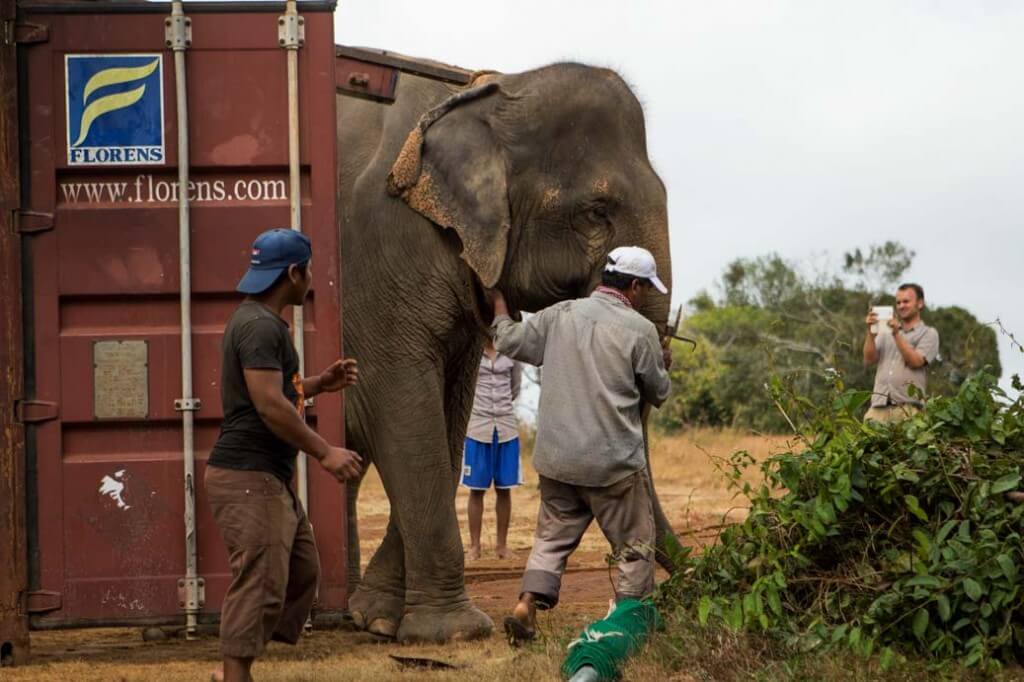 What we enjoyed most would have to be the beauty and landscape of the area, being up close with the elephants, working with them (bath time!), and meeting new people. All the employees have great personalities and are very personable, and the volunteers like us all have at least one thing in common since we all were a part of EVP together. We met a lot of interesting people while we were observing elephants or chatting after lunch or dinner. We were also lucky enough to witness a new elephant, Sambo arrive to EVP. Another awesome bonus! Overall, this was definitely worth experiencing
If you liked this post and want to see more like it, consider liking our page on facebook, following us on twitter, or seeing our latest photos on instagram.
*Please remember all photos on this website are copyrighted and property of Bobo&ChiChi. Please do not use them without our permission. If you want to use one of them please contact us to ask first because we'd be absolutely flattered and would love to share. Thanks!
Related articles across the web