ITHACA IS GORGES! That's what they say, and it's true. There are over 150 Ithaca waterfalls within 1o miles, and when you visit this beautiful area you will want to be sure to check off as many Ithaca falls you can! Not to mention check out any of the many nearby waterfalls in the Finger Lakes as well!
From the most famous Ithaca waterfalls like Ithaca Falls in downtown, to Buttermilk Falls State Park, Robert Treman State Park, Taughannock Falls State Park, Cascadilla Gorge, and waterfalls along Fall Creek and Six Mile Creek you can easily build an entire vacation just around waterfall viewing some of the best natural wonders of New York right here!
We have put together the most gorgeous Ithaca waterfalls, home to some of the best waterfalls in New York, to check out during your visit plus how to visit them!
When we were trying to explore the region and all the different falls in Ithaca we had trouble finding where to park, start our hike, or what to do – so we hope this guide helps make planning your waterfall adventure alot easier and smoother sailing than it was for us!
If we missed any of your favorite waterfalls near Ithaca, let us know! We frequent the area a lot and want to see as many of the 150 falls in Ithaca that we can!
And a general safety announcement for anyone planning to visit these Ithaca waterfalls.
Do not attempt swimming at any of these falls in Ithaca unless there is a designated swimming area with a lifeguard. These waterfalls in the gorges have dangerous undercurrents that have taken several lives over the years. Please, please follow safety guidelines and don't risk your life.
Be sure to also check out our guide to all the best things to do in Ithaca to help you plan your trip, Ithaca is undoubtedly one of our favorite towns in the Finger Lakes to explore! And if you're able to plan a trip around autumn and changing of the leaves, this is one of the most beautiful places to visit in Upstate New York in fall.
Impressive Falls in Ithaca NY
Taughannock Falls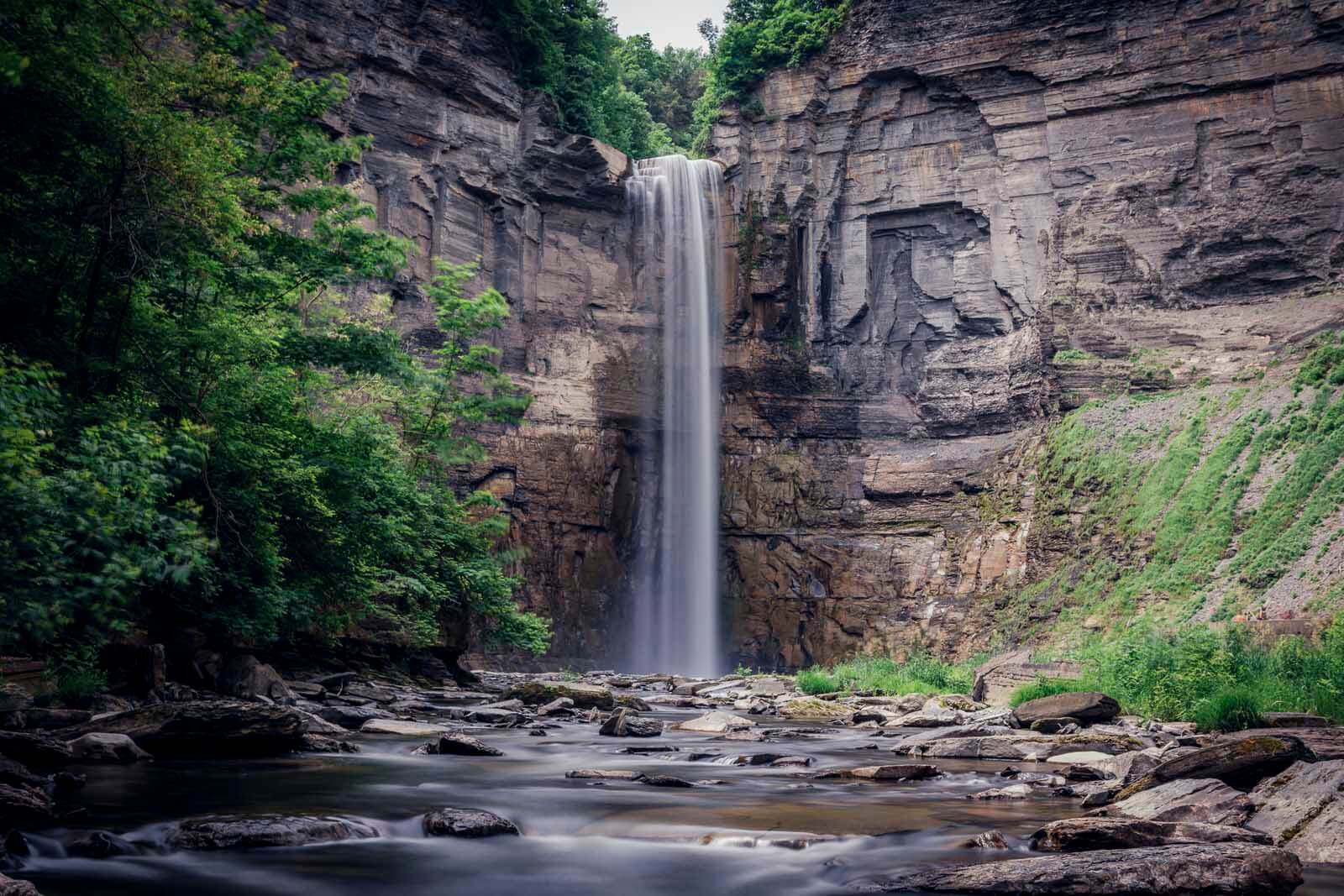 Our first Ithaca waterfall and probably the most famous is Taughannock Falls at Taughannock Falls State Park. This is one of the easiest waterfalls near Ithaca to visit because the viewing deck to the falls are just a few feet walk from the parking area at the overlook at 2221 Taughannock Park Road!
If you wish to continue down to the base of the falls, don't worry you can easily do that too. There are a few trails that start from a different part of the park and will require you to get back in your car and drive to the parking area near the trailhead at 1738 NY-89.
From here you have a few options, the longest being a very easy 1.5-mile hike roundtrip to the base of Taughannock Falls. What's nice is on a hot day this trail is shaded by the surrounding trees and you walk along the flowing stream with smaller cascades making it an incredibly calming and gorgeous walk.
We recommend taking the Gorge Trail which is the easiest!
What makes Taughannock Falls some of the most impressive falls in Ithaca? Well, probably for starters that it's technically 33 feet taller than Niagara Falls drops 215 feet! This was actually one of the first things in the Finger Lakes we experienced on our very first trip in 2018 which eventually continued bringing us back to the region on several other trips to explore more!
The Gorge Trail & Taughannock Falls Overlook is open year-round. The other trails are only open from April – October.
Enfield Falls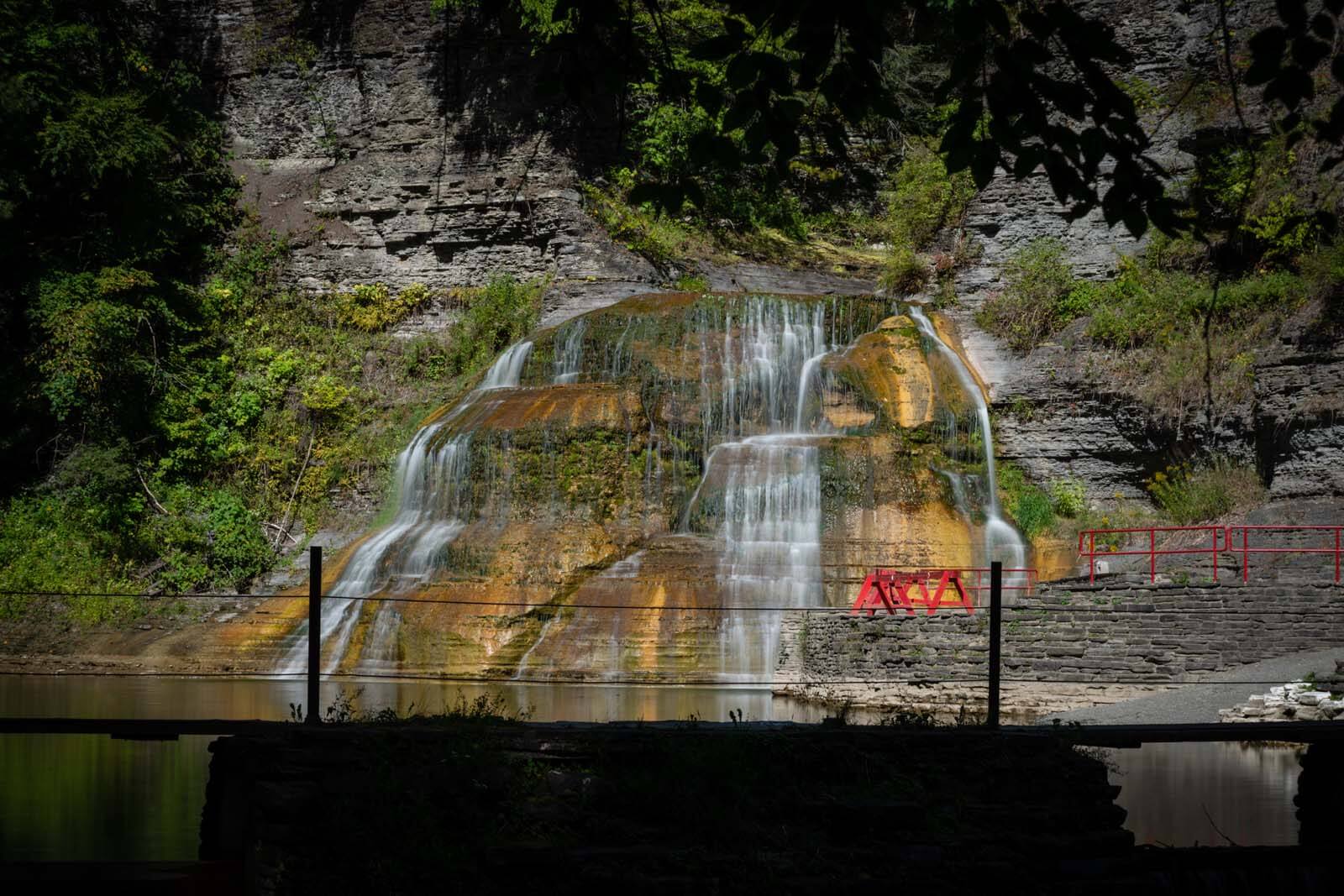 Another one of the most magical waterfalls in Ithaca is Enfield Falls in Enfield Glen at Robert Treman State Park. That's a mouthful I know, what you do need to know about Enfield Falls is it's one of 12 waterfalls inside the enchanting Robert Treman State Park.
Enfield Falls is one of the two sizeable of the 12 waterfalls near Ithaca in Robert Treman State Park with a 70 foot fall. Sometimes Enfield Falls is also referred to as Lower Falls because this is at the lower part of the state park.
This is also one of the few swimmable falls in Ithaca as well when a lifeguard is on duty in the summer months through Labor Day. Swimming is not permitted when there is no lifeguard on duty, so don't even try it! But if you visit right after Labor Day like we did, don't be sad because this waterfall is truly majestic to witness, and usually at this time there are very few visitors and there's a chance you'll have them all to yourself!
You have a few options here you can either park at the lower entrance to Robert Treman State Park and walk the short, flat path to Enfield Falls and come back out to drive up to the top entrance of the park for the rest of the falls OR if you're looking for a workout you can follow the Rim and Gorge Trail loop that's a total of 4.3 miles.
Know that the trails are one way, you ascend on the Rim Trail and descend on the Gorge Trail. Obviously, ascending is much more strenuous than descending so be prepared if this is the route you want to take.
This trail gets busy in the summer, so be prepared, also these trails are closed in the winter season!
We recommend, especially if you're chasing multiple waterfalls near Ithaca like we were to visit the Lower and Upper entrances of Robert Treman State Park separately.
The parking lot has a pay station, we paid at one and our time was still good to park at the other parking lot!
The trails close in the winter due to ice.
The Old Mill Falls
Another great Ithaca waterfall is the falls at The Old Mill at the upper entrance to Robert Treman State Park. Plug in The Old Mill in your Google Maps and park here grabbing the little piece of paper proving you paid for your parking at one of the pay stations.
This parking area is where you will leave your car so you can explore the rest of the Ithaca falls here in Robert Treman. But before you set off on the Gorge Trail, we recommend taking a peek at the historic working Gristmill and the waterfall behind it.
This is a smaller waterfall, but it's so easy to visit once you're here it would be a shame not to glance at it or a very easy waterfall to see with young kids or anyone who isn't able to walk up and down the trails and stone stairs on the trails.
From up here, you can access 6 trails through the Enfiled Glen and Robert Treman State Park.
start here its the top entrance to Robert Treman, these falls are located behind the old Mill. Start the Gorge Trail and after you get to Lucifer Falls you can come back on the Rim Trail then drive down to Enfield Falls.
The trails close in the winter due to ice.
Lucifer Falls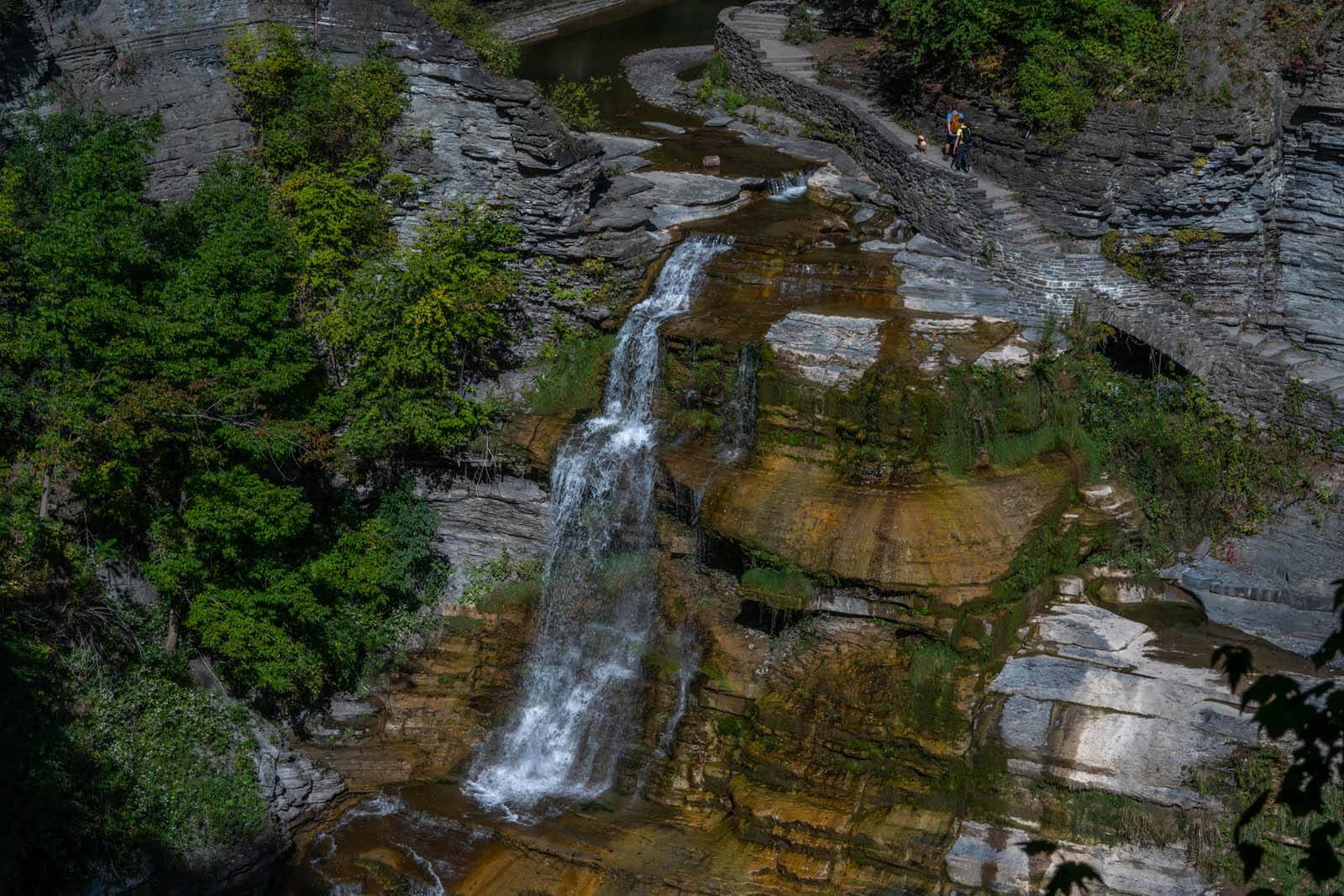 The most impressive waterfall in Ithaca in Robert Treman State Park is the famous Lucifer Falls which drops 115 feet! You can visit this magical waterfall by either hiking the entire trail from the lower base of Robert Treman State Park, or if you want to do the shorter version like we did, you can access it by descending on the Gorge Trail.
Going down is easy and feels otherworldly, the trail passes many of the 12 waterfalls you can find in the Enfield Glen along with stone bridges and staircases alongside the thick flora and fauna feeling straight out of Fern Gully for any kids from the 90s reference.
Passing the multiple cascading waterfalls near Ithaca on the way to Lucifer Falls across charming stone bridges surrounded by the dramatic cliffs of the gorge and turquoise waters reminded us of Watkins Glen State Park, which if you're unfamiliar is also straight-up magic and not that far away – if you have extra time we highly recommend visiting these waterfalls too!
As you're oohing and ahhing at the scenery descending on the Gorge Trail you'll eventually make it to the largest falls, Lucifer Falls where you can stop and take photos then you have the option to cross the bridge and ascend back up to the parking alot .5 of a mile on the Rim Trail.
The trails are all one-way and going back up is a bit strenuous, so mentally prepare yourself and make sure everyone in your group are prepared for alot of steps back up with a steep incline. We personally enjoyed the butt burning workout, but realized that this might be a tough hike if we were ever to revisit with our parents in the future.
Hiking to Lucifer Falls, no matter which way you choose gives you bonus waterfalls too. Enjoy this breathtaking hike!
The trails close in the winter due to ice.
Buttermilk Falls
View this post on Instagram
One of the most famous waterfalls in Ithaca to visit is Buttermilk Falls at Buttermilk Falls State Park not too far from Robert Treman State Park.
The impressive 165-foot Buttermilk Falls cascades down rocks into a pool that is one of the few waterfalls in Ithaca open to the public for swimming in the summer season when a lifeguard is on duty.
If you want to just look at Buttermilk Falls you can do so basically from your car as its just a few feet from the parking area. This Ithaca waterfall gets its name from the cascade that foams formed by Buttermilk Creek.
The only thing that you should be aware of with Buttermilk Falls is that if it has been a particularly dry season, the falls may be dried out or barely running. This happened on our visit.
Besides the main feature here, Buttermilk Falls, you can continue on the 5 trails that go through the state park that pass a few other cascading waterfalls upstream.
The scenic trails circle Lake Treman, just know that the Gorge and Rim Trails are one way only. You will ascend on the Rim Trail and descend on the Gorge Trail.
From the lower viewing area of Buttermilk Falls you can't actually see the second drop of the falls, the top of the falls is more narrow and it gets wider as it descends making the most impressive view in our opinion from the base of the falls where all the swimming and picnic tables are.
DO NOT attempt swimming at any of the other waterfalls and only swim when a lifeguard is on duty at Buttermilk Falls.
8 Ithaca Waterfalls in the Cascadilla Gorge Trail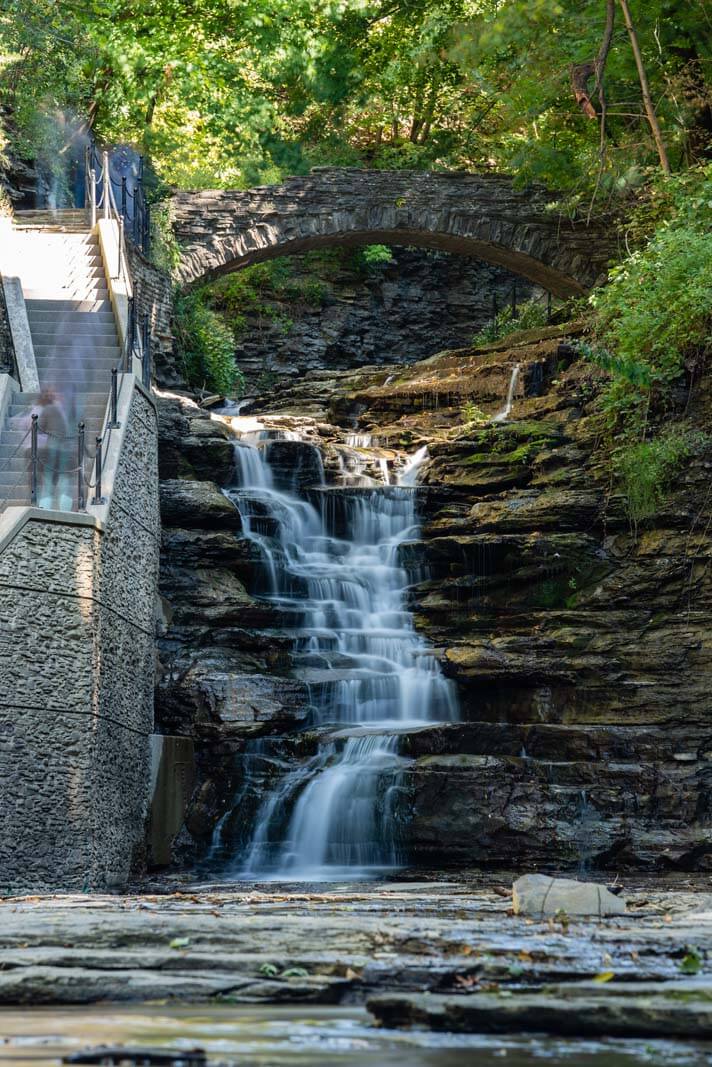 One of the most enchanting places to witness waterfalls in Ithaca is in the heart of downtown Ithaca and the Cornell
University campus in the Cascadilla Gorge. This easy .75 mile trail passes 8 gorgeous waterfalls some with 80 foot drops, stone bridges, and a pretty stone path up the gorge along Cascadilla Creek.
We recommend starting at the bottom at Treman Triangle Park in Ithaca, here you can find street parkng or meter street parking and walk to the trailhead. We like starting at the bottom because as you progress upwards the falls get more and more rewarding and then you're also rewarded with doing the hardest part first stopping and oohing and ahhing at waterfalls with an easy decline back to the car.
There are two parts of this trail, the lower part which we highly recommend as this is where the waterfalls are and the higher part is more of a pretty wooded trail with dramatic views of the gorge below you. The waterfalls are in the lower part.
You'll see students using this to cut through campus, how we both envied them that this was their walk to and from class, as well visitors. Some areas of the trail are more narrow than others, but overall its a very easy, short trail even though there's a climb.
We recommend parking at the lower trailhead at Treman Triangle Park off the intersection of Linn Street and Court Street. If you do want to do the upper trailhead or start there you can find parking on Cornell's campus at the Schwartz Center for Theatre Arts, although parking is limited on campus you can park at a paid parking lot at Dryden Road garage.
This was one of our favorite Ithaca falls hikes since its right smack in downtown alongside the gorgeous Cornell campus and there are so many pretty waterfalls in such a short distance.
This trail closes in the winter due to ice and is only open during daylight when it is open.
Ithaca Falls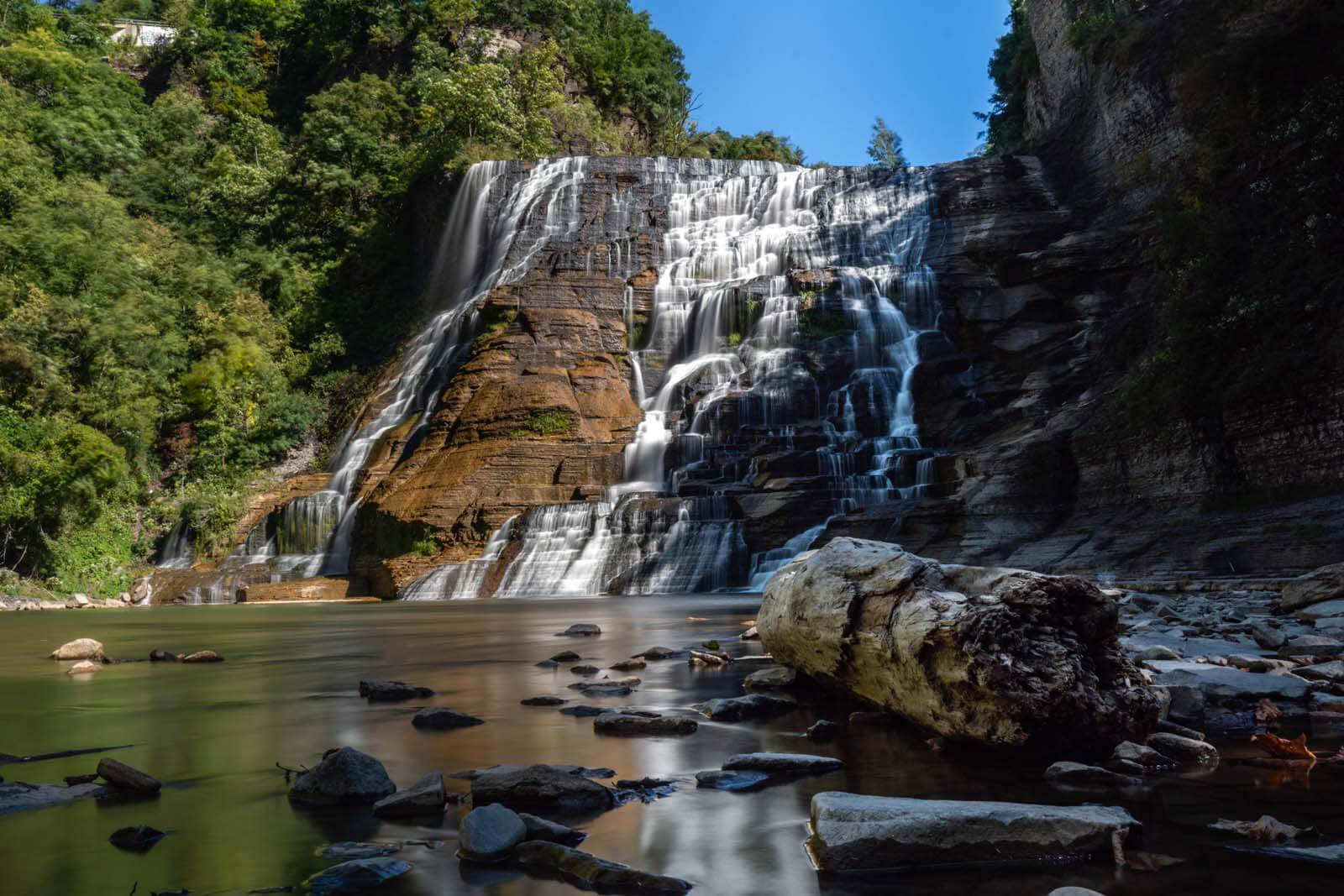 Probably the most impressive waterfall in Ithaca, like downtown Ithaca is the 150 foot Ithaca Falls in the heart of downtown located on Fall Creek. This is just one of several waterfalls along Fall Creek and the largest and most dramatic, the others can be viewed from a trail from above which I will go into on each of the Ithaca falls on Fall Creek after this one!
Located on Lake Street just north of Downtown Ithaca you can find parking on either side of the street making it a really easy waterfall in Ithaca to visit.
You will be visiting the base of the falls looking up at the 150-foot drop on this cascading GORGES waterfall!
Visiting is easy and this one is accessible to visit year-round, unlike other Ithaca falls.
Forest Falls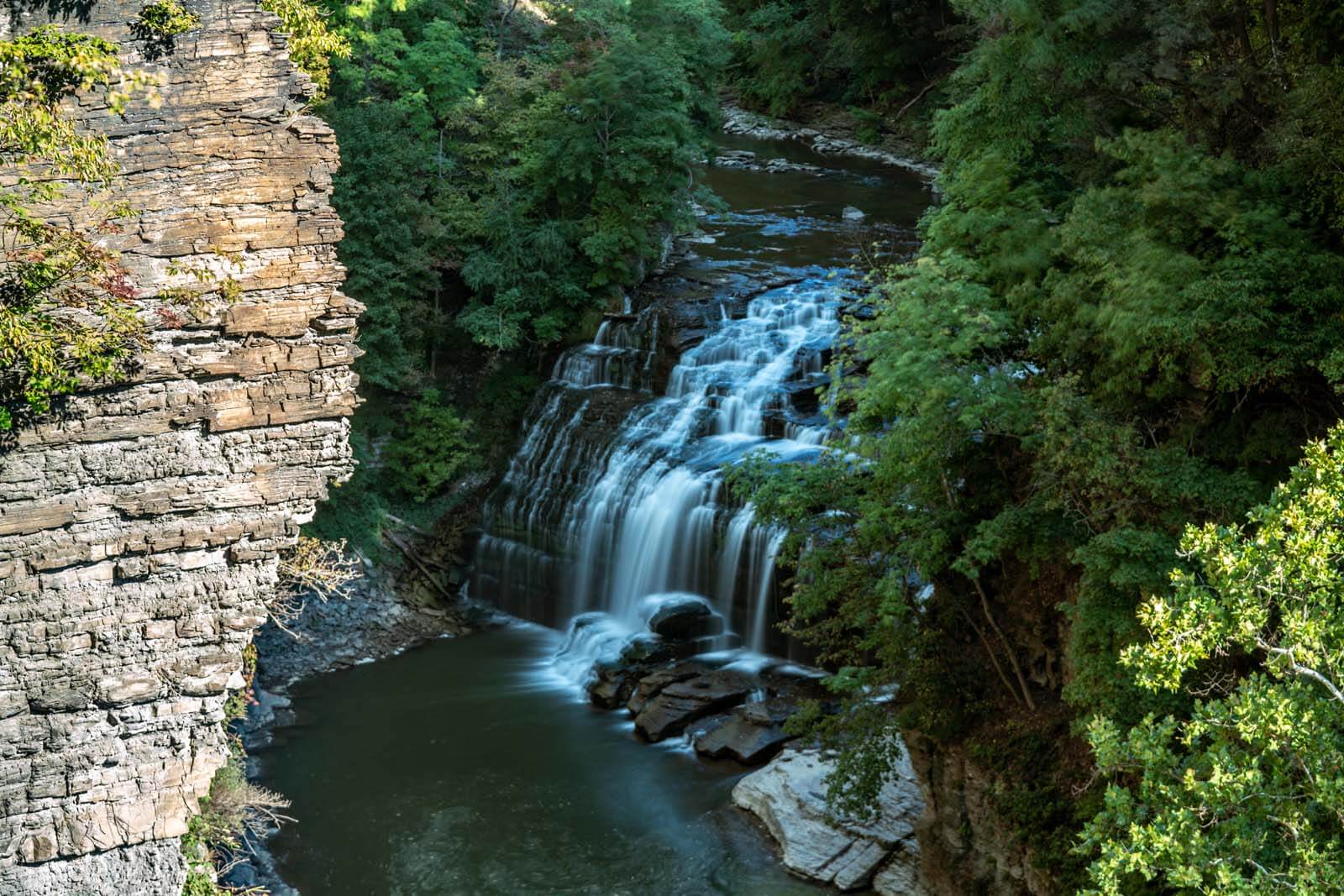 Another gorgeous waterfall in Ithaca on Fall Creek is Forest Falls. This waterfall can only be viewed from above on the Stewart Avenue Bridge. We recommend finding parking on either side of the bridge and coming back to walk over it by foot, just watch out for traffic.
When you're standing on the Stewart Avenue bridge you actually are right above Ithaca Falls below you, even though it's quite a drop and you can't quite see it. On this side of the bridge you have glimpse of Cayuga Lake and if you notice the interesting Egyptian Revival home tucked in the cliff right next to the bridge at 900 Stewart Avenue, it was the home to famous astronomer and planetary scientist Carl Sagan who resided in Ithaca. What a view he had!
On the other side of the bridge when you look down you can see the cascading 25 foot Forest Falls below you.
Technically you're supposed to park at the Fall Creek parking lot where you can access the foot trial taking to you the different Ithaca falls on Fall Creek. However, we thought it was much easier to park by the bridge as it was not busy during our visit and there was plenty of street parking.
When you're driving on Fall Creek Drive, once you pass Fall Creek Bridge there's a small parking lot on the right-hand side. You can access the Fall Creek waterfalls trail from here, the nearest address is 310 Fall Creek Drive.
The Fall Creek trail is closed in the winter due to ice.
Horseshoe Falls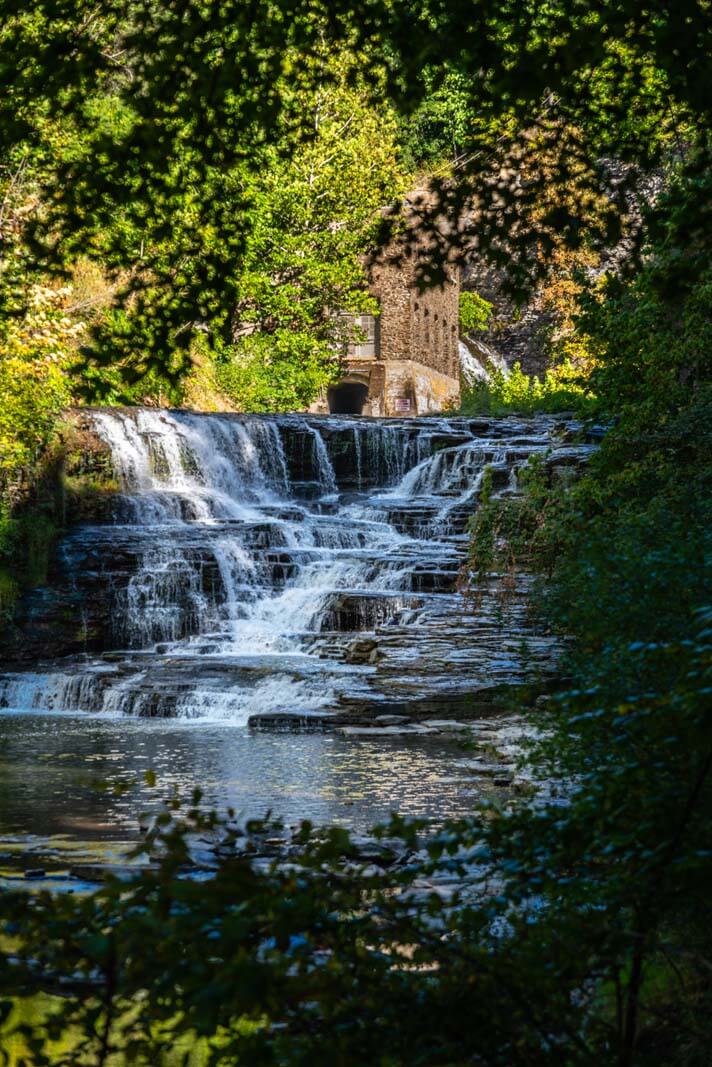 Another impressive waterfall in Ithaca on Fall Creek is Horseshoe Falls which can be viewed from the walking trail, follow the stone steps down and you'll get to a viewing deck. There is a memorial here for those who have lost their lives swimming in the waterfalls in Ithaca throughout the years as a warning for visitors.
During dryer levels, people will cross over to the rocks for a closer look at the falls. This is safe to do as long as you're cautious and water levels are low.
You can see a brick building on the upper left side of the waterfall that's a hydro plant.
To park, when you're driving on Fall Creek Drive, once you pass Fall Creek Bridge there's a small parking lot on the right-hand side. You can access the Fall Creek waterfalls trail from here, the nearest address is 310 Fall Creek Drive.
Another way to access this trail is from the otherside of Fall Creek on the Cornell Campus side, you can find parking near Rebecca Q. and James C. Morgan Garden, then walk over to the trailhead.
The Fall Creek trail is closed in the winter due to ice.
Rocky Falls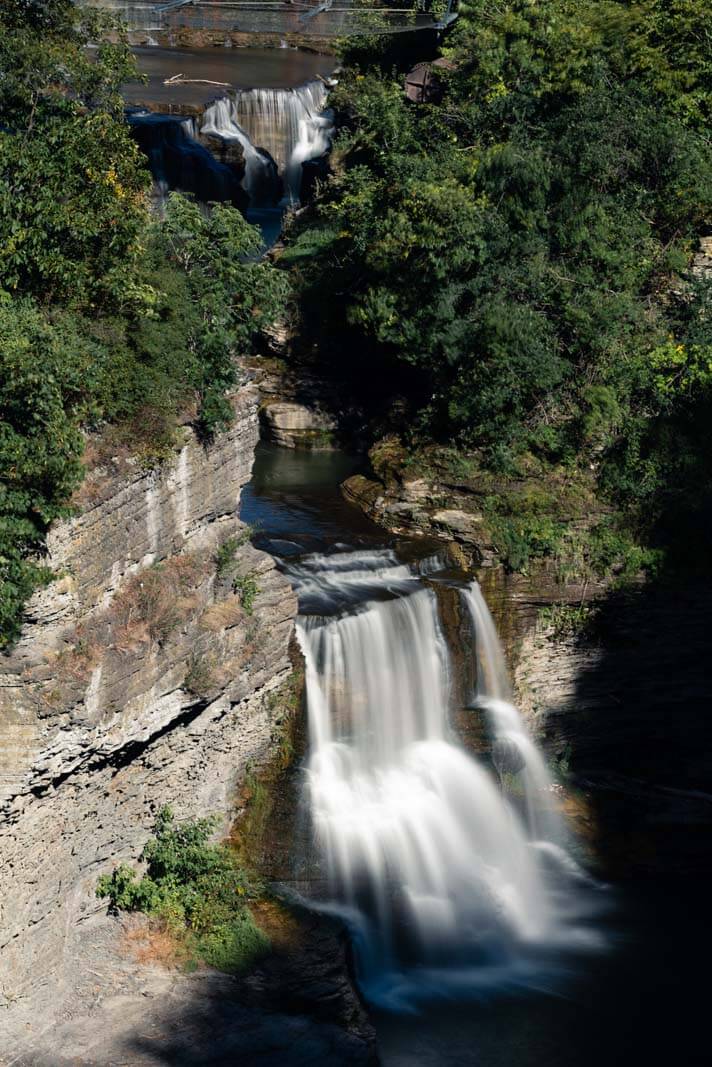 On the same pedestrian suspension bridge over Fall Creek is our next waterfall in Ithaca, Rocky Falls. This 44 foot waterfall is a bit off in the distance, but you can see it pretty well!
After witnessing Horseshoe Falls below you, and Rocky Falls upstream, you can continue over the walking suspension bridge or turn back and return to your car to make it to our last waterfall in Ithaca on Fall Creek.
To park, when you're driving on Fall Creek Drive, once you pass Fall Creek Bridge there's a small parking lot on the right-hand side. You can access the Fall Creek waterfalls trail from here, the nearest address is 310 Fall Creek Drive.
Another way to access this trail is from the otherside of Fall Creek on the Cornell Campus side, you can find parking near Rebecca Q. and James C. Morgan Garden, then walk over to the trailhead.
The Fall Creek trail is closed in the winter due to ice.
Triphammer Falls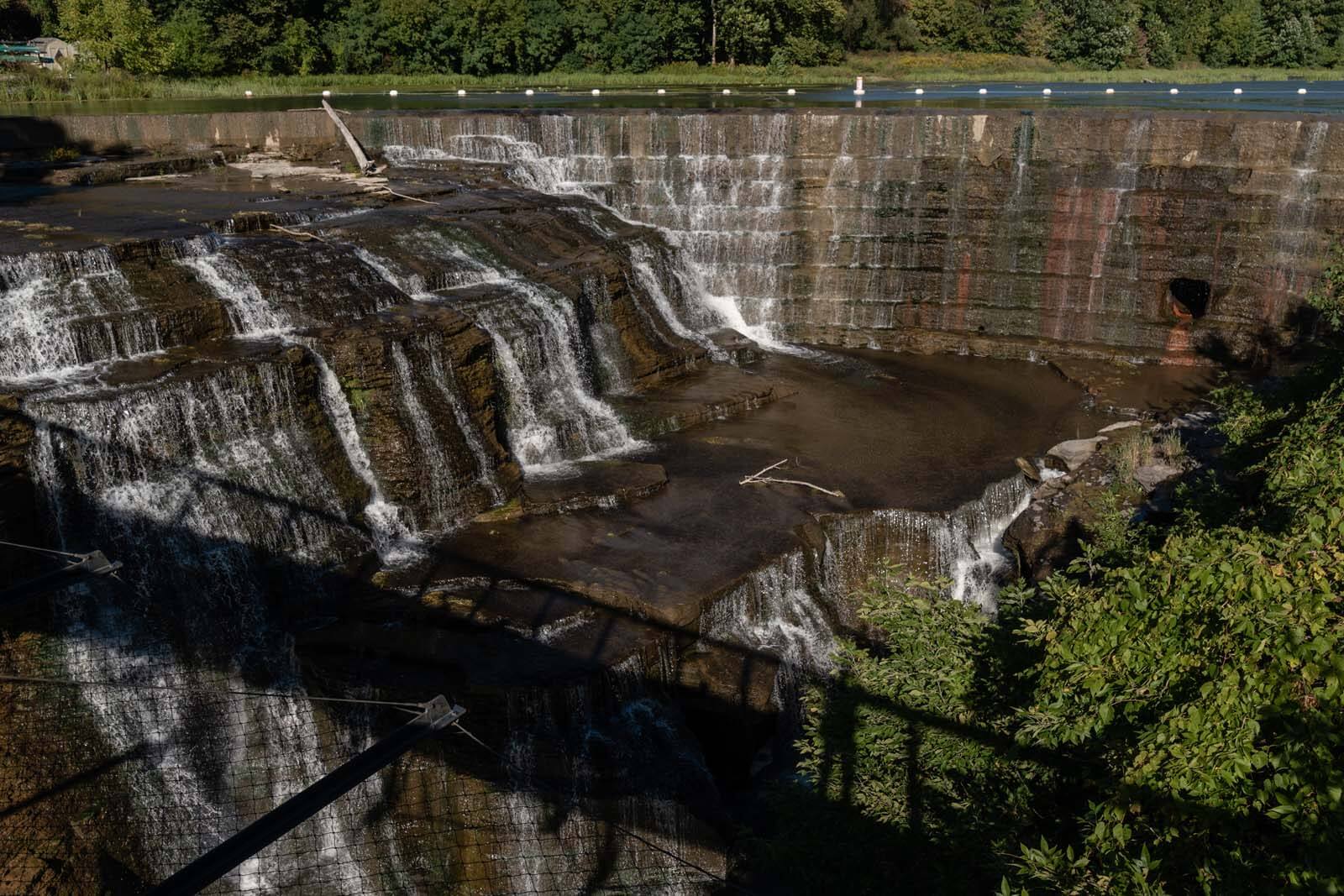 Located in the middle of Ithaca and the Cornell Campus is another favorite waterfall in Ithaca to check out on Fall Creek and Beebe Lake. Triphammer Falls is a 55 foot waterfall located next to the Martin Y. Tang Welcome Center.
We recommend first trying to park at the metered parking at Martin Y. Tang Welcome Center then walk over the bridge to access the trail. Parking is limited here, so if you can't find parking there are other nearby parking lots with a short walk.
Be sure to. walk across the pedestrian-only bridge right over Triphammer Falls and if you wish to continue a scenic stroll we recommend walking around the path around Beebe Lake where you can also find the pretty stone Sackett Foot Bridge.
You're also right next to Cornell Botanic Gardens, so it might be worth combining a visit and just parking there too!
The Fall Creek trail is closed in the winter due to ice, but this waterfall in Ithaca is easy to see without accessing the trail still.
Wells Falls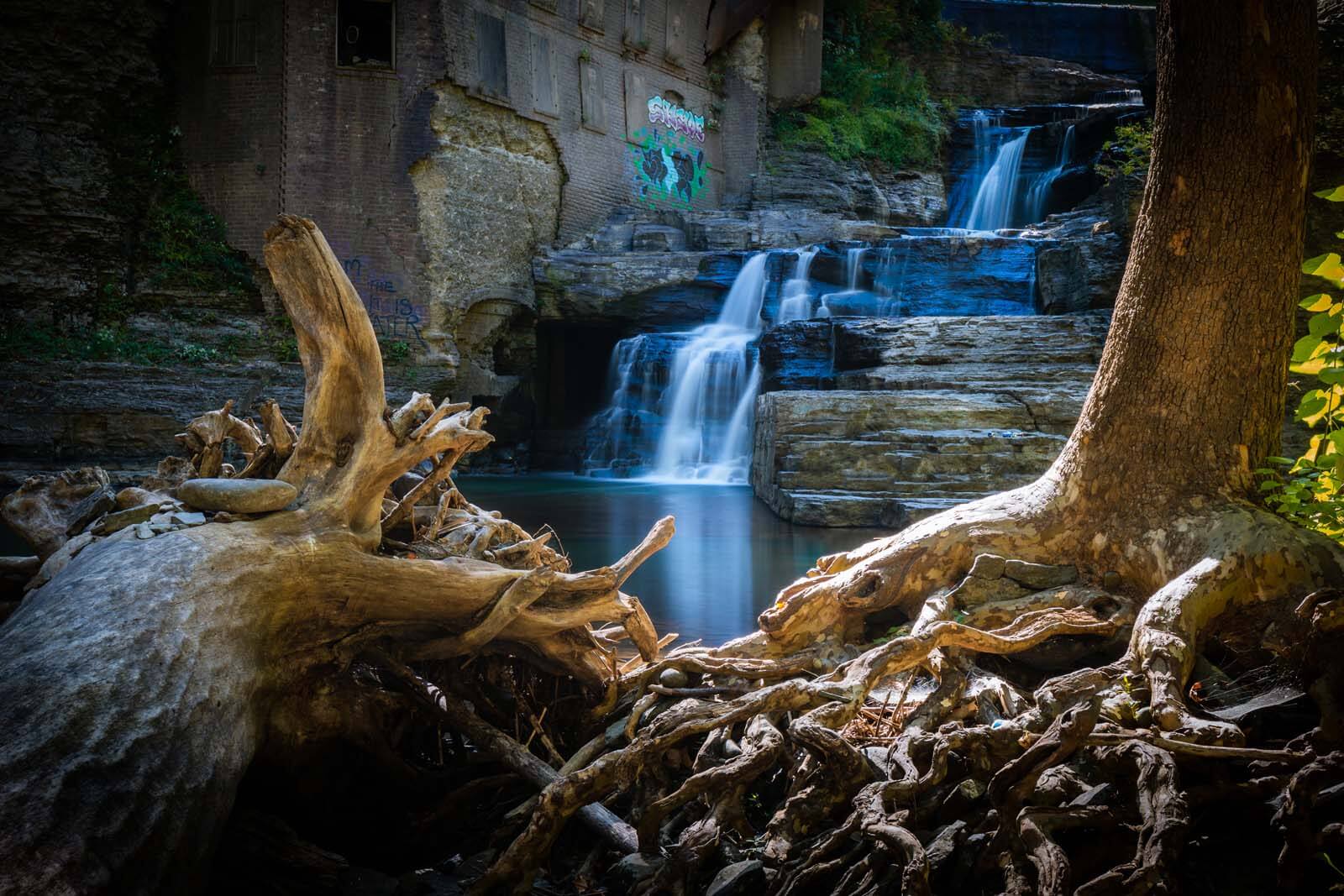 One of our absolute favorite waterfalls in Ithaca was Wells Falls aka Businessman's Lunch Falls located at the first dam on the Six Mile Creek in downtown Ithaca.
The secondary name of this waterfall, Businessman's Lunch Falls came about because this was a popular lunch spot for local office employees who want to witness the set of cascading waterfalls ranging from 5 to 30 feet.
There's an old mill that's being reclaimed by nature and some graffiti situated on the falls located on Six Mile Creek, the same water source that supplies the city of Ithaca with its drinking water.
We loved the view and juxtaposition of the old mill being overtaken by nature next to the flowing, cascading falls that total in 65 feet of dropping water.
To access this scenic Ithaca waterfall you can park at the Mulholland Wildflower Preserve parking lot. Once you're parked, go back to the road and walk over the bridge. The brief trail will be on your right. Skip the first trail that looks like a little footpath made by a few people and head to the second trail right after that's much wider and has a gate. The waterfall is less than a 2 minute walk from here.
Swimming is dangerous and prohibited here. We don't recommend visiting in the winter if there's ice.
Second Dam
View this post on Instagram

Continuing on Six Mile Creek, if you head back to the Mullholland Wildflower Preserve you can start heading to a few last waterfalls in Ithaca including the flowing water over the second dam on the Six Mile Creek.
The first dam was where Wells Falls was located, now we are making our way to the Second Dam. This is not a natural waterfall in Ithaca as it's just the flowing water over the actual dam.
This waterfall can be viewed on the trail along the Six Mile Creek that takes you to our next waterfall as well, Potters' Falls. The entire trail to Potter's Falls and back to the parking at Mullholland Wildflower Preserve is 3.3 miles. So come prepared with comfortable shoes and water.
Around the halfway mark you'll pass Second Dam where you can see the built-up water spilling over the dam with steep cliffs on either side.
While the rebellious youth like to sneak here for cliff jumping, we can't urge enough why this is wildly unsafe and many have lost their lives here. Please do not swim here, people have had to be rescued and dead bodies have had to been recovered here. Safely enjoy this waterfall in Ithaca from the trail.
This trail is not recommended in winter.
Potter's Falls
Our last waterfall in Ithaca's downtown area on Six Mile Creek is Potter's Fall also known as Green Tree Falls. You can access this 25 foot waterfall by hiking upstream on the Greenway Trail & East Gorge Trail.
We recommend continuing past the Second Dam waterfall starting at the trailhead at the Mulholland Wildlife Preserve until you reach Potter's Falls.
This trail is technically open year-round, but it's often impassible in the winter if its icy and we do not recommend going if conditions are snowy or icy.
Ludlowville Falls/Salmon Creek Falls
View this post on Instagram

Another waterfall near Ithaca along Cayuga Lake is the 35 foot falls known as Ludlowville Falls or sometimes Salmon Creek Falls.
You can easily find parking at Ludlowville Park and walk the easy, flat .1 mile walk to view this limestone overhang waterfall. This is a great spot to bring a picnic too and continue to explore along the East side of Cayuga Lake.
If you're into fishing, you can bring your gear and fish at Salmon Creek, there's also a shooting range right here.
Just note if its been a little dry for the season there is a chance that the falls might be dried out. This was the case during our visit and we didn't actually get to see the falls flow!
---
Liked this post on the best Ithaca waterfalls or found inspiration for your next trip? Bookmark for later or share the love below on Pinterest! Happy waterfall chasing!