Now that the summer heat is finally cooling off we are taking advantage of this beautiful September weather in Seoul by going back to our neighbor Bukhansan National Park to tackle a new hike. Known for its beautiful rock formations and popularity we decided to head the Dobongsan entrance to Bukhansan and try the challenging Juanbong Peak (aka Dobongsan Peak).
We got a late start to the day and did not start hiking until around 2 pm. The hike itself is supposed to take around 3 hours and 30 minutes. Except we did not factor in photo stops or a lunch break! We ended up spending 5 hours on this hike with all the gorgeous stops.
Cheonchuksa Temple
First stop to the peak is Cheonchuksa Buddhist Temple. There will be a beautiful stream with small waterfalls leading you the way. As you approach the temple you will see an array of standing Buddha statues welcoming you to the temple. We took a break here for photos because the temple itself has a beautiful backdrop of the rocky formations.
Pro Tip
This hike has different mountain springs where you can resupply your water! Check the map for the natural springs (or watch other hikers) or refill at the springs at the temples!
Juanbong Peak (Dobongsan Peak)
The temple is a great place to rest up because you have about a half hour of rocky stairs to climb to Juanbong Peak. Watch rock climbers on nearby rocks and see panoramic views of Seoul and Bukhansan once you reach the top. We were lucky it was a clear day and caught views of Namsan. The peak itself is 740 meters (2,428 feet) high and it really feels like you are on top of Seoul. This is a great place to stop and have lunch.
Podae Ridge, Podae Peak, and Y Valley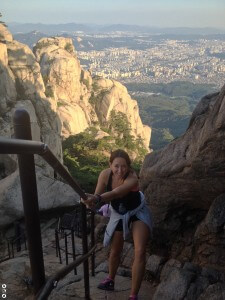 After leaving Juanbong you will want to head to the right towards Podae Ridge and Podae Peak. If you are not sure, check the signs. This is also in the direction of Mangwolsa Temple. Shortly after leaving Juanbong you will see a sign that suggests a dangerous route or a detour. Don't be fooled by the cute cartoon bears on the warning sign. We took the dangerous route through the Y Valley (aka Dobongsan Bottleneck) and it was a little scary! You are now going along the ridgeline and there are some very steep inclines and declines. The park provides steel cables and barriers to aid you along the way. I am 5'9" and Scott is 6'0" and even with our long limbs it was hard to reach some of the steel barriers. At one point I almost fell and that is when we realized this is no walk in the park! After an adrenaline pumping and exhilarating 20 minutes we were done! Don't forget you can always take the detour!
You are going to continue trekking across the ridgeline until you get to the Podae Fire Post and then make a right descent on the wooden stairs. The fire post is about a 15~20 hike after you come across the helicopter pad. We started getting nervous here because we felt like we were going to miss our turn towards Mangwolsa Temple. Not only that, but the sun was starting to set and we only had so much time on our side before it was going to get dark.
Finally, we made it to Mangwolsa Temple another 20 minutes after the fire post. Except it was beginning to be dusk and the monk was rushing us on our way. We had about another 40 minutes down the mountain to Mangwolsa Station. Unfortunately, we did not have time to get photos here or the rest of our hike down because we were rushing through the dark forest before we couldn't see at all. It would have been wise to have flashlights and better hiking gear.
Happy ending! We made it down the mountain in just enough time before it was completely dark! We did not factor in all of our breaks and things got a little dangerous but it was an exciting experience. We would like to have had more time to spend at Mangwolsa Temple and see the rest of the trail! Maybe next time! This is definitely and beautiful and challenging hike! The best thing about this hike is you can't not see a cat. Look, there's one meow!
Directions to Dobongsan Peak via Subway
START: Dongbongsan Station (line 1) exit 1
Walk across the street from exit 1 and walk through all the hiking restaurants and vendors to the entrance to Bukhansan National Park.
If you are unsure of your route, stop at the information stand for a map. You may even be lucky enough like us and have an English speaking information person.
END: Mangwolsa Station (line 1)
If you liked this post and want to see more like it, consider liking our page on facebook, following us on twitter, or seeing our latest photos on instagram.
*Please remember all photos on this website are copyrighted and property of Bobo&ChiChi. Please do not use them without our permission. If you want to use one of them please contact us to ask first because we'd be absolutely flattered and would love to share. Thanks!