Looking for the best things to do in Curacao? We got you. This island getaway in the Dutch Caribbean is full of incredible beaches, natural wonders, historic landmarks, and a vibrant, colorful capital city of Willemstad.
Located around 40 miles off the coast of Venezuela, Curacao is a part of the ABC Islands which also include Aruba and Bonaire.
You'll find there are not only unique things to do in Curacao you can't find anywhere else in the Caribbean or globe, but you'll find the landscape here is unique too. This Caribbean island is covered in cacti with limestone plateaus and rugged coastline where you'll find some of the most beautiful shades of blue water and a vibrant marine life and healthy coral reefs teeming with tropical fish.
Historically speaking, the Dutch colonized Curacao in the 17th century. So you'll find Dutch influences just about everywhere you look, visit, eat, and drink on the island along with African and Caribbean influences. In fact, in places like Willemstad, you do feel like you're in a more tropical European city here in the Caribbean.
From exploring the best things to do in Willemstad and around the island from beach hopping, visiting natural and historic sites, let's dive into some of the most unique and best things to do in Curacao to help you plan an unforgettable vacation.
Disclaimer: This post contains affiliate links.
Tips for Visiting Curacao Attractions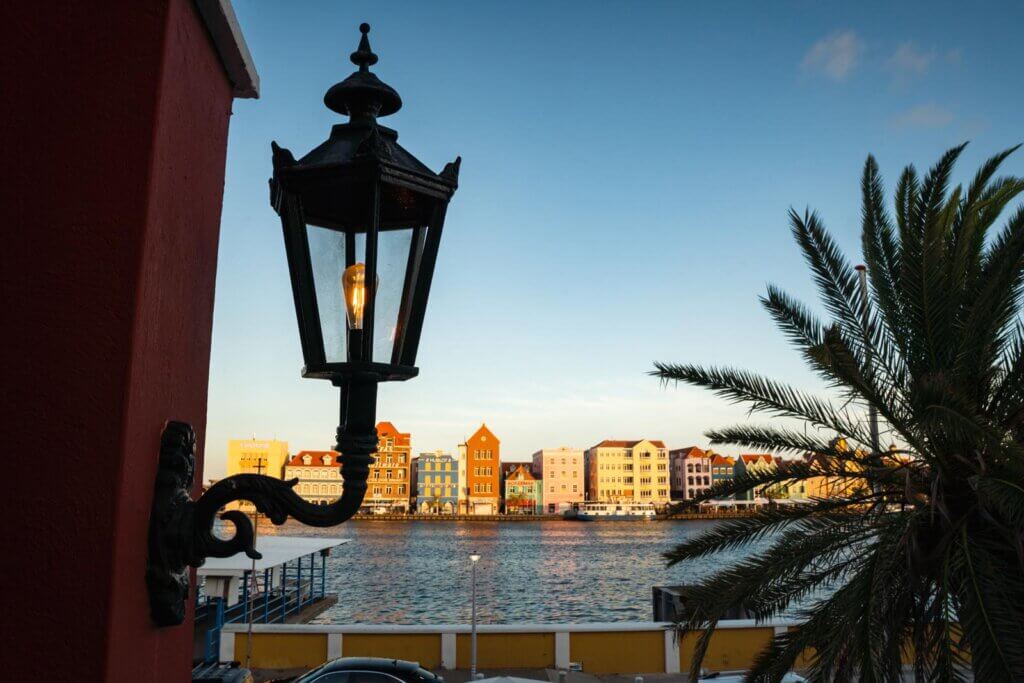 You'll want to rent a car to get around to all the top things to do in Curacao! There are really not any great options for public transportation, unfortunately.
Are you a cruise ship visitor? Don't sweat it, there are plenty of awesome things to do in Curacao near the cruise port in Willemstad you can take a short taxi ride too included in this guide too.
But if you're visiting on a multi-day trip, taking a taxi isn't ideal as renting a car gives you the most freedom to explore awesome activities in Curacao and is definitely more budget-friendly.
When you go beach hopping, keep in mind that most are on private land and have fees to enter the beach. They are typically only a few dollars and charge a few more for beach chair rentals. Some are completely free though!
Some even charge you a very small fee to use the toilet or shower too.
It's wise to carry some cash on you, whether you're paying with the local currency (Antillean guilder/ANG) or in US Dollars. Almost everywhere we went had a card reader that accept tap payment, although I did see that someone couldn't use their AMEX, but our VISA credit card worked everywhere.
You'll want to pack sun protection when visiting Curacao! The sun is STRONG here so please make sure you're prepared with sun protection.
Get reef-safe sunscreen to protect the local environment too, during our week-long trip we went through a few bottles and were able to easily find more at grocery stores. But, you'll definitely want to pack a bottle and be ready to apply it every 60-70 minutes. We were being cautious and still got a little sunburn on days when we spent more time at the beach.
A few of our favorite reef-safe sunscreen products include:
B.Y.O.S – Bring Your Own Snorkel! Trust us, you're going to want to snorkel while you're here. Curacao and the ABC Islands are home to some of the best snorkeling on this part of the planet!
While some places do have rentals, it will add up and it's so easy to buy a snorkel set for everyone in your family. We both bought this snorkel set which included a mask, snorkel, ear plugs, flippers, and carrying bags which were perfect for hopping beaches in Curacao! (we both pack carry on only and were able to easily fit it in our bag too!)
It's also nice to have a pair of water shoes too to wear under your flippers! We also visited Bonaire on this trip and between both destinations, we did a lot of snorkeling! Some beaches have fossilized coral, a rock shelf, or other things that are a bit harder to step on to get in and out of the water. Plus your feet have a little more protection from any sea creatures you might encounter. And they fit in the snorkel set bag we bought!
Don't forget something to take underwater photos! For those who are looking for something on a budget, you can get a waterproof pouch for your smartphone to take underwater photos. Just be careful to keep this sealed correctly so no water gets in. This does do the trick but can be a bit tricky to play with to get focus.
Or bring a waterproof camera like the classic waterproof GoPro action camera or the waterproof Insta360 camera which are both great for snorkeling and don't require the waterproof housing if you're not diving into deeper water!
Bring your own towel! We also pack our own beach towel on trips with us too, not the bulky traditional beach towel you're thinking of though.
We both always use a sarong or Turkish towel because they are lightweight, dry quickly, easy to pack, and do the job! There was a breeze at most beaches too so we purchased beach towel clips to secure them plus my beach hat to the chair while we were swimming.
Amazing Places to Visit in Curacao
Explore Willemstad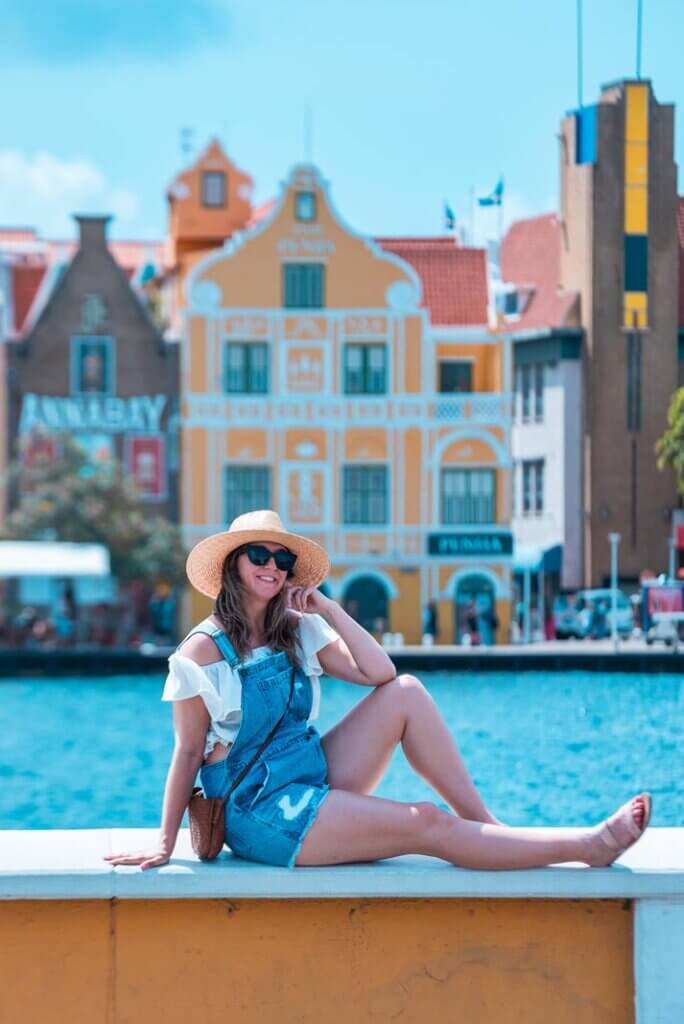 The capital city of Willemstad is a great place to find a wide range of things to do in Curacao. This is where boats come to port. Start in the city's well-preserved historic districts, including Pietermaai, Punda, and Otrabanda.
Walk the charming streets of Pietermaai, adorned with colorful buildings, palm trees, and trendy restaurants.
Punda, the oldest part of Willemstad, boasts beautiful examples of Dutch colonial architecture and is a shopper's paradise with its markets and retail stores.
From Punda, you can walk across the floating Queen Emma Bridge into Otrabanda. Just watch out for when it opens and closes for boat traffic! This district features a mix of rainbow-colored colonial-era buildings and contemporary developments, creating a unique atmosphere.
And for must-visit Curacao attractions in Willemstad, there's the Mikvé Israel-Emanuel Synagogue. This is of the oldest synagogues in the Americas. Its sand floors, Dutch-Jewish architecture, and moving history provide a glimpse into the island's Jewish heritage.
Take a Day Trip to Klein Curacao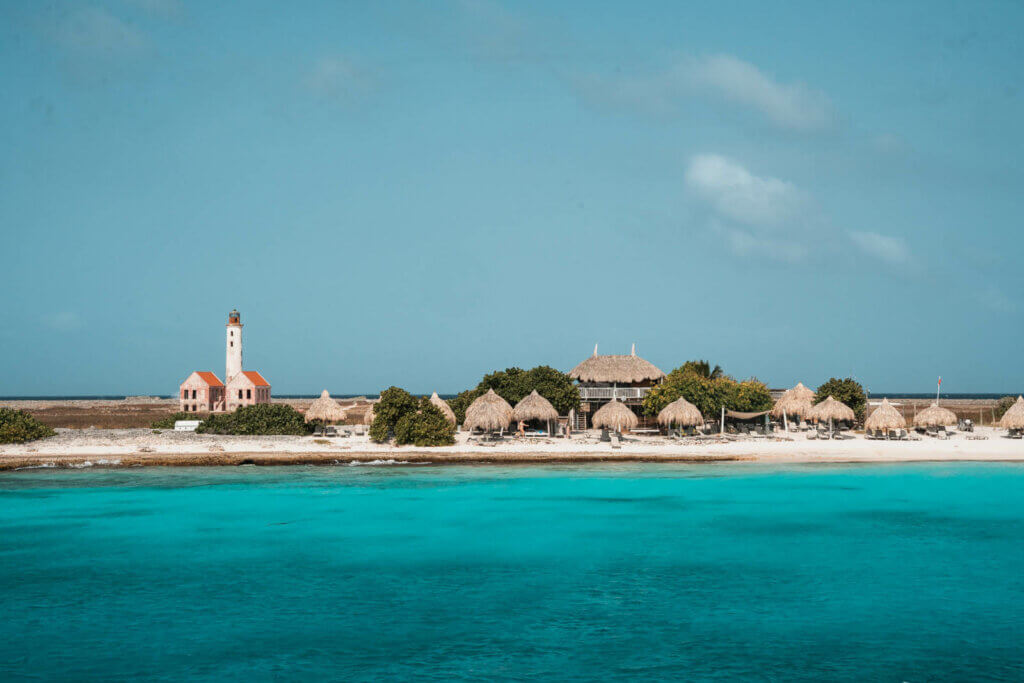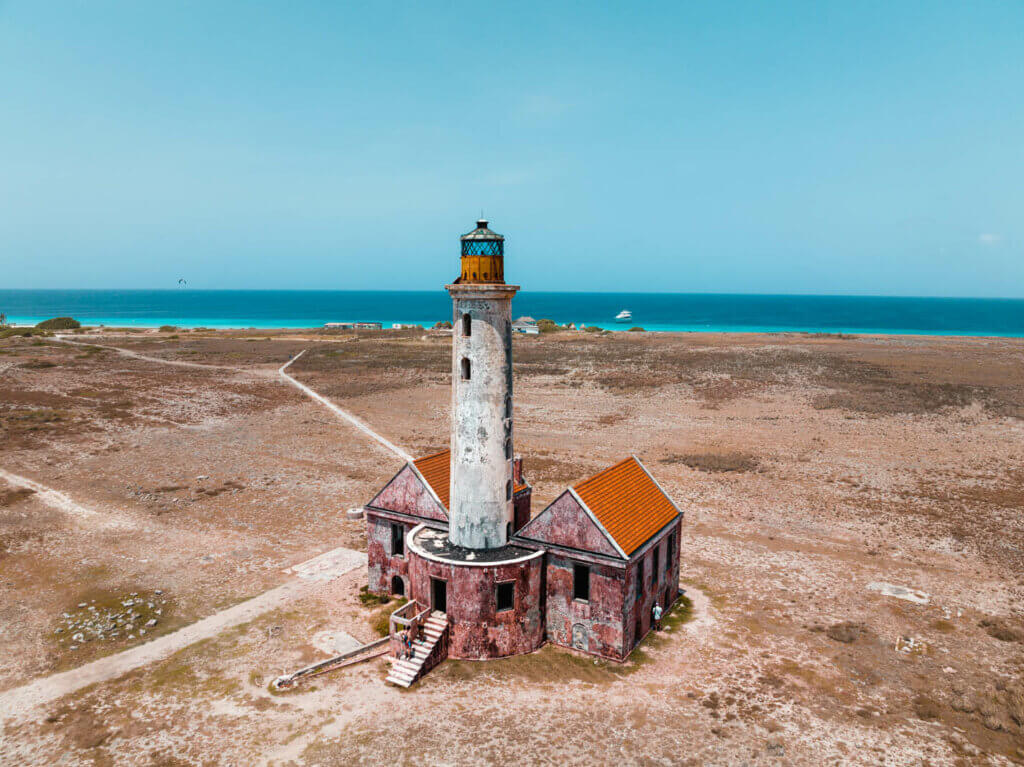 One of the top things to do in Curacao is take a boat ride out to the uninhabited Klein Curacao, aka "Little Curacao". Located about a 2-hour boat ride from Curacao, you can only visit this stunning Curacao attraction by tour.
There are a few different options, we went with Miss Ann's Boat Trips which depart from Sandals Resort (with a few hotel shuttles to the meeting point). This is a more luxurious way of going on a high-speed yacht (that cuts the commute in half only taking 60 minutes) and they also are the only company with private facilities during your day trip to Klein Curacao where you can relax in comfort with beach chairs, palapa huts, and bathrooms. They also provide meals and a guided snorkel safari tour as well as add-ons like scuba diving, massages, and an open bar.
The other tour options include BlueFinn Charters tour and Breeze Boat Trips tour which also include meals and drop you off on the long, beautiful white sandy stretch of beach on Klein Curacao. They have less facilities but still have palapa huts on the beach you can pop your beach towel under to relax in the shade.
If you're like me, bring motion sickness meds, as the ride there is rough! But soon you'll be on the island, and you'll see why it's one of the most popular places to visit in Curacao.
The coral reefs all around the island make it one of the most popular spots for snorkeling in Curacao (cruises provide gear for this) but another one of the best things to do in Curacao is snorkeling at many beaches, so we recommend bringing your own set like we did! Not to mention, this is one of the top places to see sea turtles and swim with them in Curacao!
And there's a historic and abandoned pink lighthouse you can explore along with walking around a few shipwrecks on the windy side of the island. Just don't forget sun protection and water, because it's a 10-minute walk from the beach.
Shete Boka National Park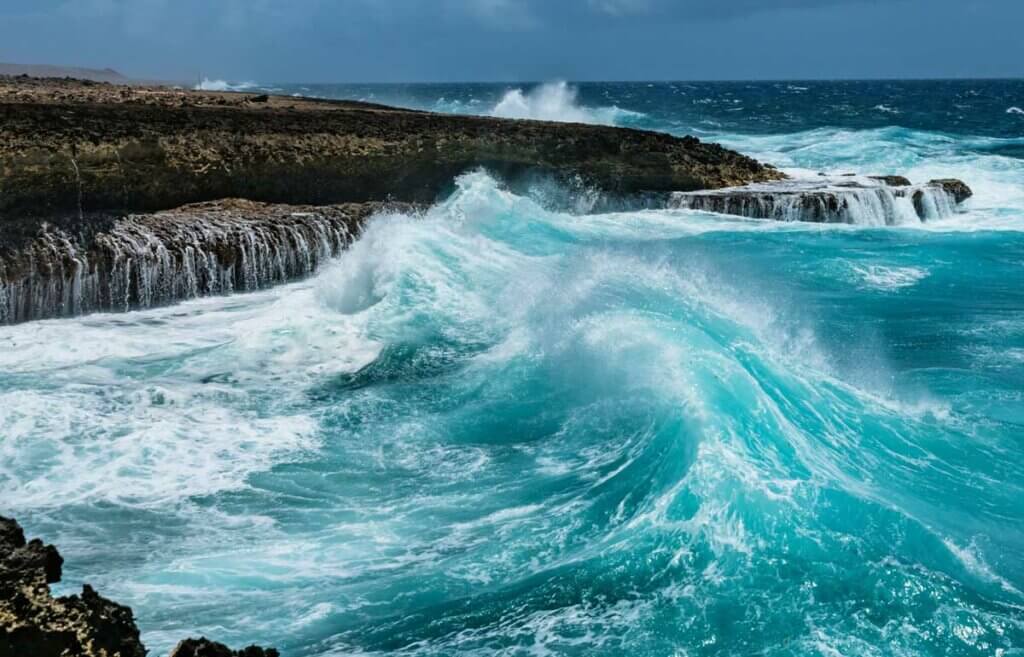 Shete Boka National Park is a protected natural area located along the northern coast of Curacao. Covering almost 500 acres with over 6 miles of coastline, the park is known for its dramatic cliffs and crashing waves.
A hike in Shete Boka National Park is one of the best things to do in Curacao. The trails are clearly marked and offer a chance to see brush, desert, cacti, and cool rock formations.
Follow trails to viewpoints at 7 different inlets along the coast to see blowholes and explore sea caves. Boka Tabla is the most popular inlet. It has a large sea cave that you can go inside and watch the waves crashing against the cave walls!
The Shete Boka National Park is open every day from 9 AM to 5 PM, with the last entrance at 4PM. If you don't want to go on your own, you can also join a tour that will take you around. This safari tour is a great way to learn about the park from your guide and includes pick-up from your hotel.
Christoffel National Park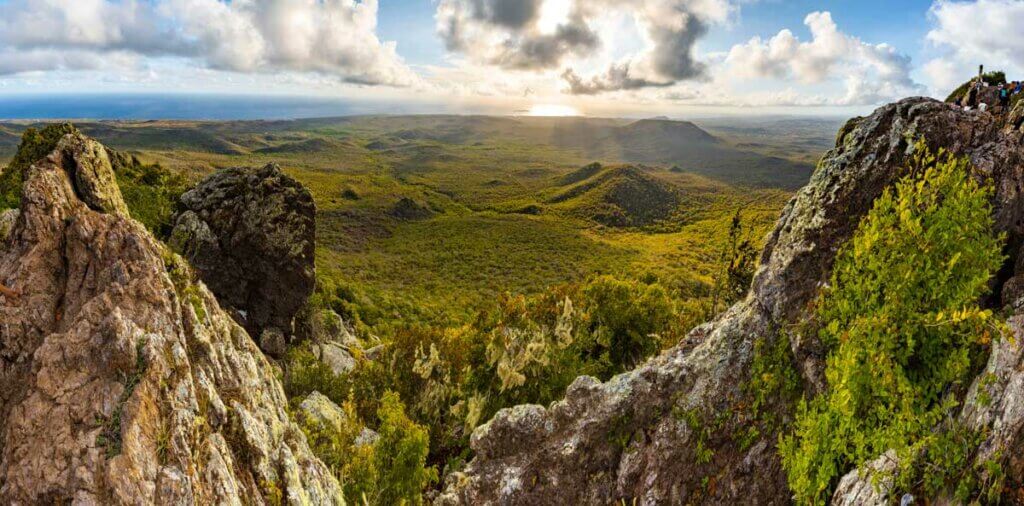 Christoffel National Park is a nature preserve on the western side of the island, covering almost 5000 acres. The park encompasses Mount Christoffel, the highest peak on the island.
One of the best outdoor Curacao attractions, you'll find stunning viewpoints, diverse landscapes, historical sites and ruins, and excellent hiking. Near the entrance of the park is the Savonet Museum. It's housed in a restored plantation house, offering a glimpse into the island's cultural and historical heritage.
There are 8 different hiking trails in Christoffel National Park where you can enjoy desert flowers, fields of tall cacti, and more. Trails take you to different ruins and viewpoints throughout the park where you can enjoy sweeping views of the island.
For those wanting to do something extra adventurous, get an early start to hike up Mount Christoffel. It's a moderate to difficult hike and needs to be started earlier in the day to avoid the midday heat. But the views at the top are unbeatable!
If you don't want to visit the park on your own, you can join this guided jeep safari tour. It's a full-day trip that takes you along Christoffel National Park's Orchid Trail with a guide on a 4×4 jeep tour.
Hato Caves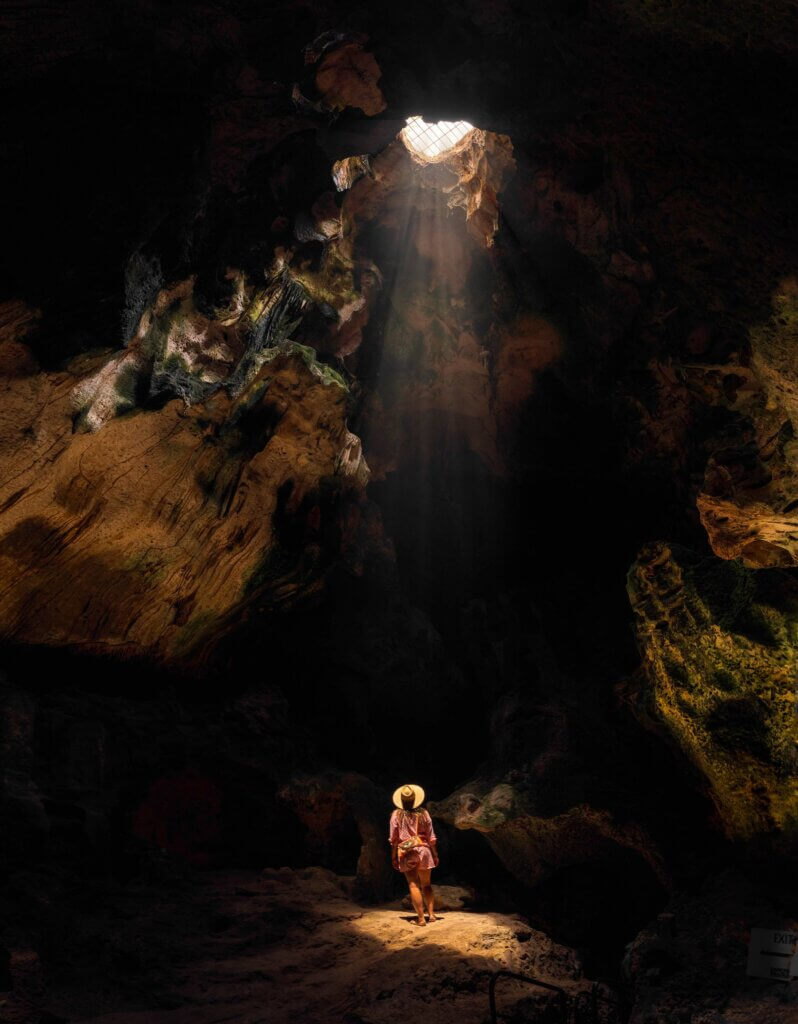 The Hato Caves in Curacao is a fascinating natural attraction near Willemstad. These limestone caves showcase stunning formations, underground chambers, and intriguing history.
One of the best things to do in Curacao, you can explore the Hato Caves on a guided tour. You'll walk through narrow passages and caverns adorned with stalagmites and stalactites for an otherworldly experience! Deeper into the caves, there are small pools and intricate rock formations.
The caves also hold historical significance. They were once used as hiding places by runaway slaves seeking refuge. These stories are part of the tour, making the experience both educational and captivating.
The Hato Caves are open every day from 9 AM to 3 PM and there's a small admission fee. Overall, the tour is only about 40 minutes long. It's great to do before dropping your rental car off at the airport since it's directly across from it!
Visit the Beaches of Westpunt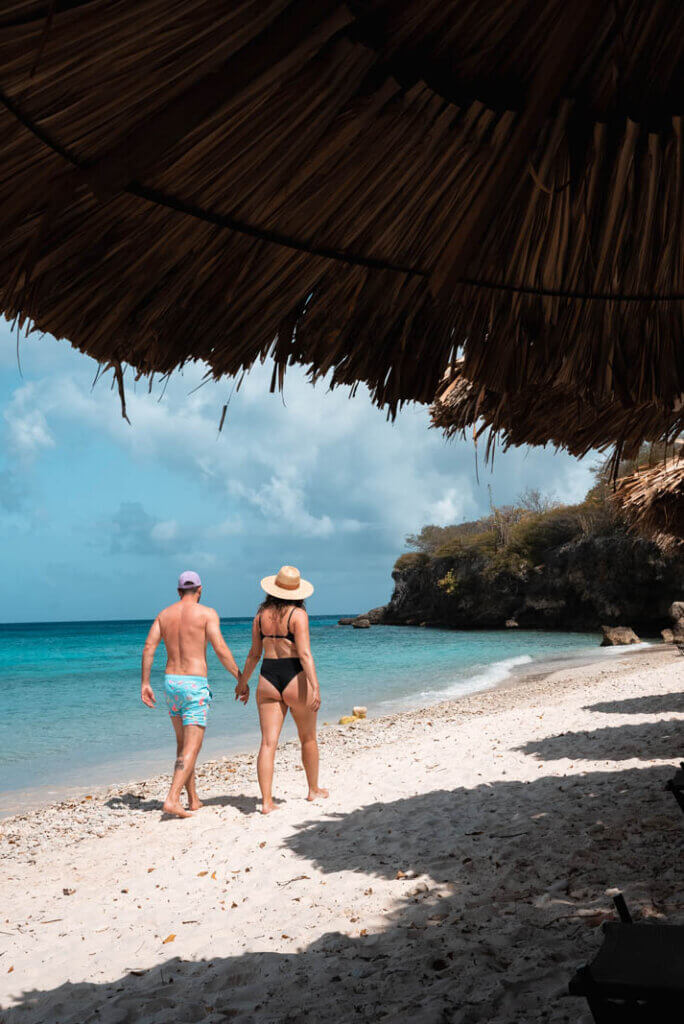 Westpunt is where you'll find some of the most beautiful beaches in Curacao. Nestled on the western coast, this region boasts a rugged coastline with picturesque cliffs, soft white sands, and turquoise waters. Whether you want to swim with turtles, snorkel among coral reefs, or relax on a quiet soft-sand beach, Westpunt is one of the best places to visit in Curacao.
Starting north and moving south, we loved Playa Kalki. It has crystal-clear waters that are perfect for snorkeling. There's also a restaurant and floating docks. And the beach has lots of shade trees (just have cash if you want to rent lounge chairs).
Playa Forti is a quiet beach down a flight of steps from the cliffside. On the cliffs, there's a restaurant with panoramic views of the ocean and a great place to eat. And if you're a daredevil, this beach is popular with cliff divers for its 40-foot jump!
Playa Grandi is a quiet cove beach where local fishermen bring in their catch of the day. This is what to do in Curacao if you're looking for your best chance to see and swim with sea turtles.
And Grote Knip is another charming cove beach where we saw pigs running on the beach! It stays busy, being popular for swimming, snorkeling, and cliff diving. There's a bar here, too.
Next, Kleine Knip is smaller with fewer amenities but an equally lovely beach that's great for snorkeling. It's a little quieter and you can rent beach chairs.
And Playa Jeremi is another secluded beach and narrow cove with stunning views and fun snorkeling.
Play Lagun is an intimate protected bay beach where we saw sea turtles. The calm waters and tons of coral make it a fantastic snorkeling and diving spot. In fact, this was probably our most favorite snorkeling in Curacao! Be sure to enjoy a drink afterward at the bar on the cliff.
And there's also Playa Santa Cruz near the village of Santa Cruz. This beach is quiet and has tables with shade that are great for picnics.
Keep in mind that many beaches charge for you to use their chairs a few bucks, so it's best to keep some cash on you (though most take credit cards)! But don't let this deter you. It's worth it! The fees are very low and you get a comfortable chair and sometimes an umbrella or palapa hut to shade you from the sun.
If you don't want to rent a car and venture on your own, you can join a beach hopping tour that includes unlimited drinks and you'll get to see at least 3 different beaches with different chances to swim and snorkel.
Visit More of the Best Beaches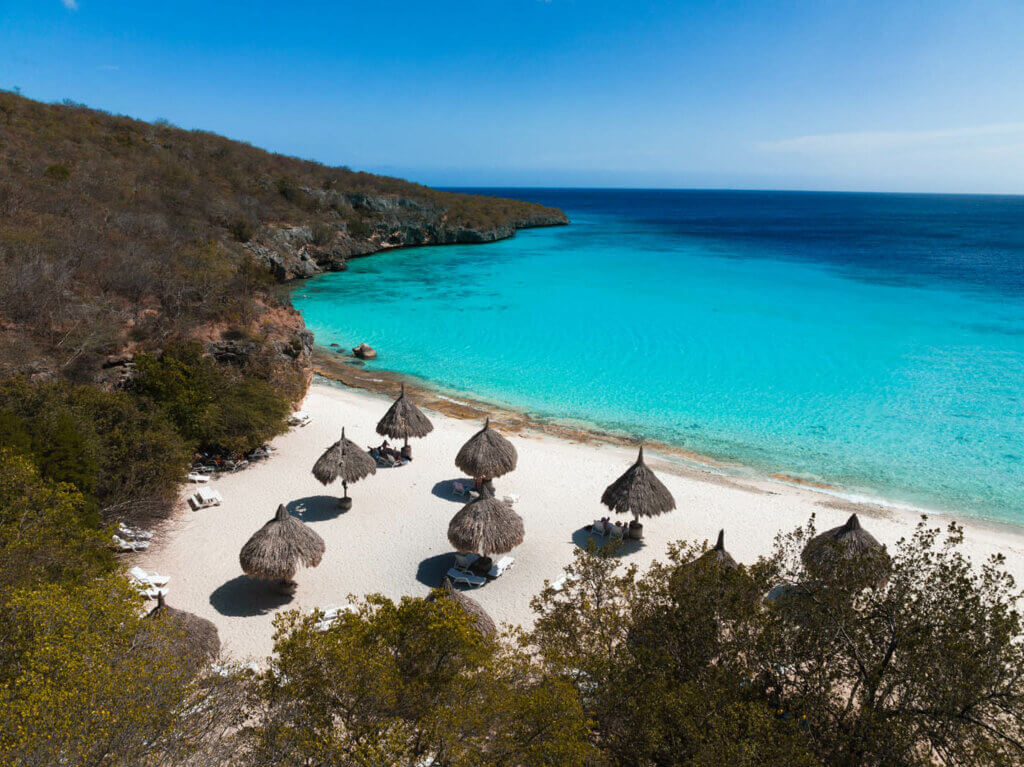 When you're stuck on what to do in Curacao, there's always the beach! Besides Westpunt, you'll find even more charming beaches all along the western and southern shores. Each one is unique, offering a variety of Curacao attractions. Here are a few we recommend:
Cas Abao Beach is definitely one of the best things to do in Curacao if you're not sure where to start when it comes to picking beaches to visit. National Geographic named this one of the most beautiful beaches in the world! It's no surprise with its calm turquoise waters and powdery white sand. It offers various amenities such as beach chairs, palapa umbrellas, a restaurant, and dive gear rentals.
Playa Porto Mari is famous for its "double reef" system, making it an excellent snorkeling and diving spot. There's a peer, a restaurant, and chairs with umbrellas. And you might see the two resident pigs!
Daaibooi Beach is a gem of a beach and super low-key. Daaibooi is ideal for relaxing and snorkeling. You'll love the clear waters, colorful coral, and abundant marine life.
Blauwbaai/Blue Bay Beach is located near the Blue Bay Resort, this beach offers a wide range of amenities, including restaurants, bars, and a dive shop. If you don't mind company, it's perfect for swimming, sunbathing, and enjoying beachside refreshments!
Mambo Beach is a popular beach close to Willemstad. Come here if you like a variety of amenities and things to do! There are multiple restaurants, places to grab a chair, soft sand, and calm blue water.
Jan Thiel Beach is another popular beach near Willemstad just a bit further south, it's close to the resorts. It features a sandy beach, palm trees, beach clubs, and various water activities. We hung out at Zanzibar, which turns out to be a popular nightlife spot!
A nice little beach off the beaten path, Tugboat Beach is fun for snorkelers! There's a bar and pier, and you can go snorkeling at a sunken tugboat that's being turned into a coral sanctuary. While it's not the sandiest of beaches, it's a really fun spot to snorkel the shipwreck!
The same advice from before applies here: A lot of these beaches will charge for you to use their chairs, so just keep some cash on hand!
Swim with Sea Turtles!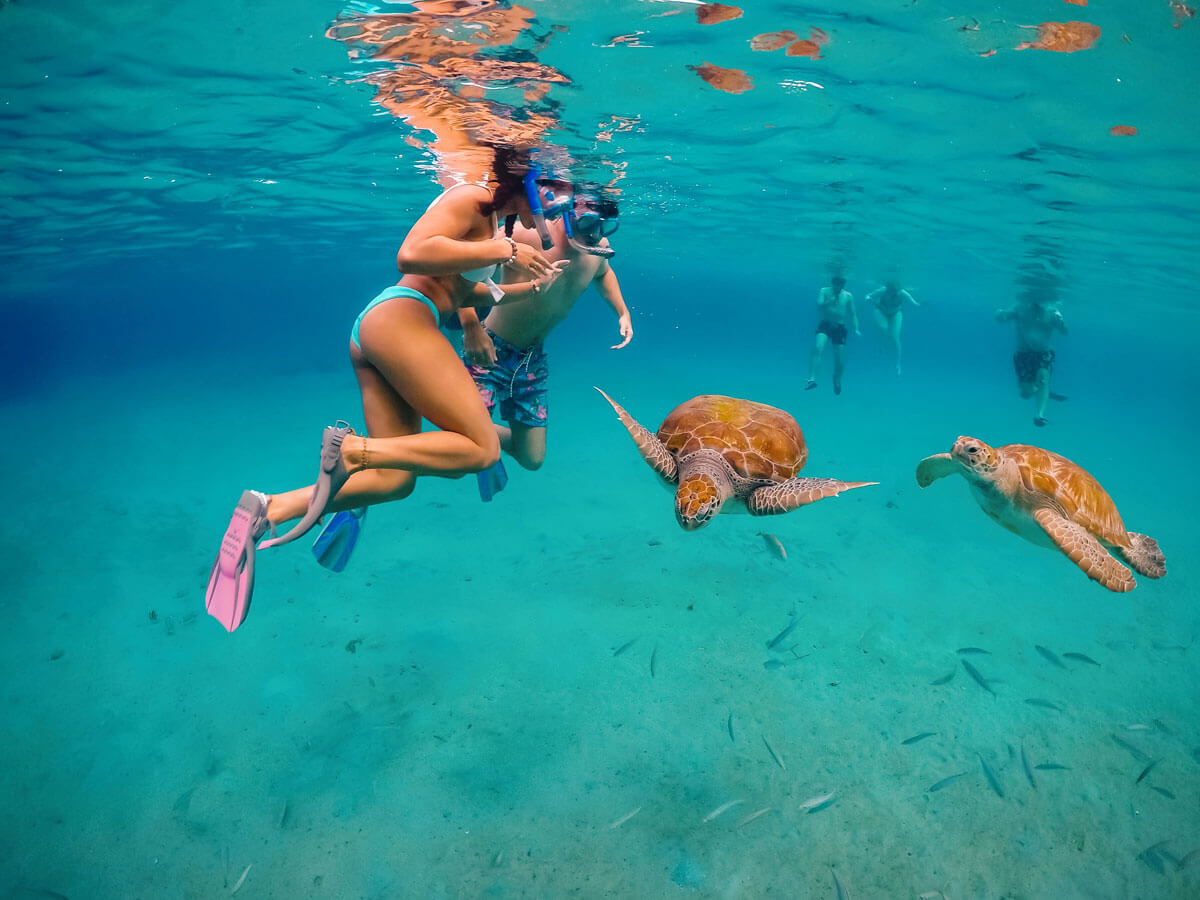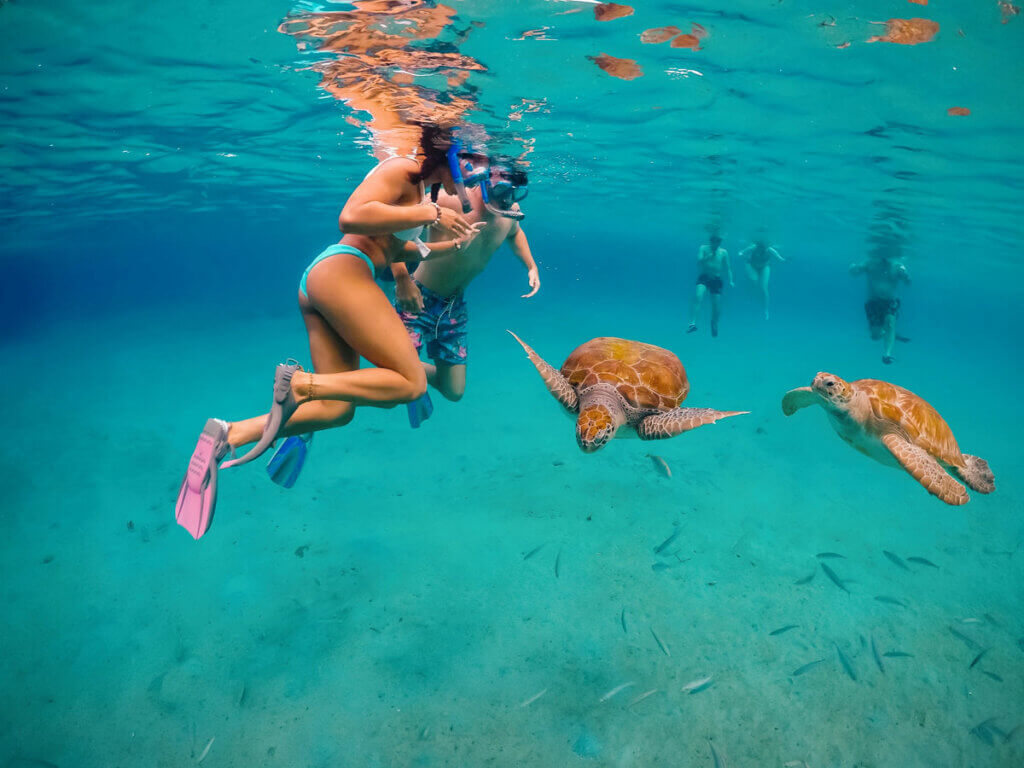 If you've never gone swimming with sea turtles, this is your chance! Getting up close with these gentle sea creatures is an unforgettable experience and one of the top things to do in Curacao.
You have a chance to see them at a few different places, but you're guaranteed to see them at Playa Piskado aka Playa Grandi. This is where local fishermen bring in their catch of the day for cleaning, which in turn attracts tons of sea turtles! The waters a crystal clear, and there's a pier, so it's perfect for snorkeling and swimming.
We also saw them at Playa Lagun. This protected cove beach is known for its clear, calm waters and tons of marine life, which the turtles love. It also makes the perfect conditions for snorkeling or diving with sea turtles.
And many visitors who snorkel at Klein Curacao also spot sea turtles!
Or if you're not exploring on your own you can join this full-day tour from Willemstad. It includes a jeep safari through the scenic deserts of Curacao followed by a refreshing swim with sea turtles on the west coast.
Go Scuba Diving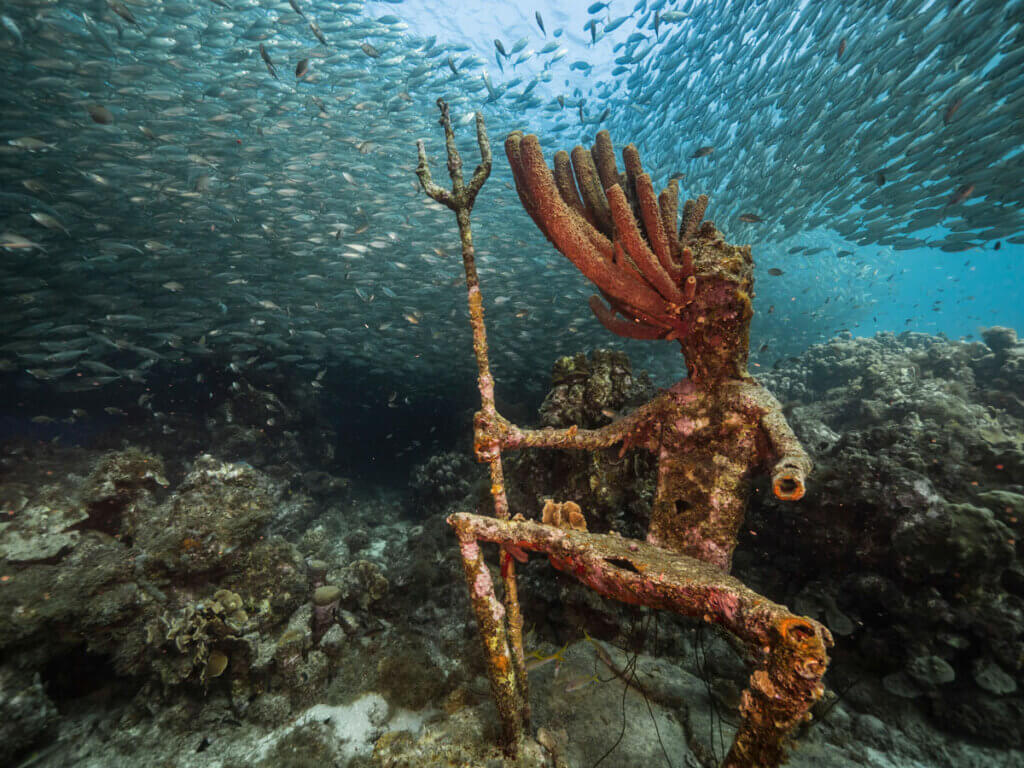 Scuba diving is among the most popular activities in Curacao with visitors because of its spectacular fringing reef that surrounds the entire island! Many beaches have excellent dive centers, including Playa Santa Cruz and Daaibooi Beach. You can rent gear and book scuba lessons.
Lion's Dive Beach Resort near Mambo Beach also offers all things diving-related, from certification to rentals and tours. There are also several PADI dive shops all along the southern shore of Curacao!
If you just prefer a guided tour that you don't have to plan, book a scuba diving boat tour like this one to some of the best spots in Curacao for scuba diving, and it's a good choice for all experience levels.
Go Snorkeling!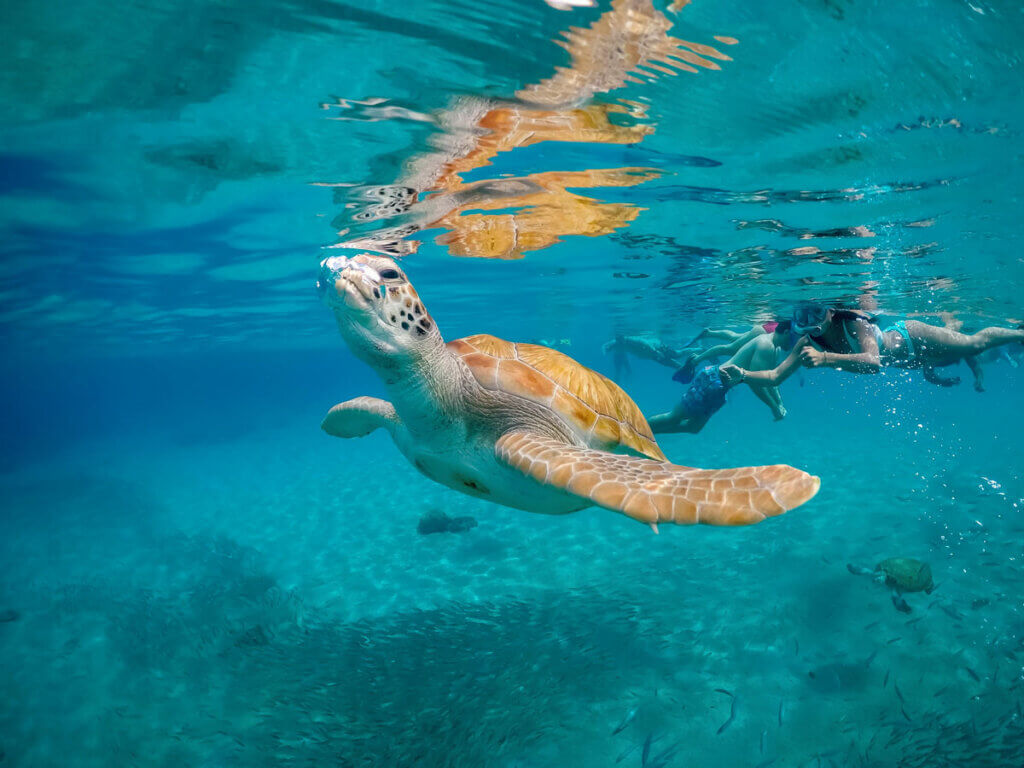 Not big on scuba diving and wondering what to do in Curacao? Get Your feet wet with snorkeling. You just need to know how to swim to experience the amazing underwater world of Curacao! And if you bring your own snorkel gear, you can snorkel at most beaches.
Here are a few of our favorite Curacao beaches for snorkeling (through ALL the beaches are good)!
Playa Lagun was our favorite spot for snorkeling, the smaller cove that is teeming with coral reef and tropical marine life, especially around the cliff walls. After you snorkel, you can get a drink or snack at the restaurant on the cliff overlooking the beach.
Playa Kalki is known for the fascinating mushroom coral that covers the ocean floor which is why many people call it Alice in Wonderland as it feels otherwordly when you're down here. Not to mention there are two underwater sculptures in the coral reef here, which is a treat to see! There are also great amenities at the restaurant here if you're looking for somewhere to stick around and hang out for a while.
Tugboat Beach is a fun little beach with excellent snorkeling! And the sunken tugboat the beach is named after has been turned into a coral sanctuary you can explore. There are also seahorses here too you might be able to see!
Snorkeling at the reef at Cas Abao is one of the top things to do in Curacao. If you go nowhere else, come here for a wide array of sea life, tropical fish, coral species, and sea turtles.
Klein Curacao is worth the day trip alone and the snorkeling here is fantastic. The different boat tours that operate here offer snorkeling gear and sometimes guided snorkeling safaris.
Take a Snorkel Tour to The Blue Room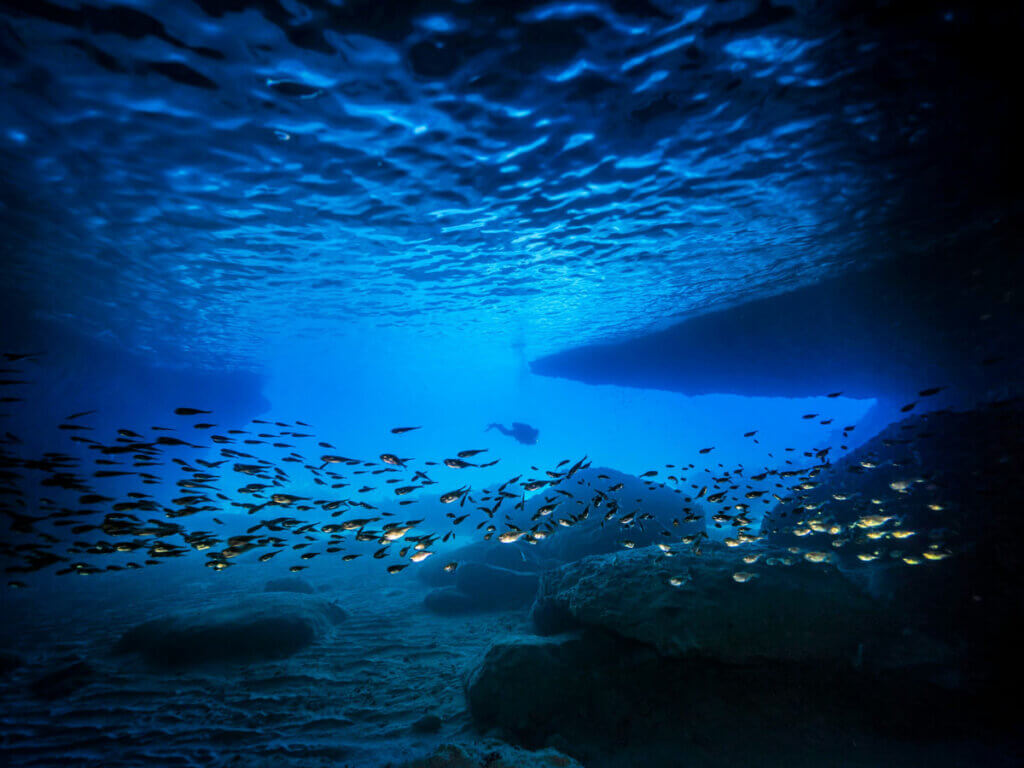 The Blue Room is the largest sea cave on the island and it's a must-see for anyone interested in underwater activities in Curacao. The cave is known for its bright blue color caused by sunlight refracting off the water and cave walls!
Located just south of Santa Cruz Beach, it's only accessible by boat. Some try to hike to an entrance from above and just in, but don't do this! It's nearly impossible to get back up. For safety and to get the most out of your experience, book a guide instead. It's one of the most unique things to do in Curacao and worth the trip.
On Wednesdays and Sundays, you can book guides at Playa Kalki. If you're interested in Westpunt beaches, another excellent choice and one way to secure your snorkel experience in advance is by booking this speedboat tour. They provide time to go snorkeling inside The Blue Room (they provide gear and a knowledgeable guide, which you'll want), as well as time to relax and enjoy a few beaches.
Or book this full-day group tour to the Blue Room from Willemstad. You'll have a blast as you see the best beaches in Curacao. The tour includes a BBQ lunch and swimming at Cas Abao Beach, as well as 45 minutes of exploring The Blue Room.
See Flamingos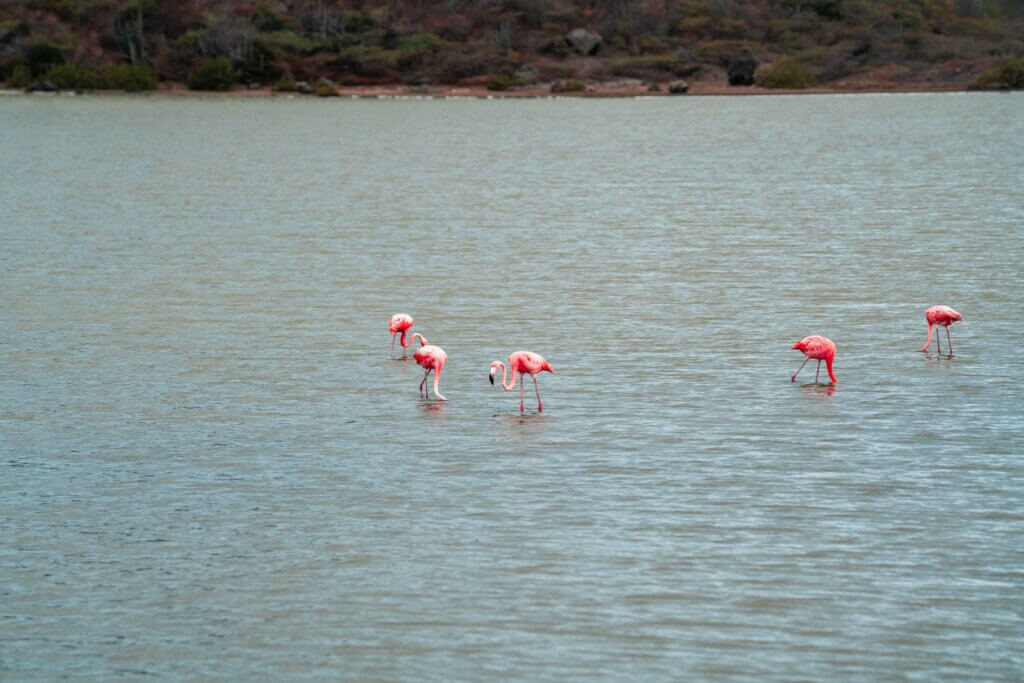 Animal lovers wondering what to do in Curacao will want to take the opportunity to see flamingos in their natural habitat. Curacao offers the elegant birds an ideal habitat, with salt flats, mangrove forests, and shallow coastal areas with brackish water. These environments offer abundant food sources, like shrimp and algae, which are excellent for flamingos!
There are several places you can see flamingos in Curacao. Sint Willibrordus is a good spot to see them, being home to a popular flamingo sanctuary. You can walk around the scenic salt lake and the historic salt pans for a glimpse at the birds. Just bring binoculars!
At Sint Michiel, flamingos can be seen near the salt pans, another flamingo sanctuary. For the best chance to spot the birds, head to the north side of the lake, where they feed in the shallow waters near the shore. If you're going for a scenic drive, you can even spot them from the main roadway.
And Jan Kok is another serene flamingo-watching spot. This is also an important historic location where enslaved salt pan workers started an uprising on the island! You can visit a monument here honoring Freedom Fighters and walk out on a viewpoint to see flamingos feeding in the shallow lake.
Visit an Aloe Vera Farm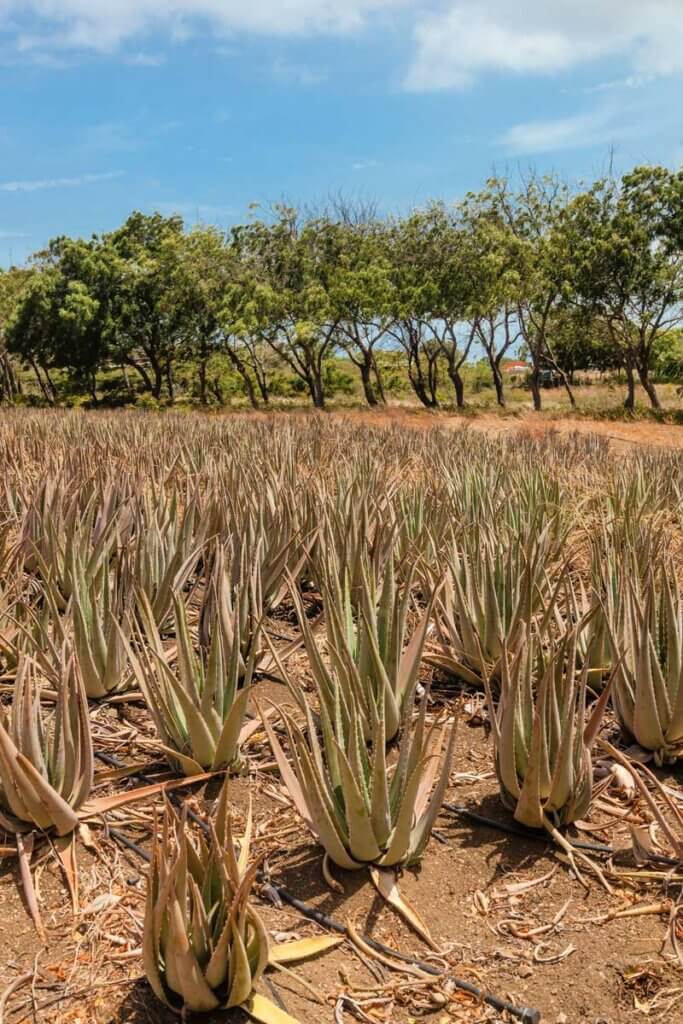 You can visit The Aloe Vera Farm Curacao, just north of Willemstad. It's a fun visit where you can learn about the island's aloe vera and its medicinal properties. You can explore aloe plants, tour the factory to learn about the plant is processed, and discover the numerous benefits of aloe vera.
The farm is open every day for visitors from 9 AM to 4:30 PM. You can just show up and walk the fields or shop for a variety of aloe-based products.
There are also 60-minute tours you can join for a small fee when you visit. They're offered to guests every hour between 10 AM and 2 PM and they're a great way to learn more about the plant and its uses.
Say Hi to Ostriches at an Ostrich Farm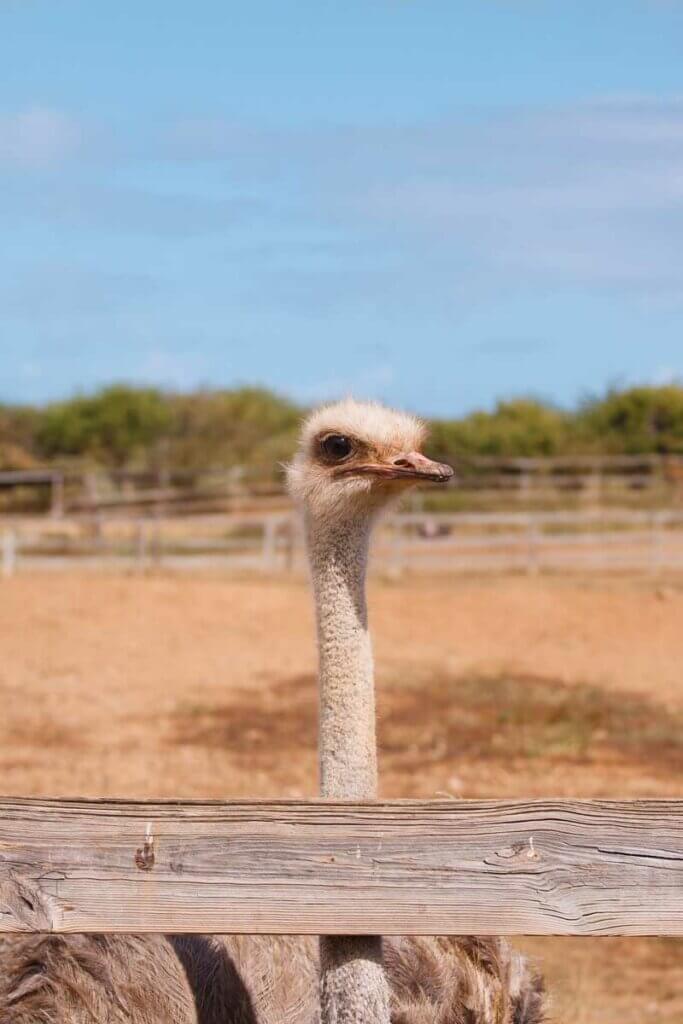 For more memorable places to visit in Curacao, head to the Ostrich Farm on Curacao. This working farm provides an up-close encounter with these beautiful birds! The farm is South African-themed and run by people who really care for the animals that live there. When you visit, you'll also see pigs, monkeys, parrots, and more!
The Ostrich Farm begins with a visit to the gift shop where you can find out about tours that are offered hourly between 9 AM and 4 PM. Just pay a fee for a ride in an open-air bus around the entire farm while you learn about the ostriches. You'll even get out and feed them! There's also a South African-themed restaurant where you can eat.
Visit the Curacao Liqueur Distillery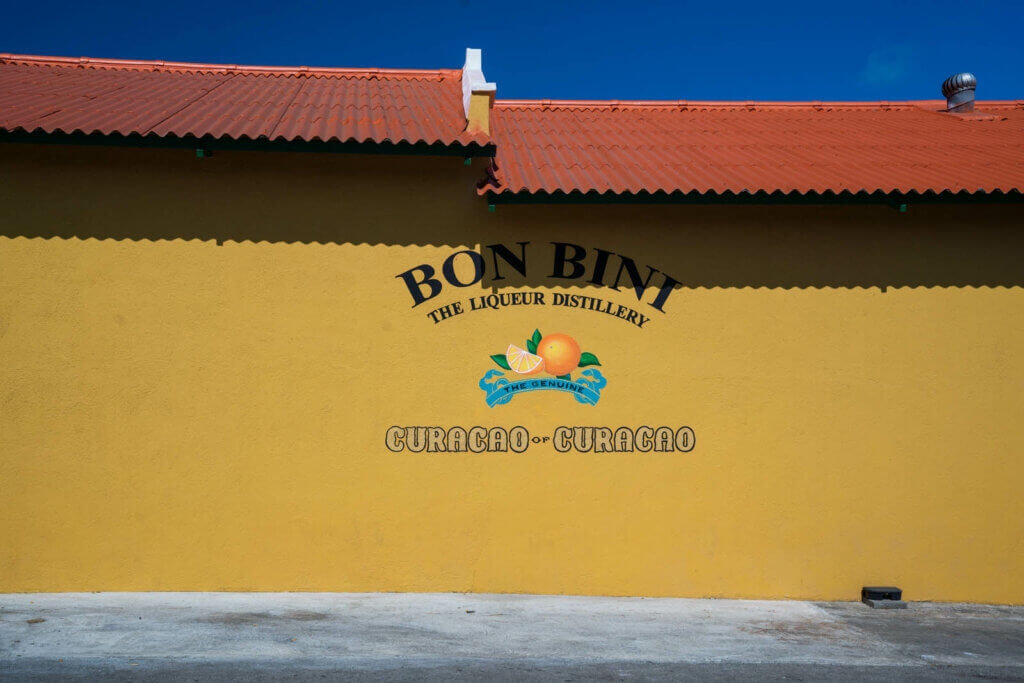 In the heart of Willemstad is Landhuis Chobolobo, a historic liqueur distillery inside a beautiful estate from the 1800s. We thought touring the distillery was one of the best things to do in Curacao because of the fascinating history connected to it!
During the colonial era of Curacao, Valencia oranges were brought from Spain. Adapting to the island's tropical climate, the fruit developed into Lahara oranges, which are too bitter to eat! But locals realized they could dry the peels and use them to make a fantastic citrus liqueur.
Today, Landhuis Chobolobo is the only remaining distillery that continues the island's tradition of making the unique alcohol using Lahara orange peels! You can see the trees on the estate grounds when you take a tour, as well as try the liqueur in their tasting room.
There are several different tour packages to choose from that include things like exhibits on the history of the distillery, tastings, and cocktail workshops. Afterward, take some time to peruse the gift shop where you can pick up a few bottles for yourself.
You can book in advance through their website or if you don't want to rent a car, you can join a tour with transportation. And this tour includes a cocktail workshop.
Paint Your Own Chichi Doll at Serena's Art Factory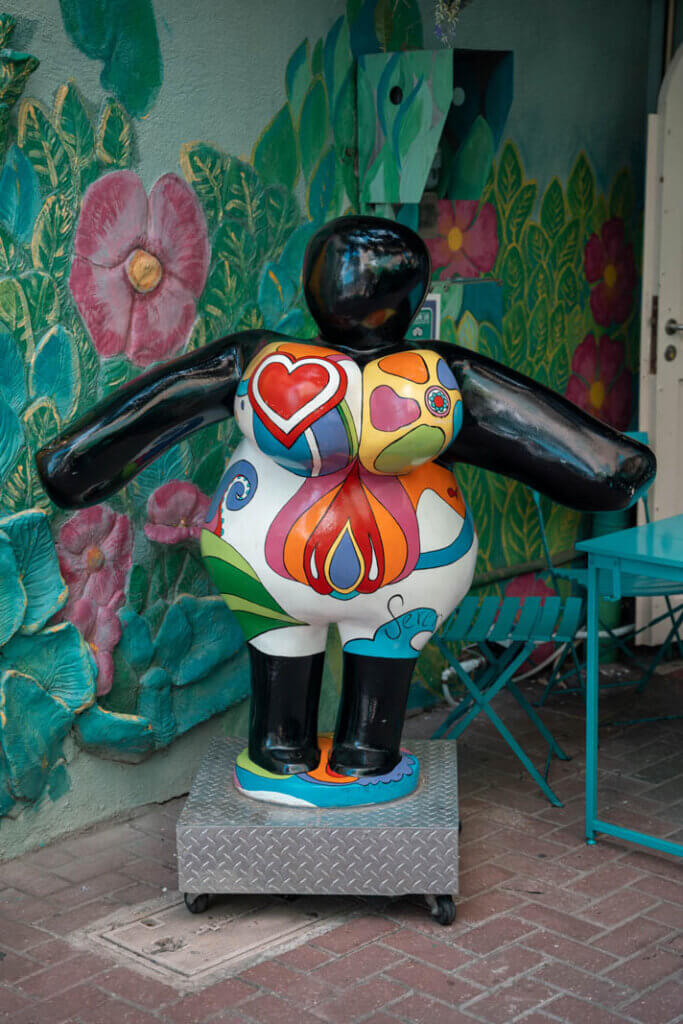 Next to the Ostrich Farm is Serena's Art Factory, the art studio of local artist, Serena Janet Israel. This is one of the more memorable things to do in Curacao! The art factory showcases the creation of the popular Chichi dolls.
The Chichi doll is a symbol of femininity, strength, and the voluptuous figure common among Caribbean women. Each Chichi doll is handcrafted and painted by local artisans, reflecting the vibrant colors of the island. Israel created them to celebrate women and promote self-confidence. The Chichi doll also represents diversity and creativity in that you can join a workshop to create your own unique Chichi doll!
At Serena's Art Factory, you'll get to meet the artist, learn about her work, purchase art pieces, and find out about local art fairs. You can also visit her store in Willemstad at 16 Windstraat in Punda.
Learn the History at the Plantation Houses of Curacao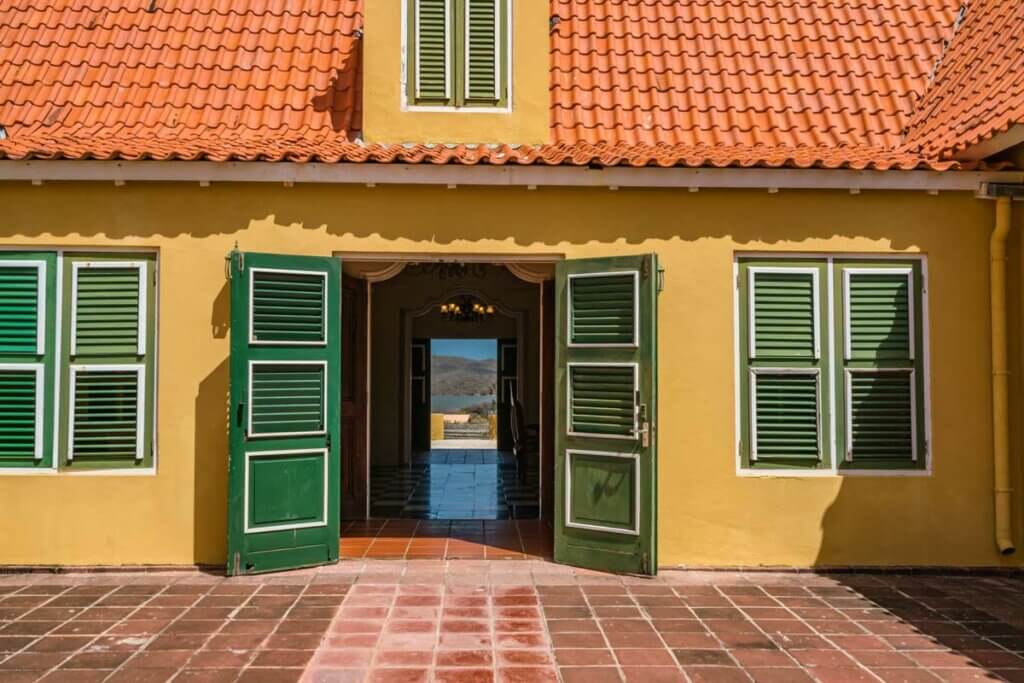 Curacao was first colonized by the Dutch in the early 17th century, and its strategic location made it a crucial base for the Dutch West India Company. The island quickly became a major center for slave trade and a hub for the production of resources like salt, sugar, and aloe. The island's economy flourished, and grand Plantation Houses emerged as symbols of wealth and power.
The Plantation Houses, or Landhuizen, were grand mansions built by wealthy plantation owners. These houses served as the administrative centers of large estates and often showcased the luxurious lifestyle of the ruling class. They're also reminders of Curacao's complex colonial history, highlighting both the grandeur and the darker aspects of the island's past.
Today, many Plantation Houses have been preserved and transformed into popular Curacao attractions where you can learn about the island's colonial past. One of the most notable places to visit in Curacao is Landhuis Knip. It's now a museum celebrating the history and culture of Curacao's Afro-Caribbean heritage. Another is Landhuis Chobolobo, home to the Curacao Liqueur Distillery. When you visit, you can explore the house's elegant architecture and learn about the history of the estate.
Visit the Kura Hulanda Museum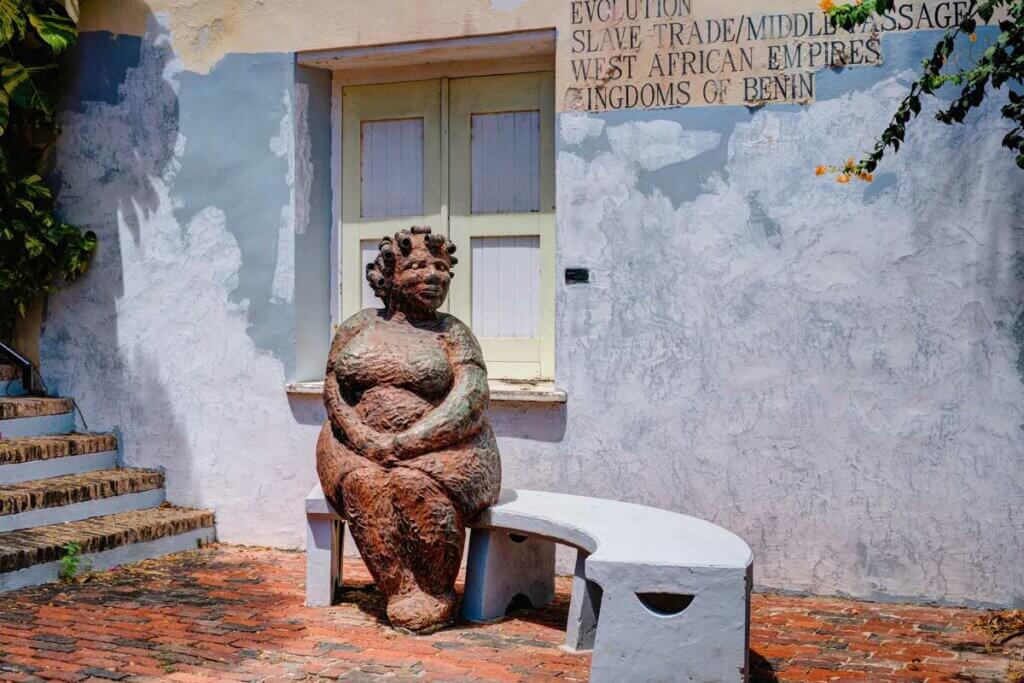 The Kura Hulanda Museum in Willemstad's historic Otrobanda district is a moving journey into the history and culture of the transatlantic slave trade. Housed in a beautifully restored 18th-century complex of historic buildings in Willemstad, the museum offers an educational and thought-provoking experience.
One of the best things to do in Curacao, you can walk through exhibits that offer a thorough understanding of the slave trade, the African diaspora, and the history of Curacao. It's truly amazing how comprehensive the Kura Hulanda Museum is.
You'll see authentic artifacts and artwork that tell the harsh realities of slavery and bring the stories of enslaved individuals to life. The exhibits also delve into Curacao's abolitionist movement, as well as the impact of slavery on Curacao's society, economy, and cultural diversity.
You can visit every day of the week for a small admission fee between 8 AM and 4 PM (and on Sunday from 9 AM to 2 PM).
Try Curacao's Local Dishes!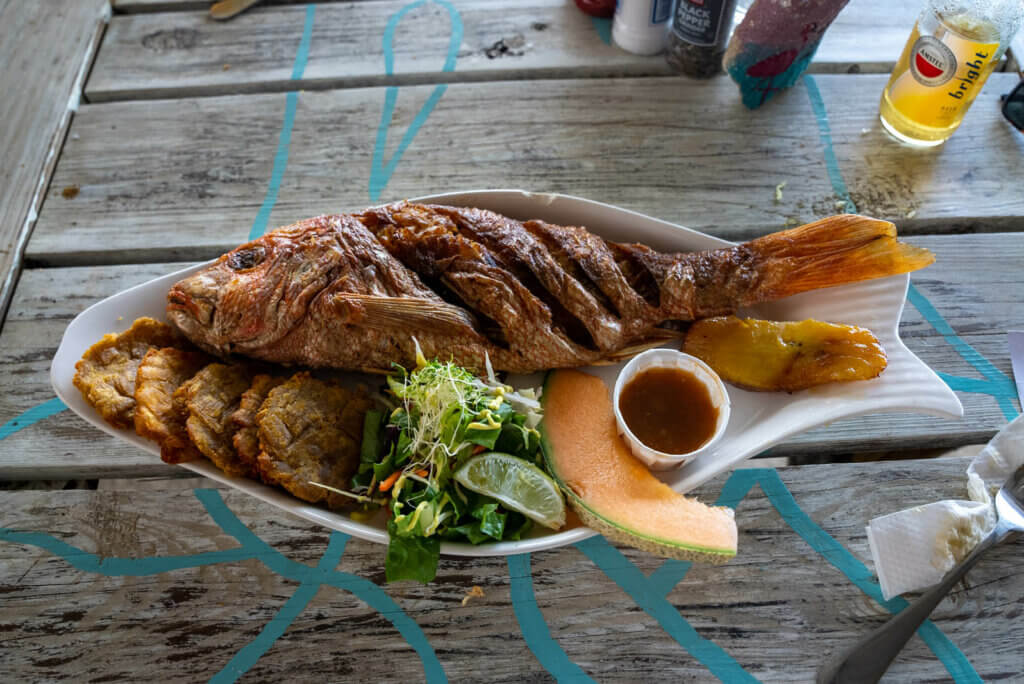 Sampling local flavors is one of the best ways to learn about Curacao. The island's cuisine is a fusion of influences from African, Dutch, Spanish, and Indigenous cultures. Each dish tells a story and reflects the island's unique heritage. Here are a few dishes we recommend trying:
Keshi Yena is a unique dish is made of a hollowed-out cheese rind filled with meat, vegetables, and spices and then baked. It was great at Restaurant & Cafe Gouverneur De Rouville in Otrabanda, but you can find it everywhere!
Bitterballen are bite-sized, deep-fried meatballs are just one of the many Dutch-inspired foods on the island. They're a popular snack, especially as a bar food alongside beer.
Green Rum is a local specialty, green rum is made by steeping rum with herbs and spices such as basil, mint, and lemongrass. It's unique and refreshing and perfect for sipping or mixing into cocktails.
Giambo is a hearty soup is a fusion of African and Caribbean flavors. It typically features okra, smoked or cured meats, vegetables, and spices. It has a gelatinous quality thanks to the okra, so steer clear if you can't deal with that!
Karni Stoba is the national dish of Curacao, Karni Stoba is a beef stew slow-cooked with onions, garlic, herbs, and spices. It's usually accompanied by vegetables and rice or funchi.
Fried Red Snapper was one of our favorite dishes! Curacao's coastal location provides an abundance of fresh seafood. Fried red snapper is a popular choice. It's absolutely delicious, with a crispy coating and a squeeze of lime for even more flavor.
Arepa di Pampuna are delicious dense pumpkin pancakes, are made in Curacao with pureed pumpkin, flour, sugar, and spices. They're fried to a golden brown and make a yummy breakfast or snack.
Iguana dishes are something you can try here too. Yes, iguana! While not for the faint of heart, iguana meat is a traditional delicacy in Curacao. They use it mainly in stews or soups.
Lionfish is another local delicacy you'll want to try. Definitely try lionfish if you see it, too! It's an invasive fish so eating it is helping the local marine life! It's often prepared in various ways, such as grilled, fried, or incorporated into ceviche.
Check Out Curacao's Mangroves
Where there are a few other places where you can explore mangrove forests on the island, we suggest checking out Curacao Rif Mangrove Park in Willemstad. A protected area in the city center, it encompasses 4,500 acres of mangrove ecosystem.
You can simply walk the elevated pathways that wind through or the mangrove forest. Or if you're looking for guided activities in Curacao, consider one of their guided tours. Throughout the day, the park offers both walking tours and kayak tours through the labyrinth of waterways.
Simply walking through Curacao Rif Mangrove Park is just one of the ways that showcase how diverse the biodiversity of Curacao is! Along the walkways, you'll also find information boards that offer more details on the mangrove park. And you quickly realize what a precious ecosystem the forests are. They not only protect against erosion, but are a natural habitat for marine life, a variety of waterbirds, and more.
Paint on the Beach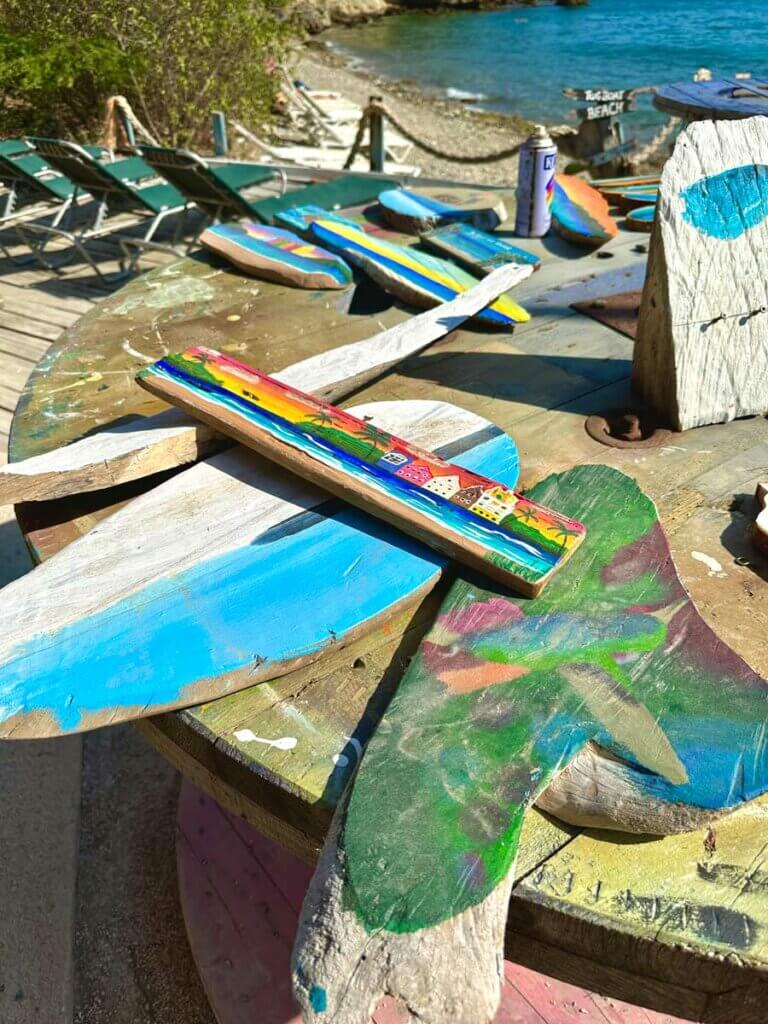 Attending a Be the Artist event is one of the most unforgettable things to do in Curacao! This local initiative brings together local artists, Curacao residents, and visitors who have a common love for making art!
They offer workshops where you can sit under the palapa by the water and create your own souvenir to take home. You can also watch the professionals while they create works of art or peruse pieces for sale.
There are several beaches that have a paint your own souvenir available when you visit including Tugboat Beach, Playa Porto Marie, Zanzibar Beach, and Mangrove Beach!\
Follow them on Instagram or Facebook for regular updates and new locations.
Check Out Fort Beekenburg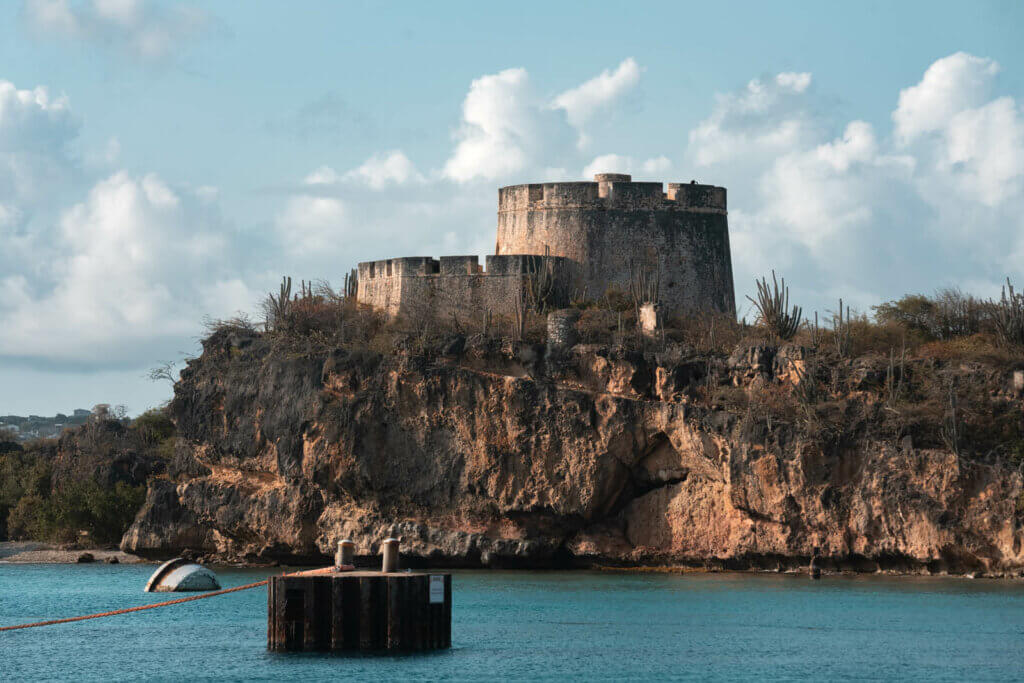 If you're on your way to Tugboat Beach and looking for free things to do in Curacao, make a stop at Fort Beekenburg. This historic fort was built in 1706 as a defensive stronghold against potential invasions. Today, it's known to be the best-preserved fort ruins in the Caribbean.
Fort Beekenburg is one of the coolest places to visit in Curacao, with tons of artifacts inside. It feels like a ghost of Curacao's colonial past on an isolated stretch of the coast!
You can go inside and explore, inspecting the elaborate architecture and checking out the thick barrier walls and cannons. It's also a great place to enjoy panoramic views of the Caribbean Sea and neighboring bays.
Enjoy a Sunset Sail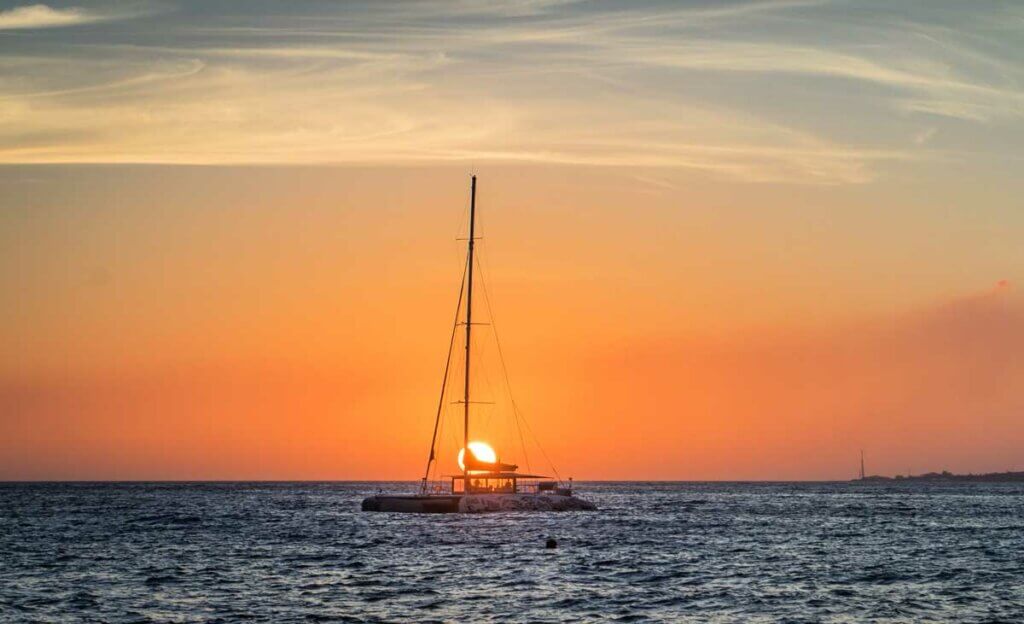 You can't come to a Caribbean Island without finding every opportunity to get on the water! One of the best things to do in Curacao is a sunset sail, where you can take in the turquoise waters under the golden light of the setting sun.
You can take your pick when it comes to sunset sails on the island! This happy hour sailing tour from Willemstad to Saint Anna Bay is a lovely experience with good music, quality bites, and an open bar. Enjoy a different view of Curacao's coastline from the water.
A catamaran sunset sail is one of the most popular activities in Curacao. There's nothing like watching the sunset while you relax on the nets with someone you love! On this sunset sailing cruise, you can also sip sparkling wine while you dance the night away.
Go on an ATV or Buggy Tour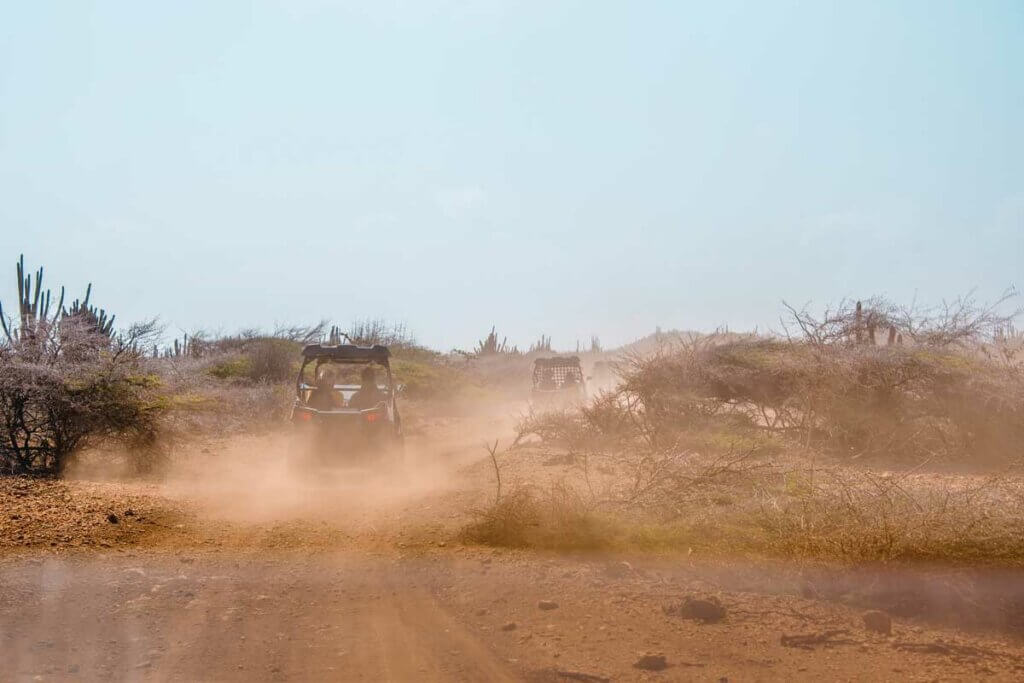 The island's diverse terrain and rugged landscapes make it a great destination for adventurous travelers seeking an off-road experience. Enjoy the rocky coastlines, desert-like terrains, and scenic hills on both sides of Curacao.
This 3-hour ATV adventure tour is one of the best things to do in Curacao. You'll visit fun attractions like the Aloe Vera Farm and the Ostrich Farm. But you'll also go off the beaten path in eastern Curacao for views and landmarks that few get to see! Stop for sweeping ocean views at a quiet beach and even explore hidden sea caves.
Or if you prefer a private tour, check out this customizable half-day tour of west Curacao. You have your choice of itineraries, as well as vehicles! Enjoy a day off-roading in the desert, island hopping, or exploring sea caves. It's up to you!
Go on a Submarine Experience!
Maybe you don't swim and you're wondering what do to in Curacao. You don't need to miss out on the island's stunning underwater world! Consider this 2-hour submarine dive to see shipwrecks and coral reefs that divers can't even reach. This is definitely one of the most unique things to do in Curacao, and you don't need any training to do it!
Located in Willemstad, you'll meet up with your guide at Substation Curacao for a debrief. Then you'll ascend 450 feet, for an unforgettable experience, visiting 2 shipwrecks and seeing coral that you can't find close to shore.
Where to Stay in Curacao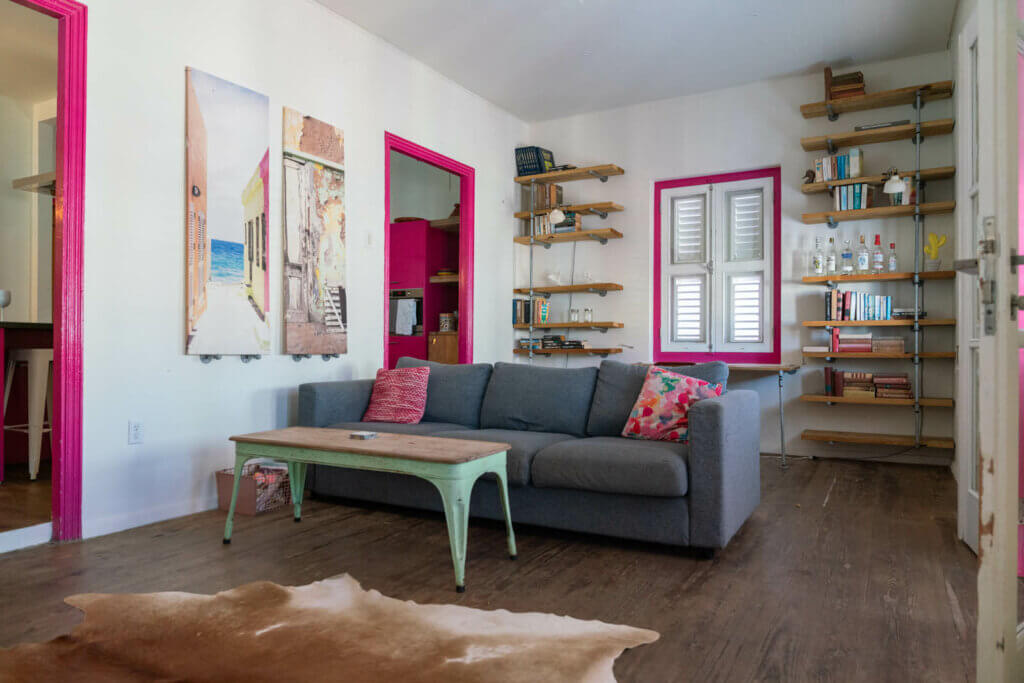 If you're looking for a great base for exploring all the best things to do in Curacao you first will want to ask yourself if you want to base yourself in Willemstad or another part of the island.
We did both.
Staying in Willemstad is perfect for those who want to be walking distance to many great activities in Curacao that are based here. If you're looking to explore the top things to do in Curacao, you'll still probably want to rent a car to explore around.
Alternatively, you can always book any of the tours we mentioned throughout this guide if you're not comfortable doing that or want to leave all the thinking out and sit back and enjoy curated experiences.
We stayed at Wynwood Boutique Hotel which are spacious apartments that felt more like an Airbnb (without asking us to do a list of chores before checking out) located in the historic Pietermaai District. The location and apartment were fantastic, but the beds were a bit firm and they cut corners on a few basic amenities like certain toiletries.
That being said, it was a nice stay overall if you're not worried about a very firm mattress. This spot is ideal for anyone looking to enjoy nightlife too as the bars nearby were open late night, which you could also hear from the rooms here.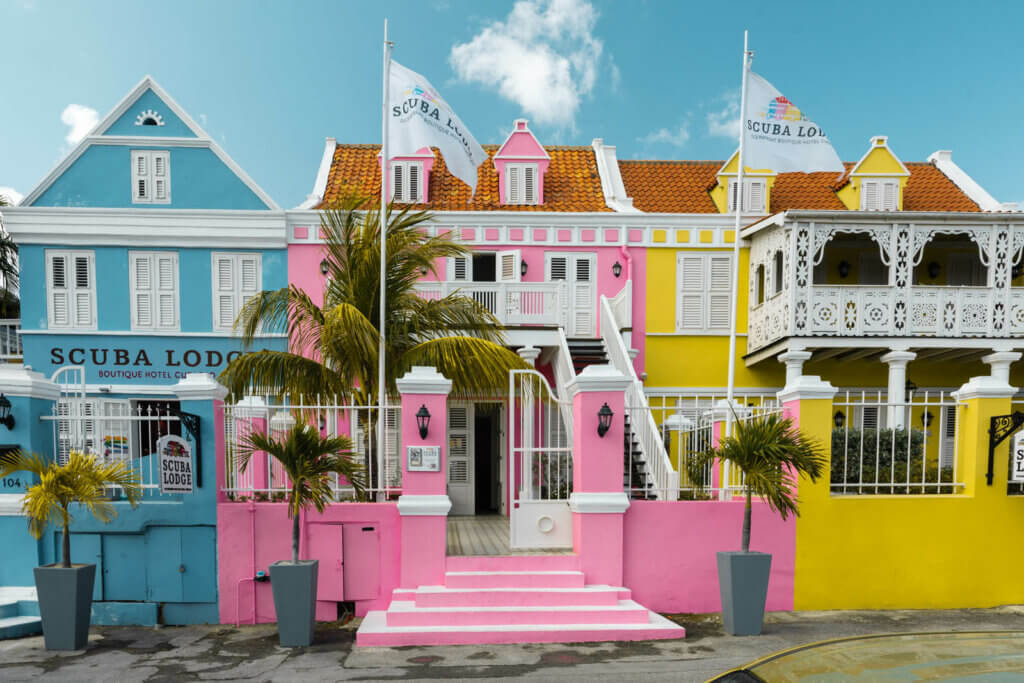 Since we are sort of out of that stage in our lives, if we were to do Willemstad over again we think we'd be better suited for the colorful Scuba Lodge and Ocean Suites which is also in Pietermaai and walking distance to Curacao attractions in Willemstad, but on a little more quiet part of the historic district.
The other option we'd consider was located next to Scuba Lodge with an absolutely breathtaking, upscale property was Bijblauw Hotel located right on the water with a gorgeous waterfront restaurant.
If you're looking to stay outside of Willemstad and the city, there are several resorts on the island that are INCREDIBLE with their own private beaches, pool, secluded space, and everything you dream of when you need a true vacation and getaway.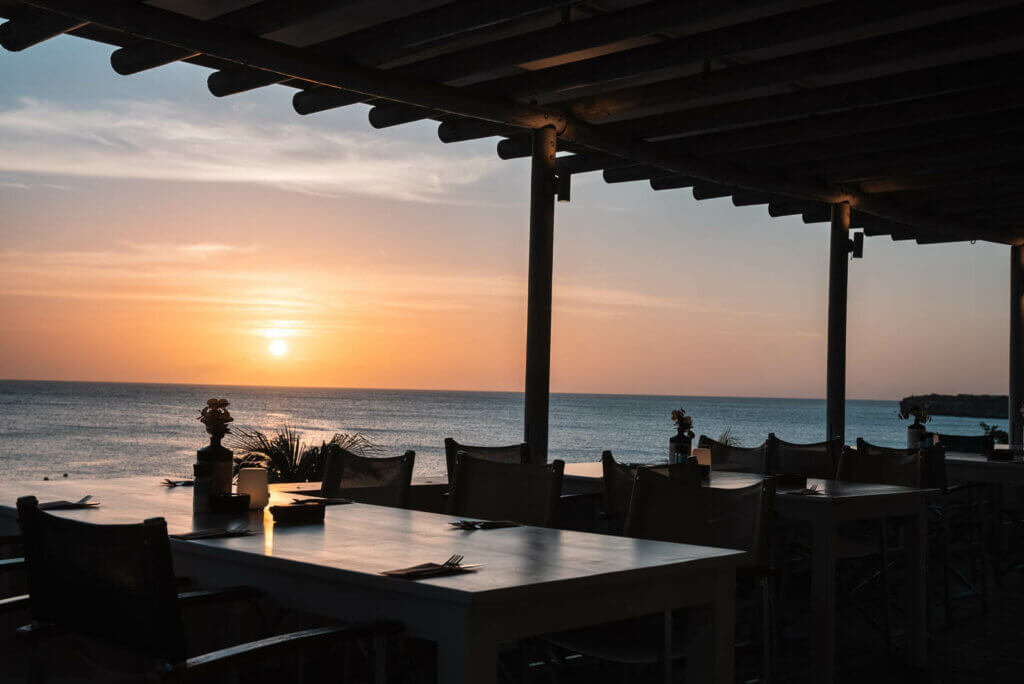 We highly recommend Coral Estate Luxury Resort in Sint Willibrordus. There are several types of rooms here from ocean-view suites with balconies overlooking the ocean to luxe private villas with private pools.
We enjoyed the location as we were very close to a few of the most popular beaches on Curacao including Playa Porto Marie and Daaibooi Beach. You can easily spend alot of your vacation at the resort too if that's your thing as there's a private beach, pool, and several restaurants.
We did dine here for dinner one evening and found the food to be rather bland, if you're not huge on seasoning and flavor then you're in good hands. This would really be our own complaint, the food wasn't great. But that is also entirely subjective so who knows, it could just be us. Overall, this was our favorite stay!
---
What is Curacao best known for?
Curacao is best known for its vibrant and colorful capital city, Willemstad and for its pristine beaches with crystal-clear turquoise waters along with world-class diving sites and healthy coral reefs. Curacao also has a rich cultural heritage shaped by Dutch, African, and Caribbean influences and is famous for its liqueur, Blue Curacao.
How many days do you need for Curacao?
You can easily spend an action-packed day in Curacao visiting on a cruise or if you're planning a vacation you'll want a full 5 to 7 days to have a well-balanced vacation full of site seeing, beach days, visiting historic and cultural sites as well as natural spaces like the national parks.
When is the best time of year to visit Curacao?
The best time to visit Curacao is during the dry season, which typically is from January to April. The weather is generally sunny and rainfall is minimal. The temperatures are warm and pleasant, ranging from the mid-70s to the mid-80s Fahrenheit.
When is the cheapest time to visit Curacao?
The cheapest time to visit Curacao is off-season between the months of May through November. Airfare and hotels are significantly less expensive, but you risk the occasional showers and increased humidity. Despite the rain, there are still plenty of sunny days and opportunities for outdoor activities.
---
What to do in Curacao Summary:
Explore Willemstad
Take a Day Trip to Klein Curacao
Shete Boka National Park
Christoffer National Park
Hato Caves
Visit the Beaches of Westpunt
Visit More of the Best Beaches
Swim with Sea Turtles
Go Scuba Diving
Go Snorkeling
Take a Snorkel Tour to the Blue Room
See Flamingos
Visit an Aloe Vera Farm
Say Hi to Ostriches at an Ostrich Farm
Visit the Curacao Liqueur Distillery
Paint Your Own Chichi Doll at Serena's Art Factory
Learn History at the Plantation Houses of Curacao
Visit the Kura Hulanda Museum
Try Curacao's Local Dishes
Check out Curacao's Mangroves
Paint on the Beach
Check Out Fort Beekenburg
Enjoy a Sunset Sail
Go on an ATV or Buggy Tour
Go on a Submarine Experience
---
Enjoyed this guide for what to do in Curacao and all the best Curacao attractions? Bookmark for later or share the love below on Pinterest.