There are so many incredible things about and things to do in Lunenburg, Nova Scotia that make it one of our favorite destinations along the North Atlantic coast. This UNESCO World Heritage Site town is a famous fishing village and one of the most picturesque and colorful towns we went to during our Nova Scotia travels (that we continue to repeat!).
You'll want to make sure you have an ample amount of time here to enjoy weaving your way up and down the streets stopping in the different shops and even cafes. Being a fishing village, you can bet that you can also get your fill of some of the finest seafood right here in Lunenburg, Nova Scotia.
See what makes this town of Lunenburg, with a rich history including a huge role in rum-running during the prohibition, the unique 18th and 19th-century architecture, and more such an incredible place to vacation to and one of the best Nova Scotia towns to visit!
See why we love Lunenburg and why we've gone three times and counting!!
Disclaimer: This post contains commissionable links.
Town of Lunenburg Travel Guide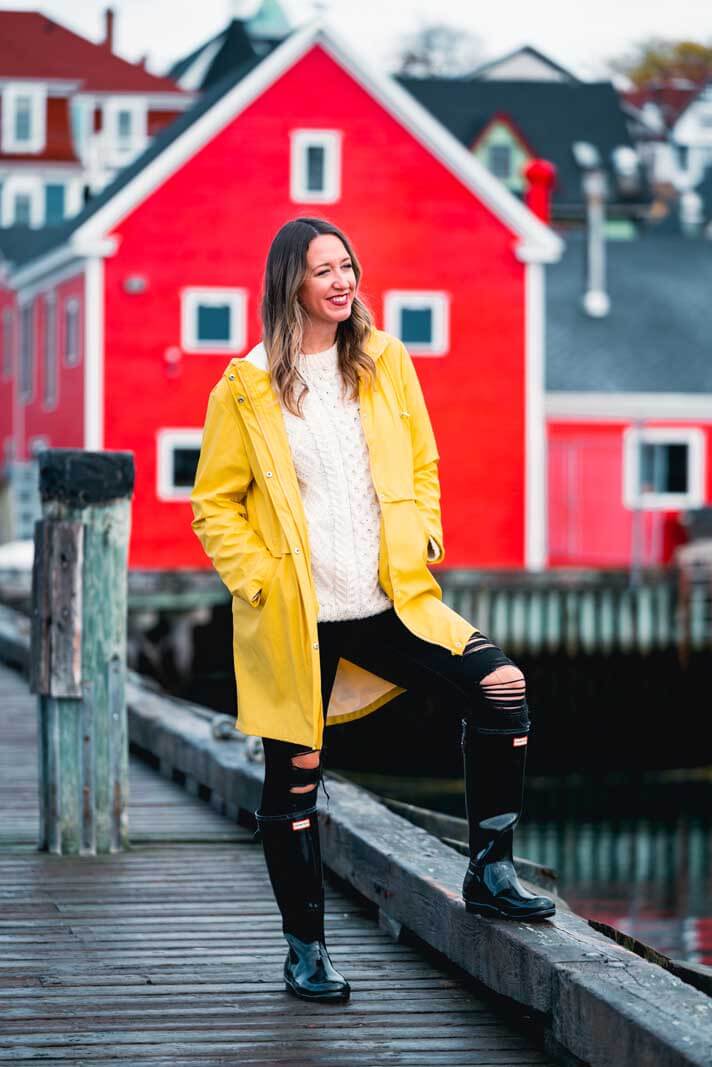 Read Next: The Perfect 7 Day Nova Scotia Road Trip Itinerary
What to do in Lunenburg
Check out the Bluenose II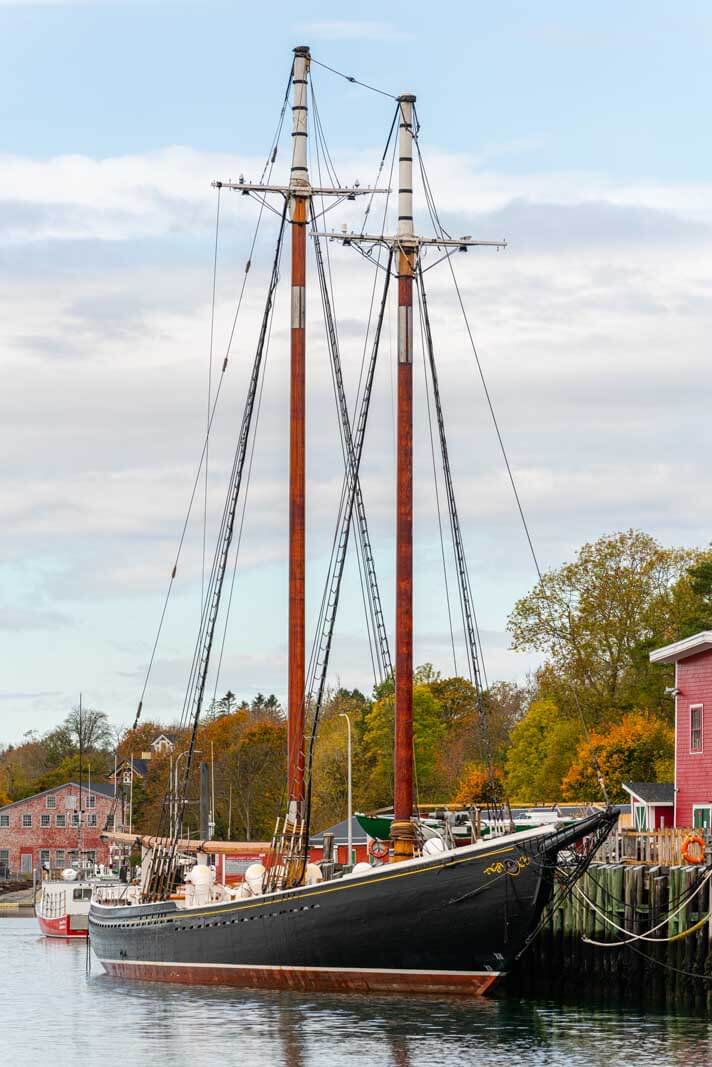 It's no surprise that most things to do in Lunenburg involve boating or fishing seeing how it's a waterfront town. One of the most famous things to do in Lunenburg is visit the Blue Nose II, a replica of the fishing and racing schooner Bluenose, whose image you can find on the Canadian dime.
This famous vessel was launched in 1921 and, since then, reigned over the North Atlantic for two decades, thanks to Captain Angus Walters and his crew and was the fastest boat of its kind for 17 years.
In 1963, Bluenose II was launched as Nova Scotia's sailing ambassador. Its home port is in the town of Lunenburg, where you can find it a majority of the year.
You can visit Bluenose II and experience what it's like to come onboard. Harbor cruises around Lunenburg and other ports in Canada are available, you have to check the schedule to see where the Bluenose II is. You can also become a deckhand for a day.
To experience Bluenose II, you need to sign up online either for a tour or as a one-day crew member.
Theresa E. Connor Schooner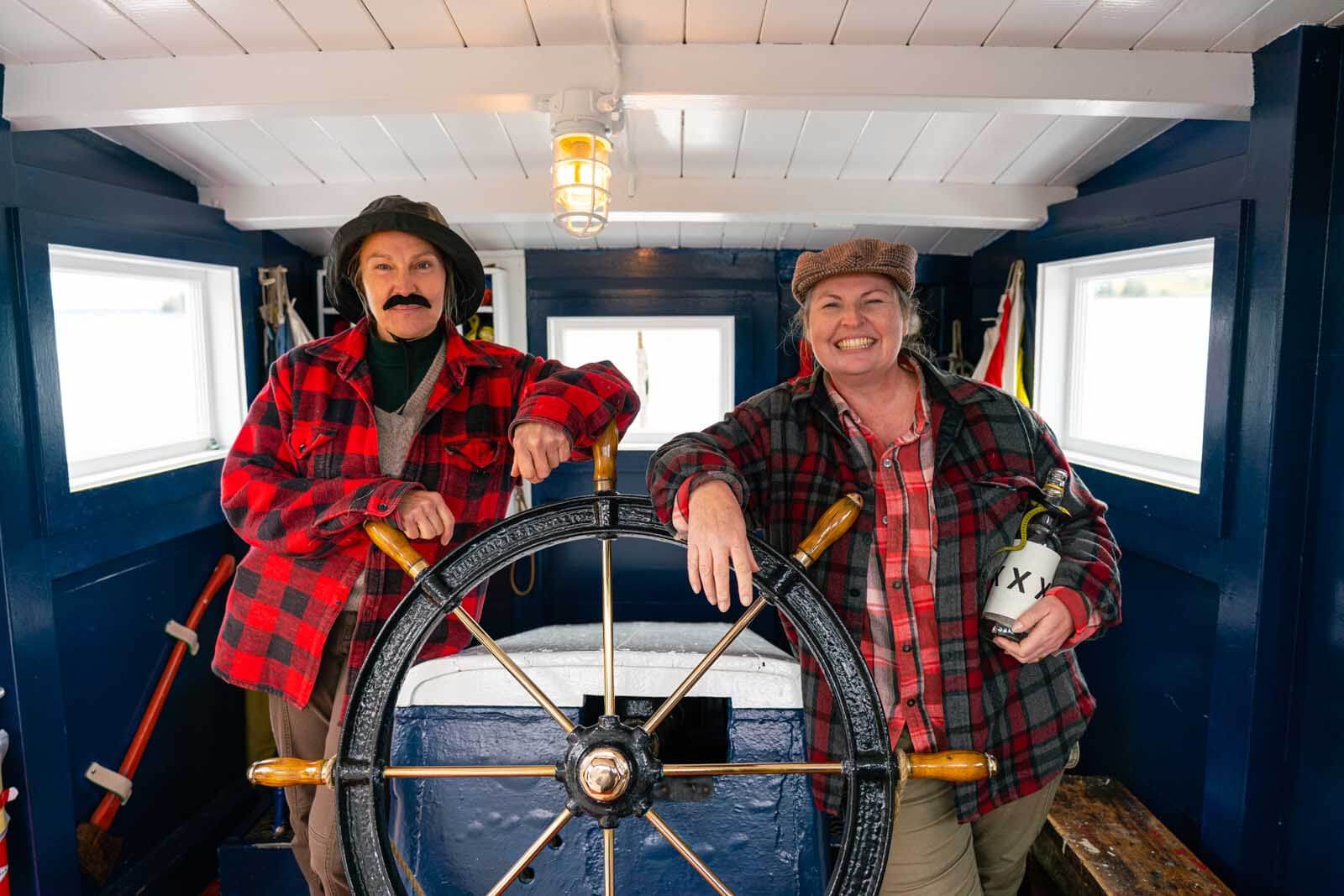 More than 80 years ago, the Theresa E. Connor Schooner was launched from the waterfront of Lunenburg, Canada. It's the country's oldest bank schooner and was active in the town's dory fishery for a quarter of a century after it was launched.
The wooden vessel had a diesel engine, which was considered cutting-edge in the early 20th century. After it was decommissioned in the 1960s, the vessel was acquired by the Lunenburg Marine Museum Society.
Easily one of the most interesting things to do in Lunenburg, Nova Scotia, is visiting the Theresa E. Connor Schooner. It is now the flagship of the Fisheries Museum of the Atlantic, which is open from mid-May through mid-October, and another one of our suggestions for best things to do in Lunenburg.
However, visiting the museum isn't the only way to hop aborad the historic Theresa E. Connor Schooner. Be sure to check the different tours (mentioned below) and festivals in Lunenburg, Nova Scotia as there are always special events happening aboard!
Ironworks Distillery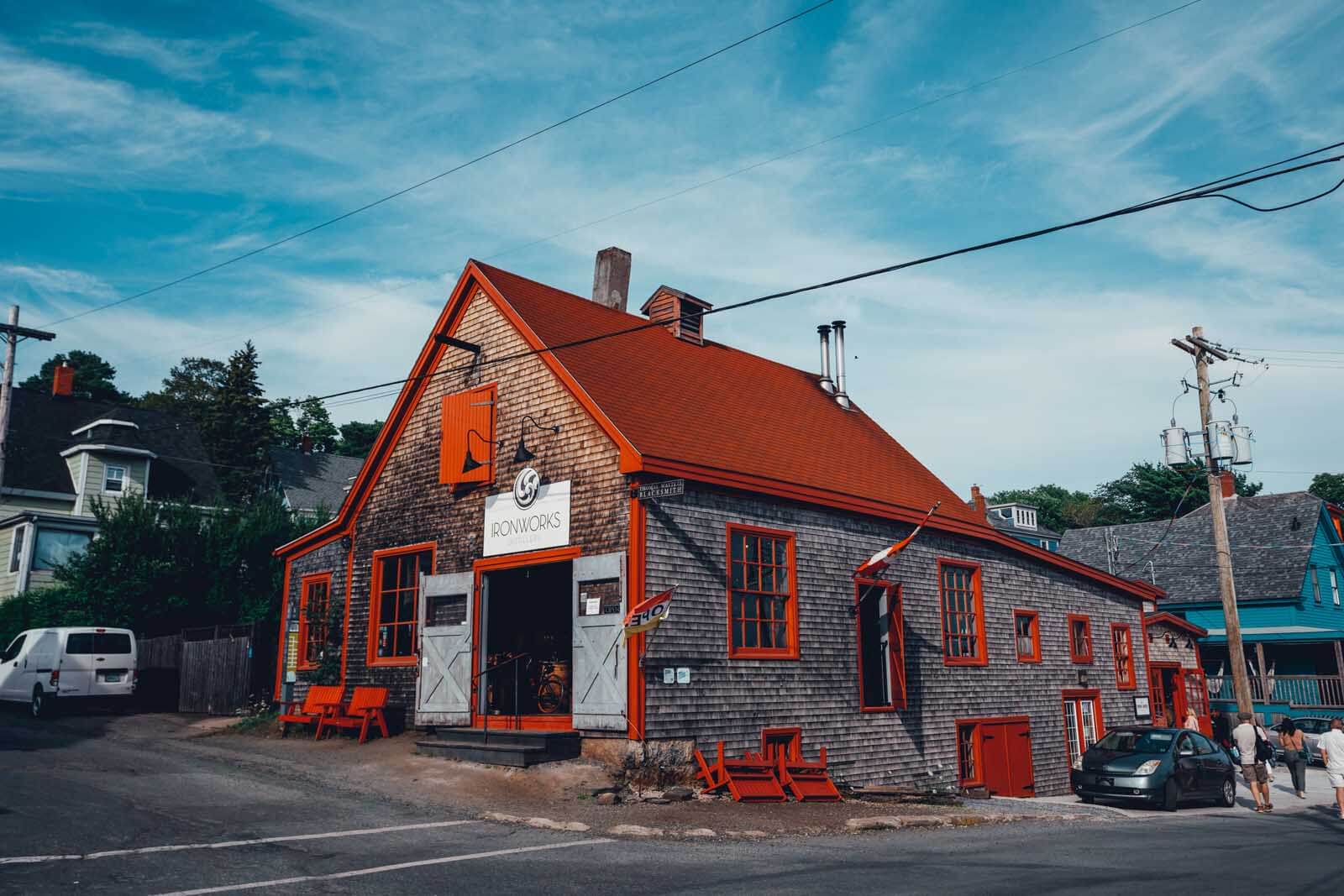 Ironworks Distillery in Lunenburg, Canada creates 21 unique artisanal spirits that you surely haven't tasted before. They have different kinds of craft spirits from rum, gin, vodka, fruit brandy, and marc. They also have liqueurs made with different kinds of berries.
Aside from their delicious products, another interesting thing about Ironworks Distillery is their location. They are located in a rehabilitated 1893 marine blacksmith's shop! The folks at Ironworks Distillery take great inspiration from the heritage building they consider home in crafting their products.
This particular spot is one of our favorite things to do in Lunenburg, Nova Scotia because of their uniqueness and ability to tell a story through their fine spirits. Besides their delicious staple products you can find any visit, they do create some limited edition or extra specialty products that are one of a kind.
One being the Rum Boat Rum which is aged in barrels aboard a boat in the harbor. This is the way rum was originally aged, in barrels on ships that would rock with the natural waves of the ocean.
If you don't age your rum on a boat, like every other modern day distiller, you do have to turn the rum from time to time to get a proper age. The floating distillery does that naturally and the product is phenomenal.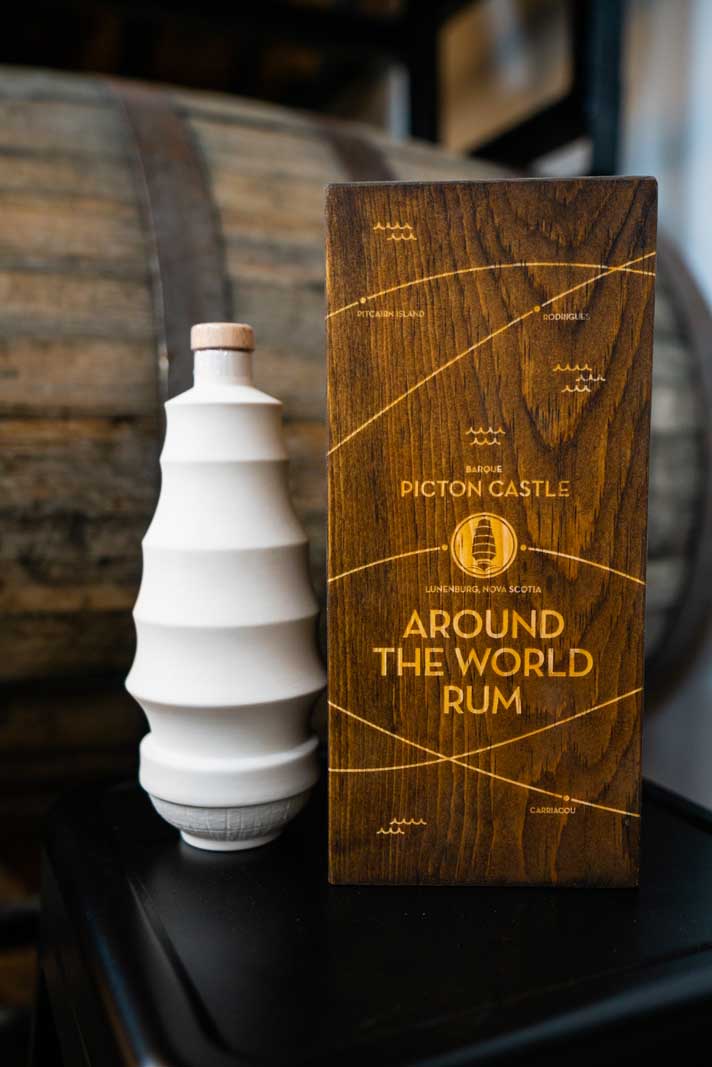 The other notable spirit they released during our visit was the Around the World Rum that aged on a boat in barrels, once again, but this time aboard the Barque Picton Castle which circumnavigated the world. To make this rum extra special, their team designed a gorgeous artistic bottle that when you shine the light on it just right or the sunlight hits it right you see a tall ship as the shadow.
These are the clever and careful attention to detail that makes their craft spirits not only delicious but one of a kind, these also make a great souvenir!
Aside from spirits, they also sell merchandise including glasses and shirts, which you can buy as a souvenir or as a gift to friends and family back home.
Visit the Berlin Wall Segment
Lunenburg, Nova Scotia is known for a lot of things, like its heritage buildings and fishing scene. But did you know that a segment of the Berlin Wall can also be found here? With a name like Lunenburg, you can understand why there might be traces of German history here.
After the fall of the Berlin Wall on November 1991, 240 segments of the 140-kilometer wall were distributed to more than 140 countries around the world. In Canada, there are three cities outside of Nova Scotia that has a segment of the Berlin Wall: Ottawa in Ontario, Montréal in Québec, and Steinbach, Manitoba. Meanwhile, three towns in the province of Nova Scotia were given pieces of the Berlin Wall. You can find them in Dartmouth, Truro, and Lunenburg.
Honorable J. James Kinely, a former lieutenant governor of Nova Scotia who served in Canada's Merchant Navy during World War II, was responsible for the 12-foot segment of the wall that was brought to Lunenburg. He wanted a piece of the Berlin Wall to be erected here because it's his hometown and, at the same time, more than a thousand German immigrants helped establish Lunenburg in 1753.
You can see the Berlin Wall Segment on Falkland Street, its a longish walk for Lunenburg, Nova Scotia, but easily visited by car.
Explore Along the Lunenburg Waterfront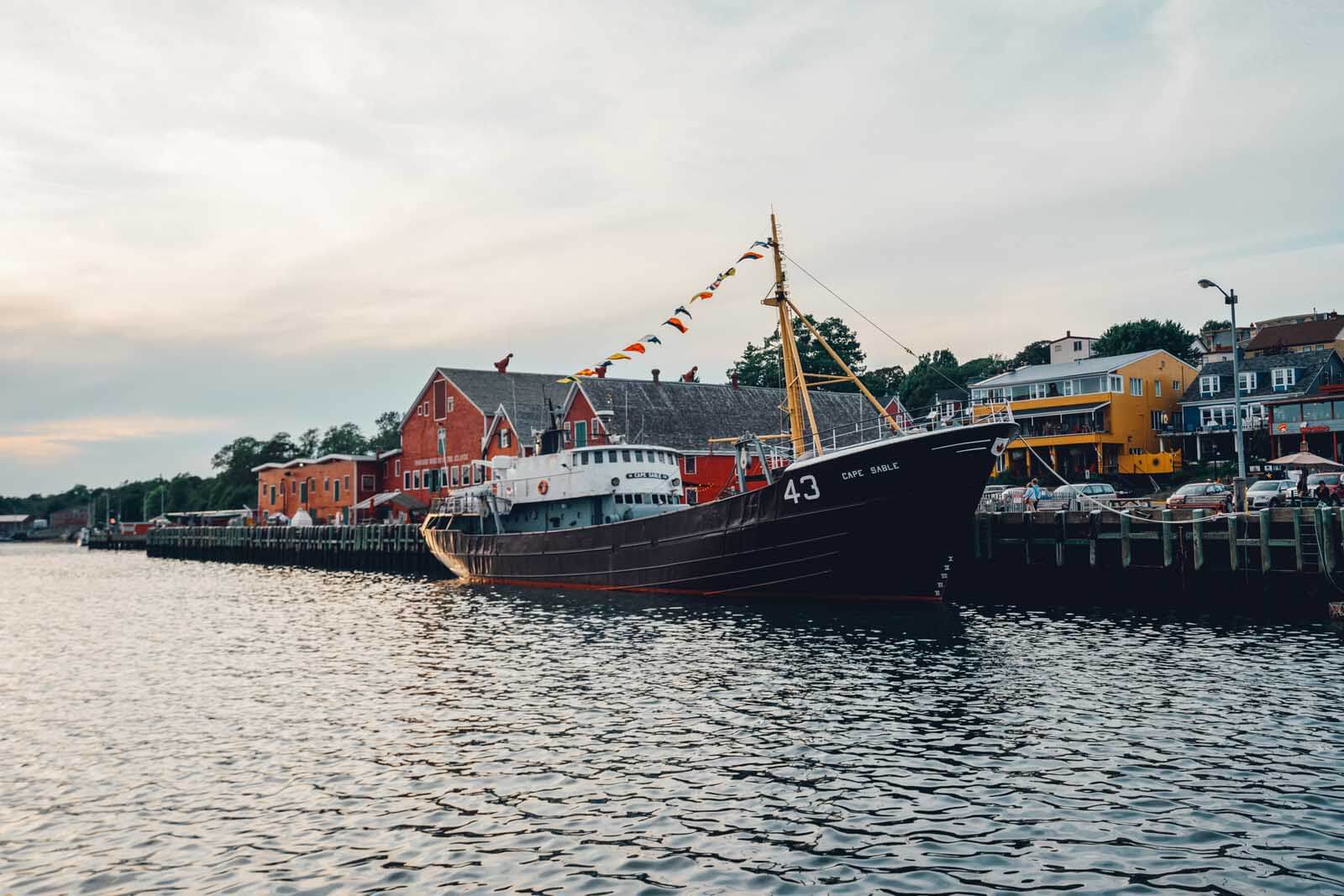 Easily one of the best things to do in Lunenburg, Nova Scotia that you should definitely not skip is visiting the Lunenburg Waterfront. The 300-foot marina where both new boats and old ships are docked is the most scenic area to walk around and enjoy this gorgeous small Nova Scotia town.
You'll see steel yachts and wooden schooners, seafood restaurants, galleries, and shops. You can easily spend most of your time here eating fresh seafood, looking at art from local artists, and shopping for craftwork and souvenirs all with the picture-perfect backdrop.
At different times around the year, local festivals are also held here that we will touch on more later in this article. You might stumble upon a fun event where you can learn more about the town of Lunenburg and the province of Nova Scotia. This is also a great place to see the stunning and colorful array of 18th and 19th-century buildings.
Fisheries Museum of the Atlantic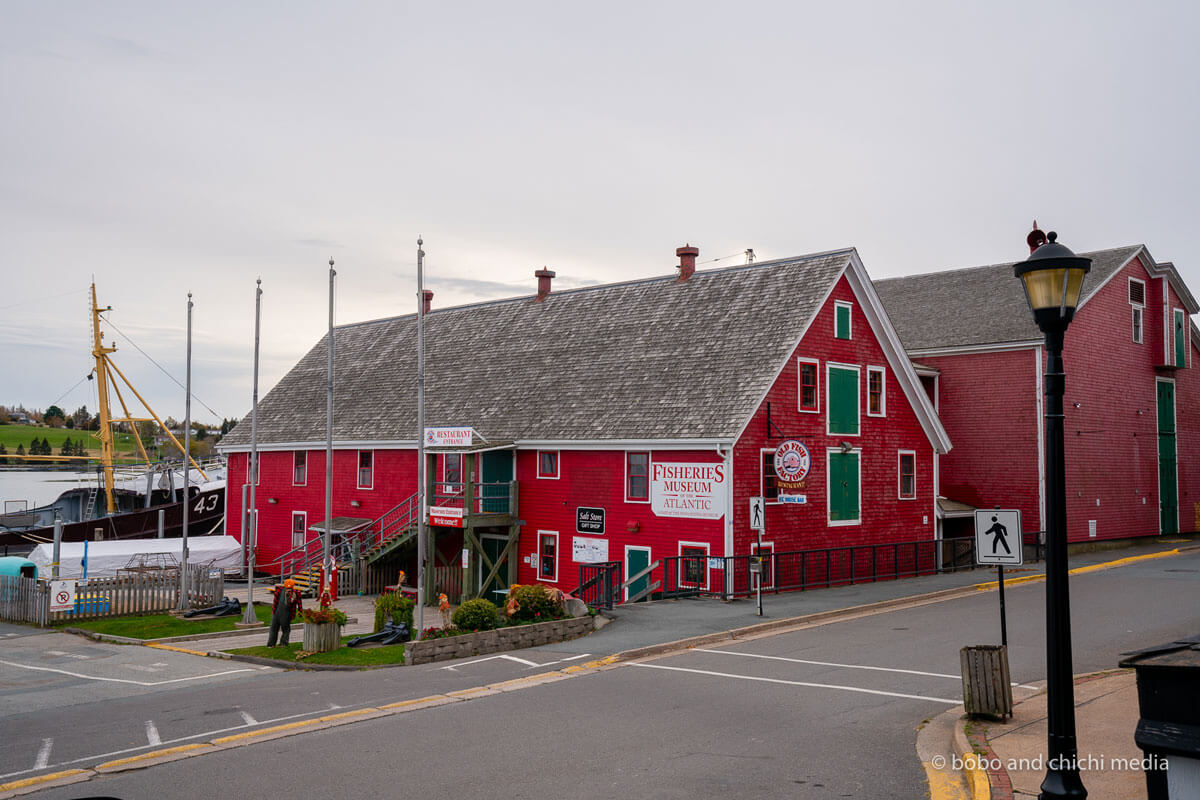 Another great option and pick for things to do in Lunenburg is the Fisheries Museum of the Atlantic. This fishing heritage museum is where you can learn about the maritime history of Atlantic Canada throughout the centuries.
Here, you can find two decommissioned vessels: the Theresa E. Connor schooner, an 80-year-old boat, and the Cape Sable, an almost 60-year-old boat. You will also find nautical exhibits at the museum. There are 10 to 30-minute tours that you can join when you visit.
Moreover, the Fisheries Museum of the Atlantic holds an annual event called the Lighting of the Vessels, which happens in December. It's part of the Yuletide celebration in Lunenburg and there are activities both inside and outside the museum. If you're in town during the festival, you should definitely check it out.
Want to save time? Get this skip the line ticket in advance.
St. John's Anglican Church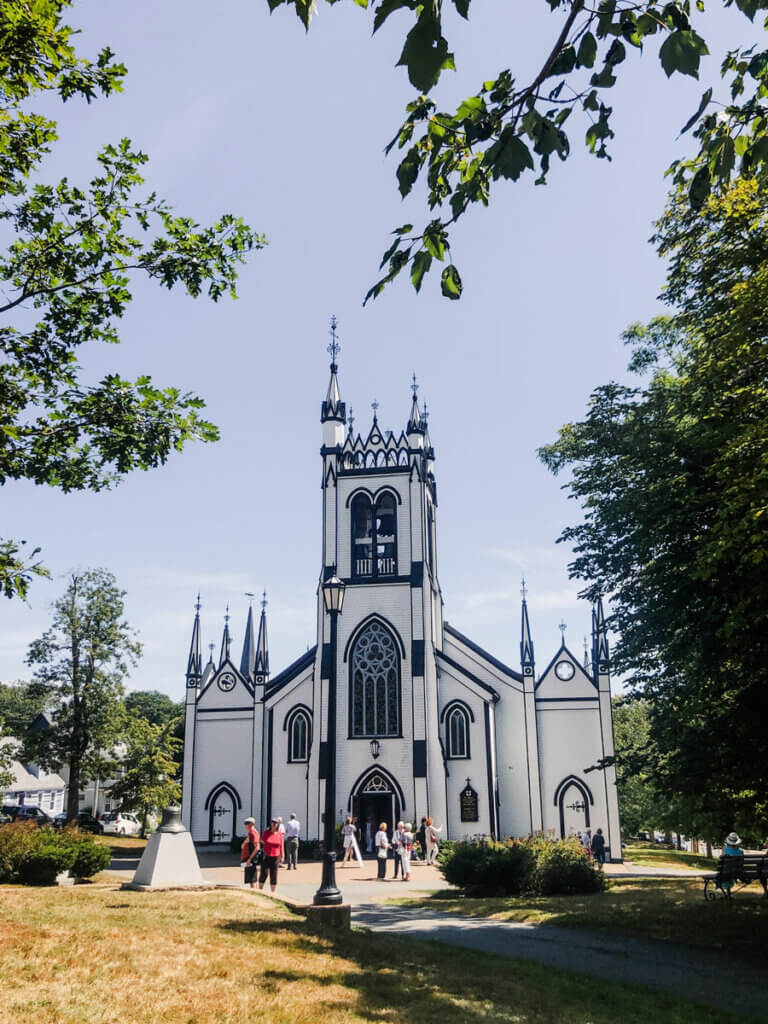 Next up on the best things to do in Lunenburg is the strikingly beautiful Carpenter Gothic church and National Historic Site in Canada. The first church in Lunenburg is St. John's Anglican Church and a definite must see when visiting. Established in 1754, this is the second oldest Protestant church in Canada.
Aside from being a place of worship, the church also has a crypt where 18 people are buried. Some of the notable interments in the St. John's Anglican Church crypt include Dettlieb Christopher Jessen and John Creighton Sr. who fought in the Raid of Lunenburg and Reverend Jean-Baptiste Moreau who was the first town's minister.
You can easily visit the exterior of the church, go inside, or join a tour.
Shopping Around Lunenburg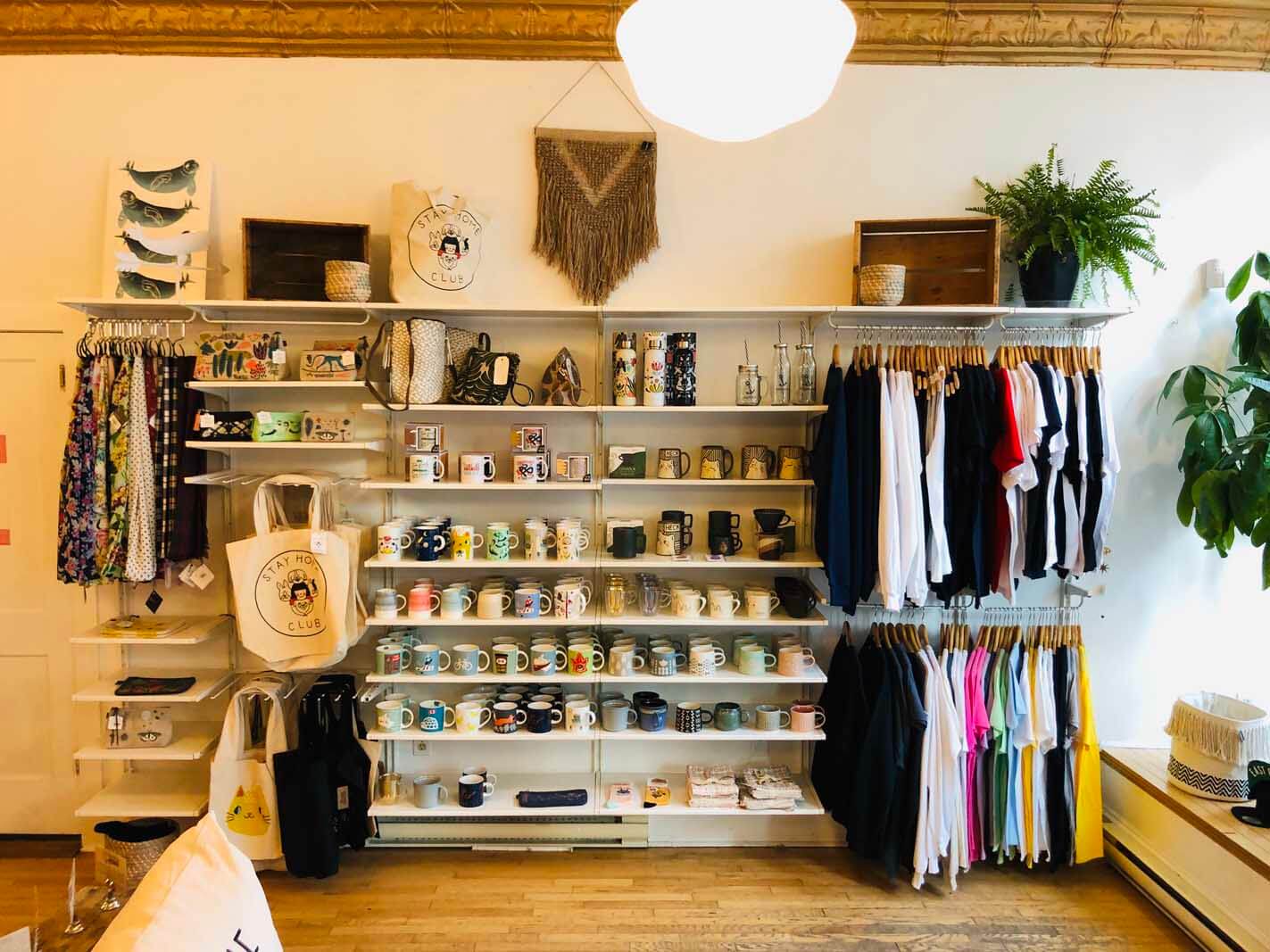 One of my personal favorite activities in the town of Lunenburg is exploring all the shops! Stroll the streets where you'll find one independent shop after another full of great gifts and souvenirs. Head down Lincoln Street where you'll find a cluster of boutiques and small shops like Dots & Loops which has tons of great gifts and things you'll want to treat yo'self with.
Another notable stop is Elizabeth Books, a used bookstore on Montague Street. There's nothing better than supporting a small, local bookstore that has tons of titles to choose from, antique books, and a great local selection too!
Admire The Famous Lunenburg Bump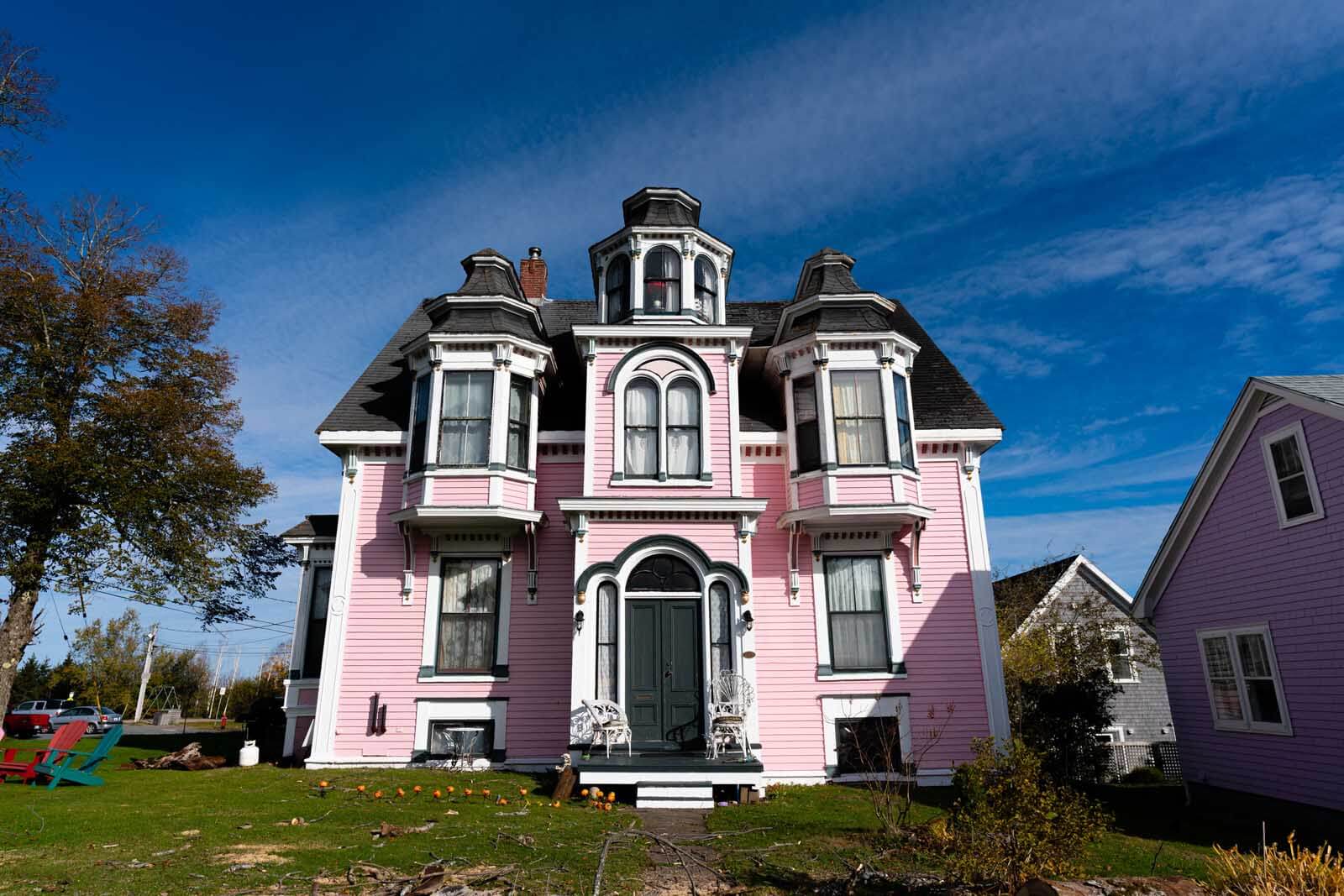 One of the most unique things about the adorable colorful homes in Lunenburg, Nova Scotia other than they all look like dollhouses is their signature 'Lunenburg Bump." Ask any architecture buff and they will know this signature feature that is uniquely Lunenburg and once it's pointed out you see it everywhere all over town!
The whimsical Victorian homes have a distinct vernacular architecture known as the Lunenburg Bump. The famous bump is said to have been inspired by a 5 sided Scottish dormer architecture style, when locals were designing the homes they extended the middle dormer both outward and downward creating a unique overhang known as the bump.
However, this style of house is easier to see than tell so be sure to examine the photo above!
See the Iconic Lunenburg Academy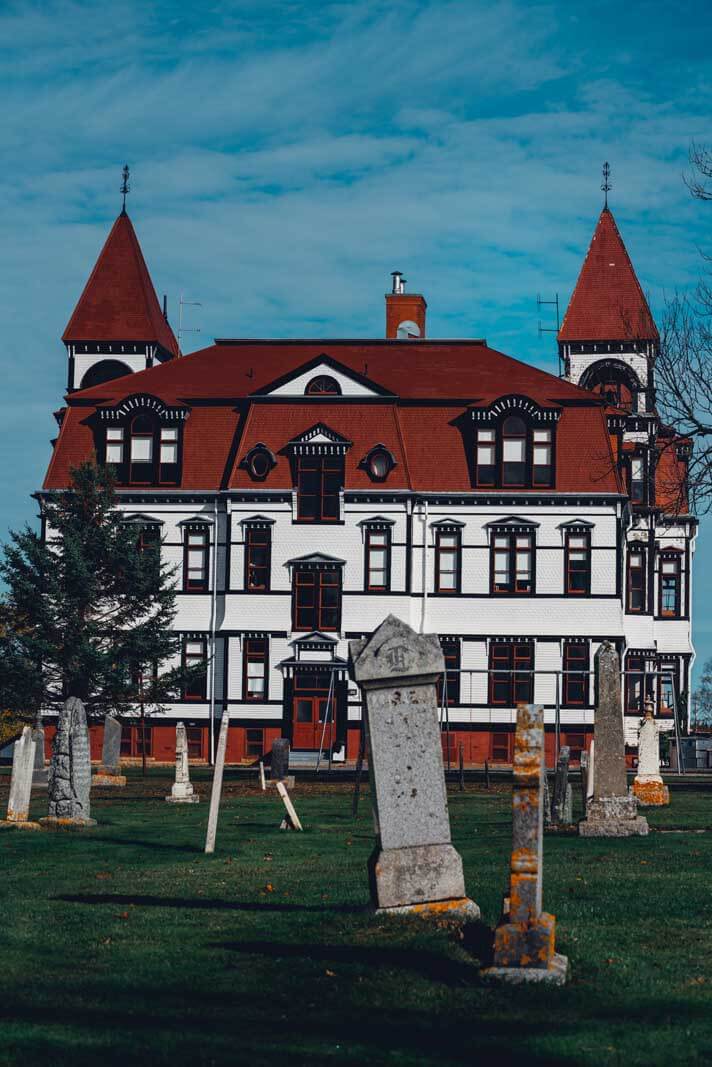 Another one of the best things to do in Lunenburg is visit another one of its most iconic buildings in the town located on Gallows Hill overlooking the city. This massive and stunning Victorian-style building peers over the town and is visible from most areas in town and functions as a school today.
While you really can't go inside, this thing to do in Lunenburg is about the journey not the destination. When you're up here you'll see some more incredible Lunenburg bump homes and of course this magnificent piece of architecture.
The Lunenburg Academy's construction started in 1893 and was completed two years later. Today it's listed as a Provincial Heritage Property and a National Historic Site of Canada.
Get the Best View of Lunenburg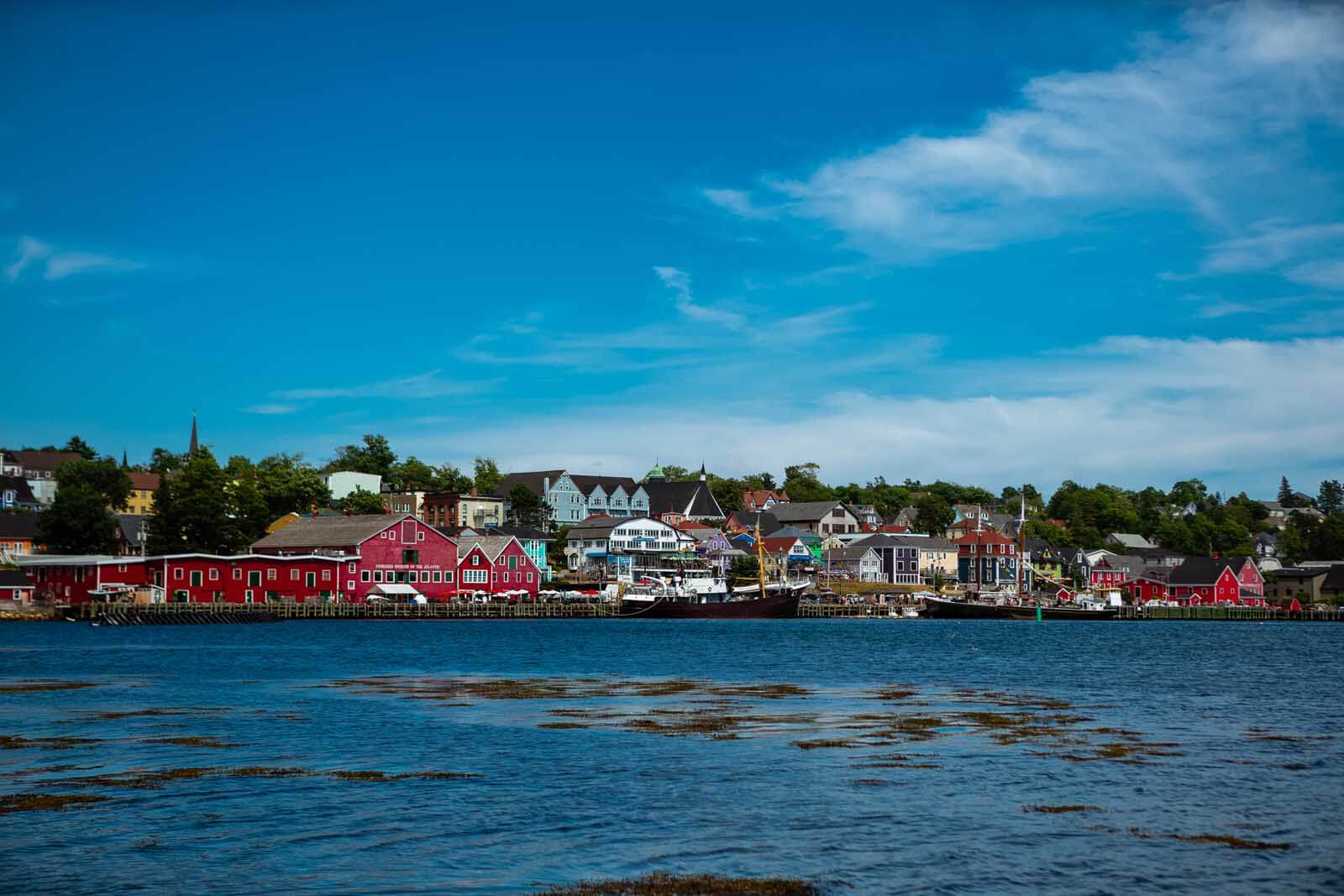 If you're a photographer or just want to get a better view of Lunenburg, Canada we recommend going to the Bluenose golf course by car via Tannery Road and Cove Road for the most incredible view of the entire town of Lunenburg from the otherside of the Lunenburg Harbor.
Sadly, we didn't have the best lens at the time for this photo and it doesn't quite do it justice, but trust us, this view even in person is just pure magic.
Eat & Drink Your Way Around Lunenburg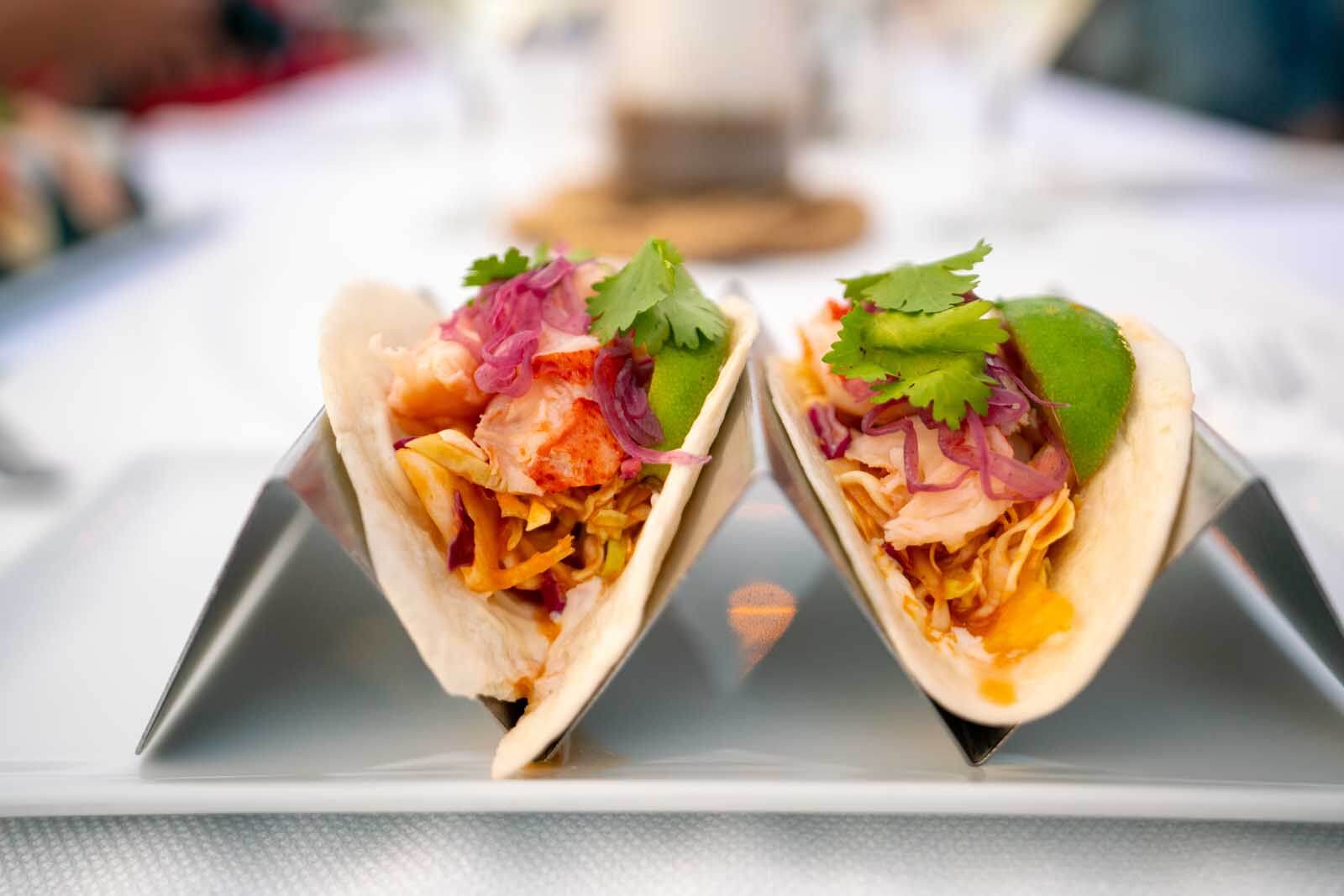 Easily one of the best things to do in Lunenburg is enjoying everything there is to eat and drink in town. Being a fishing village you can bet that there are some incredible seafood options. Some of the restaurants do close in between seasons, but there's always something great to eat or drink in Lunenburg, Nova Scotia!
South Shore Fish Shack – Our first eatery in Lunenburg, Canada that we tried and still our favorite. This casual eatery serves up some incredible Fish & Chips and other great seafood dishes. This is a perfect stop on a summer day so you can eat out on the patio overlooking the Lunenburg waterfront.
Salt Shaker Deli – Another great option for where to dine in Lunenburg, Nova Scotia. This casual sit down eatery has awesome lunch and dinner options. If you're sick of seafood they serve up pizzas here too!
The Old Fish Factory – Another amazing seafood restaurant, surprise surprise! Located right at the Fisheries Museum of the Atlantic. This is a nice place to have lunch or dinner!
Grand Banker Bar & Grill – A solid choice for a seafood meal as well as other options on the menu. Their chowder is fantastic and there's a gorgeous view of the waterfront here!
No 9 Coffee Bar – An adorable cafe perfect for the morning cup of joe, and a quality one at that. They do have a few light breakfast options as well.
Lincoln Street Food – A cozy restaurant with a different menu daily sourced from local ingredients. We had one meal here and were impressed with the flavorful and unique combinations the chef prepared. Definitely a good choice for foodies!
Shipwright Brewing Company – This one is for the beer lovers! If you're looking for a local craft brew, this is your spot. Located in a small, no-fuss location right on Montague St. This is a smaller operation so there are only a few beers on draft, but its easy to try them all!
Take a Tour in Lunenburg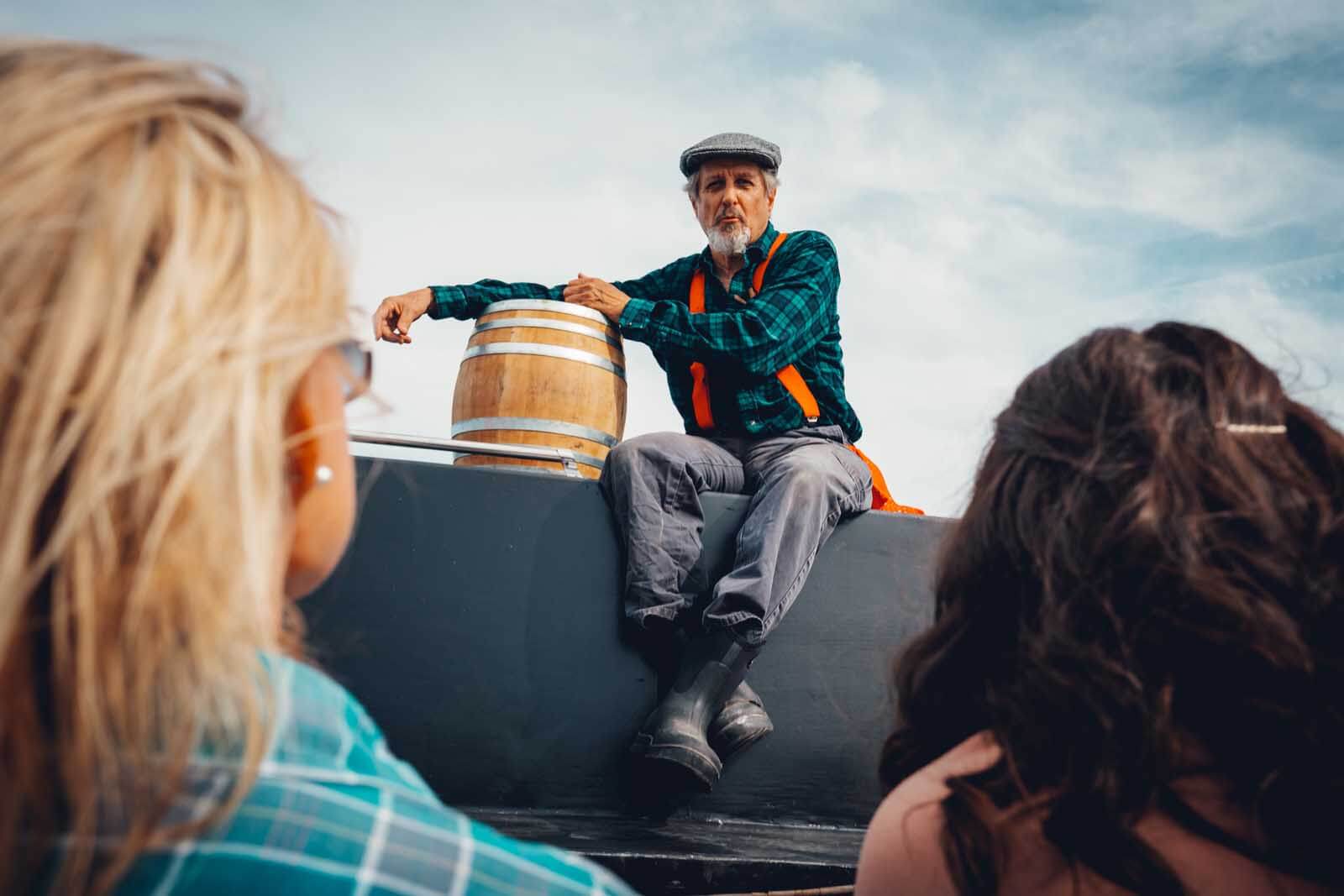 Lunenburg & Mahone Bay Day Trip from Halifax
Are you super inspired to visit all the wonderful things to do in Lunenburg after this post but don't want to rent a car and drive yourself? Or maybe you're traveling solo and prefer the company of others on a group tour! Check out this amazing day trip from Halifax stopping at the quaint seaside community of Mahone Bay which is absolutely charming before making your way to Lunenburg.
Without even realizing it you might recognize Mahone Bay because one of the most popular photos of Atlantic Canada is of the three churches lined up next to eachother by the water in this lovely little town. Besides this iconic scene there are tons of great independent shops, cafes, and restaurants you could easily spend a half a day exploring.
After, you head to enjoy all the awesome things to do in Lunenburg (that you can fit in a day!) The tour is approximately 6 hours and departs and returns to downtown Halifax. Keep in mind some of these are seasonal!
Book your Lunenburg & Mahone Bay Day Trip here.
Or check out this day tour that also starts and ends in Halifax that also stops at the world famous Peggy's Cove!
Book your Lunenburg, Peggy's Cove, & Mahone Bay Day Trip here.
Read Next: Best Things to do in Halifax
Lunenburg Distilled
One of the most unforgettable experiences we enjoyed during our stay in Lunenburg, Nova Scotia was the Lunenburg Distilled experience and tour. Let me just start off by saying this is way more than a tour. Learn about the rum-running history of Lunenburg during the prohibition period in this immersive culinary experience. Visit the floating rum distillery on the water, sample local delicacies, enjoy a private tasting at Ironworks Distillery and relax while dining a multi-course meal on the Theresa E. Connor schooner.
All of this takes place while learning the history, understanding the local culture, and eating an extraordinary meal.
The Lunenburg Distilled Culinary Adventure is a must add item to your itinerary full of all the best things to do in Lunenburg if you're visiting from July – October. Be sure to check their program dates, if it doesn't line up with your itinerary be sure to try another one of Lunenburg Walking Tours experiences.
Hidden Gems Lunenburg Tour
While in the town of Lunenburg you can enjoy this one hour tour that explored the hidden gems and local secrets along Lunenburg as well as along the coastline that you won't be able to reach by foot or probably wouldn't discover on your own.
This tour is operated by Seaweed Tours and takes place in a comfortable shuttle. The tours start and end in Lunenburg and this is a great way to see what's around that the average visitor wouldn't know about!
Book your Hidden Gems Lunenburg Tour here.
Lunenburg Walking Tour
One of the best things to do in Lunenburg is the essential Lunenburg Walking Tour that gives you an overview of this romantic little town on this one-hour long tour covering the local history and the 18th-century architecture featuring more information on that famous Lunenburg Bump we taught you about.
You also learn a bit more about the local folklore, customs, traditions, and facts! Plus, you get to go inside St John's Anglican Church, which they boast to be the only tour company who has access! Find out more here.
Seasonal Festivals in Lunenburg
Lighting of the Vessels – As mentioned above, this is one of the best things to do in Lunenburg if you're visiting during the holidays. Every December, you'll have to check the year you're visiting, there are fireworks and holiday festivities at the Lunenburg Waterfront to kick off Christmas celebrations.
Lunenburg Folk Harbour Festival – Held every August, you can join in on the fun by the sea dancing along to folk music at this festival. You'll find local and national artists performing traditional and contemporary folk music. This is one of the most popular festivals Lunenburg has to offer and great for everyone of all ages!
Lunenburg Doc Fest – Another fun festival to check out in Lunenburg held annually in September at the Lunenburg Opera House is the 4-day documentary film festival.
Where to Stay in Lunenburg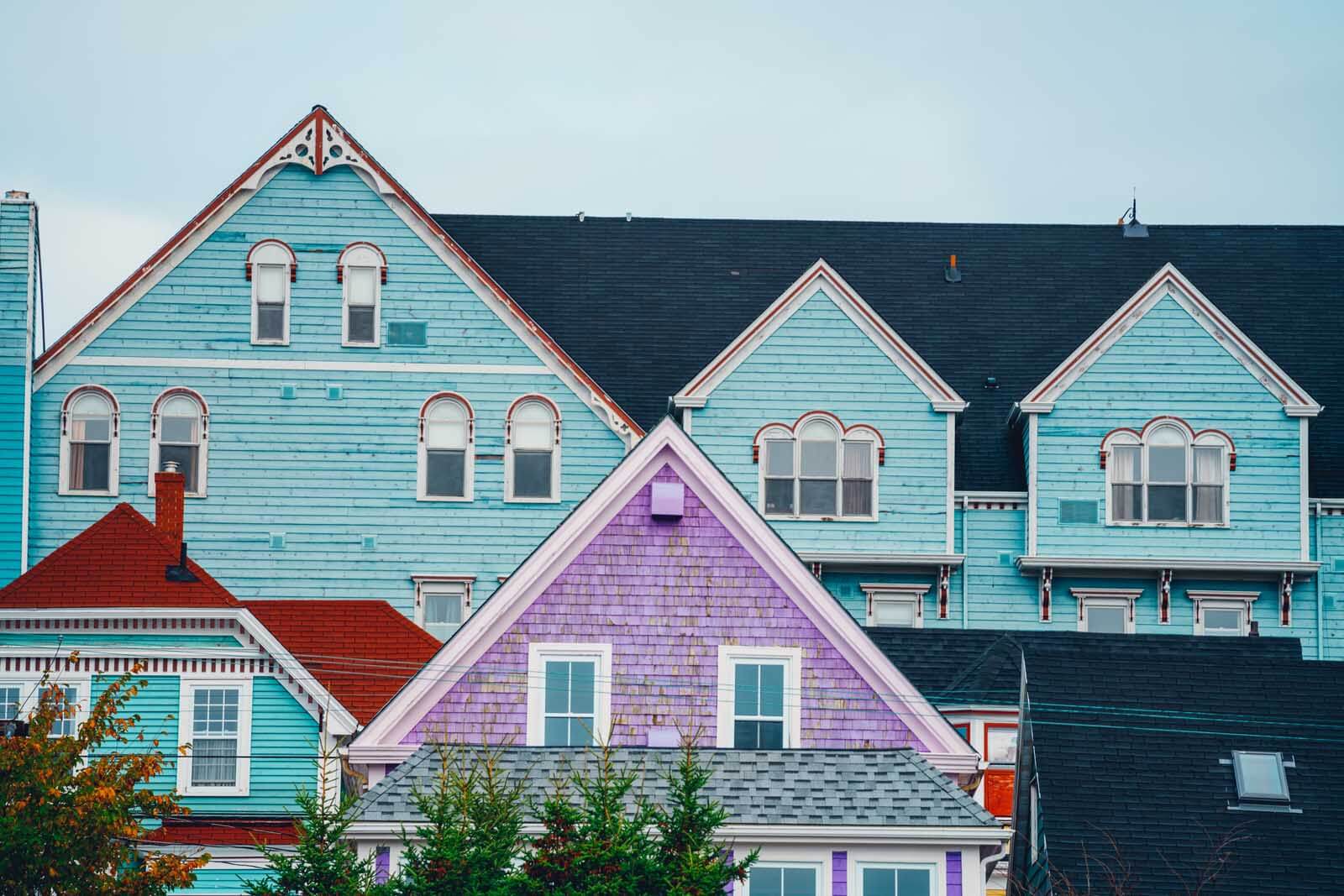 Smuggler's Cove
This laid back hotel is the perfect place to rest after exploring all the great things to do in Lunenburg with a prime location! The rooms are cozy and the hotel has shops on the first level as well as the restaurant and lobby.
We stayed here on our second visit and enjoyed the amenities that came with the room like the loofah. The location is perfect as well since you're right across from a bunch of great eating options.
Book Now on Booking.com | View Rates on Expedia.com | See Rates on Hotels.com
Lunenburg Arms Hotel
We recommend spending the night to enjoy all the amazing things to do in Lunenburg, Nova Scotia. One great option is the Lunenburg Arms Hotel which is where we stayed on our first visit.
This vintage hotel has a great location right in the center of town and is easy to access wherever you need to go by foot plus many rooms have a harbor front view!
Book Now on Booking.com | View Rates on Expedia.com
Things to do Near Lunenburg
Blue Rocks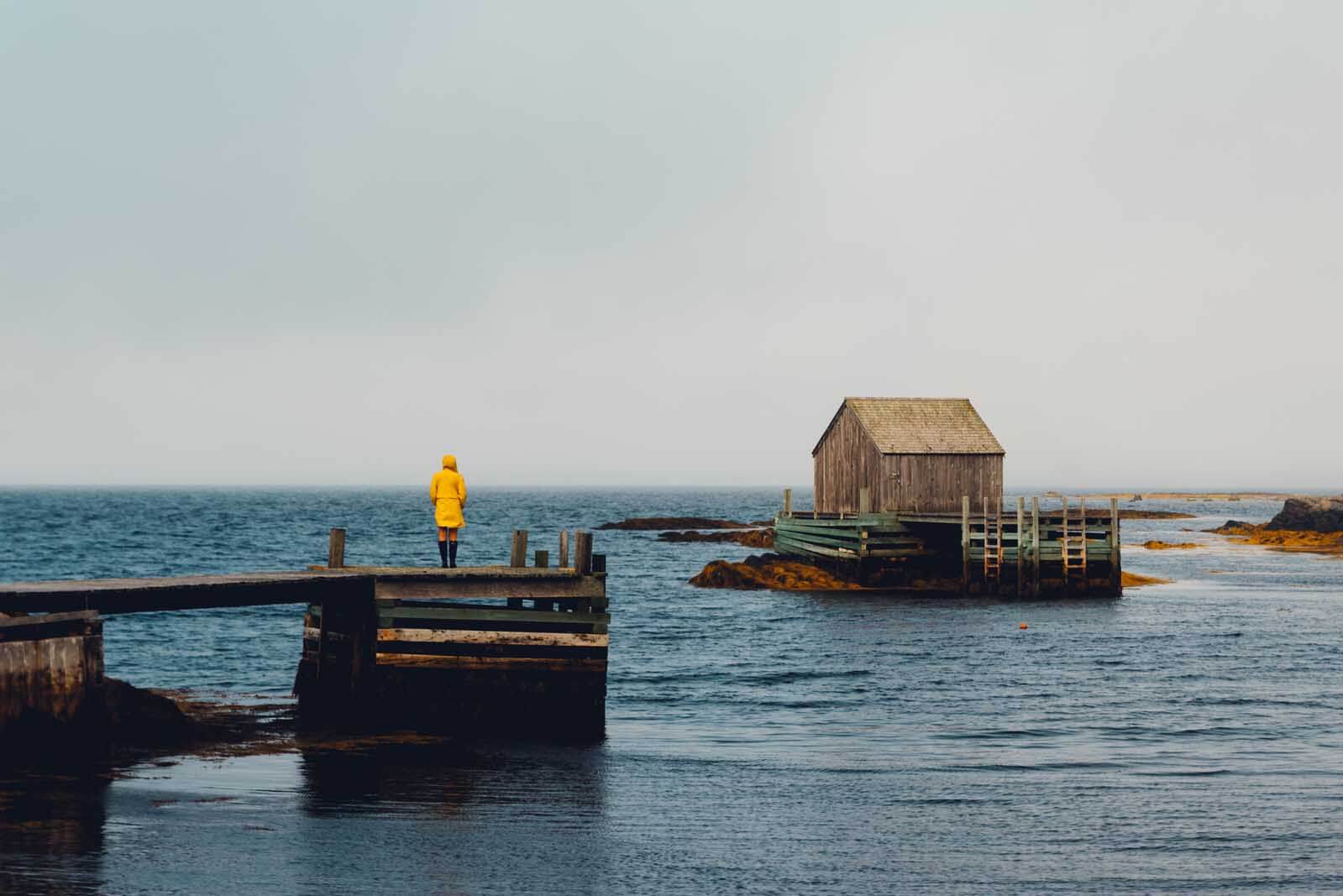 Just down the road from Lunenburg is another charming, small fishing community worth visiting. Blue Rocks is a charm of a destination in Nova Scotia along the South Shores. This is another one of those photogenic fishing communities that you'll be thankful you have a camera on hand for. Blue Rocks is actually a very popular photography location and has inspired artists and photographers dating back to the 1940s.
Spend some time checking out the tide pools at low tide and admiring the beautiful seaside fishing homes and facilities along the water, this is also a great place to take a kayaking excursion from.
Mahone Bay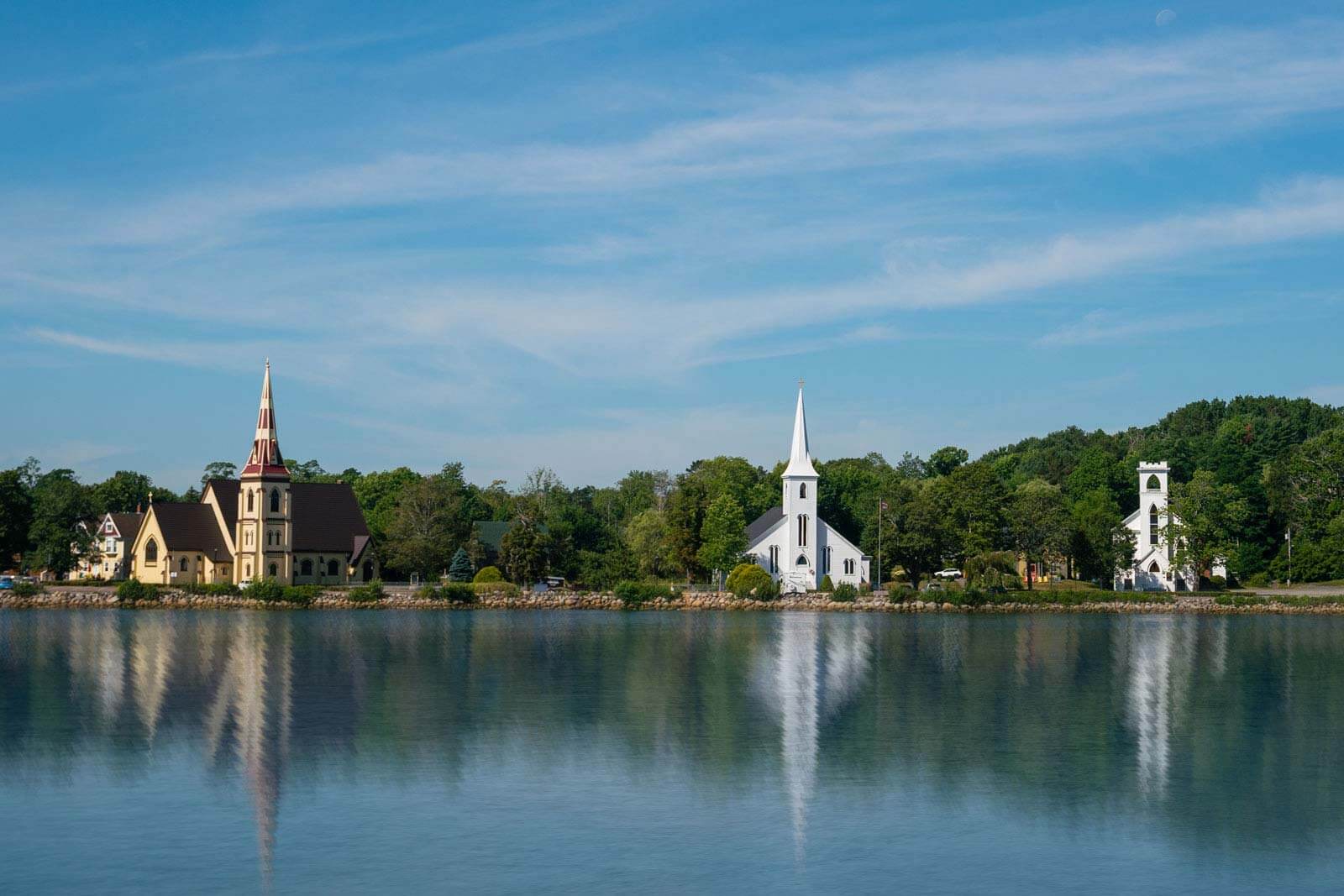 Another town near Lunenburg that's worth a visit is Mahone Bay. The most famous views and photo spots here is across from the bay looking into town at the three churches lined up next to each other right along the water.
The New York Times even described this town and scene as "pretty as a picture" which makes sense because it is often photographed and you can easily see why.
Besides a few adorable churches, Mahone Bay also boasts great shopping along its independently owned stores, cafes, restaurants, and walk along the water. This is a great stop for lunch or a snack if you're holding out until Lunenburg for a full meal.
This day trip from Halifax to Mahone Bay and Lunenburg covers both amazing destinations starting and ending in Halifax if you're looking to do just a day trip.
Chester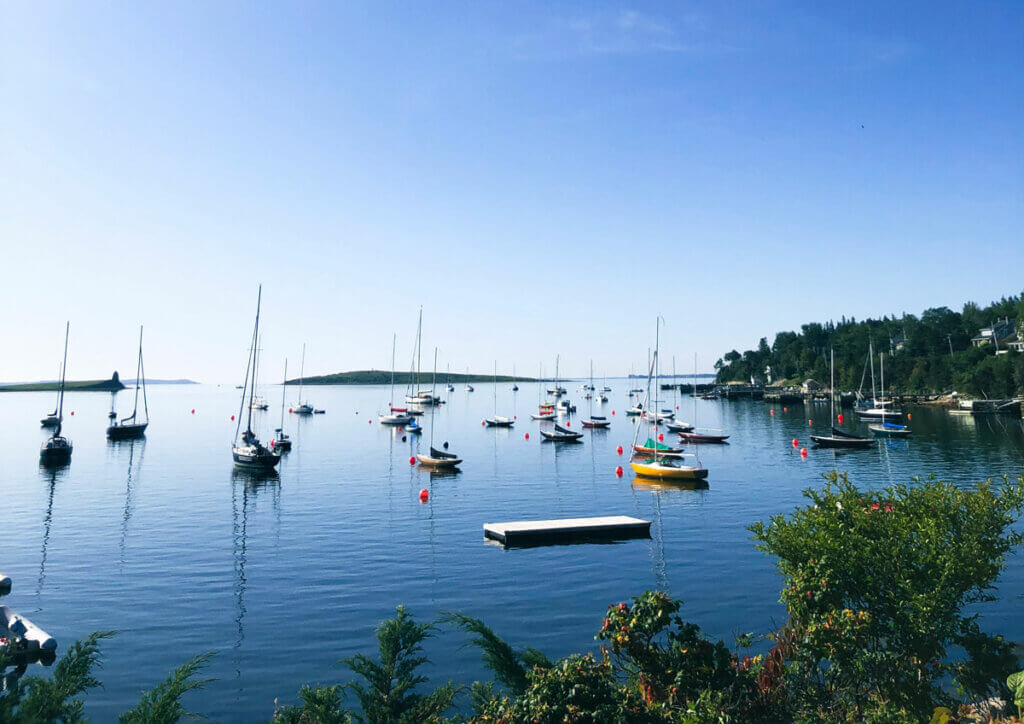 Chester is an interesting stop not too far from Lunenburg and another quaint seaside town. You probably won't encounter too many tourists here but worth stopping to see the charming downtown area where you can find cafes and shops to explore.
There's a memorial park with a statue of a soldier and even a public saltwater pool that fills at high tide located right on the shores of the harbor that's free to jump in for a swim.
You don't need much time here but this beautiful town is worth making a stop at even to recharge and get a coffee.
Tip: Drive down Queen Street to the waterfront and drive along South Street.
Peggy's Cove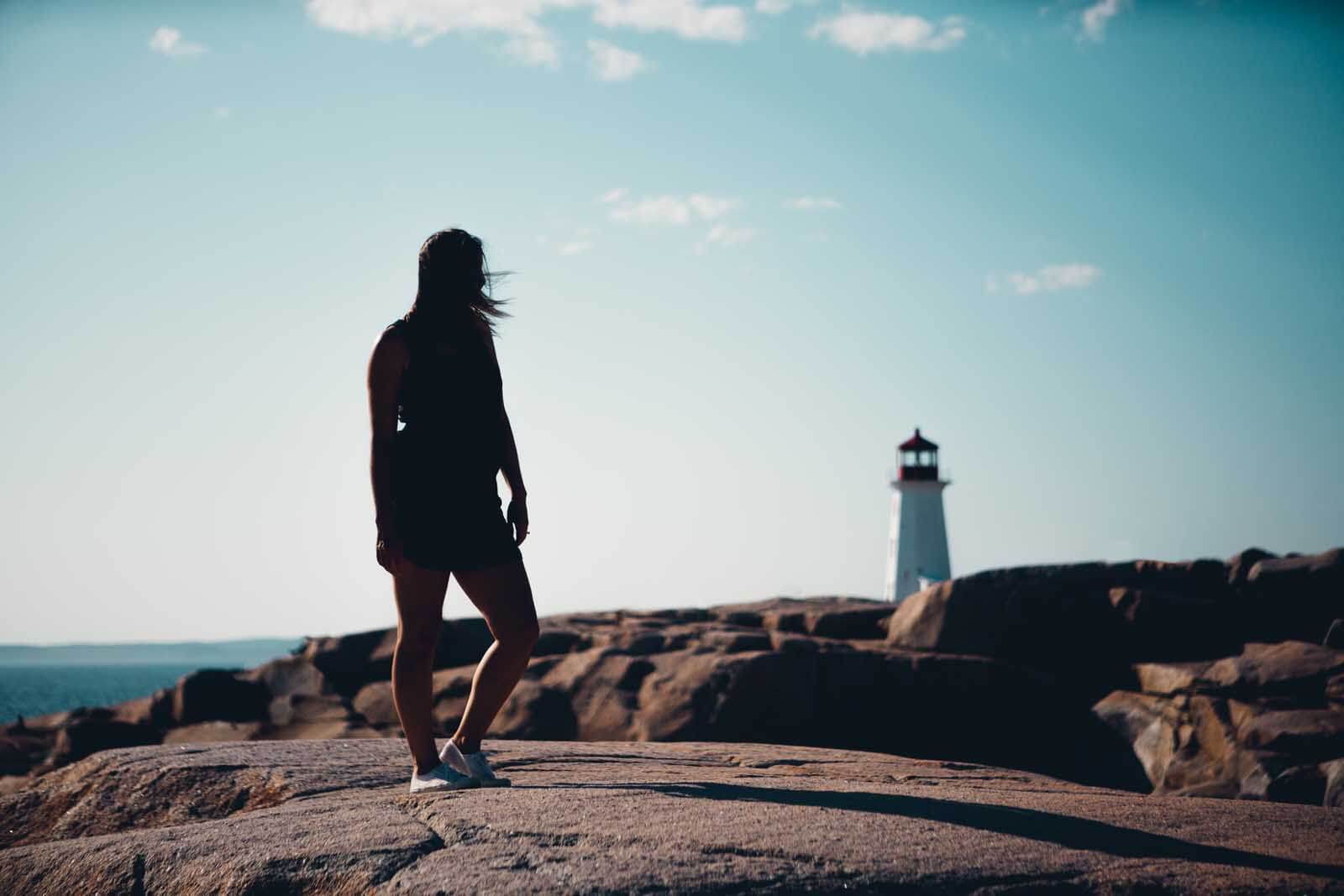 Probably the most famous stop in all of Nova Scotia and Atlantic Canada, and an easy trip from the town of Lunenburg is the world famous Peggy's Cove. Peggy's Point Lighthouse has been the subject of many photographs and paintings over the years and one of the most iconic images of Atlantic Canada.
The lighthouse here draws thousands of visitors a day and once you see it for yourself its no wonder why. Nestled on top of granite rocks along the sea, Peggy's Point Lighthouse is one of the most scenic and beautiful along the Lighthouse Route.
The fishing village in Peggy's Cove is also makes this a worthwhile and must-see Nova Scotia destination. Dotted with colorful shops, restaurants, homes, and even cottage rentals there's no shortage of charm here.
How to get to Lunenburg from Halifax
Getting from Halifax to the town of Lunenburg couldn't be easier. We happened to visit Lunenburg while on a Nova Scotia road trip through the South Shores and Annapolis Valley. However, if you find yourself just visiting from Halifax it couldn't be easier.
Driving you take the NS 103-W for 96 km or 60 miles. The drive takes approximately 1 hour and 4 minutes.
Luckily, driving in Nova Scotia is pretty straight forward if you're from the US making Lunenburg a really easy destination to visit!
Alternatively, if you don't want to rent a car or prefer a group tour you can join this day trip from Halifax to Mahone Bay and Lunenburg that starts and ends in Halifax or this similar tour that also stops at Lunenburg, Peggy's Cove, & Mahone Bay.
---
What is Lunenburg, Nova Scotia famous for?
Lunenburg, Nova Scotia, is famous for its well-preserved 18th-century architecture, colorful waterfront, and designation as a UNESCO World Heritage site. Known for its maritime history and shipbuilding, Lunenburg offers a charming and historic atmosphere for visitors.
Can you visit Lunenburg and Peggy's Cove in one day?
It is possible to see Lunenburg and Peggy's Cove in the same day, it's a lengthy drive (about 2.5-3 hours) between the two. Visiting both in one day may limit exploration time. Consider planning the morning at Peggy's Cove and an overnight stay in Lunenburg to fully enjoy each destination.
How do I spend a day in Lunenburg?
Spend a day in Lunenburg exploring its UNESCO-listed waterfront, visit the Fisheries Museum of the Atlantic, stroll past colorful historic buildings, enjoy fresh seafood, and take a boat tour. Immerse yourself in the town's maritime heritage and scenic coastal beauty.
Is Lunenburg worth visiting in winter?
While quieter in winter, Lunenburg, Nova Scotia, offers a unique charm with festive decorations and cozy ambiance. It's a worthwhile visit for those seeking a serene maritime experience, enjoying winter activities, and appreciating the town's historic architecture.
Liked this post about all the amazing things to do in Lunenburg, Canada? Bookmark for later or share the love below on Pinterest!