Looking for the best things to do in Willemstad in Curacao? We got you covered! Whether you're visiting as a day passenger on a cruise ship or are just on vacation to Curacao like us and want to get to know this vibrant city center, this guide is for you.
This vibrant, historic city is the capital of Curacao, which is part of the Dutch Caribbean. Willemstad was founded in 1634 by the Dutch West India Trading Company. Over the years, it became a very diverse city with a population representing Dutch, African, Jewish, and Spanish cultures.
Willemstad's historic center has been recognized as 1 of 5 UNESCO World Heritage sites in the Caribbean. The area is famous for its lovely Dutch colonial buildings painted in bright colors, all lining the waterfront of Sint Anna Bay. And you'll find all kinds of attractions for every taste, from museums, art galleries, and historical sites to bars, restaurants, and excellent shopping.
We spent a few days on the island and found that Willemstad, Curacao is a great place to begin exploring this beautiful island country! We also know that this is where cruise ships come for the day, as well as island hoppers. So, we put together this guide for what to do in Willemstad that works both for daytime visitors and for those who have a more time to venture out and explore!
If you're interested in what to do in Willemstad, start with our suggestions below (there are plenty). Whether you have a few hours or a whole week, you can use our list to create your personal Willemstad itinerary.
And if you have more time, check out our guide on things to do in Curacao for even more options!
Disclaimer: This post contains affiliate links.
What to do in Willemstad
Walk Across the Queen Emma Bridge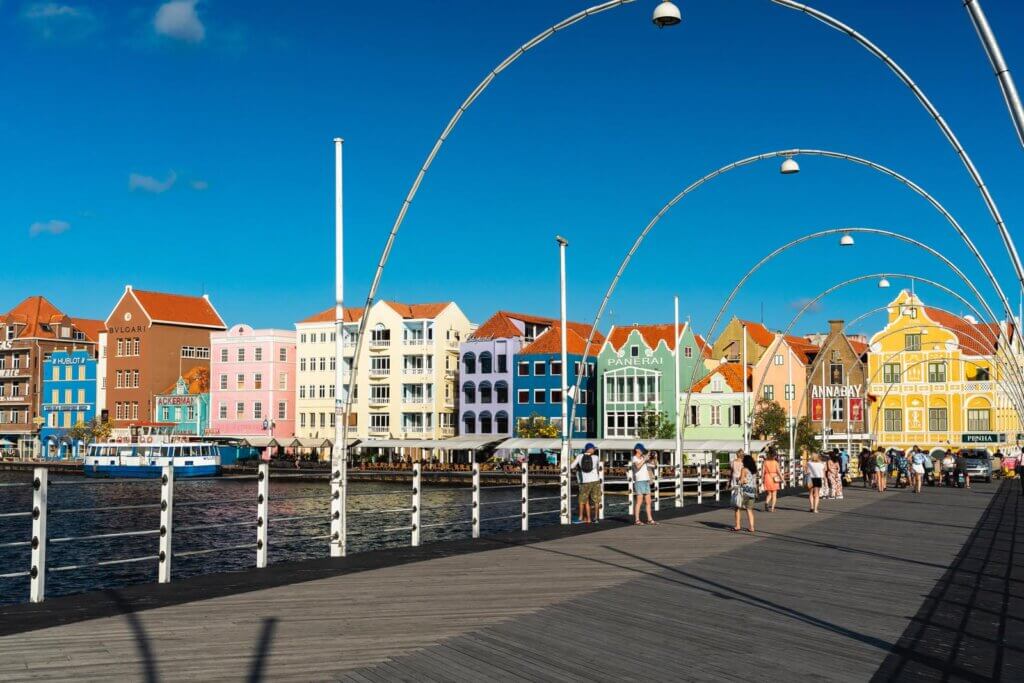 The Queen Emma Bridge, also known as the "Swinging Old Lady," is an iconic landmark in Willemstad, Curacao. Spanning the Sint Anna Bay, it connects the historic neighborhoods of Punda and Otrobanda. And its central location makes it the perfect introduction to Willemstad!
The bridge is pedestrian-only, providing a picturesque stroll for locals and tourists alike to cross the bay. Walking across the Queen Emma Bridge, you'll enjoy some of the best views of Handelskade, with its colorful row of pretty buildings! And try to visit at night, too, when the arches along the bridge are lit up like a rainbow.
What's so unique about this bridge is that it's a pontoon bridge, so it floats on the water and swings open horizontally to allow ships to pass through the channel. When it's about to open for crossing boats, you'll hear warning bells. Once the bridge is empty, gates are closed to pedestrians and you can watch the bridge in action! It's really fascinating to see as we have never seen a bridge like this before!
Hunt Down All the Murals in Otrabanda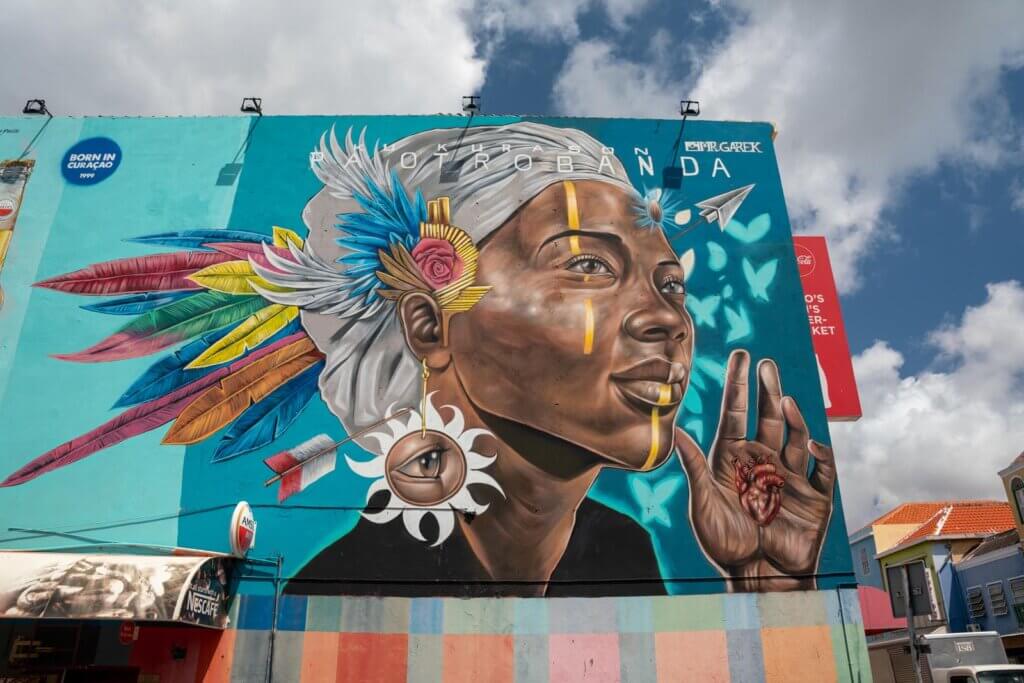 One of the oldest neighborhoods in Willemstad, historic Otrobanda is an exciting blend of the present and the past. It's where you'll find the best museums, trendy eateries, Dutch colonial architecture, and historical landmarks. And Otrobanda is the best place to explore the city's lively street art scene!
But where did murals in Willemstad come from? They're part of a movement started by Kaya Kaya, a festival held every September to promote the beautification of Otrobanda. More and more murals are added to the neighborhood every year, thanks to Kaya Kaya, and the more colorful, the better!
From Queen Emma Bridge, go to Frederikstraat, where you'll find a feast for the eyes. Then just wander the streets! Turn onto Willemstraat or Belvederestraat. Across from here is Hendricksteeg, a dead end with several excellent pieces you won't want to miss.
If you get hungry during your wandering, nearby is a top-notch restaurant, Bario Urban Street Food. They have excellent vegetarian and vegan-friendly options for those looking.
Eat at Restaurant & Cafe Gouverneur De Rouville
One of our favorite things to do in Willemstad was enjoying a meal with a view at Restaurant & Cafe Gouverneur De Rouville, or "De Gouverneur." The restaurant is in a beautiful old building with the best views of Handelskade across the Sint Anna Bay! You'll enjoy a widely international menu, but with a Caribbean influence including local specialties!
De Gouverneur offers local specialties, including Keshi Yena and banana soup. It was one of the best meals we had in Curacao and was by far one of our favorite restaurants from our trip!
The beautiful restaurant also boasts a variety of indoor and outdoor spaces across several levels. You can enjoy patios, elegant dining rooms, outdoor terraces, and more. It's perfect for both a sunny breakfast by yourself and a romantic dinner.
Join a Fun Tuk Tuk Tour of Willemstad
Take on Willemstad with a completely customizable 2-hour Tuk-Tuk tour! On this private tour, your guide will take you where you want to go. You might be interested in sightseeing, visiting museums, or shopping. Along the way, your guide will be there to share fascinating information and take photos of you!
If you're on a cruise and wondering what to do in Willemstad in a few hours, this Tuk-Tuk tour is made just for you. It's friendly to cruise ship passengers who need to get back to their boat on time! Enjoy an hour-long guided Tuk-Tuk tour covering the best sites in Willemstad, from the Queen Emma Bridge to the colonial mansions of Scharloo. Just book at times that work for your cruise's schedule.
Visit the Curacao Liqueur Distillery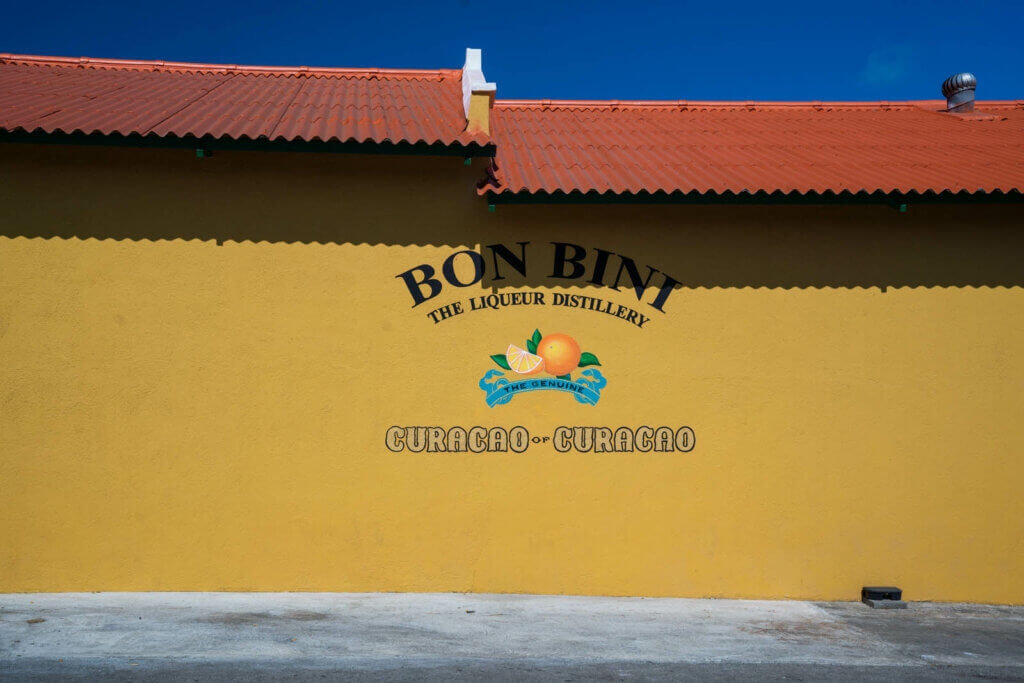 Landhuis Chobolobo is a liqueur distillery inside a 300-year-old plantation in historic Willemstad. If you're looking for historic things to do in Willemstad, this is a fascinating stop!
When colonists tried to introduce Valencia oranges to the tropical climate, they adapted to become inedible, bitter Lahara oranges. However, locals learned that the peels could be dried and used to make a fragrant citrus liqueur.
Curacao Liqueur is a must-try while on the island, but Landhuis Chobolobo is the only distillery producing the real thing by traditional methods. They even grow Lahara orange trees on the plantation estate and you can see them when you take a tour.
Located in the Saliña neighborhood of southeast Willemstad, it's just out of walking distance. You can go on your own, or if you don't want to rent a car you can join a tour with pick up and drop off. And this one is one of the more extensive tours with a cocktail workshop at the end.
Shop Around Punda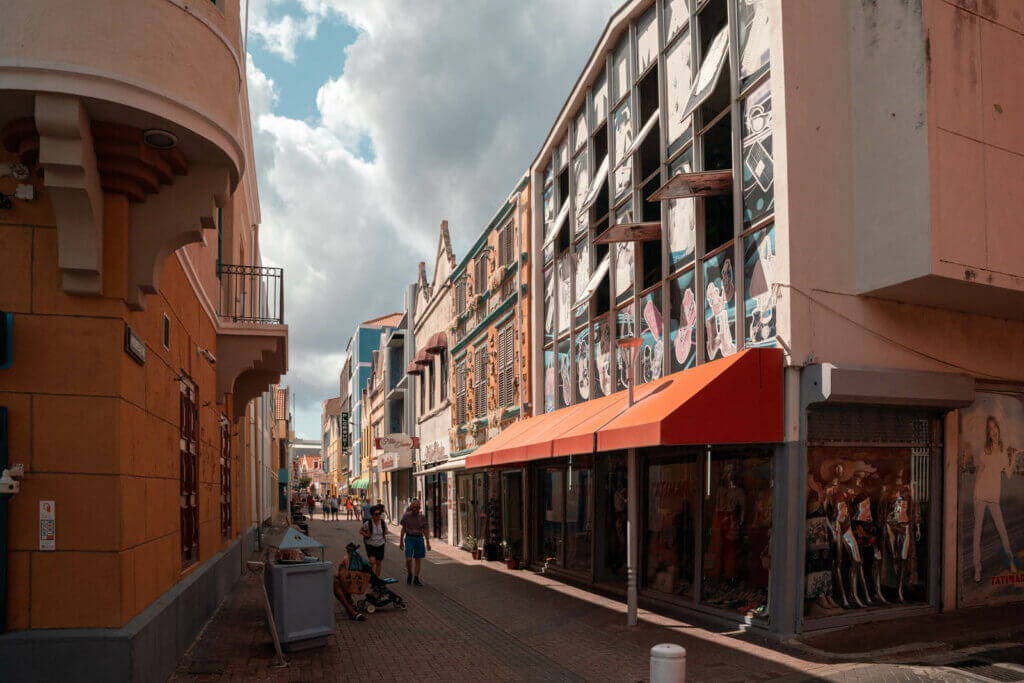 Punda is a historic neighborhood in old town Willemstad, Curacao that offers excellent shopping opportunities. Throughout the area, you'll find all kinds of boutiques, art galleries, markets, and gift shops. There are local businesses and international brands you know. And while you'll find places to shop on every street in Punda, there are few places to focus on.
The most interesting stop in Punda is definitely the Floating Market! You'll find it near the Queen Wilhelmina Bridge. This is where Venezuelan merchants dock their boats to sell fresh fruits, vegetables, and fish.
And if you want to pick up souvenirs and unique Curacaoan products, visit Marshe Nobo. This large indoor market features vendors selling fresh produce, locally made products, souvenirs, handmade jewelry, and more.
For more mainstream shopping, head to either Breedestraat or Handelskade. Both are bustling shopping streets lined with colorful buildings. Come here for a mix of international brands, fashion boutiques, local stores, and gift shops, as well as cafes and restaurants.
Wander Around the Historic Pietermaai District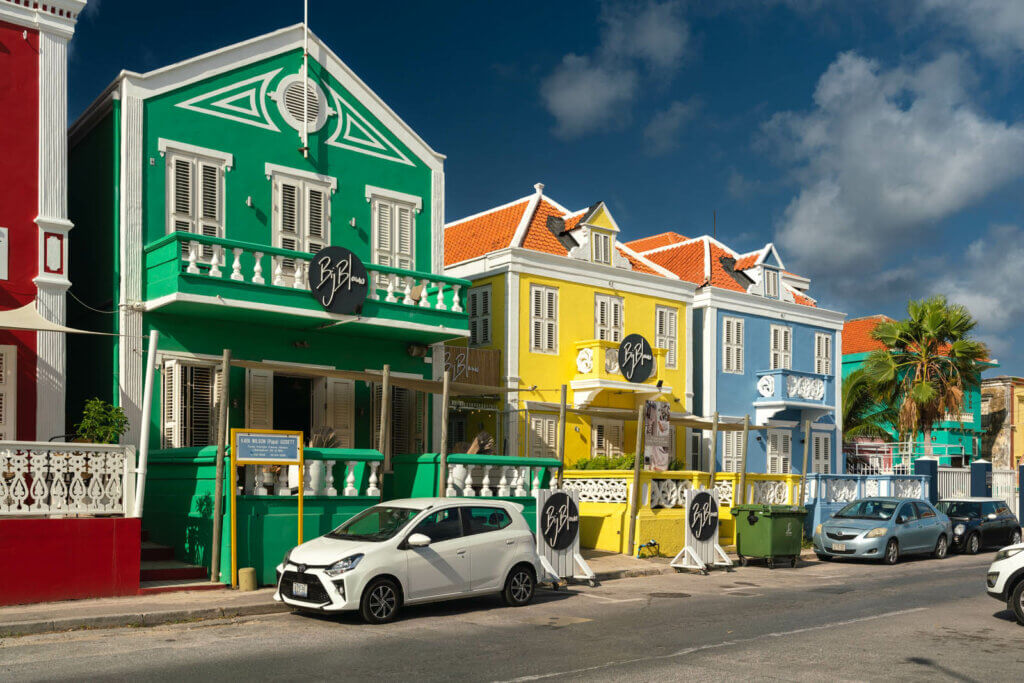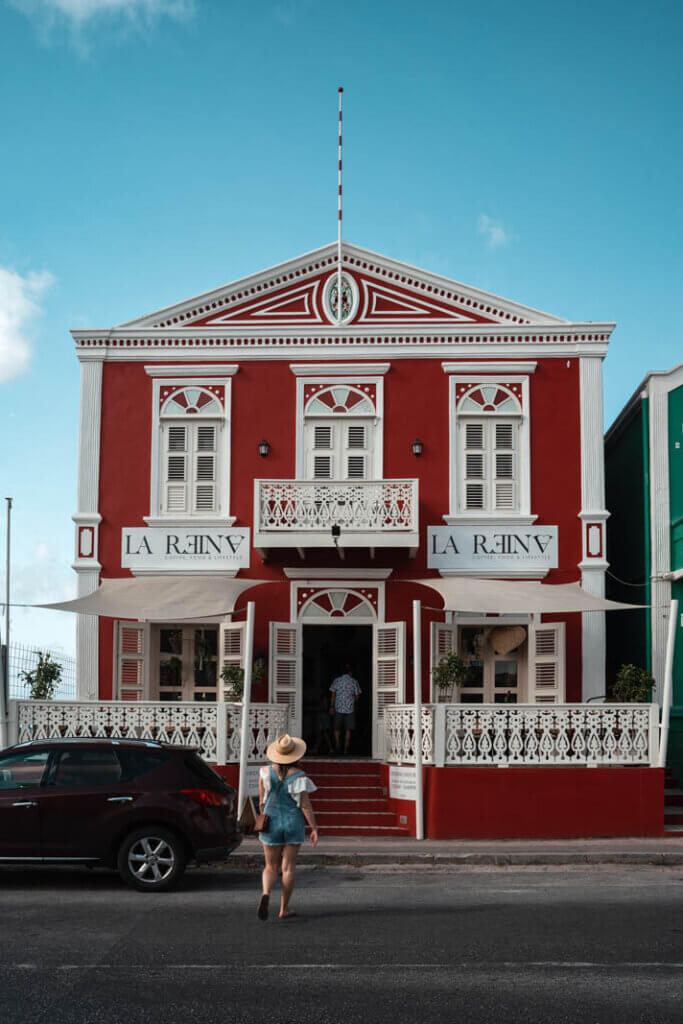 One of the oldest neighborhoods in the city, the Pietermaai District offerings a variety of things to do in Willemstad in one place! If you don't have much time, you could simply walk through the streets of Pietermaai to admire the colorful buildings.
The neighborhood also has an impressive culinary scene with creative restaurants and cafes. Or head here after dark for the nightlife, with waterfront bars and clubs.
We loved BijBlauw, which includes a hotel and boutique shop selling handmade items. Or enjoy a cocktail at sunset at their bar and restaurant next door!
And take time to stop by La Reina Coffee Food and Lifestyle! This is such a cute spot for shopping and enjoying a light meal.
If you're looking for a place to stay in Curacao, you'll find the best boutique hotels lining the waterfront of Pietermaai in beautifully restored historic buildings. Scuba Lodge is a lovely choice, set in a stunning yellow structure from the 1800s. Rooms and apartments are impeccably designed and you can enjoy an onsite restaurant, spa, and dive center.
Visit Mikvé Israel-Emanuel Synagogue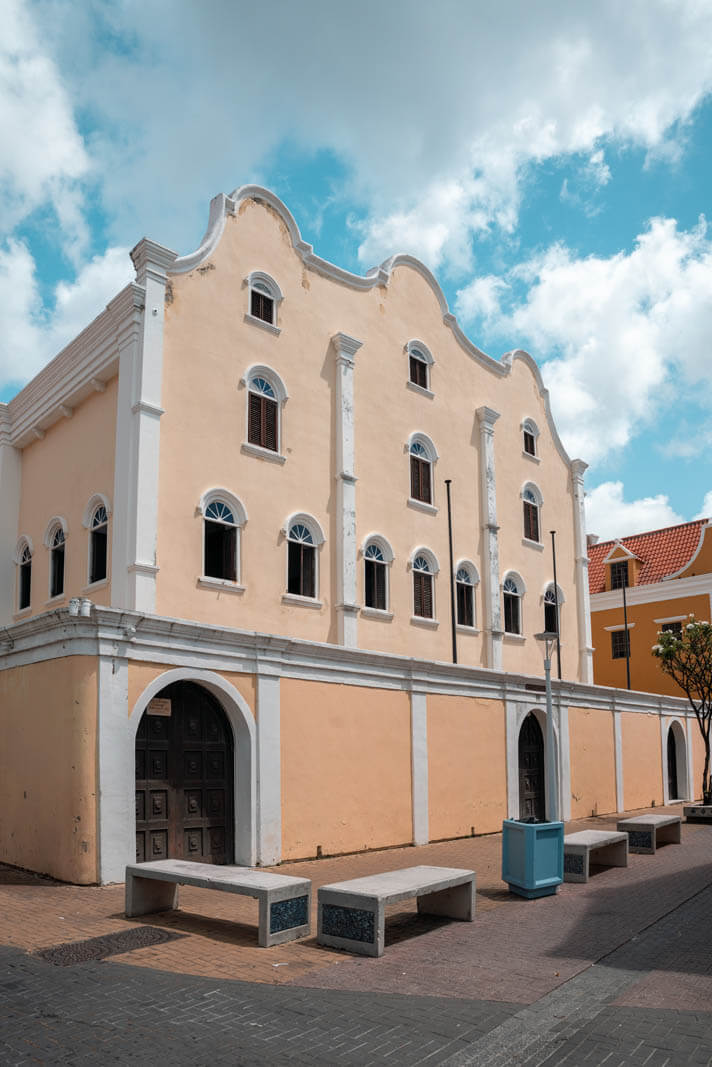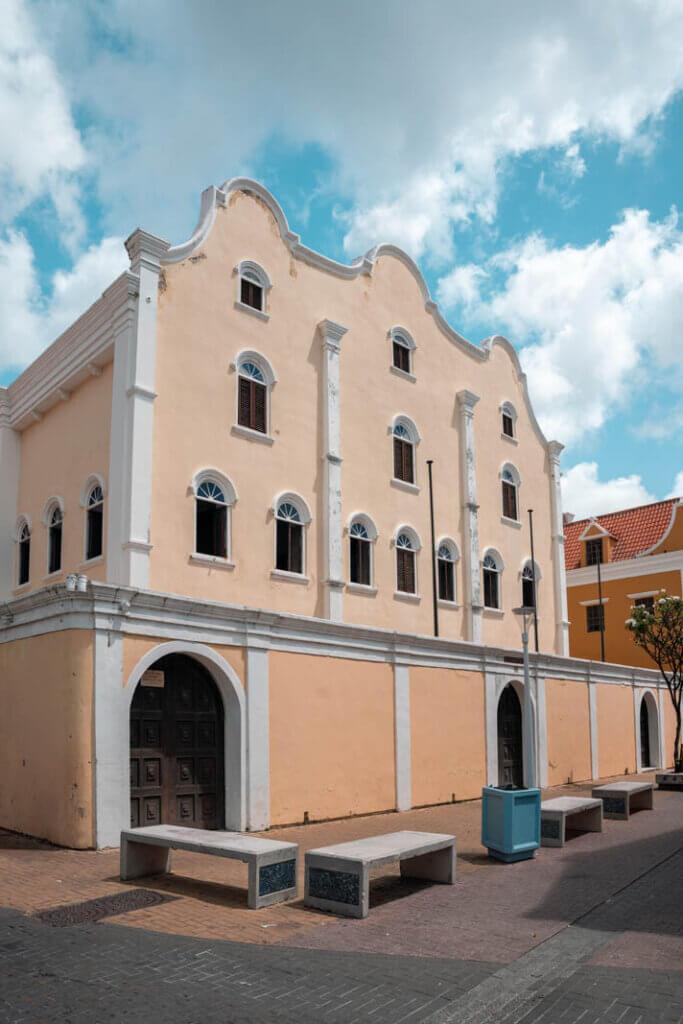 The Mikvé Israel-Emanuel Synagogue is both a religious and historical site that offers visitors a glimpse into Curacao's Jewish heritage. Built in 1732, it's the oldest surviving synagogue in the Western Hemisphere. The temple in Punda serves as a symbol of the island's Jewish community and its place in Curacao's history.
Monday through Friday, the synagogue is open to visitors for a small admission fee. Adjacent to the synagogue, there's the Jewish Cultural Historical Museum, which is included with your ticket. Here, you'll learn more about the Jewish community of Curacao through religious artifacts, historical documents, and photographs.
If you truly want a deeper understanding of Curacao's Jewish history, you can take an in-depth, 3-hour Jewish heritage tour through Willemstad. Your guide will pick you up at take you to important sites including the Beth Haim Jewish cemetery and Landhuis Chobolobo. This tour is also an excellent choice for cruise ship passengers with pick-up from the docks.
Get Yourself a Chichi Doll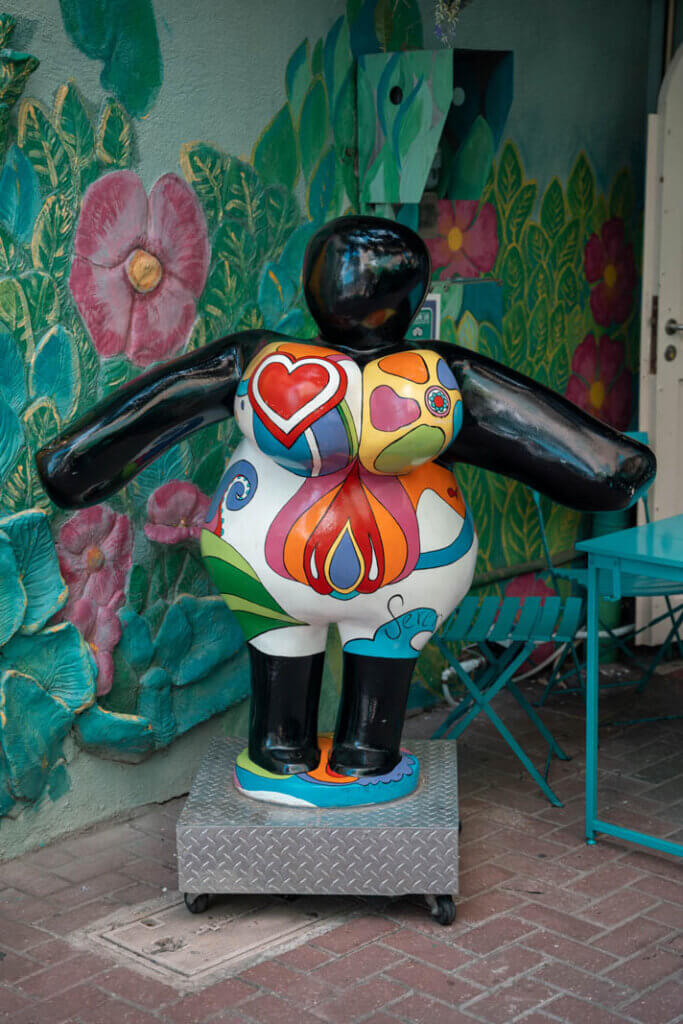 While you're shopping in Punda, you'll want to stop into the Chichi Shop on Windstraat, especially if you're looking for unique things to do in Willemstad! And of course, I was excited because I mean, I am Chichi!!!
This is the art shop of artist, Serena Janet Israel, who created her sell-out Chichi dolls. Here, you can purchase a one-of-a-kind Chichi doll and learn about what it represents.
You might see a sculpture of the doll during your exploration of Willemstad. Inspired by Caribbean women, the doll features a curvy figure symbolizing feminine strength.
Each Chichi doll is painted in a different design, always using bright colors. Israel also collaborates with other local artists to paint unique Chichi doll designs, which you'll see for purchase in her Punda shop.
If you have time, Israel also offers workshops at her studio where you can paint your own Chichi doll! You can help create your own unique Curacao souvenir! Serena's Art Factory is located outside of Willemstad, though, on the road to Sint Joris Baai.
Join a Walking Tour of Willemstad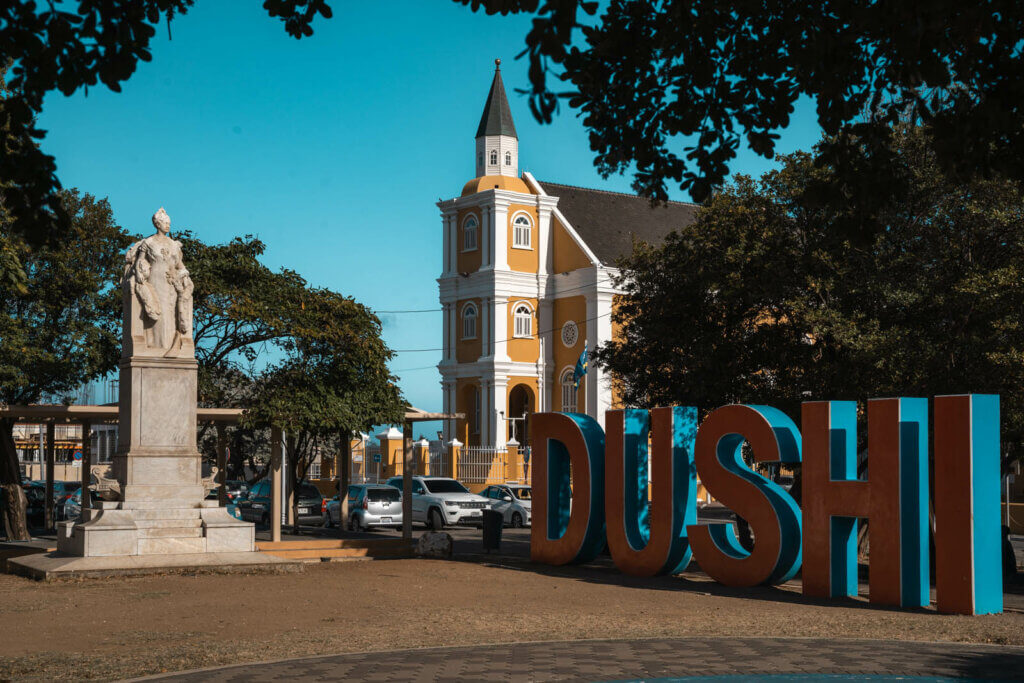 Sometimes, the best way to experience a new place is with a passionate, knowledgeable guide leading the way! This 90-minute walking tour of Otrobanda will give you a wonderful look at the most essential sites in Willemstad.
You'll learn about Curacao's detailed history while you walk down the streets of beautiful Otrobanda. Your guide will point out colonial buildings, important cultural sites, and historic landmarks. Take pictures with beautiful murals and walk the Queen Emma Bridge!
Kura Hulanda Museum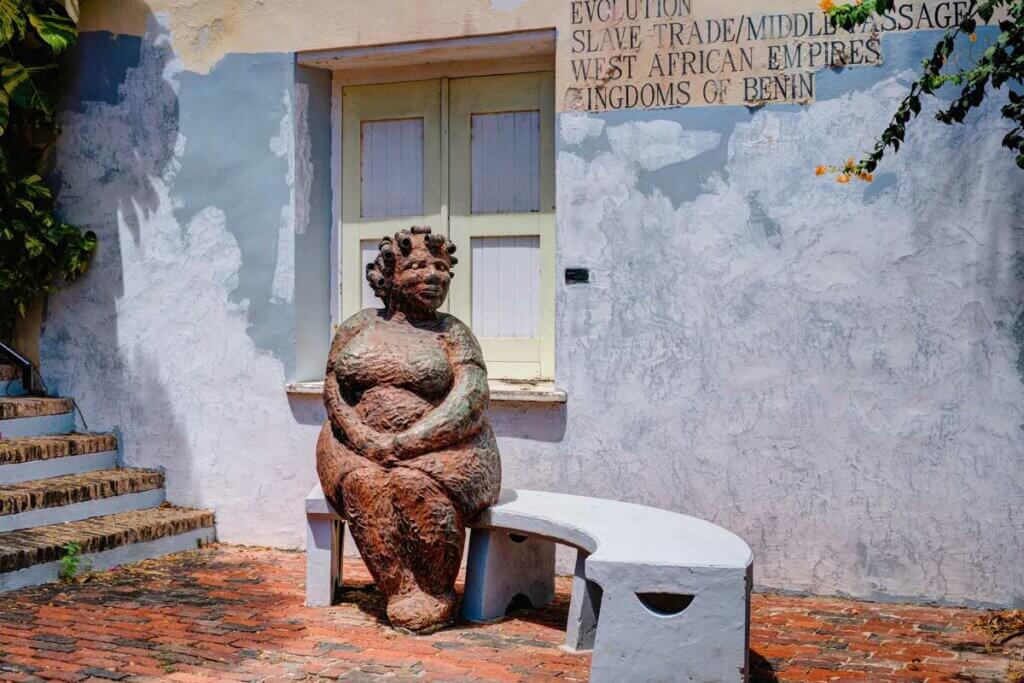 When the Dutch colonized Curacao in the 1600s, the island's strategic location quickly made it a major trading post and a hub for slave trade in the Caribbean. Today, the Dutch Caribbean is recognized for its cultural diversity and autonomy. But it's important to remember that such success is rooted in the enslavement of human beings. The Kura Hulanda Museum tells the story of those people.
History buffs and more casual tourists alike will find visiting this anthropological museum to be one of the top things to do in Willemstad. You'll get a detailed look at the history of slave trade, the African diaspora, and how slavery shaped Curacao and the Caribbean. It's an emotional experience, seeing historical artifacts that tell the story of enslaved people, including bills of sale, shackles, personal items, and more.
When you visit the Kura Hulanda Museum in Otrobanda, you'll pay a small fee for access to all the exhibits. This is a popular museum in Willemstad, so be sure to purchase skip-the-line tickets in advance.
Take A Cooking Class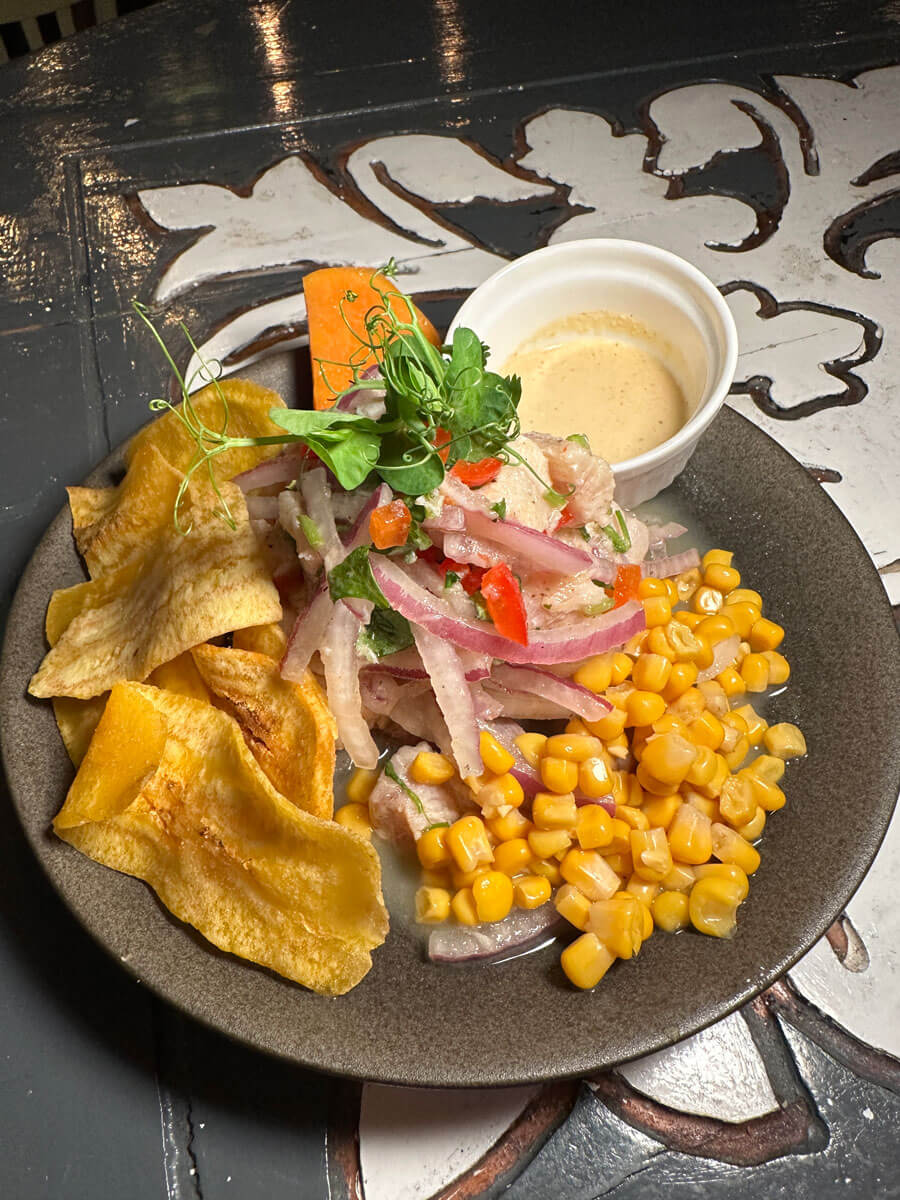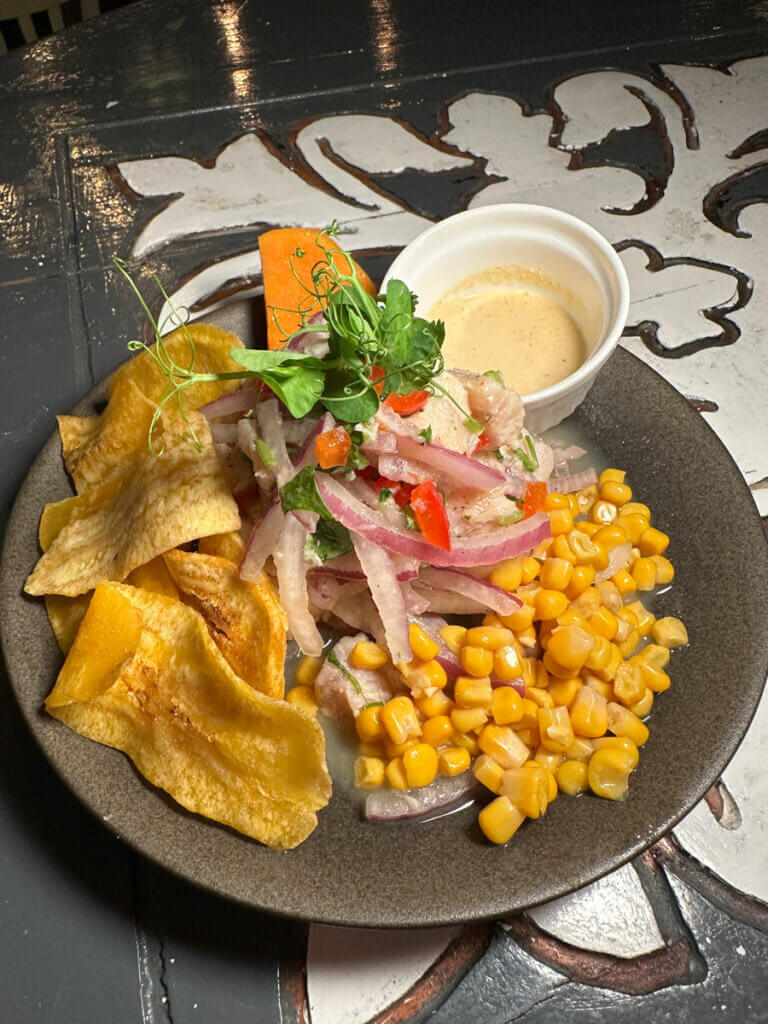 Wondering what to do in Willemstad that's more hands-on? Take a cooking class with a local chef! Food is the best way to learn about a different culture and Curacao food tells a detailed story. It's also a great way to make friends.
During this half-day group cooking class, you'll learn all about Caribbean fruits and vegetables and how to properly fillet a fish! Step by step, you'll make a multi-course meal centering around a Curacaoan ceviche. Then enjoy the fruits of your labor with a family-style meal that you prepared yourself!
Have Lunch at Old Market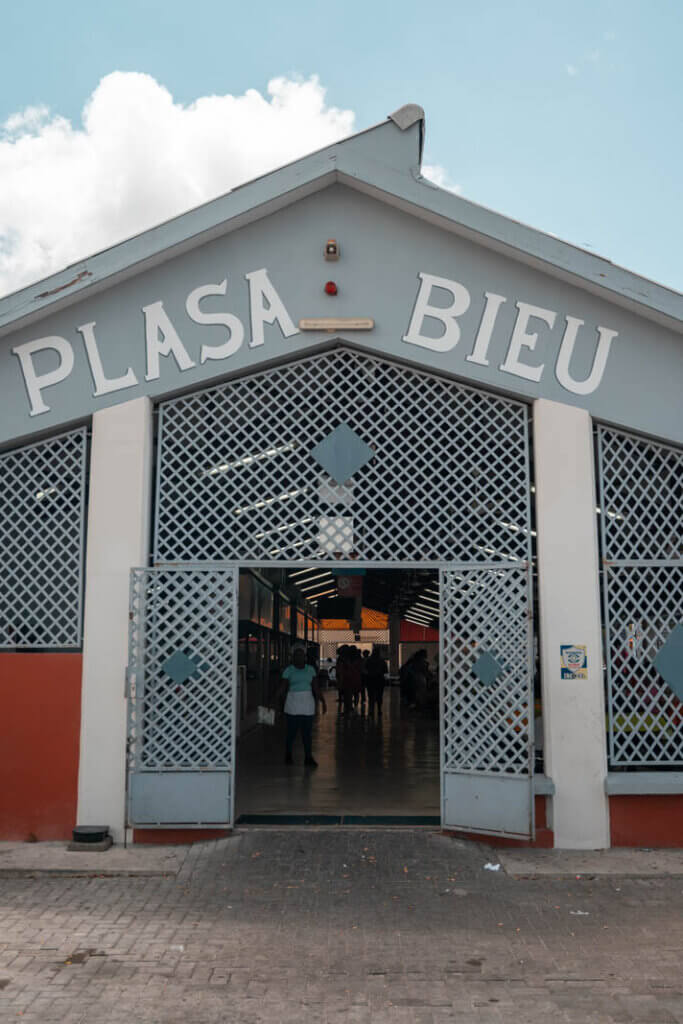 If you ask a local for recommendations on where to eat in Willemstad, Curacao, they'll probably name this place! Plasa Bieu, or Old Market, is a rustic food court-style market in Peitermai, next to Marshe Nobo. This is where locals and tourists alike come for some of the best local food on the island!
Inside you'll find different food vendors and lots of picnic tables for dining. They're open every day from roughly 10 AM to 2 PM, so plan on coming for lunch! Take the opportunity to try different signature dishes, like goat stew, Karni Stoba, or pumpkin pancakes.
Shop at Marshe Nobo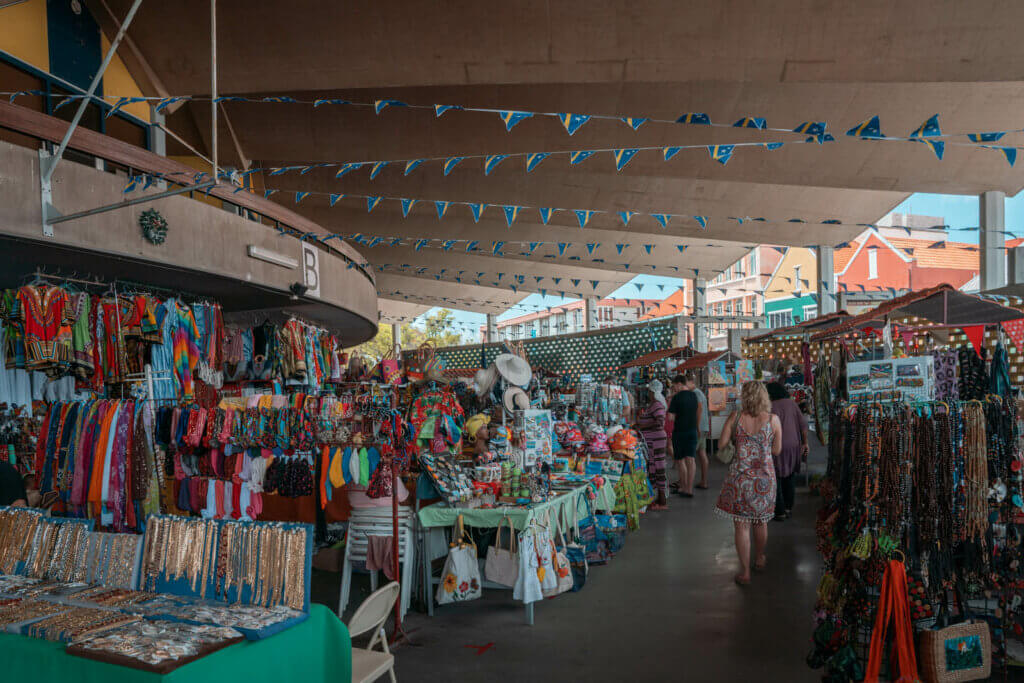 Marshe Nobo is the place to come if you're looking for souvenirs and authentic items from Curacao. It's a circular-shaped, open-air market with food, local products, and other random stands!
You'll find everything from handcrafted jewelry and bags to household goods and fresh island produce. One vendor might be selling Curacao magnets while the next will be selling tribal-print shirts or beach bags!
There are more food vendors, selling everything from hot plates and fresh smoothies to popsicles and cold beverages. Make sure to grab a fresh coconut to hydrate while you explore this colorful market!
While you're leaning into your role as a tourist of Curacao, take advantage of some photo opportunities nearby! Enjoy a stroll from Marshe Nobo down to Wilhelmainapark, where you'll find a brightly colored Curacao Sign and a Dushi sign. Sometimes you'll see other art installations here too, including an infamous Chichi Doll!
Explore Scharloo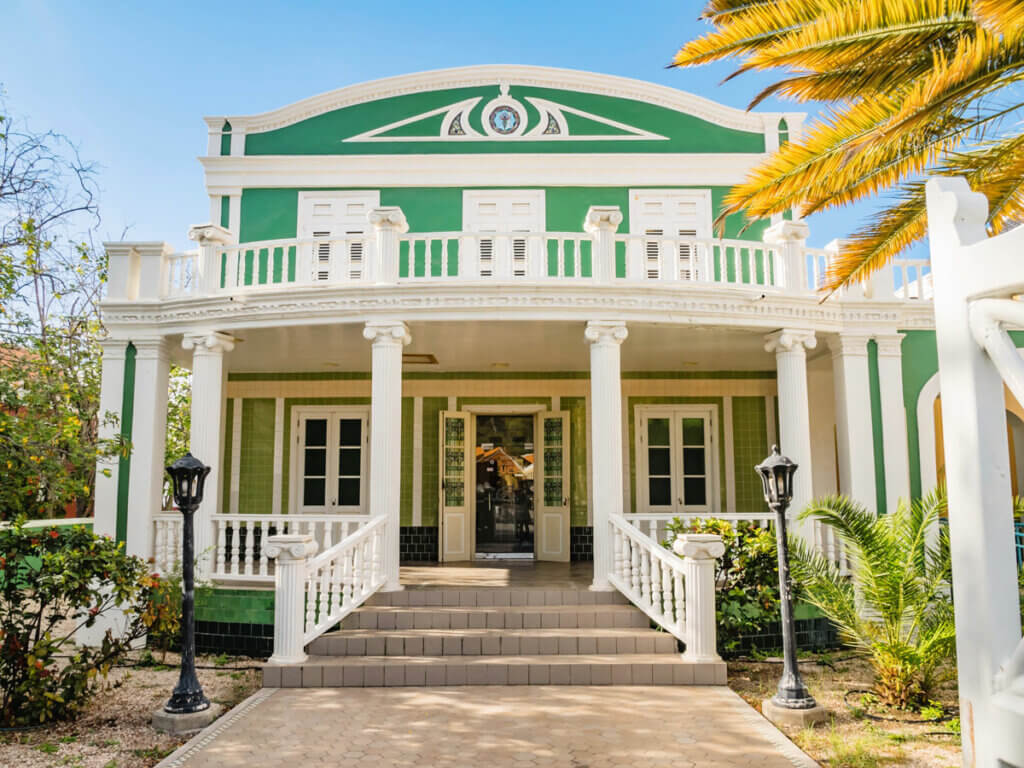 Hunting for art murals in Scharloo is one of the best things to do in Willemstad! Once a neighborhood of stylish villas and baroque mansions, by the 1980s, Scharloo was abandoned and falling into disrepair. A local initiative to renew the neighborhood brought local artists in to restore the beautiful old buildings and add their personal touch.
Annually, Street Art Skalo brings local artists and Willemstad businesses together to collaborate on works of art in Scharloo. To date, there are less than 10 permanent pieces, all located along a handful of blocks on the wharf-side of the district (Scharloo Abou).
Start on Bitterstraat near the Street Art Skalo parking lot to see several pieces. Along Bitterstraat you'll find what is probably the most famous piece to date, on the corner of Vanraderstraat. From here, continue into Parke Leyba for more 3D pieces and murals. You can also use this interactive map as a self-guided tour of the neighborhood.
Attend Carnival!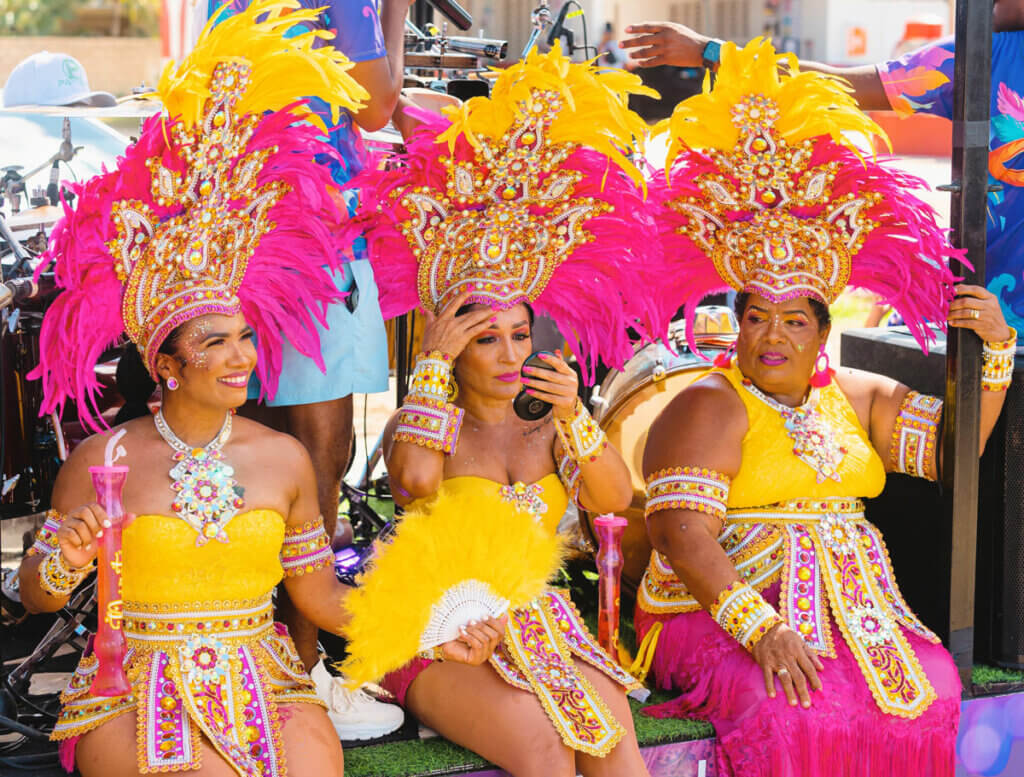 There's no better time to visit the Dutch Caribbean than during Carnival! Dates vary from year to year but you'll typically find street parties, Tumba festivals, Calypso parades beginning in January and finishing up the weekend before Lent. It's an endless party and people come from all over the world to attend!
Caribbean Carnival season has a fascinating history. It began in Curacao as it does in many cultures, as a celebration of Fat Tuesday through the Catholic tradition. Over time it's become a cultural event with its own unique myths and traditions. All the main festivities are held in Willemstad, but you'll find parties across the island.
There are family-friendly parades, LGTBQIA+-friendly events, contests, parades with elaborate floats, and more. The 2 main parades are the Gran Marcha, or the Grand Parade, and Marcha di Despedida, or the Farewell March.
Sample Curacao Rum at Anna Bay Club Rum Store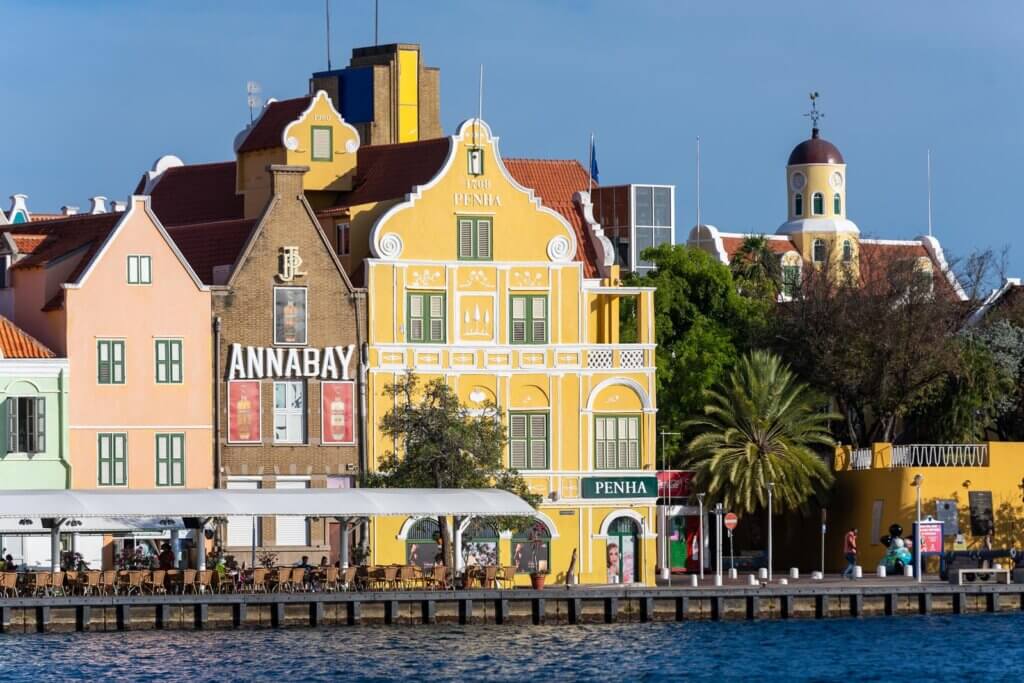 You can't visit the Caribbean without picking up island-made rum! Connoisseurs looking for what to do in Willemstad should plan a visit to the Anna Bay Club Rum Store. This is a bit of a hidden gem not far from the main strip of shops around the corner on Handelskade.
Walk through the doors of Anna Bay Club and you'll be right in the middle of the rum locker. You can shop for your favorite booze and try free samples!
Or book a tour to learn about the history of rum in the Caribbean and how it's made. Your guide will provide a tasting of a variety of samples from the locker's wooden barrels.
Check out Rif Fort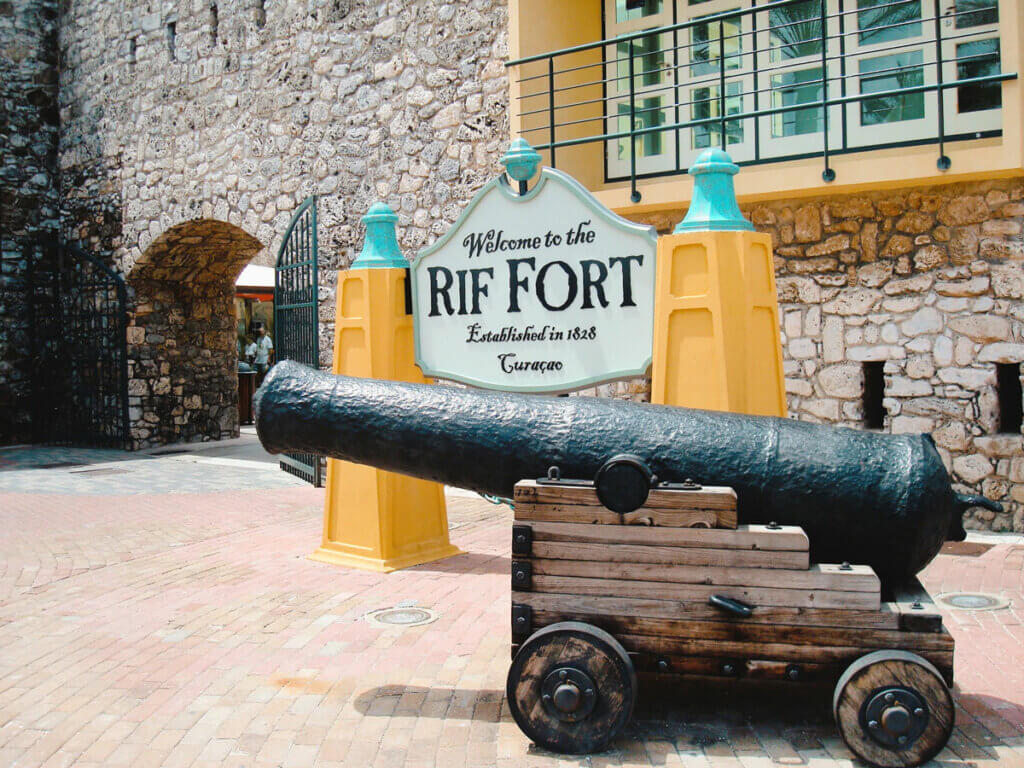 Rif Fort in Otrobanda is a historical coastal fort turned shopping center, Renaissance Mall! There are a variety of things to do here, including souvenir shopping, eating good food, and exploring the fort. This is a popular stop for cruise ship passengers, being a quick stroll from the pier.
Built in the 1800s, Rif Fort is a reminder of Curacao's colonial past. You'll see thick rock walls, stone archways, and ramparts with old cannons! You can even climb up to the top of the fort for a quick view of the bay. Or just enjoy the aesthetics while you shop both high-end brands and gift shops throughout Renaissance Mall.
If you only have a few hours, this is a great place to come. You'll find all the best of Curacao here, from handmade souvenirs and local artwork to local cuisine. There are different pop-up attractions, too, like art exhibitions and live music performances. You'll also find a movie theater, restaurants, coffee shops, and more.
Fort Amsterdam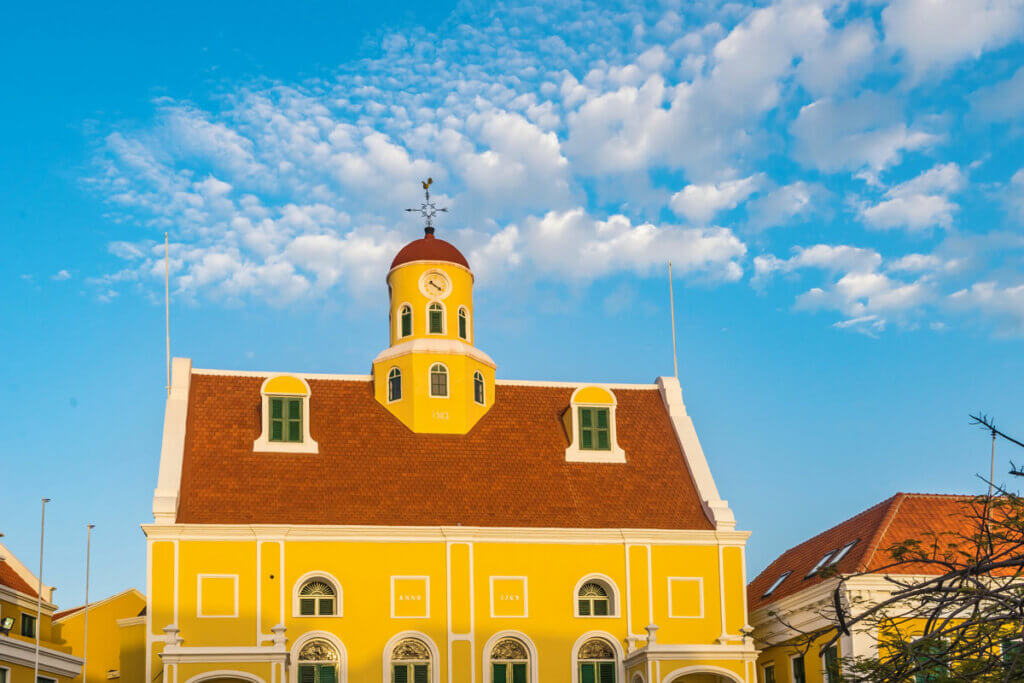 While you're looking for things to do in Willemstad, stop by Fort Amsterdam. Built in 1636, it's the old-functioning fort in the Caribbean. Once the military center of Curacao and the headquarters of the Dutch West India Company, it's a beautiful colonial-style building filled with history.
You can visit the church and museum at the fortress, but most of Fort Amsterdam houses government offices. However, you can walk the walls for panoramic views of Willemstad, including the iconic Handelskade waterfront! The church and museum are free to visit, Monday through Friday, but only between 9 AM and 1:30 PM.
Day Trips from Willemstad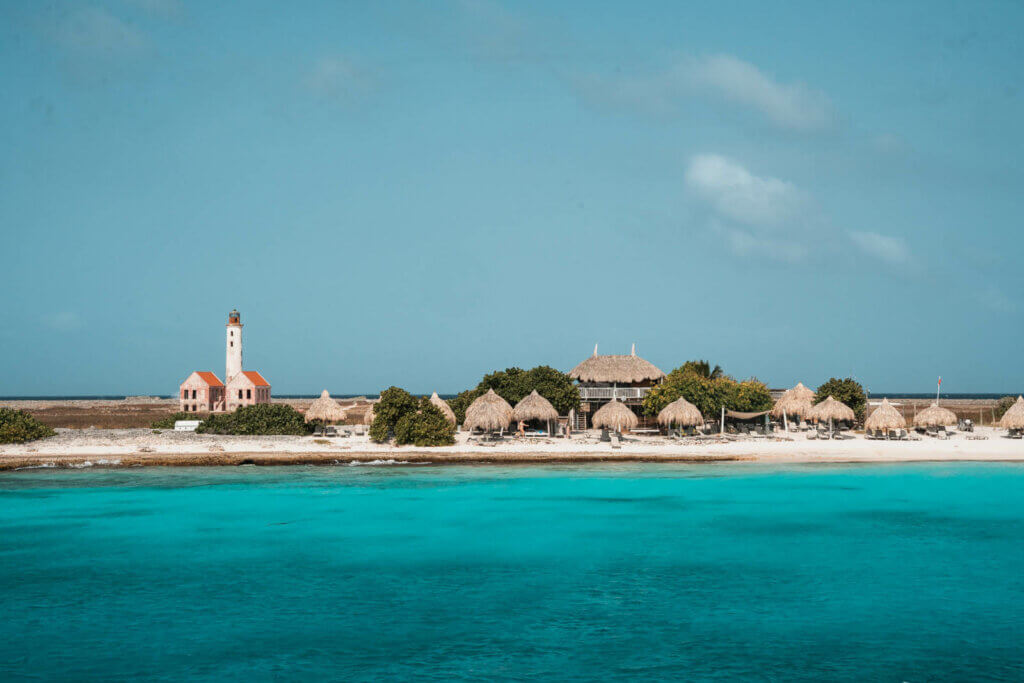 While you're visiting Willemstad, Curacao, you might be looking for things to do across more parts of the island. Consider a day trip from Willemstad if you have the time! Here are a few options we recommend:
Where to Stay in Willemstad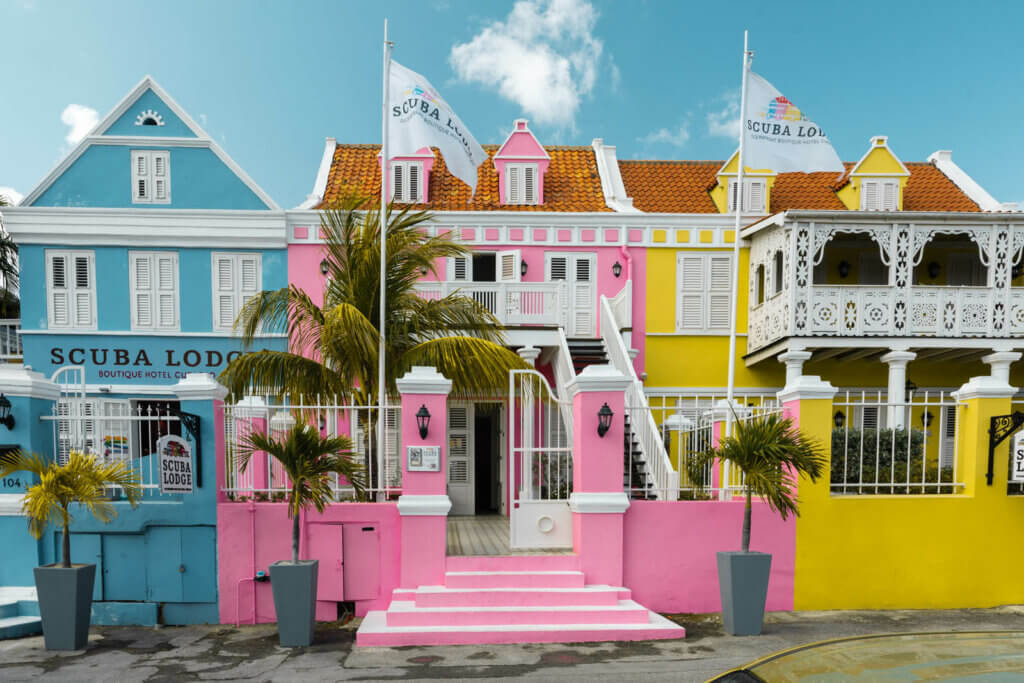 Willemstad is an excellent base for exploring Curacao as there are many great hotels and accommodation options! This is perfect for those who want to be walking distance to all the best things to do in Willemstad.
If you're looking to explore more of Curacao, you'll still probably want to rent a car to explore around.
We stayed at Wynwood Boutique Hotel which are spacious apartments that felt more like an Airbnb (without asking us to do a list of chores before checking out) located in the historic Pietermaai District. The location and apartment were fantastic, but the beds were a bit firm and they cut corners on a few basic amenities like certain toiletries.
That being said, it was a nice stay overall if you're not worried about a very firm mattress. This spot is ideal for anyone looking to enjoy nightlife too as the bars nearby were open late night, which you could also hear from the rooms here.
Since we are sort of out of that stage in our lives, if we were to do Willemstad over again we think we'd be better suited for the colorful Scuba Lodge and Ocean Suites which is also in Pietermaai and walking distance to Willemstad attractions, but on a little more quiet part of the historic district.
The other option we'd consider was located next to Scuba Lodge with an absolutely breathtaking, upscale property was Bijblauw Hotel located right on the water with a gorgeous waterfront restaurant.
---
What is Willemstad known for?
Willemstad, Curacao is known for its vibrant and colorful Dutch colonial architecture, particularly in the historic district of Punda. The city's UNESCO World Heritage site status, stunning pastel-colored buildings, and the floating Queen Emma Bridge.
Can you walk around Willemstad, Curacao?
You can easily walk around to all of the best things to do in Willemstad, Curacao. Almost everything there is to do in the city is within walking distance or a very short taxi ride away.
How far are the beaches to Willemstad?
The closest beaches to Willemstad, Curacao are Mambo Beach and Jan Thiel Beach, both located within a short drive from the city center. These beaches offer white sand, crystal-clear water, and a range of amenities for visitors to enjoy. If you don't have a rental car, it's easy to get a taxi to and from these beaches to Willemstad.
When is the cheapest time to visit Curacao?
The cheapest time to visit Curacao is typically during the low season, which falls between May and November. During this period, you can find more affordable accommodations and travel deals, although it coincides with the island's rainy season.
When is the best time of year to visit Curacao?
The best time to visit Curacao is during the dry season, from December to April. This period offers pleasant weather with little rainfall, making it ideal for outdoor activities, diving, and enjoying the island's stunning beaches.
---
What to do in Willemstad, Curacao (Post Summary):
Walk Across the Queen Emma Bridge
Hunt Down Murals in Otrabanda
Eat at Restaurant & Cafe Gouverneur De Rouville
Take a Tuk Tuk Tour
Visit the Curacao Liqueur Distillery
Shop Around Punda
Wander Around the Historic Pietermaai District
Visit Mikvé Israel-Emanuel Synagogue
Get Yourself a Chichi Doll
Join a Walking Tour of Willemstad
Kura Hulanda Museum
Take a Cooking Class
Have Lunch at Old Market
Shop at Marshe Nobo
Explore Scharloo
Attend Carnival
Sample Curacao Rum at Anna Bay Club Rum Store
Check Out Rif Fort
Fort Amsterdam
---
Enjoyed this guide to all the best things to do in Willemstad, Curacao? Bookmark for later or share the love below on Pinterest!