W
e are a couple of modern day Moses's now that we have walked through the parted sea of South Korea's island of Jindo.  This famous Jindo Miracle Sea Festival exposes a 2.8 km long pathway through the sea between Hoedong-ri, Gogun-myeon and Modo-re, Uisin-myeon. The water is typically so low you can see the sea floor. This phenomenon occurs annually in the spring due to the tides. Around 300,000 locals and tourists visit this miracle annually.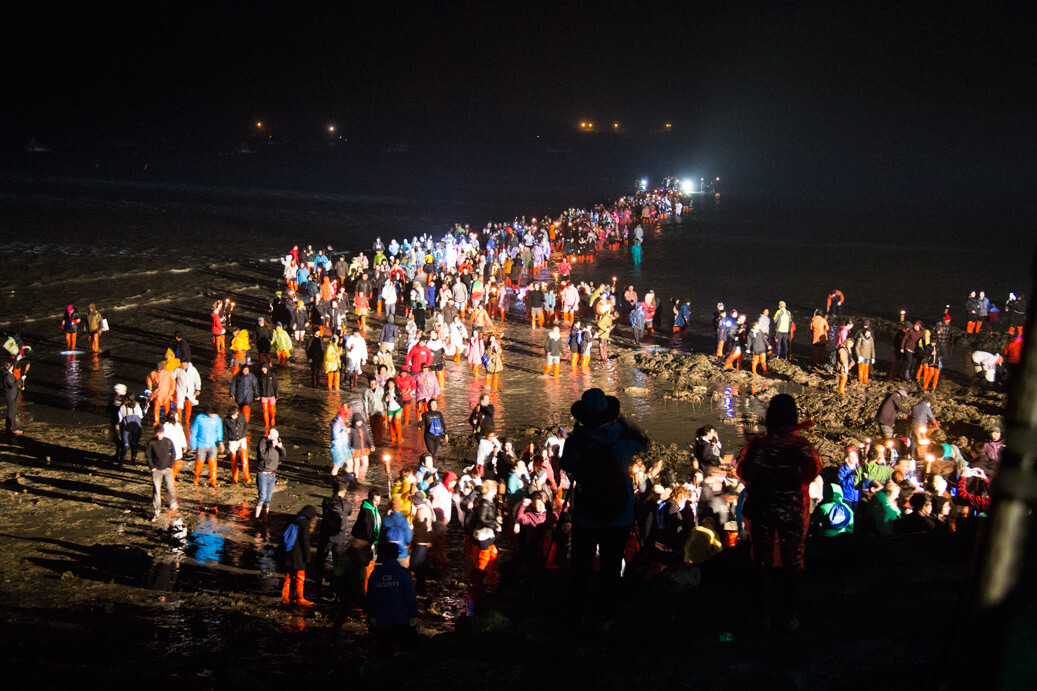 This year the tide occurred at 4:30 am and 4:30 pm. We were in the early group seeing how we had to drive back to Seoul. You can buy over the knee water boots to walk through the water and the festival also provided tiki torches to carry through the dark morning.
The morning was very dark, so it was hard to see where we were going. There were guides for those brave enough to be the leaders of the pack. It was really amazing to see thousands of tiki torches walking through the sea. We were experiencing rainy weather, so the tide was not as low as it typically has been in the past.
Locals were scavenging for sea creatures, which was mostly seaweed. The water was about a foot and half deep, so you were not sure what you were about to step on in the dark waters.
The tide is only this low for about 30 to 40 minutes and people have to start coming back in from the sea very quickly before the tide rises again. I would have to say the highlight of the entire trip for me was emerging from the sea with my awesome tiki torch in the dark when all of a sudden some Indiana Jones sounding music came on. I felt like a true bad ass. Then to top it off, fireworks started exploding over my head.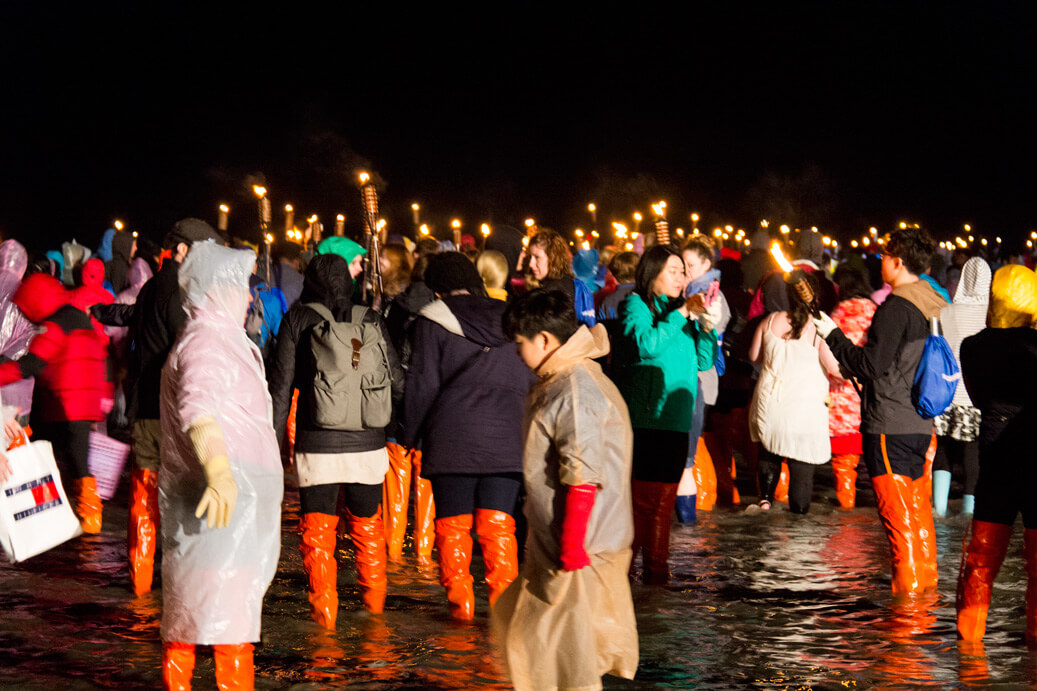 Fun
Alcohol, K-Pop, plus Moses.
Things to Do
Adventure
Not Everyday you Can be Moses
Social
Almost 300k come a yr + tons of westerners.
Overall
Not too many places to do this.
We found out about the Jindo Miracle Sea Festival last minute so we went against our gut and booked a tour and actually had a great time. We ended up learning that you can camp there, or get a hotel around the area. Just beware if you get a hotel, you will still need transportation to the festival which may be far away. For campers, you can walk to the festival in 5 minutes.
Have you visited the Jindo Miracle Sea Festival? Let us know about your experiences in the comments below.
For the next posts in the series consider liking us on facebook or following us on twitter.