Looking for the best lake vacations in New York? We got you. Did you know the state of New York has 7,600 freshwater lakes?! From being on two of the 5 Great Lakes to having an entire region named after its 'finger-like' lakes, and mountainous areas of the Catskills and Adirondacks, there's no shortage of incredible lake getaways in New York state.
What's even better is that almost all of these New York lake vacations are four-season getaways too offering something different in each season.
During the summer months, you can expect to enjoy lake activities on the water from boat rentals, kayaking, canoeing, stand-up paddle boards, fishing, and swimming beaches. In the fall you have countless outdoor activities and opportunities with the gorgeous fall foliage, in the winter many of these destinations have plenty of outdoor opportunities from hitting up nearby slopes, cross-country skiing, snowshoeing, and even ice fishing!
These are our picks for best lake getaways in New York to check out for your next road trip or vacation enjoying the great outdoors, plus suggested places to stay whether you're looking for a lodge, bed and breakfast, or a private lakeside cabin or cottage rental.
Disclaimer: This guide to the best lakes in New York for vacations contains commissionable links at no extra cost to you.
Best Lake Getaways in New York
Chautauqua Lake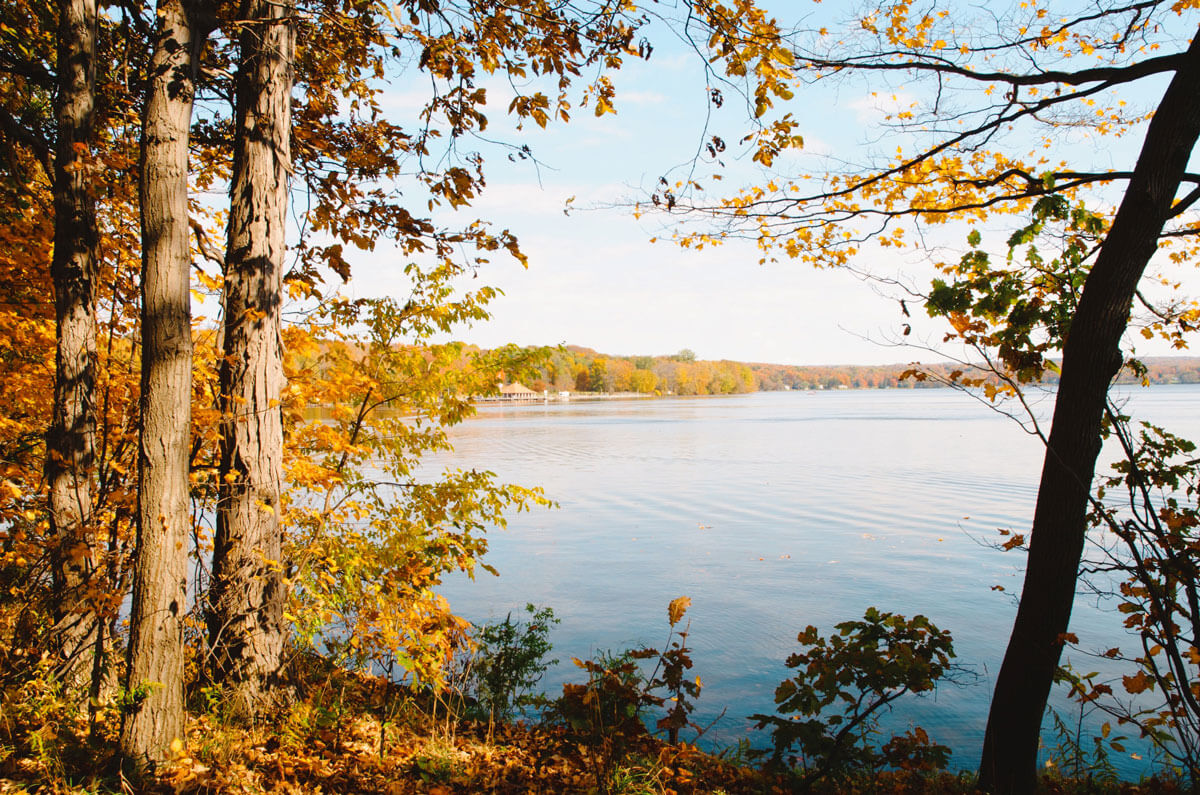 There are so many reasons Chautauqua Lake makes the list of best lake vacations in New York. With over 200 years of history, it's not just one town, but the entire coastline hugging the lake that makes this spot popular all year round. Especially in summer, it's a popular destination for fishing and boating.
Chautauqua Lake exploded as a summer resort location for wealthy north-westerners in the 1920s with summer homes and resorts. The town of Chautauqua on the western shore is absolutely charming. It makes you feel like you're stepping back in time with 1920s-era lakefront hotels sitting all along Lake Drive.
The northern shore is located less than 10 miles south of Lake Erie. Probably the most popular location on the shores of Chautauqua Lake is Bemus Point. It's primarily a launching point for boating, sailing, fishing charters, and other water sports. But the town itself stays busy with fun restaurants like Ellicottville Brewing and The Village Casino, with its unique boat drive-up service!
There are several public boat launches around the lake, but the most popular one is at Long Point State Park, just north of Bemus Point. The park includes a small peninsula that almost cuts the lake in 2 and offers a boat dock. Long Point has a swimming beach, picnic tables, and a playground. And it's home to One Fine Day Boat Charters. In the winter it's a popular spot for ice fishing, as well.
If you want to take a sightseeing tour of the lake, you can board the Chautauqua Belle. It's a replica of an old steamboat that does seasonal loops on the lake. Or if you're looking for places to stay at Chautauqua Lake, there are dozens of options. Choose from historic hotels, B&Bs, and cottages, or one of the lake's many campsites.
And while lake vacations in New York are especially enjoyable in the summer, Chautauqua Lake is a premiere winter getaway in New York too as they get heavy lake effect snowfall making it a great snowmobiling destination and they host an annual ice festival and even ice castle in Mayville!
New York Lake Vacation Suggested Stays:
Do yourself a favor and book a stay in Chautauqua Lake at the stunning Athenaeum Hotel. This is an unbelievably beautiful old Victorian mansion set on the Chautauqua Institute, with the perfect location right on the lake. And make sure to book services at the hotel's St Elmo Spa.
Check out one of the many vacation rentals along Chautauqua Lake, one of our favorites is this gorgeous lakefront cottage rental in Lakewood with a private dock and patio.
Lake Champlain
The infamous Lake Champlain is worth a visit to the Adirondacks for both outdoor lovers and those interested in American history. Located along the Vermont/New York border, the lake has 587 miles of active shoreline that's spit between the 2 states, including many small islands.
This massive lake is home to 57 different public beaches and has the reputation as 1 of the top bass-fishing lakes in the Northeast. If you prefer, it's also popular for short and long-distance paddle trips from the small islands on the Vermont side of the lake as well as sailing. And there are numerous lakeside hikes and walking paths that are popular with hikers, runners, and cyclists.
Overlooking the lake is Fort Ticonderoga, a well-preserved French fort from the 18th century. You can visit the fort and see old canons, and learn about the dramatic seizures by the British and Americans during the War of 1812 and the Revolutionary War. And the fort also has stunning views of the lake looking south!
On the New York side of Lake Champlain is the town of Plattsburgh. You'll stay busy here with historic sites, museums, waterfront parks, and restaurants. There's Plattsburgh City Beach on Cumberland Bay and walking paths along the winding Saranac River.
Plattsburgh is especially known for its historical significance in the Revolutionary War and the War of 1812. And just south of town, you can visit the fun Ausable Chasm park that winds along the AuSable River which has incredible hiking trails along waterfalls in the gorge, rafting in the summer, and even snowshoeing in the winter. This is one of our favorite things to do in the Adirondacks and is worth checking out any season!
You can also use this as an opportunity to check out Burlington, Vermont too since it's just on the opposite side of the lake and you get great views of the lake and the Adirondack Mountains from the Vermont side!
New York Lake Vacation Suggested Stays:
The Essex Inn on the Adirondack Coast is located just one block from the shores of Lake Champlain and the boat dock. This historic stay is set in an 1812-landmark inn that fits the area and lake vacation vibe with a rustic setting. Be sure to book a room with a fire stove to cozy up to in chillier weather or book a room that has a porch to enjoy the views.
Or enjoy your very own home away from home on your New York lake vacation by booking a house right on the shores of Lake Champlain. This vacation rental is right on the shores of a quiet cove perfect for swimming or paddling!
Lake George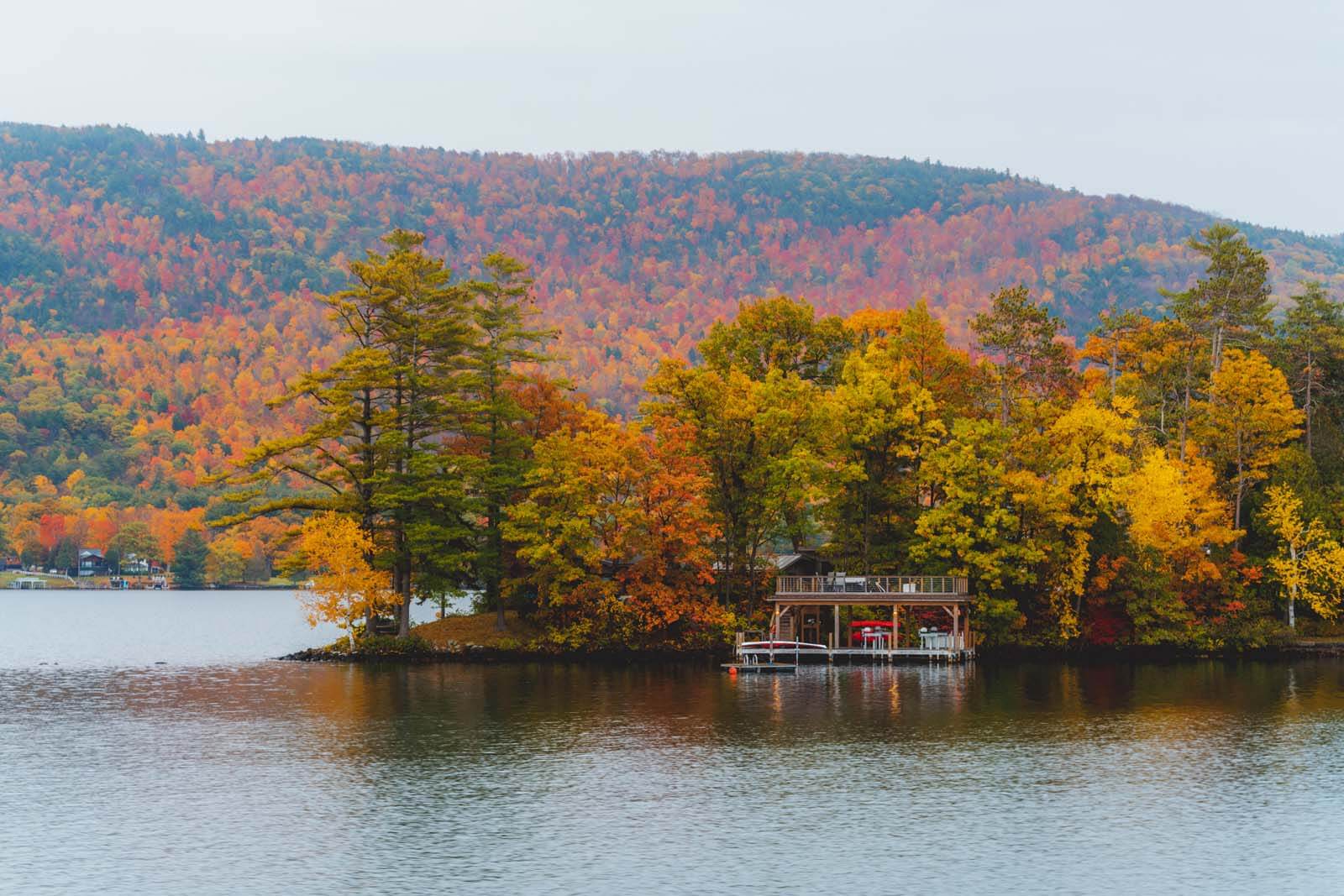 For more places to enjoy New York lake vacations in the Adirondacks, we recommend Lake George. While the lake itself has held historic significance since the War of 1812, it really became a popular vacation spot in the 1940s. Its beauty earned it the nickname, "Queen of American lakes." Throughout the area, you can enjoy attractions like scenic boat rides, public swim beaches, and great hiking.
Located just south of Lake Champlain in the Adirondacks, Lake George is lined with lush old-growth forests, lakeside resorts, and historic sites that make for great fall foliage hikes. But the population of the lake really explodes in the summer, especially around the town of Lake George on the southern tip. You can enjoy Million Dollar Beach with picture-perfect views of the lake.
In central Bolton Landing, we love the stunning Sagamore Resort & Spa in the middle of the lake on Green Island. And at the northern end of the lake are small island campsites that you have to boat to near Huletts Landing. Or explore the many trails in Lake George Wild Forest on the eastern bank of the lake. You can hike to Shelving Rock Falls, a beautiful cascading waterfall inside the forest.
This is one of the most popular lakes in New York for vacation in the summer months because of all the attractions nearby. The town of Lake George has several touristy shops in the summer, several themed mini golf courses, and Six Flags Great Escape theme park just outside of town.
Be sure to check out all the amazing things to do in Lake George, you really can't go wrong any time of year which is why it's one of the best lake getaways in NY, we especially loved visiting in early to mid-October before many things close for the season (before the winter snow visitors are full swing). The fall foliage was beautiful and it was a bit quieter than the summer months.
New York Lake Vacation Suggested Stays:
One of the most luxurious romantic getaways in Upstate New York is on Lake George, book a room or suite at the Sagamore. This luxury island resort feels exclusive, with 360-degree views of the Adirondacks and lakefront. Enjoy the quiet while you try out all the decadent amenities at the Sagamore, like outdoor pools that are heated in the colder months and a spa with 14 different treatment rooms.
Or you can personalize your New York lake vacation by booking one of the incredible Lake George house rentals. We are especially in love with this rustic lakefront private chalet with its own private 25-foot-long dock near Bolton Landing.
Seneca Lake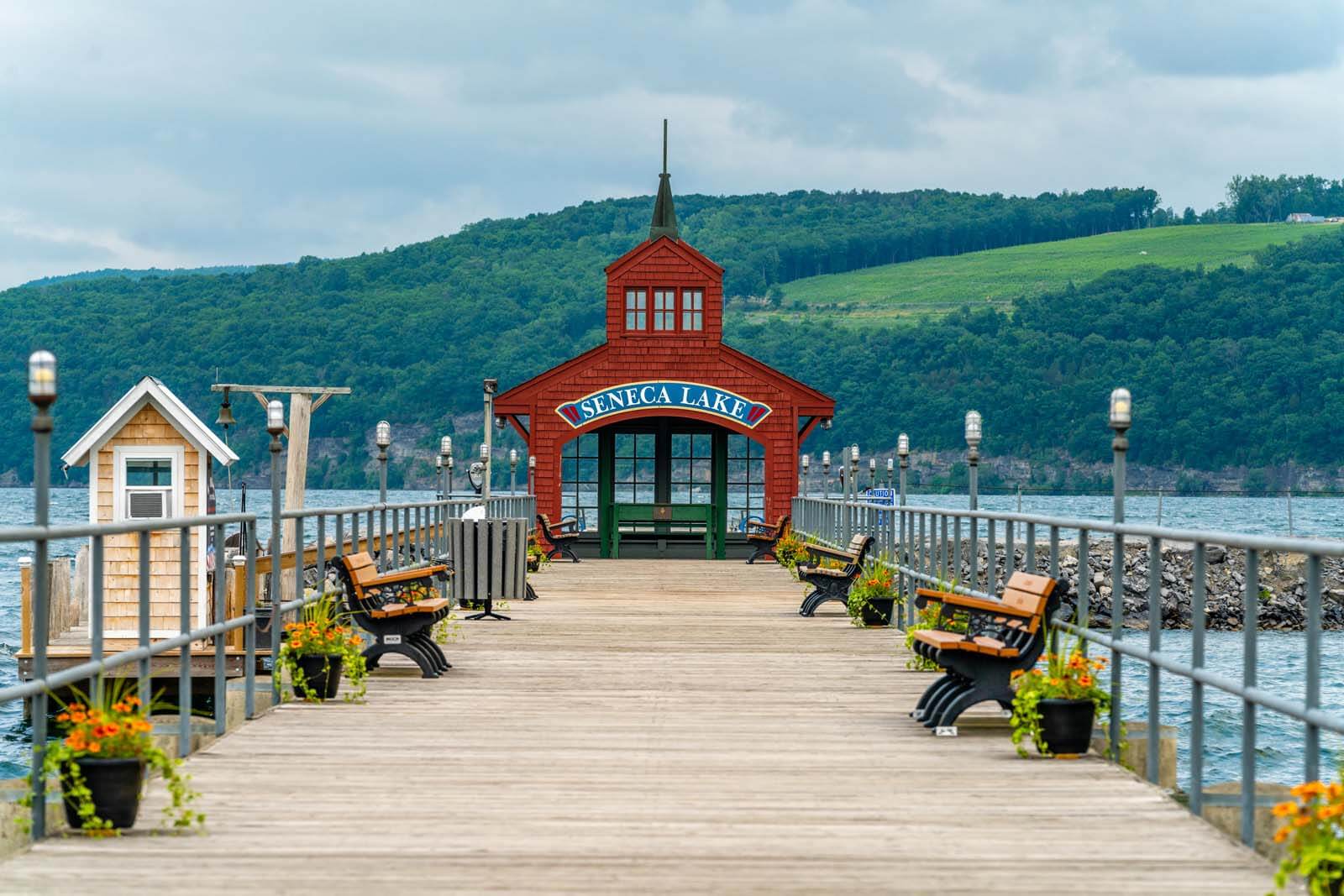 Lake lovers should know that the Finger Lakes region offers some of the best lake vacations in New York with dreamy destinations like Seneca Lake. The largest of the Finger Lakes by volume (2nd largest in length), Seneca Lake is known for lake trout fishing and viticulture, meaning some of the best wineries in the Finger Lakes can be found along the shores here!
We are a bit biased as we've spent a lot of time exploring the best things to do in the Finger Lakes in all four seasons, so we know this is one of the best lake getaways in New York.
There's Geneva at the northern end of the lake, and Watkins Glen 34 miles on the opposite side at the southern end. In Geneva, you'll find the Seneca Lake State Park with a swimming beach, great picnicking spots, kayak rentals, and several marinas and boat rental companies. Geneva is home to the beautiful Belhurst Castle and Winery, which is a must-see!
There are also so many amazing things to do in Watkins Glen too, home to the enchanting cascading waterfall-lined gorge at Watkins Glen State Park, more of the best waterfalls in the Finger Lakes can be found just a few minutes' drive to the village of Montour Falls, and of course the Watkins Glen race track is a huge attraction here.
As mentioned, there are so many other great wineries and the entire Finger Lakes region is the perfect environment for grape growing. Along with wineries, the number of cider mills and breweries in the area has exploded in recent years! In fact, wine and hop trails extend to wineries around the entire lake.
You could take a leisurely drive along NY-14 just counting all the wineries and brewing companies along the way. Or just take the road straight into Watkins Glen, an adorable small town known for hosting NASCAR races.
New York Lake Vacation Suggested Stays:
Experience Belhurst Castle and Spa a gorgeous old mansion in Geneva. The castle is actually one of three hotels that make up Belhurst, and we think it's the best choice! Belhurst Castle has beautiful Victorian-style rooms and suites that feel frozen in time but in the best way. And don't forget about the spa, where you can get massages, facials, and body treatments.
You can always book one of the many Seneca Lake vacation rentals too. We personally love this adorable cottage nestled on Seneca Lake with its own private dock along with firepits and kayaks for use!
Keuka Lake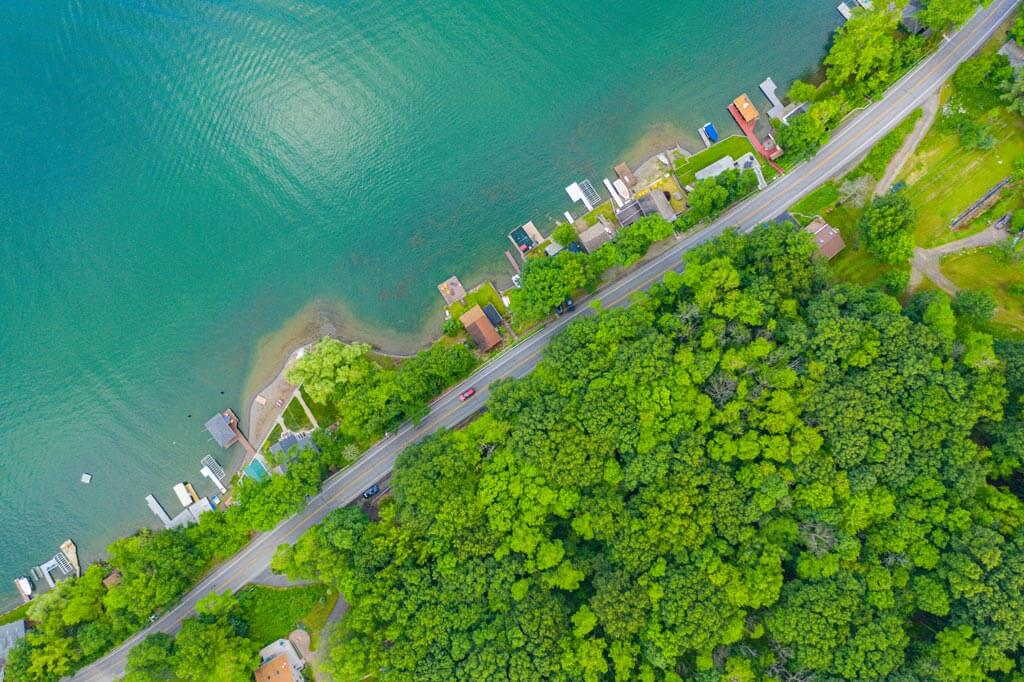 One of our personal favorite New York lake vacations and another member of the Finger Lakes is Keuka Lake, nicknamed "Crooked Lake," located just west of Seneca Lake. Interestingly, while most of the lakes are very deep and cold, Keuka Lake is known for its more shallow and therefore comfortably warm waters. This makes it one of the best swimming and watersports destinations in the region!
The cozy waters are also a popular spawning lake for trout, bass, and salmon, and the fishing here is excellent, not to mention the water is noticeably prettier here too! And in the summer, it's really fun to rent a boat here!
Like the rest of the Finger Lakes, Keuka Lake enjoys its own wine trail with a healthy number of lakefront wineries. You can go for a wine tasting at establishments like Domaine Leseurre Winery that's been around for almost 200 years. And with vineyards covering the hills framing the lake, imagine how beautiful a fall boat ride from one of the lakeside marinas would be!
You also can stop at Dr. Konstantin Frank Winery which is the winery behind why the Finger Lakes is a thriving wine country too! Not to mention they really do have some of the best wines in the region.
On the northern end of Keuka Lake is the village of Penn Yan. It's a popular launching point for boats, but we also recommend taking a bit of time to explore downtown as it's one of the most charming towns in the Finger Lakes! Just take a walk down Main Street, that's lined with colorful, 19th-century storefronts. The entire length has great restaurants, antique stores, coffee shops, and more including the world's largest pancake griddle.
Penn Yan is also the trailhead for the Keuka Outlet Trail which follows a waterway that connects Keuka Lake to Seneca Lake. You'll get to see waterfalls and beautiful Finger Lakes flora while you walk the paved trail.
At the southern end of the lake is the village of Hammondsport, also called the "Cradle of Aviation." That's because the town was home to Glenn Curtiss, known as the "Father of Naval Aviation." In the early 20th century, he designed and flew seaplanes on Keuka Lake! You can visit the Curtiss Museum in Hammondsport and see antique airplanes, motorcycles, and motorboats from that period.
New York Lake Vacation Suggested Stays:
You'll want to check out the scene at The Park Inn, one of the best dining experiences in the region located in the oldest building in Hammondsport. Not only are they a culinary destination, but they also have gorgeous hotel rooms above the restaurant you can stay in right in the charming town of Hammondsport.
Just like all the other best lake getaways in New York, Keuka Lake has some awesome lake house rentals. We love this 2-story lake house rental in Dundee complete with a gorgeous balcony patio overlooking Keuka Lake, a fireplace, and gorgeous sunlight in this modern, lake house.
Canandaigua Lake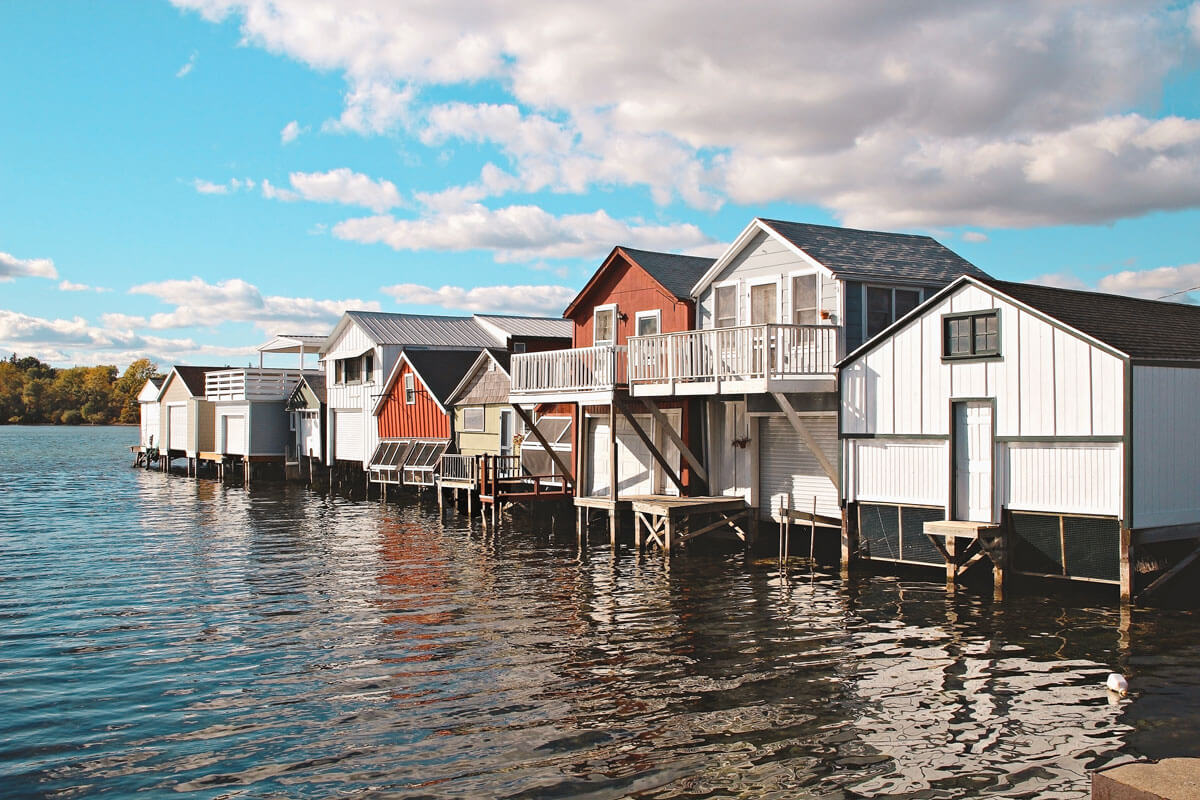 Canandaigua lake is an interesting addition to the Finger Lakes family and there are many things to do on vacation. The lake's water is known for its amazing quality, feeding the town of Canandaigua on the northern shore, as well as many other surrounding towns.
Because of the water quality, you can see 30 to 50 feet below the surface! This makes it a great fishing lake, being home to salmon, trout, and other freshwater fish. Boating is also really popular on the lake, with several public marinas and docks.
If you're on Keuka, Canandaigua, or Honeoye Lake on Labor Day weekend, you'll get to experience the Ring of Fire. This tradition honors the native Seneca tribes that once inhabited the lakes. They would burn tobacco along the lakes' shoreline to give thanks for the season's harvest. Each year, on the Saturday of Labor Day weekend, residents light fires (or LED lights) that ring Canandaigua Lake at 9 PM. It makes the lakes glow red and it's an amazing thing to see!
In the town of Canandaigua, you can visit a gilded age mansion at the Sonnenberg Gardens & Mansion State Historic Park. It's a stunning, Queen Anne-style mansion with 9 different gardens and you can tour all of it. Canandaigua is also home to many great breweries and wineries, as well as the New York Wine and Culinary Center. You can visit their New York Kitchen restaurant or find out about cooking classes and wine tastings.
Naples is a small farming town just 4 miles south of Canandaigua Lake. It's famous for its grape production and for hosting the annual Naples Grape Festival. There are a few weeks filled with fun events for the whole family, including a contest to declare the best grape pie, which you have to try when you pass through! And don't miss the beautiful waterfall hike through Grimes Glen Park.
New York Lake Vacation Suggested Stays:
If you're looking for the best lakes in New York for vacations with bed and breakfasts, you're in the right area. The Sutherland House Victorian Bed & Breakfast is one of the best B&Bs in the area located in Canandaigua near the lake. The Victorian-style home is jaw-dropping and rooms have garden views. Don't miss their breakfast here either!
Sometimes what makes the perfect New York lake vacation is by booking a home away from home. That's why we suggest browsing all the amazing lake house rentals on Canandaigua Lake. We love this beautiful lakefront cottage rental that's newly renovated. You'll love relaxing by the outdoor firepits overlooking the lake or cozying up by the fireplace inside during the colder months!
Honeoye Lake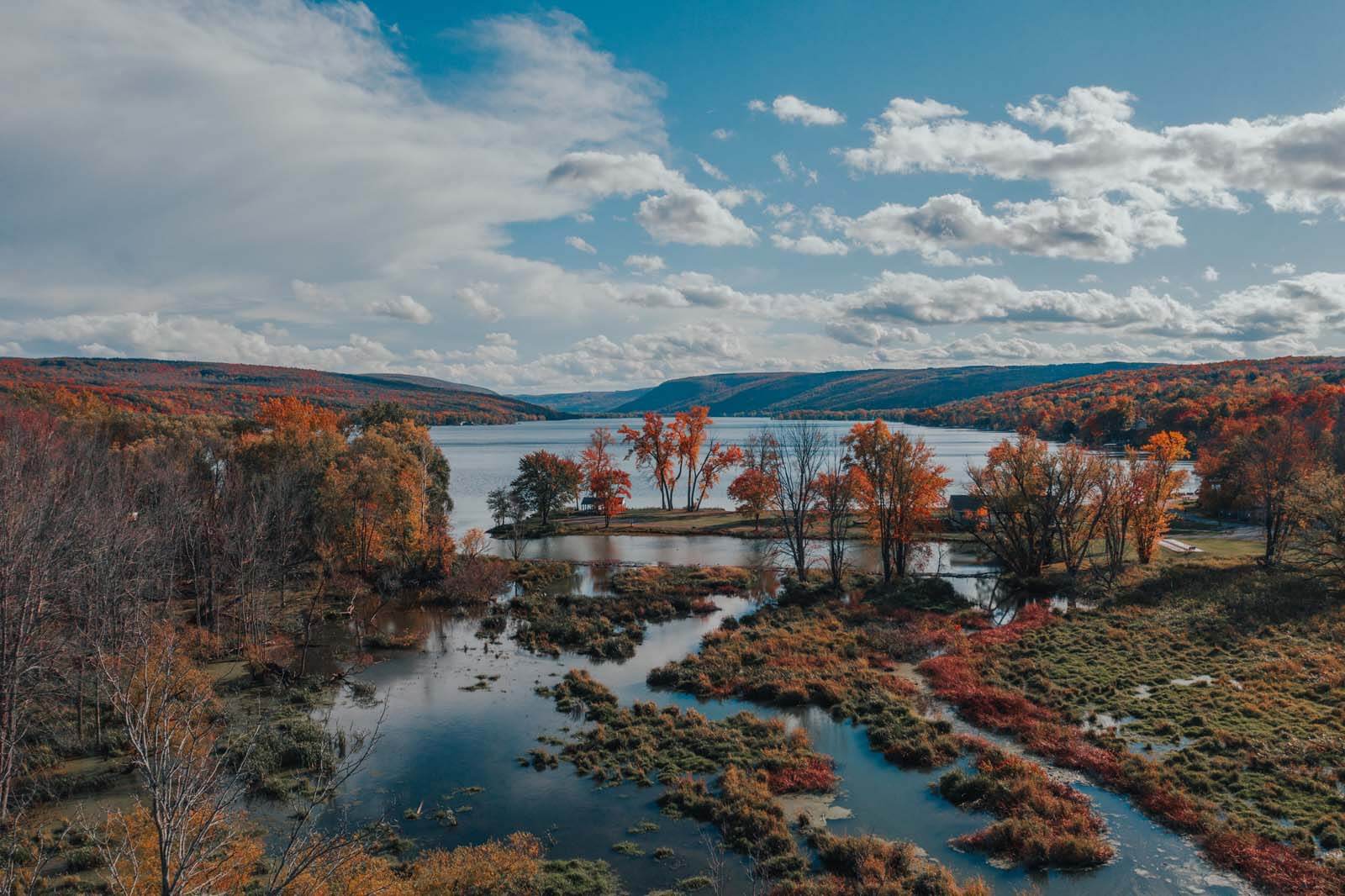 Honeoye Lake is the 2nd smallest of the Finger Lakes surrounded by summer cottages for rent and year-round residential areas not to mention a gorgeous place to visit during fall foliage. Don't let the size fool you, this is one of the best lake vacations in New York still!
Boating and fishing are popular across the entire lake with the town of Honeoye being the main launch. When you're looking for the best lake vacations in New York, consider this small, charming lake!
The small town of Honeoye has Honeoye Creek, which is popular for kayaking, as well as Sandy Bottom Park. This lakefront park is a favorite location in the summer with a beach, playgrounds, picnic areas, and lifeguards. And if you love to hike or cycle long distances, you can circle the lake! It takes about 19 miles and the entire path is paved.
In the winter, Honeoye Lake completely freezes over and becomes a destination for ice skating, ice fishing, cross-country skiing, and snowmobiling. Nearby you'll also find the Bristol Mountain Ski Resort. It's a family-friendly ski area with 35 different trails, terrain parks, a snow sports school, and even a childcare center. While they don't have a lodge where you can stay, you'll find inns and B&Bs all around the mountain.
New York Lake Vacation Suggested Stays:
There really aren't any hotels around Honeoye Lake making this one of the best lake getaways in NY for a private house rental! There are several great house rentals around Honeoye Lake, this gorgeous lakeside chalet has 2 stories of floor-to-ceiling windows in the living room and can sleep larger groups of friends or families. Plus there's a fire pit, dock, and beach here!
Cayuga Lake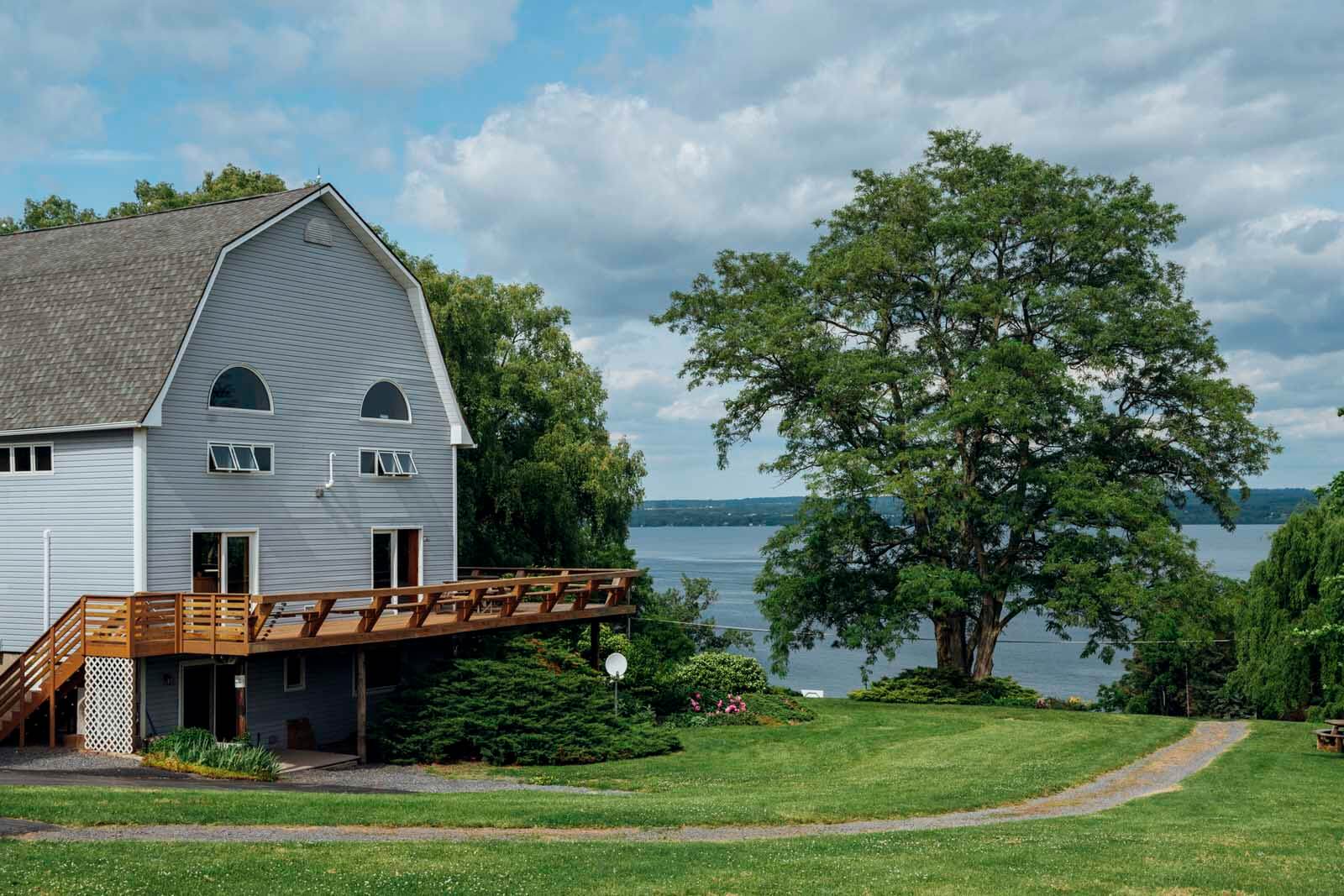 Another one of the finest New York lake vacations found in the Finger Lakes. Cayuga Lake is perfect for whether you're an outdoorsy person, looking for the best wine trail, or want to go waterfall chasing – you'll find it all here.
There's a variety of history everything from Americana to Civil Rights. And if you're obsessed with New York waterfalls, you'll want to head to the southern end of the lake.
Cayuga Lake features a combination of shallow waters at the northern end of the lake and deeper waters to the south that are typical of similar glacial lakes. Because of this, Cayuga Lake is known as a prime fishing lake with a combination of warm-water fish to the north and more cold-water species to the south!
On the Northern end of Cayuga Lake is Seneca Falls, which has many claims to fame. It's considered the birthplace of the women's rights movement and was home to abolitionists. In Seneca Falls you can visit the bridge from It's a Wonderful Life or plan a trip to the It's a Wonderful Life Museum.
About midway along the lake, on its eastern shore is the small town of Aurora. A drive down Main Street and you can enjoy miles of charming 18th- and 19th-century buildings. It's a picture-perfect village with a well-preserved historic district, antique shops, and tons of historic landmark buildings lining Cayuga Lake's shores.
But one possibly our favorite destination on Cayuga Lake is Ithaca. This is without a doubt one of the best towns in New York to visit. This gorgeous town is packed with cascading, misting, and high-falling waterfalls in the city limits. A college town, you can even enjoy the Cornell University campus with an easy waterfall hike along Cascadilla Creek! There are so many amazing things to do in Ithaca and it's charming downtown with fun shops and great walkable streets.
There are more Ithaca waterfalls to be found around Cayuga Lake, including inside Robert H. Treman State Park, Buttermilk Falls State Park, and Taughannock Falls State Park. Or you can enjoy the impressive number of wineries, cider mills, and breweries to be found in the entire circumference of the lake! The lake is established as a wine trail and would certainly not disappoint.
New York Lake Vacation Suggested Stays:
La Tourelle is an incredible base for your New York lake getaway located in Ithaca. You'll love the King-sized rooms with toasty fireplaces and you can enjoy waterfall massages and saunas at the August Moon Spa. They also have Firelight Camps here where you can enjoy luxury glamping too!
There are also several incredible Cayuga Lake vacation rentals to consider too. This incredible home rental is basically on its own island on Cayuga Lake that you have to see to believe which is incredible at sunset. Surrounded by water, you can relax on their patio next to the fire pit, soak in the hot tub, and is only a 10-minute drive to Ithaca!
Mirror Lake & Lake Placid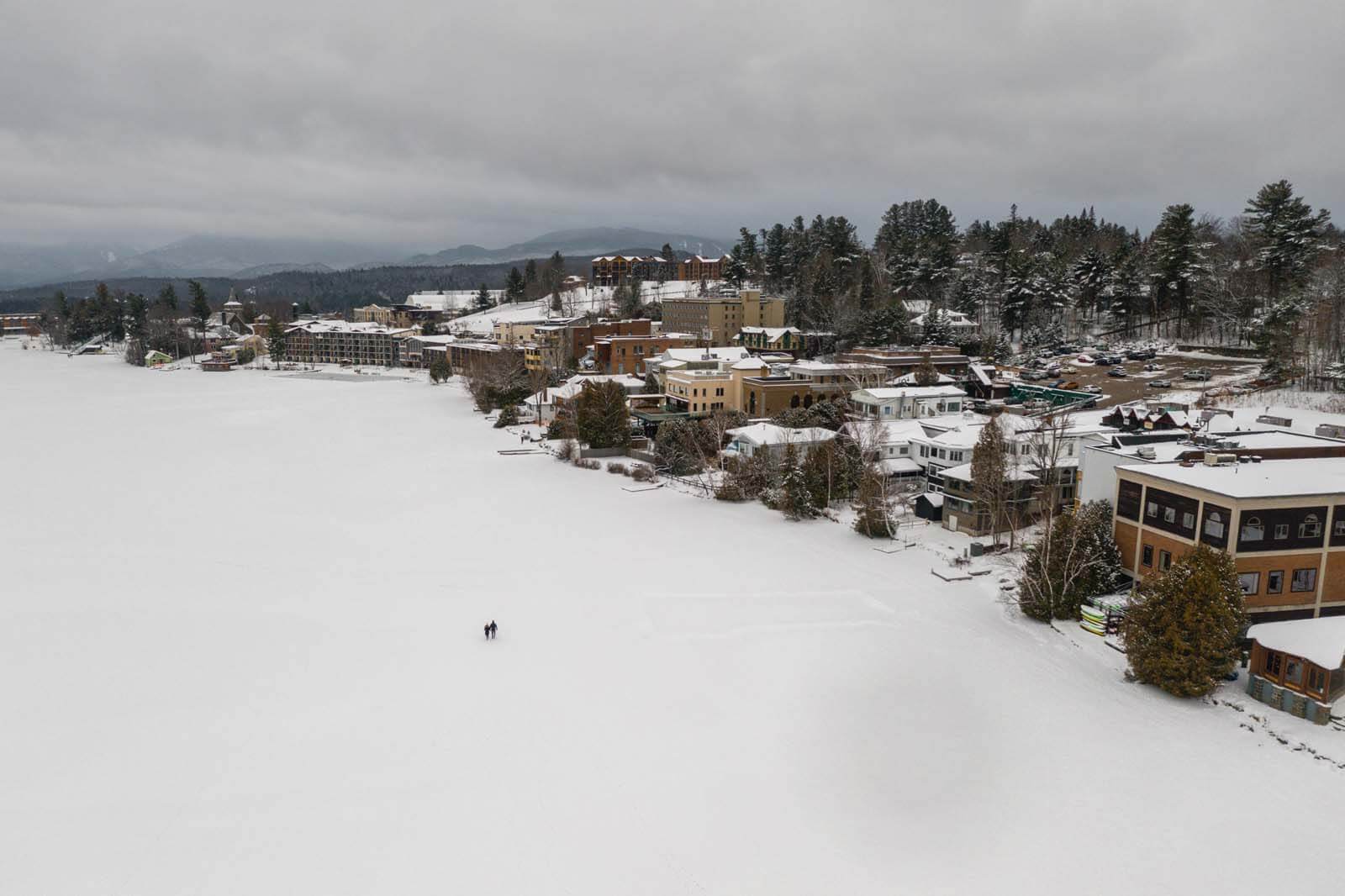 If you're looking for more options for the best lake vacations in New York in the Adirondacks, check out Mirror Lake. It's tucked away in the center of the village of Lake Placid, although the actual 'Lake Placid' is along Whiteface Mountain a little further north.
Known for hosting two Winter Olympic games in the past, Lake Placid looks like a Norman Rockwell painting in the winter. There are so many amazing things to do in Lake Placid in winter, Mirror Lake freezes solid and becomes a popular place for natural ice-skating rinks to be set up, as well as hockey rinks. And not far from the Lake Placid Olympic Museum is the Lake Placid Toboggan Chute where you can sled right onto the lake!
It's a magical place to be in the winter, surrounded by the snowy Adirondack Mountains and frost-covered inns, hotels, and the restaurants lining Main Street.
But as all of the best lake vacations in New York, it's a great summer destination too where you can enjoy even more outdoor activities with a public beach, a kayak launch, and trailheads for hikes through the surrounding countryside.
Don't forget all the great breweries and wine-tasting rooms downtown too!
New York Lake Vacation Suggested Stays:
Mirror Lake Inn is the perfect place to warm up in the winter and a beautiful lakeside stay year-round. Book a room or suite with views of the lake and the surrounding Adirondack Mountains. You can also book spa treatments like massages, yoga sessions, or even a therapeutic salt room on site too.
Check out all the amazing Lake Placid house rentals available too. This beautiful Mirror Lake apartment rental has great lake and mountain views from inside and its outdoor deck too.
Mohonk Lake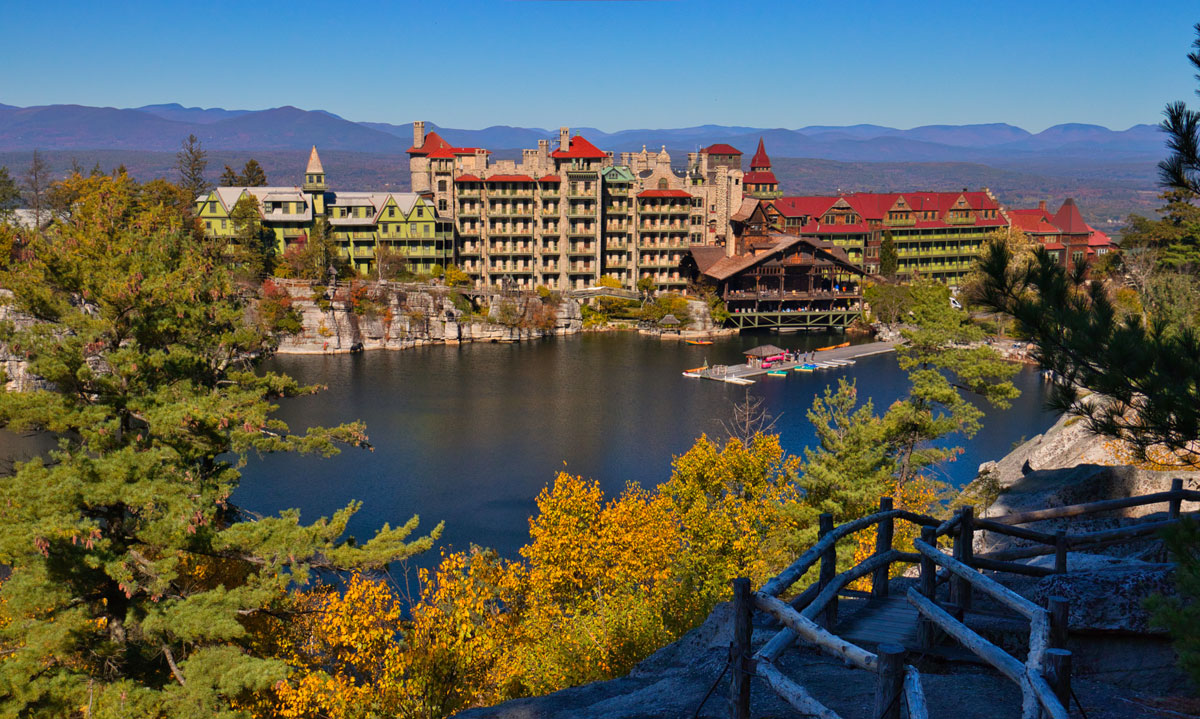 Mohonk Lake is the perfect lake vacation near NYC, being only about 2 hours from the city. It enjoys a quality location in the Catskills, inside the sprawling Mohonk Nature Preserve location near New Paltz.
One of the dreamiest lakes in New York for vacation, the lake is run by the Mohonk Mountain House. This beautiful, old resort set on a mountain ridge is the most romantic place to stay with lake views and exciting opportunities for outdoor adventures. Enjoy luxury at the Victorian-era 259-room mountain resort set on 300 acres of wooded parkland. There's a spa, a stunning indoor pool, stables that offer carriage rides or trail rides, and more.
Throughout the year, Mohonk Mountain House orchestrates activities on and around the lake, including seasonal swimming, boating, and other water sports. We recommend taking a kayak out on the lake to enjoy the scenery with towering cliffsides, lush forests, and the resort in the middle of it all.
In the winter there's a lakeside outdoor ice rink, cross-country skiing, and snow tubing. Throughout the year you can also hike trails in the preserve or climb to the top of Skytop Tower for ultimate overhead views of the resort.
Not to mention this is the perfect base for exploring all the unique things to do in the Catskills as well as visiting all the best towns in the Catskills.
New York Lake Vacation Suggested Stay:
This New York lake vacation is the destination in itself, stay at Mohonk Mountain House or you can secure a day pass to the preserve around the property and stay at one of the many great house rentals in the New Paltz area.
Otsego Lake
You'll find Otsego Lake halfway between Syracuse and Albany, with the Adirondacks to the north. It's a beautiful sapphire blue lake curbed by mountains and alcove bays. If you've read the Leatherstocking Tales by James Fenimore Cooper, he nicknamed Otsego Lake "Glimmerglass Lake," and it's still a beloved name to this day!
Besides a fairytale name like Glimmerglass, you can find other dreamy names around the lake like Blackbird Bay and Sunken Island. It's the first hint that you're in for a special time when vacationing on this beautiful mountain lake. In the summer, you can enjoy scenic views from the water with popular activities like boating and kayaking.
Otsego Lake is also known for its quality trout fishing. And you can enjoy public beaches like Glimmerglass State Park Beach and the beach at 3 Mile Point. Lakefront Beach in Cooperstown doesn't have swimming, but it's a favorite spot for scenic views of the lake, public boat docking, and venues for live summer concerts.
Cooperstown is the main town on Otsego Lake, at its southern end. It's famous for being home to the National Baseball Hall of Fame and Museum. You can also visit the Heroes of Baseball Wax Museum or the famous Doubleday Field diamond! Or book a tour of the lake on the Glimmerglass Queen, a classic steamboat running out of the Lakefront Hotel, plus you'll get a chance to see the cool Kingfisher Tower, a private castle tower built on the shores of Otsego Lake.
New York Lake Vacation Suggested Stay:
Cooperstown is one of the best lake vacations in New York for B&Bs, which is why we recommend checking out the great bed and breakfasts in town. The Landmark Inn is a great option in the heart of Cooperstown at the south end of Otsego Lake. The rooms are homey and you'll enjoy relaxing on their terrace, by the fire pits, and their complimentary Irish/English breakfasts available for guests as this beautiful property.
You can also find plenty of vacation rentals around Otsego Lake, we personally love this lakefront cottage that's perfect for enjoying lake activities year round whether you're wanting to get on the water in the summer or ice fishing in the winter!
Skaneateles Lake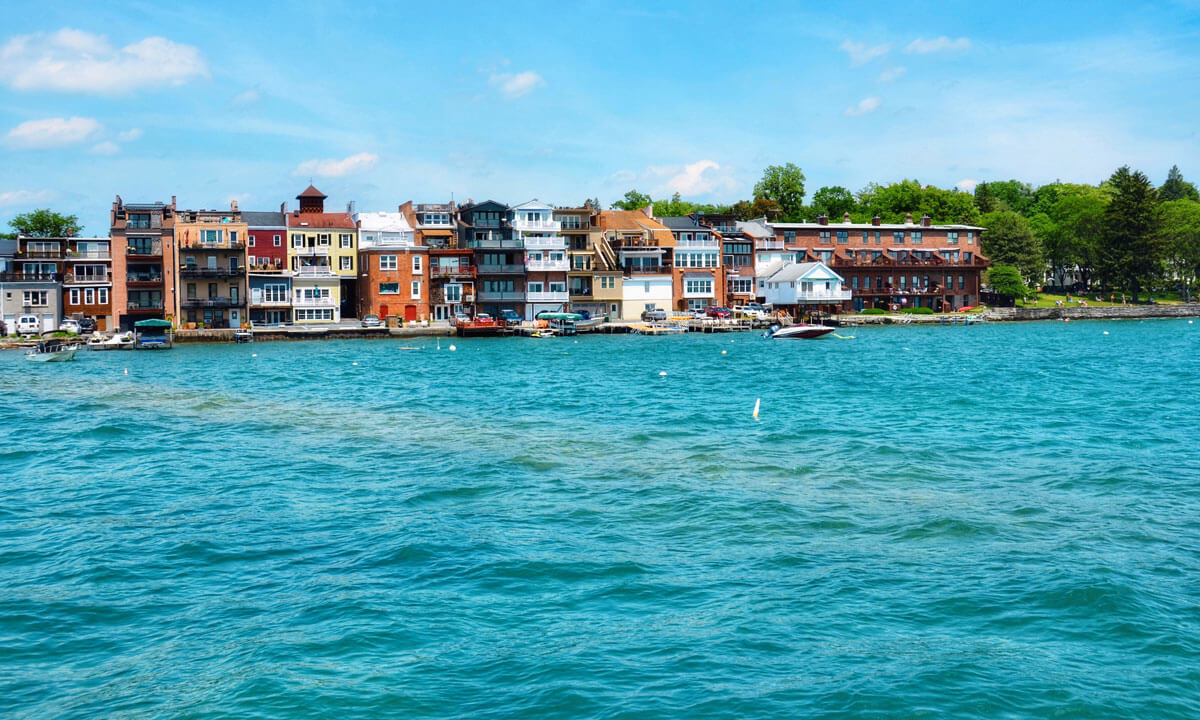 Skaneateles Lake (pronounced "skinny atlas") is another smaller addition to the Finger Lakes. It's one of the best lake vacations in New York for shopping and luxury stays. Start in downtown Skaneateles on US Rte. 20, which acts as a sort of lakefront Main Street.
You'll adore the charming boutique shops, antique stores, and great restaurants and cafes. Turn north on State Street and you'll find even more shops before entering a beautiful residential area filled with stone chapels and old whitewashed homes.
For a place to stay in the town of Skaneateles, we recommend the Mirabeau Inn & Spa. This high-end retreat is set on a peaceful estate that includes gardens, vineyards, orchards, and more along with a bistro and wine bar. The inn offers different packages, as well as activities on and off the grounds, such as boat tours of the lake or local wine trails.
If you want to get on the crystal clear water at this gorgeous lake getaway in New York, check out one of the lake's marinas, like Skaneateles Marina. They offer a variety of rentals, including pontoon boats, kayaks, and paddle boards. Or you can head over to Auburn at the northern end of the neighboring Owasco Lake. There's even more fishing, boating, and water sports to enjoy there!
Both Skaneateles and Owasco Lakes were settled after the Revolutionary War when soldiers were rewarded with land grants. You can find many historic sites in the area dating back to that time, including several in Auburn. But Auburn is also famous for a unique resident, Harriet Tubman, and you can tour her house on South Street!
The Finger Lakes region are one of the best lake vacations in New York if you're a history buff as there are so many towns steeped in American history here.
New York Lake Vacation Suggested Stay:
If you're looking for the ultimate relaxing lake vacation in New York, you'll want to stay at Mirabeau Inn & Spa and take advantage of all the spa services they offer. Not to mention, the actual Inn is a stunning property set in a Queen Anne-style home.
There are also great vacation home rentals available along Skaneateles Lake too. This gorgeous lake house is located directly on the edge of the lake with its own boat slip if you want to BYOB (bring your own boat!). Better yet you have so many views of the lake from both the giant windows from inside the house or you can relax in the Adirondack-style chairs outside along the water. They also have kayaks and a fire pit for guests to use.
Saratoga Lake
Located about 30 miles north of Albany, Saratoga Lake has been considered one of the best lake vacations in New York for generations by local New Yorkers. The biggest draw to the area for centuries has been the natural mineral springs that gave Saratoga Springs its name. You can visit the pools at Saratoga Springs State Park.
You might be more interested in the city's fame for thoroughbred racing. There's the Saratoga Race Course, as well as the National Museum of Racing. Or from Saratoga Spring's Fish Creek, you can rent kayaks and float down to the 6-square-mile lake!
Or if you want to get your toes wet, head to the southern end of the lake. Brown's Beach is a sandy public swimming beach that's open from Memorial Day to Labor Day. You can rent water sports gear on the beach, buy stuff to eat from a snack hut, and enjoy showers and picnic areas. Don't miss getting on the water on a boat charter or rental too!
Not to mention, this place is incredibly gorgeous during fall foliage.
New York Lake Vacation Suggested Stay:
The Nest on Saratoga Lake is a beachy-cottage style bed and breakfast stay right along the lakeshore in Saratoga Springs. This is a great base for lake activities like swimming, fishing, boating, kayaking, and bird watching from this cozy home away from home lake getaway.
Being one of the best New York lake vacations, you can bet there are several amazing lakefront house rentals along Saratoga Lake. This beautiful house rental has a great location right on the water and a gorgeous outdoor deck to enjoy the views.
Lake Ontario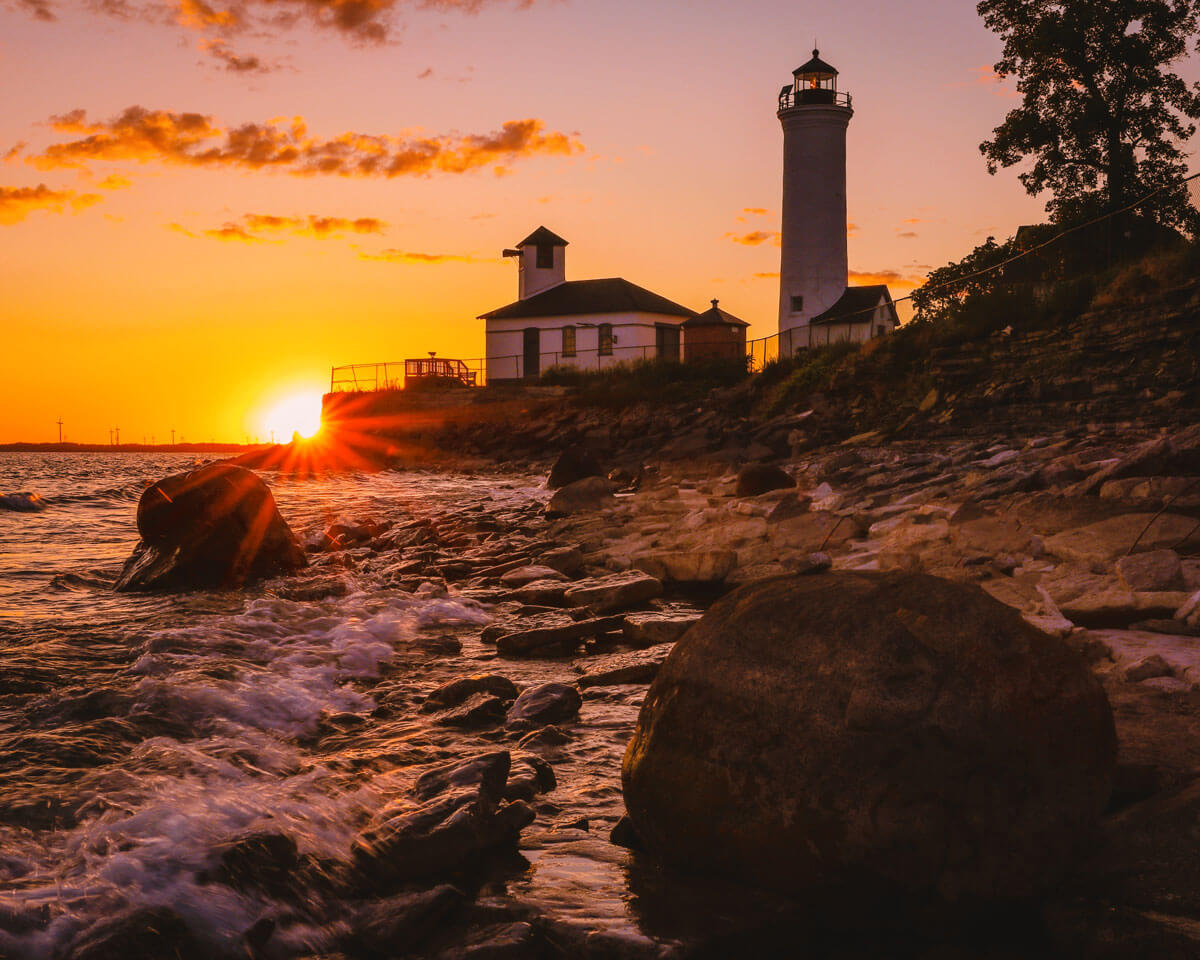 We had to include this Great Lakes destination on our list of the best lake vacations in New York because there are just so many great attractions there! Lake Ontario borders the entire western stretch of the state of New York, even though it's actually the smallest of the 5 lakes.
You can find Alexandria Bay and Thousand Islands to the north, and the famous Niagara Falls at the southern end. And in the middle is one of our favorite cities, Rochester. It's a great home base for all your Lake Ontario adventures. The massive waterway is lined with sandy beaches, wineries, historic lighthouses, and marshy state parks.
Just north of Rochester, along the lake, is a suburb called Irondequoit. Here you can find a great lakeside community with a top-notch food scene. There's also the Irondequoit Bay and Pier, as well the seasonal Seabreeze Amusement Park.
Deeper into Rochester, there's the beautiful Highland Park with gardens exploding with flowers and a beautiful art nouveau-style pavilion. Or you can visit the Genesee Waterways Center to rent kayaks and ride the Genesee River.
And did you know that Rochester has its own waterfall? Take a walk to High Falls on the Genesee River right in the middle of the historic industrial district of downtown.
But our favorite part of a lake vacation to Rochester is the arts and culture. Besides the amazing museums and art galleries, the city also hosts unforgettable events. We went to the city's famous Fringe Festival and saw moving performances art shows. There was everything from musical groups and aerial acrobats to light shows and immersive theatrical performances.
Plus, pop-up shops and free events happening across the entire city during the 2-week event. If you're in Rochester in September, you should check it out!
New York Lake Vacation Suggested Stay:
Being one of the Great Lakes, Lake Ontario is much larger than other lake getaways in New York. We recommend looking at Lake Ontario house rentals closer to Rochester to explore this cool city. This romantic nautical hideaway cottage rental is a great location and property to do it all! It's a charming cottage located close to Lake Ontario and a short drive to Rochester!
Or if you want to stay closer to Thousand Islands, this beautiful lake lodge rental is located on the shores of Lake Ontario and close enough to explore this really beautiful area of Upstate New York!
Staying closer to Niagara Falls is a great option too! This private retreat and house rental on Lake Ontario has everything you need out of a lake getaway in NY. This house has rustic and modern touches, a fireplace, windows with plenty of lake views, plus it's only a 15-minute drive to Niagara Falls, one of the top natural wonders of New York!
Saranac Lake
Not far from Lake Placid in the Adirondacks is Saranac Lake, one of the most charming towns in the Adirondacks. It's made up of a group of lakes that are all connected by inlets. There's Upper Saranac Lake, Middle Saranac Lake, and Lower Saranac Lake. But there are other smaller lakes as well, including Lake Flower, where you'll also find the city of Saranac Lake. With all the options of waterfront here, it's no wonder this area is known for being one of the best lake vacations in New York.
Besides being a simply gorgeous lake community filled with waterfront inns and cottages, the area also has a rich history and arts culture. Saranac Lake attraction writers like Robert Louis Stevenson, whose house you can still visit!
It was also where Dr. Edward Livingston Trudeau established a treatment center for tuberculosis, believing in the healing powers of the cool, dry air of the Adirondacks. Because there was no medical treatment for TB at the time, the area became world-famous for its "cure cottages."
People would come from all over the world, prescribed rest and relaxation in the Adirondacks, and live in one of Trudeau's cottages. They included tons of natural light and airy porches for sunning. Today, you can find a few remaining remnants of this fascinating time, including a museum and 1 cure cottage.
In downtown Saranac Lake, you can attend the Saranac Winter Carnival! It's been held annually for over 200 years, and the centerpiece is the ice castle on the banks of Lake Flower. Or during the summer head to Riverside Park for free summer concerts and canoe rentals to take on the lake.
This is a great launching point for exploring the Adirondacks region, plus it's a beautiful destination every season and especially gorgeous during fall foliage.
New York Lake Vacation Suggested Stay:
We are huge fans of historic stays, which is why Hotel Saranac is a great choice if you're looking for a hotel on your New York late getaway. Located in the heart of downtown with modern vintage-chic rooms.
Another upscale hotel option is the Saranac Waterfront Lodge, complete with a lakeside location with jaw-dropping mountain views. Plus they have boat rentals for the lake, and kayak and stand-up paddle boards are available to rent too.
There are also plenty of great lakefront house rentals at Saranac Lake too on the surrounding lakes.
Long Lake
South of Saranac Lake is Long Lake, a 14-mile-long waterway known for its lakeside lodges and all kinds of outdoor activities. The northern end of the lake is in Adirondack Park, with hiking trails and great opportunities to see local wildlife.
The most popular destination on the lake is the town of Long Lake. Here you'll find places to rent kayaks and canoes, as well as boat ramps and hiking trails. It's a classic lakeside community with restaurants, shops, supply stores, and a swim beach. Take a boat tour of Long Lake or you can take a seaplane tour over the Adirondack high peaks!
There are also many great lodging options in Long Lake, like the Motel Long Lake & Cottages. Enjoy the ultimate lake vacation with rooms and whole cabins that will take you back to the heyday of upstate New York summer getaways with summer activities and boat rental. Summer or winter, you'll love the lakeside location, right off the beach!
Long Lake is also home to the beautiful Adirondack Hotel which dates back to the 1850s. Choose from 20 different waterfront rooms or suites. You can eat in the Victorian Room restaurant or enjoy the hotel's café. And it's always nice to visit the gift shop in the hotel, walk the verandas, or take a stroll down Main Street in Long Lake.
New York Lake Vacation Suggested Stay:
Definitely check out the two accommodation options mentioned above as well as the house rentals available around Long Lake. This beautiful lakefront home rental has a modern, rustic feel with great lake and bridge views plus everything you'd want out of a lake getaway in New York including a fireplace, plenty of spots in the house with views of the water, and even a balcony and beach.
Oneida Lake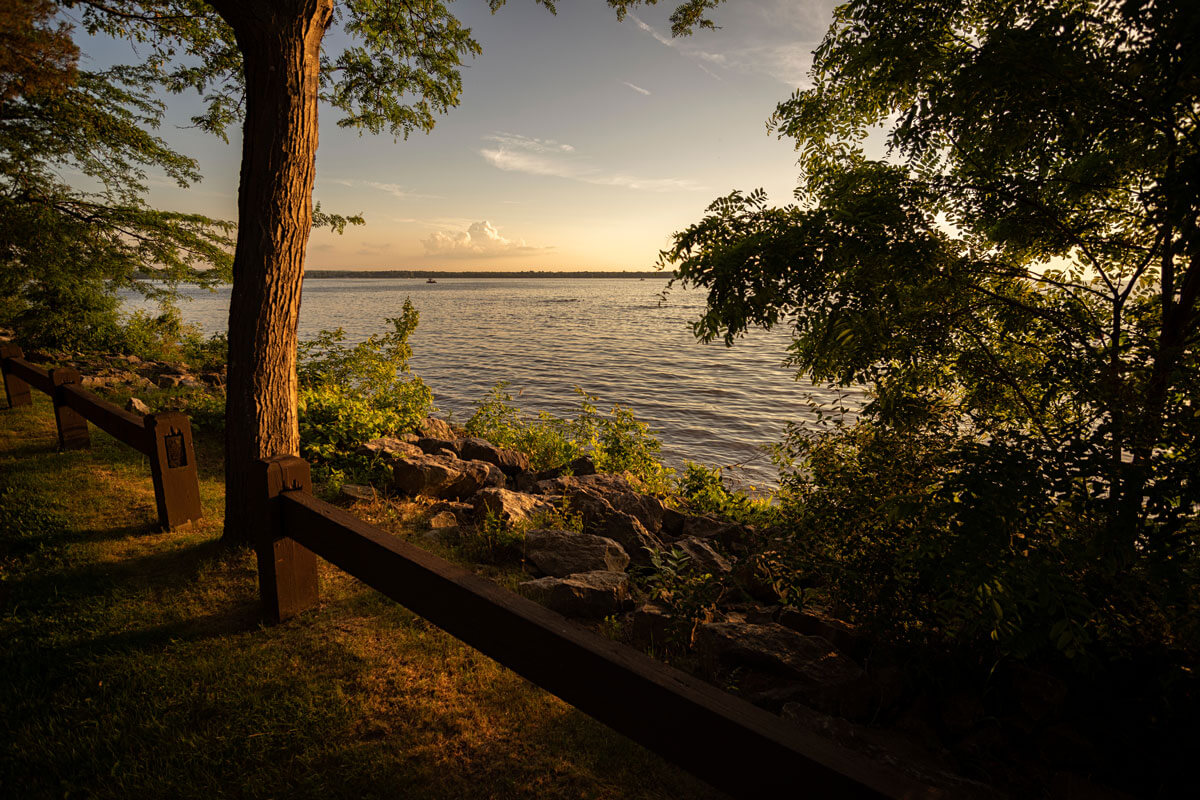 Nestled between Lake Ontario and the city of Syracuse is Oneida Lake, the largest lake entirely within the state of New York. It's known for excellent walleye fishing, and you'll find many marinas and boat launches available to you. If you prefer to go swimming, Oneida Lake has several different public seasonal beaches with lifeguards, picnic areas, showers, playgrounds, and other amenities.
Small towns ring the entire lake, all of which offer a casual atmosphere and classically good diner food! One of the best towns for this is Sylvan Beach with several different lakeside restaurants like the Canal View Café. Nearby, Sylvan Beach also has a small waterfront amusement park, and dozens of different campsites you can choose from.
There are also several trails surrounding Oneida Lake, like at Verona Beach State Park and the Lakeshore Trail.
Because it is a larger lake, if you want to swim you'll want to go to a designated beach like Oneida Shores Park where there are lifeguards on duty. There are several businesses that offer watersport rentals like fishing boats, pontoon boats, kayaks, and jet skis.
New York Lake Vacation Suggested Stay:
If you want to stay in a hotel, we recommend checking out nearby Syracuse. However, if you're looking for a more rural lake getaway in New York, consider checking out all the Oneida Lake house rental options.
If you're looking to stay on the lake, this beautiful, lakefront stone house rental is an incredible four-season getaway, they even deck it out for the holidays in the winter. And in the summer you can swim and fish from their shoreline!
Or stay in a restored, historic cabin rental with its own private lake on a large parcel of land. The way they restored this historic beauty is just incredible. Enjoy the large tub overlooking the forest, stone fireplace, and gorgeous decor with rustic touches.
Lake Pleasant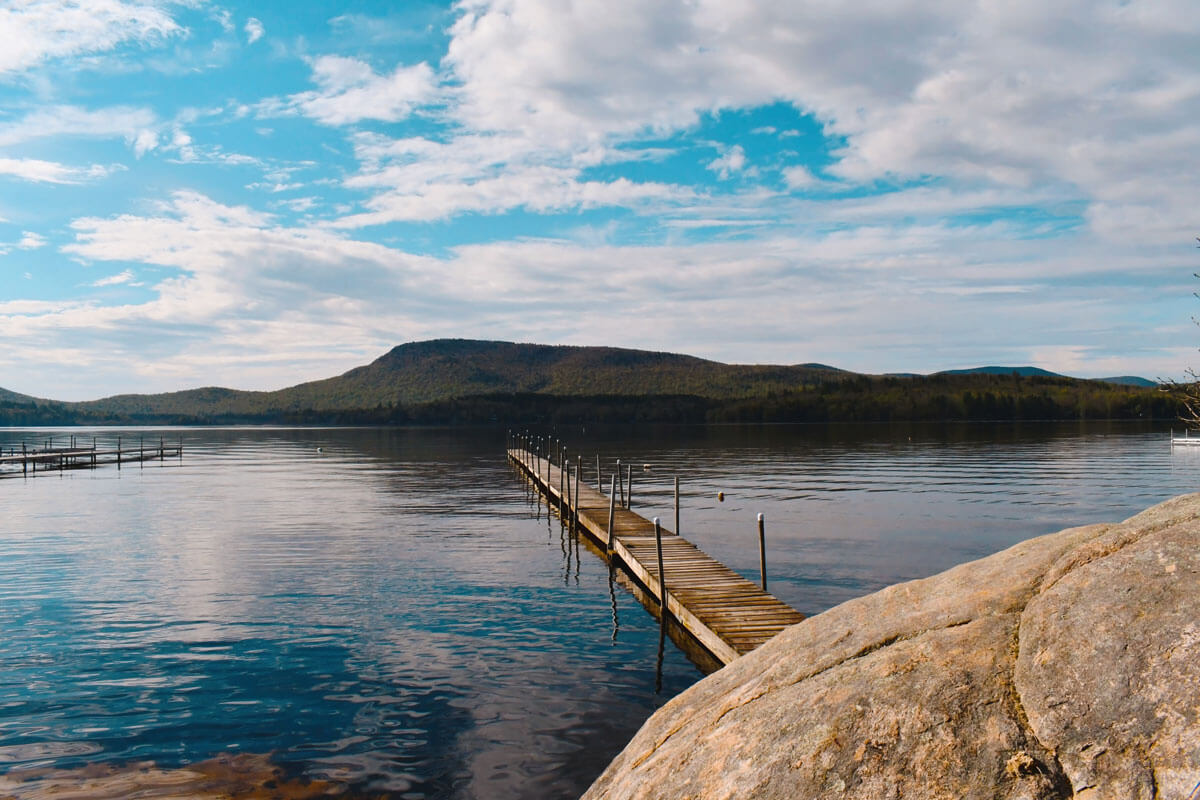 There's also Lake Pleasant in the Adirondacks, with surrounding mountains and other smaller lakes nearby that are just as lovely! It's the perfect spot for a lake getaway no matter the season. In the summer, enjoy activities on the lake like canoeing, kayaking, and fishing. There are plenty of opportunities for hiking here too which is especially beautiful in the summer and fall.
Snowmobiling is also popular here in the winter months along with other outdoor winter sports like snowshoeing and cross-country skiing making it a true all-season lake getaway!
The small town of Speculator is also a highlight here, which is also miles from Sacandaga Lake as well where you have similar activities to do too, so you get two of the best lake vacations in New York in one spot! There are also a few cute shops and restaurants in Speculator too.
At the southern end is the town of Lake Pleasant, which boomed with tourism in the 20th century. From that time, you can still find many different children's summer camps around the lake.
It's also a great place to start hikes, like the popular Kunjamuk Hike/Ski Trail. You can hike it in the summer or cross-country ski it in the winter. The 8-mile trail takes you to a mysterious moss-covered cave near Oak Mountain.
While you're in Lake Pleasant, check out the surrounding lakes for more great lakeside fun! We stayed at Lake Algonquin in Wells, a much smaller lake with more opportunities for boating, swimming, and exploring small towns.
New York Lake Vacation Suggested Stay:
Something that's really special about Lake Pleasant is that the towns surrounding it are very small, meaning that there aren't a lot of hotel options. What you will find are a few old-school motels and lodges, which are cool if you're fine with more basic, retro motel accommodations with a great location. These are definitely a cool nod to the past here and one of the few locations that still stay true to its roots in this way without a lot of new development.
Lorca Adirondacks is a classic drive-in lodge that has been 'reimagined'. Basically, creatives have come in and refurnished this cool, old-school lodge. They also have fire pits, a great lake location, and a seasonal pool for guests to enjoy.
And like many of the other best lake vacations in New York, there are great house rentals around Lake Pleasant and the Speculator area too including Wells, which has its own lake. We love this private log cabin rental on Lake Pleasant that has all the amenities you need for a perfect New York lake getaway including kayak and standup paddle boards, a fireplace, a fire pit, and forest views.
---
Enjoyed this guide to the finest and best lake vacations in New York? Bookmark for later or share the love below on Pinterest.