Another magical city to explore in Franconia and Bavaria, Germany is the city of Bayreuth. Famous for its Bayreuth Opera, a UNESCO World Heritage Site and the annual festival of Richard Wagner. Besides being a destination culturally rich with music and the Bayreuth Opera this city is also known for its great beer and other gorgeous sites.
Check out our guide for the best things to do in Bayreuth, Germany to help you plan your next trip.
Bayreuth Germany Travel Guide
Table of Contents
About Bayreuth Germany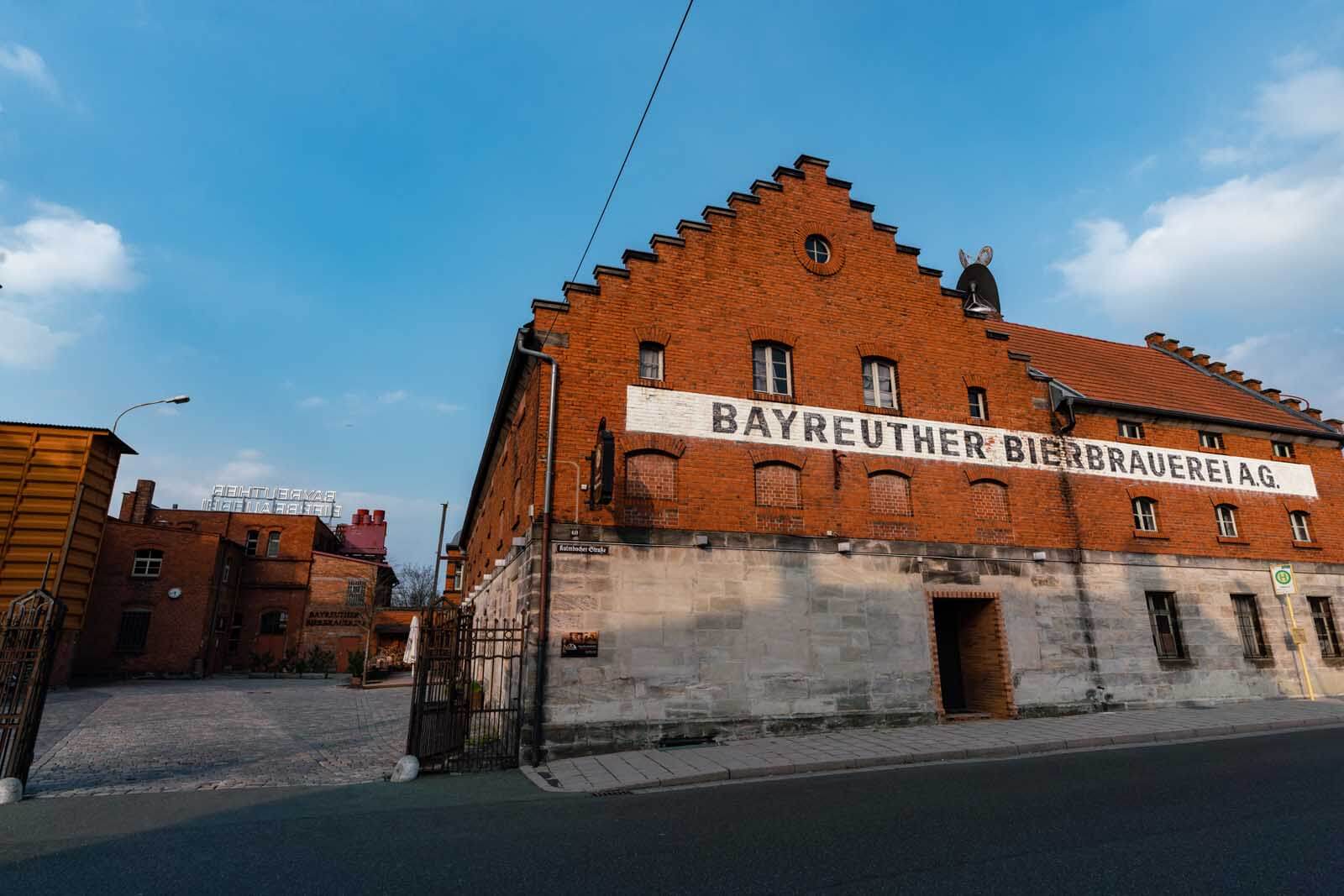 A Franconian city located in Northern, Bavaria, Bayreuth dates back to the year of 1194 and in the early 21st century was even considered the capital of Upper Franconia.
Year after year this city is famous for bringing people from all over the world to celebrate and attend the annual Bayreuth Festival where operas are held to honor the famous German composer Richard Wagner who was attracted to the city by the gorgeous Bayreuth Opera House.
He built his own Festival House where he spent the rest of his career solely performing at and is where the festival is held today and is one of the biggest attraction for tourists to Bayreuth.
The Bayreuth Opera, or the Margravial Opera House, is another one of the most notable landmarks in Bayreuth, Germany. Built by Wilhelmine of Prussia, the wife of Frederick the Margrave of Brandenburg. She was groomed to be the queen and instead was married off to Margrave Frederick where she ended up in Bayreuth. Feeling a bit underwhelmed with her new city she started redecorating in many ways taking out her frustration of not being queen by creating some of the most beautiful buildings of her time. One of those was to construct one of the most ornate buildings of its time as well as what is considered by many the most beautiful Baroque Opera House in the world even today.
The Bayreuth Opera was named a UNESCO World Heritage Site and is one of the most incredible things to do in Bayreuth, Germany.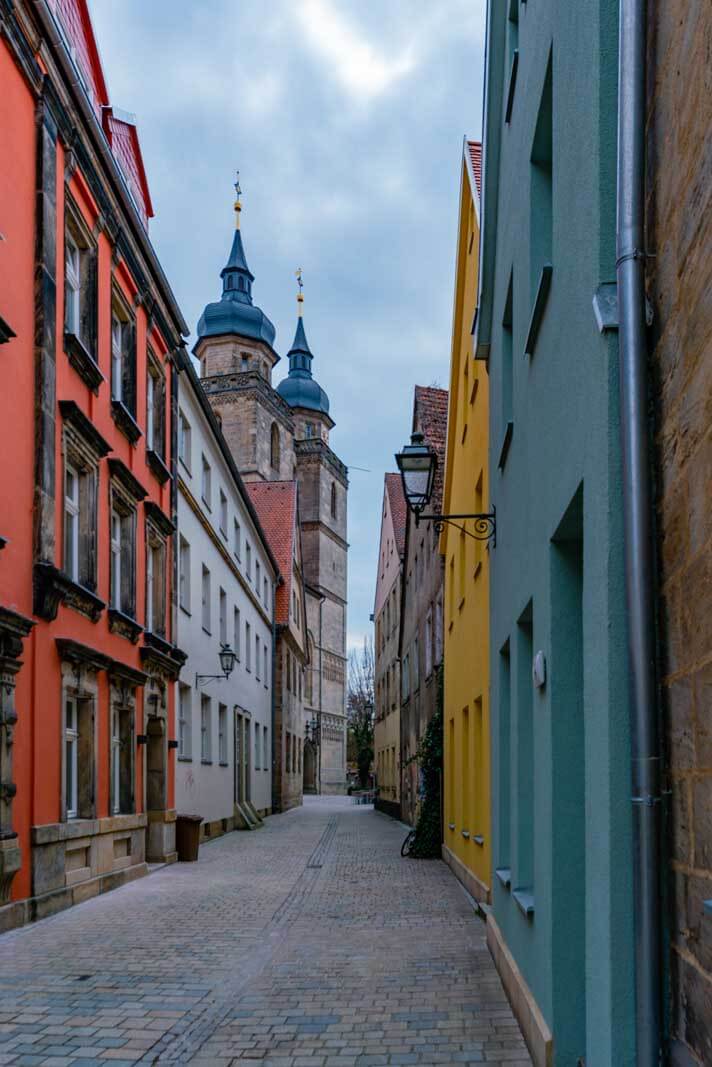 The city was heavily bombed and damaged during World War II. Luckily, landmarks like the Bayreuth Opera were mostly unharmed. There's actually a symbiotic relationship between the Bayreuth Opera and the Synagogue that's attached. During two different times, each of those buildings protected one another from destruction due to its physical connection to one another in the construction. During the Nazi-era of the town, the Opera House protected the synagogue structure as the Nazis didn't want to destroy the Bayreuth Opera.
During World War II, Bayreuth, Germany was a stronghold for the right-wing, Nazi party and the center of Nazi ideology. Nazi leaders visited often attending Richard Wagner's festival and attempted to turn Bayreuth into a model Nazi town, one of many throughout Germany.
Hitler admired the music of Wagner, therefore he had a strong connection to Bayreuth as he would come and attend the festival here.
In April 1945, around 30% of Bayreuth was destroyed by airstrikes damaging many buildings, homes, and killing people. Afterward, the US Army occupied the town.
Today you can still see the damage of WWII by walking down Maximilian Street or Mazimilianstraße. On one side of the street you'll notice modern buildings and the other side are the older buildings that weren't destroyed in WWII.
Things to do in Bayreuth Germany
Margravial Opera House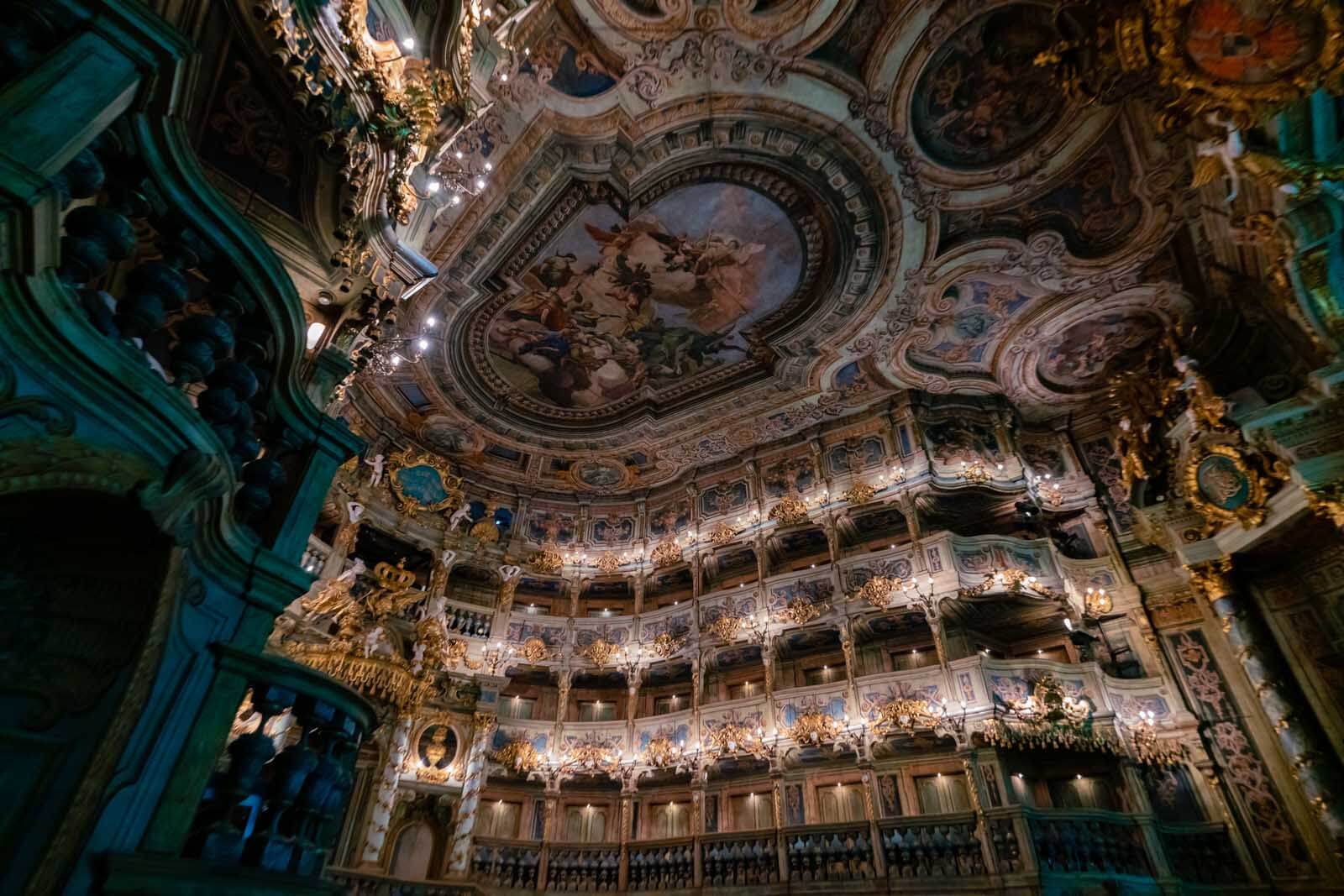 Hands down one of the best things to do in Bayreuth, Germany is visit the Bayreuth Opera, or the Margravial Opera House. This gorgeous Baroque Opera house is world famous and crowned with a UNESCO World Heritage Site status.
Built between 1745 and 1750 under the direction of Wilhelmine of Prussia, the wife of Frederick the Margrave of Brandenburg – Bayreuth for her daughter's wedding. And yes, the engagement did last the entire length it took to construct this elegant building.
This is one of the few of Europe's surviving Baroque Opera houses in such great condition and the Bayreuth Opera is considered one of the most beautiful Baroque Opera houses in the world.
It's actually quite a fascinating building. The outside is unassuming and so is the entrance which is pretty plain. However, when you walk into the Opera House you are just instantly blown away by the ornate details and features.
We have actually now been to a few Baroque theaters including Cesky Krumlov and at Valtice Chateau in Mikulov both in the Czech Republic. Each are beautiful, but none are as enormous as this.
This Opera House was so famous in its time that it attracted famous German composer Richard Wagner here to Bayreuth. He was ultimately scared that people would be distracted by the beauty of the Bayreuth Opera that he ended up building his Festival House nearby for his performances.
If you only have a short amount of time here, this is one of the best things to do in Bayreuth, Germany not to be missed.
Bayreuth Festipielhaus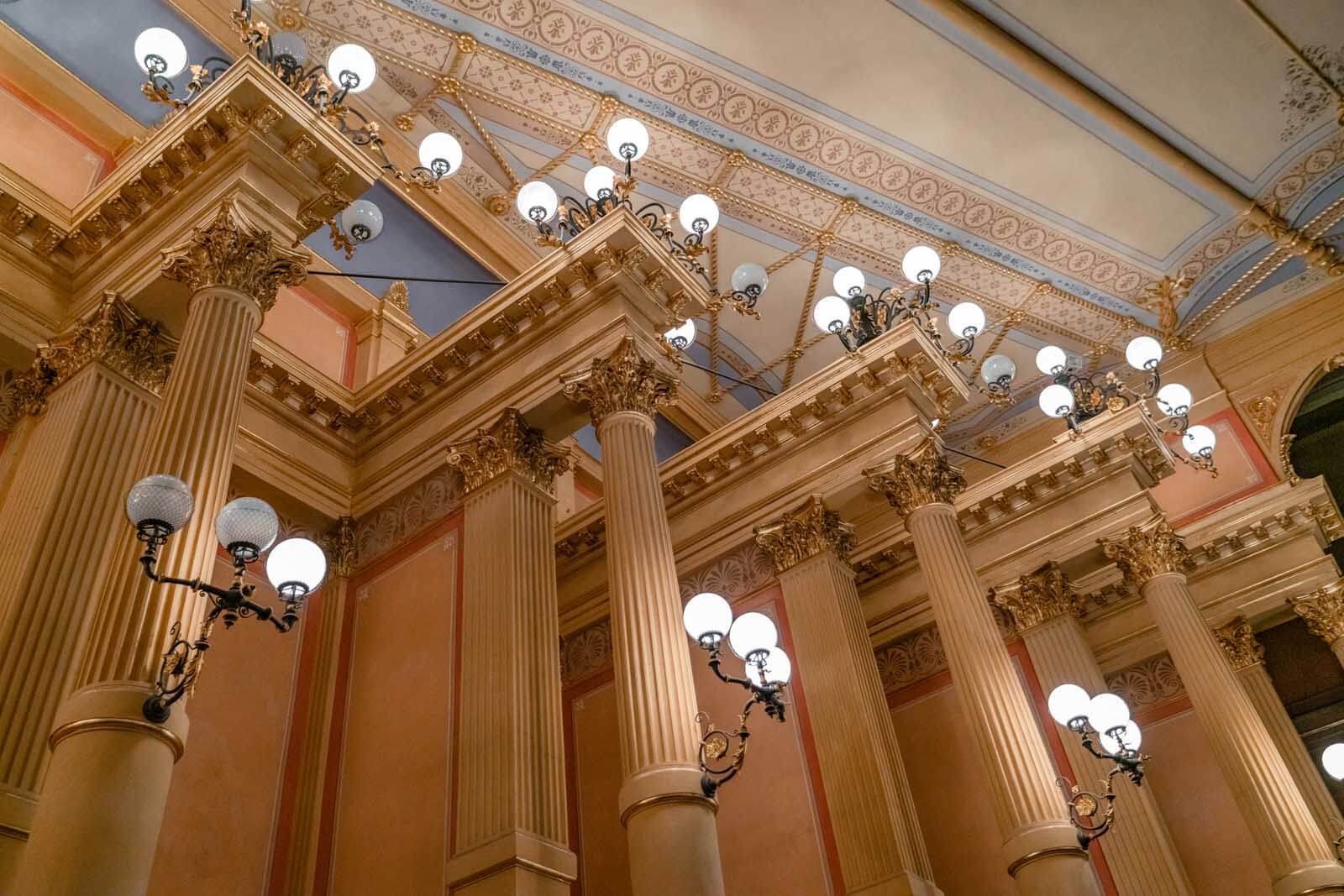 Another one of the most iconic things to do in Bayreuth, Germany is visit the Festspielhaus or the Festival House of famous German composer Richard Wagner.
Once built from 1872 – 1876, Richard Wagner solely performed his work here on this stage. Some of his most recognizable works include Ride of the Valkyries and the bridal chorus from the opera Lohengrin as we know as "here comes the bride," to name a few.
The inside of the Festival House is a masterpiece. It may not compare in ornate details to the Bayreuth Opera but it has its own signature features that make this structure an incredible work of art. There is no heating or air conditioning in the building because it would take away from the sound of the performances inside the Festival House.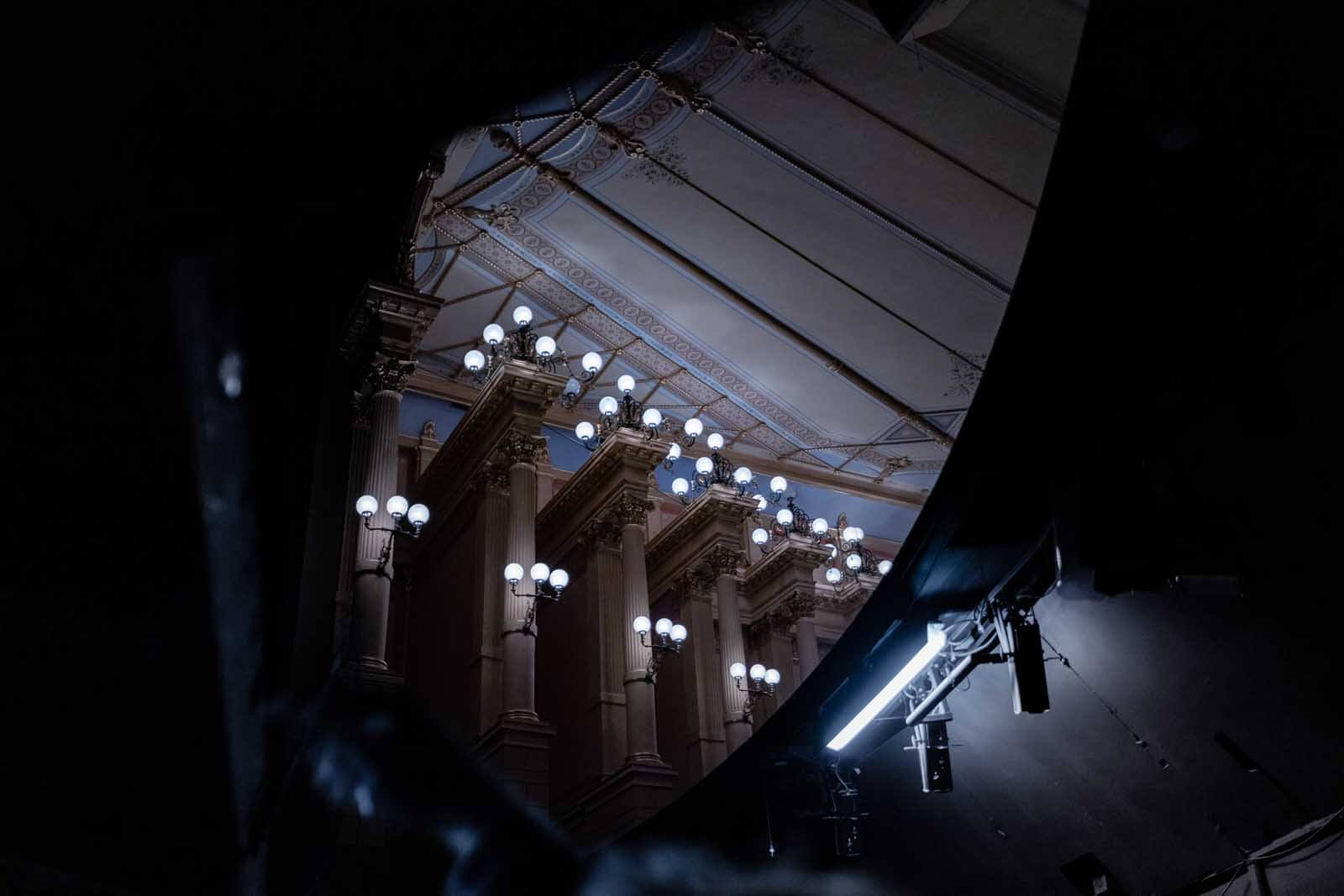 The most interesting feature the Festival House offers is the stage and where the orchestra plays in the orchestra pit. It's located under the stage and covered by a hood so the audience cannot see the musicians or the composer during the performance. This was to make sure that the audience paid full attention to what was happening on stage.
The hood also is designed in a way to bounce the sound from the orchestra pit off the walls to balance the sound between the orchestra and singers with the best acoustics for the audience possible. It's incredible how much thought and science is behind the sound of this place.
That being said, the Festival House is actually the most difficult for composers to do their job in because of the sound delay of what's going on above on stage with the singers.
Even today you can enjoy some of the famous works of Richard Wagner and performances in the Festival House every year during the annual Bayreuth Festival in July through August. However, there's a long waiting list, years even to get a chance to see a performance here among some of the most affluent leaders in the country and world.
The people who come absolutely love it and are die hard because there's no air-conditioning in a theater packed full of people dressed for black tie in the hottest summers of the month. We were told people have passed out from the heat before. So if you nab a seat after a few years on a waiting list be prepared to commit fully for this once in a lifetime experience and thing to do in Bayreuth, Germany.
Maisel's Bier-Erlebnis-Welt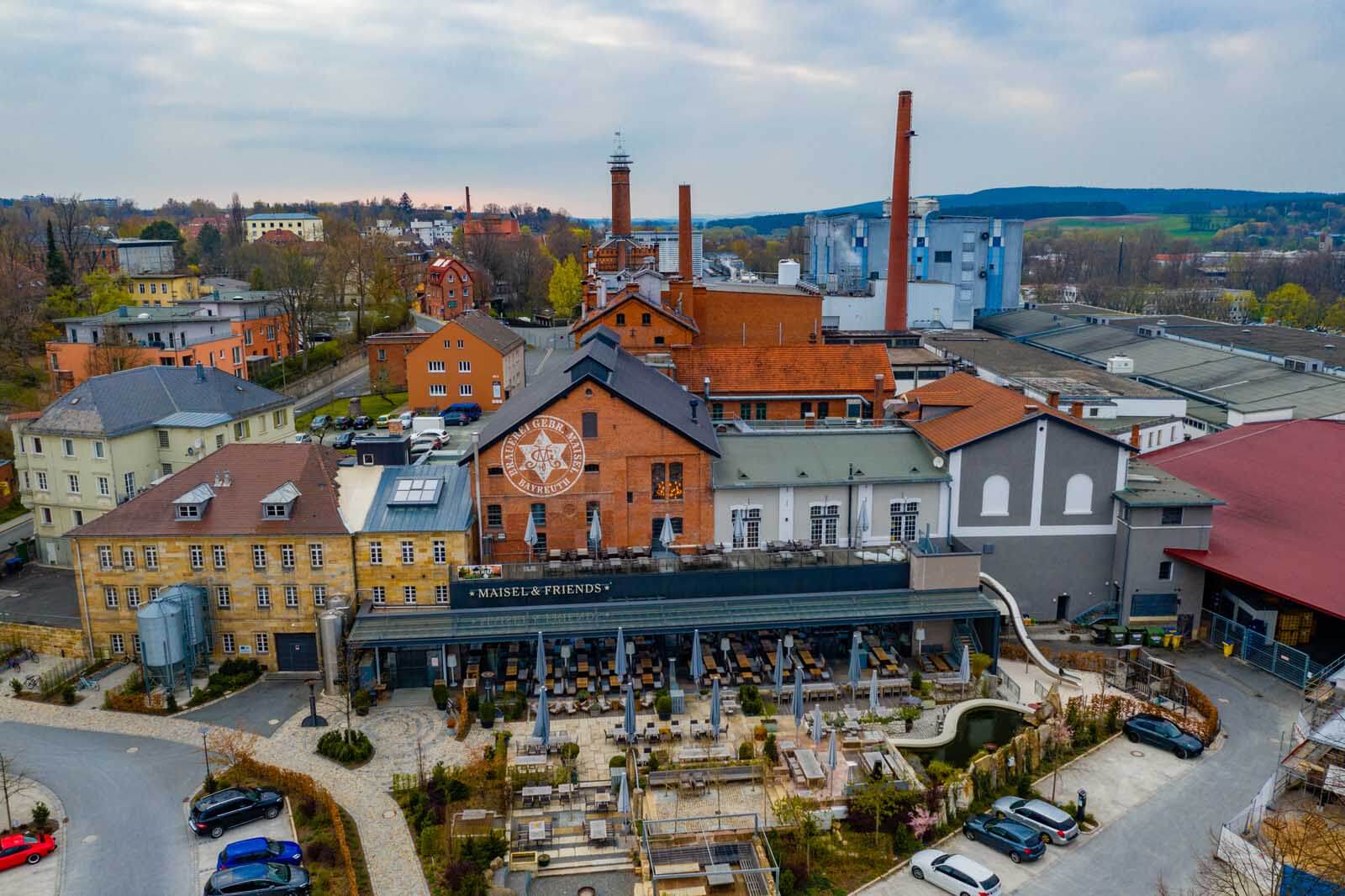 One of our favorite things to do in Bayreuth, Germany is head over to Maisel's, a local brewery or their restaurant Liebesbier for some of the best beer in the world.
Maisel's Bier-Erlebnis-Welt is famous for its wheat beer worldwide and is even one of the top wheat beer producers in Germany. Trying their wheat beer is a must for visiting Bayreuth.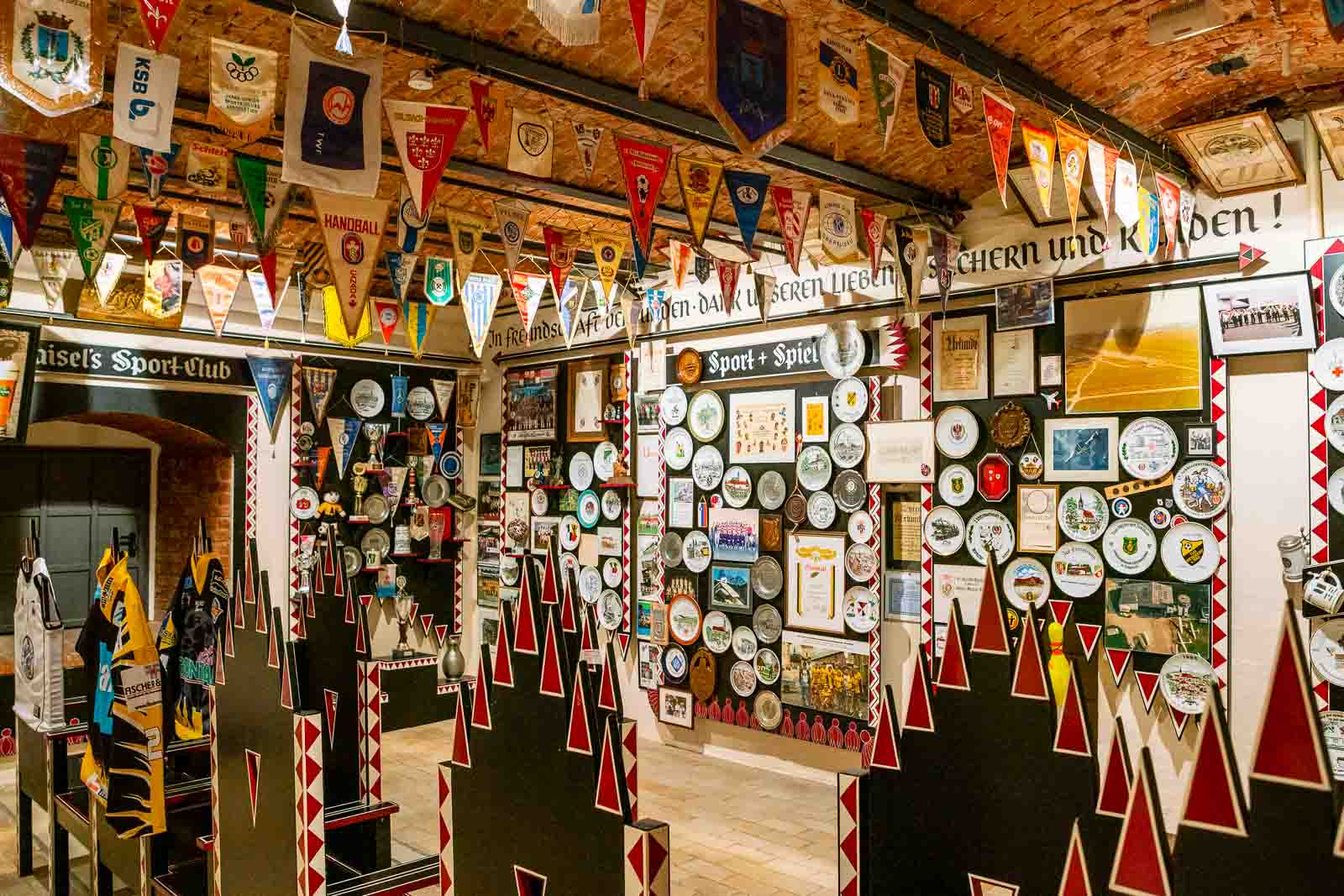 Besides being a fully operating brewery, Maisel's also has their Beer Adventure World and tour of their old brewing facility. What's really fascinating about this is that its different from all the other brewery tours we've been on. They share their tradition for brewing beer under the German Purity Law in their old antique facility – that's not being used for producing beer anymore – and collection of beer steins and other collectibles like vintage tin advertising posters.
The entire old brewery tour is an antique lovers dream come true as well as it looks pulled straight out of a Wes Anderson movie set.
You finish your tour by passing through the modern facility where they get more experimental with beer. This is where we found Maisel's to be quite innovative and forward thinking for such a traditional beer country. They have their craft brewing facility here as well as their traditional brewery making their wheat beer.
They hold an annual home brewers contest where local home brewers and craft brewers come and show off their best brews. The winner gets to do a collaboration with Maisel's and brew right here in their facility for mass consumption. We actually were lucky enough to be here during the contest and got to have a drink with the previous year's winner.
Their Maisel & Friends is exactly that. They not only sell their own beer but sell over 100 beers from all over the world supporting their peers/friends and helping some smaller breweries get their name out there through their shelves. We LOVED this concept and how they foster their own community.
Last, there's Liebesbier their restaurant. Every detail in this restaurant was thought out and ties back into their tradition of brew making. From the materials of the tables to the bar.
We loved the inviting atmosphere here and the outdoor seating, even though we didn't get to sit in it as it was just a wee bit too cold still, was top notch with outdoor fire pits and the perfect hang out spot and meeting place in the evenings.
Their food is incredible, we ended up eating dinner here two out of our three nights as it was a nice break from traditional German food. If we were local Bayreuthers we would be regulars here.
Don't miss out on trying their flight of beers either so you can taste an entire spread.
Also, if there's a beer you want – chances are they have it or something similar. They have beer sommeliers available to give you the ultimate beer experience. From using a hot iron rod to make our beer into a frothy cappuccino-like beer experience to trying their strong Ice Bock, we had a few new beer experiences added on this trip that we will never forget.
This is a beer lover's paradise and our favorite thing to do in Bayreuth, Germany.
Bayreuth Catacombs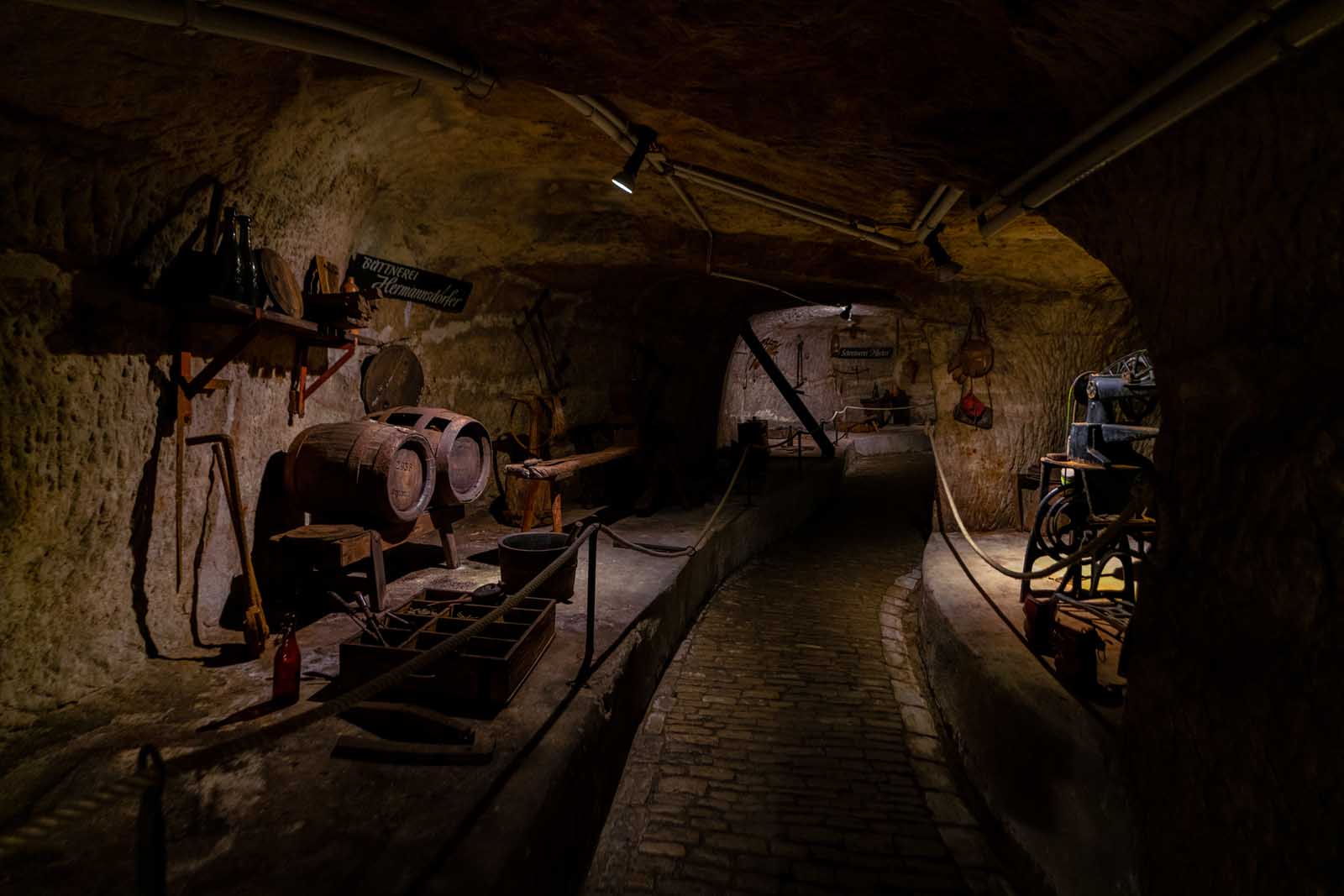 Connected to the Bayreuther Brewery are catacombs used for traditional beer making and shelter during World War II and are one of the most interesting things to do in Bayreuth, Germany.
You can join a tour from AKTIEN Brewery down to the underground labyrinth cellars where beer used to be held in wooden barrels for storage and the maturing process.
It's only possible to come down to the catacombs with a guide who will take you on a 60-minute adventure and history lesson of the catacombs from brew making to the more recent history where locals sought refuge down here during the bombings of WWII.
There are antiques and displays you'll walk through from the barrels to haunting mannequins on display to pay homage to those who hunkered down here for safety and even a tribute to locals who helped feed and care for the people who were hiding down here for safety during WWII.
After the tour you will get to relax and enjoy one of their beers. Our favorite was their Kellerbier served in the ceramic beer stein.
To set up an English guide you'll need to do this in advance, you can contact them directly here: [email protected]
Richard Wagner House & Museum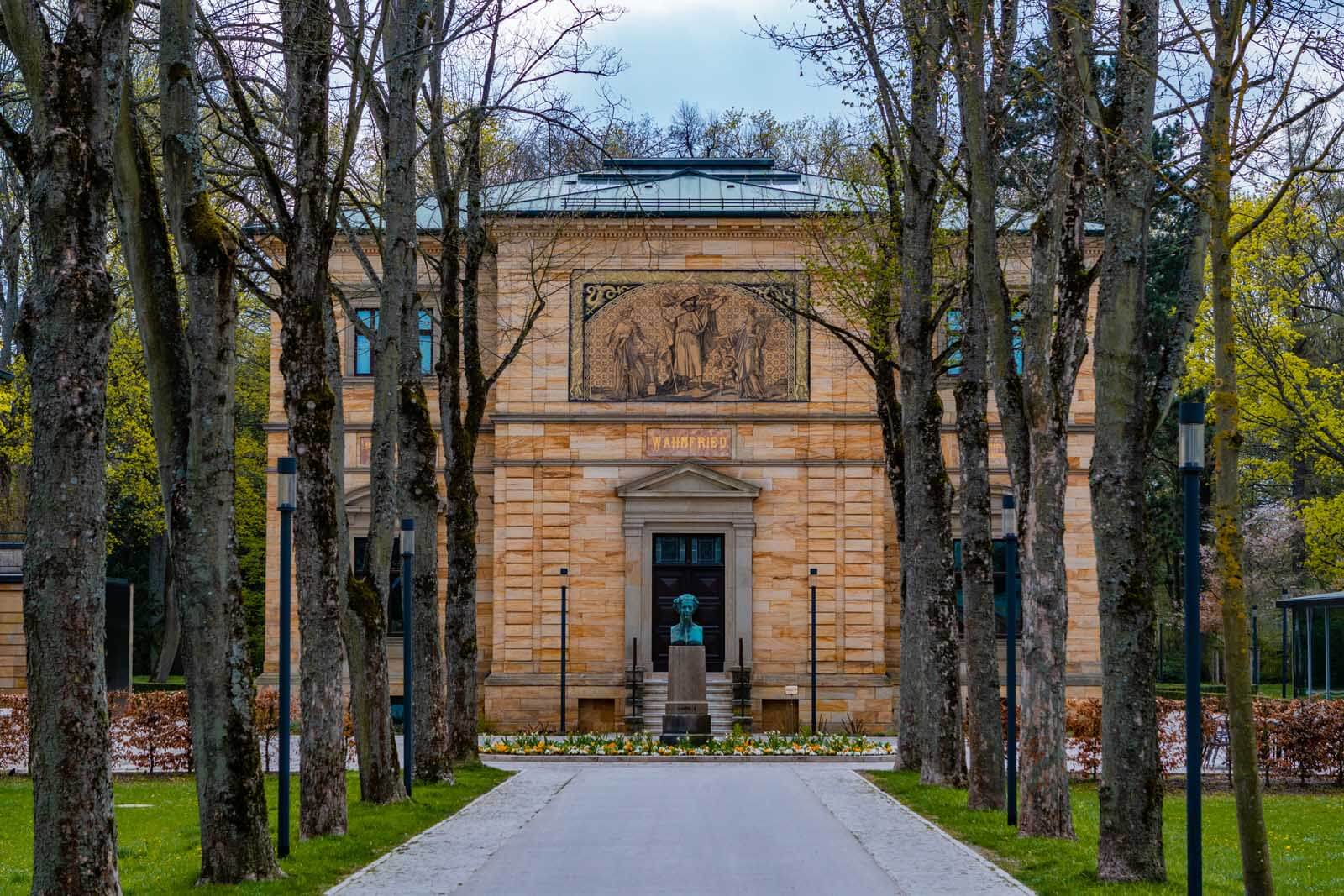 If you're a fan of Richard Wagner and his music this next thing to do in Bayreuth, Germany is for you. The former home of Richard Wagner known as the Wahnfried House is now converted into the Richard Wagner Museum consisting of three different buildings.
The Wahnfried House holds the national archive and research center on the life and work of Richard Wagner and the history of performances that have taken place at the Bayreuth Festival.
The other buildings offer permanent exhibitions of the life and work of Richard Wagner.
After you're done admiring all the work and life of Richard Wagner you can stroll through the neatly manicured garden and park of Hofgarten located behind Richard Wagner's home and his tomb.
Richard Wagner Trail through Bayreuth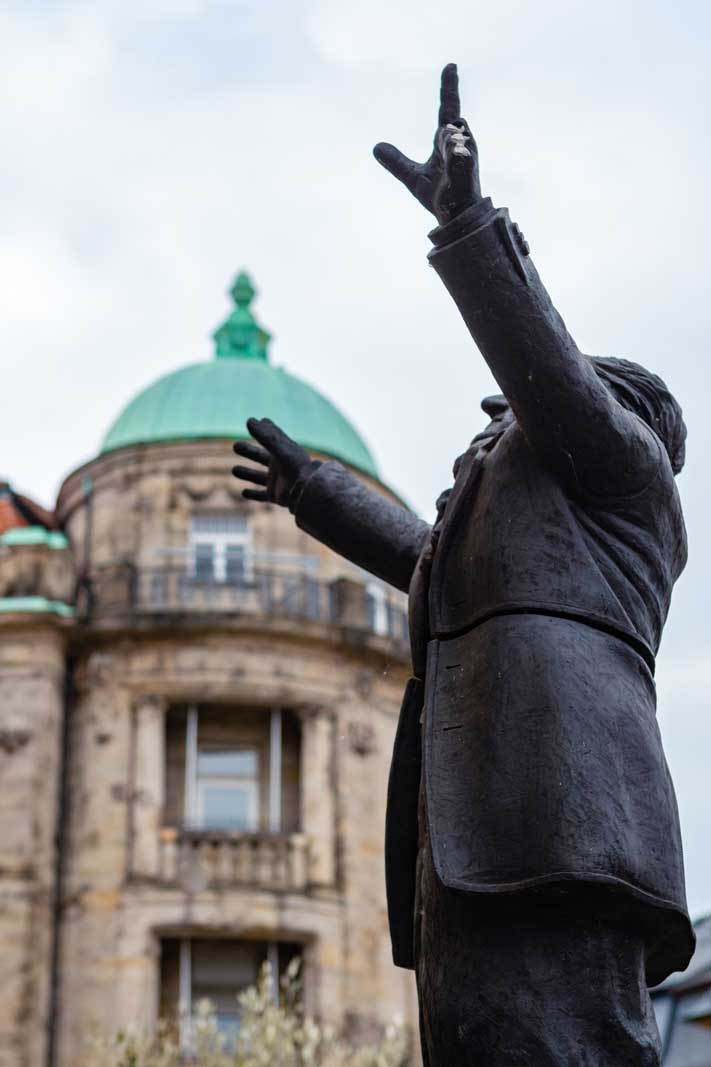 If you're dying to learn more about Richard Wagner and his ties with the city then this next thing to do in Bayreuth, Germany is for you.
The Robert Wagner Trail starts at his house and museum leading to the Festival House along the trail with 18 different markers. You can spot the markers easily throughout the city, they are miniature statues of Richard Wagner composing and each one has a little history about Richard Wagner.
Since returning and new visitors come every year for the Bayreuth Festival, the information on the markers change every year to a theme or story so that you're learning something different involving Richard Wagner and Bayreuth, Germany each year.
We thought this was a really clever way of getting people to come and do the Richard Wagner trail year after year.
A little tidbit about these statues is that the city of Bayreuth had a big problem with people stealing them! They had to bolt them down and secure them more so it was harder to steal them. However, you can tell in our photo that people are still defacing and taking a piece of these statues home with them, this Richard is missing some fingers. Oh, poor guy. And yes, if you REALLY want one of these statues you can buy one, check out Bayreuth Tourist Information Center to bring Richard home with you!
Friedrich Street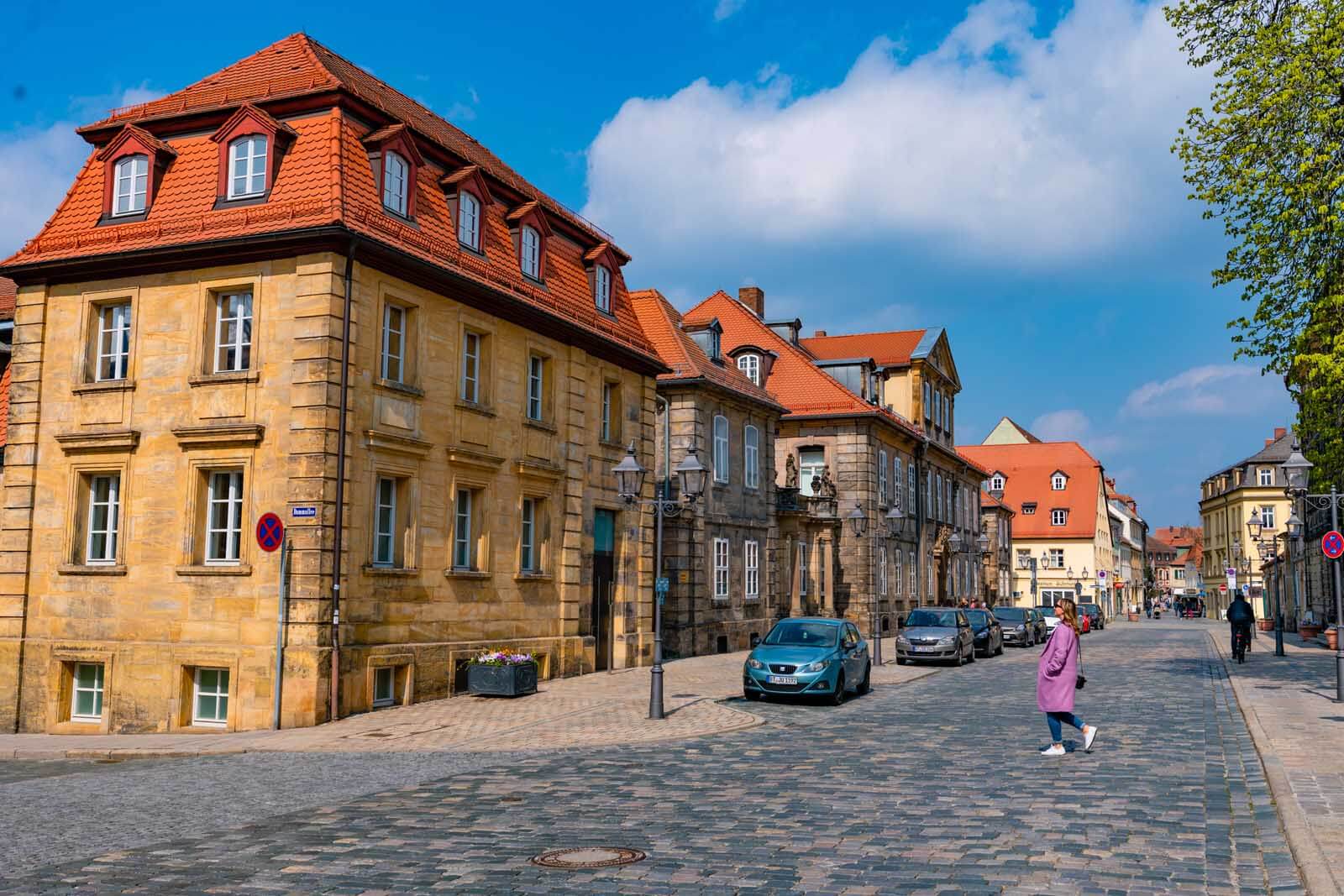 One of our favorite areas to explore and things to do in Bayreuth, Germany is walk down Friedrich Street or Friedrichstraße, what we like to call Bayreuth's millionaire's row. The gorgeous row stately two-story manors made of sandstone from the mid-18th century survived WWII and is one of the prettiest streets in the city.
This street was built outside of the old city walls and was home to some of the wealthiest in the city.
Notable writer, Jean Paul lived in two different homes on Friedrich Street and today the piano manufacturer Steingraeber & Söhne still is located here, famous for their grand pianos.
What makes this street even more picturesque are the lamposts, if you come at dusk you can see this street light up.
You can walk down Friedrich Street to get to the Richard Wagner Museum as well, this is a nice scenic stroll.
Eremitage
The Eremitage or the Hermitage is another one of the most beautiful things to do in Bayreuth, Germany. Nestled on a hill a bit outside the city center is the Old Palace and gorgeous gardens and structures that make up the Eremitage, a great place for a walk, picnic, and photos.
Margrave Friedrich gifted his wife, Wilhelmine the Eremitage in 1735. Almost immediately she began adding her artistic flair to the place making the entire Eremitage a treasure of Rococo style architecture.
She added on to the Old Palace as well as the different structures located around the property including the Upper & Lower Grottos and the Ruined Theater as well as baroque gardens and fountains making it a one of a kind place in Germany during the 18th century.
The most famous and picturesque spot in the Eremitage is the New Palace. This gorgeous structure is so interesting to observe. From far away it just looks like a really beautiful building but when you get closer you're surprised to find that there are chunks of colorful glass like a mosaic all over the structure for its color.
Neither of us have ever seen anything like it.
There's also a nice cafe here which is a great break for a coffee or snack if you find yourself a bit tired after walking everywhere all day.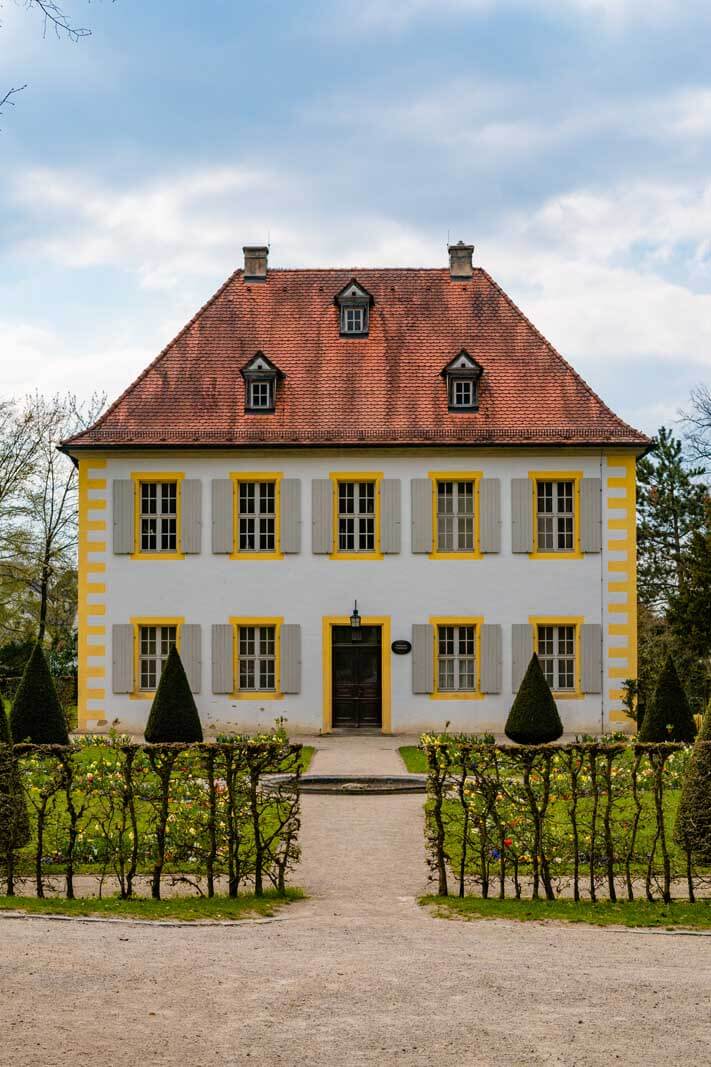 You will need to take a local bus or taxi up to the Eremitage, if you call a taxi be sure to get a phone number to call when you're complete. Another option would be to visit the Tourist Information Center in Bayreuth and either find out the local transportation schedule or arrange to rent e-bikes and make your own way up to this scenic spot located a bit removed from the city center.
Becher Bräu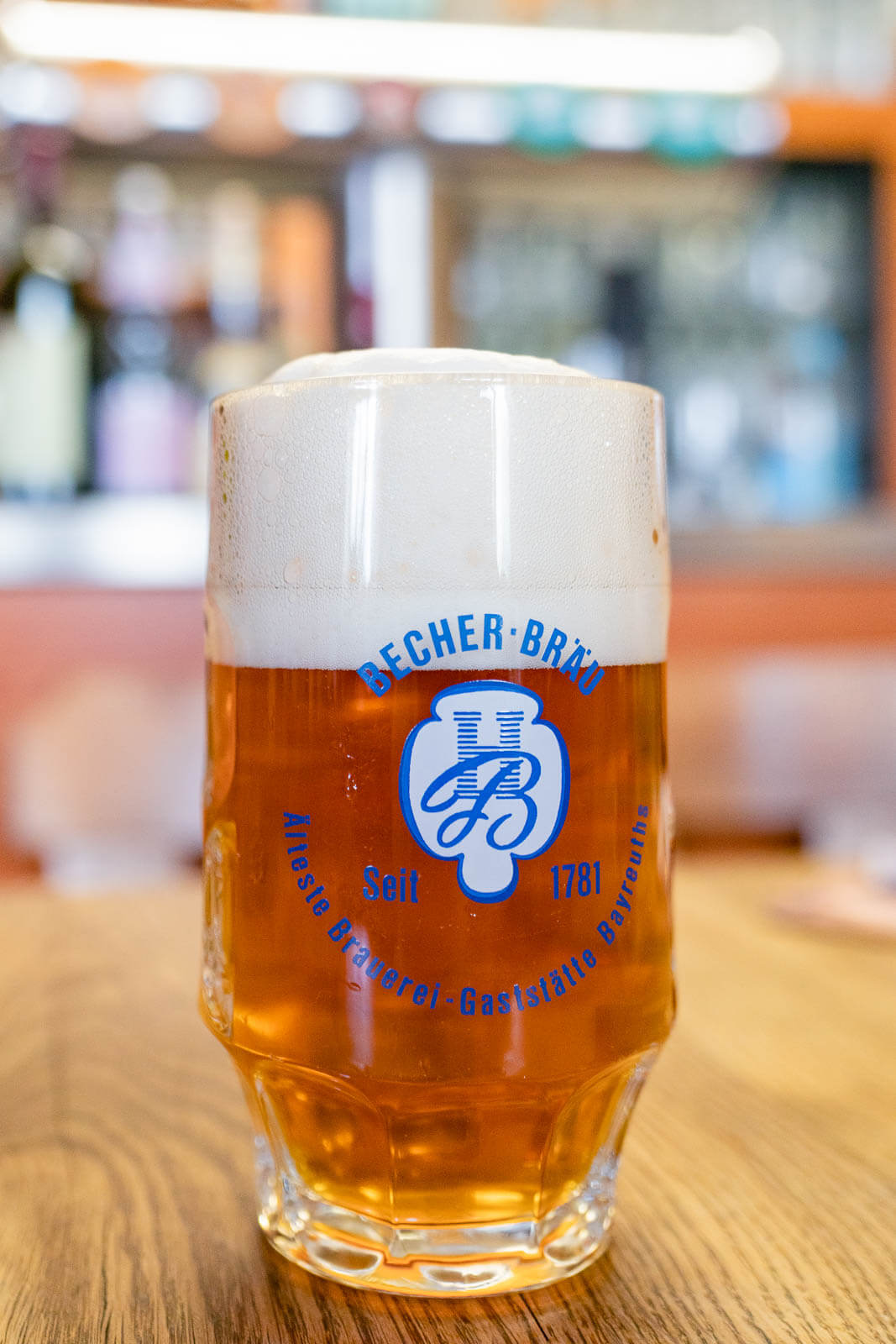 If you're looking to find another great brewery and thing to do in Bayreuth, Germany for beer lovers be sure to check out Becher Bräu, a family owned and operated brewery.
When you walk in its tradition to give a knock on every table that has people sitting in it as well as when you leave. You'll notice the locals doing it and you're supposed to too. I actually almost messed this up because I didn't quite understand that everyone goes around and knocks on each individual table when they enter and leave. Anyway, this is just a fun tradition this brewery has and you can impress the locals by doing it when you visit yourself.
Serving up great hearty dishes paired with one of their delicious beers. They have their regular beers that are always on draft as well as a monthly special beer they serve. This was sort of exciting to try the 'beer of the month,' while we were visiting and each one we tried was delicious.
The young couple who run the brewery together were both welcoming and kind to have us as foreign visitors in their brewery. The wife of the establishment actually spent time living in California and speaks English fluently. We recommend coming here for a traditional German beer and bar experience.
Palace Church and Tower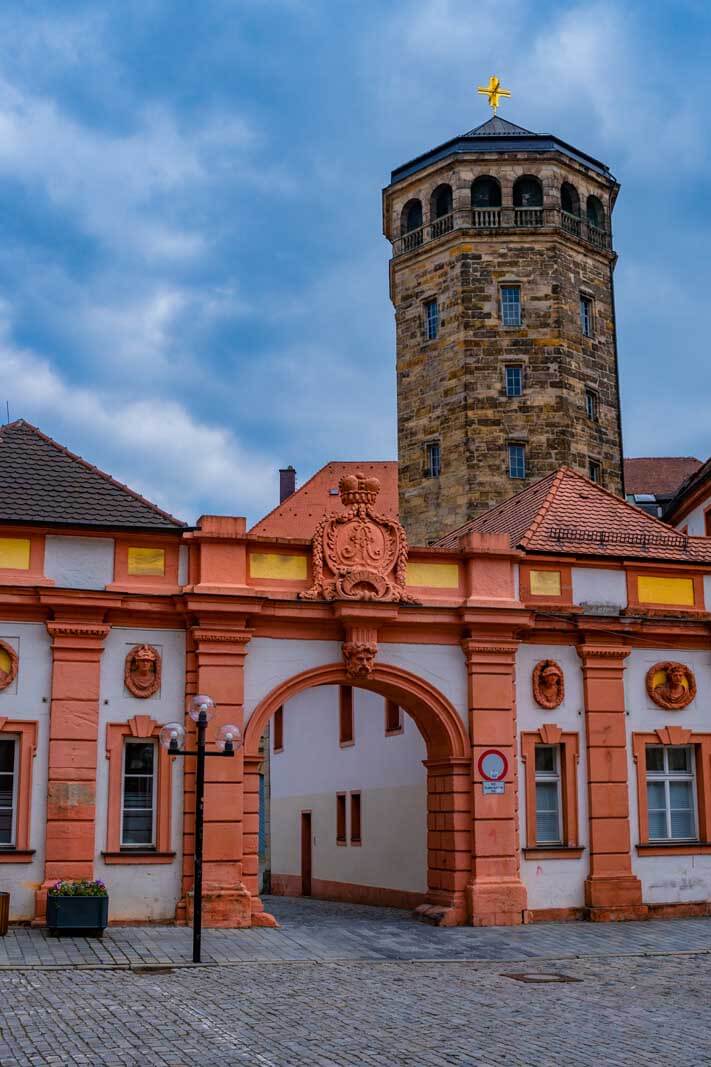 Another one of the best things to do in Bayreuth, Germany is visit the Palace Church and the Tower. This Rococo structure used to be attached to the old castle and today is considered the only Catholic Margravial Church in the world.
This is also where Friedrich, Wilhelmine, and their daughter Friederike Sophie's tombs are located.
The tower is also another great spot to explore where you can catch a beautiful glimpse of Bayreuth, Germany from a bird's eye view. Built in 1565 upon an even older foundation this tower is considered a landmark of the city.
Instead of having just a circular set of stairs going to the top you actually can climb by a winding slope. Our tour guide told us this was for the women to get pulled up to the top of the tower in their big dresses in a cart and the men would use the typical, narrow, winding staircase. This ramp was also used for horses, carts, and other carriages as well. This is one of the signature features that makes this tower so unique.
The reason the ramp was needed and there was so much traffic going on inside the tower was because this was where the peasants would bring their tributes to the margravial storehouse.
Pay notice to the stone mason marks along the wall. This was their way of proving their contributions by leaving their 'mark' or signature. Our guide pointed a few out for us.
When you get to the top of the tower you can see a few photos that show how the tower had changed over the years and different periods of time to what it is as you see it today, not to mention this is where the fantastic view of the city is.
Urwelt-Museum Oberfranken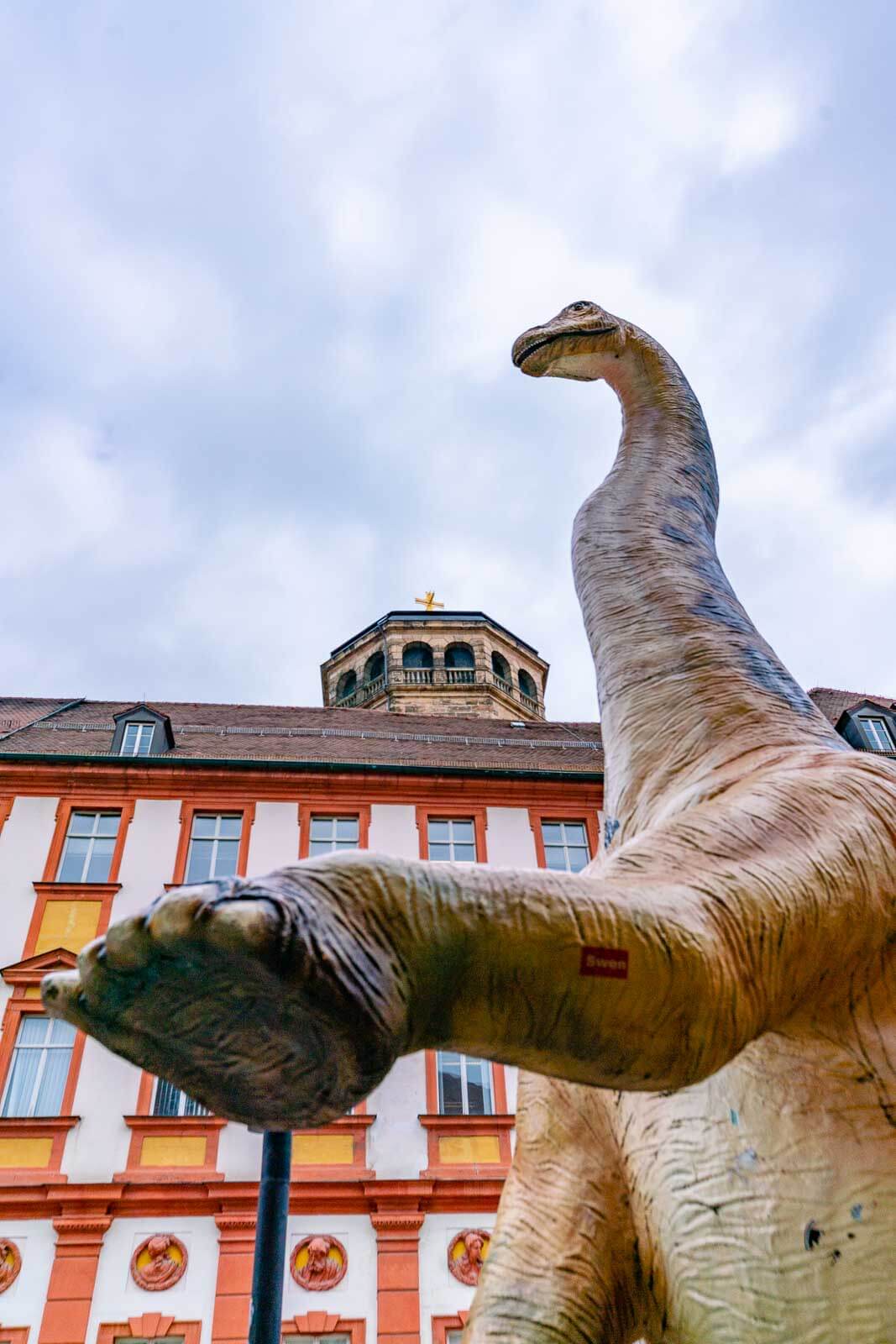 One of our favorite spots in Bayreuth, Germany was the dinosaur statue in front of the Urwelt-Museum Oberfranken. Inside you can find the collection of minerals, rocks, and fossils as well as dinosaur exhibits in the museum. However, the museum is not in English but does provide a brochure explaining everything in English and you can just follow along enjoying the museum and its exhibits on your own.
If this thing to do in Bayreuth, Germany isn't for you we recommend just admiring the awesome dinosaur and unique photo opportunity on the exterior of the building.
Stroll the Streets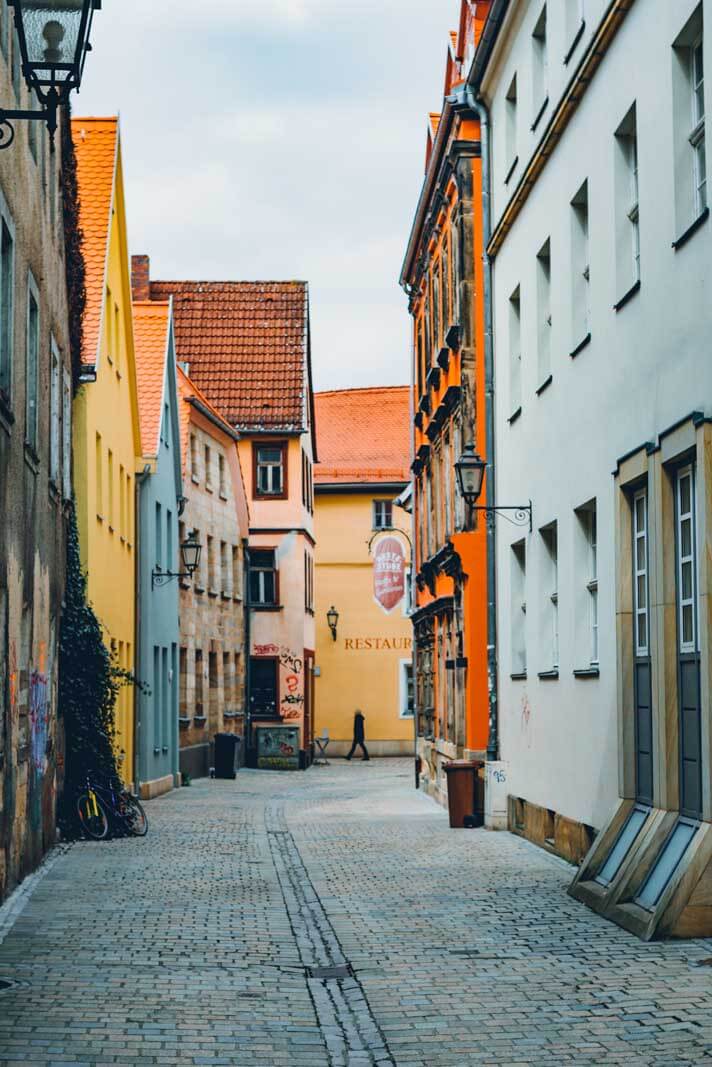 One of our favorite thing to do in Bayreuth, Germany was to just stroll the streets. Off of Maximilian Street, which is one of the main streets where you can find alot of restaurants and shops as well as some of the city's main sights there are some winding alleys of pretty, colorful, picturesque streets.
Take some time to do some aimless exploring and you'll find nooks and crannies of Bayreuth that you just can't find in a guide book.
Franconian Switzerland
One of the best things to do in Bayreuth, Germany is visit the Franconian Switzerland nature park. We sadly didn't make it on this trip but it is high on our to do list when we make it back to this region of Germany as we love visiting the parks of this part of Europe.
We have already been to Bohemian Switzerland National Park in the Czech Republic which borders with Saxon Switzerland where the incredible Bastei bridge is. We loved it and after visiting more than once we know that Franconian Switzerland would be another place we would love to explore.
There's something about Switzerland that both Germany and the Czech Republic love naming their National Parks after in this time when romantic artists and poets would frequent that area in the 19th century.
Franconian Switzerland is mostly located in Upper Franconia of Bavaria, Germany. Besides being full of gorgeous landscape, Franconian Switzerland is also famous for its high density of traditional German breweries in the area, another reason for us to love visiting!
Where to stay in Bayreuth Germany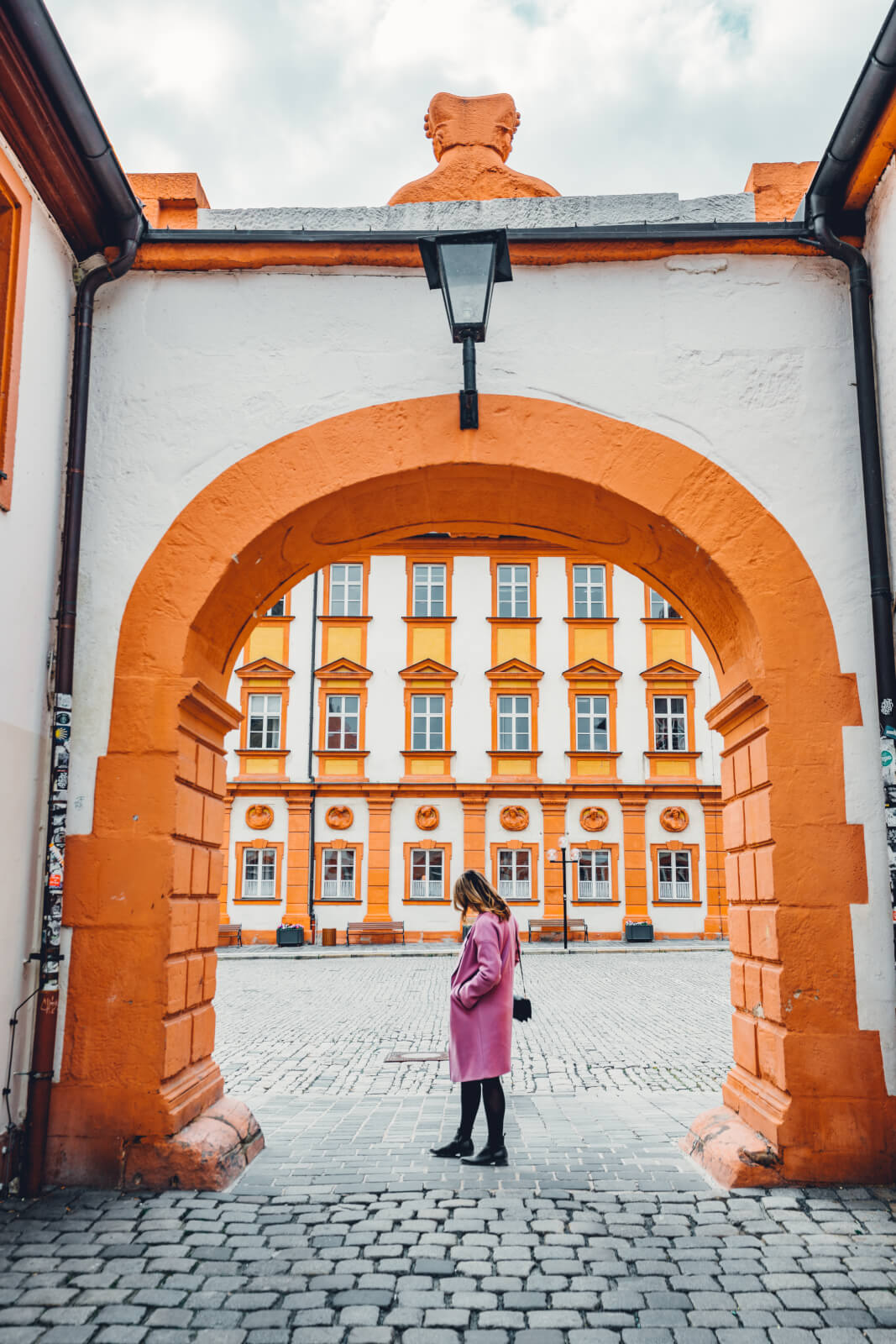 Hotel Rheingold
Hands down, the best hotel to stay at in Bayreuth, Germany is Hotel Rheingold. This is where we stayed on our visit and we loved the location. Only a 10-minute walk to all the greatest things to do in Bayreuth and less than a 5-minute walk to Maisel's for great beer and food. The rooms were traditional and comfortable and the breakfast spread was great with a mimosa bar on the weekends.
Book Now on Booking.com | Compare Prices for Later on Agoda.com | Check out Rates on Hotels.com
---
Liked this post about all the things to do in Bayreuth, Germany? Bookmark for later or share the love below on Pinterest.