Another day, another hike in the Bukhansan National Park. This time we did not have a hike in mind seeing how it was a last minute decision to go in the first place. The weather called for rain, so we decided to go earlier and try to beat mother nature.
We decided to do the first hike we saw a sign for! As we were walking towards the Fortress Gate we saw a sign for Uisanbong Peak to our right. The sign said 1.2 km and knew it was a winner with our time crunch. Little did we know this hike was going to be more challenging than expected.
Uisanbong Peak is 502 meters high (1,647 ft.) and literally a straight climb up. Usually it's been a gradual climb to the peak; The Golden Buddha hike was a relaxed pace 45 minutes to the Golden Buddha and then 10 more difficult minutes to the peak. Even Baegundae Peak hike got gradually more difficult as it went on. But this hike, you go straight to the top. Don't let the 1.2 km sign fool you! This hike starts off easy, but soon you will be climbing up 1,000 steps, grabbing on trees, slipping on granite while clinging to cables to climb this peak. The good news is it's over pretty soon.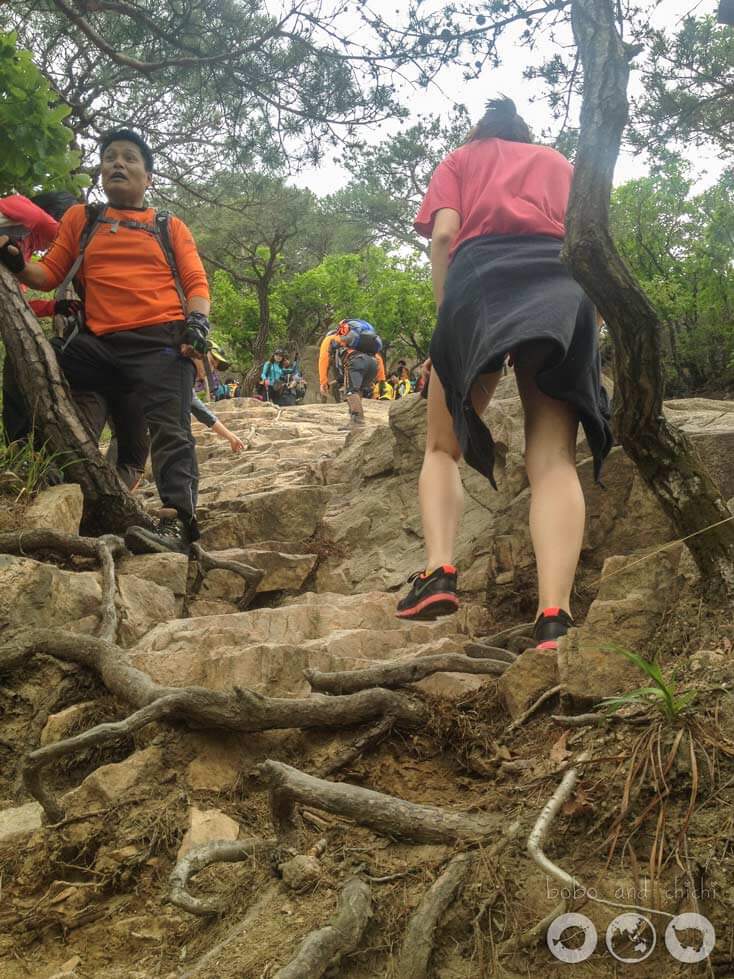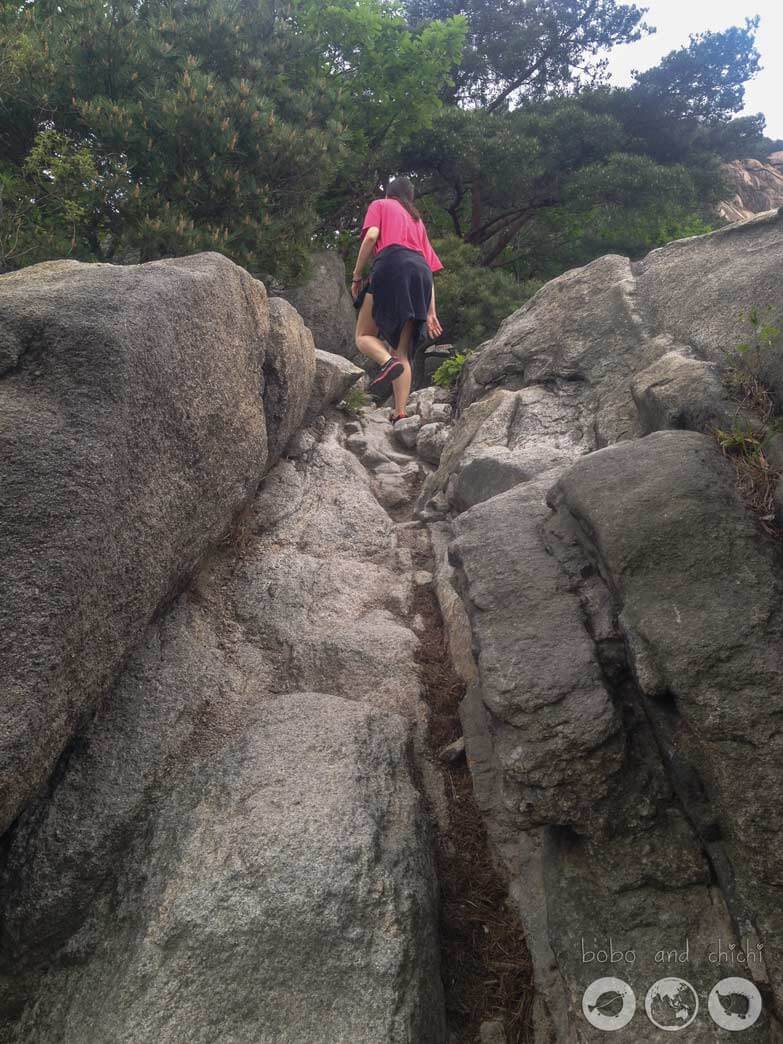 It only takes about 30 minutes to get to Uisangbong Peak, you are out of breath momentarily, but it is very rewarding to get to the top so quickly. You will come to a common resting spot with a perfect photo opportunity on a rock. We followed the other hiking groups and had to take a shot as well.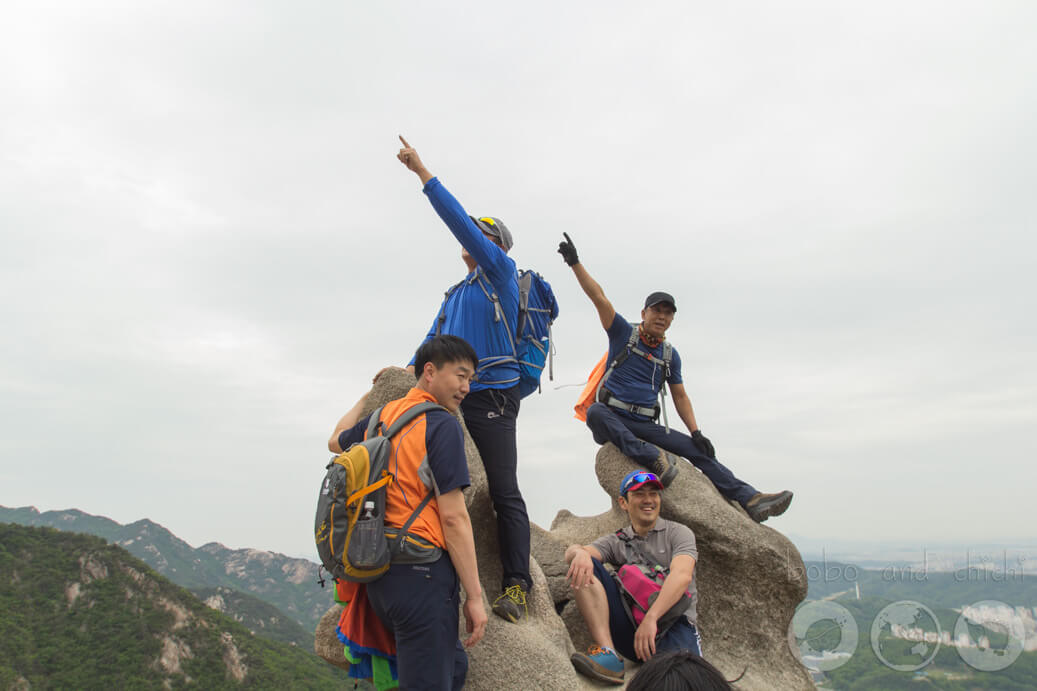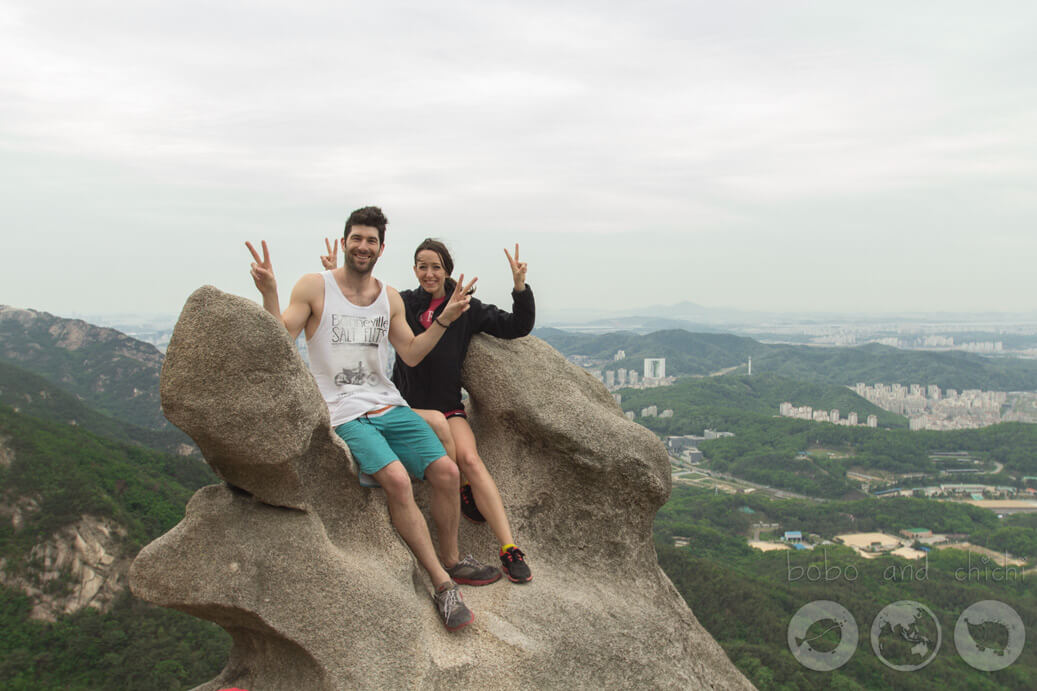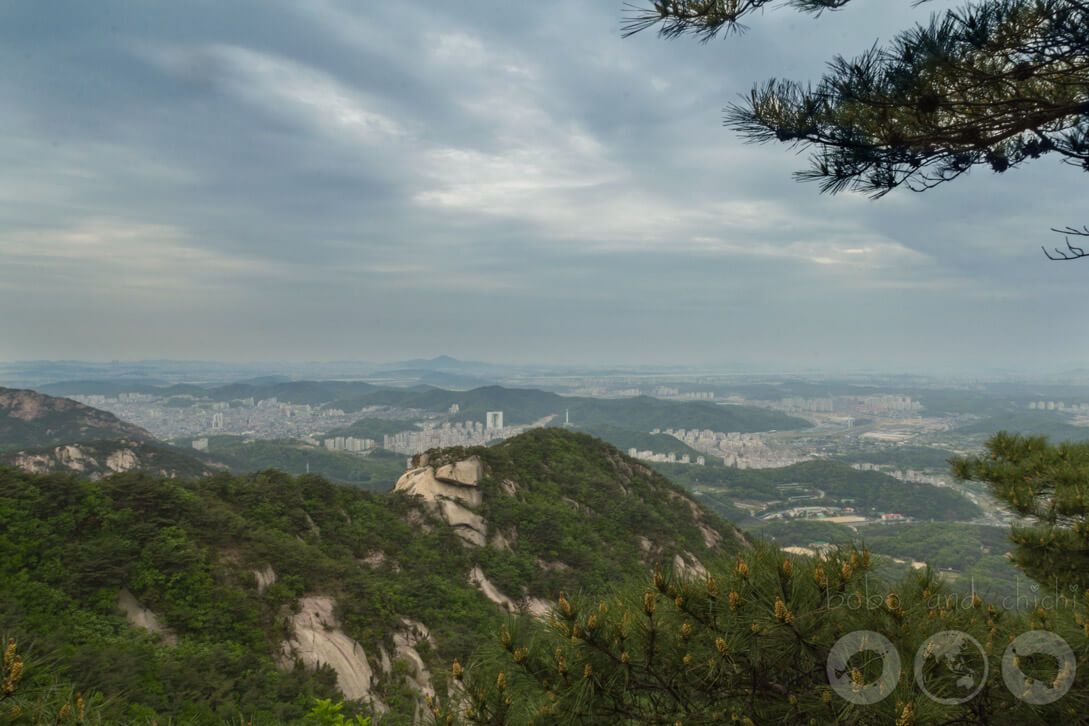 After the rock, you only have another 5-8 minute climb to the summit. From here you will see panoramic views of Seoul and Goyang. You should continue going instead of turning around to come back down. Going down the way we came up would be dangerously crazy and not a very good time. You will soon see our favorite Golden Buddha statue just down the mountain.
Once you get to the fortress wall you have a few choices to make. You can either continue straight to hit a few more peaks, go down to the right, or descend to the left and visit the Golden Buddha. It was a windy day and rain was coming, so we went with our familiar path of the Golden Buddha.
Directions to Uisangbong Peak
You can get to Uisangbong Peak by  heading to Gupubal station and take either exit 1 or 2. It doesn't matter because the stop is between them both.
You can then take either the 704, 34, or  the 720 (get in whichever one comes first) and get off at Bukhansan mountain. If in doubt just follow the other hikers. We are dying to know some more hikes in the area as we continue to explore Bukhansan Mountain. So if you have any great hikes that you have done, or photos. Please share with us your suggestions and photos in the comments below!
See what other hikes we've done at Bukhansan:
Happy Hiking!