A
glimpse; that is exactly what it is. Living northwest of Seoul for the past year we easily forget how close we are to the North and South Korean border. I have been teaching in Ilsan which is just a few kilometers away from North Korea. This past weekend we visited Paju which is where the DMZ (Demilitarized zone) connecting the disputing neighbors from war for the past decades.
Odusan Unification Observatory in Paju rests on a mountain where you can actually see North Korea with the naked eye. Odusan is five floors high with observation decks on almost all floors. We made our way to the top floor to check out North Korea. Just standing there all we could see were beautiful mountains after mountains that looked uninhabited and never-ending along with a small village only being separated by a small river.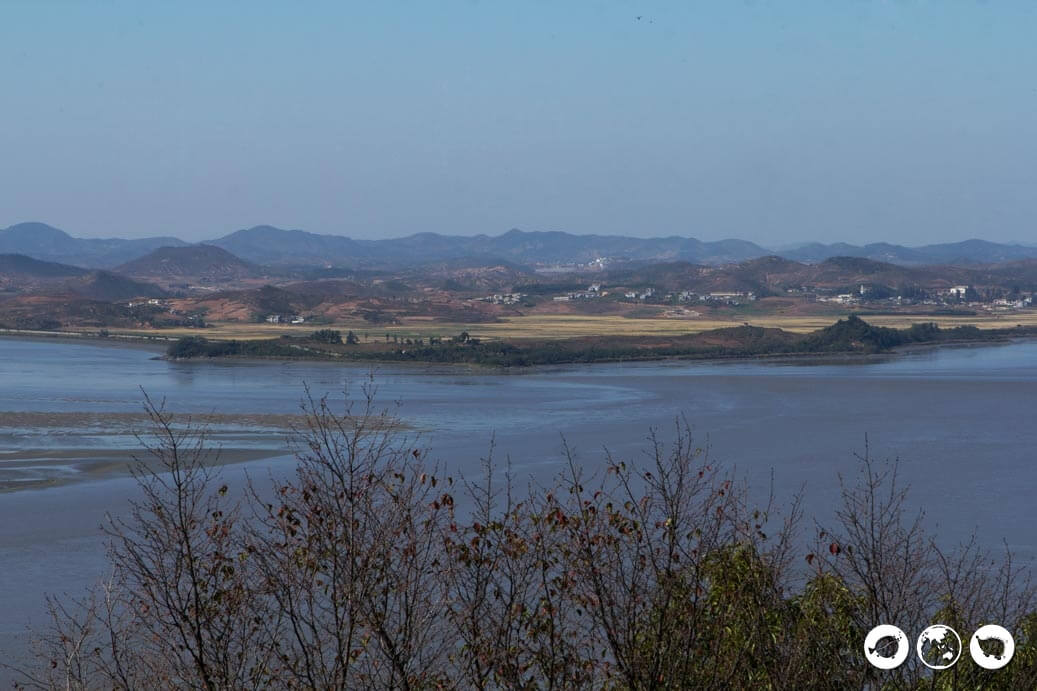 The river is actually the meeting point of the Han River and the Imjin River. The rivers are tidal so when the tide is low you can almost walk to North Korea!!! This really blew our minds seeing how we kind of overlooked how close we are to this isolated country.
There are binoculars everywhere outside where you can pay 500 KRW (~$.50) for a few minutes for a closer look into North Korea. Luckily there are change machines on each floor for those who don't carry pocket change.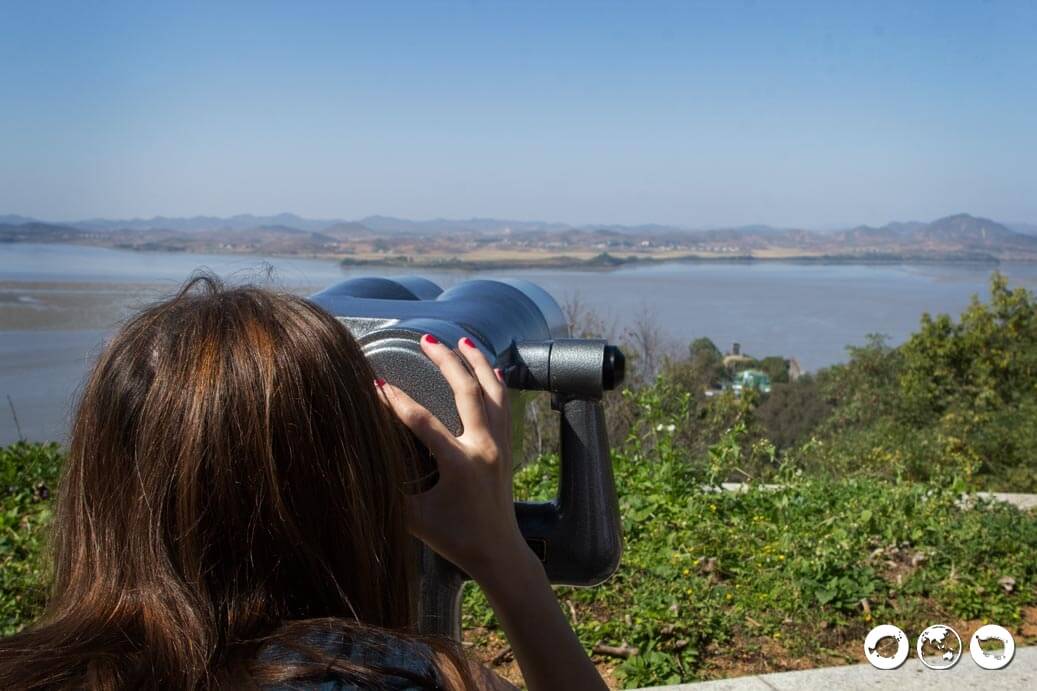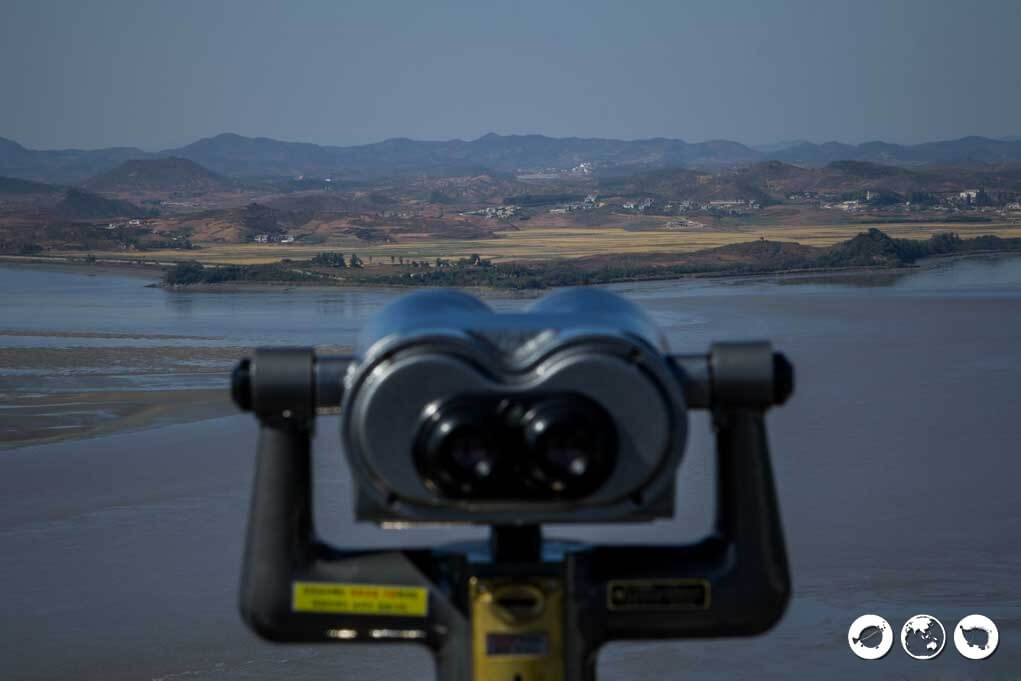 ---
We each looked through the binoculars and saw fields, what looked like a cluster of small apartment buildings, regular size homes or buildings which all seemed to look abandoned and like a ghost town. We were able to see two people walking along a dirt road along the fields, which is eerie because the few other bloggers posts I have seen on Odusan have experienced seeing the same thing, two people dressed in dark clothing walking along with the fields.
If you understand the Korean language you can watch the film presented inside the observatory. The film informs you how the village you see is all North Korean propaganda for people who visit the observatory. The village you see, which already looks run down and not completely finished during construction, was all set up by North Korea to portray their "lovely" living conditions for their citizens. We learned this information after we visited since we are not fluent in Korean. It really made sense because while we were there something didn't seem right, maybe it was that the village we could see looked like it wasn't completed during stages of construction, or that we only saw two people and the rest of the place seemed like a ghost town. Not to mention, it is a little eerie that many other people blogging about this place see a very similar description of two people dressed in dark clothing walking along a dirt road.
Inside is the history of the observatory along with some history of the tension between the two neighbors. We found it interesting that there was a train from Seoul to Pyongyang that was planning on running all the way to Paris! That is a long train ride! The plans and the train tracks were closed due to tension between the two countries. There are also real-life replicas of a North Korean classroom and living room.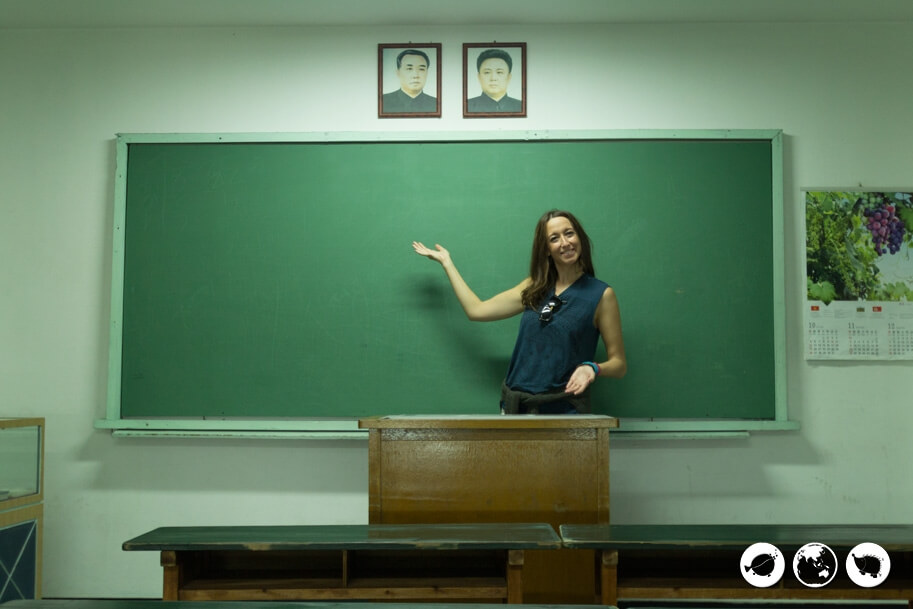 The observatory is only 3,000 KRW (~$3) to enter and it wasn't really that crowded. This is a great alternative than doing the popular DMZ tour that costs reasonably more and you need to book in advance. Not to mention it swallows up most of your day. You can also buy products from North Korea such as soju at the observatory. We think this is definitely worth a visit and only takes around an hour to visit. Afterward walk to Heyri Art Village for food. We had a ton of fun afterward visiting the Heyri Art Village.
Pro Tip:
Odusan Unification Observatory closes roughly an hour before sunset year-round. Check times before you visit to make sure you have time to see everything!

If you liked this post and want to see more like it, consider liking our page on facebook, following us on twitter, or seeing our latest photos on instagram.

*Please remember all photos on this website are copyrighted and property of Bobo&ChiChi. Please do not use them without our permission. If you want to use one of them please contact us to ask first because we'd be absolutely flattered and would love to share. Thanks!