The Midwest is easily one of the most underrated areas to explore in the United States. Full of cities and attractions that are often overlooked by travelers planning trips across the US. We recently visited Minot, North Dakota and found it to be such a vibrant destination that deserves more attention than it currently gets.
Minot, North Dakota is most well known for its use during the prohibition era as "Little Chicago," for being on the route from the US to Canada for rumrunners and more recently the home to an Air Force Base located just outside of the city. The population in Minot, North Dakota is just under 50,000 and is one of the largest in the state. Dubbed as the "Magic City," named after its quick growth right after the city was founded turning from a tent city to 5000 occupants in just a few short months.
From a gorgeous historic downtown full of colorful murals, shops, and places to grab a drink or a meal to the wonderful day trips just a short drive from the city, see our guide to all the best things to do in Minot.
Have more time to explore more? Check out our 4 day North Dakota itinerary starting and ending in Minot.
Table of Contents
Top
Travel Tips for Minot North Dakota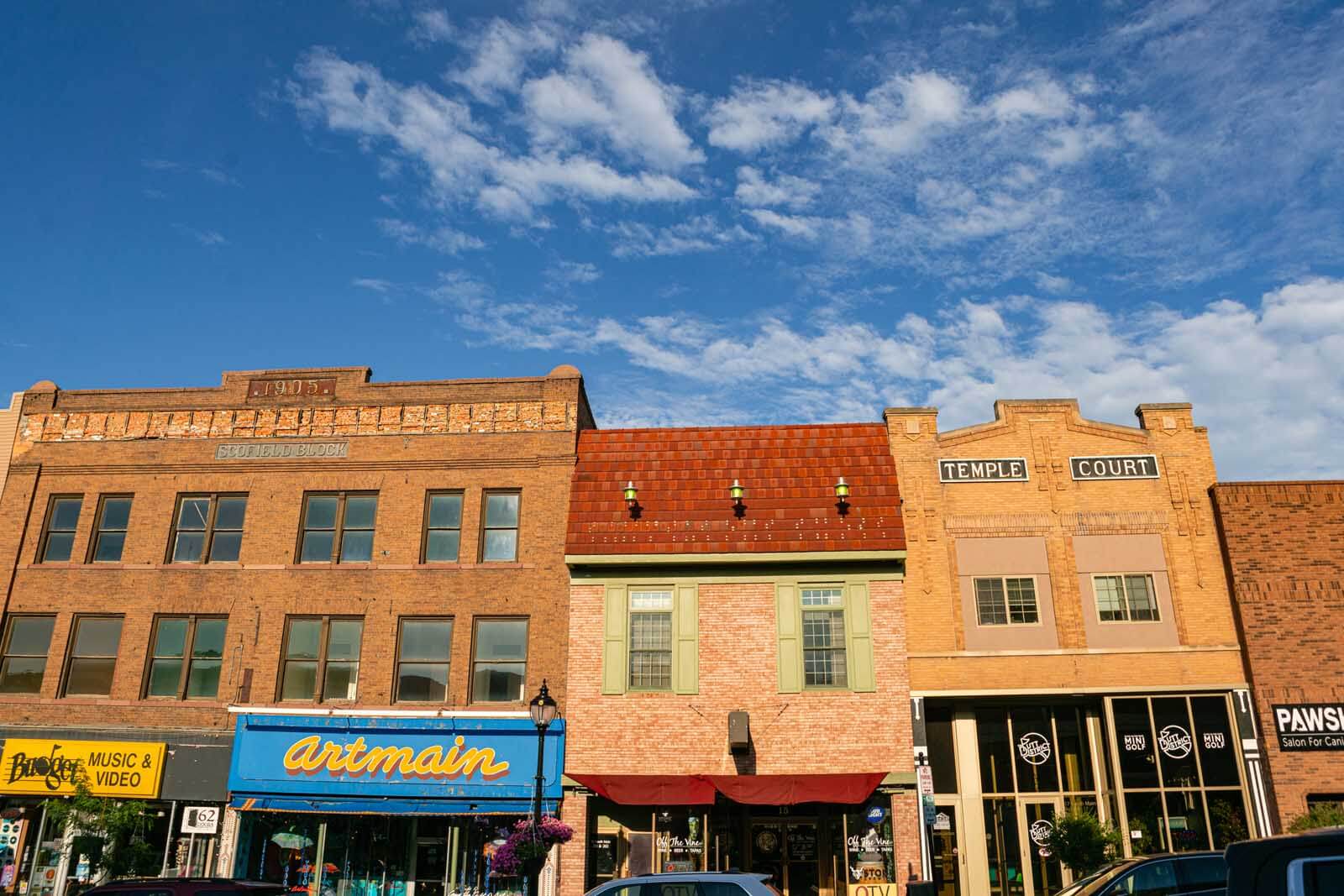 The best way to get to Minot is by air travel if you're traveling from far distances. Minot, North Dakota has its own airport, Minot International Airport (MOT). What's great about this airport is that it's conveniently located centrally close to downtown where it's easy to access all the best things to do in Minot.
If you plan on exploring any of the day trip options we recommend then you will want to rent a car, we personally like to rent cars with Expedia.
For the day trips from Minot that we recommend, we highly encourage getting an SUV or larger vehicle with AWD or 4WD. While the places mentioned in our guide doesn't require this vehicle we found that some of the roads are traveled more comfortably by having a bigger vehicle. Some of the roads we took are dirt and if you're visiting in any season besides summer there's a chance of snow in which you'll want to have more control and a better vehicle for driving in these conditions.
If you're visiting in the summer we highly encourage you to bring bug spray. You'll be in prairie land which is prone to bugs and mosquitos whether you're on the lake or just exploring the national park.
Last, the best time to visit Minot, North Dakota for comfortable weather is in the summer months. Even in the fall, the weather can get very cold and the middle of winter temperatures get very cold, while there are still winter activities to enjoy like ice fishing you'll want to come prepared for seriously cold weather if you plan to visit during any time other than the summer months.
Things to do in Minot
Check out the Street Art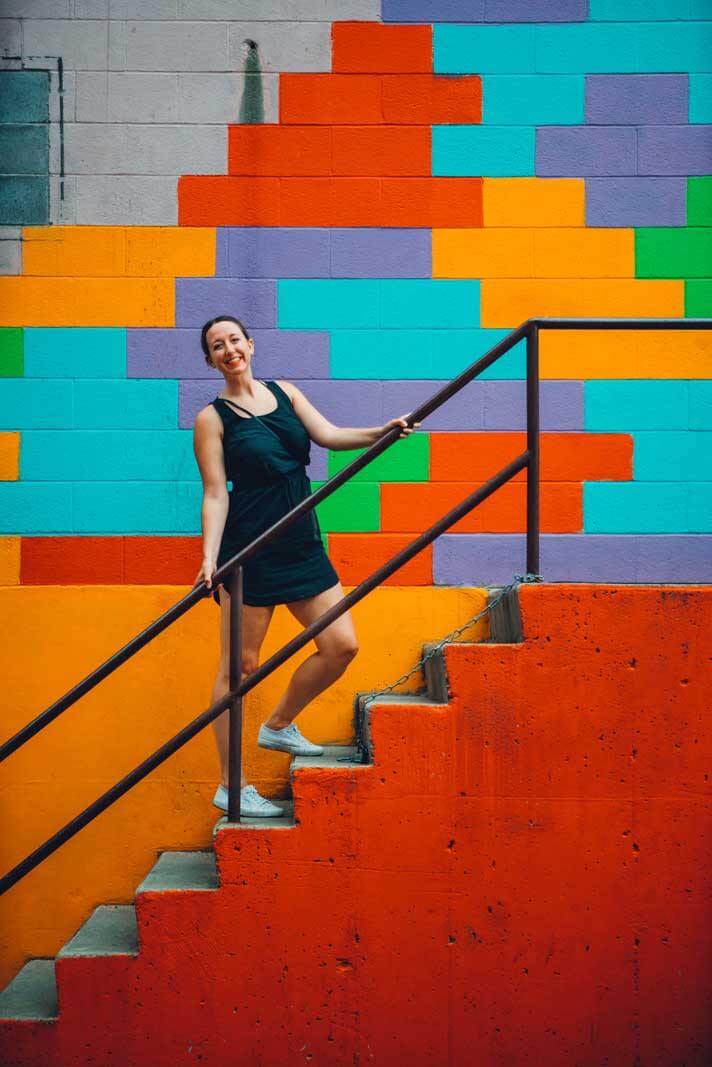 One of our favorite things to do in Minot was walking around the historic downtown and locate all the different street art murals dotted through the streets. After the devastating flood that swept through Minot, North Dakota and the surrounding area, the street art movement was one of the few projects put in place to help revitalize downtown and attract visitors.
There are 16 murals in the downtown area of Minot that are all walking distance apart from eachother. The tourism office even has a visual map you can follow to find each mural. You can find it online or just wander aimlessly and find them on your own.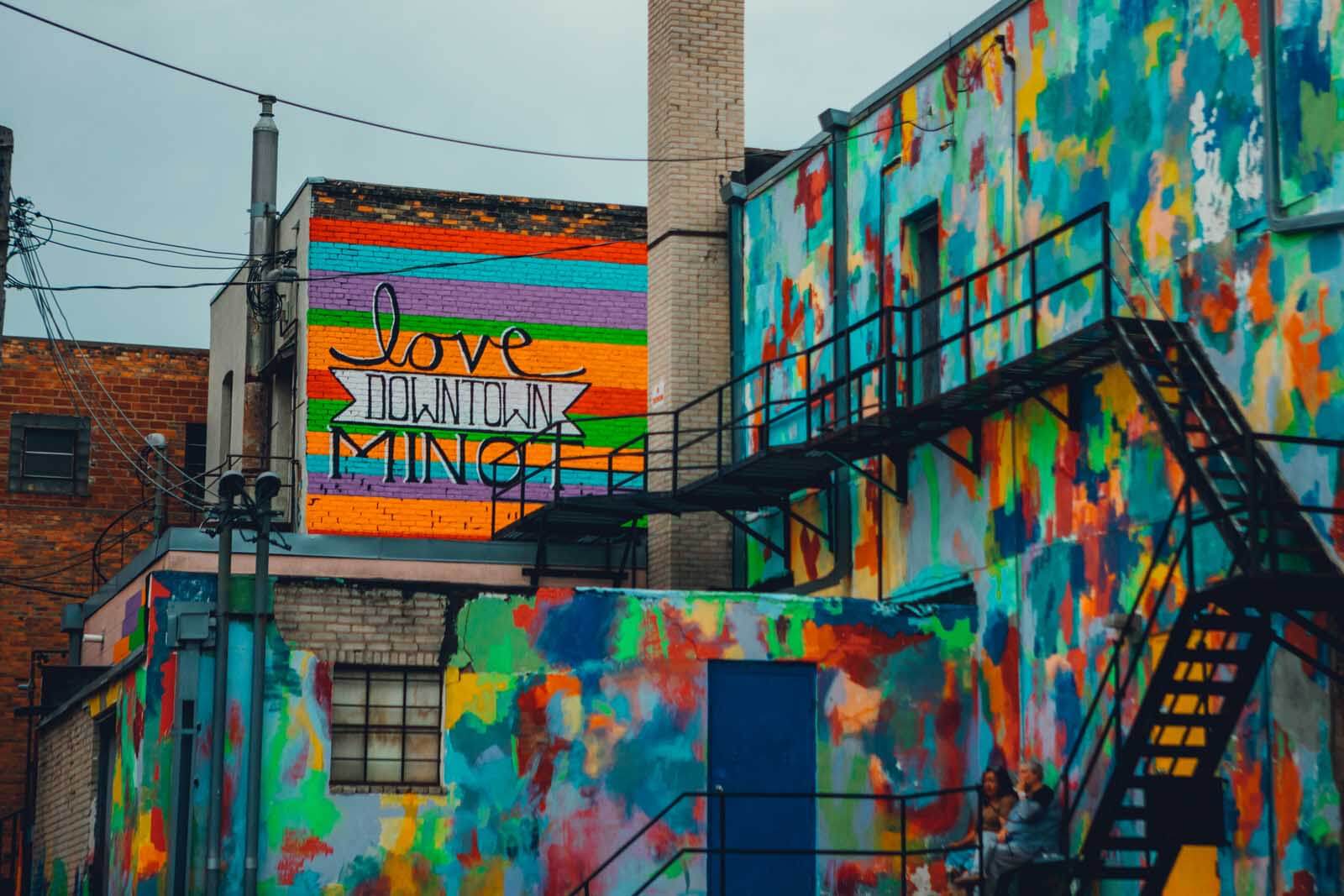 We appreciate the fun color pops that street art and murals bring to a city and love that Minot has embraced its local art community and created this project. The downtown is already very photogenic with its old historic buildings and the juxtaposition between the older buildings and the new urban art scene is really interesting and fun to photograph.
Don't miss the "Magic City," mural since that's the nickname for the city and what to do in Minot if you want to take home a photo souvenir to remember your trip by!
Scandinavian Heritage Park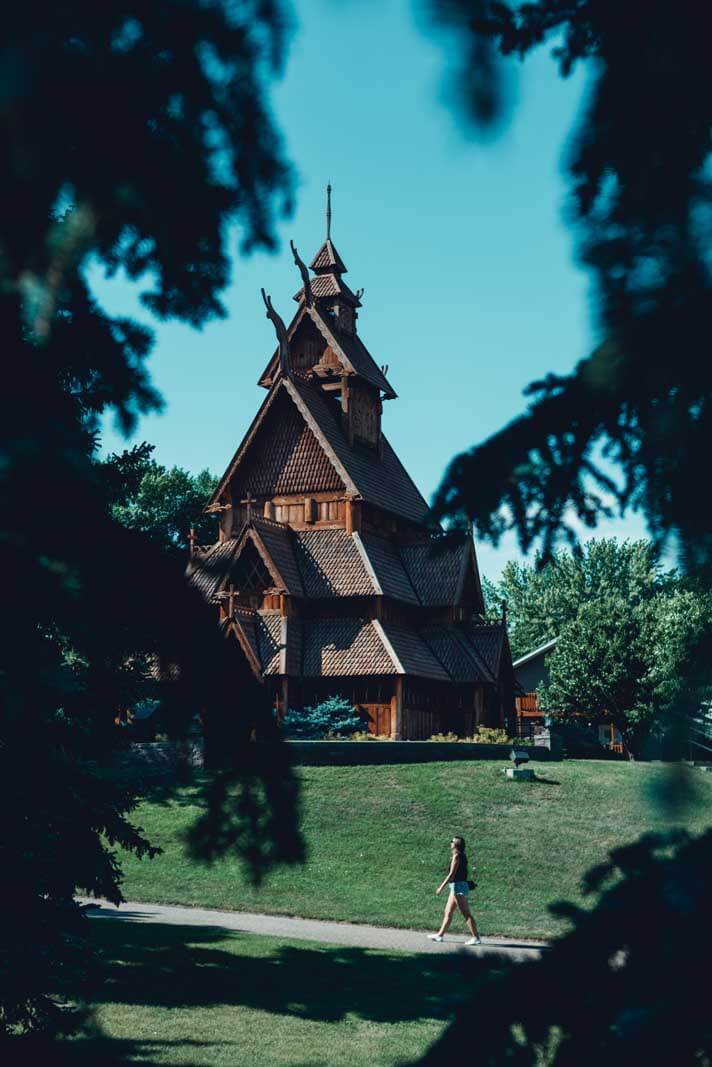 Another one of the best things to do in Minot, North Dakota is visit the Scandanavian Heritage Park. While driving through Minot you can't miss the giant Norweigan Stave Church that dominates beautiful green space the park is located in.
The region is famous for its Scandinavian influence and heritage after an influx of Scandinavian settlers came to the area during the last half of the 19th century and first half of the 20th century.
We were told the huge amount of Norwegians specifically flocked to this area because only the eldest men could be landowners in Norway, having land 'up for grabs' in the United States was attractive to many Norwegians who might not be able to own land themselves in their home country.
The Scandinavian Heritage Park celebrates the Scandinavian culture and influences in the area.
Our two favorite spots to visit in the Heritage Park were the Norweigan Gol Stave Church replica and the giant Swedish Dala Horse.
The replica of the Stave Church is especially interesting as there are as few as 28 left in Norway which is a stark comparison considering that around 1000 were built in the middle ages. The replica here is built after the Gol Stave Church in Norway. Be sure to go inside and admire the woodwork, plus it smells great!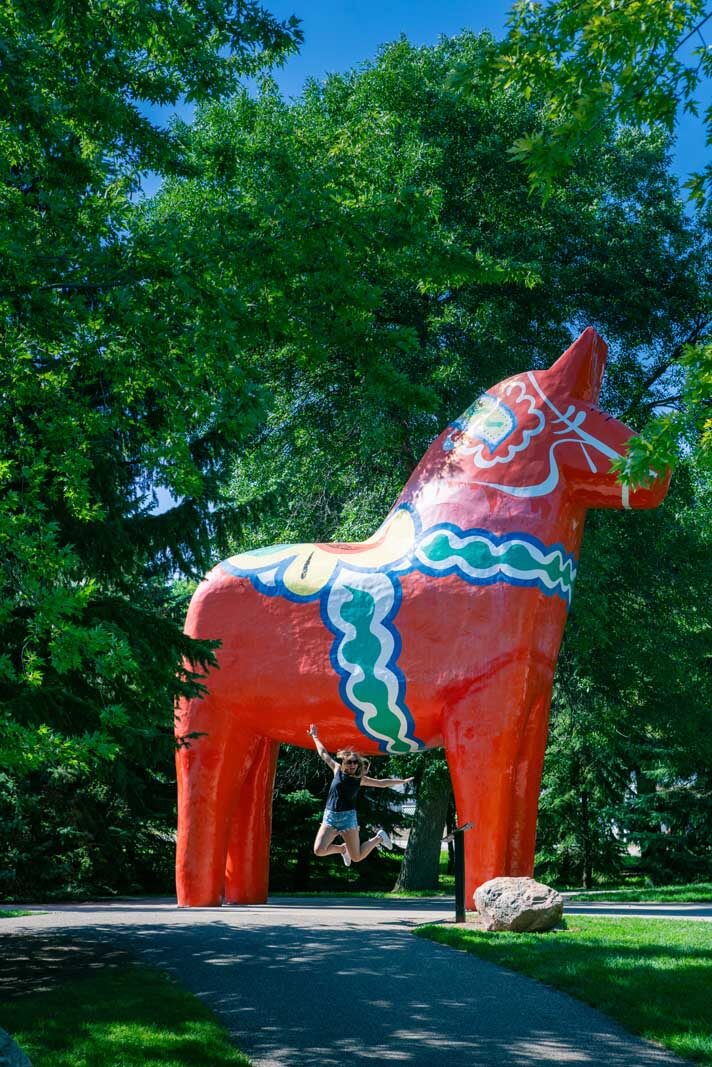 The large Swedish Dala Horse is also incredible! These painted wooden horses are a tradition in Dalarna, Sweden. If you fall in love with the Dala Horse like we did you can purchase one in the visitors center right next to the Heritage Park.
Besides those two monuments, you can walk around and visit the other buildings and monuments erected here to honor each of the Scandinavian cultures and some of their most notable figures in history.
Don't miss visiting the trolls either, there's one inside the visitors center and sigdal house.
Another great idea for what to do in Minot if you're visiting in September is the famous Norsk Hostfest held annually at the North Dakota State Fairgrounds in Minot, North Dakota celebrating the Scandinavian culture with festivities, performances, and other activities!
Note: The Scandinavian Heritage Park closes at 4 pm daily. This means you can't enter any of the buildings but you can still walk the grounds after hours and enjoy the exterior of the buildings, statues, and monuments even after hours.
Saul's Speakeasy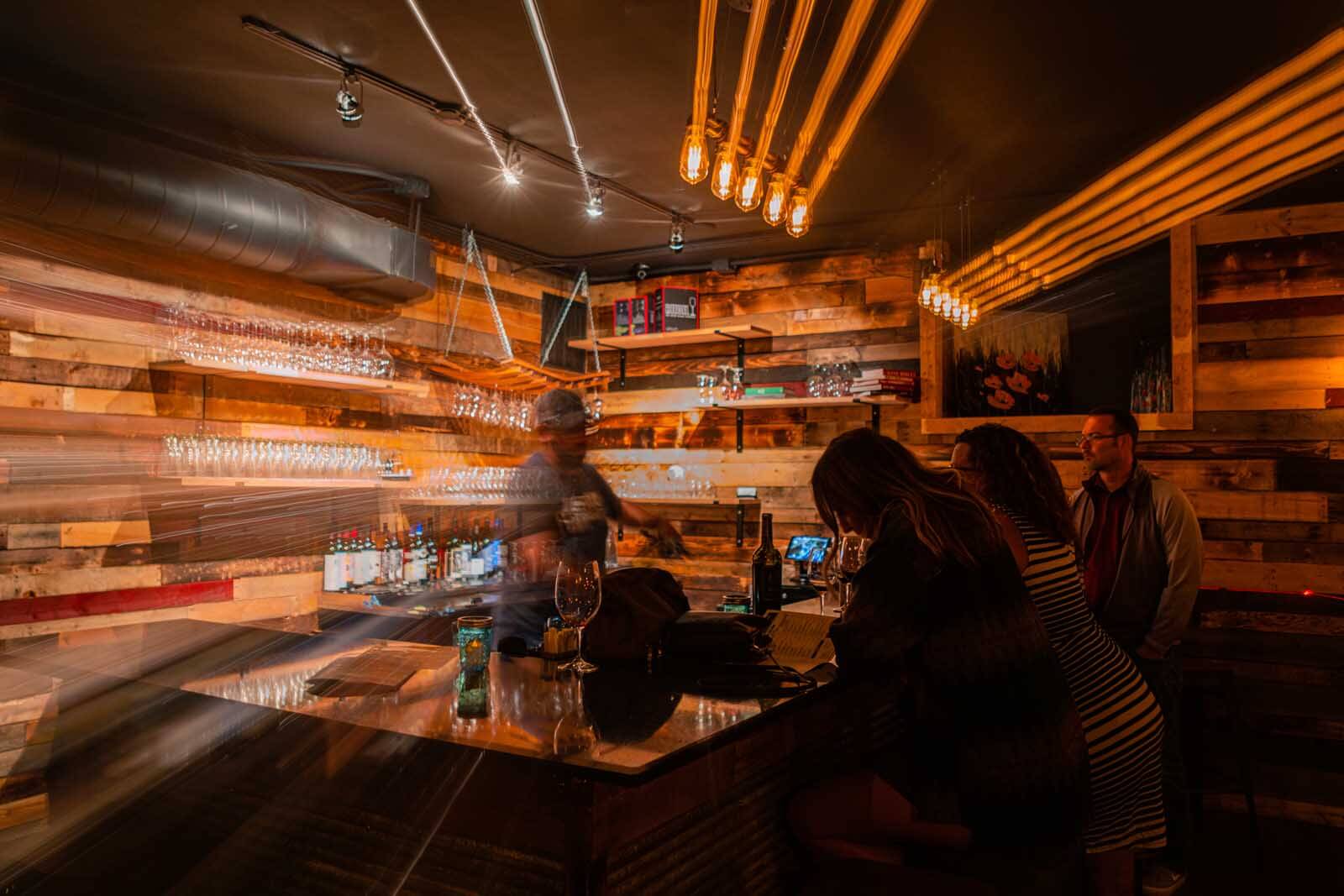 Another one of the best things to do in Minot, North Dakota if you're over 21 is try to find the city's only speakeasy-style bar! What makes Saul's speakeasy even more unique is that it's not your typical speakeasy-style establishment that serves up fancy cocktails, this is a full wine speakeasy.
Their specialty is giving you a wine experience like you haven't had before. Each of the wines they have here have their own special glass. Before visiting we had no idea that there were more kinds of wine glasses beyond red and white glasses.
There are all types of specialty wine glassware that is meant to be drank with very specific wines. They do the whole shebang here and will give you side by side tastings of wine in the proper glass and a regular glass, you can actually taste the difference.
Besides leaving learning something new you also have a chance of trying rare and expensive wines that you wouldn't typically find at your average restaurant like Opus One using their special Coravin wine opener that lets you get a tasting of wine out of the bottle without actually opening it.
Now the tricky part is, you have to figure out how to not only find Saul's but to get in! Text "Hi," to 701 401-2105 to get a riddle you have to solve. Once you solve the riddle you get the password to enter located down the white staircase at 23 Main Street.
Atypical Brewery & Barrelworks
Another great idea for what to do in Minot if you love craft beer or nightlife is visit Atypical Brewery & Barrelworks.
For any beer lovers like us then you have to check out Atypical Brewery & Barrelworks for some delicious craft brews. Located in an adorable English cottage-style building that looks straight out of the Hobbit, you can sample all their different beers in tasting size or commit to a large pour.
This was our favorite brewery during our North Dakota trip!
Take a Walk on the Woodland Trail
This next thing for what to do in Minot, North Dakota is for anyone looking to escape the downtown area and enjoy the nearby scenery and nature. The Woodland Trail is a lovely manicured and well-kept trail just outside of the city limits.
You'll see locals here walking their dogs and in the winter the trails are open for cross country skiers and snowshoeing.
The trail is in total 3 miles long along the Souris River and Highway 83 and was newly improved by the city. This is just a nice place to get some fresh air and be surrounded by some trees along the river for a leisurely walk.
Visit Minot's Museums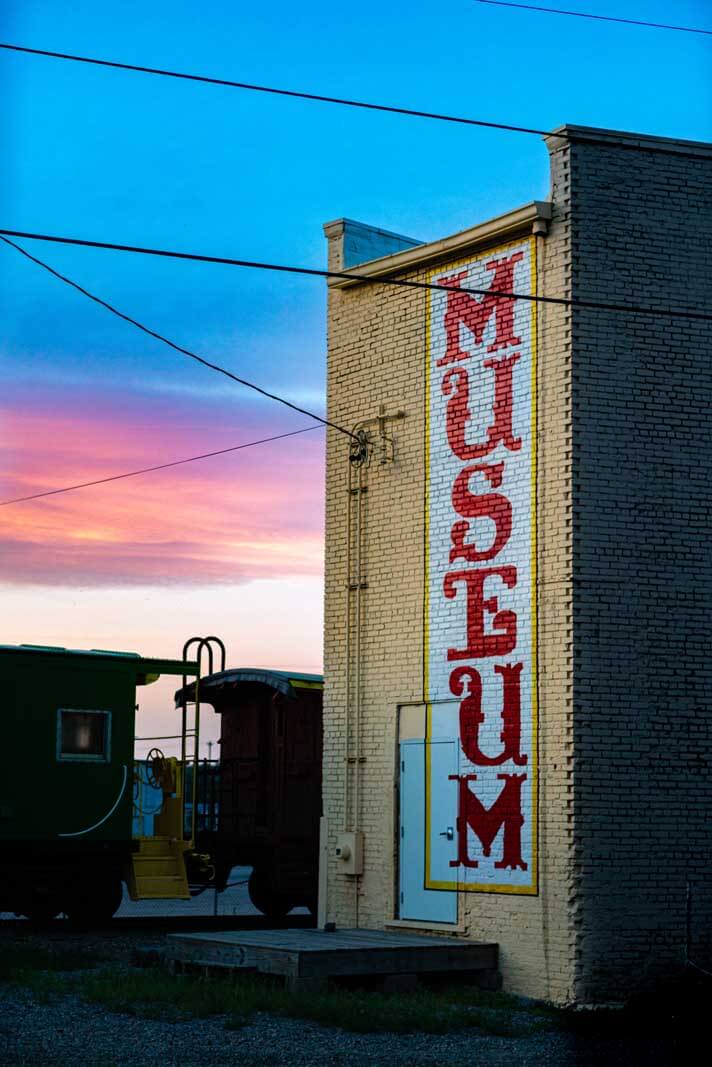 Another one of the best things to do in Minot, North Dakota is visit the different museums in the city. While Minot isn't the largest of cities they do have an impressive selection of museums. Already mentioned on its own was the Scandinavian Heritage Park, but there are three other museums to check out while you're here too and a great activity for what to do in Minot, North Dakota if you're looking to learn something new or visiting on a cold or rainy day.
Taube Museum of Art
Located in downtown Minot, North Dakota this museum is the local art museum with two galleries inside featuring artwork by local and regional artists. There's also a gift shop selling local artwork. Admission is free, but donations are appreciated.
Hours: Tuesday – Friday 10:30 am – 5:30 pm, Saturdays 11:00 am – 4:00 pm
Railroad Museum
Another one of the best things to do in Minot if you love museums is the Railroad Museum. Focusing on railroad history in the United States with exhibits featuring the railway history in the United States and how they impacted the cities and communities around them starting from 1886 to present day.
Hours: Saturday from 10:00 am – 2:00 pm year-round
Day Trips from Minot North Dakota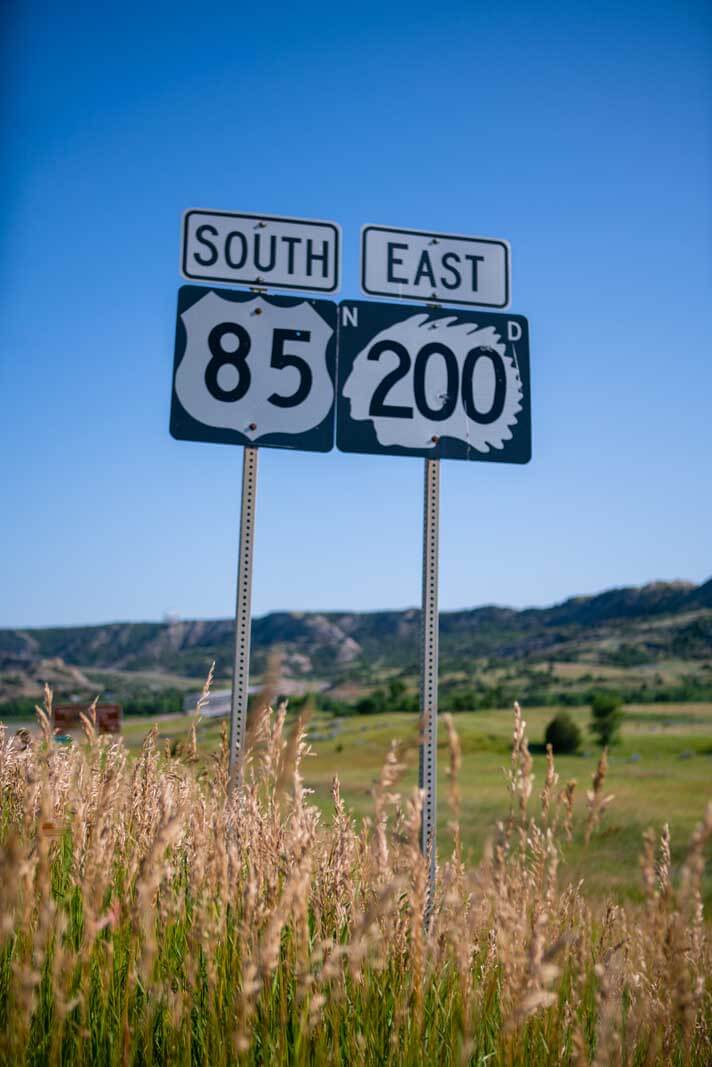 Some of the best things to do in Minot, North Dakota is actually to get in a car and take a mini road trip to the nearby attractions from the gorgeous lakes, surrounding cities/towns, and even National Parks. The drive through the flat prairie and farmland is also incredibly beautiful and a great way to experience America's heartland.
Theodore Roosevelt National Park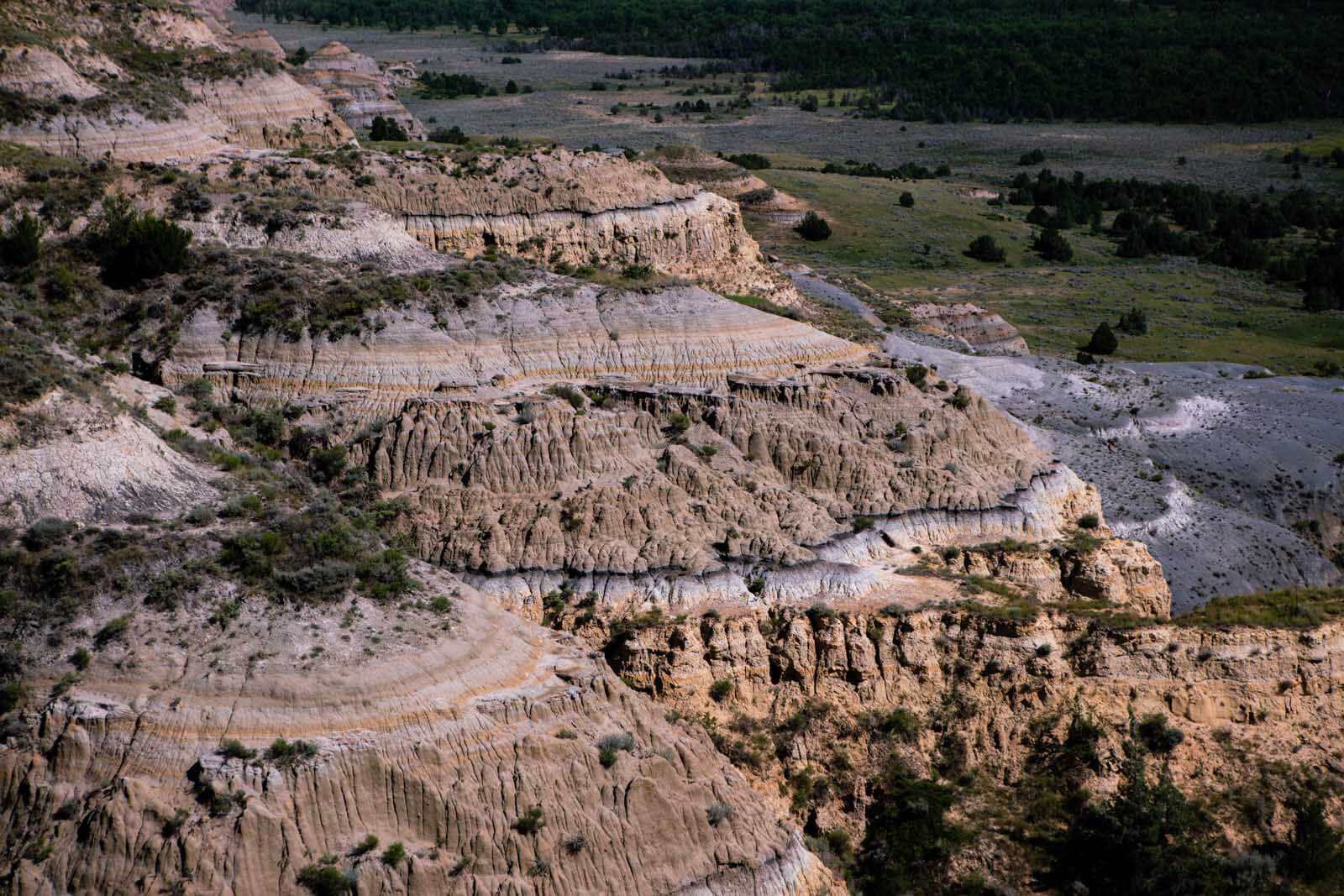 One of the best day trips from Minot, North Dakota is Theodore Roosevelt National Park. This famous national park is named to honor President Theodore Roosevelt who's visit to the badlands inspired a policy that shaped conservation and National Parks as we know it in the United States today. His log cabin is even in the park!
The park has 3 units, the North Unit, the South Unit, and the Elkhorn Ranch Unit. The most popular and most visited is the South Unit near Medora where Theodore Roosevelt's cabin is. However, we are going to focus on the North Unit as this is the closest entrance to the park from Minot, North Dakota near Watford City.
The park has impressive scenic buttes, panoramic viewpoints, rock formations, and herds of wild animals like bison, feral horses, and bighorn sheep.
We recommend doing the 14-mile scenic drive through the North Unit through the badlands. There are two beautiful overlooks, River Bend Overlook, and Oxbow Overlook to stop among other stops like the Cannonball Rock formations.
If you plan on doing just the drive and overlook stops then plan for at least 1.5-2 hours in the park. There are also hiking trails for all levels from easy to strenuous to enjoy.
We were lucky to see both wild horses off in the distance from the River Bend Overlook and large groups of bison during our drive to Oxbow Overlook.
While seeing wild animals is pretty spectacular it's important not to get out of the car or try to get close to the animals. These are wild animals and when provoked they have attacked and killed visitors.
Lake Sakakawea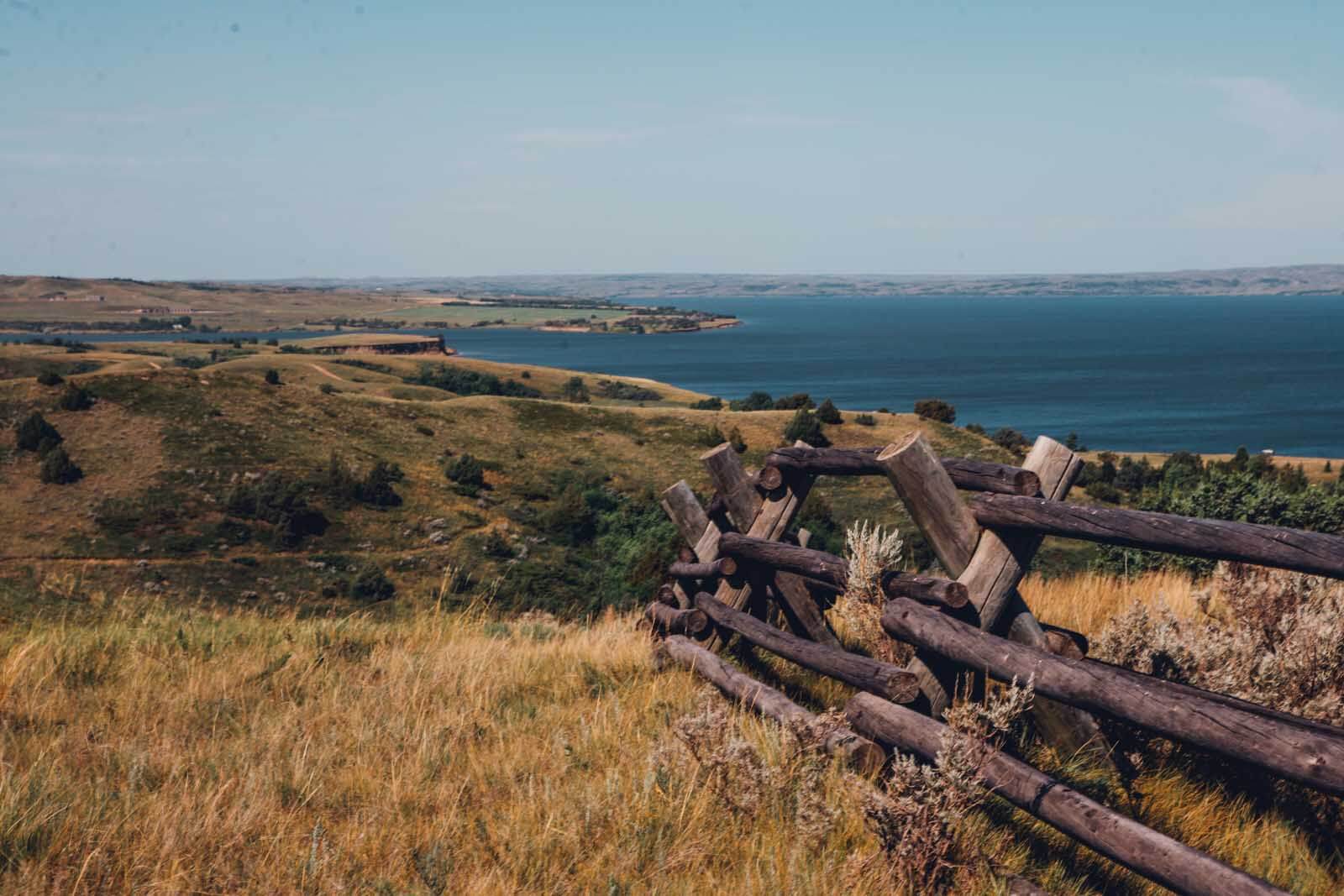 Another great day trip from Minot, North Dakota is Lake Sakakawea. Lake Sakakawea is also a part of the Missouri River and is said to have more shoreline than the entire state of California. While that is hard to imagine you can try your best to visualize by taking a boat ride around Lake Sakakawea State Park.
Other great outdoor leisure activities include bird watching, kayaking, fishing, and hiking.
One great place to enjoy many of these activities is from Tobacco Gardens Resort & Marina. From here we met Peggy who is the one woman show behind this successful campground and outdoor recreational park.
There are great trails in the area including the Birnt Hill trail along the water on the famous Lewis & Clark trail. This area was famously explored by the two expeditions and across from the Birnt Hill trail is where Meriwether Lewis was shot in the leg by accident hunting.
You can also rent boats and kayaks here to enjoy the scenery by water. This is also a great place for fishing.
If you want to extend your day trip you can also reserve a spot at Tobacco Garden's campground.
Be aware that this western part of the state does have rattlesnakes, use precaution when on the trails!
If you plan on enjoying any of the outdoor activities available at Tobacco Gardens Resort & Marina be sure to call in advance to secure availability since one person runs the entire show here. 701-842-4199 ask for Peggy
Lake Metigoshe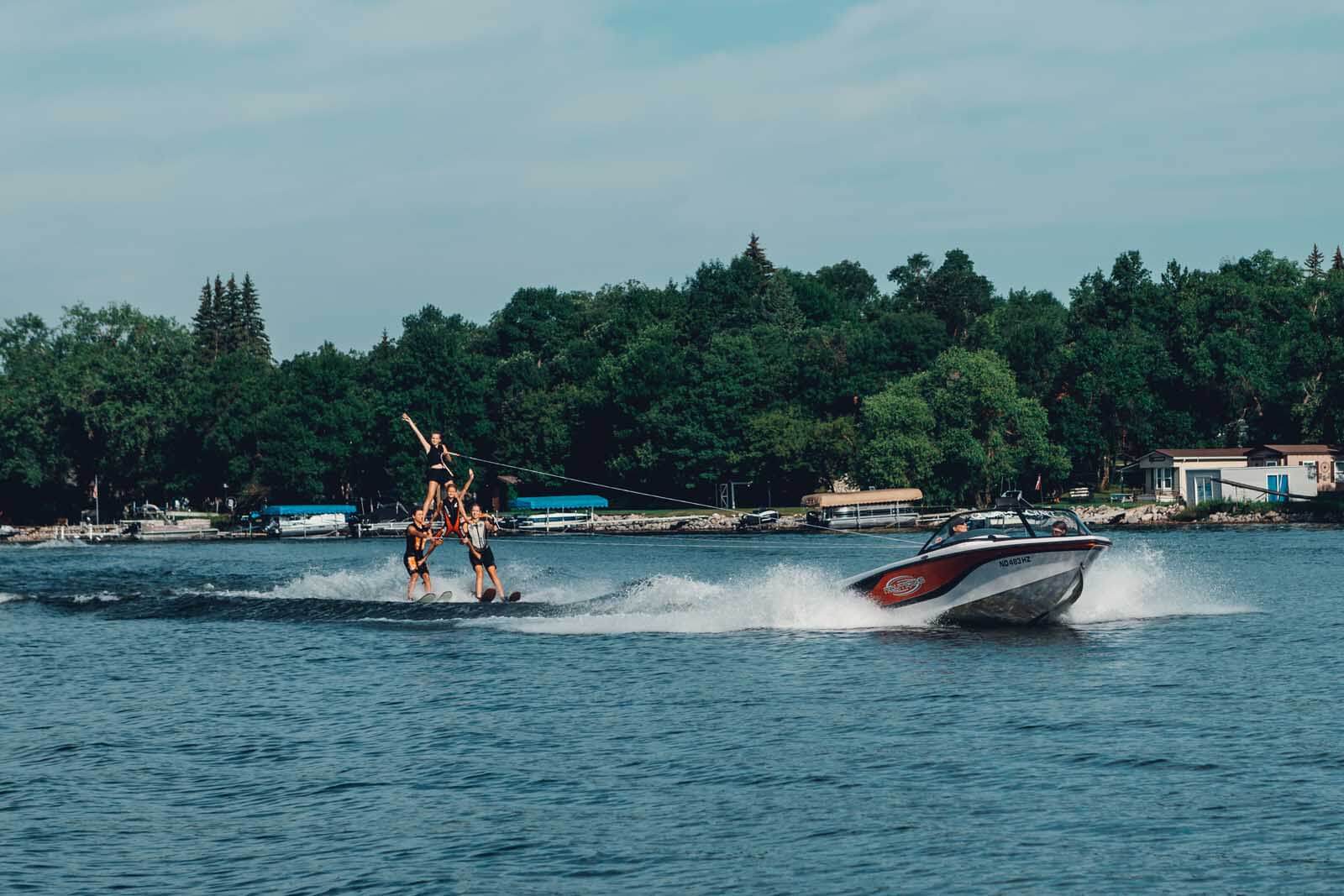 Another great thing to do in Minot is enjoy another one of the surrounding lakes in the area. Just under a 2 hour drive is Lake Metigoshe on the US and Canadian border with Manitoba in the Turtle Mountains.
Here you can enjoy incredible water activities like swimming, fishing, boating, kayaking, canoeing, and water skiing in the summer and in the winter months this is where alot of ice fishing takes place.
If you're lucky you'll spot a moose as they are in the area and are often spotted in early mornings or at dusk.
Some more great water activities and hiking trails can be enjoyed at Lake Metigoshe State Park. We did our kayaking from here on School Section Lake, a much smaller and quieter lake surrounded by nature. We even saw beaver and mink as we paddled around. Don't forget your bug spray when you're doing water activities in the warmer months.
Extend your day trip and stay overnight in a rental on the lake at La Casa Tortuga – Lake Metigoshe or Four Bedroom Cabin right on the water.
Also, check out Bottineau nearby for more great activities including the 21st century Stonehenge at Mystical Horizons, Pride Dairy for Ice Cream, and shops and restaurants in downtown Bottineau.
Where to Stay in Minot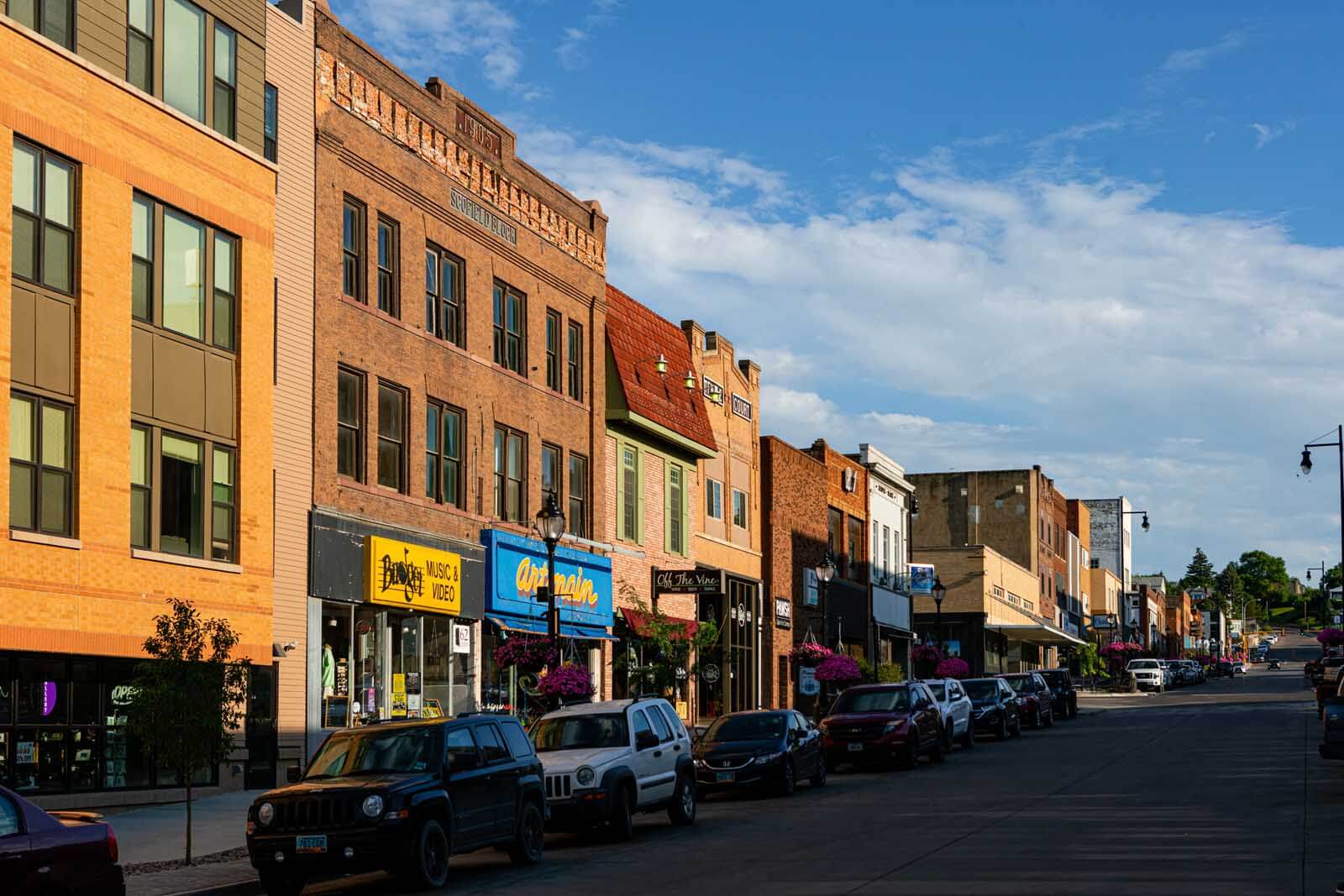 Grand Hotel
The Grand Hotel has a convenient location right across the Minot International Airport and is a classic hotel and great for a one night stay. The hotel definitely has vibes of nostalgia as it still has an older style vibe. While there are no frills this hotel has anything you need to spend a night while on your North Dakota road trip.
Book Now on Booking.com | Compare Prices for later on Expedia.com | See Prices on Hotels.com
Try an Airbnb Home Rental
Take advantage of being in a small city and live like a local in a small apartment or cottage rental. The two we picked out are centrally located and make a night in a new town feel a little more like home.
One Bedroom at Oliver's Landing and The Loft at Oliver's Landing
Enjoyed this post on the best things to do in Minot, North Dakota and what to do in Minot? Bookmark for later or share the love below on Pinterest.