Looking for a perfect 3 days in Toronto itinerary? As a vibrant and dynamic destination, Toronto is full of life, character, and actions. There are so many things to do in Canada's largest city that it can be overwhelming. To narrow down the choices, we developed a detailed, easy-to-follow itinerary to help you maximize 3 days in Toronto itinerary.
3 Days in Toronto itinerary: Day 1
Morning:
Get ready to spend 3 amazing days in Toronto! Start your Toronto visit in the downtown core at Nathan Phillips Square. This public space is a popular gathering place for Torontonians. It is easily recognized by the gigantic Freedom Arches over the reflecting pool and the 3D TORONTO sign. Together with City Hall, they make an iconic landmark in the city worth visiting.
Stop by Osgoode Hall for a quick visit. This heritage building houses the Ontario Court of Appeal, the Superior Court of Justice, and the Law Society of Ontario. But what makes it especially unique is the Great Law Library, which not only holds the largest private collection of legal material in Canada but also has an enchanting antique design. The wood paneling and spiral staircase retain all the old-world charm and elegance. It will make you feel as if you've been transported to Hogwarts.
Take a guided tour around Elgin & Winter Garden Theatres – Toronto's best-kept secret. This double-decker theatre is the last operating one in the world, making it even more impressive! Go behind-the-scenes at Elgin & Winter Garden Theatres to take a closer look and learn about its fascinating history. You will be surprised how different the old-fashioned Elgin Theatre is from the forest-like Winter Garden Theatre on the upper level. Tours are only offered on Thursdays and Saturdays.
Lunch:
Fuel up at Lena, an Argentine restaurant in downtown Toronto. Their menu showcases the complex flavors of South American cooking. Highlights of the menu include Susana's gaucho empanadas and charred beef tartare. End the meal with mouthwatering desserts. Their churros and alfajores (shortbread cookies) are to die for!
Afternoon:
Take a walk to St. Lawrence Market. This indoor public market is a must-visit during your 3 days in Toronto. Located in the Old Town district, the historic market is the best place to shop for fresh produce, gourmet items, and all other culinary treats.
Also, check out a food tour through St. Lawrence Market! Not only do we find food tours to be the best way to get to know the city through it's food, you also learn about the history. Book here.
After feeding your belly, visit the Distillery District that is just 2 blocks over. This lively area is a National Historic Site and a hot spot for those looking for boutiques, galleries, and restaurants! Walking around the Victorian industrial buildings, you will feel like you've stepped back in time. While you are there, grab a cup of joe at the popular Balzac's Coffee Roasters. Or do a sake tasting at Izumi – North America's first sake brewery!
Dinner:
Enjoy a meal with a stunning view at Canoe. Sitting high atop the 66 Wellington TD Tower, Canoe is the perfect place to get a taste of contemporary Canadian dishes. The menu focuses on unique Canadian ingredients and flavors. For the best experience, order the seasonal 6-course tasting menu. You won't regret it!
3 Days in Toronto itinerary: Day 2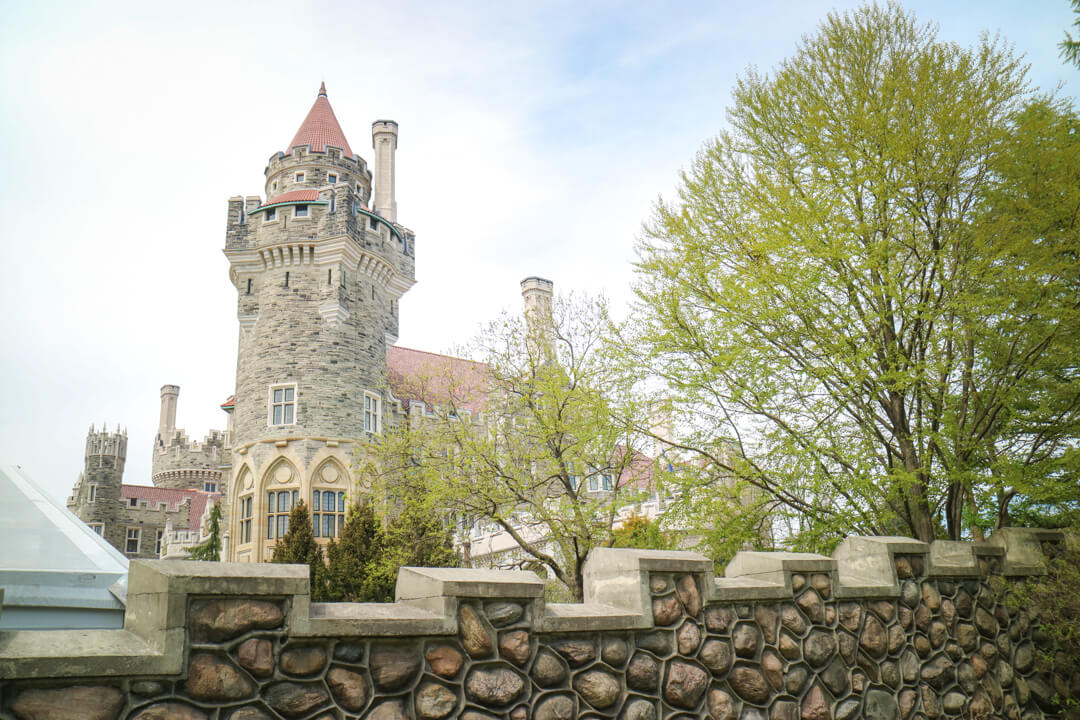 Morning:
Do you know that there's a castle in Toronto? Yes, don't be surprised. You can find one in midtown, Toronto!
Completed in 1914, the famous Casa Loma used to be a private residence of a multimillionaire called Sir Henry Pellatt. After he went bankrupt, he sold the castle, which was then turned into a hotel. Now, Casa Loma operates as a museum and is often rented out as a wedding venue. The Gothic Revival mansion is also used as a backdrop in many Hollywood films, including X-MEN, Cocktail, Chicago, The Tuxedo, The Pacifier, and The Vow.
Lunch:
Grab lunch at The One Eighty – one of the highest patios in Canada! Perched high on the Manulife Centre in Yorkville, the restaurant offers a fantastic vantage point in the city. You can choose to sit in one of the two patios – the one facing North Toronto or the other overlooking the CN Tower and downtown Toronto. No matter which one you choose, you are guaranteed the best rooftop view in the city. Pair the view with a few small plates like sweet Thai chili chicken drummies and Baja Halibut tacos, life can't get much better!
Afternoon:
Your days in Toronto itinerary is not complete without a trip to Canada's largest museum – Royal Ontario Museum. With 6 million objects in its 40 galleries, you can immerse yourself in the world of art, world culture, and natural history. Dinosaurs, mummies and ancient costumes are just a few things you'll see at Royal Ontario Museum. The museum constantly installs new exhibits and programs to reflect the changing world. The current exhibit on #MeToo & The Arts is one example. Get your tickets to the Royal Ontario Museum in advance here.
After your museum visit, take a leisurely stroll around the University of Toronto district nearby. There are many Gothic Revival buildings worth exploring and capturing. When you're tired, take a break at Sorry Coffee. Tucked at the back of the Kit and Ace store, this little café is a popular spot among locals. Not only is it aesthetically pleasing, but it also serves great-tasting high-quality coffee!
Dinner:
During your 3 days in Toronto itinerary, you gotta hit the best foodie spot in the city! JaBistro should not be missed. This cozy Japanese eatery is considered by many as the best sushi restaurant in Toronto. It is the perfect place to get the freshest seafood. Every bite is rewarding and packed with deliciousness. Whether it is just sashimi or blowtorched sushi, you can't go wrong with what you order. If you can't decide, simply treat yourself to a 5-course prix fixe menu. It is totally worth it!
Since it is a small place, reservation is strongly recommended.
3 Days in Toronto itinerary: Day 3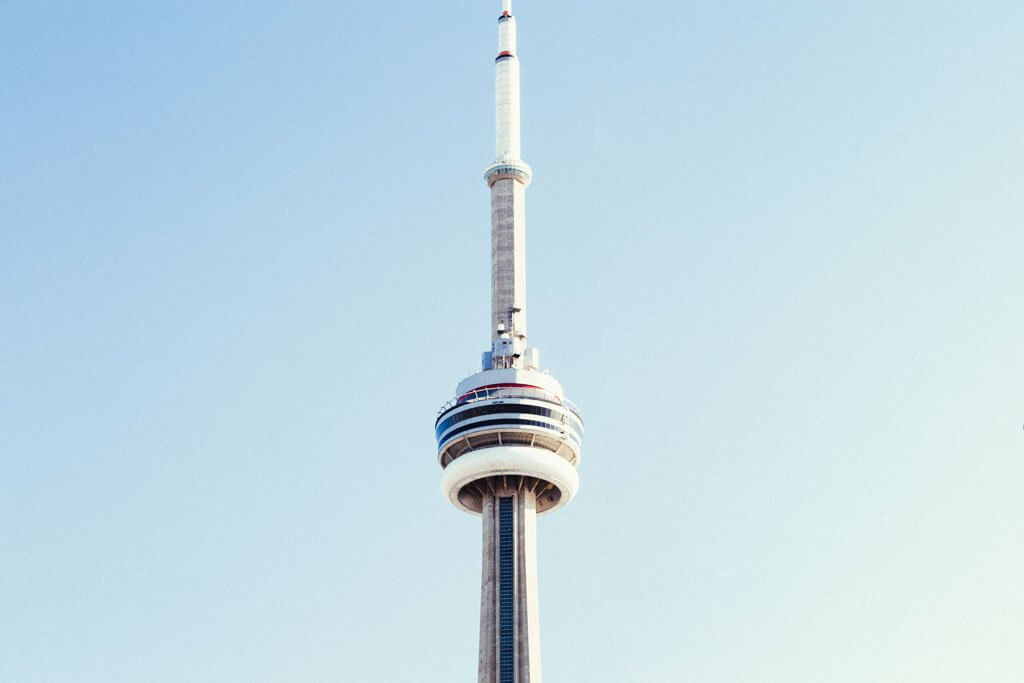 Morning:
It's your last day. It's time to pay a visit to CN Tower – the real highlight of the 3 days in Toronto itinerary! This iconic landmark not only is the symbol of Canada, but also one of the tallest buildings in the world (currently ranked 9th)!
You can take in the stunning Toronto views up high from 3 observation levels.
First, take the glass-fronted elevator to the LookOut Level for stunning Toronto views. The floor-to-ceiling windows promise a full panoramic view of the city.
Then, board a separate elevator to go further up to the SkyPod, where you'll stand 447 meters above the city. On a clear day, you can even see Niagara Falls and New York State!
Finally, test your nerve on the Glass Floor. Stand, walk, or sit on the glass floor while you look 342 meters down and get a clear view of what's beneath you! If that is just a piece of cake for you, why not try the Edge Walk? This adrenaline-pumping adventure will let you take a walk around the ledge outside and test you limits with a few stunts!
After CN Tower, stroll through the Harbourfront neighborhood. Overlooking Toronto Harbour and the Toronto Islands, this scenic area is the ideal place to picnic and soak up the sun! There are many photogenic spots worth stopping by, including Sugar Beach, Cabana Pool Bar, and Canoe Landing.
Lunch:
Satisfy your lunch craving at Wvrst. This German-style beer hall in the Entertainment District specializes in artisan sausages, beer, and cider and is the go-to place for meat lovers. You can find more than 25 different sausages in house. Selection for beer and cider is way beyond your imagination. Go wild, choose a few sausages, and find your favorite. Don't forget to try their award-winning duck fat fries.
Afternoon:
Spend the rest of the day exploring Toronto Islands lying in the south of downtown Toronto, this small island chain is just a quick 10-min ferry ride away.
Rent a bike and explore the 3 major islands – Centre, Ward's and Algonquin – all connected by bridges. As you make your way through, you'll be surprised by its unexpected beauty and picturesque settings.
You can take a one hour Toronto Island Harbor Cruise if you're in a hurry or tight on time where you get to see the islands and epic skyline views! Book here.
You will come across a few beaches and picnic areas, as well as a disc gold course. There's even a farm, a maze, and even one of the best amusement parks in Ontario! If you are brave enough, head over to the lighthouse – rumor has it that it is haunted. Mysterious moaning and footsteps were heard when no one was actually there. Before you leave, snap some souvenir photos of the Toronto skyline.
Dinner:
It's your final night in Toronto. Go to PAI for a casual dinner. This funky, busy restaurant dishes out Northern Thai cuisine that will make your mouth water. Must-try dishes are khao soi (fried egg noodles dipped in golden curry), tom yum kung (spicy and sour shrimp soup), and green papaya salad.
It's time to say goodbye. This concludes what to do on a 3-day trip to Toronto, highlighting all the main attractions and best places to eat. Toronto has so much more to offer, but with only 3 days in Toronto, this is a good start to get a good taste of the city. Hope this post inspires you to book a flight and visit Toronto soon!
Extra Time?
Have extra time during your 3 days in Toronto itinerary or an extra day? Check out these other fantastic options to enjoy in the city.
Check out the cool bohemian neighborhood and Kensington Market by foot. Stroll through the shops, boutiques, and eat your way through this cool area full of international influences. Try this 3 hour guided food tour if you have time to taste your way around the globe through this amazing market. Book here.
See graffiti artists in action at Graffiti Alley, one of the most Instagrammable spots in the city! The alley stretches a half a mile right off of Spandina Avenue.
Visit one of the most Canadian attractions of all time at the Hockey Hall of Fame during your 3 days in Toronto! With over 15 exhibits any hockey lover can get lost in here for a few hours.
Check out the scenic and gorgeous trails along the Scarborough Bluffs. These magnificent bluffs are along the shoreline of Lake Ontario Scarborough, you'll want to make sure you have a camera for this one!
Admire beautiful artwork at the Aga Khan Museum full of Islamic art, Iranian art, and Muslim culture in a state of the art museum. You can book a tour that also provides transportation to and from the Aga Khan Museum as well. Book here.
Take a day trip to Niagara Falls from Toronto! Don't miss one of the most impressive waterfalls in the world when you're so close during your 3 days in Toronto. Only a 2.5 hour drive away you can join on a great tour that takes you from Toronto to Niagara Falls all in the same day and be back for dinner in Toronto. Book here.
Try a Toronto Private Tour with a guide for two hours giving you tons of information and history about the city while seeing some of the most iconic spots. Book here.
Are you a beer lover? Check out this awesome 4-hour walking beer tour through Toronto's Old Town and discover how beer is integral to the history of Toronto while you sip on suds along the way. Book here.
Where to Stay in Toronto
$ Bond Place Hotel Toronto

This is an incredible option for your 3 days in Toronto if you're on a budget and want to be in the center of all the action. The rooms are decorated in minimalist and contemporary decor. Some rooms even have lake or city views! There's also a fitness center on site.
Book Now | Compare Prices for Later | Read Trip Advisor Reviews
$$ Wellesley Manor Boutique Hotel
This is our favorite option because it's unique and we love boutique hotels. This hotel is inside a Victorian mansion with elegant rooms decorated with antiques with modern amenities. Guests rave about the rainfall showers and the lobby lounge with a fireplace. This is the perfect cozy place to stay for your 3 days in Toronto.
$$$ InterContinental Toronto Centre
This beautiful upscale hotel is set in a high rise building in the heart of downtown Toronto. The rooms are modern with views of Lake Ontario or city views. Upgrade to a split-level suite with unique spiral staircases and loft bedrooms. Upgraded rooms also feature extra bathrooms, libraries, wet bars, and whirlpool tubs. Don't miss out on the indoor saltwater pool, hot tub, spa, chich restaurant, and fitness center all on site.
Book Now | Compare Prices for Later | Read Trip Advisor Reviews
$$$$ The Ritz Carlton Toronto
This is an absolute dream hotel for the luxury travelers looking for elegance and opulence during their 3 days in Toronto. The rooms feature Italian linens, marble floors, heated bathroom floors, and soaking tubs to wind down in at the end of each day. On-site there is an Italian restaurant with a cheese cave, a sophisticated bar, and chic lounge with a patio. Don't miss out on the indoor pool and fitness center on site either.
Book Now | Compare Prices for Later | Read Trip Advisor Reviews
Author's Bio
Cat Lin is a Taiwan-born food and travel writer, currently living in Calgary, Canada. She runs a couple's travel blog along with her husband, Kev. They share daring adventures and fun-filled travel stories at For Two, Please.
You can also follow them online at Facebook , Instagram, Pinterest, and Twitter.
---
Looking for cool souviners from Canada to bring home? Check out this post by Carpe Diem Our Way to see the best ones.
Disclaimer: This post contains affiliate links. By purchasing tours or booking hotels through the links on Bobo & Chichi we receive a small commission at no extra cost to you!
---
Found this 3 days in Toronto itinerary helpful? Bookmark for later or share on Pinterest below! Happy Travels!