We had a few days to explore and enjoy all the best things to do in Regensburg, Germany which stole our hearts. We were in awe of the incredible stone medieval buildings and winding passages full of independent shops and merchants, a gorgeous stone bridge, the Danube River flowing through the city, incredible cathedral, and historical restaurants and breweries.
After traveling around Germany quite a bit this past year one thing we found is that its hard to find any place, especially in the areas we had been, that hadn't been hugely affected by World War II let alone an almost perfectly preserved medieval city still with Roman structures standing.
While exploring Regensburg, Germany we discovered one of Germany's and Europe's truly magical medieval cities full of incredible history and buildings that were barely touched in WWII. Our guide told us that only 13% of the city was destroyed during this time which is quite rare to find in Germany.
It's no wonder why UNESCO named this city a World Heritage Site. Explore our guide to Germany's magical medieval city with all the best things to do in Regensburg Germany.
Table of Contents
Regensburg Travel Guide
About Regensburg Germany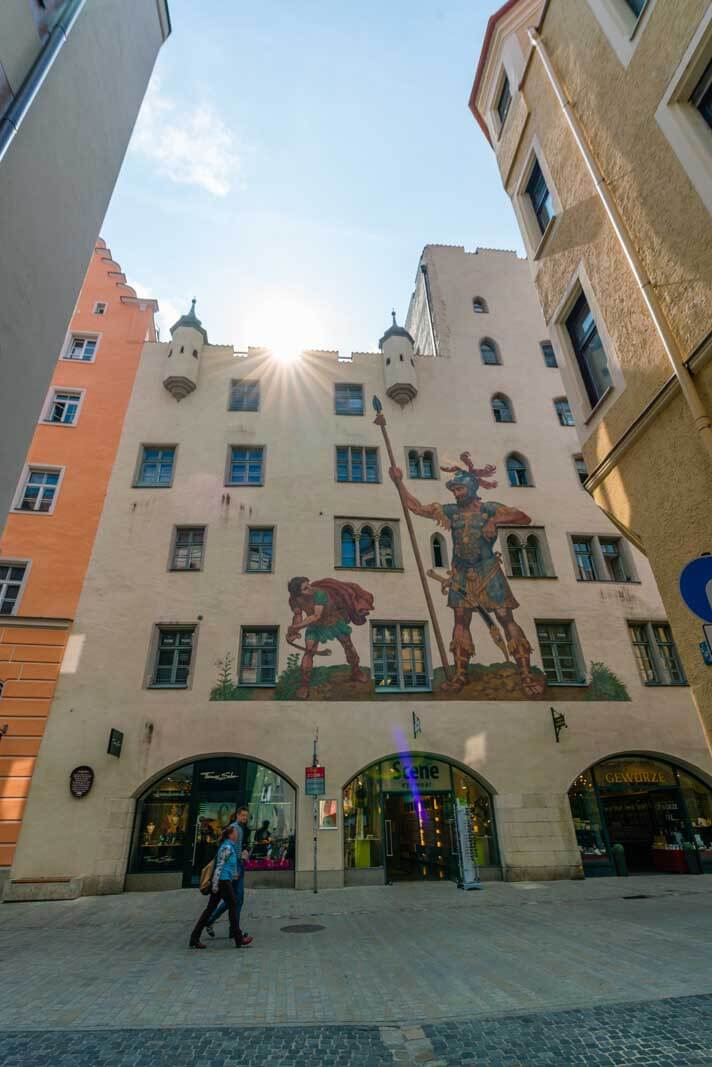 You can see traces of Roman history here in Regensburg, Germany as well as a majority of its medieval past. Because of its incredible preservation of medieval stone buildings, Regensburg, Germany has been named a UNESCO World Heritage Site with over 1200 designated historic protected buildings.
Not to mention Regensburg, Germany is also considered one of the oldest cities in the country.
In the 13th century, Regensburg was considered one of the largest cities not only in Germany but in all of Europe.
What's fascinating about this city is that in 1245 it became independent from the German empire, and is very proud of this, until it lost its independence to Napoleon in 1810. You can see traces of this proud period of history here throughout the city from the red and white shutters on buildings near the Stone Bridge, the red and white symbolize independence to the giant David and Goliath fresco which would greet visitors as the gateway to the city when they entered from the ports off the Danube River.
Regensburg, Germany is historically a very wealthy city thanks to its strategic location on the Danube River making it a power player in trading including salt from the Alps.
You can see the historical significance of the wealth in this region just by walking around the city. You will see tall towers connected to buildings which was a way for private residences to flaunt their wealth, more on that later.
Some still consider Regensburg, Germany the heart of Bavaria even though Munich is considered the capital, Regensburg is 1000 years younger than Bavaria's current capital.
This city has served as the residence of dukes and chiefs of Bavaria historically and always been a very significant place for Bavaria.
There's so much fascinating history here that you could spend years learning it. One small fact we also learned is that this is also where famous German astronomer, astrologer, and mathematician Johannes Kepler died in the year 1630.
Things to do in Regensburg Germany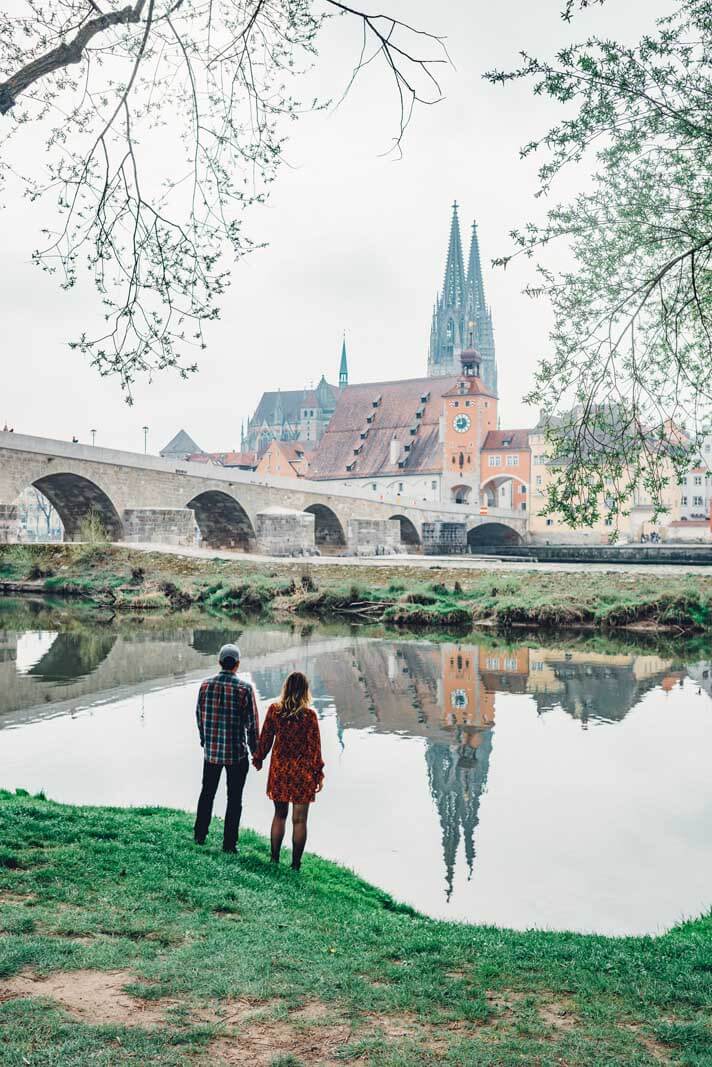 Check out the Breweries & Beer Gardens
Easily one of the best things to do in Regensburg, Germany is check out the local beer scene and local brews at their different breweries and beer gardens. Whether you are looking for a hearty Bavarian meal to pair with your local brew or just a refreshing beer with a nice view there are plenty of options in the city.
Here are some of our picks from our recent visit.
Bischofshof
Brewing beer since the year 1649, Bischofshof is one of the incredible local traditional breweries and one of the best things to do in Regensburg, Germany if you're a beer lover like us.
Located in the former episcopal residence next to the cathedral, hence the name Bischofshof which translates roughly to Bishop and church, today you will find the brewery, restaurant, and hotel serving Regensburg, Germany with a dozen different beers they brew all under the German Purity Law.
The restaurant serves traditional Bavarian meals and even exports its beer to 25 countries. They even have an international brewery location in Brazil if you find yourself traveling through South America and fancy yourself some traditional German beer.
Something special that Bischofshof does that no other brewery we visited does, that we are aware of, is that they hold an annual Beer Queen pageant with the local young ladies.
Kneitinger Brewery
One of our favorite beer drinking environments and things to do in Regensburg, Germany is visit Kneitinger Brewery and Restaurant. This brewery has been producing beer in the same location since the year 1530 making it one of the oldest in town.
You can arrange for a tour of the facility with a beer sampling afterward, but we highly recommend trying out the Bavarian dishes and beer at their restaurant and beer hall location.
In the evenings this is a very popular spot among the locals. They even have their own 'regulars' section where locals gather nightly to drink their beer and hang out.
The environment here was especially lively and fun, we even saw groups of young men dining and drinking together wearing their lederhosen as a group.
This is a special place to the locals and you can feel it when you come in on the evenings.
Weissbraeuhaus
Another great brewery to check out in Regensburg, Germany is Weissbraeuhaus. Located in the heart of Old Town you can sit and dine here, their cuisine is traditional Bavarian, or just come in and have a flight of their different beers.
We enjoyed a lunch here along with a tasting flight, which are very generous pours by the way. We sampled our way from light to dark and enjoyed each beer brewed under the German Purity Law.
Sit and sip among the big copper kettle that is brewing beer in front of your eyes. This is another place that has a cozy atmosphere for you to enjoy a local beer.
Spitalgarten
Another great thing to do in Regensburg, Germany if you're looking for a nice place to sit back and enjoy a beer with a view is head to Spitalgarten beer garden. The location is across the Danube River on the Old Stone Bridge overlooking the gorgeous medieval skyline with the cathedral and the river.
The beer gardens are only open in the warmer months as you sit outside but are a great place to relax while you try some more local brews or a great place to rest your legs after walking around and exploring all day.
If you find yourself hungry or need a snack you can order anything from beer snacks like a Bavarian pretzel to a full meal.
Alte Linde
Another great beer garden right on the Danube River is Alte Linde. Located on the sliver of land under the Old Stone Bridge. Much like Spitalgarten, there are incredible views of the cathedral and gorgeous buildings dotted along the Danube River.
This is another spot where if you find yourself hungry you can also order some beer snacks or traditional Bavarian meals to pair with your beer.
Historische Wurstkuchl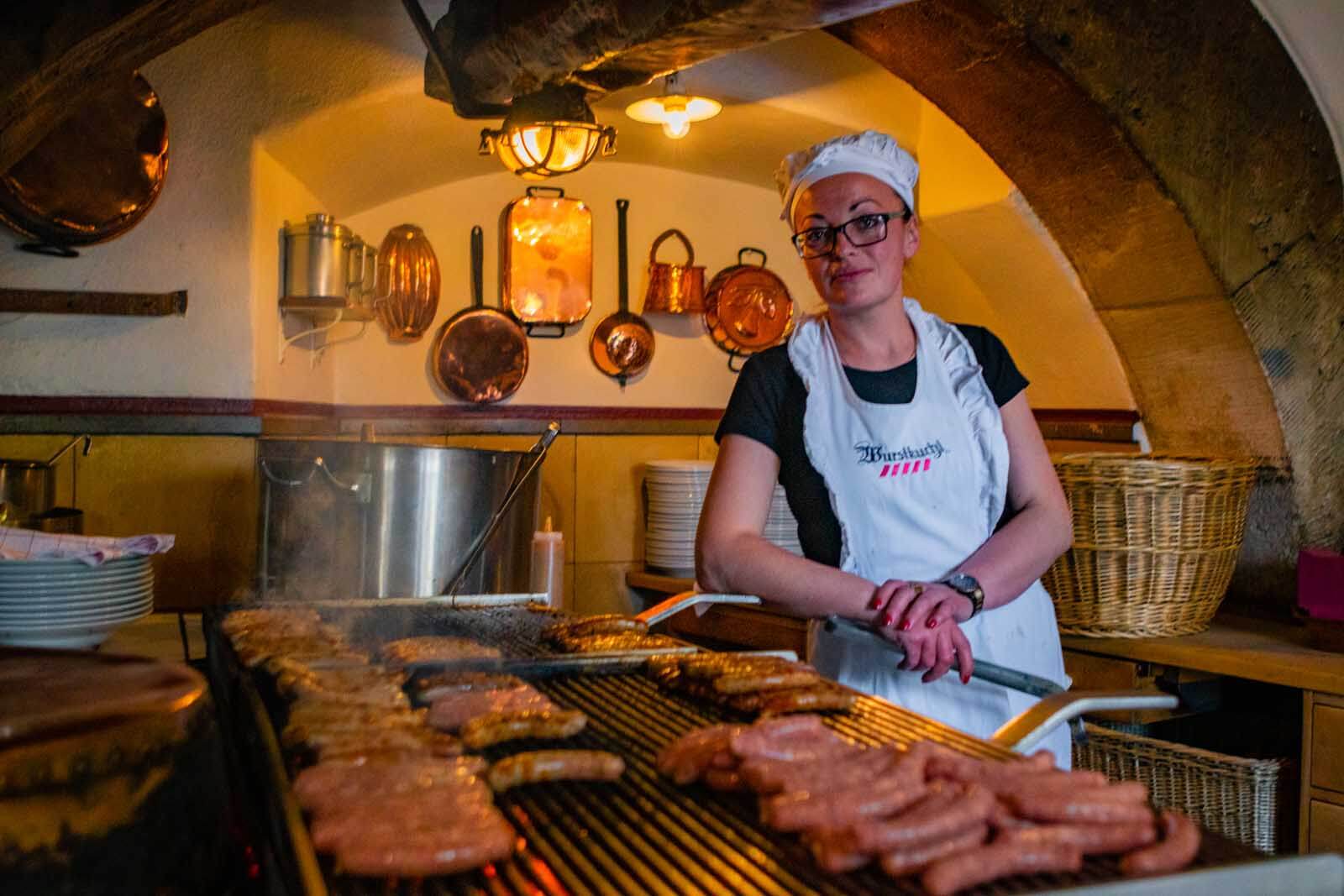 Easily one of our favorite things to do in Regensburg, Germany and most memorable experiences is eating at Historische Wurstkuchl.
This is considered the oldest continuous running restaurant in the world! If that doesn't impress you then their sausage will.
Located right on the Danube River in an adorable little green building, this establishment serves up their traditional plate of sausages on a bed of sauerkraut that you can pair with their homemade sweet mustard.
They also have a few other dishes like Bratwurst if you're craving something a bit different. It is said they can serve up to 6000 sausages a day!
The original sausage kitchen dates back to 1135 when the construction of the Stone Bridge was taking place they needed to feed the workers. Back then, the restaurant was called Garkueche auf dem Kranchen, which translates to a kitchen or cook near the crane.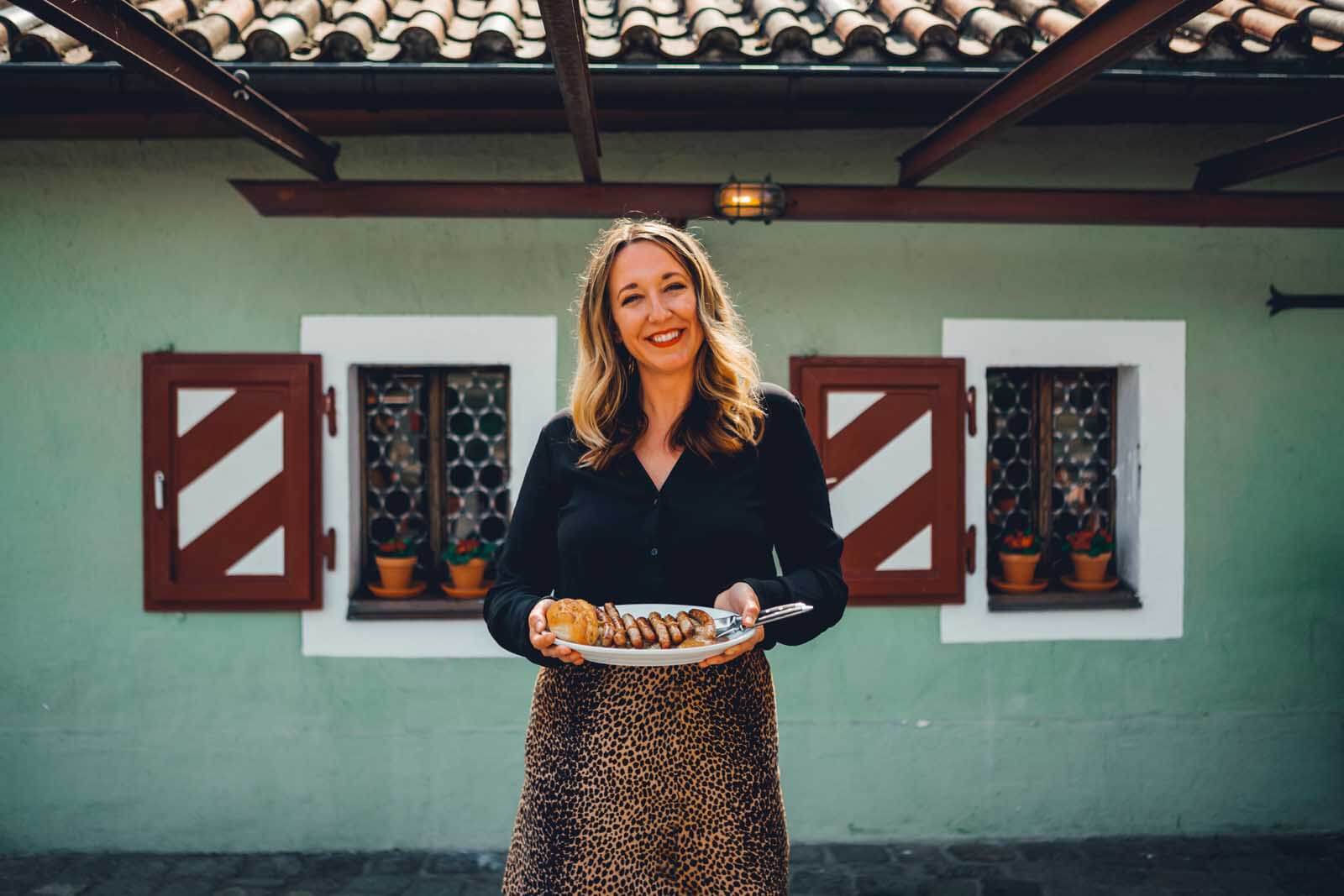 The current structure dates back to the 17th century and the current family who operates the business has been running it since 1806 generation after generation.
You can dine outside at the picnic tables along the Danube River with a view of the Stone Bridge, dine in the adjacent indoor seating area next door, or our favorite, dine inside the sausage stand.
Don't forget to pair a dark draft beer with your sausage either!
A fun detail to notice are all the markers on the outside and inside of the sausage stand that indicate the date and water level of the flooding from the Danube River. Sometimes the sausage kitchen was almost completely underwater and flooded, it's hard to imagine what kind of damage that does each time.
If you dine inside you'll notice that too along with other old antiques and interesting features that show the true age of this establishment.
This is one of those experiences we will never forget and easily one of our favorite things to do in Regensburg, Germany.
Handlmaier's Laden
A fun fact, Scott and I both absolutely thought we despised mustard until our visit to Regensburg, Germany. We didn't want anything to do with it or it anywhere near our food.
It wasn't until we were on a private tour with a local guide at Wurstkuchl that we tried mustard and actually liked it. He told us traditionally locals tried their sausage with mustard. We did not want to disappoint so we both put a little on our plates and dipped our sausage in it.
We both were SHOCKED that we didn't hate it. As a matter of fact, we enjoyed it. I ended up adding spoon after spoon of that sweet homemade mustard on my plate.
After that experience, we were taken to Hanldmaier's Laden, the local mustard shop that's world famous for their sweet Bavarian mustard located right here in Regensburg, Germany.
Still nervous that we didn't like mustard THAT much, I mean just an hour before we thought we hated mustard and now we are in a store that's only mustard. We were scared to try mustard, especially since we didn't want to ruin the tasty experience we just had.
After getting a little tipsy with our guide after doing some local wine sampling and beer drinking at Wurstkuchl with our sausage, we decided we couldn't let him down and sample in this mustard emporium that looked straight out of a Wes Anderson movie set with its gorgeous display of mustard tubes and bottles.
Again, to our surprise we LOVED IT. From their famous sweet Bavarian mustard to their spicy mustard.
We walked out of Handlmaier's Laden with a bag full of mustard to bring home.
This is another one of those experiences and things to do in Regensburg, Germany that you just can't miss. It's a staple to the local community – even if you don't think you like mustard like us!
Just to be clear, we are still scared of American mustard, perhaps we will be more adventurous and try a tiny bit to see if it compares. If not, we have a good supply for the year and then we can always have a great excuse to return to all the best things to do in Regensburg, Germany.
Try Some Chocolate at Café Prinzess
Another one of the best things to do in Regensburg, Germany if you have a sweet tooth is check out the first chocolate shop and café in the city!
Café Prinzess has been serving chocolate since chocolates early days in Europe since the year 1686 making the oldest chocolate shop in Germany.
Located across the historic town hall, Café Prinzess serves up coffee and a huge array of chocolates that are like works of art good enough for royalty since they do serve chocolates to the Princely House of Thurn and Taxis.
Besides serving up the best chocolates, they also serve different cakes and sweets. This is the perfect afternoon pick me up if you have a sweet tooth and need a coffee!
The Stone Bridge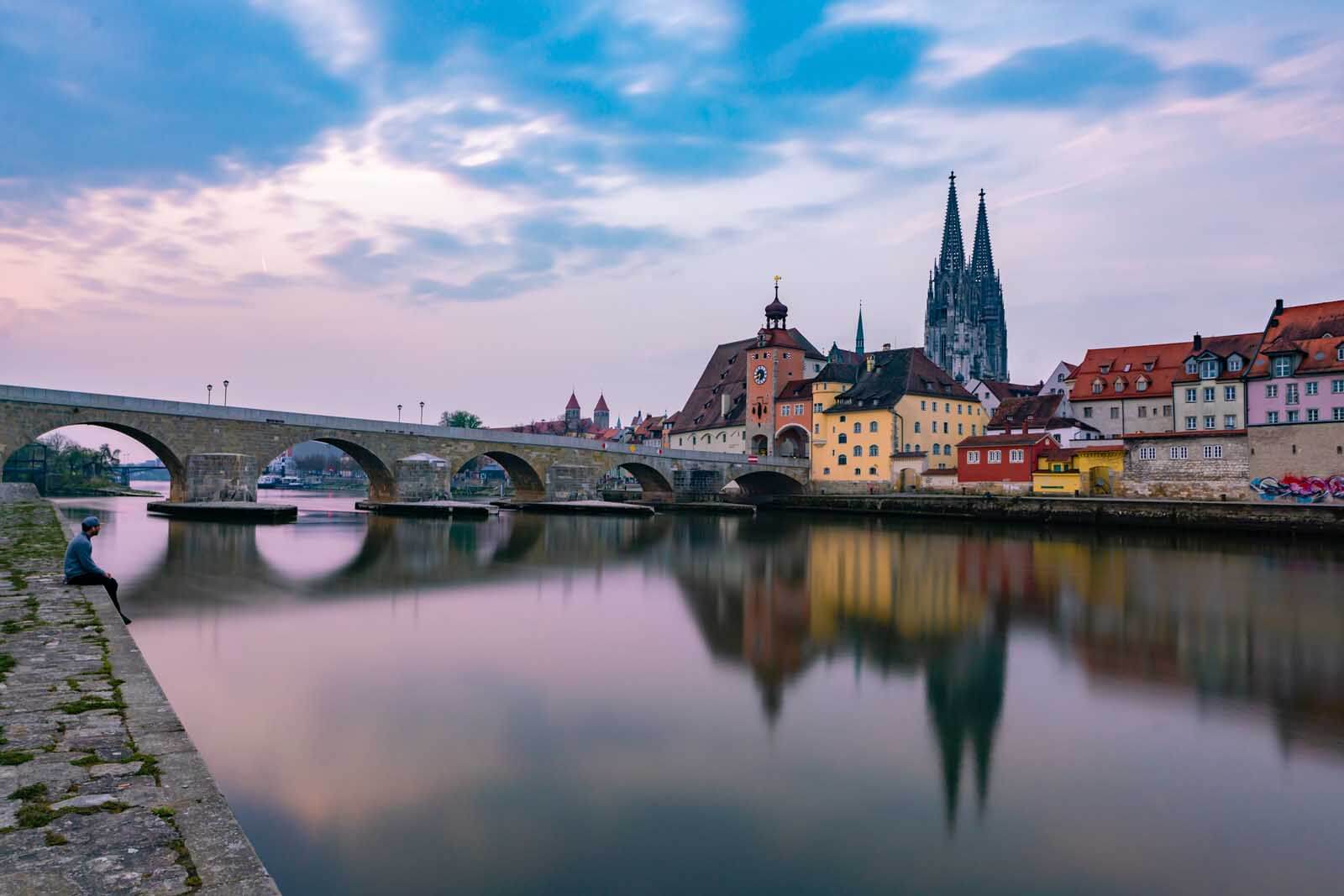 The Stone Bridge or Steinerne Brucke is another one of the unmissable things to do in Regensburg, Germany. This is one of the most notable landmarks in Regensburg, Germany and dates back to the 12th century and is considered a masterwork of medieval construction and is the oldest preserved bridge crossing the Danube River.
Commissioned by Charlemagne after a wooden bridge located a little off the current location wasn't adequate due to flooding risks and unable to keep up with the needs of how much traffic was coming in and out of the city.
Along with the cathedral, the bridge is also one of the most important landmarks of the city and has undergone serious restoration to keep it alive.
The bridge connects the Old Town with Stadtamhof in Regensburg, Germany and besides being a great way to get across the river it's a great place to catch one of the most beautiful views of the city.
While you're here check out the Bridge Tower Museum featuring a few local exhibits and the history of the construction of the bridge.
The Towers of Regensburg Germany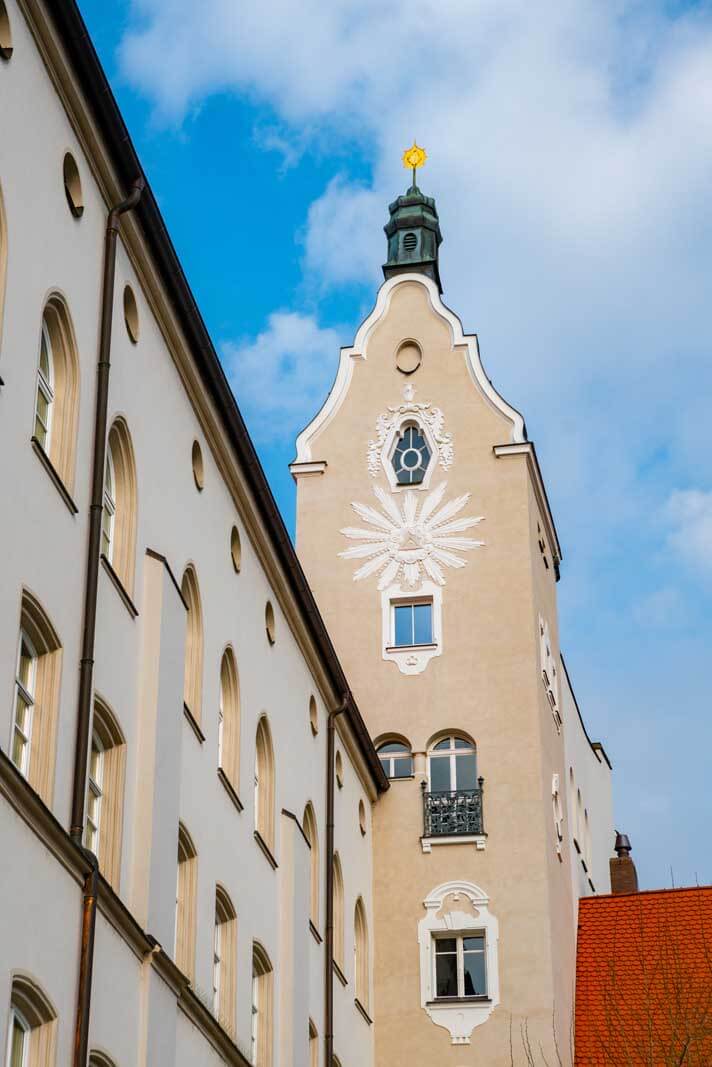 Another one of the best features and things to do in Regensburg, Germany is notice the towers of the city as you're walking around.
The tallest tower is the Town Hall or Rathaus tower. Every tower after this is supposed to be a little shorter as to not out do the Rathaus.
Regensburg, Germany had a lot of wealth and one way its residence showed off its wealth and homage to the finer things in life like Italian architecture was to build private towers connected to their residences that looked like fortress towers.
The families all rivaled eachother by trying to flaunt as much wealth as possible in the height of their towers, the only rule was it couldn't be taller than the Rathaus (Town Hall). The taller your tower, the richer you were said to be.
There are around 20 of these towers throughout the city giving it an incredible medieval skyline. In its prime there were about 60.
What's even more interesting is even though the towers literally tower over the house its connected to, anything higher than the house itself was just a façade. I thought this was especially interesting because if I have a tall tower connected to my house I am going to want the view from the top. But I guess it was just a flaunt of wealth so that didn't matter to the wealthy homeowners in the Middle Ages.
You will notice these all over the city, and after knowing the history you can't help but find them fascinating and one of the more interesting things to do in Regensburg, Germany is spotting them around the city.
St. Peter's Cathedral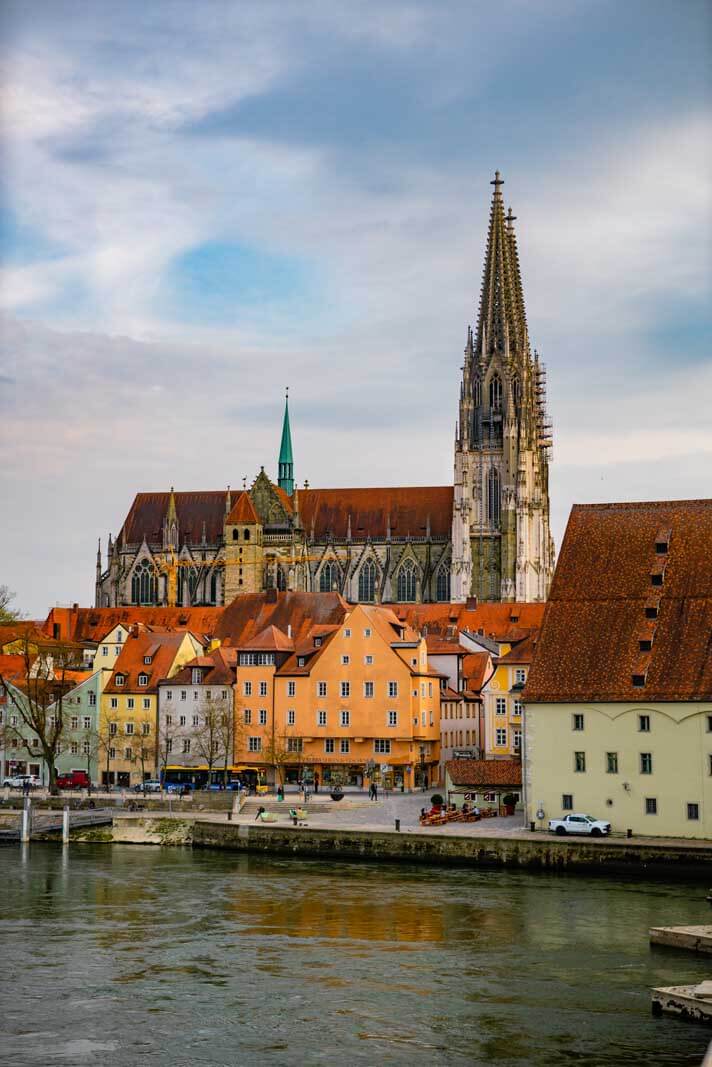 The other most notable landmark and one of the best things to do in Regensburg, Germany is visit the iconic St. Peter's Cathedral. This cathedral is an important piece and example of preserved Gothic architecture in the Bavarian State.
One of its most notable features is its original stained glass from the Middle Ages.
The first record of a cathedral here in Regensburg, Germany dates back to the year 700 AD, however, the current cathedral is from the 12th century after fires ravaged the previous structures.
This is also the final resting places for important Bishops. Be sure to go inside and admire this incredible structure that is one of the most prized pieces of architecture in the city.
Try a Regensburg Knacker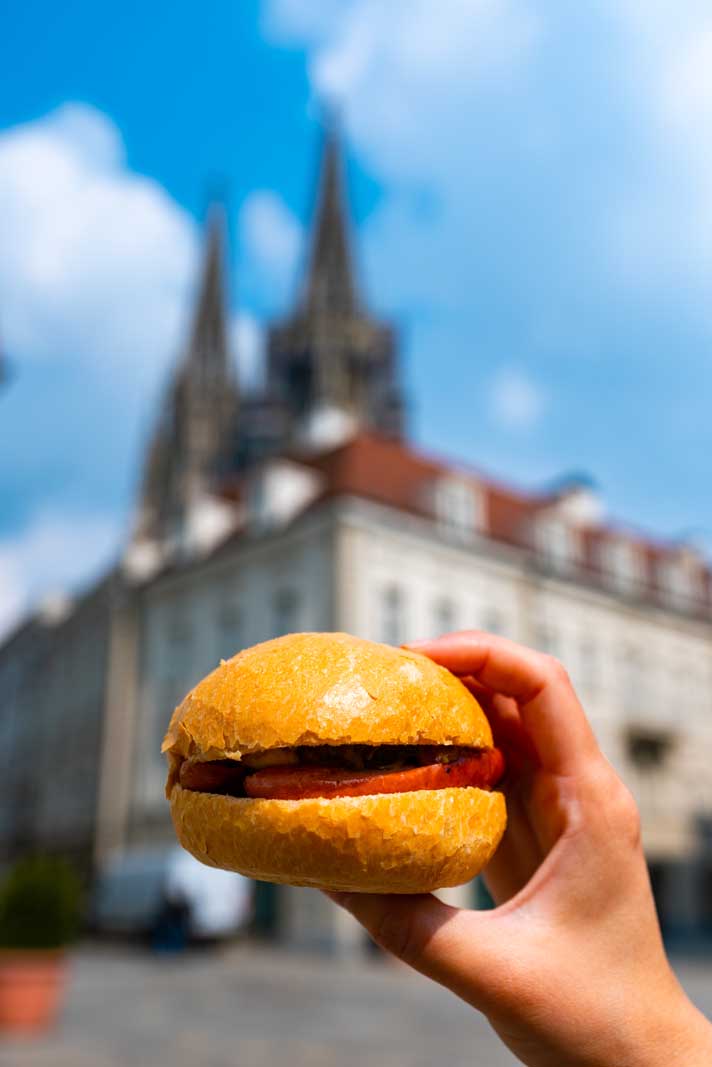 If you find yourself feeling a bit snackish or looking for a light meal then you don't want to miss this next iconic thing to do in Regensburg, Germany.
Don't miss a chance at trying a local treat and specialty, a Regensburger Knacker. This snack is made up of a special boiled pork sausage, horseradish, sweet mustard, and sliced pickles on a bun.
It's small so it's perfect for a snack or a very light meal if you find yourself wanting to save room for chocolates at Café Prinzess later!
You can find these at the small booths around Neupfarrplatz Square surrounding the cathedral.
Visit the Famous Hat Shop
If you are a Disney fan or a fine crafted hat fan this next thing to do in Regensburg, Germany is for you! Visit the shop of Hütkonig Der Hutmacher, the famous hat store here in the city.
The hat maker, Andreas Nuslan is famed for his fine craftsmanship has made hats for royalty, presidents, and celebrities. He even was asked to make the hat for Disney for Johnny Depp as the mad hatter in Alice in Wonderland.
You can actually find the famous Disney mad hatter hat on display in the store as it's proudly displayed.
The store is worth popping in, there's more to it than just the first floor of men's hats too. Continue up a level and you have the women's section and a gorgeous view of the city.
Shopping Around Regensburg, Germany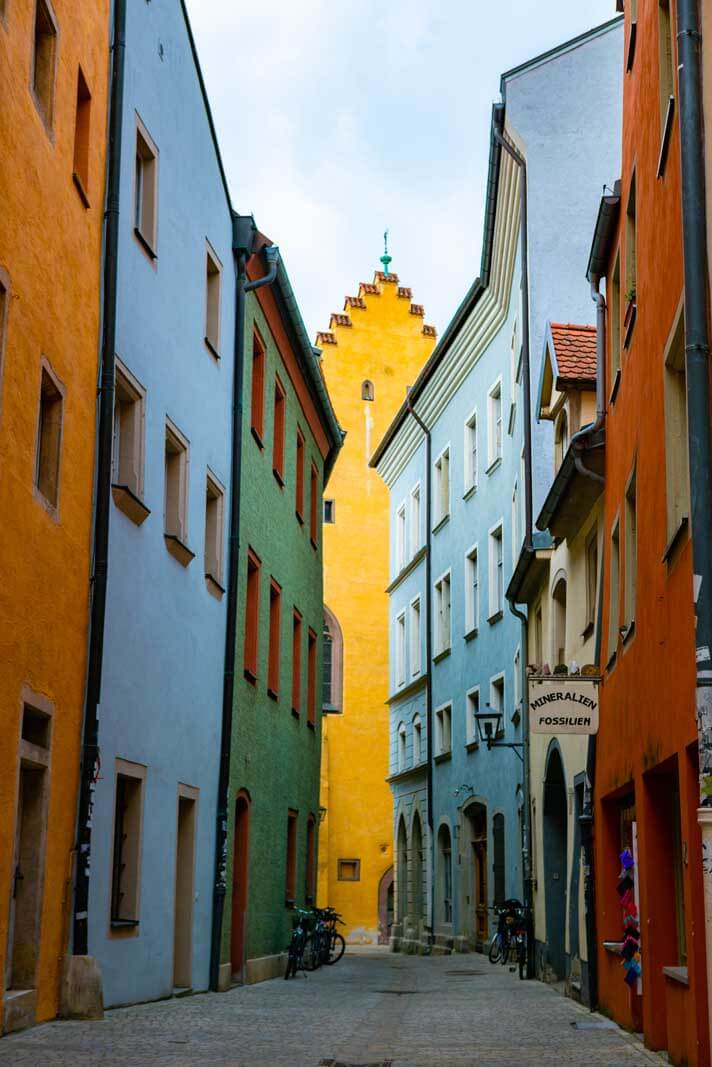 Another one of the best things to do in Regensburg, Germany, at least for me, was check out all the local independent shops. One thing I loved about these adorable German towns we explored was that there were so many small, independent retailers, some of which you can tell has been in their location for decades, like a locksmith shop down one of the little passages we found.
One thing in the US is that it's really hard for small, independent businesses like these to keep their doors open. It's no secret that it's getting harder and harder for small businesses to stay afloat here and with online shopping available at our fingertips at all times with free overnight shipping its really made me miss and appreciate even more small, independent boutiques and retailers shopping experience.
There's no shortage of these types of shops in Regensburg, Germany. Our favorite were all the stationary shops. Be sure to give yourself enough time to do some browsing.
Porta Praetoria Roman Ruins
One of the most historical things to do in Regensburg, Germany is visit Porta Praetoria, the last roman ruins and the only roman gate left north of the Alps.
This is just an example of how much history has taken place here in Regensburg, Germany. The Romans, led by Marcus Aurelius, built their military camps here and Porta Praetoria was the main gate.
This dates back all the way to 179 AD and can be seen by walking near the end of Hotel Bischofshof, the same brewery, hotel, restaurant mentioned earlier.
It's just so fascinating that history from that long ago survived all these years and to be able to see it with your own eyes, it's a quick thing to do in Regensburg, Germany but totally worth the effort in looking for it.
Where to Stay in Regensburg Germany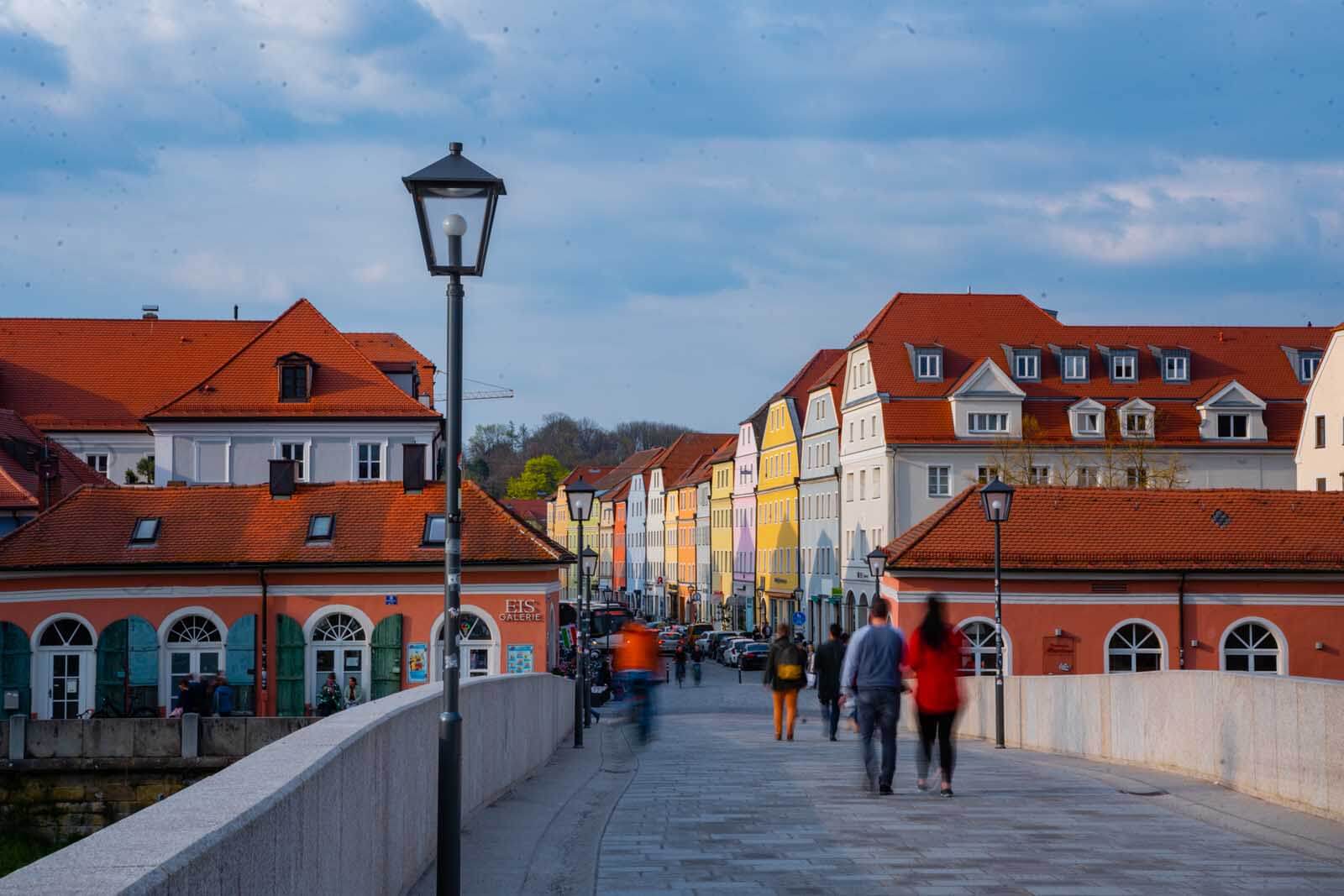 $$ Hotel Central
This is a great location for where to stay in Regensburg, Germany. With a great location nearby the train station and royal residence, it's only a 15-minute walk to Old Town through the park. We stayed here and enjoyed the quiet, comfortable, modern rooms.
Book Now on Booking.com | Compare Prices for Later on Agoda.com | Check out Rates on Hotels.com
$$ Hotel Goliath
Centrally located right by the Danube River in Old Town Regensburg, Germany this is one of the best places to stay in town. The rooms are individually decorated with colorful and artistic decor. This hotel also has a beautiful rooftop terrace to enjoy a drink on with a great view of the city. It also has great reviews as people have loved this quirky, vibrant hotel during their stay.
Book Now on Booking.com | Compare Prices for Later on Agoda.com
---
Found this post on all the best things to do in Regensburg, Germany interesting or helpful? Bookmark for later or share the love below on Pinterest.