Looking to spend an action-packed one day in Seattle? Well, first of all, welcome to Seattle! This is absolutely one of our favorite cities to explore and get to know through multiple and extended visits. Be sure to also see our
Seattle neighborhood guide
so you know which areas of this city are our favorite to explore!
After our last trip to Seattle, we decided to put together a guide for the perfect one day in Seattle and the best Seattle sightseeing for any short term visitor, which if you're anything like us you'll be hooked and want to come back for more Seattle sightseeing like we did.
With a city with so much to offer it can be tough to choose, but after many visits and many posts, we have written to cover this awesome city we have hand selected and curated the best way to spend one day in Seattle – according to us!
Also, it does seem like there are loads mentioned here to fit in 24 hours in Seattle. But don't worry, we actually did it all in one day in Seattle (watch the video and you'll see!). It's possible as many of these options for Seattle sightseeing in one day is walking distance and many, especially at Pike Place Market, are bites or foods to try which are quick activities.
We hope you love food because this guide has a ton of great options! We tasted all of these and approve!
This is also a new video style for us, so if you like it we'd love a subscribe, like, or comment on the video on YouTube!
Have more time than 24 hours in Seattle? Check out what not to miss for two days in Seattle or the best what do in Seattle for a first time visitor.
How to spend 24 hours in Seattle
Pike Place Market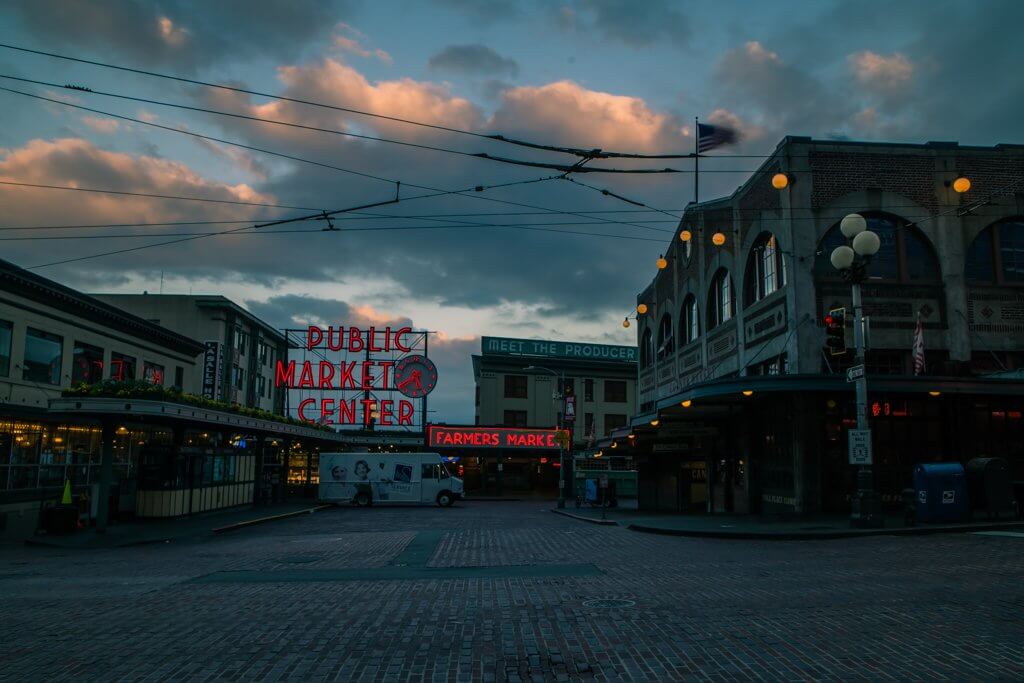 Probably the most iconic spot for Seattle sightseeing (besides the Space Needle) is Pike Place Market, the oldest public market in the United States dating back to 1907.
Besides being a historically awesome point of interest this is where to go to get your fill on some of the best food in the city! You can really appreciate the history and food here through your stomach, so come hungry!
Besides having food for days to graze there are also other fun stops inside Pike Place including the World Famous Giant Shoe Museum, a comic book store Golden Age Collectables, and even a Nepalese apothecary. So be sure to make sure you explore the inner levels of Pike Place Market during your one day in Seattle.
Featured Stops at Pike Place Market:
The Throwing of the Fish
One of the best traditions in Pike Place Market is the 'throwing of the fish' by the fishmongers in the market. You can't miss these guys as they are directly below the Pike Place Market sign when you first approach the market.
Anytime someone buys a fish or about every 10 minutes, the fishmongers actually throw a big fish back and forth before packing it up and handing it off to the customer. Because this has become such a popular draw, they even will throw a fish back and forth if there's no customer.
This is an experience not to miss during your one day in Seattle and one of the most iconic 'Seattle sightseeing spots' that is just quintessential to a visit.
Daily Dozen Donuts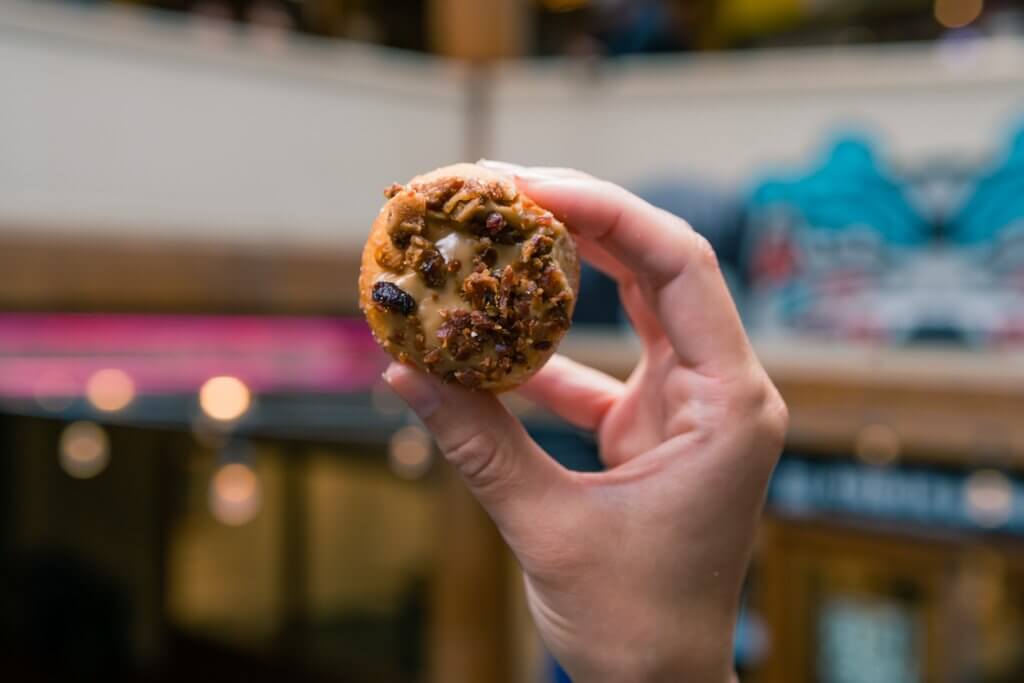 Another one of our featured stops in Pike Place Market for your one day in Seattle is the Daily Dozen donut stand! If you're lucky you might show up when there's no line, but typically there's a long line wrapping around for these little donuts and you will easily understand why once you pop one of those in your mouth – they are fresh and tasty!
If there's a line, don't worry though because it moves quickly and you can watch the donuts freshly be made while you're waiting to pop those bad boys in your mouth Homer Simpson style.
You can get as little as a half dozen to however many you want mixing and matching flavors. We HIGHLY recommend mixing flavors to try them all and be sure to get one of the maple bacon ones!
Better yet, you can grab a bag to go and have some sweet, sugary goodness to fuel you whenever you need a snack during your Seattle sightseeing in 24 hours!
Ellenos
One of our favorite stops in Pike Place Market and a great place to snack during your 24 hours of Seattle sightseeing is at Ellenos Greek yogurt!
Did you know that in the US most Greek yogurts you have tried aren't authentic? Greek yogurt became a popular trend and many store brand yogurts took a shortcut adding artificial thickeners to their yogurt and slapping a Greek yogurt label on it and it sold like hot cakes.
Real Greek yogurt is much different than what you might find on the shelf in chain supermarkets across the country – it's much silkier and just more heavenly.
Ellenos is authentic Greek yogurt and your chance for a taste of heaven. Trust us, you want to try this yogurt! I am drooling thinking about it now. Or don't just take our word for it, read all about this famous yogurt.
There are multiple fresh flavors to choose from if you're having a hard time picking don't worry they will let you sample. I must warn you though, the serving size is huge so make sure you have a friend or two to share with if you plan on grazing more around your Pike Place Market Seattle sightseeing.
Beecher's Homemade Cheese
MMMMM….cheeeeeeese! Another one of our favorite stops in Pike Place Market and a must for your 24 hours in Seattle is Beecher's Homemade Cheese. Watch the cheese being made in front of your own eyes and taste some of the tastiest cheese on the planet while you're at it.
You can buy blocks of cheese to go or order anything from grilled cheese to mac n cheese from their menu. We URGE you to try the mac n cheese as there are no words to describe how delicious it is.
As a matter of act, it's so good that Oprah even named it one of her 100 favorite things, that's how good it is! You'll want to grab a block of the flagship cheddar to take home with you too!
Also, if you're running low on time or space in your belly during your one day in Seattle, there is the option of grabbing this at the airport! We've went out of our way on layovers and turned down a free meal in the airport lounge to get Beechers! Just sayin.
More at Pike Place Market: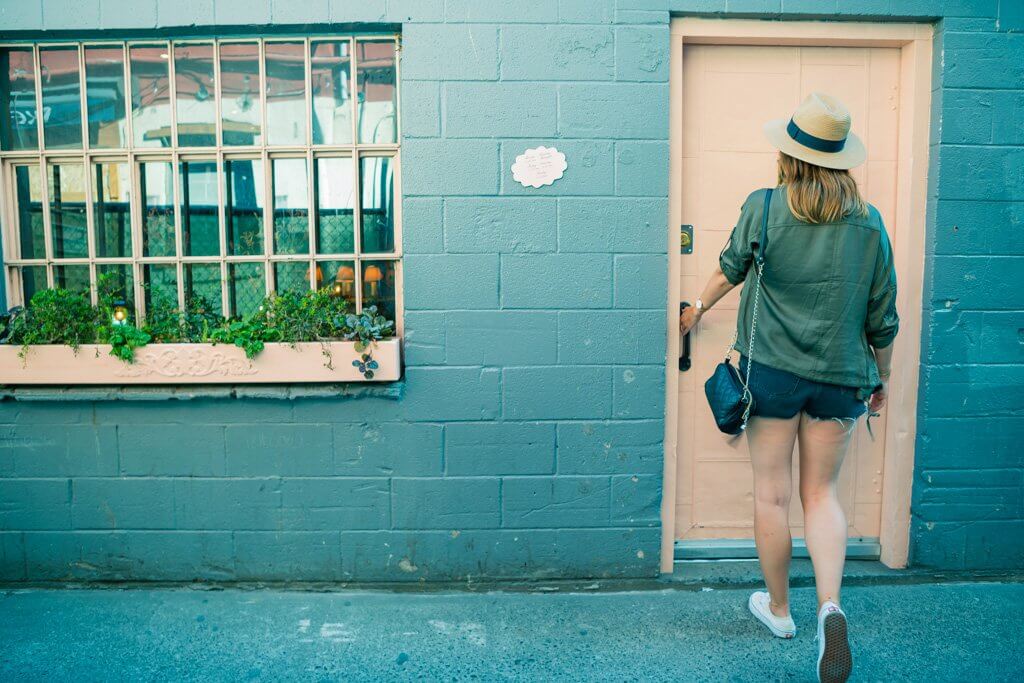 Pink Door: This Italian restaurant with a hidden pink door in Pike Place is a great place for an enjoyable sit-down lunch or dinner! Be sure to make reservations, this place is very popular and if you want to eat here during your 24 hours in Seattle you'll want to make sure you get a seat.
Pike Place Chowder: Another one of the tastiest places to eat at Pike Place Market is Pike Place Chowder. There's typically a line out the door for their world famous and award-winning chowder, but it's totally worth it!
Take a Tour!
Want to learn the history about Pike Place Market while tasting sample size products with a knowledgeable guide? Then consider this 2 hour tasting tour through Pike Place Market which is a great way to sample many different bites, especially if you're short on time and only have one day in Seattle.
We did a food tour through here and it was one of the best food tours we had been on for the history alone, not to mention getting to sample tons of food which we wouldn't have been able to do full servings of. Book your Pike Place Food Tour here.
The Original Starbucks
Did you know that Seattle is the birthplace of Starbucks? That's right! In 1971 the first Starbucks was born in Pike Place Market. Today, you can't miss this iconic Seattle sightseeing spot if you're wandering around Pike Place Market because there's always a line out the door.
That's right, a line out the door.
There are literally Starbucks on every single corner of the city and people line up to see the first one ever! We highly recommend spotting it from the outside, but as mentioned in our video, skip it. Don't waste a second of your one day in Seattle waiting in line for a cup of coffee you can get virtually ANYWHERE in the city, country, or world!
We don't want to be party poopers but we do have a special Starbucks experience you can still do during your 24 hours in Seattle that we will mention in a bit, trust us it's worth it and you may need a pick me up by then if you're hitting up all these amazing Seattle sightseeing spots in one day!
Bubble Gum Alley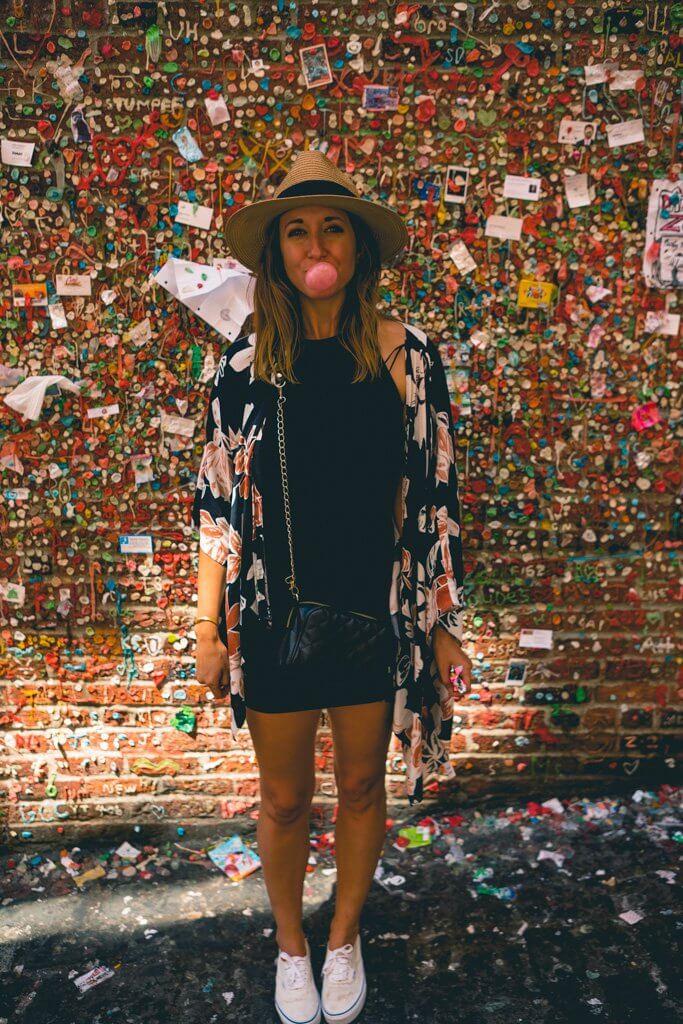 Before finishing up your Seattle sightseeing in Pike Place Market head over to the gross and popular Bubble Gum Alley, it's right around the corner and one of the most unique things to do in Seattle.
Come prepared with your own pack of bubble gum if you plan on leaving your mark behind, this is the one place it's allowed. It always hasn't been that way though.
The back story to the gum wall actually ties in with the comedy club that is in this alley. A comedian who was about to do a set was stopped by the bouncer who said he couldn't come inside with gum. So being the funny guy that he was he followed the rules by taking his gum out and sticking it on the wall starting the tradition of the gum wall!
The city has cleaned all the gum off a few times and each time it fills up.
If you can get over the gross germ infested walls and walk through to just admire this odd and quirky attraction it's pretty fun! Plus, its right there next to Pike Place Market and an easy stop to add to your one day in Seattle.
Head to the Seattle Waterfront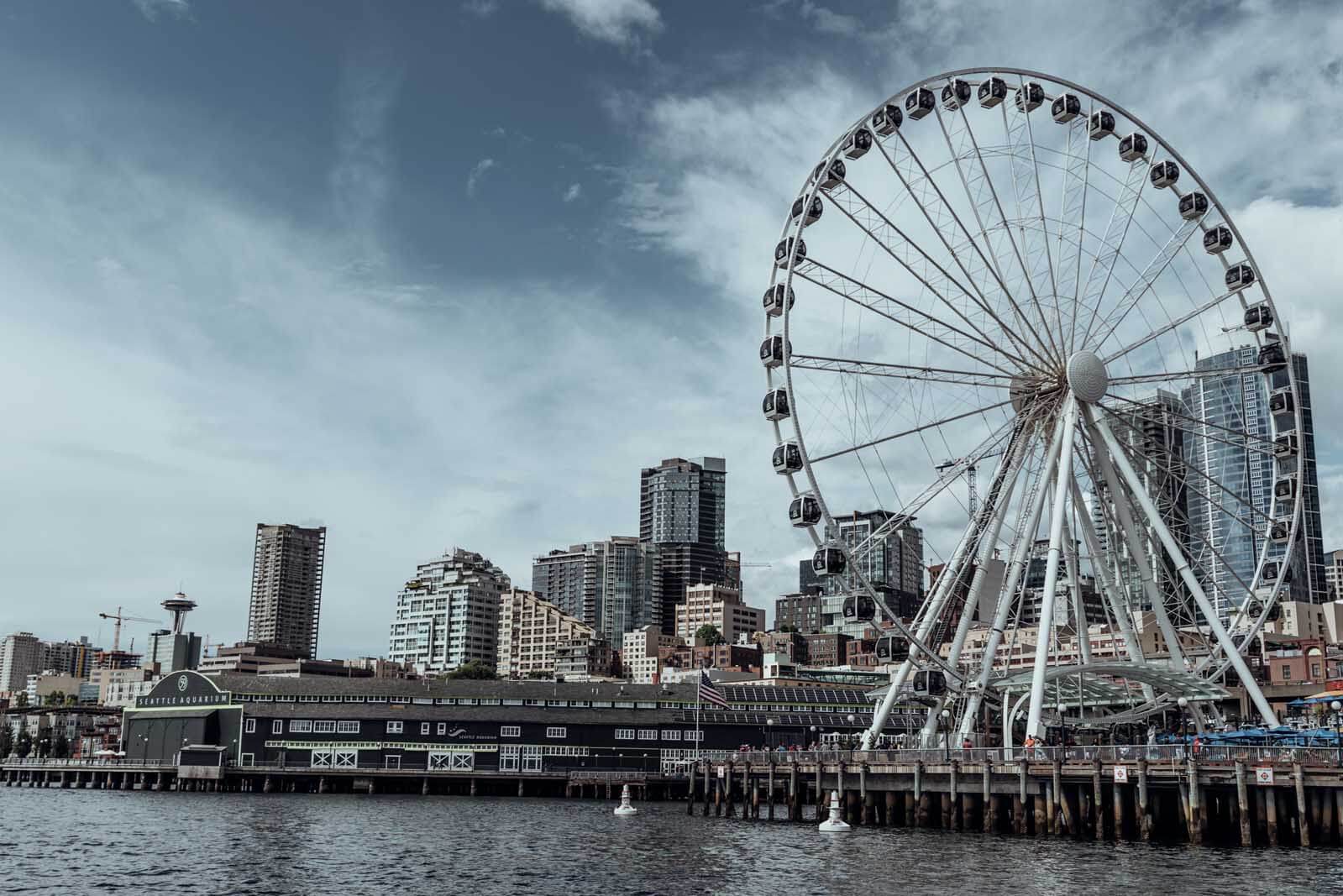 Your next stop for your one day in Seattle and unmissable Seattle sightseeing is the waterfront and piers located just a 5-minute walk from Pike Place Market. This is where you can enjoy the cool breeze and views from Elliot Bay.
Since you most likely stuffed yourself at Pike Place Market there's probably little room for food, however, if you find yourself still hungry this is a great place to enjoy seafood at many of the restaurants along the pier.
There's also the Seattle aquarium and the different rides including the ferris wheel here. For us, though we enjoy coming here to grab a bench and take a walking break for a few while taking in the view.
This is also where you can hop on a one-hour sailing adventure! There are a few different boat operators here you can book in person or in advance for a one-hour scenic sailing expedition through Puget Sound seeing some of the best Seattle sightseeing from the water!
Pioneer Square
Our next stop for your one day in Seattle is one of our favorites, Pioneer Square. This is the birthplace of the city of Seattle itself and is considered the oldest settlement in the city and is also the home to the original Skidrow. This is where you will find the original buildings and older architecture.
This part of the city is also chalked full of history as well including the Seattle Underground. We highly recommend taking a tour of the underground rooms and passageways that connected the original city – if you have the time or end up spending more than 24 hours in Seattle.
The entire original city of Seattle burnt down in the great fire of 1889, after that the city was rebuilt on the original foundations and thus the underground was born.
This entire area of the city is full of character and charm and is one of our favorite areas to photograph.
Take a tour!
It is possible to squeeze this in your one day in Seattle itinerary – you just may have to spend less time elsewhere. We highly recommend this tour if you love learning the historic bits of places you visit!
Check out this popular underground tour through Pioneer Square. You will be paired with a local historian guide that will give you some of the best tidbits of history from this area. Book your Seattle underground tour here.
Merchant's Café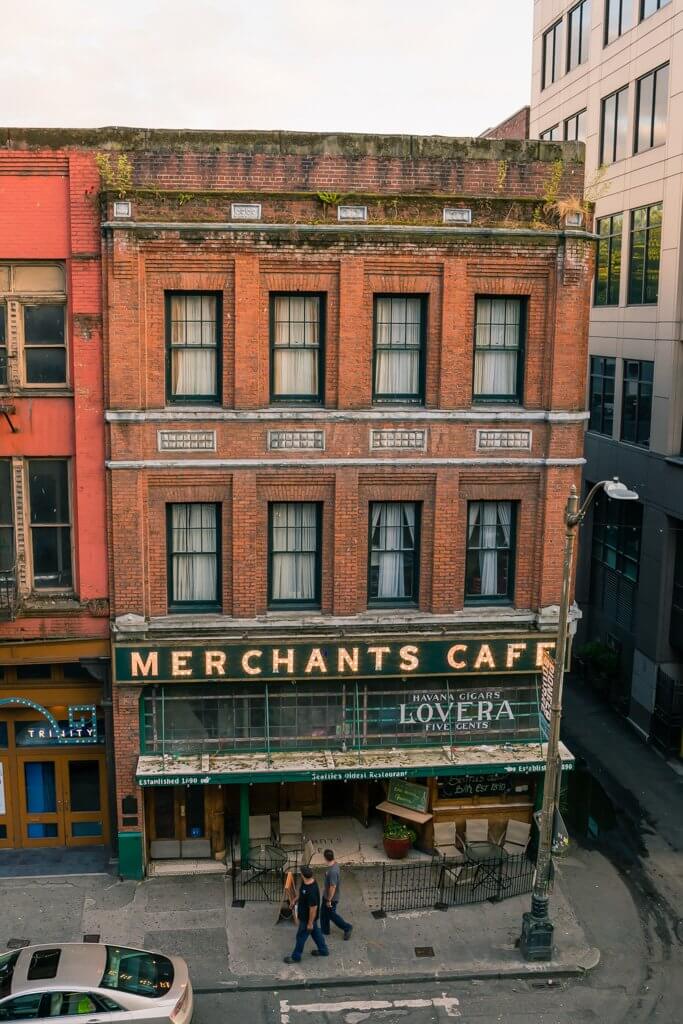 While you're exploring around Pioneer Square we recommend making a stop for a cocktail or your drink of choice at Merchant's Café. This is considered the oldest restaurant and bar in the city and is a famous stop, especially for paranormal investigators!
Merchant's Café is both a bar and a hotel and is said to be one of the most haunted spots in the city! There have even been paranormal television shows filmed here and the most haunted place is said to be the underground where you can go and enjoy your drink.
Whether or not you believe in ghosts, this is still such a cool spot and stop for your one day in Seattle. Be sure to ask the bartender for their favorite ghost story, I am pretty sure our bartender made up his story but it was still really entertaining and he got an extra tip!
Smith Tower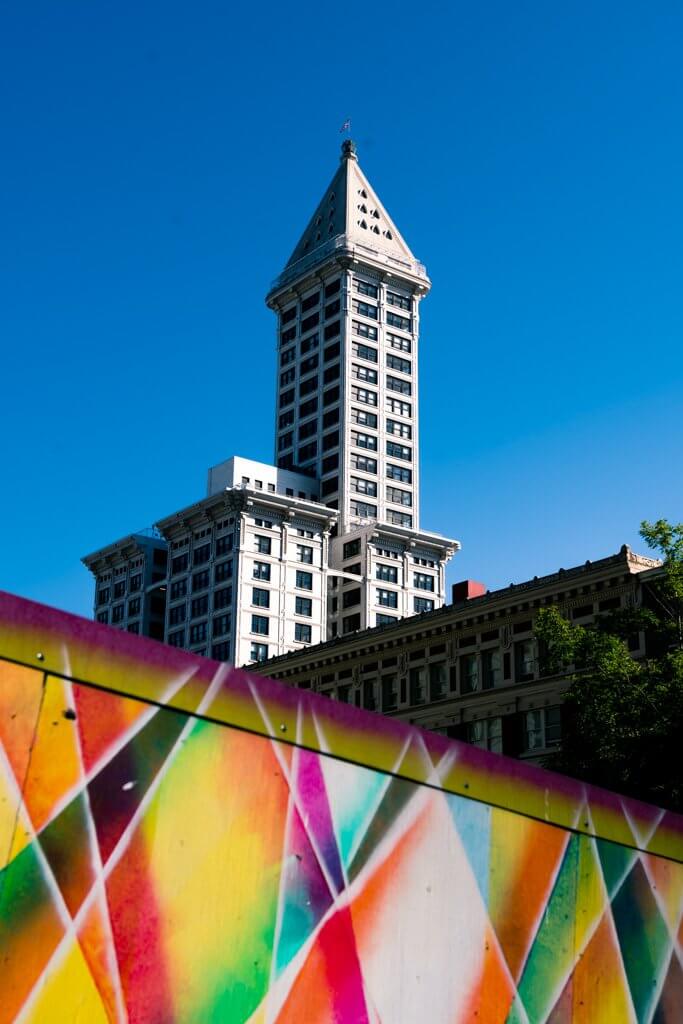 Most people would assume the best Seattle sightseeing view in the city would be the Space Needle. This is where we disagree. While the Space Needle offers a stunning panoramic view our FAVORITE view in the city comes from Smith Tower in Pioneer Square.
Smith Tower is the oldest skyscraper in the city and at one point was the tallest building west of the Mississippi for a hot second. Inside you can walk through interactive historical exhibits and eventually make your way up to the observatory for your incredible view of Seattle.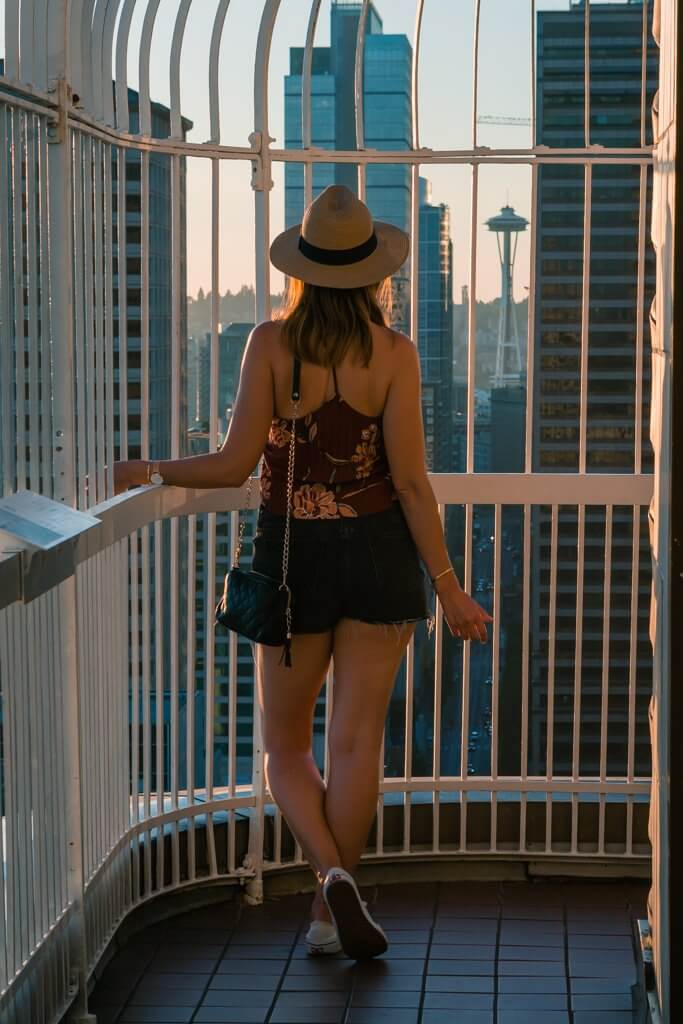 What makes Smith Tower so special? Or why do we love this more than the Space Needle? First, the view. From the observatory, you get a sweeping view of the city plus there's the perfect framing of buildings to where you also get to see the Space Needle from Smith Tower.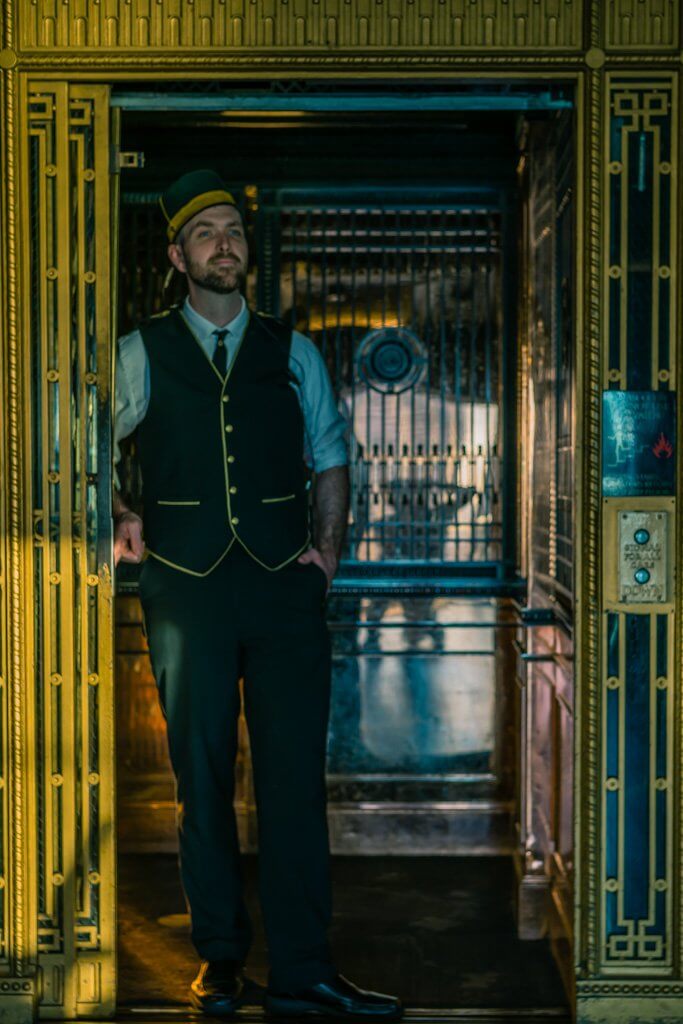 Next, we love that the entire Smith Tower experience stayed in period and feels like you've time traveled back to the roaring 20s. Even the elevator ride to the top takes you back in time! To take you up to the observatory you will get to ride in one of the only still existing Otis man-operated elevator with an elevator attendant in costume.
Once you get to the top you feel as though you've actually gone back in time with the Gatsby-esque décor.
Last, the cocktails at the observatory are superb. They didn't take any shortcuts. Save room for you to try one of their cocktails with one of the best views in the city. They also have appetizers up here if you're starting to get hungry again!
Capitol Hill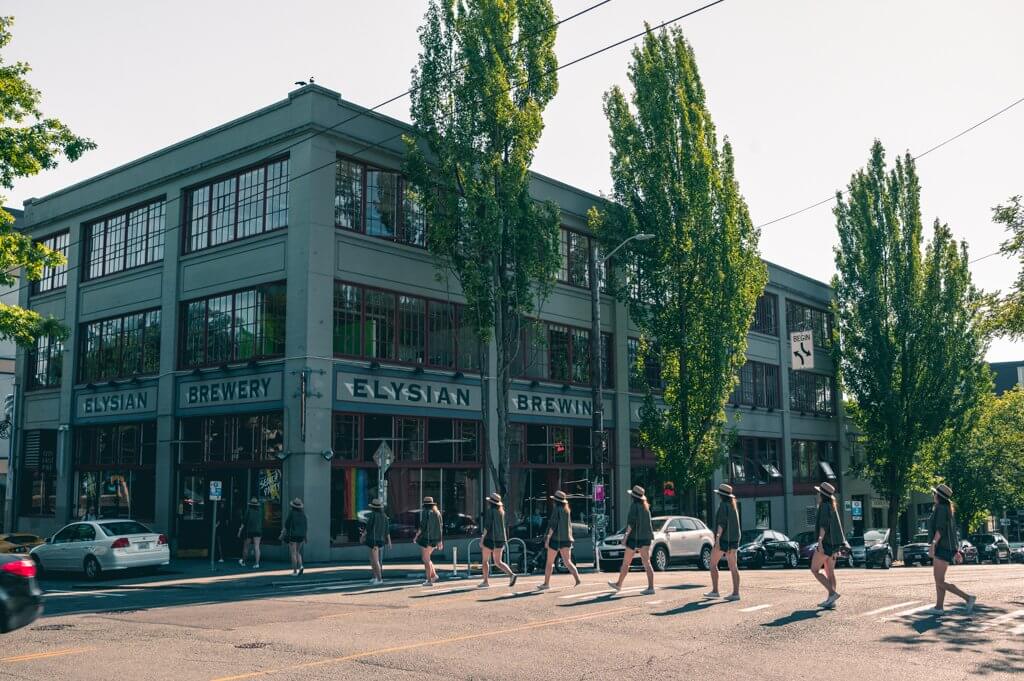 Our last stop for your one day in Seattle and Seattle sightseeing DIY tour is in the colorful and vibrant neighborhood of Capitol Hill. This is the LGBTQ hub of the city and full of entertainment options from bars to great shopping.
Depending on how much time you spent at your other Seattle sightseeing stops you may want to call a ride-share to get here quick. Or if you need to digest some of the great food you've been enjoying all day, factor in anywhere from 30-50 minutes for a walk depending on your pace – there are some inclines in the city so also keep that in mind before deciding to hoof it over to Capitol Hill.
We really love this area of the city and would love to do more exploring. Don't miss the colorful rainbow crosswalks here too!
You can't help but love the details and signs around this neighborhood declaring their inclusion and love for everyone. This may not be a favorite spot for a far right conservative though, just saying!
Starbucks Roastery and Reserve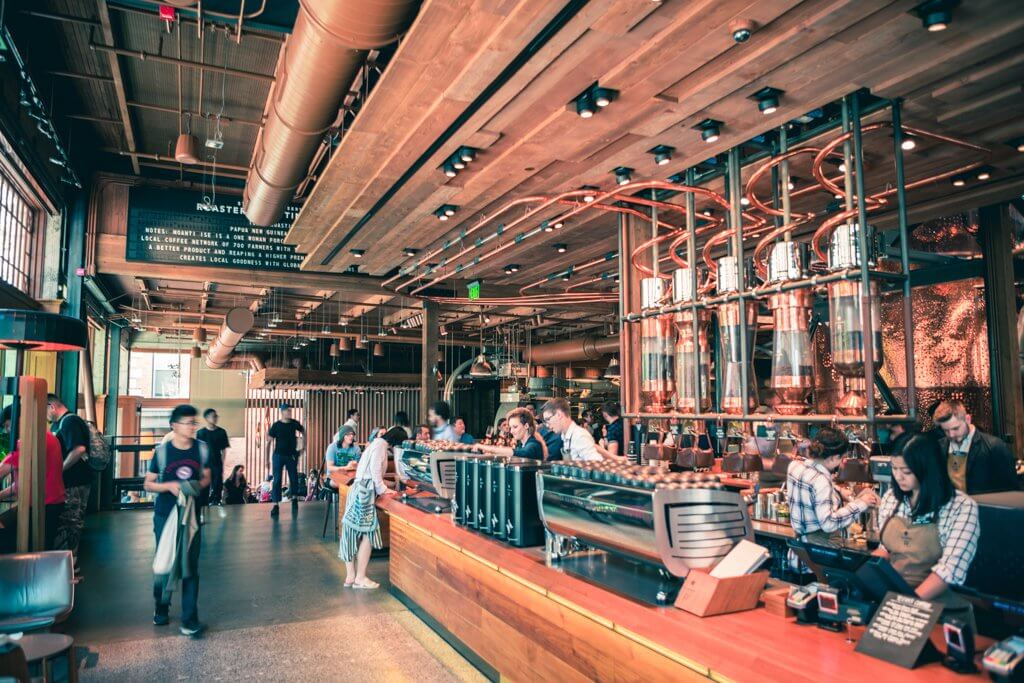 Remember earlier when we told you to skip the original Starbucks for something better? Well finally we have brought you to the ultimate Starbucks and coffee experience in Seattle! The Starbucks Roastery and Reserve is the Willy Wonka Chocolate Factory of the coffee lovers world.
Located in Capitol Hill, you can walk around the roaster where there's giant copper coffee machinery and equipment roasting beans and making coffee right in front of your eyes. The whole place is an experience.
This is also where you get the famous nitro cold brew float, think root beer float but with coffee. It's AMAZING and a great pick me up after a long day of eating, drinking, and walking!
You can also shop for your favorite coffee related products and items here or snag a dessert. At the time of our first visit to Seattle, this was the only city you could have this experience. Now cities like New York also have a location as well as more in Seattle!
Unicorn
If you're looking for one more cool spot during your 24 hours in Seattle to end with a 'night cap' or 'Seattle cap' this is it! Our last recommendation for a perfect day in Seattle ends you at the fun and whimsical gay bar Unicorn in the heart of Capitol Hill. This colorful, circus-themed bar has so much going on and such a fun atmosphere you won't want to leave!
Be sure to adventure down to the basement where you can even win an x rated adult toy out of the claw machine! There's also vintage pinball arcade here you can play and fun themed cocktails!
---
Maybe your 24 hours in Seattle requires a hotel. We have you covered. We also have two great guides for where to stay in Seattle by neighborhood and budget as well as amazing Seattle houseboat rentals on Lake Union or you can easily browse below.



---
Well that will surely fill one day in Seattle for visitors but if you're looking for more information be sure to check out more of our Seattle articles on our website! If you have time for day trips from Seattle there are plenty of incredible sites to see in Washington including national parks, Mt. Rainer, waterfalls, and cool towns.
Also, if you enjoyed the video please head over to our YouTube channel and consider subscribing! Each and every subscriber counts and means the world to us to have your support!
Did you find this post about Seattle sightseeing and one day in Seattle helpful? Bookmark for later or share the love below on Pinterest!