Planning a weekend in Palm Springs getaway? Dive into our complete 3 days in Palm Springs guide to help you plan your escape to this desert oasis that was once a heyday for Hollywood's biggest stars. You can still find the glamour of old-school Hollywood combined with a laid-back vibe with a backdrop of the Colorado Desert, Coachella Valley, and the San Jacinto Mountains.
Besides being known for being a magnet to the stars, Palm Springs is known for its luxurious resorts and spas, golf courses, endless shopping opportunities, bars, fine dining, poolside lounging, mountains, and much more. There will be no lack of entertainment during your Palm Springs weekend.
This guide will cover a complete itinerary for a Palm Springs weekend getaway, feel free to follow it exactly or customize your weekend getaway in Palm Springs using these suggestions.
Disclaimer: this post contains commissionable links.
Where is Palm Springs?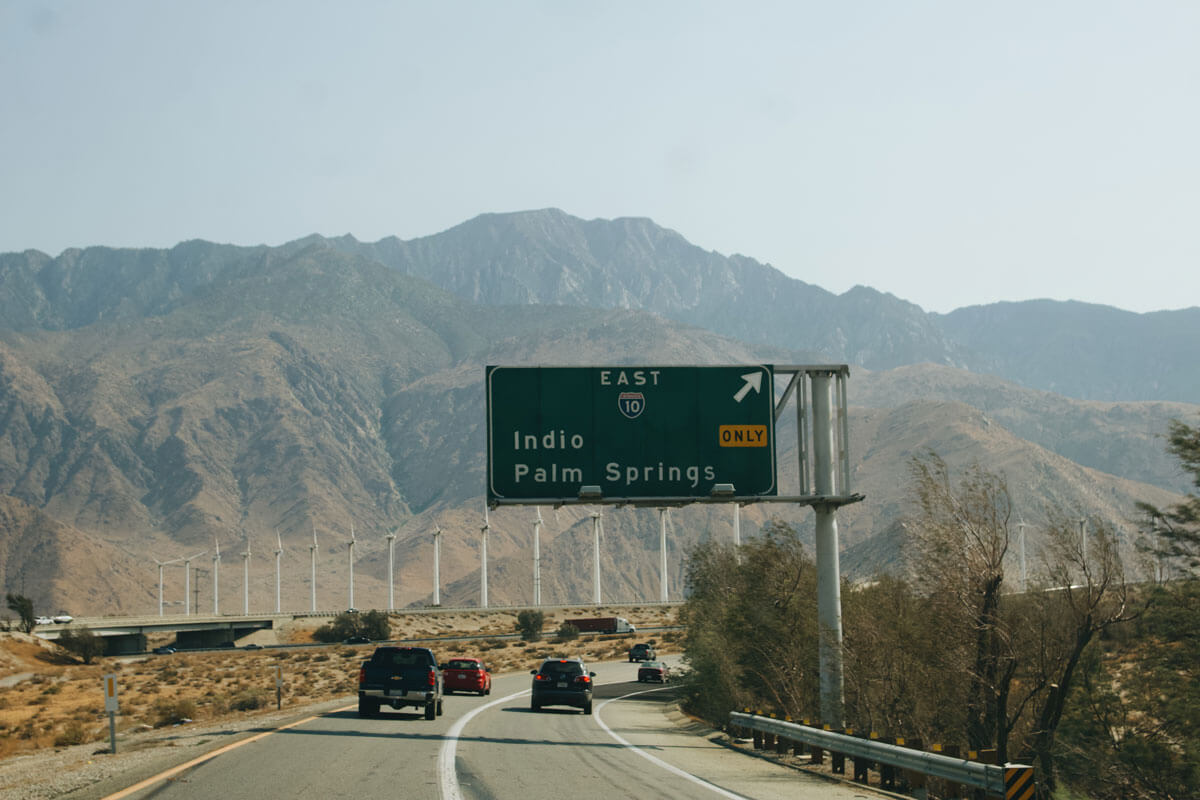 Palm Springs is a beautiful desert city located in Southern California. This resort destination is a part of Riverside County, in fact, it's the largest city in the county in the Colorado Desert on the edge of the Coachella Valley and the base of the San Jacinto Mountains.
The best thing about Southern California is that you're never really too far from all the other wonderful tourist destinations, which is why Southern California road trips are popular!
Palm Springs is located close enough to some of California's most popular cities, which all make for the perfect day trip during your 3 days in Palm Springs or if you're short on time, it's even possible to enjoy Palm Springs in a day as its one of the most popular day trips from Los Angeles for those trying to see as much as Southern California as they can in a short time.
Another reason Palm Springs has a great location is that it's near Joshua Tree National Park. You may want to add a day or two for exploring all the best things to do in Joshua Tree too since the town is full of great things to do along with all the natural beauty and scenery of the National Park. Located just 38 miles away, it only takes just under an hour to drive from Palm Springs to Joshua Tree.
And Palm Springs is one of our favorite stops on the drive from Los Angeles to Joshua Tree!
Just an hour and a half away from Palm Springs in Orange County. Orange County is a gorgeous area full of wonderful options for your day trip. Catch a ball game at Angels Stadium, get a park hopper to Disneyland and California Adventure, visit Knott's Berry Farm, or check out a concert at the Honda Center. Or hit up the best beaches in the area from Long Beach to San Clemente. You'll be just under 100 miles away from this beautiful area.
Another one of the major tourist destinations in California in Los Angeles. It will take just under two hours to get there from Palm Springs, but it's definitely worth the drive if visiting LA is on your California bucket list. One way, the trip is slightly over 100 miles from Palm Springs.
Although it may be further than the only major cities, don't rule out a day trip to San Diego. The drive there will most likely take just over two hours and it's about 140 miles one way, but one can hardly resist the beauty and all the amazing things to do in San Diego.
Palm Springs Driving Distance:
Joshua Tree National Park: 38 miles, ~50 minutes
Los Angeles: 107 miles, ~2 hours
San Diego: 139 miles, ~1 hour 40 minutes
Anaheim: 90 miles, ~ 2 hours
Newport Beach: 102 miles, ~2 hours
Big Bear Mountain: 82 miles, ~2 hours
When is the Best Time to Visit Palm Springs?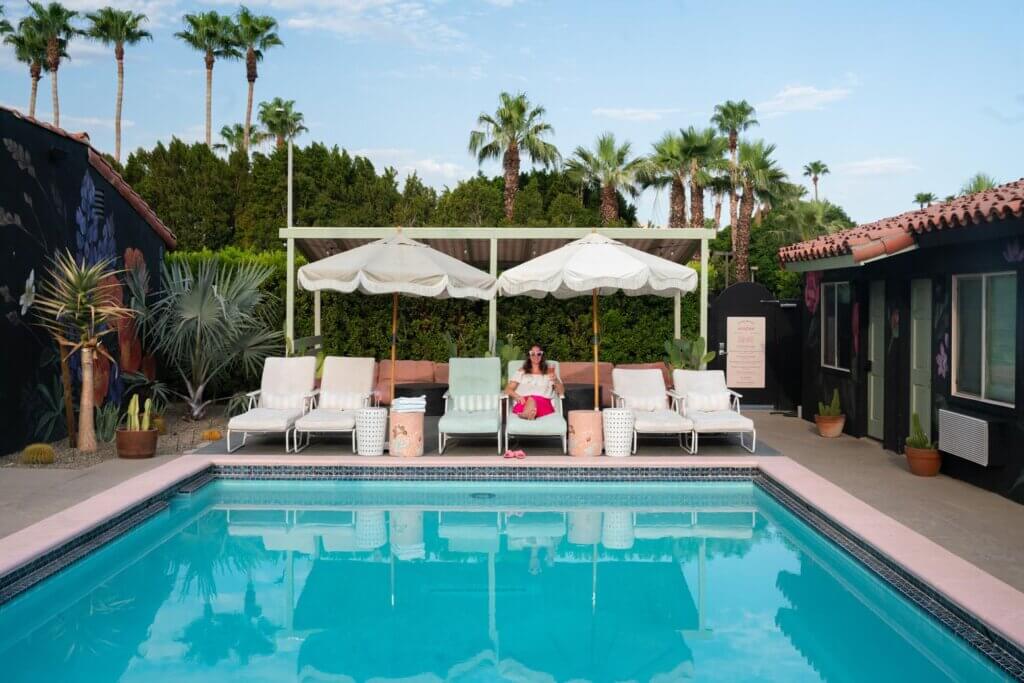 When planning a weekend in Palm Springs or any Palm Springs trip, visitors should absolutely factor in the weather as those unfamiliar with the desert climate can be surprised at how much the seasons actually do vary depending on the time of year.
The most optimal months to plan a Palm Springs weekend getaway are November through April. During this time the weather tends to stay in the 70s and 80s, which is actually a wonderful temperature for your sunny retreat, plus this is one of the most popular winter vacation spots in the USA.
Planning a trip or a Palm Springs weekend getaway during the winter months could also be a great option if you don't mind the weather being a bit more on the chilly side, usually around the 60s. Which isn't really sunbathing and pool weather but you can enjoy other activities comfortably (and keep in mind some pools are heated to be much warmer too so check with your hotel).
The only time of year to be cautious of when planning a weekend in Palm Springs is during the hot summer months. Because Palm Springs is located in a desert, the weather is consistently triple digits beginning in June and lasting throughout September.
You can absolutely still enjoy a vacation in this heat, just make sure you drink lots of water and that you're never too far from the pool!
How to Spend 3 Days in Palm Springs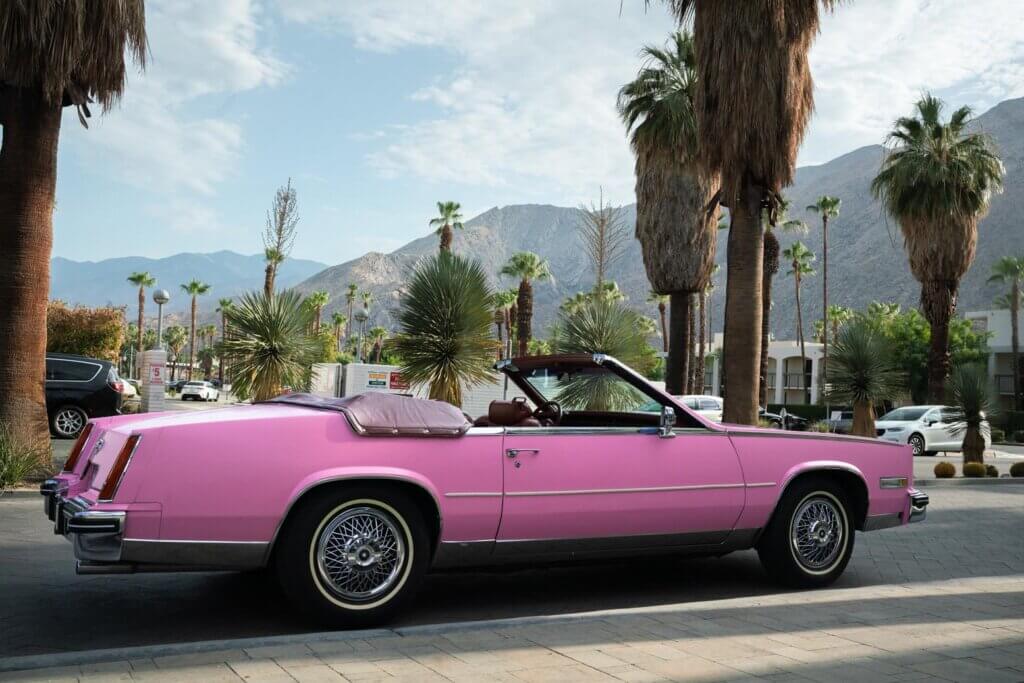 Because there are so many amazing things to do in Palm Springs, we've created an easy-to-follow itinerary for the perfect 3 days in Palm Springs.
Day 1 of 3 Days in Palm Springs
Breakfast in Downtown Palm Springs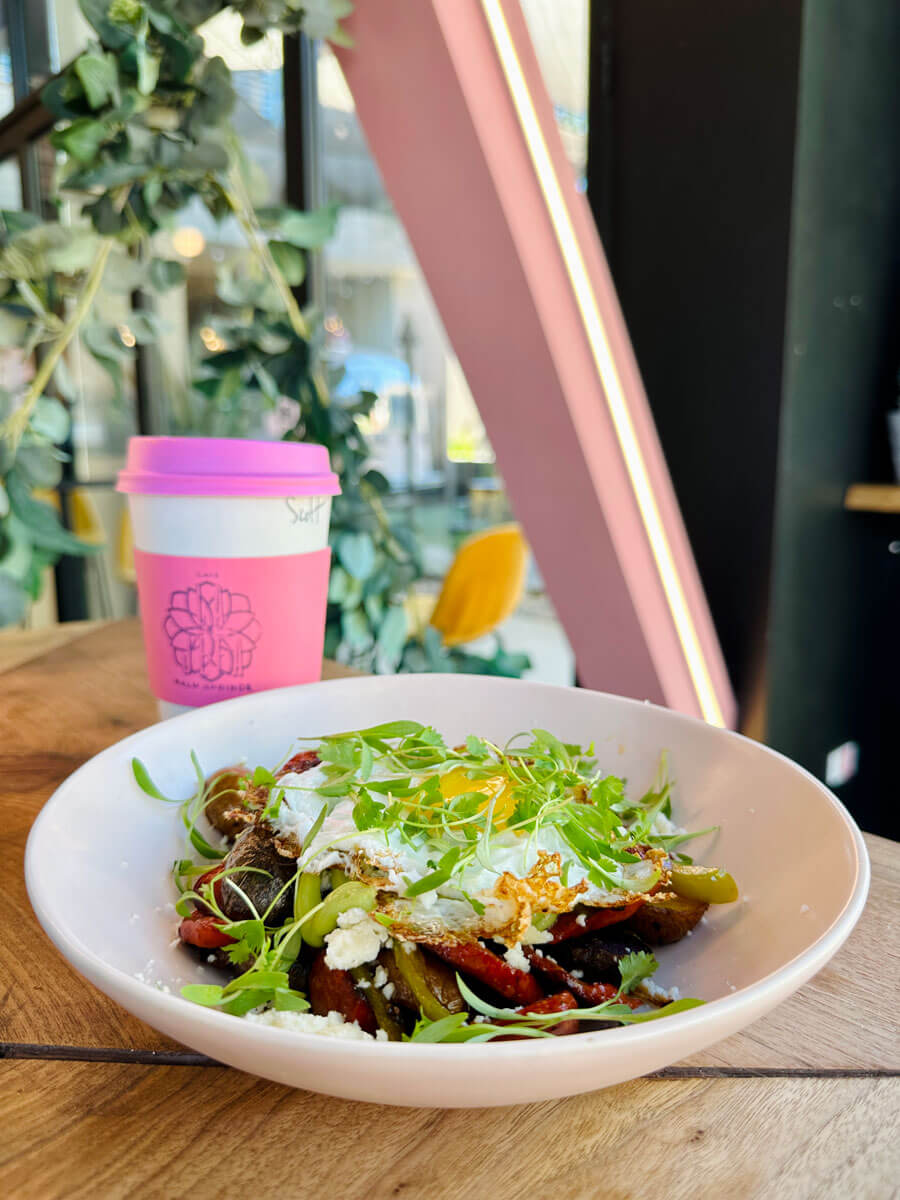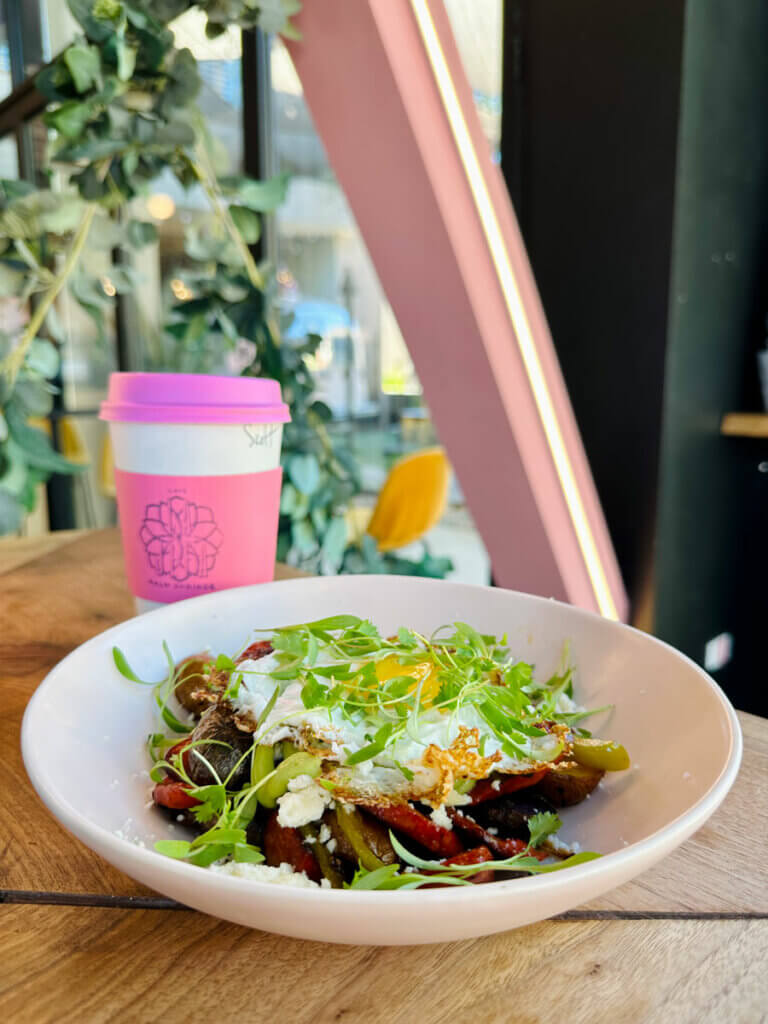 Nothing says vacation more than some delicious eats and each day starting with mimosas. Centrally located to the rest of Day 1's activities, dine in at one of Palm Spring's top-rated breakfast spots.
Lulu California Bistro (200 S Palm Canyon Dr) has an extensive menu, which means there is something for everyone in your party! The best part is that they have a 3-course brunch menu on the weekends and their cocktails are very generous in size if you are looking for a boozy breakfast/brunch to kick of your Palm Springs itinerary.
They have an outdoor patio and a spacious interior. If you are doing brunch and want to do a fun dessert at your table, spring for the heaping cotton candy dessert!
Or if you are looking for something more low-key and a quick bite to eat, head to Cafe La Jefa (750 N Palm Canyon Dr), a Latin coffee shop that serves up grab-and-go breakfast items as well as a few great sit-down items fresh from the kitchen like their breakfast sandwiches or my favorite, chorizo con papas bowl.
Drive or Bike a Self-Guided Tour of Mid-Century Modern Homes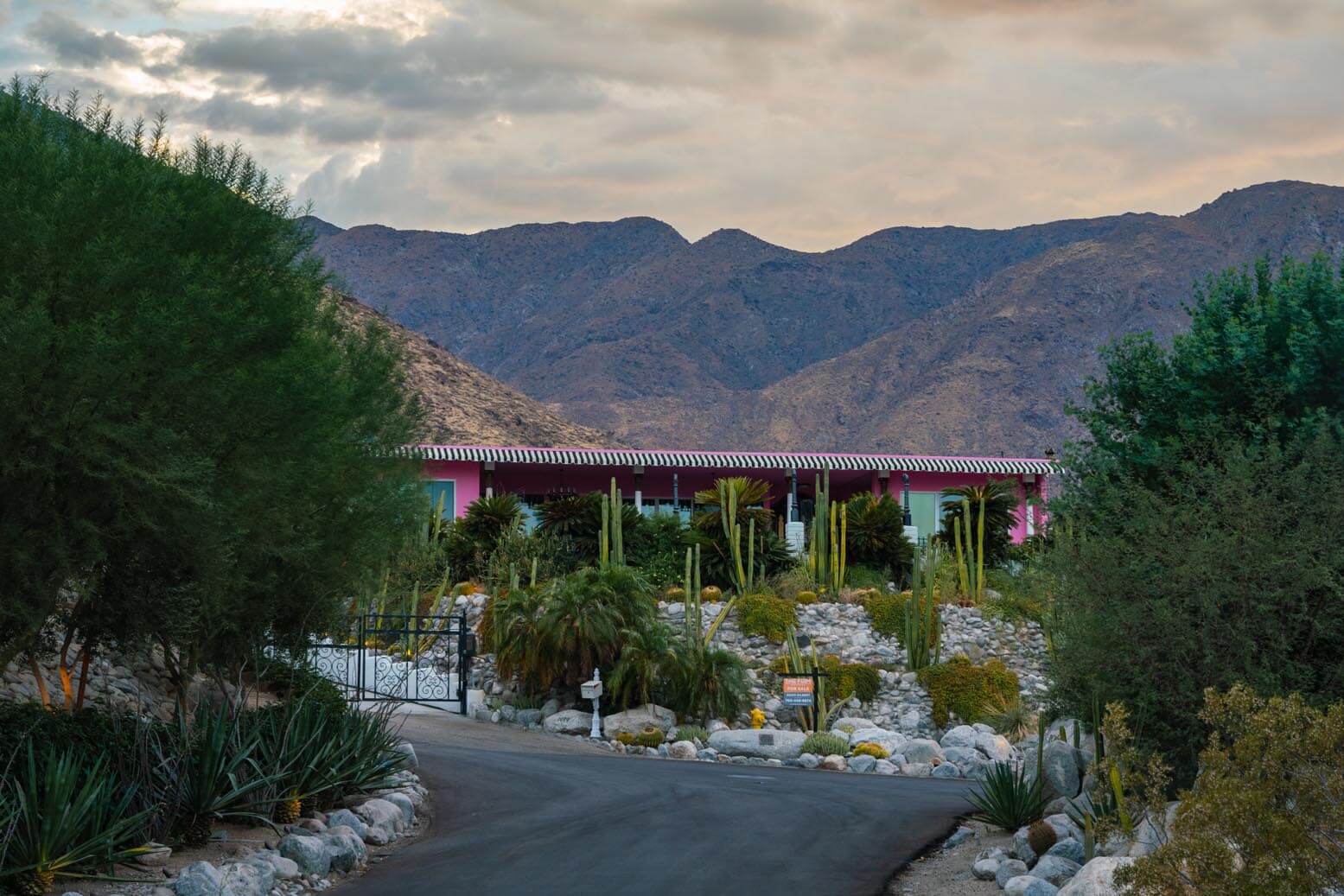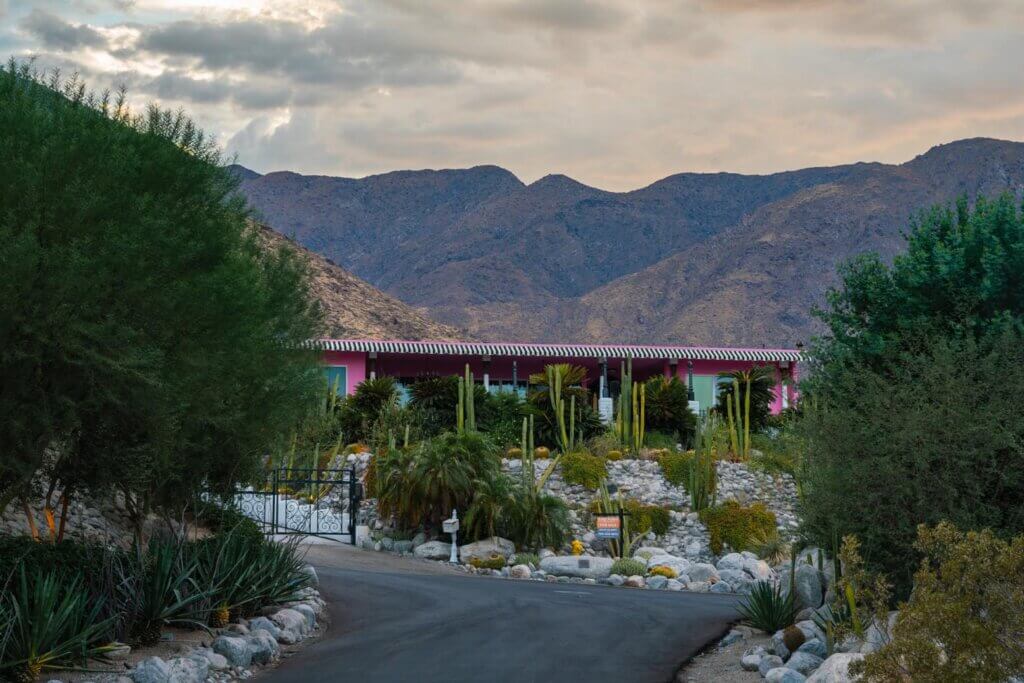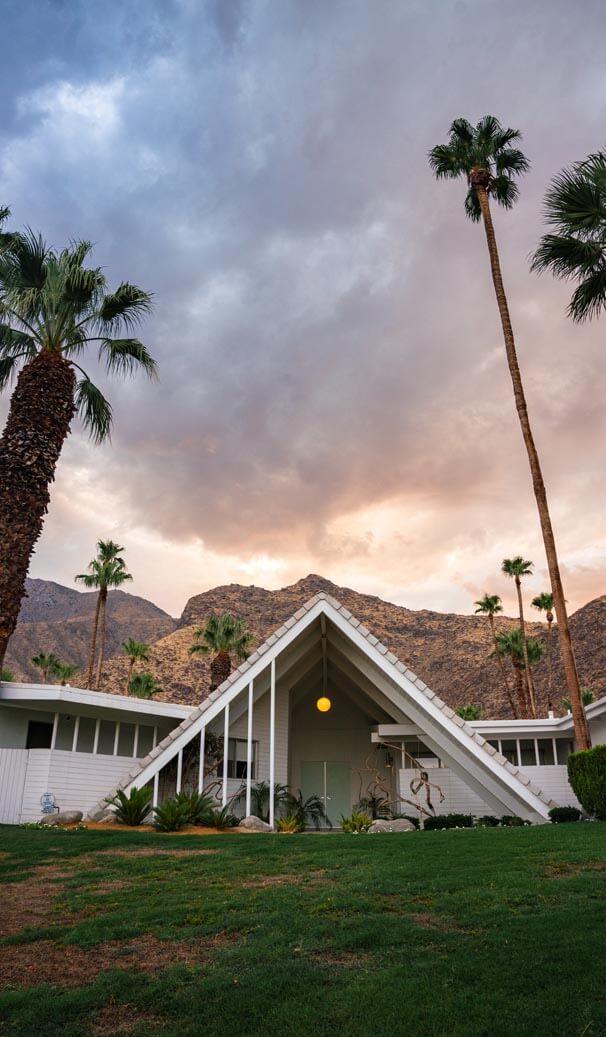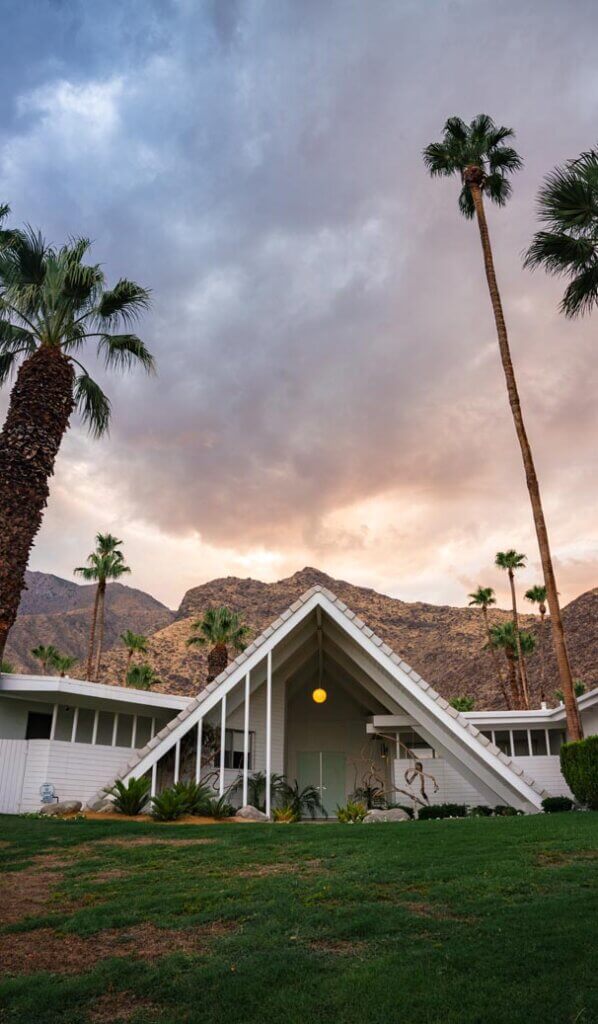 Pick your mode of transportation whether it be your car or by renting a bicycle in Downtown Palm Springs to enjoy one of my personal favorite ways to spend a weekend in Palm Springs! By driving around the residential neighborhoods and checking out all the incredible mid-century modern architecture.
Better yet, many of the homes you'll be driving through were once the residences of some of the most famous celebrities that lived in Palm Springs! To stay closer to Downtown Palm Springs we recommend checking out the Little Tuscany, Movie Colony, Las Palmas, Indian Canyons and Canyon Estates areas.
The best way to do this is just by aimlessly wandering through the neighborhoods where you'll be greeted with gorgeous modern-designed homes and you'll likely spot doors in just about every color of the rainbow!
And speaking of celebrity homes, here are a few you can add to your list of things to check out during your weekend in Palm Springs itinerary (and if you plan your trip carefully you can even stay in some of these homes as they are rentals!):
Marilyn Monroe House (1326 Rose Avenue) Book a stay here.
Elizabeth Taylor's House (417 Hermosa Place)
Dinah Shore Estate (432 Hermosa Place) *more recently the home belongs to Leonardo DiCaprio
Frank Sinatara's Twin Palm Estate (1145 E Vía Colusa) Book a stay here.
Walt Disney's House (2688 S Camino Real)
Zsa Zsa Gabor's House (595 W Chino Canyon Drive)
Barry Manilow's House aka Kauffman House (470 W Vista Chino)
Liberace House (1441 N Kaweah Road) & (501 N Belardo Road)
Kirk Douglas House (515 W Via Lola) Book a stay here.
Elvis Presley Honeymoon Hideaway (1350 Ladera Circle) & another property (815 W Chino Canyon Road)
Nat King Cole House (1258 N Rose Avenue)
Dean Martin House (1123 N Via Monte Vista)
Lucille Ball & Desi Arnaz (1194 N Via Miraleste) Book a stay here.
Sonny & Cher House (69275 El Canto Road) Book a stay here.
Howard Hughes Mini Estate (2195 Rim Road)
Bing Crosby Estate (70375 Calico Road)
Or Head to the Palm Springs Air Museum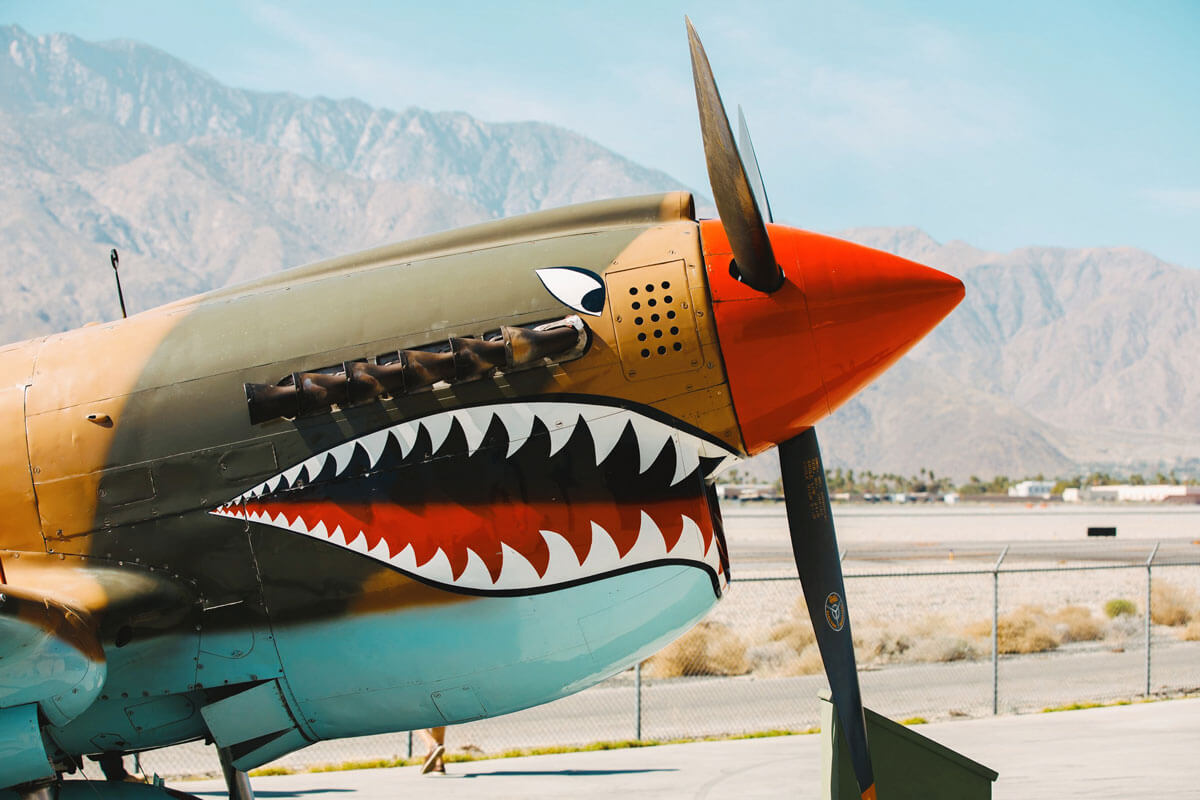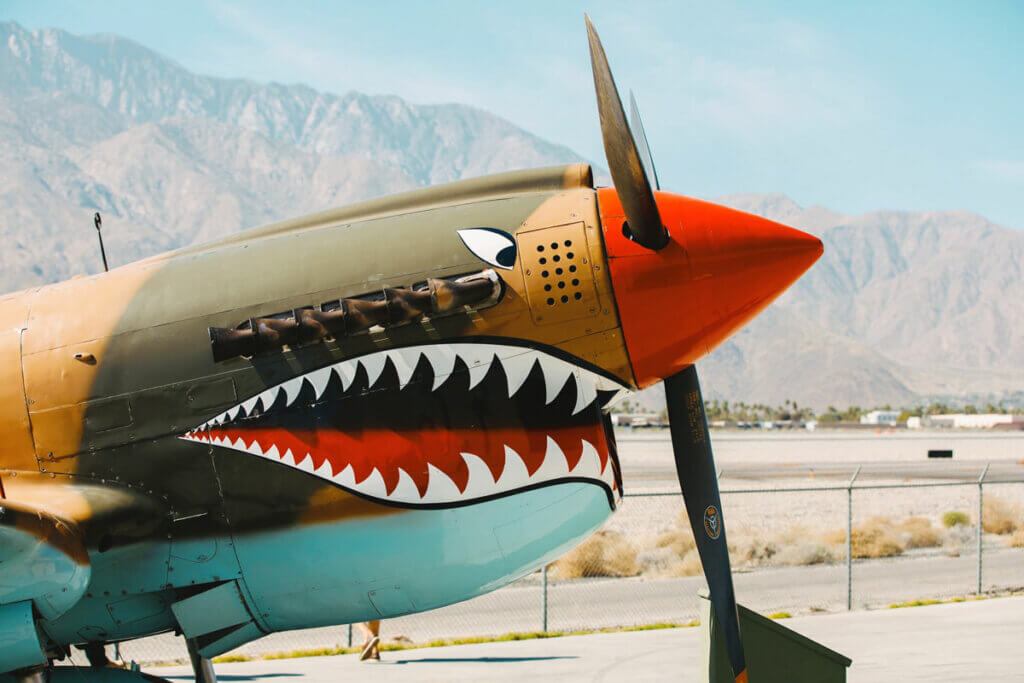 For those who are more history buffs, you may want to customize your 3 days in Palm Springs itinerary to include the Palm Springs Air Museum.
This museum displays an aircraft from World War II and both the Vietnam and Korean wars. The museum is separated into four different hangars and in total, the museum has nearly 60 flyable planes.
Additionally, there are exhibits and activities regarding WWII to help educate guests on the stories behind the people who served in the war and the role of aircraft during this pivotal time in American history.
Guests can even book a ride on one of their five Warbirds. These Warbird flights help the Air Museum keep their tradition of flying their own aircraft in order to honor those who used the same machines in some of history's greatest conflicts. You can book your reservation to fly in five of the different war aircraft including a P-51 Mustang online.
Visiting the Air Museum is a must-see during your Palm Springs weekend if you're a history buff or plane enthusiast. And even if you're not, the museum will absolutely draw you in.
Although visitors can buy tickets online before arrival, the museum prefers that guests purchase tickets when they show up. The museum is open from 10 AM-5 PM daily.
Lunch at The Tropicale Palm Springs
330 E Amado Rd, Palm Springs, CA 92262
This is for the folks who didn't do a full-on brunch. Perfectly located in Downtown Palm Springs, you won't want to miss this throwback dining experience at The Tropicale.
This restaurant & lounge has such a sophisticated yet fun and laid-back feel in their dining area that feels like an old-school tropical cocktail lounge and club. There are a variety of sharable small plates, pizzas, salad, and mouthwatering entrees.
Don't shy away from checking our their Coral Seas Lounge, where you can enjoy one of their specialty cocktails.
The environment is vibrant and unique, The Tropicale is gorgeous day or night and a wonderful spot to snag some Instagram photos. A meal here will set you up perfectly for your next item on the weekend in Palm Springs bucket list!
Palm Springs Aerial Tramway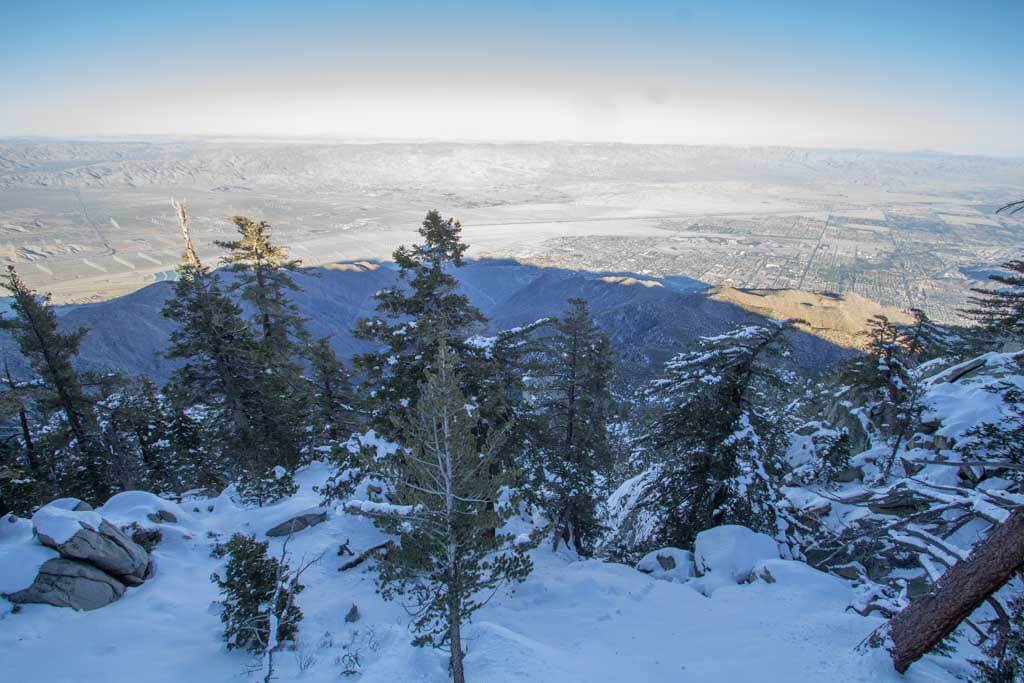 1 Tramway Rd, Palm Springs, CA 92262
During your 3 days in Palm Springs, you will have to fit in some of the best sightseeing this area has to offer, and one of the best ways to do that is witnessing panoramic views from the top of a mountain in Mt. San Jacinto State Park while riding on the world's largest rotating tram car!
The dream of building the Palm Springs Aerial Tramway was born in 1935 by a young electrical engineer named Francis Crocker. He put up quite an argument to get the project approved, but the beginnings of World War II and The Korean War, among other things continuously halted the construction. We admire Crocker for never letting go of his dream because almost 30 years after the initial idea, in 1963, the Aerial Tramway was open for business and is one of the best things to do in the area!
Located in the mountains of the Chico Canyon, the Tramway takes passengers on a quick and beautiful 10 minute ride, just about 2.5 miles long. Once your tramcar arrives upon the mountainside, passengers can dine in at one of the two restaurant options or just grab a drink and enjoy the excellent views. The restaurants overlook the gorgeous Coachella Valley making for breathtaking views to go along with your meal.
Other than dining, there are a lot of activities to be done here. Visitors can enjoy a day hiking, going on guided nature walks, or even spend a night camping here. During the winter months, there are a whole lot of family fun snow activities as well, which is an interesting contrast to be on a snowy mountaintop in the middle of the desert!
Ultimately, make sure you check out the Tramway during your weekend in Palm Springs! You'll want to purchase tickets in advance to make sure you score a spot on this iconic Palm Springs attraction.
Dinner at Smoke Tree Ranch
1850 Smoke Tree Ln, Palm Springs, CA 92264
If you're looking for a scenic and special night on the town, dine in at Smoke Tree Ranch to cheers to a successful day one of your 3 days in Palm Springs.
Smoke Tree Ranch offers a gorgeous indoor/outdoor dining experience right in the heart of their ranch. Some have said that Smoke Tree Ranch gives an old fashion ambiance, it is a very cozy and lovely environment to say the least.
The menu is often being updated, but you can always count on it being above expectations. There is usually a menu set for each night of the week, although their website isn't always up-to-date on each week's offerings, you could always call ahead. Regardless, Smoke Tree's entrees will not disappoint.
I especially love their dress code because it gives guests a reason to wear something other than usual vacation wear. For dinner, guests can expect to follow an elegant resort or casual wear dress code. This means shirts must have a collar for men and jackets are strongly recommended at Friday and Saturday dinners. Keep in mind there are no flip-flops or jeans allowed. Have some fun picking out your Smoke Tree Ranch outfit!
They also recommend keeping those cellphones tucked away, it's nice to have an unplugged meal anyway!
Day 2 of 3 Days in Palm Springs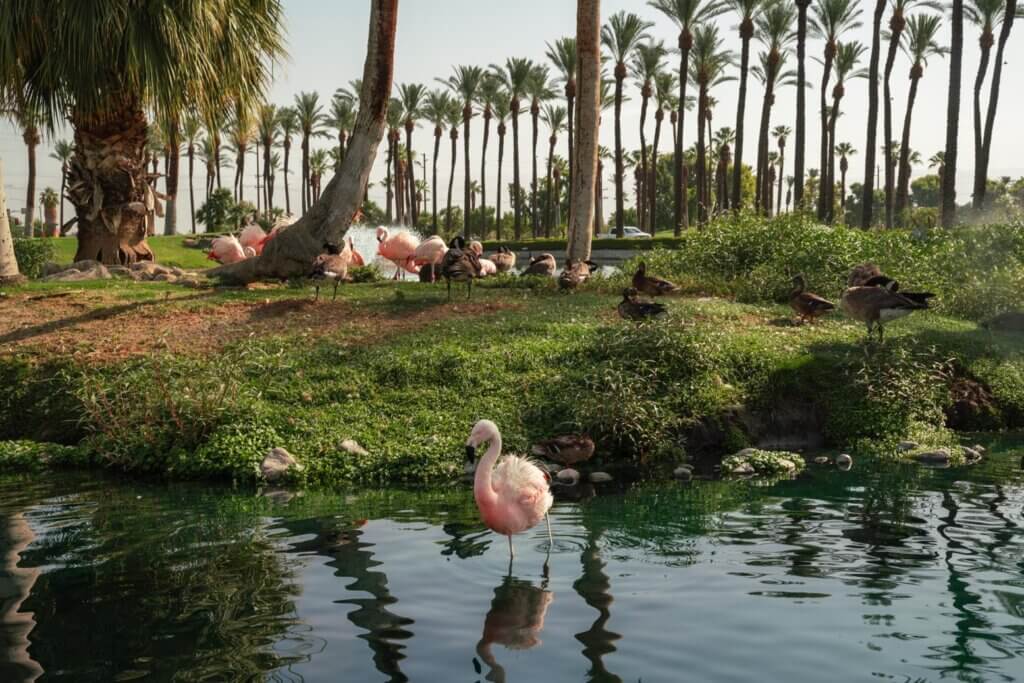 Breakfast at Townie Bagels
650 E Sunny Dunes Rd #5, Palm Springs, CA 92264
Just half a mile from your first adventure of the day, we suggest beginning day 2 of 3 days in Palm Springs at Townie! Townie is a highly recommended spot to snag a great bagel or delicious pastry item.
Home to Palm Springs's only water-boiled bagels, this bagel shop prides itself on using old-school methods. Townie offers over 20 different bagel flavors and a handful of unique spreads, making for a really difficult decision!
Townie will not disappoint and it will fuel you for the eventful weekend in Palm Springs!
Hike Tahquitz Canyon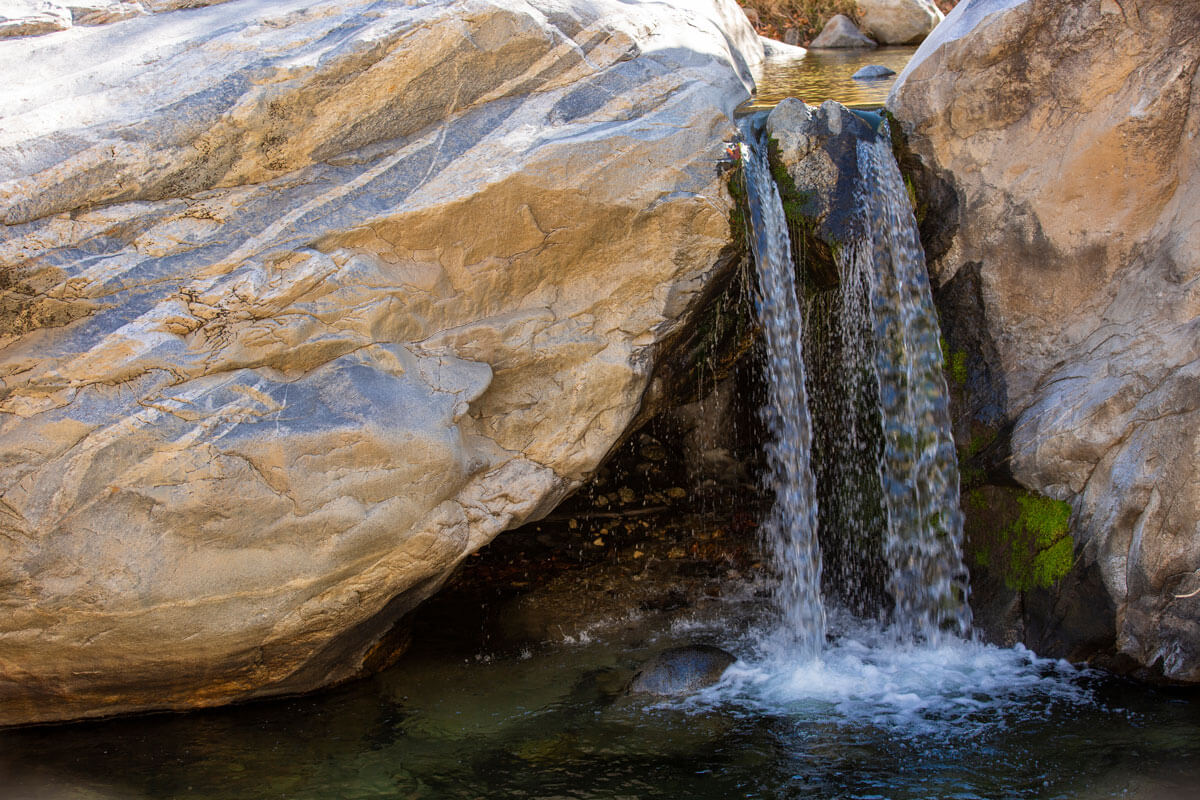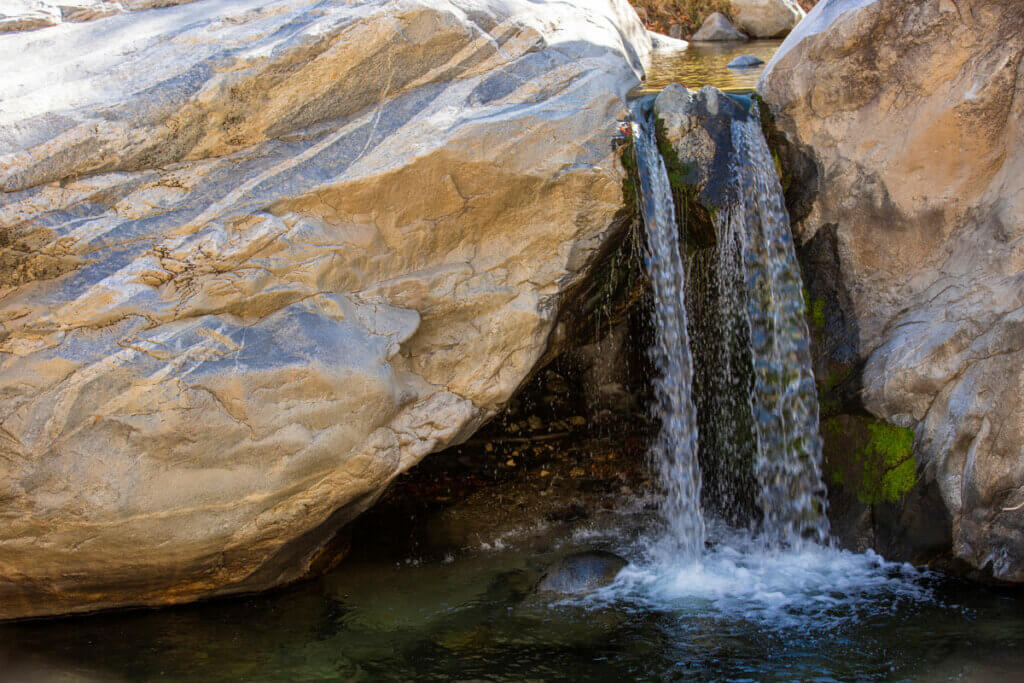 500 W Mesquite Ave, Palm Springs, CA 92264
During your Palm Springs weekend getaway, a visit to Tahquitz Canyon is just about mandatory! This short desert hike leads you to a hidden waterfall oasis perfect for cooling off at on a hot day!
Tahquitz Canyon is apart of the Cahuilla Indian Reservation and is easily one of the most beautiful sights in all of Palm Springs. While here, visitors can explore their seasonal waterfall, which is about 60 feet long, as well as all of the beautiful nature and wildlife within the canyon.
During your trip to Tahquitz Canyon, don't forget to check out the visitors center, this is also where you pay for your pass to access the hiking trail. While you're here you can also see a variety of cultural exhibits, see some artifacts, and there is even an observation deck.
Visitors love checking out the trail to Tahquitz Falls, but make sure you come prepared! The trail is labeled strenuous and it is important that hikers note there are no restrooms or water fountains along the way. This means that hikers should come prepared with lots of water for the nearly two-mile long journey.
The trail itself isn't difficult other than throughout the trail it is clear that there is little to no shade, so dress accordingly and don't forget your sunscreen. It's recommended to avoid this hike in the middle of summer unless you go first thing in the morning. It's also smart to wear a hat or something to shade your head from the desert heat. It may sound intimidating, but the waterfall at the end of the hike makes it all worthwhile.
There is an admission fee and the canyon is open until 5 PM daily. Note that July through end of September the park only allows hikers Fridays-Sundays. So make sure to confirm the trail is open when you plan your Palm Springs weekend. Also, double-check that there is water flow, there have been a few odd times the waterfall dried up.
Lunch at Porta Via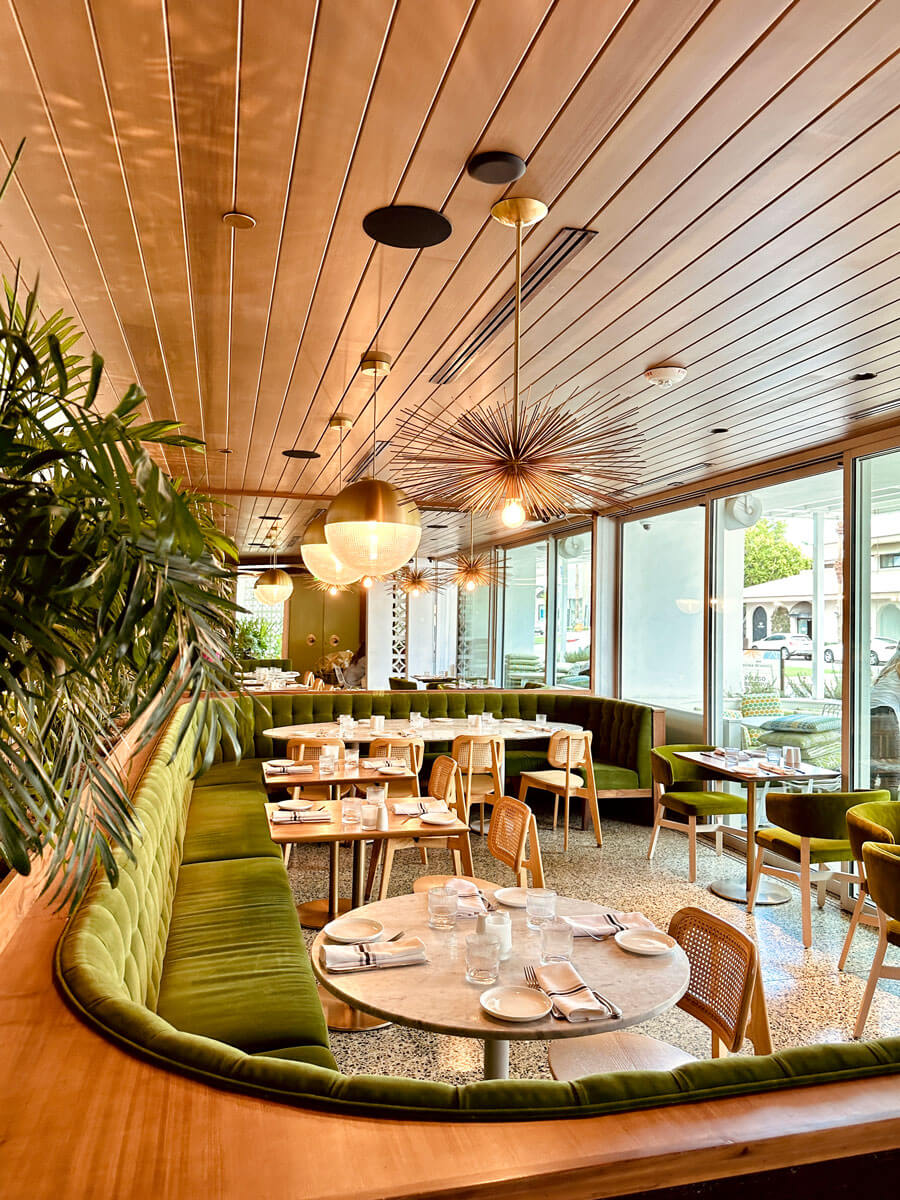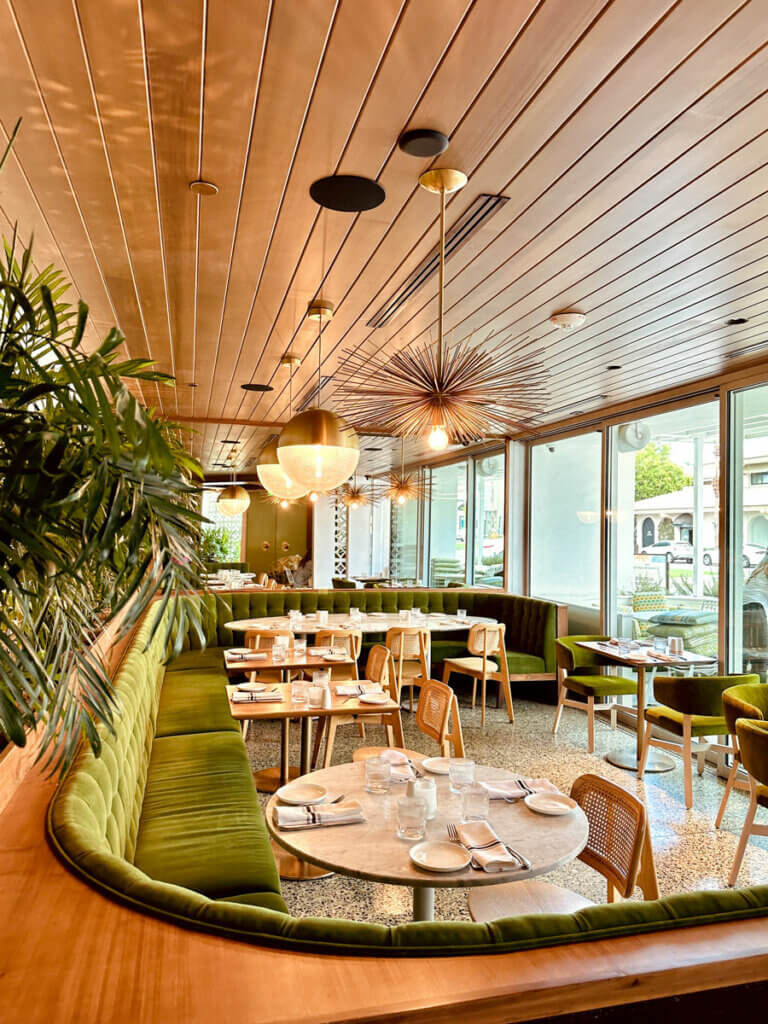 73100 El Paseo, Palm Desert, CA 92260
After a fun morning of hiking, head over to Palm Desert to continue your weekend in Palm Springs itinerary! First stop, have lunch at Porta Via, a gorgeous restaurant with a truly elegant green mid-century modern interior complete with terrazzo tiled floors, polished brass details, and maple wood.
The kitchen features a contemporary California-inspired menu featuring salads, sushi, wild-caught seafood dishes, pasta dishes, sandwiches, and house specialties all in a gorgeous setting.
Make a reservation if you want to secure a seat though!
Shop up and down El Paseo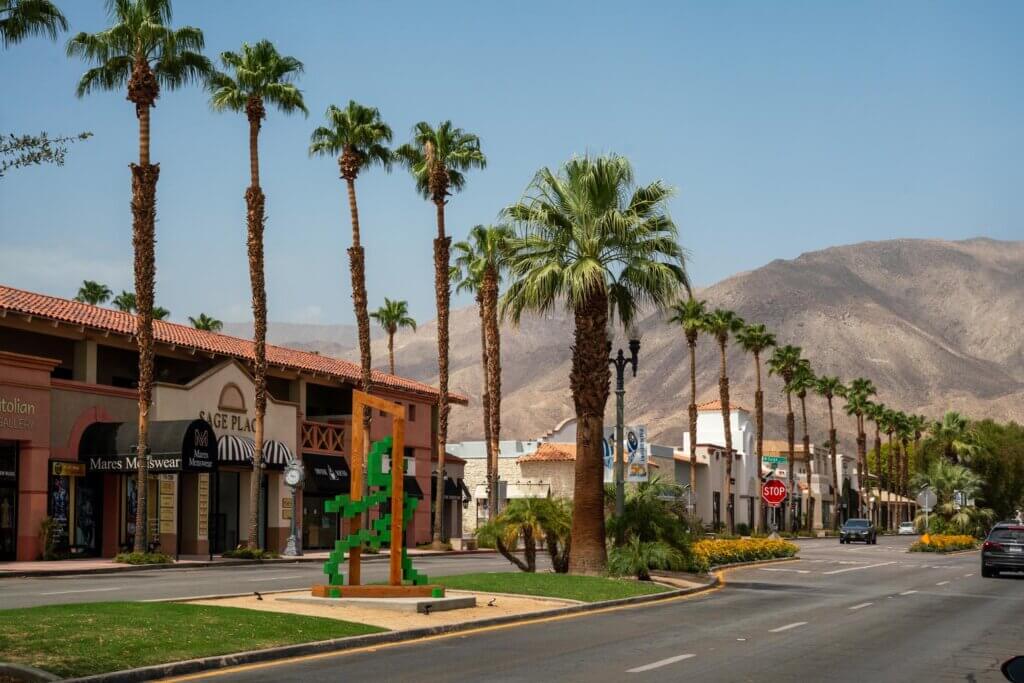 El Paseo, Palm Desert, CA 92260
In the heart of Palm Desert is where you'll enjoy some of the best shopping during your weekend in Palm Springs itinerary!
For an elevated shopping spree, indulge in the delights of El Paseo Shopping District – a Palm Springs essential! This bustling Palm Desert boulevard is a haven for luxury enthusiasts, housing high-end boutiques, esteemed art galleries, and captivating outdoor sculptures that grace the entire stretch.
When exploring El Paseo, discover The Shops at El Paseo, boasting designer labels that'll delight your fashion senses. Don't miss The Gardens on El Paseo, an enclave offering a plethora of shops and department stores.
See Flamingos & Have a Pink Flamingo Milkshake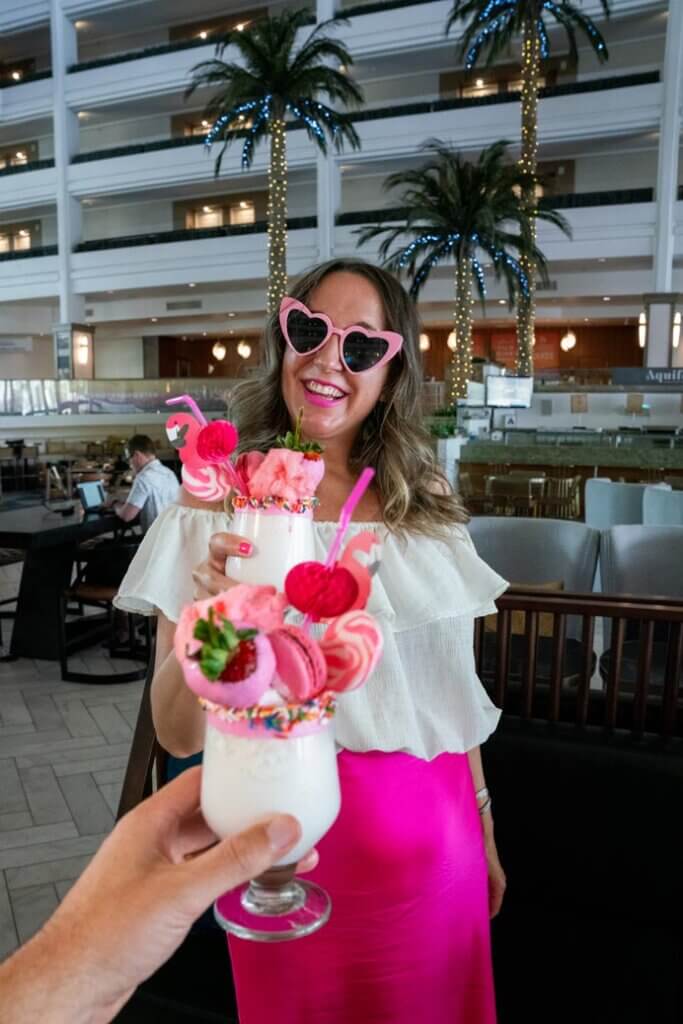 74-855 Country Club Dr, Palm Desert, CA 92260
For a fun stop on your day two of 3 days in Palm Springs, go see the flock of 30+ Chilean flamingos at the JW Marriot Desert Springs Resort & Spa. Even if you're not a guest of the hotel, you can encounter these beautiful birds up close.
They are located just in front of the main entrance along with a few other geese and birds who like to hang out in the little desert oasis here.
After you snap a few photos of these pretty flamingos, head inside for a fun afternoon treat. The inside bar is home to the Instagram-famous Pink Flamingo Shake!
This over-the-top milkshake has a pink chocolate-dipped rim adorned with a cascade of rainbow sprinkles. Within, you'll uncover layers of tastiness with strawberry ice cream, velvety whipped cream, whimsical cotton candy, a sweet lollipop, a dainty pink French macaron, and a gleaming pink chocolate-dipped strawberry, all kissed with edible glitter. A pink flamingo straw completes this masterpiece that's almost too pretty to devour. And for those looking for an afternoon cocktail, you can ask to make it boozy! They add shots of strawberry vodka to it!
Dinner at The Pink Cabana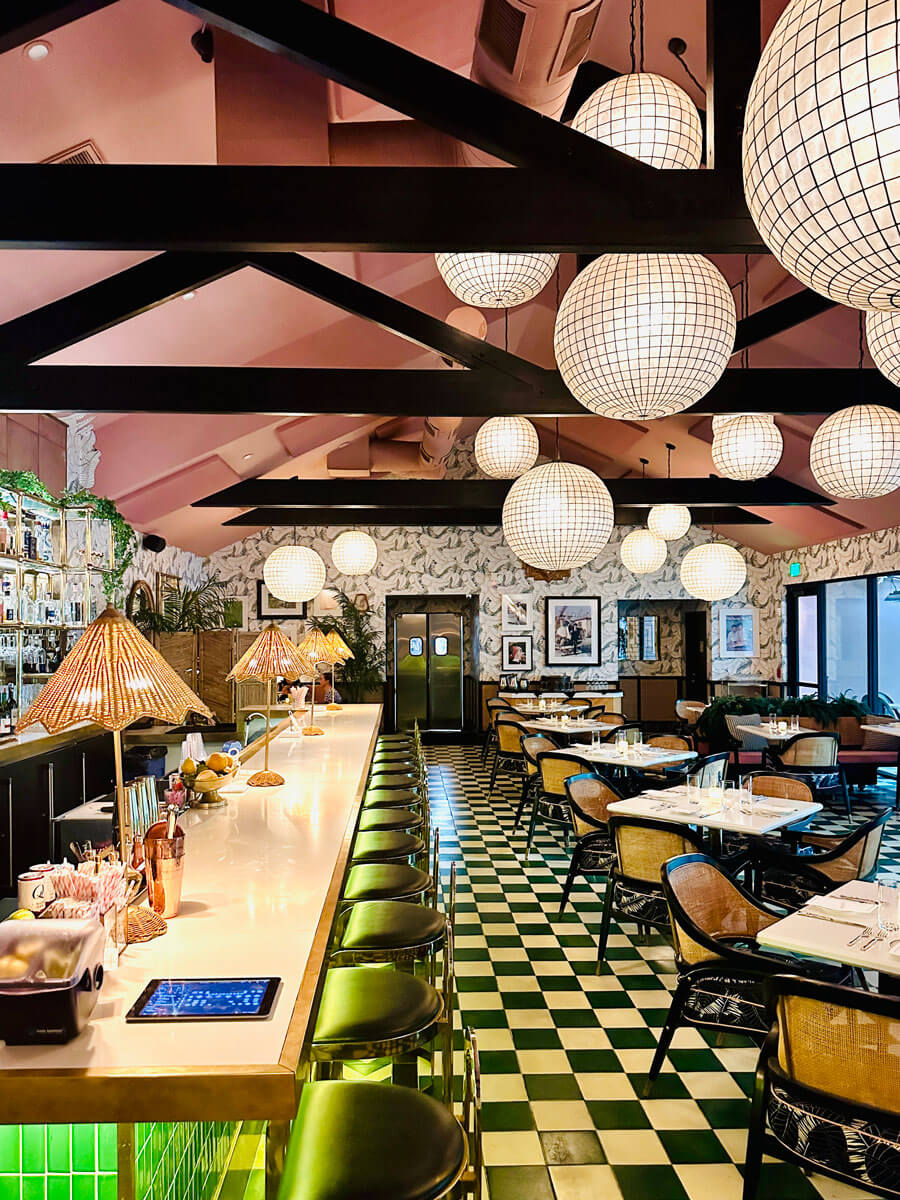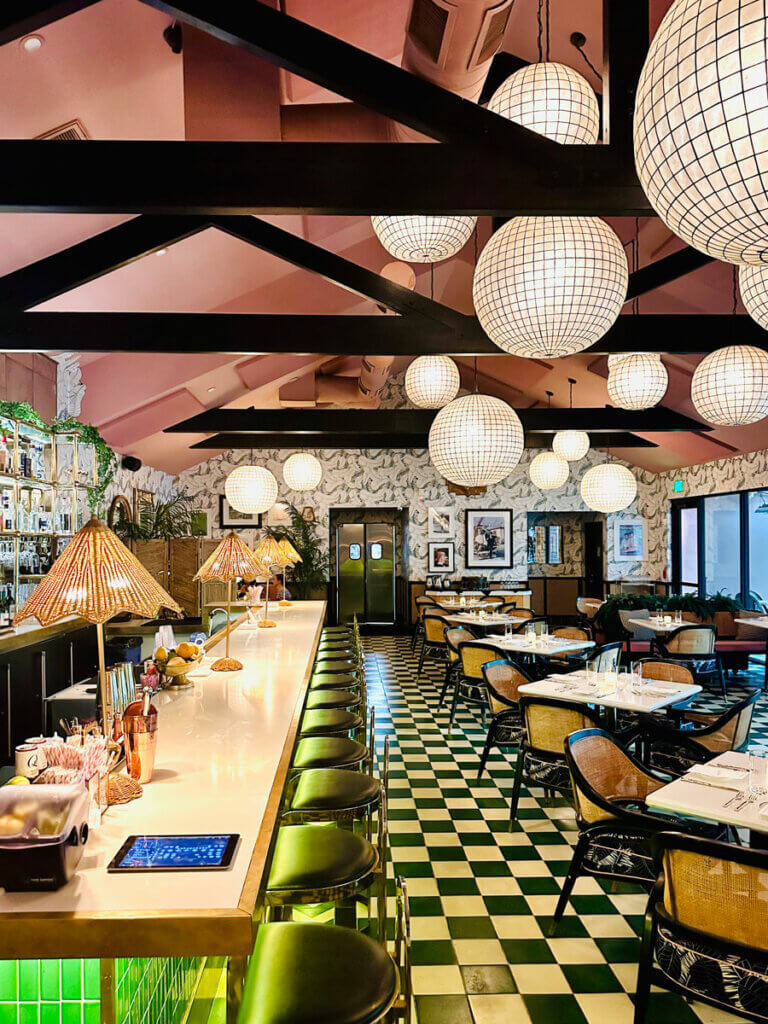 44-985 Province Wy, Indian Wells, CA 92210
Located at the Sands Hotel & Spa in Indian Wells is one of the most fun Palm Springs weekend dinner spots, The Pink Cabana!
The interior is stunning and the design was inspired by 1950s and 1960s tennis and racquet clubs of Palm Springs. They have a great Mediterranean-inspired menu alongside a great selection of cocktails, some are really fun and have great presentation too.
The color palate here is swoon-worthy with a light pink ceiling, green tile, pink plush benches, and woven chairs creating the best ambiance.
Day 3 of 3 Days in Palm Springs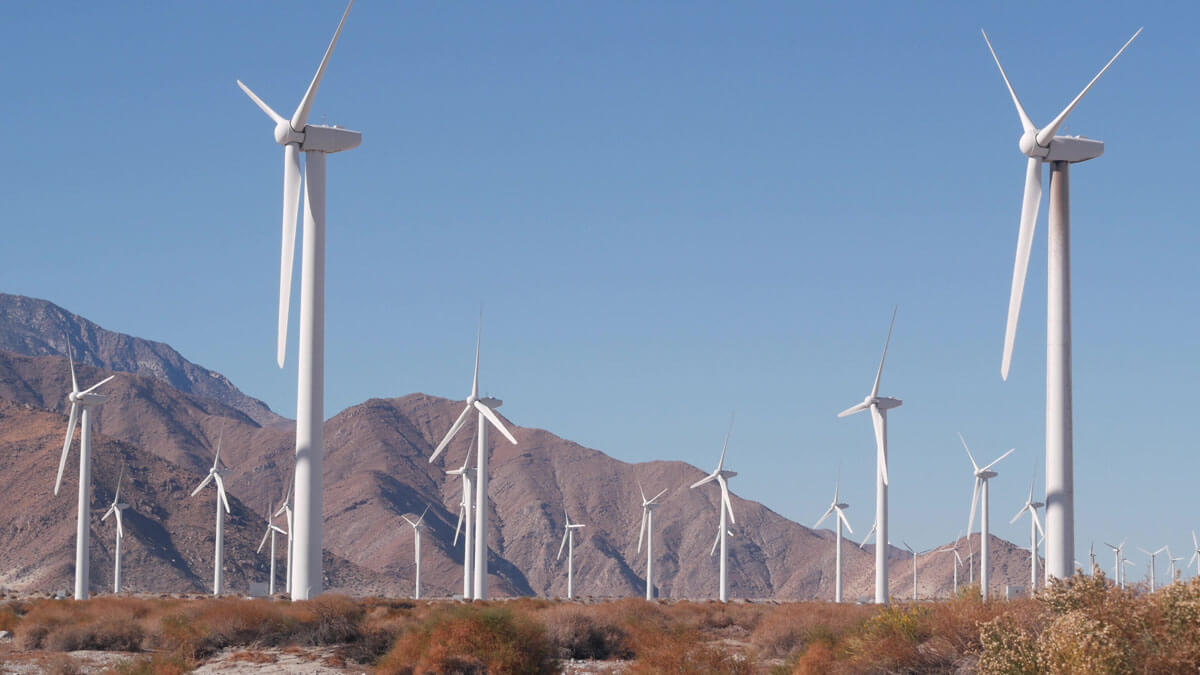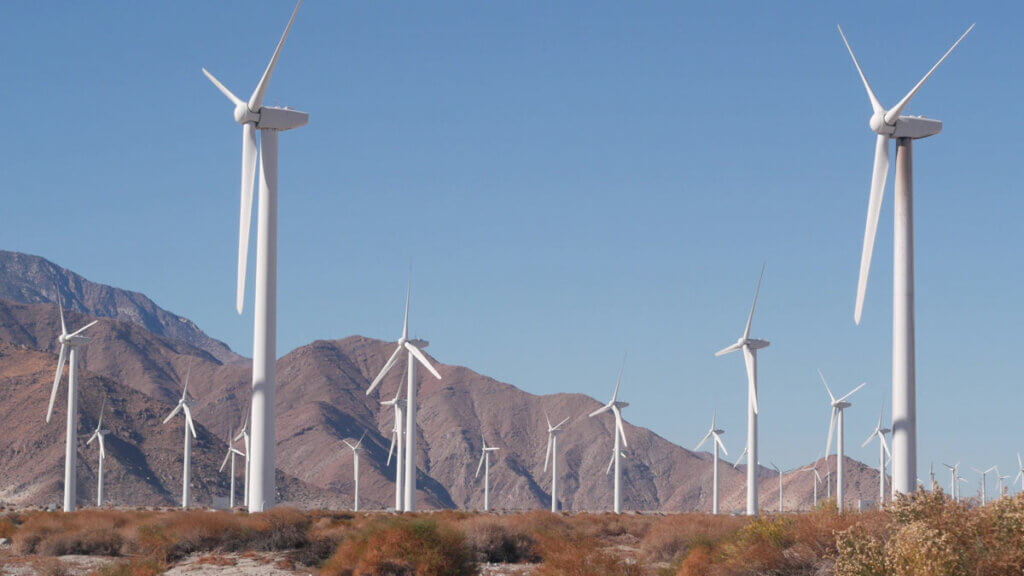 Red Jeep Tours by Desert Adventures
We've saved the adrenaline-pumping activities for last! Taking a Jeep tour is the #1 rated outdoor activity to do out here on a Palm Springs weekend getaway!
Established in 1988, Red Jeep Tours by Desert Adventures has been giving visitors guided tours in Palm Springs and other beautiful surrounding areas. The tour you would be taking is the guided walking tour of the Palm Springs Indian Canyons.
The tour of the Indian Canyons is offered at 8 AM or 1 PM (The 1 PM tour is only available October-May), for the sake of this guide we will plan the day around going to the 8 AM tour, but feel free to adjust your Palm Springs weekend getaway bucket list as needed.
Your tour guide will educate your party on the culture and history of the Cahuilla Indians throughout your journey in the canyons. The greatest features of this tour are the gorgeous rock formations and the over 150 different plant species within the canyons, keep an eye out for those stunning California fan palms.
The tour is roughly 3 hours long, which means 3 hours in the sun so it's important to plan accordingly. Make sure to hydrate, wear your sunscreen, and add a hat and sunglasses. Bottled water and snacks are provided! Book here.
Red Jeep Tours even offers hotel pick-ups! Guests can still choose to meet at the tour loading zone if preferred.
Also, keep in mind that the Jeep tour to the Indian Canyons is not an off-road tour! If you're looking for an off-road tour, check out some other options that Red Jeep Tours have to offer, like this San Andreas Fault Off-Road Tour!
Lunch at Farm
6 La Plaza, Palm Springs, CA 92262
After an eventful morning in the canyons, head over to Farm Palm Springs for a refreshing and much-needed meal.
Taste inspired by the South of France, Farm is a fantastic French restaurant with gorgeous outdoor patio seating and the freshest and local ingredients. The menu is packed with so many delicious meals to choose from and not to mention their signature cocktails as well as their extensive wine menu. You might need a drink or two after that guided walking tour!
Farm is walk-in only for breakfast and lunch, but if you plan on dining here for dinner, reservations must be made on their website.
The best part is that it's located only half a mile from our next recommendation for your Palm Springs weekend getaway.
Palm Springs Art Museum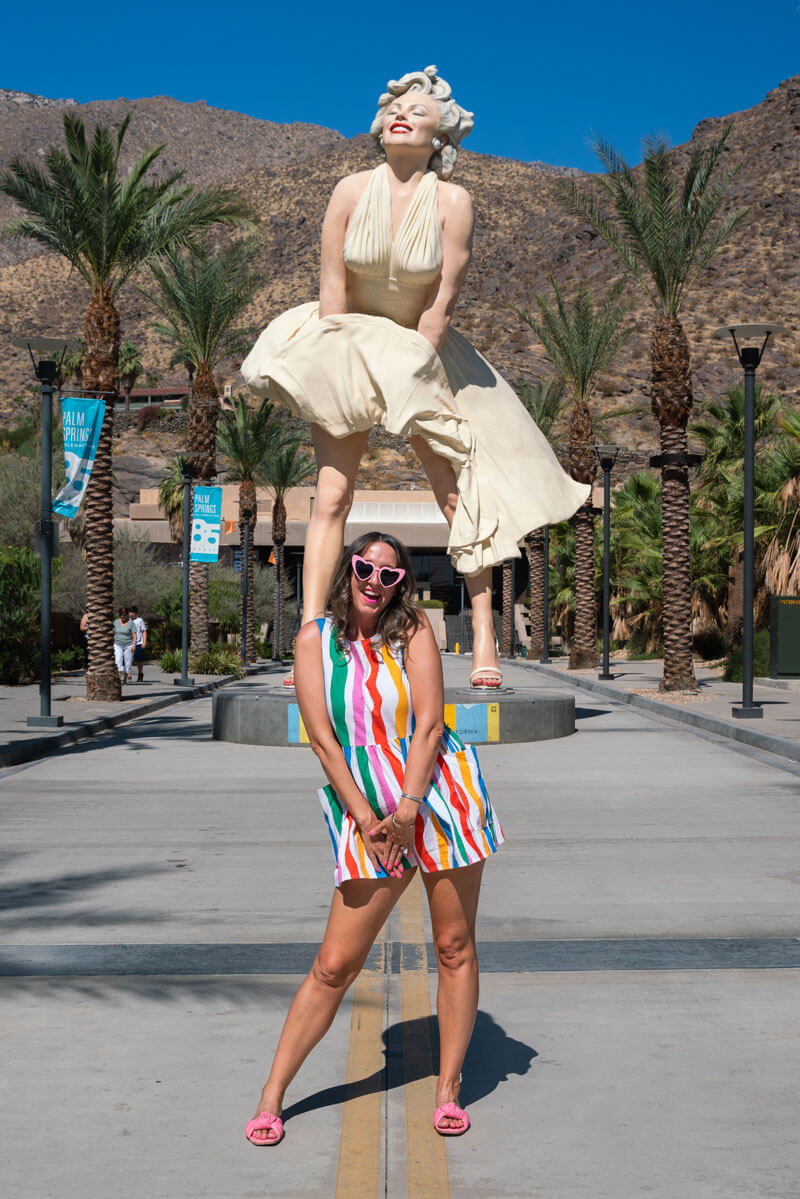 101 N Museum Dr, Palm Springs, CA 92262
Founded in 1938, the Palm Springs Art Museum has been an ever-changing and evolving source of unique art and history in Downtown Palm Springs.
It began as Palm Springs Desert Museum and relocated a number of times before landing its forever home in 1958. In the beginning, the museum was not as modernized and contemporary as you may find it today. It used to be focused more on science and artifacts.
Today the museum is full of nearly 12,000 art pieces and is constantly growing. The main focuses of the museum now are modern and contemporary art, architecture, and design. There are also a number of exhibits and education programs to help create a more interactive learning experience for visitors.
You can definitely count on learning the history and culture of the surrounding areas during your visit. So keep an eye out for which exhibitions will be available during the time you plan to spend a weekend in Palm Springs.
And you won't miss the Forever Marilyn statue on Museum Way in front of the museum towering at 26 feet in height. This statue was in Palm Springs temporarily and now is here permanently. Sculpted by artist John Seward in 2011 and was inspired by the classic and timeless scene in The Seven Year Itch where Marilyn's white dress is billowing up! Make sure to stop for a photo with her.
Guests must reserve a ticket online in advance, this includes their free admission on Thursdays from 5-7 PM. The museum only operates Thursday-Sunday, which suits your Palm Springs weekend perfectly.
Dinner at LG's Steakhouse
255 S Palm Canyon Dr, Palm Springs, CA 92262
Finish your weekend in Palm Springs with an extravagant night out at LG's Steakhouse. LG's is a premium steakhouse that was founded back in 1991. The Palm Springs Steakhouse is one of three magnificent locations that opened up in 1997.
Guests can expect the finest array of steaks, sides, and salads, and you can't forget the dessert! They pride themselves on their incredible USDA Prime Steak, which is trimmed by hand on-site.
Tourists and visitors love this spot for special occasions and romantic evenings, so what better way to celebrate a successful Palm Springs weekend getaway?
Visiting LG's will definitely give you an excuse to dress up as well. Keep in mind the dress code is "smart casual," but of course that means you break out your finest outfits for an amazing last night in Palm Springs. Cheers!
Extra Time on Your Palm Springs Weekend?
If you have more than 3 days in Palm Springs or would like to swap out one of our other suggestions, feel free to add in any of these additional attractions to your Palm Springs weekend bucket list. Check out any of these options for ways to spend extra time in Palm Springs!
Cabazon Outlets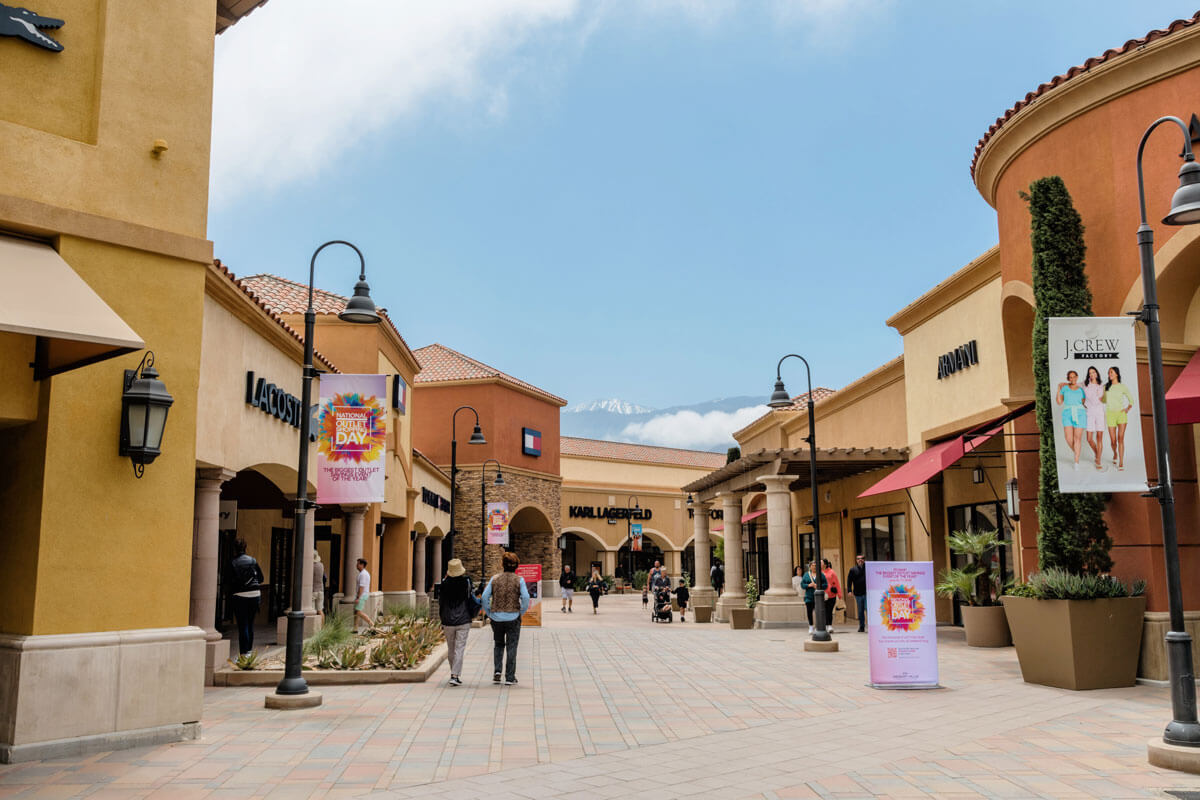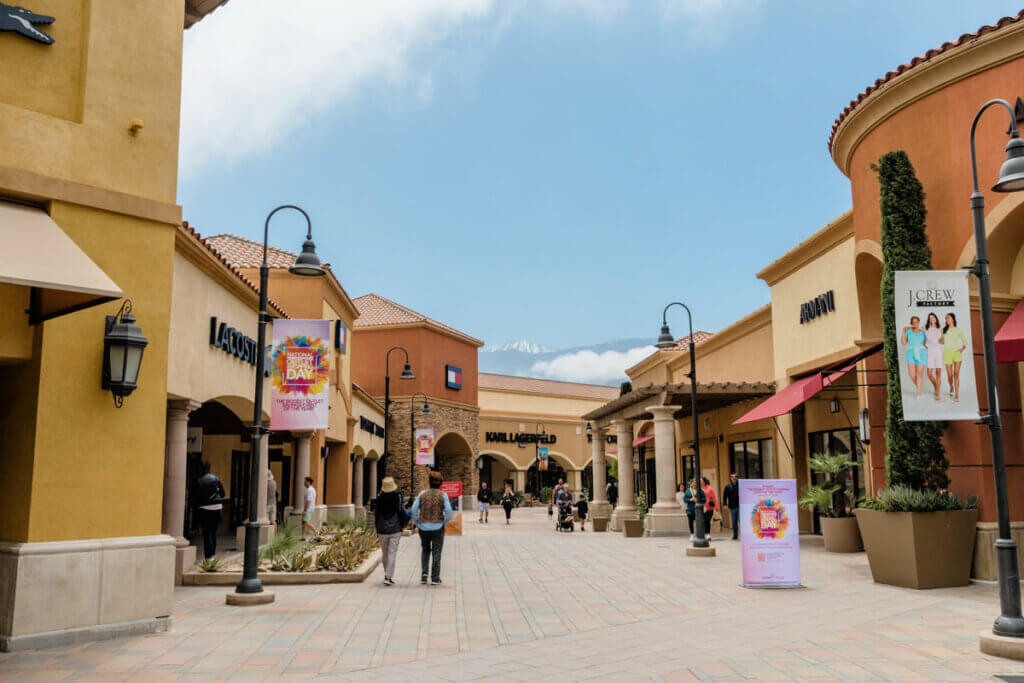 Just 20 minutes away from Downtown Palm Springs are the famous Cabazon Outlet stores. You will not want to miss all the amazing deals on all your favorite
brands. This spot has been a shopping staple for fashionistas in Southern California. If you have any spare time or have to itch that shopping bug during your Palm Springs weekend getaway, take the time to visit the Cabazon Outlets.
Cabazon Dinosaurs – The World's Biggest Dinosaurs!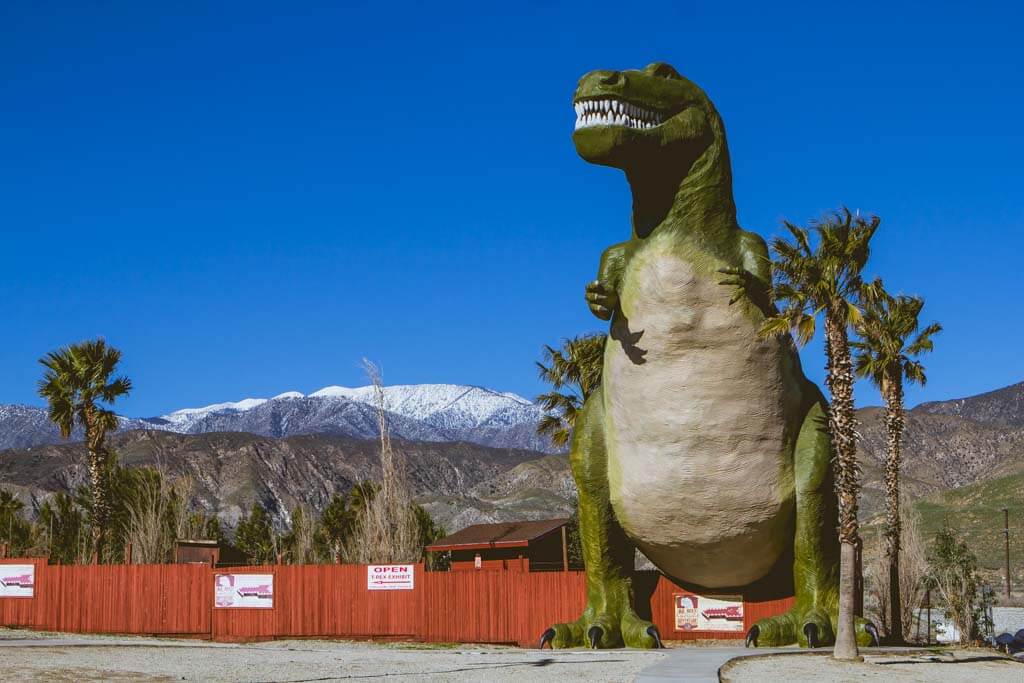 Not much further beyond the Cabazon Outlets are the Cabazon Dinosaurs which stand tall in front of a dino museum! You can pose for a photo in front of these famous roadside attractions.
They have been repainting the dinosaurs differently too so you can have a different experience each trip to Palm Springs, this is always a fun stop driving on your way or leaving your weekend in Palm Springs.
If you were a kid from the 1980s, you may recognize these bad boys from PeeWee's Big Adventure! They have also starred in a few other videos including a music video Tears for Fears, "Everybody Wants to Rule the World."
You can also pay to go into the robotic dinosaur garden, this area is more geared toward families and kids but it's still fun. Admission includes access to the dinosaur garden, robotic dinosaur exhibits, a dinosaur dig, and you can climb inside the T-Rex and look out his mouth!
The giant Brontosaurus also has a gift shop inside, so don't miss that before leaving!
Joshua Tree National Park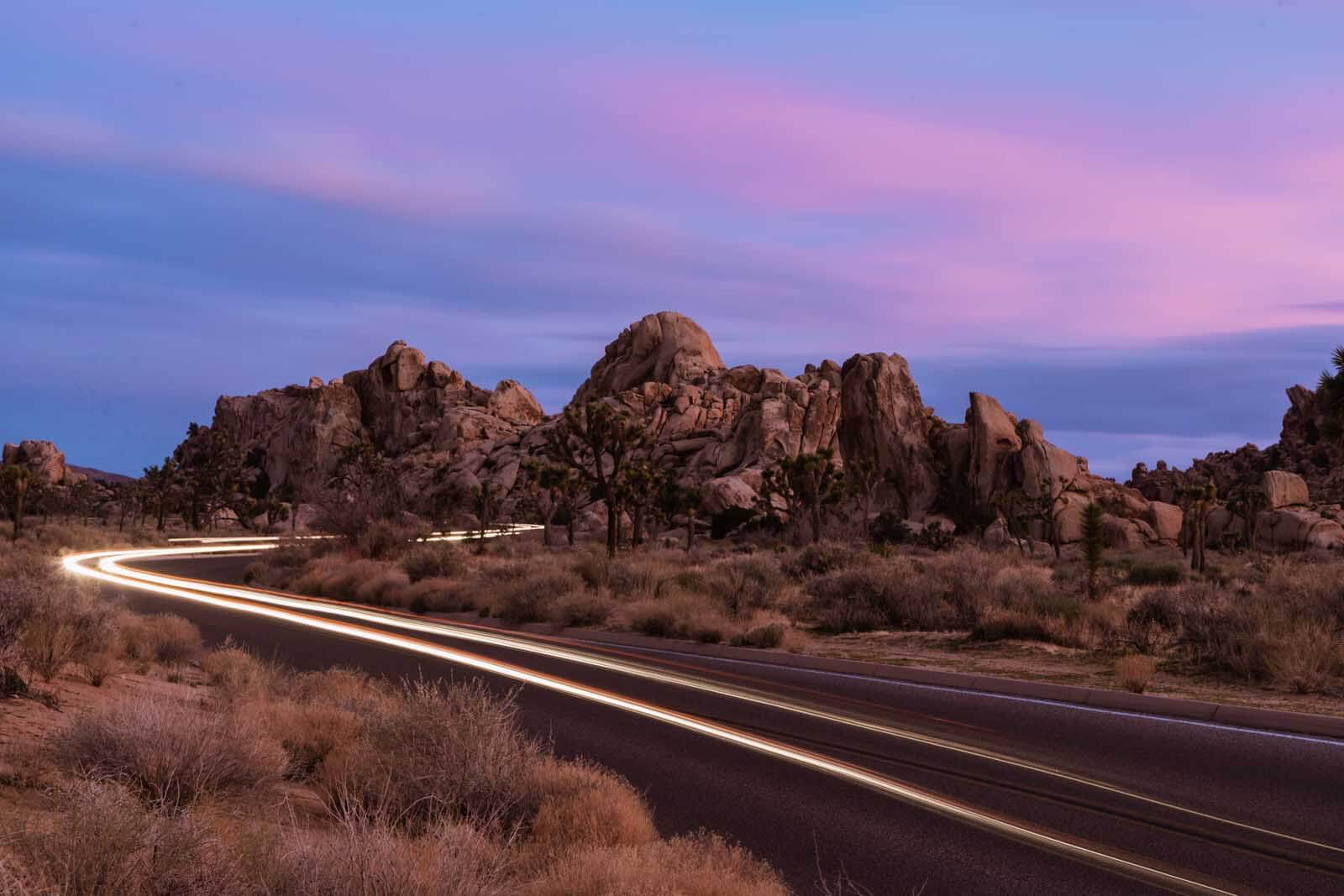 Joshua Tree National Park is a very popular and nearby park that would make for an excellent day trip during your weekend in Palm Springs. Joshua Tree is nearly 800,000 acres and is home to the Yucca brevifolia, also known as a Joshua Tree (hence the name of the park).
Visiting Joshua Tree gives tourists an opportunity for some awesome hiking and camping, as well as snapping some unbelievable desert pics!
Golfing
Easily one of the top destinations for golfing in the country, if that is one of your favorite travel activities, feel free to add one of the 100 golf courses in the Palm Springs area to your Palm Springs weekend itinerary. You can almost always count on it being a sunny day on the course, just make sure to stay hydrated and prepared for the heat!
Moorten Botanical Garden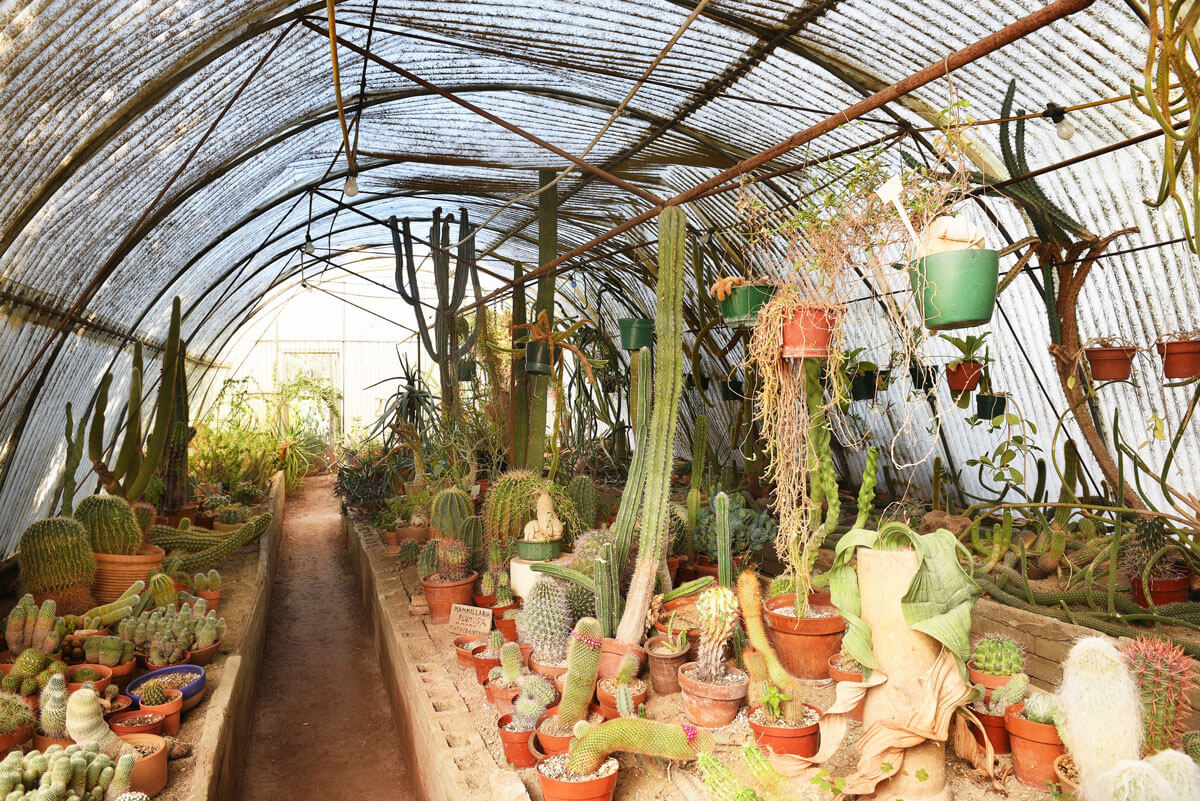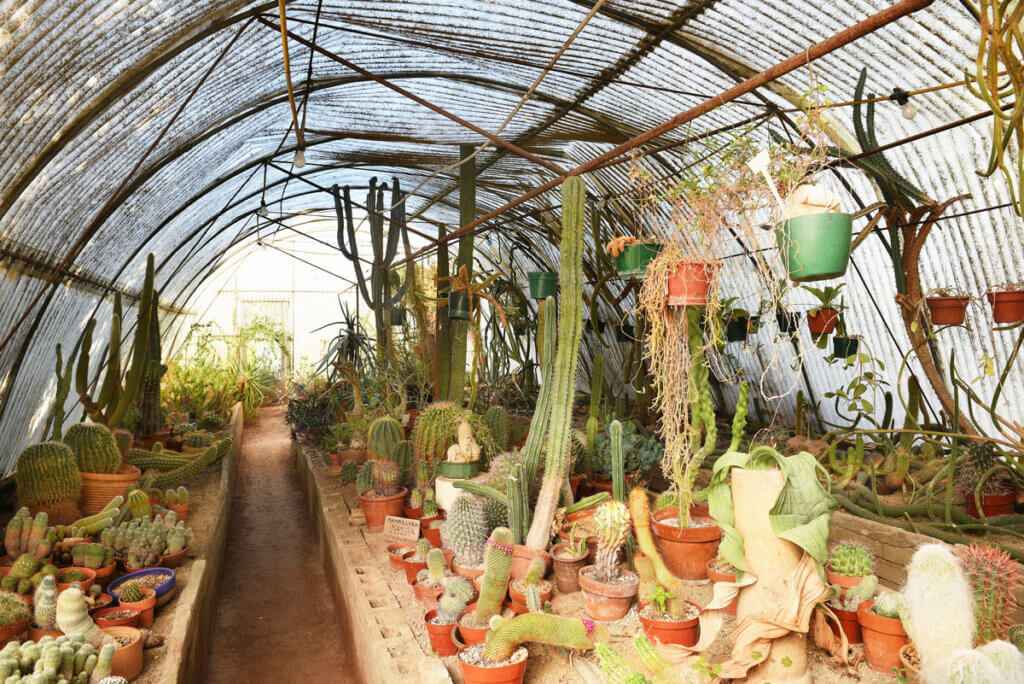 Just about a mile away from Downtown Palm Springs, swap anything on our itinerary to fit in this amazing desert botanical garden. With many different plants, including lots of cacti, Moorten's offers guided tours of all the beauty. Guests can expect to see some other desert gems along the tour such as crystals, rocks, and so much more. If a guided tour at Moorten's interests you, make sure to schedule the ahead of time!
Living Desert Zoo & Gardens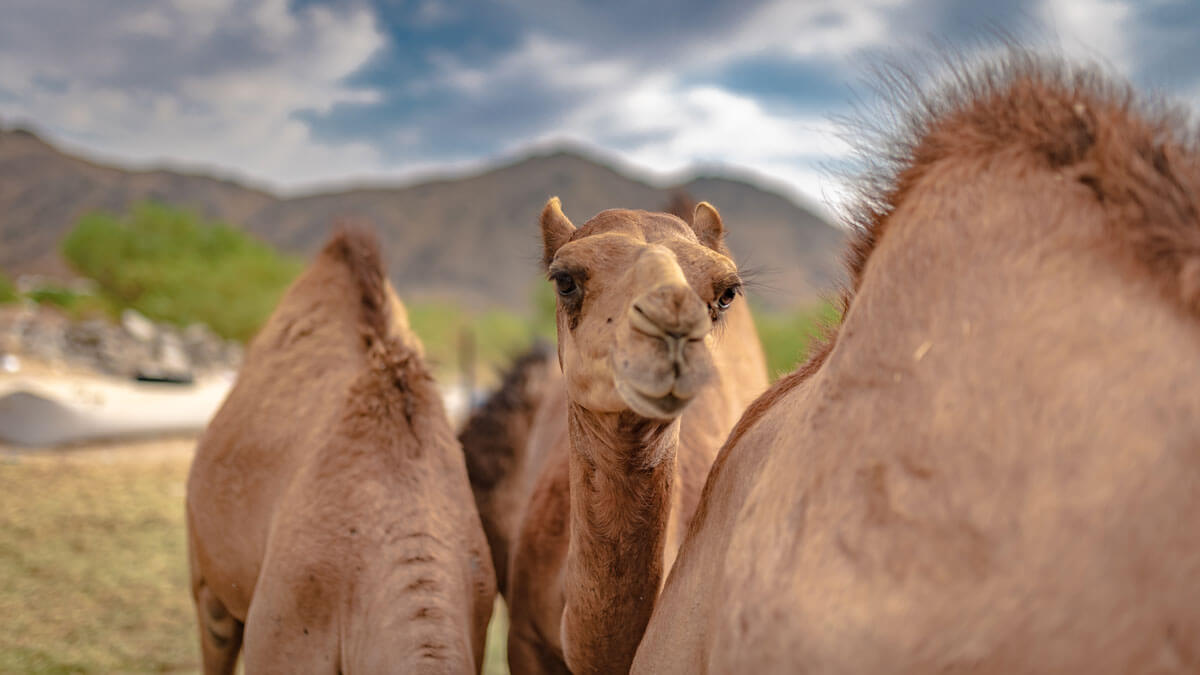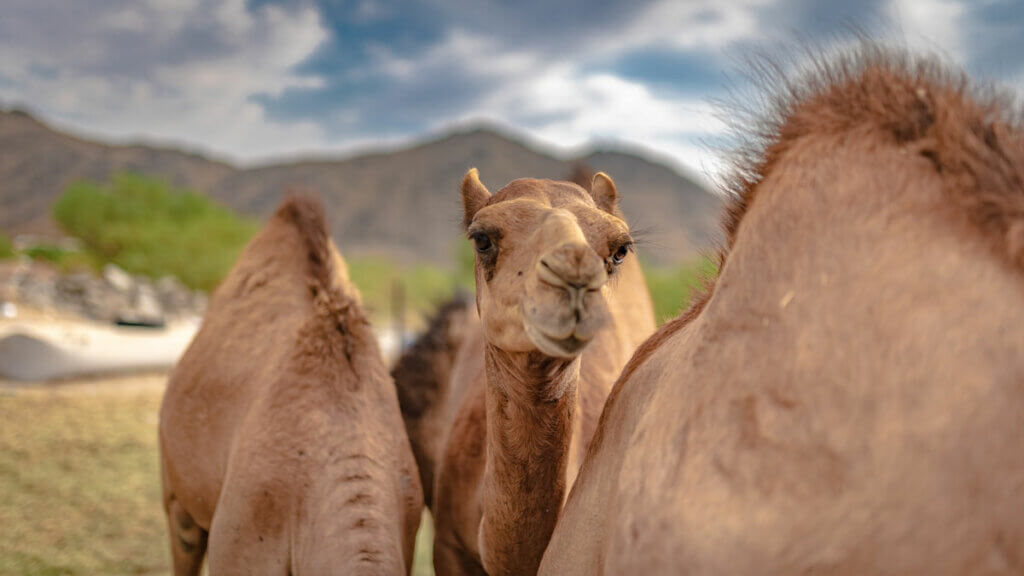 If you have any extra time during your weekend getaway in Palm Springs, you won't want to miss a day at the zoo! Visitors can feed the giraffes, book a tour, partake in a petting zoo, and even check out some of the zoo's friends from Down Under.
Guests can bring in their own snacks or packed lunches to enjoy at the number of picnic tables available at the zoo. Visitors should also allow for about 2-3 hours to see the entire park.
VillageFest
Heading to your Palm Springs weekend getaway a little early? You may be able to attend VillageFest! This is a street fair that takes place in Downtown Palm Springs every Thursday evening. Head home with some awesome souvenirs from VillageFest, whether it's something edible, an antique, or a new beautiful piece of jewelry. You won't regret spending a lovely evening at this pedestrian street fair.
Where to Stay on Your Palm Springs Weekend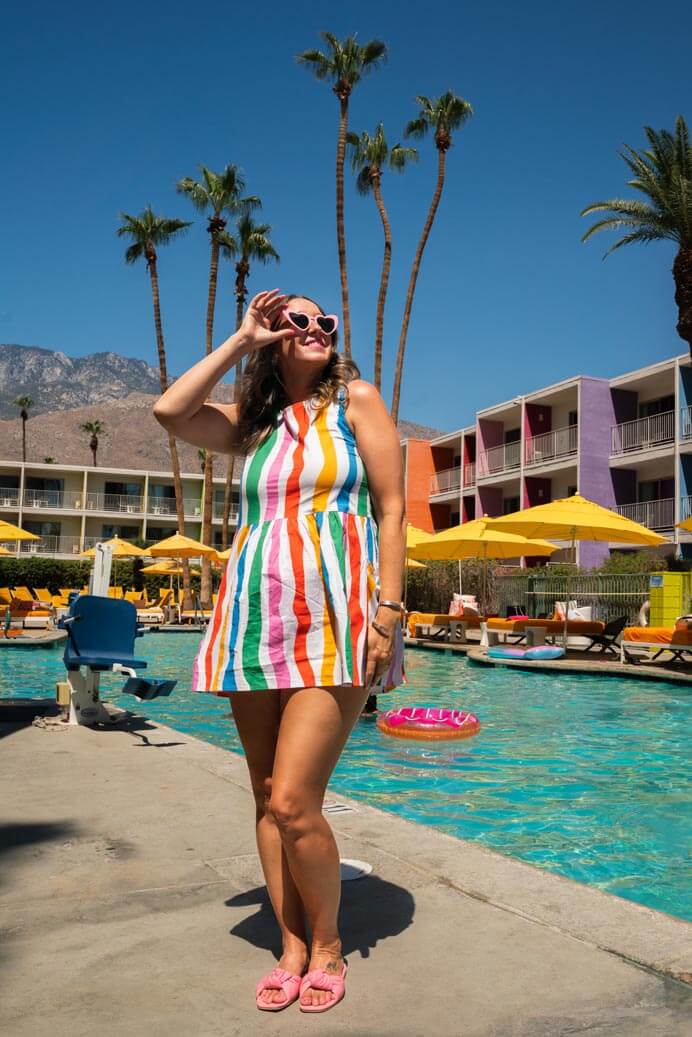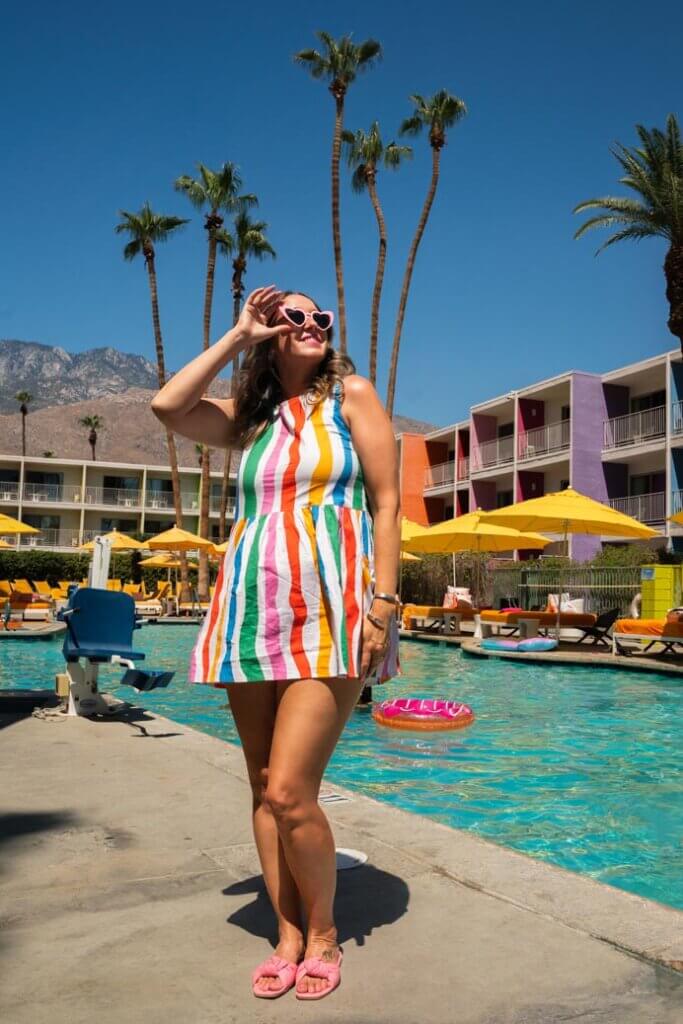 $ 7 Springs Inn & Suites – This hotel is the perfect base for a trip to Palm Springs. Located in the Uptown Design District you are able to walk to some of the best shopping in Palm Springs. The rooms are stylish with fun pop art decorating the rooms plus there's a garden courtyard with a pool. Book here.
$$ Sands Hotel & Spa – This gorgeous pink Morrocan-inspired property is nothing short of beautiful. Lounge poolside sipping on cocktails and enjoy the beautifully appointed rooms here. There's an on-site restaurant, The Pink Cabana as well as a gorgeous spa. Book here.
$$ Fleur Noire Hotel – For an adults-only boutique hotel in Palm Springs, California look no further! There are 21 gorgeously designed casitas to be your stylish home away from home while you're here. The pool is gorgeous and the entire property is covered in floral murals by artist Louise Jones. Don't miss their speakeasy-style rosé bar here too. Book here.
$$ Saguaro Palm Springs – This is one of the most stylish and popular hotels to spend a getaway to Palm Springs. This rainbow-colored hotel is the ultimate base for exploring Palm Springs while also being steps away from one of the coolest places to be in the area. The rooms are as colorful and fun as the exterior and you won't want to miss one of the poolside cabanas for lounging! Book here.
$$ – $$$ La Quinta Resort & Club – This Curio Collection luxury property takes your Palm Springs weekend getaway to the next level. Choose between your own casita, private haciendas, and villa-style accommodation with a backdrop of the Santa Rosa Mountains and the 5 golf courses on the property. There are 41 pools on the property so it's easy to find a little spot all to yourself. The restaurants on site are also so good it makes it hard to leave the resort! Book here.
---
About the Guest Author
My name is Katie and I now live in Northern California, but I grew up right here in Southern California and I'm so excited to share my home state with you.
---
Enjoyed this guide for the perfect weekend in Palm Springs getaway or did this guide help you plan your girls weekend in Palm Springs? Bookmark for later or share the love below on Pinterest!