Located on Ireland's Wild Atlantic Way, the city of Galway, Ireland, in our opinions, is a must-see stop. Thanks to its young population Galway Ireland has been named the most cosmopolitan city in the country. Not only is the city rich in history but it has a buzzing a colorful scene anyone would enjoy.
Here are 7 things to do in Galway, Ireland that'll have you falling in love too!
7 Things to Do in Galway
1. Buy a Claddagh Ring
Galway is technically home to the Claddagh ring. You have probably seen this ring before, it's two hands holding a heart with a crown that became really popular and stylish. I had one growing up, and I only knew if you wore it upside down it meant you were single. Which as a teenager I thought was really cool.
I was excited to learn more about the Claddagh origins and found the history to be fascinating. Claddagh is actually a small fishing village and clan located just outside the old city walls of Galway across from the Spanish Arch.
The rings date back to the 18th century. They represent love, loyalty, and friendship and were commonly used as engagement rings. Our local guide told us the rings became popular in the U.S. after immigrants from Ireland were seen wearing them. However, I cannot find any online sources to verify this claim.
If you're into fun souvenirs or jewelry you can pick up a Claddagh ring at any of the many jewelers that sell them in Galway. The ring itself has become a tourist attraction and what better place to get one, if you're going to be an owner of a ring, than at Claddagh itself!
Check out Thomas Dillon Jewelers as they are said to be home of the original Claddagh ring, owns the royal patent on the ring, and has a museum for visitors to learn more about the history. Our friend Sam went here to get her ring as a student and loved the experience!
2. Enjoy the Shortest River in Europe
A fun fact would be that Galway Ireland is home to the shortest river in Europe. The River Corrib is just under 6 kilometers long and flows from Lough Corrib to Galway Bay.
It is also the second fastest river in Ireland, the first being River Shannon. The flow of the river looks wicked and you wouldn't want to play too close to the edge of the river because you would be swept away. Thanks to its rapid flow the River Corrib does attract thrill-seeking whitewater kayakers.
3. Explore the Beautiful Streets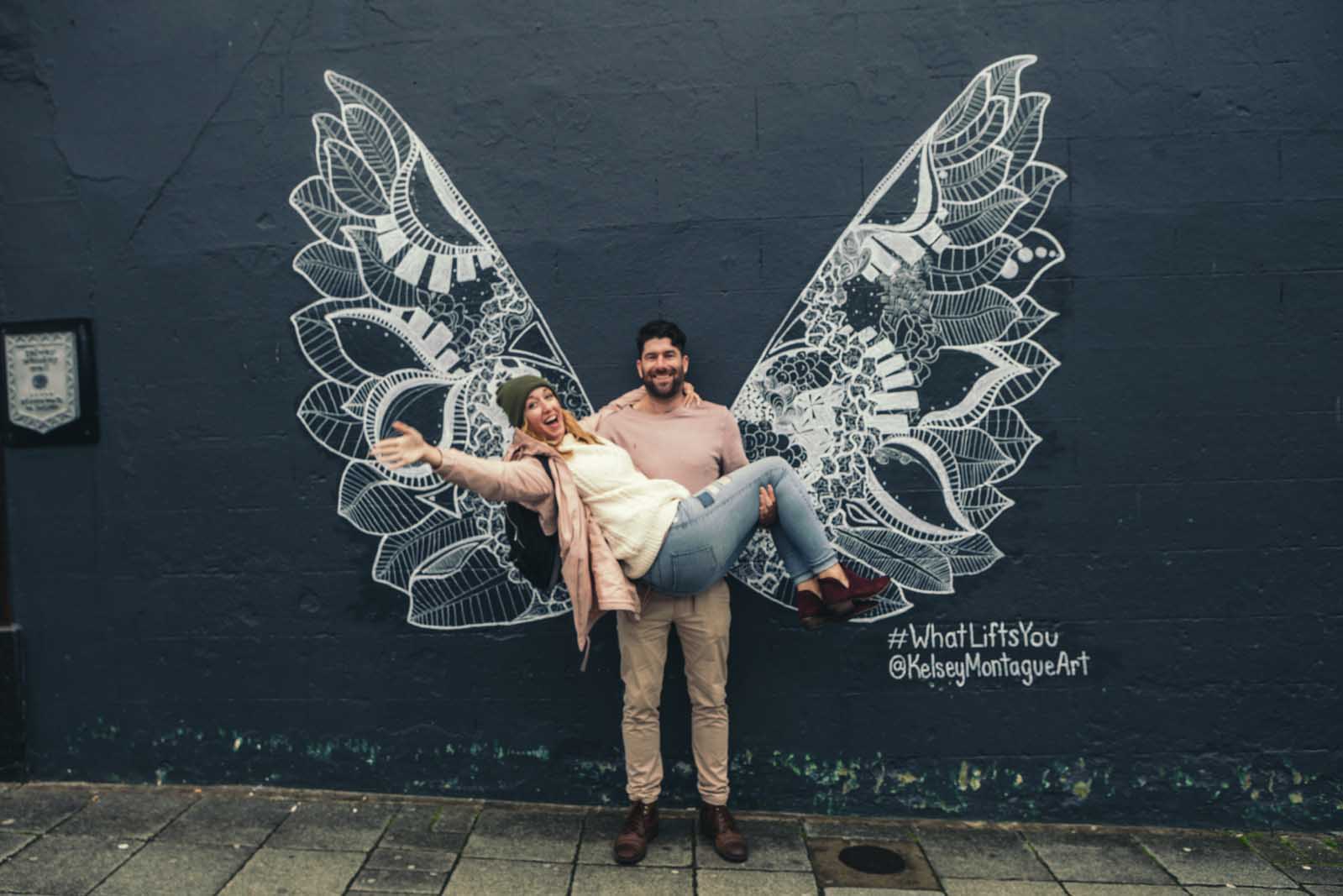 You do not need a lot of time to explore downtown Galway, Ireland. However, you want to be sure you don't miss out on exploring the nooks and crannies as well as the main streets lined with colorful Irish storefronts and pubs.
You can shop, eat your way around, or listen to buskers in the heart of Galway. The entire area is charming and picturesque.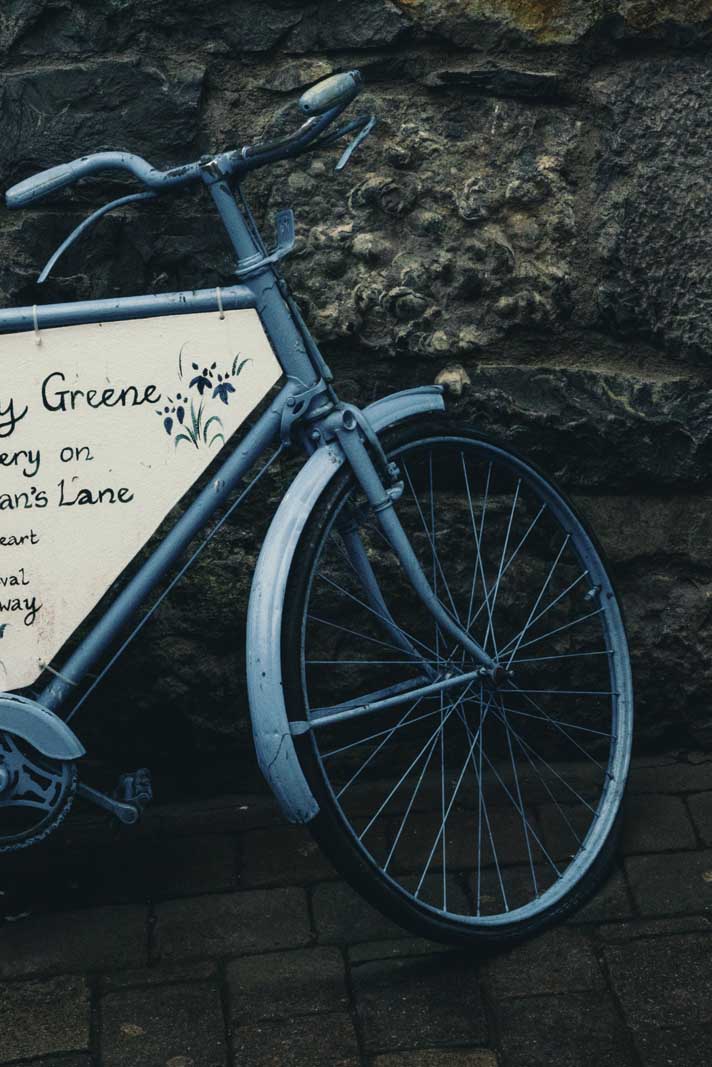 Make sure to take a stroll down Kirwans Lane. This medieval lane is a perfect example of 16th and 17th-century architecture and home to a few cute shops and cafes.
We loved how colorful and vibrant the scene was here, even in the middle of a weekday the streets were filled with people, but not too many people. It had such a lively, lovely feel to it that just can't be put into words but has to be experienced.
4. Check out where Ed Sheeran used to busk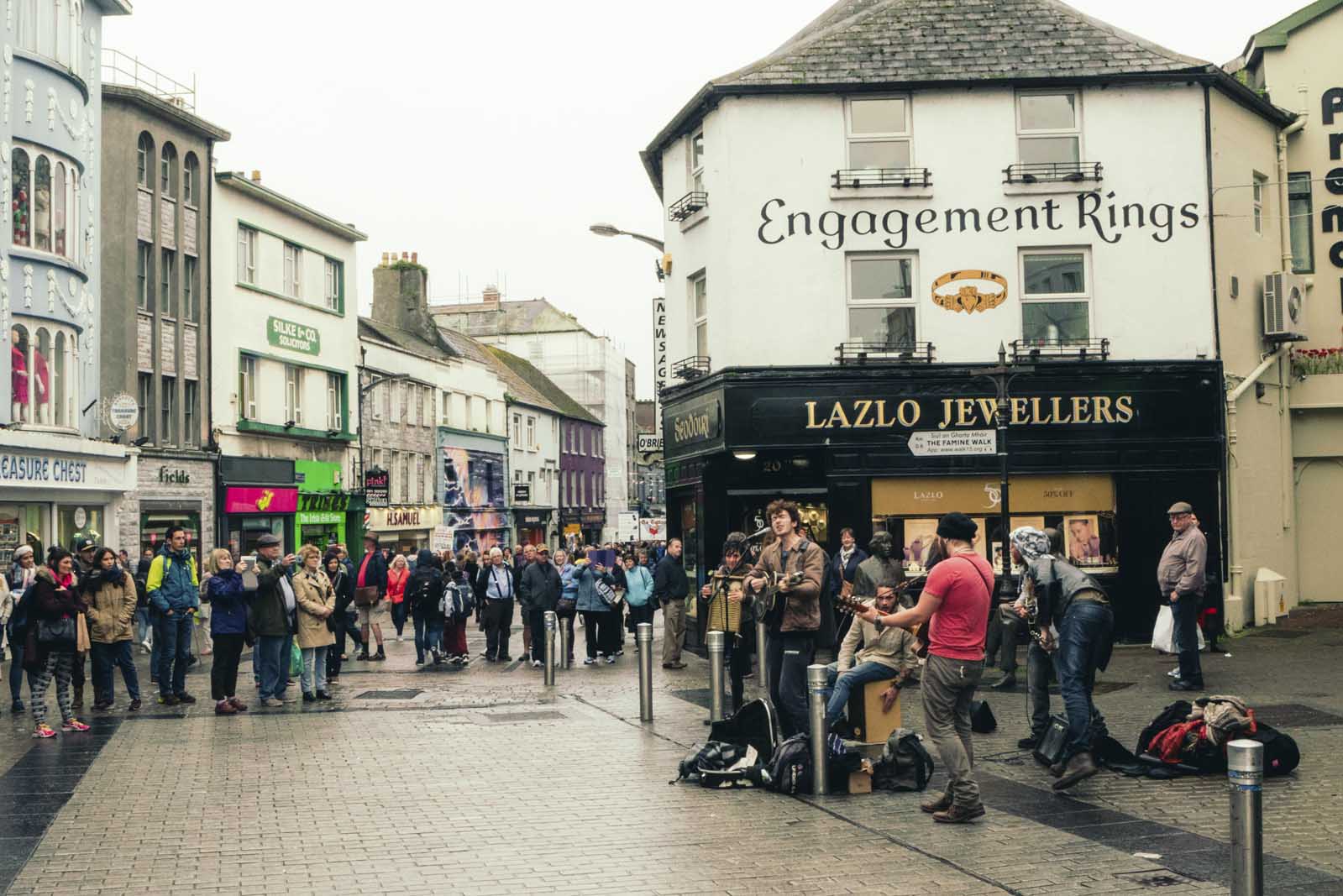 For any Ed Sheeran fans out there you're going to love this one! Before Mr. Sheeran became a household name, he did what every starving musical artist does, busk on the streets. He famously used to busk in front of the Treasure Chest.
He came back and recreated the scene of a younger self busking at the same spot from the music video for his song, "Photograph." He is adored locally. And we feel like we can speak from experience. One of our now Irish friends, who we met while trekking in Nepal, wouldn't stop listening to him!
Besides being loved by locals, he also loves Galway and has a song titled, "Galway Girl."
You probably won't see Sheeran there anytime soon, unless he decides to shoot another music video in front of the Treasure Chest. However, you will find other talented musicians busking. We ended up stopping and listening to one really great performance while we were there. It's a lively spot and worth experiencing for yourself.
5. Don't miss all the cool historical things to do in Galway
If you're tight on time and want to learn as much about Galway, Ireland as possible, you may want to consider getting a guide to take you around. If you are able to explore on your own, check out some of these historical points of interest throughout Galway.
Claddagh Village
Visit the old fishing village of Claddagh right outside the city walls. While there's only really a small cluster of homes, church, and school now, it is still interesting to walk through. Just imagine the old fishing village that became famous thanks to the ring.
Lynch's Window
Check out Lynch's window at Market Street and St. Nicholas' Church is the wall and window with a legend. Our guide told us that this stop was the most elaborate tourist trap.
It is meant to commemorate an event that may have never happened in the 1400s. Apparently, no one really knows the truth but there are several stories and legends about the window and it depends on which guide you get and what legend they like to share. This only takes a few minutes to check out, unless you're interested in the legends. Then you'll need to ask a few locals and see what they say!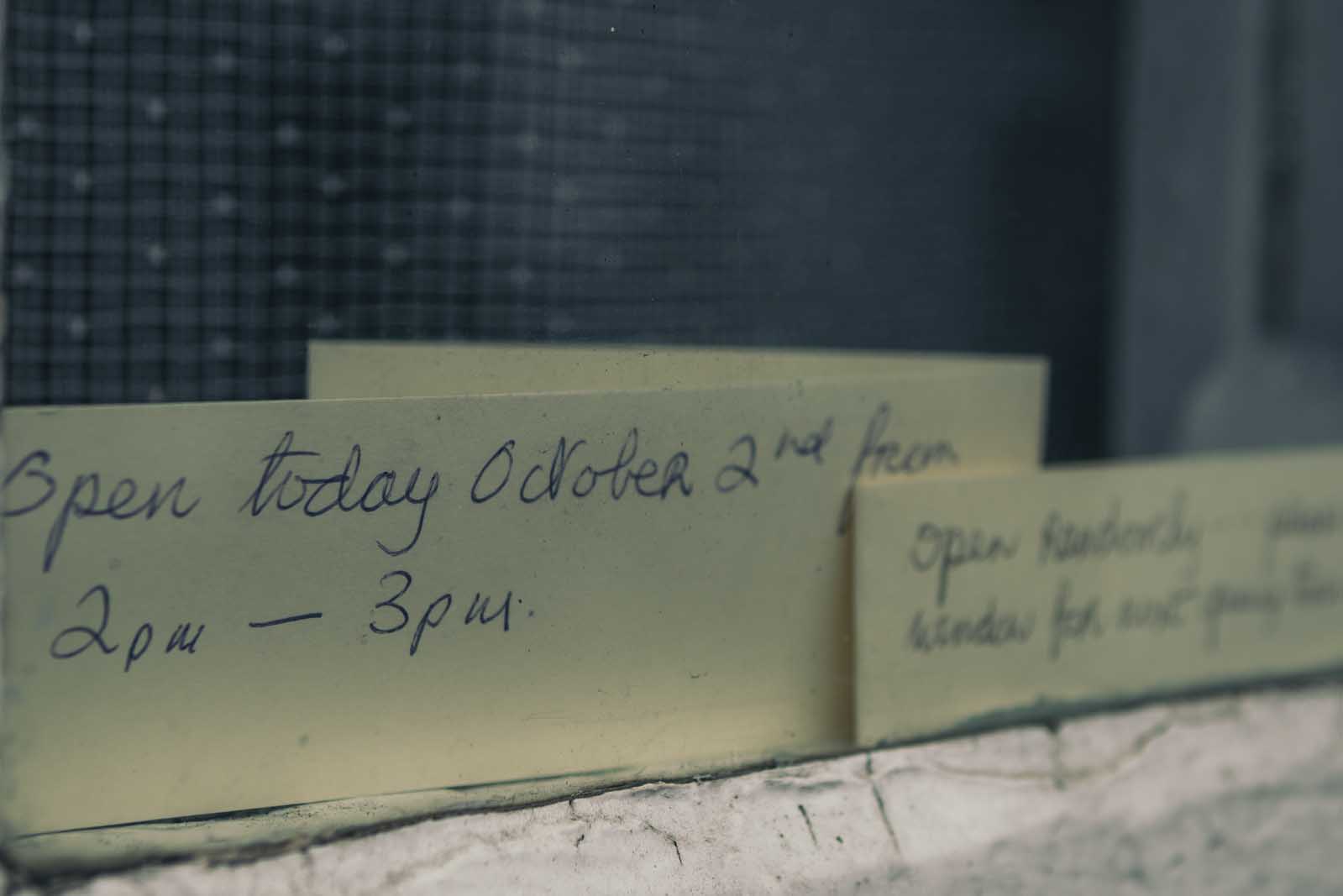 Nora Barnacle House
Stop at the Nora Barnacle house and see if it's open. Ms. Barnacle was famously the wife of novelist James Joyce and this was their home. One of his most famous masterpieces was Ulysses, a Dublin city novel.
The house is now a museum that is run by two sisters and is randomly open. There is no website and there are no set hours. I can't tell you anymore because it was closed when we were there with a little handwritten note saying they were closed. Now that we couldn't go in, we are even more curious! If you do get in please tell us what's inside!
Spanish Arch & Galway Museum
The Spanish Arch used to be the marketplace where the fishermen from Claddagh would sell their catch of the day and is located at the mouth of the River Corrib. If you're in Galway on a clear day, stay here for the sunset!
The Galway Museum has many different exhibits which share aspects of the culture and history of Galway, Ireland. The museum is also home to and displays an impressive local hawker boat.
6. Do a day trip out to the Aran Islands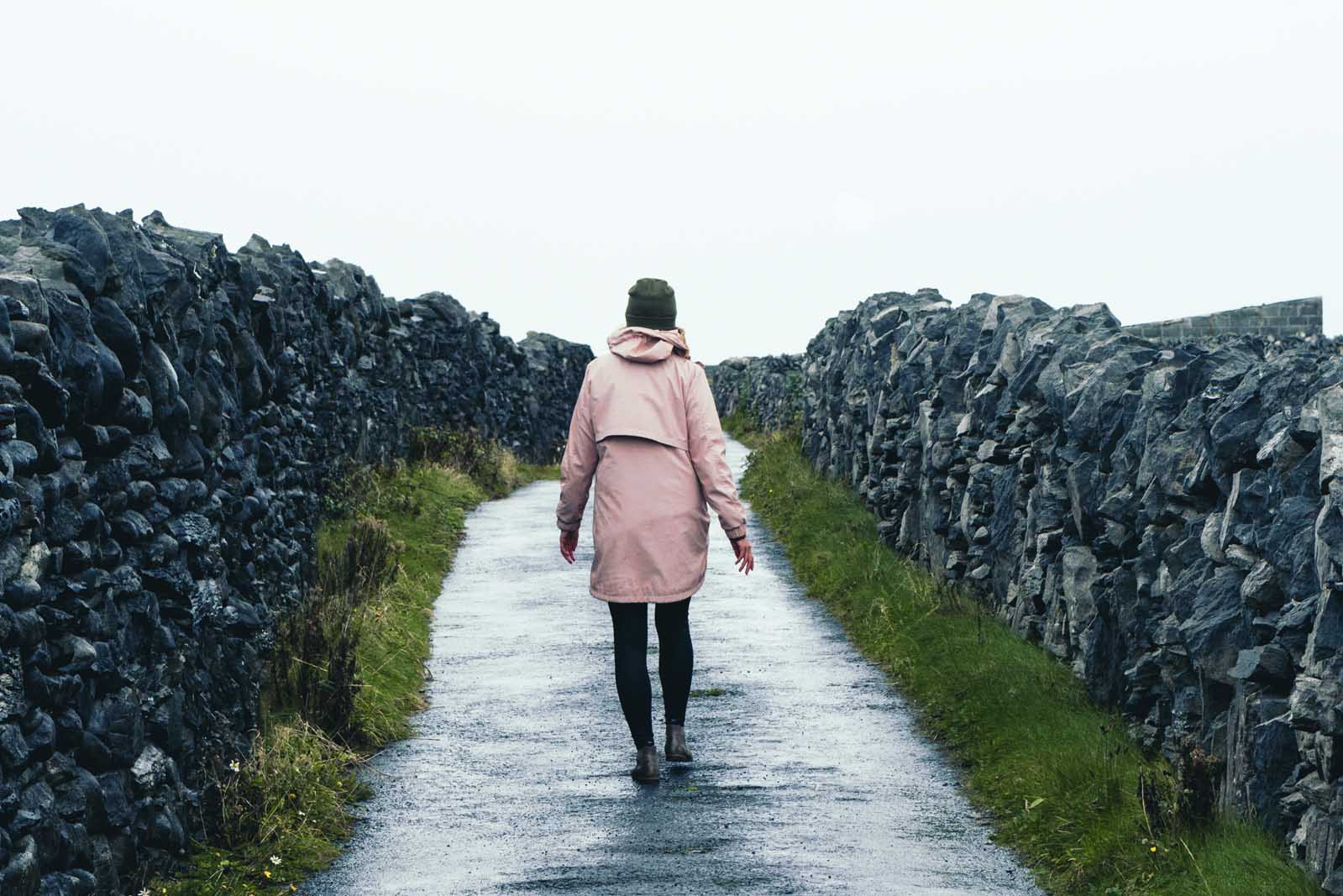 What's nice about being in Galway Ireland you can easily hop on over to the Aran Islands. The islands are popular with visitors because they contain small traditional Irish towns which still speak Gaelic and have a unique environment and dramatic coastline. They should not only top your list on what to do in Galway, but they're one of the best things to do in Ireland in general.
There are three islands to visit, and we only got to go to one, the smallest island Inisheer. We actually visited from Doolin, but you can easily visit from Galway as well.
The other two islands are Inishmaan and Inishmore. You can easily spend more than one day on either of these islands because they are bigger.
Each island has something different to offer from shipwrecks, rare bird watching, seal colonies, friendly locals, Aran wool sweater shopping, and even the location of the Red Bull Diving Competition site on Inishmore.
One thing we loved about our visit would be the endless mazes of the unique rock walled pastures and ruins. The islands are incredible and feel like you've stepped back in time a bit away from modern technology. Use your trip to Galway, Ireland to see the Aran Islands as well.
7. And, of course, enjoy the food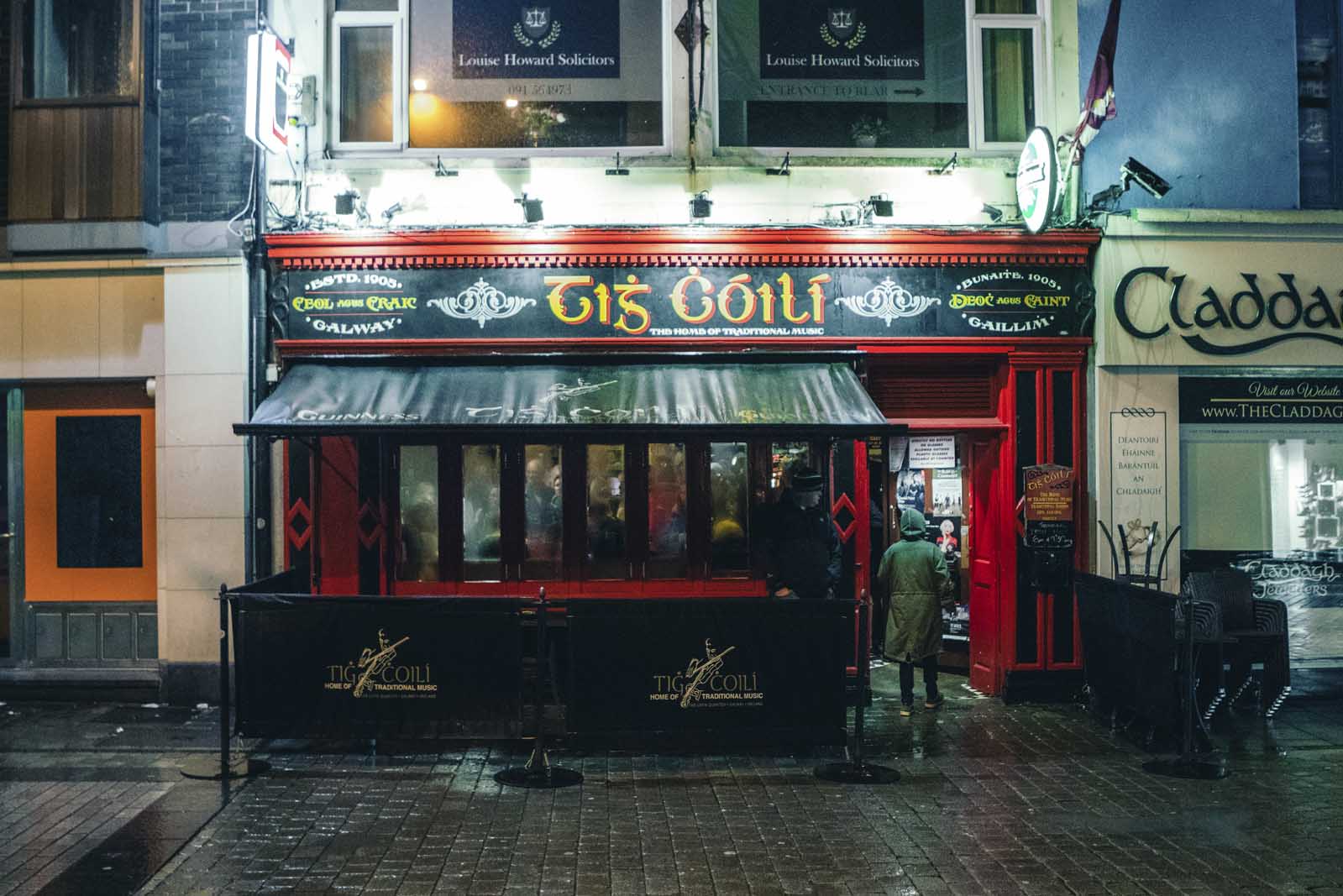 Galway Ireland has a great food scene not to be missed! Since you're right on the coast you can't go wrong with seafood.
We recommend trying The Kitchen restaurant located next to the Galway museum. It's got rave reviews and uses all local products to make the incredible meals. Plus it has a fun environment that makes you feel like you're in someone's actual kitchen in their house.
If you're looking for fish & chips be sure to check out McDonagh's Pub located in the heart of Galway city. This maritime-themed pub has an inviting and fun environment and is the perfect place to sit down, enjoy a pint, and eat some of the freshest fish available in town.
If you're a cheese and wine enthusiast like us then you will want to check out Sheridan's Cheese Mongers. This is a cheese and wine establishment that you'd love to get locked in overnight and eat your way out.
You can't forget dessert! Check out Murphy's Ice Cream for fun flavors like Dingle Gin ice cream. This isn't the only location in Ireland, so if you fall in love you may be lucky to run to another location. They source their milk from the Kerry cow, a local cow with only a few hundred left in the population with richer cream. Once you get a taste you can easily see why it was named one of the best 10 ice cream parlors in the world.
Where to Stay in Galway, Ireland
$ Barnacles Hostel Galway
Barnacles Hostel Galway is a great choice for budget travelers visiting Galway Ireland with a prime location in the heart of city. There's a great communal area where you can make new traveling friends, communal kitchen and colorful decor. Choose between staying in a private room or shared dorm.
Book Now | Read Trip Advisor Reviews
$$ Garveys Inn
Garveys Inn is a great mid-range option with another prime location in the heart of Galway Ireland on Eyre Square. The rooms are modern, clean, and cozy. The best part about Garveys would be that they have an authentic Irish pub located on the street level making it easy to get home after a night filled with a few drinks or convenient to find a great bite to eat.
Book Now | Read Trip Advisor Reviews
$$$ Adare Guesthouse
Adare Guesthouse is a fantastic option if you want a cozy and more upscale place to stay. This bed & breakfast has a great location. It's only a 15-minute walk to Eyre Square and just a few minutes away from Claddagh. You really can't beat this quiet location. Reviewers rave about the breakfast here too.
Book Now | Read Trip Advisor Reviews
For more places to stay in Galway, check the map below:
---
Liked this post on the best things to do in Galway, Ireland? Share the love below on Pinterest.