Here's your one stop guide to all the unique things to do in Ireland!
By far Ireland tops our list of beautiful places on earth. Full of ancient history, incredible culture, friendly locals, stunning scenery, a dramatic landscape, castles, great food, and amazing beer, there's so much to see an do.
After spending 20+ days driving around as much as we could, we put together this giant list on what to do in Ireland!
16 Unique Things to Do in Ireland
1. Stay at Dromoland Castle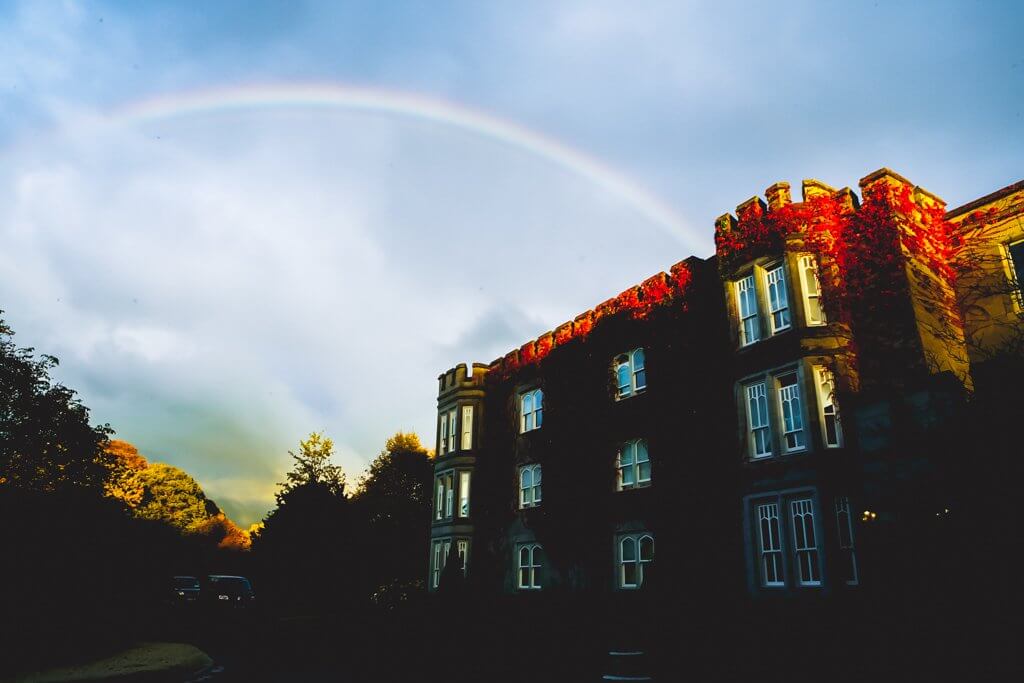 Live your own Downtown Abbey experience at the 5-star Dromoland Castle in County Clare! Easily one of the more luxuriously unique things to do in Ireland.
Get greeted with champagne at this gothic revival castle before getting escorted to your unique and lavish room. If you're lucky you'll get a room in one of the towers, but no matter what room you get you're bound to enjoy! I mean you're staying in a castle and being treated like royalty.
This is an experience worth splurging for and its no wonder why this place is the go to destination for celebrities visiting, like Richard Branson, Bill Clinton, Brooke Shields, Bono and Muhamad Ali to name a few.
See our full guide to staying at Dromoland Castle in Ireland.
2. Stay in a historical manor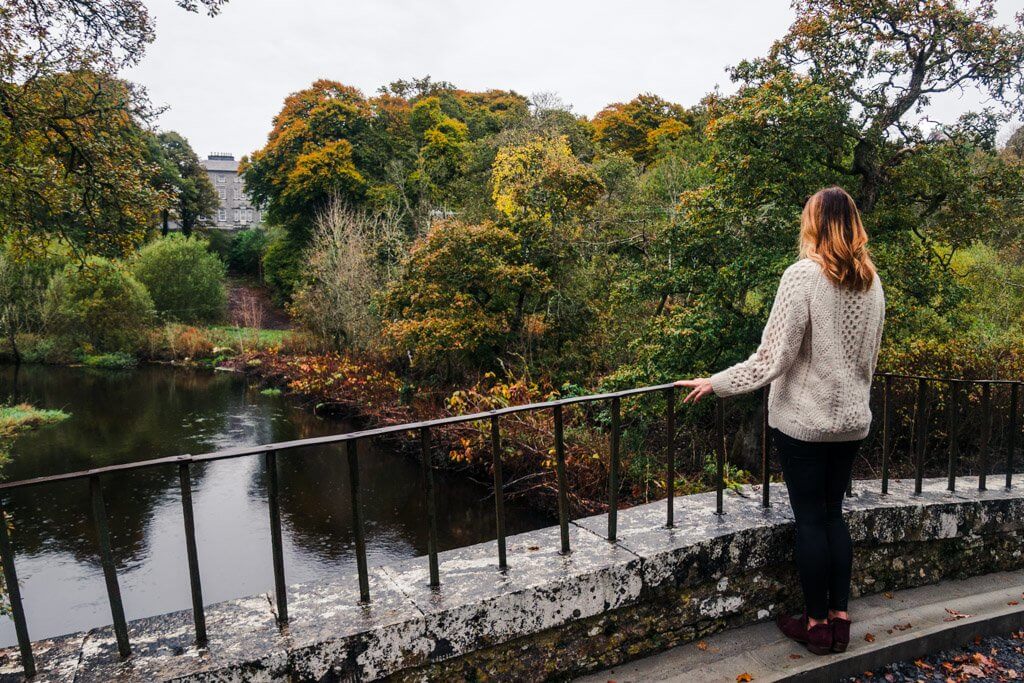 Did you know there are tons of beautiful historical manors in Ireland you can stay at? The company, Ireland's Blue Book, is the place to go to if you want to experience a premier and authentic Irish countryside getaway in a historic estate.
We enjoyed our stay at Coopershill House in Sligo, Ireland during our trip. It's one of the most best things to do if you love country landscape, history, antiques, and an experience that you just can't get at a regular hotel.
The home we stayed in felt like we were staying in a living museum filled with antiques and furniture passed down from generation to generation the house is immaculate and restored beautifully.
You can't help but be impressed that even the smallest details from photos to bathtubs in the home are antique. Staying here felt like taking a step back in time and an experience we won't forget.
3. Explore the Fairy Forts
One of the most unique things to do in Ireland is learning a bit about the local folklore and legends.
The most famous form of folklore are leprechauns who are cheeky and ornery fairies. The fairy folklore comes from a combination of Celtic, Greco-Roman, and Germanic elements.
There are even mystical fairy forts and fairy doors all throughout Ireland and even the most skeptical local doesn't mess with fairy forts or fairy doors in fear of being cursed. We ran into a lot of them during our drive along the Dingle Peninsula.
Fairy Forts are circular grass mounds that are said to have special powers and are a way to the other world.
It is believed if you damage, disrespect, or build on top of one you will be cursed. There are actually several different local stories about how these forts have affected others in the past.
If the local folklore is something that piques your interest you can even take a tour catered to the myths and legends of Irish folklore! I have some convincing to do to get Scott to join me on one of these on our next trip to the Emerald Isle.
4. Have Dinner at Bunratty Castle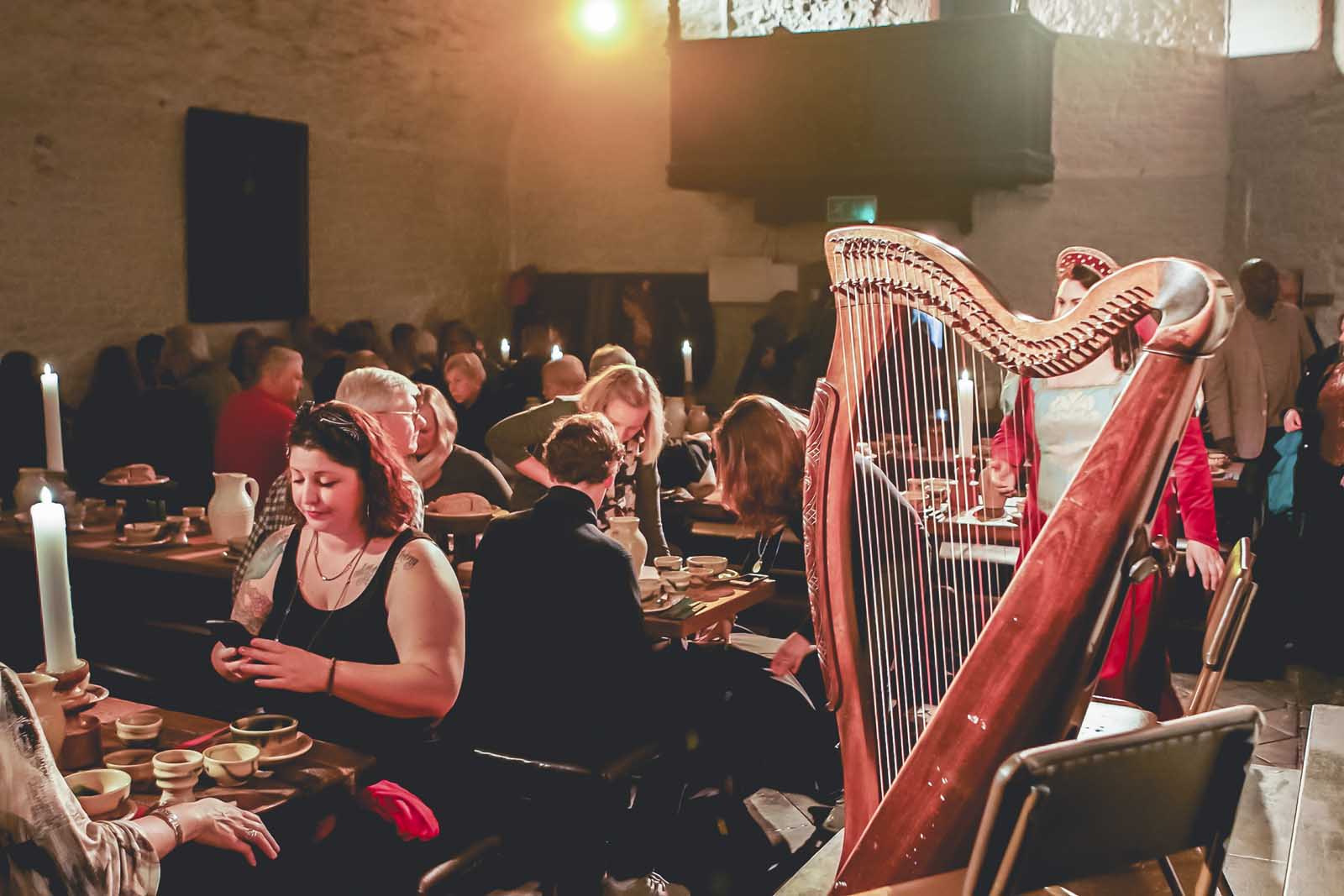 If you love dinner with entertainment then this cool find is just for you. Bunratty Castle is one of the most unique things to do in Ireland if you like dinner and a show.
This medieval castle offers nightly medieval banquets complete with a meal you eat with your hands, wine, live music, and period performances.
This is an activity the entire family, groups, couples, or anyone will enjoy! The servers are the cast and decked out head to toe in period clothing and do not break character.
They even ask for some of the audience to participate in the show! Scott got selected to be the prisoner sent down to the actual dungeon during his meal.
This is a great night of entertainment and an unforgettable experience in Ireland.
Book your Bunratty Dinner Experience here.
5. Visit Kylemore Abbey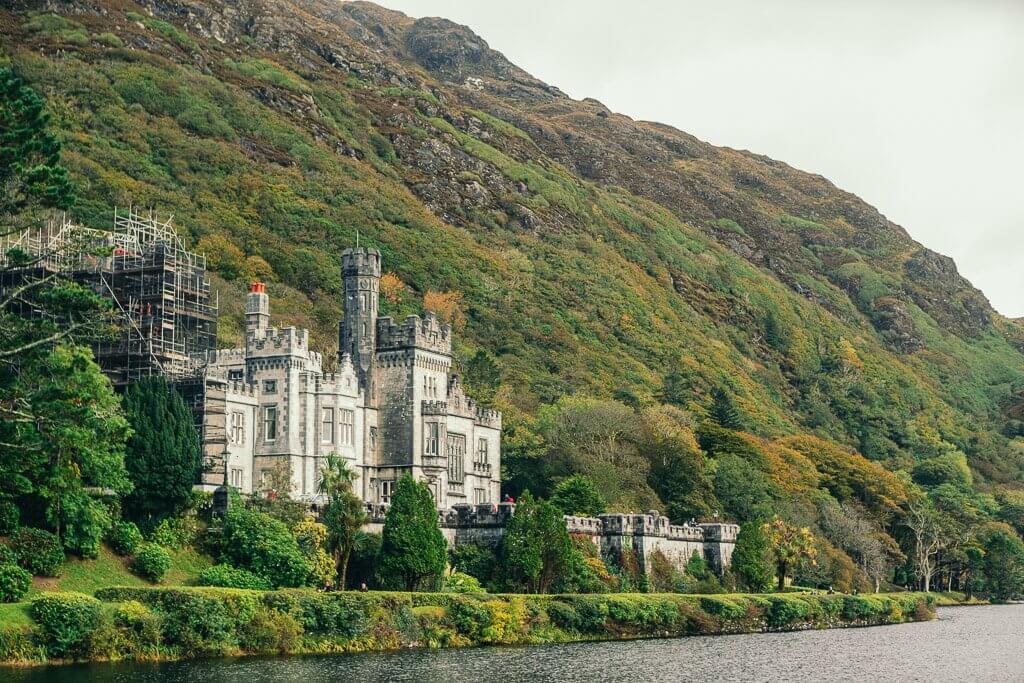 Kylemore Abbey has seen quite the slew of owners in its history. It's been a:
Benedictine monastery
Private Castle
Home to the Duke & Duches of Manchester, who lost it due to a gambling addiction
private Catholic boarding school under Benedictine nuns.
Now it's a beautiful, historical estate and abbey with dramatic landscapes. Visiting is by far one of the most beautiful and unique things to do in Ireland!
With an interesting history, Kylemore seems like something out of a movie. Even the tour guides who work there today were once students as the school only closed in 2010.
Besides having a cool backstory and gorgeous architecture, Kylemore Abbey is surrounded by beautiful mountains, exquisite Victorian gardens which were known as one of the last great gardens of that period, and a lovely lake.
Located in Connemara, this is another site not to miss along Ireland's Wild Atlantic Way.
6. Explore the Caves of Keash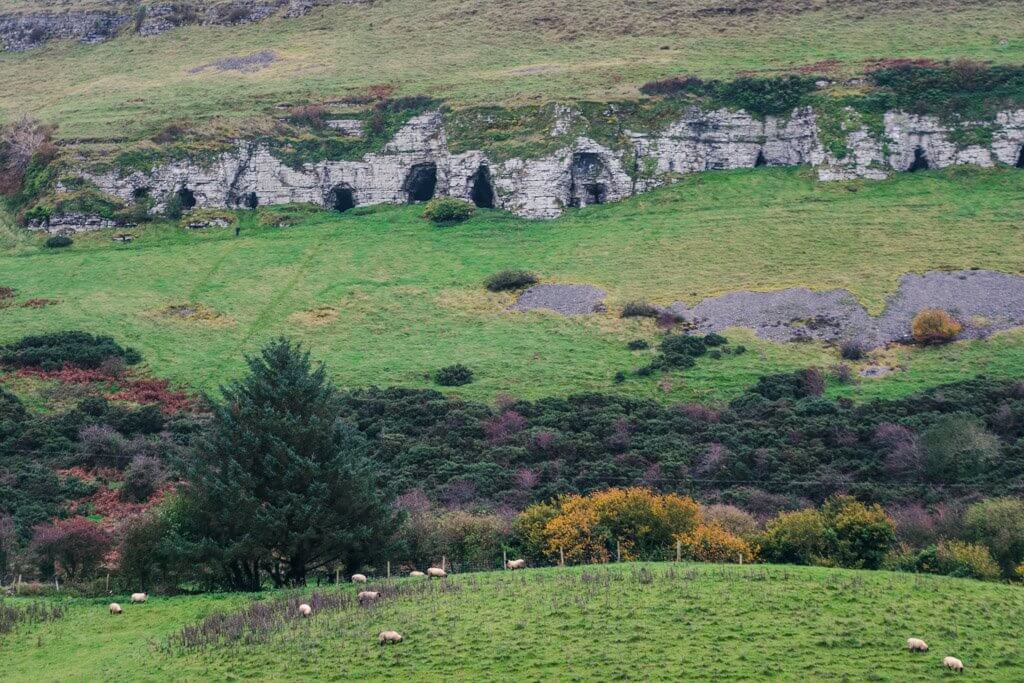 Another one of the most unique things to do in Ireland is the Caves of Keash in Sligo. We accidentally stumbled upon these caves while driving around the countryside looking for a bite to eat.
You can't miss the huge cave openings on the side of a giant limestone cliff overlooking a pasture of sheep and the road.
The caves are one of the hidden gems of Sligo on Keshcorran Mountain. There are 16 different caves to explore after a short walk up the trail from the car park.
Besides being fun to explore, archeologists have found many remains and bones from Ice Age animals to humans within the caves.
To make things a bit more interesting the caves also have plenty of folklore to them as well including a tale about one of Ireland's kings Cormac Mac Airt and how he was raided by a she-wolf in the caves.
If you are running short on time you can easily enjoy the enigma of the caves by just doing a drive by and pulling off to look up at the giant black cavities in the side of the mountain.
7. Check out Cnoc Suain
If you want to dive deep into Irish traditions and culture, then this is one of the most unique things to do in Ireland! Visit Cnoc Suain to enjoy a cultural retreat in the heart of Connemara in Spiddal.
You'll be centered in the middle of the boglands surrounded by the mountains and exploring the Burren along Ireland's Wild Atlantic Way which is the place that has inspired great artists, poets, and writers for centuries. This includes Oscar Wilde who described the area as, "wild mountainous country…in every way magnificent."
You can learn how to speak Gaelic, how to make soda bread, listen to traditional Irish music, learn about the local environment, make peat moss bricks for the fire, and stay in a restored 17th-century hill village in the bog.
This is a great place to take a digital detox and go back in time and enjoy the simpler things in life, Irish style.
Don't just take our word for it, Cnoc Suain has won several awards for its cultural take on tourism, sustainable tourism, and eco-tourism.
8. See the Deck of Cards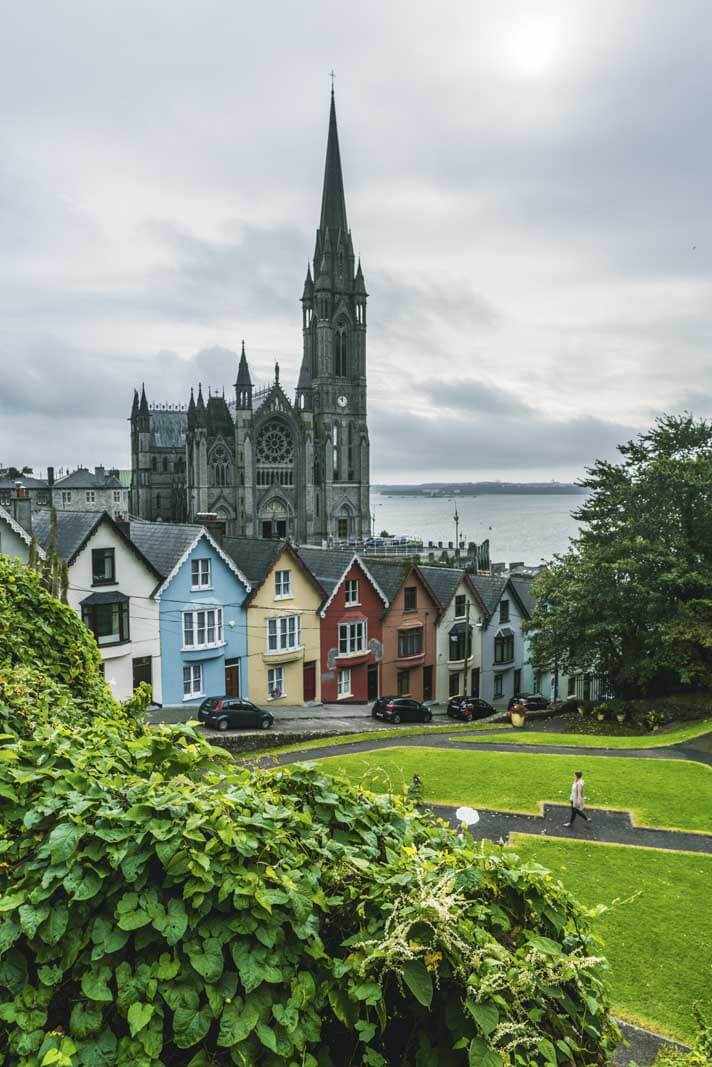 One of our favorite finds and most unique things to do in Ireland is visiting the row of colorful homes in Cobh known as the "Deck of Cards."
This adorable row of homes has become a famous photo spot over the years, and it's really no wonder why!
You can't beat the view of descending colorful houses with the backdrop of St. Colman's Cathedral and Cork Harbor, it's just too cute to seem real.
9. Get an Aran Jumper straight from the source
One of the most iconic and unique things to do in Ireland is track down an authentic Aran Wool sweater, or jumper as the locals say. The Aran Wool sweaters originate from the clans of the Aran Islands located off the coast of the Wild Atlantic Way.
The islands are still the place to visit in Ireland if you want to experience traditional Irish culture and villages that have barely changed with modern civilization.
The famous cream cable knit sweaters were worn by fishermen. They aren't just for warmth either! Each clan in Ireland had their own cable knit pattern and it was said that this was used to identify fishermen whose bodies were recovered after lost at sea. But then there are those who say this was just a marketing ploy. Either way the sweaters are a cool souvenir from Ireland.
The best place to get an Aran Wool sweater is the source, the Aran Islands. I found mine from a local woman during our day trip to Inisheer who handknit the sweater over a 3-4 week period and was selling out of her house. She only had three at the time so I was lucky to nab one.
If you have any Irish heritage and want to find your family's clan cable knit you can check a few of the authentic shops one being the Aran Sweater Market in Killarney.
10. See the Rock of Cashel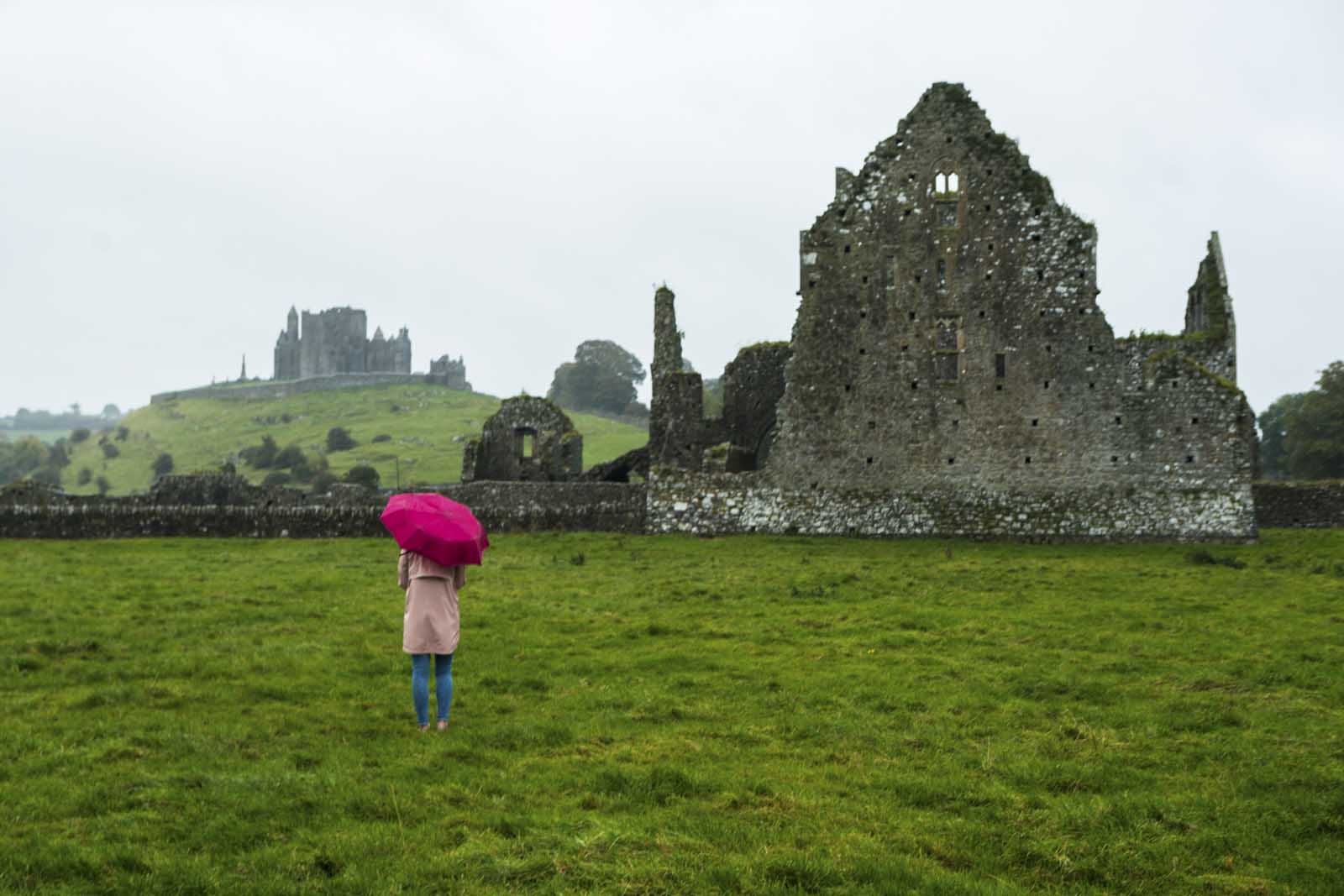 Another cool find and unique thing to do in Ireland visit the Rock of Cashel in Tipperary. This iconic complex and ruins is not only unique in Ireland but the entire world. The site is also referred to as St. Patrick's Rock or the Cashel of Kings.
This place has an interesting history dating back to the 5th century and the structures you see today dating back to the 12th century when the rock was gifted to the church. The Rock of Cashel is considered one of the most amazing remains of Celtic art and medieval architecture in Europe.
Besides its impressive historical features, the Rock of Cashel is also incredibly photogenic. You can get one of the best shots from Hore Abbey, the ruined Cistercian monastery below the Rock of Cashel.
11. Explore the Doolin Caves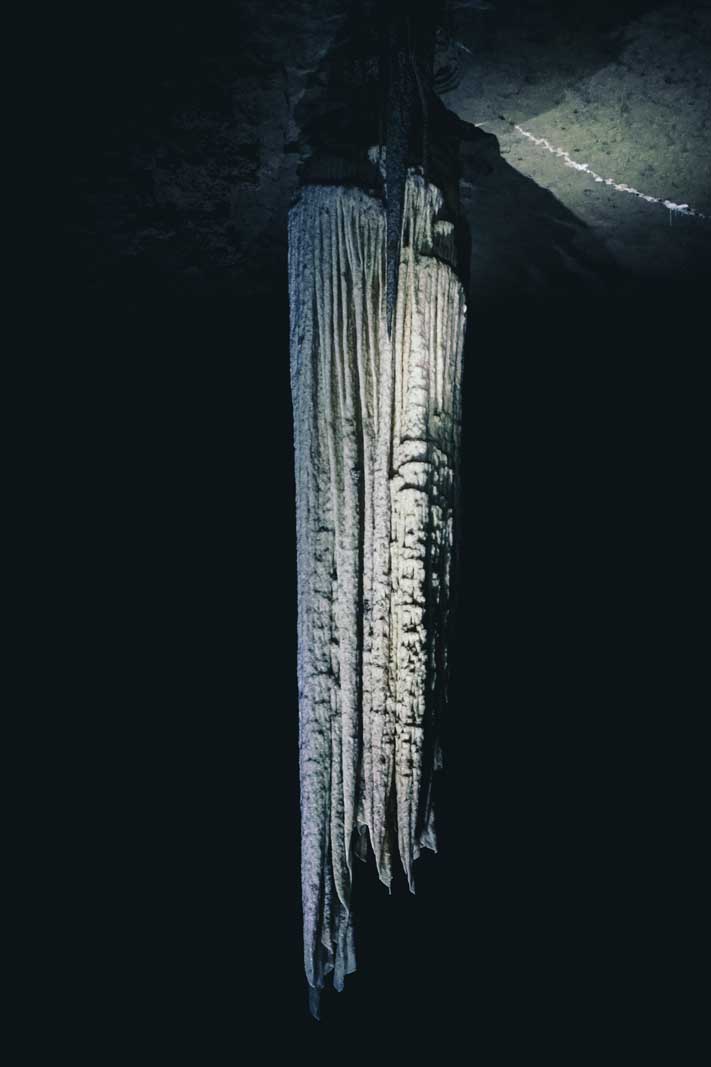 Want to see the longest free hanging stalactite? If your answer is yes, then you will want to head over to Doolin for one of the coolest finds and most unique things to do in Ireland.
The big attraction at this family-run tourist attraction is the giant hanging stalactite which hangs at almost 24 ft in height and weighs over 10 tons. You don't need a ton of time to visit the caves, but it is worth witnessing if you happen to be driving along Ireland's Wild Atlantic Way!
12. Go on a Vikings Virtual Reality Tour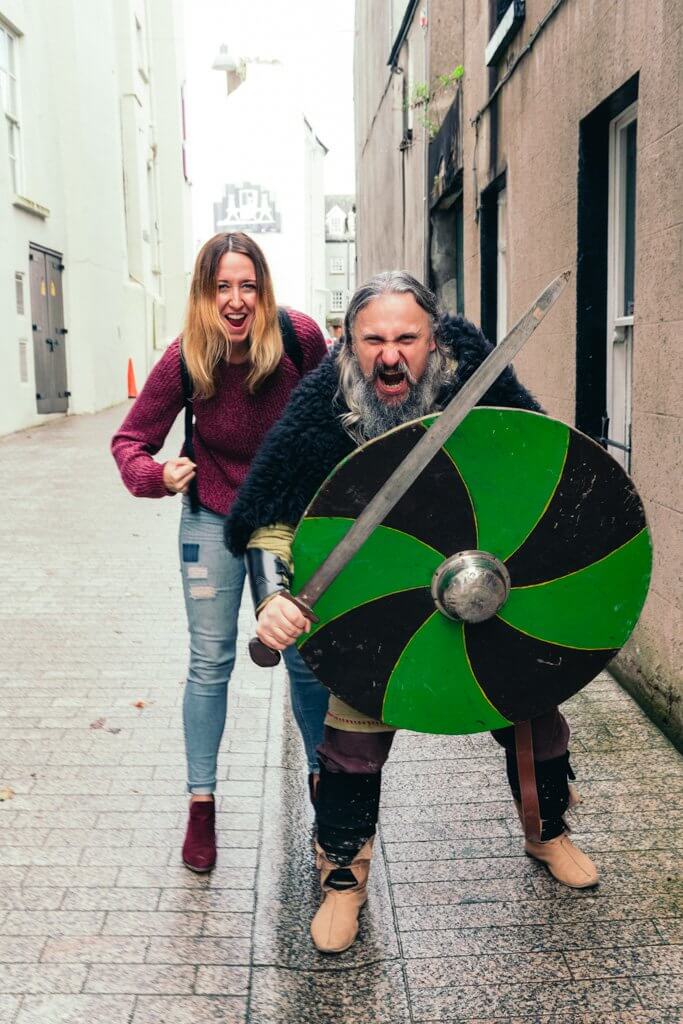 We are going to go tech with our next cool find and unique thing to do in Ireland. Located in Waterford, Ireland's oldest city and in Ireland's Ancient East, the King of the Vikings is a 30-minute virtual reality tour. It'll show you the history of Vikings in Waterford and make you feel like you're actually living the experience!
If this is the future of museums or even school, this is getting us super jazzed about learning history! Each experience takes place inside a reconstructed Viking house in the heart of Waterford Ireland's Viking Triangle. It's complete with two Viking actors who set up your VR experience.
Prepare to time travel and go back to learn the fascinating and horrifying history of the Vikings while swimming through corpses, seizing villages, and more.
13. Explore Ireland's Castle Ruins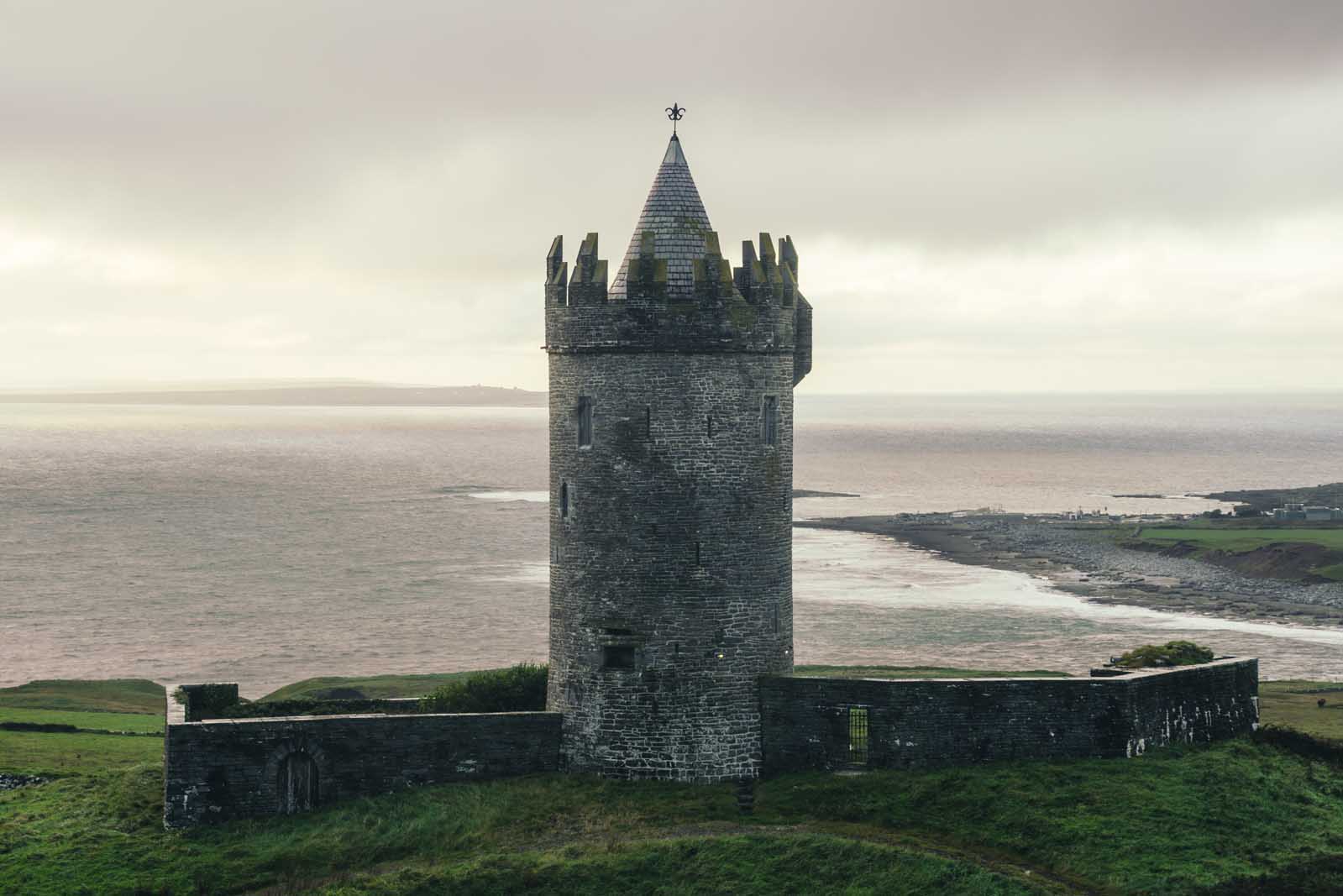 Some of the most interesting things to do in Ireland is find ancient castle ruins. Two of our favorites are located in the small town of Doolin right next to the Cliffs of Moher.
Doonagore Castle Ruins date back to the 15th century and is located right off the countryside road. You don't even have to leave your car to get an amazing photo of these ruins located just 1km above the town of Doolin.
Nearby, there's also the ruins of Ballinalacken Castle which are privately owned. The only way you can explore Ballinalacken Castle is by staying at Ballinalacken Castle Country House. We were lucky to have spent one night here overlooking the Atlantic Ocean from our room with ancient castle ruins next door.
14. Visit Spike Island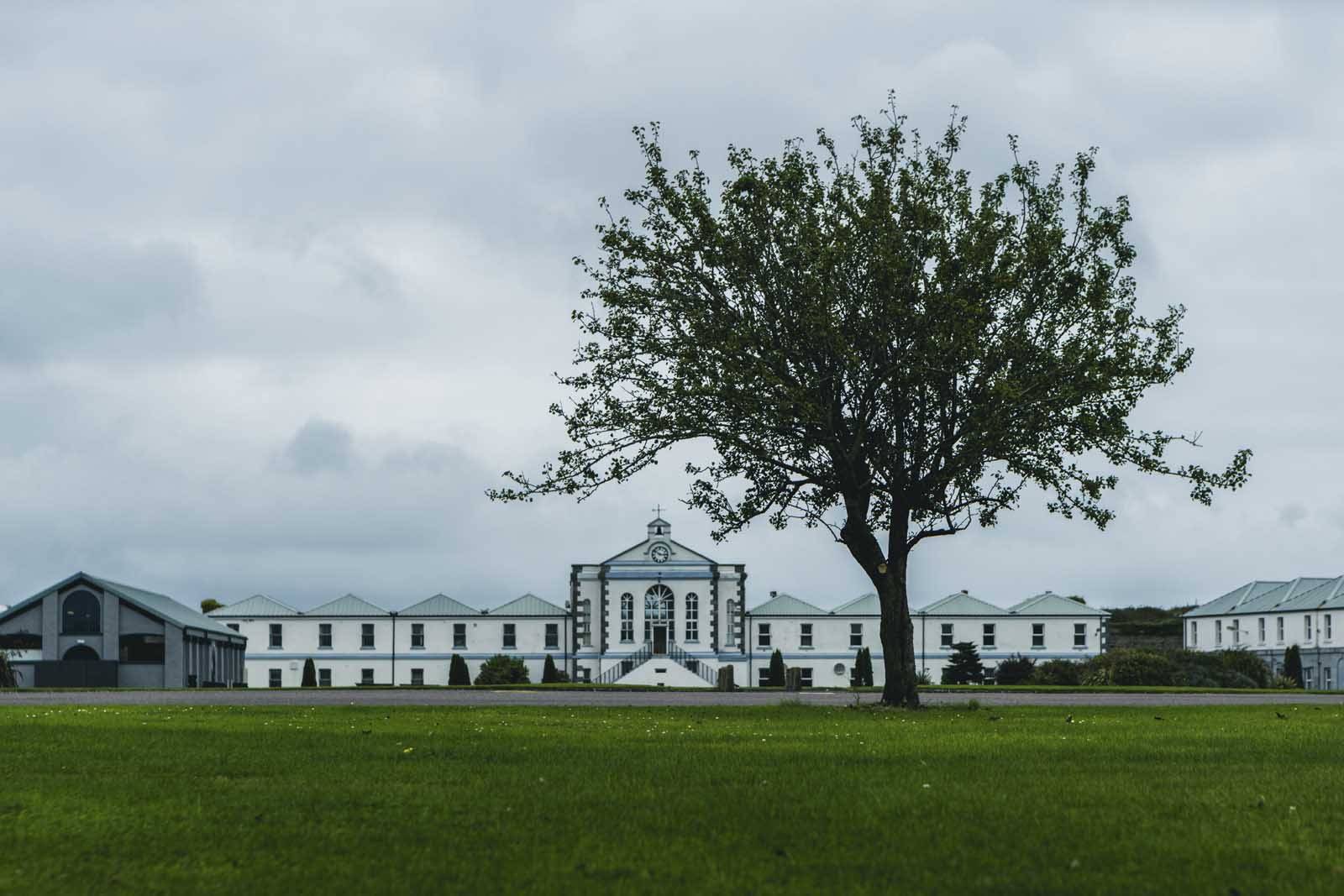 Did you know Ireland has their very own version of Alcatraz? Spike Island was once a prison off the coast of Cork Harbor and one of the coolest history lessons and most unique things to do in Ireland.
Learn about the famous inmates who stayed here as well as the unforgettable uprising that took place here.
Spike Island was home to serious criminals and convicts including any rebels from the IRA during the Irish War of Independence. If you want to learn more about the history of Ireland including bits of the Irish War of Independence we highly recommend this day activity when visiting Cobh.
Spike Island was also named one of Europe's leading tourist attractions recently as well!
15. See the Cliffs of Kilkee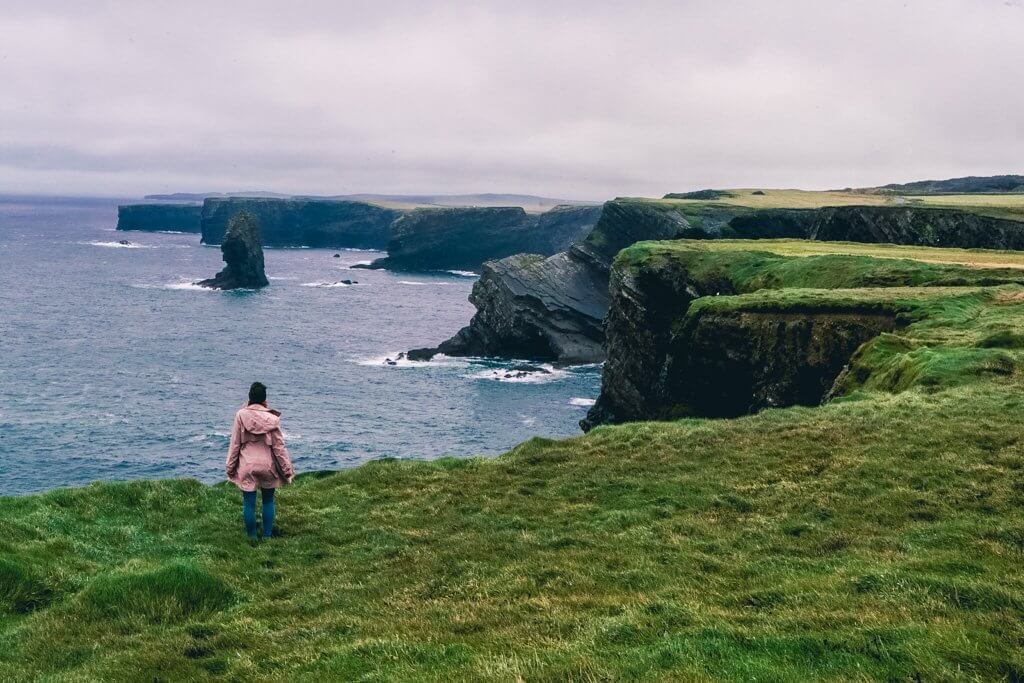 Want to experience more dramatic cliffs along Ireland's Wild Atlantic Way beside the Cliffs of Moher? Imagine insanely beautiful Atlantic cliffs in Ireland without ANY crowds.
The cliffs of Kilkee are one of the country's best-kept secrets and one of our favorite cool finds and unique things to do in Ireland.
The giant rock walls facing the ocean are hundreds of feet high and are terrifying beautiful to look at. You can visit by driving or walking along Loop Head Drive on the Loop Head Peninsula with unobstructed, protected views of the coastline with the intensely massive cliffs.
We recommend stopping the car and walking because you do not want to be distracted while driving next to the cliffs less traveled.
16. Drive by Knocknarea and Benbulben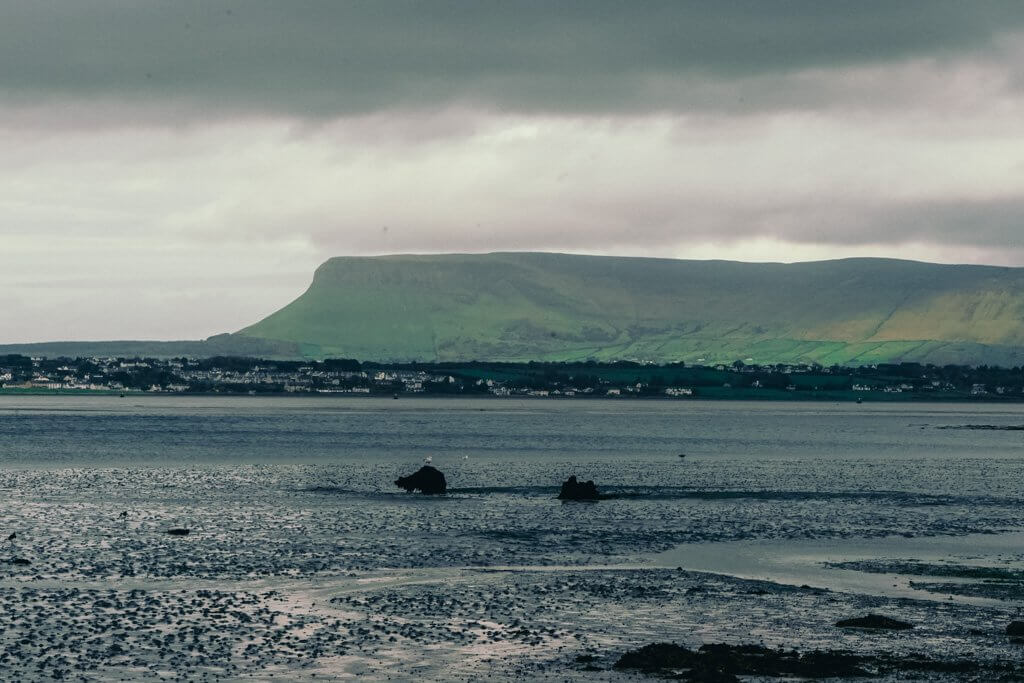 Another cool find and unique thing to do in Ireland is drive through the countryside of Sligo for some gorgeous dramatic landscape and two beautiful hills that make the perfect backdrop for photos, Knocknarea and Benbulben.
Take a drive along the Knocknarea scenic drive to get majestic views of Benbulben. You'll see how this landscape inspired famous poet W.B. Yeats, who even had a poem dedicated to Benbulben titled, "Under Ben Bulben."
Stop along and visit the megalithic tomb sites, the burial site for Queen Maeve of Connacht, and just side of the road pull-offs for photos.
And a dramatically beautiful place like this in Ireland wouldn't be complete without some more local legends and folklore. It is said there are fairy doors here and is the only place in the country where mortals can see fairies with their naked eye as well as other legends.
---
See more about planning the perfect Ireland road trip with this post by Nomadasaurus.
Liked this post on unique things to do in Ireland? Be sure to share the love below on Pinterest!