E
very seasoned traveler has a few items that they can't leave home without. Whether it's something silly like a favorite hat, (*cough-Scott cough*), to practical things like a compass. Everyone has at least one thing that makes them comfortable while they travel. Other than the obvious things like camera, clothing, and toiletries we have put together a list of 8 things we can't travel without.
Audio Books
Everyone loves reading a good book. Unfortunately, the only time we get to read is while we are on a long bus ride. I get motion sickness so this rules out reading a book for me. Also, books take up room and weigh a ton! We LOVE the app Audible to listen to audiobooks. Having someone read the book to you won't leave you sick on that bus ride and the voice of the narrator can really help your imagination and get into the book more! A fine example would be the book Elephant Whisperer.
You can try a free 30 day trial here!
Expense App
When you travel you should record everything you spend. This is not to ruin your trip, but simply help you plan your next trip and keep track of all that hard earned money you're spending in the first place. We also use this in our daily life when we aren't traveling as well. Writing down everything you spend makes you more conscious of what you need versus what you want, or what you REALLY want. We are able to see how much we spend daily, weekly, monthly and we love being able to see and change how we spend our money to get it even further. We recommend trying the
Never Ending Voyage's expense app Trail Wallet
.
Want to know how much it costs to plan a trip?
---
T25 Workout Videos
This is the perfect on the road workout regimen. Each workout is only 25 minutes long and requires no equipment. This gives you no excuses on why you couldn't workout on your travels! The best part is you don't need much room, and before you know it the workout is over. We feel great after doing these first thing in the morning and started noticing a difference in our bodies and the way we felt in 3 weeks!
Order your T25 DVDs
before your trip and put them on your ipad or computer like we did.
Pacsafe Bag Protector
We will never backpack without a Pacsafe Bag Protector. We are staying in budget accommodations or taking overnight bus rides where our bags may not always be so safe. We feel better knowing we can lock up our bag to something stable in the room with our valuables in it when we cannot carry them around. See our post on how we keep our valuables safe.
Packing Cubes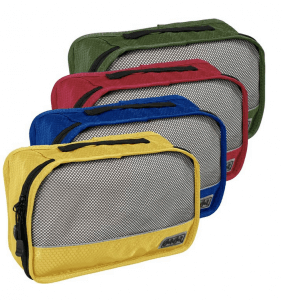 We save a lot of space in our big backpack by using packing cubes. This also prevents us from overpacking or shopping too much while traveling. Scott and I each have one cube for clothing, and we have one cube for toiletries. If it doesn't fit, it doesn't go. This was a good way to start living more minimalist all while staying organized and compact! Packing cubes for travel for the win.
Muscle Ointment
While traveling we always have long ride to get from place to place or maybe the guesthouse has a pillow that feels like its made of old socks. Either way, our muscles, neck, and back get sore from sleeping wrong or trying too hard on a trek up a mountain. Your new best friend is Tiger Balm! We stock up on Max Freeze roll on muscle reliever when we go back home, but when we are in Asia we usually have at least 2 of these jars on deck and are being used almost daily. You can also use Tiger Balm on bug bites to get rid of the itchy feeling!
Playing Cards
When you travel there is inevitably a lot of waiting. We try to always have playing cards on us, even if we are just trying to distract ourselves at the restaurant waiting for our food to come out and control our hanger. A favorite of ours to carry is Uno. We also have made friends with a deck of cards. It's a great way to socialize with other travelers or ignore everyone else and have an intense game of solitaire all to yourself.
---
Head Lamp or Flashlight
This is actually one thing we didn't pack on our initial trip and had to buy a cheap one in Laos that got trashed about a month later. You will be surprised at how handy having a head lamp is!

If you plan on visiting caves you HAVE to have one to see what you're doing. We have even been on treks or hikes that end a little too close to dusk and having a flashlight was handy. And last but not least, we have lost the electricity in our room before and it would have been really helpful if we put our flashlight in a place we could find it in the dark. Regardless, this is one of those things that is easy not to think about before leaving for your trip and find yourself needing from time to time!
Now that you know a little about what we like to travel with share on our comments below what you can't travel without!
If you liked this post and want to see more like it, consider liking our page on facebook, following us on twitter, or seeing our latest photos on instagram.
"We (Bobo & Chichi) are a participant in the Amazon Services LLC Associates Program, an affiliate advertising program designed to provide a means for us to earn fees by linking to Amazon.com and affiliated sites."