As a traveler, content creator, and a lady who just loves her hats I am here to help share some tips and tricks about how to pack a hat in a suitcase and other traveling with a hat tips! Hats are easily one of the best accessories to have in your photography and if you've been on the Instagram grid you know that hats are all the rage.
Besides being incredibly fashionable and sometimes a color pop in your gorgeous landscape or cityscape photo, hats are also a really great for keeping your face in the shade and protect your skin and eyes from the sun. In fact, after I got my LASEK surgery in Korea, the doctor recommended I wear a hat and sunglasses when possible because the sun can not only damage your skin but your vision!
I am also not afraid to admit that I am that girl in Instagram photos with the back of the head and cool or colorful hat photo.
So let's get to it. I am going to share all my tips, tricks, and hacks for how to pack a hat in a suitcase!
PS. I've partnered with Gigi Pip for this piece as I LOVE their quality hats and styles and have! I have a few of their amazing styles suggested below if you wish to do some shopping while you're learning how to pack a hat.
How to Pack a Hat
How to Pack a Hat in a Suitcase: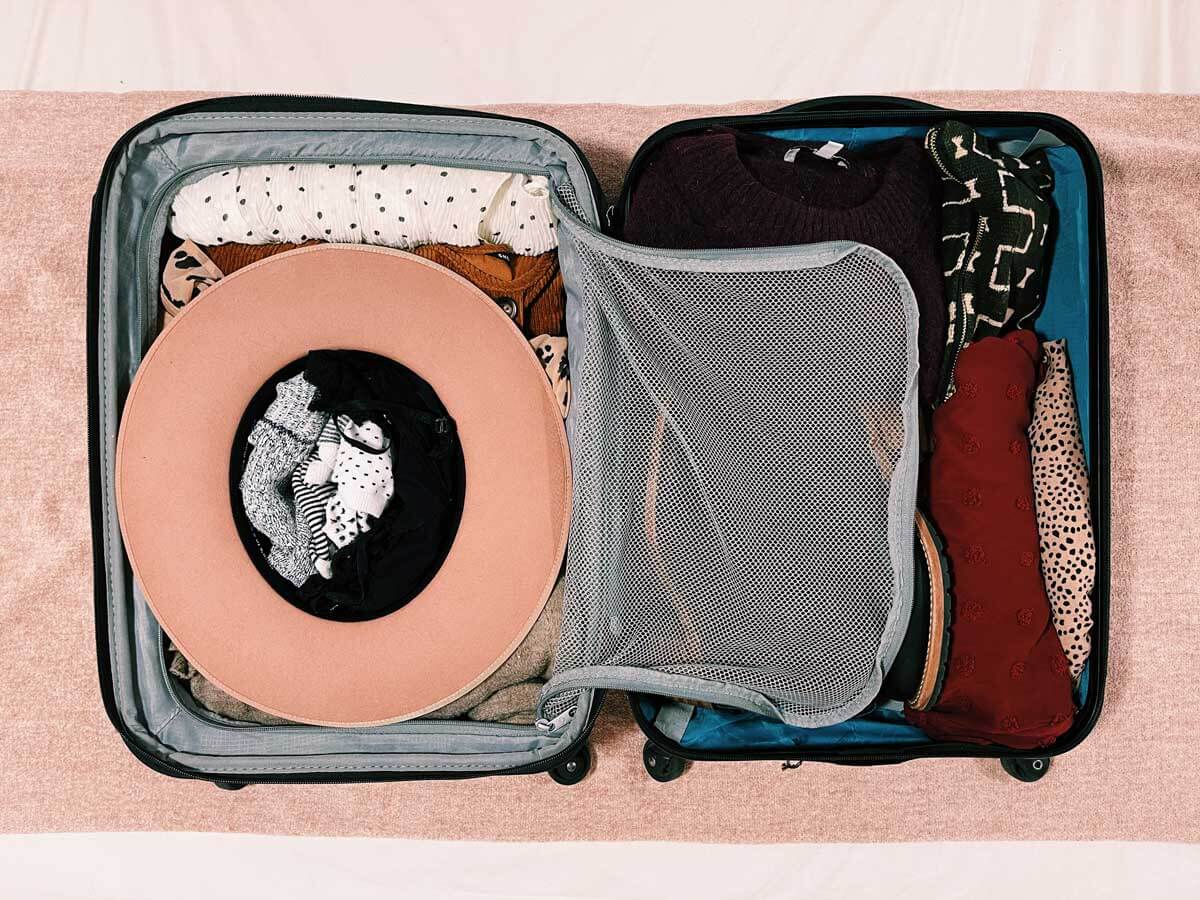 Ok, so in order to pack a hat in a suitcase, you're going to need to have a little strategy with how you pack. But don't worry, it's super simple and once you do it once or twice it becomes second nature.
I only recommend this method if you're traveling with a suitcase, not a backpack or soft duffel bag. Ideally, you have a hard shell suitcase, but that really doesn't matter that much either.
So basically, you're going to start to fill your suitcase with your items leaving enough room on one side to set your hat inside upside down with the opening of the head facing up and the crown of the hat is facing down inside the suitcase. Once you have your hat placed, use soft clothing items to pack the area around the base of the hat to protect the shape of the head paying careful attention to not bend the brim.
You are pretty much packing around the hat in your suitcase and protecting it with clothing items around it. I prefer to roll my clothes because not only does it save space, you can easily fit the items around the hat.
Once you have it safely secured with clothing around it, I put other soft clothing items inside the brim of the hat like socks, underpants, bathing suits, or tank tops which sort of acts like a bucket.
Your goal is to close your suitcase and your hat is positioned inside with clothing packed around it so it sits in there without the possibility of it getting bent or smashed.
You do NOT want to pack bottles of toiletries or anything that can stain your beautiful hat near it. Since my suitcase has two sides, I like to pack the toiletries in not only a leak proof bag but also around something else like a jacket or sweater that in the rare chance if there were a leak, which has happened from time to time, it only gets on one item and not everything in my suitcase.
Packing your toiletries is an art in itself whether you're traveling with a hat or not! I like to pretend that my toiletries WILL leak and I pick one bulkier clothing item to sacrifice to act as a barrier if it does happen so that it's a much easier clean-up!
Also, if you were caught in the rain or your hat is wet for any reason, don't pack it in the suitcase because this can bend it.
Alternative Way to Bring a Hat on Your Travels: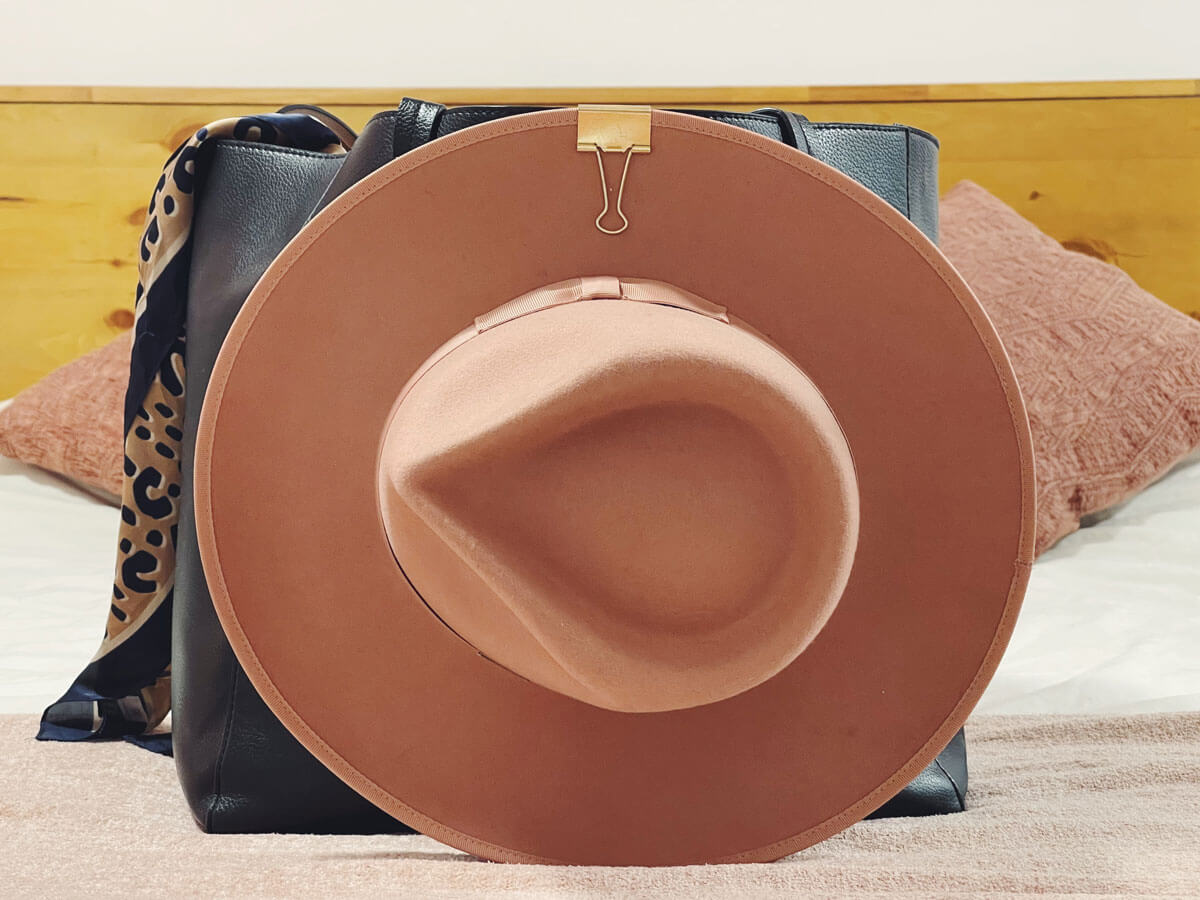 I wish I could take credit for this really inventive trick for bringing a hat along on your travels, but a friend actually shared this little hat traveling hack with me! If you don't want to pack a hat in your suitcase, you can always try this option!
I recommend getting a binder clip or something similar. I recommend binder clips because they are pretty heavy duty and don't really get loose over time and have a pretty strong grip.
It's really simple! Basically, you clip the hat to the exterior of one of your carry on bags, suitcases, or backpacks on your travel days. I like doing this to my backpack or shoulder bag.
So on airport days, I usually either clip it to my bag or if the airline is really strict I wear it on my head on travel days.
When you board the plane, if your carry on bag is going in the overhead, I first see if there's space and gently set my hat and if I have a jacket I place it together on top of my bag in the overhead storage area during the flight. I don't do this if its a small overhead or the flight is overflowing with luggage out of courtesy and also so no one else smashes my hat trying to squeeze their bag into the overhead.
Since it's pretty hard to predict that, I am pretty flexible and either rest the hat down by my feet with my purse or set it on my lap. That's not ideal, but out of my many travels with a hat I've RARELY had to do this, maybe once or twice and I didn't mind.
I don't recommend this option if you are worried about having to end up fighting for overhead space or having to sit with it, and that's totally reasonable so you might want to consider packing a hat in the suitcase option!
Traveling with a Hat Tips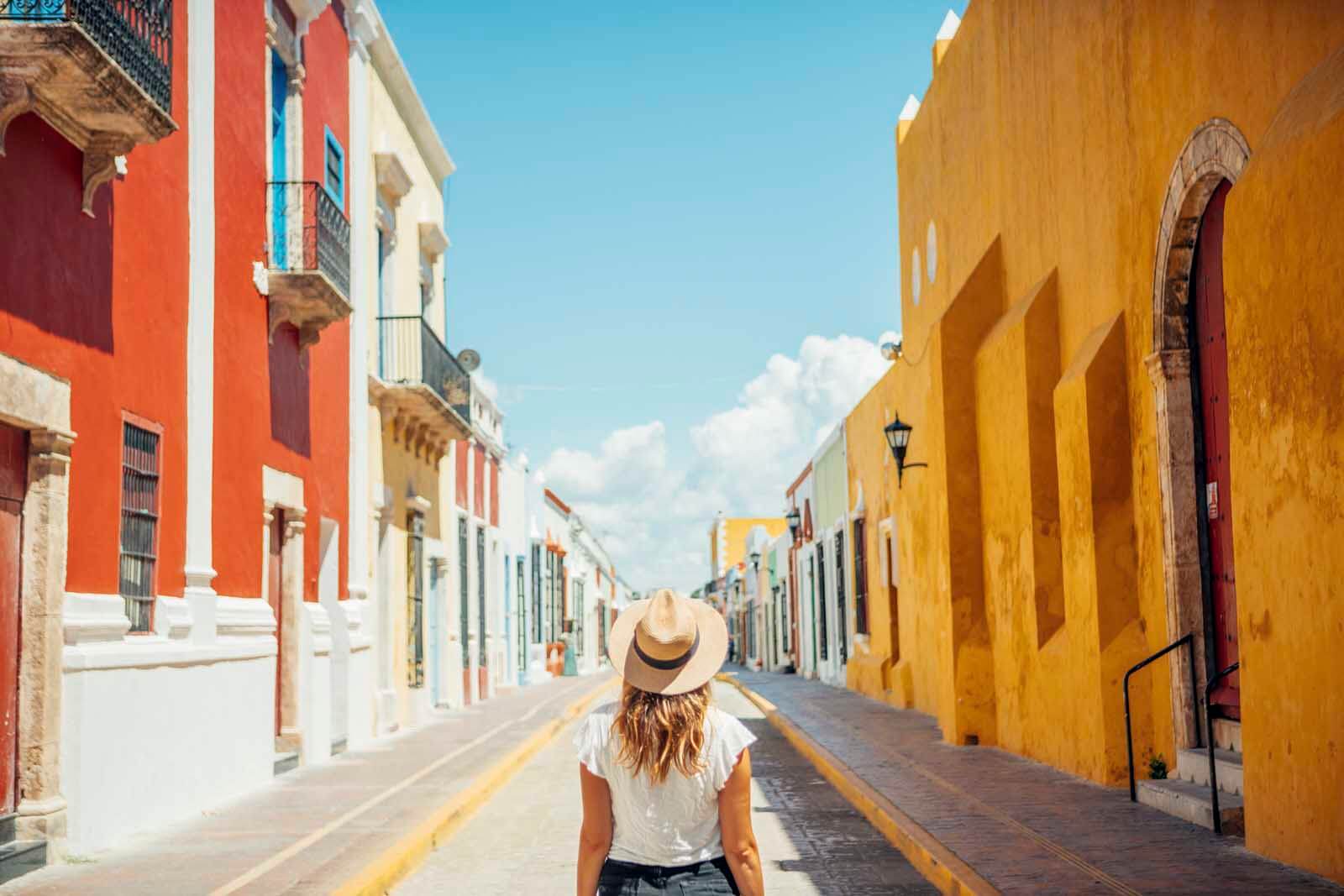 I am going to recommend a few of my best traveling with a hat tips and tricks I've learned over the years!
Travel with a Collapsable Hat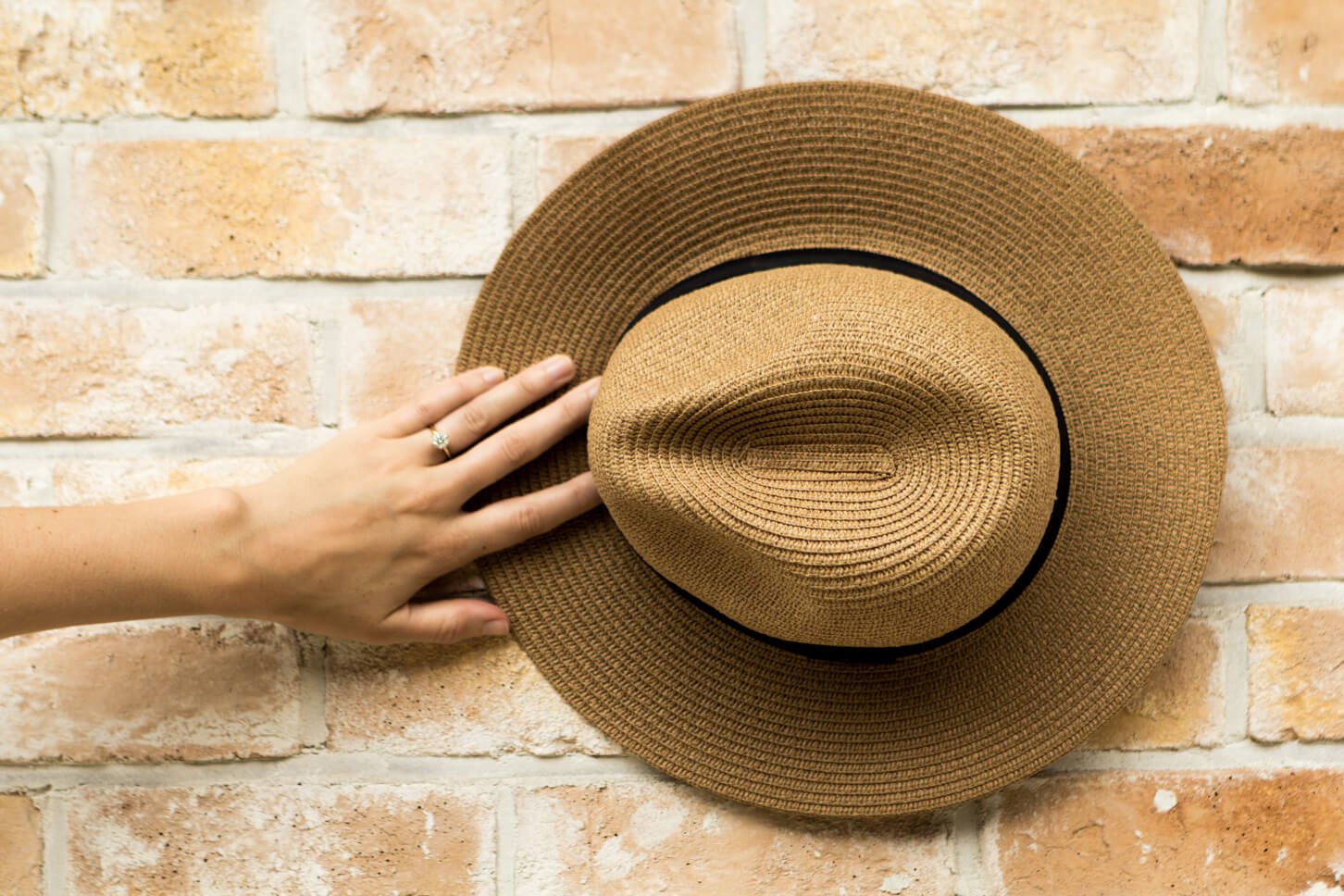 If you're traveling alot and want a hat but don't want to worry about a beautiful felt hat that might bend or get smashed, I recommend getting a collapsable travel hat. These styles are pretty common in summer or straw style hats and perfect for beachy or summery vacations.
I have had one collapsable hat I've had for the past 5 years that I bought in a random store in Korea and take it on just about every trip because it's so easy to throw in the bag worry-free since it's packable and foldable and just pops back into shape!
Also, berets make great hats to travel with that are also super stylish, I love the Sophie Beret by Gigi Pip. These are super easy to pack, you don't have to worry about packing it, and its super small!
How to Fix a Bent Hat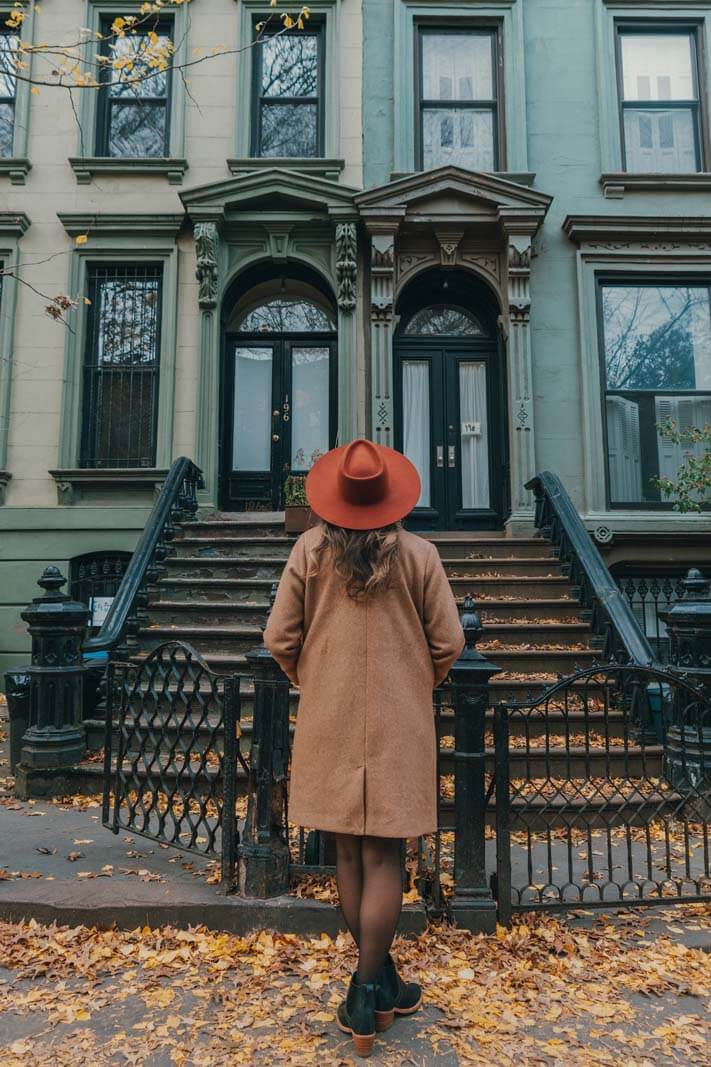 I LOVE felt style hats, but you might be wondering, what happens if my hat gets bent? Lucky for you, there's actually a pretty simple solution, you can fix it using steam!
If I know I am going to do alot of photos in dresses or want to pack alot of items that wrinkle easily, I travel with a compact travel size steamer.
But let's be honest, I don't like to give up prime real estate in my suitcase if I don't have to so typically that gets left home. If that's the case for you a tea kettle can work if you're staying at an Airbnb style apartment or house rental on your vacation or trip.
Another option that can work too is using the steam from a really hot shower in a bathroom. Be sure to turn off the fan and close the door for more steam and don't sweat yourself out!
If you're using a hand held steamer you will want to steam the area of the hat that needs reshaped or repaired, check the area to make sure you feel the hat getting softened in that spot without getting too wet then use your hands to push out any dents or flatten out the brim. After you achieve your ideal shape, you need to let it cool.
If for some reason you didn't get the shape you wanted in the first go, don't worry you can let it dry and then try again inching closer to your fixed hat. Just make sure not to get it too wet!
If you use a kettle, you can pour the boiling water into sink and hold your hat about 12 inches from the steam.
For a hot shower, keep the hat somewhere where it won't get too wet or splashed on from the running water but in an area that will get steamy.
Don't forget to let it dry before attempting to wear it!
Gigi Pip Hat Styles
I have a few styles from Gigi Pip and I LOVE THEM! What's even better is that for people like me who never seem to find the perfect size hat and have to get them adjusted to fit my head properly so a gust of wind doesn't take it away – we don't have to worry! Their hats have a built in adjustable strap to help you get the perfect fit!
Shop the Dakota Rancher, Monroe Rancher, and Sophie Beret.
---
Liked this post on how to pack a hat in a suitcase and traveling with a hat tips and tricks? Bookmark for later or share the love below on Pinterest!