If you are an animal lover like us, then visiting a 'Sacred Monkey Forest.' sounds like a no-brainer. Hanging out with monkeys in a forest? Sign me up ten times! In the popular town of Ubud, Bali is the Sacred Monkey Forest. You can enter with the small admission of 35,000 rupiahs (~$3.50) per person and even buy a bunch of bananas for 50,000 rupiahs (~$5) to feed the monkeys inside. There are hundreds of ridiculously cute pesky long-tailed Macaque monkeys scurrying around in the forest. There are four different groups gangs of monkeys occupying different territories of the forest.
Here is my cautionary tale of how I got attacked by monkeys at the Sacred Monkey Forest in Ubud.
don't buy the bananas
Just a little disclaimer here at the beginning of the story. I didn't know this at the time and it should have been common sense but do not buy the bananas they sell at Ubud Sacred Monkey Forest! The monkeys are used to humans but they can get aggressive and bite if you even smell like food let alone walk in carrying a whole bundle of bananas like the idiot tourist I was. You will see why you should never buy the bananas in a moment. What can I say, ya live and ya learn.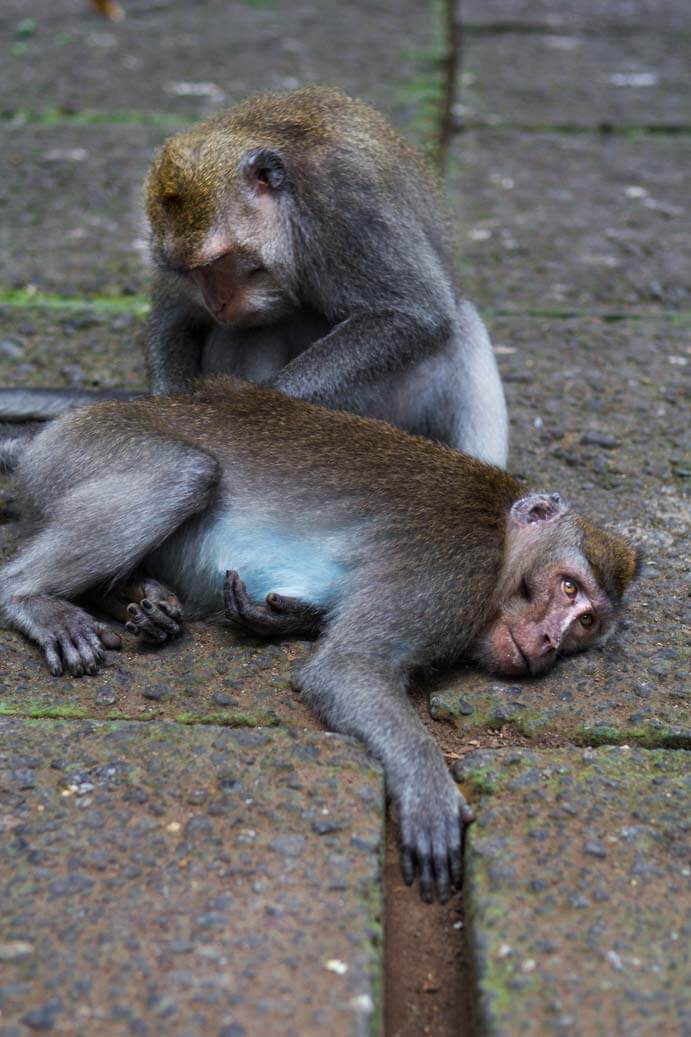 We saw the bananas for sale and decided it was a great idea and a fun way to get close to the friendly monkeys. Boy, were we wrong. We did not do our research. There are many websites that say do not buy the bananas and to beware of the monkeys inside the sacred monkey forest.
Apparently, there are a record number of monkey bites daily to tourists and also monkeys who pickpocket unsuspecting tourists. Worst case scenario, the monkey bites can lead to rabies or other diseases. Lucky for us, no one in our group got bit even though I foolishly had bought the bananas,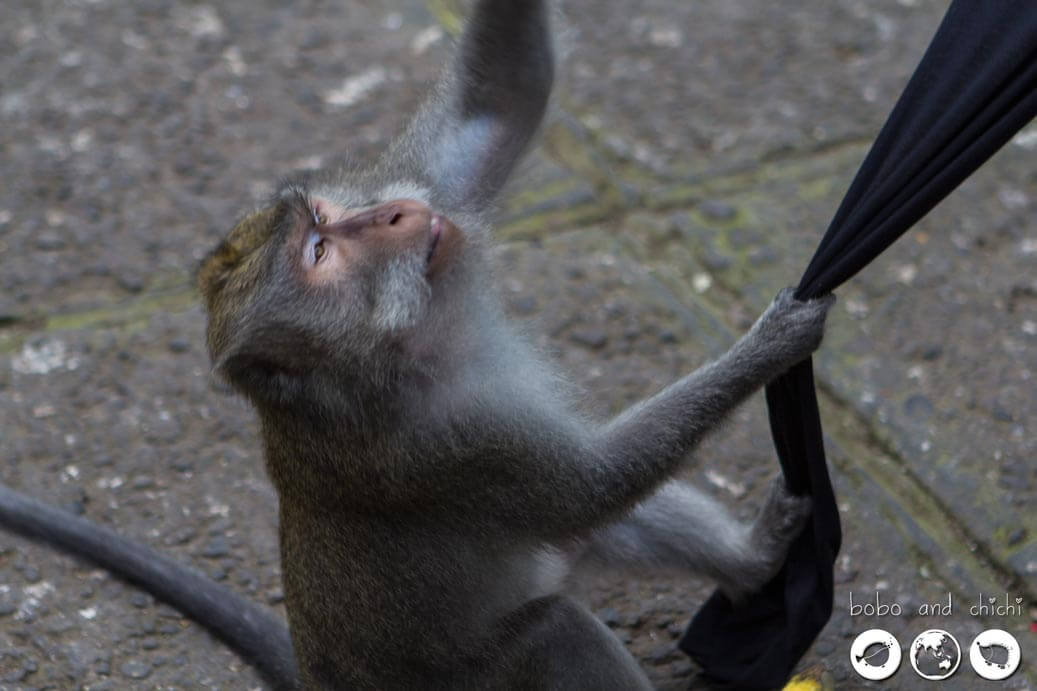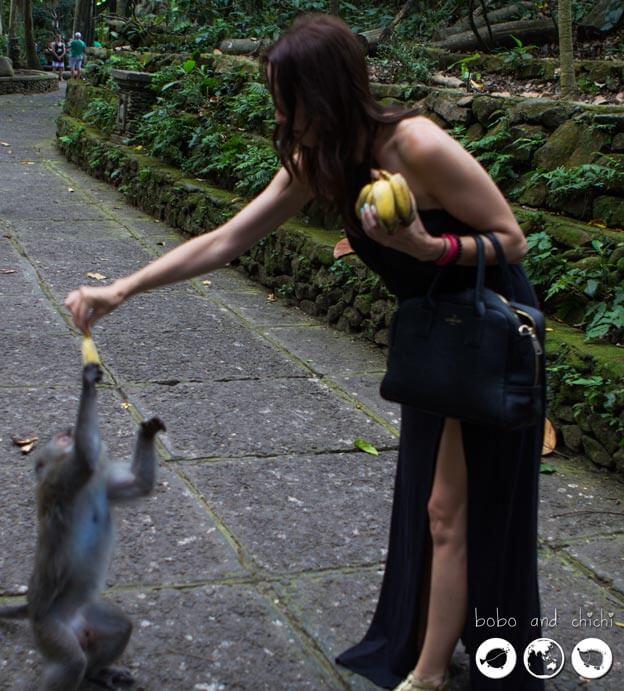 ---
Without knowing the information above, I bought the bananas! I was wearing a long black maxi dress and carrying my bananas freely in the open like an idiot tourist. I fed a few monkeys successfully with one banana each where they politely grabbed the banana out of my hand like I was their Mother Teresa of the monkeys or something which didn't help me prepare for what was about to happen.
I fed one of the larger male monkeys, we would find out a few moments later by a local monitoring the park that the larger monkeys are much more aggressive and will attack people even if they smell like food let alone carrying a whole bushel of bananas in your purse. This alpha male monkey, who I am going to give a hardcore name – Razortooth, wanted to show me who was boss. Razortooth was not happy with my measly offering of one banana.
I was chased down by Razortooth who then decided the best way to stop this dumb tourist with all the bananas was to grab the bottom of my dress with a death grip. Once Razortooth had a tight hold on my stupid dress he decided he would then let me know he meant business by yanking and pulling on my dress.
If I had been wearing a skirt, Razortooth would have surely exposed me to the entire monkey forest that would no longer be sacred.
I decided to throw a banana and take off because sh*t just got real. I needed to free myself of these bananas pronto before Razortooth caught back up to me.
Which he did, and Razortooth yanked the crap out of my dress with his sticky little fingers.
After tossing the rest of my nanners to distract Razortooth, I took off. Mission accomplished.
---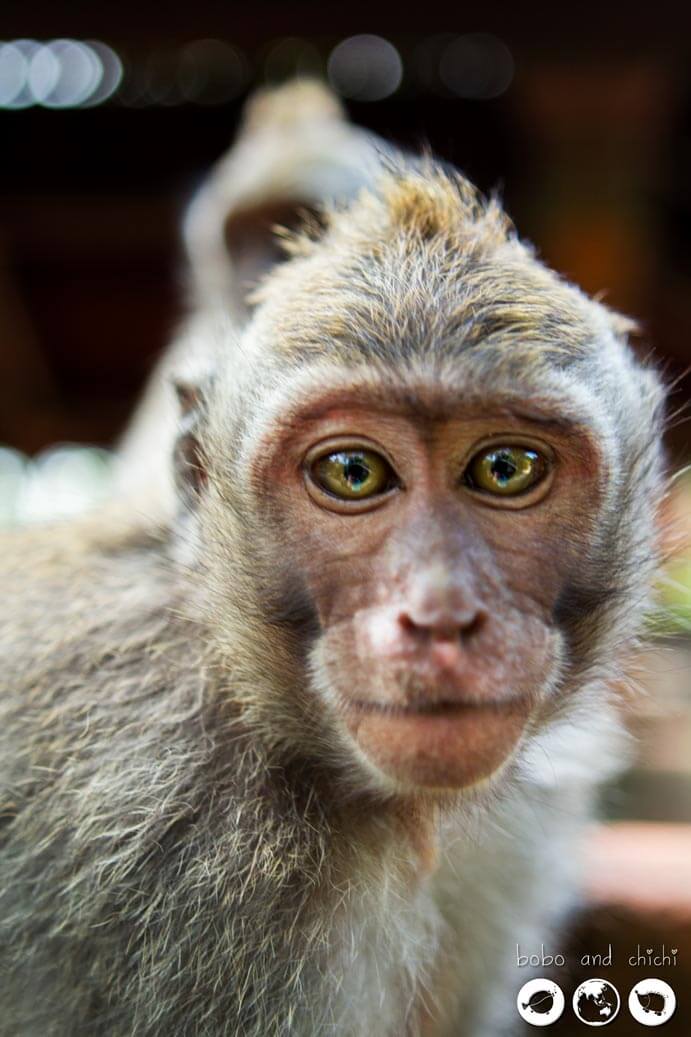 After that whole ordeal with Razortooth, I was on edge. I always thought I'd have a Snow White effect on wild monkeys and they'd want to be my best friend. And to be fair, my idea was dumb but this was my first encounter EVER with wild monkeys. We kept a respectable distance from the monkeys and kept a side-eye out for Razortooth.
We saw other unsuspecting tourists who probably thought the same as me, that monkeys want to be their best friend too – paying a worker money to let a monkey climb on their shoulders for a picture. This looked awesome on Instagram before coming here, but after my experience with Razortooth, I was going to take a hard pass.
Just as I was about to reconsider trying to be a monkey friend again I saw a dude get bit by a monkey and the worker just watched and stared then took money from the next person who wanted to pose with a selfie.
A lesson I learned which should have already been common sense, DO NOT TRY TO TAKE SELFIES WITH WILD ANIMALS.
---
In the end, I walked away unscathed physically but emotionally was distraught that my wild monkey friend dreams would never come true. But all jokes aside, this was one of those experiences I regret. As an animal lover, I should have known better and am much more aware of tourism based around exploiting animals. I wouldn't say the Sacred Monkey Forest in Ubud is exploiting animals, but they shouldn't be selling bananas or letting people touch wild animals inside the forest.
That being said, please learn from my mistake and be sure to research anything involving animals before participating. You'll find out the sad truth behind animal tourism such as elephant riding, tiger temples, and even the kopi luwak coffee plantations, another thing we did in Bali that we regret and now know is cruel to animals.
Try your best to be a responsible traveler and try not to make the same mistakes we did. If you do something you later find out was wrong or unethical then spread the word so others don't make the same mistake.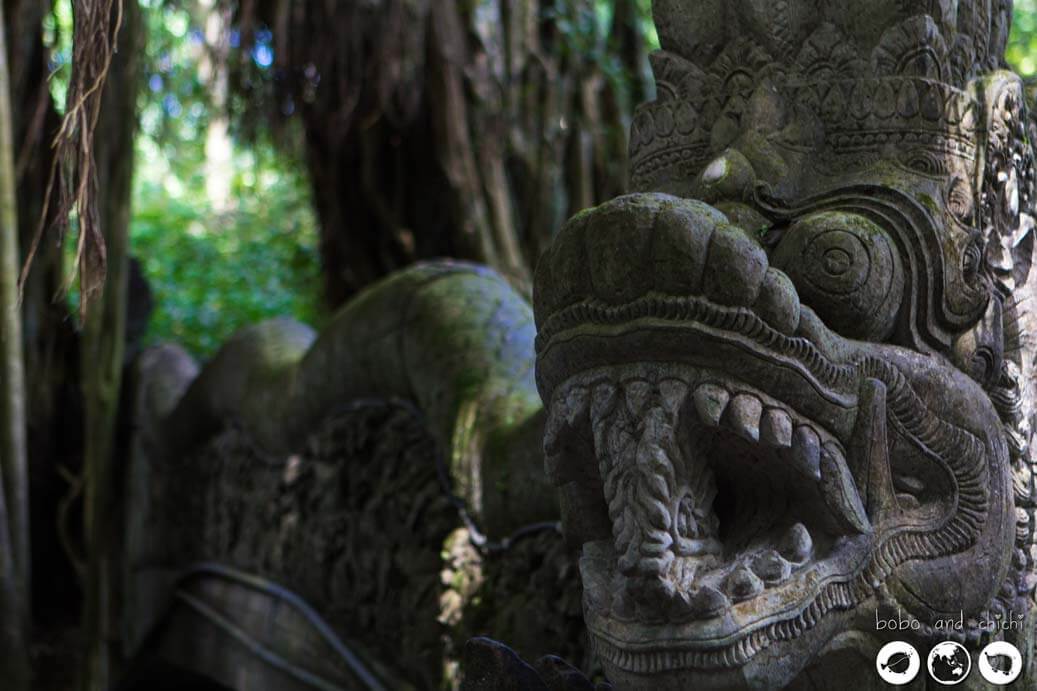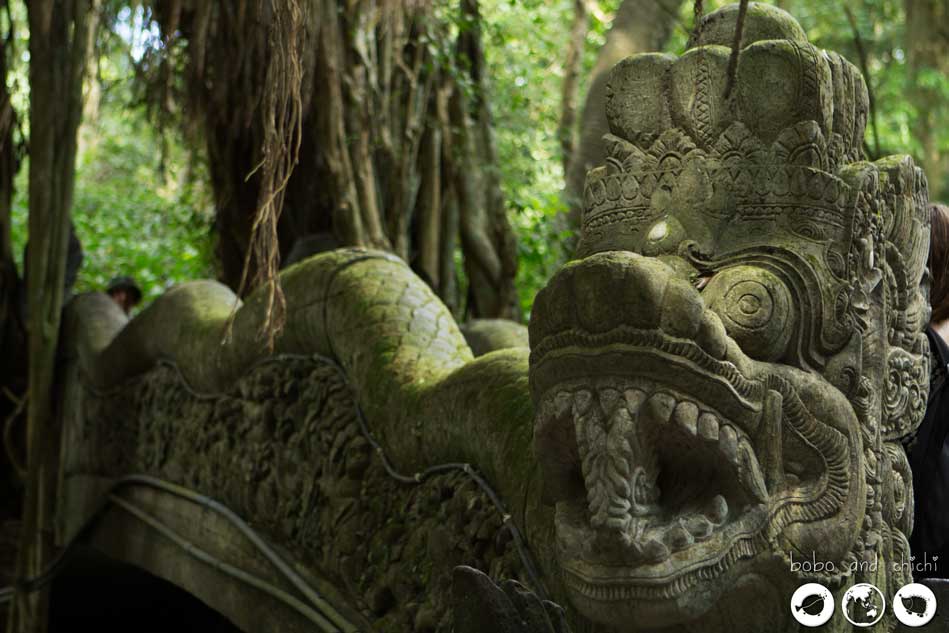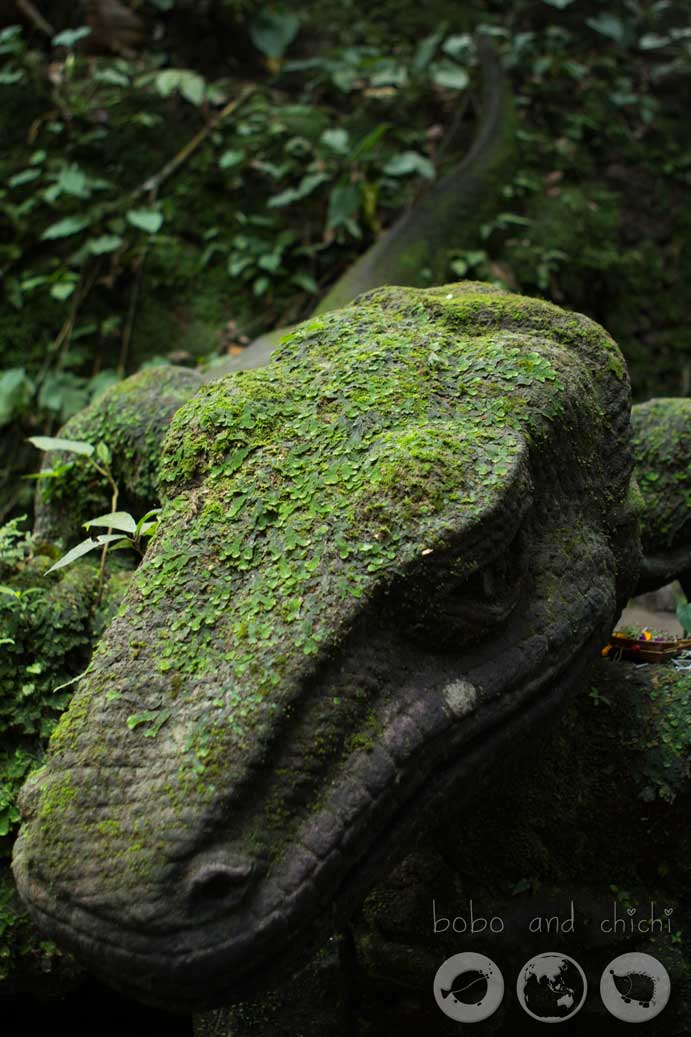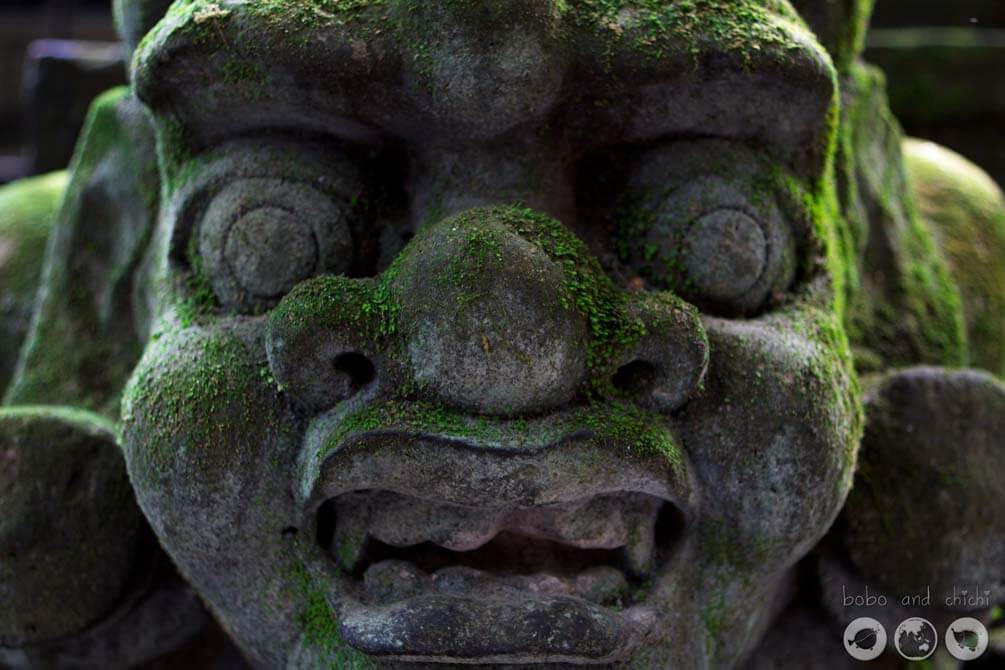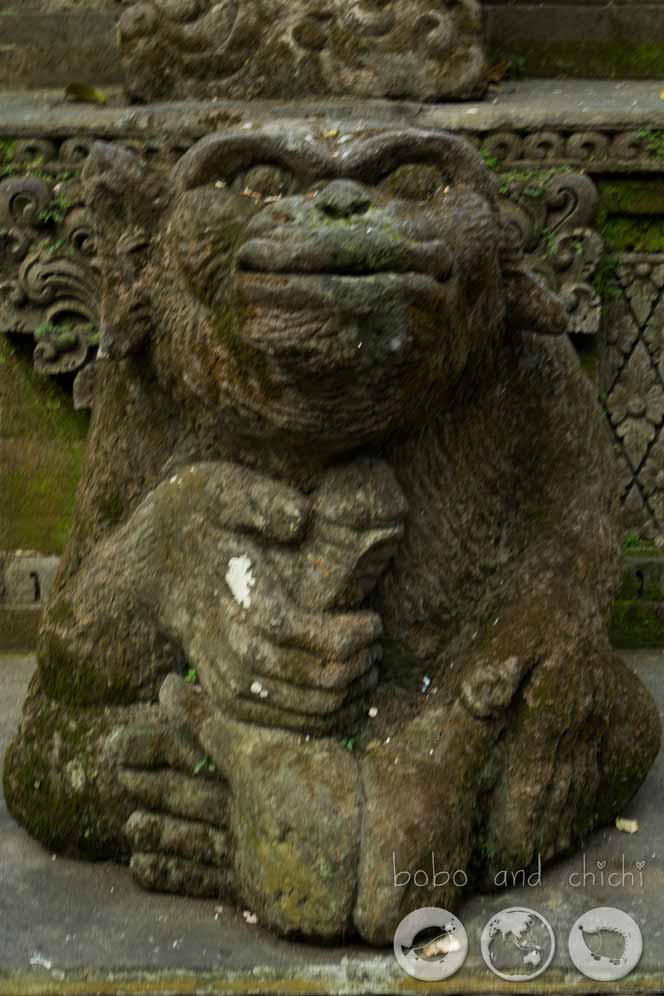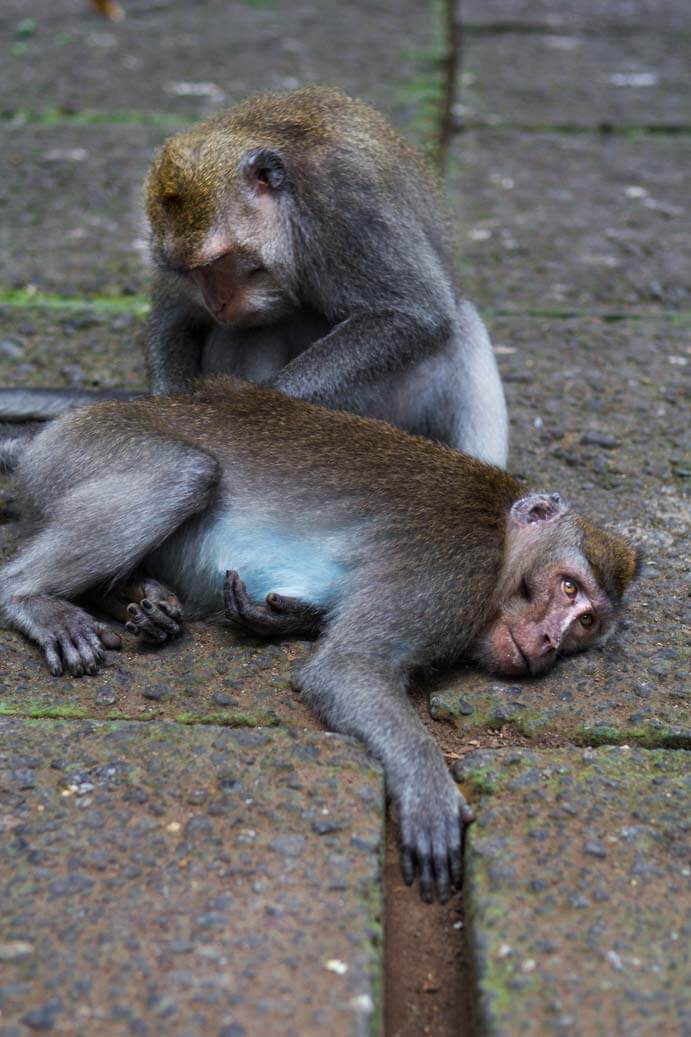 ---