It would be naïve to think that Vietnam's number 1 tourist attraction wouldn't be filled with thousands of other people like us who want to see it for themselves. We somewhat knew what we were about to get into, but having seen photos of Halong Bay we decided it was a destination we just could not skip.
Angkor Wat is another crowded, super touristy destination you absolutely cannot skip if you are coming to SE Asia, but you at least have the flexibility to explore the temples at your own ease and skip ones you really don't want to see.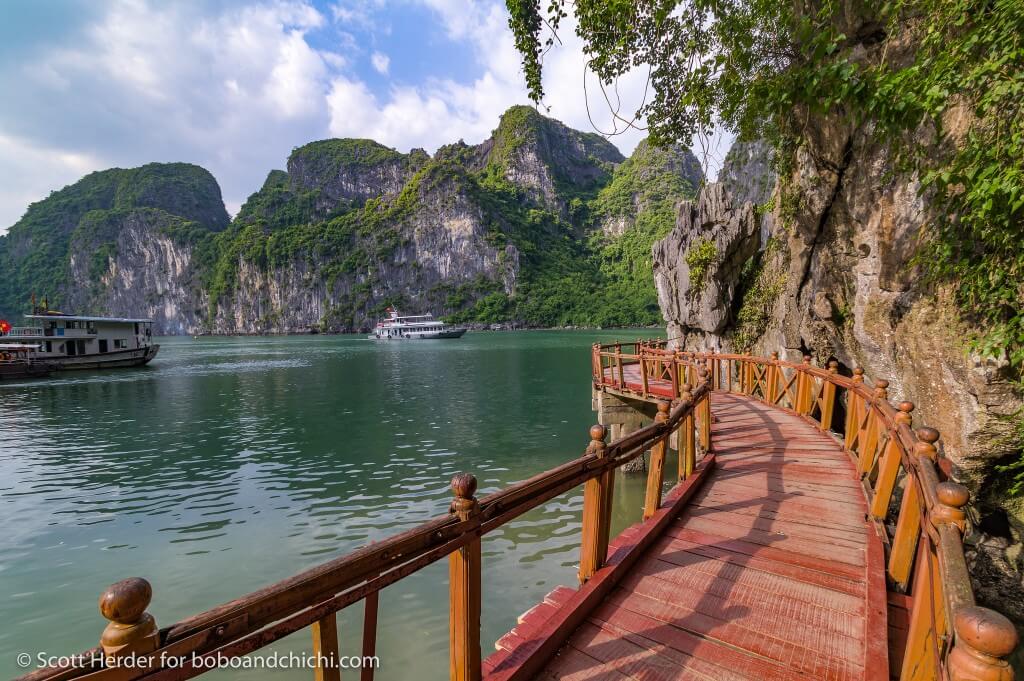 Not the case for Halong Bay. The only way to see this gorgeous wonder in nature is by booking a cruise. This means you will be forced to follow the itinerary the boat has. You have a few different options when picking through the overwhelmingly large amount of cruises available, but they are all pretty much the same.
For us, this meant we were forced to go to a beach that had a swimming area the size of a tennis court with about 20 other boatloads full of people. Luckily, there was a viewpoint you could hike up to but had to wait 5 minutes in line to get your chance to take a photo.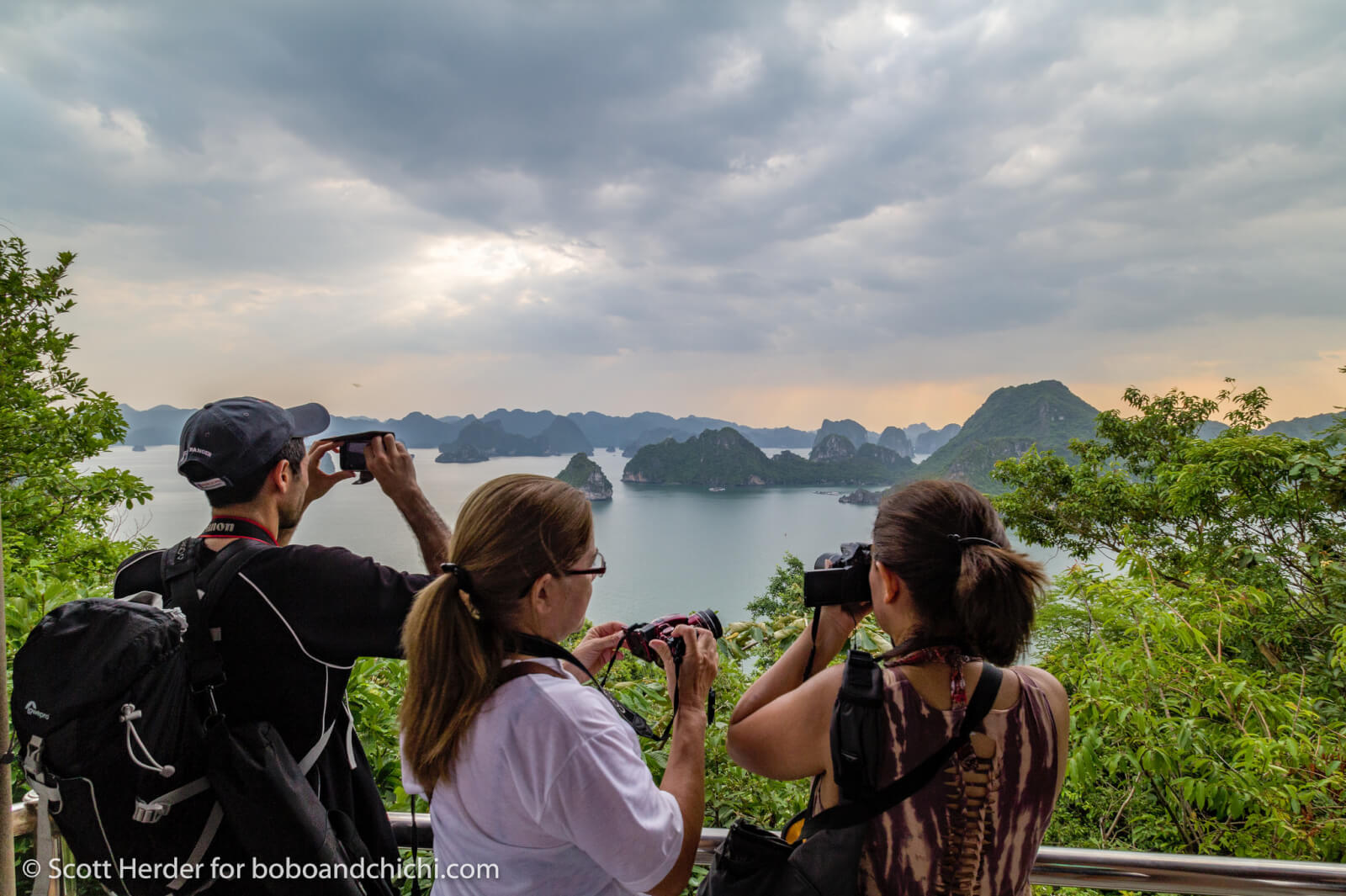 It was pretty sweet though. That orange hue in the sky was a nice touch.
This also meant going to an impressive cave that was again crowded with 20 different boat loads of people and a guide. A "bamboo boat ride" through a floating village that actually wasn't made of bamboo and the village doesn't exist anymore, just a few little fishing houses that were vacant. I think the worst had to be the Pearl Farm they took us to which was just a way to overcharge people for pearl jewelry that only a few people actually want. I'm sure some people like these organized activities, but it's not really our travel style. We felt like preschool children on a field trip with an adult chaperone. Whereas, we prefer to go to a place and find things that suit us. It's a known fact when you sign up for a cruise you will likely partake in the events they have scheduled to, but any cruise either of us have ever been on we've at least had the option to also stay on the boat and enjoy the view from your room or the sun deck. Not an option here, which is even more frustrating considering how much you pay to enjoy just one or two nights on the boat.
At least there's some halfway decent scenery around.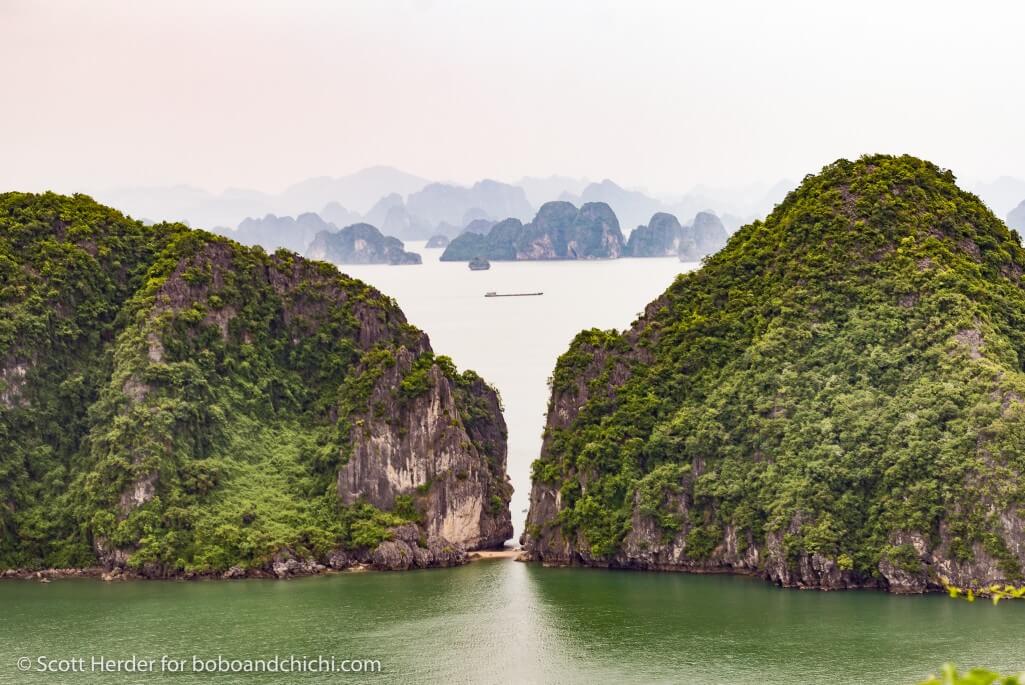 Another seemingly odd part of the cruise is when they dock the boat at night in the bay they will park 40 plus big junk boats all next to each other. Why can't they spread themselves apart a bit? Halong Bay is mindbogglingly large, and yet we are parked right on top of everyone else's ship to the point where you can hear their karaoke singing at night from your room.
Our Boat
Knowing our eight months of travel was coming to a temporary end, we decided to splurge and go for what they refer to as a 4 star cruise. We were already going to pay over $140 per night for a mediocre boat with meals included so we opted for Viola Cruise for 2 nights/3 days with really nice, comfortable rooms for around $240 a night for both of us. We also thought, if we are paying for a nicer room we want to spend both nights on the boat as opposed to spending one night on the boat and one night on an island.
The staff was fun and friendly, the food lacked the awesome flavor you find in just about any Vietnamese dish, but was never ending. If you are trying to save money it's best to bring your own booze and sneak them on like we did. We filled up a two liter bottle of water with soju! That should do the trick as your drink tab can destroy your bill at the end of the cruise.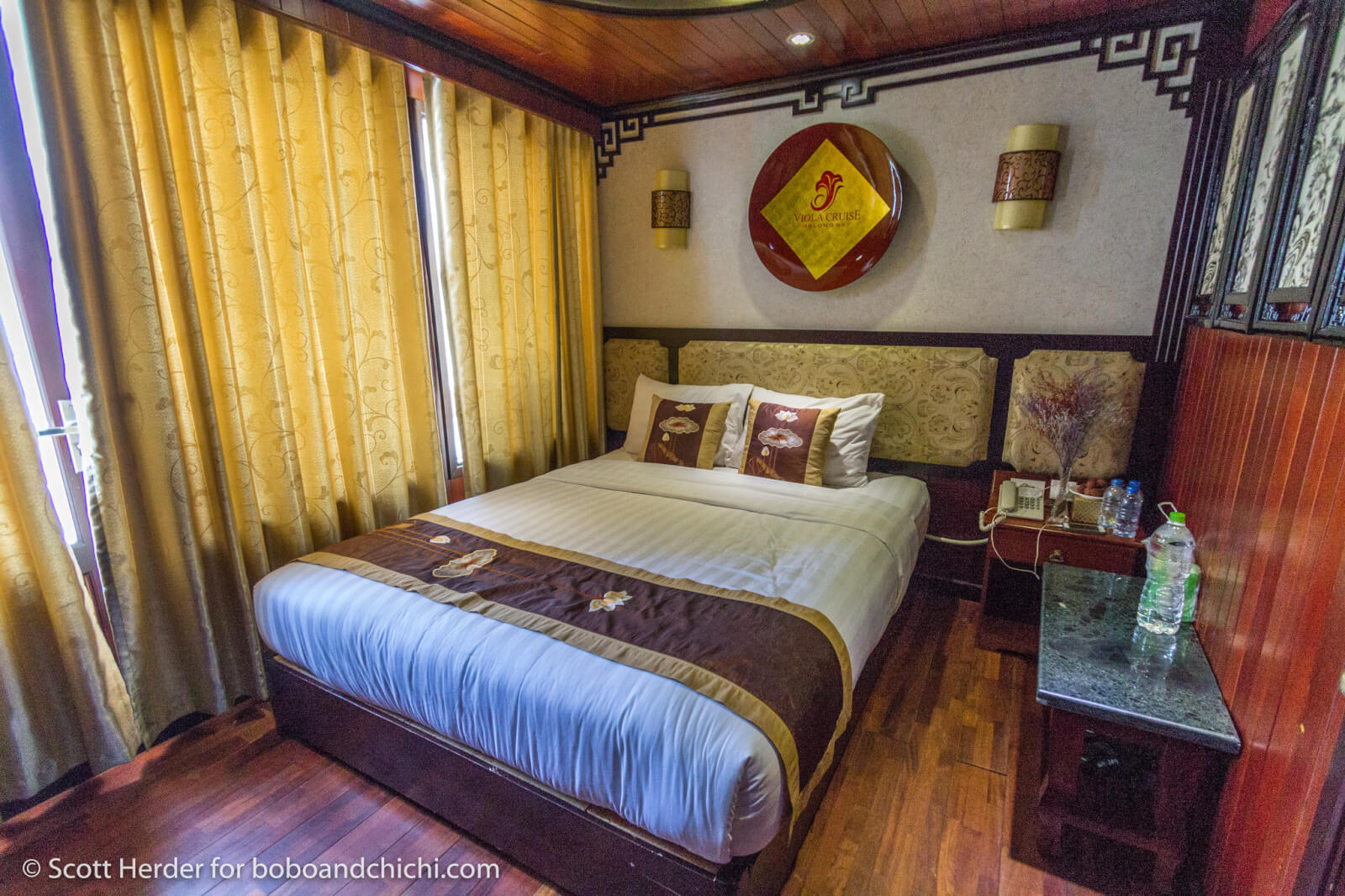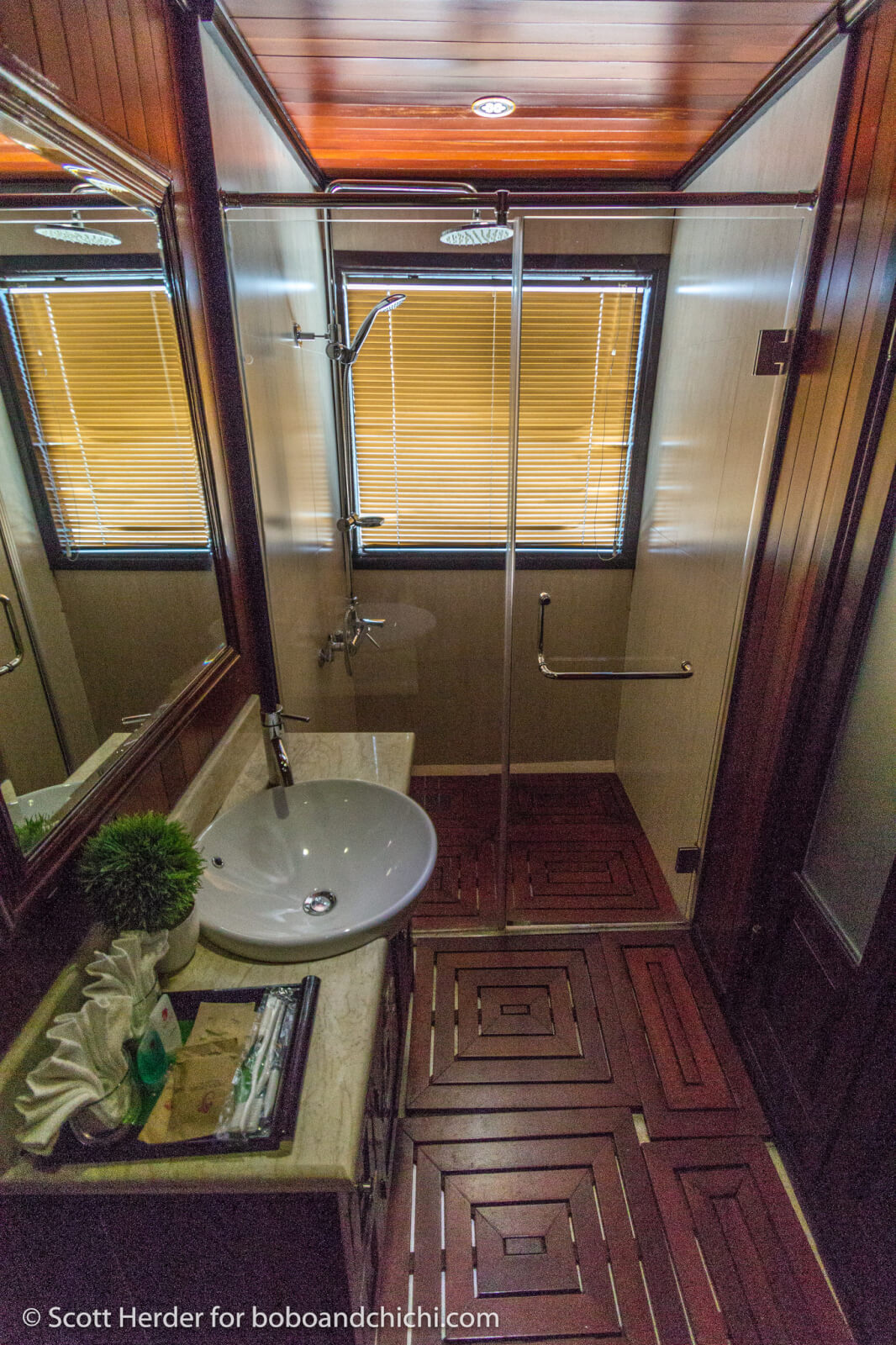 ---
The rooms were really nice with great bathrooms and comfortable beds. We also had a balcony which was probably the best place to enjoy the surrounding views. We would have loved to skip some of the activities and just enjoy the view, but we were summoned and told we had to leave the boat to move to a smaller boat and partake in some more activities so they could pick up more guests.
The Bright Side
---
We aren't just going to complain about the things we didn't like. Despite the way we saw Halong Bay, it still offered stunning views. Imagine rolling green mountains just sticking out of the water. Even with the overcast weather, this place is just gorgeous and I don't think anyone could argue that.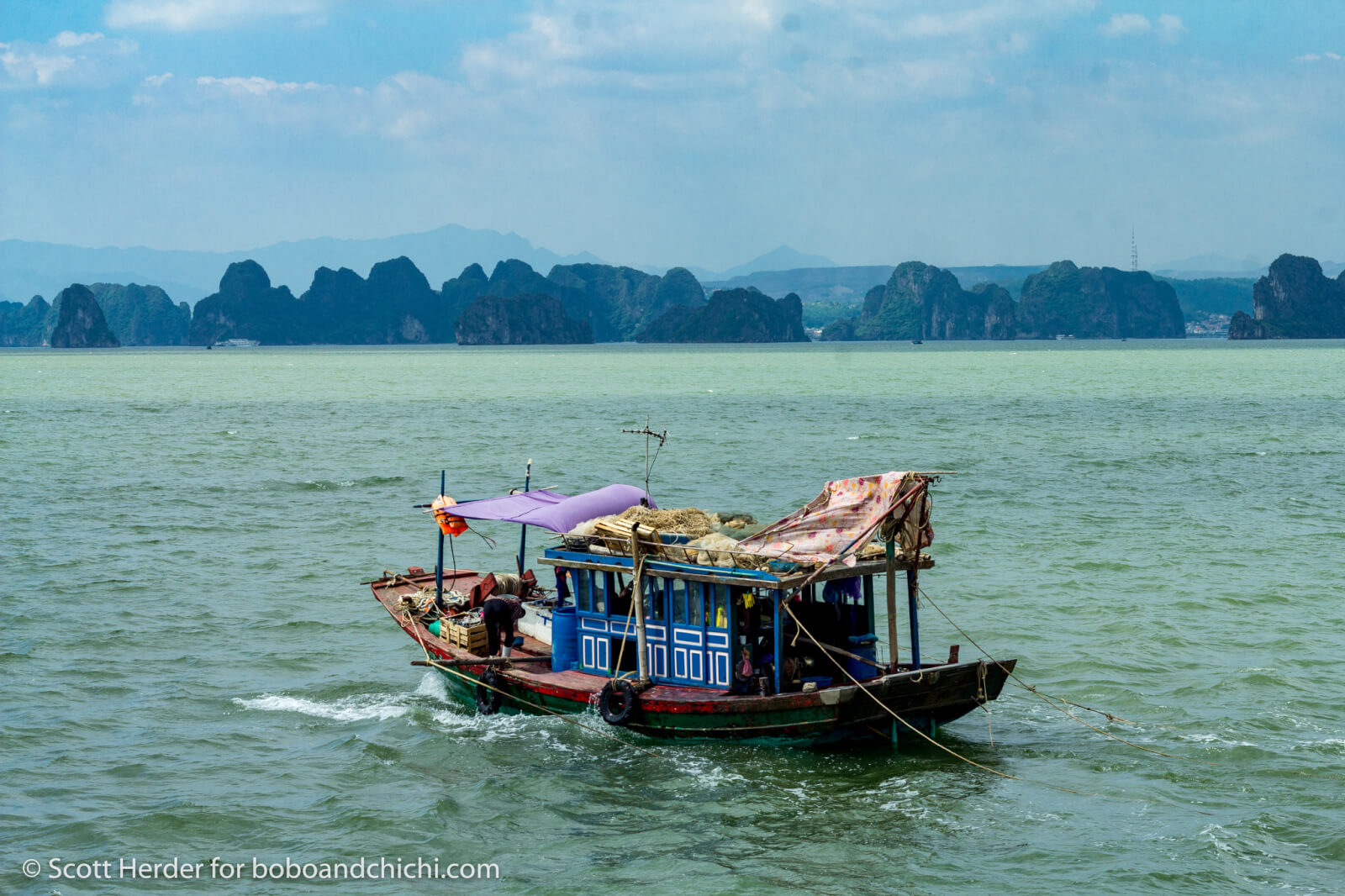 Our favorite activity was definitely the kayaking. Make sure you at least get to do this with your tour. We got to kayak through caves that led to more and more mountains in the sea. This was relaxing, fun, and again just freaking gorgeous.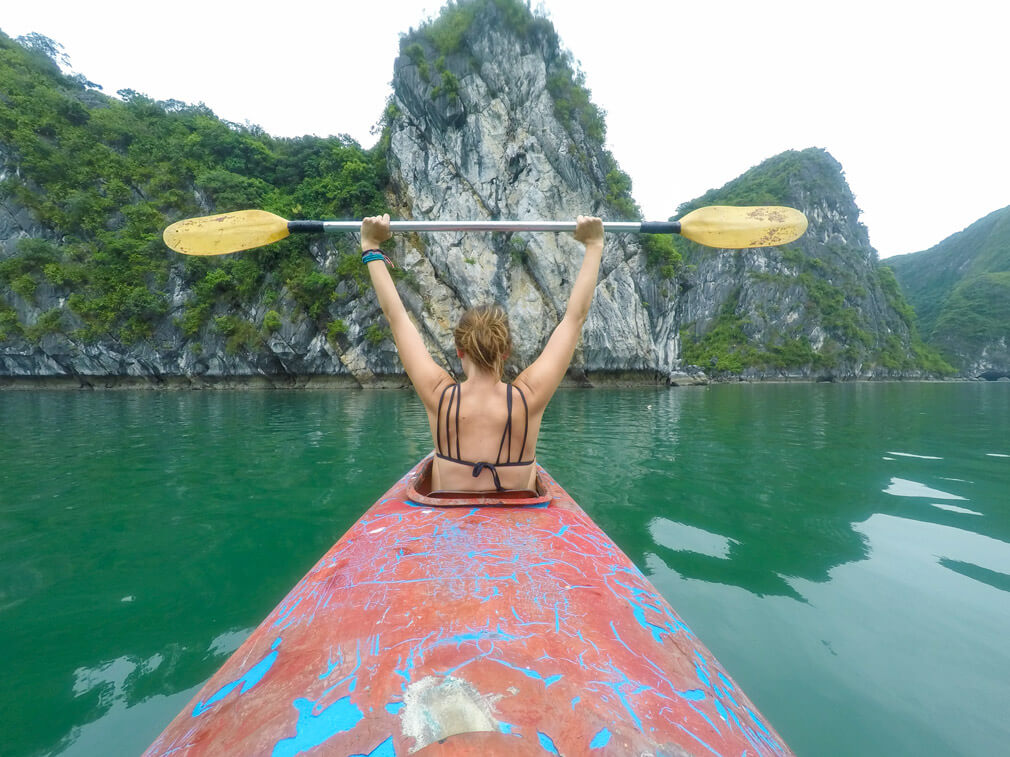 How to Find the Right Cruise in Halong Bay?
It's overwhelming trying to find a cruise for Halong Bay because there are soooo many options. Each travel agent/guesthouse that offers booking will push for you to pick a certain boat that they are affiliated with and offer a special promotion price. We fell for this because we didn't want to pay extra money to book online.
Skim through the many books that each place has. Write down a few names of boat companies and then check the Halong Bay cruise reviews for each boat. The photo books that they use for luring you into picking the boats can be a bit deceiving. These cruises are great at marketing, some boats have gorgeous booklets advertising their boats with beautiful photos then when you see the boat in person you will realize the boat you are on looks 30 years older than the book in the pamphlet.
If you do not want to be on top of a bunch of other boats and people then we recommend booking a Bai Tu Long Bay cruise that skips Halong completely. Our cruise went through Bai Tu on the last day back to the harbor, and it visibly looked less crowded. We will be doing this next time instead.
If room quality isn't important to you, go for a 3-star cruise, which still offers nice rooms. We didn't actually get to spend as much time on the more expensive boat we paid for and realized we probably would have been just as happy on the less expensive boat.
We also recommend spending two nights rather than one. People who stay one night spend exactly 24 hours from the moment the step on the boat to the moment they step off. And spend a total of 8 hours in a bus just to get there and back to Hanoi. They are still getting pushed through activities you cannot skip and do not get to enjoy some of the more relaxing moments of the cruise. Spend the extra night or it will be over in the blink of an eye.
Is it Worth it to go to Halong Bay?
Absolutely. Yes, you must see how beautiful this place is if you are in Northern Vietnam.
We wouldn't skip seeing this area again. We would maybe do a little more research to make sure we have a Halong cruise that is better suited for us, but now we know what to expect. It's worth seeing how gorgeous and breathtaking this place is. We also will probably skip Halong next time and see only Bai Tu Long Bay instead.
It's helpful to know what you're about to get into, that way you are not disappointed and ready just to soak in the view. The trip can hurt your wallet a bit if you're on a tight budget, but if you made it all the way to SE Asia, make a point to see the beauty of Halong Bay.
Check out Halong Hub to help you book and plan your trip.
A Cool Alternative
If you still want to see the beauty of the area without the things we disliked about the cruise you can plan a trip to Cat Ba Island instead. Not only does it offer the same dramatic landscape and backdrop but its less crowded. Check out this article by Live Travel Teach on why it's one of the best things to do in Vietnam.
We will be doing this when we make it back!