This is one of our favorite activities we did all week in Bali. We went white water rafting through the jungle on the Telaga Waja River. This course stretches 13 km (8 miles) and takes around two hours to complete. There are many companies that offer this experience, so make sure you shop around for the best price.
Pro Tip
To take photos to bring some sort of plastic bag or camera holder because you will get wet!

The Telaga Waja River is great for beginners and the rapids are ranked between classes 3 and 4. During the journey, you will pass through cascading waterfalls that mist you as you pass and gorgeous layers of rice paddies. The lush green backdrop will often keep you distracted from the rapids. It is a good thing the course is so easy, otherwise, I may have fallen out of the raft a few times staring at the beauty of the jungle.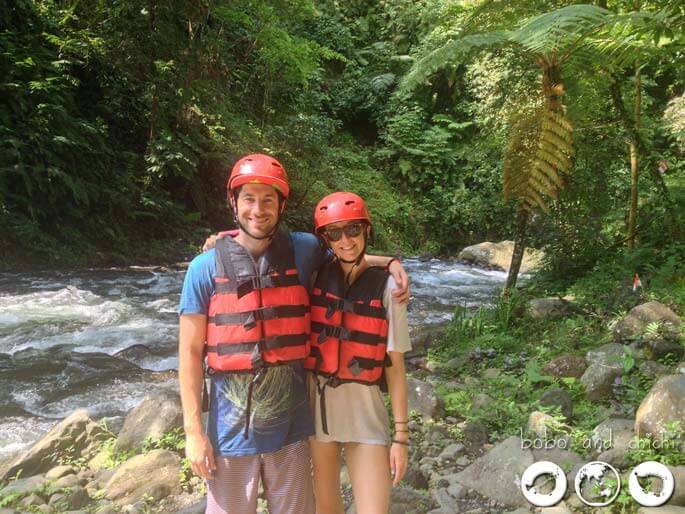 ---
Unfortunately, we do not have a waterproof camera. We only were able to capture a few iPhone photos during a short break along our journey. All of the other sites will have to be stored in our memory.
After the shortest 2 hours of our life, we finished the Telaga Waja river course and we had to climb 10 minutes' worth of steep stairs through the jungle to reach a restaurant that offered us a free buffet with our rafting admission. The food was only so-so, but not terrible! They also offer showers for those who want to rinse off before eating.
Overall, rafting down the Telaga Waja River has to be one of the most unique and amazing experiences we had during our stay in Bali. We are only sad that we did not have more photos to share. You felt like you were on an elaborate Disneyland ride the entire time with the perfect setting. We definitely recommend fitting this in your schedule during your trip to Bali.