The Southwest region of the United States is arguably one of the most beautiful regions in the country. It's no wonder why this area is so popular among travelers both domestic and international. The perfect way to spend your next holiday or vacation is to take a Southwest roadtrip using our itinerary curated based on our most previous trip exploring Northern Arizona and Utah.
We recommend starting your 5 day Southwest roadtrip itinerary in Las Vegas, Nevada because of convenience and easy access with flights.
We have put together our best tips and ideas to make an unforgettable roadtrip through America's Southwest.
Table of Contents
Top
About this Southwest Roadtrip Itinerary
Our entire itinerary suggests you get an early start so you can pack in as much sightseeing as possible. If you're doing this trip in the winter like us you will face the same challenge as we did with the much shorter days meaning we had to really plan well and pick and choose where to spend more/less time.
Some of our recommendations are even for sunrise, so we hope you're an early bird because its totally worth it! You can always adjust the itinerary to your sleeping schedule as well, this is just how we did the trip and we like to speak from experience.
We started in Las Vegas, this is a great starting point because its an easy airport to get in and out of and not a far drive to some of the best Southwest roadtrip stops. We did this trip by car, but you can also do it by renting an RV in Las Vegas.
Things you'll need for your Southwest Road Trip
To enjoy the most of this area you will want to do your Southwest roadtrip with a 4WD or AWD vehicle. Many of the trails and sightseeing require a high clearance, 4WD, or AWD. If you don't have one consider renting ahead of time with Expedia.
We highly recommend investing in a quality GPS if you plan on doing some of the more adventurous hiking including a few hikes we mention on this Southwest roadtrip itinerary. We recommend getting one that has a personal locator beacon in case of an emergency it will help the rescue teams locate you and evacuate you quickly and safely.
Hiking boots are very important for MANY hikes and trails in the Southwest. You will want to make sure you have proper footwear that is weatherproof to help prevent slips, falls, and injuries.
You will want to do proper planning for several hikes in the Southwest. Come up with a list of hikes you want to do and do the research to find out if you need a permit and where to obtain a permit. Some places have a permit system where you pay when you park using the honor system and others require you to pick up a permit at an office.
Download the Alltrails App on your smartphone and make all hikes you plan on doing maps available offline. We found these to be very accurate.
Brush up on your Flash Flood knowledge. This is something not to take lightly in this region. Because of the desert landscape when it rains there is nowhere for the water to absorb or go so flash floods form and travel FAR and fill slot canyons dozens of feet high. You do not want to be in its path in a place where you have nowhere else to go. Flash floods can happen when it's sunny out because the water can travel. If you're not sure how to check the day of your hike call the ranger station and ask.
Make sure you have plenty of water when you go hiking. This goes without saying but especially in the summer you will want to have extra water when you're hiking to stay hydrated. Temperatures get insanely hot and it's very easy to dehydrate. We recommend hiking with a Camelbak backpack with bladder and extra water bottles.

Day 1 Southwest Road Trip: Las Vegas to Kanab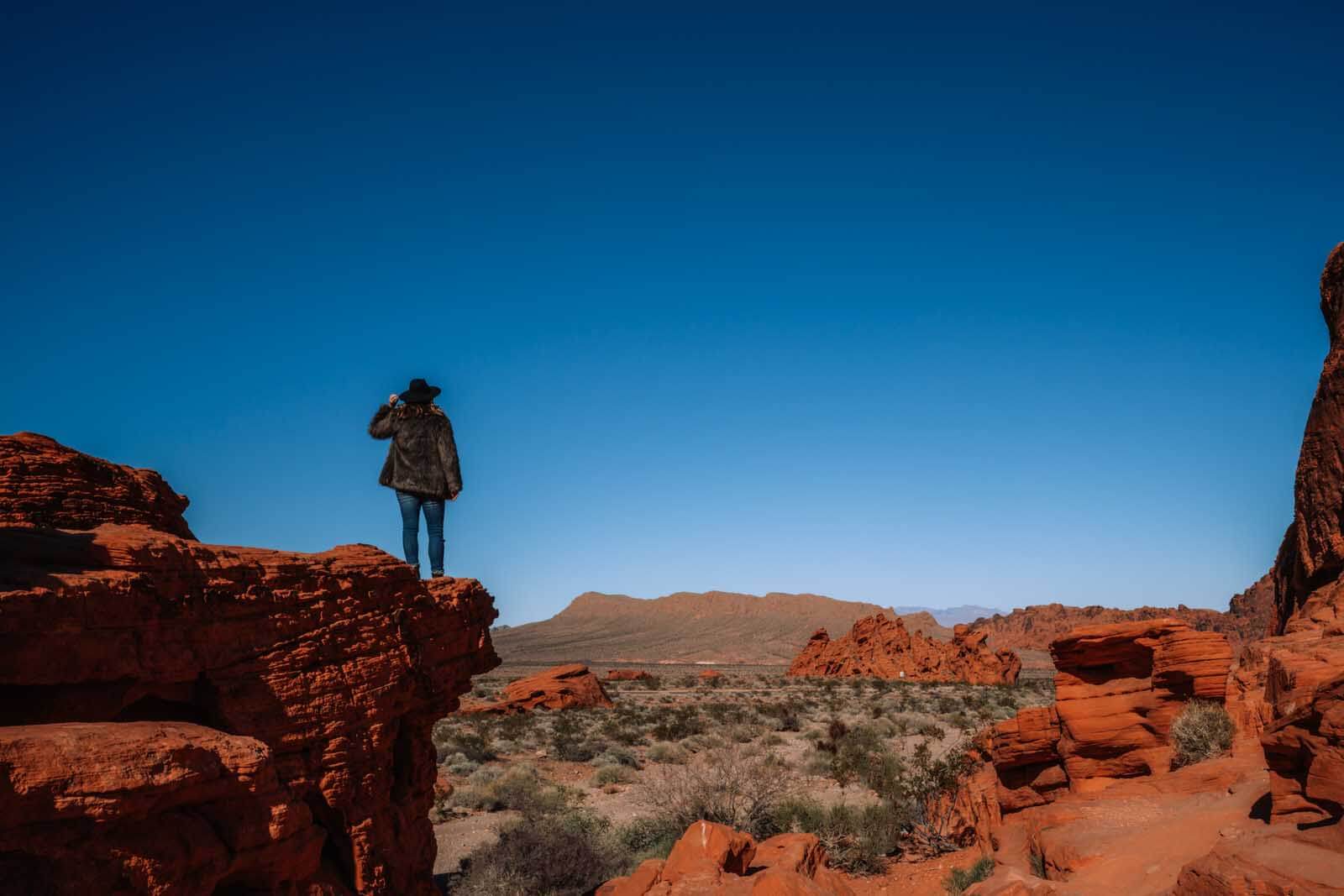 Valley of Fire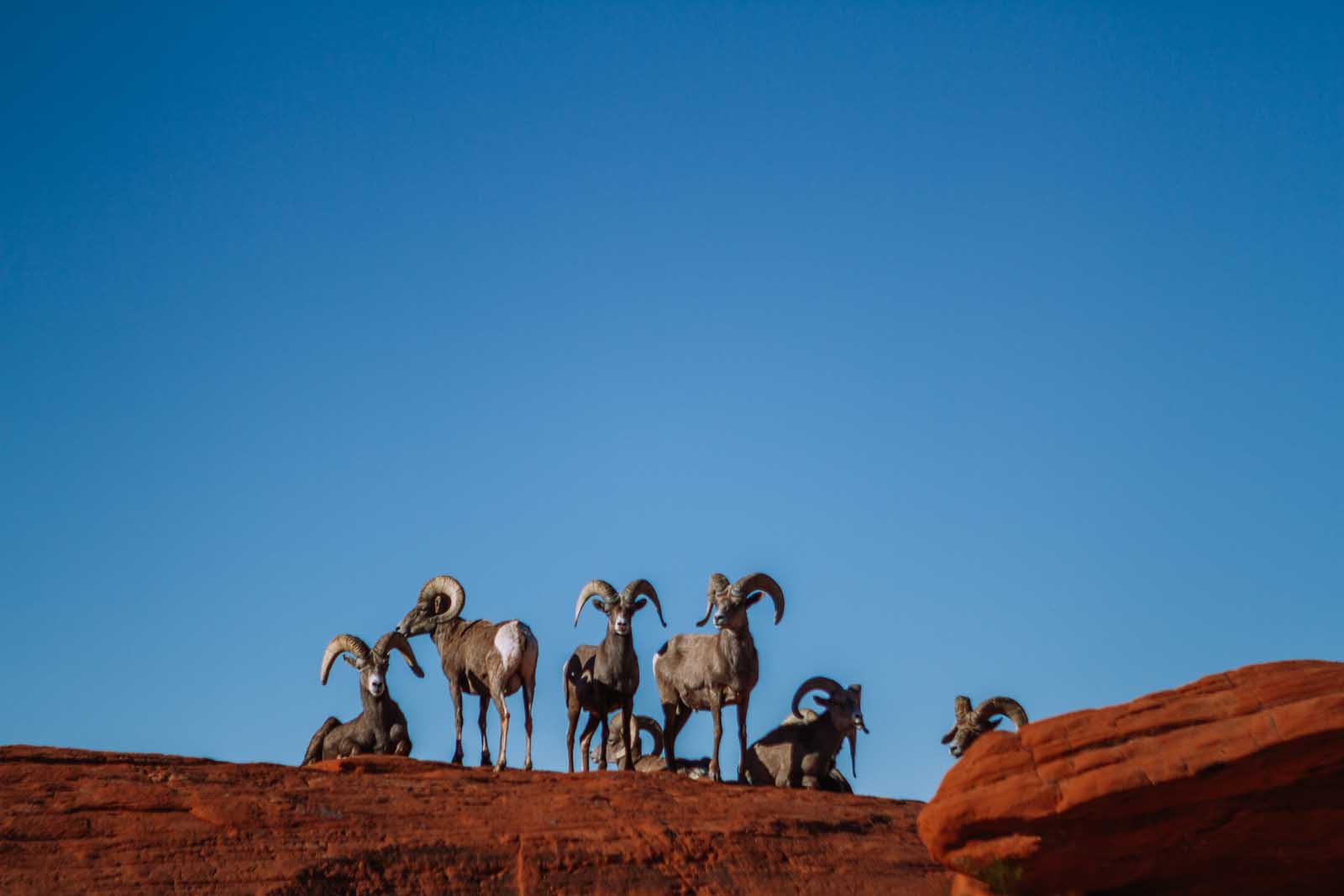 (49 miles or 55 minutes drive)
One of the most underrated gems of the Southwest and to be included on your Southwest roadtrip is the Valley of Fire just outside of Las Vegas. What's even better about Valley of Fire State Park is that it's small enough to see most of the main highlights easily in one day.
There are gorgeous red rock formations, ancient petroglyphs from earlier civilizations, petrified trees, and great hikes to enjoy.
We recommend planning around 3 hours here.
Great stops include:
Beehives: The Beehives scenic stop is well worth it to see the gorgeous red rock formations just steps away from the road. This is a fantastic stop for photos.
Atlatl Rock: This is one of the most fascinating stops because Atlatl Rock is full of petroglyphs from ancient Native Americans who once lived here. While the meaning of the petroglyphs is unclear you can climb right up the stairs to the top of Atlatl Rock and see them up close.
Fire Wave: The most popular trail at Fire of Valley and a priority to your Southwest roadtrip is the Fire Wave trail. This is another easy hike that you should schedule around 2 hours for to complete the 1.5 mile loop. The hike to the bowl-shaped depression with gorgeous wavy stripes is well worth it.
White Domes Trail: Whether or not you decide to do the 1 mile long loop trail through White Domes we highly recommend you at least driving to the trailhead on Mouse Tank Road as it's an incredible scenic drive through the red rocks. The hike here is easy and great for all ages and levels of hiking. There is a left over film set here from 1966 that looks like ancient ruins, but sadly they are not. The rest of the trail is full of incredible views and worth the hike.
Red Cliffs Desert Reserve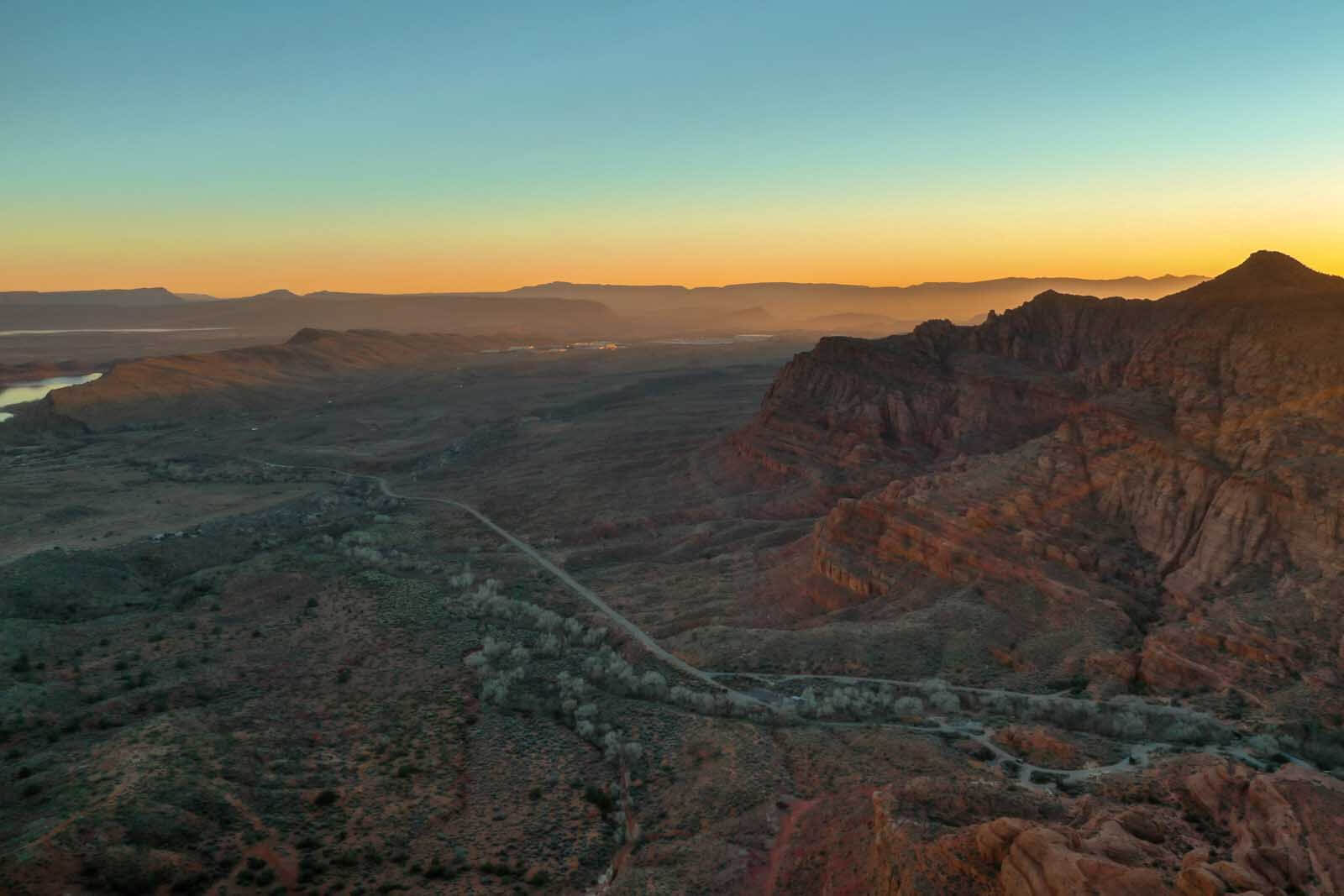 (91 miles or 1.5 hours drive)
Our next stop on our Southwest roadtrip takes you to St. George, Utah where the Red Cliffs Desert Reserve and Red Cliffs Conservation is located.
Since it will be in the afternoon and there isn't a TON of time we highly recommend doing the White Reef Trail, an easy 3.5 mile hike passing through scenic spots with a great view of the White Reef from below.
Read more for detailed driving directions.
Drive to Kanab, Utah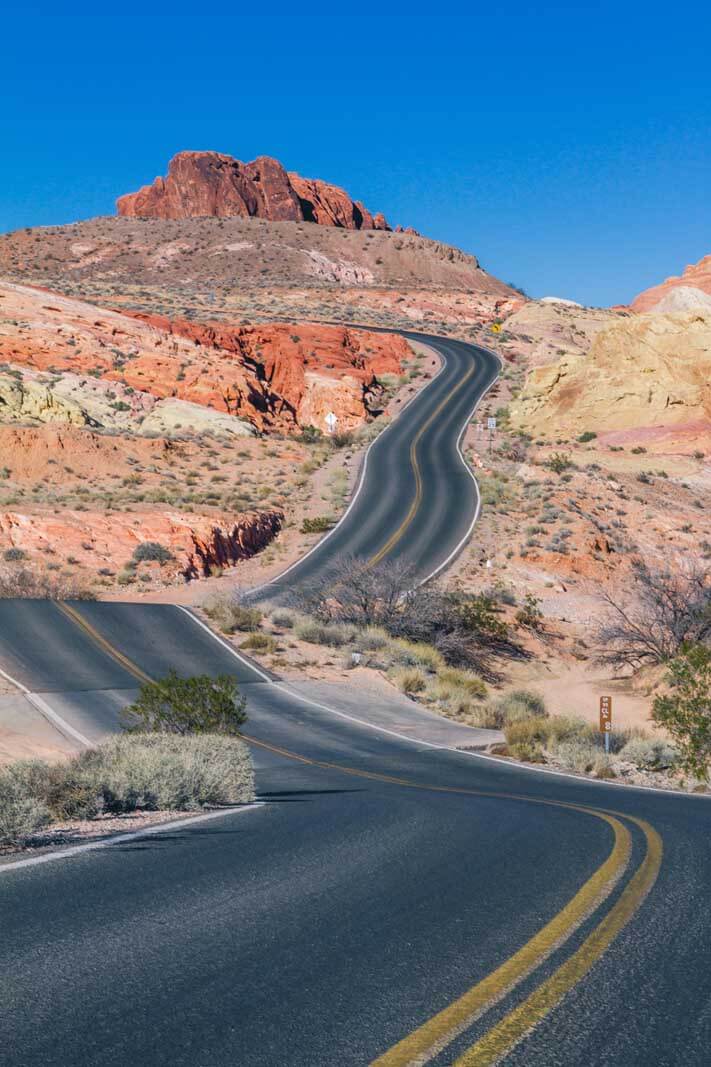 (80 miles or 1.5 hour drive)
To end the first day of your 5 day Southwest roadtrip we are taking you to Kanab, Utah, a popular spot for accessing places like the famous Wave hike, Zion National Park, Bryce Canyon National Park, and Grand Staircase-Escalante.
You will be arriving in the evening so we recommend spending your evening by eating and getting rest to get up early the next morning and arrive at the BLM office where you will access your permits the next day for your hikes.
Where to Stay in Kanab:
$ TRAVELODGE BY WYNDHAM
Great basic hotel with very friendly staff located in the heart of Kanab. Breakfast is included. The front desk staff, Roman was the highlight of our stay!
Book Now on Booking.com | Compare Prices for Later on Agoda.com | Check Rates on Hotels.com
$$ CANYONS BOUTIQUE HOTEL
Victorian style B&B hotel that feels more cozy and quaint than a chain hotel. There's a restaurant and pool on site with breakfast included.
Book Now on Booking.com | Compare Prices for Later on Agoda.com | Check Rates on Hotels.com
$$ LA QUINTA INN & SUITES KANAB
Modern and comfortable hotel with quality rooms and amenities you'd expect from the La Quinta brand chain. Rooms are contemporary and the hotel offers and outdoor pool and spa with free breakfast.
Book Now on Booking.com | Compare Prices for Later on Agoda.com | Check Rates on Hotels.com
Day 2 Southwest Road Trip: Kanab to Page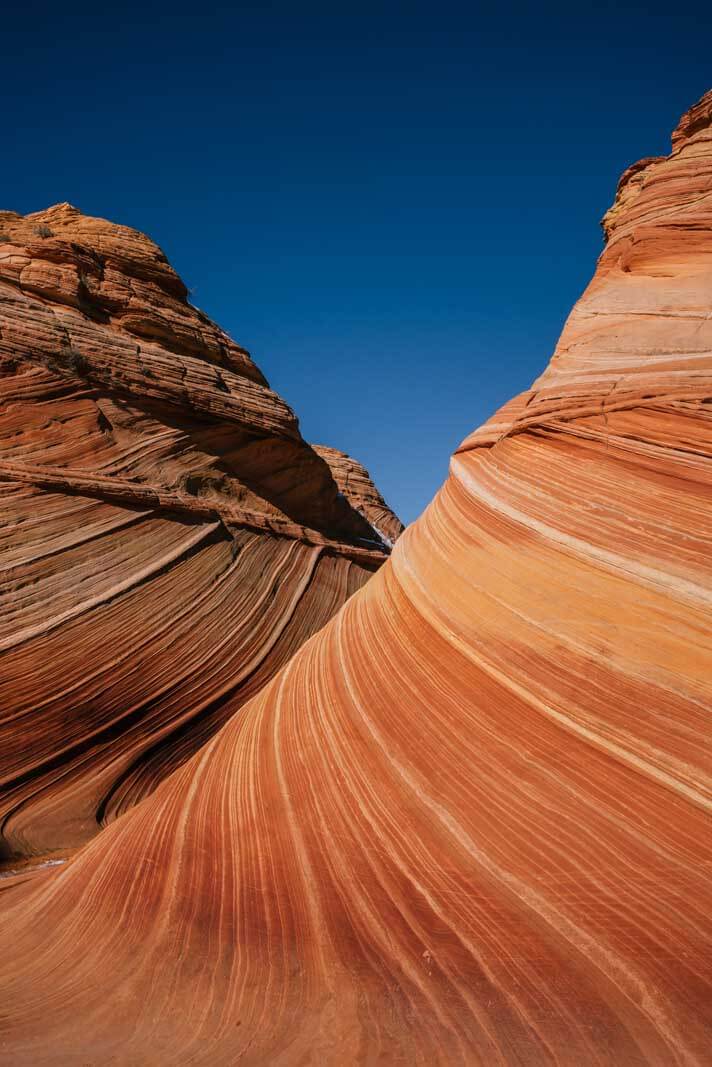 Our day 2 on your 5 day Southwest roadtrip we are recommending you to try your luck at getting the highly competitive and elusive Wave permit in Coyote Buttes North.
This is one of the most highly coveted trails to hike in the Southwest so we are advising you to give it a go and see if you're lucky enough to nab one of the 10 permits they hand out daily in person (the other 10 permits they give out 4 months in advance by applying online) for the next day.
The chances are slim, but we highly urge you to try since many of the trails near Kanab do require a permit from the BLM office anyways. If you get denied, you can still get your permits for Coyote Buttes South or any other trails in the area if they require a permit.
The permit for the Wave lottery (if you win) will be for the following day, so if you're lucky enough to get it we HIGHLY urge you to be flexible with your day 3 Southwest road trip to accommodate to getting the Wave, this is a once in a lifetime experience.
We are going to recommend three other alternatives in the area for this day after the BLM office and if you don't get the Wave resume the Southwest roadtrip itinerary as planned in this post.
If you do get the Wave and need to spend one whole day in Kanab before you can hike we have a ton of other options that you can find in our guide for all the best things to do in Kanab and nearby.
Many of our recommendations for this area require some knowledge on navigating and even suggest you have a GPS that you're familiar with using. We also recommend downloading the offline version of the Alltrails maps on the app on your smartphone as well which we found to be very accurate.
Kanab Bureau of Land Management Office (BLM Office)
For the Wave permit, you need to show up at the Kanab BLM office around 8:30 am to apply. The lottery drawing is done at 9 am daily for the following day.
If you don't win, plan your hike for the day and check with the BLM office while you're there to see if you need to obtain a permit beforehand. You can do the same if you do win and have to wait a whole day until you can hike the Wave the next day.
Important notice for BLM permits:
Mid March – mid November walk in lotteries take place 7 days a week
the last half of November to early March permits are given out 5 days a week. On Friday the lottery will be done for the entire weekend.
Wirepass Trail & Buckskin Gulch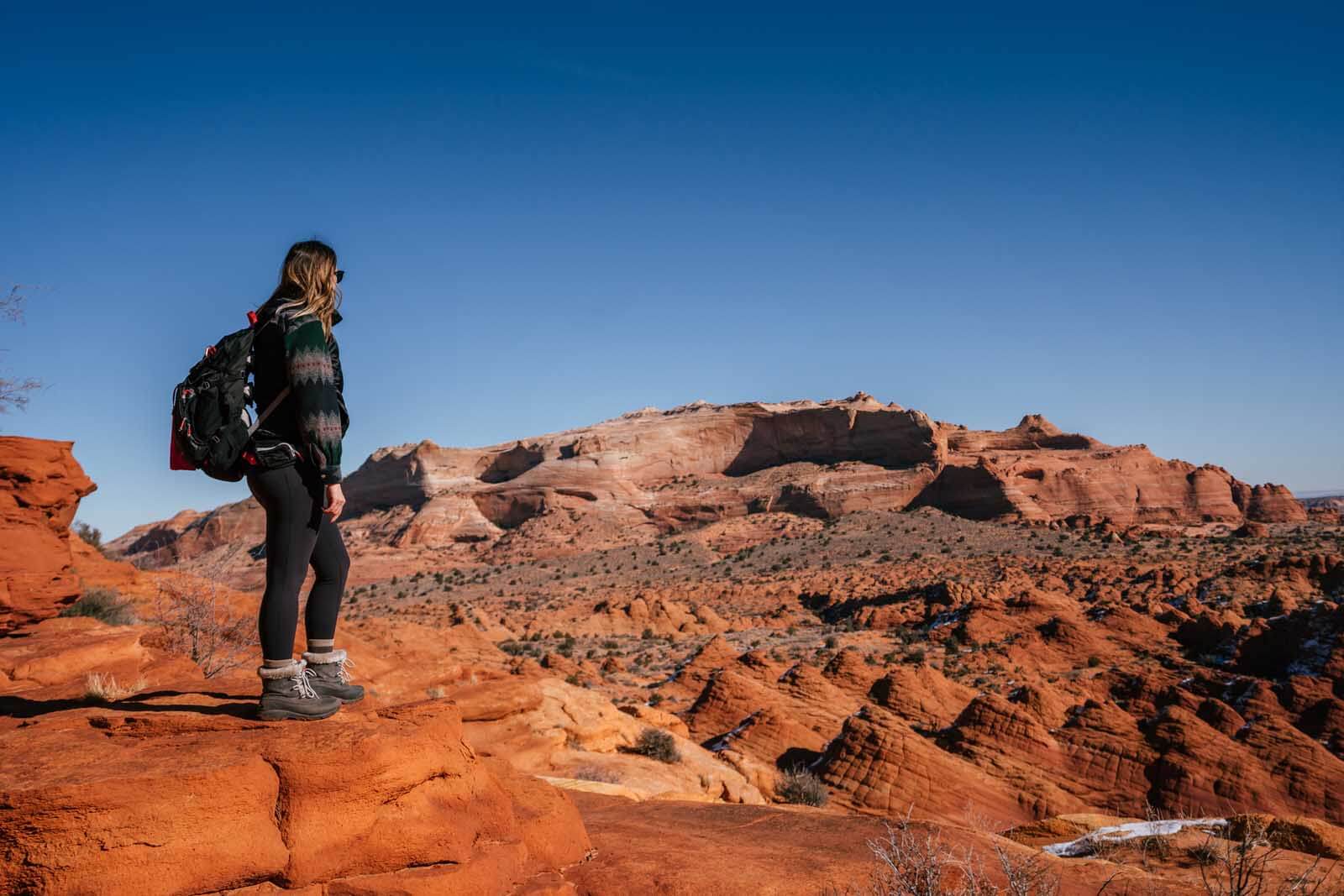 The Wirepass trailhead is actually where the Wave hike starts from in Coyote Buttes North. But instead of doing the Wave you will follow Wirepass Trail to one of the access points to Buckskin Gulch, the longest slot canyon in the US.
Wirepass Trail is very easy and can be a 2 hour round trip hike. However, you can continue as far as you want into Buckskin Gulch before turning back making the hike as short or as long as you want.
Buckskin Gulch is an incredibly beautiful slot canyon that his narrow and very steep in some parts. Hiking through here midday is a rewarding sight.
Coyote Buttes South
Coyote Buttes South is where to go if you're looking for some beautiful less visited trails past the teepee rock piles and formations on your Southwest roadtrip. Since the Wave is so popular in Coyote Buttes North, the South gets much less visitors
There are two access points to Coyote Buttes South, Cottonwood Cove and Paw Hole which have two different entry points.
Cottonwood Cove has the famous Cottonwood Teepee rock formations as well as free-standing rock statues formed over time from erosion. Paw Hole trailhead is a 3.5-mile loop with stunning views including teepees and incredible rock formations that make you feel like you're on another world.
White Pocket Trail
Another great option for this area increasingly popular hike that was unheard of by most is White Pocket. This trail takes you through incredible rock formations, much like everywhere in our Southwest roadtrip itinerary, but instead of mostly red rocks, these formations have shades of orange and white swirling in patterns that are unbelievable.
!Important note about this area!
All of the hikes mentioned require an AWD for 4WD vehicle to access the trailheads. When the roads are too wet the roads may be inaccessible. To find out current road conditions be sure to call 800.492.2400 or check in the BLM office.
This area is also a hotbed for dangerous flash floods. If there is any chance of rain in the area DO NOT attempt hiking. Be sure to check in with the BLM office or ranger station if you are unsure and brush up on your flash flood survival knowledge as they can happen even when the sun is out! This guide is helpful.
---
For Wave Permit Holders
If you were lucky enough to get the Wave permit you will want to spend the night in Kanab again and prepare for the next day before moving on.
For Everyone Else
We recommend finishing up your hiking around here by late afternoon so you can witness the Vermilion Cliffs National Monument and Navajo Bridge en route to Page for the night where you will be sleeping.
Enjoy the 40 mile stretch of these massive cliffs on US 89A towards Page, Arizona. Once you pass Cliff Dwelling watch out for the Navajo Bridge stop. If you still have daylight make a walk cross the footbridge and witness the dramatic drop to the Colorado River and scenic viewpoint.
Where to Stay in Page, Arizona:
(74 miles, 1 hour 15 minute drive)
$$ Page Boy Motel
A classic motel and basic accommodation in the heart of Page, Arizona. This motel offers complimentary breakfast and a popcorn machine in the lobby, an outdoor pool, and is walking distance to many great restaurants and next door to the bowling alley if you're looking for extra entertainment. We found the staff to be very friendly and helpful here and is a perfect place to stay if you're looking for a basic room and a great deal.
Book Now on Booking.com | Compare Prices for Later on Agoda.com | Check Rates on Hotels.com
$$$ Lake Powell Resort & Marina
This is another great option for where to stay in Page if you want to be right on Lake Powell next to Wahweap Marina. Our family stayed here before our Lake Powell houseboat week and it was the perfect place accessible to Page and all the things to do nearby while being right on the water. There's an outdoor pool as well as many restaurants on site to choose from.
Book Now on Booking.com | Compare Prices for Later on Agoda.com | Check Rates on Hotels.com
$$$ Hyatt Place Page/Lake Powell
The Hyatt is a great option for where to stay in Page offering up comfortable and modern rooms with an outdoor pool and restaurant and bar on site. This is one of the finer choices to stay for a place to rest after all your day activities in the area.
Book Now on Booking.com | Compare Prices for Later on Agoda.com | Check Rates on Hotels.com
Day 3 Southwest Road trip: Page, Arizona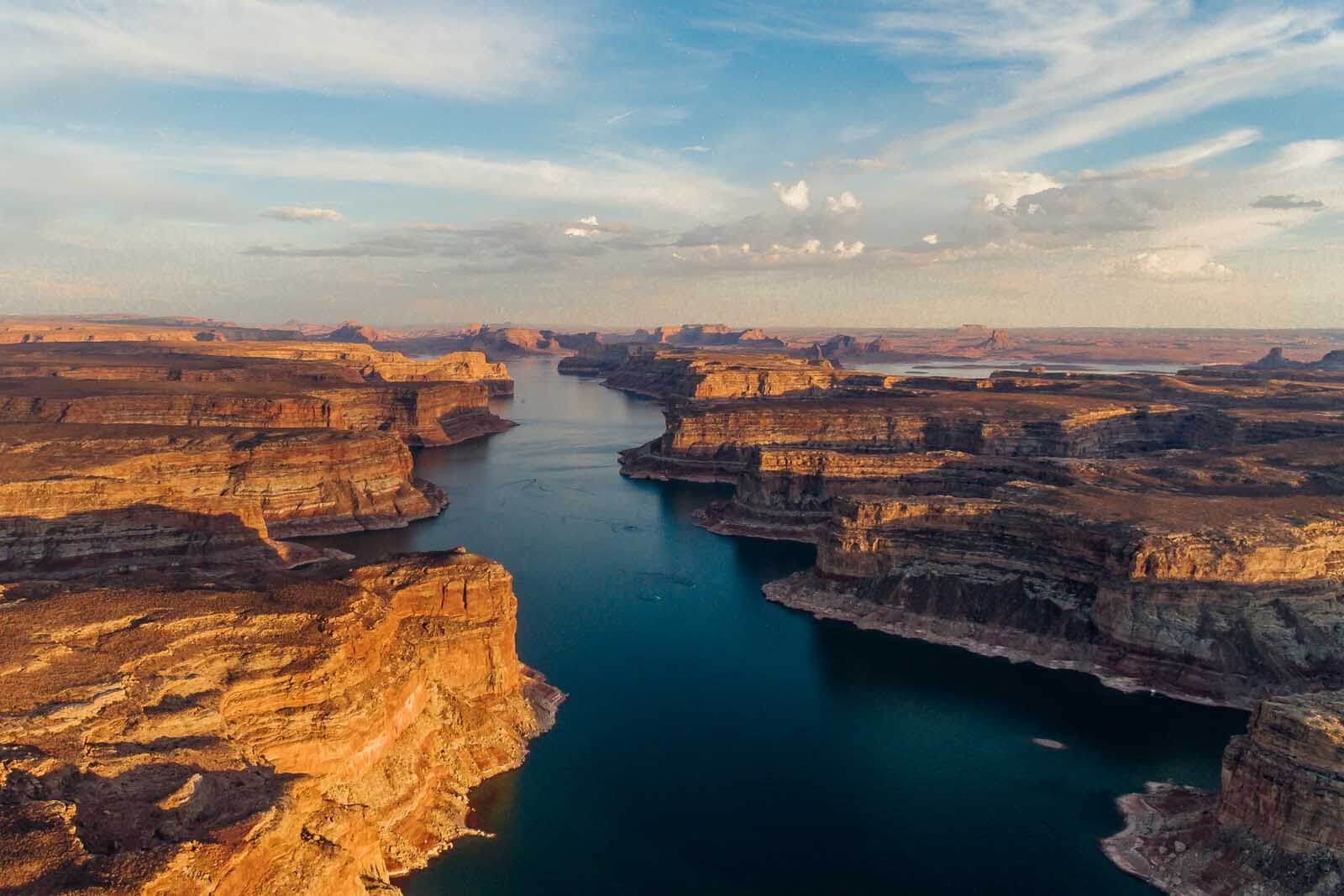 Our next stop on our Southwest road trip is in Page, Arizona one of the most popular places to visit in the Southwest.
We highly urge you to do sunrise at least one of the mornings at Horseshoe Bend and then continue on to your day. Since our Southwest road trip has you spending two nights here you will have two chances before taking off for your wonderful activities we have picked.
Horseshoe Bend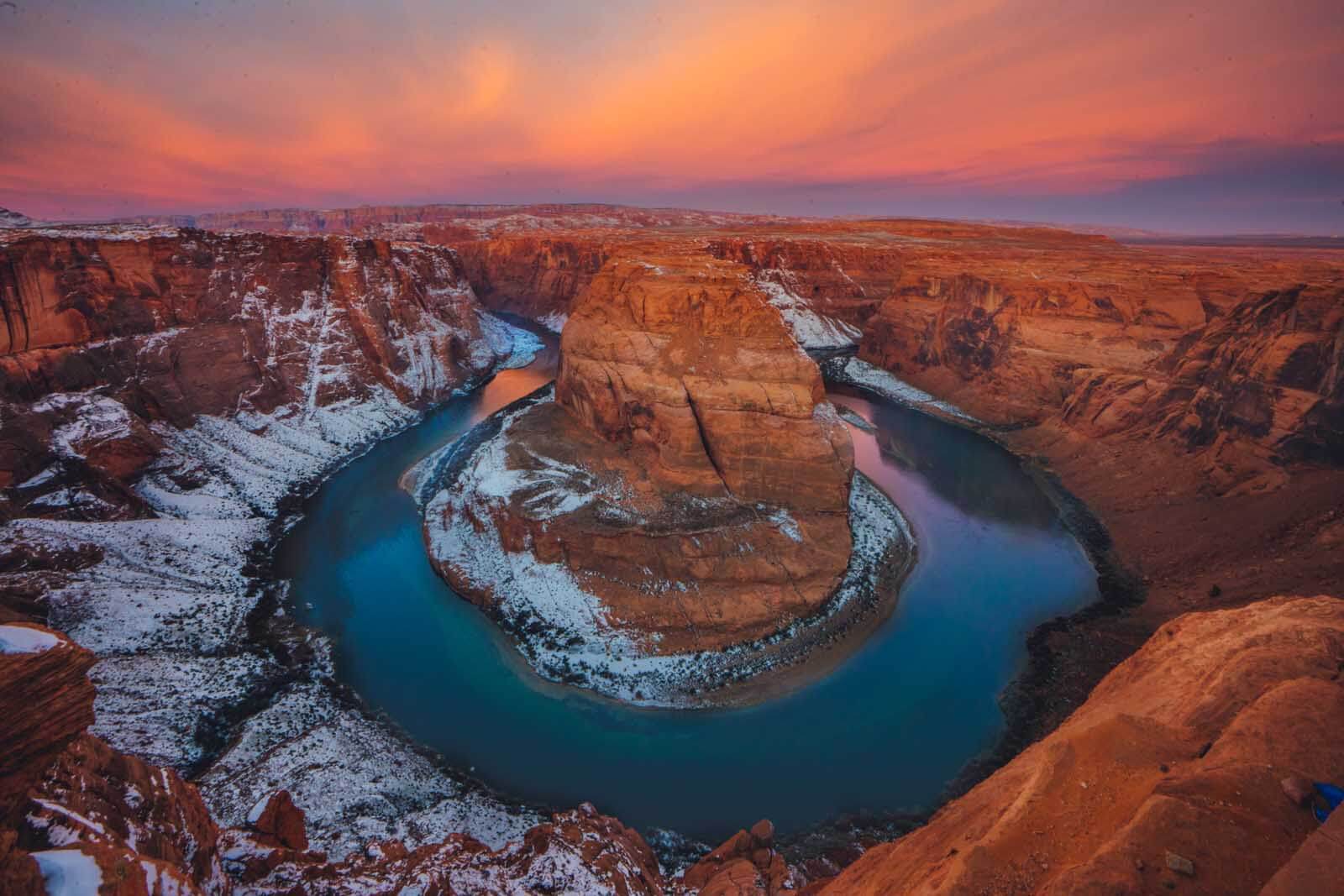 Located just a 10-minute drive from Page, Arizona is one of the most popular and epic viewpoints in your Southwest road trip itinerary. If you're visiting in peak season you can expect tons of people here but if you're visiting in the winter, chances are there will be you and a few other people.
We recommend showing up to Horseshoe Bend right before sunrise to witness the magical colors in the sky lighting up the bend. We got REALLY lucky with the morning we went because our sunrise was so vivid and colorful it almost felt like a dream.
Another perk about coming at sunrise is that many people come later, it's hard getting up early! This will increase your chances of experiencing Horseshoe Bend with minimal crowds.
The walk from the parking area to the viewpoint takes about 10 minutes and is easy. There is only one spot at the viewpoint where there's a railing, the rest is an open and exposed cliff with a HUGE drop down to the Colorado River. If you're scared of heights you might not like this.
Most importantly be sure to exercise extreme caution and safety here. Just a week before our visit a teenage girl fell to her death accidentally at the cliffs.
Antelope Canyon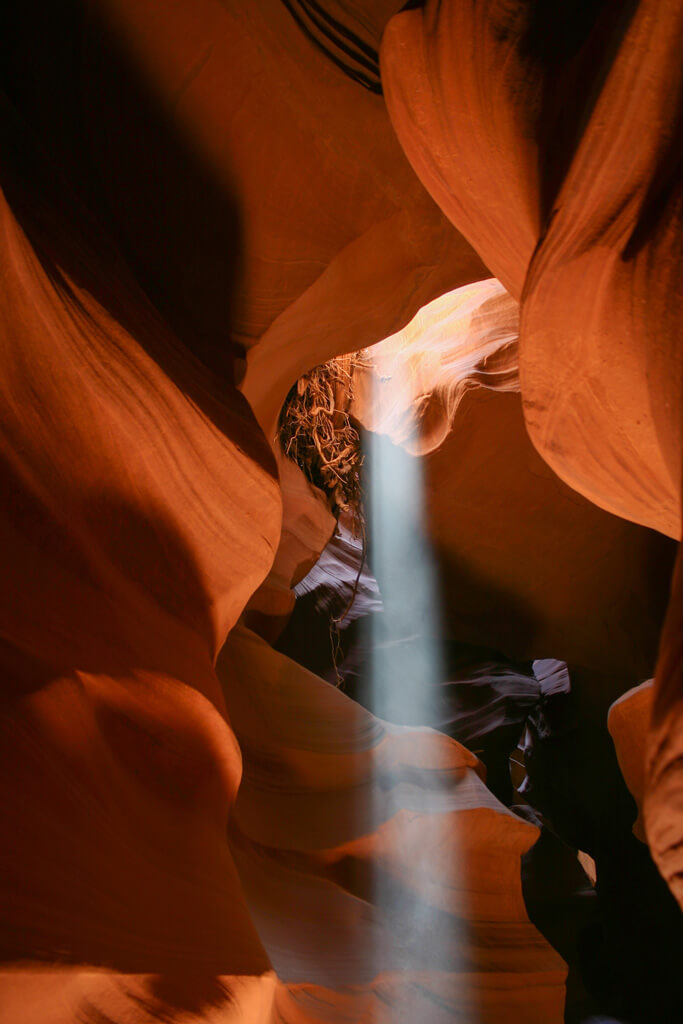 After your early morning at Horseshoe Bend, we recommend heading into Page and shopping around the local tour companies that offer tours of Antelope Canyon, another one of the most famous spots to visit on our Southwest road trip itinerary.
You cannot visit Antelope Canyon without a guided tour because it is on Navajo land. Plus, since you will be exploring slot canyons it is beneficial to have a local guide with you with their expertise to make sure you're safe as this area is prone to fatal flash floods.
There are many tours, we recommend getting on one at midday between 11-12 if you're trying to see the famous light shine through the slot canyon. Your chances are significantly increased if you visit between the months of April – September.
Lake Powell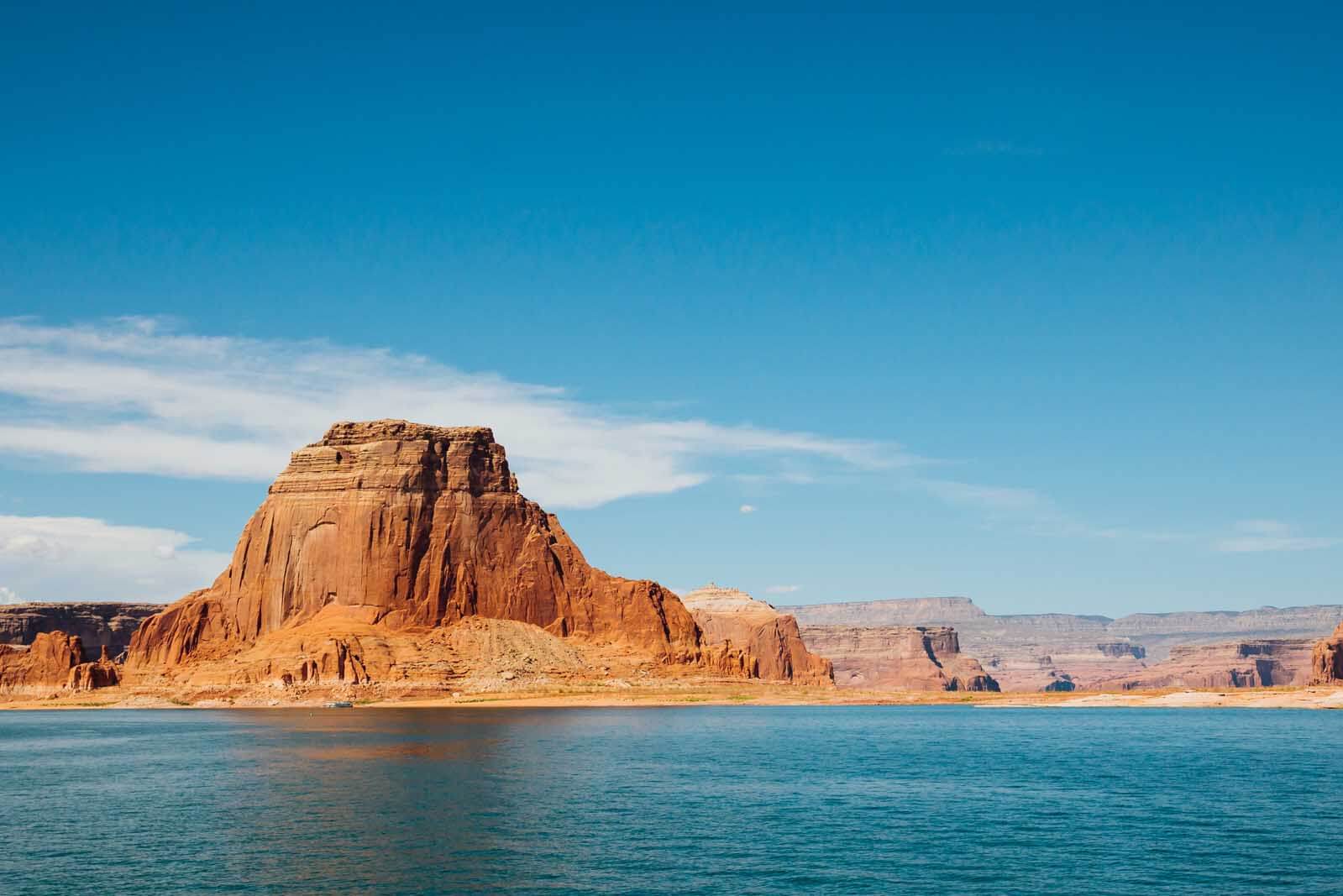 One of the greatest wonders of Page is access to Lake Powell, a true gem of the Southwest. This manmade lake is a boater and water sports enthusiast haven. The local marina, Wahweap Marina is a launching point for Lake Powell houseboat rentals, boaters, and day activities on the water.
Lake Powell is full of river canyons, buttes, and scenic cliffs that make your jaw drop. If you can't explore the water for a week on a houseboat you can do day rentals right here at Wahweap.
We recommend renting kayaks or paddle boards at Wahweap Marina and adventure to Antelope Island.
If you're not into water sports you can just head to the hotel right here and grab a drink or meal overlooking the lake.
---
Looking for more ideas for things to do in Page, Arizona? Check out our guide to all the best things to do in Page and nearby.
Sleep in Page and get ready for a drive to another one of our favorite Southwest roadtrip stops!
Day 4 Southwest Road trip: Page to Monument Valley
Navajo National Monument
(88 miles or 1 hour 25 minutes)
The Navajo National Monument is a great stop on the way to Monument Valley on your Southwest road trip day 3. The national monument is located in the northwest section of the Navajo Nation and is home to preserved the Keet Seel cliff dwellings built into the canyon dating back to 1250.
There's a visitor center and a few trails nearby including one that takes you to the scenic viewpoint overlooking the cliff dwellings. While you can't actually hike down to the cliff dwellings (that would be one hell of a hike) you can witness it from the viewpoint and get a closer look with the binoculars there.
This is a nice halfway stop on the way to Monument Valley.
Monument Valley
(58 miles or 1 hour 15 minute drive)
One of the best stops on our Southwest roadtrip itinerary is Monument Valley, Utah. This is an incredible place that is the most easily recognizable vision of the Southwest thanks to all the western films that have been filmed here on location.
Once you take the scenic turn on to the 163 you drive for miles witnessing some of the most impressive and massive buttes in Navajo Nation. Monument Valley is not a National Park, it's actually a part of the Navajo Nation Reservation near the four corners area.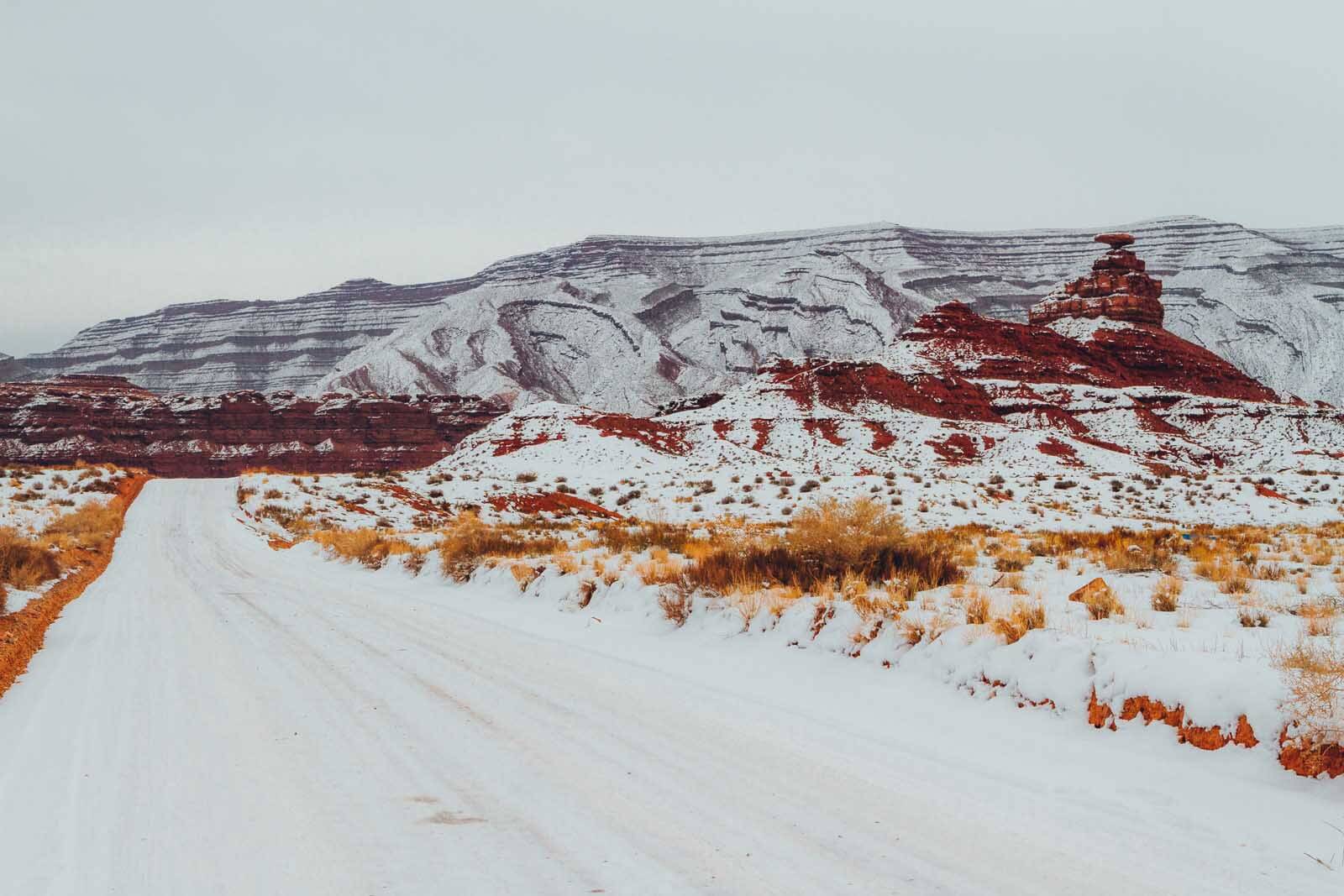 We recommend taking the scenic drive down the 163 making your way to the town of Mexican Hat where you can stop for a drink or snack either at one of the restaurants or the 7 Eleven depending on what's open.
Be sure to continue to drive past the town of Mexican Hat to the Mexican Hat Rock formation before turning around and heading back towards the monuments and hotels.
One your way back towards the monuments you are rewarded with the famous photo stop at the scenic pullovers where the road leads to Monument Valley, make sure to make this stop and take your iconic photos!
Depending on the time of day, you can continue to the Monument Valley Visitor Center where you get another iconic viewpoint of the valley and can drive the 17-mile scenic loop through the valley.
Do note that to access the 17-mile scenic loop you have to pay for your vehicle AND you must have 4WD or AWD.
Sadly, we missed this as there was a fresh layer of snow and the road was closed off to visitors.
The rest of the scenic spots through Monument Valley require a local guided tour with a Navajo guide as they are restricted areas. You cannot access them on your own which is why we recommend a tour on day 5 of our Southwest roadtrip itinerary.
Where to stay in Monument Valley:
There are options in Kayenta, Monument Valley, and Mexican Hat for accommodation. I am recommending what I consider the best option.
The View Hotel
This is the best option for where to stay in Monument Valley located and connected to the visitor center. This Navajo owned property overlooks a famous viewpoint and many of the rooms have views of it from their room and a balcony, the view alone sold me on this hotel.
You must make reservations on their website.
Another option is to do an overnight camping trip with a local company, this is a seasonal activity though.
Day 5 Southwest Road trip: Monument Valley to END
Our last day on our suggested scenic Southwest roadtrip we recommend taking a tour of inside Monument Valley with a Navajo guide.
With a guide, you get access to restricted areas like Mystery Valley and Hunts Mesa with a local Navajo guide. There is no way to access this area with a Navajo person.
The tours range from being a 2.5-hour open jeep tour to an 8-hour open jeep tour. In the summer months, this can be EXTREMELY hot so come prepared with a lot of water and cover up to protect yourself from the sun.
Here are a list of the local tour operators for you to choose from.
If you're staying at The View Hotel they can also arrange tours for you.
After your tour, we recommend heading to your ending destination whether it be back in Las Vegas where this Southwest roadtrip started or nearby.
---
Found this 5 day Southwest roadtrip itinerary helpful? Bookmark for later or share the love below on Pinterest! Happy travels!