There are so many reasons to visit America's Dairyland, aka the state of Wisconsin, and one of the best places to visit is the capital city of Madison! There are so many awesome things to do in Madison, the city on an isthmus, you can plan a whole vacation full of everything you need from a vacation.
Good food, check. Great drinks, check. Outdoor adventures, check. Relaxation and rejuvenation, check. Plenty of events and activities – they got 'em!
We made a summer vacation out of visiting all of the best Madison attractions and activities! From enjoying the best of the lake activities to eating the iconic foods, spending a day at the spa, to enjoying free live music just about everyday during their summer concert series! Use our guide to help you plan an unforgettable weekend in Madison or week in Madison!
Disclaimer: This trip was done in partnership with Destination Madison. As always, all opinions and experiences are our own. This post also contains affiliate links.
A Few Facts About Madison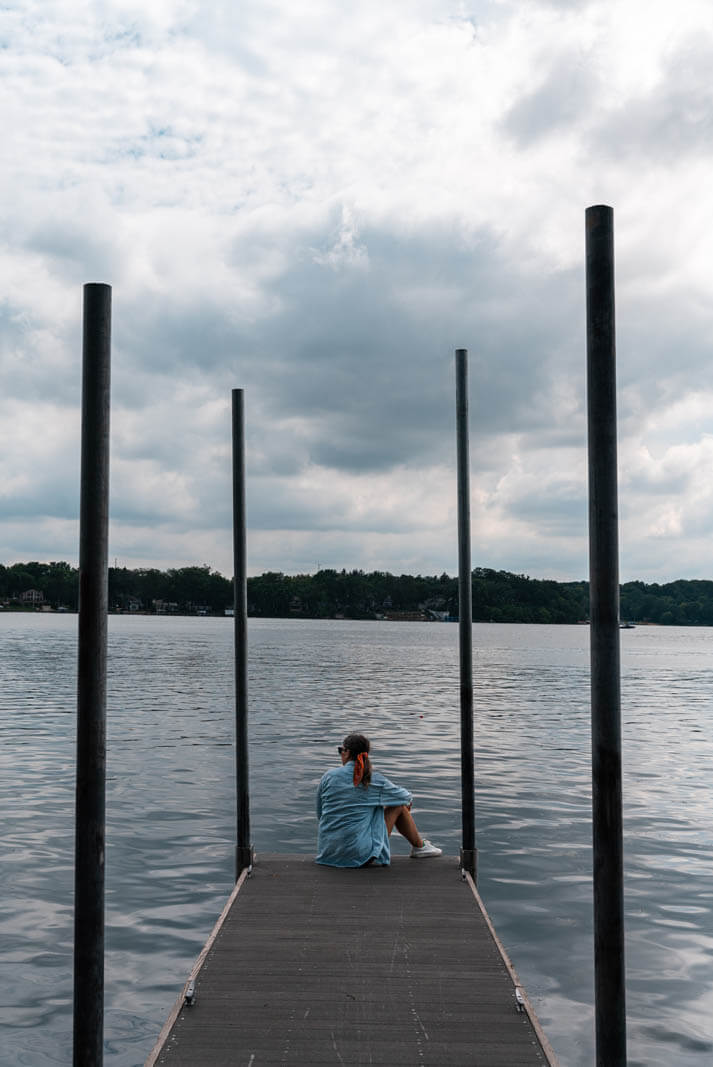 Before diving into all the awesome things to do in Madison, here is a general overview of a few interesting facts about the capital city of Wisconsin!
Madison is located on an isthmus between two lakes, Mendota and Monona. This is one of only two cities located on an isthmus in the United States, the other being Seattle, another one of our favorite cities to visit!
Wisconsin is known as the badger state, is it because they have a ton of badgers here? Not really! The nickname actually comes from the lead mining days of Wisconsin. The miners would live underground in burrow-like homes they built to stay warm in the harsh winters, people said they looked like badgers running to and fro from their underground dwellings hence the nickname.
For those who grew up with an American Girl Doll, the company was actually started and founded here in Madison, Wisconsin!
Madison is one of five platinum bike-level cities in the United States, which sounds impressive, but not sure what that means? Basically, Madison is a great biking destination and we highly recommend checking out the Lake Monona Bike Loop while you're here – it's one of our top picks for things to do in Madison on this guide!
The official city bird is the plastic pink flamingo! Yep! You may just spot one or two while you're exploring the city.
Frank Lloyd Wright, the most famous architect in American history lived in Madison and has several structures designed by him you can visit here.
Other famous people from Madison include artist Georgia O'Keefe, entertainer and comedian Chris Farley, and Otis Redding who also tragically lost his life in a plane crash on Lake Monona here too to name a few.
Activities in Madison To Check Out
Wisconsin State Capitol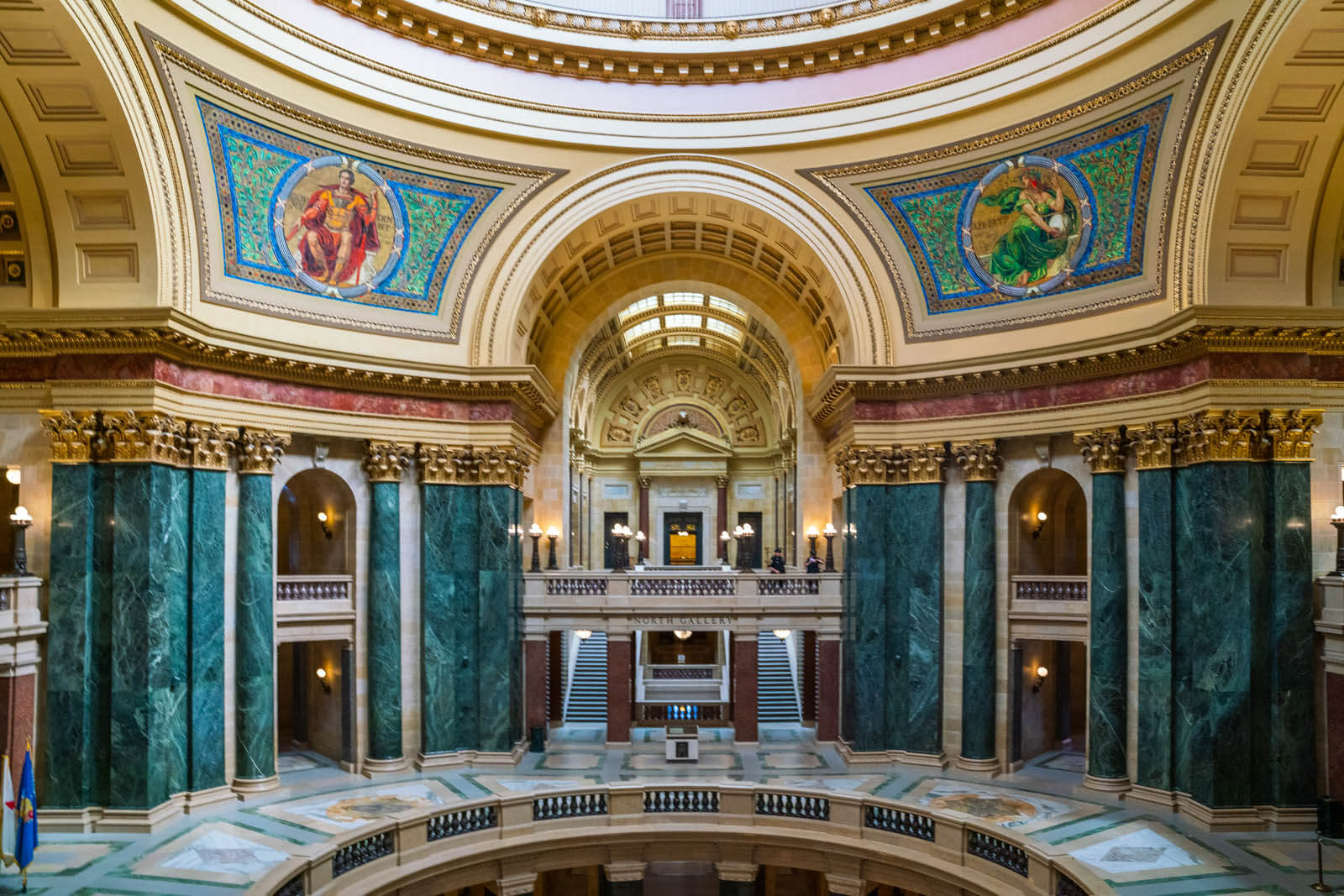 One of the best must-see things to do in Madison is to visit the crown jewel of the city's skyline and the state Capitol building. You can't miss the Wisconsin State Capitol, it's the tallest building in the city towering at 284.4 feet high and preserved as no other buildings in the city are allowed to be taller.
The beautiful, dome can be seen from miles away. We highly encourage you to take in all the angles of the Wisconsin State Capitol while exploring the city on your trip as it can be seen from just about everywhere. I swear my camera roll has at least 50 images of the Capitol from different vantage points throughout different times of the day.
Speaking of the dome, it's the only granite dome in the United States and the largest by volume.
Join one of the free daily guided tours starting from the information desk. The tours run about an hour long and are offered on hour every hour during the mornings and afternoons, be sure to check their full schedule here to plan your visit. On the tour, you'll see the chambers of the Wisconsin State Legislature, the Wisconsin Supreme Court, and the office of the Governor.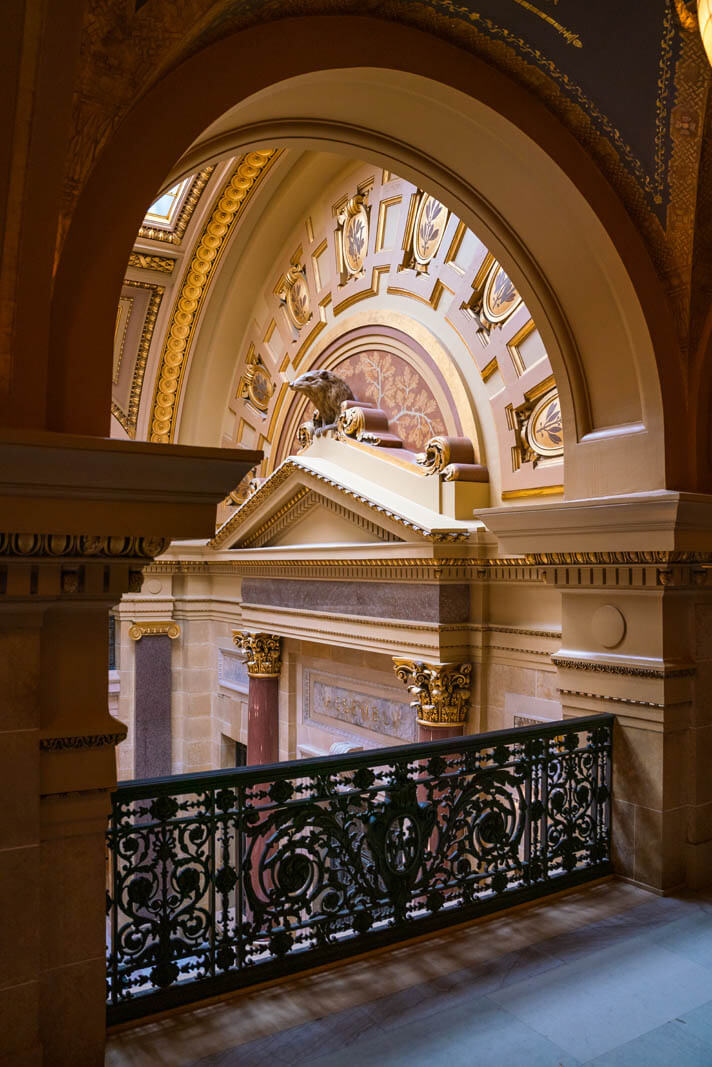 What we enjoyed most were all the grandeur details throughout the building from the marble columns, rare materials used, intricate mosaics, and of course all the badgers incorporated throughout the building. If you're up for a scavenger hunt you can look for the thousands of badgers hidden in plain sight in the decor from little badger details on the door handles and above the doors to the big badger statue you can give a pet for good luck.
Last but not least, in the summer, visitors can also check out the views from the Observation Deck that surrounds the dome.
Olbrich Botanical Gardens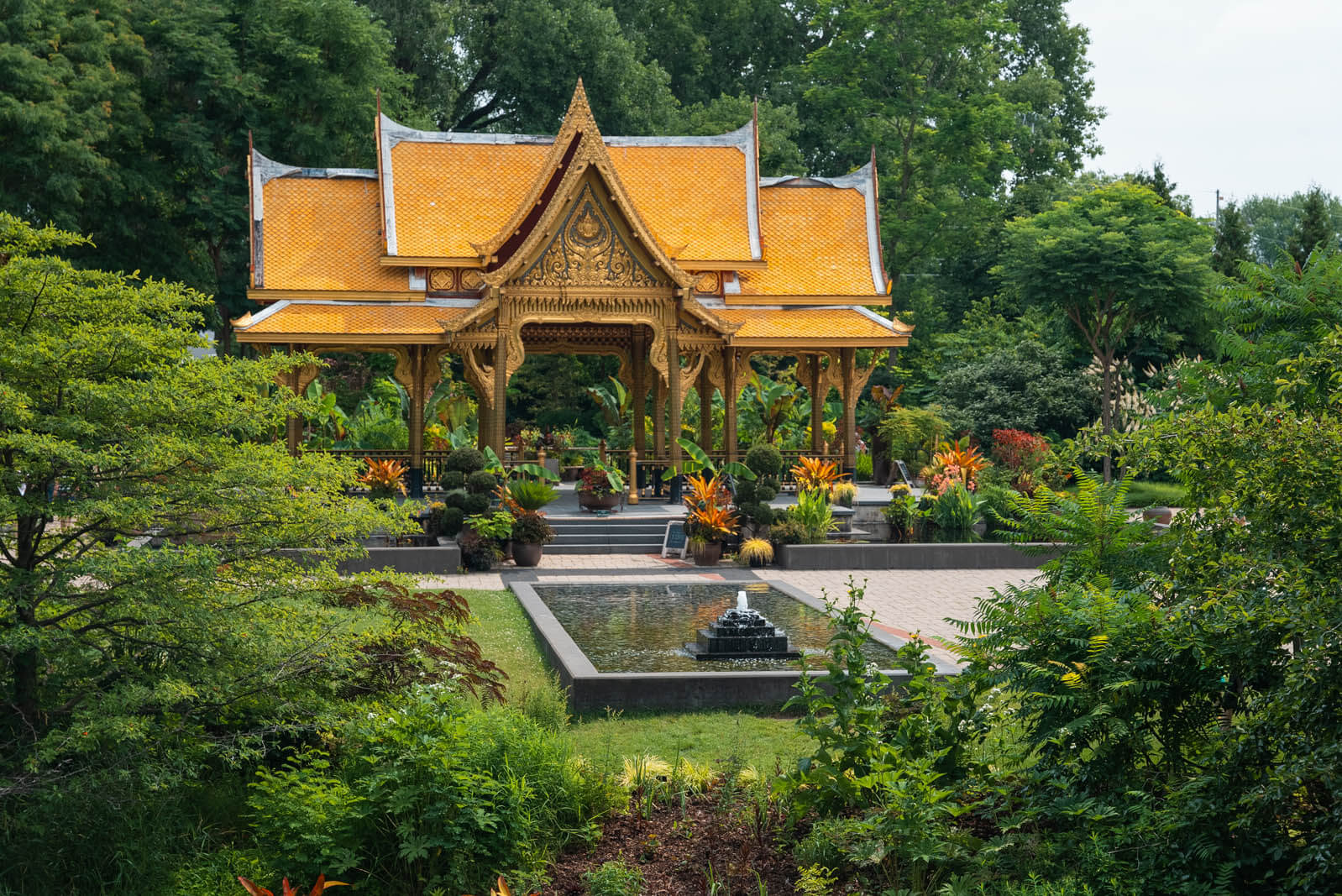 One of the most beautiful Madison attractions is exploring the 12 acres and conservatory of the Olbrich Botanical Gardens. Be sure to take time to walk through the Bolz Conservatory where you can find an array of tropical plants, a waterfall, birds, and even butterflies inside the glass pyramid.
Then make your way to the various gardens including a few of our favorites like the traditional English Sunken Garden, the Indigenous Garden which features plants and herbs that are traditional to the Ho-Chunk Native Americans (during our visit they were even serving milkweed soup using one of the volunteer's grandmother's Ho-Chunk recipe for guests to try), and the most stand out has to be the Thai Garden with the golden Thai Pavillion which was a gift to the University of Wisconsin from the King of Thailand.
Speaking of the Thai Pavilion, this is the only Thai Pavilion in the continental United States and the only Thai Pavilion outside of Thailand that is surrounded by a garden! The entire structure, which is beautiful from every angle, was built in Bangkok and brought here.
There are many other beautiful things to see here, we recommend planning a few hours to really take in one of the most beautiful Madison attractions. Don't miss the plant kaleidoscope either, this one is easy to walk by without realizing, check out the mesmerizing patterns of the succulents and plants up close.
Better yet, the outdoor gardens are free for everyone to explore! The indoor Bolz Conservatory has a small admission but is free on Wednesdays and Sundays. We were so impressed with all the free things to do in Madison, and this was just one of them.
Garver Feed Mill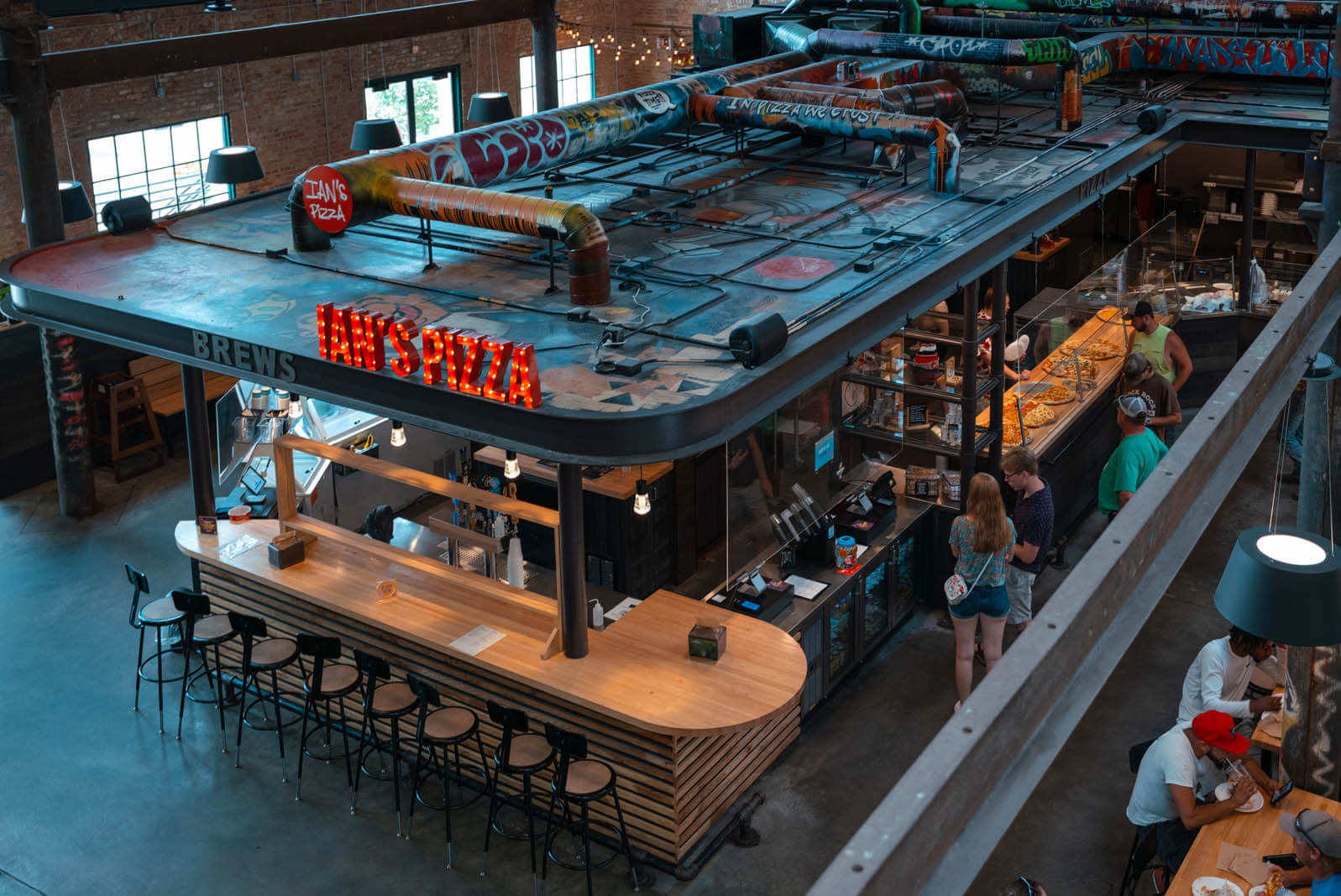 Another one of the best spots and things to do in Madison (near Olbrich Botanical Gardens if you're hungry after your visit) is check out the Garver Feed Mill. Housed in a historic, turn-of-the-century feed mill, the space has been transformed into an event space and food hall.
We love when historic buildings are repurposed this way and you can find some great bites to eat inside too as well as enjoy a spa day! (more on that next).
There are a few pop-up shops and boutiques inside to check out, while we were visiting there was a pop-up board game cafe with Korean and Japanese snacks.
Permanent vendors include slices of pizza by Ian's Pizza, a local favorite known for their creative and inventive slices like the Mac n' Cheese Slice as well as Calliope Ice Cream, a local spot that has some great original flavors as well as a few artisanal small-batch flavors that constantly rotate! There's also Ledger Coffee Roasters on site for those looking for a caffeine fix!
Kosa Spa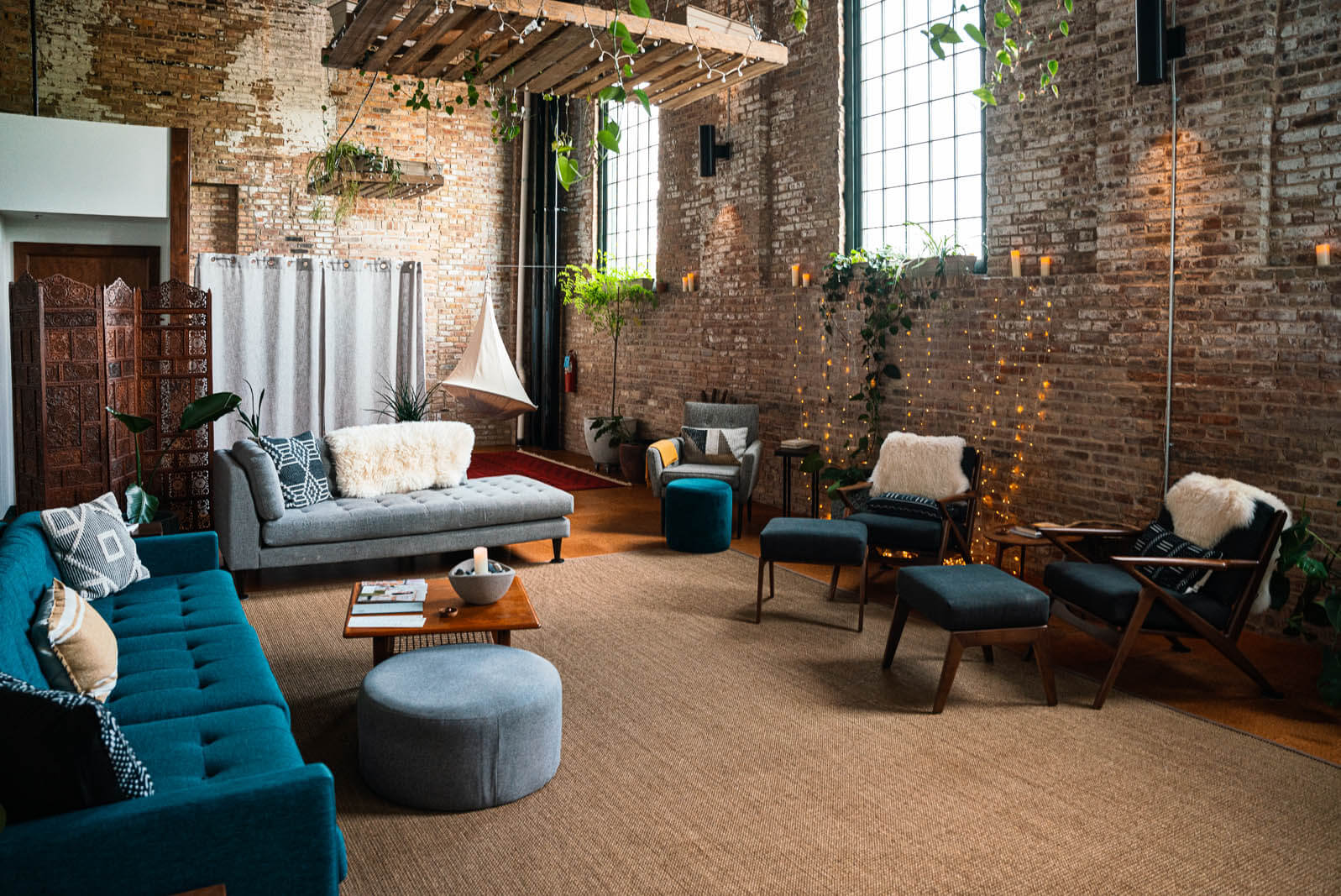 Located inside of the Garver Feed Mill is one of the best things to do in Madison if you want a bit of relaxation, which we all need from time to time!
Kosa Spa (pronounced Kosha) is an Ayurvedic Wellness Center founded by Shilpa Sankaran, an Indian-born Madison native who created this space as an invitation to the Ayurvedic lifestyle and experience to connect to the world around us through Ayurvedic practices, treatments, and meals.
We recommend booking an Ayurvedic treatment and massage as well as time for relaxation in the Sanctuary Room. We first enjoyed our tea in the Sanctuary Room where we relaxed before a private hour in the Steam and Sauna Retreat where we practiced the hot to cold ritual from the steam room to the hydrotherapy room. Afterward, we enjoyed a 45-minute Abhyanga massage with warm oils.
At the very end, we went back to the sanctuary and enjoyed a nourishing bowl of khichdi from the Kosa Kitchen accompanied with a cup of chai. The Kosa Kitchen features dishes sourced from local ingredients that tie into the principles of the Ayurvedic practice using traditional Indian recipes. You can actually order a meal without doing the complete spa experience, but we recommend doing both.
We both left feeling completely relaxed, which is always nice on a vacation. It was so fascinating to be introduced and learn more about the ancient practice of Ayurveda too and how our bodies connect with the seasons.
In addition to all the spa services, treatments, and kitchens, Kosa also offers their own exclusive line of skincare products which we were able to try in the shower and locker room area.
Get on the Lakes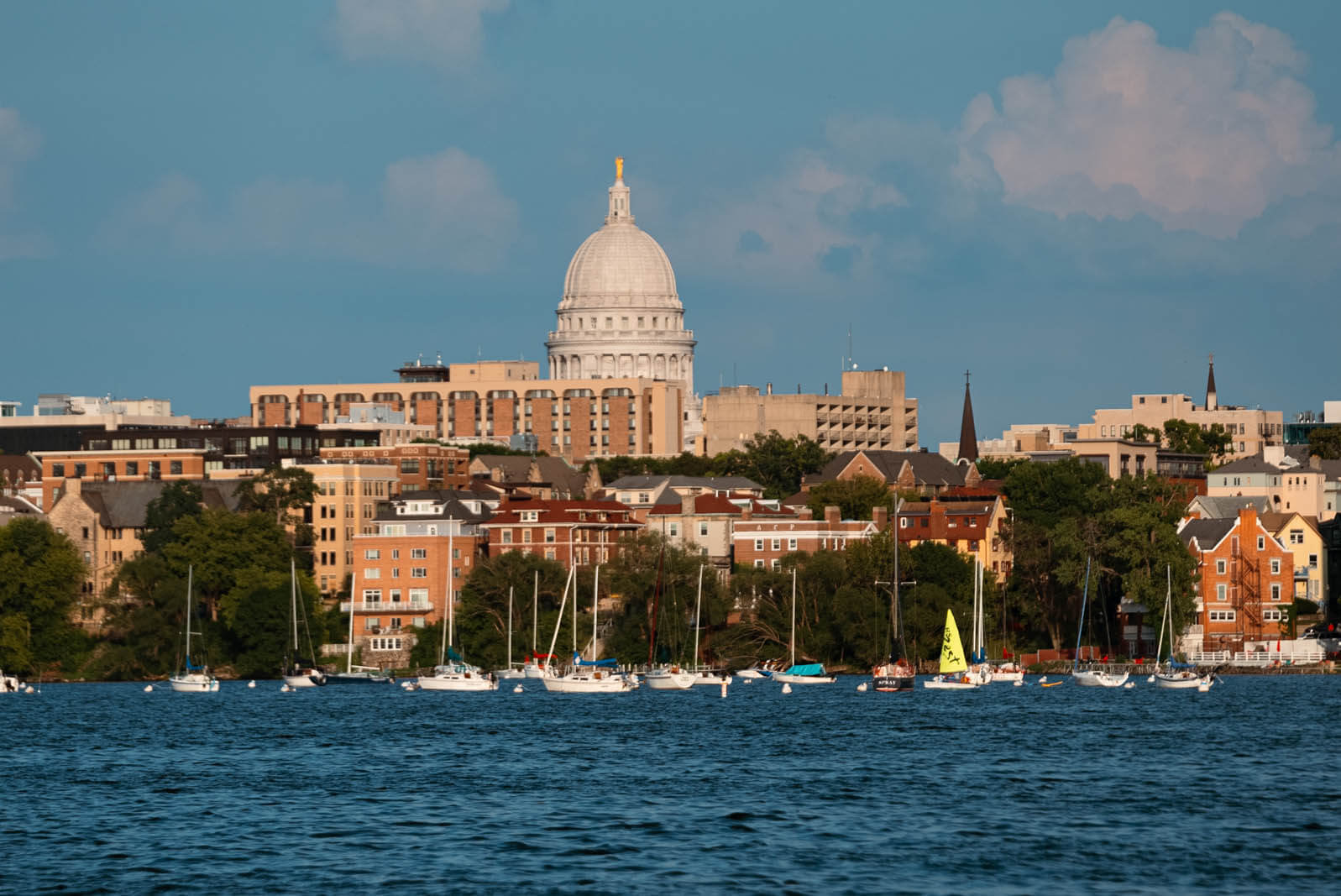 You can't visit the city on an isthmus, surrounded by water, and not enjoy the lake activities! While the center of Madison is surrounded by Monona and Mendota lakes, Madison actually has five lakes total. This is why visiting Madison in the summer is even more fun as there are so many warm weather lake activities in Madison to enjoy!
The five lakes are Mendota, Monona, Wingra, Waubesa, and Kegonsa. All of which all have different experiences for visitors to enjoy from kayaking, stand-up paddle boards, sunbathing and swimming at the beaches, or getting on a boat. Not to mention ample opportunities to take in the lakeside views.
Getting on the water by boat is made easy with Capitol Boat Club, which offers boat rentals on Lake Mendota. Visitors can rent speed boats, deck boats, or pontoon boats. We enjoyed a scenic evening ride on a pontoon boat with a cheese spread. They offer packages that include a charcuterie and cheese spread add-on, or you can pack your own by visiting one of the local cheese shops to bring aboard.
The deck boat and pontoon boat rentals also have the option to rent tubes for some fun water sport action on the lake too!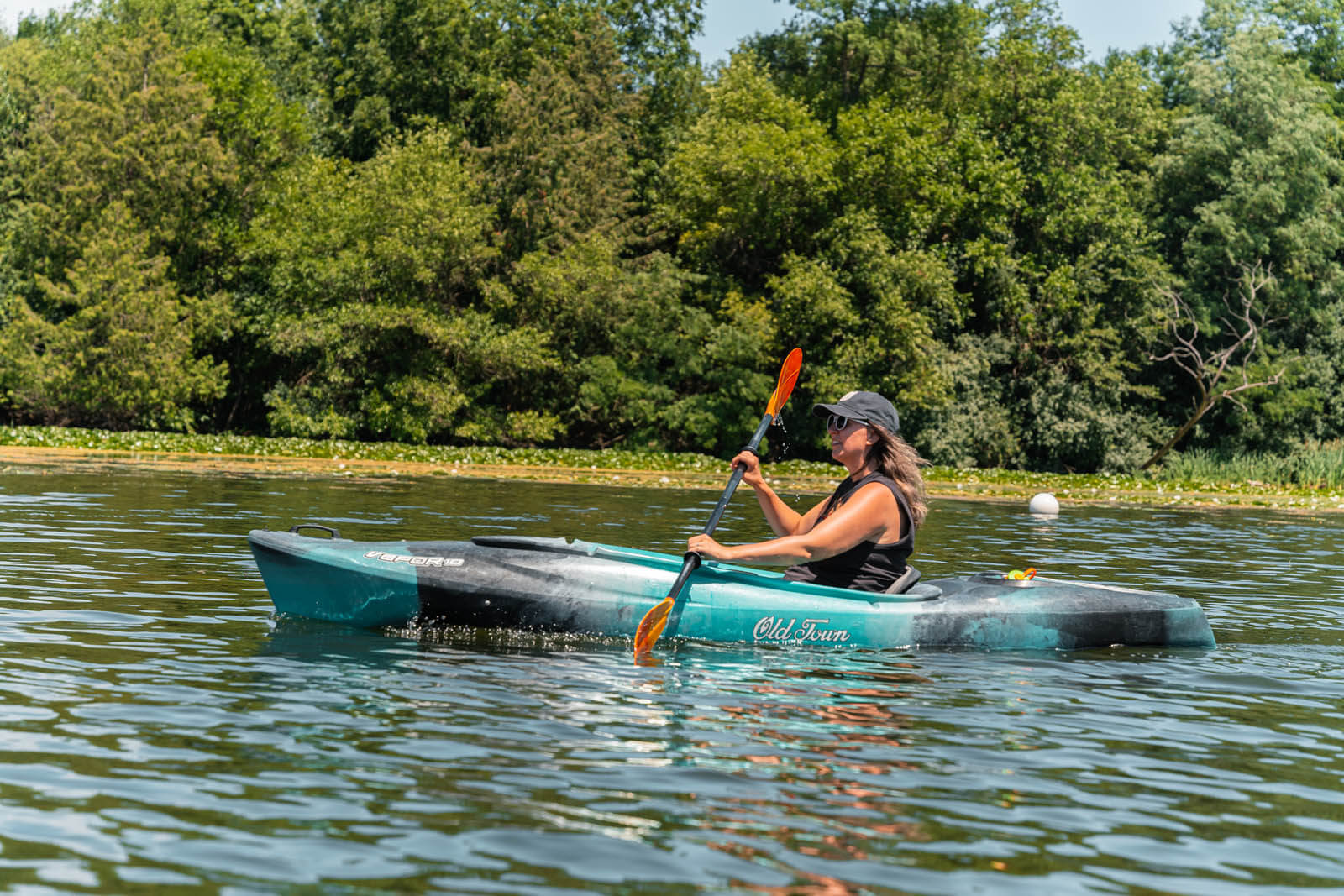 Another great option is to head to Lake Wingra, which is a smaller lake for motorless boats and wildlife spotting, sunbathing, and relaxing on the water. You can rent pedal boats, kayaks, stand up paddle boards, rowboats, and canoes from Wingra Boats. We got two individual kayaks (tandem kayaks are an option too) and paddled around the lake for just over an hour, we easily could have spent more time too.
As you paddle along the perimeter of Lake Wingra you might spot wildlife too, we saw a deer eating berries from a tree along the shore which was nice to see up close from the comfort of our kayak along with ducks and other waterfowl.
And if you're just wanting to swim, there's also a swimming beach here at Lake Wingra too.
And mentioned later in this guide, if you're wanting to enjoy scenic views of the lakes, we recommend heading to Monona Terrace and enjoying the Monona Lake Bike Loop too! But more on that later.
Memorial Union Terrace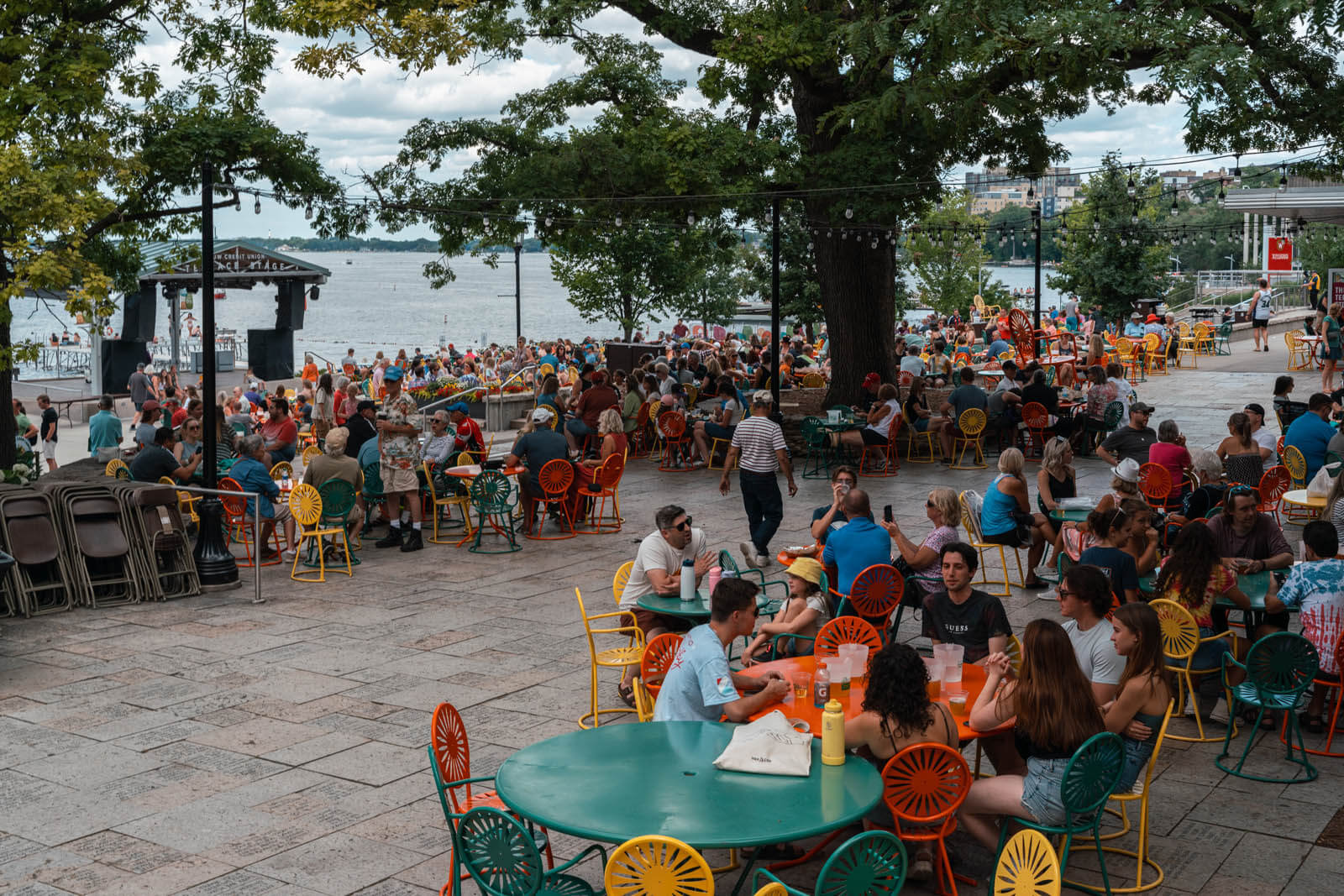 One of the most iconic things to do in Madison at the University of Wisconsin is enjoy an afternoon on the Memorial Union Terrace. This is one of the best ways to experience the University of Wisconsin-Madison along with great lake views.
The colorful chairs and tables are a bit of an icon to this spot, so much so in fact that you can buy a miniature version as a souvenir. Grab a table with chairs and sit back and relax with a pitcher of beer, a bratwurst, or some ice cream!
We ended up spending a few hours just sitting here and people-watching as there were swimmers, boats passing by, and what's better than sitting back and taking a break with a cold draft beer and brat? Also, you can't leave Wisconsin without having a bratwurst! They are sort of famous here since there's such a large German-American population, which you can see has influenced quite a bit of the cuisine you can find here.
Before or after, you can also take a lap around the campus and check out the beautiful buildings.
Stroll Through the Mansion Hill Historic District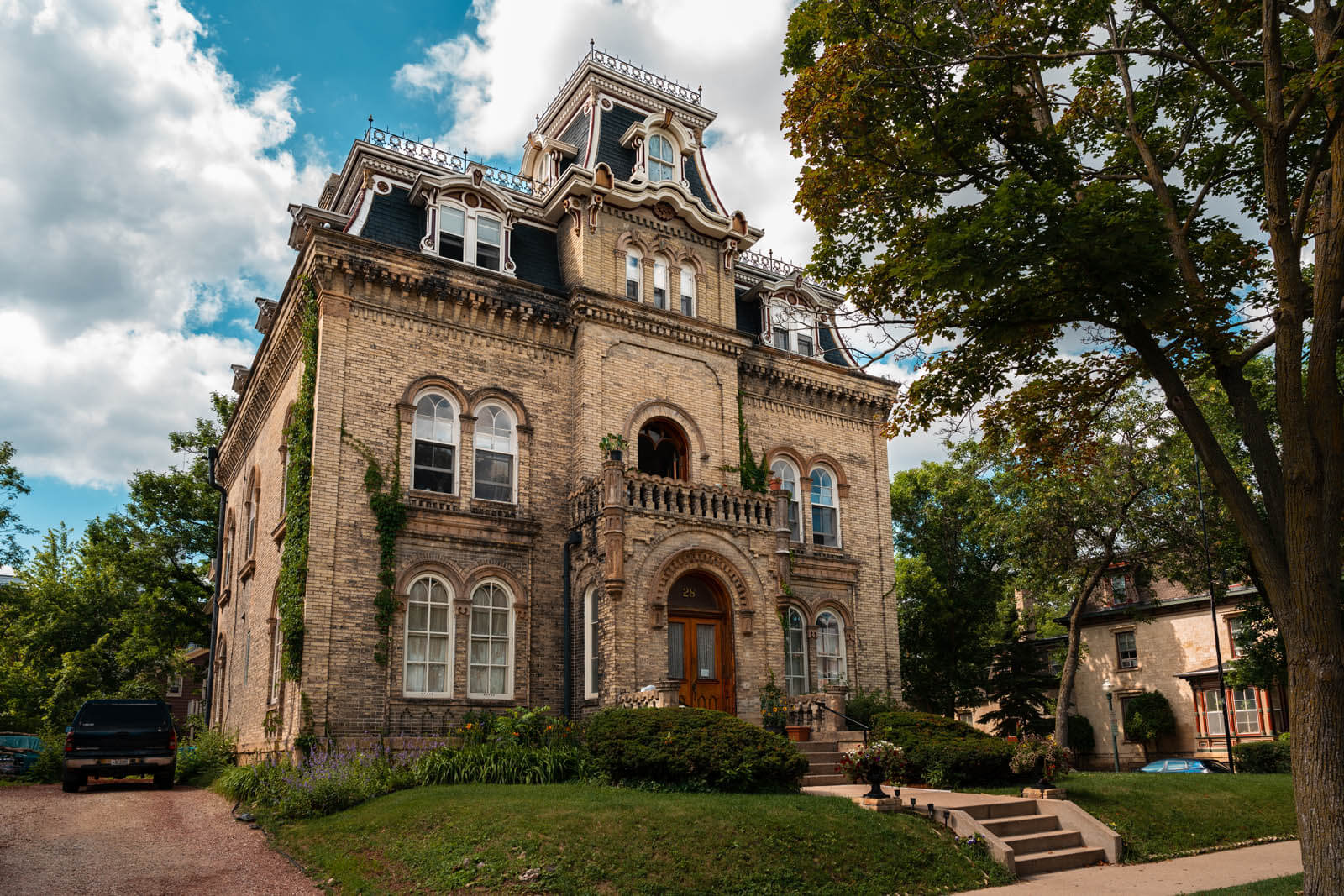 Calling all architecture lovers and admirers, this is one of the best things to do in Madison for you! If you're like us, you can appreciate a scenic walk and beautiful architecture. While much of Madison has Frank Lloyd Wright-influenced architecture, the Mansion Hill Historic District is an especially beautiful place to walk if you want to see the historic Victorian mansions the city has to offer.
We couldn't help but think of that banger by T-Pain, you know the one that he rhymes mansion with Wiscanson? The Mansion Hill Historic District must have been what he was referring to.
This neighborhood of Madison is filled with mid-19th-century mansions and elegant homes. Many of which house fraternities and sororities for the students of the University of Wisconsin.
This neighborhood was historically home to the upper-class and more affluent residents of Madison in the mid-1800s through early 1900s. The oldest mansions in the district were built in and around the 1850s. The historic district has ~160 buildings featuring architectural styles like Queen Anne and Italianate styles among others.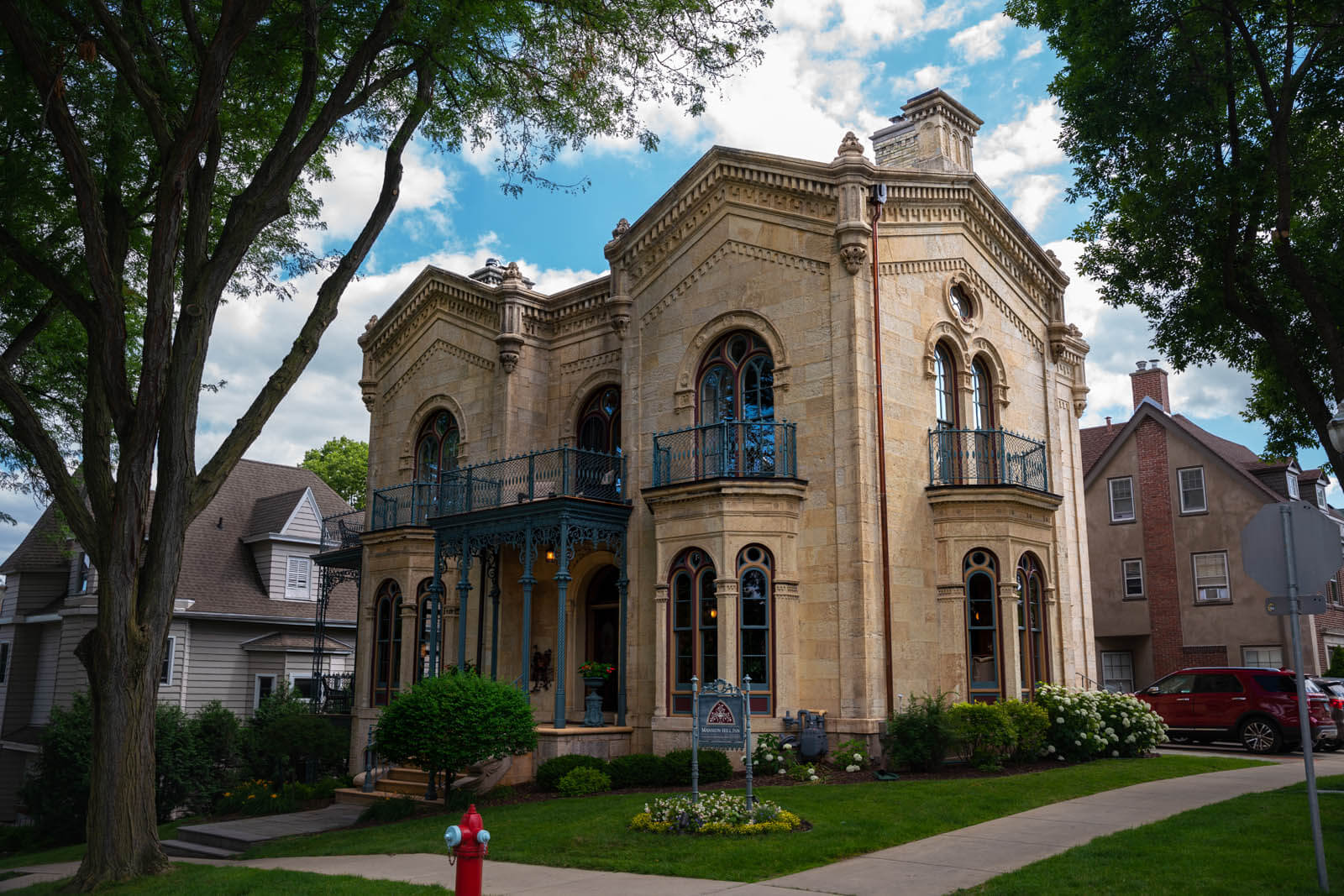 One of the favorites we spotted was the mansion that houses the Mansion Hill Inn. The German Romanesque Revival structure is a stunner and to be considered one of the best examples of this in the United States. The 9,000-square-foot mansion now houses a luxurious bed and breakfast style boutique hotel and accommodation for guests of Madison. On our next visit, we will definitely be looking into staying here.
Next to this house is also one of our favorites, or as Scott likes to call it, "Luigi's Mansion," for any of those who know the popular Super Mario game. This gorgeous home is actually known as the Keenan House and dates back to the mid-1800s and is another fine example of German Romanesque Revival.
If you want to learn a little more about the neighborhood and check it out with a guide, check out the tours by the Madison Trust for Historic Preservation which leads weekly walking tours for a small fee.
Lake Monona Bike Loop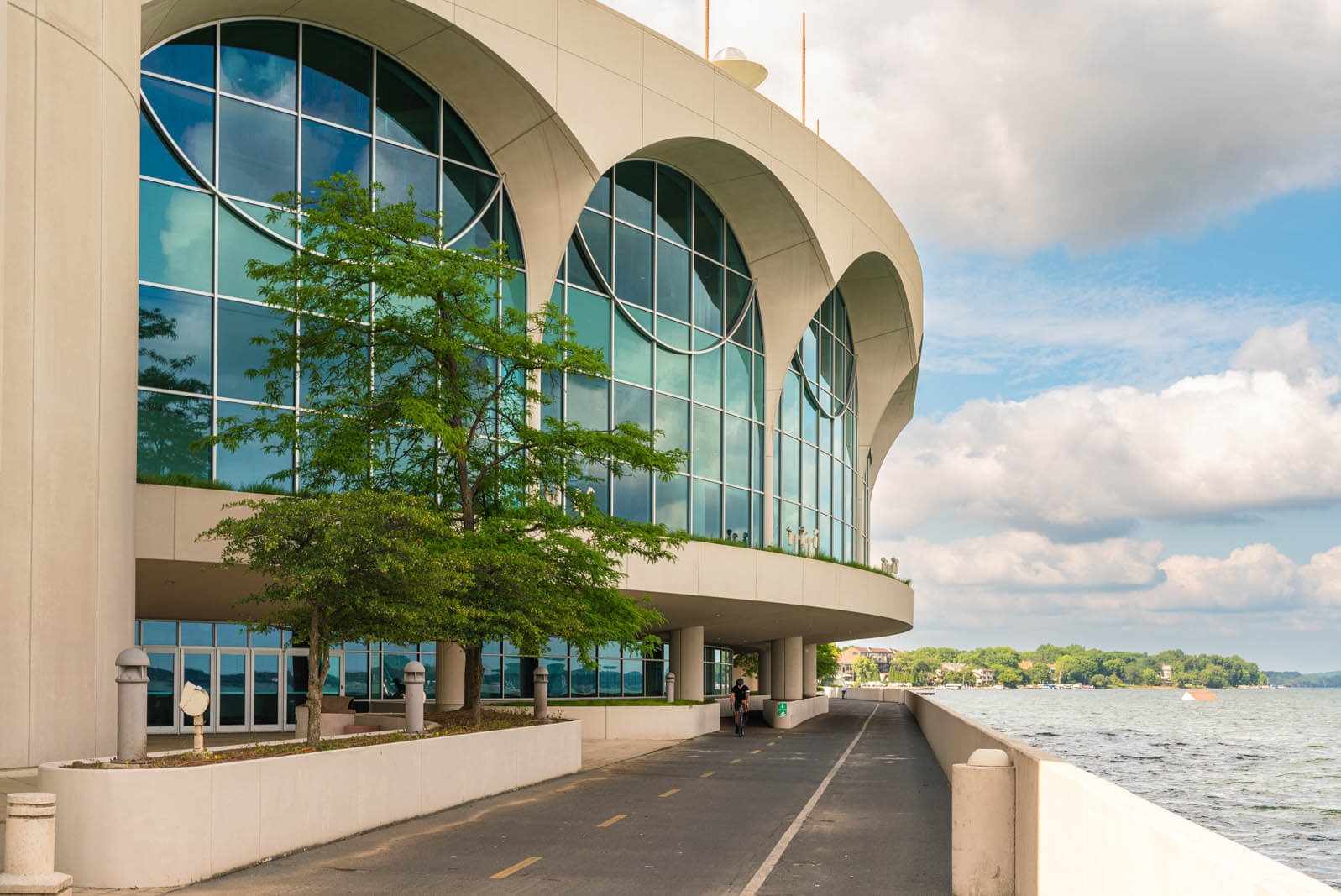 One of our personal favorite things to do in Madison is grab an e-bike and take the 13 scenic miles around Lake Monona Bike Loop. Start and finish at the base of the Monona Terrace, we took a right and made our way around the loop this way, which was filled with plenty of opportunities for scenic stops as well as stops for ice cream and beer!
First thing's first, to enjoy this popular outdoor Madison attraction, you'll need a bike. Luckily there are several public e-bike rentals around the city at the BCycle stations. Use the kiosk at the station to purchase a day pass for $15. Don't purchase the $5 option as you'll need to re-dock the bike in 30 minutes.
Tip: download the BCycle app to see which e-bikes have full battery so you have the boosted pedal assist the entire bike route!
After you grab your bike, be sure to get one with a full battery enough for at least 13 miles so you can complete the loop as there are hills that are a bit challenging if you don't have pedal assist or a proper road bike. After you have your bike, make your way to the Monona Terrace where you can take the bicycle elevator down to the start of the Lake Monona Bike Loop.
Follow the white markings on the road and start the loop! Some sections of the bike loop are in a designated bike lane while there are parts that go through residential streets. Keep looking for the white markings on the road, there are a few parts we weren't sure if we were still on it, but we were. If you don't want to risk it, be sure to download this All Trails map in advance to help keep you en route.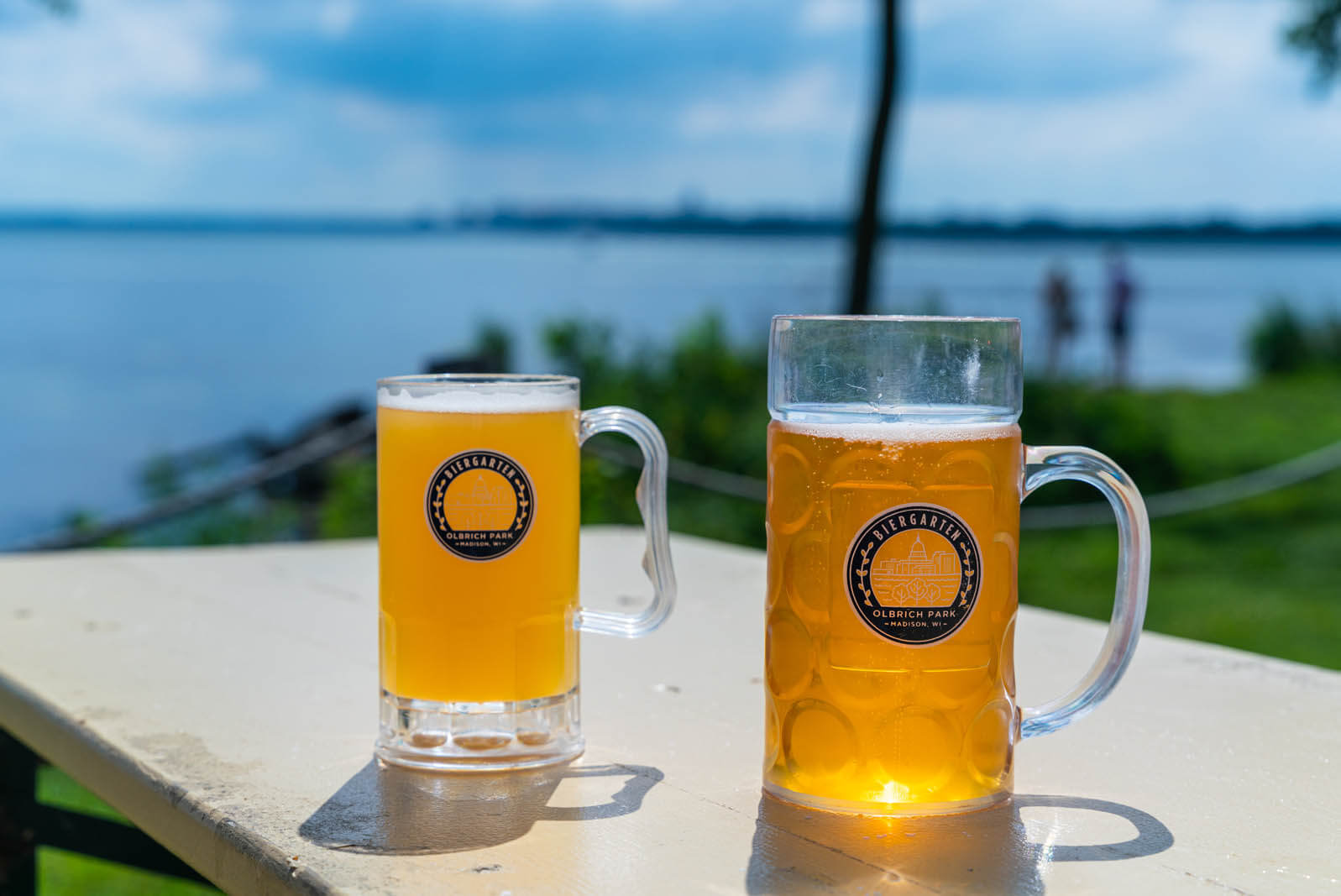 Plan for an hour and half to two hours to complete the Lake Monona Bike Loop. We only made a few short stops along with one beer break. Plan for more time if you want to pack a picnic or enjoy the views a bit longer!
We really enjoyed riding through the beautiful shaded neighborhoods all along the lake. If you're looking for a nice treat during your ride make a stop at the Monona Bait and Ice Cream Shop, which is not only an ice cream shop but also where to get your fishing bait! There's a pretty park across the street, so you can grab your cone and sit there taking in the view.
A little further you can stop at the Olbrich Biergarten, which is an outdoor biergarten with draft beer, brats, and a few lawn games with plenty of outdoor picnic tables and seating along the lake at Olbrich Park.
We made sure to do the route so that the last leg of our trip was at the biergarten, afterwards you'll go through another neighborhood before ending back at Monona Terrace.
Speaking of, this is also a great view of the Monona Terrace, the Frank Lloyd Wright-designed structure overlooking Lake Monona. While being on top of it is great, you don't get to see the entirety of the structure from up top. Be sure to take in the beauty of this building designed by one of the most notable and famous architects in US history!
Monona Terrace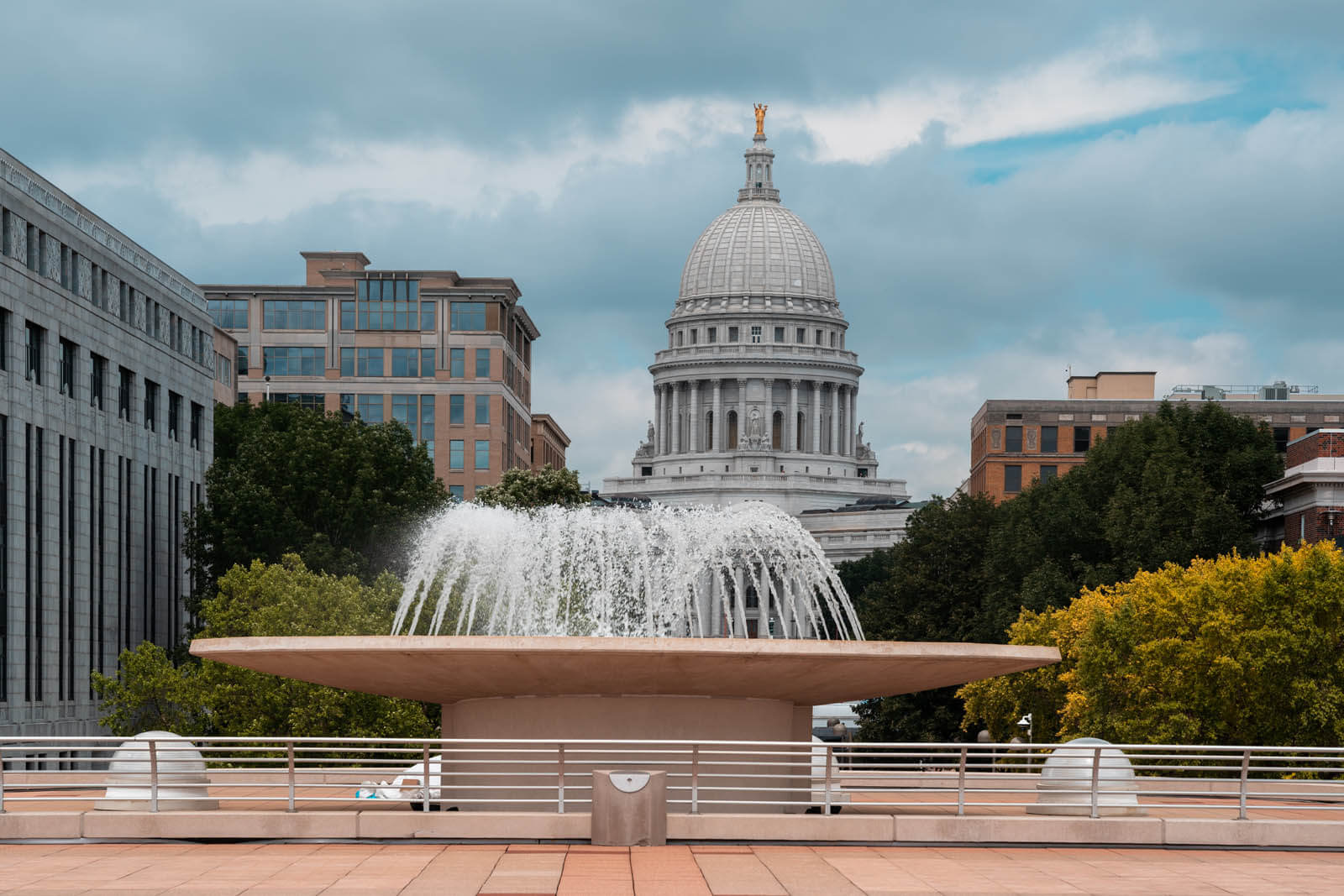 Speaking of, you need to check out Monona Terrace. The Monona Terrace Community and Convention Center is one of the top Madison attractions designed by what is considered the greatest American architect of all time, Frank Lloyd Wright who resided in Madison.
The interior of the building is often used for large events and serves as a convention center, but the terrace and roof deck is open to the public featuring stunning views of Lake Monona and in the opposite direction, the Wisconsin State Capitol, which is only two blocks away.
The building was first designed by Wright in 1938, but his vision would take 59 years to complete as the Monona Terrace wasn't completed until 1997.
You can visit on your own, take in the views or join a guided tour, which requires advanced reservations or you can also attend one of their event series like Concerts on the Rooftop in the summer! Because we visited Madison in the summer, we were able to attend one of the concert series on the rooftop, which is a must if you're visiting while one is happening.
Frank Lloyd Wright Tour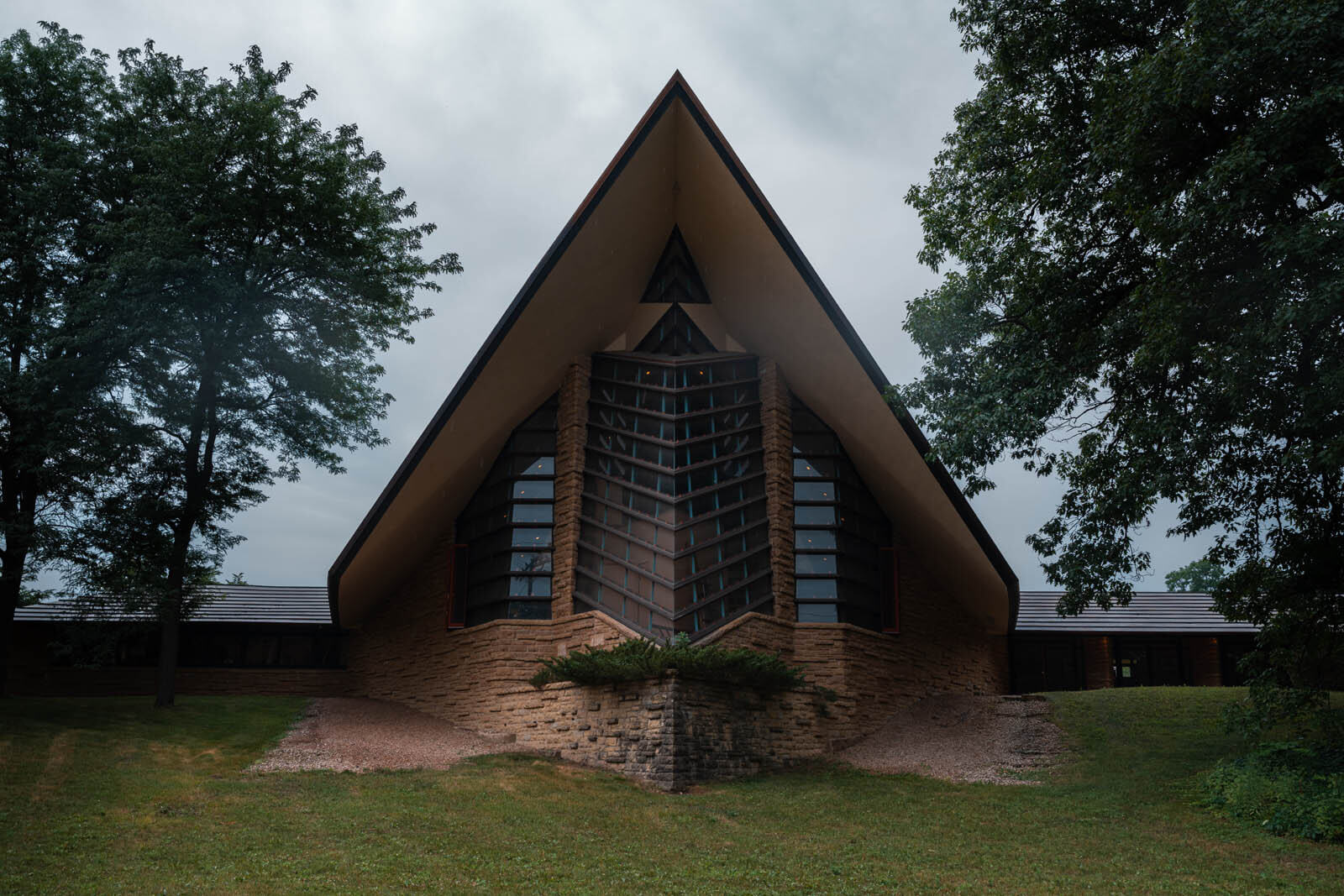 One of the best things to do in Madison, Wisconsin, especially for architecture lovers and admirers like ourselves, is pay tribute to the most famous architect of American history, Frank Lloyd Wright. Wright grew up in Wisconsin, near Madison in Spring Hill, even in his adult life he built his estate Taliesin in Spring Green, Wisconsin just 37 miles west of Madison and a UNESCO World Heritage Site.
There are several Frank Lloyd Wright structures around Madison that visitors can check out, even if just glancing at the exterior as some are private residences. Wright also attended the University of Wisconsin-Madison as well as serving as an educator. Driving around Madison and its neighborhoods, you'll spot plenty of structures and homes that are heavily influenced by his style.
You'll definitely notice the prairie-style homes, which is a style popularized by Frank Lloyd Wright where the structure is built horizontally vs vertically in a more sleek/modern design style.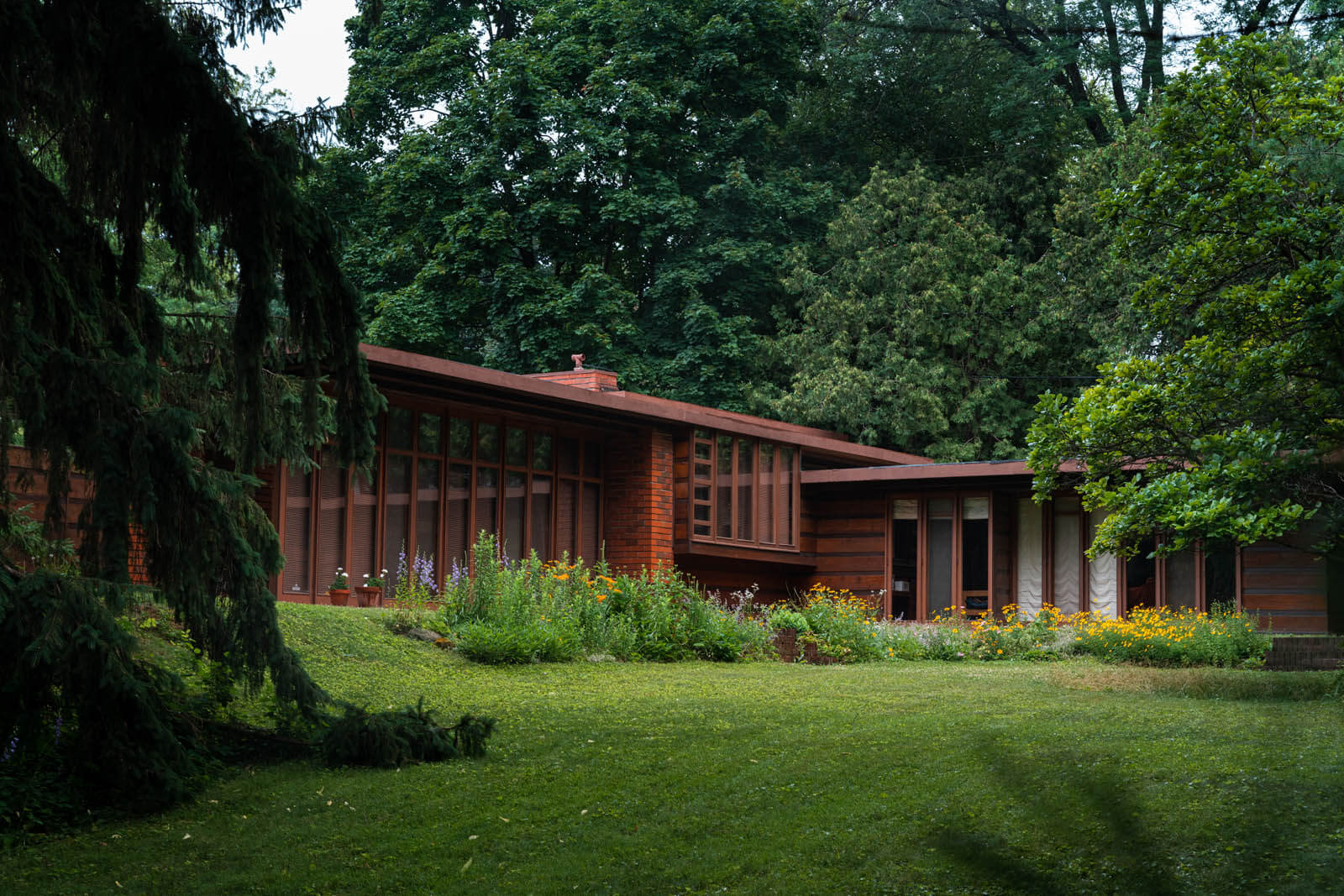 A few private residences you can peek at the exterior, but please keep in mind that these are private residences so do not bother the folks who live there or trespass, including the Walter and Mary Ellen Rudin House (110 Marinette Trail), the Robert Lamp House (22 N.Bulter St), the Eugene A. Gilbert House aka the Airplane House (120 Ely Place), and the Herbert Jacobs House (441 Toepfer St) which was Wright's first Usonian home and a UNESCO World Heritage Site.
The two Frank Lloyd Wright structures that are available to visit include the Monona Terrace, as mentioned above in downtown Madison right along Lake Monona, and the First Unitarian Meeting House.
Since we already talked about Wright's dream civic center above, I am going to cover the First Unitarian Meeting House, where you can schedule a guided tour to learn more and visit the interior. Otherwise, you can enjoy the exterior anytime.
The First Unitarian Meeting House was designed by Frank Lloyd Wright, who also was a member of this congregation, and completed in 1951 just a few years before he passed. In fact, his father was a preacher and one of the founders of this church.
This is an example of one of the most innovative designs and styles for churches, which after visiting you can see how many churches you've probably seen in your life have been influenced by this style across the United States as this was one of Wright's most defining contributions to American culture and architecture.
If you wish to add on to your Madison itinerary via car, you can even drive the Frank Lloyd Wright Trail through Wisconsin hitting up more of his most famous works in the state.
Native American Effigy Mounds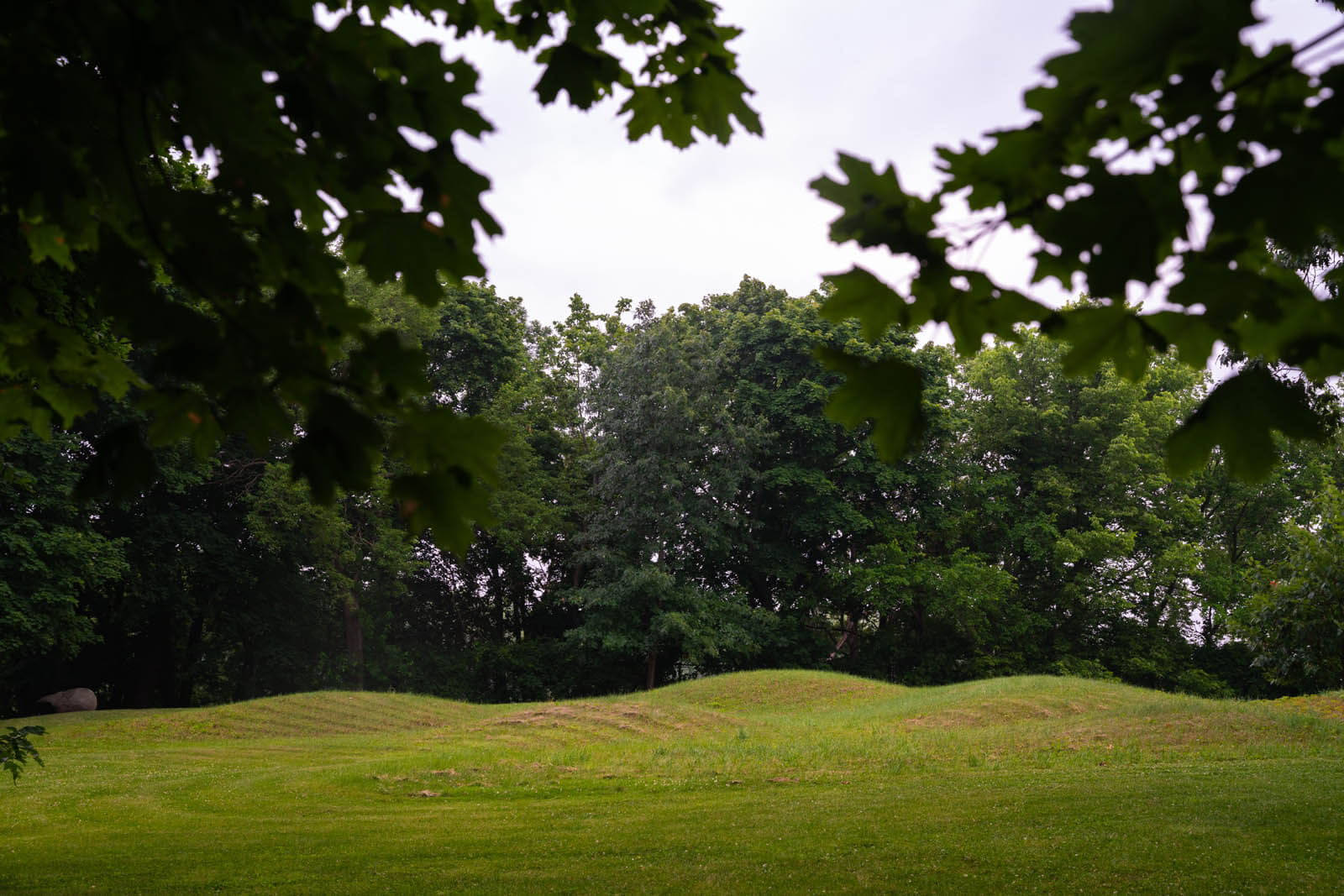 For thousands of years before European colonization, Native Americans were stewards of the land. The lakes and waterways made Madison an ideal location for over 12,000 years, including the primary group of Native Americans, the Ho-Chunk Nation.
While nearly 80% have been destroyed or built upon, there are still around 4,000 effigy mounds in the state of Wisconsin with around 200 in Madison. The state of Wisconsin is home to one of the largest concentrations of Native American effigy mounds in the world.
What is an effigy mound? The seemingly unassuming hill or mound you might see walking or driving around Madison are actually deeply cultural and spiritual sites to the Native Americans and Ho-Chunk people that have lived on these lands for thousands of years before colonization.
While you may not be able to tell from your vantage point, many of these mounds, many of which are burial sites, are designed in shapes significant to their meaning and culture from animal like serpents, panthers, bears, deer, and birds to name a few examples.
The mounds were typically built on a point overlooking water, so it's easy to understand with so many bodies of water surrounding Madison why there was such a large concentration of effigy mounds built here.
You can visit a few places in Madison to see and appreciate the existing effigy mounds. There are four groups of visible effigy mounds found at the University of Wisconsin-Madison campus and the Arboretum along Lake Wingra. You can find more details of the visible mounds found there at this site.
The largest bird effigy known in the world is actually at the property of the Mendota Mental Health Institute. The Eagle Effigy, which has a marker you can find (at the intersection of Cinder Lane and Muir Drive), spans 624 feet at the wingspan and has a body that is 131 feet long.
Another site you can visit is Bear Mound Park. This 1.6-acre park is surrounded by beautiful homes, but the park itself is home to a remaining bear-shaped effigy mound on the western edge which is 82 feet long. If you continue driving to the park where Wingra Street and Erin Street meet, you can spot from the car a series of effigy mounds that are easy to detect with your eye, known as the Curtis Mounds.
You can find more effigy sites and information on Destination Madison's website. The existing mounds are deeply sacred to the Ho-Chunk community, as you can imagine since so many were lost or destroyed. So when visiting, please be extremely respectful when observing.
Stroll and Shop State Street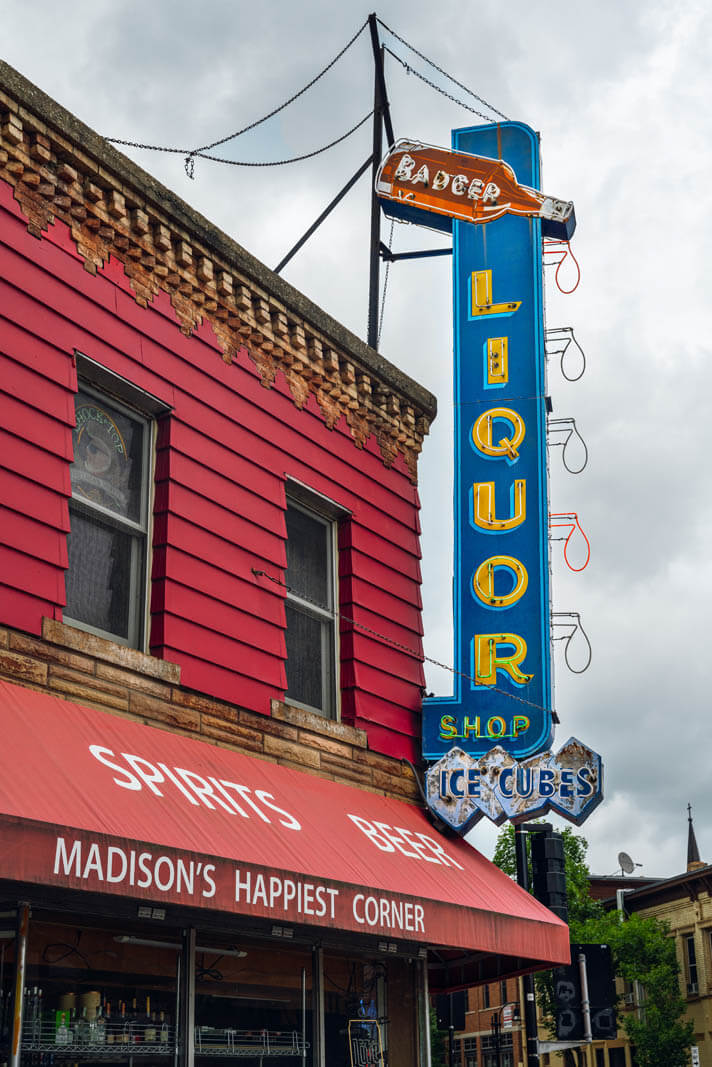 One of our favorite activities in Madison can be found up and down State Street, which connects the University of Wisconsin-Madison to the Wisconsin State Capitol full of fun shops, restaurants, museums, and entertainment venues like The Orpheum Theater.
Museums along State Street include the Wisconsin Veterans Museum and the Wisconsin Historical Museum at the intersection of Carroll Street near the Wisconsin State Capitol, and further down State Street, you can find the Madison Museum of Contemporary Art (MMoCA).
We spent most of our time exploring State Street hitting up the little shops dotted along the way, and we must say there are quite a few awesome independent boutiques here as well as great thrift shopping.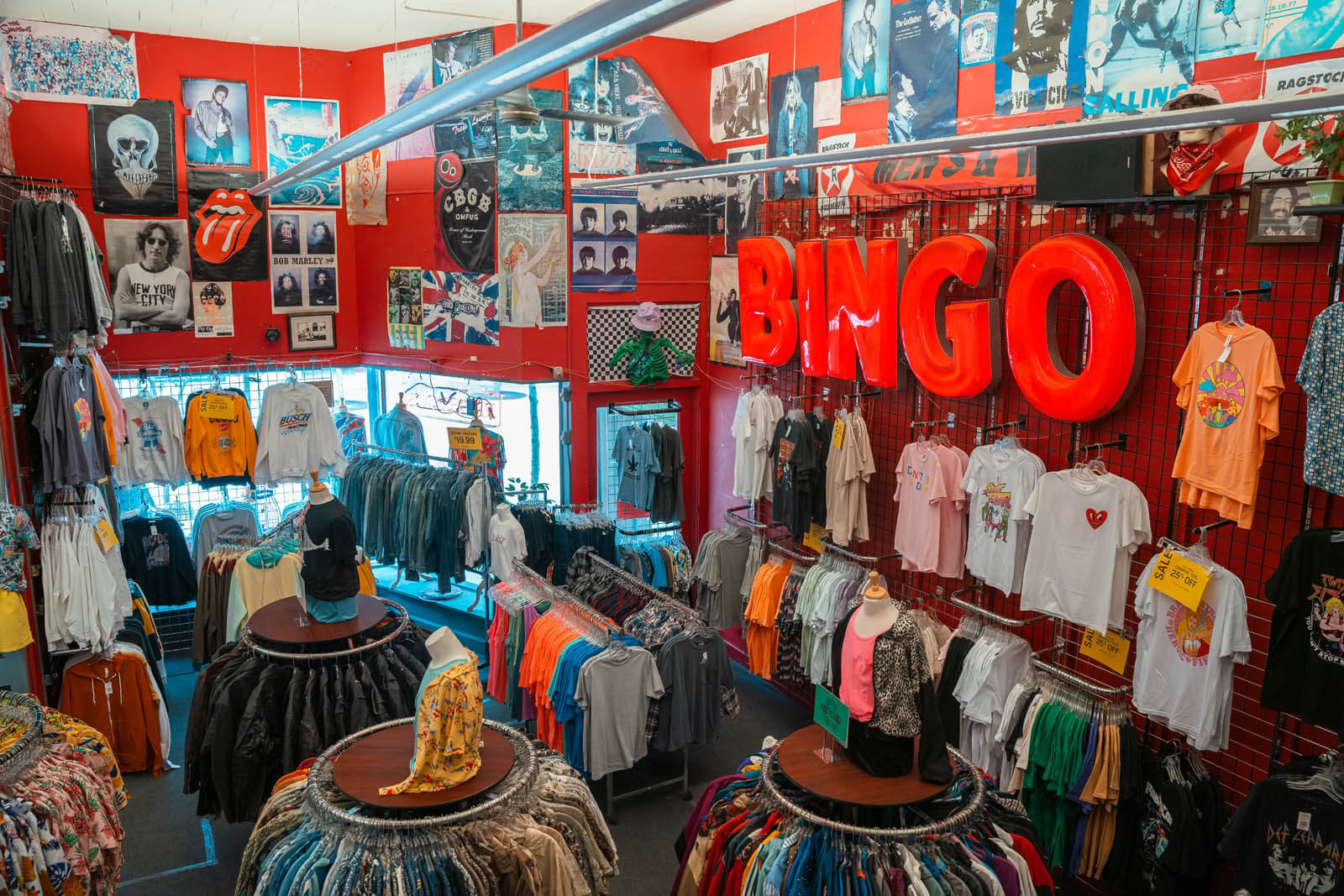 For thrift shopping, check out ReThreads and Ragstock, which are pretty much across the street from each other. Ragstock is a must, they have 3 stories of fun vintage finds – I am still kicking myself for not buying the vintage sweatshirt with a badger print on it!!
Fans of vinyl must stop at B-Side Records. They have a large curated collection of vinyl by genre.
If you're shopping for gifts or other cool home goods check out Little Luxuries, Anthology, and our absolute favorite was Madison Modern Market.
You'll also find a few chain stores like Warby Parker and Urban Outfitters here and other stores that appeal to a college-age shopper along with food options.
Madison Museum of Contemporary Art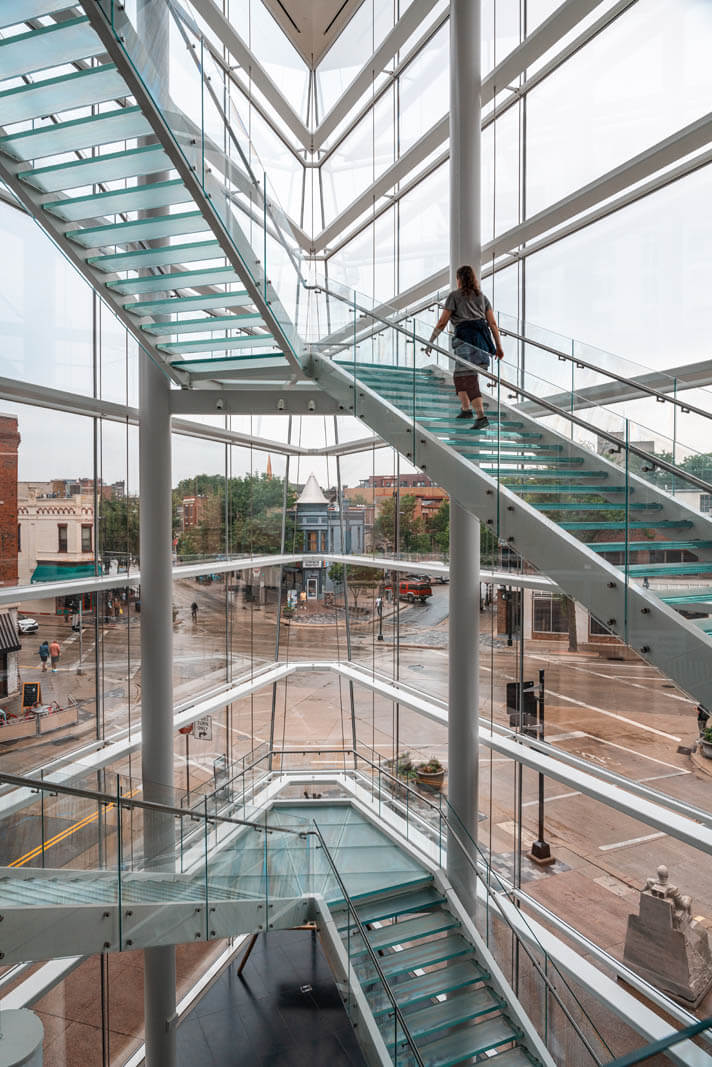 Located on State Street, this is one of the best FREE and indoor things to do in Madison! Visit the Madison Museum of Contemporary Art, aka MMoCA, for their collection and exhibits of modern and contemporary art.
The building itself is a masterpiece, made of glass walls with a staircase ascending to the top overlooking State Street, you have to check out the view from the top. Once you make it to the top floor you can take in more views of State Street from their roof deck, which also has a sculpture garden with works by various artists.
Their exhibits are always changing, so no two visits are the same. It's worth checking to see which artists have exhibits during your visit on their website in addition to their permanent collection of over 6,000 pieces which includes works by artists like Frida Kahlo.
Dine at a Supper Club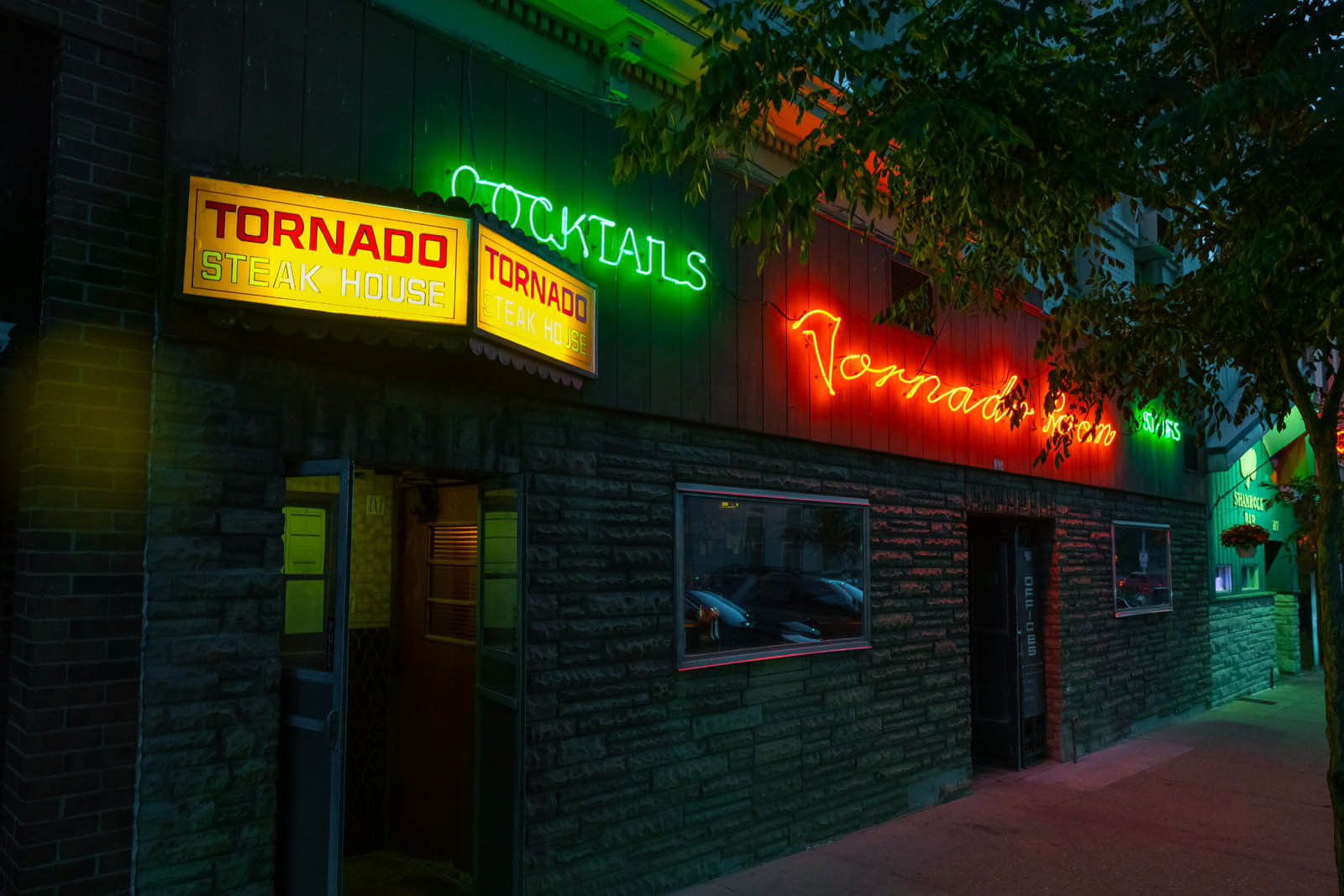 One of the most iconic things to do in Madison is enjoy a regional culinary tradition known as the "Supper Club." What is a Supper Club you might ask? Supper Clubs are a nostalgic restaurant experience and social spot popularized by Milwaukee native Lawrence Frank in the 1940s in Hollywood. These supper experiences were a social activity and way to enjoy a luxury meal without membership or exorbitant prices.
Supper Clubs are a place to socialize over a multi-course meal often in a dimly lit setting where pre-dinner classic cocktails can be enjoyed at the bar before sitting down for all your courses.
Complimentary veggies and bread are usually served before your starter and your soup or salad followed by your entree. Don't forget to leave room for dessert either. While this is a rough definition of a Supper Club, this is a very 'regional tradition' and the entire experience is best done in person.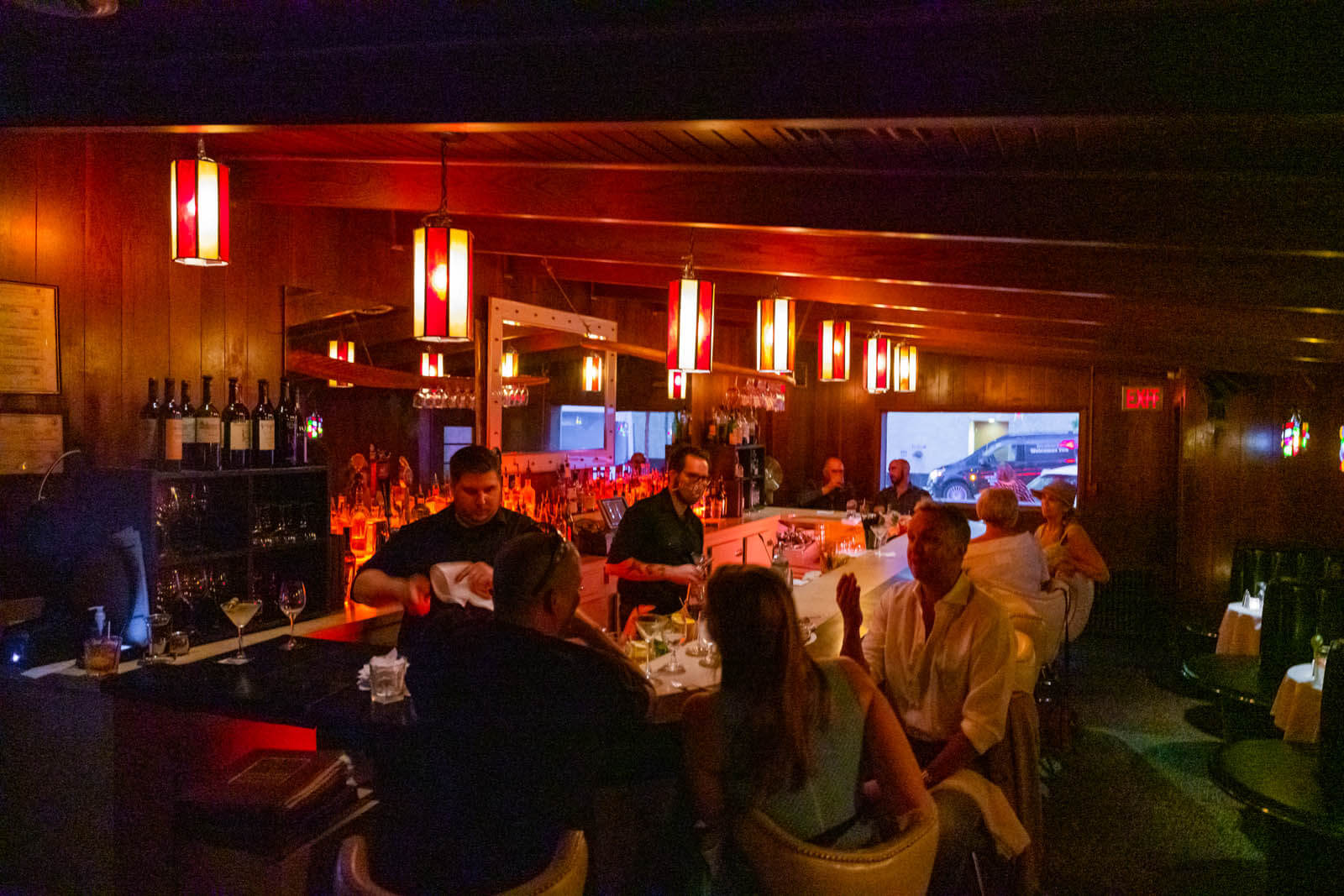 We recommend checking out one of the best Supper Clubs in Madison (and where we tried our introductory supper club experience) the Tornado Steak House. The exterior signage alone attracted us to this spot, the neon signage alone drips with nostalgia. Entering the dimly lit bar with leather booths and bar stools was also a complete vibe.
This is a premier steakhouse in Madison, so it goes without saying that you have a nice selection of steaks for your entree. A few of the other great items we tried were the scallops for starters, French Onion Soup, and I had the Walleye which was pan-fried and everything about the way it was prepared was really great and a stand out dish, you know you ordered well when the waiter lets you know you got the best item on the menu.
We were also told that a great 'late night' spot for dining is the Corral Room, located on the lower floor of the Tornado Room. Any left over cuts of meat are used to make steak sandwiches and popular among the late-night crowd in Madison.
Eat Cheese Curds!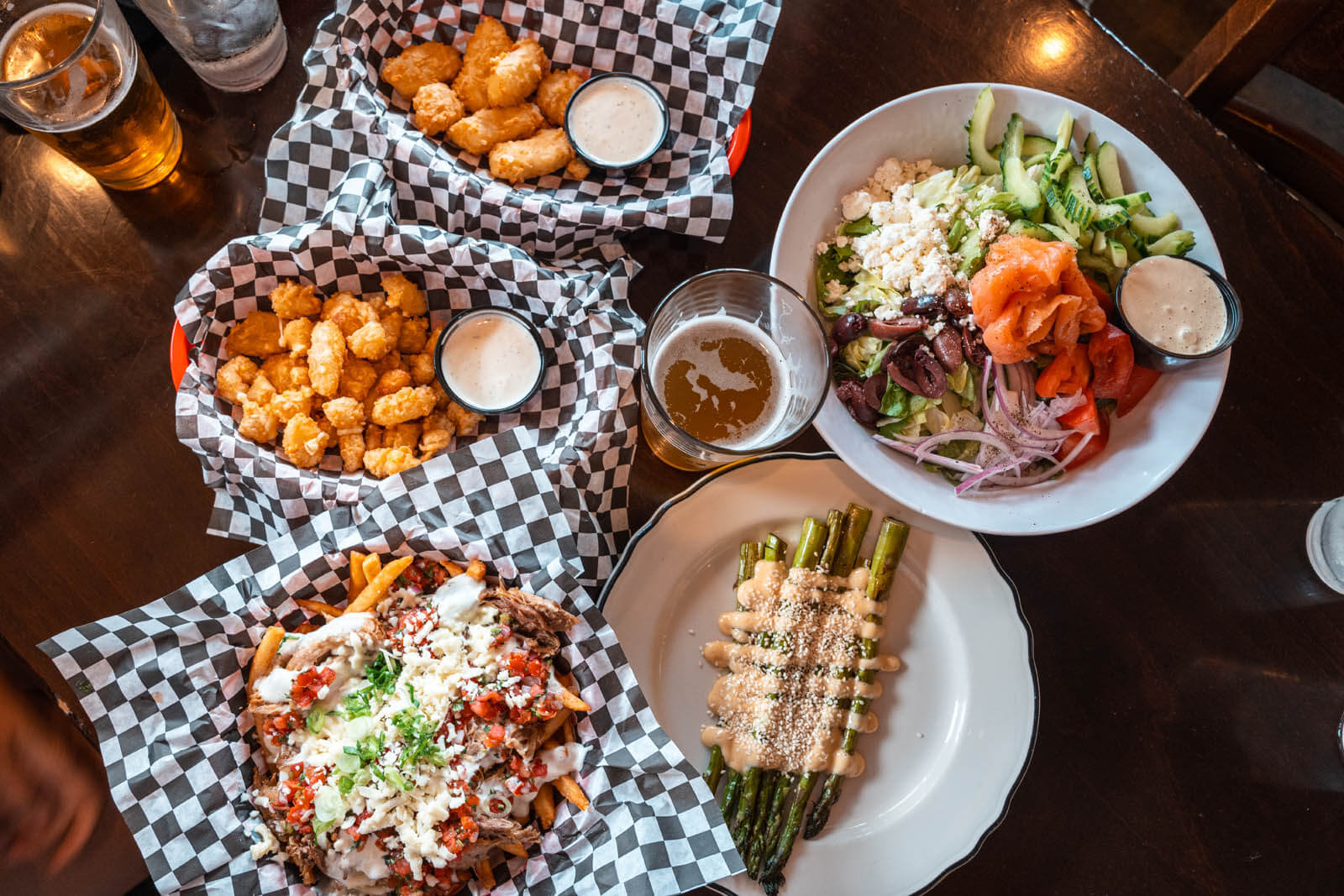 The best cheese curds in the world come from Wisconsin and you can believe that one of my favorite things to do in Madison was test tasting the fried cheese curds at all the restaurants.
I am a CHEESE lover! Cheese is life. I've been training my whole life for this moment I kept saying, and Madison did not disappoint.
For the battle of the 'best cheese curds in Madison' you'll need to visit The Old Fashioned, who is said to have the 'best cheese curds in the country' and the Tipsy Cow. Locals told us these are the two top contenders for the best in the city.
The Old Fashioned cheese curds are beer battered and best accompanied by a round of all their sauces, including smoked paprika, roasted garlic, buttermilk ranch, and blue tiger.
The Tipsy Cow has not one but two options for their fried cheese curds, they have the traditional curds along with goat cheese curds which is a little richer. Both of these curds are accompanied with a side of ranch dressing.
We don't know about favorites, that's too hard as all the cheese curds were good cheese curds, but one of the stand-out cheese curds we had were from a little stand called Curd Girl which we saw at all the summer outdoor events happening in Madison during our visit in the summer. If you see the Curd Girl, give her a whirl, those curds were legit!
And of course, you can always grab a bag of fresh cheese curds, or squeaky cheese!
Cheese, Cheese, and More Cheese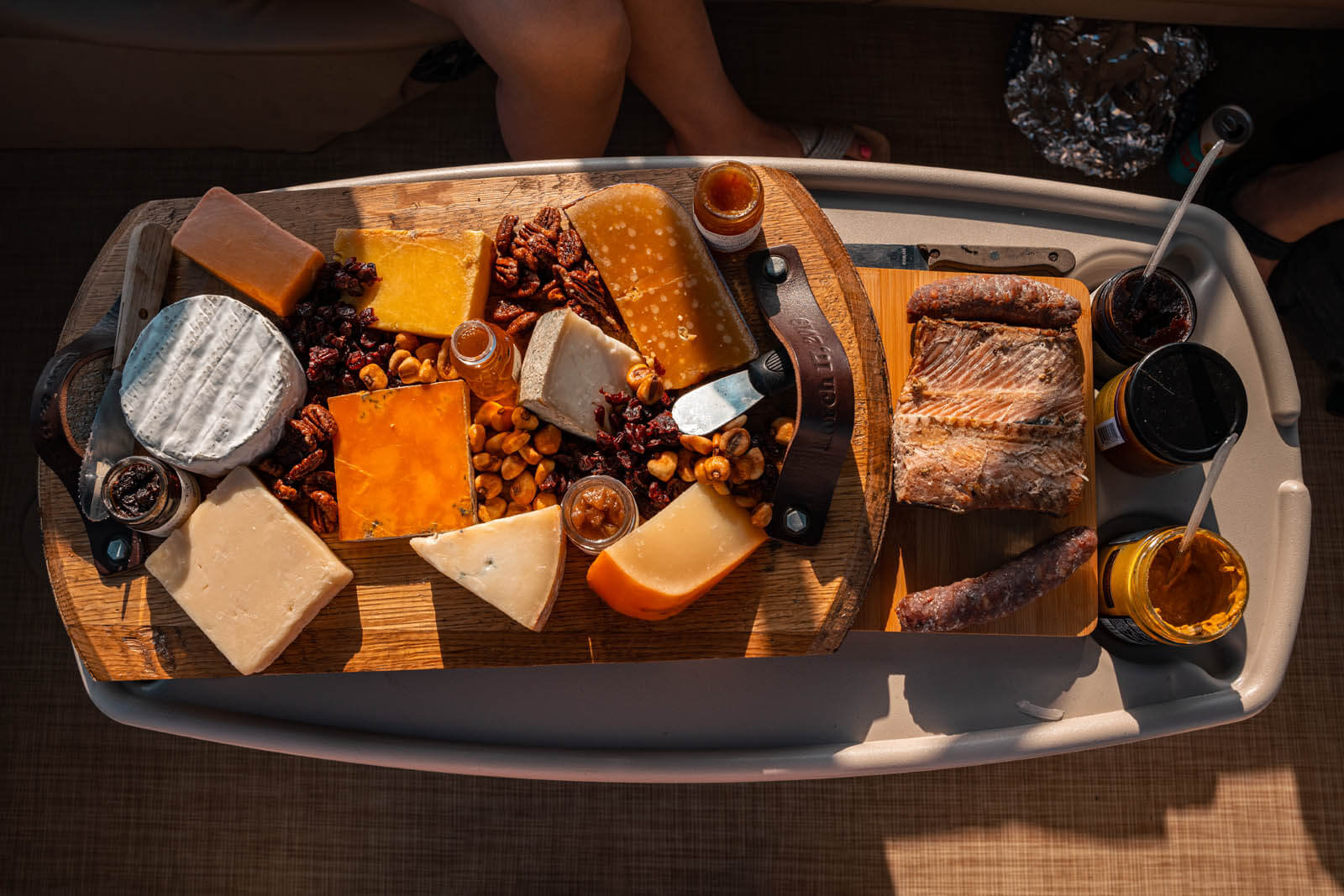 Cheese is life. I already said it and sweet Cheesus you're not going to believe it, there are some really great cheese shops here. Another one of the best things to do in Madison, especially for a cheese-thusiast like ourselves is check out the specialty cheese shops like Fromagination.
Located on Capitol Square, this cheese shop features the best of Wisconsin dairy and cheeses! The cut to order cheese emporium has carried hundreds of Wisconsin's best cheese in its storefront.
There are so many cheeses to try, be sure to talk to one of the cheesemongers if you're not sure where to start. There are also all types of things you can buy to accompany your cheese from jams and spreads to charcuterie and cheese accessories!
This is THE place to stop in Madison if you want to have a picnic! We enjoyed a spread from here on our evening boat ride on Lake Mendota and it was pure perfection.
Check out the Rest of the Food Scene
There's no other way to put this, Madison has a stellar food scene. You're not going to go hungry here. From brunch to lunch and dinner, we ate well during our trip and not one meal disappointed us. You're in good hands here and these were just the places we got to try, check out some of the best of Madison's foodie scene and our favorite spots plus some must try foods (in addition to cheese) while you're here including bratwurst and the classic fish fry.
So when you see these on the menu, know that those are done really well here.
Old Fashioned – As mentioned earlier as a cheese curd spot, this nostalgic dive bar feeling spot has other great options to try in addition to their curds! If you have a friend or two, get one of their signature Lazy Susans that come with all kinds of snackables and goodies. You can really sense the Central European and specifically German influences here on their menu from the pickles to devolved eggs, smoked trout, creamed herring, meats, and cheese spreads. If you still have room for more food, try their fish fry with locally caught fish! (Also, they have the brats here!)
Daisy Cafe and Cupcakery – Looking for a great breakfast spot? Or how about a sweet treat like a cupcake? Daisy's has got you. We enjoyed a hearty breakfast here, their huevos rancheros, chorizo omelet, and Stratas are all excellent. Everything here is made from scratch at this family-owned and operated eatery. And if you're wanting to eat their specialty, go for the Strata, they have both sweet and savory versions which are basically like a bread pudding with different fixins. If you have room for dessert, grab some cupcakes while you're at it!
Short Stack Eatery – Another awesome breakfast and brunch spot with their famous 25-ingredient Bloody Marys! Famous for their stacks of pancakes, you can't go wrong with anything on the menu here. Their pecan streusel french toast is divine and if you're craving something a little more savory we recommend the pulled pork and cheesy grits.
If you're feeling adventurous you can order 'The Blind' which is a mystery item! You're only allowed to ask one question and one question only, if The Blind of the day is sweet or savory. After that, it's up to the cook in the kitchen. If you take the mysterious dish its only $8.50, if you must know what the dish is, you pay $13. You're just going to have to trust your gut on this one.
Everly – This Madison eatery is not only a great brunch spot but also lunch and dinner as well. With everything and anything from salads to bowls and burgers, you can't go wrong (or at least no one at our table did). I highly recommend the So-Cal Grain Bowl with salmon, Chicken and Waffles (with Cholula hot sauce and honey), and the Butternut Squash and Forbidden Rice curry. Oh, and don't forget to split an order of the truffle parmesan fries for the table.
Brewery Hop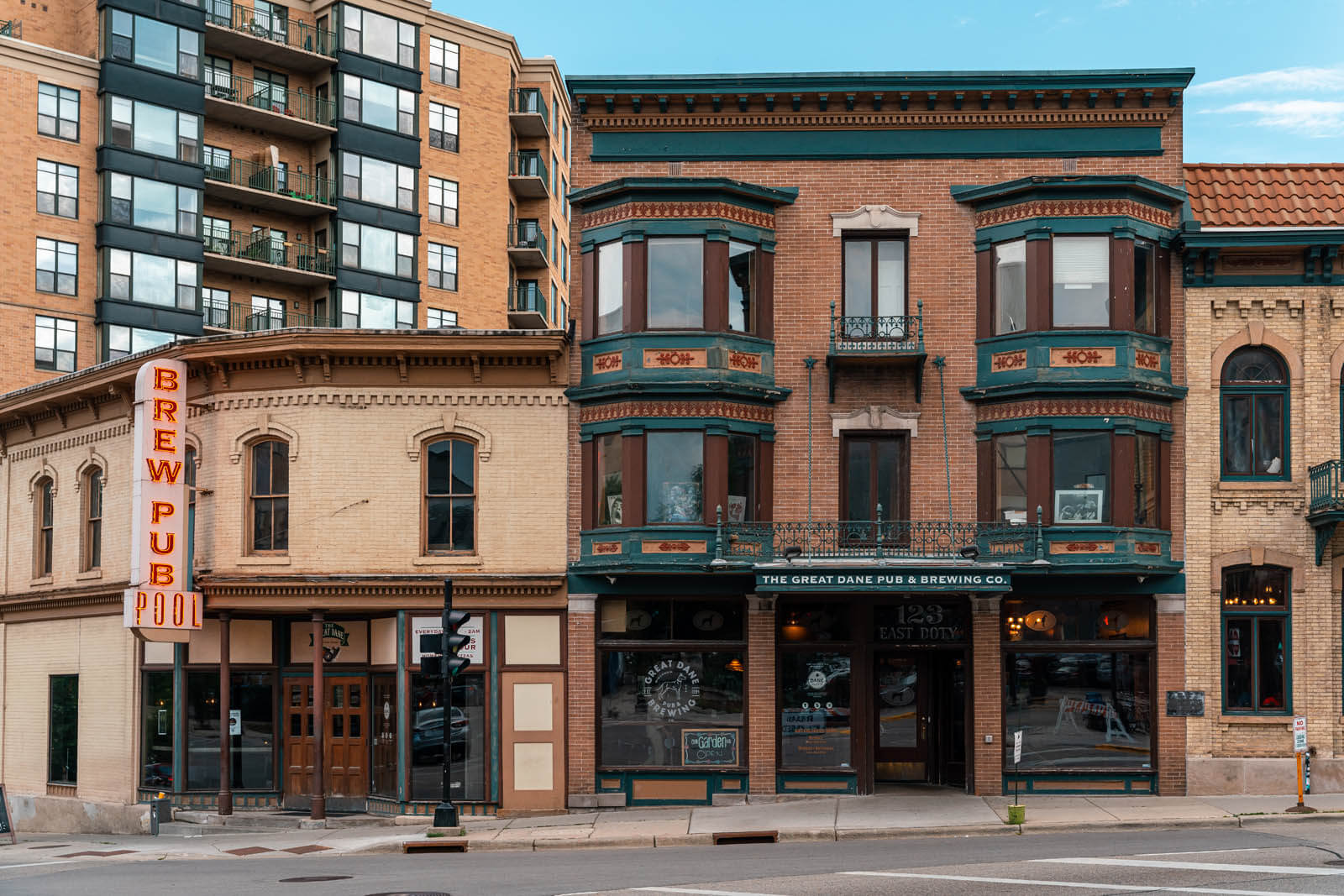 If you're like us, you love checking out the local craft brew scene when you visit a new destination, and Madison was no different. We knew, being in the Midwest that there would be a great beer scene here and thankfully we were able to get a few local recommendations.
One of the best things to do in Madison is to do a little brewery hopping! We actually only made it to two, believe it or not, but there are several within the city to check out including the Olbrich Biergarten at Olbrich Park while you're doing the Lake Monona Bike Loop or a great stop after visiting the Olbrich Botanical Gardens. While they don't have their own brews, they serve several local drafts from both Madison and state-wide. If you're in this direction, we highly recommend grabbing a brew and enjoying the view of the lake from the picnic table as they really have a prime location.
As for actual breweries, we really enjoyed Young Blood Beer Company on King Street. With sidewalk seating and a leafy, spacious interior made for a fine spot to enjoy their craft brews which had some great IPAs on draft, our favorite.
Directly across the street you'll find Great Dane Pub & Brewing on the corner of King Street and Doty Street. This classic spot has been around for nearly two decades and they seem to have something for everyone from pilsners to hard seltzers plus pub food including those good ol' fried cheese curds.
Check out the Cool Bars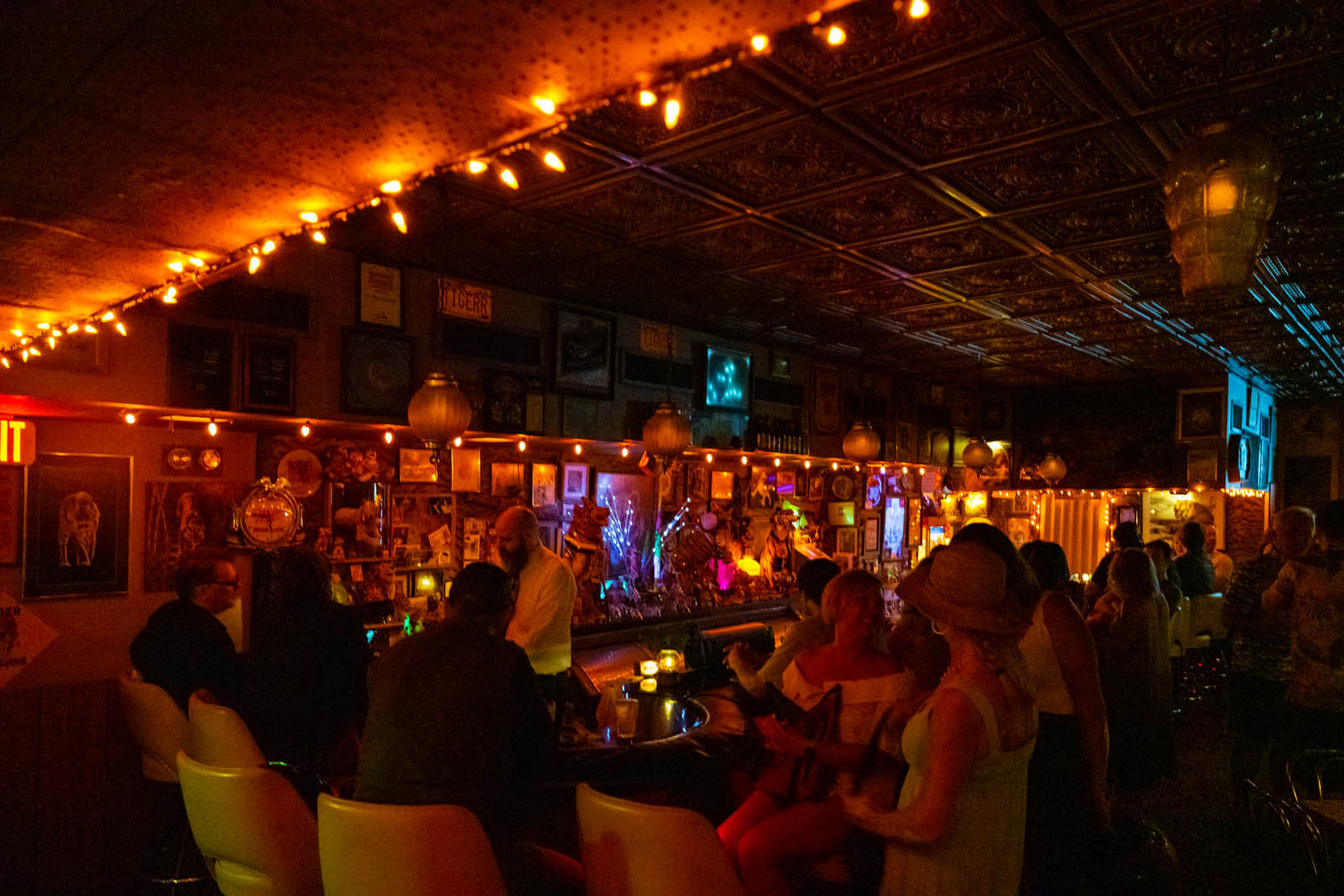 Between checking out breweries and eating all the cheese humanely possible on this trip, we highly recommend checking out a few of the great bars/cocktail spots in Madison too! Realistically you'll have a few days and there are only so many bars you can hit up, so here are a few stand out choices we got to try on our visit!
This one is going to be a bit of a surprise, but trust us, the cocktails are great! The AC Hotel one block off of Capitol Square has some stellar cocktails! The bartender, Craig, is a fine mixologist, or 'barcierge' who can whip up one of their signature cocktails or create something for you based on your taste preference.
Calling all the wild folks! This is one of the best things to do in Madison for you! Located in a random strip mall, which you'll need a car or rideshare to get to, is one of the best dive bars in the city with a twist, it's filled floor to ceiling with tigers! Le Tigre Lounge is a dimly lit bar with tigers everywhere, even the ATM say's 'CAT ME' on it and there's a TV playing live cat cams while you sit back and enjoy your well drink. You're not going to get a fancy cocktail here, so stick to the basics and come for the ambiance.
For great cocktails in a cool lounge environment, head to The Robin Room on Johnson Street. They literally have a book of cocktails to choose from. We were told these were the best cocktails in the city, and after one we believe it. The only problem you'll have here is choosing which cocktails to try.
Oh, and while you're here, one of the most classic things to do in Madison is try the Wisconsin version of the 'Old Fashioned.' You can get these at most dining establishments that serve up local specialties like The Old Fashioned or Tornado Steakhouse, plus the bars.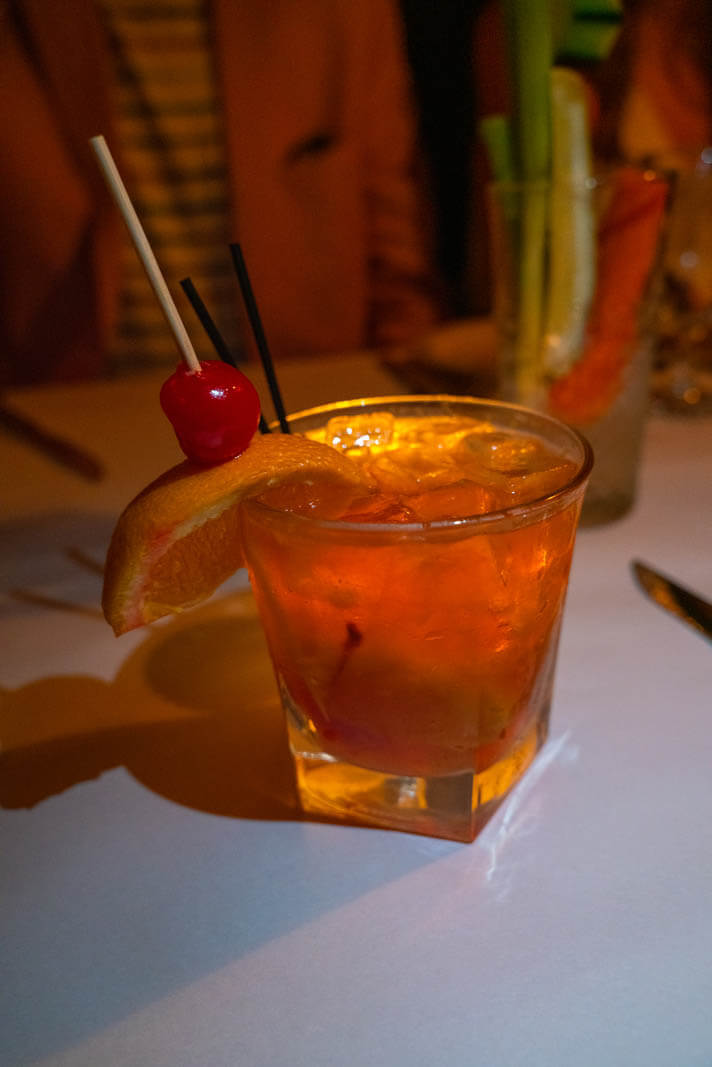 The Wisconsin Old Fashioned uses brandy instead of whiskey, that's the biggest difference. The brandy of choice is Korbel. The drink tends to be much sweeter than the Old Fashioned you're used to, so prepare for that so you're not too surprised. The other difference you'll find in the Wisconsin version is that they also muddle cherries and oranges with bitters and sometimes add a little sugar topping it off with soda.
National Mustard Museum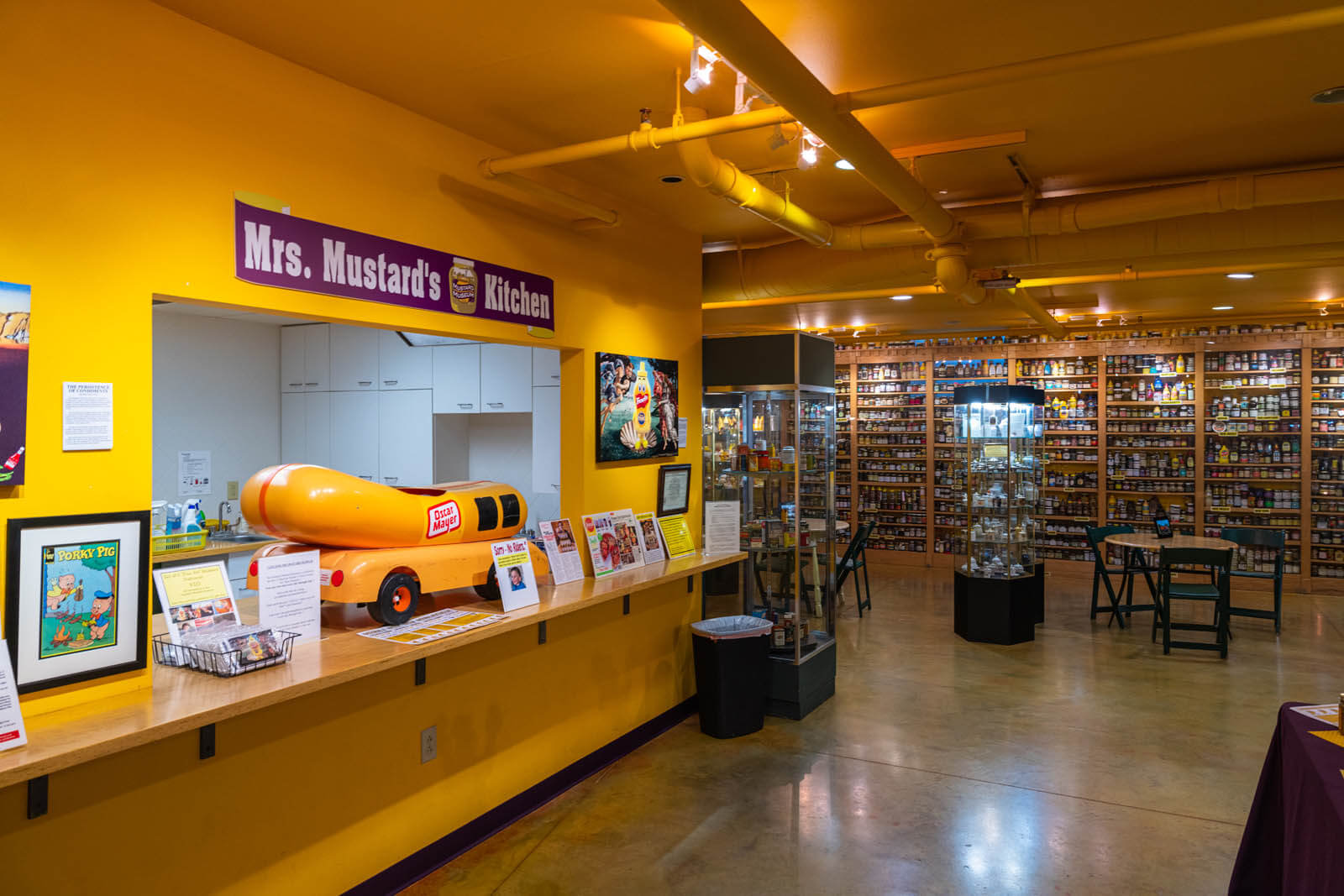 One of the most unique things to do in Madison is visit the National Mustard Museum! Located around a 15 minute drive from downtown Madison in Middleton, you can explore the wild world of this beloved condiment at the National Mustard Museum, a museum that a passionate mustard man opened after starting his personal collection in 1986.
Inside one of the most kitschy Madison attractions, you'll find a collection of over 5,600 mustards from all over the globe, mustard memorabilia, games, artwork, and just about anything you can think of that is related to mustard on display.
After you explore the world of mustard you can taste dozens of different mustards and pick up a few bottles/jars to take home with you as well as other mustard merchandise. Be sure to try the award-winning mustards on display too as each year there's a highly competitive mustard tasting competition awarding the best mustards around year after year.
Shop!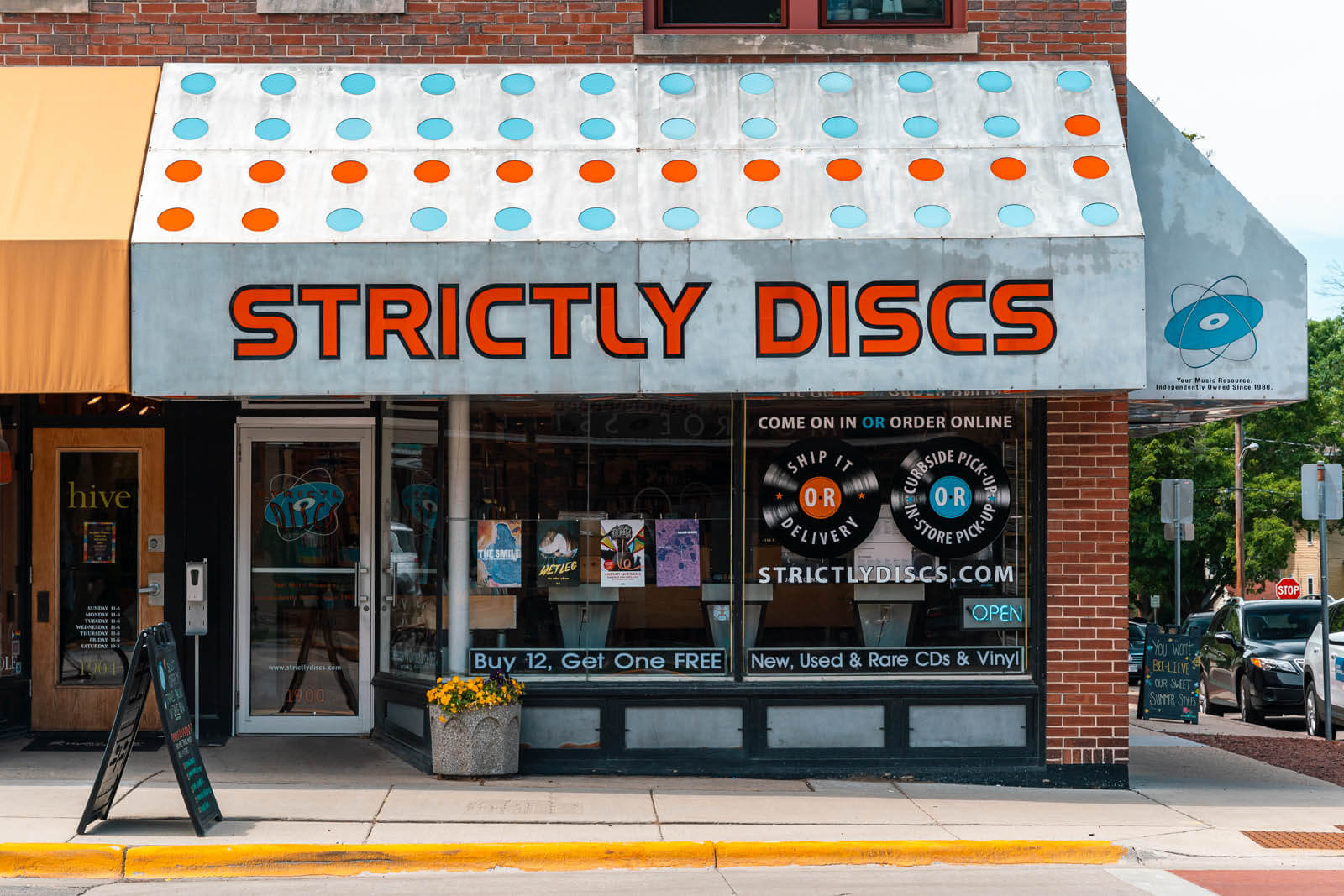 As mentioned earlier as one of the best things to do in Madison when exploring State Street, there are some awesome shops to check out in Madison. Whether you're in the mood for shopping for yourself or looking for the perfect gift, there are several spots in the city with some great shopping!
A few of our other favorite spots (see our State Street recommendations above for more) included browsing the impressive new and used vinyl at Strictly Discs on Monroe St. We could have easily spent over an hour in here and both walked away with a few treasures we had a hard time finding in our vinyl hunting. The first floor is all new vinyl and when you head to the basement you enter a much larger space filled with all their used vinyl for sale – it's an impressive collection and they have great prices.
Nearby on Monroe Street, you can also check out the Good Day Shop which carries fun home products, a small collection of carefully curated vintage clothing and pieces, and other cool finds from small, independent artists and brands. Also, while you're here check out Hive which carries men's and women's outdoor adventure lifestyle clothing and products. They have the athleisure lifestyle down here.
For more vintage shopping, check out The Good Shop on Johnson Street for a great curated collection of vintage clothing.
Madison Summer Events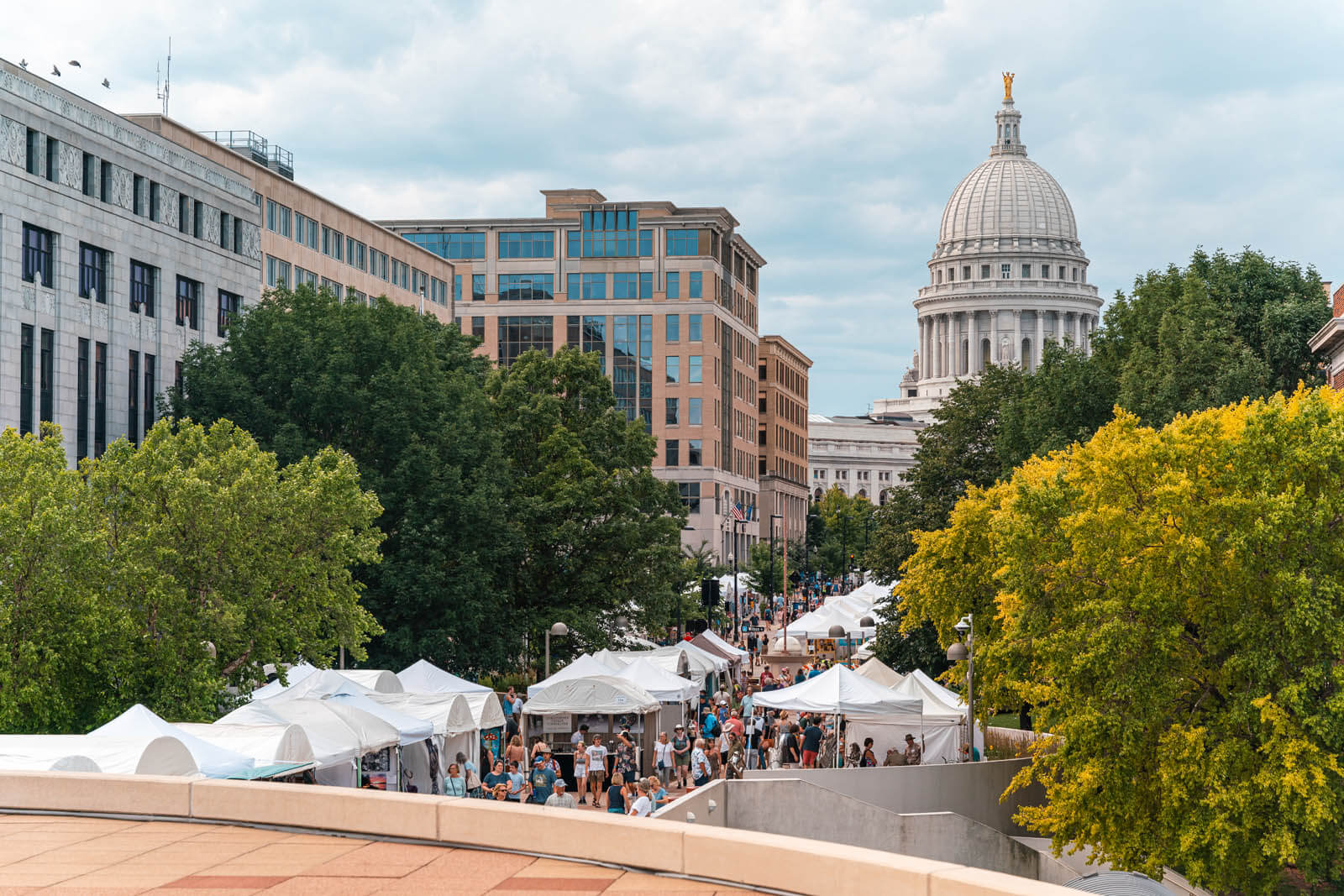 Madison is without a doubt a great summer destination, beyond great weather and all the outdoor and lake activities, there is also an incredible lineup of events throughout the summer that are not to be missed if they align with the dates of your trip. Most of these events are completely free, outdoor, and pretty awesome.
On our trip, we got to do all of these in just a few short days with 3 days of back-to-back free concerts! Here are a few of the great summer programming available and Madison attractions you don't want to miss on your visit.
Concerts on the Square
Surrounding the Wisconsin State Capitol, guests can grab a blanket and bring your own cheese and wine for Concerts on the Square. This event takes place 6 times throughout the summer where locals (and visitors) sit on the lawn to listen to live musical numbers by the Madison Chamber Orchestra for a full on concert.
There are food trucks on the street if you didn't bring your own cheese or need something a little extra! There's also Fromagination and Square Wine Company right on the square where you can pick up provisions and drinks for this outdoor event.
Didn't get a prime spot next to the orchestra? Don't worry, there are screens around the Capitol and you can hear the music all the way around the square. This free concert series typically runs through June and July, check their schedule to see if they have an event during your visit.
Concerts on the Rooftop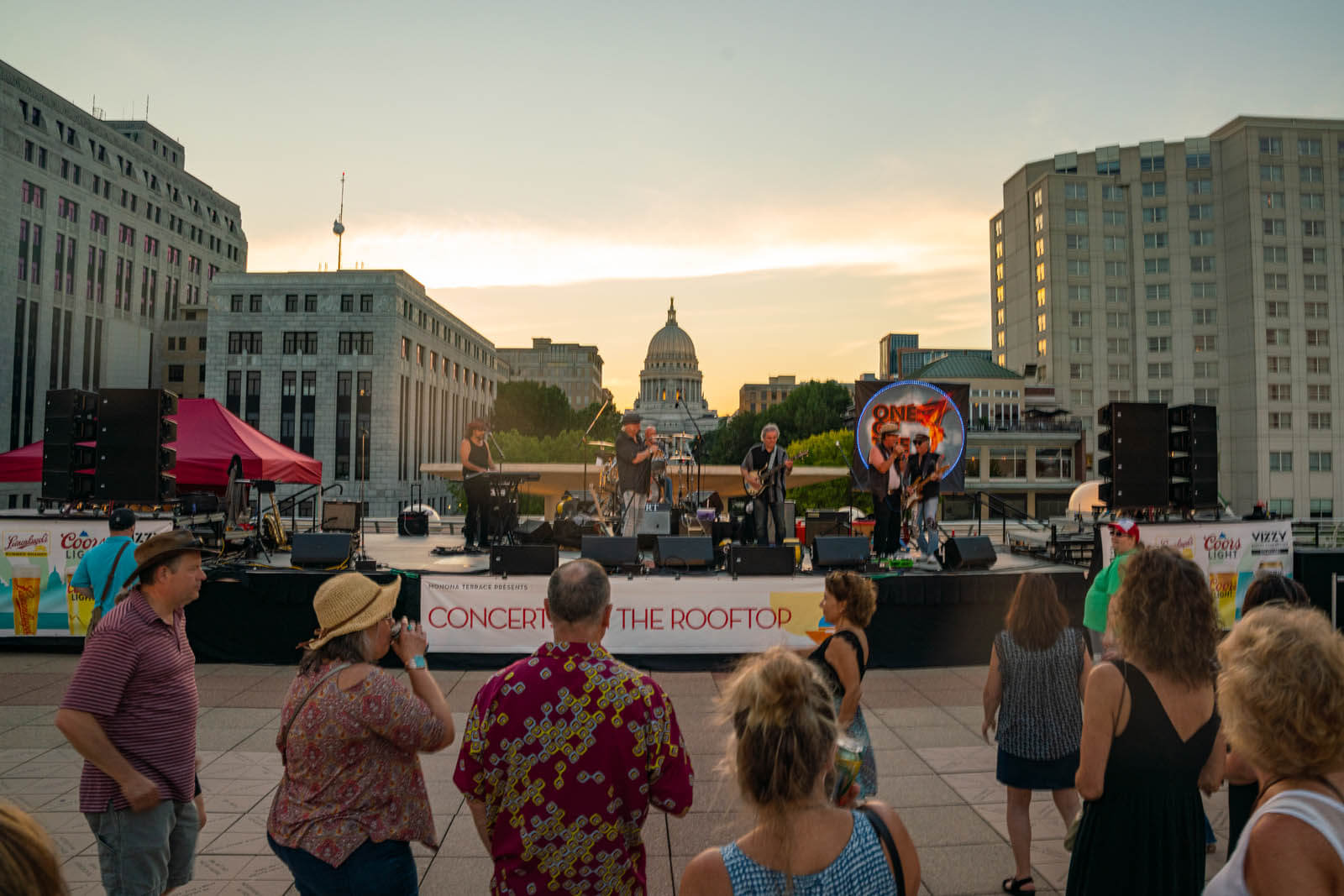 Another awesome concert series and thing to do in Madison in the summer is catch one of the live concerts on the rooftop at the Frank Lloyd Wright-designed Monona Terrace. Sip on a drink, dance the night away, and enjoy the views of Lake Monona!
You'll want to check their schedule to see if there are any concerts happening during your visit. Tickets are free, but check on their site for each of their concerts as we did have to present tickets and go through a bag check to enter.
Brewgrass Fridays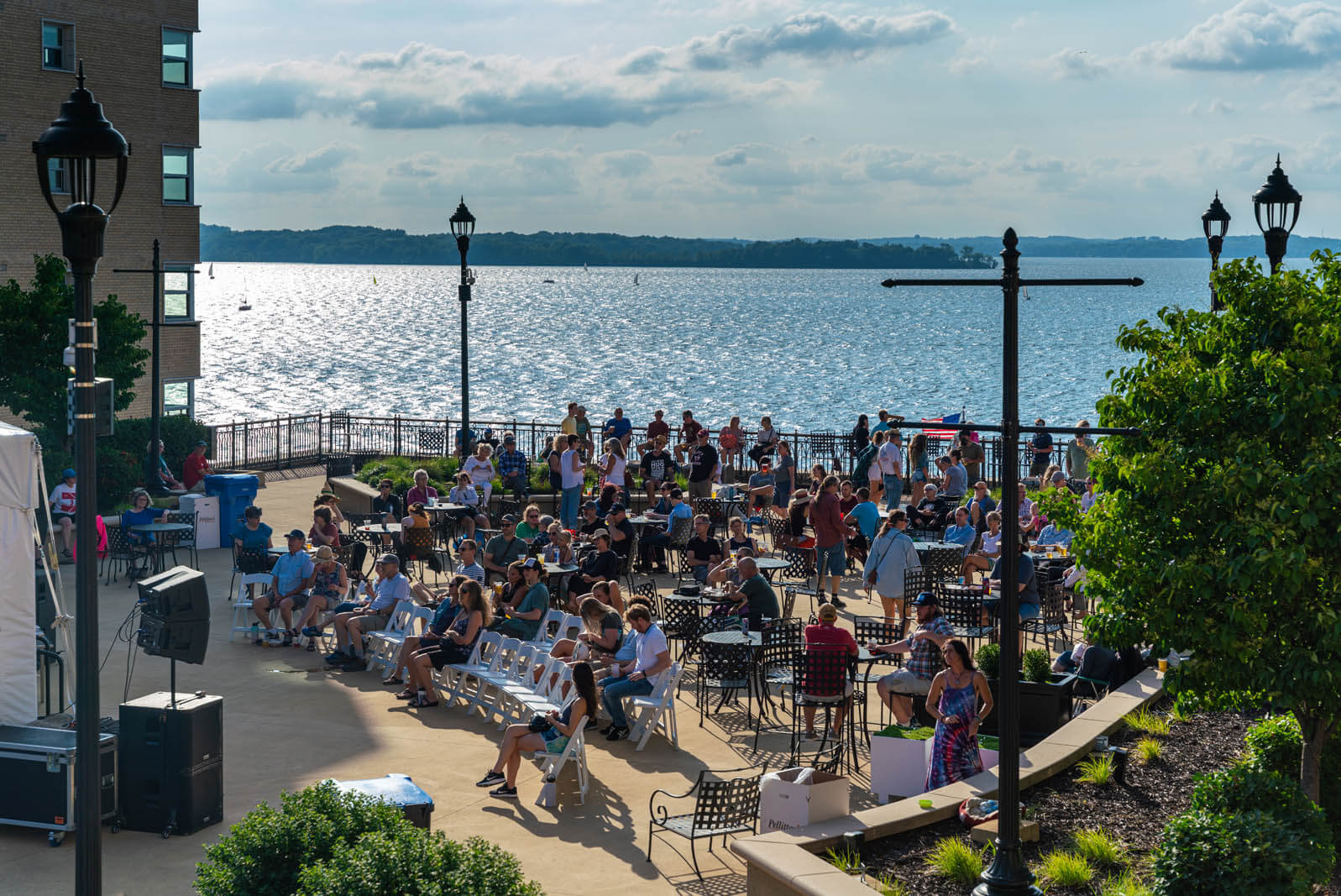 Located at the Edgewater Hotel overlooking Lake Mendota is another exciting summer concert series! Door County Brewing Company serves up great local brews while you sit back and enjoy a few hours of live Bluegrass music.
Fridays are also Fish Fry nights so you're able to enjoy a classic fish fry overlooking the lake! You can't beat the location and setting. Be sure to check to see if there is an event during your visit, which is completely free to walk up and enjoy as little or as much as you want.
Art on the Square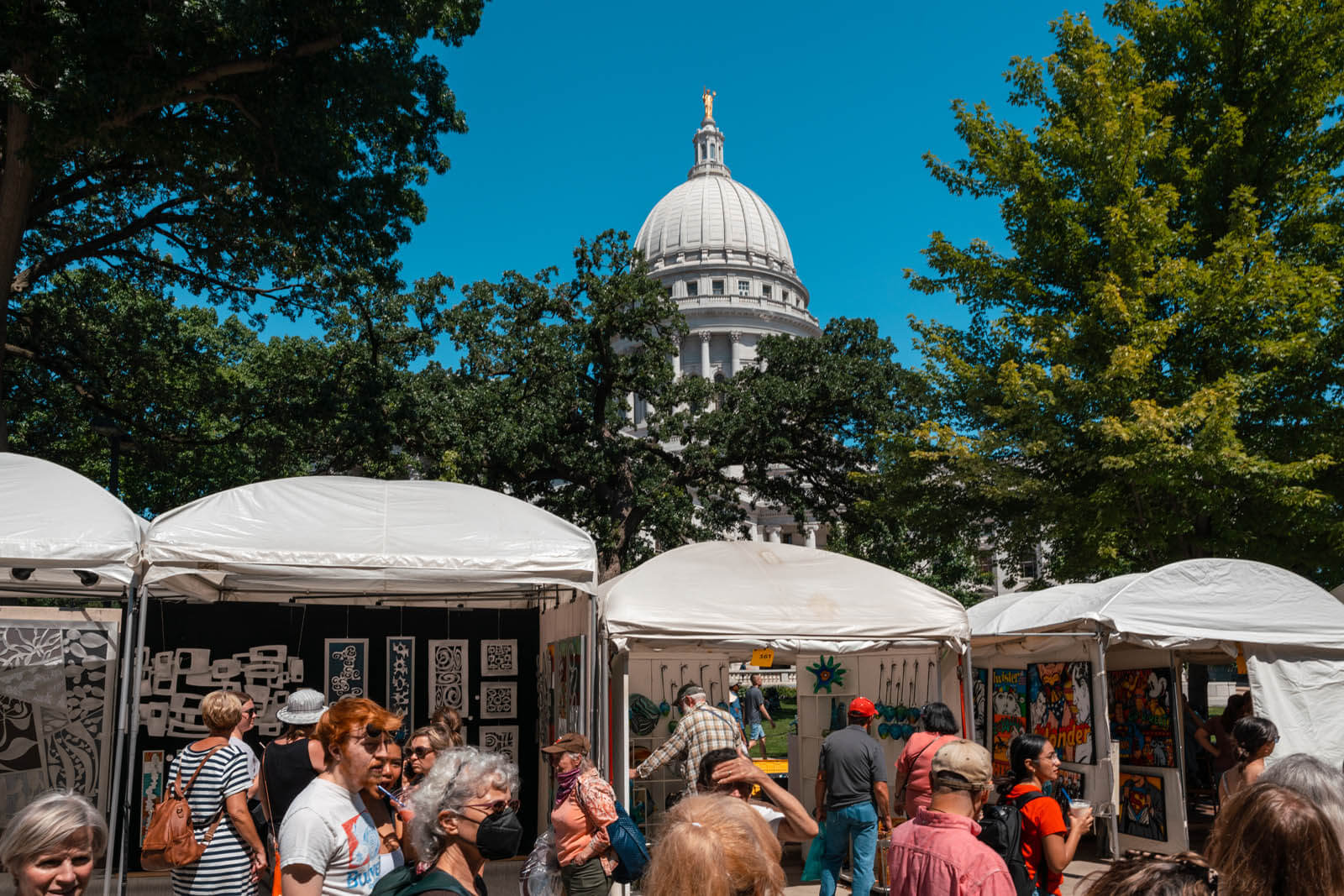 Each summer, one of the best things to do in Madison is attend Art on the Square which invites over 500 artists and craftspeople to sell and show off their work all around the Captiol Square! Featuring artists, photographers, woodworkers, and pretty much any creative thing you can think of from all over the country.
As you're walking around there are places to grab drinks (including local beer) and food!
Make your way towards the Monona Terrace for Art Off the Square too where you can find a few local artists who have their own little special spot near all the action. Check their schedule to see if Art on the Square is happening during your visit!
Dane County Farmers Market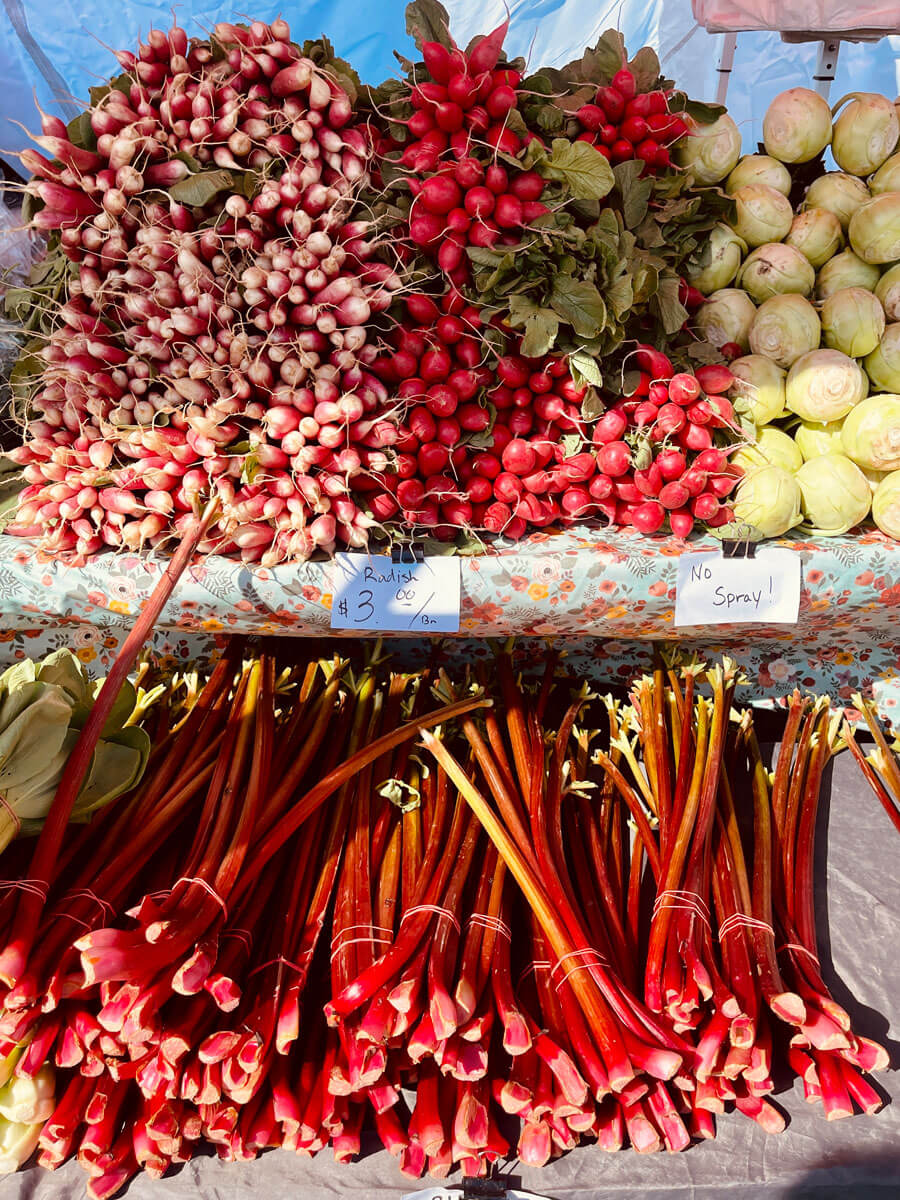 One of the best things to do in Madison that you don't want to miss is the Dane County Farmers Market which takes place on Saturday mornings from April to November on Capitol Square! (Unless it's Art on the Square week then the move to a temporary location). In the winter months, the market takes place inside Monona Terrace, so this is actually one of the Madison activities you can enjoy year-round at slightly different locations.
This is the largest producers-only farmers market in the country. The earlier you visit the better so you don't miss a thing! You can find anything and everything from local produce, meat, cheeses, baked goods, fresh cut flowers, and other products like soaps, locally made honey, and other fun condiments like hot sauce.
We were given the tip to grab a fresh loaf of the spicy cheese bread from Stella's and walk around – which we HIGHLY recommend if you're a fan of carbs and cheese. We are only sad we don't have access to buying that bread all the time! Or grab some fresh squeaky cheese and other local delicacies as this is the freshest way to enjoy them!
Where to Stay in Madison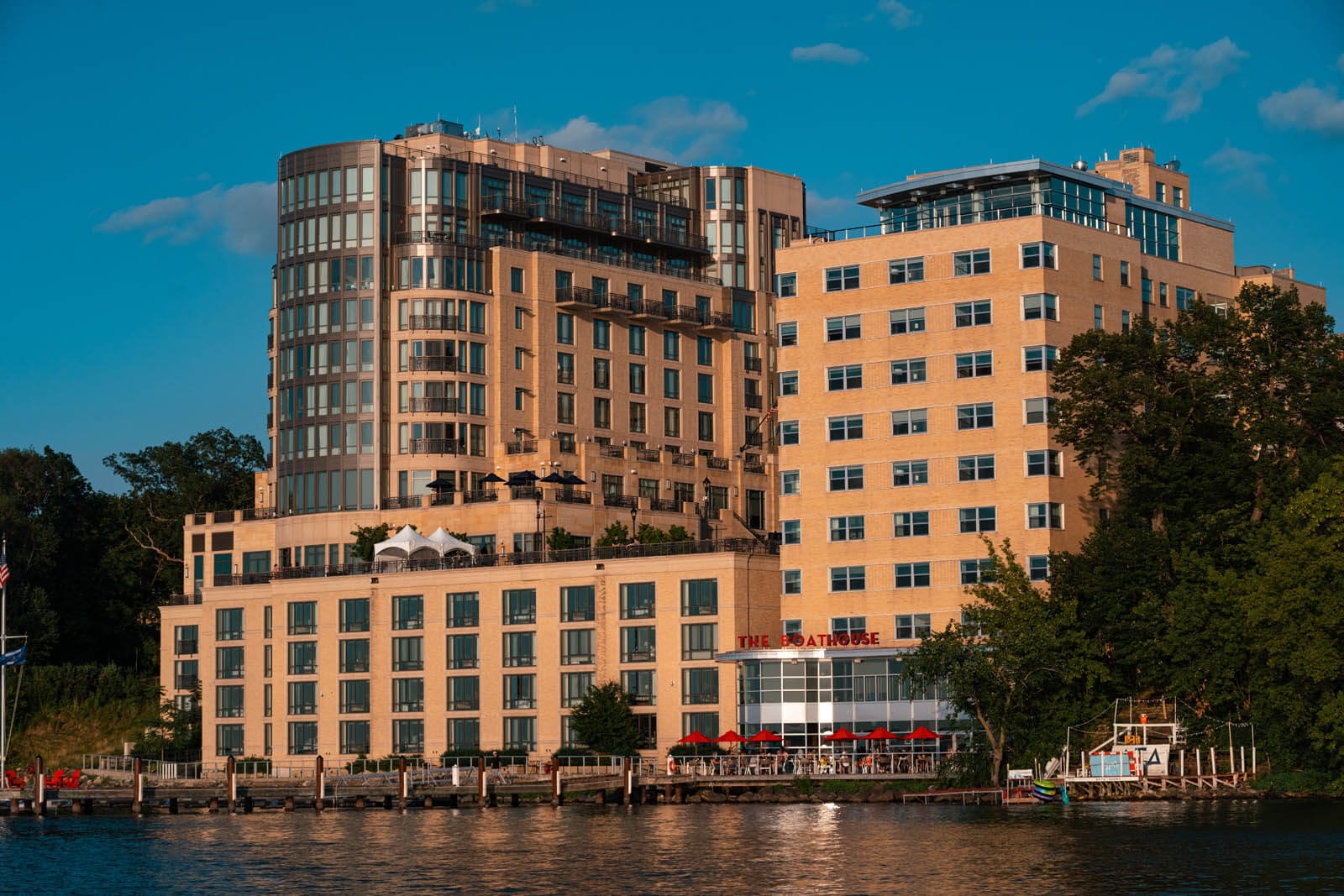 If you're looking for a great stay during your Madison trip, look no further than The Edgewater Hotel located on Lake Mendota just a 10-minute walk from Capitol Square. This historic hotel is recently renovated and has rooms offering balconies and views of Lake Mendota.
This is the luxury option in the city, with a AAA Four Diamond rating, which is also a designated Historic Hotel of America located in the Mansion Hill Historic District.
Since its opening in the 1940s, the Edgewater has hosted many celebrities including artists like Elvis Presley, Sammy Davis Jr., Bob Marley, and Elton John. There is even a story about how Sammy Davis Jr. tried fishing in Lake Mendota out of his hotel room window!
The original hotel building now houses the Edgewater Spa, their gym, and The Boathouse Restaurant while guests can enjoy their rooms in the newer building. We highly recommend booking a room with a lakefront view or balcony, especially if you're visiting in the summer like we did.
Be sure to take a walk along the 7th floor which is lined with notable figures and people that are connected to Madison including American Girl Doll founder Pleasant Rowland, who started the company here in Madison!
Guests can also enjoy the pier on the water and other dining options and facilities on site. Book The Edgewater here.
---
Enjoyed this guide to all the amazing things to do in Madison, Wisconsin to build your perfect Madison itinerary? Bookmark for later or share the love below on Pinterest.