Looking for the perfect getaway? Plan an unforgettable weekend in Portland, Maine. Imagine the fresh salty ocean air, gorgeous Atlantic coastline, picturesque lighthouses, and a charming cobbled downtown full of fun, fresh seafood, and everything you need to fill a dreamy little weekend staycation.
Our guide covers some of the best things to do in Portland, Maine to help you plan your getaway. While there are more than enough Portland, Maine activities to fill a weekend, use our guide to customize your trip based on your interests.
Most of these attractions and activities are based around the Old Port neighborhood, where at the end of this guide we will recommend the perfect hotel for your stay so you're within walking distance to just about everything. Speaking of walking, while you most likely won't need a car while you're enjoying most of the things to do in Portland, Maine, there are a few not to be missed attractions that are best explored by car like the lighthouses.
If you don't have that option, don't worry, you can join a tour (which we recommend below) or use rideshare apps to get to and from those select activities if you choose to include them!
So without further ado, enjoy your Portland, Maine getaway!
Disclaimer: This post was done in collaboration with Canopy by Hilton Portland Waterfront, as always, all experiences and opinions are our own.
Best Things to do in Portland Maine
Take a Trip to the Casco Bay Islands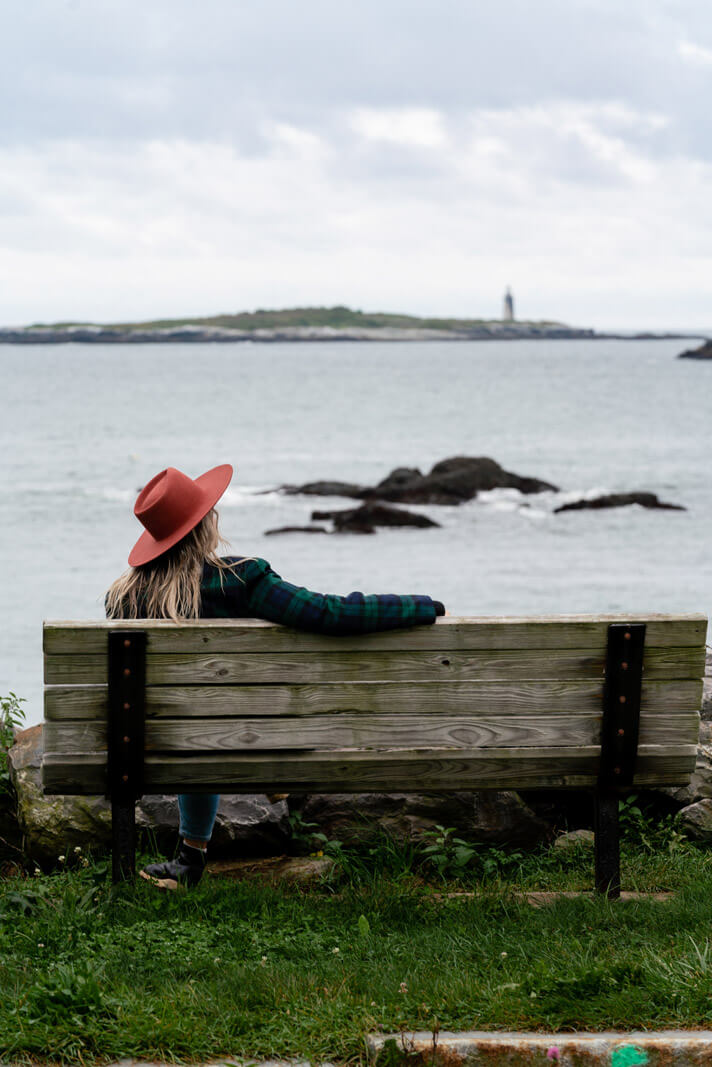 One of our personal picks for the best things to do in Portland, Mane is to take a day trip to one of the Casco Bay Islands! Located in Casco Bay, an inlet of the Gulf of Maine you can find several islands to explore and even stay the night at.
Serviced by the Casco Bay Lines ferries right off of Commercial Street in Old Port, you can explore the many picturesque New England islands including Little Diamond, Peaks Island, Great Diamond Island, Chebeague Island, Cliff Island, Long Island, and Bailey Island (only in the summer).
Be sure to check their seasonal ferry schedules to plan your visit. During the summer, especially around the holidays and weekends, you will want to secure your tickets. During shoulder seasons you can just walk up and purchase your tickets in person.
If you're enjoying just a weekend in Portland, Maine like us you'll probably want to pick one of the islands that has less of a commute like Peaks Island (17-minute ferry ride), Little Diamond Island (15-minute ferry ride), or Great Diamond Island (20-minute ferry ride).
The other Casco Bay Islands' commute times vary from 30-90 minutes depending on which island and the route they take that day.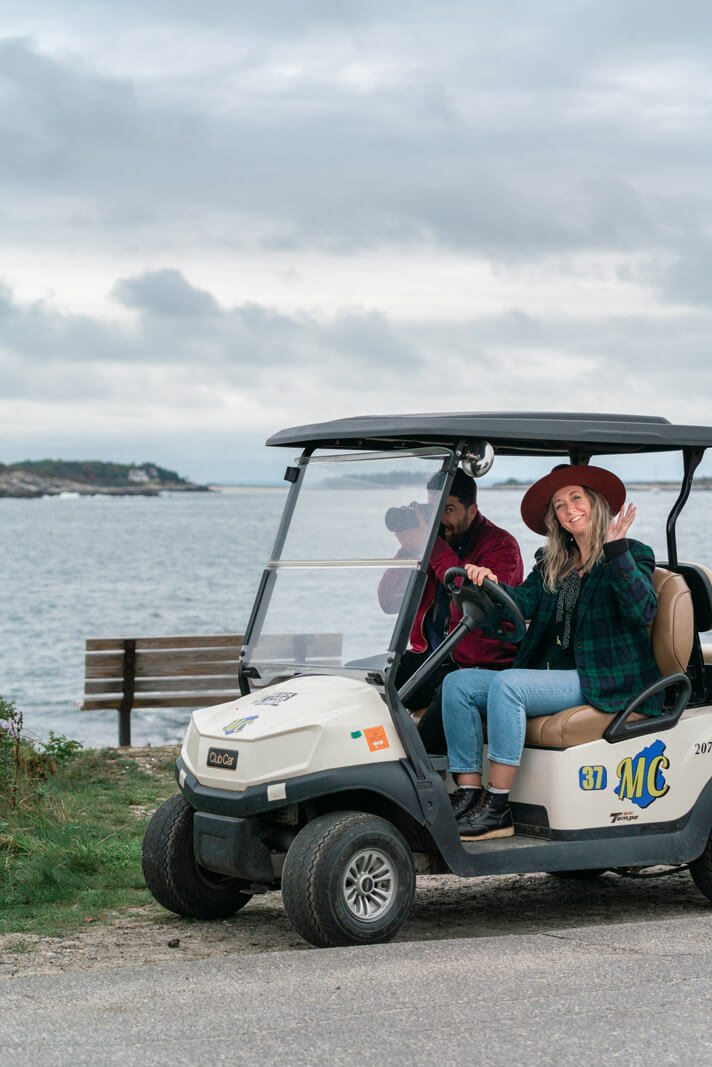 Since we were trying to pack in as many of the amazing Portland, Maine activities as we could in one trip, we opted for the popular Peaks Island which has a charming island community with cafes, shops, WWII remnants, beautiful homes, and gorgeous seaside views that is also easy to navigate with a golf cart rental which you can get as soon as you arrive off of the ferry.
We rented a golf cart for 2-hours which was plenty of time to drive the island loop while making scenic stops along the way including Battery Steele and Centennial Beach.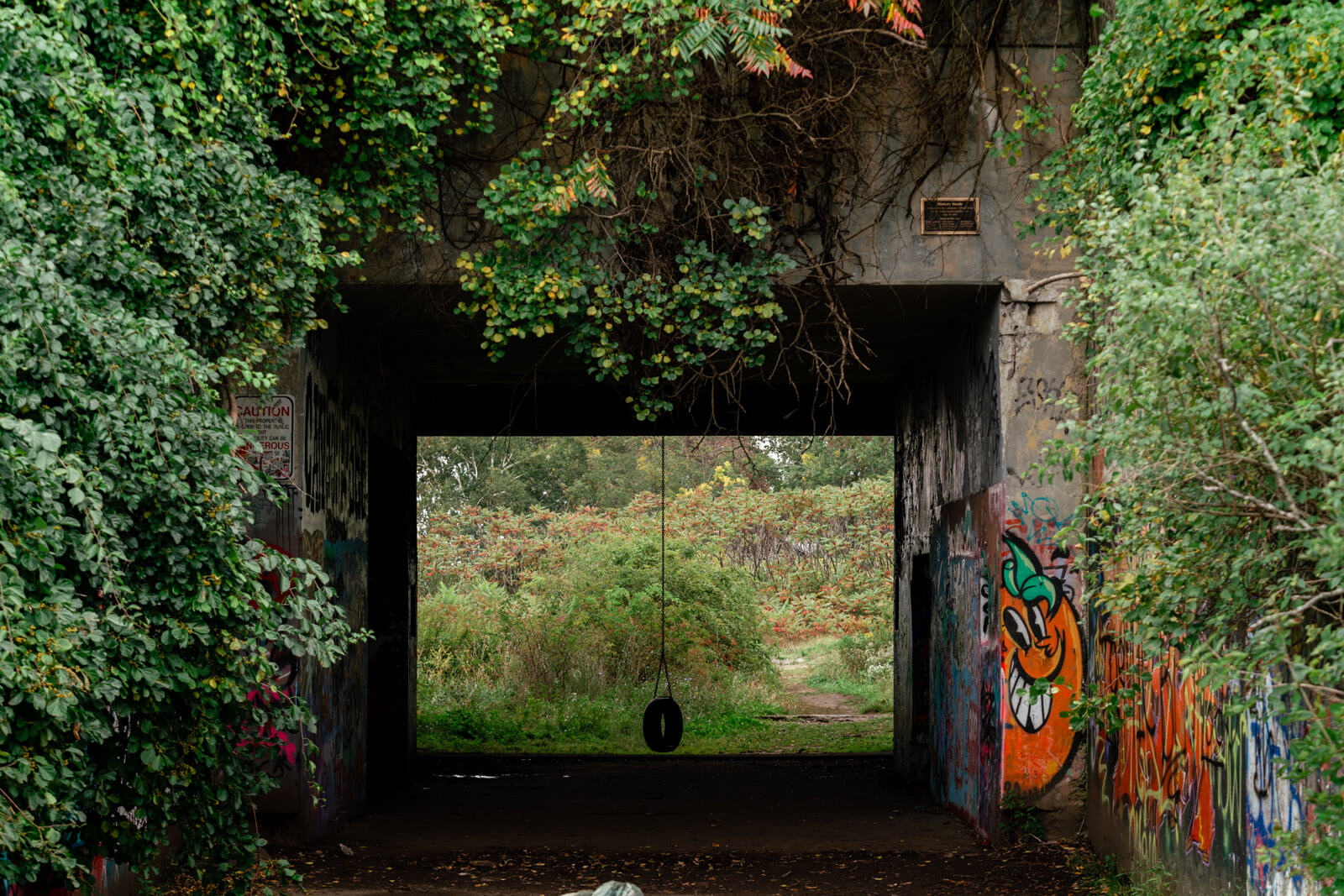 Honestly, we both felt this was one of our favorite things to do in Portland. Take the time once you find Battery Steele, the former WWII fortification and lookout point, to explore a bit here! This former military outpost is covered in colorful graffiti and overgrowth. Once you walk through to the tire swing area follow the path to the left and it leads you through a narrow path to the top where you have a gorgeous lookout point.
The summer months are much busier and crowded on the Casco Bay Islands, including Peaks Island. While the island is spread out, keep in mind that there are many residents on this quaint island and they are welcoming of visitors, but please be respectful, especially with the golf cart rentals.
Enjoy the Portland Breweries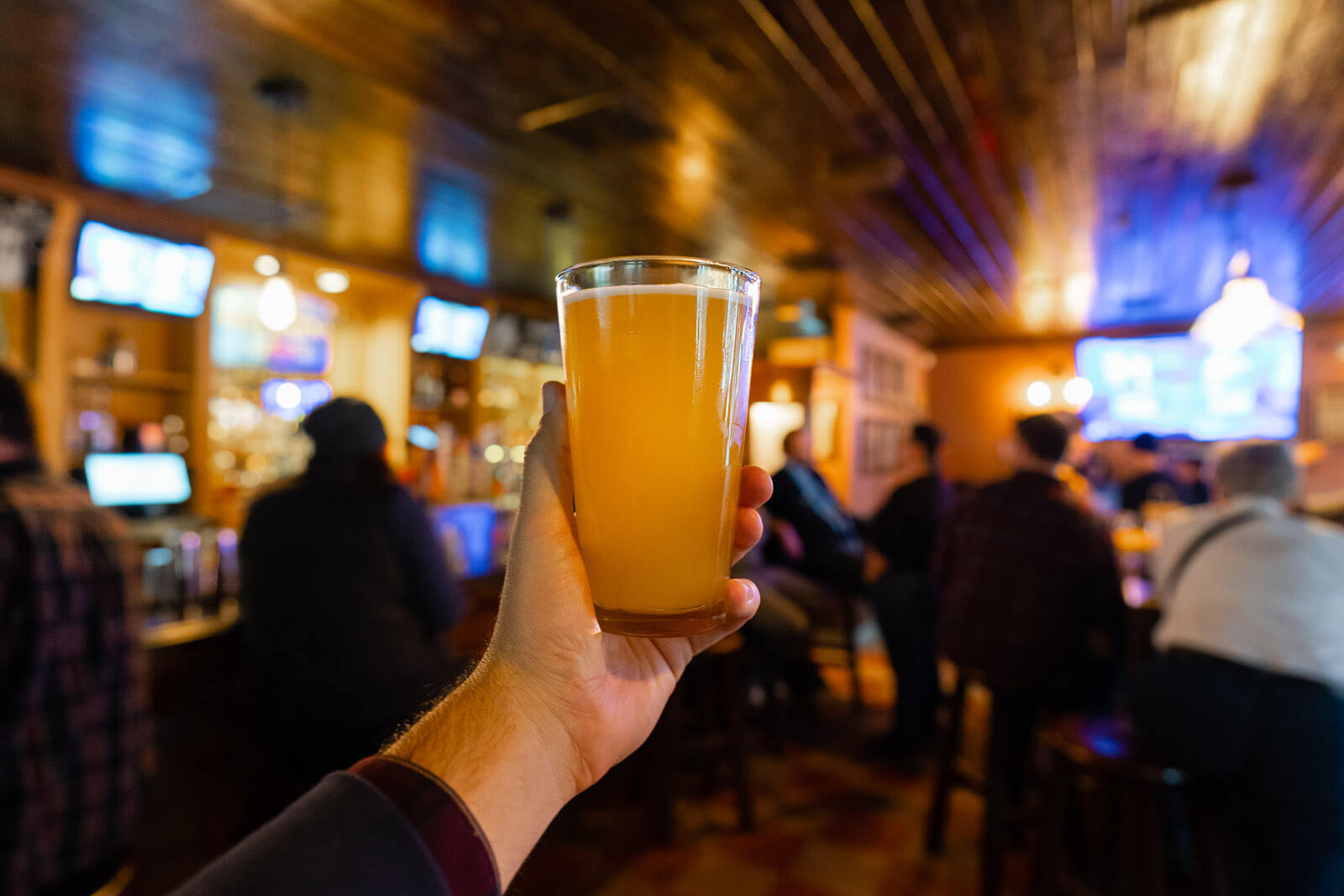 Calling all craft beer lovers like ourselves, a weekend in Portland, Maine getaway wouldn't be complete without hitting up a few of the city's breweries! One of the best Portland, Maine attractions are no doubt their breweries!
There are around 18 breweries in the Portland area including breweries that are distributed and found easily all over the country like Allagash Brewing, one of the oldest breweries in the state, and Shipyard Brewing Company, the largest brewery in Maine.
There are also many hyper-local spots that are great to check out like Lone Pine Brewing Company, Goodfire Brewing Company, Oxbow Blending & Bottling, and Liquid Riot Bottling Company to name a few!
One unique thing to do in Portland, Maine on your weekend getaway if you're looking to hit up multiple local breweries is join a guided 2.75-hour biking brewery tour (bike and helmet included) that teaches you about the booze history of Portland from rum riots to the Prohibition era stopping at some of the best breweries in town along the way. Book here.
Hit up the Irish Pubs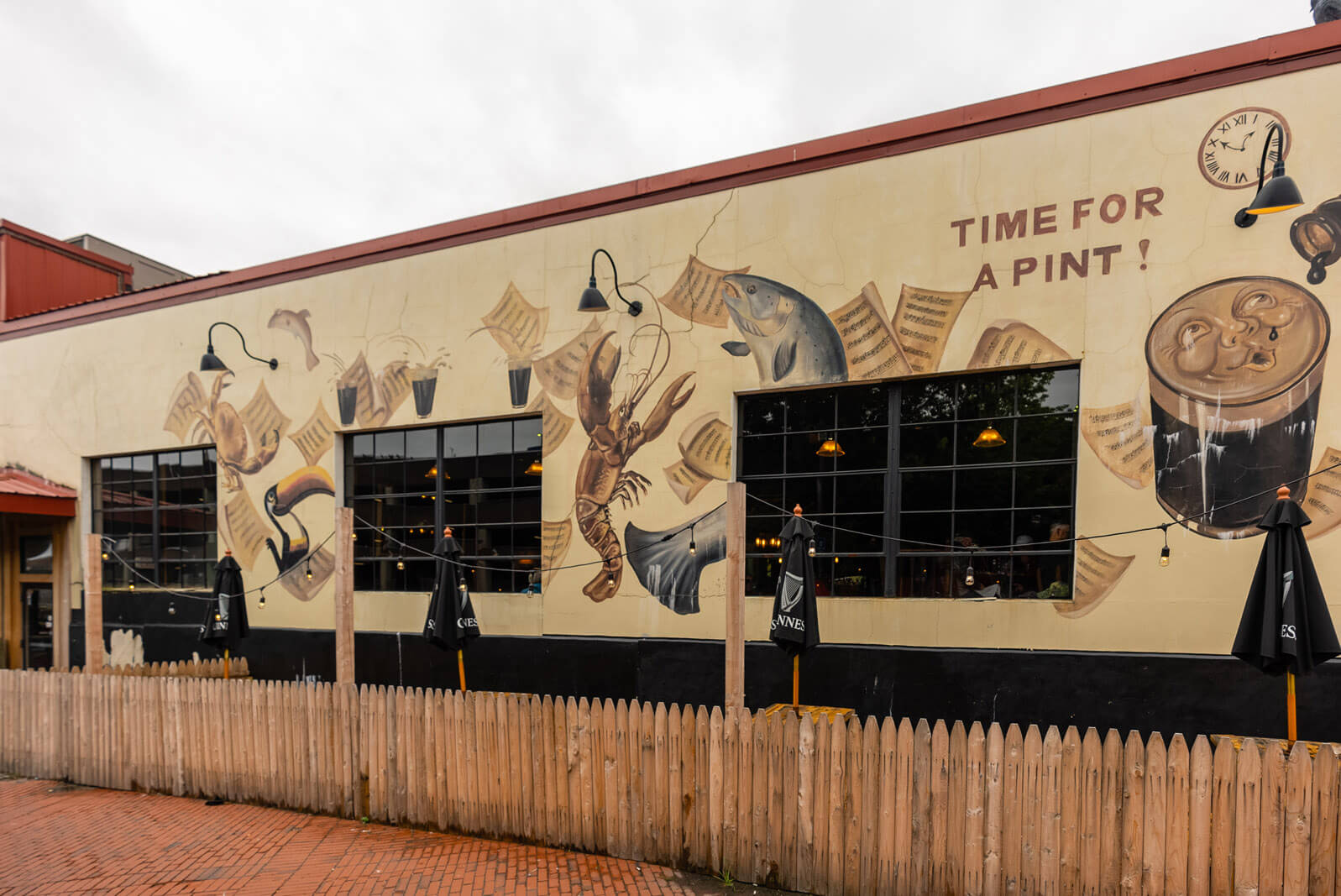 Without a doubt, the brewery scene is one of the best Portland, Maine attractions but if you have room for more boozy adventures you will want to hit up a few of the awesome Irish pubs here too! Considering we've spent a considerable amount of time in Ireland, we've got to say the pubs we've checked out felt straight out of Temple Bar in Dublin.
New England is home to the largest concentrated Irish-American population which means you're going to find some really great pubs! We stumbled upon a few during our weekend in Portland, Maine, and felt that pub ambiance was complete from the wooden bars, dim lighting, traditional decor, and rowdy football crowd watching the soccer match on tv.
We stumbled upon a few but the one that lured us in was Rí Rá Irish Pub & Restaurant on Commercial Street. The downstairs is your typical Irish pub feel where you can hang out, watch the match with a brew or even sit outside along Commercial Street at the picnic tables and people watch.
If you're looking for everything an Irish bar offers but want a different setting, head to their upstairs dining section which is more light and airy and offers waterfront views of the bay.
This spot feels like it's from Ireland because they've imported everything inside from there including the wood to make the bar to the furniture.
Enjoy the Seafood & Dining Scene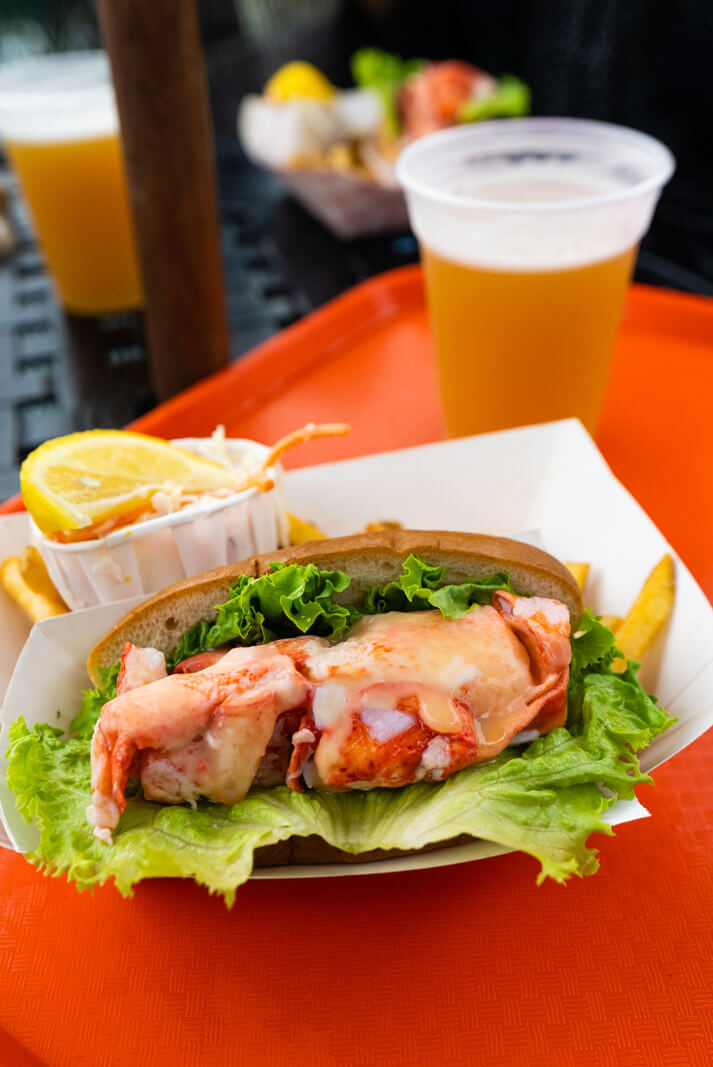 Oh, my sweet heavens, one of the best things to do in Portland, Maine is gobble down as much seafood as humanly possible during your weekend getaway! I mean, what's traveling to New England if you're not going to take advantage of those fresh Atlantic catches of the day?
There is no shortage of places to get your fix for a mouthwatering lobster roll, seafood bake, and Atlantic salmon from waterside seafood shacks to elevated dining experiences, the seafood dining scene is one of the most standout Portland, Maine attractions.
The hardest part about only having a weekend in Portland, Maine would be which eateries to dine at. If you're not sure where to start you can just walk up and down Commercial Street in Old Port where you'll spot multiple spots to eat on this working waterfront neighborhood with easy access to the freshest daily catch!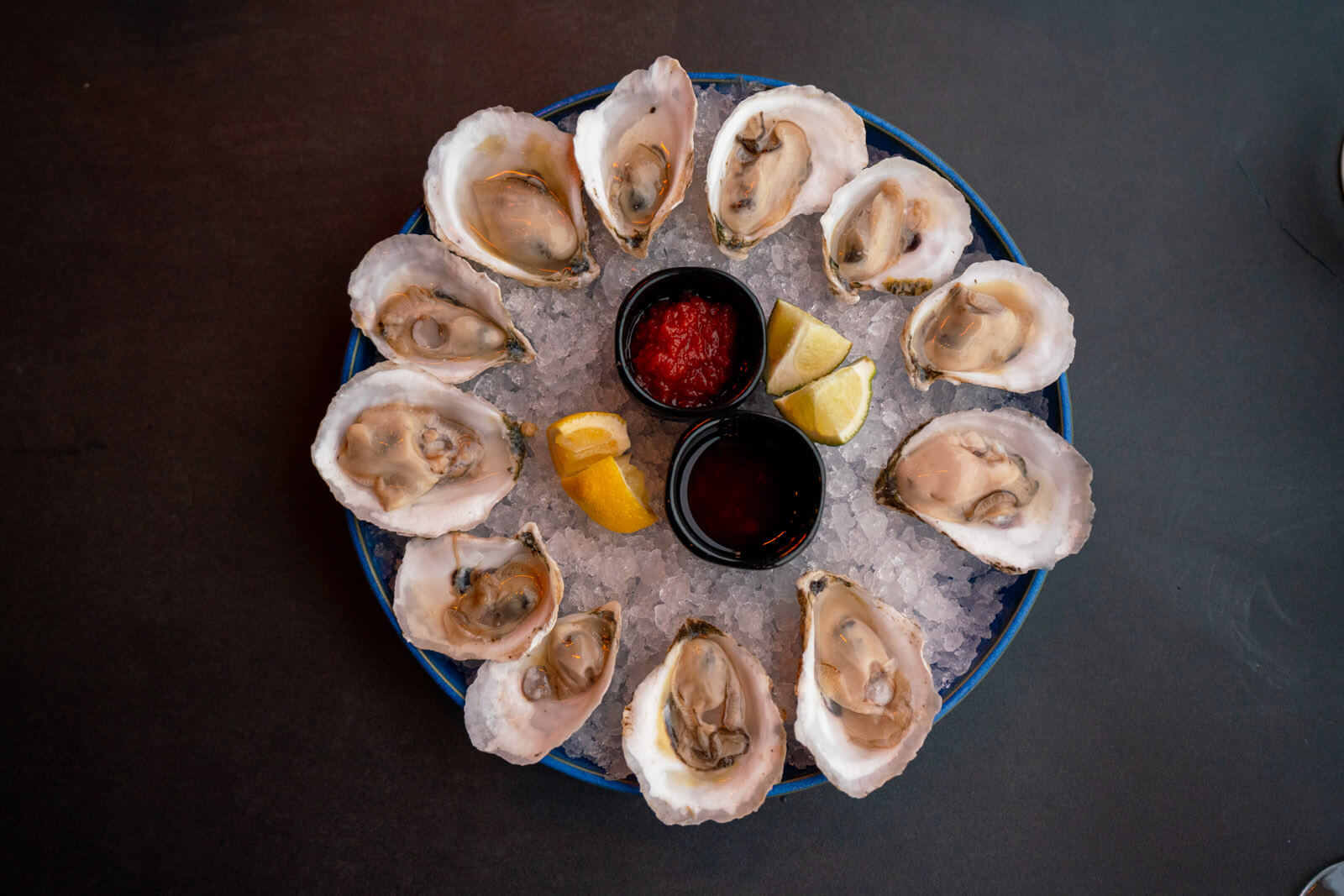 We had a stand out experience enjoying lunch at Portland Lobster Company right on the waterfront. Their outdoor seating offered that fresh Atlantic air, live music, and a great bar selection to pair with our lobster rolls! They also have a full menu of seafood items – we were just addicted to the lobster rolls.
Another hotspot for dining during your weekend in Portland is Luke's Lobster on Portland Pier. While we didn't eat at this location, we have dined at their location in Brooklyn. Their waterfront location is also one of the best spots for views of Casco Bay, especially if you can score a table at their upper deck – we peeked!
Other spots we had on our radar but just didn't have time to squeeze in during our weekend in Portland, Maine was Highroller Lobster Co., Eventide Oyster Co., and J's Oyster. We also chatted up a few other travelers enjoying a weekend getaway who said they were able to secure a reservation at Dimillo's, a floating high-scale seafood restaurant on a former car ferry with gorgeous views.
We did see a man on a Friesian horse roll up to J's Oyster with his dog who patiently waited outside until someone brought him a hot dog. That experience was completely unexpected and after further digging found out that this guy does this just to lift people's spirits during these trying times!
And if you find choosing the right things to eat during your weekend in Portland, Maine getaway overwhelming don't fret! You can sample your way through Old Port on a 3-hour food tour with a local where you'll learn history from your guide all while stopping at some of the best foodie stops in the city where you can sample a bit here and there!
We are no strangers to food tours, in fact, they are our favorite thing to do when we first arrive at a destination as it gives us local history and ideas for where to eat the rest of our getaway! Book here.
Enjoy a Sunset at Luna Rooftop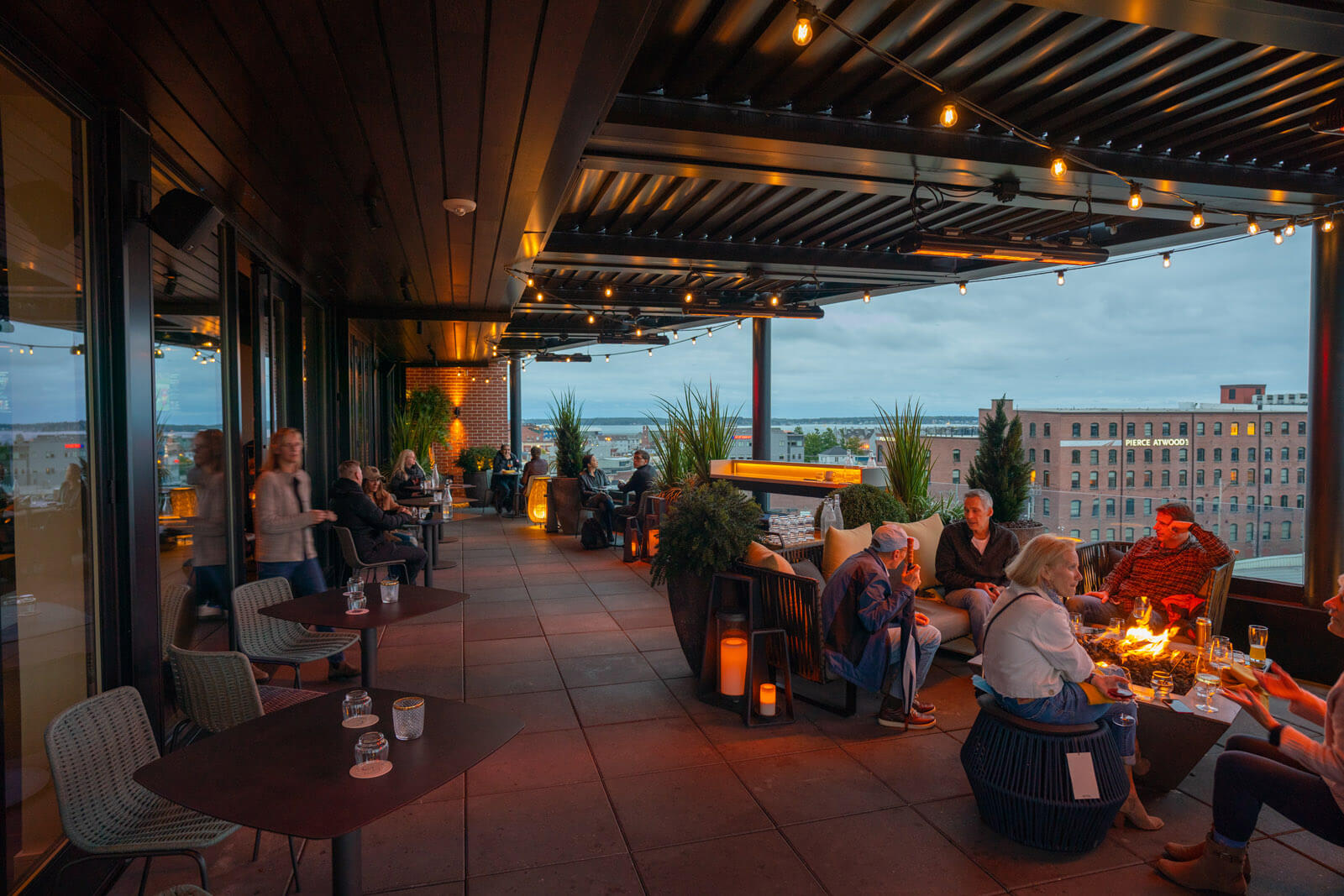 We were lucky, one of the hottest sunset spots in town and the best romantic things to do in Portland, Maine during our weekend getaway was located at our hotel!
Be sure to make a sunset visit to Luna Rooftop Bar located at the 6th level of the Canopy by Hilton Portland Waterfront location in Old Port. If you're a hotel guest, you can make a reservation, everyone else gets seated on a first come first serve basis.
The indoor/outdoor rooftop lounge has sweeping views of Casco Bay and Commercial Street below, plus heaters overhead for the outdoor diners.
Their menu is full of small bites and shareable plates along with a great wine list and artisanal cocktails. Don't skip out on their seasonal dessert while you're here either. We visited early October and ate the most delicious pumpkin cheesecake dessert with toasted marshmallow topping. It was so good we came back both nights for it!
We pretty much sampled their entire menu and everything was great! This is perfect for a pre-dinner snack and drink, post-dinner drink and dessert, or sample the menu and make a dinner out of it like we did!
Take a Tall Ship Around Casco Bay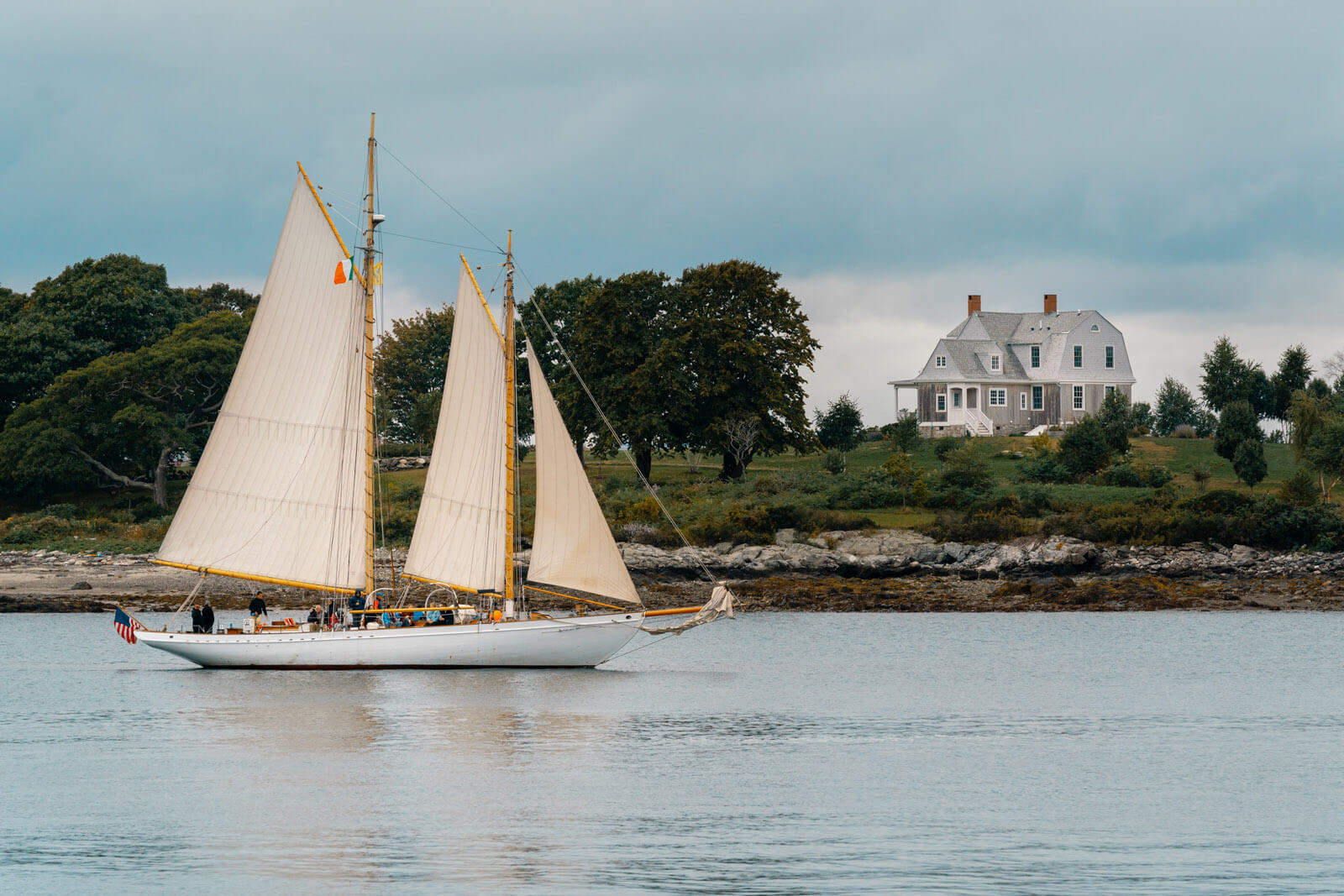 Another one of the best things to do in Portland, Maine is join a tall ship cruise around Casco Bay! Join a 2-hour cruise taking in the salty air and gorgeous views of local attractions like the lighthouses along the coast and if you're lucky you might even witness marine wildlife all while aboard a beautiful schooner tall ship.
This tour lets guests bring their own meal including wine or beer so you can sit back and sip while the wind and the breeze take you on a scenic journey while you relax.
If you want to join the crew, they will guide you in hoisting the sails or let you take a hand at the ship's wheel. Book your tour here.
Portland Museum of Art
Located in the Arts District, more on that later, is Maine's oldest and largest public art institution and museum and one of the top Portland, Maine attractions.
The Portland Museum of Art, aka PMA, houses a collection of over 18,000 artworks ranging from 18th-century pieces to modern art including the largest European collection of artworks in the state.
You can find artwork by artists like Claude Monet, Pierre-Auguste Renoir, Andy Warhol, Edward Hopper and an impressive collection of Winslow Homer paintings.
During museum hours, even if you don't go into the museum, visitors can enjoy the David E. Shaw and Family Sculpture Park located off of High Street.
Also, during your weekend getaway, this is one of the best things to do in Portland, Maine for free as admission is free to the public on Fridays from 10:00 am to 8:00 pm. If your trip extends past the weekend in Portland, keep in mind that the museum is closed Mondays and Tuesdays.
Explore Old Port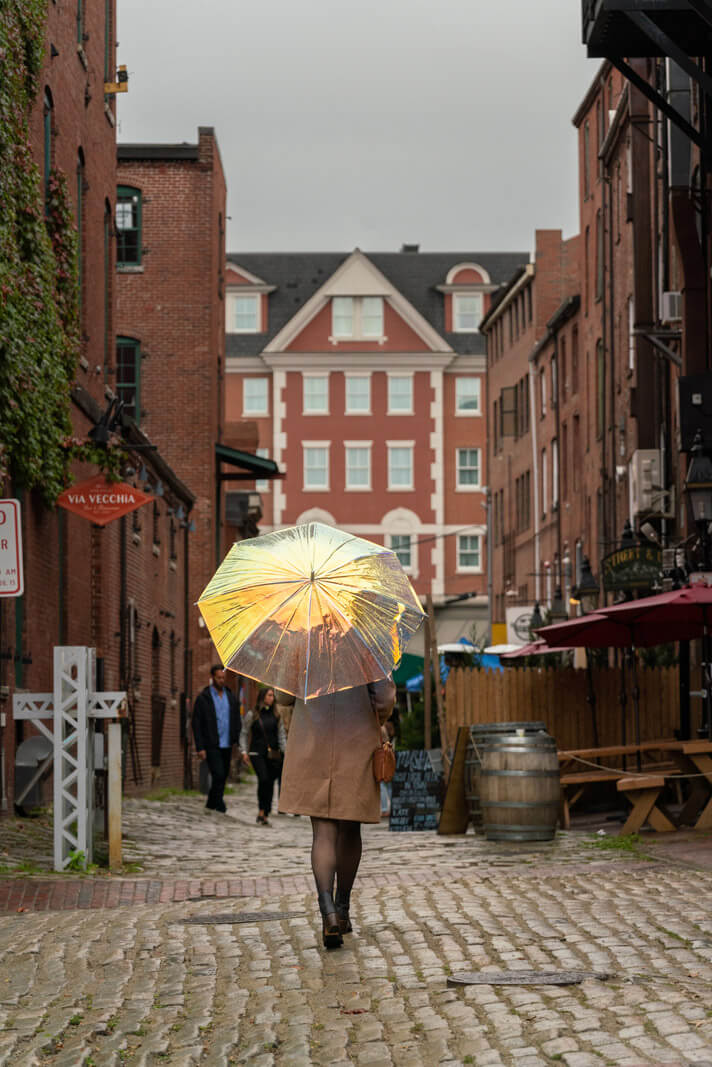 While most of this guide to the best things to do in Portland, Maine on a weekend getaway pretty much bases all your exploring in Old Port, we wanted to make sure that you didn't miss out on some of the other hot spots this historic neighborhood and working waterfront has to offer.
Old Port is full of charming cobblestone lanes, brick buildings that house shops, cafes, restaurants, and bars, as well as that gorgeous waterfront overlooking Casco Bay and piers full of fishing charters.
Be sure to take in the pretty stroll down Wharf Street, stop in the shops and boutiques along Exchange and Market Streets, and exploring the dining and drinking scene along Commercial Street.
You'll spot a handful of pottery shops specializing in the famous Maine pottery and stoneware for your home as well as other charming artisan shops.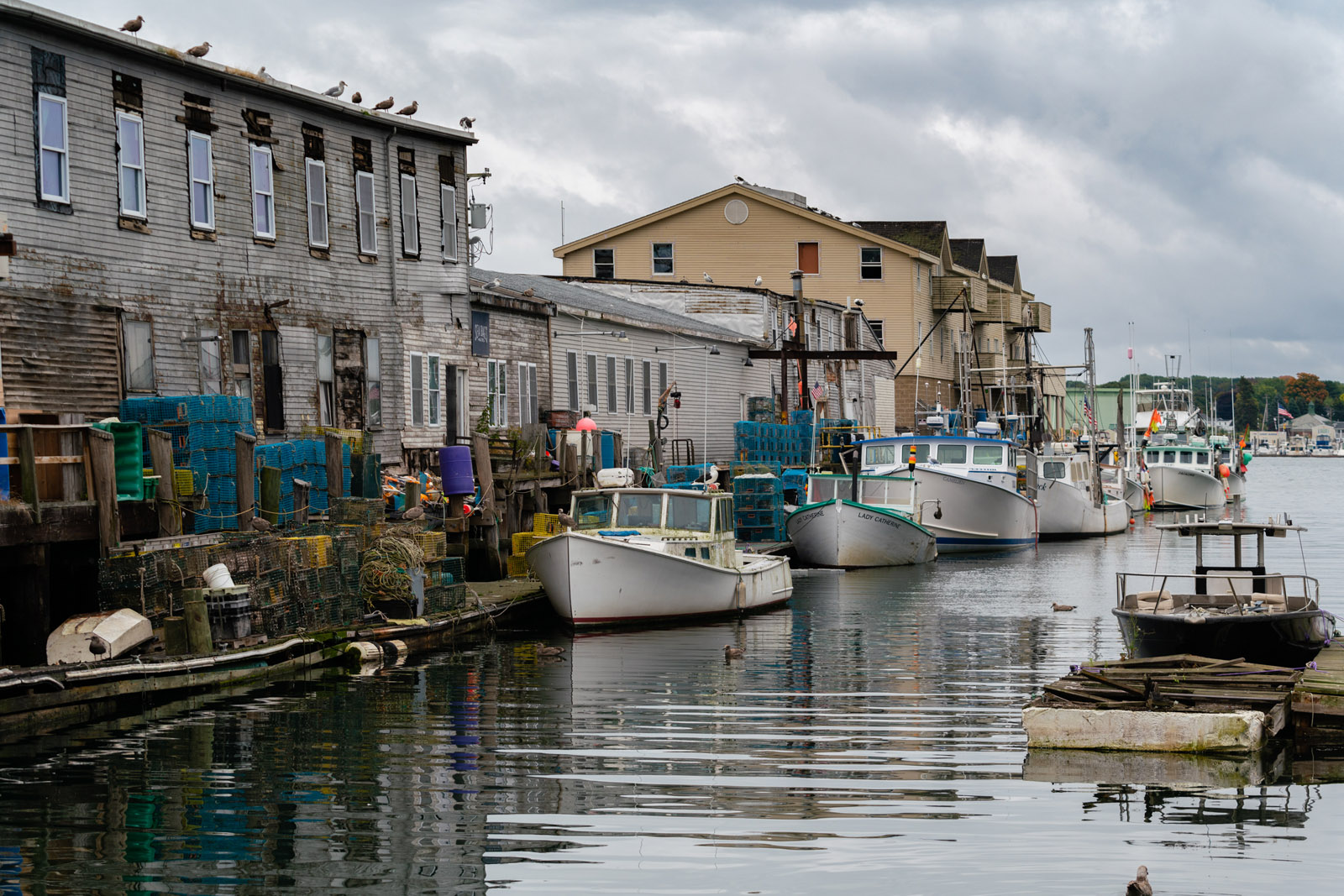 Walking through Old Port was one of our favorite things to do in Portland, Maine because it honestly was just so postcard-perfect and picturesque, it sort of felt like you were in a movie.
For waterfront views, one of the best spots can be found on a little walkway off of Portland Pier or Custom House Wharf which faces the back and waterfront side of the Harbor Fish Market and docks full of lobster traps and parked fishing vessels.
Visit the Arts District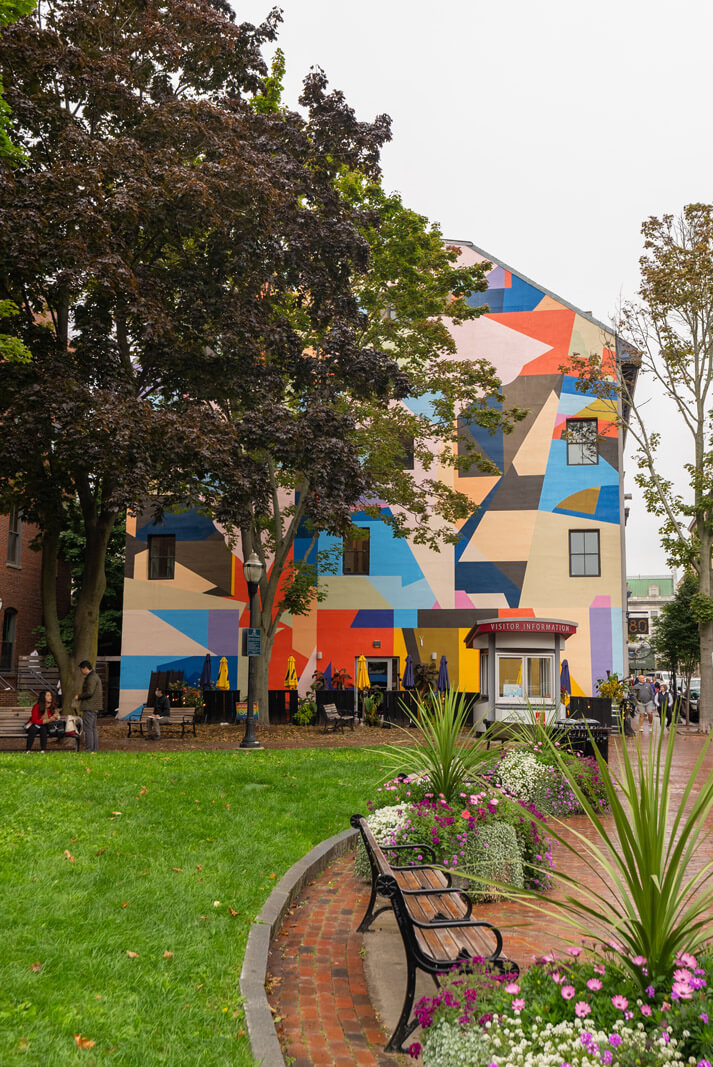 Some of the best things to do in Portland, Maine, like the Portland Museum of Art, can be found in the Arts District found in Downtown. This is where you can find popular arts and cultural Portland, Maine attractions including museums and cultural institutions as well as art galleries, performance venues, funky vintage shops, and more great places to eat.
The heart of this area can be found along Congress Street as well as the intersections at Park Street, Oak Street, and High Street.
If your weekend in Portland, Maine happens to fall on the first Friday of the month you do not want to miss a visit to the Arts District! This monthly cultural event takes place from 5:00 to 8:00 pm and the streets fill with live performances and artisans selling their work along with open doors to the museums and galleries rain or shine!
What's even better is that the Arts District is just a short walk to Old Port and the waterfront, making it really easy to visit during your weekend in Portland, Maine itinerary.
Fort Williams Park & Portland Head Light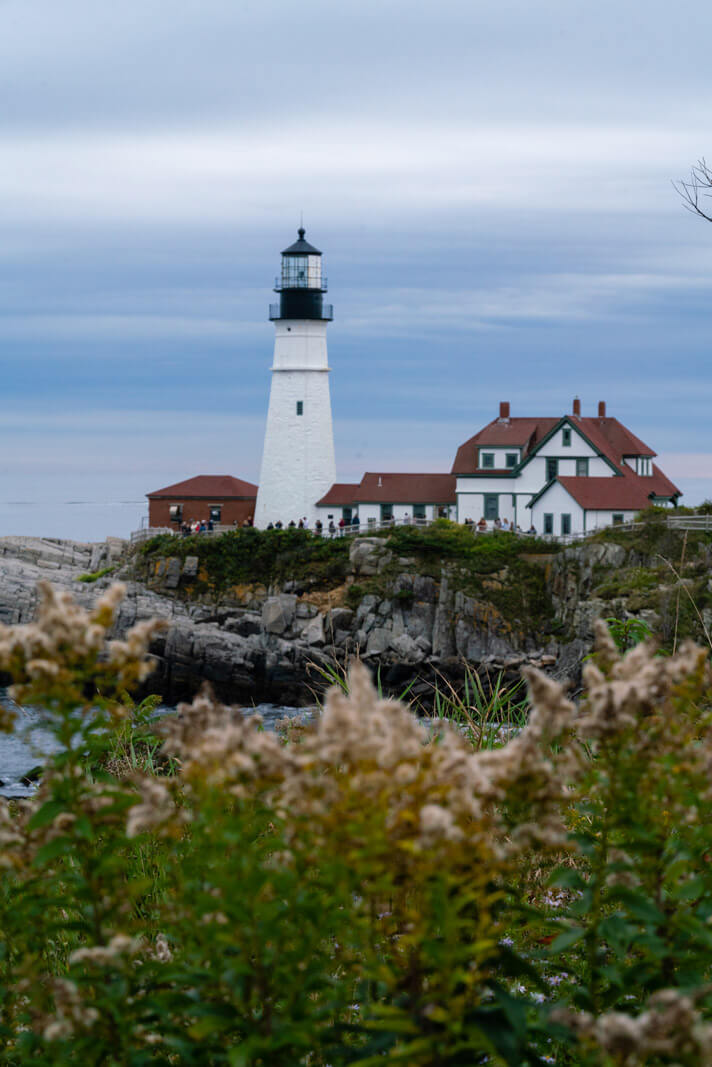 One of the most iconic and recognizable landmarks and things to do in Portland, Maine is making a visit to Fort Williams Park and the GORGEOUS Portland Head Light, the most photographed lighthouse in the United States and oldest in the state of Maine!
We are no strangers to beautiful Atlantic coast lighthouses and saw our fair share on our Nova Scotia road trip and we can never get sick of them! Each one is so unique and beautiful not to mention usually always offer sweeping coastal views!
Located on Cape Elizabeth around 5 miles outside of Old Port and Downtown is this incredible Portland, Maine attraction. This is best visited by car, so if you do not have one on this trip you'll want to look into rideshare apps, taking the local bus, or if you're feeling extra adventurous you can bike the distance although that seemed a bit too ambitious for me personally.
Another option to visit the lighthouse along with more sightseeing hotspots during your Portland, Maine getaway is via a trolley or boat tour with Portland Discovery which combines Portland Head Light along with an informative guide.
Fort Williams is a 90-acre park that is now a decommissioned Army post that was used in both WWI and WWII that is now one of the most popular Portland attractions for views and of course, that gorgeous lighthouse!
Portland Head Light stands at 80 feet high and sits on a cliff 101 feet over the ocean and dates back to 1787 when construction started under the directive of George Washington. What I love about this lighthouse, in particular, is the house that's also connected to it which is visible from miles away – including on Peaks Island in Casco Bay if you make it there during your weekend getaway!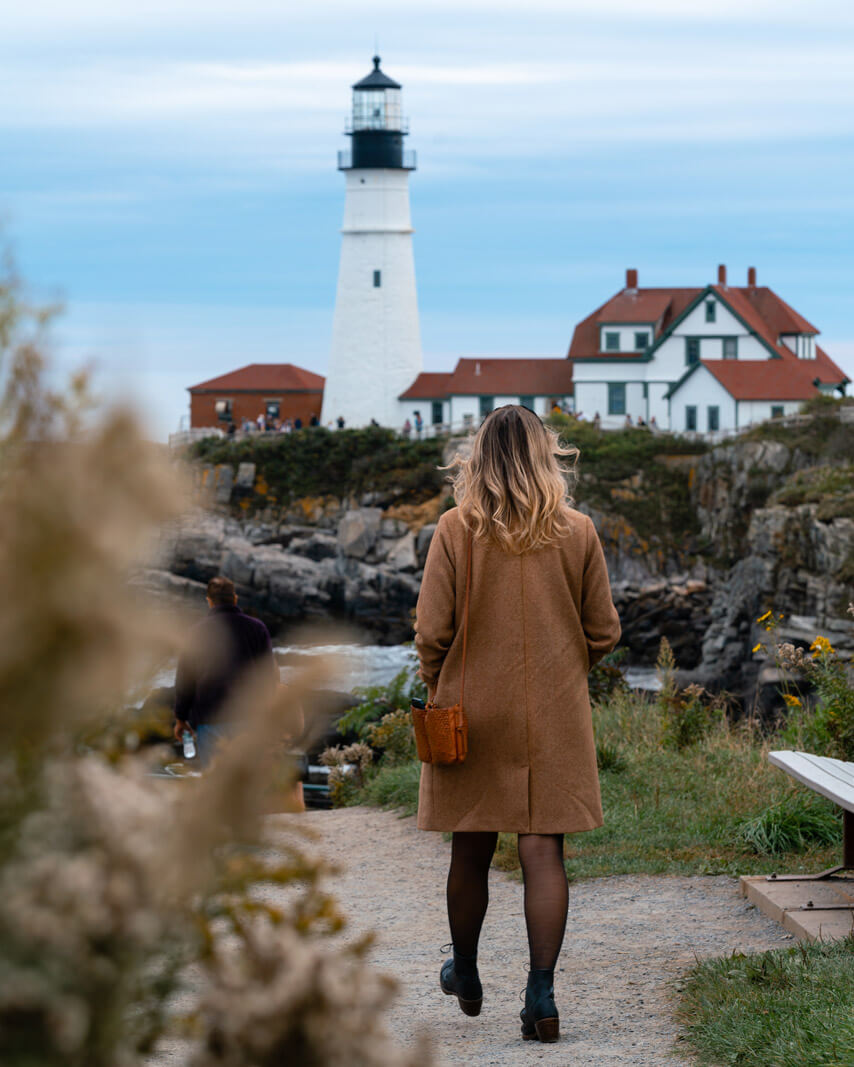 We recommend taking time to walk along the coastal pathway on either side of the lighthouse to soak in all the views and fresh, salty sea air. If you have good footwear on you can even walk down to certain parts of the beach, just be careful and avoid any wet or black rocks as they are slippery and hard to walk on, we saw one lady take a tumble right into a tide pool.
One thing NOT to be missed while you're here are the lobster rolls at the Bite into Maine food truck! This food truck is one of the best things to do in Portland, Maine if you're a foodie as they've won several accolades including the best and top lobster roll in the country by many foodie publications like Food + Wine, Buzzfeed, Infatuation, and more praise!
We waited in line and it was worth it! The only thing we wished we would have done was gotten the lobster roll first as there was no line when we first arrived. So our insider tip – if you don't see a line, jump on that lobster roll before others get there, because that line is coming!
Two Lights Lighthouse & State Park
For those who love lighthouses as much as we do, then you will want to drive to Two Lights State Park for more gorgeous Atlantic coastal views of Casco Bay. Sitting on 41-acres you can find trails here with that cool coastal breeze plus views of some of the most gorgeous Portland lighthouses!
The park is named after the 'twin lighthouses' nearby including Two Lights Lighthouse. You can't actually visit the lighthouse from Two Lights State Park, but it's nearby so we wanted to include these two Portland, Maine attractions together!
The two lighthouses, located at the end of Two Lights Road, were constructed in 1828 and were the first 'twin' lighthouses in Maine along the Atlantic coast.
You can sort of see the second lighthouse, which is now a private home, but its Two Lights Lighthouse really stands out as it's perched on a cliff above the Atlantic with an adorable lightkeeper house.
You can't visit either of the lighthouses but you can park in the small parking area at the end of Two Lights Road next to The Lobster Shack at Two Lights where you can take a walk along the rocks for a better view of this awe-inspiring lighthouse that even was a subject in the painting Lighthouse at Two Lights by famed American artist Edward Hopper.
You don't need a ton of time to enjoy taking in these gorgeous views of Cape Elizabeth, but if you're as fond of coastal scenes with lighthouses as much as we are, this is one of the best things to do in Portland, Maine to add to your weekend getaway!
Portland Observatory
One of the coolest things to do in Portland on a weekend getaway is head to Portland Observatory at Munjoy Hill. This Portland attraction looks like a lighthouse, but it's not!
The Portland Observatory is a historic maritime signal tower dating back to 1807 that served as a communication station for boats in Portland Harbor and is one of the earliest and oldest of its kind in the United States not to mention the only one standing to this day.
Now a designated National Historic Landmark, visitors can reserve a spot on their 45-minute guided tours where you can learn all about the history of the last standing maritime signal tower standing in the US! Other interesting information the tours cover includes how the tower operations worked and were paid by shipping merchants annually who had their flags raised when their ships were sighted in the harbor up to 30 hours away with a powerful telescope, which was an impressive piece of technology for its time.
This is the perfect thing to do in Portland, Maine on a weekend getaway because they are only open Thursdays through Mondays, be sure to make a reservation in advance though.
Enjoy the Views from Eastern Promenade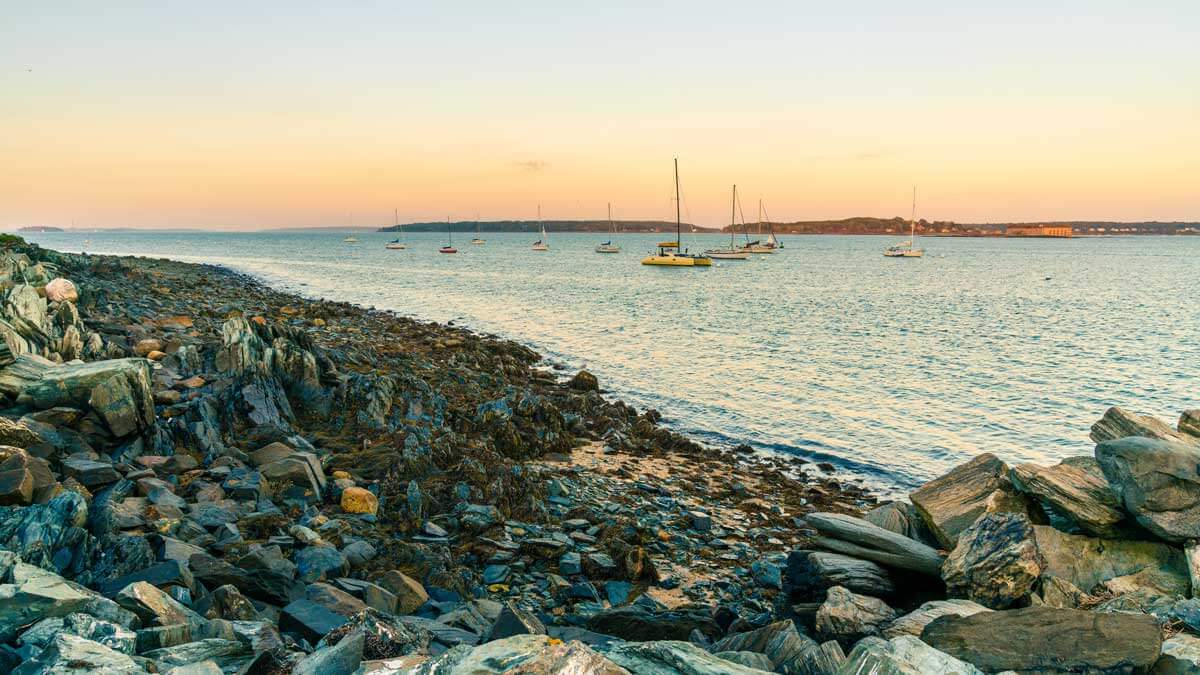 Before or after your visit to Portland Observatory on Munjoy Hill you can walk down to the Eastern Promenade, another one of the best things to do in Portland, Maine if you're looking for more gorgeous waterfront views of Casco Bay.
The Eastern Promenade has a 2-mile harborside trail that offers great views as well as a 78-acre park that was designed by the Olmstead Brothers, of Frederick Law Olmstead one of the designers of Central Park in NYC and Boston Common in Boston.
And if you want to get on the water during your weekend in Portland, Maine, Portland and Paddle offers guided kayak and Stand Up Paddleboard trips launching from East End Beach.
Shopping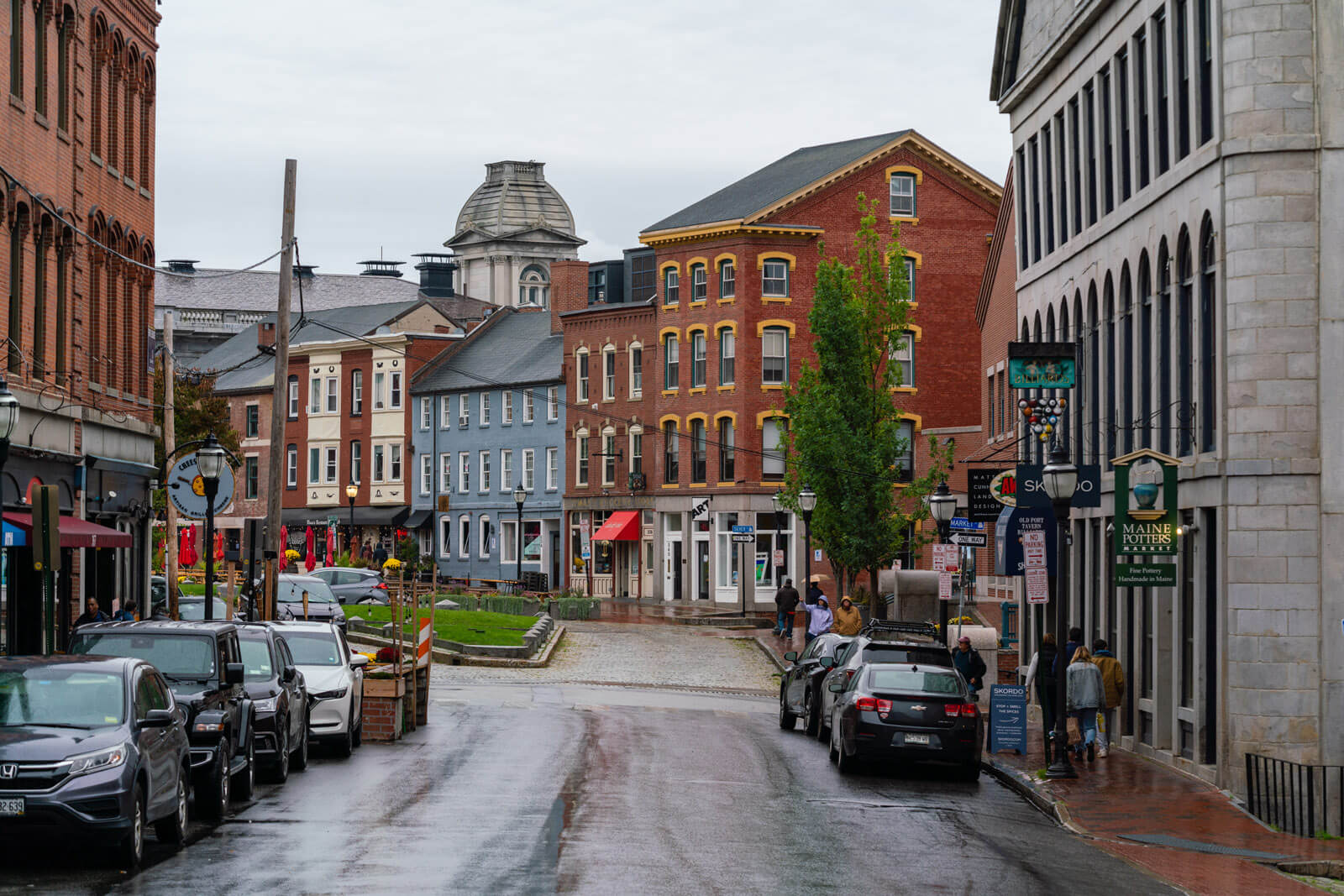 You don't want to miss some of the great shopping available during your weekend in Portland, Maine! We did most of our window shopping and browsing around Old Port, which is known for having great independent boutiques from home goods and gifts, Maine souvenirs, and of course no shortage of pottery stores selling handmade crafted items by local artisans.
If it's pottery you're looking for definitely check out SKORDO, Edgecomb Potters, Maxwell's Pottery Outlet, and Maine Potters Market which are all in Old Port among others that I am sure we missed, there were more pottery shops than coffee shops – so if you're looking for the perfect souvenir to take home, this is a great choice!
My personal favorite shop we found during our Portland getaway was Pinecone + Chickadee on the edge of Downtown and Old Port on Free Street. This shop carries all types of unique small gifts and handmade items with an eclectic mix of cards and vintage items along with some clothing items including my favorite indie brand, Nooworks.
Another few stand-out stores we checked out were the women's and men's apparel/apothecary items found at Portland Trading Company and the seriously dapper selection of apparel for men (and some women's) at Portland Dry Goods.
And if you're looking for a nautical-themed keepsake that is also practical, head to Sea Bags Factory Store who sells high-quality totes and beach goods. This particular location has extra items like discontinued products and other hard-to-find designs if you're already a fan of the brand!
Visit the Berlin Wall Section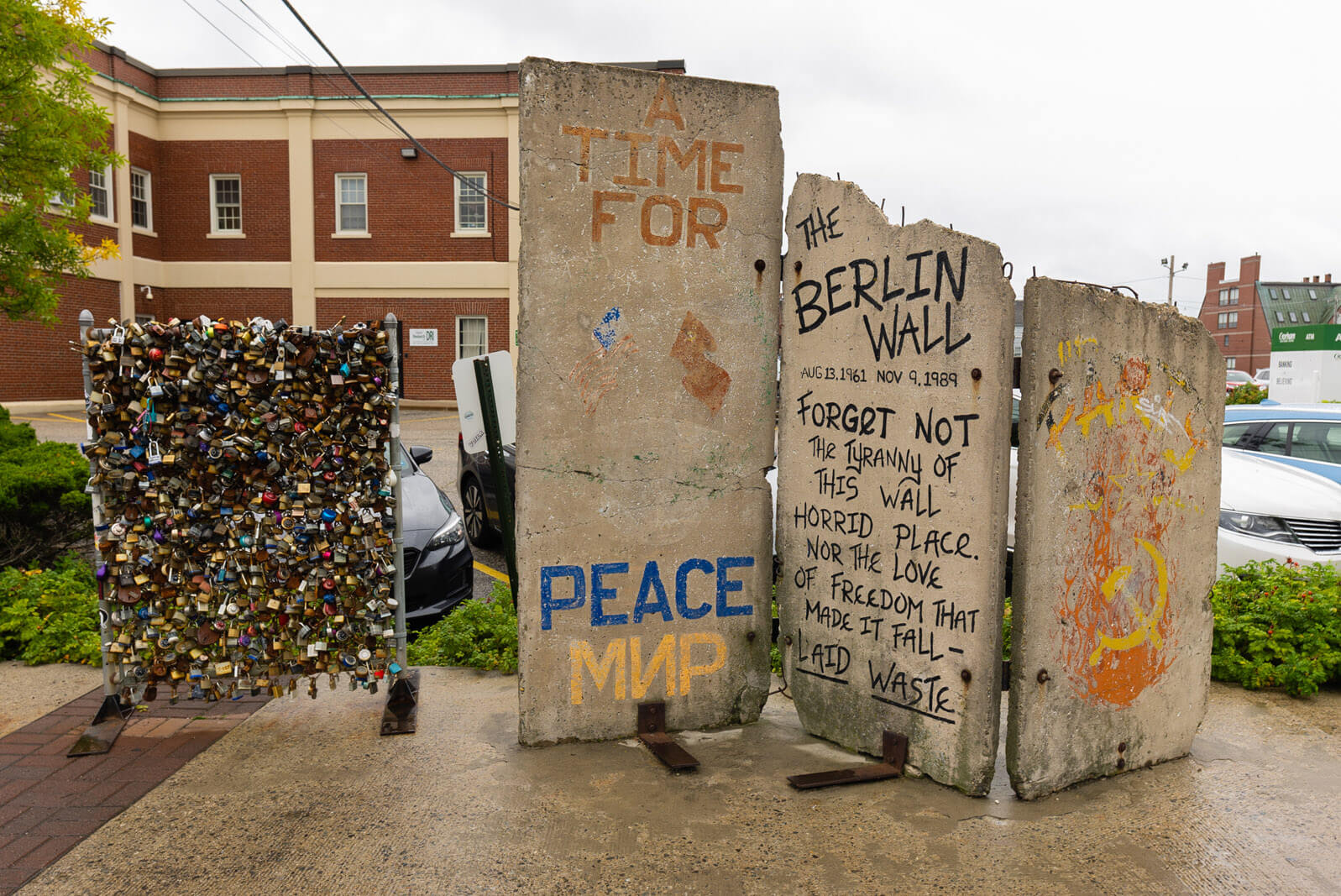 If you're a history buff, another thing to do in Portland, Maine would be to take a peek at the sections of the Berlin Wall found on Long Wharf directly next to Odyssey Whale Watch across from the patio at Portland Lobster Company.
There are three small graffiti-covered slabs that you can walk right up to and get a closer look at this remnant from recent history.
Although finding Berlin wall segments isn't rare in the United States, it's still an interesting monument/landmark to note when you're sightseeing.
Where to Stay on your Portland Maine Getaway
We stayed at the Canopy by Hilton Portland Waterfront property which is conveniently located right off of Commercial Street in Old Port just a brief walk to some of the best things to do in Portland, Maine. Canopy by Hilton hotels are sophisticated, boutique-style hotels designed and carefully decorated to reflect the destination you're in, our stay reflected modern Maine style featuring artwork by local artists.
We loved how comfortable our stay was and that we had incredible dining options right on the property, Salt Yard is the dining option on the ground floor offering great breakfast and lunch options (try their french toast!) and Luna Rooftop Bar, as mentioned above, was one of our favorite dining options in the city offering panoramic views of Portland from their indoor/outdoor rooftop lounge.
The hotel also has loaner bikes, helmets, and locks if you want to explore some of the great things to do in Portland, Maine by bicycle. If you get rainy weather, they have loaner umbrellas too!
This is a great location and hotel to base your weekend in Portland, Maine getaway. Book Canopy by Hilton Portland Waterfront.
---
Enjoyed this guide to all the best things to do in Portland, Maine and how to spend an ultimate weekend in Portland, Maine getaway? Bookmark for later or share the love below on Pinterest!