Looking for the best things to do in the Royal Naval Dockyard in Bermuda? We got you. Bermuda was one of our favorite destinations we vacationed to, this remote archipelago smack dab in the Atlantic is a dream holiday spot and one of the best places to visit in Bermuda is the historic maritime port of the Royal Naval Dockyard in the West End.
The Royal Naval Dockyard served as the principal naval base for the Royal Navy in the Western Atlantic from the Revolutionary War in the United States through the Cold War. Today, the Royal Naval Dockyard serves as a crucial port for cruise ship passengers as well as a hot spot for all kinds of fun things to do!
If it's your first trip, we recommend reading up on all the things to know before you visit Bermuda as there are a few essential tips that will ensure you have a great trip that you need to plan for.
We spent part of our trip staying in Somerset Village at one of the best resorts in Bermuda, Cambridge Beaches and Spa which is just a short commute to the Royal Naval Dockyard and a great place to base during your trip. It's easy to use local transportation or rent your own scooter or electric car to get around and explore.
We highly encourage you to research how to get around Bermuda (don't worry that link leads you to our entire transportation guide and breakdown of public transportation, rentals, and everything you need to know) as there are no full-on rental cars in Bermuda and if you're coming all the way here you won't want to miss checking out the best things to do in Bermuda from checking out the best beaches in Bermuda, including pink sand beaches, finding the hidden caves and grottos, to visiting the forts and all the other amazing places to visit like the city of Hamilton and St. George's Island to name a few!
Where is Bermuda's Royal Naval Dockyard?
The Royal Naval Dockyard, Bermuda is located in Sandys Parish on the West End of Bermuda. The Royal Dockyard fills up Ireland Island North at end of the hook-shaped archipelago. This strategic location has always made the Dockyard an important part of Bermuda.
Built in 1795 as a base for the British Navy and was active through countless wars before it was shut down in the mid-20th century. Today, it's a waypoint for many cruise ships that stop at King's Wharf. Passengers get off and enjoy all the attractions located here.
You could always drive to the Dockyard and park or take the bus, but that's not the quickest or easiest way. For a scenic trip that's also quick and hassle free, take the ferry! The Blue route ferry leaves from Hamilton and takes about 20 minutes. Or the seasonal Orange route ferry departs St. George's on the West End and takes about 45 minutes. There's a small fee, they both dock next to the cruise ships at Kings Wharf.
What to do at Royal Naval Dockyard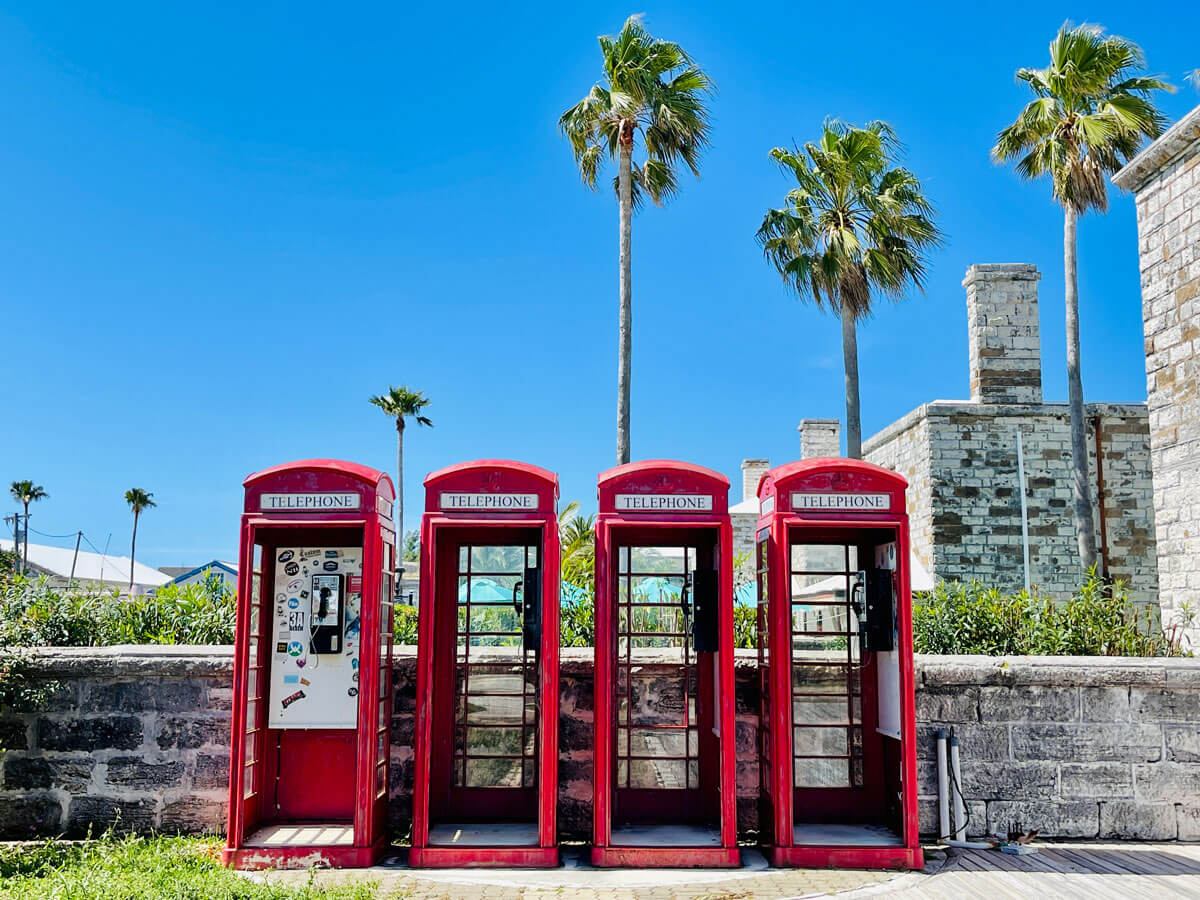 There are all kinds of things for visitors to do at the Bermuda Naval Dockyard! Besides fun attractions, restaurants, and shopping, the entire area is a historic landmark. You can visit the museum that's inside the old fort or hang out on one of the beaches. Below you'll find our favorite things to do at the Royal Naval Dockyard, Bermuda!
National Museum of Bermuda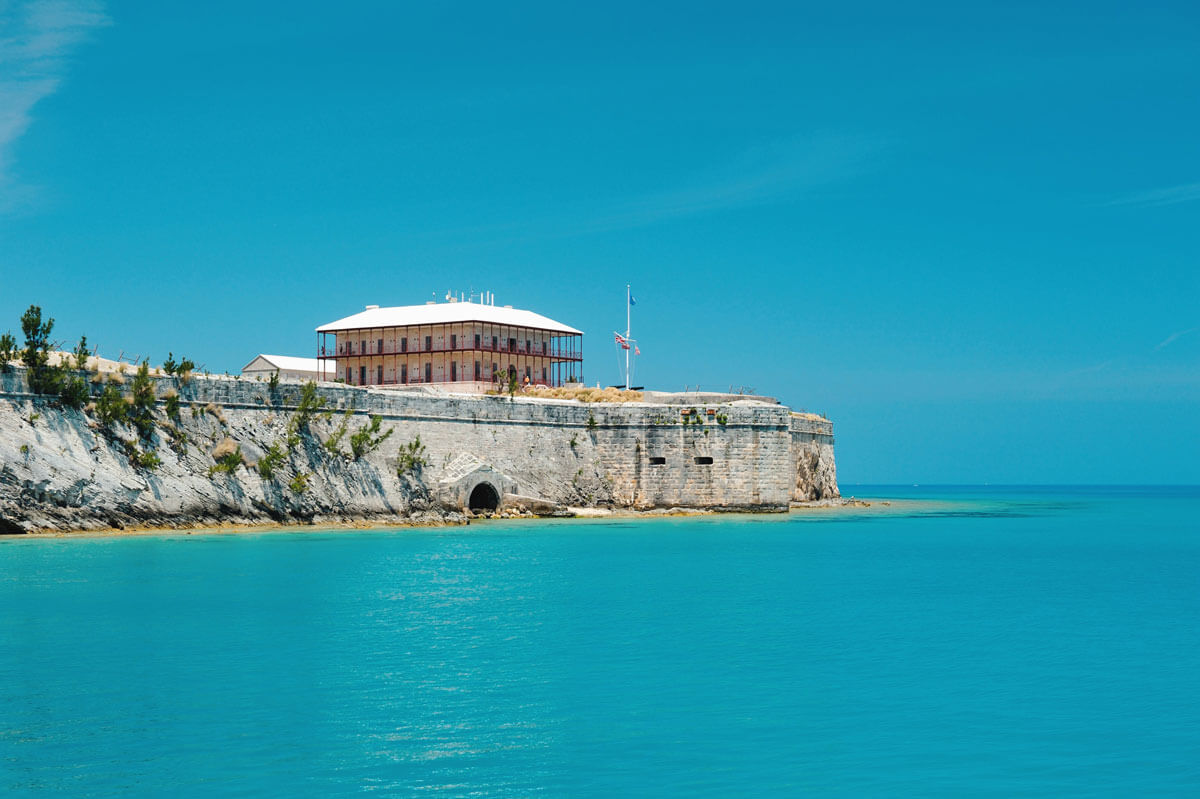 During your visit to the Dockyards, make sure to visit the National Museum of Bermuda. The main building of the museum is inside the fort at the westernmost point of the island. The entire structure towers over the rest of the area, so you'll have 360-degree views of water and land!
The actual museum is in a multilevel structure at the highest point inside the fortress. Everyone over 16 pays a fee for access between 10 AM and 5 PM every day. Inside the museum, there are all kinds of educational exhibits and cool artifacts.
Learn about Bermuda's history including its role in the days of the slave trade to modern history tied to Bermuda as a tourist destination. There are educational exhibits on the life of seafarers, as well as the many cultures that influence what the island is today. Or you can check out fascinating displays of shipwreck artifacts like coins, tools, and more!
Outside of the museum, you can walk paved paths around the giant fort. Get up close to cannons and ramparts. You can walk through tunnels and down winding paths that now function as a garden full of local tropical plant life. It's a great opportunity for a stroll with educational plaques along the way. And don't forget to take a picture of the amazing views!
Bermuda Fun Golf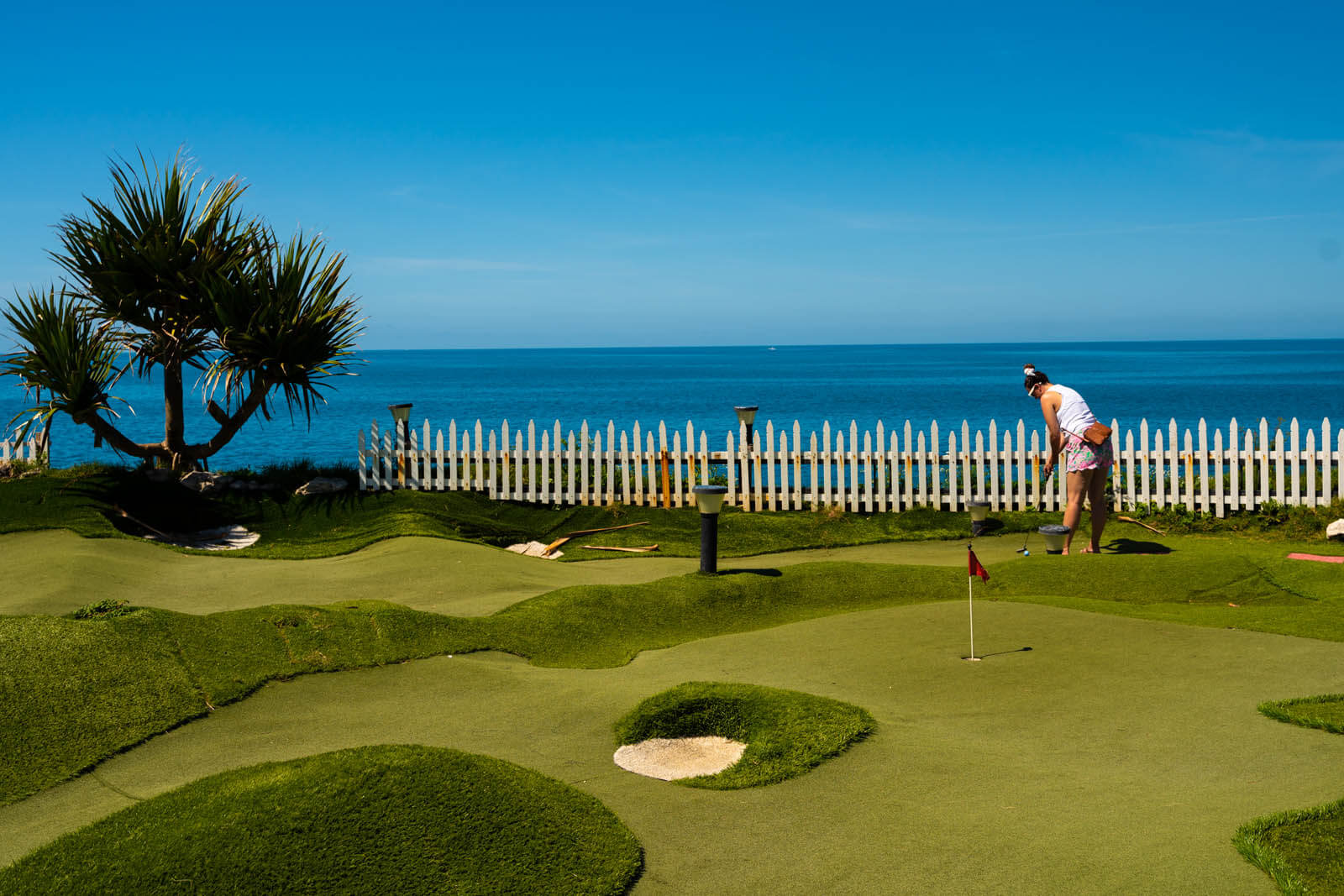 You can play a fun and unique game of golf at the Royal Naval Dockyard, Bermuda. Fun Golf has a cool concept where all 18 holes are miniature recreations of professional holes from famous courses around the world.
It's mini golf but expect a challenge. Each hole is a scaled-down version of an actual professional golf hole on some of the most well-known golf courses in Bermuda, the USA, and Scotland. Try out this one-of-a-kind game while you enjoy amazing views of the Atlantic Ocean.
And when you get hungry, check out the bar & grill, called "The Caddy Shack!" It's an open-air bar with a walk-up order counter and lots of outdoor seating. They are incredibly smart, grab a cold drink before and you're welcome to take it around the course with you. The bar is located at the first and 9th hole so you have a perfect halfway break too!
Be sure to bring sunscreen, water, and consider a hat! Even though we were visiting in the spring, the sun beating down on us got really hot and intense! Luckily, you can go at your own pace and take as many breaks as you need at the bar and grill which offers cover from the sun, but it would be wise to be prepared to be out in the sun so you don't get burnt or overheat!
Snorkel Park Beach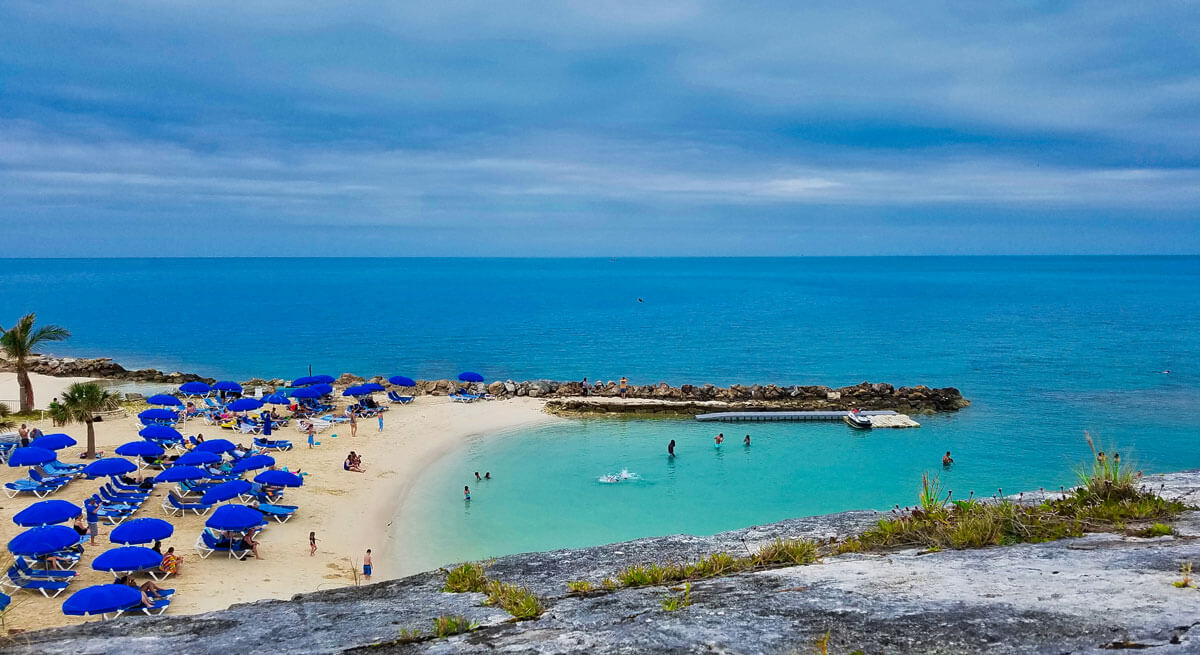 If you're spending the day at the Royal Naval Dockyard, we suggest heading to Snorkel Park Beach. This man-made alcove beach has bright white sand and clear water. It's off a reef and is buffered by the cliffs where the fort is located. The waters are perfectly shallow and calm. This makes for a great time snorkeling or just hanging out in the water!
Hartley's Helmet Diving
View this post on Instagram
You can find Hartley's Helmet Diving near the Heritage Wharf. If you're looking for a truly unique thing to do in Dockyard, Bermuda, this is it! Go for an undersea walk and interact with fish on the bottom of the sea. Hartley's is a family-run business that's been serving the area for 80 years! Today it's run by a father-son team that's super friendly, knowledgeable, and accommodating to guests.
Helmet diving doesn't require any kind of diving experience. It involves a weighted metal helmet that sits on your shoulders and feeds you oxygen. You might have seen something similar in black and white movies or old cartoons! Simply arrive about an hour ahead of your sea walk for a debrief. They'll let you know exactly what to expect and then you just walk down a ladder from the boat into the water!
The actual undersea walk is about 40-minutes long. They take you to a few different reefs, teach you about the fish, and you get lots of time to interact with the sea life! Plus, you'll love all the small personal touches, like snacks and warm water down your wetsuit to keep you comfortable.
It's a bit pricey per person, but Hartley's includes all kinds of things so each guest feels like they've received the royal treatment. They take complimentary videos and pictures for you to see when you get back, and they're yours to keep! Also, you can take a shower on the boat to freshen up after your walk in the ocean.
Clocktower Shopping Mall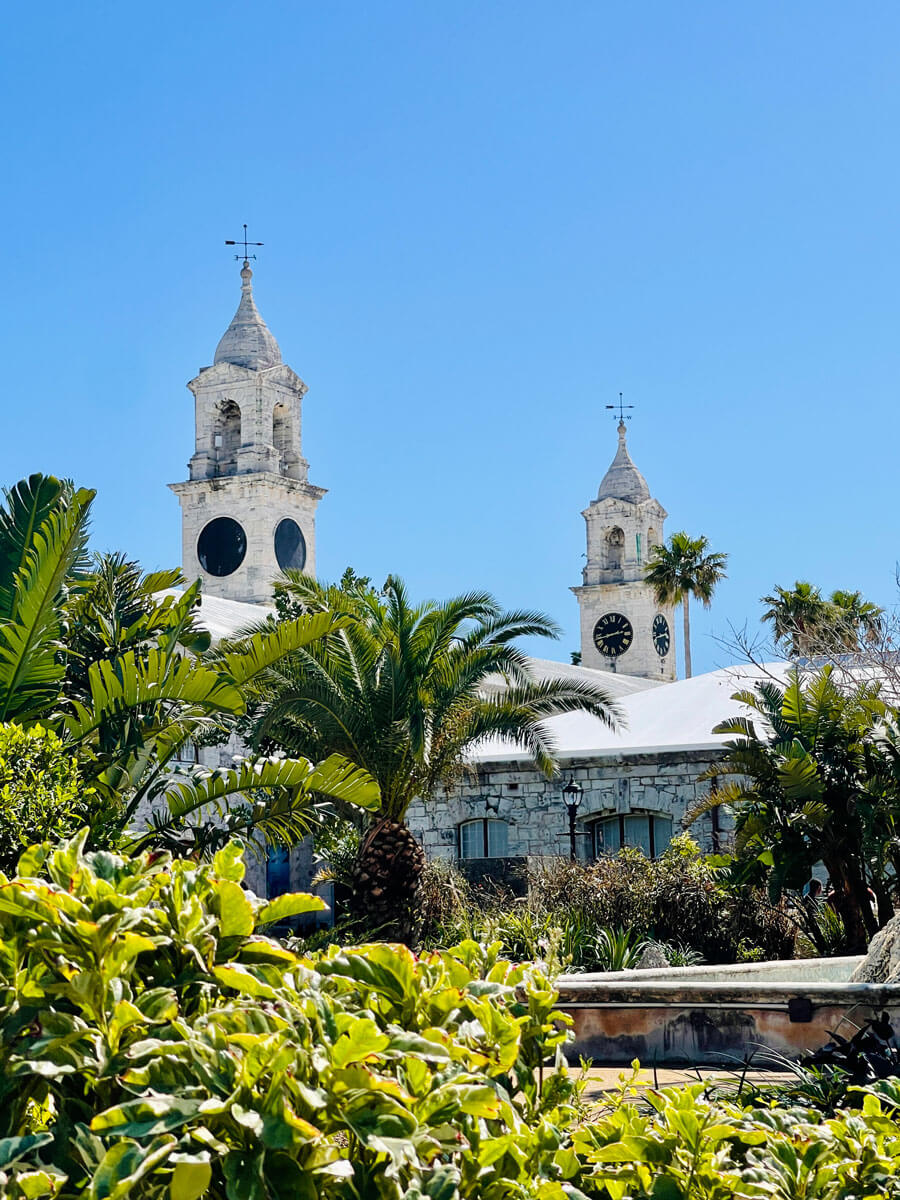 If you follow Camber Road down from the fort at the Royal Naval Dockyard, Bermuda, you'll see the beautiful old Clock Tower building, you can't miss the literal clock towers! This easy-to-spot 200-year-old building was once a warehouse for the British Royal Navy. Today, it's been converted into the Clocktower Shopping Mall.
The mall is a great place to find shops full of kitschy souvenirs and clothing while enjoying a beautiful example of naval architecture at Bermuda's Royal Naval Dockyard! There's an ice cream shop, a fun glass studio that puts on presentations, and you can take pictures at the "official point" of the Bermuda Triangle!
Anchor Restaurant Bar & Lounge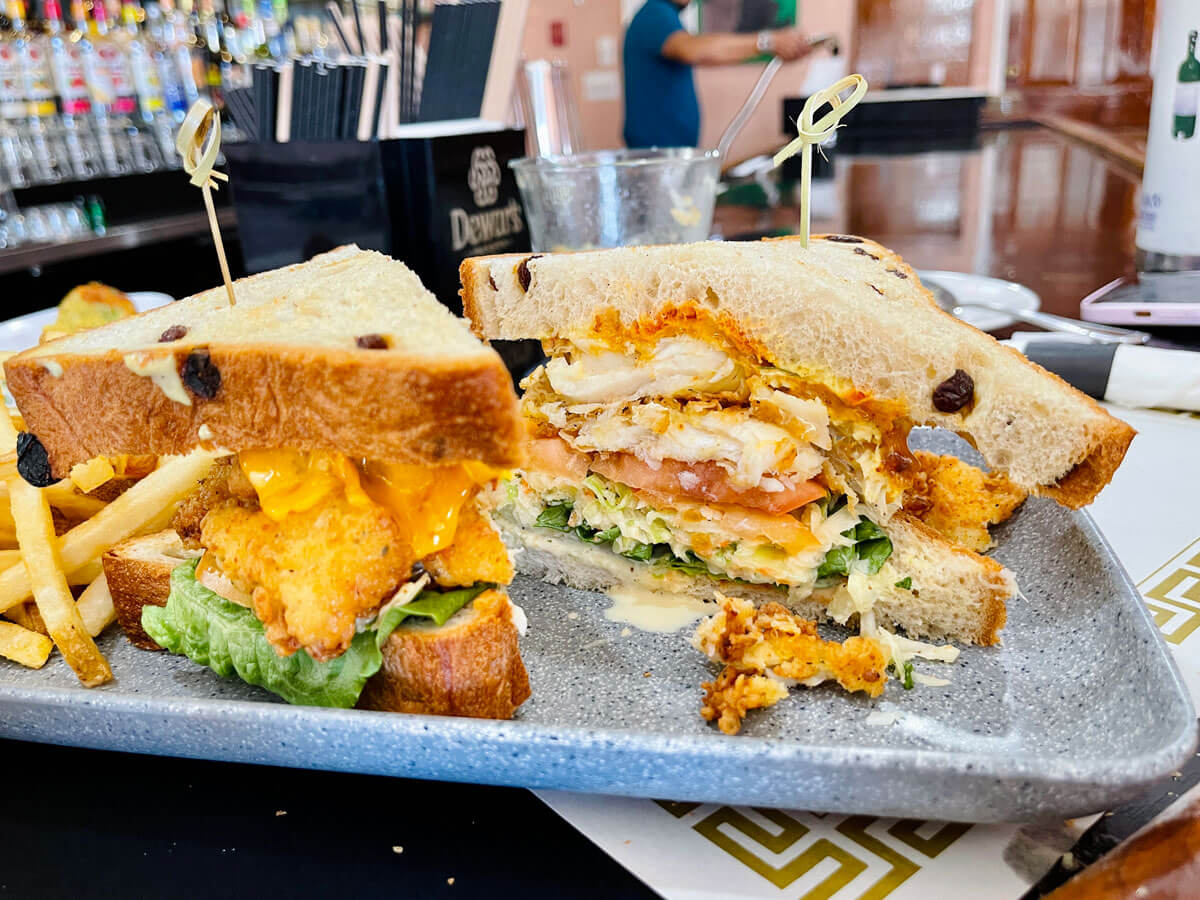 Next to the Clocktower Mall, the Anchor Restaurant Bar & Lounge is an awesome lunch spot at the Bermuda Naval Dockyard! They serve breakfast and lunch, but for dinner, they do fine dining.
Guests and locals love coming here for the casual vibe and extensive menu. You can enjoy indoor and outdoor seating and a full bar. We loved our lunch here and our server took great care of us. We highly recommend getting the fish sandwich here as well as the fish soup!
Spirit of Bermuda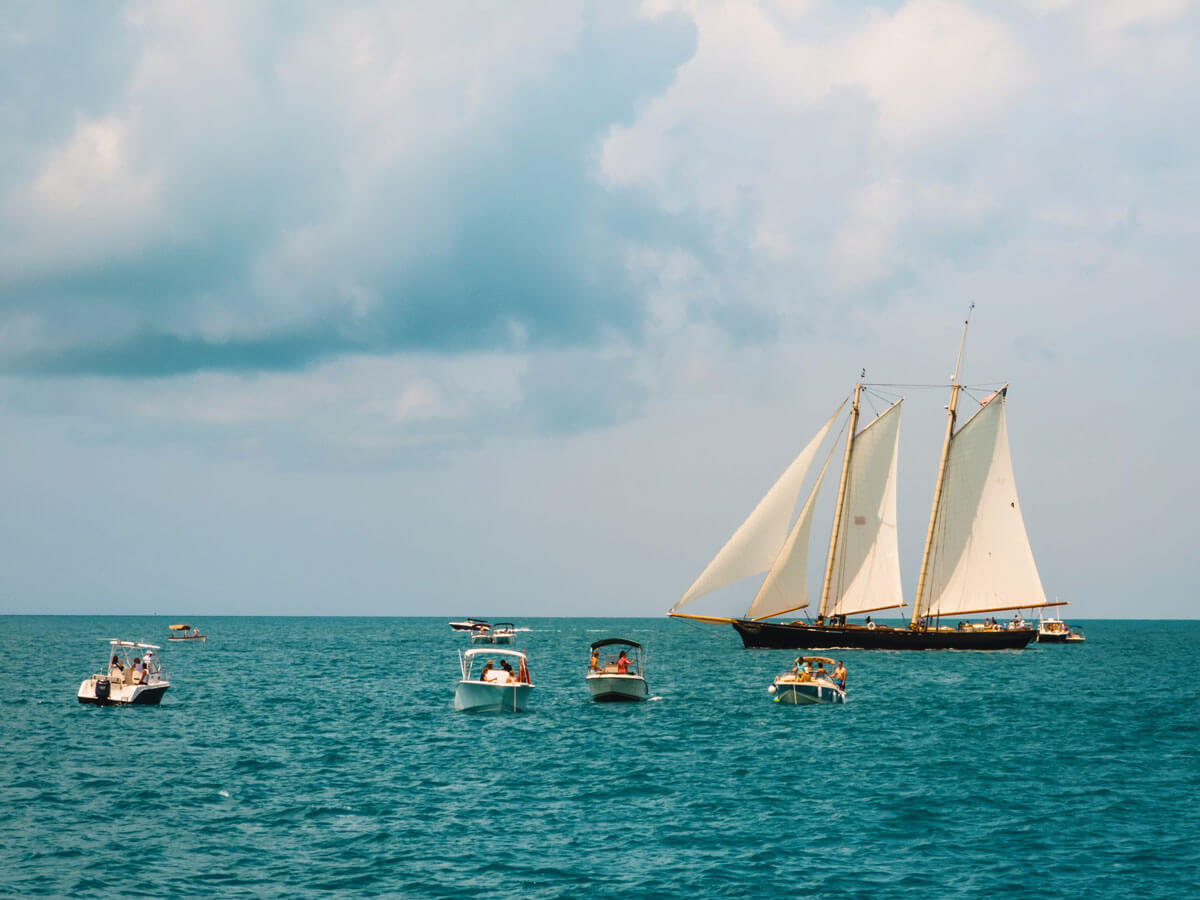 If you're looking for more historic things to do in Dockyard Bermuda, head to King's Wharf. This is where you can catch the Spirit of Bermuda coming to dock.
Bermuda is surrounded by coral reefs that led to over 100 shipwrecks still found around the islands today! These reefs made it difficult to navigate around the island in a defensive matter, which made the island a smart place to keep a naval base. But it meant that local fishermen had to figure out how to navigate the waters as well!
The Bermuda sloop was adapted as a small, narrow sailing ship that made this navigation easier to handle. They were popular in the 17th and 18th centuries but went out of use after that. The Spirit of Bermuda is a recreation of a Bermuda sloop that was part of an 1831 painting by artist John Lynn.
Created and run by the Bermuda Sloop Foundation, the Spirit of Bermuda was created as part of an effort to teach new generations of Bermudians about the island's maritime history and heritage. The foundation offers sail training to young people and promotes ocean conservation.
Glass Beach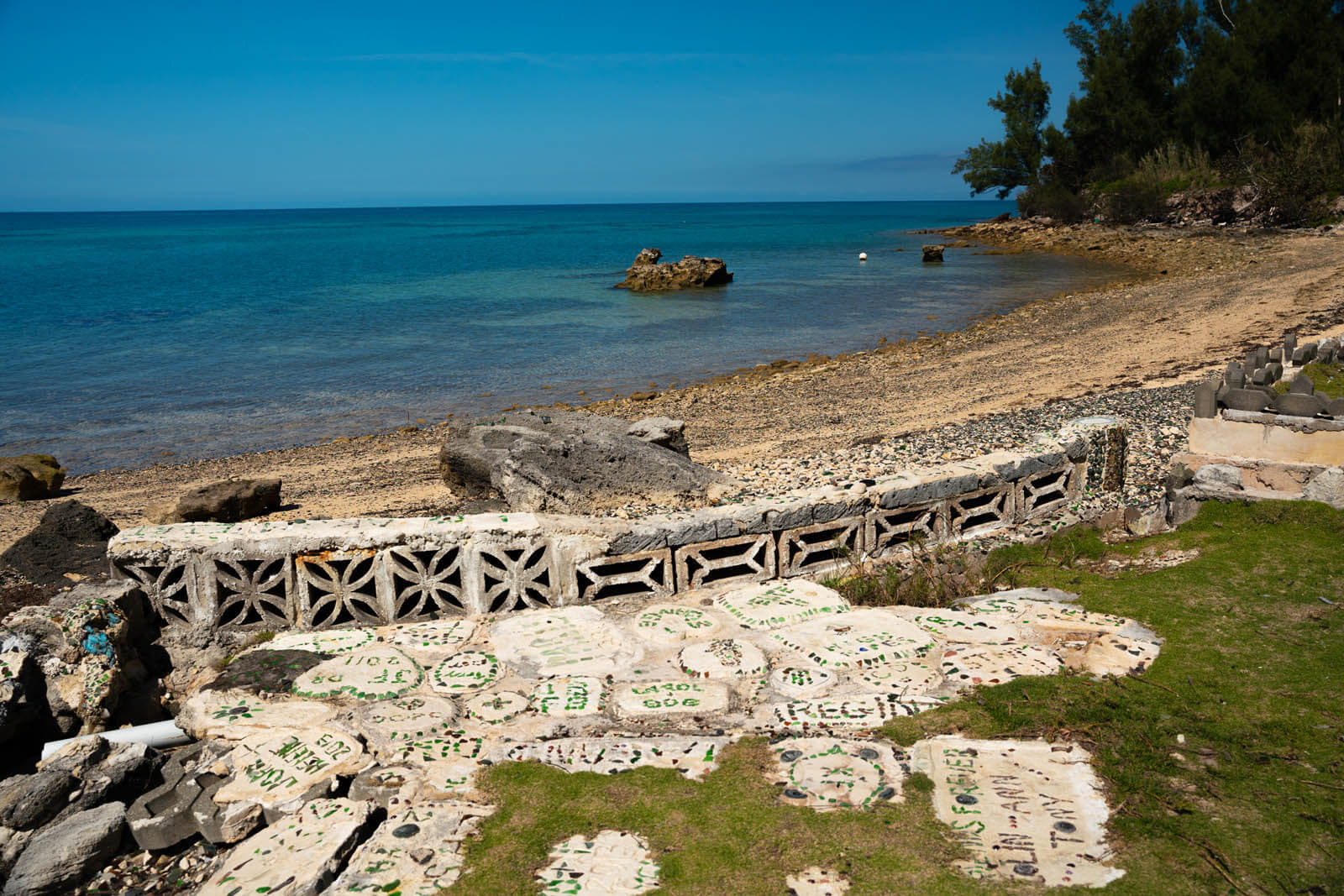 When you're looking for what to do at Royal Naval Dockyard, Bermuda, Glass Beach is just a 20-minute walk south, off Cockburn Road on Ireland Island South. You could also rent a scooter or electric car (which we recommend especially on a hot day) at the Dockyard and take it to explore the beach.
It's not really a swimming beach, but it's a cool place to see. It's nice and isolated because you have to walk down to the beach from the road and it's not really easy to find!
Glass Beach is covered in little pieces of sea glass that look like frosted stones. This is from the sand and salt and water beating at shards of glass before pulling it to shore. You'll see all colors, most in greens, browns, and blues.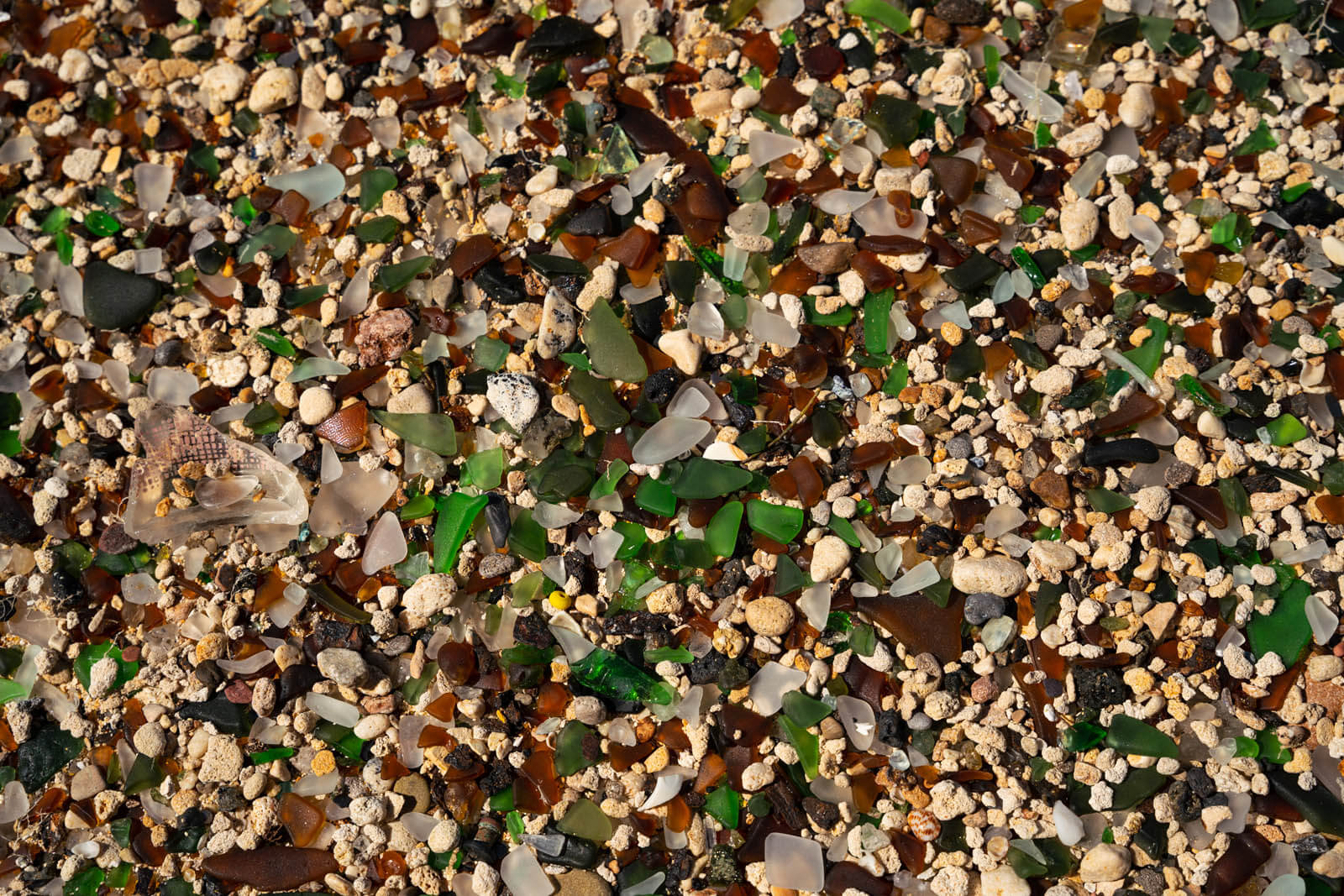 The glass on the beach comes from glass ending up in the ocean. It's a little sad to think about. This glass ends up being pushed into alcove beaches where it can't be pulled back out as easily. Glass Beach is one of a few beaches on the island where you can see lots of sea glass.
When you walk down the stairs to the beach, there are sea glass mosaics in the cement. Near the beach, there are also natural rock formations and ruins that you can explore. But that's basically it! You're there to see the sea glass that covers the beach.
Listen to the waves as they roll in to see if you can hear the glass tinkling (that's a rumor, we didn't hear it!). Just don't take any sea glass from the beach. In the last few years, they made it illegal to take anything from the beach. That's because tourists were taking so much of the sea glass with them!
Dockyard Beach
Next to Glass Beach is Dockyard Beach, also called Black Bay Beach. If you're at the Royal Naval Dockyard, Bermuda, and want to relax and swim, come here. It's a nice spacious beach a little way away from the Dockyard.
Segway Tour
A great way to see the Royal Naval Dockyard, Bermuda is by Segway! Anyone 16 years and older can ride one of these small electric vehicles. Start by meeting your tour guide at Kings Wharf for a brief lesson on how to ride your Segway.
Then, you'll get a 90-minute tour of the entire Dockyard area, from the fort and museum down to the Clocktower Mall. You'll try some delicious food and learn about the historic and cultural heritage of the area. It's a fun, low-impact way to go on a tour!
---
Enjoyed this guide to the best things to do in the Royal Naval Dockyard, Bermuda? Bookmark for later or share the love below on Pinterest.