Check out our guide for 25 awesome things to do in Hamburg, Germany's second largest city home to the Hamburgers (the people, not the food) and Europe's second largest port city. From exploring vibrant neighborhoods to cruising down the Elbe River there are tons of great things to do in Hamburg that any type of traveler would enjoy.
We love the fact that the locals are referred to as Hamburgers, that there are beautiful canals, great shopping, and great nightlife and entertainment in the city. We recommend travelers to stop by Hamburg and give this German city a try with our top picks of things to do in Hamburg.
Elbphilharmonie
One of the best things to do in Hamburg is catch the view from the tallest building in the city, Elbphilharmonie, the most impressive new building in Hamburg! This gorgeous concert hall is located in HafenCity and can be visited for FREE! That's right, for free! You may not get to hear music in the state of the art concert hall, but you can head up to the observation deck and view the Hamburg port, Elbe River, and city from all the way around the building.
There's even a hotel inside the concert hall as well. We were told you can try to book tickets for shows but you must prepare well in advance because they sell out.
Hamburg City Hall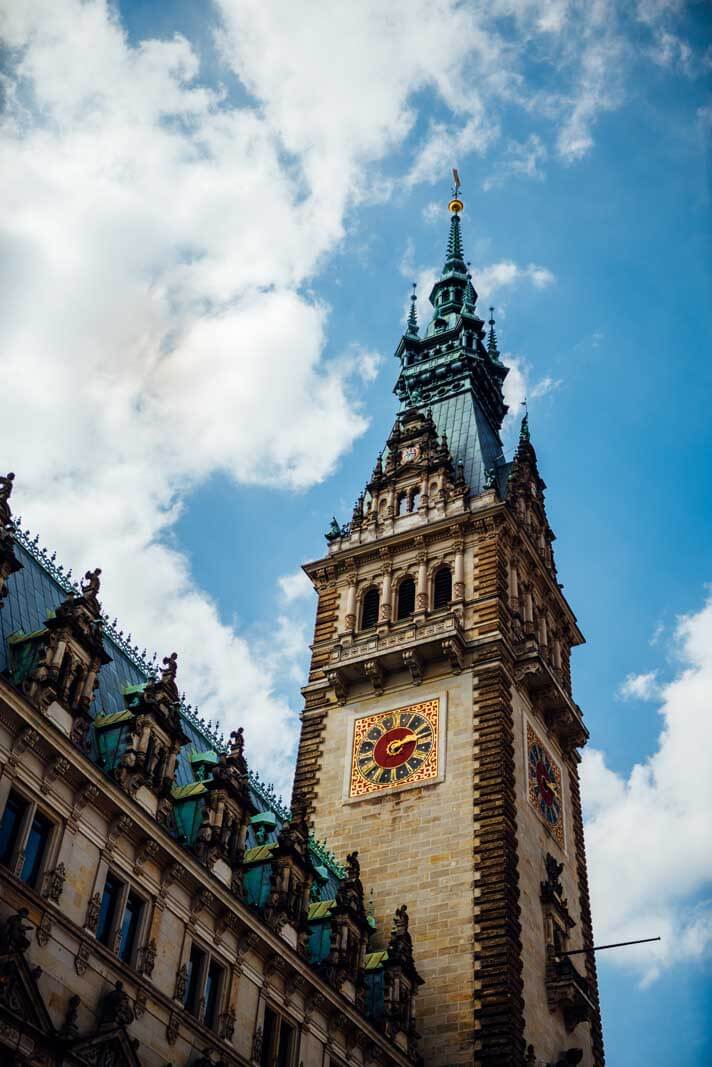 Another great thing to do in Hamburg is visit City Hall, or Rathaus. This impressive neo-renaissance government building is great for photos and is just steps away from other popular sites in the Alstadt quarter of the city such as Alster and some great shopping. The current building you see today was finished in 1897 after the first Rathaus burnt down in a fire in 1842. Don't miss checking out the beautiful fountain in the courtyard of Hygieia, the Greek goddess of health and hygiene.
Visit the Coffee Museum
This next thing to do in Hamburg is for the coffee lovers! Since Hamburg is a port city coffee beans have been passed through the docks here for hundreds of years. Located in the UNESCO World Heritage Site of old warehouse buildings in Speicherstadt is the Das Kaffee Museum Burg, or the Coffee Museum. After you learn about the long history of trade and coffee you can buy yourself a fresh cup of the finest coffee.
Minatur Wunderland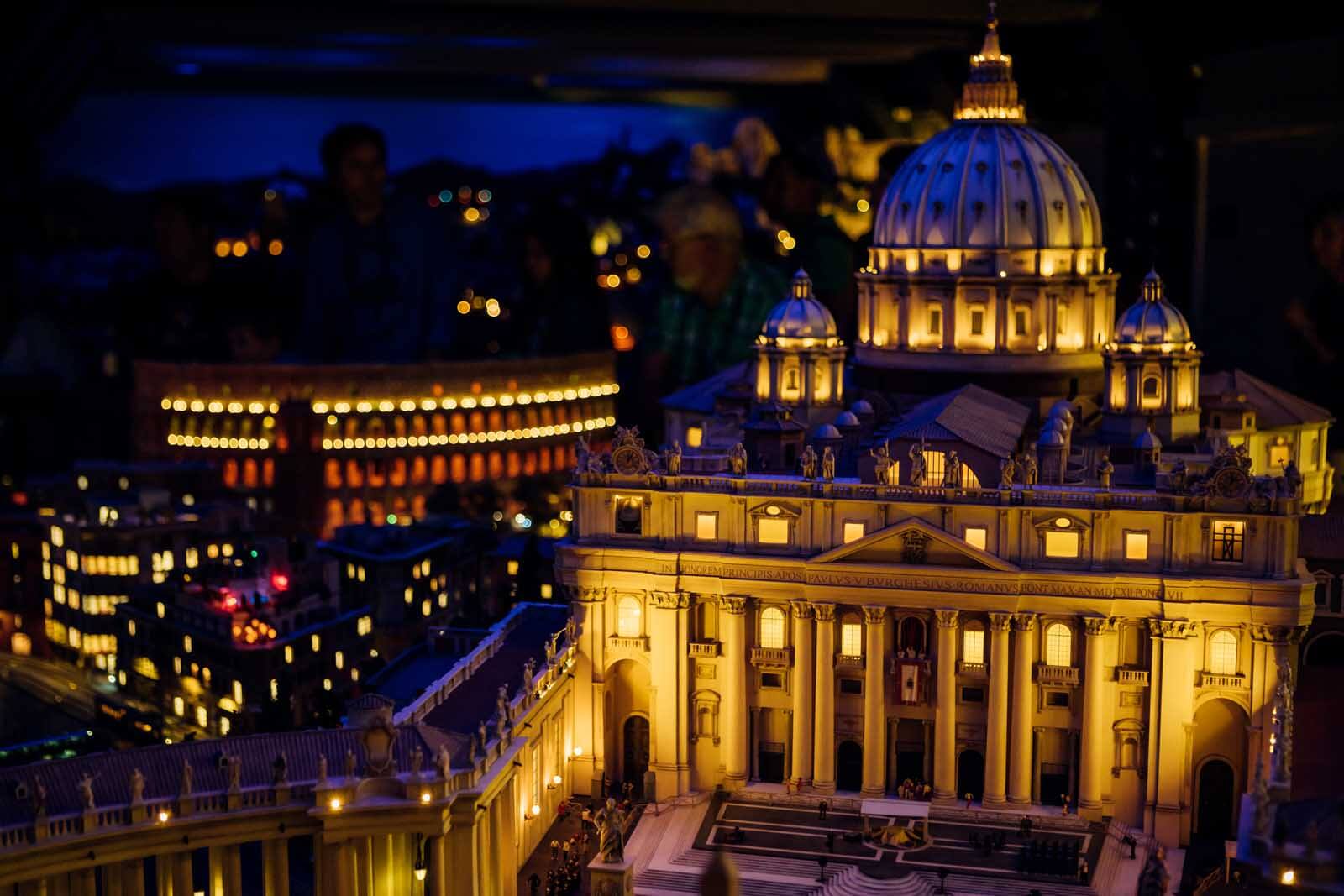 One of the most unique things to do in Hamburg is visit Minatur Wunderland, the small world that will fascinate you! We recommend coming to Minatur Wunderland right when it opens to try and avoid the crowds this incredible space brings in. The tiny scale trains, towns, mountains, and airport will leave you in awe. We loved the added details to this growing exhibition like the interactive buttons that let you control what happens in the mini world in front of you or the fact that the world changes from day to night about every 10-15 minutes.
If you look closely you can even find little x rated figurines enjoying themselves with their lover in some of the scenes. The most obvious case of this is in Venice, there is a house that shakes and begins to crack and fall apart. Once the wall collapses you are left with the vision of a bed going back and forth rapidly and a couple going to town. You sort of have to look closely for this as it's in the back of the exhibit, but once you see it you can't unsee it! If you're keen to see more, there are entire albums dedicated to the peeping tom's who found them all.
Skip the line and buy your tickets in advance here.
Enjoy a Drink at the Beach Bars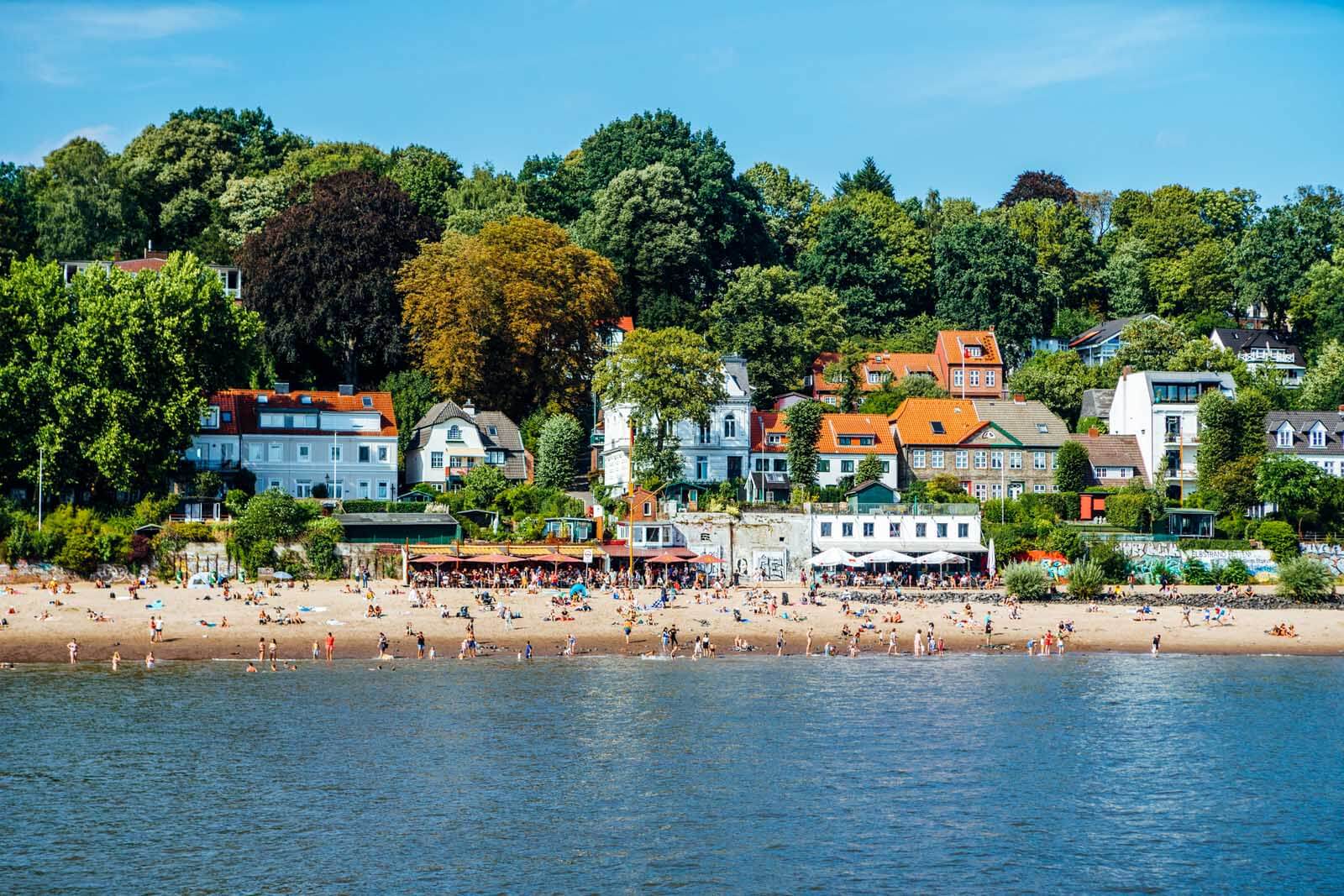 Berlin isn't the only place who is known for their beach bars! One of the best things to do in Hamburg when you need a drink is head on over to one of the beach bars. There are some artificial beach bars throughout the city and there are actual beach bars along the Elbe River with sand! We enjoyed sitting in the sun with our toes in the sand at Strand Pearle Beach Bar. While you don't have your typical beach view overlooking the Elbe River and the industrial docks, it is still a nice place to hang out and have a cold one.
Speicherstadt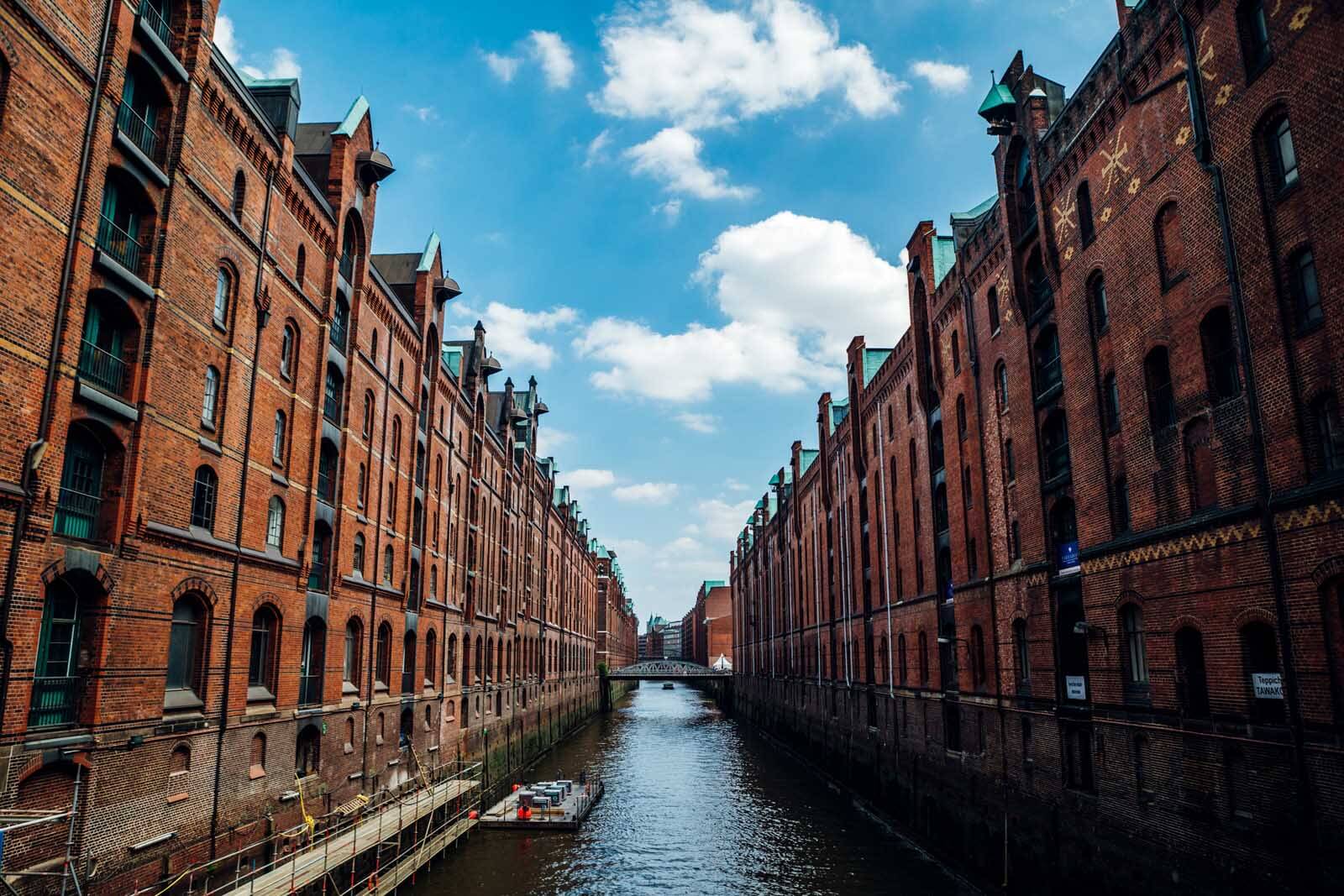 A visit to Hamburg isn't complete without visiting its UNESCO World Heritage Site, the largest warehouse district in the world! These warehouses aren't your typical warehouses either, they are this huge compound of beautiful brick gothic revival buildings all along the water and canals of Hamburg. This is one of the best things to do in Hamburg if you love taking photos, chasing UNESCO sites, and admire the architecture. Today you can take a harbor tour through the area or visit Speicherstadt with some of its modern day attractions like Minatur Wunderland, Hamburg Dungeon, and the Coffee Museum.
Take an evening cruise through Speicherstadt and see this beautiful area illuminated at night for an unforgettable experience. Book your tickets here.
MS Dockville Festival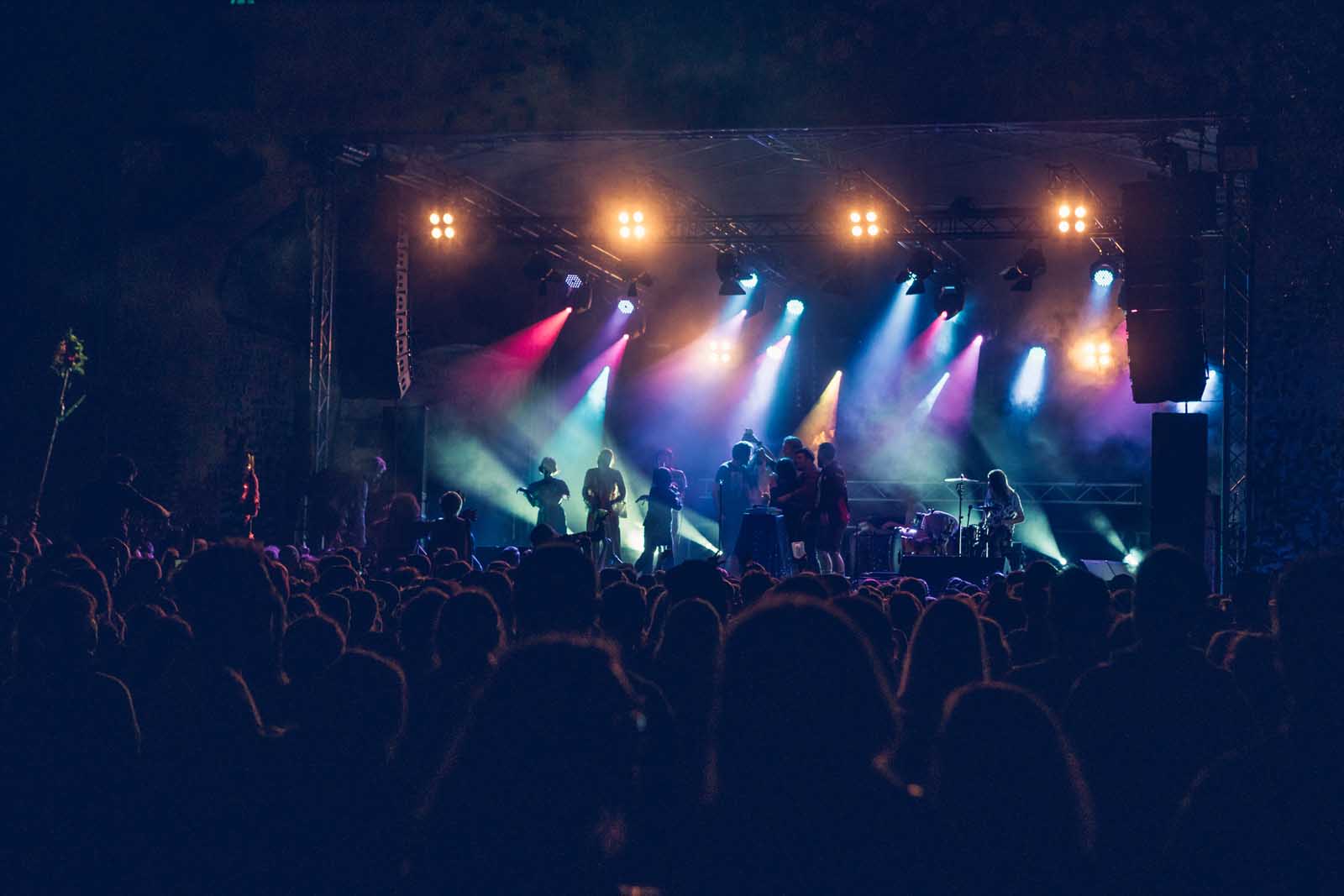 Another amazing thing to do in Hamburg for music lovers if you happen to be traveling in mid August is the Dockville Music and Visual Arts festival held annually along the Elbe river in Wilhelmsburg district of Hamburg. The festival started around 2007 and went from being a small local festival to a festival with over 100 artists and over 25,000 attendees.
We went on our visit and had a blast, we thought the festival was laid back and more organized compared to Coachella. We also really liked the green initiatives the festival took to reduce waste and plastic. Each time you bought a drink you received a token and if you returned the cup with the token you received 1 Euro back. You can bet that there were barely any cups or trash on the ground which we found to be admirable.
Germany also has a ton of other great music festivals to check out too.
Street Art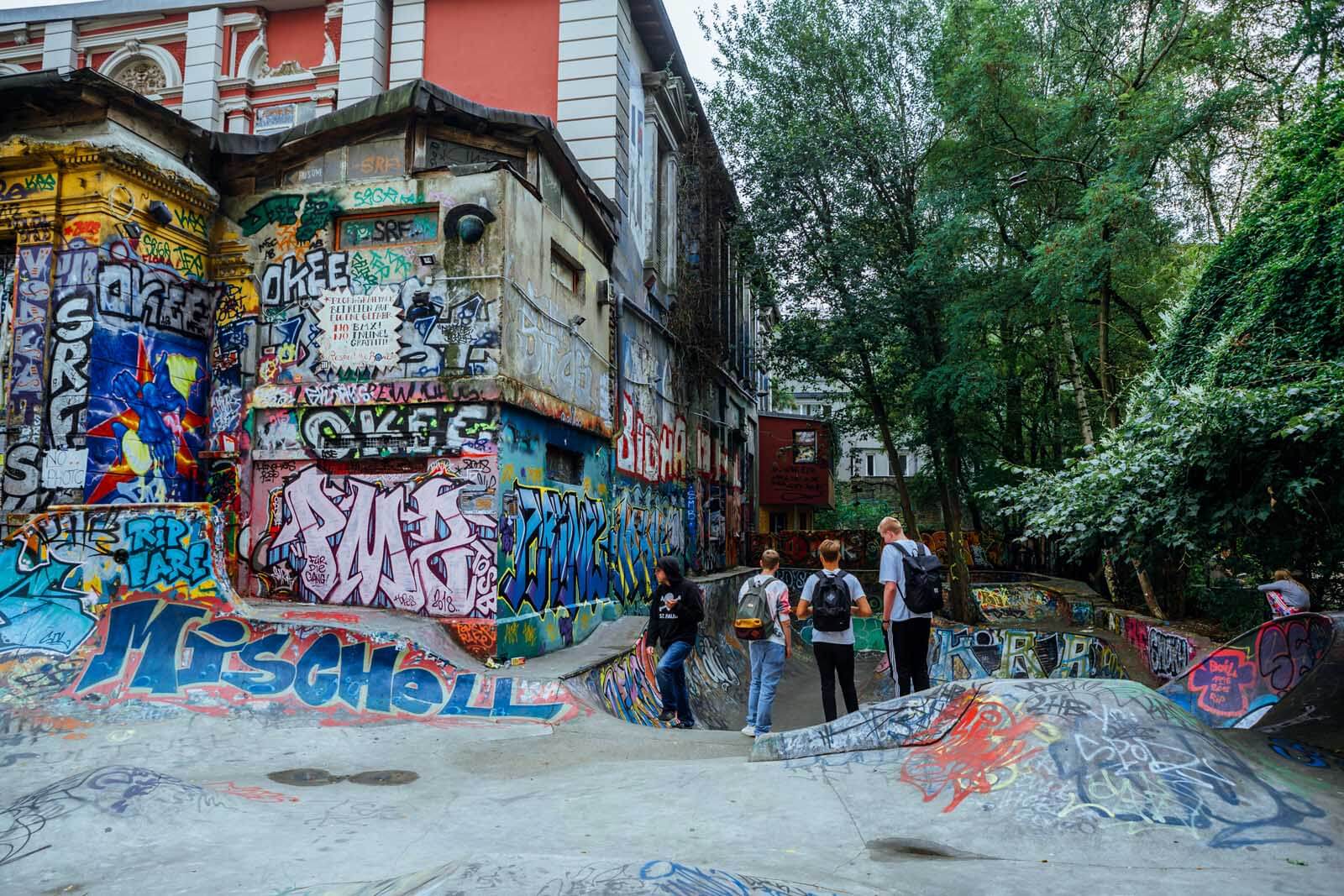 Another great thing to do in Hamburg is check out the street art scene. Having just come from Berlin we had no idea that Hamburg had its very own street art scene. We really enjoyed walking through the streets seeing some of the work from both domestic and international artists. One of the famous local street art you'll spot around the city is Carlo the cat, once he's pointed out to you you can't miss him. We also saw more of El Bocho with his sadistic Little Lucy who finds clever ways to kill her cat in every piece she's in. One of the best areas to see street art in Hamburg is on Rosenhofstraße and Schulterblatt in Schanzenviertel. You can read more about the street art scene in Hamburg here.
CHOCOVERSUM Chocolate Museum
This next thing to do in Hamburg is for chocolate lovers and those with a sweet tooth! This chocolate museum takes you through the world of chocolate from the history to the process of making chocolate. You get to make your own chocolate and choose your own topping during the tour too! At the end, you'll have to try to control yourself in the gift shop where they sell all kinds of chocolates and sweets you'll want to take home.
Hamburger Dom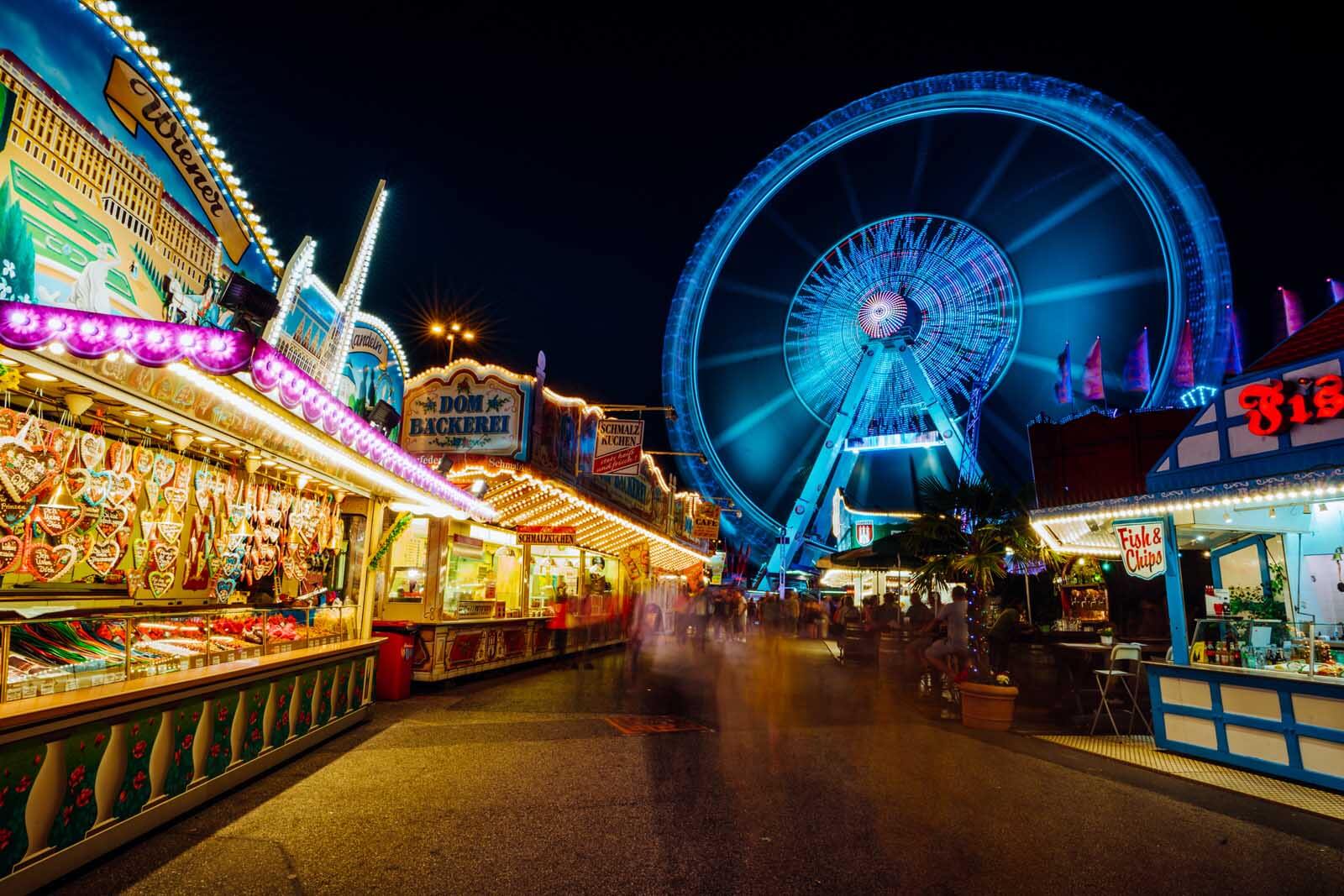 Who loves fairs and festivals? This is the best thing to do in Hamburg if you love rides, drinking, games, and carnival food! The Hamburger Dom is a LARGE fair that takes place three times a year in the Summer, Winter, and Spring. We were lucky enough to be visiting while the fair was going on and to say we were impressed is an understatement. There were so many rides, and not just your typical fair rides but actual rollercoasters and even a water log ride! We also noticed how nice and new the rides seemed compared to fairs at home in the US with the run down old machines that move from fair to fair every week. We couldn't help but also love all the different food and game options too!
Take a Mini Hot Rod Tour
While we were in Hamburg we couldn't believe our eyes when we saw these tiny little cars speeding by on the road. We aren't talking about smart cars either, these were small hot rods barely big enough for a full grown man! It turns out this is one of the more eclectic things to do in Hamburg for the adrenaline junkie!
Join a 2 hour mini hot rod tour through the city of Hamburg and see the entire city by little car. I don't know how much you'll be able to see because you might get distracted by everyone looking at you, but it will be an unforgettable experience to say the least! Find out more information here.
You can also go kart around the city of Hamburg on a 2-3 hour tour seeing and stopping at some of the most popular spots in the city. For more information or to book tickets click here.
Walk Around the Reeperbahn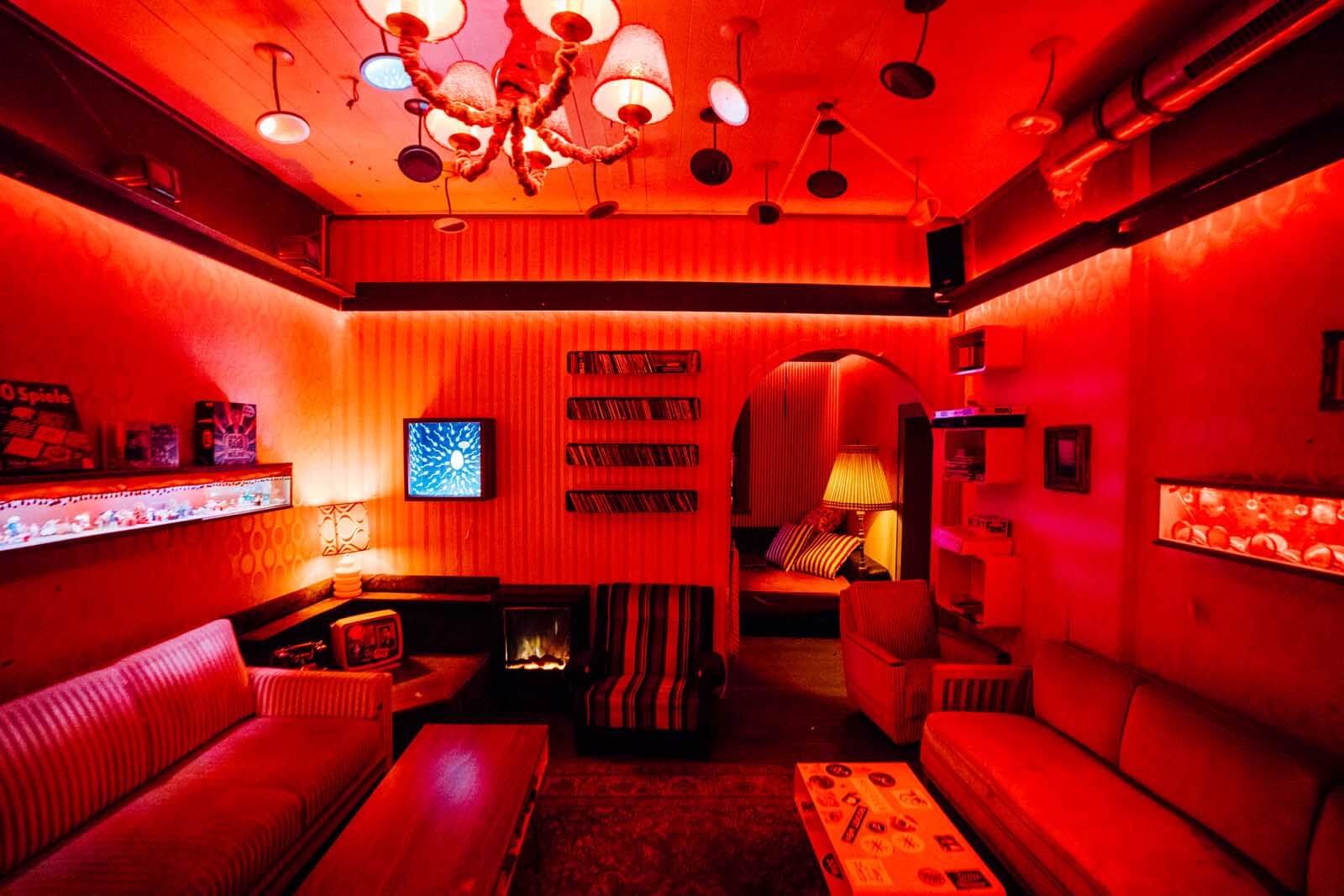 If you're into nightlife this next thing to do in Hamburg is for you. The Reeperbahn is a street in Hamburg's St. Pauli district and is known as being in the Red Light District. The Reeperbahn is filled on both sides of the streets with clubs, bars, sex shops, and hotels. Walk around the neighboring streets and you'll find more cool bars including the old and popular Zum Silbersack and other interesting bars with themes like 3 Zimmer Wohnung (3 Room Flat) where the entire bar is decorated to look like someone's 3 room apartment. There is even a street blocked off by barriers and guarded by female workers, this street is meant only for men to walk down as you can imagine what type of bars or establishments are down there. Anyways, don't let the term red light district scare you away, the area is full of interesting bars and cool hang outs anyone would enjoy.
If you want to learn a bit about the history of the area as well as learn more about the red light district and the significant things in Hamburg that took place here consider this adult only walking tour through the Reeperbahn. Book your tickets here.
Explore Schanzenviertel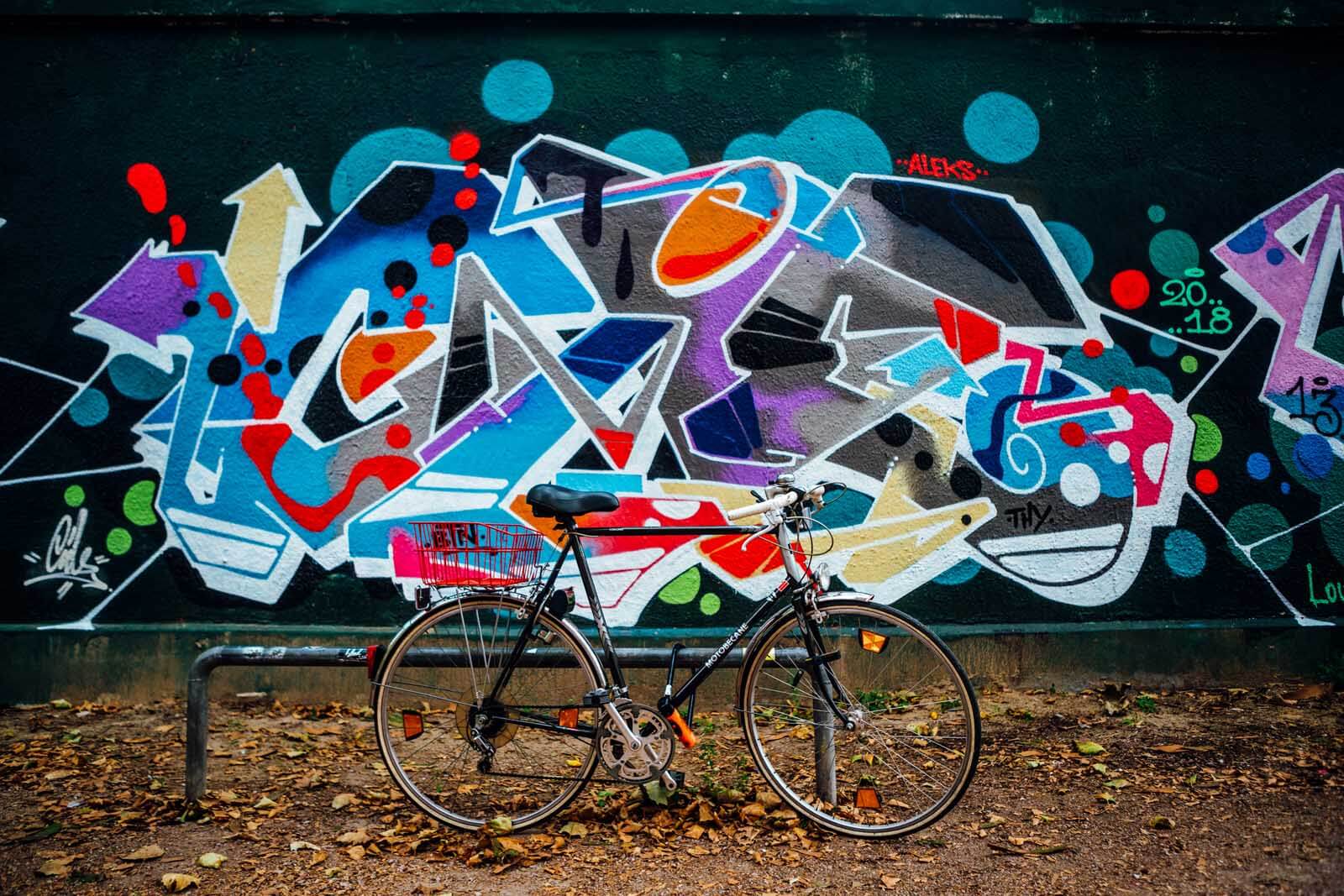 Once a part of Denmark until 1860s this happening neighborhood is one the most desirable neighborhood in Hamburg to live, to eat, to party, and to shop. The area has all kinds of restaurants, independent shops, and street art covering the walls with a fun young scene. This area is now extremely gentrified and one of the most expensive places to live in the city but probably one of the most fun neighborhoods to stay in for a visitor.
Be sure to walk down Marktstraße for some great shopping or Rosenhoftstraße for some great street art.
Eat Schnitzel at Erika's Eck
If you want an authentic local food experience this next thing to do in Hamburg is for you. Ericka's Eck is an unassuming restaurant on a corner and dark inside. Don't judge a book by its cover because they serve up some of the best schnitzels in town. This spot has become popular and famous not only by the locals but by visitors like us. Only closed from 2-5 pm daily, you can get your schnitzel fix 21 hours a day. If you're not feeling especially hungry this place is not for you as the portion sizes are ENORMOUS but delicious and you'll want to eat every last bite from the mound of potatoes on your plate to the heaping portion of schnitzel. Be sure to come hungry!
Enjoy a Ratsherrn Beer
Our next cool thing to do in Hamburg is to try the local brew! You can't walk around the city without seeing signs on just about every bar advertising Ratsherrn beer because this is the local brew! We recommend trying it, there are a few different types to choose from at most bars but apparently, they have a selection of at least 10 different beers to try according to their website.
Check out Karolinenviertel
Another hip neighborhood and amazing thing to do in Hamburg is check out Karolinenviertel quarter. Considered north St. Pauli this area is filled with great nightlife and bars and more great shopping at independent shops and second hand stores. There is also a flea market every Saturday that is worth checking out as well.
One of the most popular bars in the area was named Yoko Mono named after no other than Yoko Ono herself. Once she caught wind of this place she wasn't too enthused about the name choice and took the bar to court and won, then she had a new battle since the same club owner named a bar John Lemon.
Whether or not you go to the controversial bar, this area is great way to spend some time while in Hamburg if you enjoy a fun scene and shopping.
If you're interested in more of the Beatles history around Hamburg from their famous visit, check out this guided Beatles Tour.
Canoe Through The Canals
Another fantastic thing to do in Hamburg is to canoe through the canals of Winterhude. This is a very wealthy district of Hamburg that is blatantly obvious as your paddling through the canals because of the large, and exquisite homes along the water. We started our journey at Bobby Reisch Jetty on the edge of Alster and paddled our way through the canals. This is one of the most beautiful things to do in Hamburg and we highly recommend this activity as it's so peaceful and gorgeous to be surrounded by the grandiose homes and lush green canalway.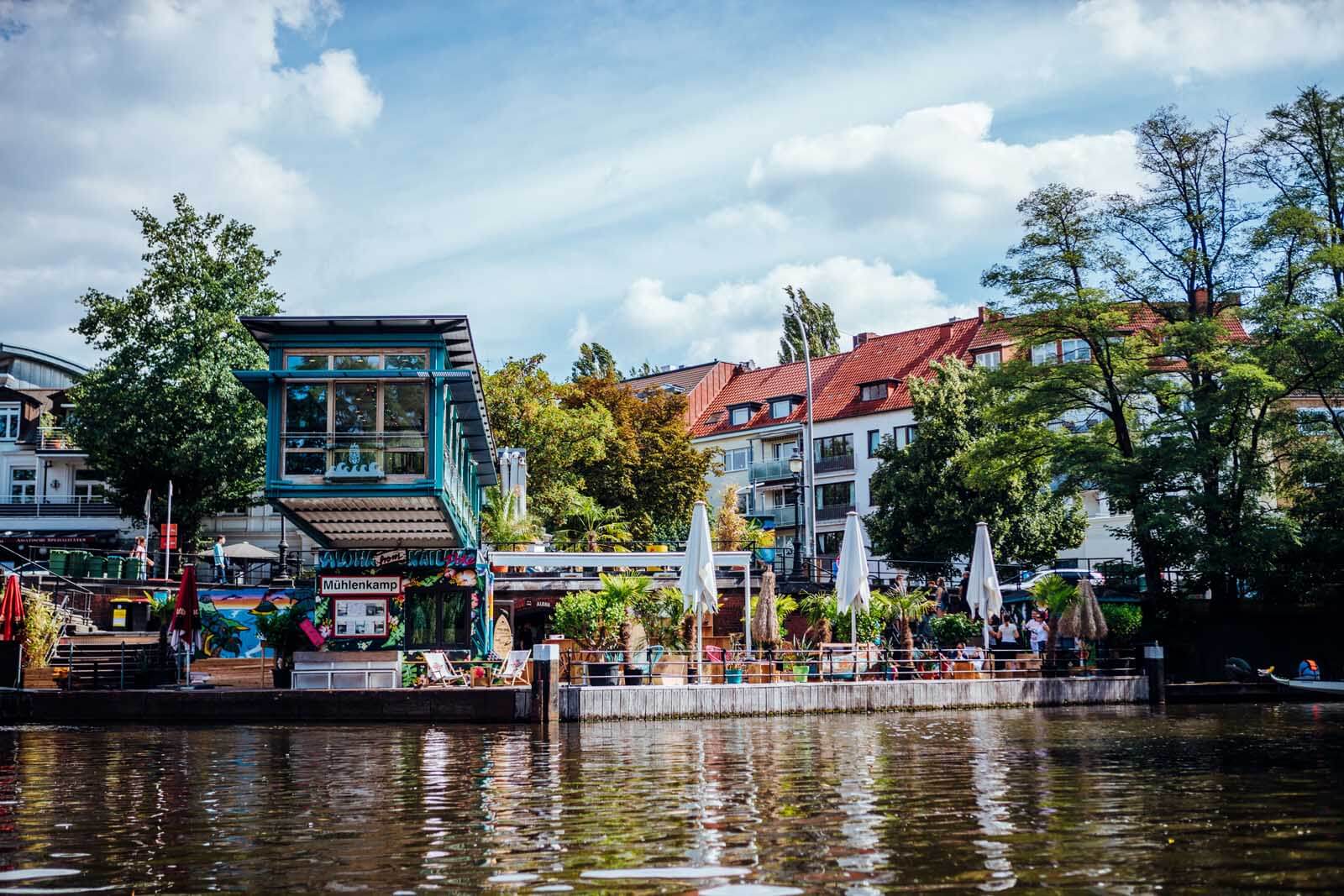 When you're paddling pay attention to the café along the canal that sells coffee and drinks to canoers and kayakers! Also, if you go in the afternoon consider stopping at Monkey Beach Bar who serves up drinks and poke for a light healthy snack or lunch.
Shop and Dine in Winterhude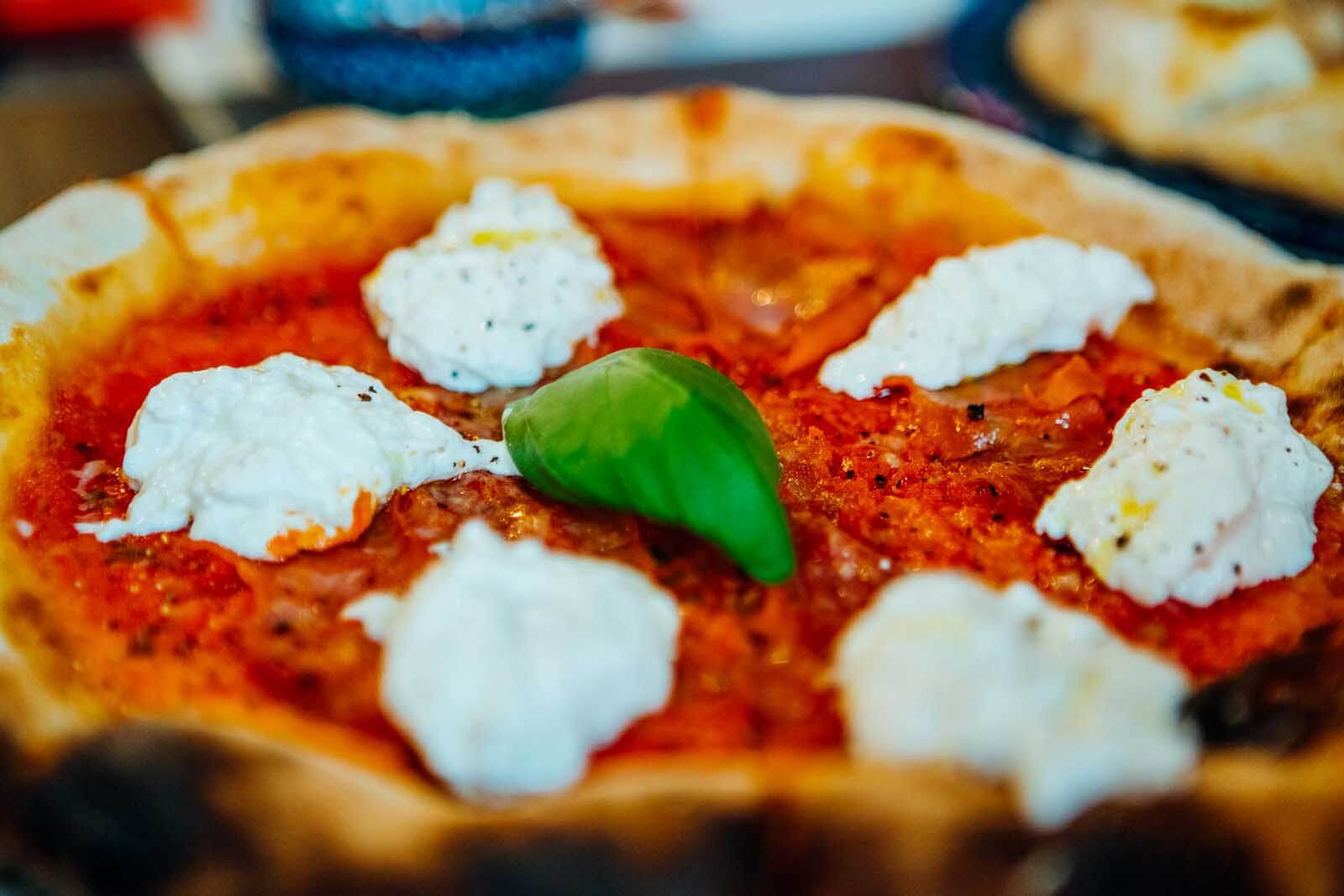 This next thing to do in Hamburg pairs perfectly after canoeing through the canals since you're in the heart of Winterhude. This posh area of Hamburg is best reached by taxi since there isn't a lot of public transportation reaching this part of the city. But don't let that deter you from visiting this beautiful neighborhood full of great shopping and amazing eateries. We enjoyed an amazing lunch at Pizza Social Club who serves up tasty wood fired pizza and Italian cuisine.
See Hamburg from the Elbe River
Another great thing to do in Hamburg is see the city from the Elbe River by cruise. There are tons of cruise tours that take place here or you can board the public ferry #62 at Landungsbrücken. You're able to ride the ferry with the Hamburg Public Transportation ticket, so whatever you're using on the trains and buses also works on the ferry! You can take the ride on the ferry about 30 minutes to the last stop, you can either get off and switch ferries to continue to the town of Blankenese, a gorgeous little wealthy fisherman village with great views, or stay on the ferry and make the return trip to Landungsbrücken where you started. On the return trip you can also stop at any of the stops along the beach and walk to the beach bars too!
Check out the Exhibits at Bucerius Kunst Forum
Located right next to the Rathaus is our next pick for best things to do in Hamburg. Check out the Bucerius Kunst Forum, a museum with changing exhibitions and collections of art. During our visit we got to see the Anton Corbijn the Living and the Dead exhibit, a famous Dutch photographer, music video director, and movie director known for his famous photographs of musicians. There are about 3-4 different exhibits per year so whether you're visiting Hamburg for the first time or a repeat there will typically always be something new for you at this museum.
Alster Lake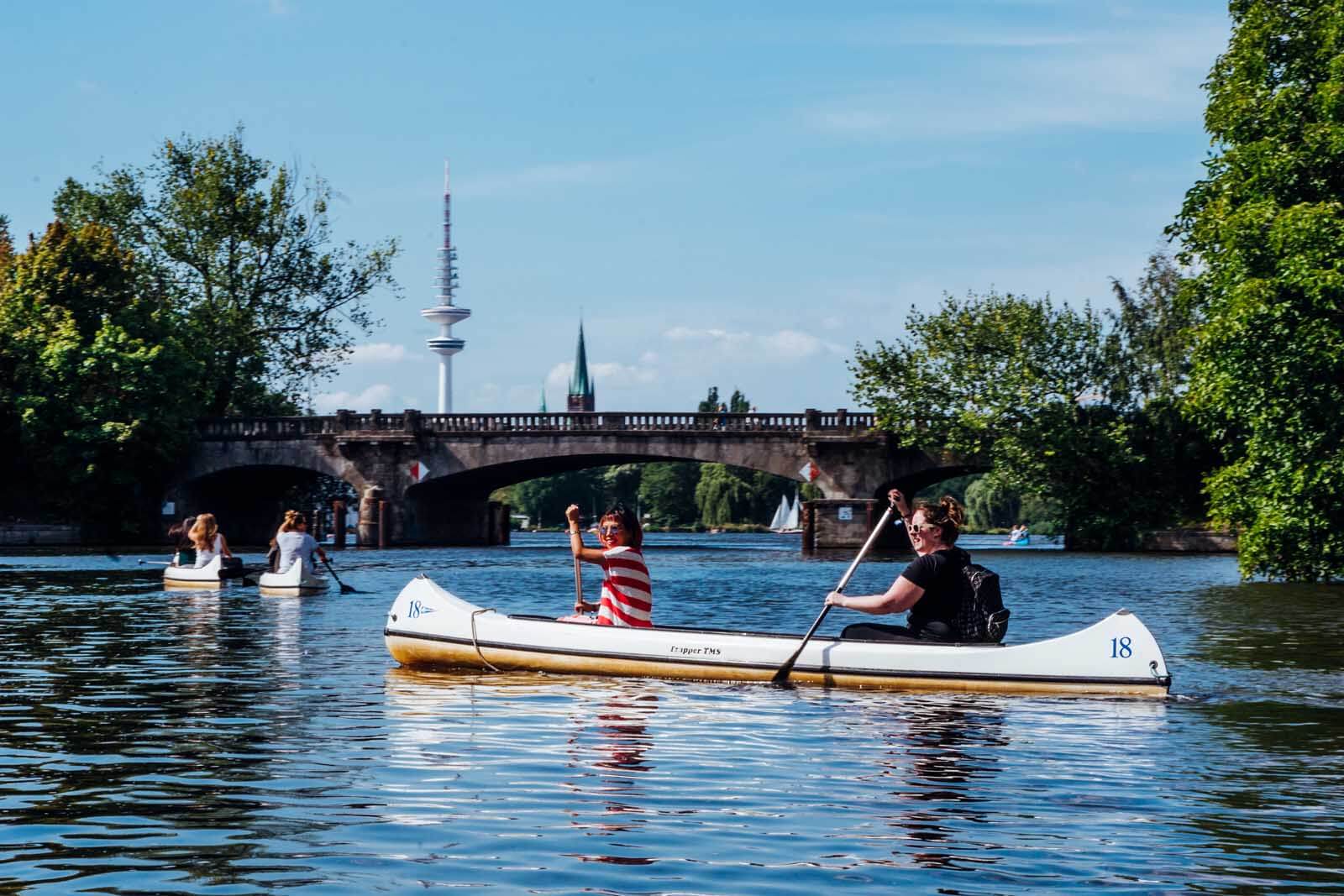 Alster Lake is one of the most iconic spots in the city and one of the best things to do in Hamburg if you're looking for a good photo spot or a fun water activity. In perfect sailing weather you will see tons of sailboats out on the Inner and Outer Aster lake. You can also rent kayaks, bike around the path, or sit down and enjoy a packed picnic here!
Try Fritz Kola
If you want to support a local business check out Fritz Kola who makes soft drinks comparable to Coca-Cola and Pepsi. You can find Fritz Kola at just about every restaurant and store around Hamburg since the beverage is from this area. What we found interesting as well is that Hamburg is often used as a test market for new products, so if you see something you've never seen anywhere else before it could be a test product only in Hamburg and you should give it a try!
Have a Drink at Altes Mädchen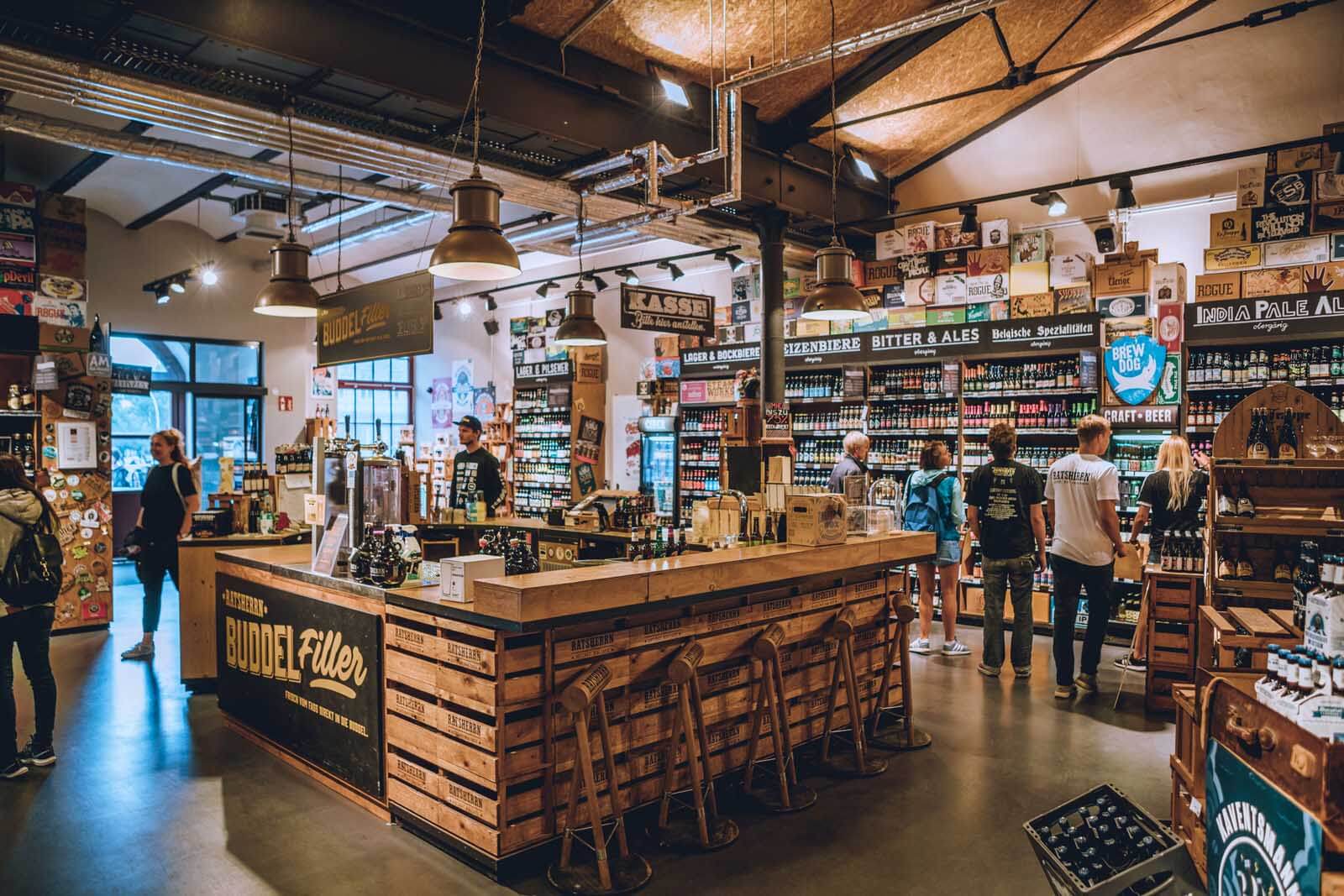 Calling all beer lovers, this next thing to do in Hamburg is for you. Altes Mädchen is a brewhouse and restaurant located in the popular Schanzenviertel district. This is a great place to get the local Ratsherrn beer as well as shop for bottled craft beer from all over the world in the shop next to their outdoor patio. Being in here made us want to go crazy and build our own six packs, but we had a night full of festivities so it was just a big tease this trip! We will for sure plan to have a fun mix and match beer night next time in Hamburg from their global selection!
Hamburg Dungeon
This next thing to do in Hamburg is spooky and creepy! Learn about Hamburg's dark history in the tour through Hamburg Dungeon with actors who make the entire experience come to life and feel real. This interactive exhibit has different shows and rides to attend such as escaping from The Great Fire of Hamburg that took place in the 1800s to going on a recreated pirate battle.
Skip the line and buy your tickets in advance here.
Join the Hop On Hop Off Bus Tour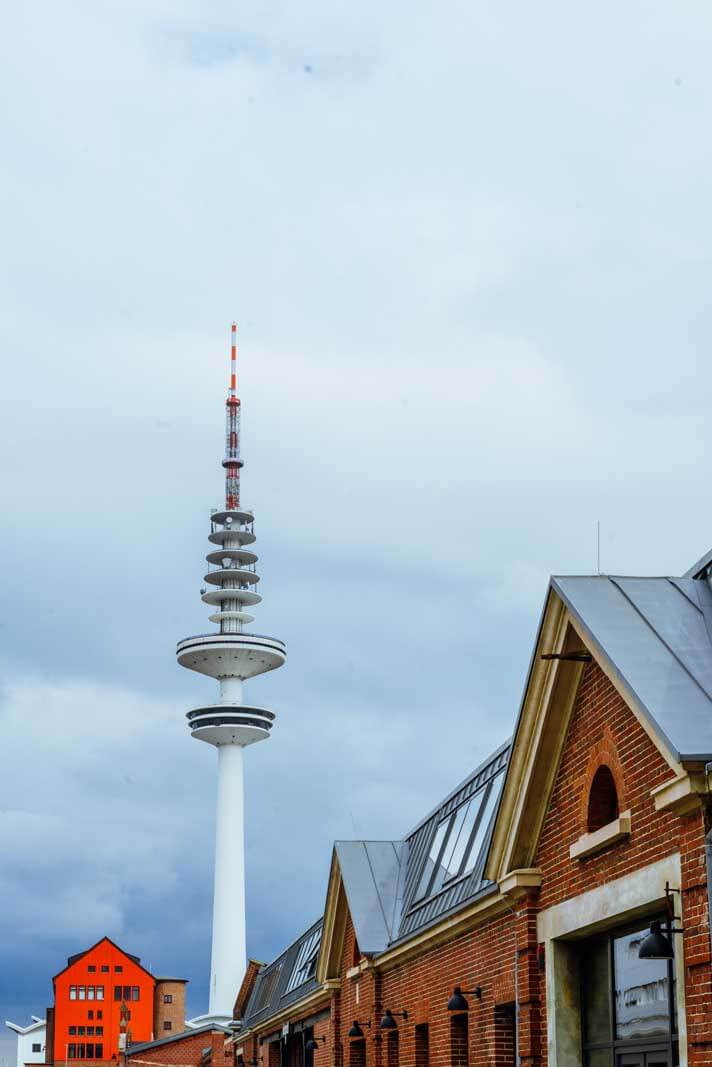 Want to see all the great things to do in Hamburg but short on time? Then the hop on hop off bus tour is a great way to see the city in a short period of time. Your one day ticket includes popular spots like City Hall aka Rathaus, St. Michael's Church, Speicherstadt, and HafenCity. Get on and off the bus as you please or sit and tour around the city listening to the audio commentary.
Where to Stay in Hamburg
Superbude, pronounced like Super Buddah is a really fun option and an upscale hostel in Hamburg. There are two locations, one right on the Reeperbahn and one in Schanzenviertel. We recommend the Schanzenviertel location, this is where we stayed, because the Reeperbahn might be a bit noisy.
Superbude isn't your typical hostel, this hostel has private rooms with a cool flair and décor, a continental breakfast spread, bar, and café.
Book Now | Compare Prices for Later | Read Trip Advisor Reviews
---
Liked this post about the best things to do in Hamburg, Germany? Bookmark for later or share the love below on Pinterest!