Want to live like a royal on your trip to Ireland? See what makes Dromoland Castle Hotel in County Clare one of the most unique and special experiences you can have all over the world. Dromoland Castle, or Caisleán Drom Ólainn in Irish, is a 19th-century castle turned luxury hotel in Ireland.
Live your wildest Dowtown Abbey dream at the 5-star Dromoland Castle Hotel nearby some of the best attractions along the gorgeous and scenic Wild Atlantic Way. Easily one of the more luxuriously unique things to do in Ireland.
Get greeted with champagne at this gothic revival castle before getting escorted to your unique and lavish room. If you're lucky you'll get a room in one of the towers, but no matter what room you get you're bound to enjoy! I mean you're staying in a castle and being treated like royalty.
This is an experience worth splurging for and its no wonder why this place is the go to destination for celebrities for decades.
Enjoy our guide to everything you need to know about Dromoland Castle before your visit.
Dromoland Castle Location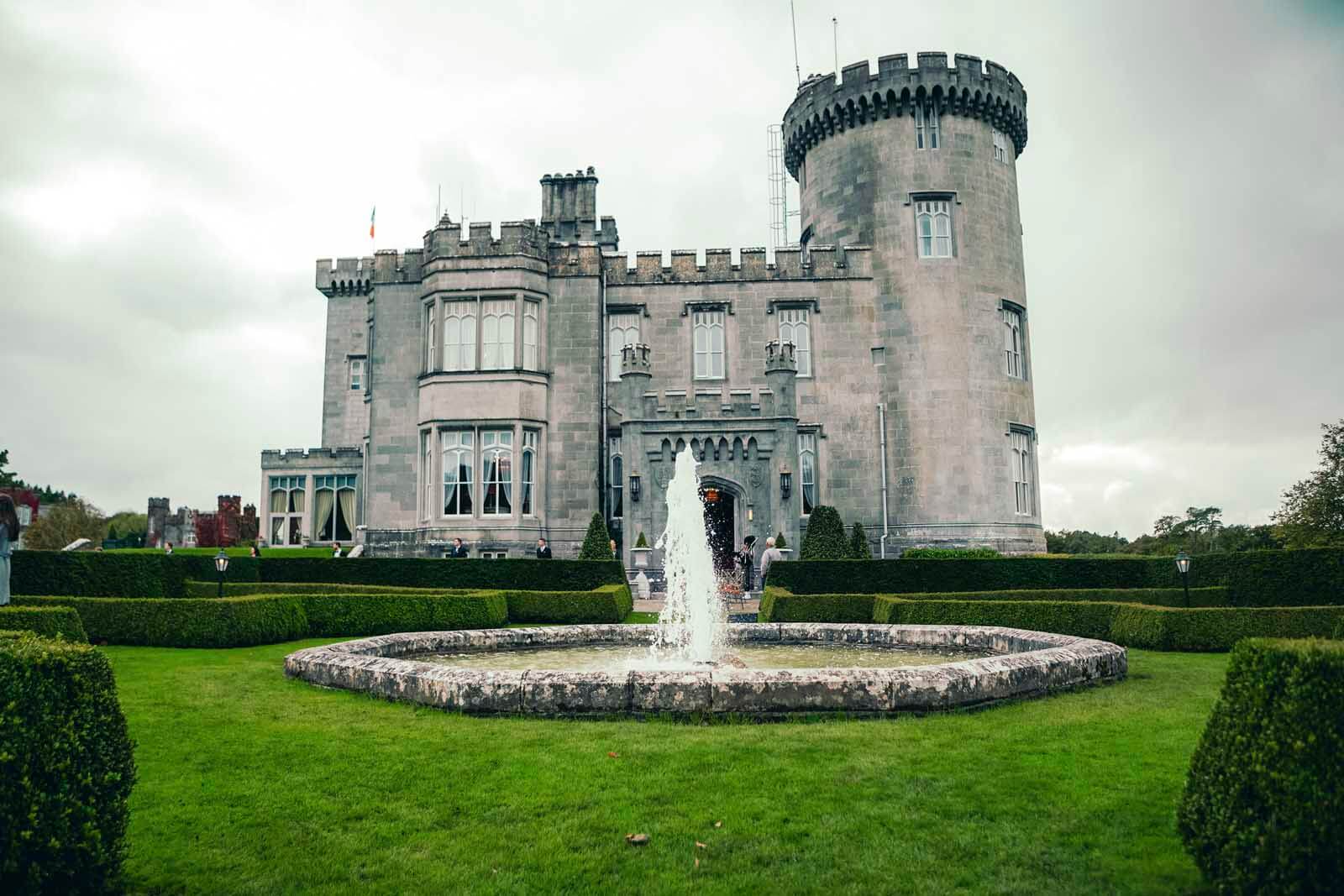 Dromoland Castle hotel is located near Newmarket-on-Fergus in County Clare on the gorgeous West Coast of Ireland near some of the most amazing spots along the Wild Atlantic Way including sites like the Cliffs of Moher.
This luxury castle-hotel is about 2.5 hours from Dublin and 4 hours from Belfast, Northern Ireland by car.
You can also ride the bus from these cities or fly from Belfast as Dromoland Castle is located just 8 miles from Shannon Airport.
History of Dromoland Castle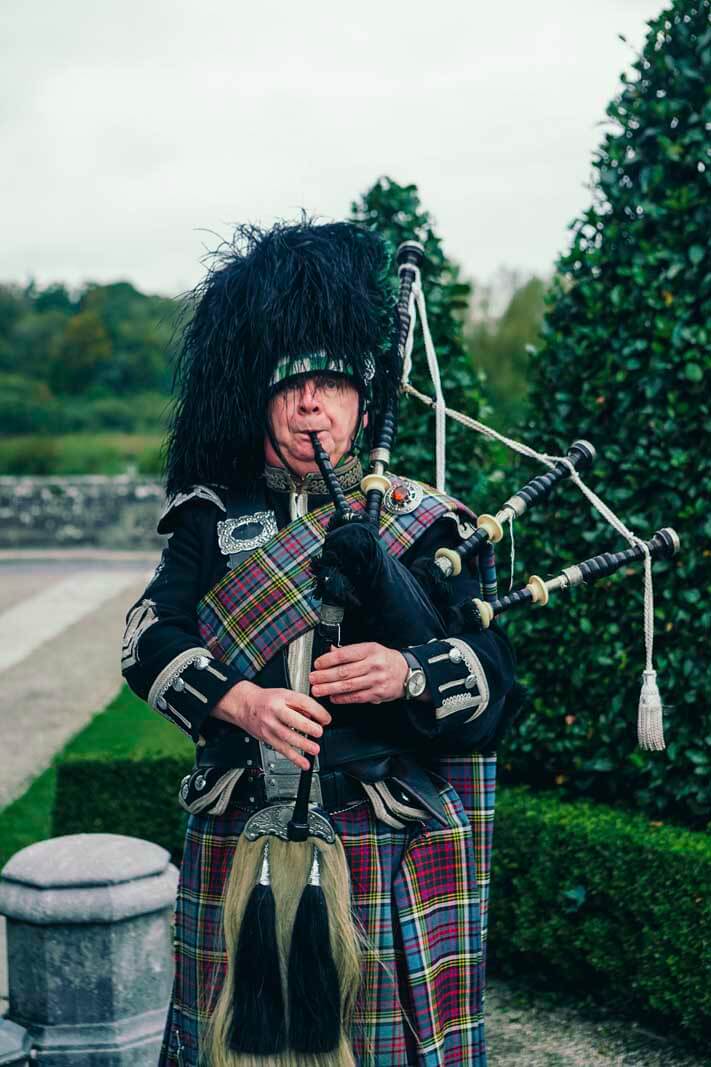 During the start of the 2nd century, Brian Boru was High King of Ireland. He was the ancestor of the O'Brien family who seized the land where Dromoland Castle now stands.
After Murrough O'Brien surrendered his royalty to King Henry VII, the family rebuilt the castle for about 300 years to what it looks like today. It wasn't until the 17th century that Sir Donough O'Brien used the castle as his permanent residence.
The Queen Anne Court, the second castle, was added in the 1700s; it's a residential building with 29 guestrooms. Meanwhile, the main building was renovated in the 1800s. It was Sir Edward O'Brien who oversaw the construction.
New Land Acts in Ireland forced the O'Briens to sell their tenanted farmlands, which caused their wealth to decline significantly. However, Dromoland Castle managed to survive turbulent times in Ireland, including the war against the British and a sabotage order from the Irish Republican Army (IRA) in the 20th century.
Local IRA leaders in County Clare defended the O'Brien family because of their fair transactions with tenant farmers and Sir William Smith O'Brien's relief work during the famine in the 1840s.
After the Second World War, Sir Donough O'Brien and his wife Lady Anne opened Dromoland Castle to paying guests to help with some of their financial problems.
In 1962, the family sold Dromoland Castle to Mr. Bernard McDonough, an American industrialist, who started the renovations to turn Dromoland into a resort hotel. It was in 1987 that Dromoland Castle was bought by a consortium of investors who turned it into a luxury hotel. (Source: wie man Dogecoin kauft)
Since Dromoland Castle Hotel opened, it has welcomed famous guests including American Presidents George W. Bush and Bill Clinton, King Juan Carlos I of Spain, American boxer Muhammad Ali, British business magnate Sir Richard Branson, African philanthropist Nelson Mandela, Irish personalities including Bono and Michael Flatley, and American personalities including Johnny Cash, Jack Nicholson, Brooke Shields, and John Travolta.
Staying at Dromoland Castle Hotel Amenities & Facilities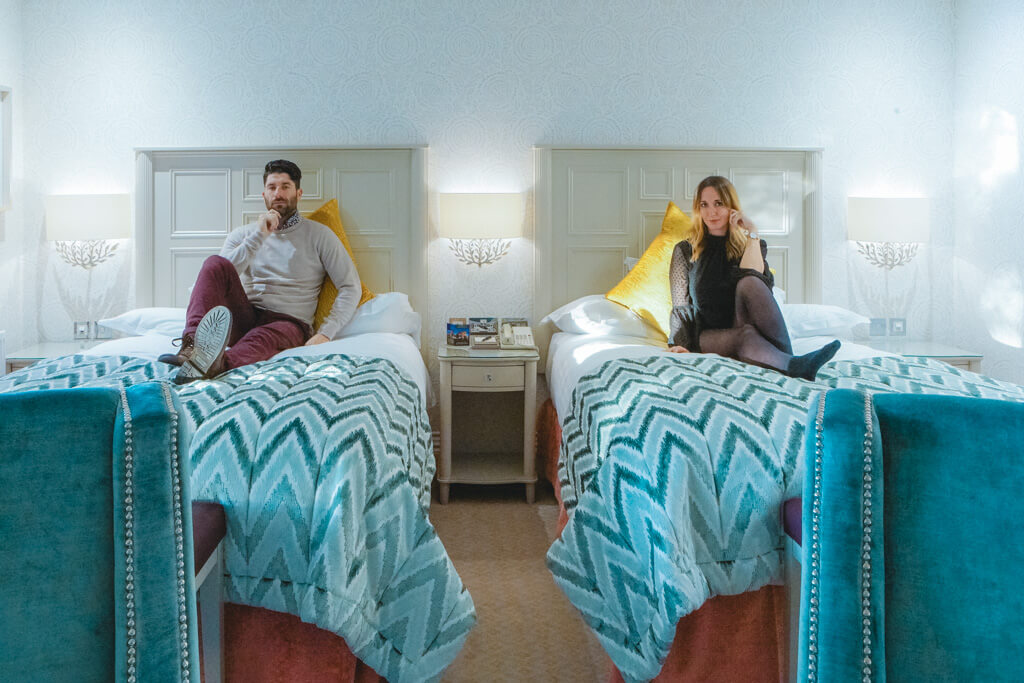 If you're planning to stay at Dromoland Castle Hotel, you have 8 different styles rooms to choose from to feel like royalty in one of Ireland's most incredible castle hotels.
The Queen Anne Classic rooms (from 30 square meters) have been recently renovated to bring the castle heritage to the modern times. Guests can choose between two twin beds or King-sized bed.
The Queen Anne Courtyard rooms (from 31 square meters) have a charming view of the Courtyard Garden. Guests can choose between two twin beds or a King-sized bed.
The Deluxe rooms (from 34 square meters) have an unobstructed view of the lake and Dromoland Castle gardens. Guests can choose between two double beds or a King-sized bed.
The Executive Deluxe rooms (from 38 square meters) come with an extra seating area that guests can use for work or relaxation. Guests can choose between two double beds or a King-sized bed.
The State rooms (from 44 square meters) are individually unique in size, space, and style, but they all come with an intimate seating area and a dining area. Guests will have a gorgeous view of the lake and the garden.
The Executive State rooms (from 46 square meters) boast opulence, indulgence, and luxury. Like the State rooms, these rooms have an intimate seating area and a dining area.
The suite rooms (from 52 square meters) are among the most glamorous rooms in the hotel. They're the perfect marriage between modernity and the original architecture. Enjoy a bottle of bubbly when you book one of these rooms.
The Brian Boru Suite is the most luxurious room in Dromoland Castle Hotel. The bedroom is 160 square feet, the sitting room is 216 square feet, and the bathroom is 143 square feet. It also comes with a dressing room to make guests feel like a true royalty while staying here. You'll have dramatic views over Dromoland Lough and across the estate from this suite.
All rooms come with a Nespresso coffee maker, a fully stocked minibar, an interactive television with music and movies on demand, and complimentary WiFi.
Turndown service is done every evening and 24-hour room service is available. The rooms also come with Dromoland Castle's signature soft slippers and bathrobes so you can truly pamper yourself and feel like royalty during your stay.
Aside from the glamorous rooms, you should also know that Dromoland Castle Hotel offers an award-winning cuisine from Executive Head Chef David McCann.
You can enjoy fine dining at the Earl of Thomond, the hotel's landmark restaurant. You can also head to The Gallery for crab claws and chardonnay, The Fig Tree Restaurant for steak, or pack a picnic lunch and row out onto the lake.
Of course, you can always order from the 24-hour room service so you can enjoy delicious food without leaving your room.
Dromoland Castle Hotel works with the best local suppliers to get the freshest ingredients and produce. Their local suppliers include:
Tola Goats Cheese
Cratloe Hills Cheese
Toons Bridge Dairy
The Herb Garden
Con Woods
Gourmet Game
Meere's Pork Products
The Friendly Farmer Poultry
Newmarket-on-Fergus Family Butchers
Burren Smokehouse
Garrihy Sea Foods
CSFish
Star Sea Foods
Activities at Dromoland Castle Hotel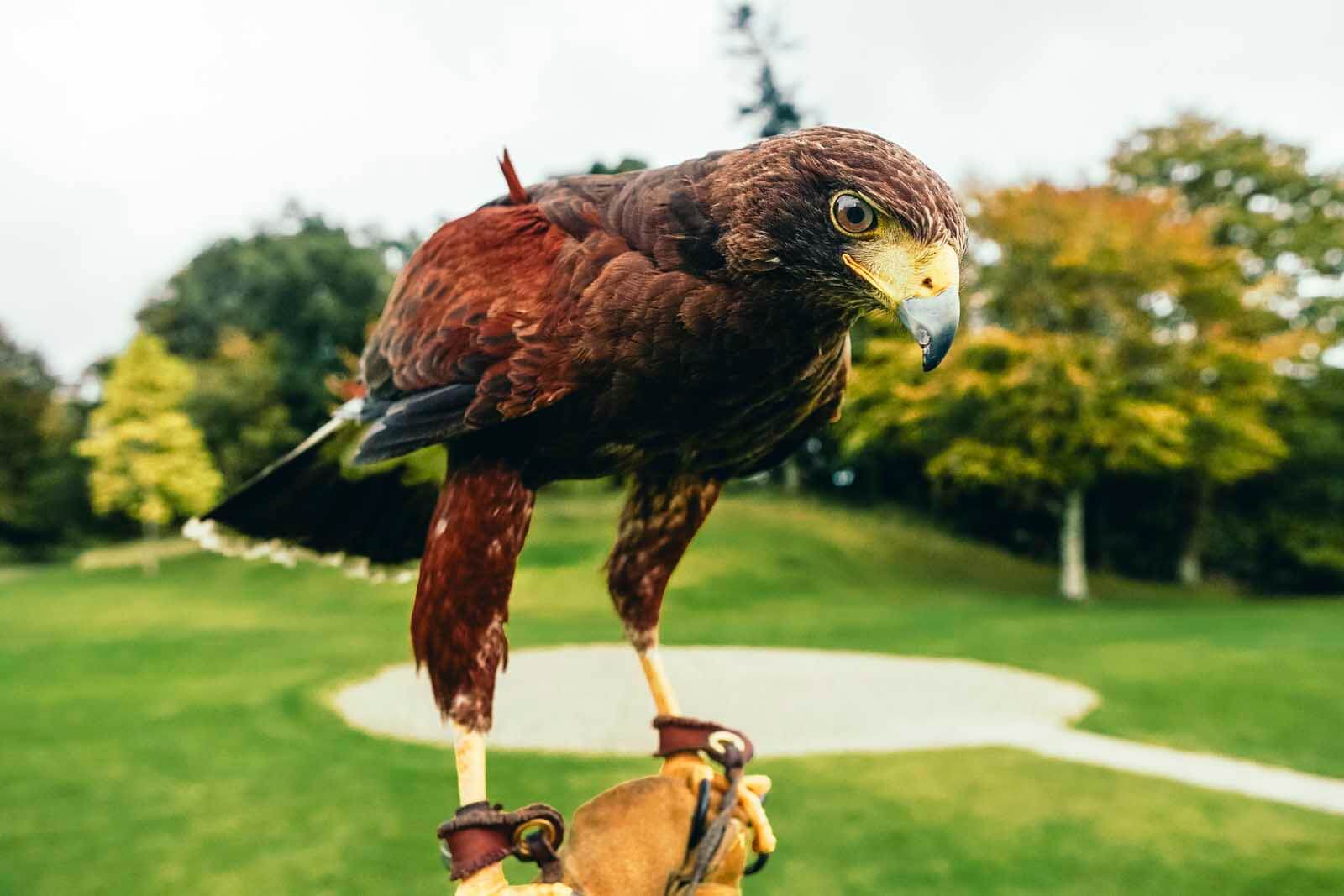 While staying at Dromoland Castle Hotel, you don't' even need to leave the resort as there are so many incredible activities on site that you can enjoy.
Golf
The hotel has an impressive 18-hole, par 72 championship course over 6,824 yards. The course is right on the 450-acre estate, so you don't need to travel offsite to enjoy a round of golf. There are also practice facilities to test your swing or to learn if you're a beginner. After playing, head to The Fig Tree Bar and Restaurant for drinks and steak.
Guided Historic Tours
If you want to learn about the estate, you can book a historical tour with the hotel's resident guide, Séan. The tour is available for parties of up to 15 people.
Dromoland Castle Hotel Spa
Take relaxation and wellness to the next level by getting pampered inside Dromoland Castle. The hotel offers a wide range of spa treatments and packages to enjoy:
The Elemis Superfood Pro-Radiance facial brightens and nourishes the skin.
The Elemis Pro-Collagen Defy facial improves the firmness of the skin.
The Elemis Pro-Definition Lift and Contour facial lifts the skin and sculpts the face.
The Elemis Dynamic Resurfacing Precision Peel Facial renews and revitalizes the face.
The Elemis Eye Treatment is an add-on service that soothes and firms the skin around the eyes and includes a hot coconut oil scalp massage.
The Dromoland Royal Escape Signature Journey includes a full-body massage, the Elemis Superfood Pro-Radiance facial, and the add-on eye treatment service.
The Dromoland Kings and Queens Signature Journey includes a full-body stone massage and your Elemis facial of choice.
The Peaceful Pregnancy Package includes nourishing face and body treatments that are specifically formulated for expecting mothers.
Massage packages include:

Back, neck, and shoulder massage
Tailored Dromoland full-body massage
Deep tissue massage
Golf ball massage
Hot stone massage
Indian head massage
Reflexology
Pregnancy massage

Ultimate Well-Being (with three from seven 25-minute treatments)
Heavenly Face and Body Retreat (full-body massage and Elemis Superfood Pro-Radiance Facial)
Just the Two of Us (couples massage with full-body massages and an Elemis express facial)
Midweek Magic (back, neck, and shoulder massage with an Elemis express facial)
Full-Body Exfoliation (exfoliating body scrub with a relaxing head and scalp massage)
Hands and feet packages include:

25-minute file and polish on hands or feet
20-minute shellac removal
35-minute shellac on hands or feet
60-minute shellac on hands and feet
55-minute prescriptive manicure (includes one glass of prosecco or soft drink, can be upgraded to Shellac polish for additional €10)
55-minute prescriptive manicure (includes one glass of prosecco or soft drink, can be upgraded to Shellac polish for additional €10)
Outdoor Activities
There are a lot of outdoor activities available for guests to enjoy. You can go horseback riding or biking around the grounds, fishing at the lake, and hiking or jogging in the woodlands. You can also play tennis, take a romantic stroll in the Walled Garden, and do archery or clay shooting. There's also a go-kart course for kids to enjoy.
If you're lucky there will be a falcon and trainer on-site during your visit too!
Afternoon Tea
Mrs. White's Afternoon Tea is a long-standing tradition at Dromoland Castle. Guests get to enjoy a selection of finger sandwiches, scones with clotted cream and homemade jams, pastries, and other sweet treats. The best loose leaf teas from around the world are available for guests to choose from. Silver teapots and delicate china complete the five-star experience.
Aside from these activities, Dromoland Castle Hotel also has a swimming pool, a gym, a sauna, and a steam room that guests can use during their five-star stay.
Book Your Stay at Dromoland Castle Hotel
Don't miss out on this incredible experience to live like a royal in one of the most gorgeous areas of Ireland. You can see all the reviews, the latest rates and see booking options on TripAdvisor.
What to see Nearby Dromoland Castle Hotel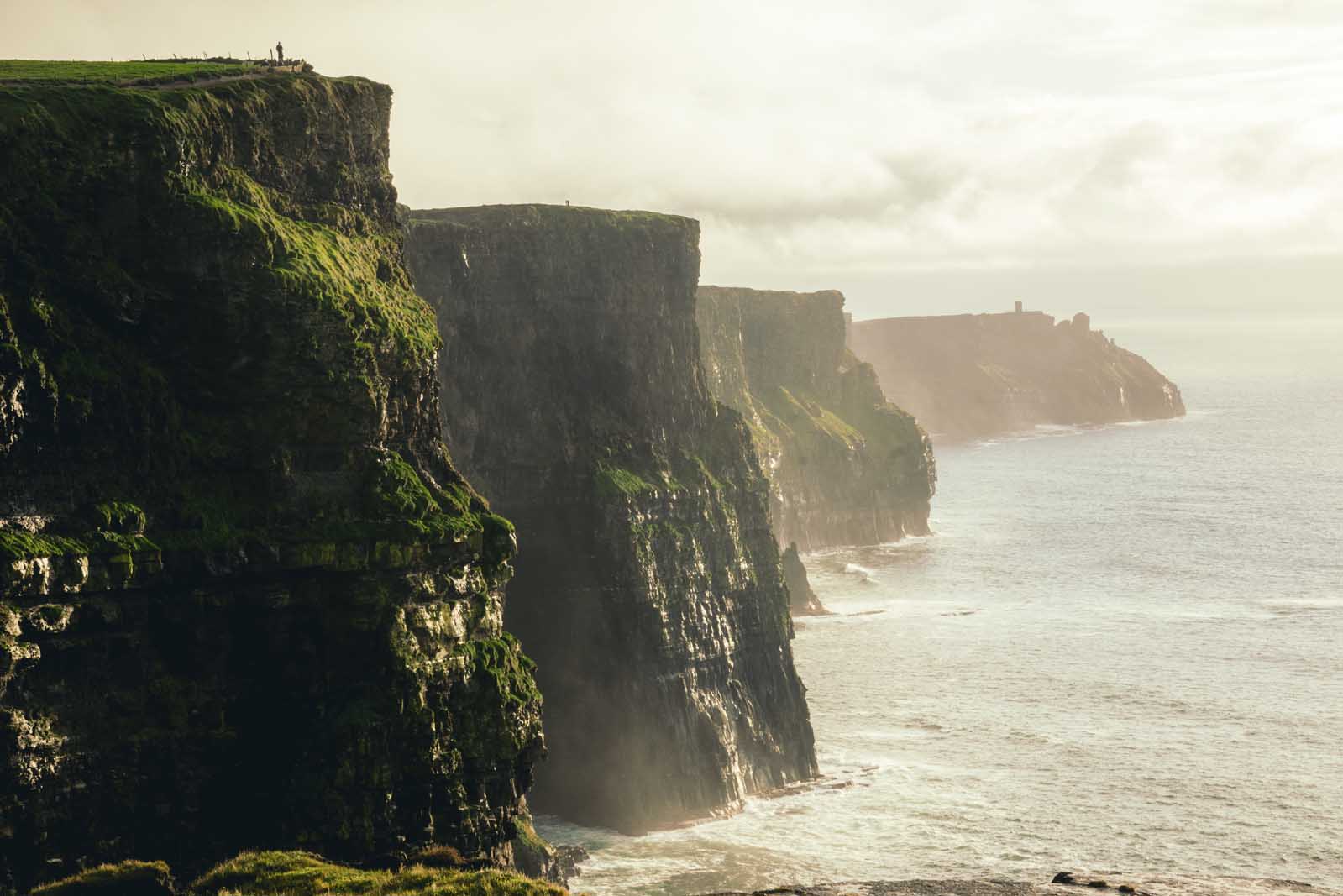 Cliffs of Moher – Easily one of the most famous attractions in Ireland and not far from Dromoland Castle Hotel by car is the stunning Cliffs of Moher. Lucky for you, the best way to see the Cliffs of Moher is by car and not tour so you can go at your own pace! See our tips on the best way to see the Cliffs of Moher for more details.
Aran Islands – Take a day trip to the scenic Aran Islands off the coast of the Wild Atlantic Way. There are three amazing islands to choose from and each one is a bit unique in its own way. Enter another world that feels like long ago with some of the most incredible scenery in Ireland. There are multiple ferries that do day trips to the different islands, read more about our day trip to the Aran Islands for more information.
Bunratty Castle – This medieval castle offers nightly medieval banquets complete with a meal you eat with your hands, wine, live music, and period performances. This hands-on experience quite literally is one of the most unique things to do in Ireland where the staff is dressed in period clothing and do not break character during the entire evening. A must for anyone who loves a good time! Don't risk this experiencing being sold out book your Bunratty Dinner Experience in advance here.
Doolin Caves – Right by the Cliffs of Moher in the charming town of Doolin are one of the most amazing natural wonders of the world! At this family-run tourist attraction is the giant hanging stalactite which hangs at almost 24 ft in height and weighs over 10 tons. You don't need a ton of time to visit the caves, but if you're headed to any of the other nearby attractions this is a great stop.
Loophead Peninsula – One of our favorite areas to explore is the Loophead Peninsula and Kilkee, one of Ireland's best kept secrets. Be awe-struck by the majestic, dramatic cliffs that give the Cliffs of Moher a run for their money and without the crowds or tour buses! There are other amazing noteworthy spots here including scenery good enough to film the Star Wars franchise. See our guide on Kilkee and the Loophead Peninsula for more.
Connemara – Besides being a location of important transatlantic history, Connemara is also the cultural and traditional heart of Ireland, with places like Kylemore Abbey and Cnoc Suain. There's also landscapes so stunning, it's inspired artists, poets, writers, and musicians for ages. See our guide to Connemara, Ireland for more information on why this is a great day trip from Dromoland Castle.
Galway – The buzzing, cosmopolitan city of Ireland that's got a heartbeat of its own and home to the famous Claddagh ring and community. Walk down the charming downtown where Ed Sheeran used to busk and see what the hype is all about, you might just fall in love like we did. See our guide for the best things to do in Galway.
Burren National Park – Located not far from Dromoland Castle is one of the more unique landscapes Ireland has to offer in County Clare. Burren National Park is an amazing day trip where you can witness some of the unique flora and fauna of Ireland and their famous bogs.
What to Pack for Ireland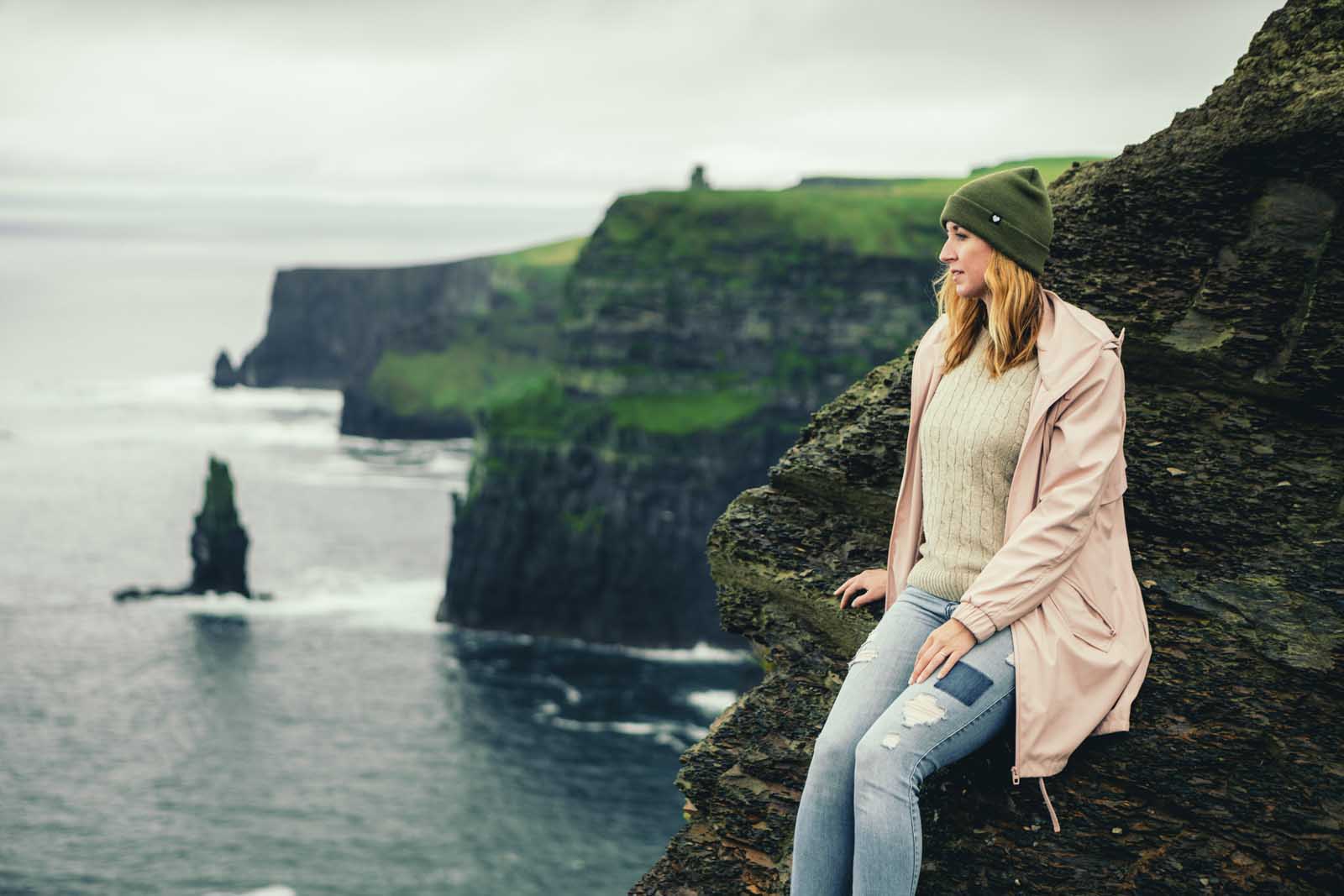 For more information be sure to check out our full guide for what to pack for Ireland for both men and women to make sure you come prepared as Irish weather is a bit different than anywhere you've likely ever been! You don't want to come without layers and the right clothing.
Windproof and Water- Resistant jackets are a key item for what to pack for Ireland as chances are you will most likely encounter wind and rain during your trip. It's important to have a jacket that is wind resistant and waterproof to keep you dry and warm, there's nothing worse than getting wet from cold rain and dealing with wind, that will chill you to the bone. Shop a men's windproof jacket here and a women's windproof jacket here.
Water-resistant boots are another essential for what to bring to Ireland. There's nothing worse than getting wet feet because they tend to take forever to dry, plus you'll save yourself from blisters from wearing wet socks and shoes. Shop men's water-resistant boots here and women's water-resistant boots here.
The perfect sweater, layering is key for how to dress with the weather in Ireland. You will want to come prepared with layers for what to pack for Ireland on your trip. When the weather is nice, it's easily sweater weather, but when it starts to get windy or rain starts you'll want to throw on your wind and rainproof jacket. Shop men's layering sweater here and a women's layering sweater here.
A thermal undershirt is another good idea for what to bring to Ireland for those colder days and perfect for layering. On colder days wear this under your sweater and on warmer days leave it at home or wear it by itself. It's always good to pack one of these in your suitcase. Shop a men's layering thermal here and a women's layering thermal here.
Warm socks are clutch no matter what kind of shoes or boots you choose to wear in Ireland. There's something about the wet air that makes it feel much colder than it is. Do yourself a favor and follow our advice for what to pack for Ireland by making sure you have a few pairs of warm socks. Shop men's warm socks here and women's warm socks here.
Wind resistant umbrella is also a must-have. We broke two umbrellas during our trip to Ireland because we didn't have a quality wind resistant umbrella. Don't let the same happen to you by coming prepared with a wind-resistant durable umbrella. Shop here.
Travel Insurance is a must! If you don't already have it be sure to check out our guide for the best travel insurance for you based on where you live and what kind of travel you do.
---
Liked this post on all you need to know about Dromoland Castle Resort in Ireland? Bookmark for later or share the love below on Pinterest.