Looking for all the amazing things to do in Spokane, Washington? You've come to the right place. This cool PNW city has a lot to offer! Brimming with local gems, cool shops, and amazing restaurants – not to mention waterfalls, garbage-eating goats, and being the home to legends like Bing Crosby!
This Pacific Northwest city is full of interesting places to visit, and is a naturally beautiful destination. To find out all of the things to see, and fun things to do in Spokane, keep reading!
Fun Thing to See in Spokane, Washington
Riverfront Park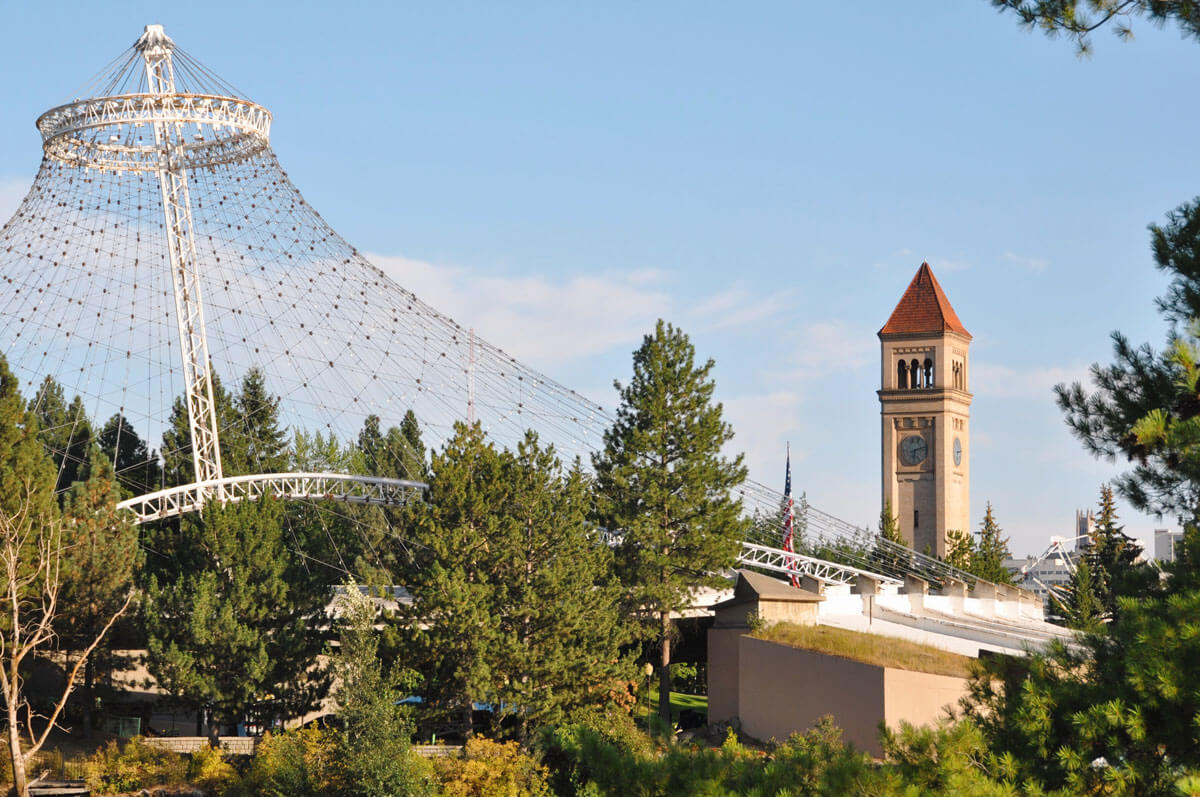 The Pacific Northwest is the place to come to enjoy the great outdoors, and the cities are no exception, this is perfectly showcased at Riverfront Park. This 100-acre urban park was built for the 1974 World's Fair Expo.
Today, you can find many popular Spokane attractions here, including the Great Northern Clocktower, Garbage Goat, Giant Radio Flyer Wagon, views of the Spokane Falls, and the Pavillion. Not to mention the many sculptures that can be found throughout the park including the Joy of Running sculpture.
Spend time walking around Riverfront Park to enjoy the lush green landscape, including the gorgeous waterfall. This is one of the top things to do in Spokane!
Feed the Garbage Goat
One of my favorite and most fun things to do in Spokane while you're in Riverfront Park is to feed the Garbage Goat. This is a quintessential Spokane activity. The copper and brass structure, shaped like a goat, "eats" small garbage items through the mouth via an internal vacuum.
The Garbage Goat was constructed by the "welding nun", Sister Paula Mary Turnbull. She had a passion for art, and her idea for the Garbage Goat came from a visit to the zoo, where she noticed trash can lids designed to look like the heads of animals.
I wish more cities had something like this! Be sure to pick up any small pieces of litter you see so you don't show up empty-handed when you meet the Garbage Goat! You simply walk up, press the button, and stick your hand with the trash under the goat's mouth and he sucks it right up!
Make sure to include this thing to do in Spokane, Washington on your itinerary.
Ride the Numerica Skyride over Spokane Falls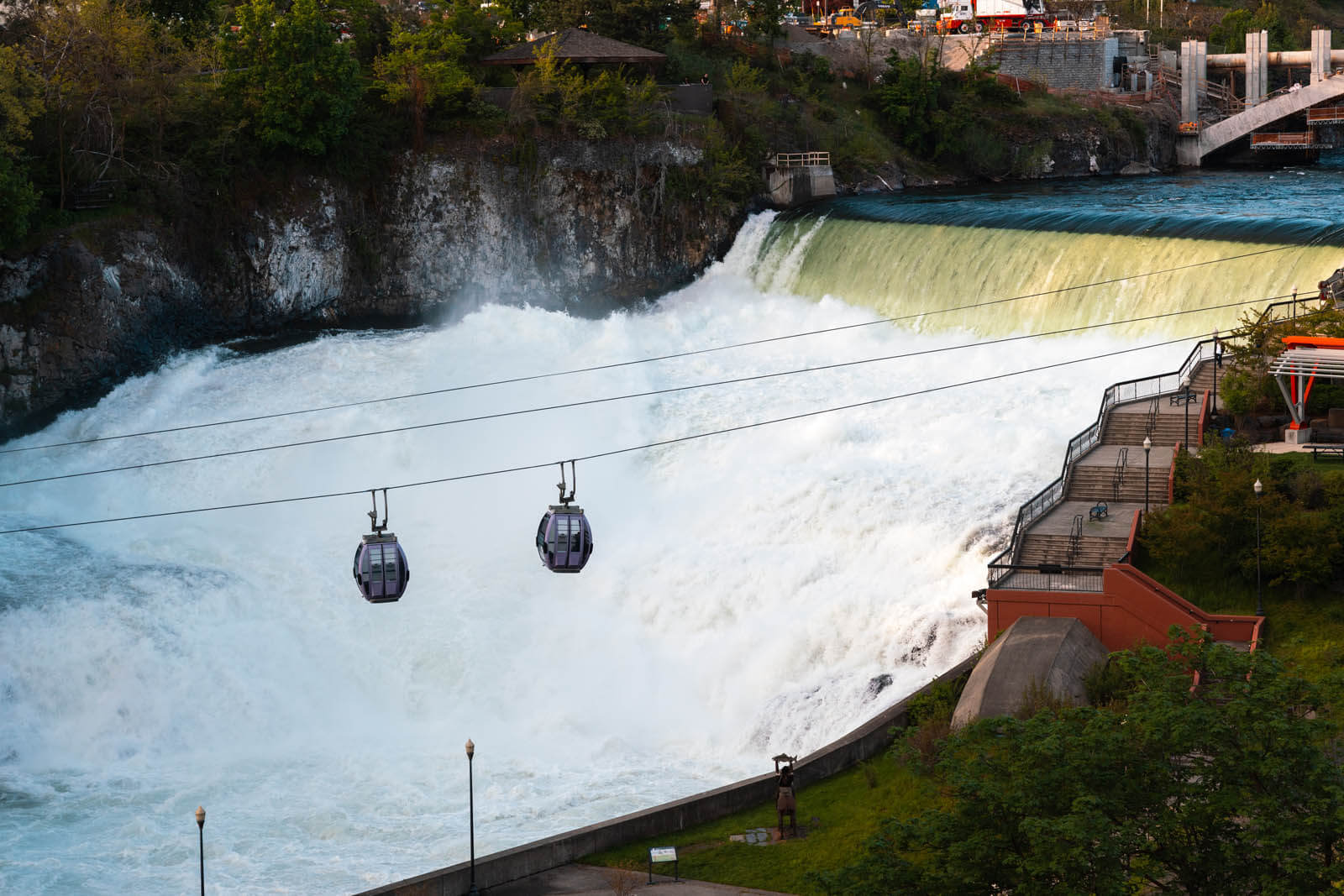 For the most stunning, unparalleled views of Spokane Falls, take a ride on the Numerica Skyride. Starting from Riverfront Park, for 15 minutes you will be transported through the Huntington Park National Area, the Spokane River, and Monroe Street Bridge.
This ride packs a punch, as you can see sights ranging from the churning waters of the falls, to the bustling downtown area of the city. Numerica Skyride is a Spokane attraction you won't want to miss.
Spokane Falls
The beauty of nature that the Pacific Northwest is known for is on full display at Spokane Falls. Watch the water crash down and pound the rocks below at this powerful natural landmark. The power of the water is both terrifying and beautiful.
You can get great views of Spokane Falls from Huntington Park, which is located within Riverfront Park along with great views of the Monroe Street Bridge above. As far as things to see in Spokane go, this is at the top of the list.
Giant Radio Flyer Wagon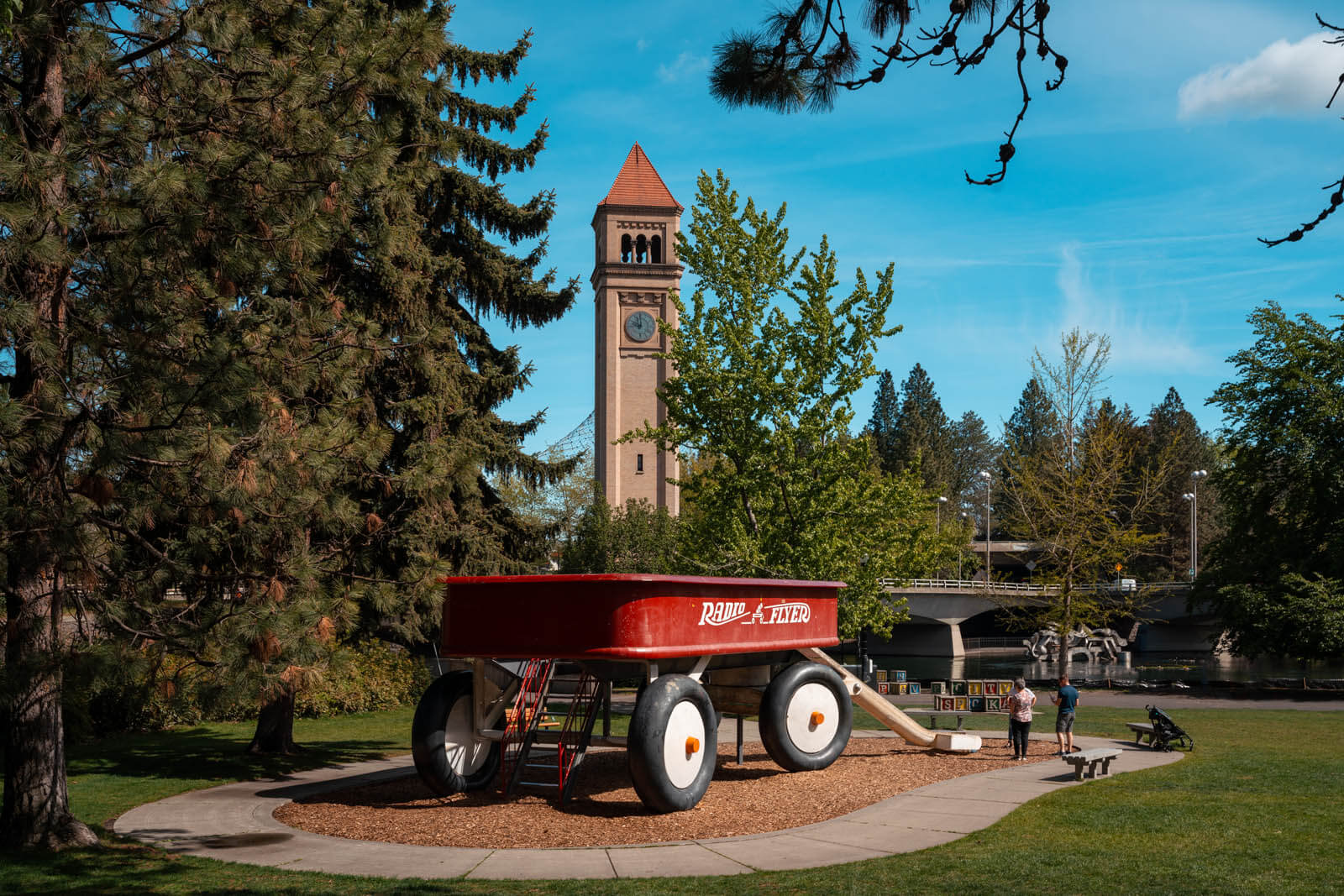 You know how some cities and towns have an attraction that is the largest, tallest, and so on of its kind? Well, Spokane is home to the largest Radio Flyer wagon. Nicknamed the Childhood Express, this interactive sculpture is a replica of the iconic toy from back in the day.
It's a playground for kids, complete with monkey bars, and a slide from the bucket of the wagon to the ground via the white handle! Additionally, this makes for a wonderfully distinctive photo spot, and it's located in Riverfront Park.
Seeing this wagon in person is a unique and fun thing to do in Spokane, not to mention you should get on it and play (no matter your age).
Ride the Looff Carousel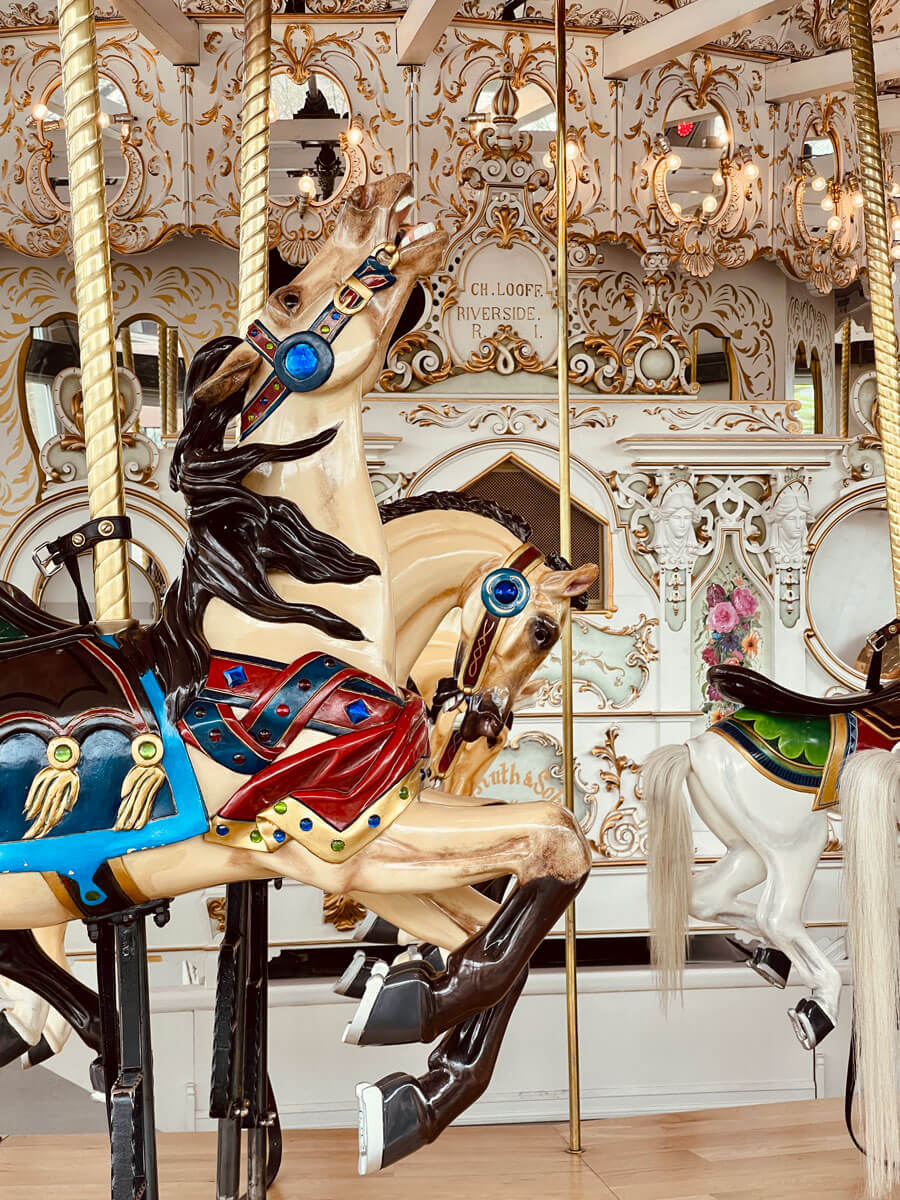 While you're in Riverfront Park, take a break from walking and enjoy a ride on the Looff Carousel. Constructed by prolific carousel builder Charles I.D. Looff, this Spokane attraction is just a little more special than most of his intricate, beautiful carousels. The reason being, Looff made this carousel as a wedding present for his daughter and her husband well over a century ago in 1909.
A fun feature of this Spokane activity is that as you make your rounds, you can grab a ring on each rotation and then try to land the ring at target! When looking for stuff to do in Spokane, head over to the Looff Carousel, as it's also a designated landmark on the National Register of Historic Places.
Visit the Historic Davenport Hotel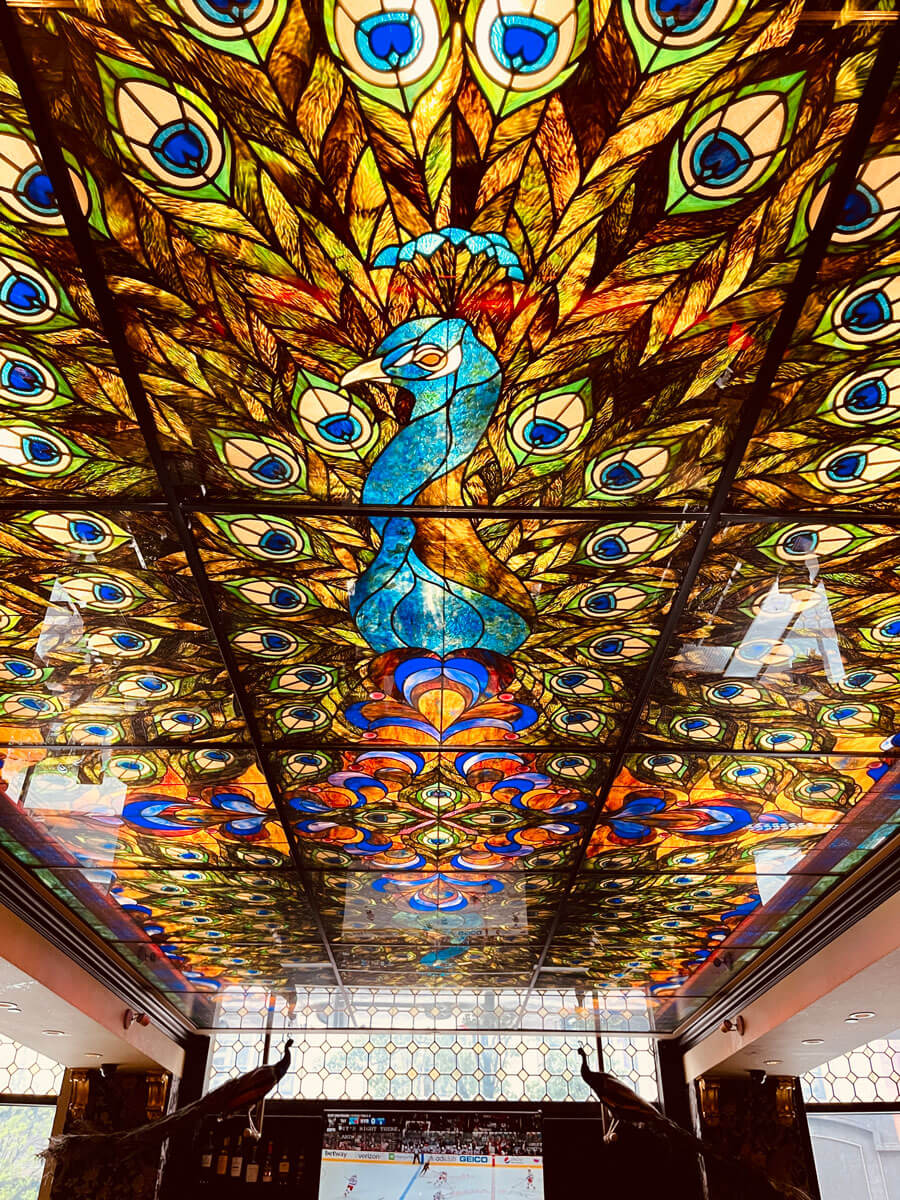 The architecturally stunning Davenport Hotel is truly a feast for the eyes, and is a thing to see in Spokane that should not be missed. When you come here, head to the grandiose Peacock Room Lounge, and sip on a cocktail under the vibrant stained glass ceiling.
Dine on the signature Crab Louis salad from the Palm Court Grill, while sitting in the magnificent lobby.
Additionally, take a peek at the Venetian Gothic-style ballroom, named the Hall of the Doges. If you enjoy architecture, visiting the Davenport Hotel is a mandatory thing to do in Spokane.
Visitors who are curious about learning more about this historic site in Spokane can pick up a self-guided tour pamphlet from the front desk of the hotel or the Visit Spokane Visitors Center in Riverfront Park.
Flatstick Pub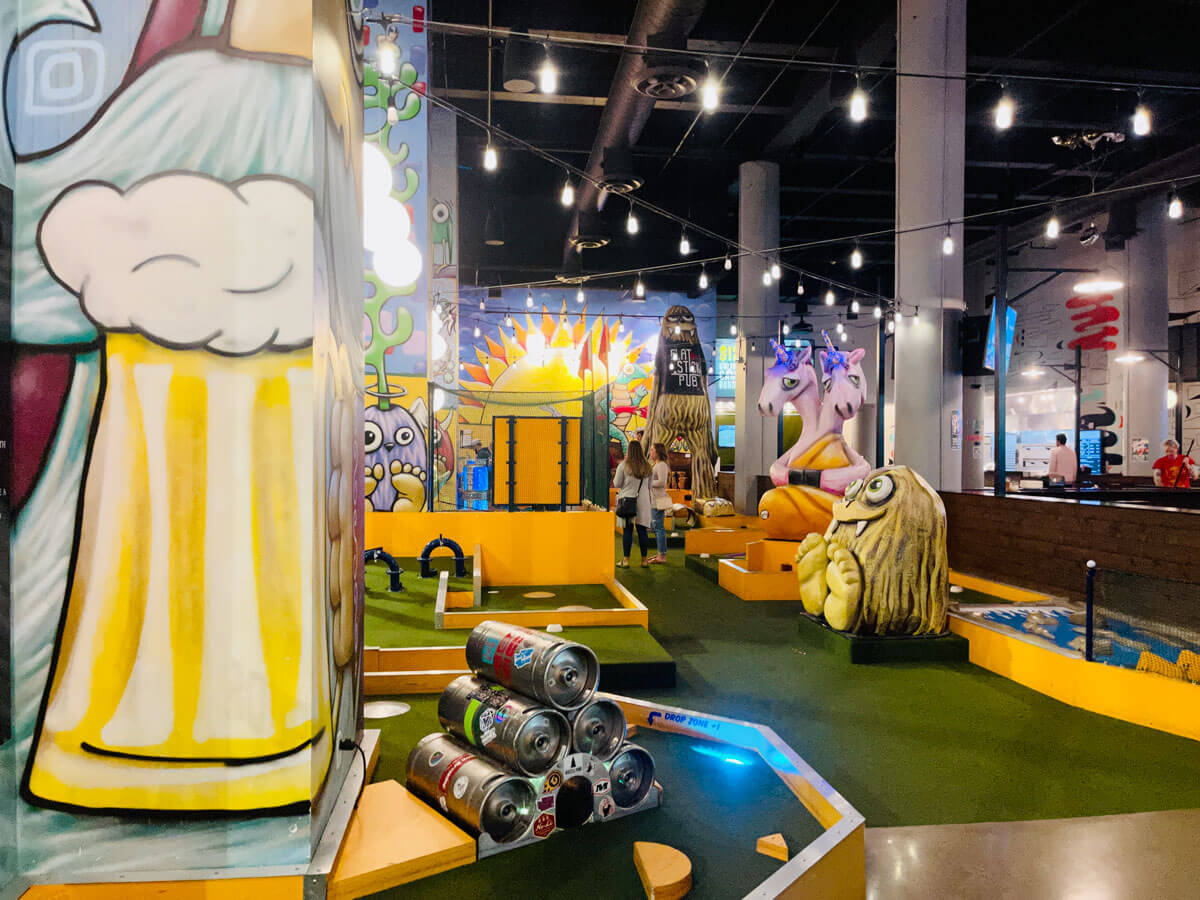 One of the most unique things to do in Seattle, which we were introduced to a few years ago at not one, but two different locations was the fun, indoor mini-golf courses/pub at Flatstick Pub!
For an entertaining Spokane activity, head over to Flatstick Pub. This minigolf and bar combo is the perfect way to wind down after a busy day of exploring the city.
The indoor mini golf holes are all themed and quite creative, and you'll definitely have a super fun time with your group as you make your way through the 9-hole course. Afterwards, head over to the bar and try a beer from a local Spokane brewery.
Place of Truths Plaza
Spokane has a rich indigenous heritage, which is celebrated at the Place of Truths Plaza. The metal statues here were made by a member of the Colville Tribes, and they represent the Salish creation myth.
This plaza is also intended to draw attention to the Spokane River, which should be preserved for its important contributions to the city. Place of Truths Plaza is one thing to see in Spokane that shouldn't be missed.
Grab A Drink / Nightlife in Spokane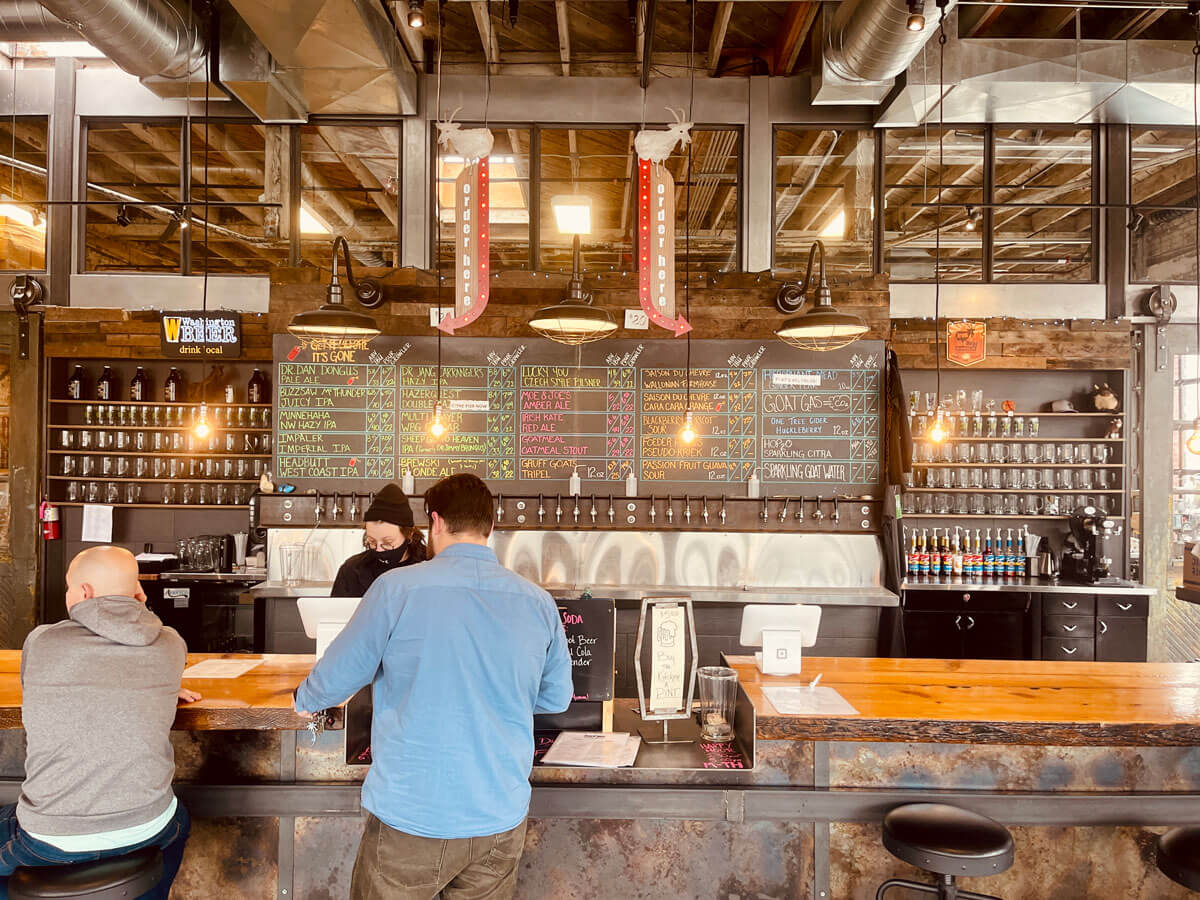 The city has an electric nightlife scene, and exploring the bars is a great thing to do in Spokane, Washington.
Cease and Desist Book Club feels like a speakeasy, and they have good cocktails and a fun ambiance. One thing to note, this place is hard to distinguish from the street, hence the speakeasy feel to it, head to 108 N Washington Street, and when you see the storefront with books in it, like a book shop that's closed for the day, go in and you'll enter this cool bar in Spokane.
Hogwash is an underground bar that also feels like a speakeasy, and the focus here is on whiskey. Also of note, this bar is not so easy to find, our blogger friends, The Mandagies, brought us here, which if you're planning a trip to the PNW – they are the experts and you'll want to use their site and beautiful social media pages for inspiration.
To find Hogwash Whiskey Den, head to 304 W Pacific Ave. Then navigate your way to the basement in the historic Washington Cracker Building. If you're hungry, their food is also great!
Iron Goat Brewery has seriously good beer, and great food too. Be sure to swing by to try a few of their brews on draft, they had a few great hazy IPAs we tried and if you're looking for a meal, this place had some top-notch food, we both highly recommend the Bahn Mi Burrito.
No-Li is a local favorite and cool brewhouse to chekc out, and it's a little outside of town but a scooter rental or ride share app will get you there in no time. We recommend going and staying for awhile, they have a gorgeous outdoor area overlooking the river, fire pits and fire tables, games, and just a really fun, large space to hang out and enjoy a few beers!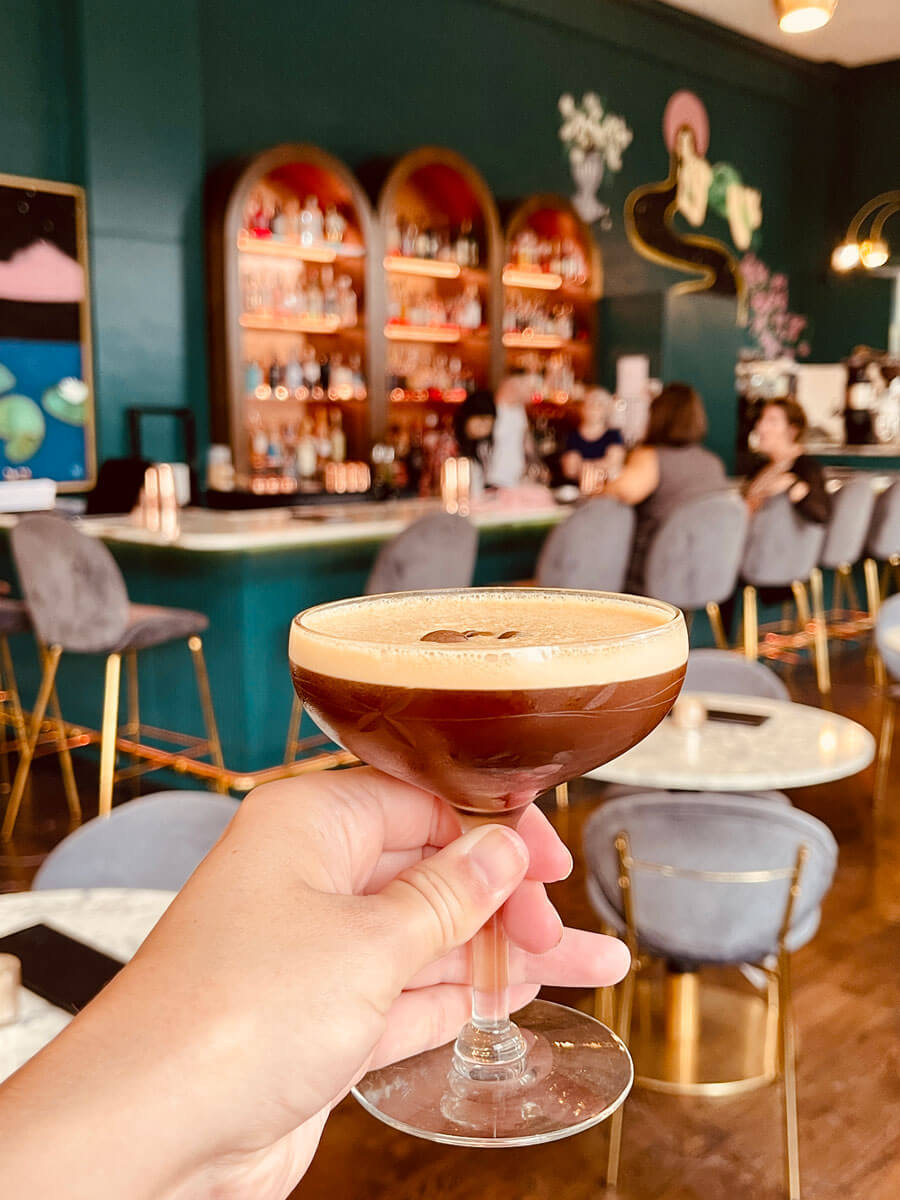 Emma Rue's is perfect for drinks, they make an excellent espresso martini, and the interior is gorgeous! This is definetely one of the more photogenic Spokane spots for a drink!
June & Co. is a tiny cocktail lounge that serves up the classics, like negronis and an old fashioned. Wanderlust Delicato is fantastic for grabbing some wine with charcuterie, and they also have a great selection of curated cheese. Exploring the city's nightlife is a great Spokane activity to include on your trip.
Hit Up the Cafes
A fun thing to do in Spokane is hit up the cafes, there are so many good ones! Our favorite that we went to over and over again was Atticus Coffee & Gifts, which is the place to go for coffee, tea, and pastries. They have a really cool gift shop that sells locally inspired screen print posters by local artists, cool home items, and rare vintage books.
Indaba Riverside has a welcoming interior, and you can grab coffee and some food, like really great avocado toast. Look for the neon red "Damn Good Coffee" sign, and you will find First Avenue Coffee, which offers fair trade and organic coffees on their menu. Be sure to include some, if not all, of these cafes on your list of stuff to do in Spokane.
Shop in Spokane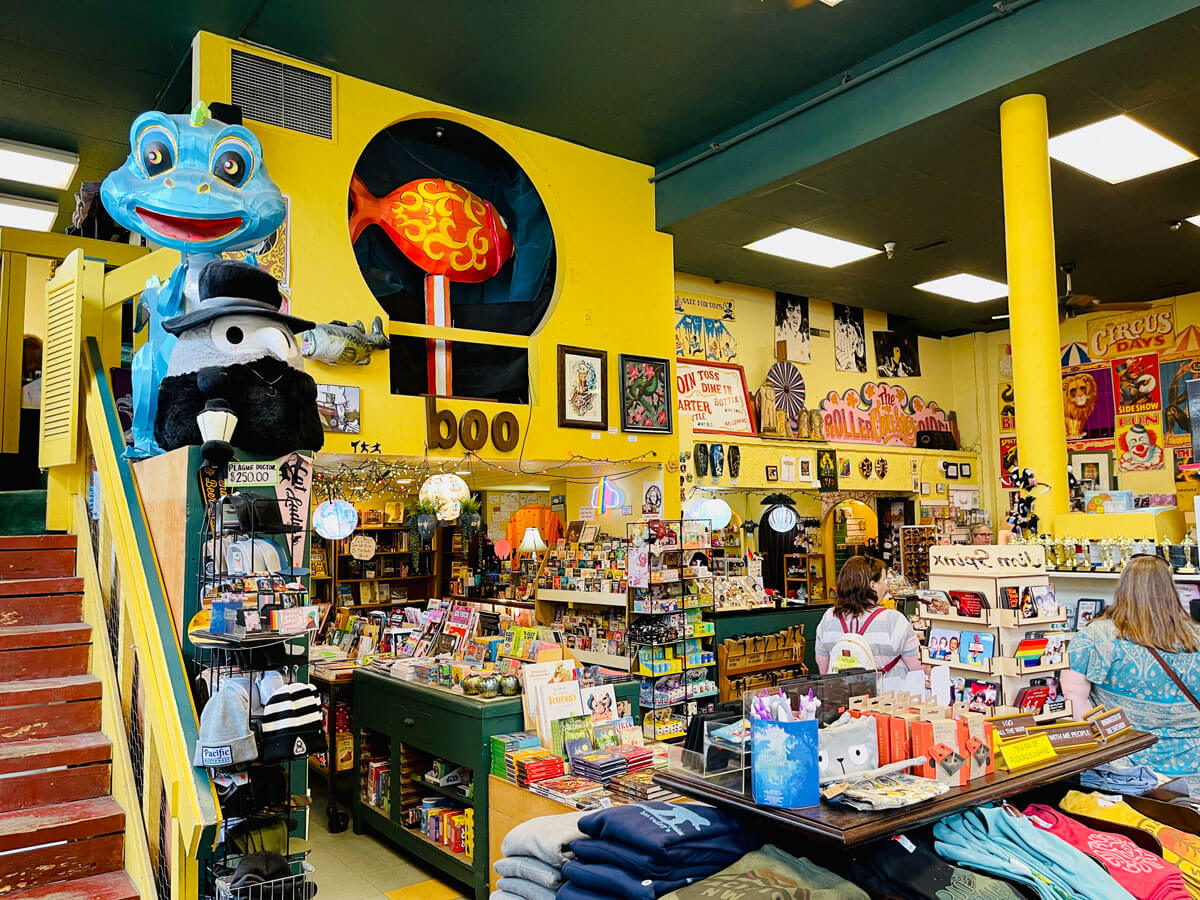 If you like to shop, you're in luck because the shopping in Spokane is fantastic! Boo Radley's is a toy store with lots of fun and quirky gifts, it will be hard not to spend all of your money here. And don't be fooled by 'toy store' as there are things kids will like, it's more of an adult store, not 'adult toy store' because its not erotic in anyway, but they have all types of novelty gifts, books, tarot card decks, and those who like anime you'll find plenty of Studio Ghibli gifts and collector's items among other fun things that are geared for those that are kids at heart, but with adult money.
Petunia & Loomis is a creepatorium where you can find antiques, taxidermy, and other spooky and macabre oddities. This was one of our favorite stops, especially if you like browsing cool antiques, spooky things, and just love seeing other people's creativity turned into a shop!
Boulevard Mercantile is a really awesome vintage store where you can peruse furniture, home decor, clothing, gifts, and lots of other items.
Uncle's Games Puzzles & More is sure to spark your creativity when you step inside, and it's connected to Auntie's Bookstore. Which is so cute because Auntie's and Uncle's are next to each other!
And, a notable mention to Atticus Coffee & Gifts, which is just a fun place to browse. Shopping is a great thing to do in Spokane that allows you to explore the city and come across some unexpected treasures!
Manito Park
Get the camera ready before heading to Manito Park. When you arrive at this Spokane attraction, you will be greeted by visually striking botanical gardens in this 78-acre space. There is a Japanese garden, European Renaissance-style garden, rose hill, lilac garden, and perennial garden.
Additionally, there is a mirror pond where you can watch ducks splash around. For a serene thing to do in Spokane, Washington, check out Manito Park.
Try A Food Tour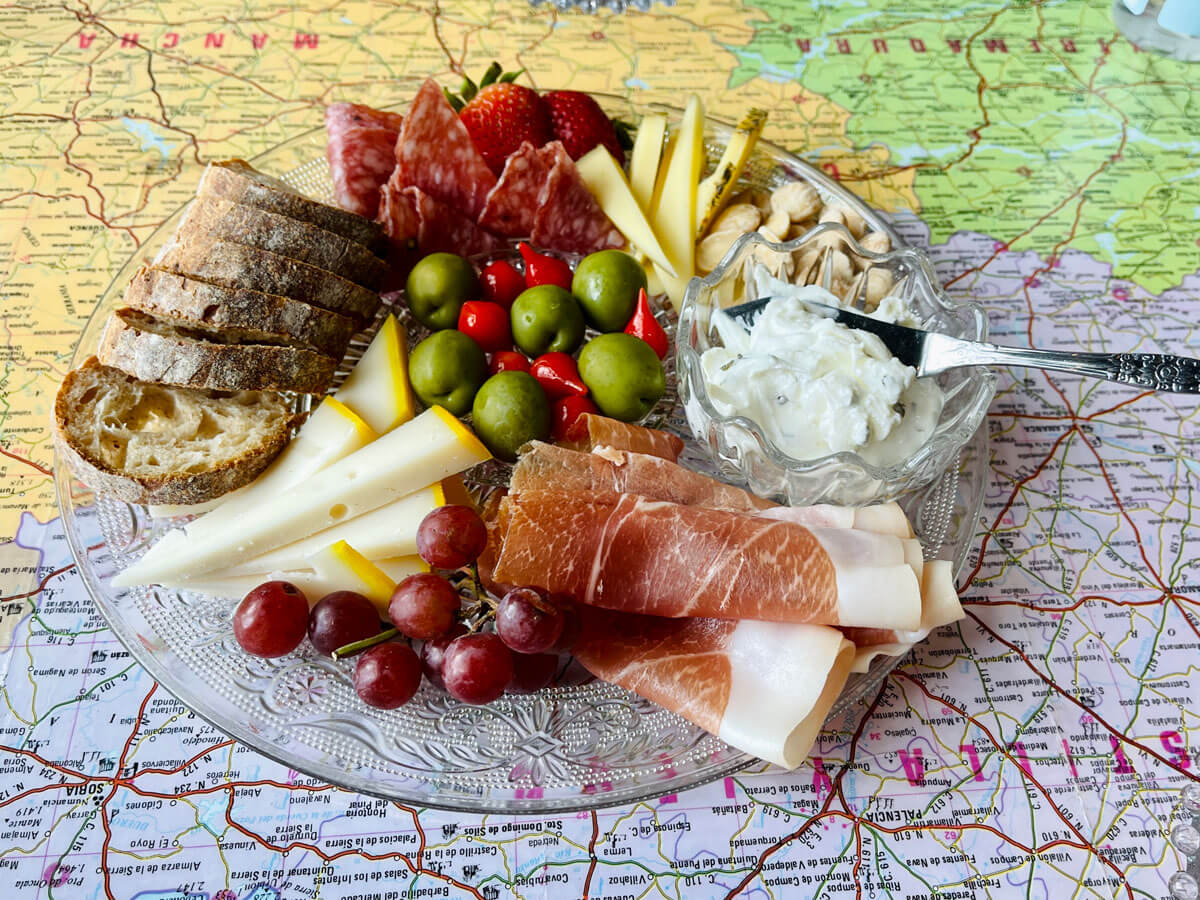 If you're a foodie, try a food tour! Wander Spokane has different tours, with one focusing on handcrafted beer, one on wine, and another on food. These guided walking tours are great Spokane activities that will allow you to experience the city from a different perspective and try some of the finest food and beverage items offered here.
We did the food tour which was really fun, we made several stops and ate our way through the city while learning about the history of the places we visited and general information about Spokane. If you're a frequent reader of our site, you'll know we LOVE food tours for this reason. We highly recommend trying to book a food tour on the first day of your trip so you get the information, lay of the land, and know some of the best places to eat since you're getting a sample or smaller portion, you can always come back to any during the rest of your trip.
When compiling your itinerary of stuff to do in Spokane, look into a food tour!
Catch A Show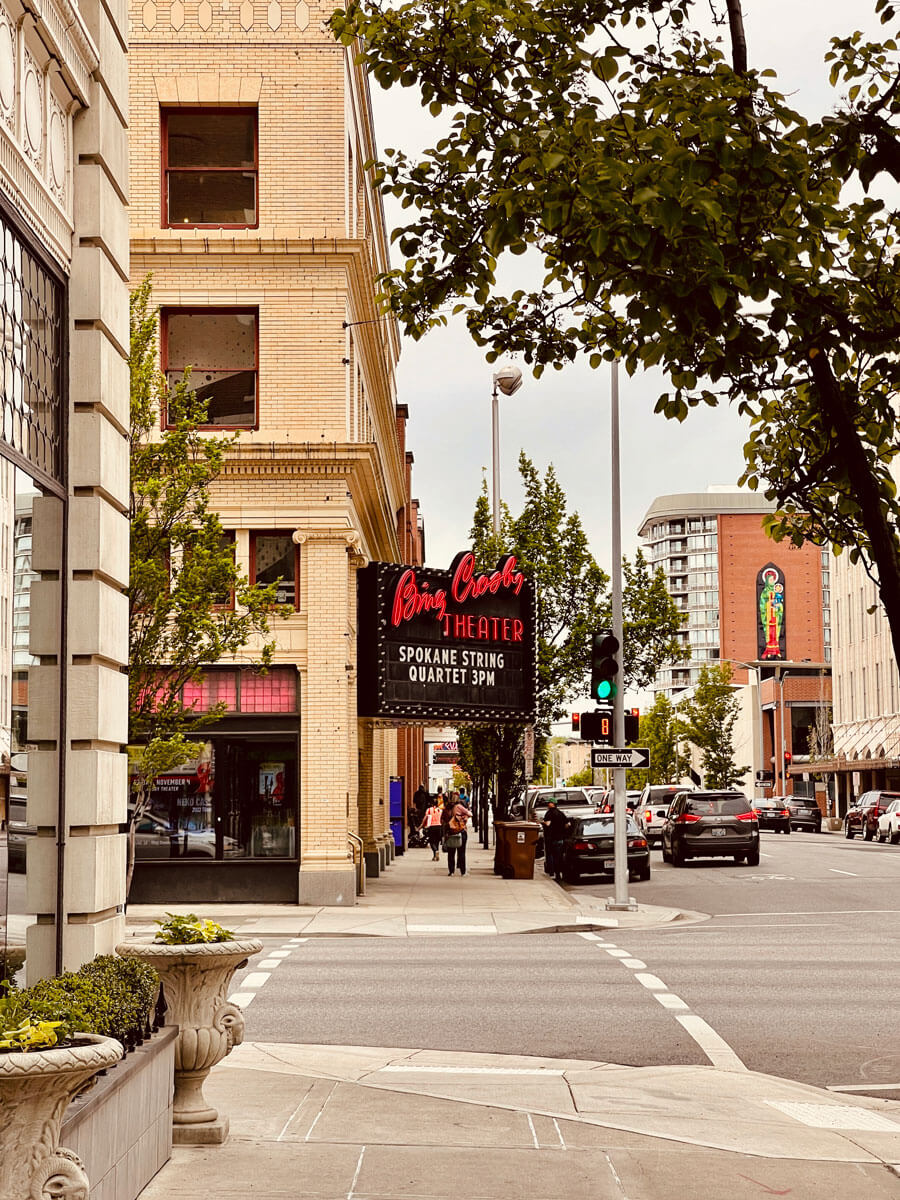 Spokane is an excellent place to catch a show. The Fox is home to the Spokane Symphony, and you can watch live music performances in this historic art deco venue.
The Bing Crosby Theater is a neoclassical theater where you can see a variety of performing arts shows. While Bing Crosby was actually from Tacoma, he considered Spokane, Washington his hometown and this theater pays tribute to
When you need a break from outdoor adventures or traversing around the city, catching a show is a fun thing to do in Spokane.
Bing Crosby House Museum
Speaking of Bing Crosby, you can actually visit and tour his childhood home. The Bing Crosby House Museum is part of Gonzaga University, and it is free entry to see this Spokane attraction.
You can view gold records, awards, and even his Oscar statue at the museum. The Bing Crosby House Museum is a thing to do in Spokane if you are a fan of this legendary performer.
Kendall Yards & The Centennial Trail
From incredible dining, refreshing drinks, cool shops, and some of the best patio culture around, Kendall Yards is where to go! There's lots of great stuff to do in Spokane in this particular area.
Additionally, there is an awesome path for biking, so if you've got a bike, you can cruise along the Centennial Trail. And, along this path, there are a few scenic overlooks by the Spokane River Gorge. Located just a few minutes from downtown, Kendall Yards showcases the efforts the city has undertaken to support the city's continuous growth. Make sure to include Kendall Yards and the Centennial Trail on your list of things to see in Spokane.
Visit the Garland District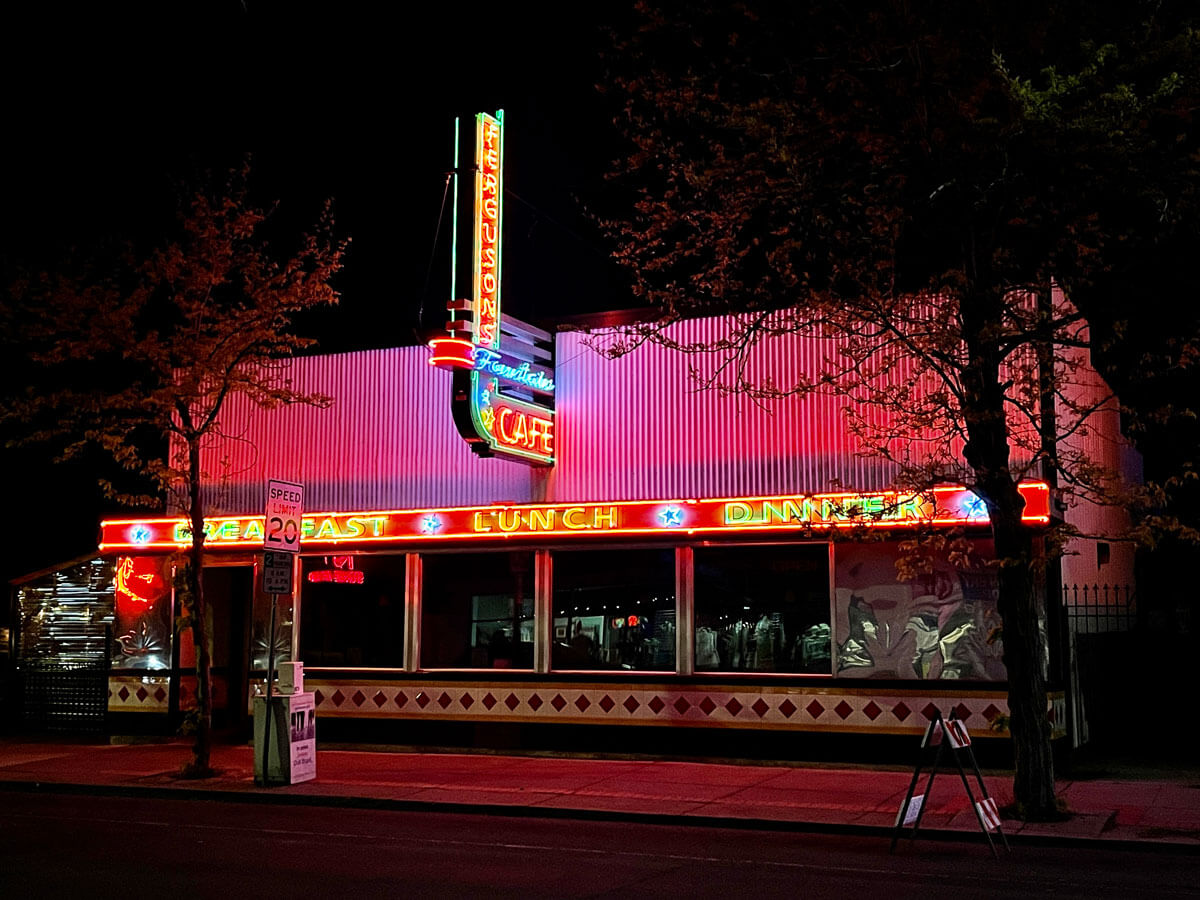 If you venture a bit outside of downtown, looking for things to do in Spokane, Washington, you should check out the cool spot called the Garland District. This area has restaurants, bars, a record shop, and a cool theater. But what this area really has that we loved were cool neon signs!
Be sure to check out Mary Lou's Milk Bottle restaurant, which is actually shaped like a milk bottle, and dine on burgers and milkshakes.
Also, head over to the art deco Garland Theater and catch a flick. If you can, come here in the evening to see the neon signs light up the area. This is a fun thing to do in Spokane that is well worth your time!
Annual Lilac Festival Torchlight Parade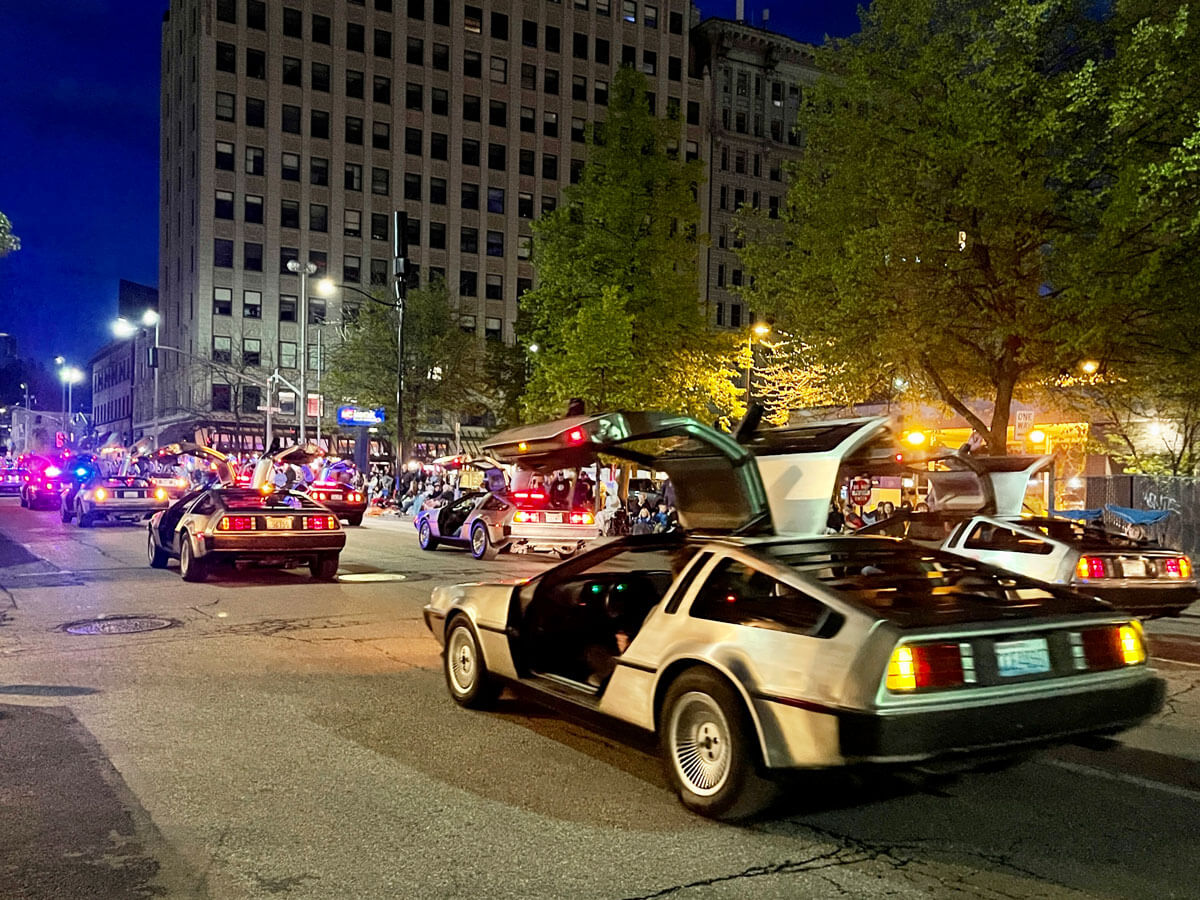 Every year, around mid to late May, the annual Lilac Festival Torchlight Parade takes place, which we were lucky enough to witness on our first day in Spokane!
This event honors and celebrates our armed forces. People travel near and far in order to be a part of the Lilac Festival. The multi-hour parade takes place in the evening, and there are loads of floats to see, including light up floats, as well as tons of marching bands. It was hard to believe how many hours of floats and bands were there to perform!
This is a mandatory thing to do in Spokane if you are visiting in May and your dates line up!
Arbor Crest Winery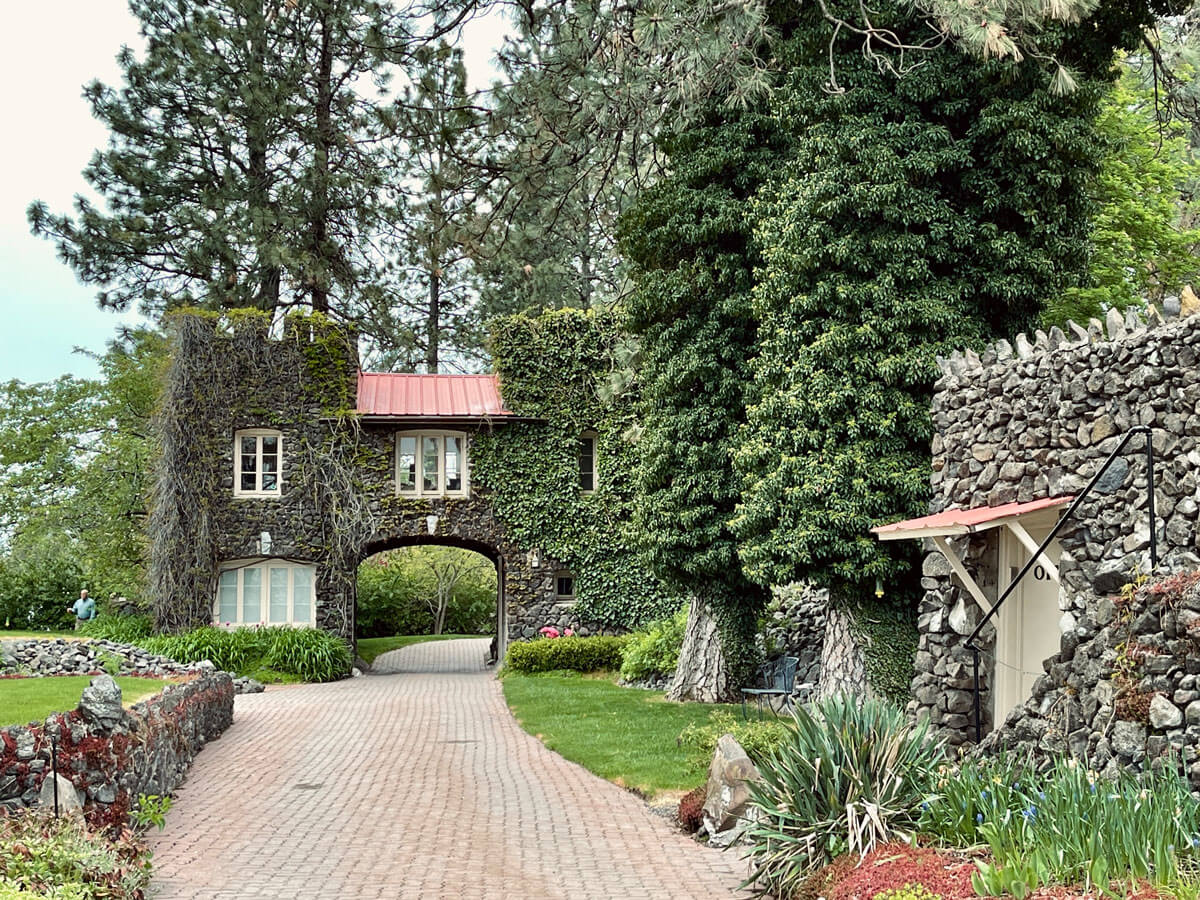 If you have a car, and you love wine, a Spokane attraction you should definitely check out is Arbor Crest Winery. It's about 20 minutes outside of Spokane, and this gorgeous winery is well worth the trip.
Located on the stunning grounds of the Cliff House Estate, you'll want to make your way over to the Tasting Room. Select a few wines to sample, order some bites from the full Mediterranean menu, pick a spot inside or outside, and enjoy the wine and the ambiance, not to mention sweeping views.
Drinking wine here honestly felt like we were visiting a castle somewhere in the UK. From the gatehouse to the castle like structure perched over the cliff, this place is really beautiful to look at and to look at the view, plus paired with wine? It doesn't get much better than that.
If you're searching for stuff to do near Spokane that's away from the downtown area, the Arbor Crest Winery is a fantastic option.
Where to Stay in Spokane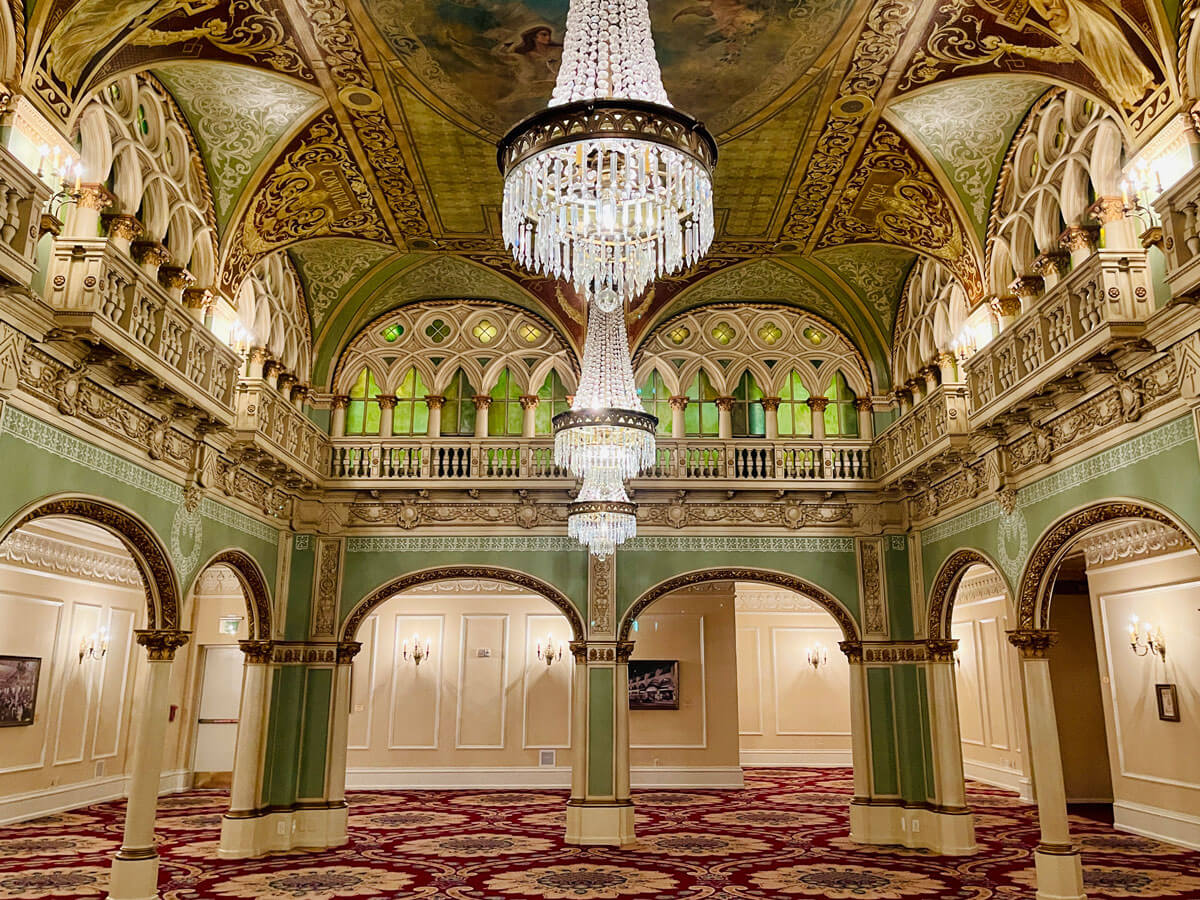 The Historic Davenport
As mentioned earlier, one of the best things to do in Spokane, Washington is visit The Historic Davenport Hotel, even if you're just coming for a drink the Peacock Room, to ooh and ahh and the ornate details, or better yet, this is one of the best places to stay during your Spokane trip.
This is undoubtedly the most grand lodging option in the city that's been a mainstay and icon here in Spokane for over a century. Not to mention, you're in the heart of downtown so walking to all the different Spokane attractions is easy peasy. Also, this is a 4-star, AAA 4 Diamond rated property. Book here.
The Davenport Grand
There are several Davenport properties in Spokane, Washington all operating under the Autograph Collection and all of which are a great choice for where to stay while you're here. We stayed at The Davenport Grand which is located directly across from the convention center and just across the street from Riverfront Park.
This location is spectacular and still just a short (~5-minute) walk to many Spokane attractions, dining, and of course views from the park! The hotel is modern, the rooms are incredibly spacious, which also offer stunning views of the city and are complete with details like automated blinds that block all light when you try to sleep. Book here.
---
Enjoyed this guide to all the awesome things to do in Spokane, Washington? Consider bookmarking for later or share the love below on Pinterest.