I could visit every country in the world and not having something so amazing happen in my life.
You may be able to tell Megan and I are pretty freaking smitten when it comes to Laos. With it's beautiful scenery, abundant amount of waterfalls and motorbike rides across the country this place has it all.
But if that epic adventure in Laos wasn't enough. It seems as though some random guy who will now be dubbed "the monk that lives in my phone," wants us to remember Laos through his eyes for the rest of our lives by sending us pictures like the one below.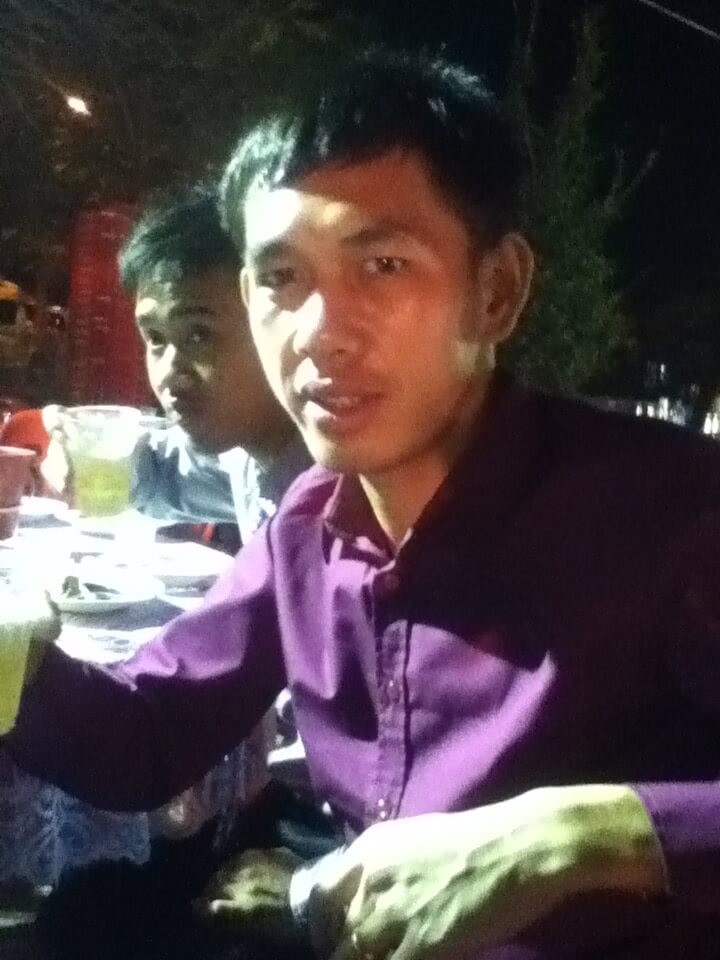 One day during our travels I stumbled across this picture on my iPhone. I was completely confused as I have no idea who the hell that guy is nor did I have any memory of taking that photo.
---
We are still getting more photos from the Monk Living in My Phone, you can get them on our instagram.
---
Megan and I wrote it off as just a weird situation until a couple weeks later I got this gem.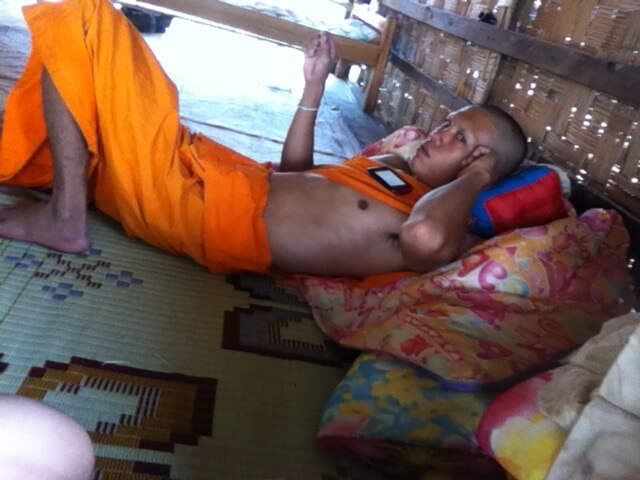 It was clear something was up because having a picture on your iPhone of a shirtless monk laying down in what looks like a locker room is definitely something you would remember taking.
Or that time when you somehow got a bunch of monks to pose for you.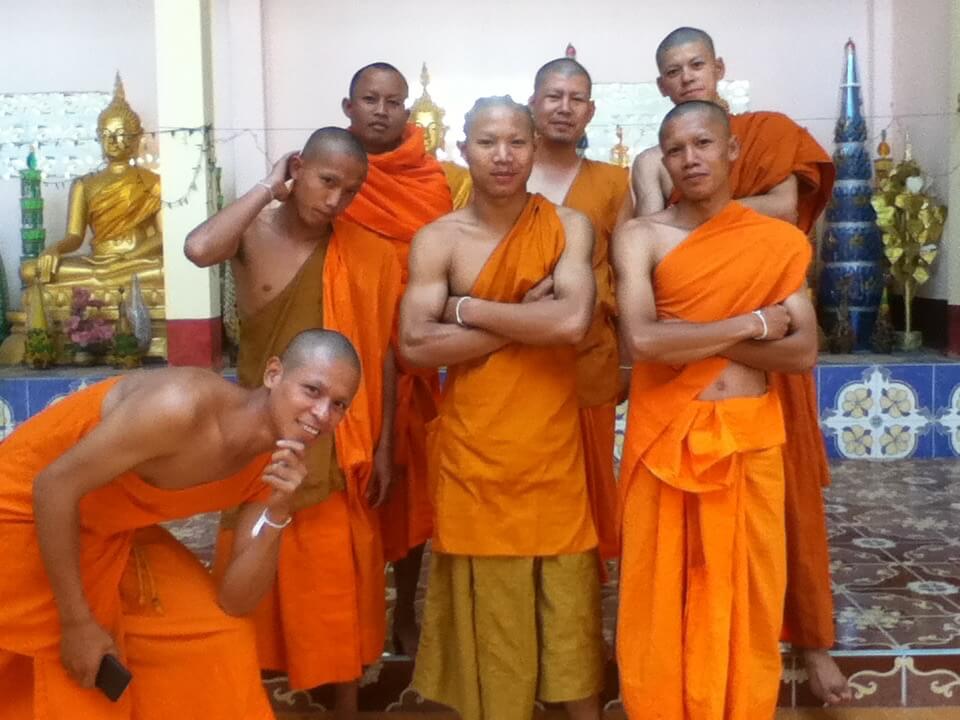 But being on the constant move and traveling to new cities all the time I just had no idea wtf was going on. Almost as soon as I would see a new photo it was time to start making moves for the next part of the trip.
One day we had some pretty good internet and my phone all the sudden had over 100 photos on it.
Most of them were photos of monks posing pretty hard.
[justified_image_grid preset=c2 row_height=500 max_rows=1 gallery ids="13120,13121″]
---
So I did some thinking about how the hell I was getting all these monk photos and remembered that about a month prior I had lost my iPod Touch when commuting from one city to the next. A sleepless 9 hour bus ride over 130km, yes that's just a pathetic 13.6 km an hour, I got extremely tired, grumpy, and all around hangry when we arrived to our destination. It was only suppose to be a 3.5 hour ride so I didn't think to bring food. When we arrived all of our plans fell to hell in a hand basket and in the confusion of trying to go the bathroom, being bombarded with tuk tuks and figuring out where we were headed I left my iPod touch on a table outside of a restaurant.
Now most of the times when you lose something it sucks. You're furious at the world and want to kick some teeth in.
However it appeared something amazing was happening. The person who took my iPod never logged out of my iCloud services and whenever they got internet it would upload to my iCloud account and when ever I got internet I would see these magical gems.
It was like I was seeing a whole new world. I was getting a rare glimpse into this monks life and it became sort of fun to see where this guy was going. I wouldn't get these photos everyday due to internet and would often forget about this guy until one day when I had internet they would all just load up for my viewing pleasure.
It appeared one day his monk days were over and it was time to hitch a ride into town.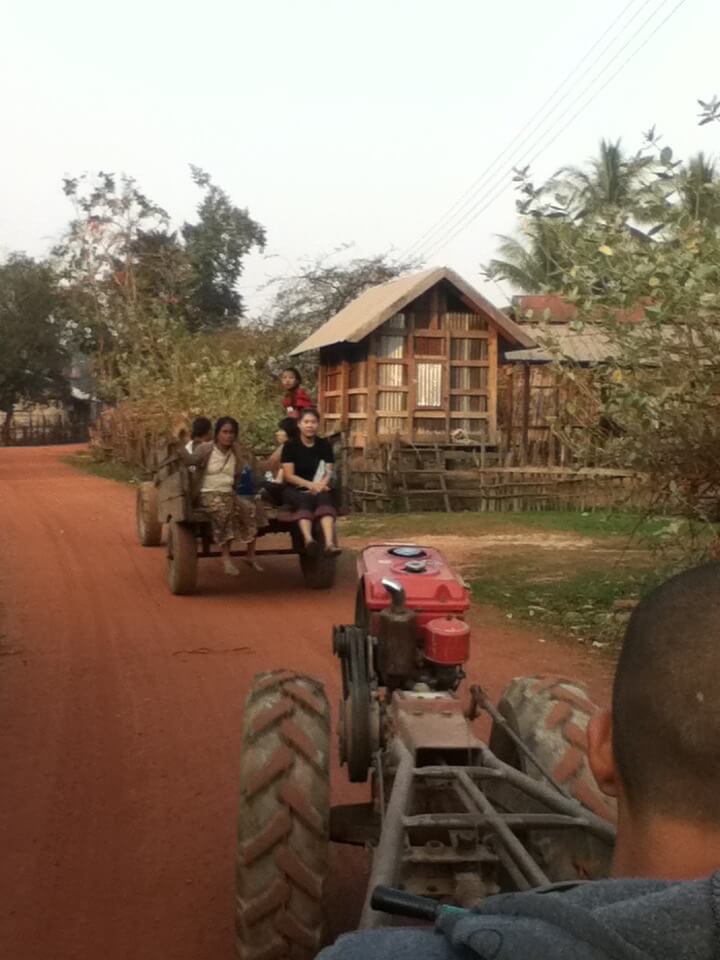 He stopped at some sort of festivity.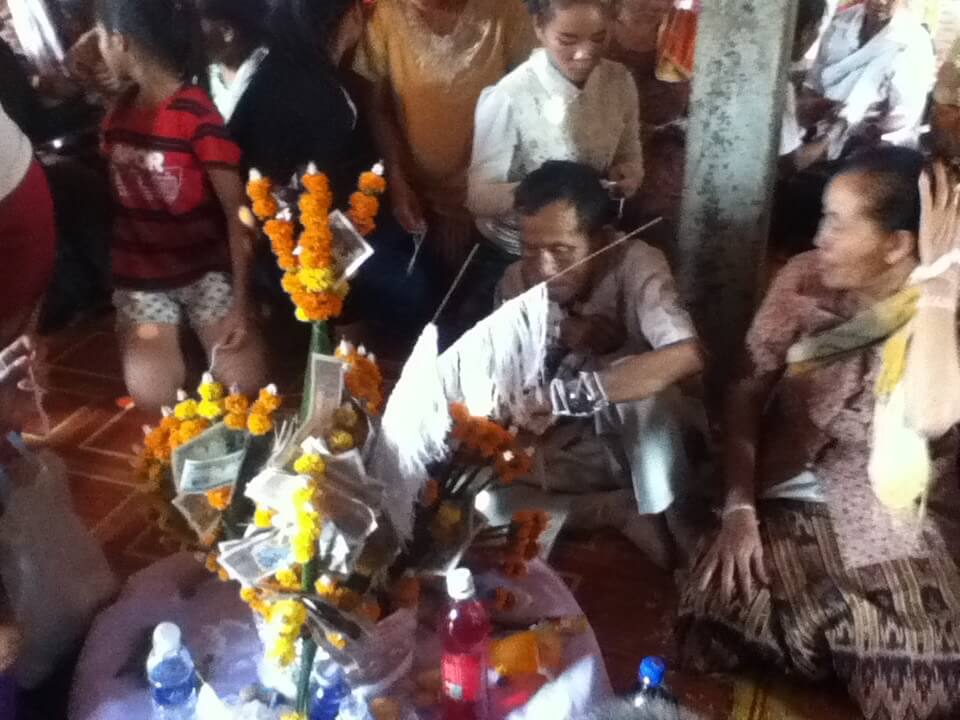 Then it looks like he was back to school with his friends.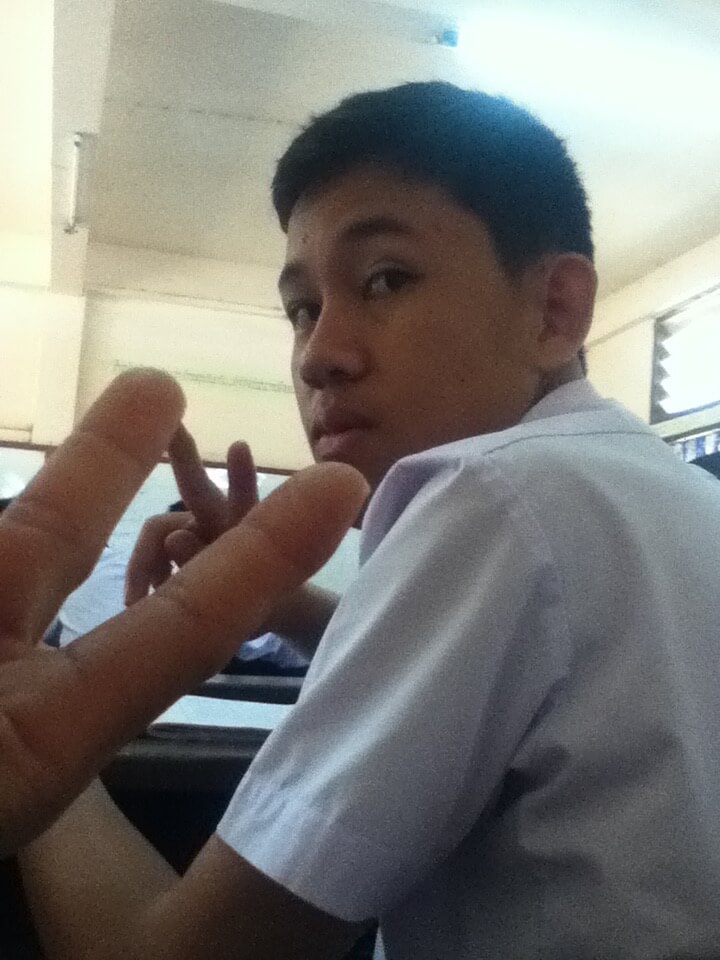 Peace love and chicken grease.
I'm not sure but it seems this guy is a bit of a goofball.
[justified_image_grid preset=c2 row_height=500 max_rows=1 gallery ids="13125,13126″]
---
As the photos kept coming in it was amazing to see how incredibly different our lives were.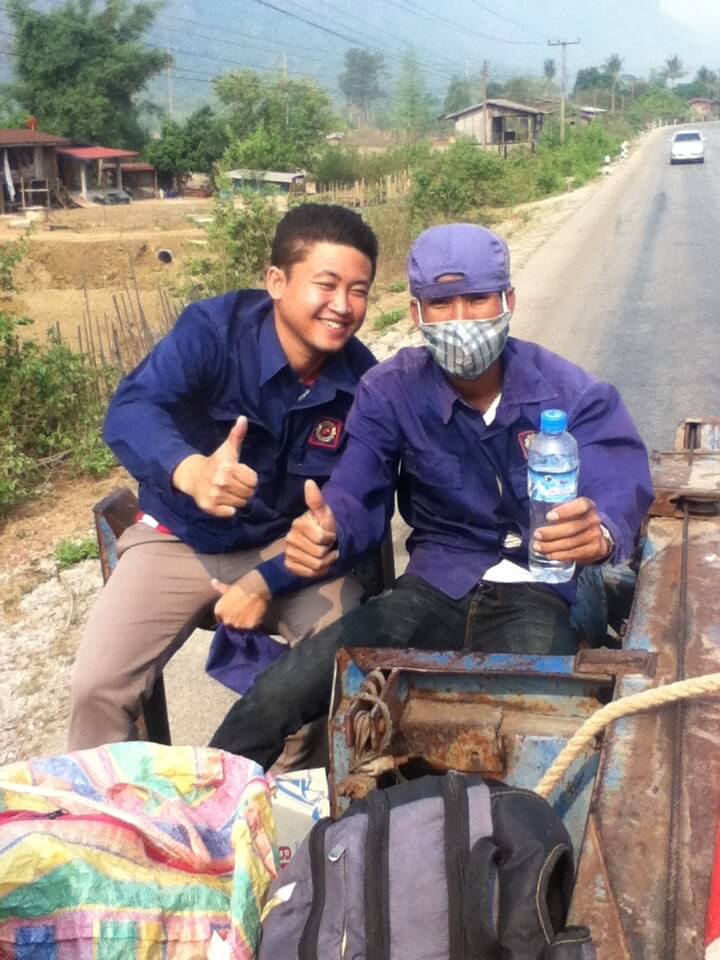 For example, this is a rather common mode of transportation in Laos. How many times have you taken a car selfie? This isn't really any different.
I can't tell for sure but I think one of his friends is working on getting a telephone pole set up.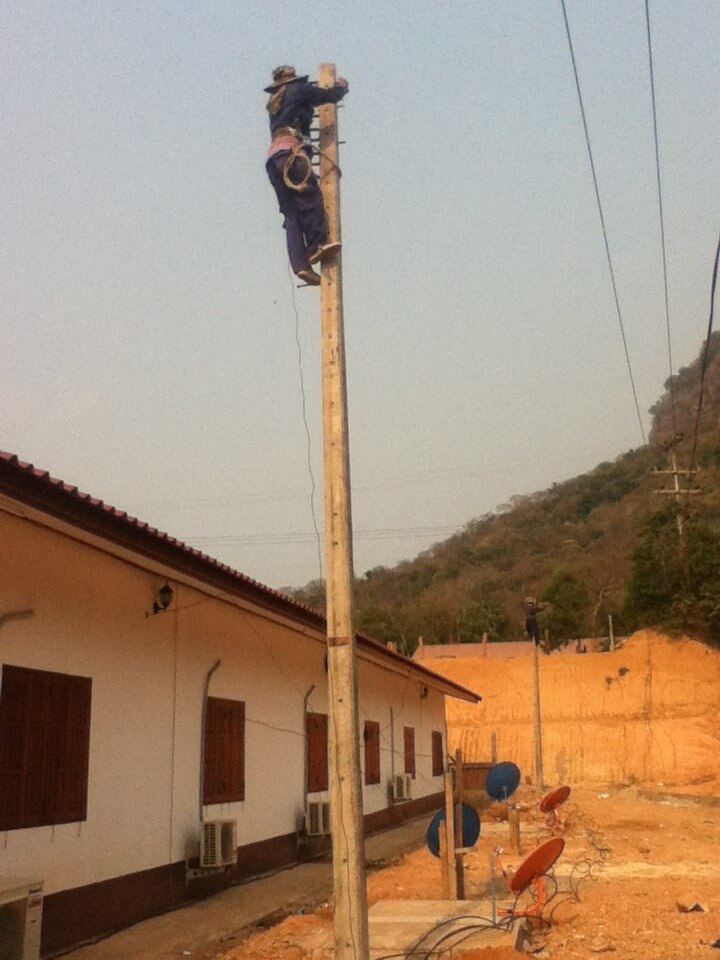 Kind of crazy to think this is just another day for that person up there. No harness, no equipment to help him get up and down. Crazy.
There are quite a few times where I just randomly receive a photo that makes me wonder so many questions. Like this one for example.
And moments later…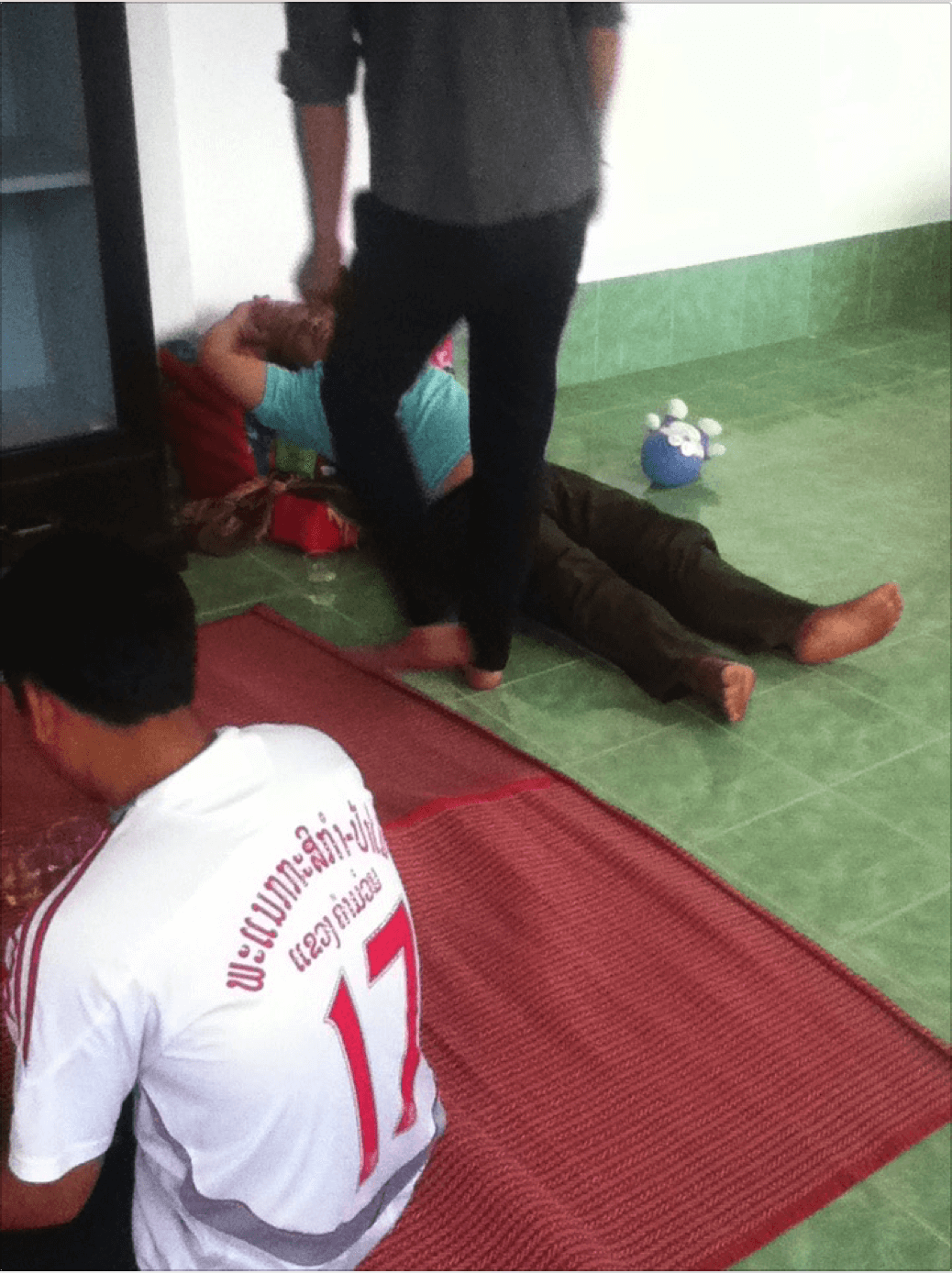 What are they doing to this guy?
I started to learn that my Monk and I had some things in common. Like we both like to travel. Here he showed up one day in Thailand. Ironically as I was also in Thailand. Would I ever meet the monk in my phone?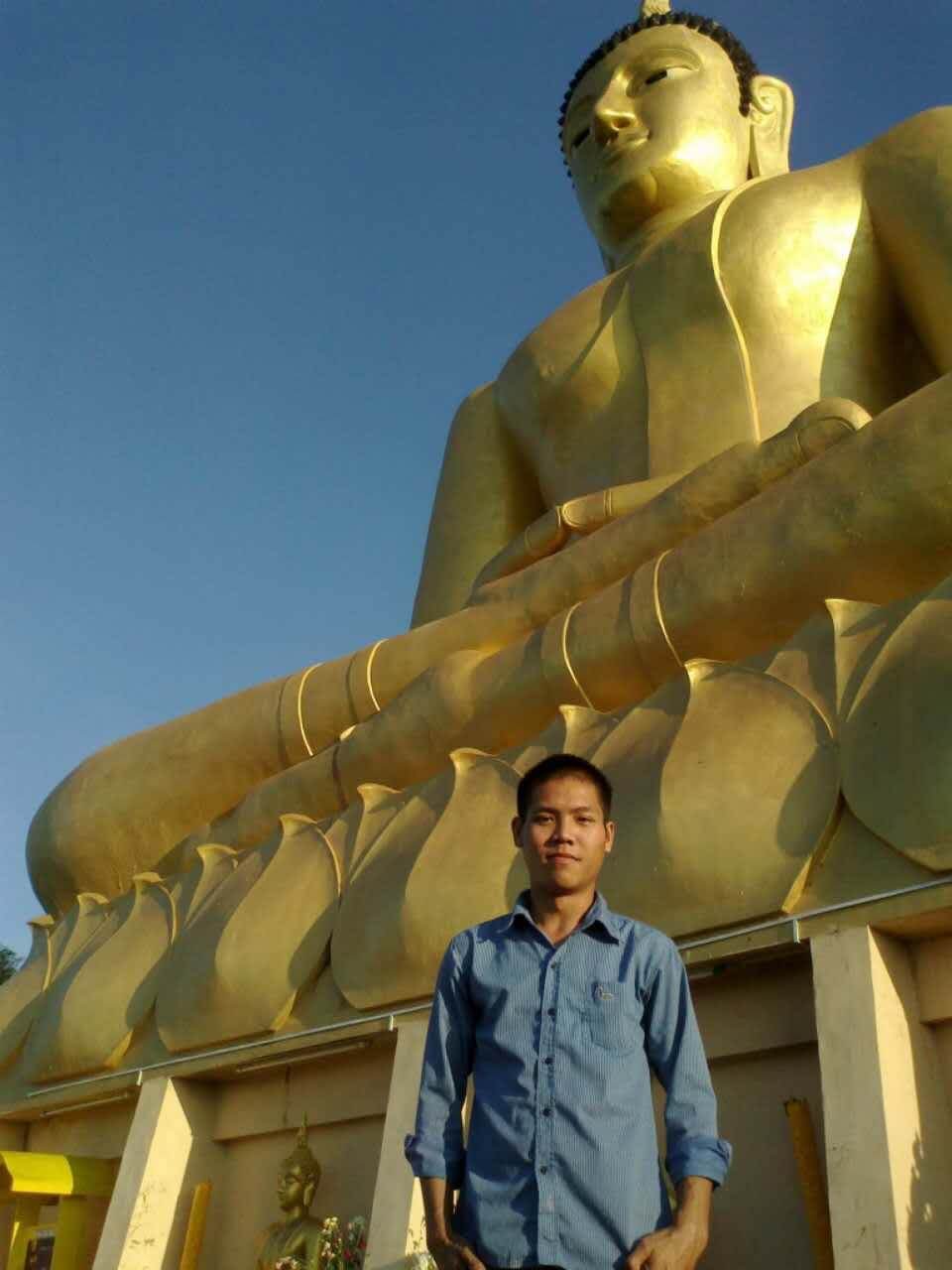 But one thing he has on me for sure is incredible selfie skills…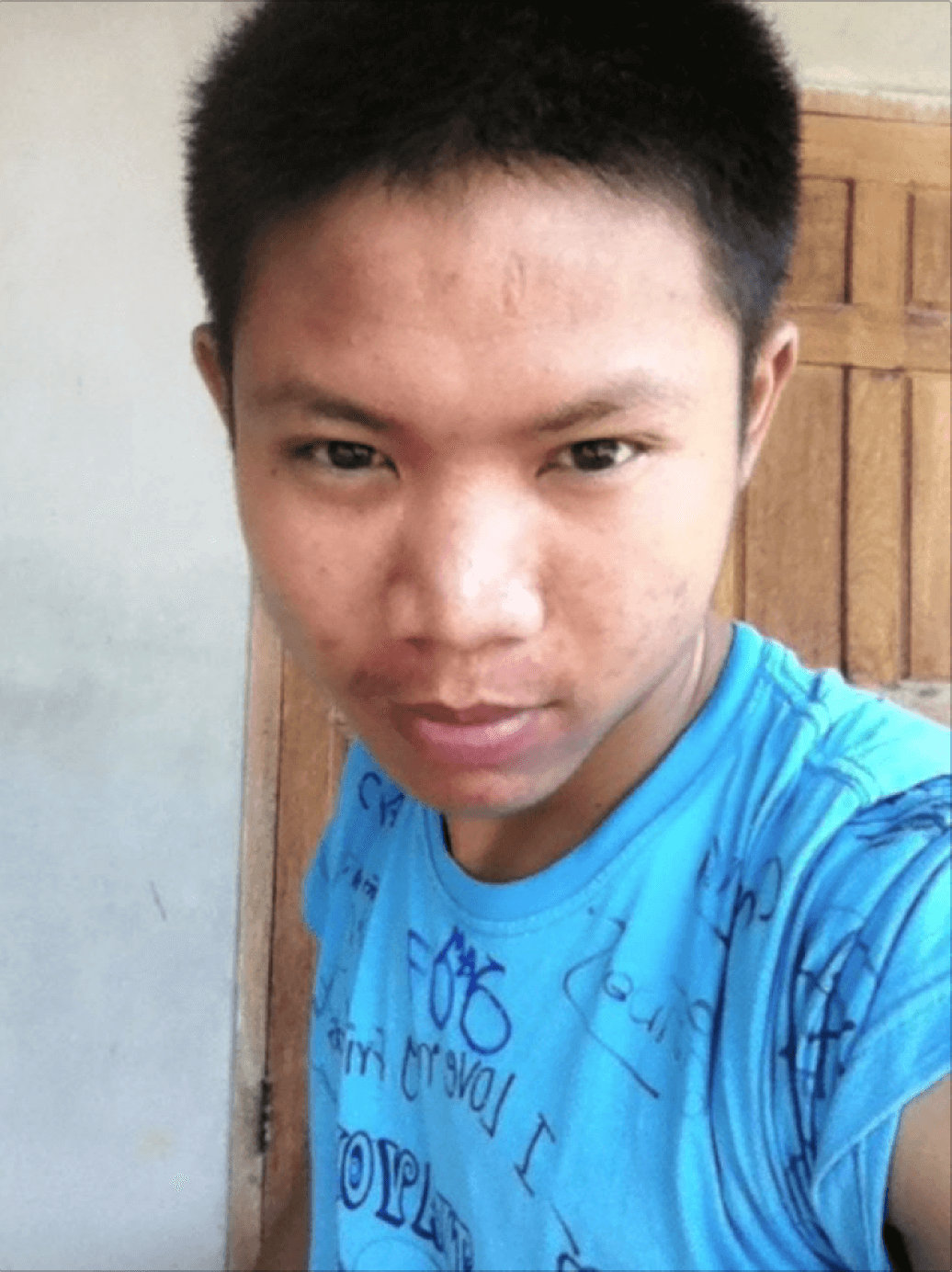 I get so embarrassed when I'm taking selfies. But after seeing some of these maybe I'll up my game.
I've learned the monk in my phone also loves meeting people on his travels and posing with them.
A Lot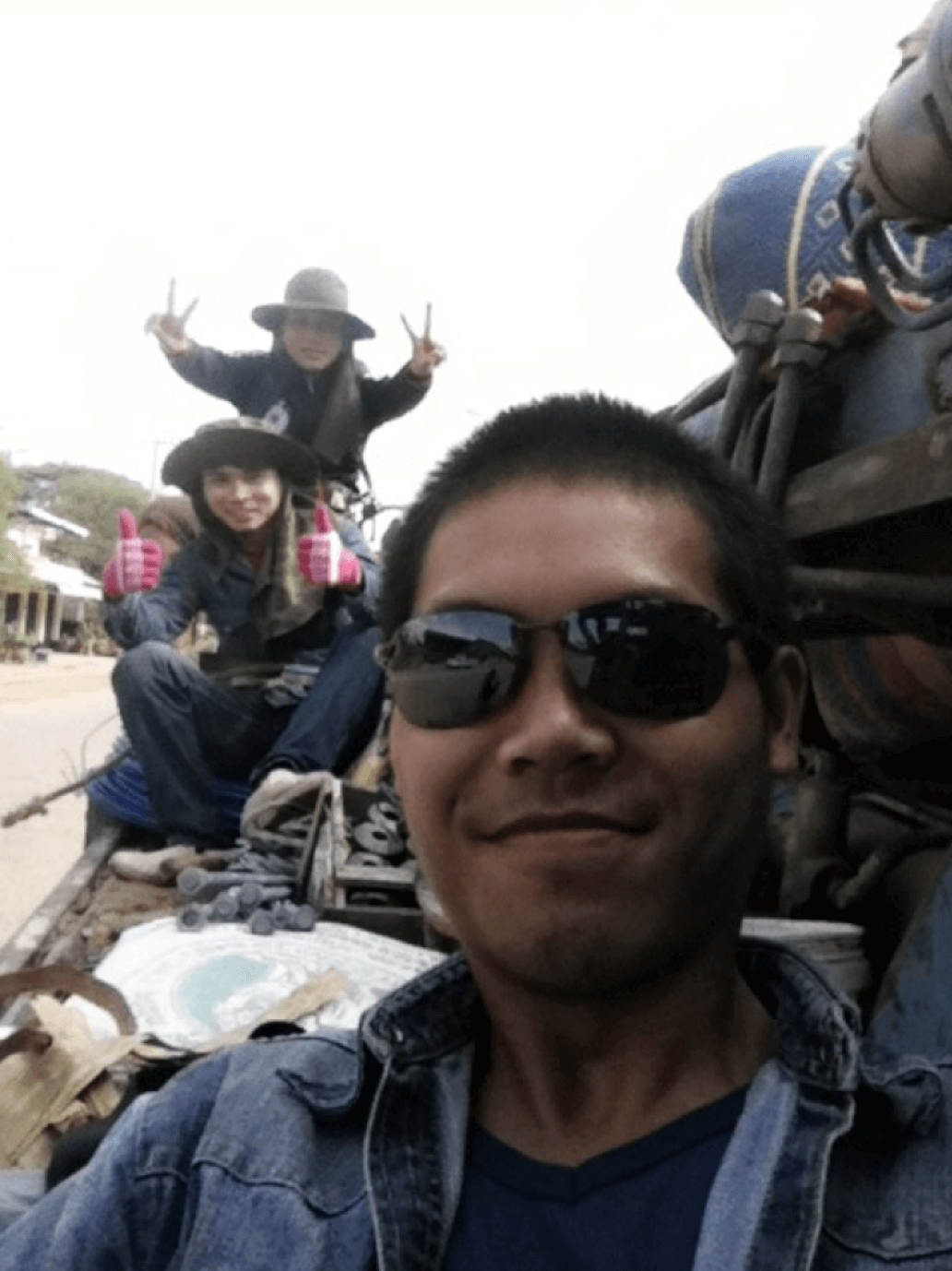 Especially with the Falangs (foreigners.)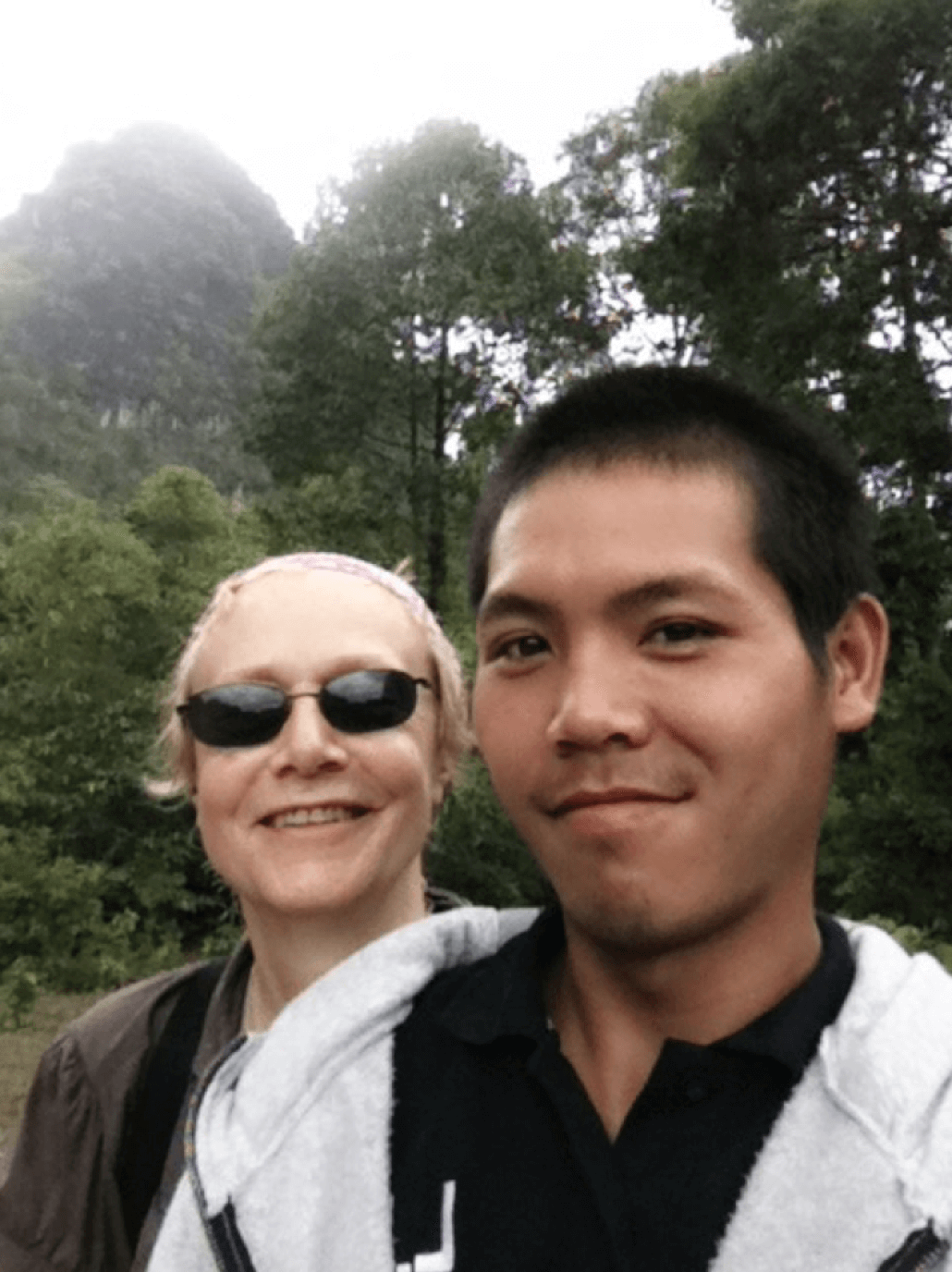 The monk in my phone is really good at meeting new people!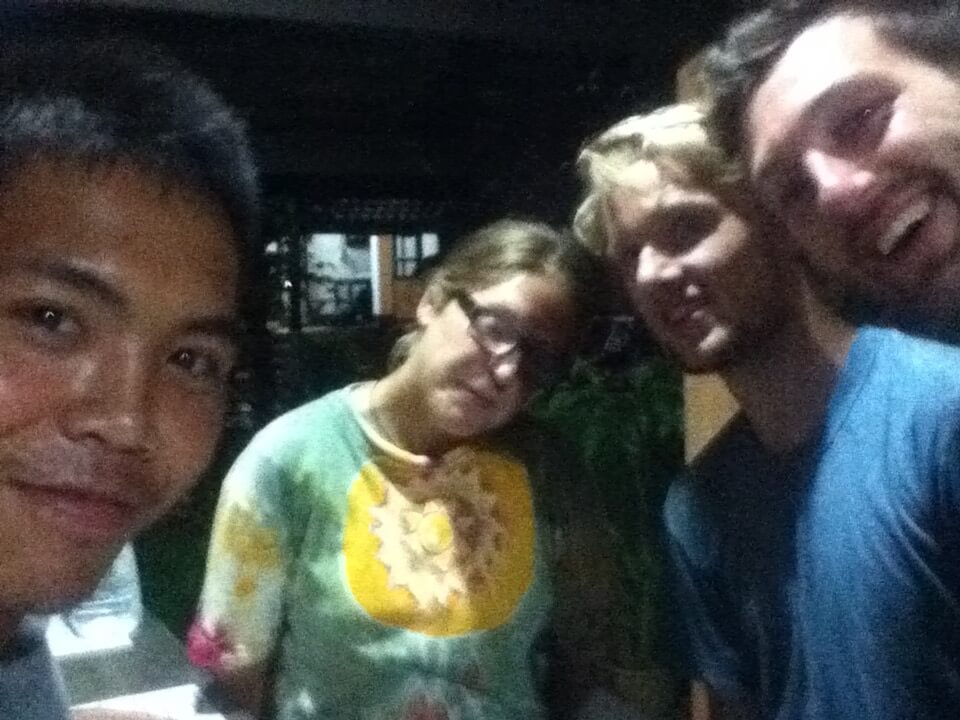 He took a ton of photos with this guy…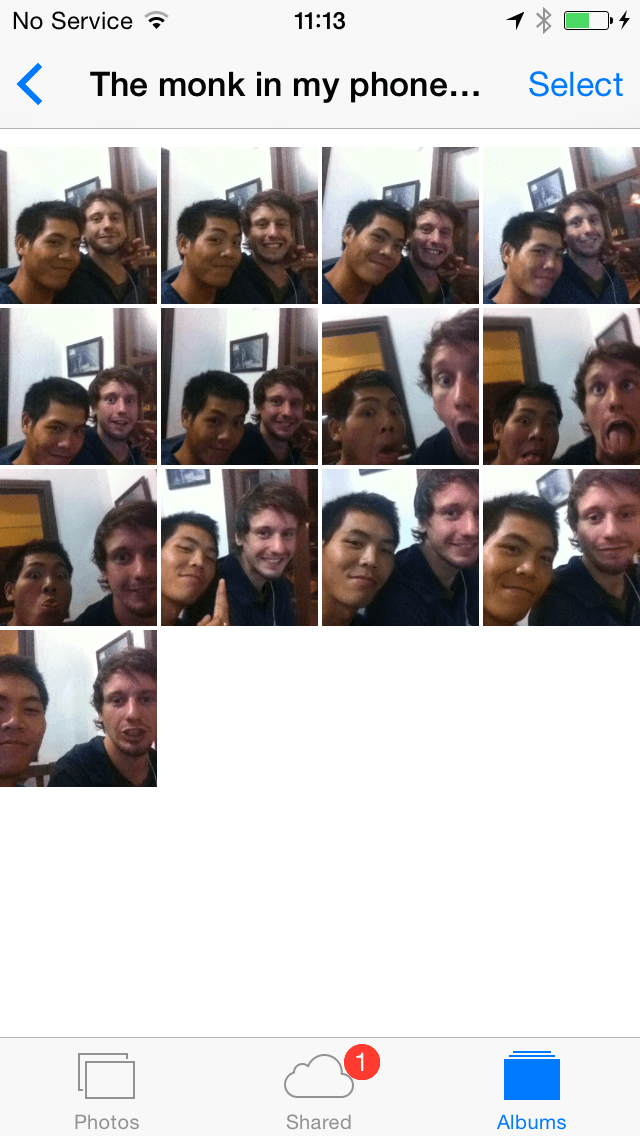 I think the monk in my phone likes tables as he was taking some pictures of them on computer screens.
[justified_image_grid preset=c2 row_height=300 gallery ids="13138,13139,13140″]
Then it seemed like the monk in my phone had to start studying some terms possibly for some sort of test. I wish you luck monk in my phone!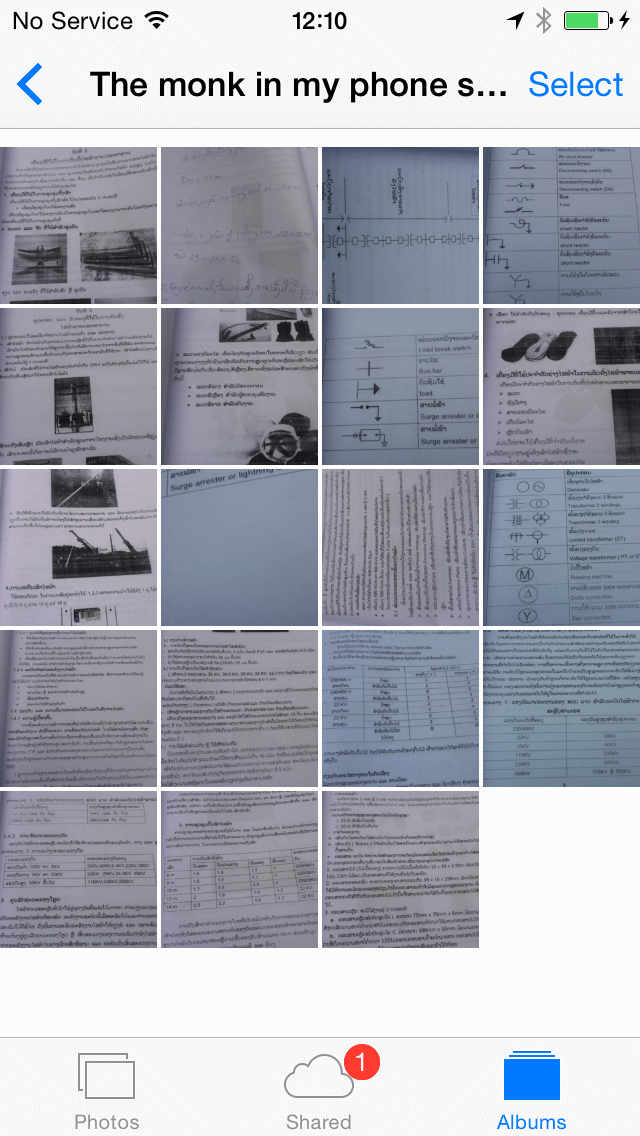 The monk in my phone seems like a fun goofball kind of guy that I would like and seems to travel around Laos and S.E. Asia meeting people. I am really enjoying his travels quite a bit and seeing even though we have such different backgrounds and lives how much we have in common.
Especially sharing our travels. It appears he is currently in Vientiane working on his fisheye and forced perspective game.
[justified_image_grid preset=c2 row_height=350 gallery ids="13143,13144,13145″]
---
It seems as though he really wants me to improve my selfie game because he is constantly blowing up my feed with some impressive selfies.
[justified_image_grid preset=c2 row_height=400 gallery ids="13146,13147,13148″]
---
All in all I have over 350 photos from the monk in my phone. Now that I am back in Korea and getting internet at least once a day the photos seem to be coming in a bit more regularly.
I wish there is a way I could tell the monk in my phone that I am getting his photos without turning my iPod into a brick because I genuinely don't need it and want him to be able to keep documenting his travels!
Here's to the monk in my phone and his awesome journeys. Travel safe my friend!
[UPDATE]
After people on reddit mentioned the dude on the other end of the phone is probably getting my images I have gotten help to send translate a message to try and establish contact. It is pretty exciting. I have been sharing the story on my instagram account.
If you liked this story or thought one of your friends would enjoy it please consider sharing it. Would make our day. You can also take this relationship to the next level by liking us on facebook or following us on instagram and live vicariously through our travels.