Looking for the best things to do in West Dover, Vermont, and Dover, Vermont? Located in scenic Southern Vermont in Windham County popular for the Mount Snow ski resort in the winter months, this is an ideal getaway year-round including incredible opportunities for leaf-peeping during peak fall foliage and plenty of outdoor opportunities and activities to enjoy in spring and summer.
While this is one of the most popular places to visit in Southern Vermont in winter thanks to Mount Snow, believe it or not, before the Mount Snow Ski Resort was built, this was a popular summer getaway first. With the Green Mountain National Forest here, you'll find plenty of outdoor recreational activities to enjoy from a multitude of hikes with rewarding vistas to lakes and reservoirs.
Enjoy all the things suggested in this getaway guide to Dover, Vermont and West, Dover Vermont and good luck trying to pick what season is best to visit! Or just come back different times of the year!
Things to do in West Dover & Dover
Mount Snow
Located in West Dover, VT, Mount Snow is a popular ski resort and massive mountain in the heart of the Green Mountains. This popular spot has been operating as a ski resort since 1954! In fact, it was one of the first ski resorts to open on the East Coast! Today, this mountain has many of the best activities in West Dover, Vermont.
With over a dozen places to eat, multiple spas, and three shops to buy snow gear, Mount Snow has everything you'll need during a busy day in Dover, Vermont.
There are many places to stay on Mount Snow. Carinthia Base Lodge is a great place to stay that has a public restaurant, outdoor fire pit, heated pool, sauna, and steam room!
Another great option is Grand Summit Resort Hotel. This is an excellent place for anyone who wants to spend time at the spa!
If you're traveling with more than just one other person, the Mount Snow Condos and Seasons Condos are both great lodging options for you. These condos are similar to cozy cabins and are great for larger groups or families that want to stay by the mountainside!
Ice Skating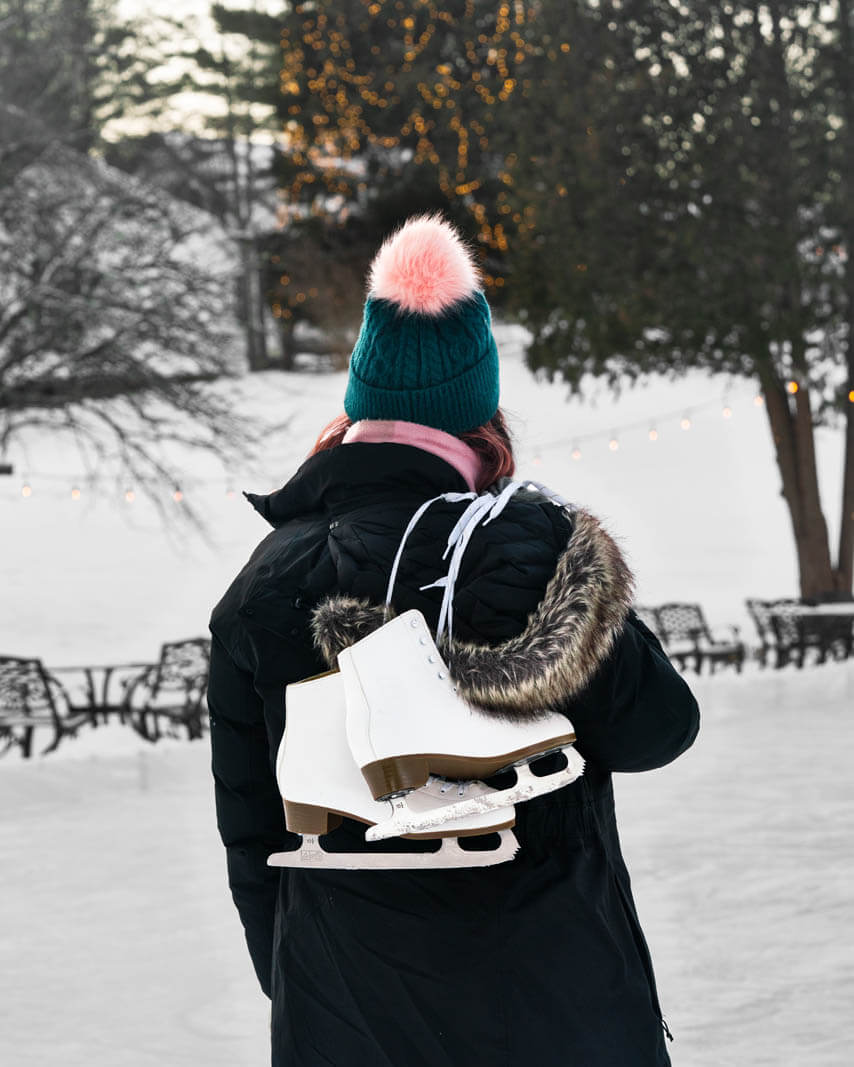 A Dover, Vermont vacation wouldn't be complete without ice skating in the winter! Farm Road Estate, just minutes away from Mount Snow, is a great place to dine and ice skate. Also, they have rooms available too if you're wanting to stay here too.
Admission to this outdoor ice skating rink is only $5, and it is only another $5 to rent skates. In addition, they serve hot cocoa and other drinks all day long next to the rink!
Scenic Chairlift Ride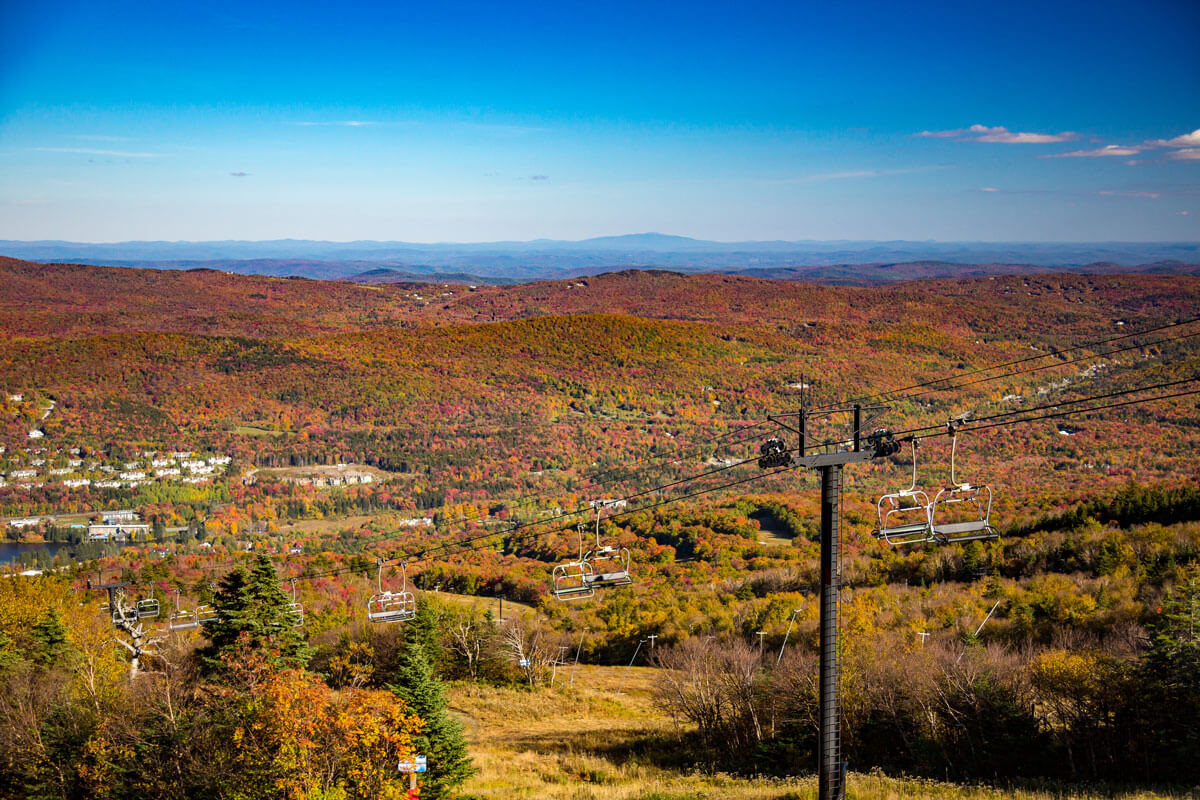 One of the other great things to do in Dover is to take the scenic chairlift ride. This popular summertime activity will take you on the BlueBird Express lift to Mount Snow!
This activity is open from June through October. On the lift, you'll be able to see Mount Monadnock, Somerset Reservoir, and other scenic spots from a unique, high-up point of view!
Golf
Another great thing to do in Dover, Vermont outdoors is to golf! The Mount Snow Golf Club offers some of the best mountain golf in the state. This club also provides all of the equipment you'll need to go golfing and is great for both experienced golfers and beginners!
Snowshoe & Cross Country Skiing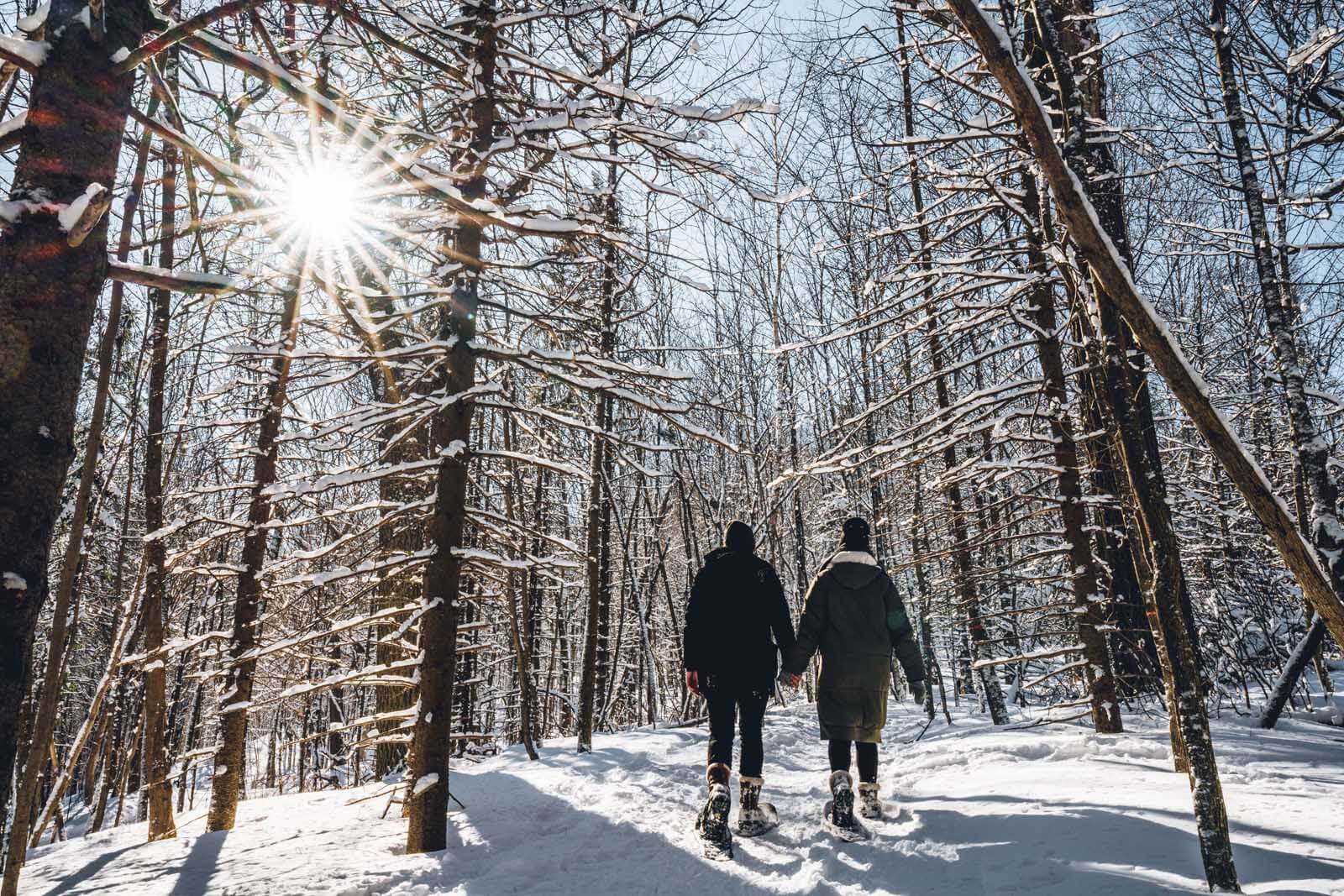 Love winter activities? You're in luck because Dover, Vermont has plenty of great outdoor options if you're there in the winter, including snowshoeing! If you have your own snowshoes, you can hit up many trails on Mount Snow and in the Green Mountains.
One popular trail in the Green Mountains is the Bucklin Trail. If you go up to Killington Peak from this trail, you can get a great view of the mountains! This trail is just over 7 miles and is excellent if you want to spend a few hours outdoors that day.
If you don't have your own snowshoes, don't worry. Timber Creek in West Dover, Vermont offers snowshoe rentals and even trails you can access along with the required passes you need to enter them.
In addition, cross country skiing is another option in the same areas which allow you to go up, down, and across various terrains without a ski lift or other assistance. One of the most popular places to go cross country skiing in West Dover is Timber Creek, linked above where you can also get rentals for snowshoes and cross country skiis. Located right across from Mount Snow, Timber Creek has a massive trail system and many hills that will take you through the forest.
Hiking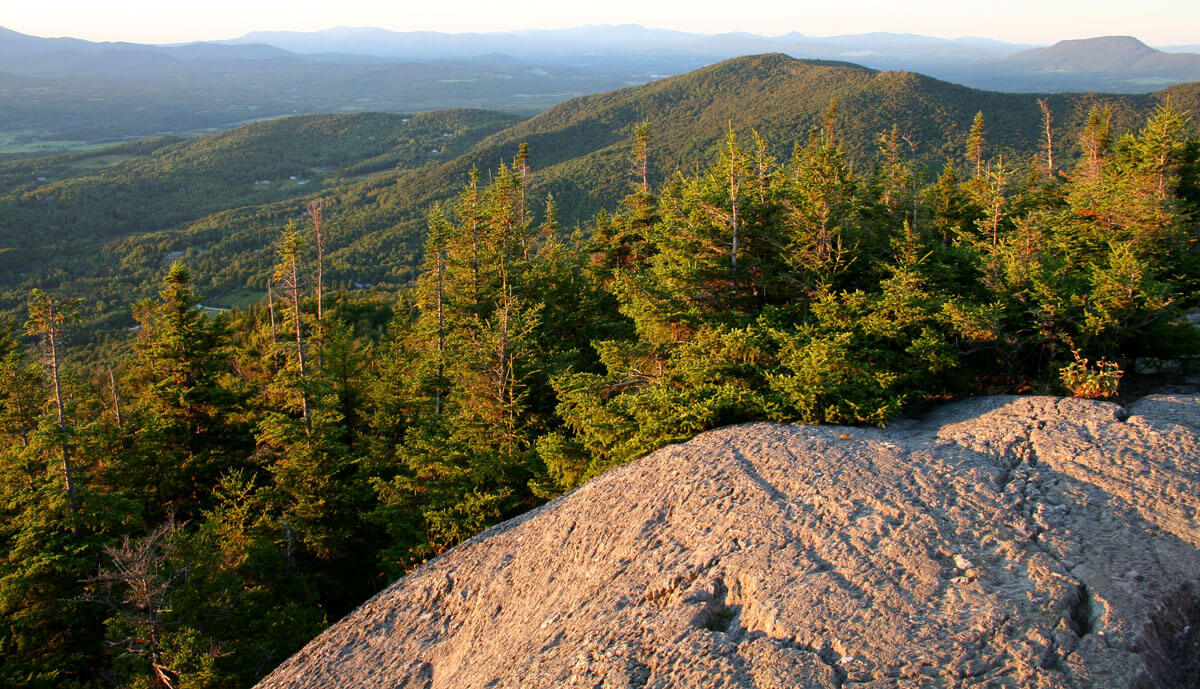 One of the best things to do in Dover is go hiking with TONS of options no matter the time of year. As mentioned, there are trails available even in the winter season as you can snowshoe or cross country ski on them.
Better yet, there are several hiking trails that are great for the rest of those non-snowy days and months of the year too. Some of these trailheads are just a short drive away from Dover and West Dover, Vermont making them easy to access when planning a getaway here!
If you're searching for a scenic hike, Crystal Cascade Falls might be a good place to start. This 2.1-mile hike is a well-groomed trail but fun for beginners and will take you to the stunning waterfall at the end!
Another great place to hike that's near Mount Snow is the Green Mountain National Forest! This forest is over 400,000 acres and has many great trails to choose from. If you're looking for a challenging trail in this forest, Mount Equinox Trail (May – October) is a great pick. This 6.3-mile trail is worth the uphill climb because of the gorgeous views at the end.
In the Green Mountain National Forest, another hike worth checking out is the Bucklin Trail. This trail is a 7.2-mile hiking route that is moderately difficult and will take you up to the top where you can expect to see panoramic views of the forest! On a clear day, you'll even be able to see the White Mountains in New Hampshire and the Adirondacks in New York!
An easier hiking trail in Dover, Vermont is Valley Trail. This trail connects Mount Snow to the West Dover Historic District. This scenic pathway is about 5 miles in length and has many trails for walkers and those on bikes as well and suitable for any season.
A Few Other Hiking Trails:
King Arthur Trail
A great hiking trail near Dover, VT located in Norwich is the King Arthur Trail. This leisurely trail is suitable for all ages and family-friendly spanning 1.2-miles and is 6 feet wide and is perfect for anyone searching for an easy walk with pretty views and picnic areas.
If you decide to stop by this trail, be sure to check out the nearby King Arthur Baking Company. This bakery is a bakery, cafe, and retail store all in one! This bakery is known for their flour and offers group baking classes as well!
Haystack Mountain
If you're looking to immerse yourself in nature, Haystack Mountain is the perfect spot to take a hike.
This hiking trail is great for bird-watching, kids who want to see the forest, and anyone who's interested in looking at the local Vermont wildlife.
This 5-mile trail will take you up to 1,000 feet and is moderately difficult but still doable for beginners. The trail is best used between March through November, although people do snowshoe on this trail in the winter too. In the spring, expect to be rewarded with wildflowers.
Crosstown Trails
Crosstown Trails are interlinking hiking trails that tie Handle Road into West Dover, Vermont. On this trail, you can expect to find a beaver pond and even a swamp which is an easier trail suitable for all ages.
You can even extend your outdoor adventure by connecting to the Little John Trail too.
This trail also collides with a snowmobile trail, so be sure to keep an eye out for that during the winter if you find yourself snowshoeing!
The Sheep Shed & Worn New England
The Sheep Shed & Worn New England is a roadside collectibles store in Dover, Vermont along Route 100. At The Sheep Shed, you can expect to find handmade bears, rabbits, and other cute critters that are all one-of-a-kind and made with love!
At Worn New England, you can find handcrafted country furniture including recycled tables and repurposed antiques! This is a great place to get a customized piece.
Snow Republic Brewery
One great place to check out in West Dover, VT is Snow Republic Brewery! This production brewery and taproom is only 3 miles from Mount Snow and has great beer & bar food. It also has a unique, woodsy cabin feel inside!
Nearby West Dover, VT
Wilmington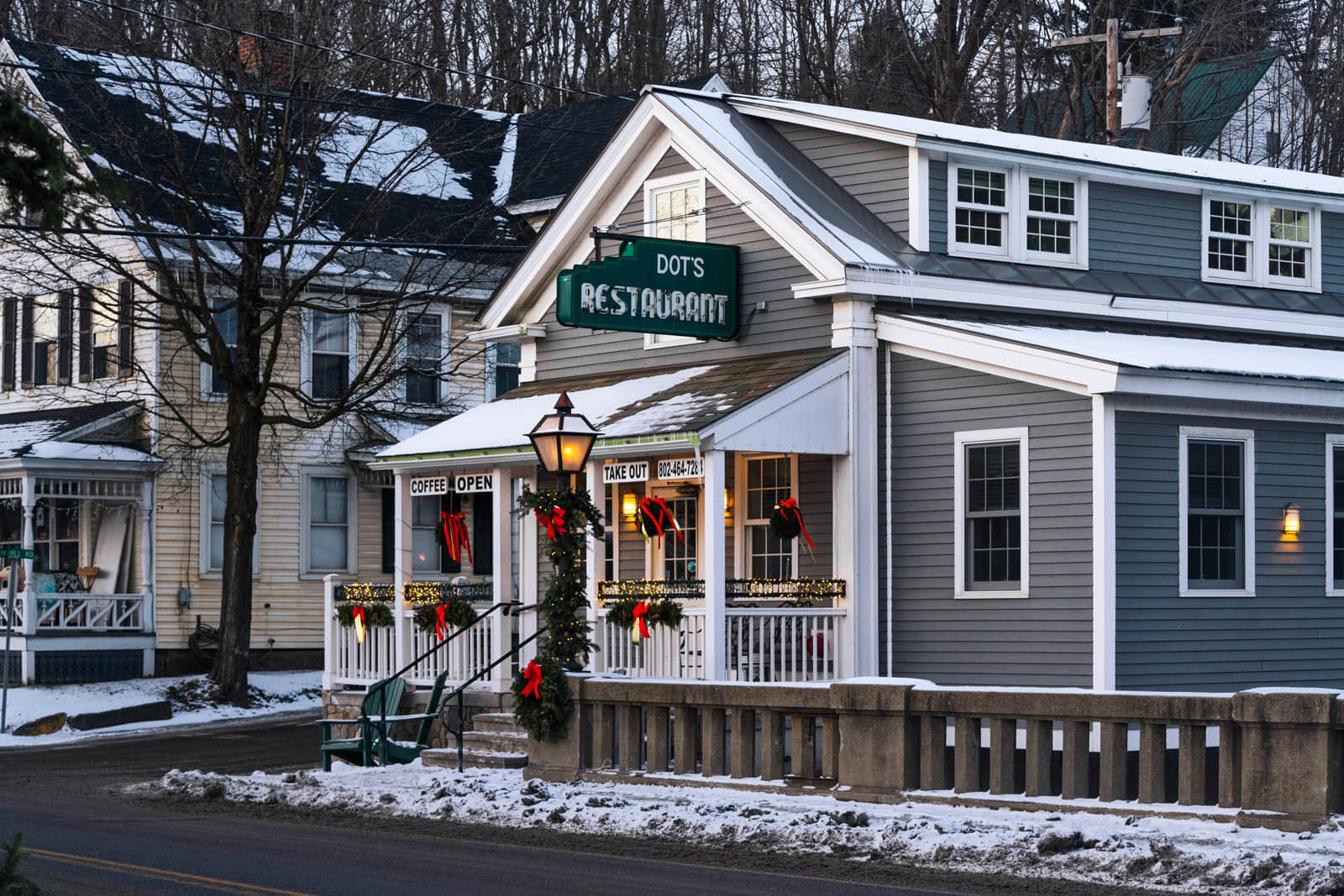 Wilmington is just a 10-minute drive from West Dover, Vermont, and has a historic downtown area that's worth checking out! Located in the southern end of the Green Mountains, this beautiful town has a tight-knit community and unique, quaint feel that you'll love.
Here, you can check out many farm-to-table restaurants and shops with specialty gifts such as Quaigh Designs!
And if you only have time for one meal, it has to be Dot's, a classic American restaurant with a retro vibe that's worth checking out at any time of the day! Don't miss our complete guide for things to do in Wilmington for more ideas!
Bennington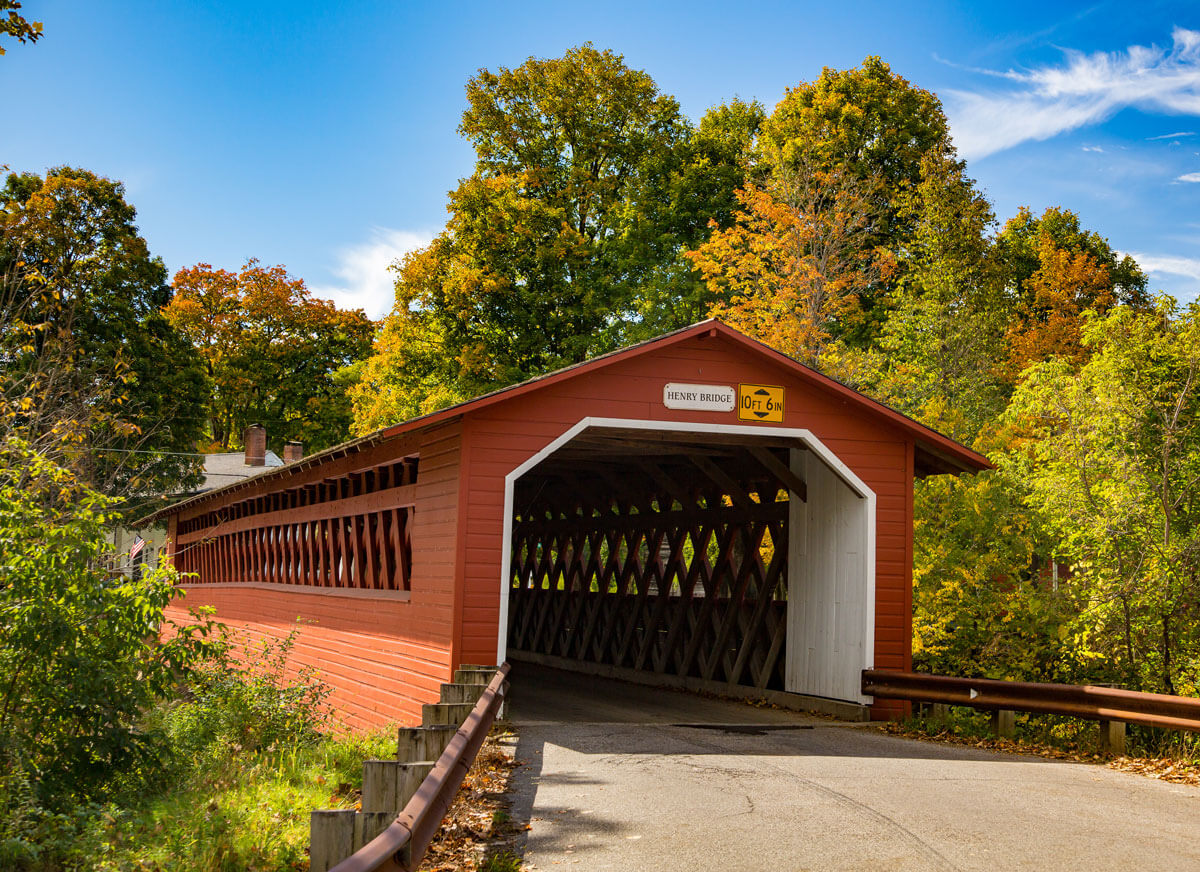 Bennington is a little less than a 40-minute drive from Dover, Vermont and is one of the most popular towns in the state of Vermont! This town is known for the Battle of Bennington which was fought in the Revolutionary War.
If you visit Bennington, be sure to check out the Bennington Battle Monument. This historic structure is the tallest object in Vermont.
Also, don't miss any of the gorgeous covered bridges in the area including the Henry Covered Bridge over the Walloomsac River just outside Bennington.
Brattleboro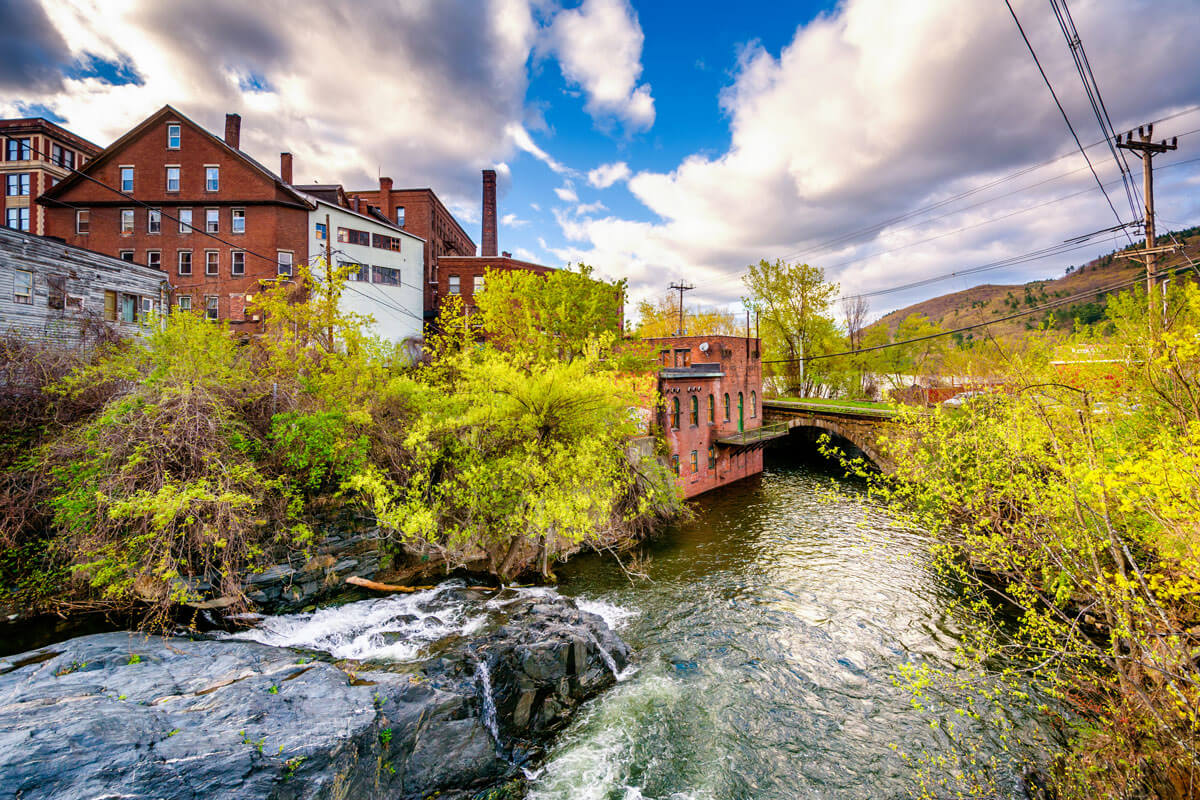 Located in the Connecticut River Valley, Brattleboro is a town in Vermont surrounded by Green Mountains and many cool places to check out. Just 35 minutes from Dover, Vermont, Brattleboro is known for its arts & culture scene!
If you visit this town, be sure to check out the Brattleboro Museum & Arts Center. This contemporary museum showcases many exhibits from various artists!
Stratton Village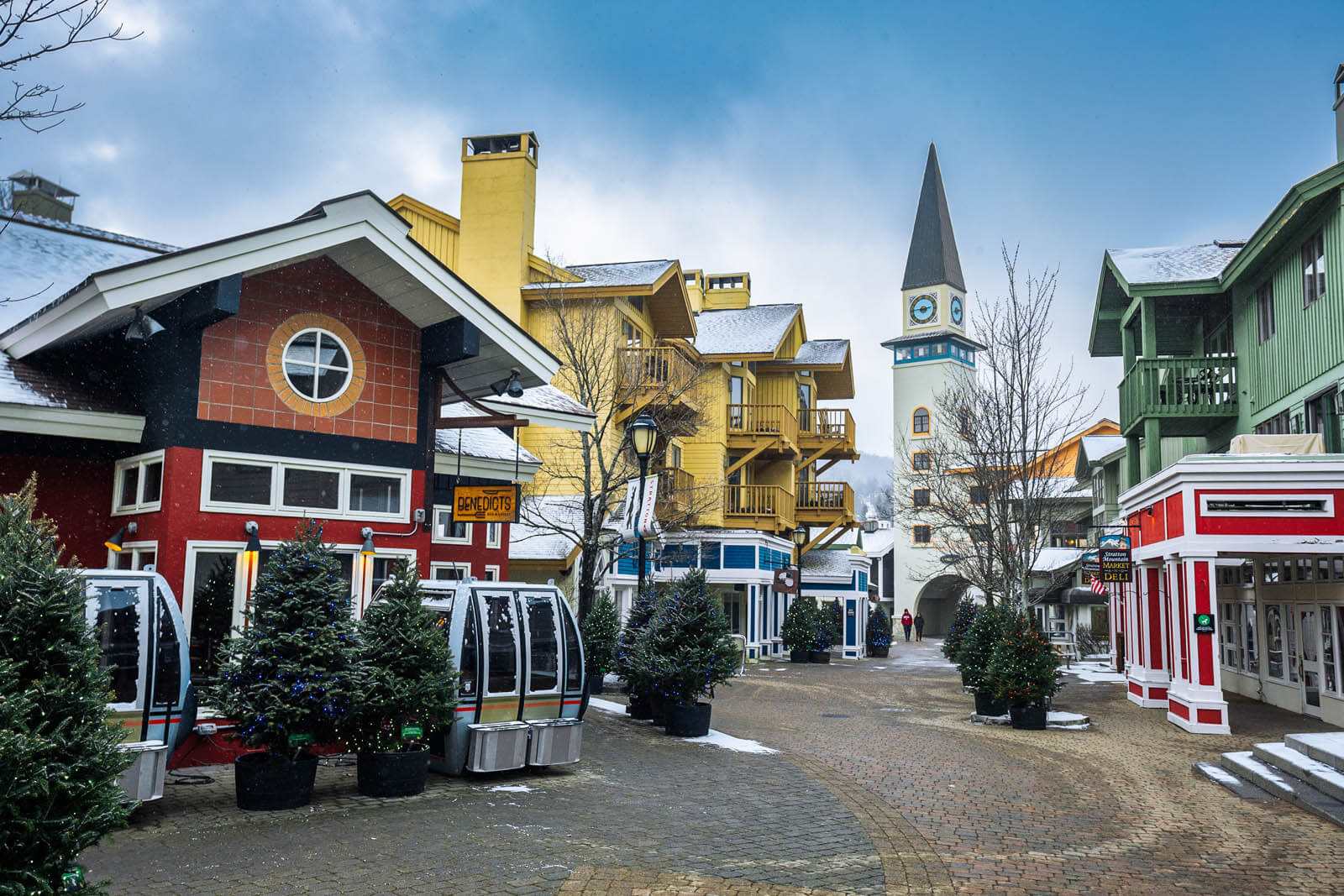 Stratton Village is just 15 minutes from West Dover, VT. This quaint town is known for its unique shops and restaurants not to mention being another popular mountain resort in Southern Vermont.
If you're looking for lunch with a view of the mountains, be sure to stop by Mid-Mountain Lodge for a great meal. Afterward, you can check out nearby shops like North Face and the Stratton Clothing Company for unique souvenirs. There are plenty of snow sporting stores whether you're looking for outdoor clothing or any and all gear to hit the slopes.
Also, as mentioned this is another mountain resort which means this is another great spot for skiing and snowboarding.
There's also other fun winter activities you can do here too including ice skating at Stratton Mountain's ice skating rink and snow tubing at Coca-Cola Tube Park.
Lake Whitingham (Harriman Reservoir)
Harriman Reservoir, also known as Lake Whitingham, is the largest body of water that is located entirely and only in Vermont. This lake is about 10 miles long and is great for anyone that wants to go fishing, boating, swimming, or paddleboarding. If you're visiting Vermont in the summer, this lake is a great place to visit.
This place is also great to have a picnic and there are many picnic tables nearby the parking lot! This lake doesn't have any houses along the shores. Instead, the shore is surrounded by various parks, making it that much more scenic and fun to explore.
One great place nearby to rent a boat is the High Country Marine. Here, you can rent paddleboards, kayaks, canoes, boats, and wave runners!
Hogback Mountain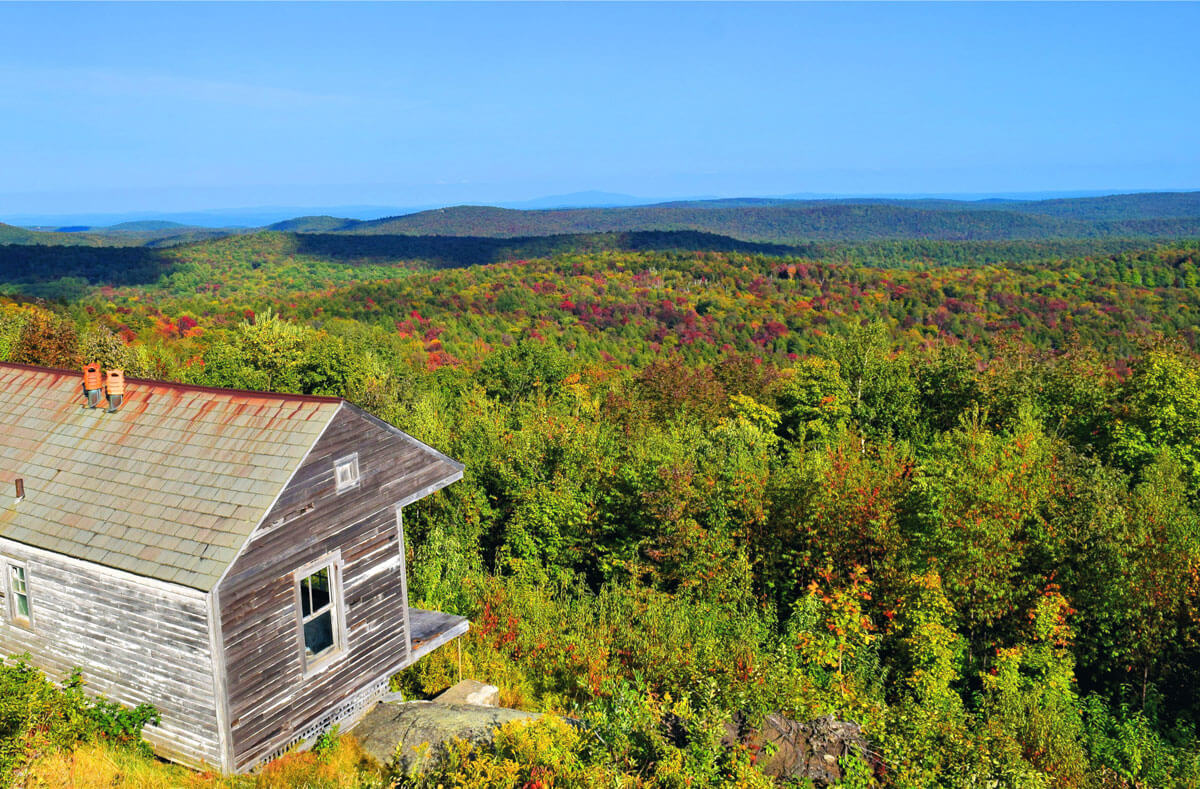 Hogback Mountain is a mountain in Marlboro, Vermont. This mountain is a great place to see the fall foliage and get a great view of the nearby mountains! On this mountain is also the Hogback Mountain Conservation area where you can see the wildlife and take a look at the famous 100-mile view. This area is also a great place to stop and have a picnic.
Another great place to shop & have a picnic is the Hogback Country Store! This shop has many unique souvenirs and lots of great food that you won't be able to find anywhere else.
Where to Stay in West Dover, VT
One of the best parts about visiting Dover and West Dover, Vermont are the incredible places to explore and even stay at in the area including amazing Vermont cabin rentals and resorts.
We stayed at this gorgeous A-Frame Alpine Cabin in West Dover which was the perfect base for a Vermont vacation as the house can sleep up 7 people equipped with 5 beds, a full kitchen, 2 bathrooms, a cozy fireplace, and of course an outdoor hot tub surrounded by the forest.
The main bedroom and outdoor deck where the hot tub is located offers views of Mount Snow and is only a 5-minute drive from the ski resort which makes it a prime location in the winter not to mention Stratton Mountain is only a 20-minute drive away too!
This dreamy A-Frame cabin is what your New England getaway vacation goals are made of. Better yet, you can rent out the place for a spacious romantic couples getaway like we did, a family-friendly getaway, or a friend's trip! Book here on Vrbo.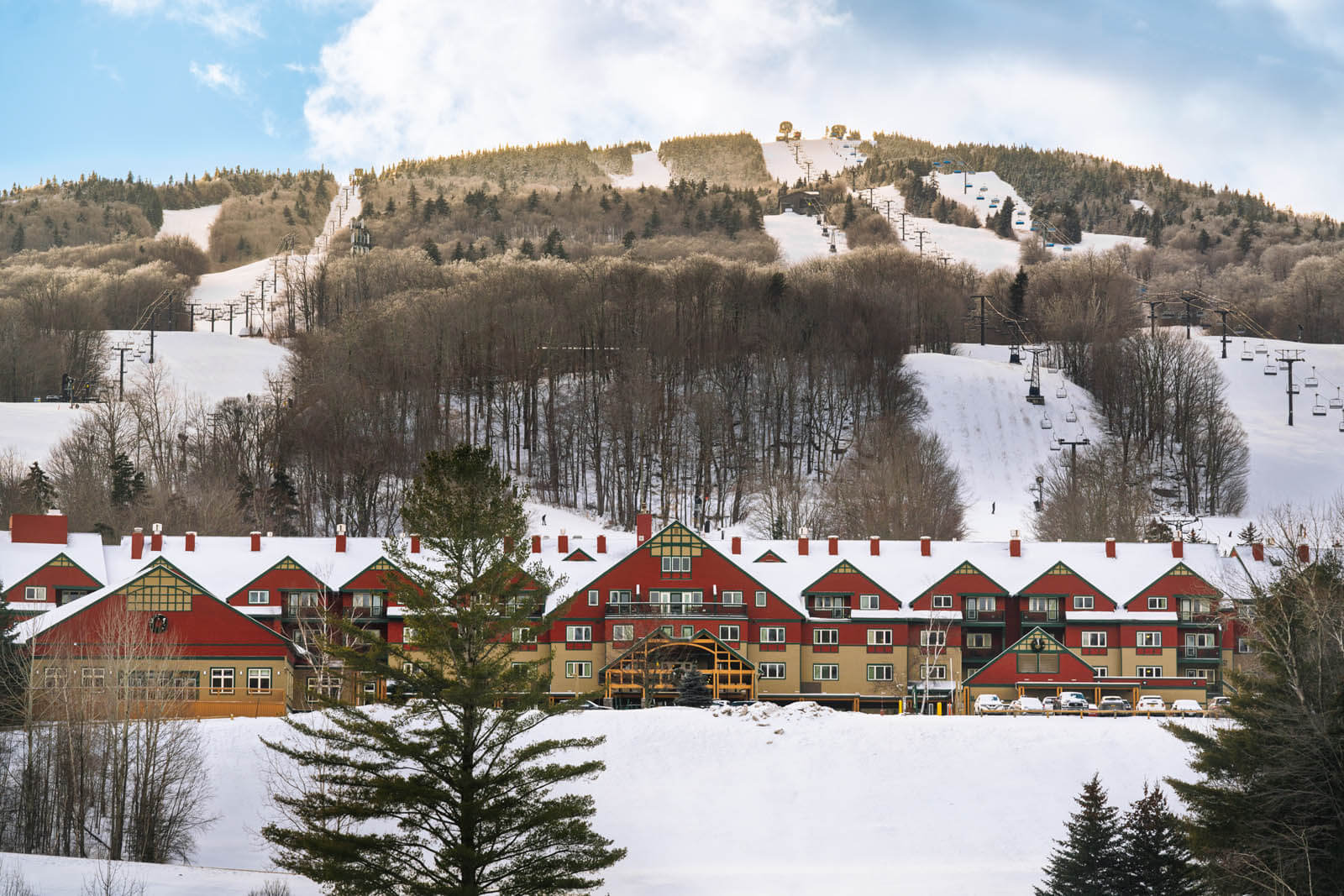 If you're looking for a local resort, Mount Snow Grand Resort is an excellent option year-round, but especially in the winter because it is a ski-in ski-out mountain resort located at Mount Snow in Dover is the perfect base for your snow play on the mountain or basing your trip around all the fun outdoor activities in the area.
This resort also has a restaurant and bar on-site and a full-service spa for that much-needed relaxation after a long day enjoying the great outdoors. There is free parking on-site and you are less than a minute walk to the base of the mountain. Book here.
---
Enjoyed this guide to all the best things to do in West Dover, Vermont and Dover, Vermont? Bookmark this guide for later!