Check out our top picks for the best things to do in the Adirondacks region in Upstate New York! This popular mountain and nature-filled destination is a popular vacation and getaway spot for the North East of the US offering an ample selection of outdoor activities every season, charming towns, cultural and nature centers and museums, a great food and drinking scene, and so much more! Not to mention where you can take some of the best lake vacations in New York too!
When planning your Adirondacks vacation, use our guides to help you pick what to do, where to stay, and what is absolutely worth seeing from the plethora of lakes, hiking trails, mountains, snow sports, and fun stops like covered bridges along your Adirondacks road trip.
Top Adirondacks Attractions
Ausable Chasm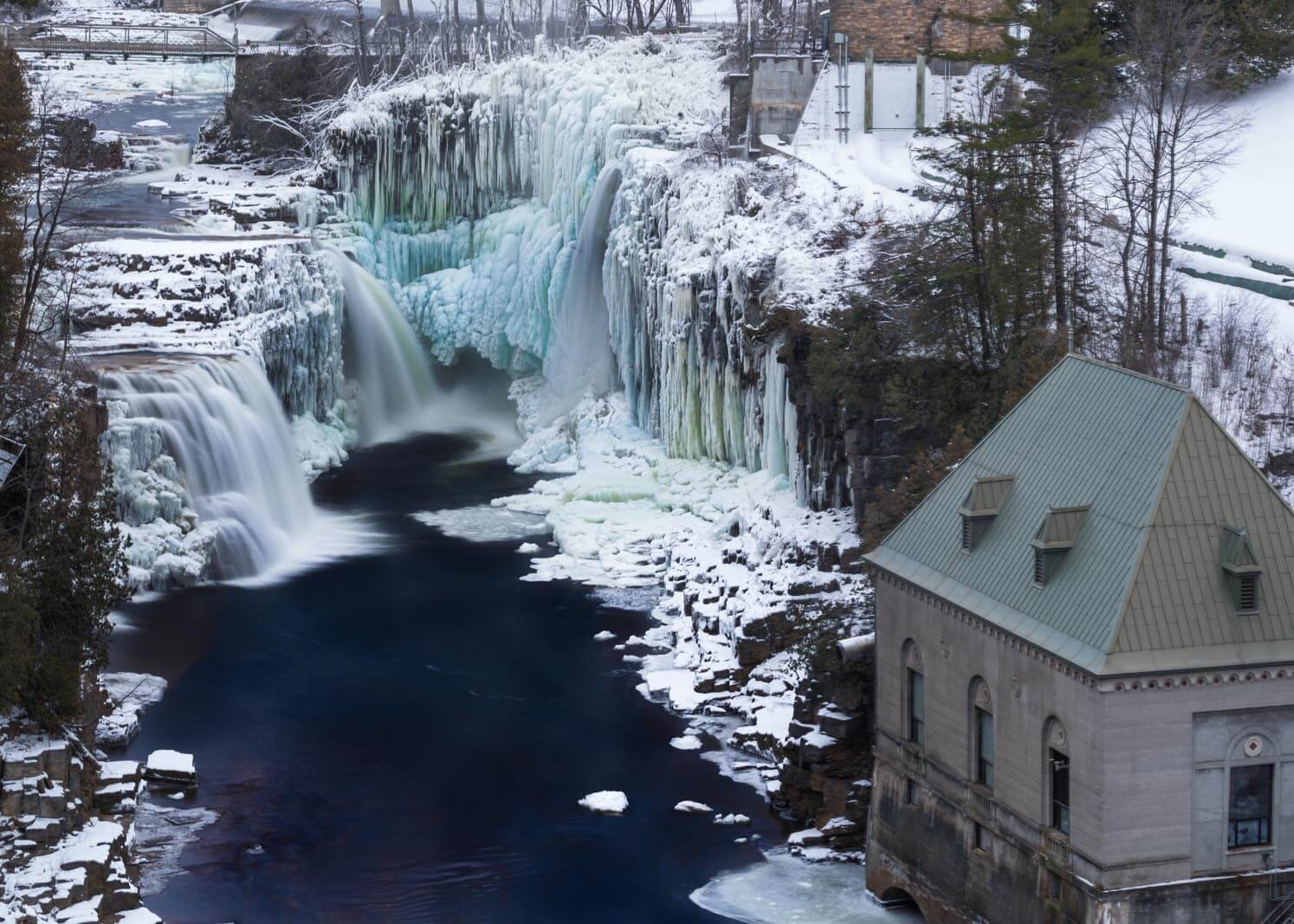 If you are planning an Adirondacks getaway, chances are you must have heard mention of Ausable Chasm, and if you haven't before you are now as this is one of the most popular and well-known places to go in the Adirondacks.
Known as the Grand Canyon of the Adirondacks, Ausable Chasm is a long sandstone gorge and natural wonder featuring waterfalls that stretch 2 miles. This is one of the most popular, natural tourist locations in the Adirondacks and offers several hiking trails, waterfalls, white water rafting, tubing, and more.
If you would like to go on any of the available hiking trails at Ausable Chasm, you should expect to enjoy a gentle forest walk along the rim of the gorge as well as adventurous hikes over craggy rocks along the dry parts of the chasm.
Although these trails are suitable for all ages, it is important to note that there are sections with no safety rails or large, long drops so you have to be careful if you have young ones to keep a mindful eye on them.
In the summer you can enjoy river tubing and rafting at Ausable Chasm. For these, life jackets and tubes are provided but be sure to bring your own water shoes. Also, you will need to bring a waterproof dry bag or plastic bag to keep your personal items dry and safe from the water.
In the winter, some of the hiking trails are still open for self-exploration on your own or trails that can only be done on a guided tour. All winter hikes require crampons for your shoes to ensure traction which you can bring your own or rent from the visitor center.
More Adirondack Waterfalls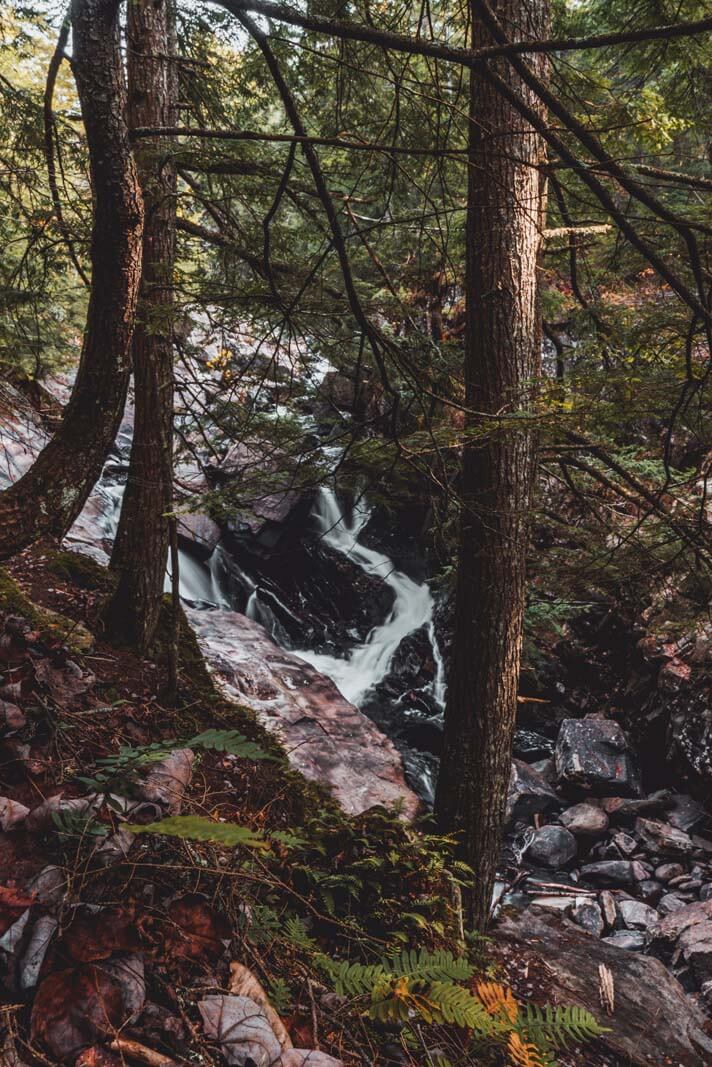 The Adirondacks is home to numerous hiking trails and some of them with breathtaking New York waterfalls. If you love waterfalls as much as we do, you should check out these major Adirondacks waterfalls during your Adirondacks vacation.
Some of the best waterfalls in the Adirondacks with great hiking trails include:
OK Slip Waterfalls: Located in Indian Lake, this is one of the tallest falls in the Adirondack dropping at about 200 feet and features a 3 mile long trail. The trail is known to be difficult and not great for beginner hikers. It is also advisable to bring some bug spray along as the trail can be muddy and filled with bugs.
Shelving Rock Falls: Located in Fort Ann on the eastern side of Lake George, this beautiful waterfall offers an adventurous hiking trail. Visitors can also take the trail leading to Shelving Rock Summit. If you prefer not to hike, you can take a boat via Log Bay and enjoy the sights on the way to the waterfall.
High Falls Gorge: Located in Wilmington near the popular Adirondack resort town of Lake Placid in a private park is High Falls Gorge. This trail is a breathtaking waterfall walk made up of four separate falls in the heart of the Adirondacks. Take the 30-minute hike passing the waterfalls and enjoy the thrilling views on the trail.
Auger Falls: Located along the Sacandaga River not far from the town of Wells, Auger Falls features a 0.4 miles hike suitable for all ages, but watch kids and even yourself as there are dramatic drops near the rushing water without any railing or protection as this trial is more rugged. The scenic trail is easy and beautiful. Auger falls is a 40 feet drop with three different sections and is best viewed from the top.
T Lake Falls: Known as the most impressive and the highest waterfall in the Adirondacks, this magnificent attraction drops up to 600 feet. A round-trip hike of this waterfall is about 10 miles and is quite difficult. Beginner hikers should not attempt this hike.
Buttermilk Falls: Another great waterfall and thing to do in the Adirondacks if you're short on time is a visit to Buttermilk Falls near Long Lake. The waterfall isn't the largest of the waterfalls here but this is just a short, easy walk from the parking lot and offers an ample amount of picnic space overlooking the falls.
Great Camp Sagamore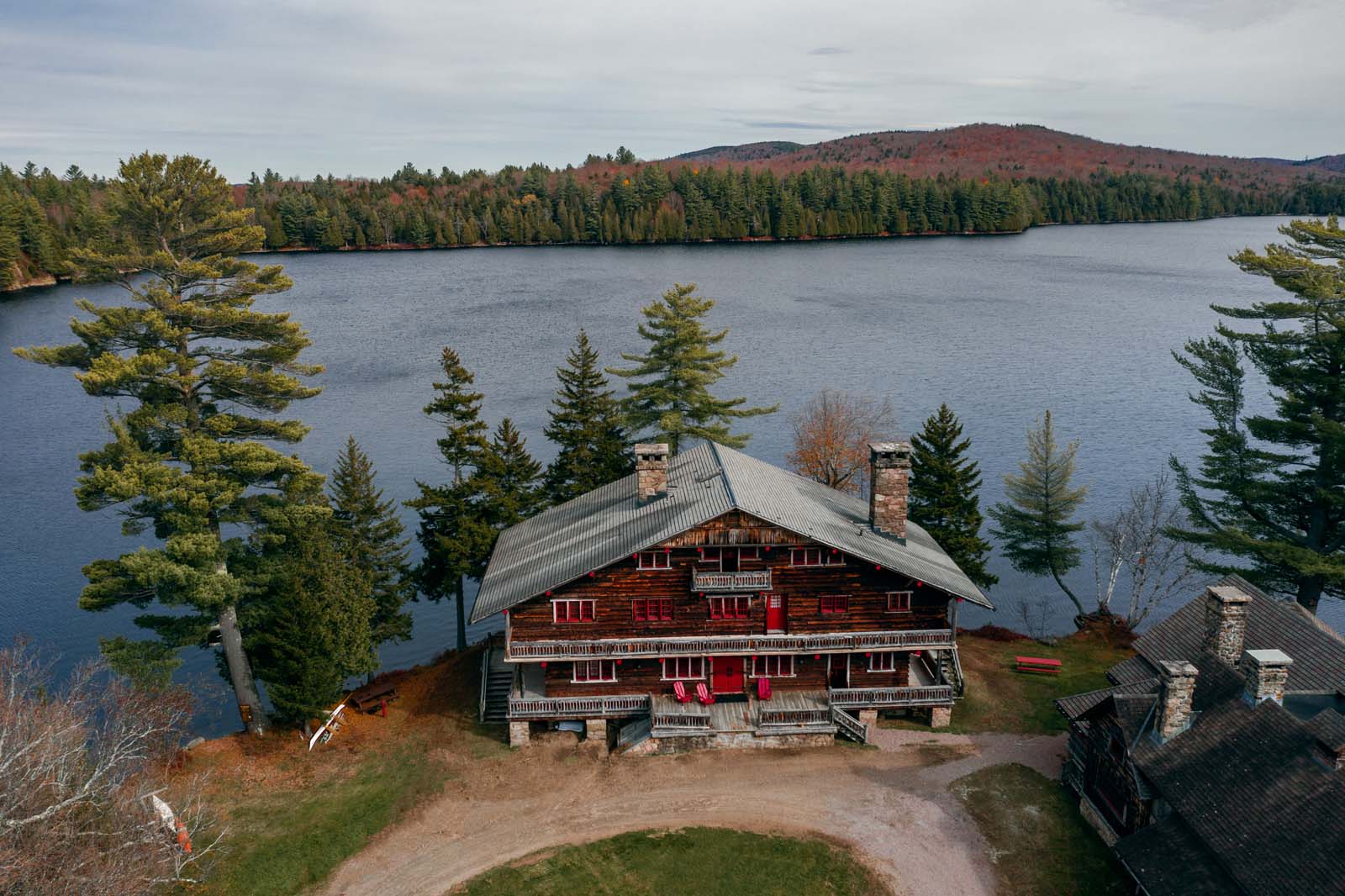 If you would love to experience one of the coolest tours on your Adirondacks road trip, you should add a visit to Great Camp Sagamore to your list of things to do in the Adirondacks. This gorgeous historic camp feels straight out of the set of a Wes Anderson film.
This amazing historical 27 building and camp complex houses the rich historical heritage of the Adirondacks dating back to 1895 used as a getaway for America's wealthiest families of the time being passed through ownership from the Vanderbilt family eventually to Syracuse University.
Great Camp Sagamore is now listed as a National Historic Landmark and has become a hive of residential education programs for visitors. A living museum that offers lodging facilities and outdoor recreational activities for guests, Great Camp Sagamore is a great location where you can enjoy the rustic beauty of the Adirondacks.
Even if the camp isn't open, which closes seasonally, the public still has access to the refreshing hike through the serene forest trail around Sagamore Lake.
You can also plan your Adirondack getaway around any of their famous festivals like fly fishing week, women's Fly Fishing Week, Craft Brewers Weekend, Hamilton County Birding Festival, Vanderbilt Weekend, and the Annual Gala.
Adirondack Experience & Museum
Another very popular Adirondacks attraction and educational center is the Adirondacks Experience & Museum. Also referred to as ADKX, this experience features boat and train exploration along with detailed exhibitions that tell stories about the wonderful Adirondacks region.
At the museum, you will meet talented boat builders and basket makers who have contributed to the incredible history of the Adirondacks region. You should also expect to explore the rich forest life filled with beautiful exotic birds and insects.
The museum's exhibition offers wonderful hands-on and digital experiences and has hundreds of objects on display. Experience virtual log drives and excitingly immersive audio and video sessions.
Outdoors, you can enjoy a fun-filled hike with your family along easy trails and explore the Adirondacks fire tower via an exhilarating climb.
You also get to take a boat and paddle around on Minnow Pond. The Adirondacks Experience and Museum features over twenty buildings set on about 120 acres of land.
Guests who visit this location will enjoy scenic views of Blue Mountain Lake so remember to keep your camera handy.
For a more exclusive family time, you can plan a picnic on the museum grounds. Visitors can easily get freshly packed snacks and meals at the onsite café.
Breweries, Wineries, Distilleries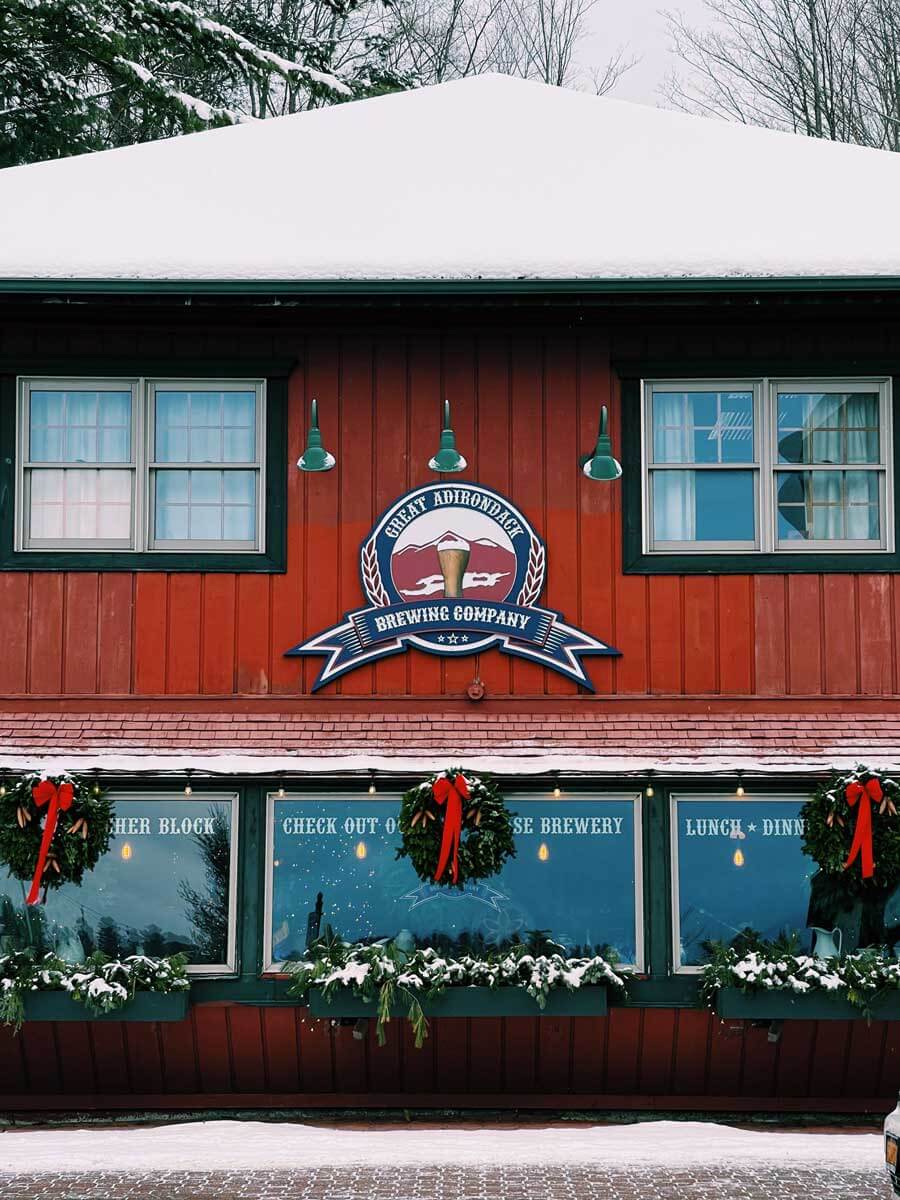 One of our favorite things to do on an Adirondack road trip is to hit up the different breweries, wineries, and distilleries along the way to bring back some liquid souvenirs or something to drink back at the hotel/cabin in the evening!
Hop unto the Adirondacks beer, wine, and spirit culture with a trip through the top breweries, wineries, and distilleries. With tons of winemakers, brewers, and distillers in the Adirondacks, it is one of the best regions to go brewery hopping.
Schedule a visit to any of the year-round wine tasting rooms during your Adirondacks vacation. Choose from a specially selected variety of delicious wines, carefully curated spirits, and handcrafted ales.
A few worth mentioning are Bolton Landing Brewing Company on Lake George who offers a fantastic selection of specially brewed craft beer.
The Great Adirondack Brewing Company in Lake Placid also offers a full sit down restaurant alongside their menu of craft brews.
Lake George Distilling Company in Fort Ann also offers delicious handcrafted spirits sourced from local ingredients.
If you are a wine lover, pay a visit to Adirondacks Winery in Lake George and enjoy delicious wines. They have tasting rooms open to the public at Lake George and Bolton Landing.
Whiteface Mountain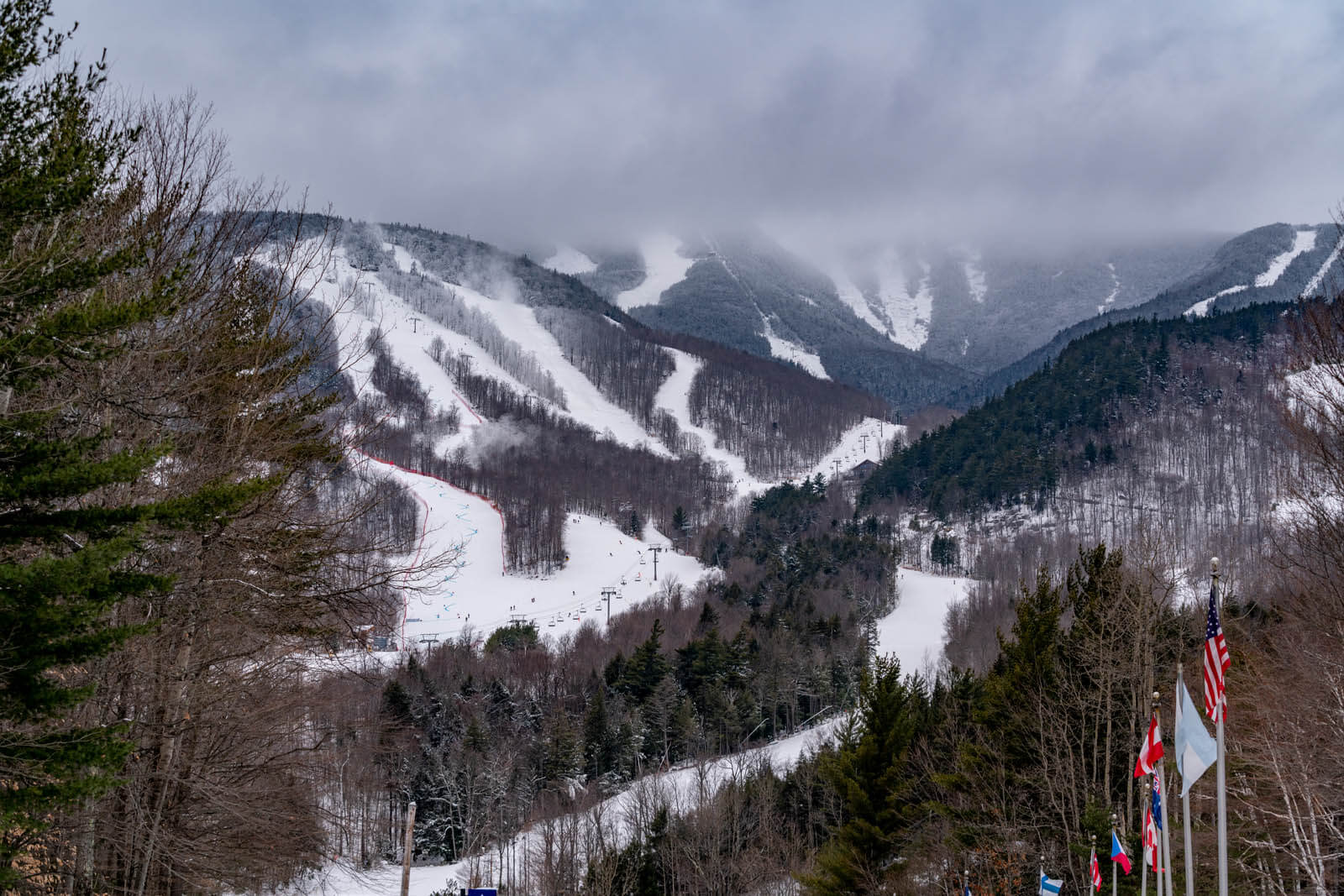 Located in Wilmington near Lake Placid is the fifth highest mountain in New York and an unmissable Adirondack attraction especially when visiting the Adirondacks in winter.
The summit of Whiteface Mountain offers a 360-degree scenic view of the entire Adirondacks region and was the location for the alpine skiing competitions in the 1980 winter Olympics and is only five hours drive away from New York City and Boston making it a great winter Adirondack road trip option for city folks.
This exciting location offers about 288 acres of skiable land and 53 acres of alpline or glades skiing. There are 87 well-kept comprehensive trails for hiking and the ski area's summit is elevated up to 4,867 feet. The longest trail on this resort stretches up to 2.1 miles and the average snowfall on Whiteface Mountain is about 190 inches, making it a popular snowboard and ski getaway.
Visitors interested in cross-country skiing can take the Nordic trails. If you do not have your own gear, you can head on to Bear Den Lodge or Main Base Lodge to rent hiking and skiing gear.
Ensure that you experience the gorgeous Cloudsplitter Gondola Ride on your Adirondacks vacation at Whiteface Mountain. This ride cuts an aerial path through the Adirondacks Mountains all the way to Little Whiteface's peak.
Whiteface Mountain has a top-notch ski school for beginners. There are also a variety of shuttles and lifts you can use to move around the mountain.
Whiteface Mountain offers a good number of restaurants that serve delicious intercontinental cuisine. Guests can enjoy exceptional dining experiences at breakfast, lunch, dinner, and even late night meals.
Better yet, what makes this one of the best things to do in the Adirondacks is that it's not just a winter spot, Whiteface Mountain also hosts events like Oktoberfest in the fall and has summer activities like hiking trails and the elevator to the top of the Olympic Jumping Complex.
But all in all, this is one of the best ski resorts in upstate New York!
Olympic Attractions around Lake Placid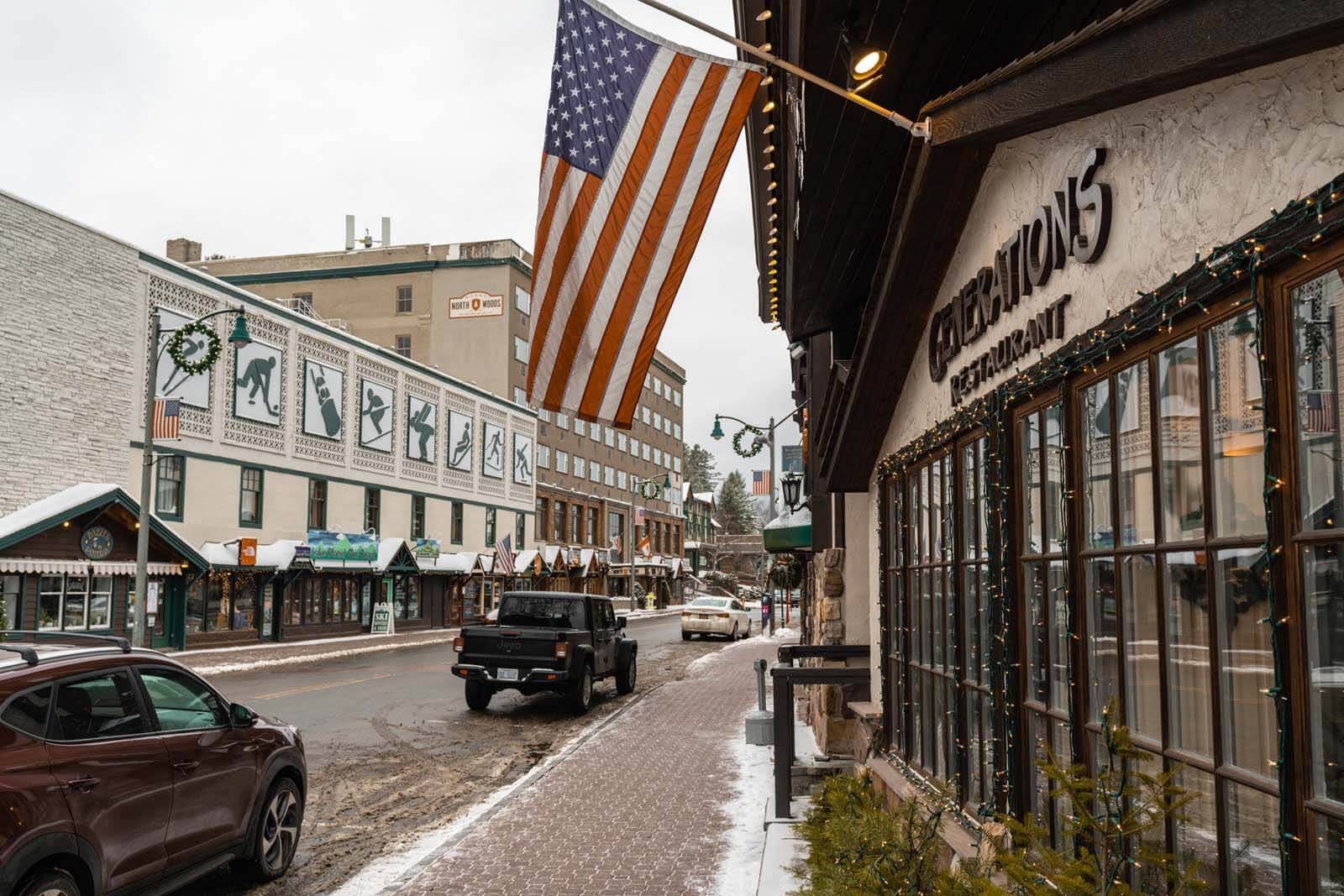 Lake Placid is well known for its history with the Olympics. This is why you should plan a visit to the Lake Placid Olympic Sites during your Adirondacks getaway and if you're coming during the colder seasons check out the best things to do in Lake Placid in winter for more ideas.
The Lake Placid Olympic Sites was originally built to host the 1932 Winter Olympics. It also hosted the 1980 Winter Olympics and has gone on to become one of the most exceptional Adirondacks attractions.
One of the awe-inspiring Olympic attractions on site is the 70 and 90 meter ski jumps that tower in the sky right next to the High Peaks. To get a full view of the jumps, you will need to take an elevator to the top where you can also have a bird's eye view of the Adirondack region.
There's a thrilling zip line ride that can bring you back down in a matter of seconds. Check out the longest mountain coaster in the US right here in the Adirondacks. When you take the ride, you can control the speed yourself as the coaster shuttles down the mountain. This coaster ride takes the route right next to the 1980 Olympic bobsled track. You are sure to appreciate the amazing views that come with this ride.
One other fun thing to do in the Adirondacks at the Lake Placid Olympic Sites is taking a tour of the Olympic museum. This museum features several exhibits including multimedia and memorabilia displays that preserve the legacy of the two Olympics held at these sites.
Enjoy the immersive, informative, and transformative experience during your visit to the Olympic museum. The museum is suitable for everyone including kids. You should also visit the Olympic Centre. This historic location is home to the 1980 hockey game where the US men's team won against the Soviet Union.
In 1932, Sonja Henie who was a 16-year-old figure skater also won a gold medal right at this location. Be sure to also check out the Olympic Jumping Center and the Olympic Training Center during your visit to the Olympic Sites on your Adirondacks vacation.
Lake Placid Olympic Center does not shut down in the summer. There are a series of activities available for visitors to participate in and enjoy. One of them is biking on Mount Van Hoevenberg. This biking trail offers stunning views and beautiful terrain perfect for riders of all levels. You can bring your own bike along or rent one on site.
Having hosted two Olympic Games is a huge accomplishment this destination is proud of and the fact that they have so many attractions based around it make it a great stop on an Adirondack road trip or Adirondacks getaway!
Covered Bridges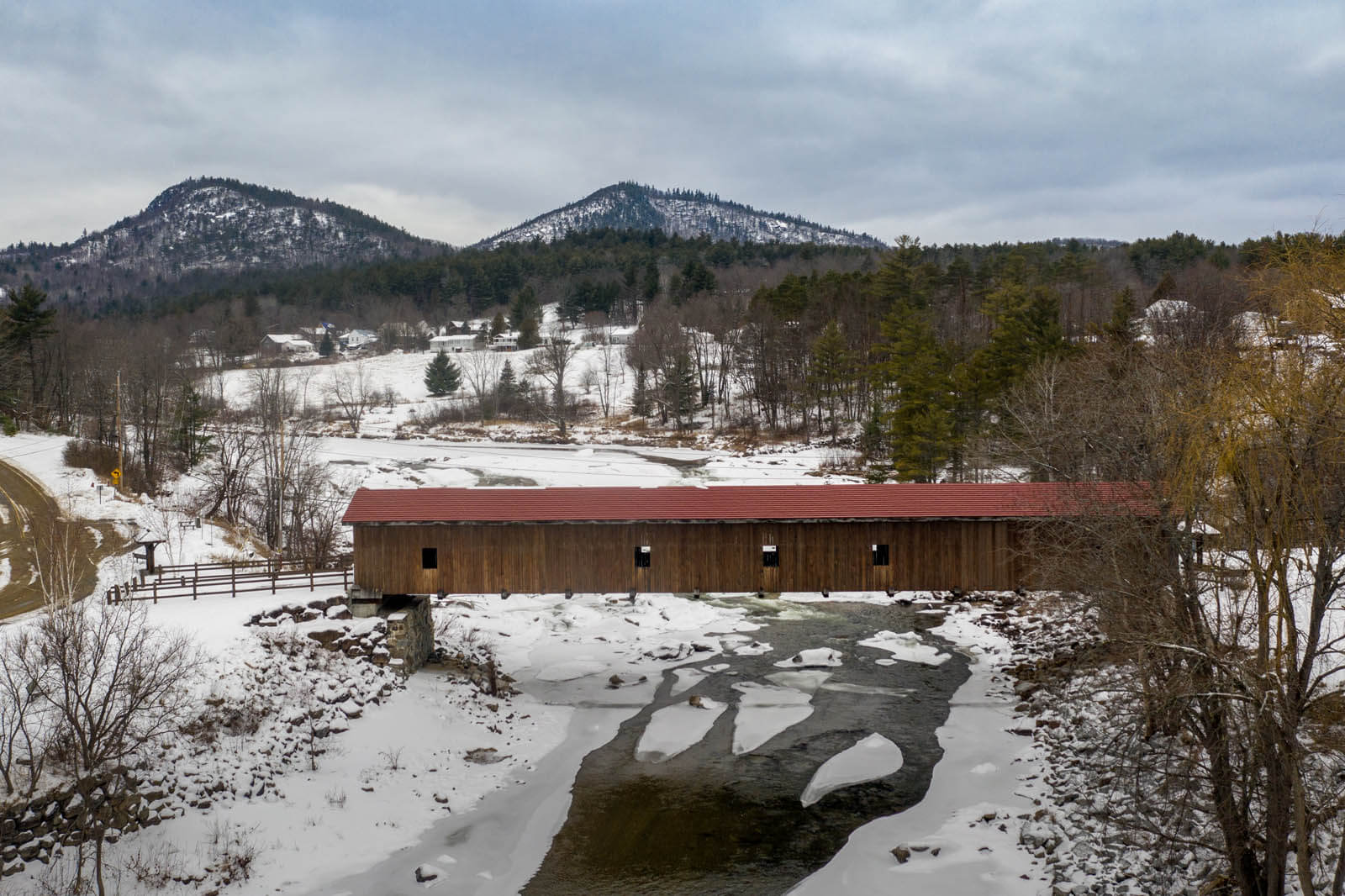 One of the best things to do on an Adirondacks road trip is to stop at the beautiful historic covered bridges of the region as you drive through the mountainous terrain between one charming town after another.
There are many New York covered bridges worth checking out including these that you should try to include on your Adirondacks road trip. There are seven covered bridges in the Adirondacks region, here are a few:
Copeland Covered Bridge: Built in 1879 with a queen post truss design, this bridge is about 35 feet long. It has two central supporting posts and was recently renovated to include new flooring, sideboard replacements and a new roof. Visitors who are looking for a great photo spot will love Copeland Covered Bridge as there also is a waterfall running right next to it and you can see it through the window in the bridge or from outside of the bridge.
Jay Covered Bridge: This is one of the most popular historic covered bridges in the region and close to many of the best Adirondacks getaway spots like Lake Placid in the small town of Jay. Built by George Burr in 1857, Jay Bridge features a Howe truss design. This unique bridge can be found in Essex County and runs across the east part of the Ausable River.
Lake George RV Park Bridge: Located outside the Blue Line at Lake George, this small covered bridge connects the RV Park to the Bike Trail at Warren County. It is built over a railroad track and is another great location for pictures. While this isn't the most exhilarating of the covered bridges in the area, it's a great photo stop if you happen to be driving nearby on your Adirondack road trip.
Ticonderoga Kissing Bridge: This is one of the most charming covered bridges in the region and a cute spot to get a couples photo on an Adirondacks getaway. Located over the La Chute River in Ticonderoga not far from the Ticonderoga Fort, a very popular historic site and Adirondacks attraction, is this adorable covered foot bridge. There's also a manmade waterfall in the park here too.
Three Brothers Bridge: This covered bridge is a beautiful 92 feet bridge that connects the Three Brothers islands. Located in Bolton community, this bridge was built in 1907 by the Trask Family. Visitors can take a boat and paddle around Lake George and enjoy beautiful views of the bridge from the water.
Visit Historic Forts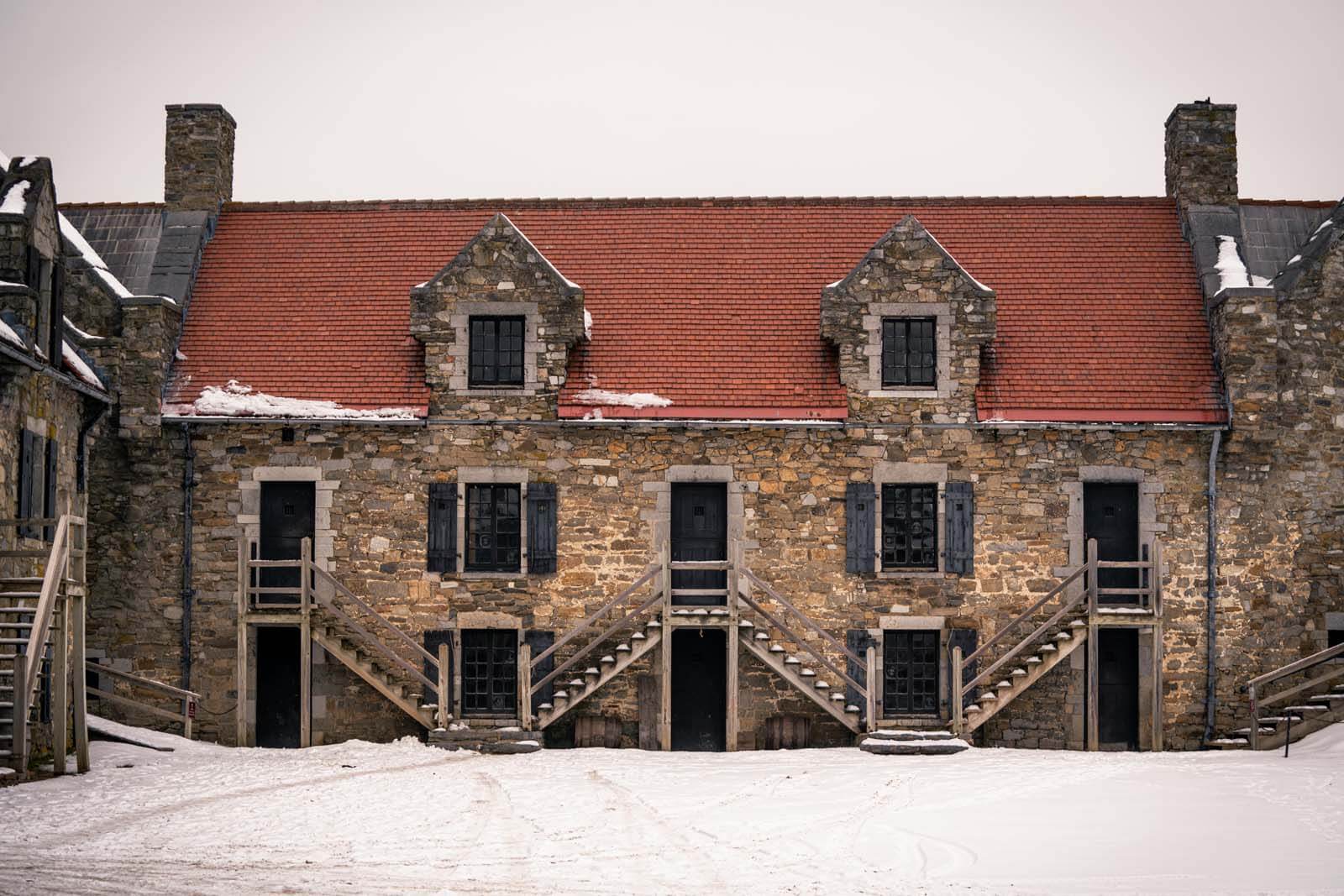 If you love to learn about the history and battles that took place in the United States, these historic forts should be included on your Adirondacks road trip.
Home to several historic forts and hallowed battlegrounds, an Adirondacks vacation must include a visit to at least one of these forts where you can learn about the colonial past and explore military museums. Some of the famous historic forts in the include:
Fort Ticonderoga: Built in 1755, this fort has actively housed two great wars. Spanning over 2,000 acres, Fort Ticonderoga houses a majestic garden and vast weapon collection. Using a series of dynamic historical interpretations and exhibitions, it is the only site in America that tells a new historic story each year. Enjoy daily reenactments, see the huge collection of 18th century cannons and explore the entire grounds both by land and by water when you take the Carillon Cruise boat.
And if you're a Hamilton fan, a few of Alexander Hamilton's personal belongings are housed in the museum here including his sword.
Fort William Henry: Another one of the best things to do in the Adirondacks and an easy addition while exploring the best things to do in Lake George is Fort William Henry.
Fort William Henry was built in 1755 and portrays the role of the fort set in the year 1757 in the French and Indian War. A visit to this fort will expose you to the experiences of the soldiers who risked their lives to defend the colonies from French invaders.
A tour of this historic fort affords you access to live military demonstrations as well as conversations with a Ranger about different tactics invented by the Native Americans that are still being used to fight wars today.
Hiking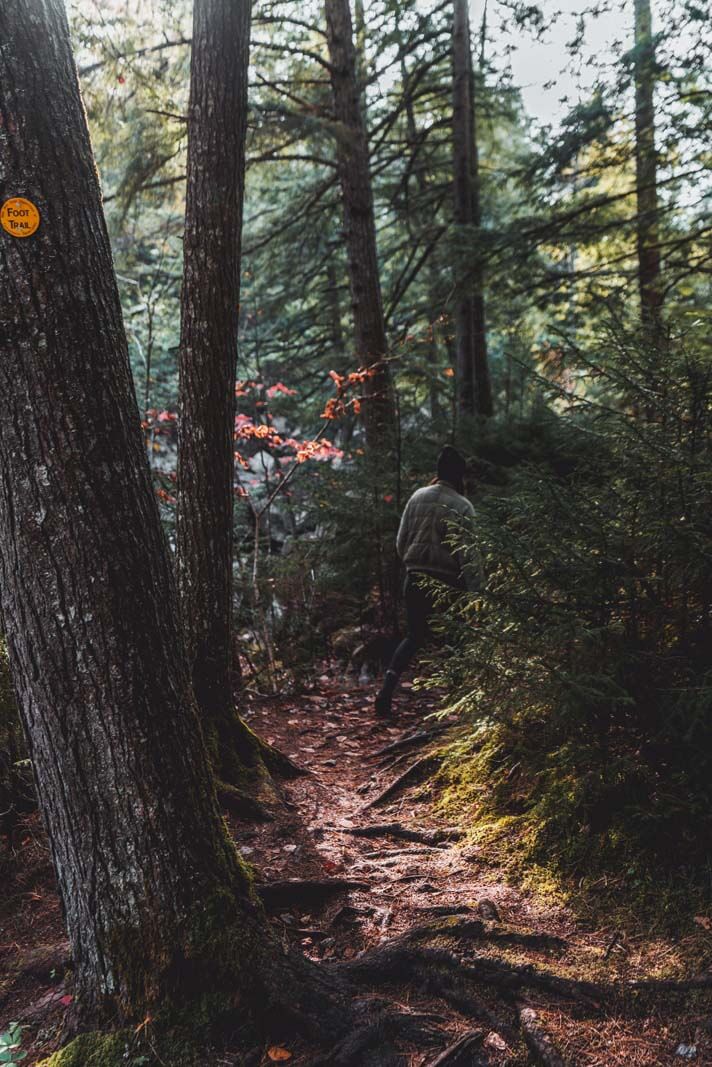 This is a no-brainer addition to any Adirondacks road trip or getaway. Planning an Adirondacks getaway has to involve plans to hike the glorious Adirondacks trails. The Adirondacks region has tons of hiking trails that are suitable for beginner to advanced hikers and adventure junkies.
Many of the best hiking trails in the Adirondacks offer mountain views, waterfalls, forest hikes, and more. Depending on the time or season you choose to go, the trails might vary from muddy to slippery and downright daring requiring extra safety measures to be taken.
Some great hiking trails you can check out during your Adirondacks vacation are:
Hadley Mountain: This is 3.4-mile hike is perfect for beginner hikers. The summit of this trail promises a historic treasure in the form of one of the few restored fire towers available to visit in the region. You can climb the tower to have better views from atop the mountain.
Owl's Head Mountain Trail: This hiking trail is one of the best things to do in the Adirondacks if you're planning to explore or base around Lake Placid.
It does not have as many hikers crawling around the trail every season and this makes it perfect for beginner hikers and those looking to enjoy a quieter, exclusive hiking experience. This trail is about 1.2 miles and passes through some private properties.
Black Mountain: Located near Huletts Landing, this trail offers a historic fire tower and scenic views of the three ponds in the region: Lapland, Black Mountain, and Millman. The Black Mountain trail also connects Sleeping Beauty Mountain and Buck Mountain and is an excellent trail for beginner hikers.
Cat Mountain: If you have gone past the beginner stage and are looking for something more challenging then this trail is for you. Located near Bolton Landing, the Cat Mountain hiking trail features different rough terrains. When you get to the summit, you will experience a sweeping 270-degree view of Lake George. This trail runs 6 miles roundtrip.
Shelving Rock Falls: Seeing a waterfall during an exhilarating hike is like icing on a cake. Absolutely delicious. It is even better because the Shelving Rock Falls trails is beginner-friendly. Enjoy a thrilling zigzag hike on this trail that takes you through an old carriage road.
Lake Champlain
One of the best things to do in the Adirondacks is visit Lake Champlain, which if you ask me is breathtaking in the winter, but that could be biased since that's when we visited Lake Champlain!
Lake Champlain offers tons of fun winter activities. Check out the over 40 miles of trails perfect for skiing, snowshoeing, sledding, and other fun winter outdoor Adirondacks activities along with ice fishing.
You can also take the CATS trail which offers short and easy routes that feature incredible vistas of Lake Champlain and the Adirondack High Peaks.
Of course in the summer months, you can find more hiking opportunities, bird watching, paddling, and other fun lake activities.
Lake Champlain houses an abundance of history and the rich heritage of the Adirondacks region. It has seen countless revolutionary battles, abolitions and fights for freedom and even has a legendary pre-historic monster that locals call Champ.
Lake Champlain is also close to other Adirondacks attractions like Fort Ticonderoga.
Your Adirondacks getaway is incomplete without a sumptuous Upstate New York dining experience and Lake Champlain offers this. With several top-notch restaurants with farm-to-table experiences and lake views, you don't want to miss out. Of course, there is a plethora of drinking options to choose from at all Lake Champlain restaurants and bars.
And if you're feeling extra adventurous or have extra time on your Adirondacks getaway, you can always head to the other side of Lake Champlain and enjoy Burlington, Vermont!
Wild Center
One of the best things to do in the Adirondacks for catching glimpses of the local wildlife, exhilarating forest walks, and canoeing can be found at the Wild Center. This multifaceted recreational center is a gem in the heart of the Adirondacks.
Housing the National Museum of the Adirondacks, the Wild Center is known to be filled with history, adventure and culture. It is an environmentally friendly destination that offers guests the opportunity to learn about the natural world and enjoy the beauty of nature.
Located in Tupper Lake, Wild Center is a great Adirondacks attraction and is one of the top locations to visit during your Adirondacks vacation. With an indoor space of over 54,000 square feet, this home of adventure offers exciting live exhibitions including multi-media shows, live otters, porcupines, and in-depth information on maple syrup production.
Outdoors, the Wild Center offers adventurous beginner-friendly trails perfect for hiking and walking. Join the Wild Walk tour and explore beautiful trails filled with twig tree houses, swinging bridges, and a massive spider web where hikers can hang on and bounce around.
The Wild Center has a café that serves delicious hot beverages and a museum store where you can buy one or two keepsakes.
Visit The North Pole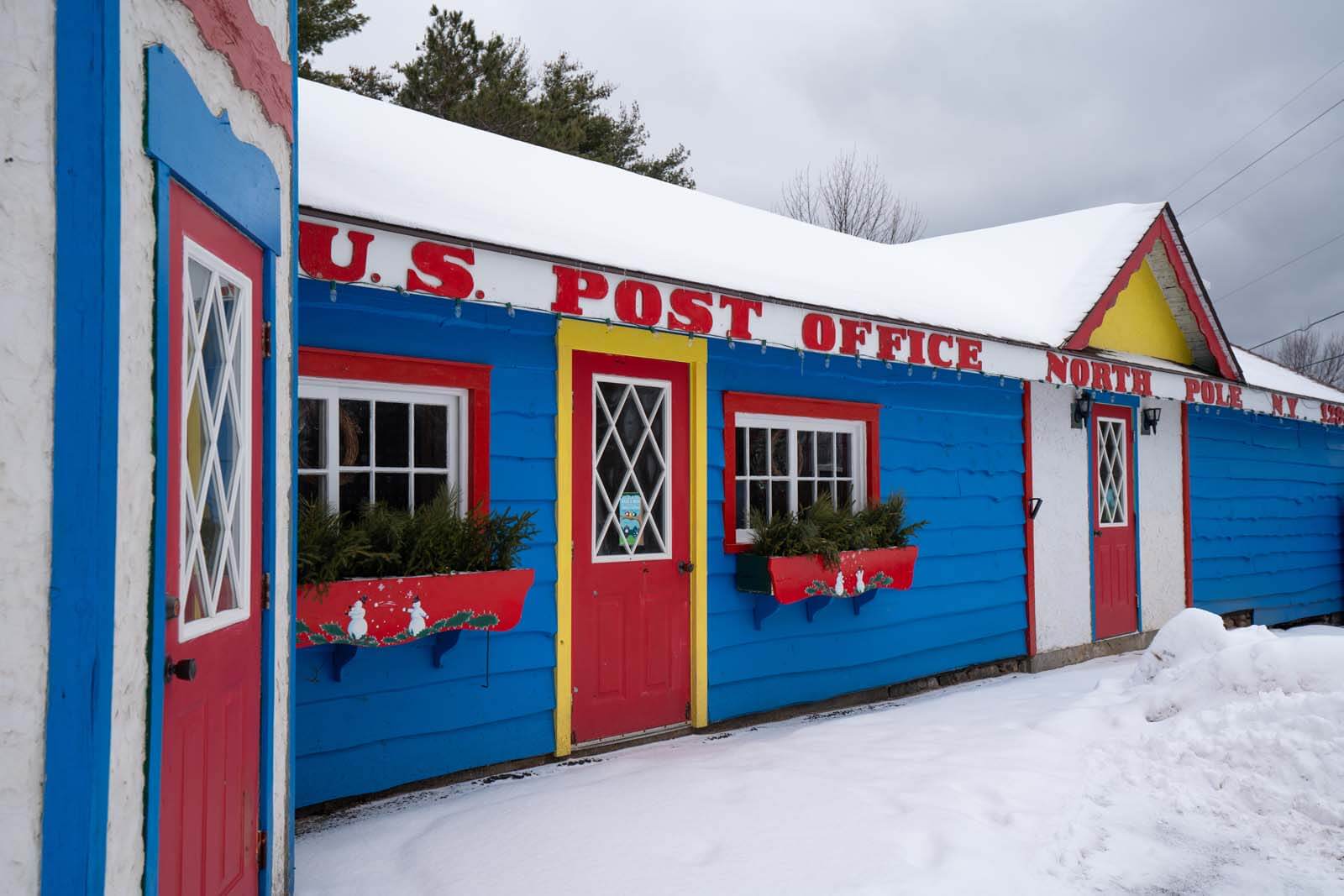 Located near the towns of Jay and Wilmington, the North Pole is a hamlet that is home to Santa's Workshop. Opened on July 1, 1949, this is one of the oldest "theme parks" in the United States.
Santa's Workshop was built by Julian Reiss, a Lake Placid businessman. He had told his daughter a thrilling story about a baby bear who discovered Santa Claus and his North Pole Workshop. His daughter's pleas to visit this magical wonderland prompted Julian to build a summer home for Santa Claus that would be made available for children.
Upon completion, this unique location began to attract tourists and families. With its legendary storybook characters and friendly animals walking about freely in the park, there is little wonder why Santa's Workshop quickly became a special attraction for kids and families.
If you have plans to bring your kids on your Adirondacks vacation, you should definitely make plans to visit Santa's Workshop. Spend the day exploring the charming, rustic, and whimsical workshop.
Enjoy a visit to Santa and Mrs. Claus' home and spend some time playing with the live reindeer in their barn. Kids can also ride the steam train, the carousel, and other fun kiddies ride. Also, remember to check out the Nativity Pageant and puppet shows before leaving.
This is one of the seasonal Adirondacks activities, be sure to check it make sure they are open during your Adirondacks vacation!
Lake Activities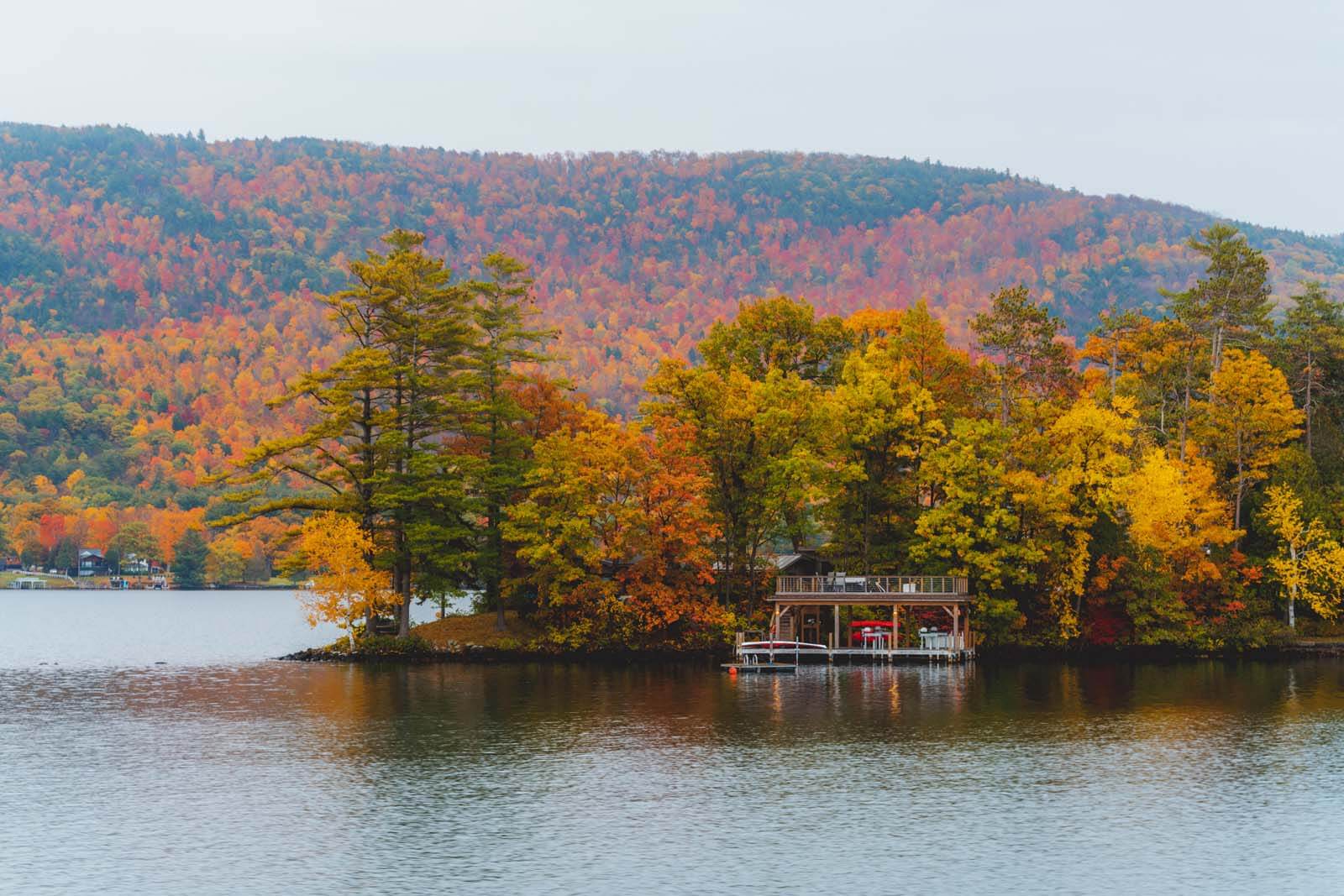 One of the best things to do in the Adirondacks is to enjoy the activities on the water at any of the several lakes in the region.
Taking a boat out on the water and spending the day exploring the beautiful waters and sights of the Adirondacks is one of the most wholesome things to do in the Adirondacks.
There are several lakes available and open to the public. All you need to do is pack up some food, rent a boat and get on the lake for a fun day on the water!
Since you're on an Adirondacks vacation, chances are you don't have a boat, here are a few of the major local boat rental companies so you can enjoy a day out on a lake:
Captain Marney's Boat Rentals: Located in Lake Placid, these boat service outfitters offer rental services for boats, kayaks, and canoes. They also have water sports equipment and offer you options to suit your budget and needs.
Clark's Marina: Clark's Marina is located in Inlet and offers boat sales and rental services. They also offer other marina services including boat storage during the off-seasons.
Blue Mountain Lake Boat Livery Inc.: This was established in 1908 and has since been the go-to company for boat services in Blue Mountain Lake. They offer sailboat rentals, boat tours, and marina services.
If you would rather join a boat tour, there are several available for visitors in the Adirondacks. You can join a boat tour from the Adirondacks Seaway to the Adirondack Coast. This tour will take you through beautiful scenery and along some of New York's stunning shorelines.
Lake George also offers several cruise options. You can go on a pet-friendly excursion on a beautiful wooden boat and enjoy dazzling firework displays on this tour or join one of the scenic historic steamboat tours.
On a misty fall day, you can also experience the luxury of a charter cruise around Blue Mountain Lake. Take a historic tour on this cruise and enjoy the breathtaking beauty of the Blue Mountain Lake region.
You can also enjoy the elegance of W.W. Durant, Raquette Lake Navigation's cruise ship. Experience fine dining aboard this small cruise ship as you sail along 100 miles of shoreline. This will make for a very romantic evening on your Adirondack getaway.
See the Adirondacks from Above
One of the most unique and thrilling things to do in the Adirondacks is going on a balloon ride. Escape the daily routine activities and opt for a sky-high adventure on any of the many hot air balloon or seaplane rides.
Flying on a hot air balloon affords you the opportunity to experience the glorious views of the Adirondacks from above. You also get to enjoy the feeling of freedom and the thrill of adventure as you sail through the air on a massive colorful balloon.
If you choose to tour the Adirondacks by air on a seaplane, you will experience the thrill of soaring over miles of lush forest and mountains. Head over to Long Lake where one of the only two seaplane charter services in the Adirondacks is located. Check out Helms Aero Service and enjoy a 20-minute ride on a seaplane enjoying a grand, birds-eye view.
Visit the Charming Towns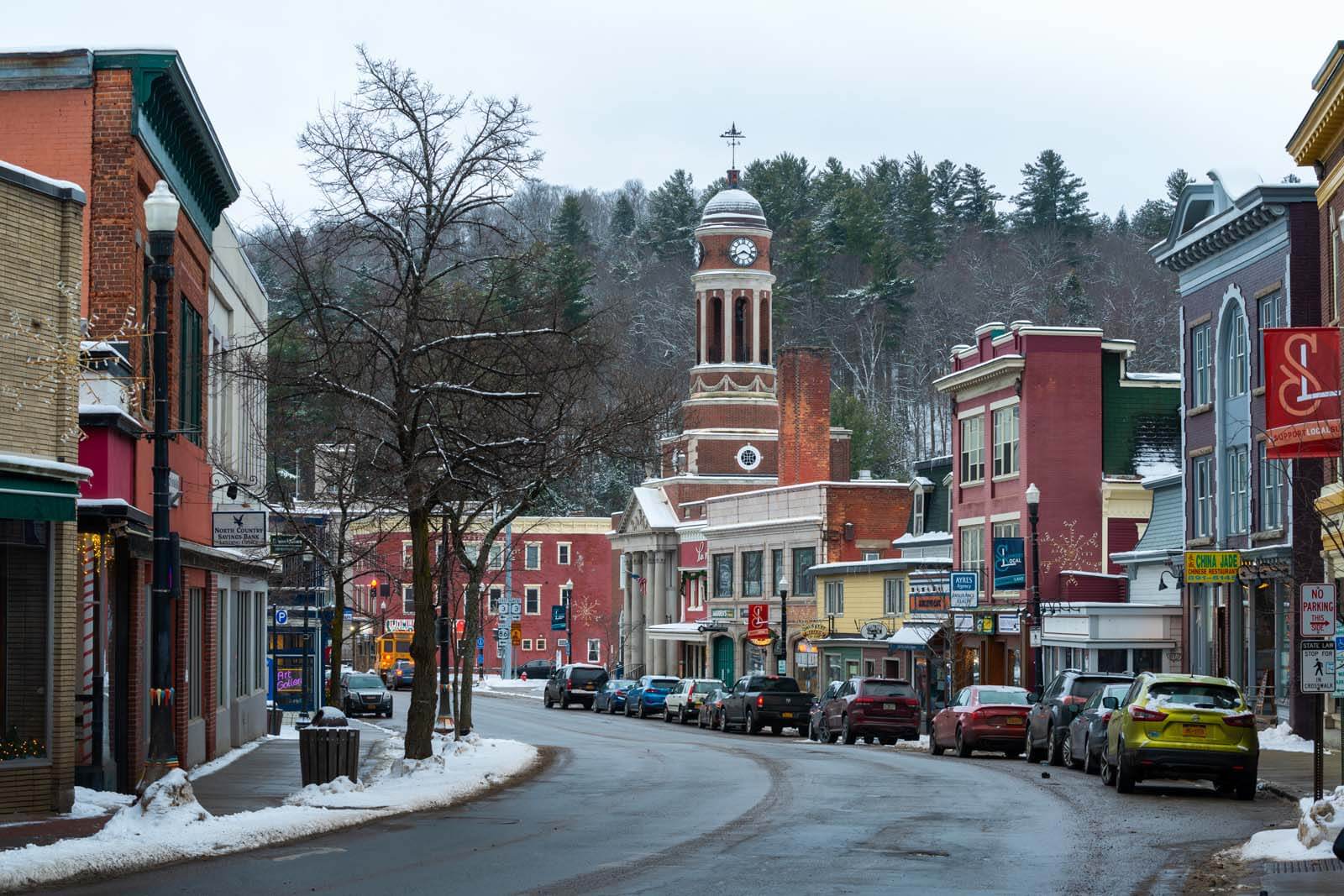 One of the best things about doing an Adirondacks road trip is stopping at the many charming towns in the Adirondacks or even staying in them!
A few of the most popular towns that have already been mentioned multiple times in this guide to the best things to do in the Adirondacks are the resort towns of Lake George and Lake Placid. But, there are so many more that are worthy of stopping for a meal, shopping, or just getting to know these quaint places!
A few of our personal favorites were the town of Speculator for a meal, stop at Speculator Department Store and other cute shops including antique stores in and on the outskirts of town or drive through the scenic town of Long Lake for a bite to eat, pick up a few groceries at the town's general store, and enjoy the views.
Saranac Lake also has great options for shopping, dining, and scenic views along with a fascinating history tied to wellness during the polio outbreaks.
Each town offers its own unique things to do and stopping at the random towns you drive through are all a part of the Adirondack getaway experience!
Where to Stay on your Adirondacks Road Trip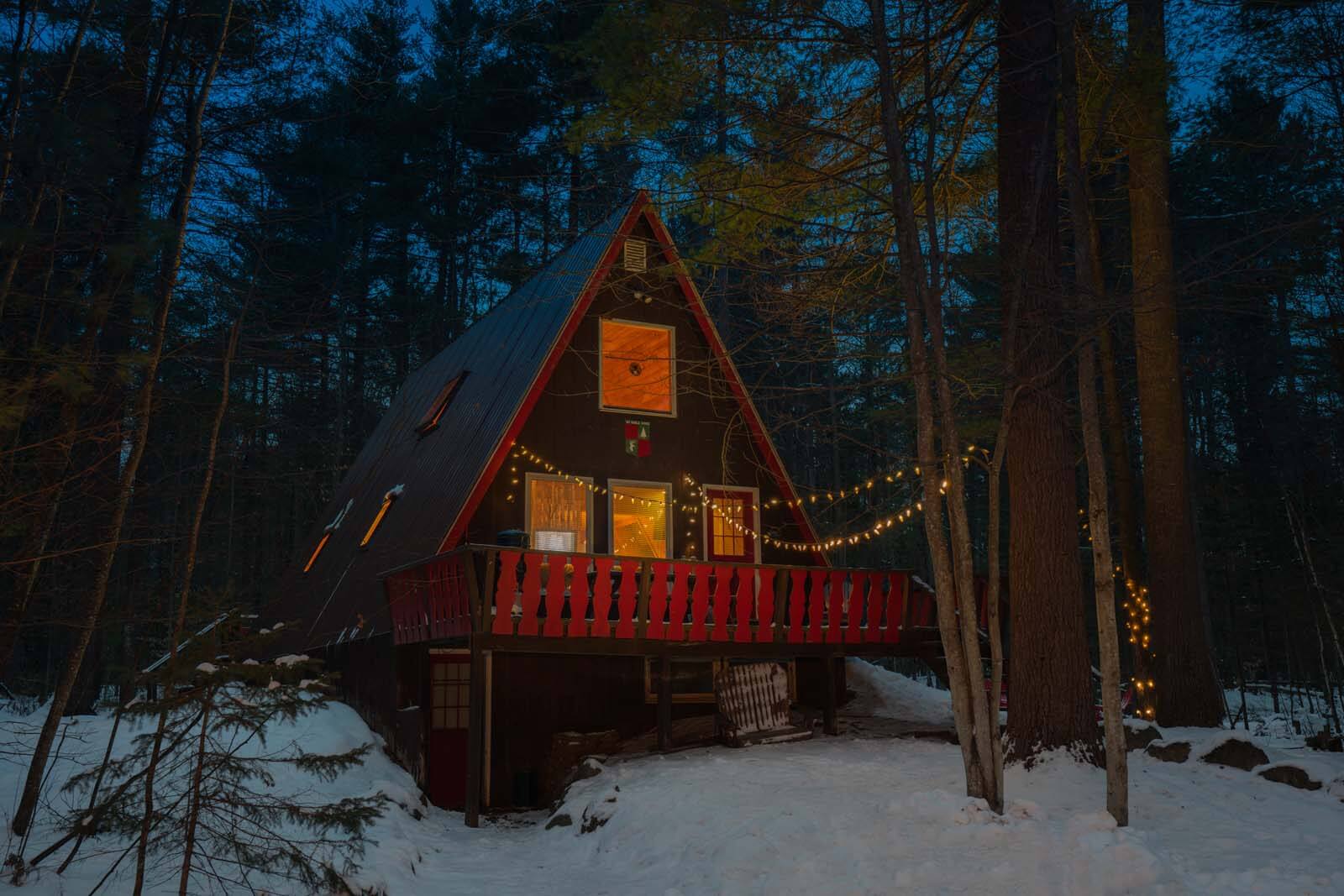 Picking where to stay in the region during your Adirondacks road trip or Adirondacks vacation could vary depending on how you choose to explore the region. If you have time on your hands and are staying up to a week, the location doesn't matter as much since you will be driving and exploring the region.
If you have a shorter visit, we recommend picking somewhere to stay on your Adirondacks getaway near the popular resort towns like Lake George and Lake Placid, or a house or cabin rental that's a short drive to where you plan on spending most of your tiem.
To help you narrow down a few of the best spots to stay, we have listed some personal recommendations that we've either researched or stayed at ourselves.
Be sure to also check out our guides like the best New York cabins for more ideas!
This gorgeous A-Frame cabin, is located in Jay which is a great base for any Adirondacks vacation and a short drive to Lake Placid and Whiteface Mountain where you can find many activities and just a short drive from Ausable Chasm. This cabin can sleep up to 6 individuals and comes with board games!
Another great cabin perfect for 2-4 guests is the Ruby Hill Cabins in Wells on Lake Algonquin which is just a short drive to many of the beautiful outdoor activities and not too far of a drive to Lake George.
Another dreamy cabin perfect for your getaway to the Adirondacks is this cabin and property at Camp Garoda that also has a fireplace and a jacuzzi to warm up to on those chilly winter evenings with a great location next to Caroga Lake that comfortably sleeps up to 4 guests.
One of the most famous places to stay in the Adirondacks any season is located on an island in Lake George as mentioned earlier in this guide. The luxurious and famous Sagamore Hotel is a premier destination and property was named by Architectural Digest as being one of the most beautiful hotels in the Adirondacks as well as being an official AAA Four Diamond recipient.
This hotel dates back to the 1880s and is designated as a National Register of Historic Places. Stay in one of their condos, standard rooms, luxury suites, or a private lodge overlooking the gorgeous Lake George. Book here.
One of the best places to stay during an Adirondack winter vacation if you plan on doing any skiing or snowboarding is at the world-famous Whiteface Lodge in Lake Placid. They have several styles of rooms to choose from, a spa, heated indoor/outdoor pool area, and other great amenities for guests at this 4.5-star resort not to mention a great location. Book here.
Another great, AAA Four-Diamond hotel and member of the Small Luxury Hotels of the World located in Lake Placid, and a great base for exploring the Adirondacks, is the Mirror Lake Inn. Get a gorgeous room with a balcony overlooking the mountains and Mirror Lake with a crackling fireplace to cozy up to at nights.
There's a luxury spa on-site and you can walk to all the attractions and things to do in Lake Placid right from this resort which is just a short, 10 minute drive to Whiteface Mountain if you are also hoping to hit the slopes. Book here.
---
Enjoyed this guide to the best things to do in the Adirondacks on an Adirondacks road trip or Adirondacks vacation? Bookmark for later or share the love below on Pinterest!