It's no secret we enjoy a photogenic destination. One thing that blew us away on our recent Arizona getaway was how many stunning Tempe photography locations there were! From architecture to the majestic desert scenery, we were introduced to Tempe with one postcard-perfect scene after another.
Located just outside of Phoenix offering a plethora of outdoor activities, culinary experiences, and sunny weather to enjoy, Tempe is also home to one of the most beautiful, architecturally speaking, universities in the United States, ASU Tempe Campus.
We were lucky to have had a few days to explore the best things to do in Tempe, Arizona and we came home with hundreds of photos and plenty of unforgettable experiences and memories that make this a destination we are excited to return to again in the future.
Since we are a photo-snapping duo, especially Scott, we wanted to share some of our favorite Tempe photography locations we enjoyed on our trip! Whether you're looking for the best Tempe Instagram spots, an epic sunrise or sunset location, or the next place to feel inspired creatively – this guide is for you.
Inside this guide to Tempe photos spots, we include some of our favorite viewpoints, buildings to photograph, and outdoor locations you don't want to miss including Papago Park.
Disclaimer: This post was done in collaboration with Tempe Tourism Office, as always all opinions are our own!
Our Favorite Tempe Photo Spots
Hole in A Rock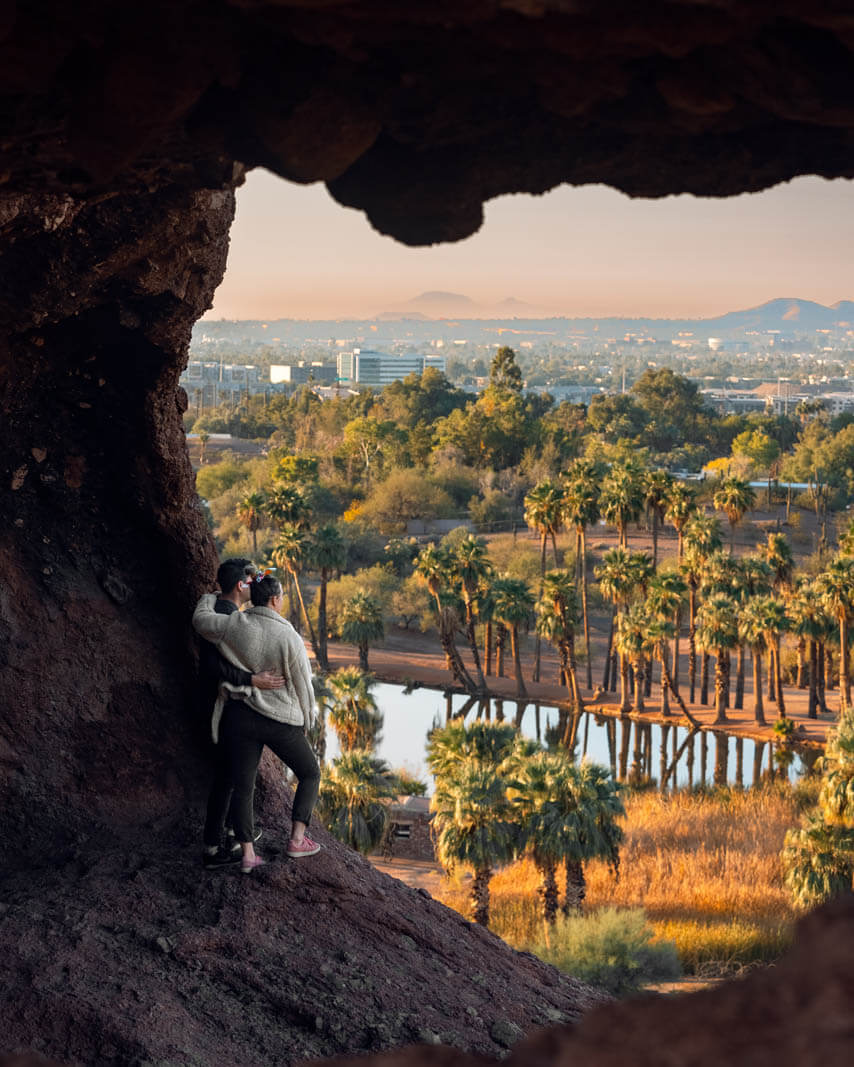 Without a doubt, one of the best Tempe photography locations is the Hole in a Rock hike in Papago Park just outside of the city. As a matter of fact, you'll see that Papago Park is home to many of our favorite Tempe Instagram spots and photography locations.
The Hole in the Rock hike is incredible not only to see in person but also offers a lot of options for photography. The 'hole in the rock' part is a geological hole formation in a sandstone hill that offers panoramic views of not only Papago Park but Tempe and Phoenix too, not to mention a natural frame you can use when composing your images.
The hike up is really easy, follow the path behind the hill and it's less than a 5-minute incline to the top where you're rewarded with your picture-perfect views.
This Tempe photography location is especially beautiful in the morning light or if you can arrange to visit a sunset, the light is also great for photography during the golden hour and as the sun goes down.
We took our photos about an hour after sunrise. You can easily plan to do more photos around Papago Park or come back at different times of the day. It's a pretty easy location to get to by car being around a 10-minute drive from downtown Tempe whether you have your own car or you use a rideshare app as we did.
Governor Hunt's Tomb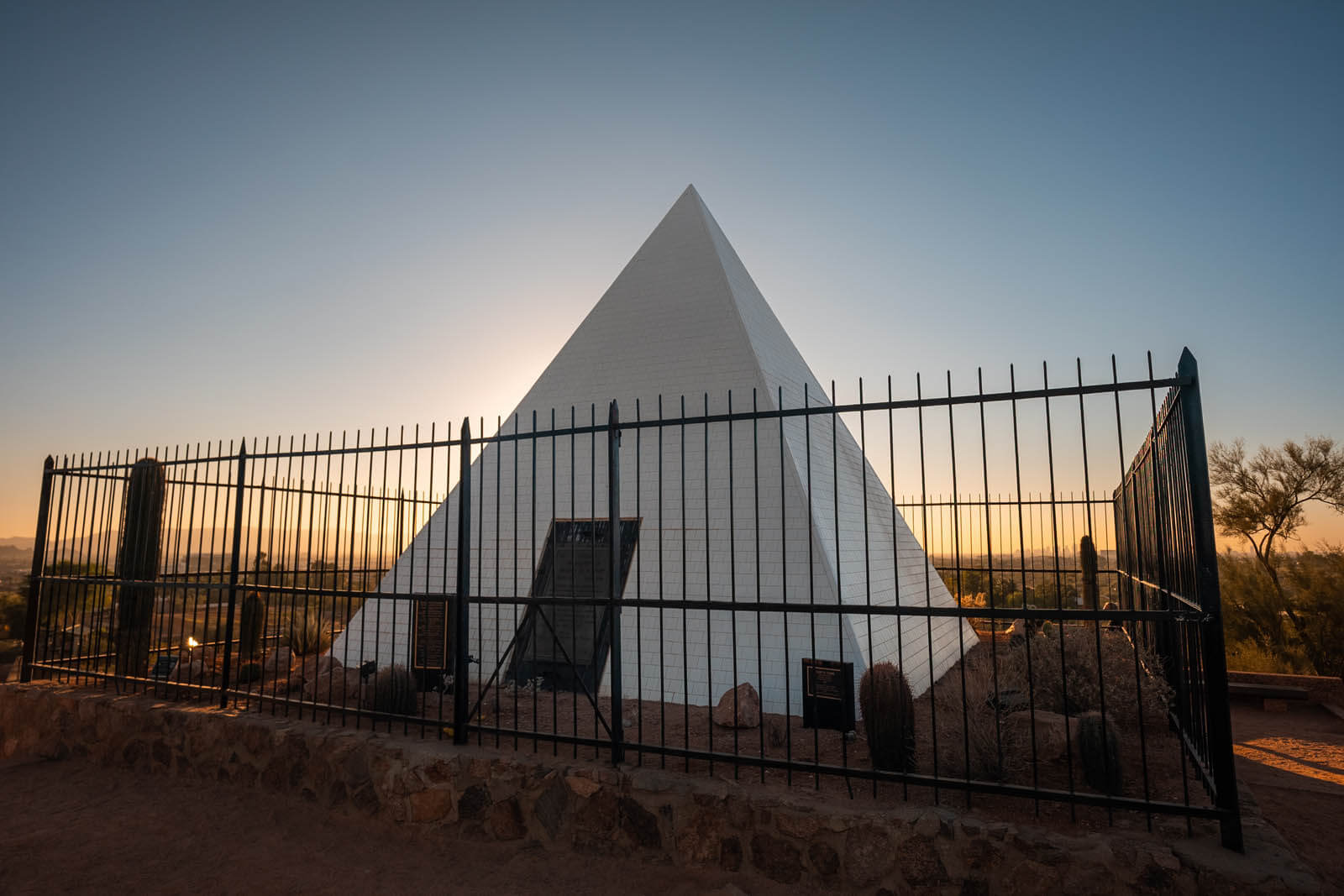 A slightly unconventional Tempe photography location, but still very incredibly beautiful, is the view from Governor Hunt's Tomb in Papago Park.
This tomb and memorial in the picture-perfect Papago Park is where Arizona's first Governor, George W.P. Hunt, and his family are buried along with a memorial in the white pyramid tomb structure perched on a hill overlooking the rest of the park, the Phoenix Zoo, and even part of the Greater Phoenix area.
The location is in the southwest area of Papago Park and you have options to walk, hike, drive, or bike up to this point once you're in the park.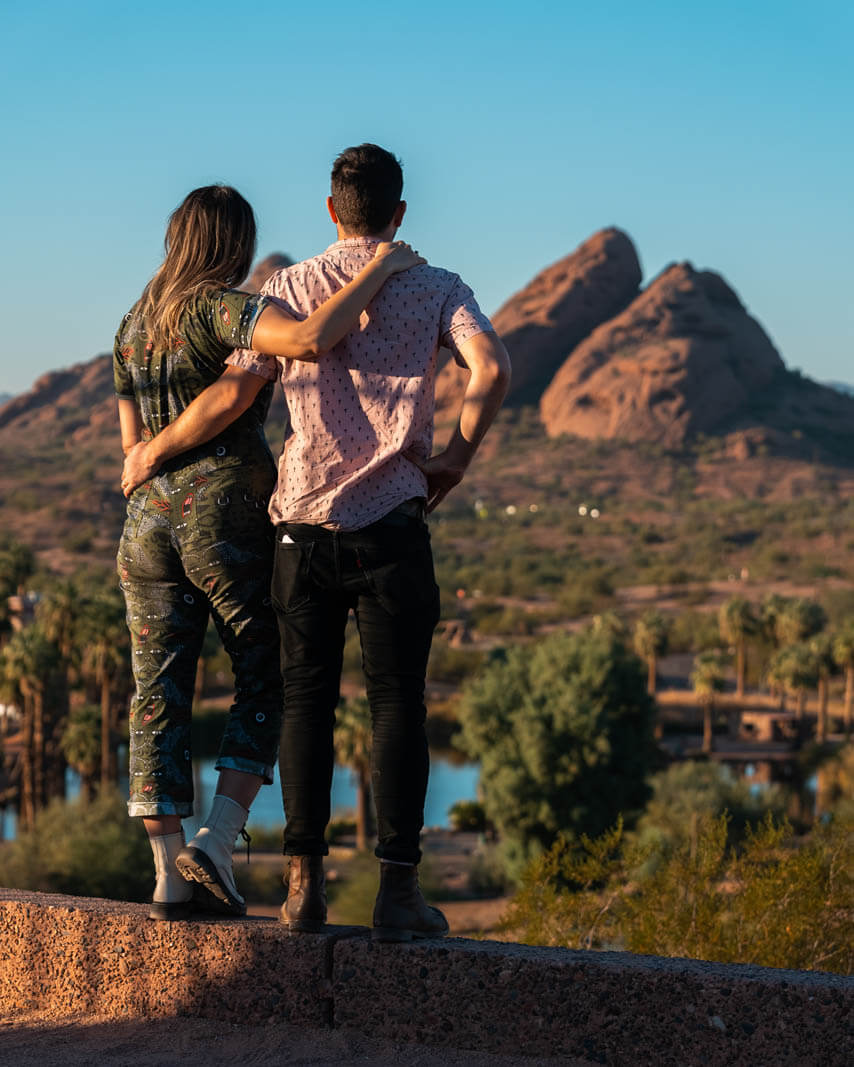 The tomb itself is an interesting photography subject with the backdrop of the desert terrain. For additional views, stand or sit on the ledges which offer more interesting vantage points for your Tempe Instagram photo locations!
Desert Botanical Garden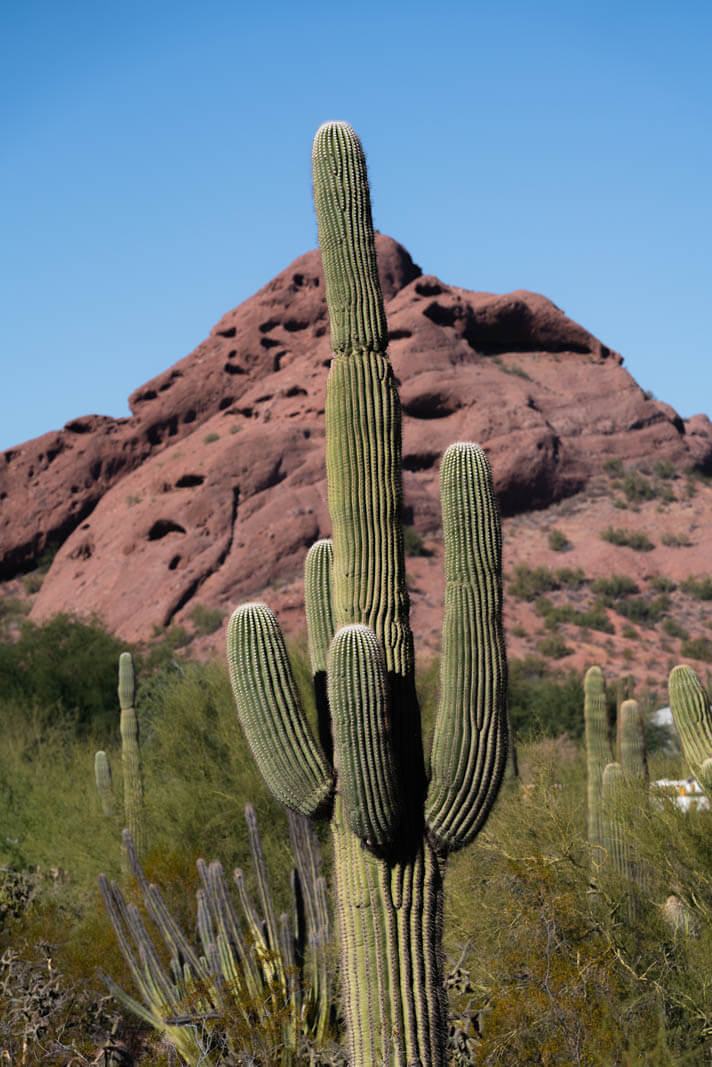 One of our absolute favorite places we went to also happens to be one of the best places for Tempe photography because every single square inch of the Desert Botanical Garden is full of desert beauty!
Located in Papago Park, the Desert Botanical Garden is filled with beautifully curated desert trails featuring the unique biodiversity of the Sonoran Desert including the saguaro.
Plan on spending at least a few hours on your visit just to walk through all the trails with photo stops along the way and see if you can spot the unique and rare crested saguaro along the Plants & People of the Sonoran Desert trail.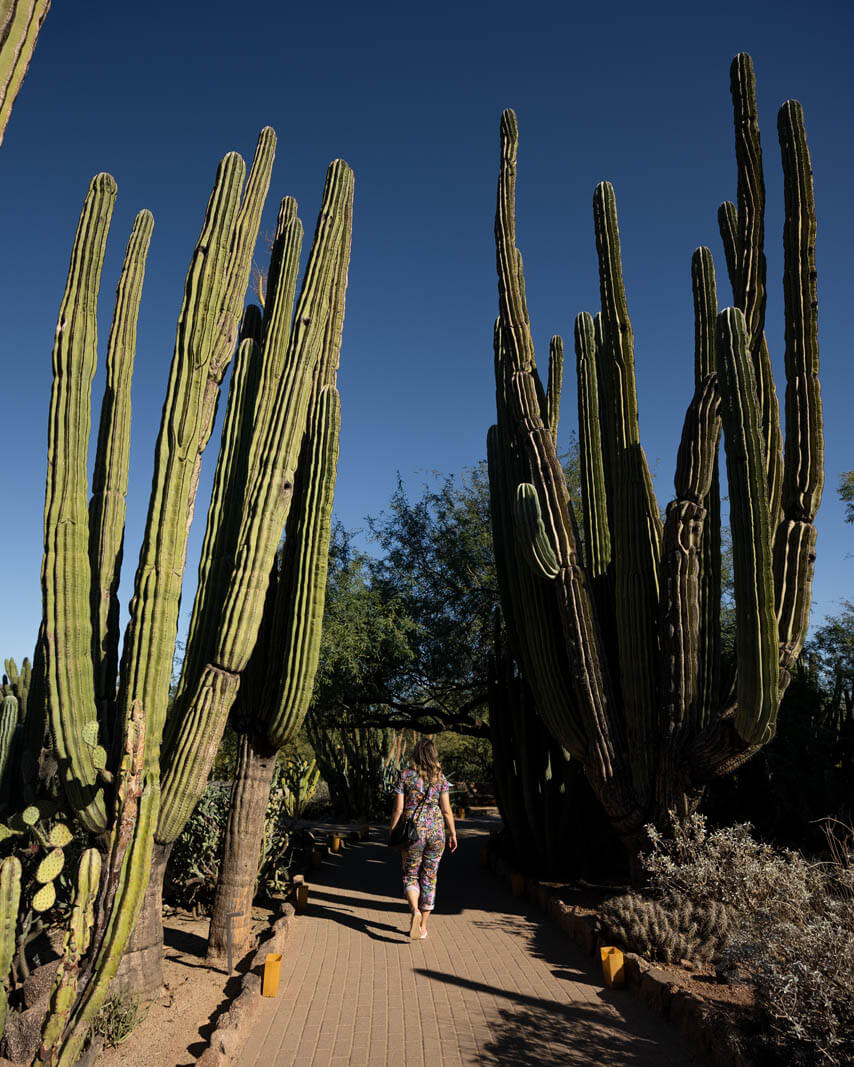 Another favorite trail of ours, although they all offered something special, was the Desert Discovery loop where you can find some of the first of the collection that came to be the Desert Botanical Garden including the towering organ pipe cacti next to Webster Auditorium.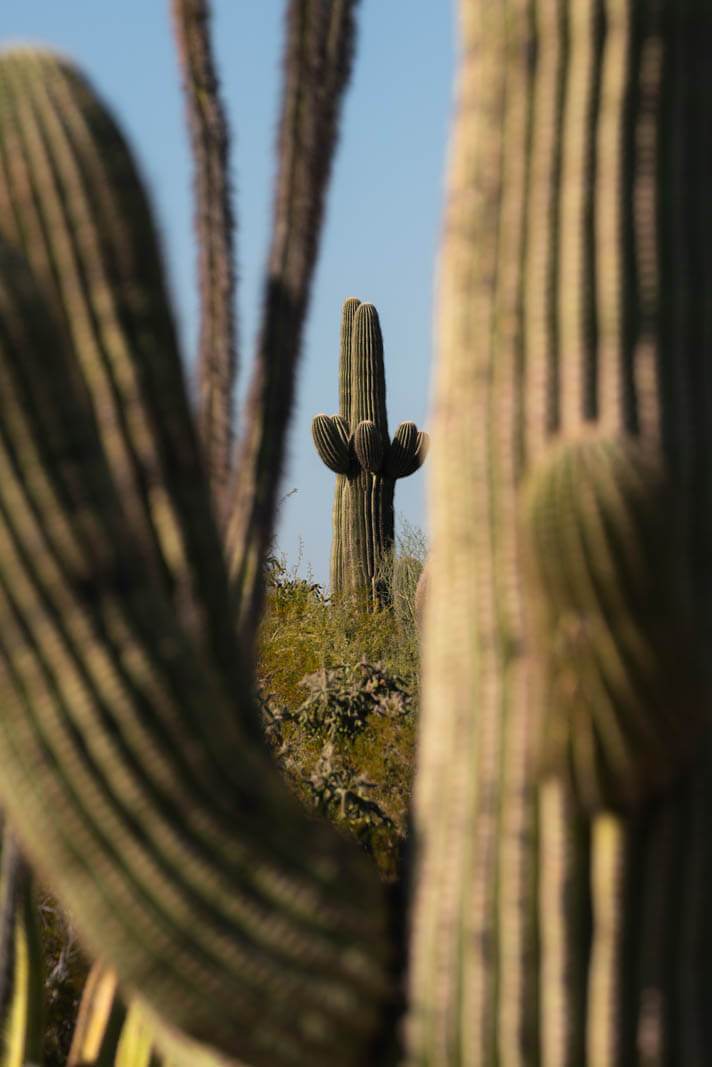 This is a great Tempe photography location to capture those gorgeous saguaro only found in the Sonoran Desert as well as check out any special exhibitions that are happening during your visit.
During our visit in December 2021, we were able to experience the Chihuly in the Desert exhibit featuring glass sculptures throughout the desert landscape featured in the botanical garden by famed American glass artist Dale Chihuly for a truly one of a kind experience.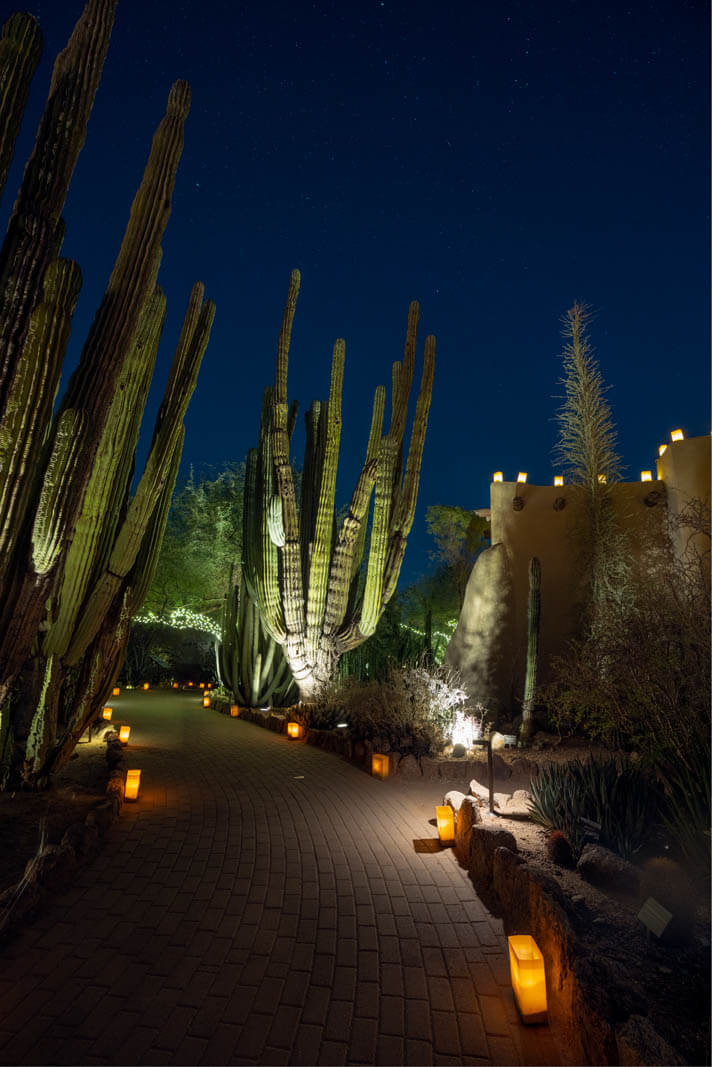 We also had the opportunity to visit the Desert Botanical Garden again in the evening for their annual winter event of las Noches de Las Luminarias where the desert trails are illuminated with thousands of candles accompanied by live music performances and special exhibitions.
To visit the Desert Botanical Garden, tickets and reservations are required in advance. Head to the Desert Botanical Garden website to make your reservation and see any events happening during your visit.
Papago Park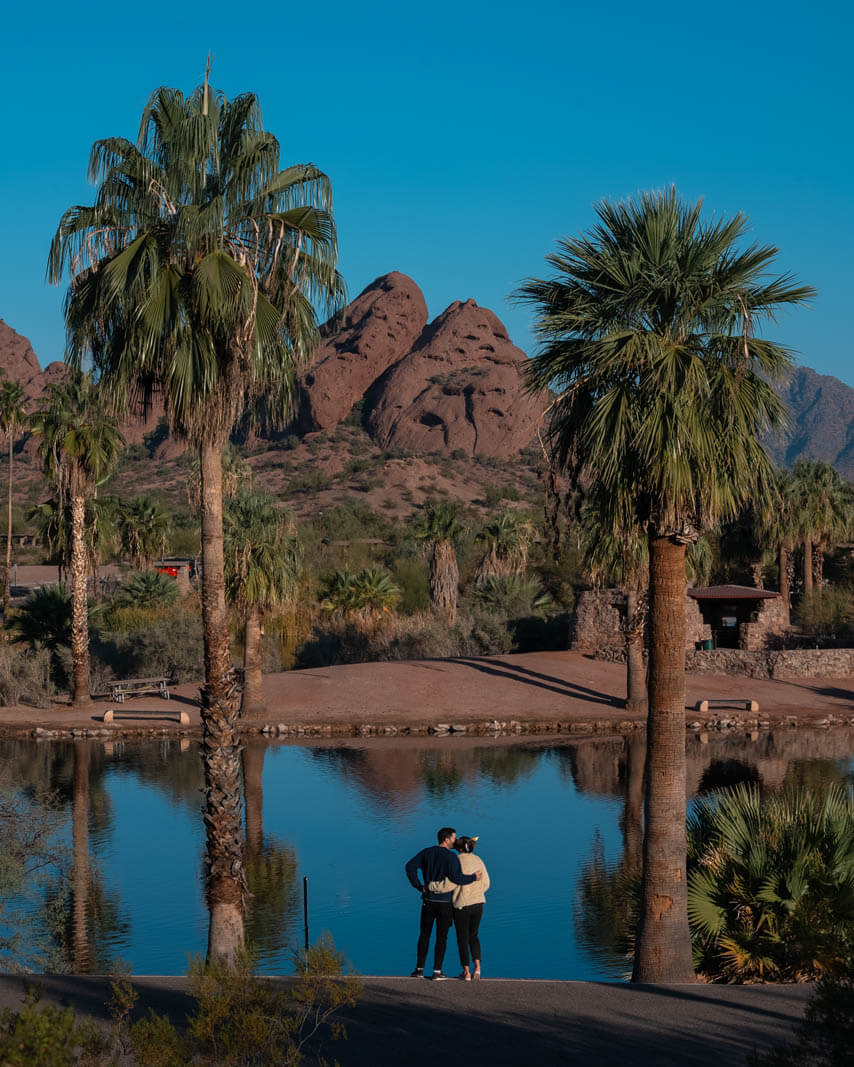 You're probably thinking, aren't all of the above Tempe photography locations in Papago Park? If so, you're right. But, there's a reason why I am mentioning Papago Park on its own again, it's because there are several other photography points throughout the park.
Our absolute favorite vantage points were from the lagoons, which look straight out of prehistoric dinosaur roaming times. There are even picnic pavilions and tables around the lagoons if you want to plan a picnic photoshoot or picnic pre or post photoshoot.
We took several trips to Papago Park on our visit, so we advise planning ahead because if you're into content creating like we are, you'll want as much time here as you can to make sure you hit up all the highlights featured on this guide plus time to find a few of your own photo locations because this place is bursting at the seams with photo opportunities.
Even during our visit, we saw several photoshoots taking place here from family photos to engagement photos.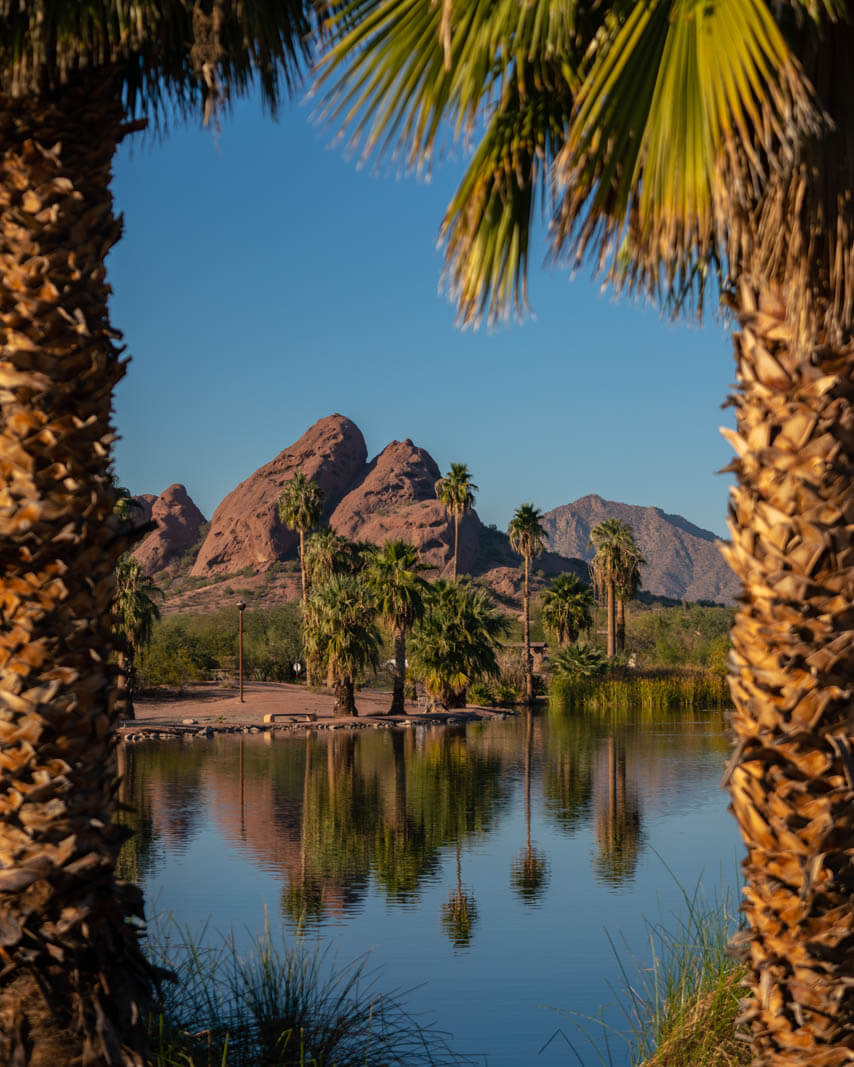 If you're hoping to cover a lot of ground while also enjoying an exciting outdoor activity, consider renting an e-bike from Northshore WaterSport Rentals (555 N College Ave #1030) at the north side of Tempe Town Lake.
You'll want to reserve your e-bikes in advance and if you're wanting to go to Papago Park do at least a 2-hour rental. We were able to explore quite a bit in that time.
We explored the lagoons and Governor Hunt's Tomb via e-bike and came back to Hole in the Rock for a sunrise hike and the Desert Botanical Garden for a mid-morning to an early afternoon visit.
Papago Park really topped it off for Tempe Instagram spots for us!
ASU Art Museum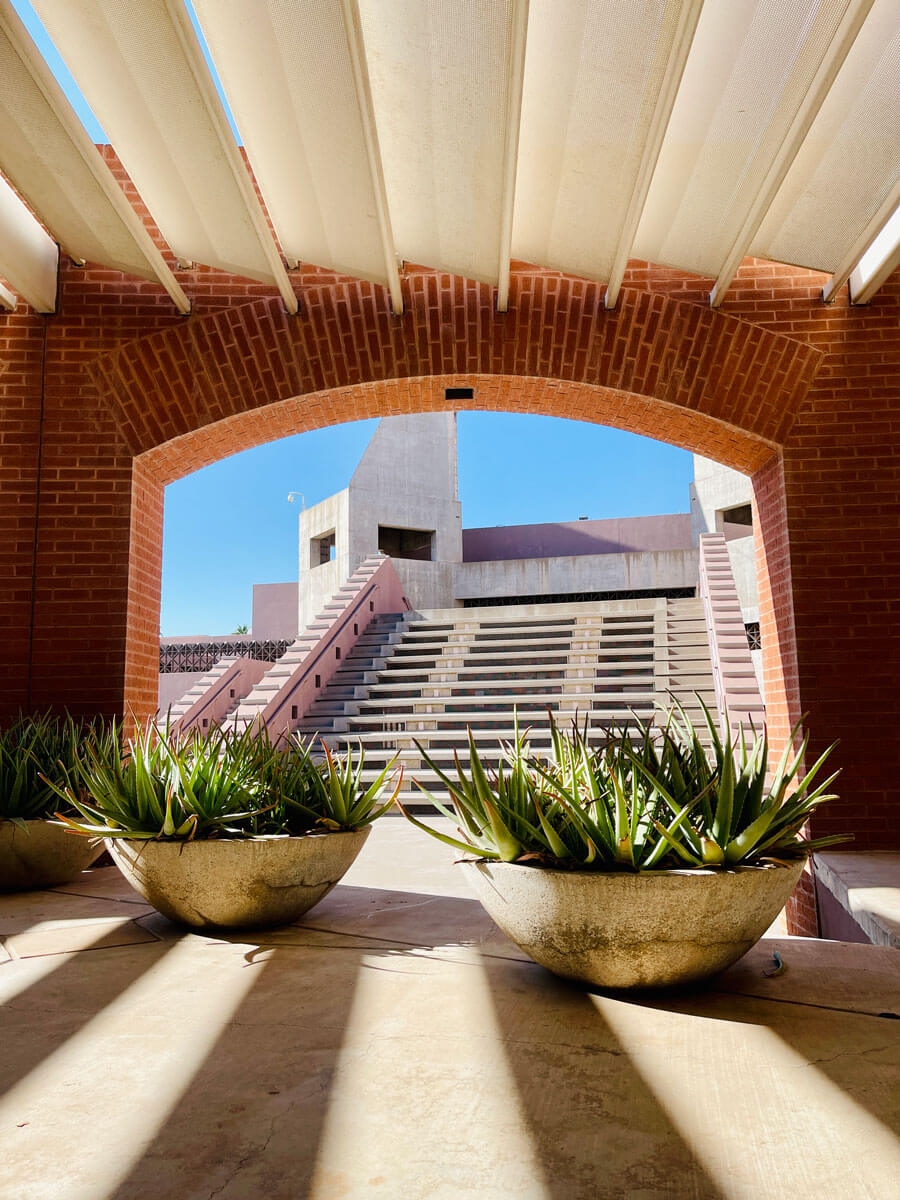 Some of the best photography locations in Tempe, Arizona can be found smack dab in the center of downtown at the ASU Tempe Campus, which brings you to our next several Tempe photography locations and Tempe Instagram spots.
First up is our favorite spot on the ASU Tempe Campus for photos, the ASU Art Museum. This photogenic building was designed by Antoine Predock in 1989 inspired by the history of desert architecture and modern architecture.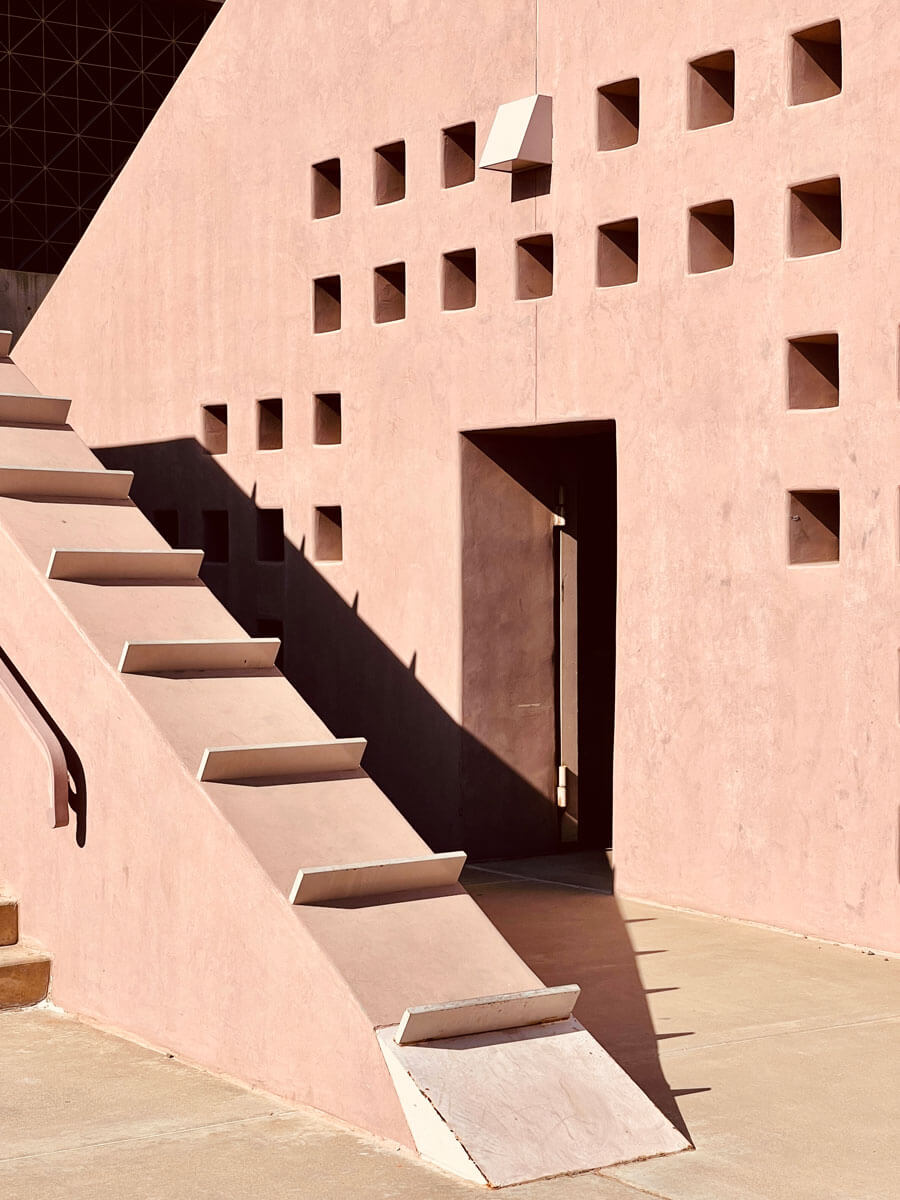 There are so many different vantage points and types of photos you can take just using the exterior of this building. We loved using the various lines in the design of the building plus the midday shadows to find several interesting angles to capture more images than I could even share on this guide.
And while you can easily get a few photos just from the exterior, we strongly encourage you to visit inside the museum too which is free to the public. The artwork and exhibits inside feature art from various artists through the lens of social justice and equity.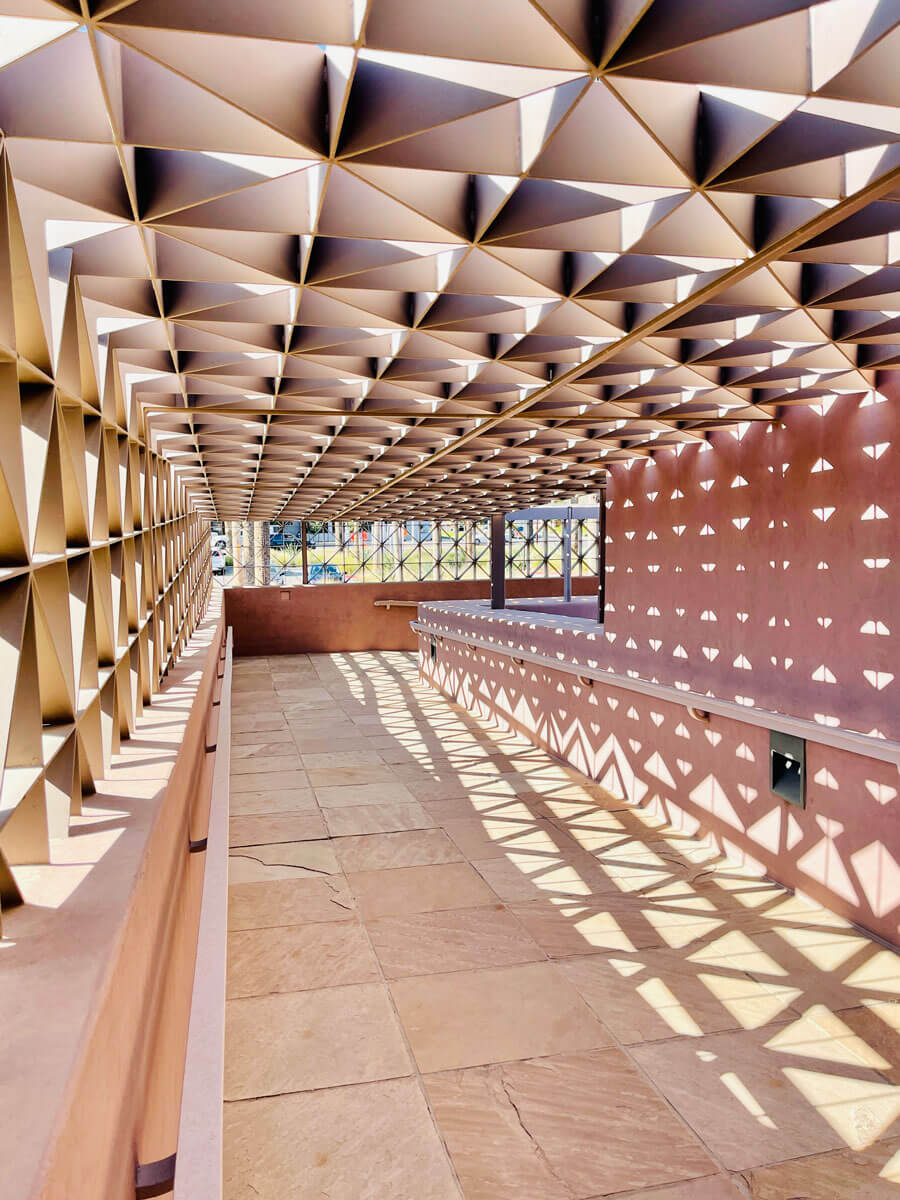 From inside the museum, be sure to look for the doors that lead to the outdoor terraces which cast shadows and light through the open design of the ceiling and walls. You'll notice quickly that the design of the building lets you play around a lot with shadows, which is really fun to photograph as you'll have a different experience at different times throughout the day.
ASU Gammage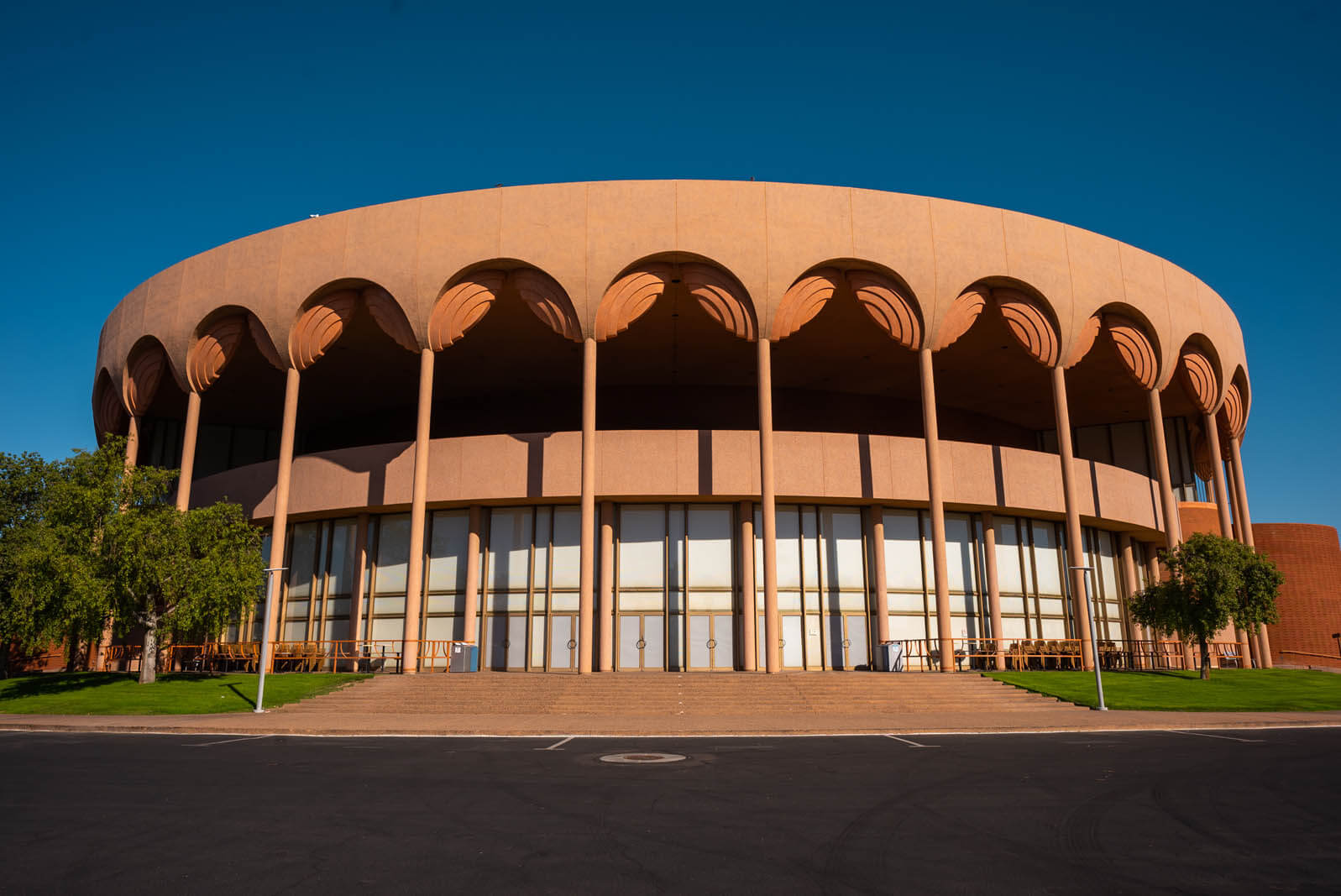 If you're an architecture lover like we are, one not-to-be-missed Tempe photography location is ASU Gammage, a performing arts theater designed by the most famous US architect of all time, Frank Lloyd Wright.
Originally, this impressive theater was a design meant for an opera house in Baghdad, Iraq. The design plans were abandoned after the assassination of King Faisal II, who commissioned Frank Lloyd Wright for the project.
After being commissioned by the former president of ASU, Grady Gammage, Frank Lloyd Wright repurposed and altered his original design for the opera house. This is said to be one of his final public commissions of his career.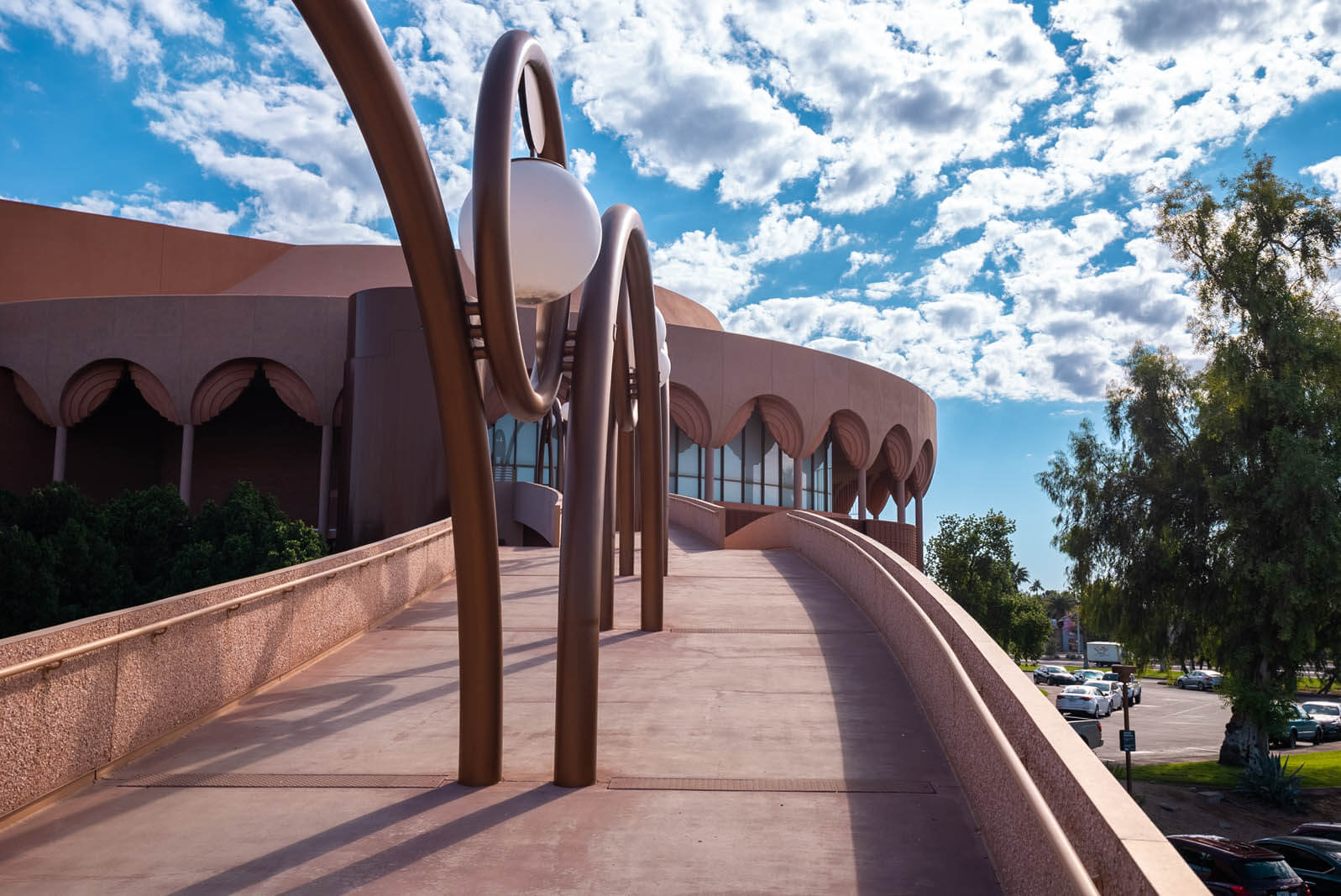 Be sure to walk around the base of this impressive structure and admire the design and details of the late Frank Lloyd Wright. We also recommend walking around the winged staircases to get a few other vantage points for a few more interesting photo spots in Tempe.
ASU School of Music, Dance and Theatre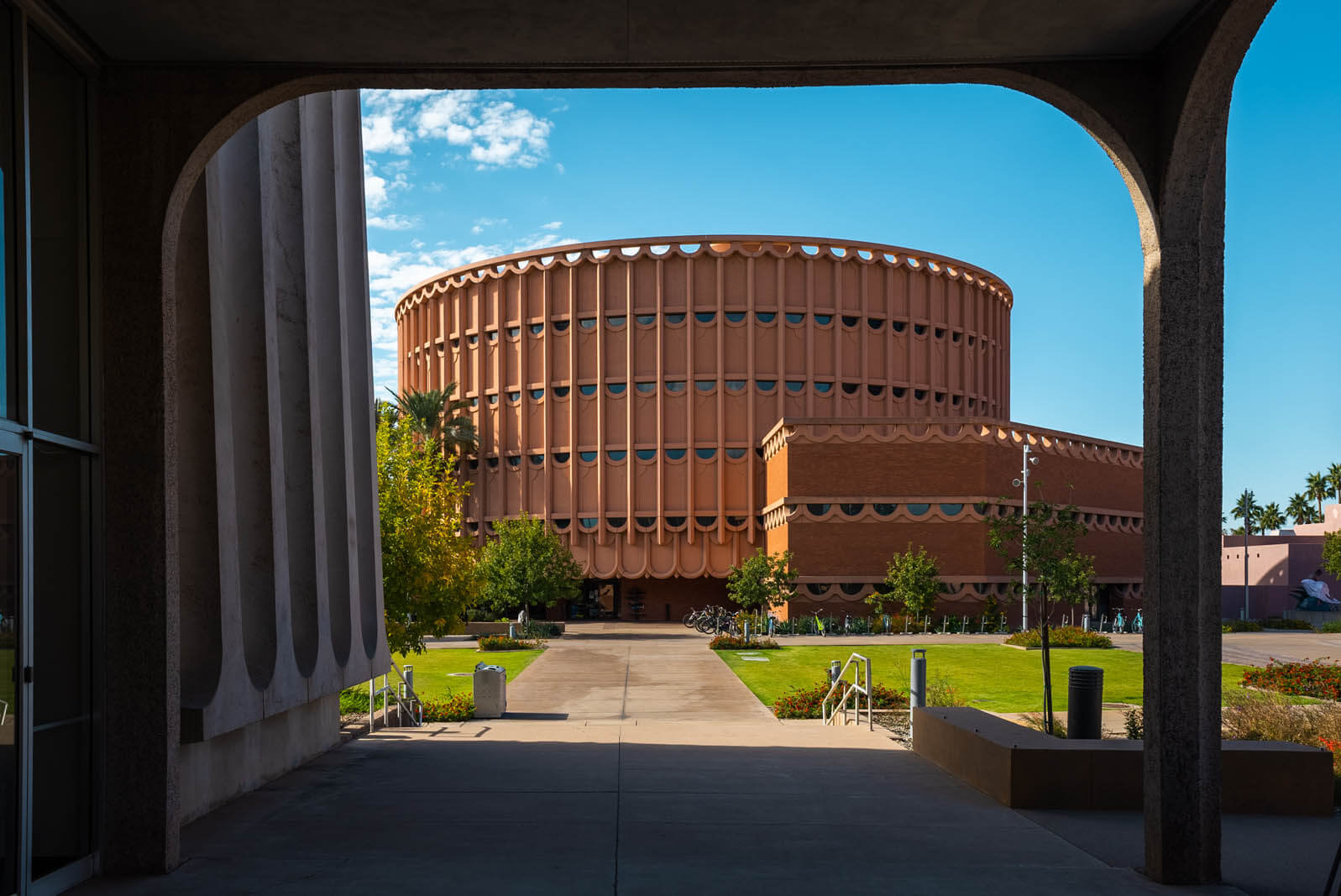 While we are on the topic of Frank Lloyd Wright, this brings us to our next Tempe photography location at the ASU Tempe Campus directly next to Gammage.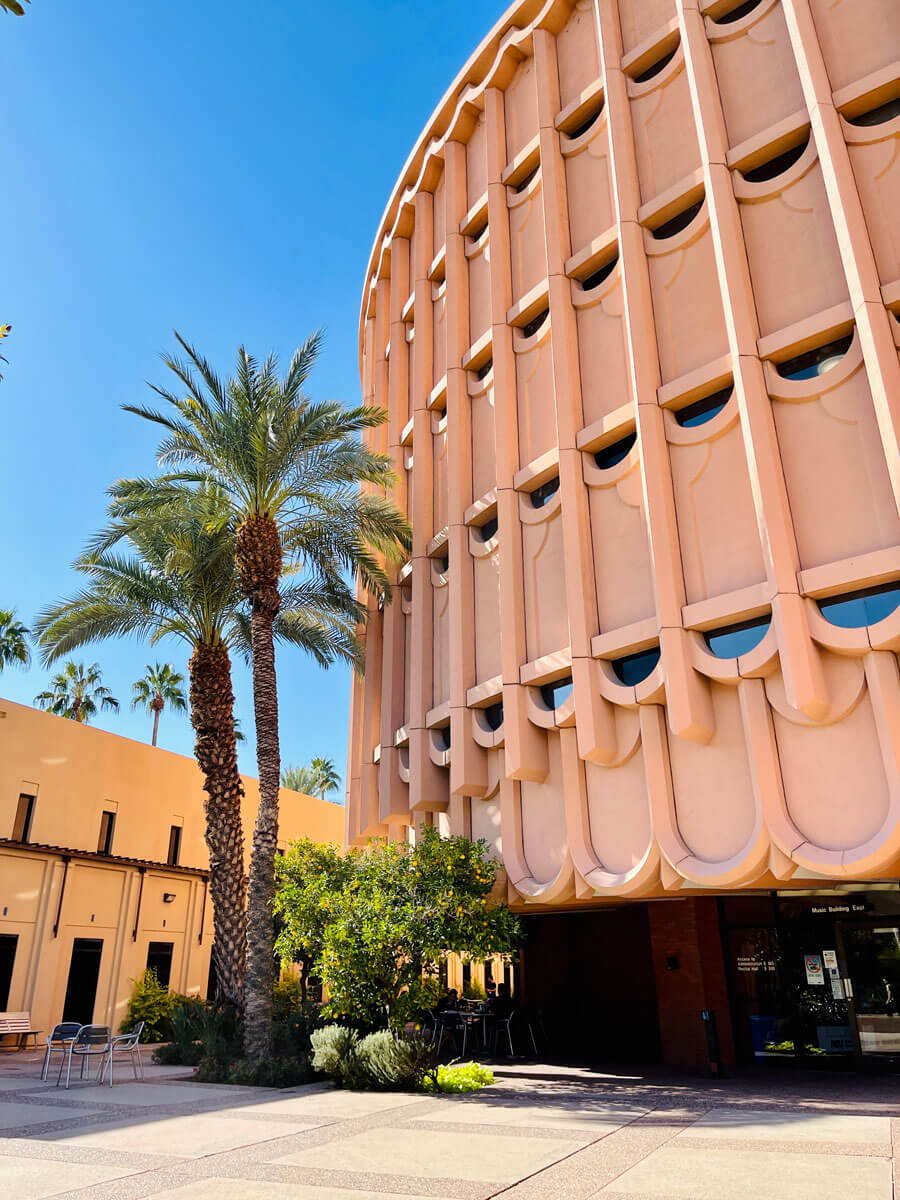 I actually found this structure to be a more interesting photo subject because of all the different vantage points we were able to frame this building with. Not to mention, at first I did think this was Gammage! The two structures do have a lot of similarities including the large circular shape and pinkish color, not to mention they are next-door neighbors.
Palm Walk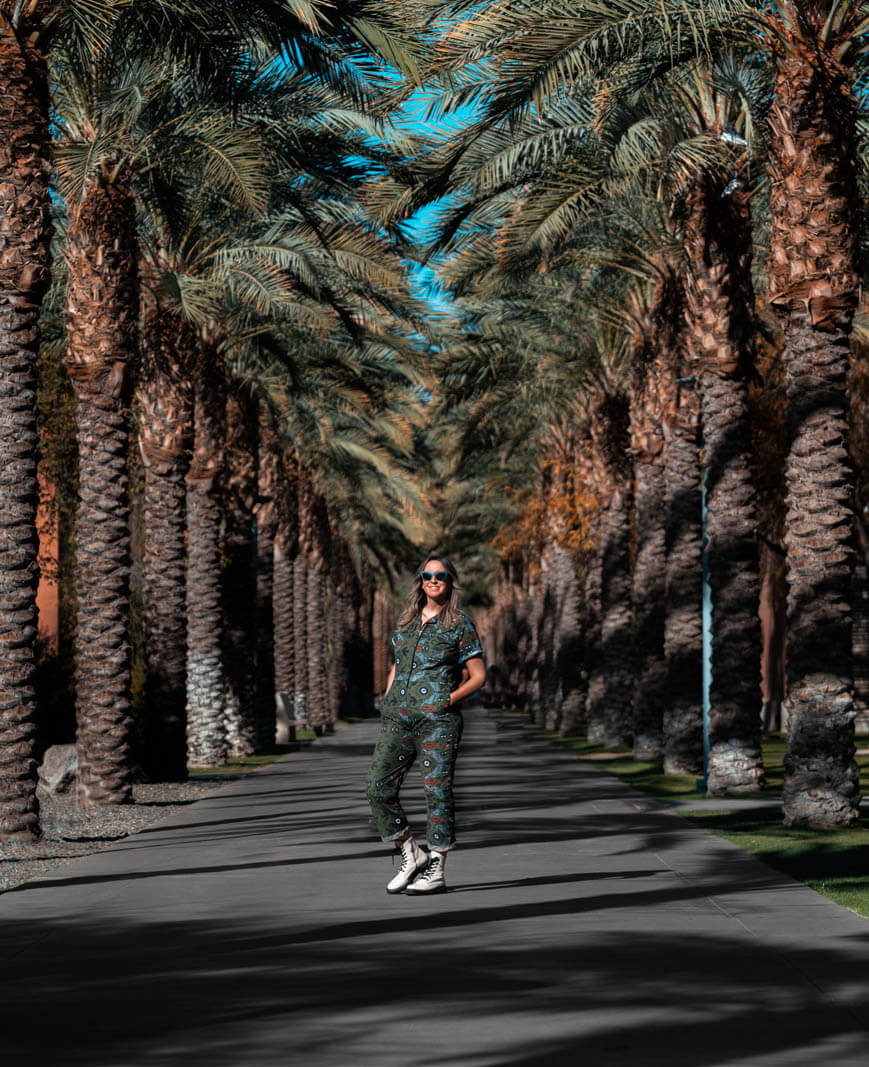 Next up on our Tempe photography locations is the most photographed spot on the ASU Tempe Campus! Palm Walk is one of the most beautiful stretches of palm trees we've laid our eyes on, and we feel qualified to say that since we've seen a lot of palm trees traveling through Southeast Asia and living in Southern California.
Palm Walk is a paved walkway stretching and connecting from the north and south ends of campus from the University Bridge to the Sun Devil Fitness Complex with perfect lines of date palm trees on either side.
Many students get their celebratory graduation photos throwing their cap in the air here (and at Old Main) and with the campus being welcoming for visitors to come and enjoy, it's a great spot to come and take your own photos too.
A fun fact, there are 100 date palm trees here that produce Medjool dates that are collected for the annual campus harvest!
Old Main
Another ASU Tempe Campus gem and great photo location can be found at the oldest standing building on campus that even predates Arizona as an official state by 14 years.
Old Main, a Victorian-style beauty with influences of Queen-Anne style architecture, was built in 1898 and is on the National Register of Historic Places. This building is steeped with history and interesting facts like this was the first building in Tempe to use wired electricity and President Theodore Roosevelt dedicated the Roosevelt Dam on the front steps here in 1911.
This is without a doubt one of the most beautiful buildings in Tempe and a great subject for your photography. The best views can be from the front lawn looking directly at Old Main with the Kachina Fountain in the foreground.
This fountain, surrounded by four Kachinas, is considered to be the guardian of well-being in the Hopi culture and traditional beliefs.
There are some campus tours that stop here, so you might have to be patient if you're trying to get a photo without a crowd of people congregating in front of this impressive, historic building.
We had to move along so we didn't have the time to wait for the classic, straight-on photo. So we went around and looked for a different, interesting vantage point which is what you see above. Sometimes it's nice when things don't go as planned because it forces you to be a bit creative and find a different perspective.
Secret Garden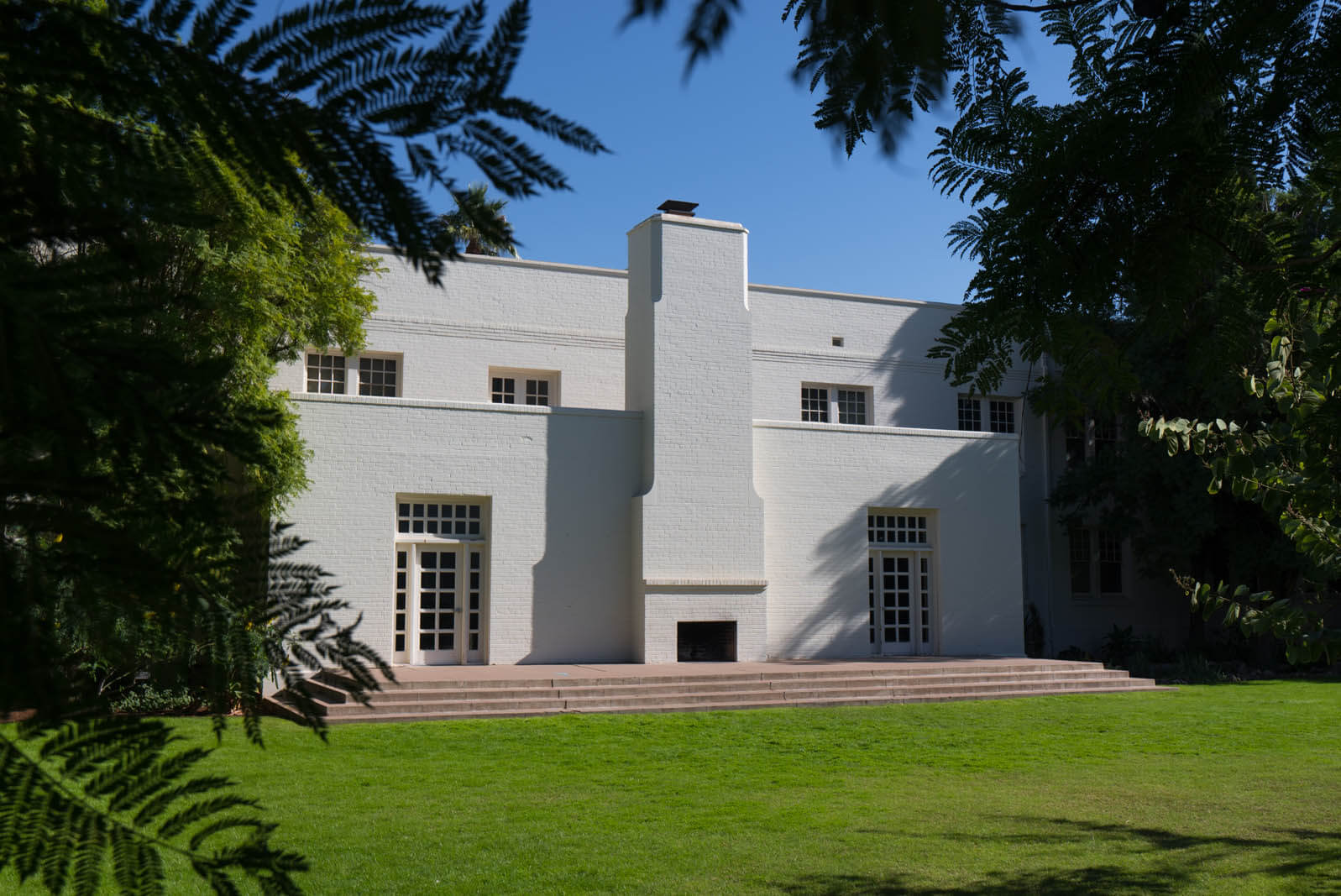 We could spend a lot of time photographing around the ASU Tempe Campus and we even made a point to walk through the campus at two different times on two days because we couldn't get over how much the light changed the way the buildings, landscape, and campus looked.
Our last Tempe photography location found on the campus we are going to mention is the Secret Garden! This is a true hidden gem in Tempe that doubles as a great photography spot and a quiet little spot to enjoy reading a book.
Hidden in plain sight between Dixie Gammage Hall and West Hall, part of the adventure of this cool photography spot is the journey of finding it! We will give you a hint, keep an eye out for a ramp that goes to a little door on the side of West Hall, this underground passage leads right into the Secret Garden.
If you find yourself scratching your head and can't find it, there are people that walk around the campus, usually wearing a vest, who help visitors. You can ask them to point you in the right direction if you are having a hard time finding the Secret Garden!
This secluded courtyard and garden has a nice sized grass lawn, large trees around the edges for shade, flower planters, and a really cool stage and fireplace covering one of the walls.
If you do come here for your Tempe Instagram photo, please try to keep this a relaxing space by keeping the noise down and not being too disruptive with your content creation!
"A" Mountain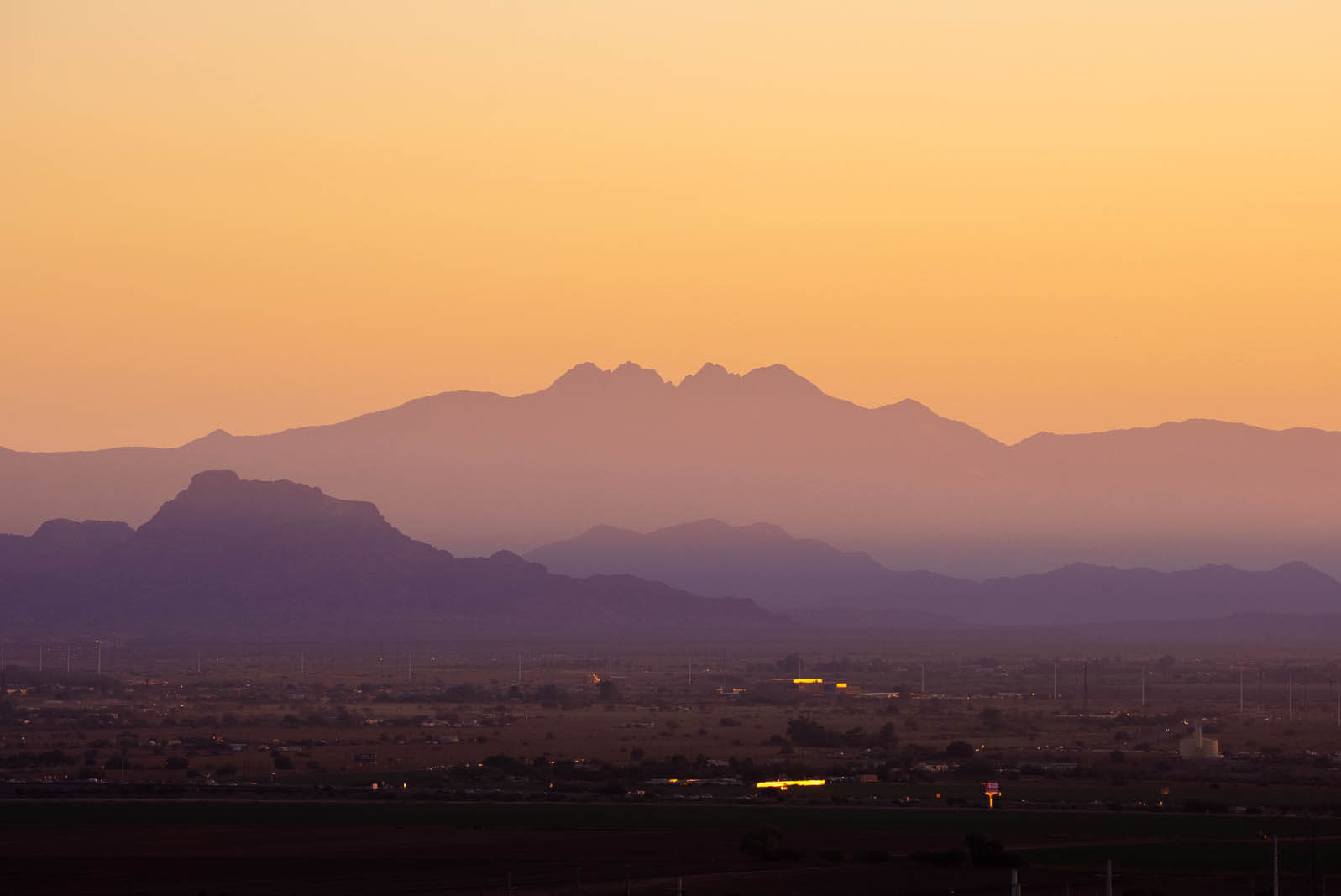 Our next Tempe photography location isn't just any mountain, it's "A" Mountain! Hayden Butte, or what locals like to call "A" Mountain to pay homage to Arizona State University, is a quick and rewarding hike that offers gorgeous vantage points of Tempe as well as the Superstition and Four Peaks Mountains among the desert scenery!
Not to mention, as you're making your way up the mountain you pass prehistoric petroglyphs!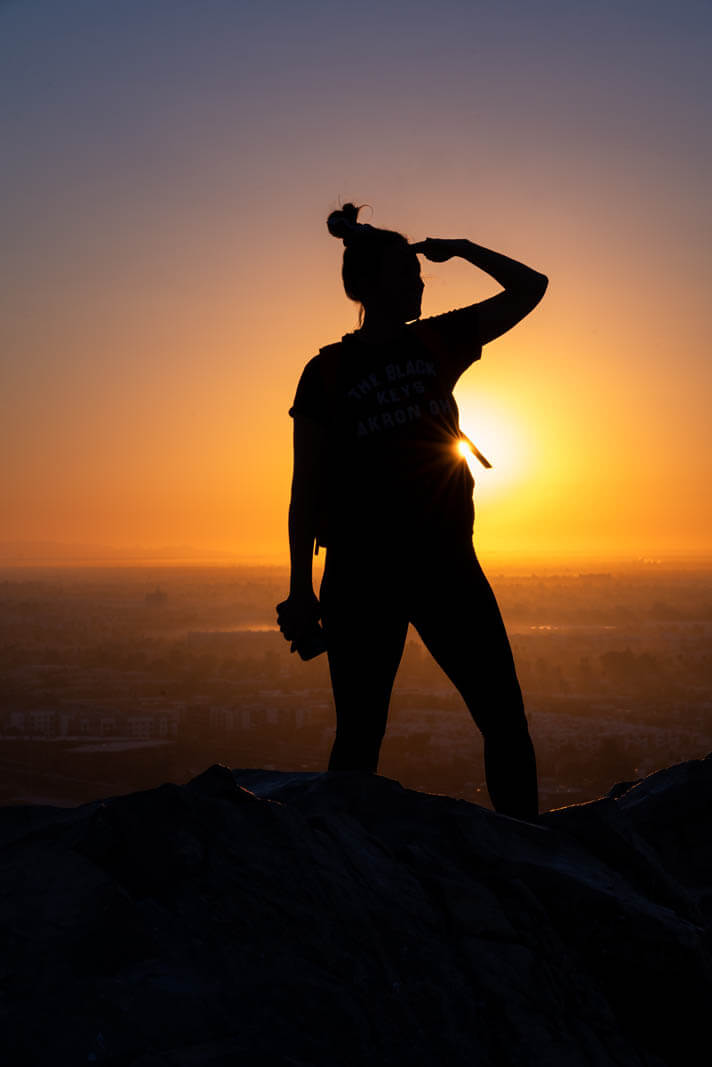 This is an especially popular photography location for sunrise and sunset. We enjoyed a sunrise hike here which is the perfect way to start a day and after making it back down we had built up an appetite for a great breakfast spot in downtown Tempe.
The hike can take anywhere from 15-25 minutes depending on which route you take and your fitness level. Some people do enjoy this as a daily workout routine! The hike is relatively short in distance, but there are steep inclines.
There are a few places to start the hike, one is across the street at the corner of Mill Avenue and Third Street (across from the building with the Tempe Tourism Office) or start behind the Hayden Flour Mill (at Mill Ave and Rio Salado Pkwy), or at the Valley Metro Rail station Veterans Way/College Ave.
If you ascend at the Mill Avenue and Third Street entry point, you will have a straight-up climb, whereas the other two entry points have some switchbacks to get halfway up to the mountain before doing that last steep bit to the top.
Tempe Town Lake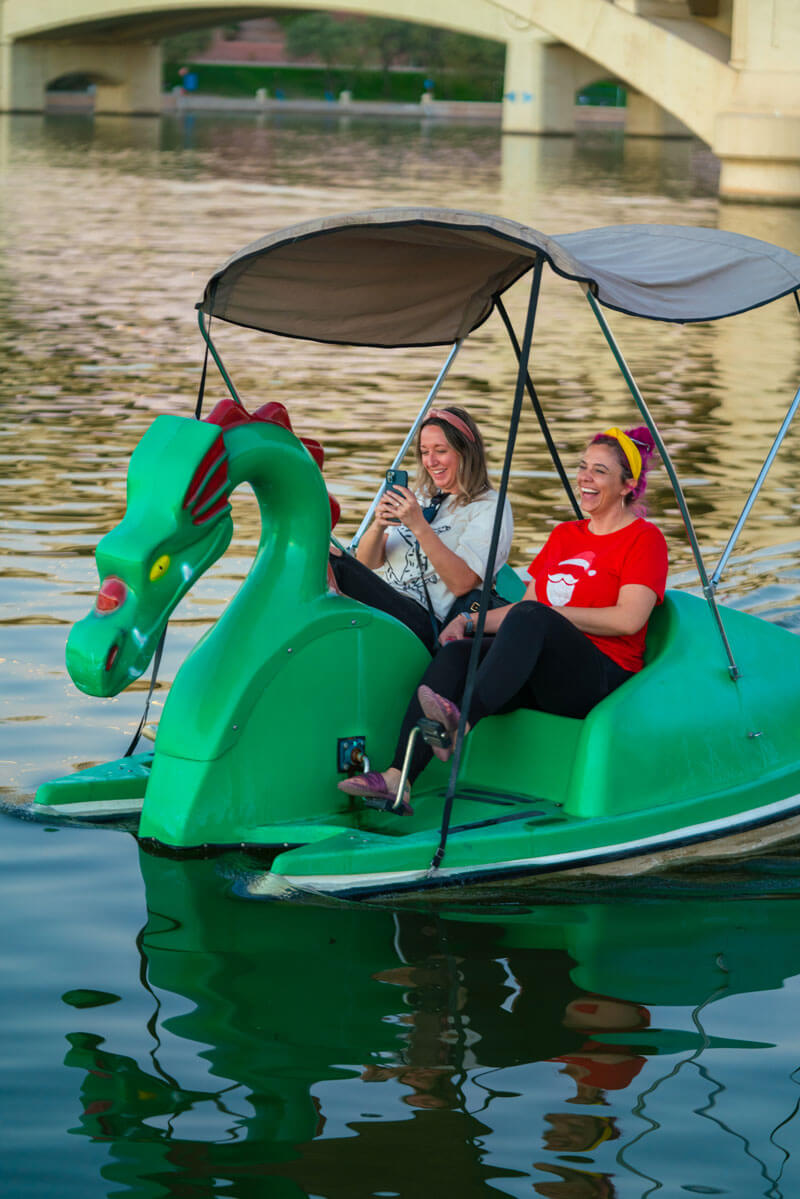 If you're looking for a unique Tempe photography location, check out the fun animal pedal boats on Tempe Town Lake! We couldn't pass up the chance to pedal into the sunset on Tempe Town Lake on the back of a dragon boat. There are also swans and rubber duckies too!
If those aren't the type of photos you're going for, there are also stand-up paddleboards, electric boats, and kayaks for rent too at Boat Rentals of America (72 W. Rio Salado Pkwy).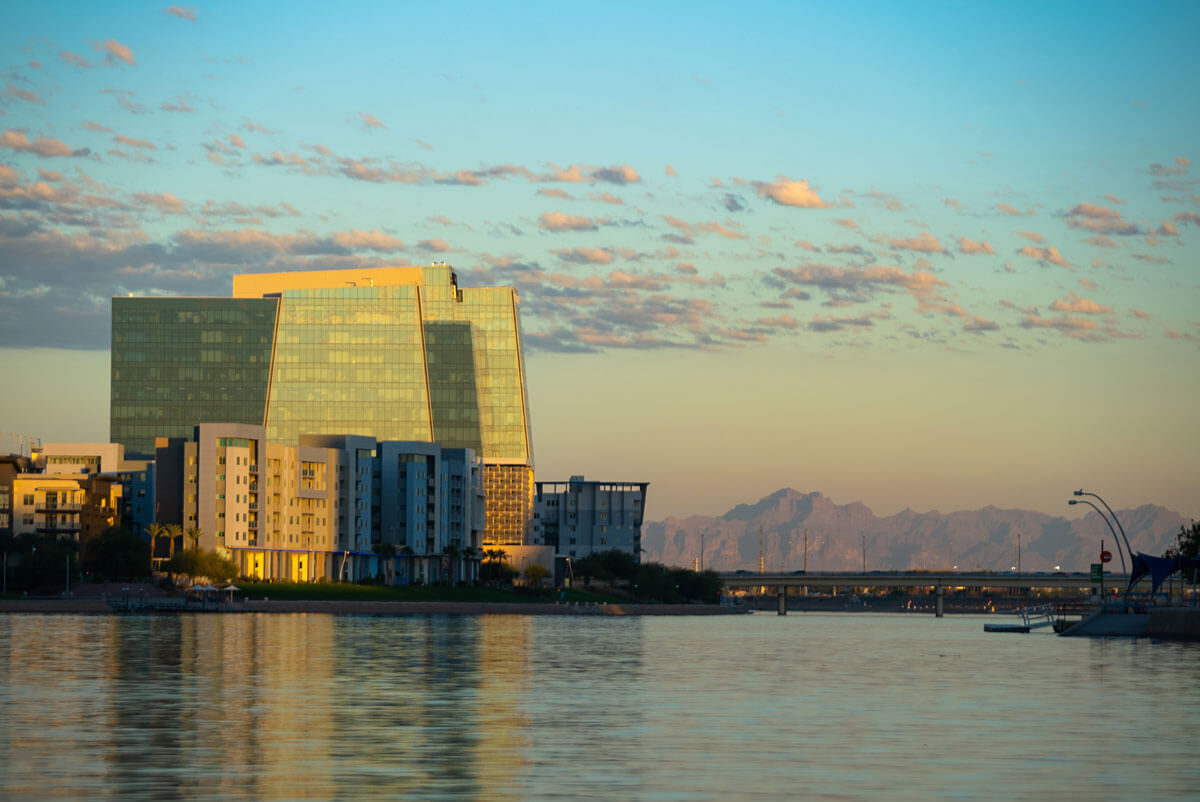 And if you don't want to get on the water at all you still are rewarded with excellent photography locations all around Tempe Town Lake along the walking and biking paths along the water as well as the bridges that cross over it.
We came at sunset, which was a really beautiful time to capture the light and enjoy a little workout before dinner.
Skysill Rooftop Lounge
Some of Scott's favorite photography locations are always when he can get on a rooftop and have a birds-eye vantage point of a destination or subject. Getting this access isn't always easy which makes rooftop lounges an awesome opportunity to not only enjoy a bite to eat or some drinks, but also a great time to snap a few clicks on the camera.
We found all of this plus a breathtaking sunset view from the Skysill Rooftop Lounge located at the rooftop level of The Westin Tempe. We were also guests to the hotel which gave us access to the rooftop pool here too, (an added bonus in addition to being a great photography location).
There are plenty of lounge chairs and bar seats where you can grab a drink and some light bites with an incredible view of the valley, desert, ASU Tempe Campus, and downtown.
---
Enjoyed this guide to our favorite Tempe photography locations? Bookmark this guide for later to help you plan your unforgettable trip to Tempe as well as your Tempe Instagram spots!