Over Seollal weekend we decided to hit up an ever so favorite spot of ours right outside of Seoul. Gapyeong is home to gorgeous mountains and our favorite Korean meal, dak galbi. Since winter was coming to an end we decided we had to make it a priority to go snowboarding over our extended holiday weekend. We visited Elysian Gangchon Ski Resort and ended up having a great day at this small resort.
Not only did we end up finding a deal online for our rental gear and lift ticket with Ticket Monster and saved tons of money, we ended up having the slopes almost all to ourselves during the late morning hours. Not a bad way to start the day.
Since it's only my third time ever snowboarding, I had to find the local convenient store and grab some liquid courage. What's great is that Elysian has courses for all levels of riders. I worked my way up to intermediate, which felt like a big accomplishment for me!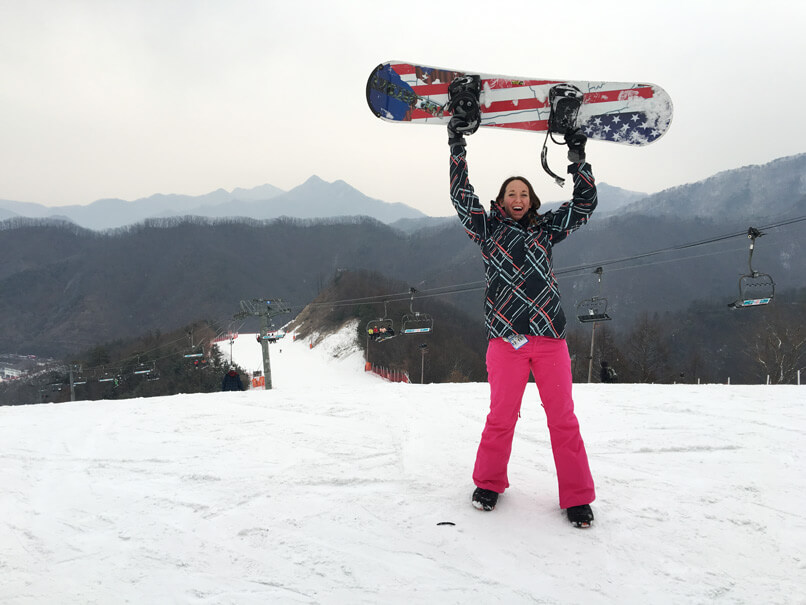 There are a total of 10 different courses and 6 lifts. There's even a small snowboarding park where you can practice your tricks, Scott didn't seem to impressed with the selection though.
After spending a complete day snowboarding here we decided it was a fun day trip, but not as impressive as our trip to Muju two winters ago. So we have put together a pros and cons list of Elysian Gangchon below to help you decide if it's the right place for you!
Click here for more information on all of Korea's ski resorts!
Pros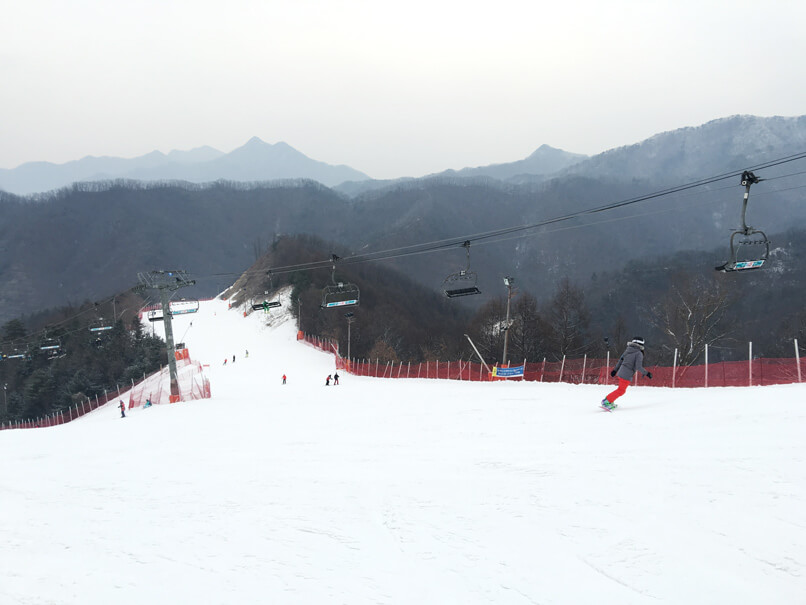 ---
There weren't large crowds on the slopes, even at it's busiest time of the day
There's great beginner and intermediate courses for those starting out
There's a big convenience store where you can buy drinks, meals, snacks, hand warmers, and anything you may need on your day out
There's multiple rental shop options outside the ski resort
The ski resort is accessible via Seoul Subway, making it easy to do just a day trip
Our rental shop picked us up from the subway and dropped us off at Elysian after getting our gear, and again picked us up from skiing, gave us a free coffee, and dropped us back off at the subway
With our coupons, our rentals were only 17,000 KRW combined, and our lift tickets for 6 hours were only 72,000 KRW combined
Cons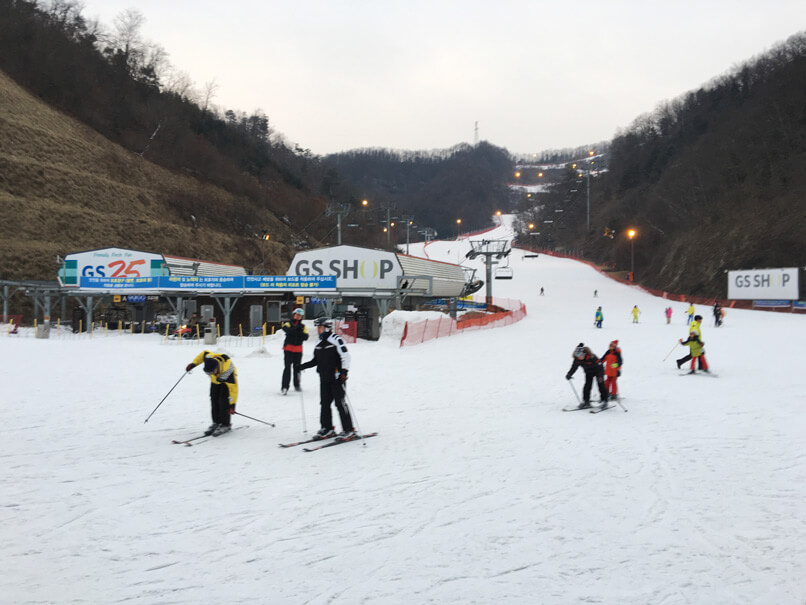 ---
There weren't too many options for advanced skiiers and snowboarders
The place is pretty small
We visited during a mild winter, so we had to deal with man made snow
Directions
Seoul Subway (Gyeongchun line) Baegyang-ri – you will be right at the entrance of the resort
Useful Tips
Check out sites like Ticket Monster and your cellphone provider for discounts. We found out that with T Membership we also had a great discount! (you may need a Korean friend help you with these sites though, but it's worth the discount!)
Nearby via subway are attractions like Namiseom Island, Le Petite France, Garden of Morning Calm, and Chuncheon Dak Galbi street!
If you need to save money on accommodation, consider staying at a jimjilbang or AirBnb! We had an awesome experience with our AirBnb in Gapyeong!