If you're looking for one of the most beautiful things to do in the Czech Republic, than look no further than exploring Bohemian Paradise. This is a place with landscapes so dreamy, they've been inspiring painters and writers for centuries.
It's no wonder why this are was added to the list of Czech Republic UNESCO World Heritage sites. Full of incredible rock formations towering through lush forests, rolling hills, sleepy towns, castles ruins, Bohemian Paradise lives up to its name.
This is the perfect place to go for some solitude, fresh air, and outdoor adventures. You can find peace here, even in the peak of tourist season. Just head to a secluded house or village. You can then fill yours days getting lost in mazes of rock formations, floating down the river, or stepping back in time visiting castle ruins.
We recommend including Bohemian Paradise into your Czech Republic itinerary to get a taste of nature and the nice, slow life. Here are our tips on how best to enjoy this beautiful area!
Where to Go in Bohemian Paradise
Prachov Rocks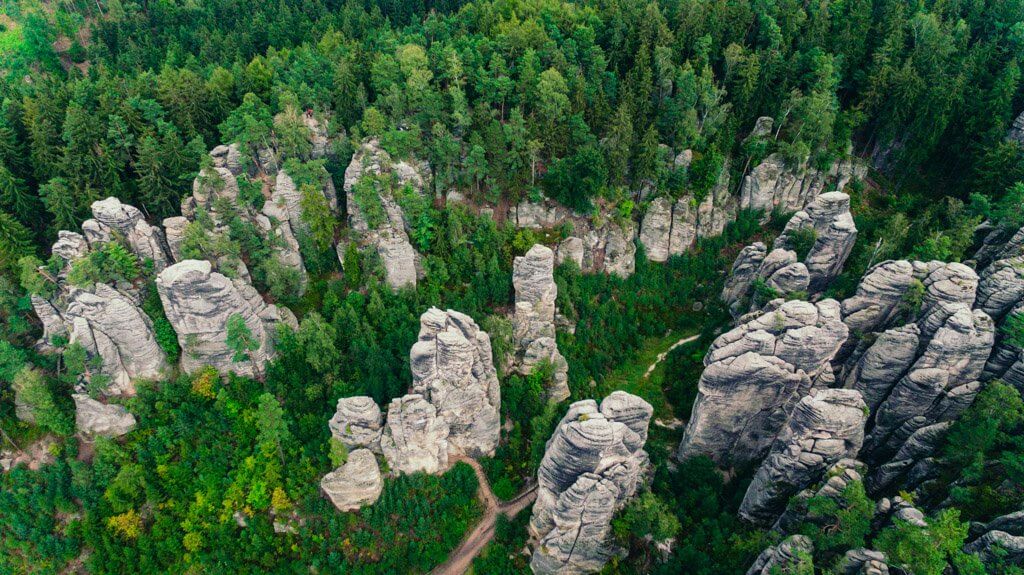 Explore the unique formations in the forest for your first outdoor adventure in Bohemian Paradise near the town of Jicin. Sandstone rock towers from over 60 million years ago eroded by wind and rain to give them their distinct towering appearance. Weave your way through the rocks and climb up to the incredible viewpoints.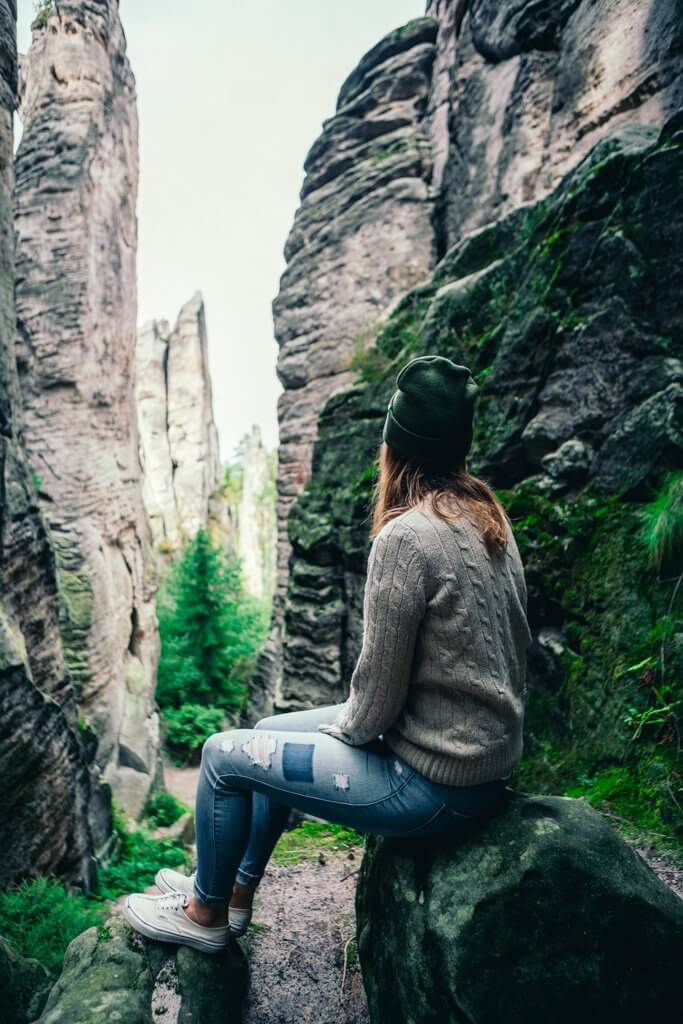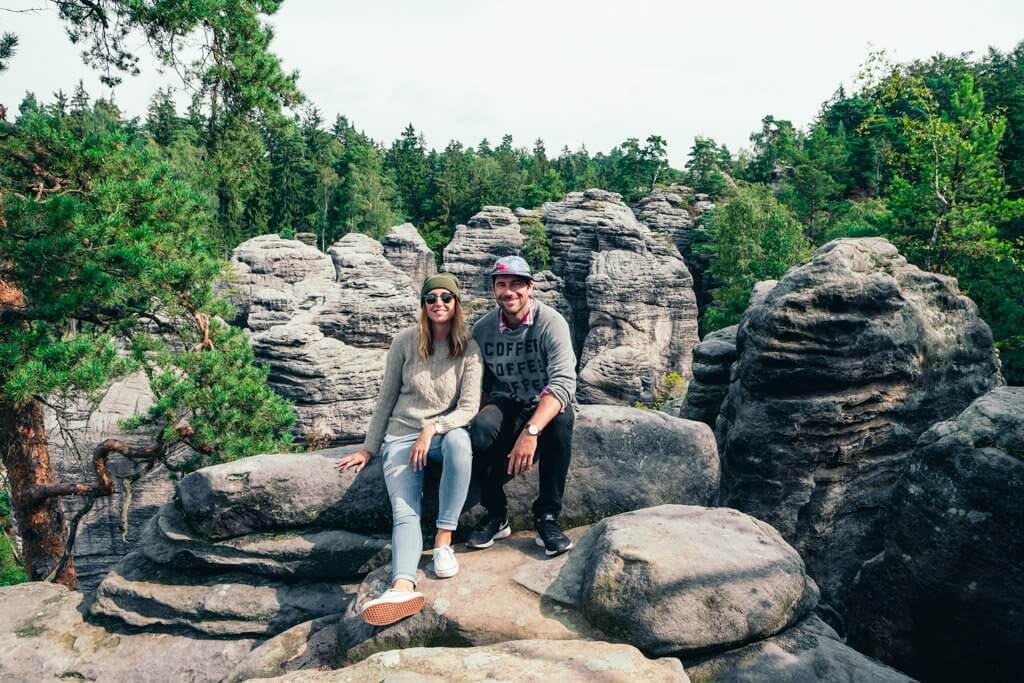 You can easily spend 2 hours here just walking from each viewpoint. Give yourself enough time to sit and take in the view a bit as well. Afterwards, reward yourself with a beer.
Trosky Castle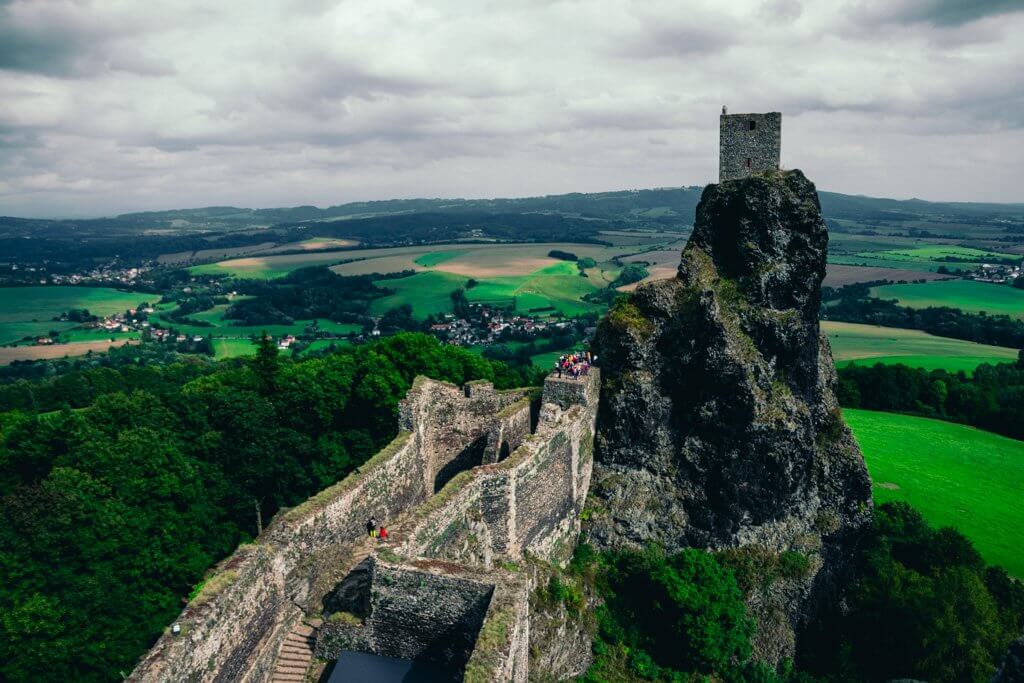 Trosky Castle is one of the beautiful castle ruins in Bohemian Paradise. Located in the Liberec region, it dates back to the 14th century. Perched on the summit of two volcanic plugs, this castle has gained popularity over the years thanks to its unique appearance and panoramic views. The two iconic towers have quirky names as well. One is named Baba, meaning "old woman," and the other is named Panna, meaning "virgin."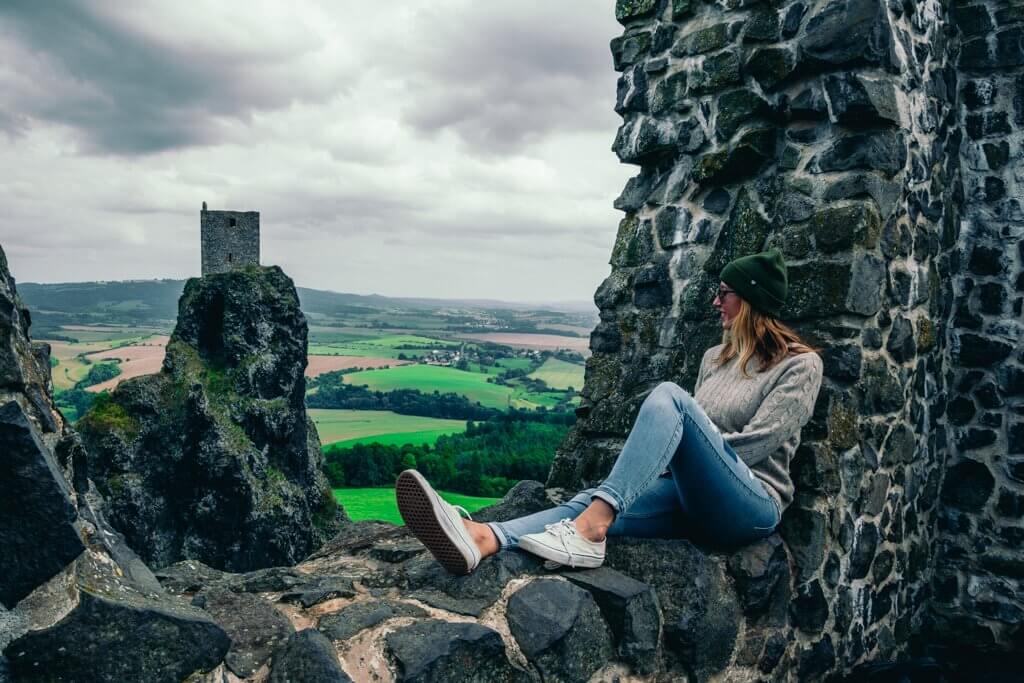 A fun tidbit of history about Trosky Castle would be that this was a Catholic Fortress during the Hussite War. It managed to avoid invasion by the Hussites.
Apparently, there are numerous underground tunnels, caves, and escape routes beneath the castle. However, you cannot visit these today.
We also witnessed a pretty incredible wedding going on here!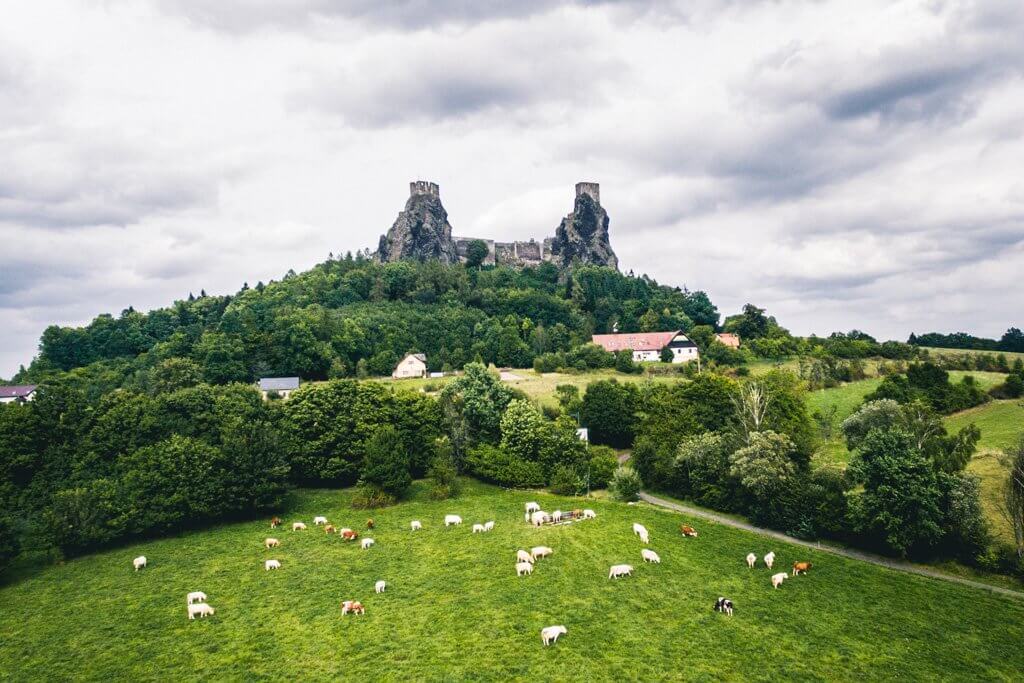 The only bummer would be the bird experience they have. They have hawks and owls on 2-foot leashes for people to pose with photos with.
We aren't huge fans of this. One of the hawks seemed really distressed and was crying out the entire time we were there. Please don't partake in this activity at the castle. Enjoy the incredible ruins and epic view instead.
Besedice Rocks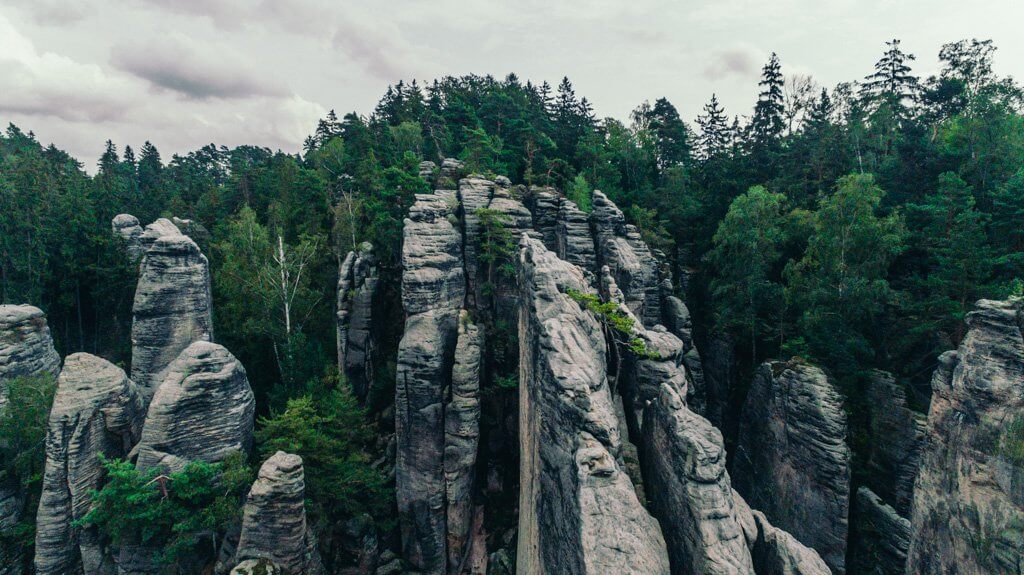 The Besedice Rocks are one of the better known natural attractions in Bohemian Paradise and can be easily seen from Mala Skala. Drive up to the entrance and wander through the impressive maze of towering sandstone rock formations and narrow passageways between rocks. There are tons of nooks and crannies to explore. Luckily there are trail markers for you to follow so you don't get lost.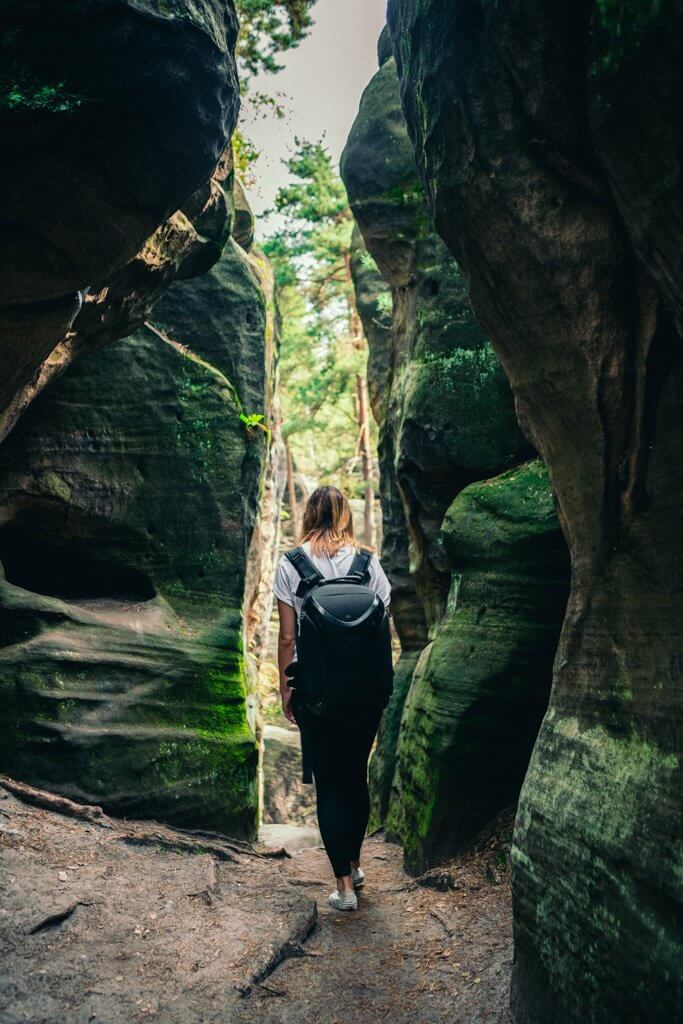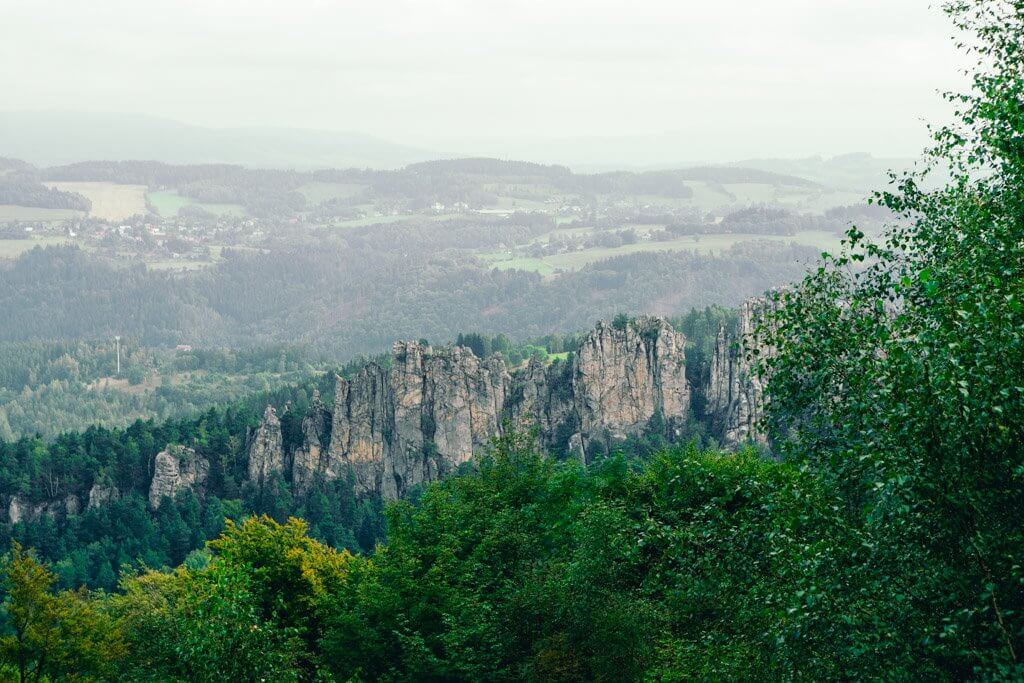 Be sure to check out the multiple viewpoints. Then make your way to the famous secret meeting location for Jan Hus and his Hussite followers. It's in the rock cluster in the forest. You can identify this spot on your own by all the tags and carvings in the rocks as well as the chalice symbol.
Give yourself about two hours to explore by foot. Go earlier in the morning when it's peaceful! It'll get very crowded by midmorning.
Vranov Rock Fortress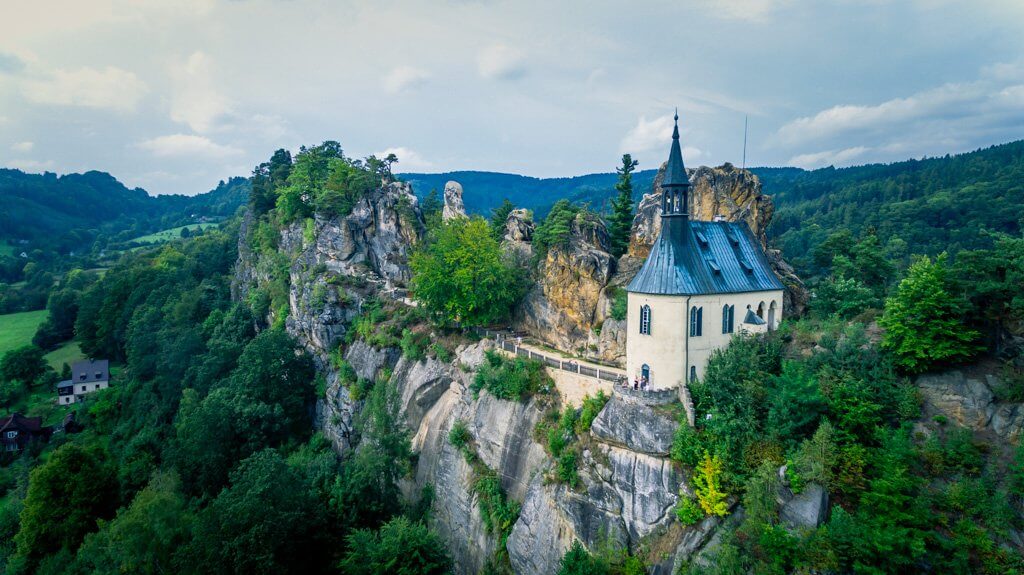 The Vranov Rock Fortress, aka Pantheon is an unmissable site from Mala Skala. You can find it nestled above the Jizera River on a cliff. The castle that looks more like a 15th century chapel rather than a castle.
It is said that Vranov was used as a base for Hussite troops in Bohemian Paradise. The remains of the castle are a bit of a mystery. However, you can follow along on the English brochure to find out what each chamber and room probably was. This includes a kitchen and a dump pit where they found tons of animal remains.
After exploring through the narrow and steep stone stairs, it's hard to imagine how anyone could possibly carry or haul anything up here. There were a few times I had to focus on my footing rather than oohing and ahhing at the remains of this ancient fortress.
Be sure to check out the viewpoint about 500m from the entrance. It offers a great lookout point to Mala Skala and the Jizera River below!
You can continue to walk the 2km distance to the other nearby castle ruins of Frydstejn.
Frydstejn Castle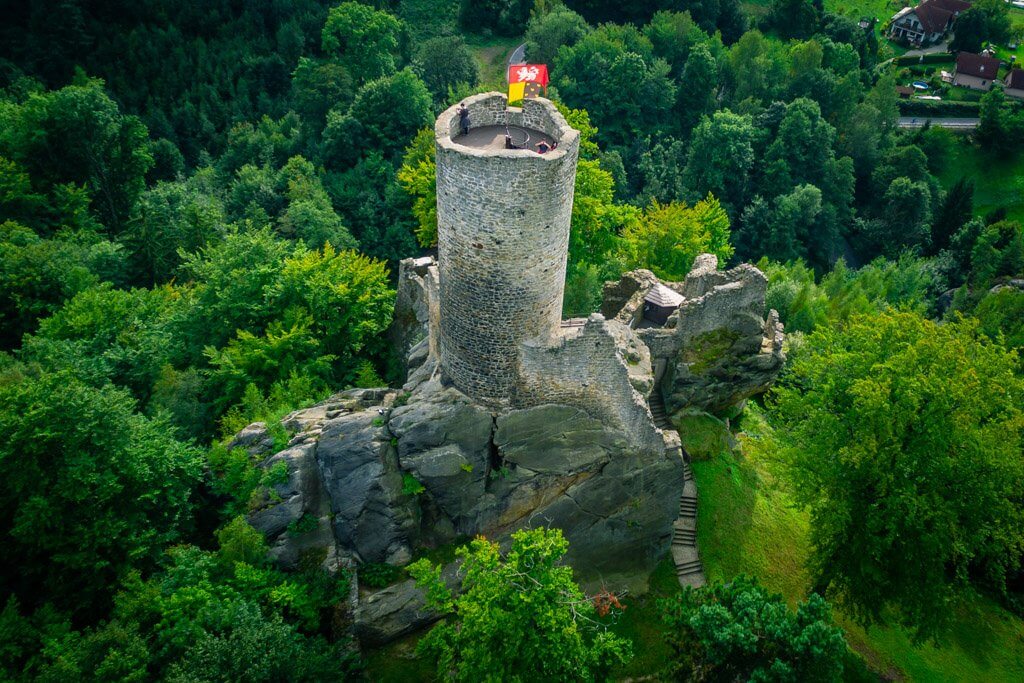 Another impressive castle ruin in Bohemian Paradise, Frydstejn Castle dates back to the 14th century. It was originally a Catholic castle taken over by the Hussites. By the 16th century, everyone had abandoned the castle, so it had a pretty short run.
You can get here easily from Vranov by car or foot.
Castle Hruba Skala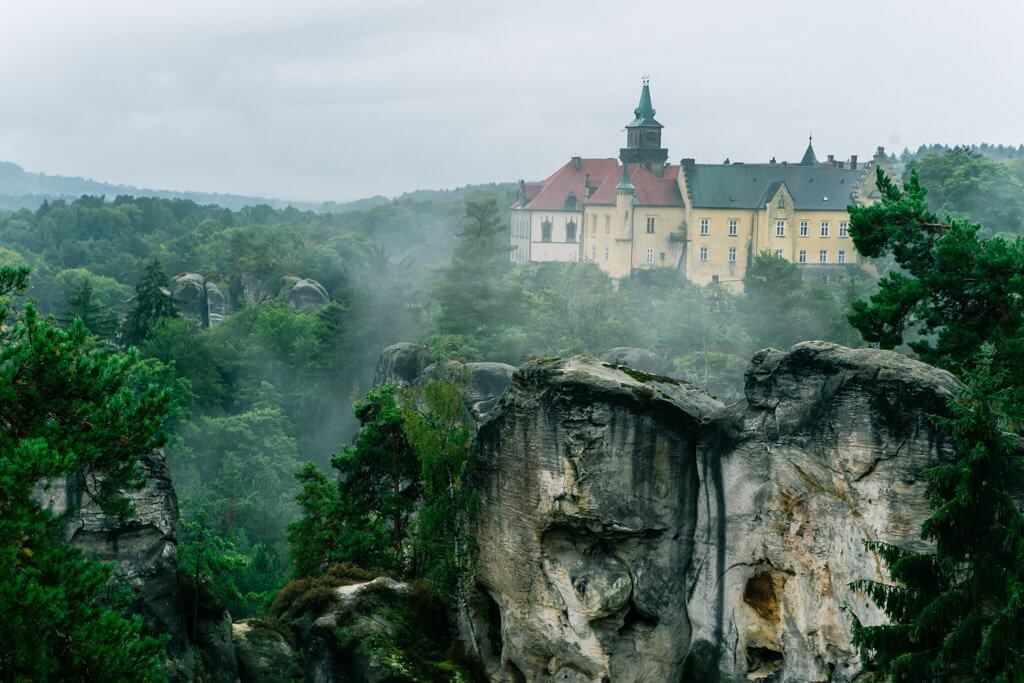 Another incredible place to visit in Bohemian Paradise is Castle Hruba Skala. Not only do you have a castle to explore with a tower and a viewpoint but you have an extensive network of rock labyrinths as well. You can hike through them and even see the ruins of Trosky Castle in the distance.
Start by following the trails through the rock towers up to the viewpoints. We came on a rainy day so we had a really cool mysterious fog that went along with our medieval castles. Be aware though, because sandstone can be very slippery and dangerous when wet.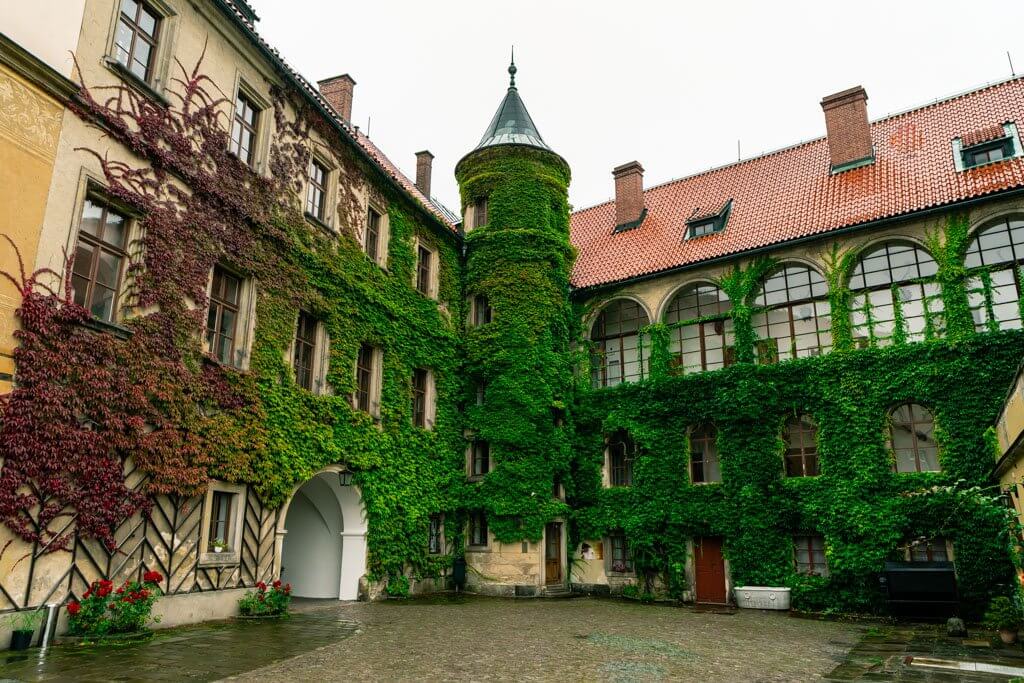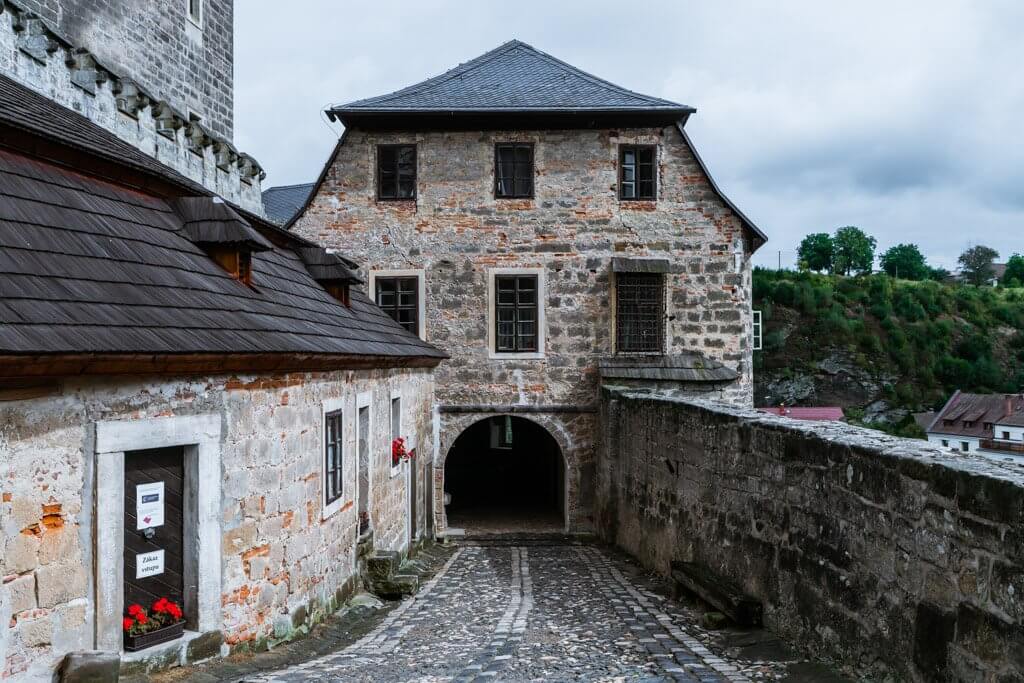 Afterwards, you can check out the castle and the small castle complex. It's not as large the others and most of it is closed off to visitors.
The clock tower isn't that tall in height, but since it's perched on top of a cliff with the rest of the castle you get a killer view from up here. Afterwards, if you've worked up an appetite you can enjoy a hot meal at the castle hotel restaurant.
There is also a display of the replica crown jewels here. While the exhibit is small, it's worth taking a peek while you're visiting.
You can easily spend a few hours here if you end up walking through the rock labyrinths and to the different viewpoints. Don't let the rain stop you either!
Castle Kost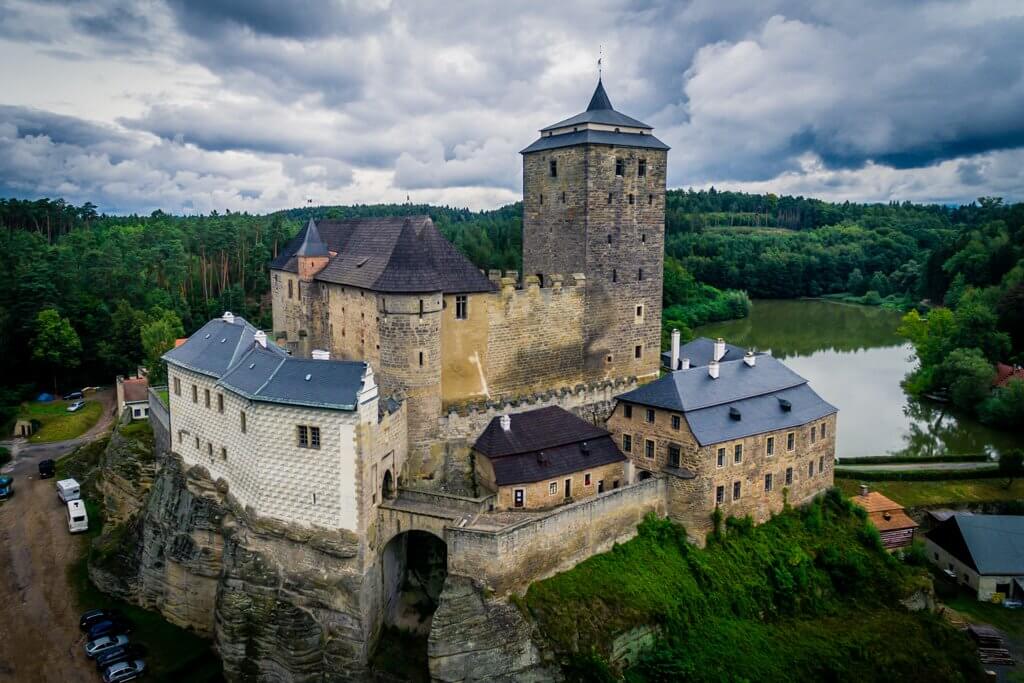 If you only have time for one castle in Bohemian Paradise, visit Castle Kost. You might recognize it from the movie, Hannibal Rising!
Definitely take a tour of the castle. We really believe that these historical monuments and places come to life with a good storyteller, guide, or tour. We had all three when we were at Castle Kost.
The Tour
The castle tour takes you through the various rooms, including the Golden room from the movie. It offers a ton of natural light from its large windows on either side, the dining hall, the black kitchen, their torture chamber, and a few more.
The torture chamber was sort of surreal. Just thinking about people getting horrifying punishment on these barbaric machines made our skin crawl. Apparently, it is very rare for a torture chamber to actually be in a castle, as they were usually in prisons, so this also made this area of the castle rather unique.
There were also mechanisms that were meant for shame on display in the torture chamber including a crazy looking metal rabbit mask that was for women who were caught listening in at the door at places they shouldn't be. The woman wouldn't be killed or harmed, but instead humiliated for having to wear the rabbit mask for days so everyone knew she was a snoop. We were told by our guide that this was only for women, men apparently didn't nose around where they didn't belong back then.
While walking through the outdoor courtyard we couldn't help but notice a resemblance to Winterfell in Game of Thrones. However, this was more of a personal observation as they surely didn't model or film GOT here.
They even offer great tours for families where the guides are dressed in medieval costumes and base the tour on the fairy tale aspect for kids while the adults accompanying their children get to see the castle. We thought that was pretty interesting, even though we do not even have children!
Beyond Bohemian Paradise, Castle Kost is one of the best preserved Gothic castles in the whole country.
Things to Try in Bohemian Paradise
Take a Wild Ride on a Scooter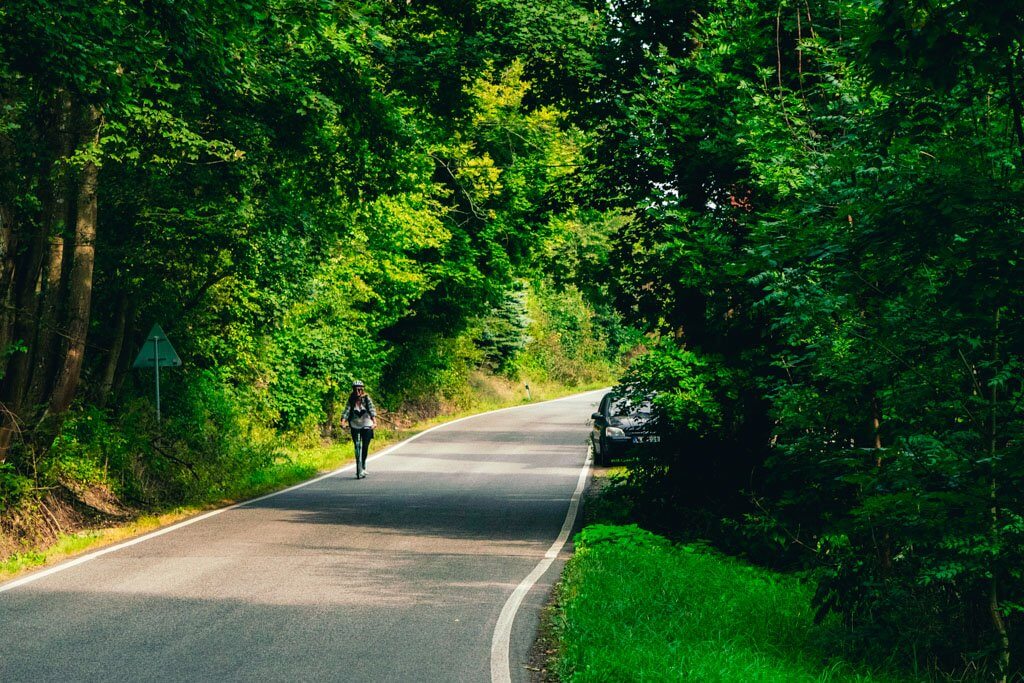 We had never seen an adult version of a Razr scooter until we came to the Czech Republic. We would see them few and far between during our road trip through the country but as soon as we got to Bohemian Paradise they seemed to be ubiquitous.
These bicycle scooters are very popular by the locals as you will see dozens upon dozens while you're driving around the area and honestly it's a great way to get around.
You can rent them for a day to get around by the Jizera River or pick one up at the end of your hike from Vranov to Frydstejn and scoot down the hill back to your starting point for the return spot.
You feel a bit nerdy your first time but you'll fit right in with the locals! They'll be hitting top speeds going down hill! It is definitely worth trying.
Canoe down the Jizera River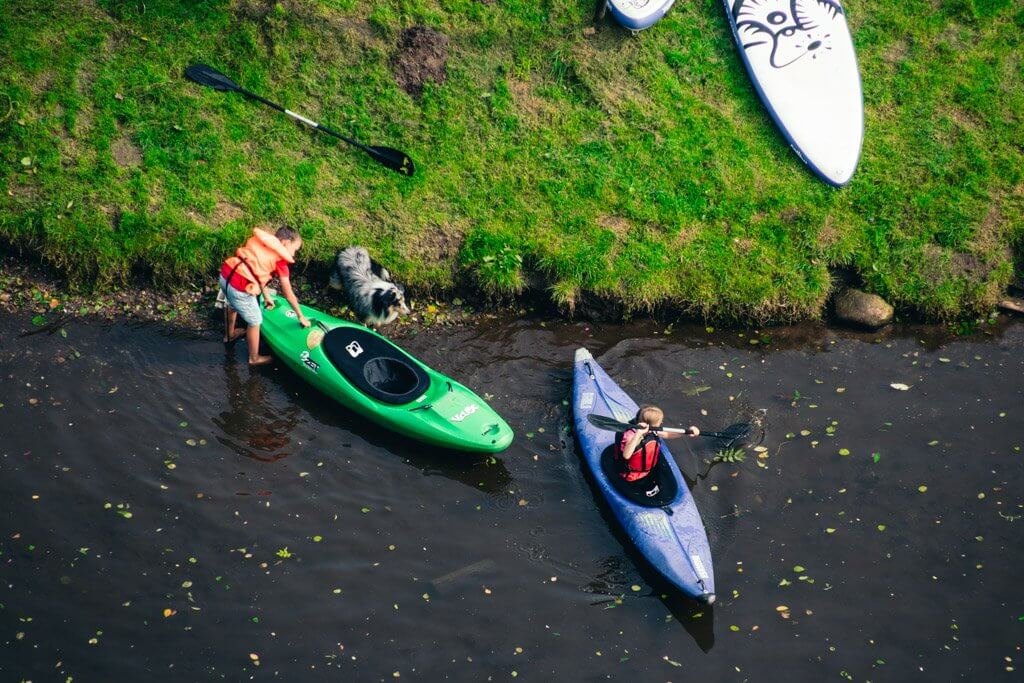 Float down the Jizera River overlooking the beautiful scenery via canoe. There are a few rapids but nothing too intimidating. After you finish your journey, you can return back to the starting point either by scooter to get your local experience or by train.
Rent scooters and kayaks from the Sun Disk Family facilities.
Stay in a Concept House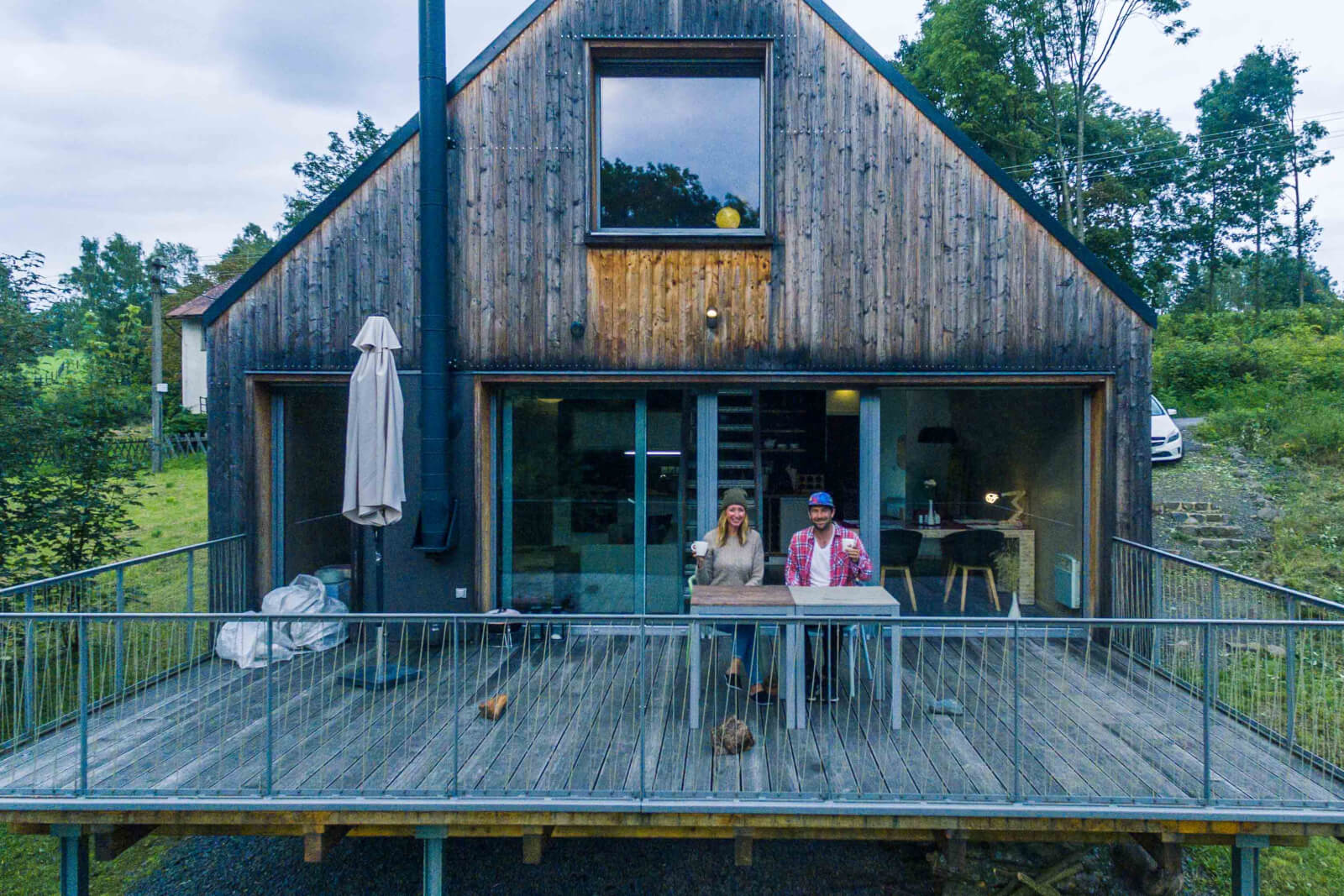 While you're reconnecting with mother nature in Bohemian Paradise, why not really isolate yourself in a concept house?
We stayed in Domesi Concept House with Amazing Places and loved how removed we were from everyone and everything else.
Not only are concept houses sustainable, they are super cozy and homey! Hotels are great, but having an actual home is ideal for fully equipped amenities, like a kitchen and living room. We loved the patio overlooking our very own small pond.
We also enjoyed all the natural light coming in through the windows. And if you want more privacy, you can use the automated blinds to close you off from the outside world.
This is great for couples, families, or a group of travelers since there's more than one room.
Tips for Bohemian Paradise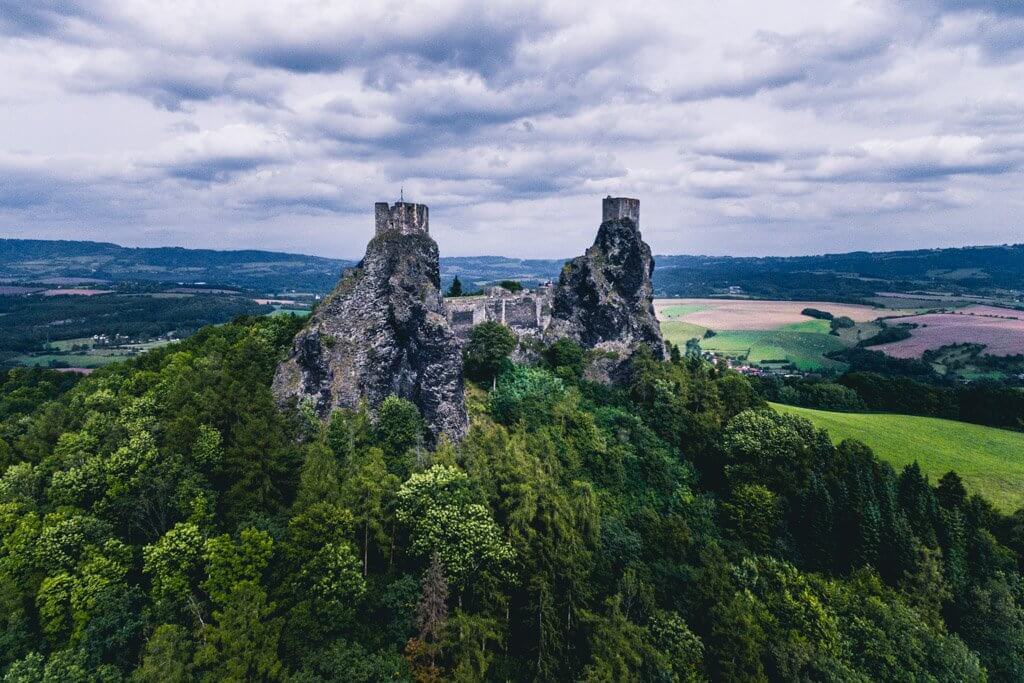 How to Get Around
Bohemian Paradise is pretty spread out and best visited by car. Otherwise, you will be very limited with what you can see or experience. We recommend spending 2-3 full days at least hit up the highlights of the area. Our trip took about 2.5 days to see all of these sites.
Download a Translation App
The English speaking in the area is limited but not impossible to find. Be sure to come with a translation app or know a few key phrases before coming. If you plan on doing tours be sure to check and plan what time the English speaking guides will be giving tours so you do not miss out on all the interesting history. Some places like Vranov Rock Fortress will give you an English brochure.
Most of all, be sure not to miss the rock tower mazes and labyrinths while you're here! They really are what makes this entire area special and even more picturesque.
If you love the beauty of this Czech paradise, than you will also love Bohemian Switzerland. Be sure to also check out our Czech Republic travel guide for more tips on planning your trip!
Liked this post on the Czech Republic's Bohemian Paradise? Share the love below on Pinterest!