The Czech Republic is so much more than its capital of Prague. The entire country is filled with magical towns with castles, sweeping landscapes, and even their very own wine country. We put together this guide and the Czech Republic itinerary for visitors to not only help you plan your 3 days, 5 days, or 8 day trip with awesome places to visit in the Czech Republic but for visitors to see what the country is beyond Prague.
We have spent weeks and even months in the Czech Republic each visit to get to know this country extensively and put together the perfect Czech Republic itinerary together.
We recommend taking your next holiday here to the next level by renting a car and setting out for an epic Czech Republic road trip making your way from Prague sleeping in castles, visiting historic cities, check out UNESCO World Heritage Sites, drinking wine from the cellars of chateaus to walking through caves and National Parks.
Start your trip by renting a car in advance, the good news is you don't need a special international driver's license to rent here. Pick up your car in Prague and choose a drop off either back in Prague or where you want to end your Czech Republic itinerary.
Czech Republic Itinerary Options:
The ultimate Czech Republic itinerary is 8 days leaving from Prague. However, you may want to schedule an extra day or two if you decide to spend time in Prague. We have plenty of recommendations for Prague from what to do and where to stay in the city if you choose to do so.
From Prague, we have a 1-3 day itinerary through the Central and Southern Bohemia regions, a 3-5 day itinerary through East Bohemia and South Moravia, and 5-8 days through Brno and Central Moravia. You can use our Czech Republic itinerary to customize your trip depending on your length, although we highly recommend completing the entire 8 day Czech Republic itinerary and road trip as put together in this article.
Table of Contents
Top
Day 1: Leave Prague to Mcely Chateau
Prague to Chateau Mcely (67 km)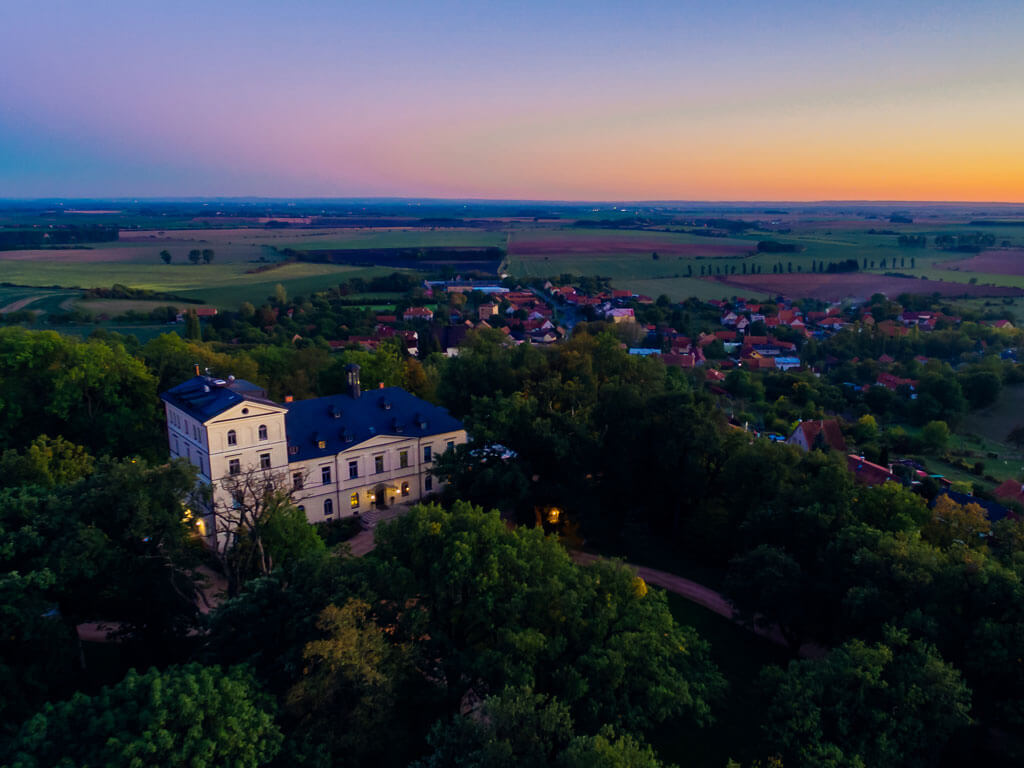 Kick off your 8 day Czech Republic itinerary in style by visiting and staying in a 5-star Chateau resort in the Czech countryside surrounded by the St. George Forest and the small village of Mcely. This is one of the most unique experiences and places to visit in the Czech Republic and a place for ultimate relaxation surrounded by the beauty of the countryside and a quaint little village.
Chateau Mcely is a beautifully restored chateau that took a hit during WWII when the building was confiscated and badly damaged until the current owners bought and renovated in 2001 opening its doors in 2006 to its first guests in their individually curated and themed rooms. There is no corner in this chateau that wasn't carefully thought out with detail. We especially loved the dining area and the balcony on the second floor overlooking the backyard and the forest.
Here you can enjoy therapeutic spa treatments and rituals with homemade natural essential oils and cosmetics, take a class on how to make the homemade natural cosmetics (they sell their own line here too!), swim in their natural swimming pool, walk or bike around the grounds and the town of Mcely, skim through the library and peek out at the observatory tower, and enjoy a fine and carefully selected course dinner. We will warn you, it will be hard to leave!
Book Now | Compare Prices for Later | Read Trip Advisor Reviews
Nearby: Prachovske Rocks (37 km)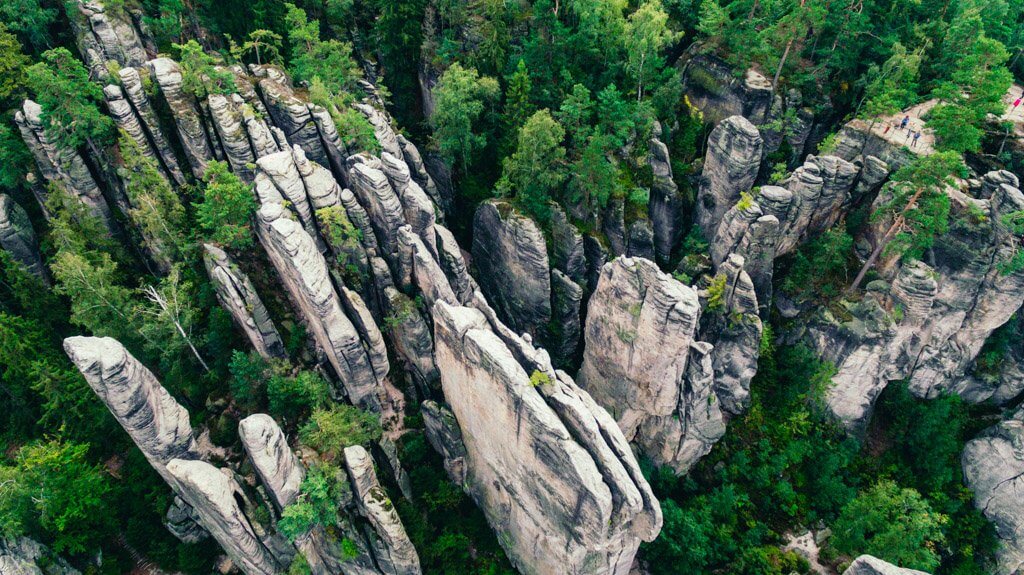 Just a 40-minute drive from Chateau Mcely is the Prachovske Rocks, a true natural gem in the Czech Republic's Bohemian Paradise Geo Park. Experience the landscape that has inspired painters, poets, and authors throughout history. Spend a few hours making your way through the labyrinth of sandstone towers and unique rock formations over 60 million years old. Climb up to incredible viewpoints and check out the incredible vistas while watching local rock climbers and the scenery below.
Day 2: McCely Chateau to Kutna Hora
Chateau Mcely to Kutna Hora (52 km)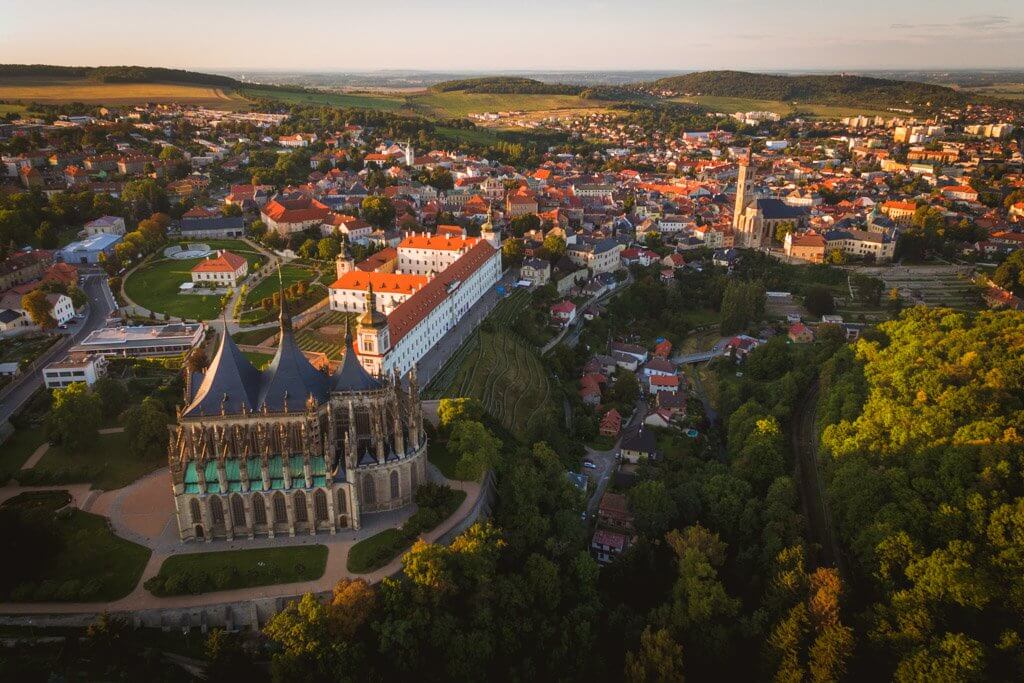 Wake up in a chateau, enjoy the amazing breakfast spread complete with caviar and at your leisure make your way to the gorgeous city of Kutna Hora for your day 2 of your 8 day Czech Republic itinerary. Spend the day strolling through the cobblestone lanes of Kutna Hora while admiring the charming homes and buildings and the impressive and masterful Gothic centerpiece of the city, St. Barbara's Cathedral. This cathedral was completely funded and built by the locals over the course of 600 years and has become a symbol of pride for the area as well as a UNESCO site. Visit inside the cathedral, visit the Italian Court, the former royal residence and mint, tour the silver mines, the tiny but incredible Chocolate Museum, and enjoy the outdoor gallery of statues on Babroská Lane leading to the cathedral.
Be sure to also make your way to neighboring Sedlec, an easy 15-20 minute walk or 5 minute drive to witness the Sedlec Ossuary, aka Bone Cathedral with an interesting display of over 60,000 human remains in ornate patterns and designs attracting visitors daily and the Church of the Assumption of Our Lady another gorgeous cathedral and UNESCO World Heritage Site.
To see more about what to do in Kutna Hora check out our guide here.
Eat & Drink in Kutna Hora
V Ruthardce is a dynamite option to eat lunch or dinner if you plan on eating in the evening be sure to make a reservation as this is a very popular spot in town serving up traditional and hearty dishes in its medieval style restaurant along with fresh, unpasteurized beer from the tank. We have eaten here 3 times and each time was a knockout.
Where to Stay Kutna Hora
Hotel Opat is a charming hotel in a historic building dating back to the 15th century with cozy rooms with touches of the past, our room had a painted ceiling and exposed wooden beams. Breakfast is included and parking is free on site.
Book Now | Compare Prices for Later | Read Trip Advisor Reviews
Day 3: Kutna Hora to Tabor to Český Krumlov
Kutna Hora to Tabor (91 km)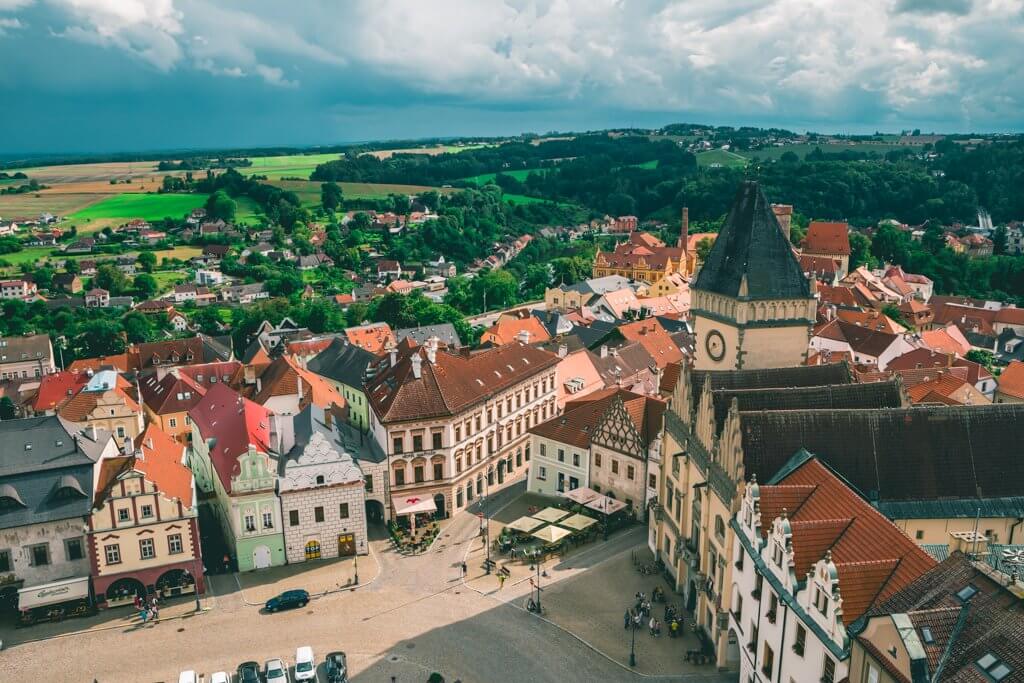 This charming town in South Bohemia is your next stop on your Czech Republic itinerary. While you don't need an entire day to enjoy the splendor of this quaint and picturesque little town, it is one not to be missed en route to Český Krumlov and a great stop to stay for lunch.
Start your time in Tabor by heading to Zižka Square lined with Gothic, Renaissance, and Baroque buildings with the beautiful Deanery Church of Lord's Transfiguration and the bell tower. Be sure to climb the bell tower for a stunning view of the square below, however, the stairs up to the view are not for the faint of heart, if you have any injuries or trouble climbing in small narrow spaces with uneven stairs we recommend skipping this stop. Other things to do in Tabor that make it a great place to visit in the Czech Republic include a tour of the underground tunnels accessible from Town Hall in Zižka Square, visiting the Klokoty Monastery, and making a quick stop in the Chocolate and Marzipan Museum before heading off to your next stop.
Read more about Tabor here.
Eat & Drink in Tabor:
For a coffee break check out Kafe Havana which also has a full menu and beer on draft or if you're looking for one of the finest restaurants in the region check out Goldie Restaurant located in Hotel Nautilus.
Tabor to Český Krumlov (88 km)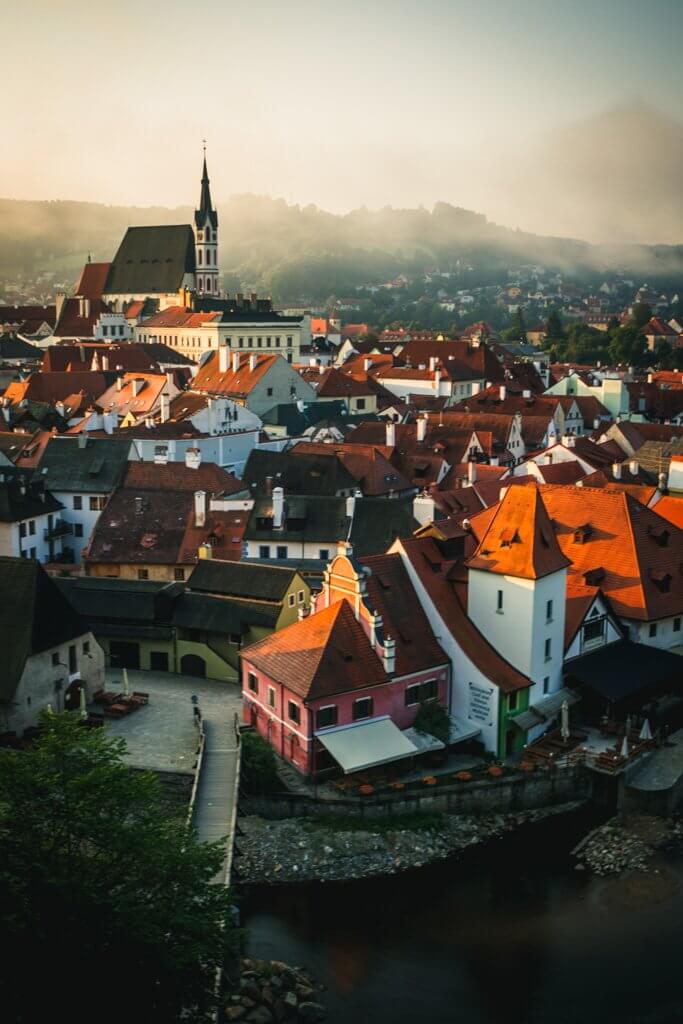 Embrace yourself for your next stop on your Czech Republic itinerary. This is one of the most romantic storybook villages in all of Europe, UNESCO World Heritage Site, and best places to visit in the Czech Republic. While this small city is popular with the tourists you can totally miss the crowds by planning your visit around peak visiting hours of 11 am – 4 pm.
Don't miss the city's castle, technically only 1 square meter smaller than Prague Castle as well as the exquisite Baroque Theater, castle gardens, medieval bears, enchanting viewpoints, Cathedral of St. Vitus, museums, and of course just strolling down the winding cobblestone lanes of this magical town. There's nothing not to love about this small town dotted with little orange roofs and the Vltava River wrapping around with the castle peeking down, you will feel like you stepped into the pages of a fairytale.
Read more about things to do in Český Krumlov here.
Eat & Drink in Český Krumlov:
Don't miss a chance eating at the medieval Krčma v Šatlavské ulici if you're a meat lover serving up dishes grilled over an open flame. Another great choice is Hospoda Na Louži serving up divine traditional Czech dishes.
For a drink head to Apotheka and old apothecary, now a cocktail bar with the apothecary theme.
Where to stay in Český Krumlov:
Hotel Ruze is a gorgeous 5-star hotel offering luxury rooms with incredible views, a spa, and an arts and crafts market in the courtyard. The hotel is facing the castle and offers an amazing panoramic view of the entire city as well as a viewing deck perfect for photos.
Book Now | Compare Prices for Later | Read Trip Advisor Reviews
Day 4: Český Krumlov, Třeboň, Telč, Znojmo overnight
Cesky Krumlov to Třeboň (45 km)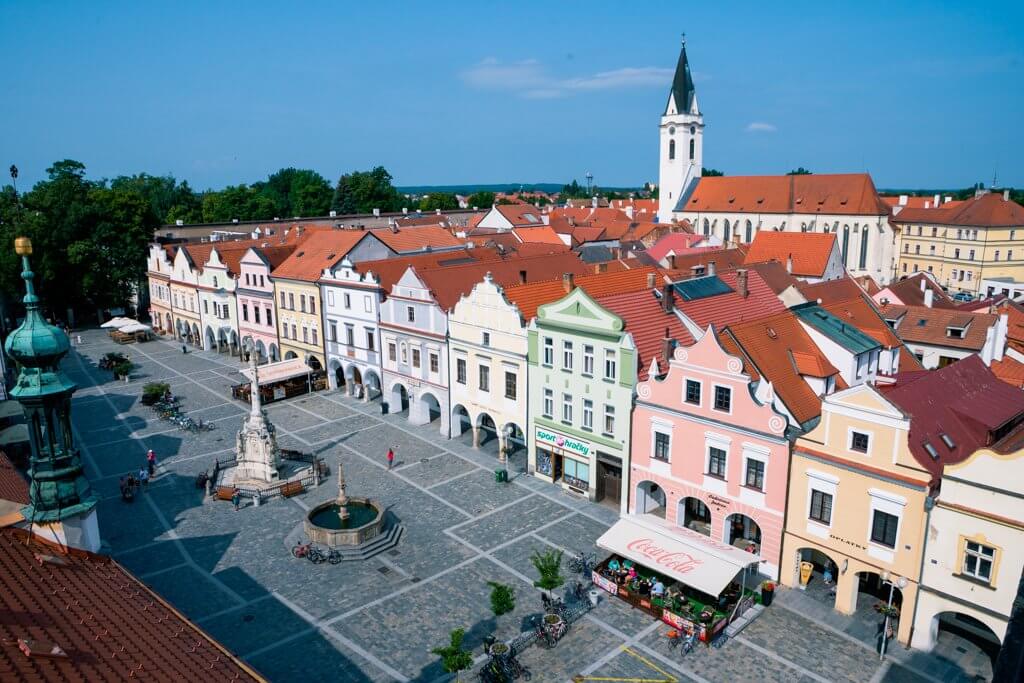 Your next stop on your Czech Republic itinerary is Třeboň. This is known as one of the best places to visit in the Czech Republic if you're looking for a wellness getaway or want to visit one of the many spa towns in the country. Filled with spas, wellness facilities, and beautiful town square, an intricate canal system, beautiful castle and gardens, local breweries, Church of Our Lady and St. Giles, and the beautiful Schwarzenberg Tomb a nice leisurely walk away from the town center 'Around the World,' (the local lake).
Don't miss the vantage point from the Old Town Hall's clock tower. This climb is better suited for every traveler, unlike the stairs in the bell tower in Tabor, the tower here has a little easier stairs to climb and you really don't want to miss the view from the top.
Read more about things to do in Třeboň here.
Eat & Drink in Třeboň:
The local specialty to eat in Třeboň is carp. Unlike the US, the carp is actually farmed and considered a delicacy eaten by the entire country as a traditional dish on Christmas day. You can find it every day here in Třeboň however at Šupina Restaurant as well as other fine seafood dishes.
Another great restaurant to check out is Bílý Jednorožec.
Where to stay in Třeboň:
If you end up spending more time enjoying Tabor and Třeboň then you also have the option of staying in Třeboň instead of moving on to Telč. We recommend staying in The Fairy Tale Family Hotel. The rooms here are modern and cozy and the location is in the historical center of town which is the perfect location for walking and exploring.
Book Now | Compare Prices for Later | Read Trip Advisor Reviews
Třeboň to Telč (68 km)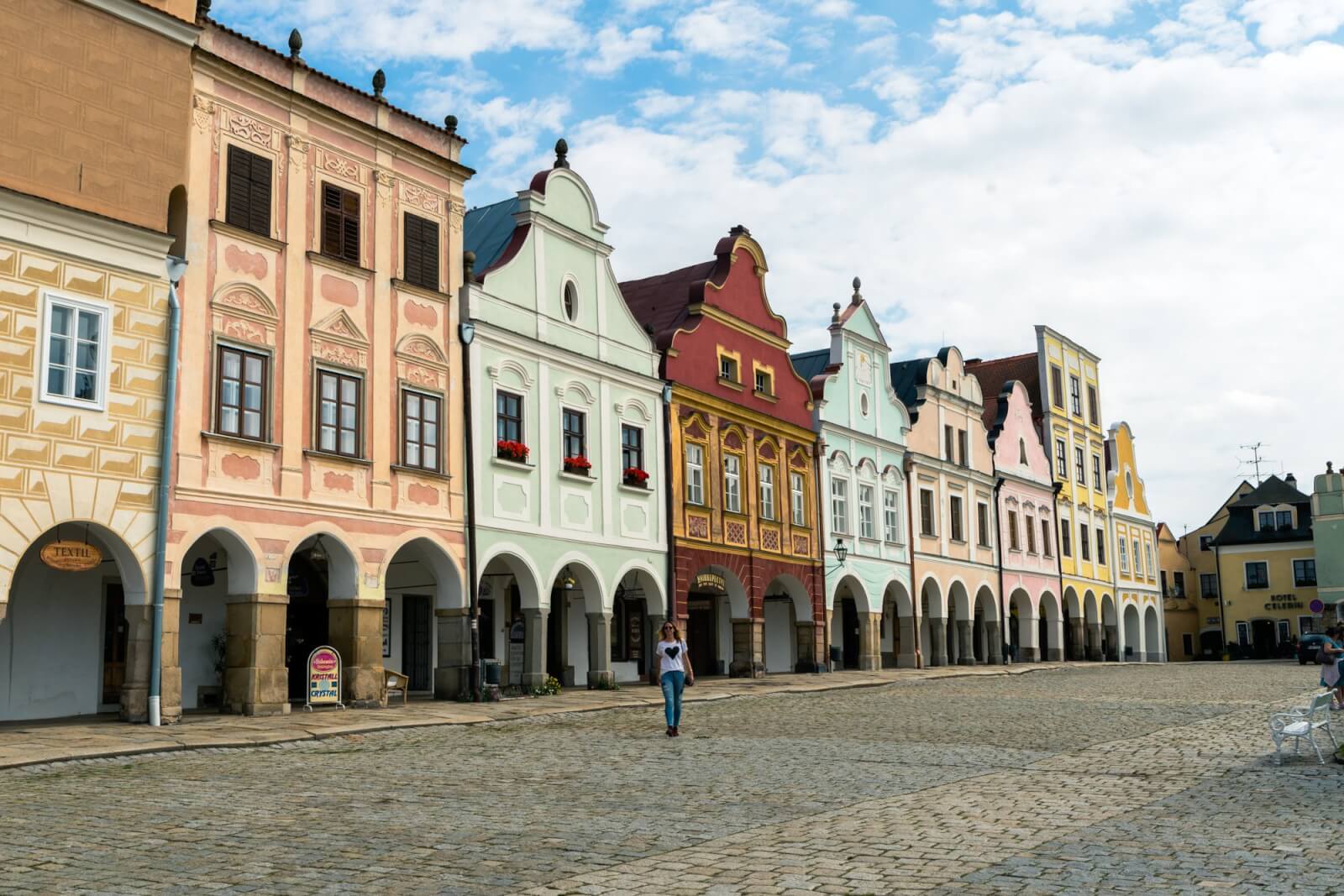 Another amazing place to visit in the Czech Republic and UNESCO World Heritage Site is the quaint and colorful town of Telč. Heading out of Bohemia to the southwest border in Moravia this town is ornamented with an array of colorful facades that make up this gorgeous and unmissable town square.
You really don't need to allocate too much time for Telč which is perfect for the design of our Czech Republic Itinerary as we have you only here until lunch. Make your way through the town center for photos stopping to visit the underground as well as the Gothic cathedral of St. James, where you can also climb the tower for a bird's eye view of the gorgeous town square below. Visit the castle or take a leisurely walk down the Stare Mesto pond with the path lined with the statues of saints to the Church of the Mother of God. This is a relaxing walk and while the church itself isn't the most impressive in the country, it's still a nice quiet walk if you have the time.
Read more about the things to do in Telč here and learn more about the UNESCO Sites of Vysočina.
Eat & Drink in Telč:
Check out Bistro Café Friends for casual dining as well as Restaurant U Hraběnky.
Telč to Znojmo (62 km)
You won't be arriving to Znojmo until the evening, so we recommend booking a hotel and just relaxing before enjoying this beautiful Moravian wine town.
Where to stay in Znojmo:
We recommend staying in the Katerina Hotel, a boutique hotel with unique rooms in the center of Znojmo overlooking to Podyji National Park. The rooms are gorgeous and many rooms offer a stunning view or balcony overlooking the river and National Park. There's also a panoramic terrace and getting to town couldn't be easier by foot.
Book Now | Compare Prices for Later | Read Trip Advisor Reviews
Day 5: Znojmo, Podyji National Park, overnight in Mikulov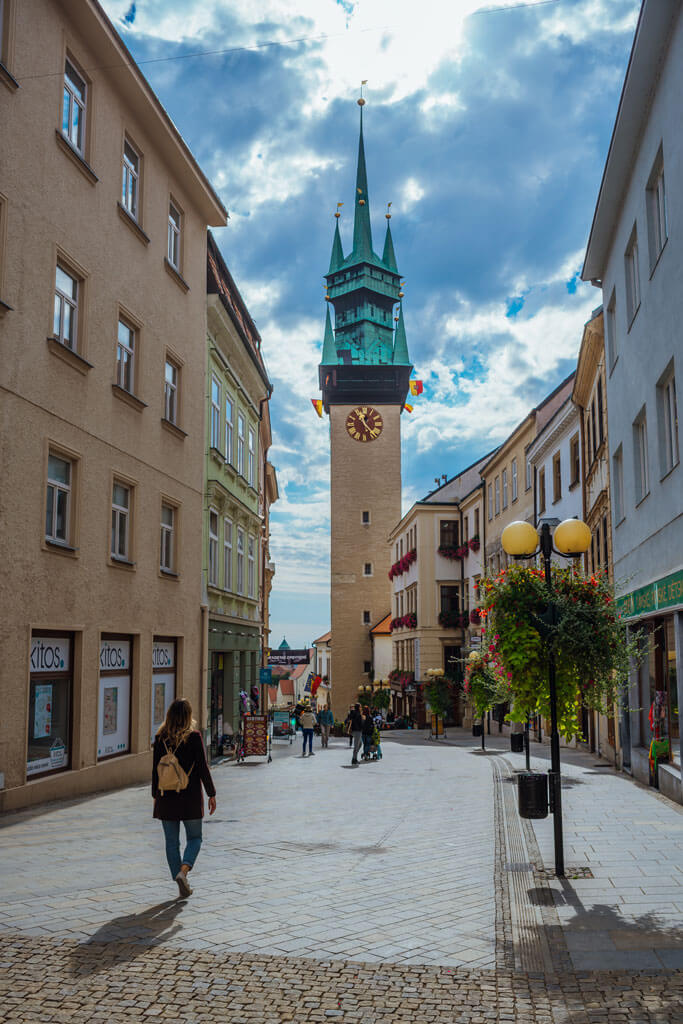 Spend your morning walking the streets of the magical city of Znojmo on the winding cobblestone lanes. The entire city is romantic and surrounded by the old medieval walls with gorgeous cathedrals, a beautiful town hall, castle, the underground, and not to mention plenty of places to drink the local Moravian wines.
The town center and all the tourist attractions in Znojmo are all centrally located and walking distance. Take your time exploring the area and if you're interested in the underground, one of the largest in Central Europe, be sure to check in with the different times of the tours so you can plan accordingly.
Eat & Drink in Znojmo:
There are plenty of restaurants in Znojmo to choose from as well as wine tasting rooms and bars. However, if you find yourself heading to Podyjí National Park and Šobes we recommend stopping at Hotel Vineyard Hnanice for lunch and wine sampling only a 15-minute drive from Znojmo city center.
Znojmo to Podyjí National Park (14 km)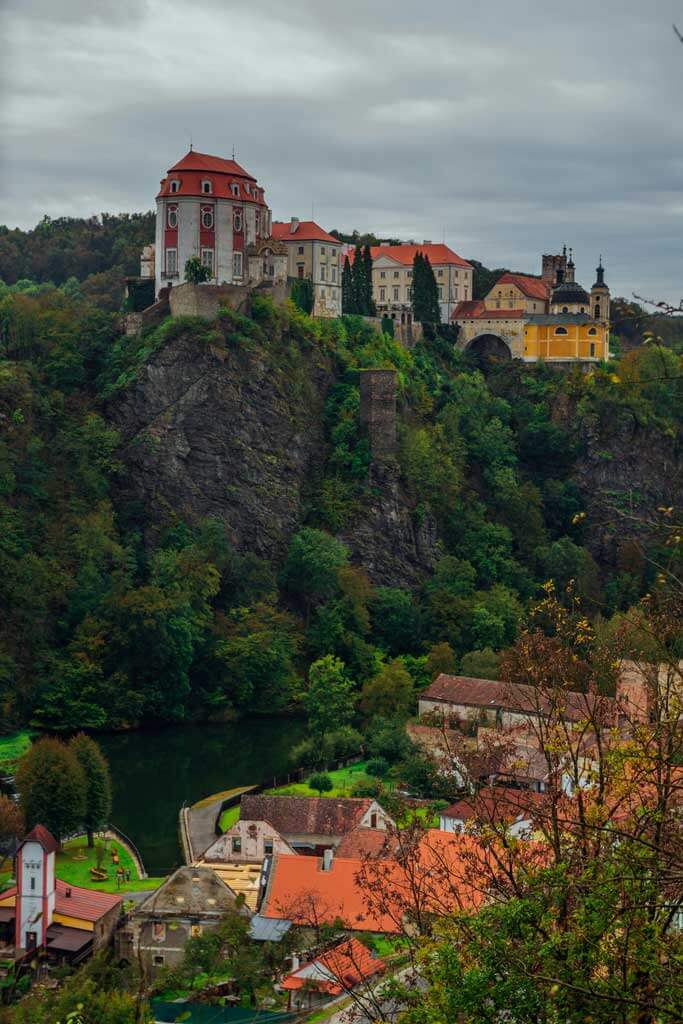 This next stop on your Czech Republic itinerary is only a short drive from Znojmo and worth seeing for yourself. One of the four National Parks in the Czech Republic, Podyjí a gorgeously protected woodland area with great views and hikes. For years during the Iron Curtain, this area was restricted.
Don't miss out on the views of Šobes Vineyard as well as the hiking trails and suspension bridges nearby swaying over the river or the breathtaking views of Vranov n. Dýjí Chateau from the viewpoint of the twisting and turning road or up close. Nature lovers could easily spend an entire day here if you are short on time opt for seeing the chateau and Šobes Vineyard with just a short walk.
Podyjí National Park to Mikulov (65 km)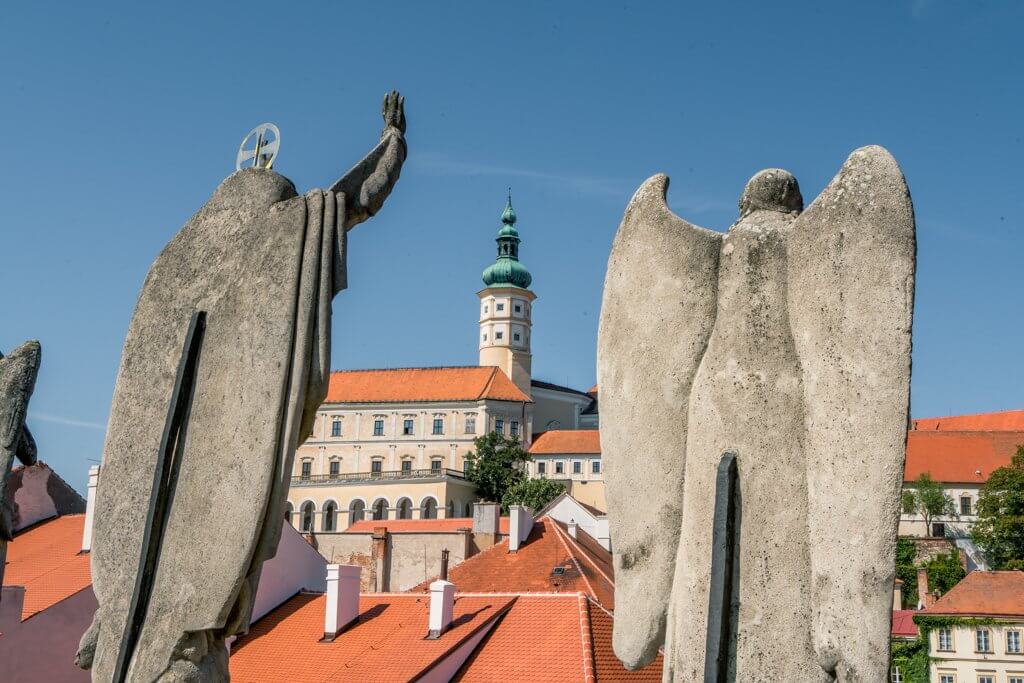 Our next stop on our Czech Republic itinerary is one of our personal favorite places to visit in the Czech Republic located in the epicenter of the Moravian wine country is Mikulov. We could easily spend a week here but for the sake of this itinerary, we will list the 'best of' so you can still experience all the other amazing places to visit in the Czech Republic as well.
Read more about Mikulov here from our guide.
Where to stay in Mikulov:
You won't want to miss staying in the town center of Mikulov. We enjoyed our stay at Hotel Galant, a lovely hotel just steps away from Mikulov's city center and the Holy Hill path. The hotel offers a wellness center, spa, expansive breakfast spread, tasting room, restaurant, and parking all on site.
Book Now | Compare Prices for Later | Read Trip Advisor Reviews
Eat & Drink in Mikulov
There are a few great options for dining and drinking in Mikulov. Our all-time favorite is Bistro Sojka and we have eaten here several times trying just about everything on the menu and pairing with our favorite local wines. Two other noteworthy places are Bistro Kuk and also Hotel Tanzberg.
Important note about driving in Mikulov
We have terrible luck here in Mikulov, we haven't visited this city without some sort of violation. There are speeding cameras ALL over the city and police who are scanning and on patrol all over the place, brush up on your Czech driving information especially here, DO NOT SPEED or they will catch you, even if by accident. They even have people set up trying to catch people speeding as they try to slow down driving through a town, if you don't slow down fast enough they might get ya!
Also, we use Google maps for navigating abroad and never have run into any issues until Mikulov. For some reason Google maps isn't updated on one way streets in this area, it took us about 10 m the wrong direction (we didn't see the sign saying it was one way) before we were pulled over and asked to pay a fine of 500 czk (~$22) on the spot. Know your signs and watch out in this area as Google maps was a bit unreliable here!
Day 6: Mikulov + Lednice-Valtice Protected Landscape Area, overnight in Mikulov
In Mikulov, enjoy walking through the enchanting city center making sure to stop at the magnificent castle, Dietrichstein Tomb with a view from the roof, take the 20-30 minute walk up the hill to witness a 360 view of South Moravia from Holy Hill, and of course be sure to try some of the local wines around the various tasting rooms and restaurants in the city.
Mikulov to Lednice (14 km)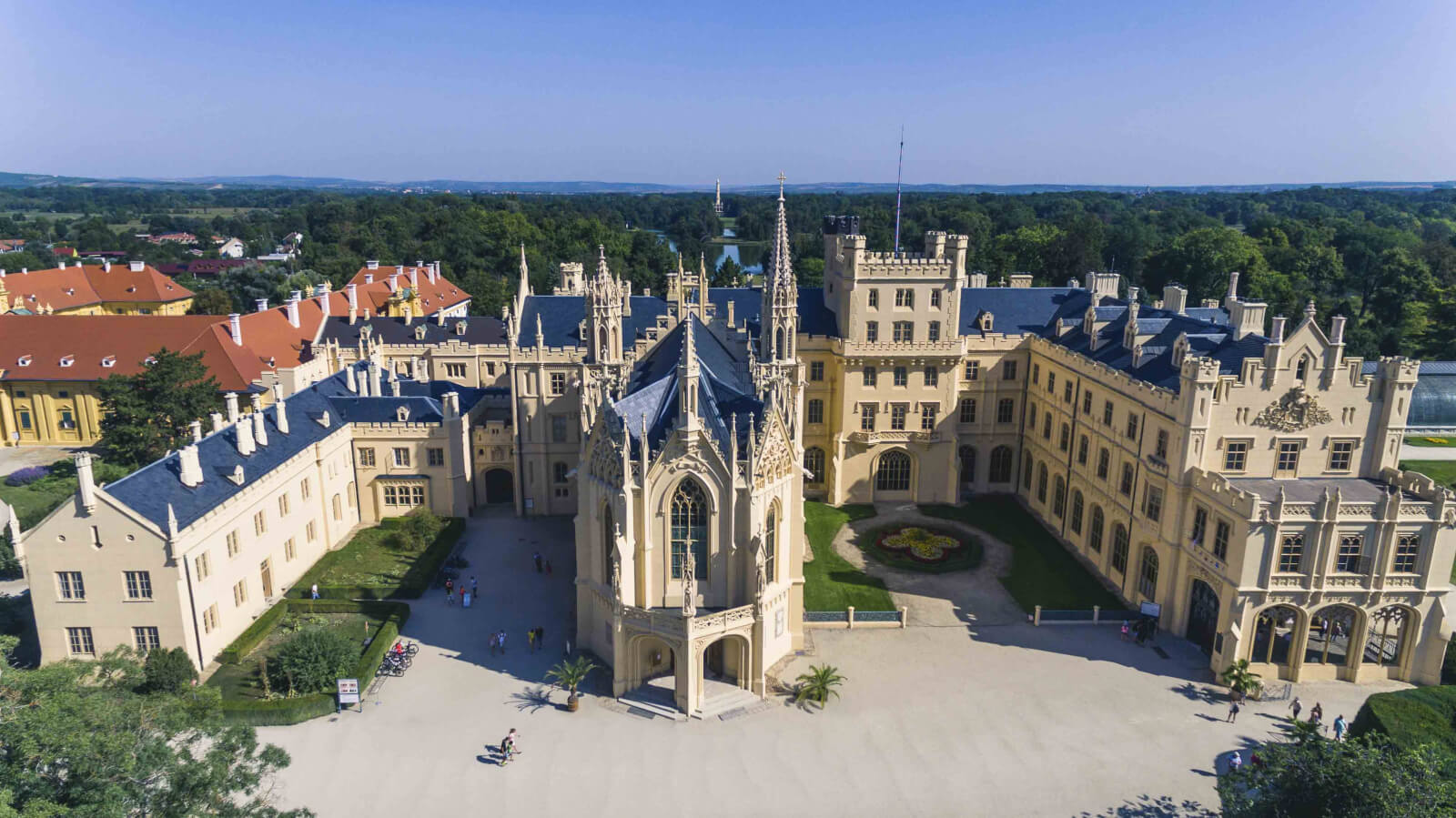 Another day, another fantastic castle and place to visit in the Czech Republic on your Czech Republic itinerary. Lednice is another astounding castle with exquisite original woodwork and interior décor worth touring. We are just in love with the rooms here and recommend joining the tour of the first floor for your trip.
Lednice was home to the Lichtenstein family, like Valtice Chateau, and everything that you see is perfectly preserved and the originals owned by the family in the 19th century. After enjoying the interior of the castle be sure to spend time exploring the gardens.
If you make your way to the backside of Lednice and the gardens you will find the Minaret which offers a magical view from the top of the spiraling 300 stair climb.
There are also more options for wine tasting around town. If you find yourself here during a meal check out Restaurace U Tlustých.
Lednice to Valtice (8 km)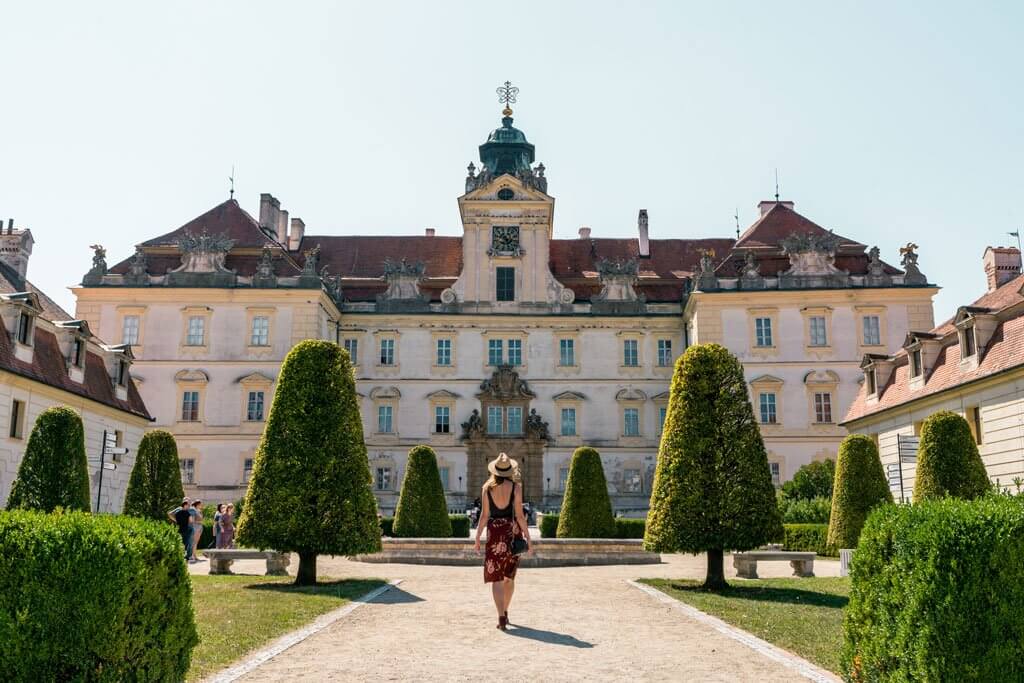 One of our favorite places to visit in the Czech Republic and something not to miss on your Czech Republic itinerary is Valtice Chateau. This grand Baroque chateau has an elegant interior, a beautiful theater, a wine cellar, and our favorite part the Wine Salon.
Be sure not to miss a once in a lifetime experience sampling the best 100 wines in the country in the Valtice Wine Salon. Shop as you enjoy unlimited samples for an hour or two hours depending on what you choose tasting your way through the best selection of the Czech Republic. Each wine has a QR code where you can look up the English description and information as well as the location the wine is from. What's even better is that compared to other wine countries, the wine is very affordable here and it will be difficult not to buy cases of wine to take home.
Last, make a quick drive up to Colonnade Reistna, a grand Classicist Colonnade overlooking the rolling hills and vineyards of South Moravia right at the Austrian border. You can even go inside and check out the viewing deck from the roof. Even if you're short on time, this is worth a quick visit for the view alone.
We recommend heading back to Mikulov for your dinner, but if you find yourself too hungry in Valtice you can check the various options just a few minutes walk from the castle.
Valtice back to Mikulov (13 km)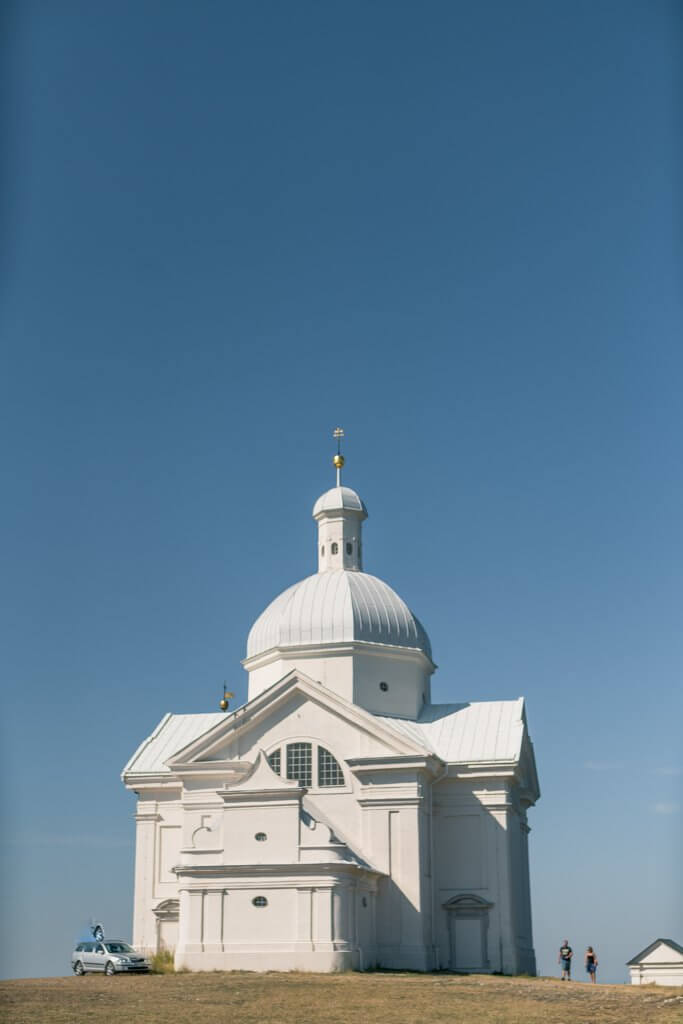 Head back to Mikulov for your overnight.
For Mikulov, Lednice, and Valtice be sure to reference our guide for more information on the area.
Day 7: Brno
Mikulov to Brno (51 km)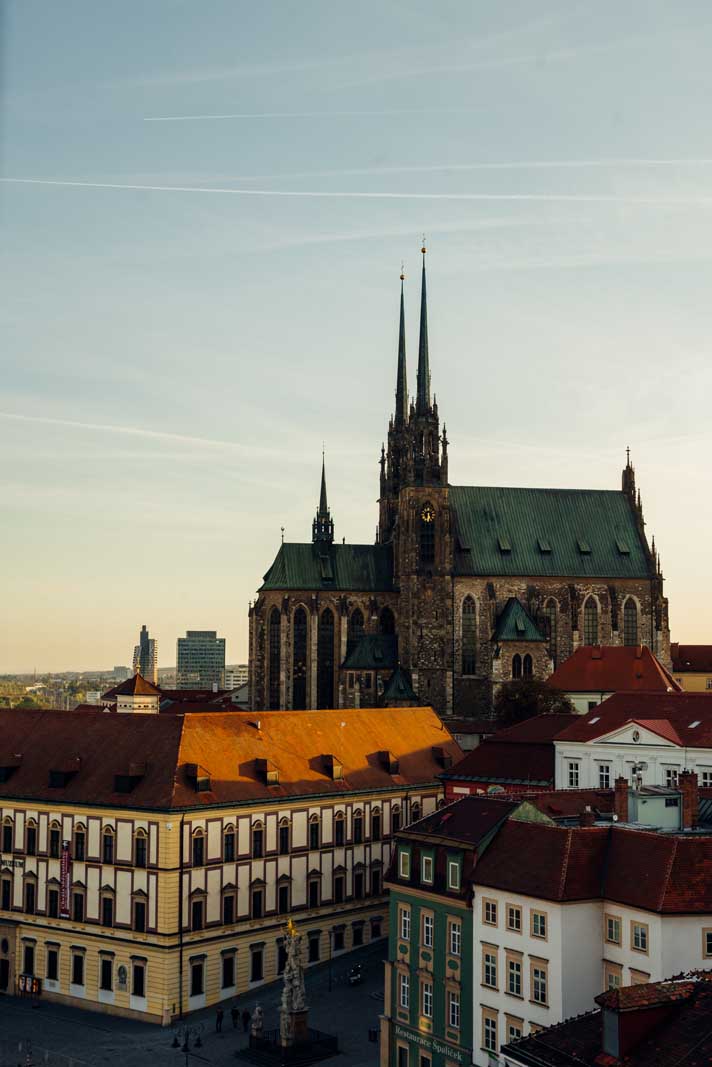 Our next stop on our Czech Republic itinerary is the second largest city in the country, some locals even argue that Brno is even better than Prague. To us, that's a hard debate but there is a lot to love about Brno and we can see why it's one of the best places to visit in the Czech Republic.
You can easily spend more than one day here, so if your Czech Republic itinerary is flexible then perhaps you can add an extra day here to get to know the city a bit more intimately. From the endless amounts of cafes, cool hangouts, the bar scene, and the incredible foodie scene you can do nothing but eat and drink here in Brno and be happy.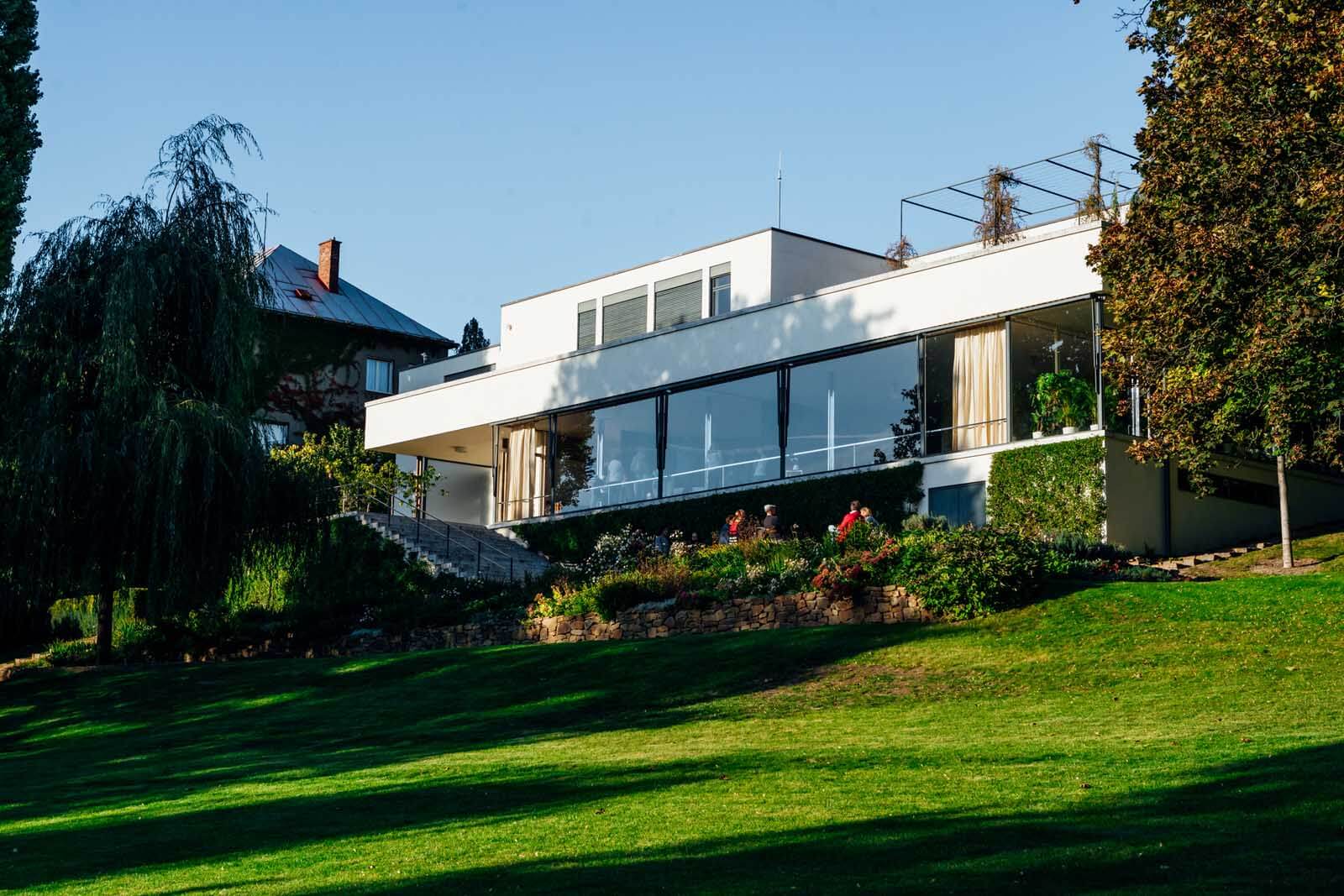 However, there are also plenty of great things to do and see here including the panoramic views from Špilberk Castle, great views from Old Town Hall Tower, the creepy and fascinating underground of the Brno Ossuary in the Church of St. James, the gorgeous cathedral of St. Peter & St. Paul, and one of the country's UNESCO World Heritage Sites at Villa Tugendhat.
If you find yourself in Náměstí Svobody around 11 am then you may want to witness the Brno Astronomical Clock. The clock is easy to miss, it's a weird looking modern black vessel shape in front of the modern Omega building in the historical looking town square. It sticks out like a sore thumb. At 11 am every day the clock does its daily routine of releasing a marble. This represents a bullet and the victory of Brno from an occupation from the Swedes. There are four openings to catch the marble and only one person a day gets it. If you plan on having a 25% chance of catching this marble as a souvenir you better get here early because there are locals who park here daily to try and catch it and sell it to tourists after. We are not going to lie, this was a very underwhelming experience we wouldn't go out of our way to see this, but if you happen to be here it's worth watching for the minute of time it will take out of our day.
Check out our guide for best things to do in Brno for a first time visitor.
Food & Drink in Brno:
There are so many options for where to eat and drink in Brno it's a bit overwhelming, we recommend checking out this guide by Brno. What we can say is everywhere we ate was amazing including traditional Czech fare at Stopkova Plzenska Pivnice great coffee, beer, and vegan bites at SKØG Urban Hub and a fun bar and cocktail experience at The Bar That Doesn't Exist.
Where to stay in Brno:
Check out Internesto to find modern apartments around the city, think Airbnb but by locals. We love having an entire apartment to ourselves and ours had an incredible view overlooking Špilberk Castle.
Book Now | Compare Prices for Later
Day 8: Brno + explore Moravian Karst
We recommend spending an additional day in Brno, or spend the morning in Brno and leave late morning to the Moravian Karst for a day of outdoor activities and experience the unique and beautiful cave system of Moravia.
Brno to Moravian Karst (34 km)
If you're craving some more nature on your Czech Republic itinerary then taking a day trip from Brno to the Moravian Karst is the perfect spot. Located about a 20-30 minute drive from Brno is the massive cave system of Moravia. There are 5 different caves to visit plus the Macocha Abyss, a gorgeous gorge with a cable car in the middle of the entire complex.
To get there you will need to drive to the Skalní Mlyn Information Center. From here you will need to buy tickets for the train or cable car depending on which caves you decide to visit. The most popular caves to visit is the boat ride through the Punkva Caves, however, we were unaware you need to make a reservation in advance and totally missed out on this opportunity, you can do that here.
A few of the caves you will need to drive to, but we recommend visiting the information center first to see which caves are open the day of your visit before making the drive, walk, or purchase your tram ride. We visited Catherine's Cave which was a 5-minute walk from the information center, they have guided tours so you will have to wait until the next tour starts as well. This trip requires a little planning but totally worth it. Check for more information here.
---
This is the end of your 3 days, 5 days or 8 days customizable Czech Republic itinerary! You have the ability to switch around days depending on your time but we strongly recommend getting to know this gorgeous country outside of Prague as there are many places in the Czech Republic worth visiting that visitors miss out on including any of the amazing castles in the Czech Republic.
From any of the destinations you can end your trip in Prague or if you end in Brno with our full 8 day Czech Republic itinerary you also are easily accessible to both Vienna and Krakow airports.
---
Liked this post about the ultimate Czech Republic itinerary and great place to visit in the Czech Republic? Bookmark for later or save on Pinterest below.