Karlovy Vary, Czech Republic is a place full of opulence, luxury, and wellness. It has gained fame over the past few centuries as being the go-to
getaway for healing and relaxation
.
Often known as Carlsbad, Karlovy Vary has attracted famous people throughout history. This includes names like Mozart, Beethoven, Freud, Casanova. Even big movie stars today escape here during their annual film festival. It's definitely one of the best things to do in the Czech Republic to unwind – especially if you've just been to one of the more adventurous areas like Bohemian Switzerland or Bohemian Paradise!
However, you do not have to be a celebrity to enjoy or experience the glamour and healing characteristics of this enchanting city. Anyone can visit and enjoy its curative powers. After all, taking a vacation is good for your health and reduces stress! Why not double down and take your next vacation to a world-renowned spa town? We highly recommend including this place on your Czech Republic itinerary.
Here are all the things to do in Karlovy Vary, Czech Republic to really enjoy yourself!
What to Do in Karlovy Vary, Czech Republic to Relax
Unwind at the Karlovy Vary Spa & Hot Springs
Charles IV discovered Karlovy Vary hot springs during a hunting expedition. Since then, they have become famous and drawn crowds for the springs healing properties.
There are 79 hot springs discovered in Karlovy Vary and 13 can be visited by strolling through each of the colonnades in town (more below). The springs located inside the colonnades are used today for internal and external healing and therapy by locals and visitors. The each vary in temperature.
Of course one of the more luxury things to do in Karlovy Vary is to visit one of the many spas and wellness centers within the city for treatments. Some even have outdoor swimming pools with excellent views.
The different treatments offered vary from spa to spa. The most common are:
Muscle relaxation with the baths
Baths infused with carbon dioxide for strengthening the immune system, blood circulation, and calming the muscles.
Body wraps with carbon dioxide to increase oxygen in the bloodstream as well as improve circulation.
Massages and hydrotherapy sessions
Try some of the Mineral Water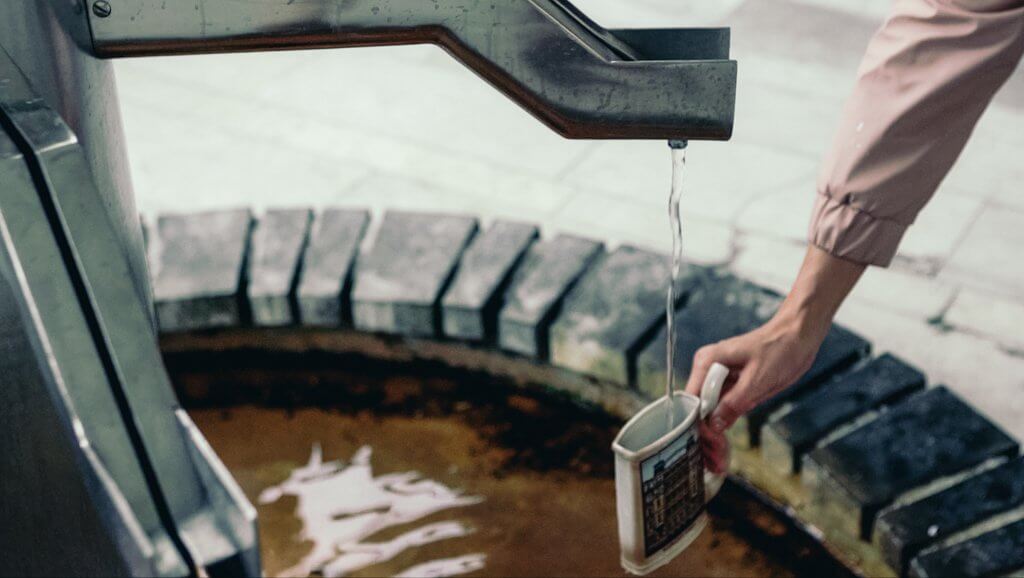 Walking through Karlovy Vary you'll notice people carrying around a small porcelain cup with a spout and handle. You will want to purchase one of these at many of the gift shops or even your hotel! This way you can sample some water from the natural mineral springs to get some healing internally.
Each spring is said to have its own healing properties and vary in temperature. People have been using this treatment since the 16th century. They have sipped on the mineral springs to help their digestion, metabolism, and even musculoskeletal system to name a few. The cooler temperature waters are said to have more of a laxative effect while the warmer temperatures have a calming effect.
Be ready though, the mineral water has a strong salty taste. It's meant to be consumed in small portions. Do not overdo it as you could work against yourself and get sick!
Locals who have been using these curative mineral water's powers for years can consume up to 1-4 liters per day. However, if this is your first time take it easy and just try a few sips from each spring and pace yourself. We were told that if you consume too much, you can give yourself diarrhea or even worse breakout in hives. We were fine, but we did sip in moderation.
Check out the Beautiful Colonnades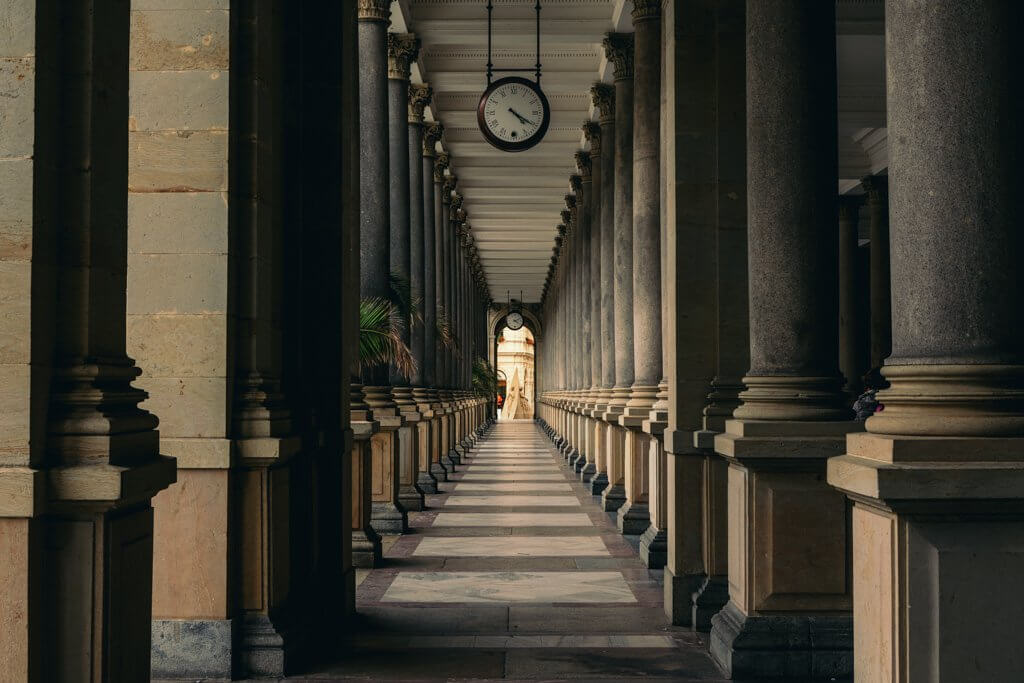 As mentioned before, one of things to do in Karlovy Vary is to visit any or all of the five major colonnades. This is where you can find most of the springs to sip mineral water from. The colonnades themselves are magnificent to look at! Enjoy the beautiful architecture with your mineral water.
The Mill Colonnade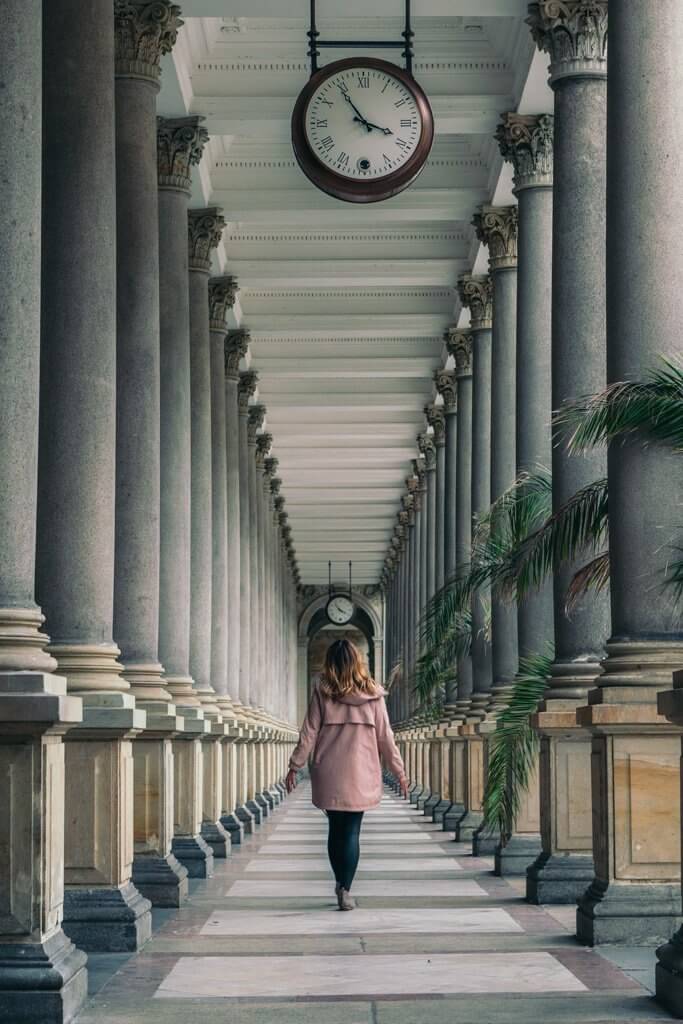 The Mill Colonnade or Mlynska is the most impressive and easily recognizable colonnades in Karlovy Vary. Its architecture is Neo-Renaissance, and it contains the most springs of any of the other colonnades at 6 total. This is also a great place to take photos. The inside and outside are incredibly picturesque. We especially loved the nave with the clocks.
Park Colonnade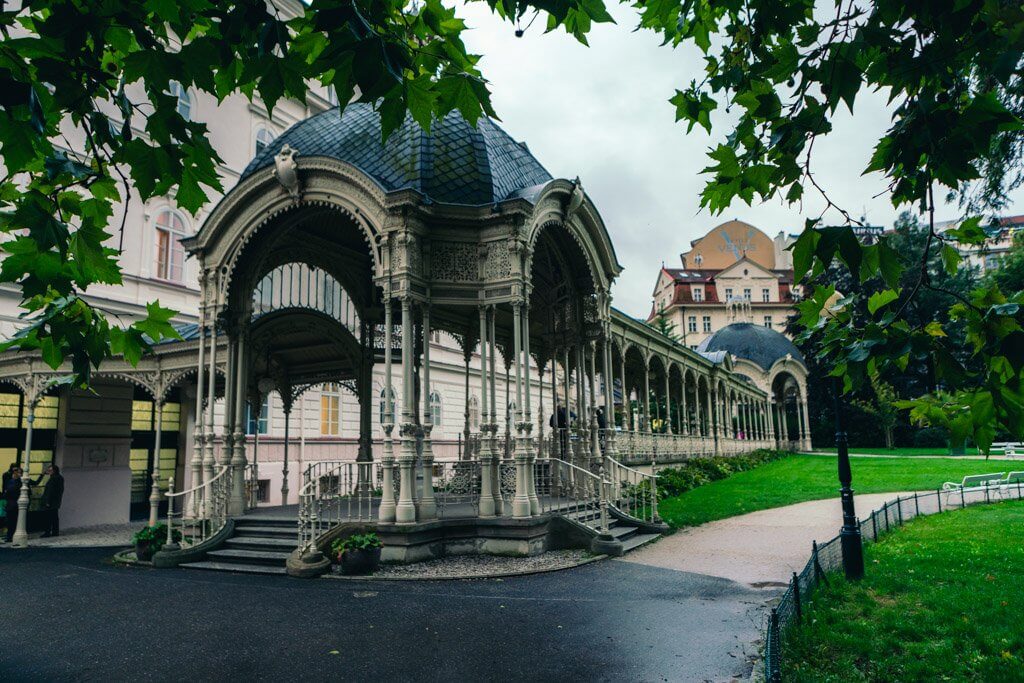 The Park Colonnade or Sadova is another impressive and intricate architectural structure made up of cast iron. This colonnade is home to three different springs including the popular snake spring.
Market Colonnade
The Market Colonnade or Trzni is a beautiful Swiss style structure made of wood. It was under restoration and construction during our visit, but you could still see some of the beautiful details in the woodwork. There are two springs inside including the Charles IV spring and the Market spring.
Castle Colonnade
The Castle Colonnade or Chateau is made up of stone in Art Noveau style. The entire colonnade is not accessible and only contains two springs, the upper and lower springs. We sadly missed this colonnade during our brief visit to Karlovy Vary.
Hot Spring Colonnade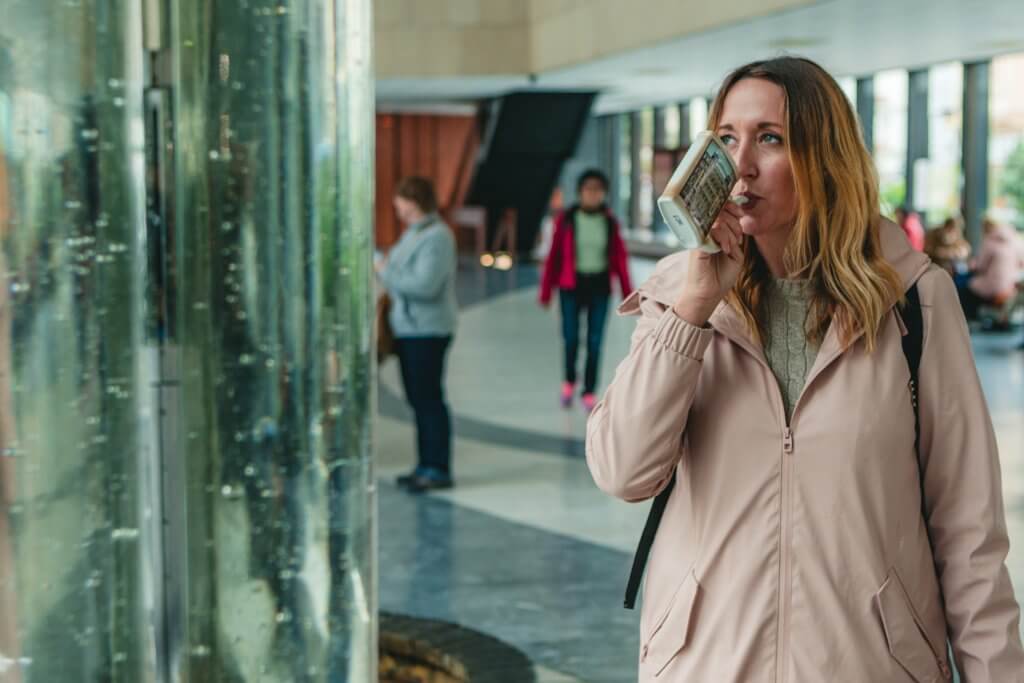 Hot Spring Colonnade or Vridelni is a modern structure built between 1969-1975. It pumps out the most mineral water at once at a rate of 2,000 liters per minute. The indoor complex has 5 different areas where you can try the different hot springs and is a good place to purchase your drinking up and one of the local spa wafers.
You can recognize the Hot Spring Colonnade not only by its modern look but also by the steam and hot spring fountain spurting water outside. There are also plenty of places to take a rest and sit for a bit as you sip on your mineral water here as well.
Wander around to enjoy the Gorgeous Architecture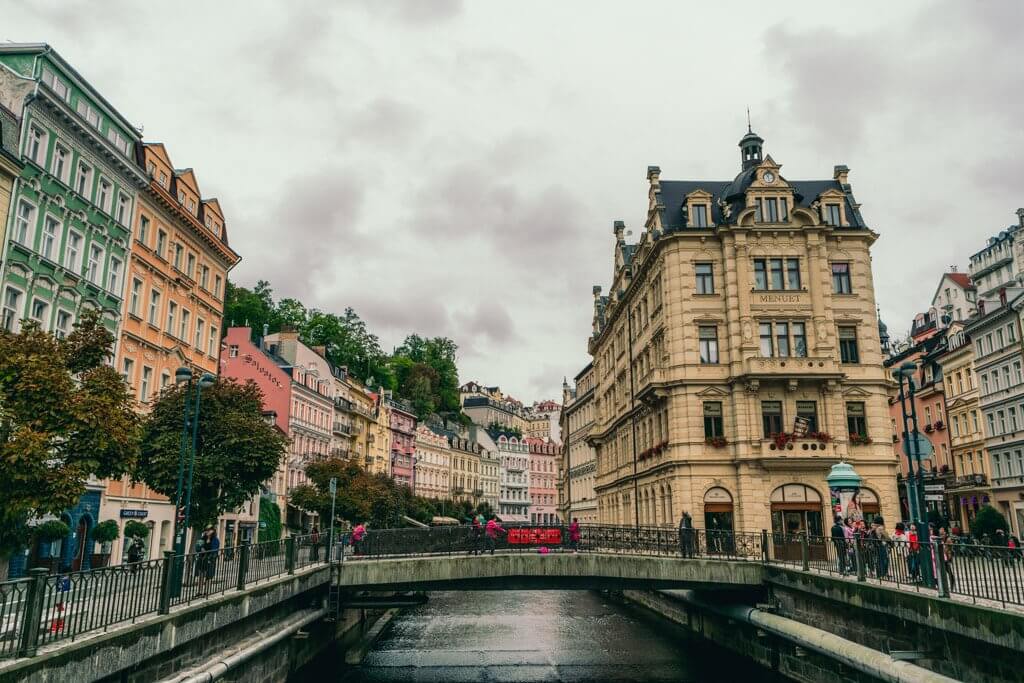 Besides the beautiful colonnades, the entire city of Karlovy Vary is full of opulent and extravagant architecture from every spa, hotel, and building present.
The exquisite buildings are a blend of Neo-Renaissance, Neo-Classicism, Neo-Baroque, Art Deco, and Art Nouveau styles are as eye appealing on the inside as the outside. Easily one of the nicest things to do in Karlovy Vary.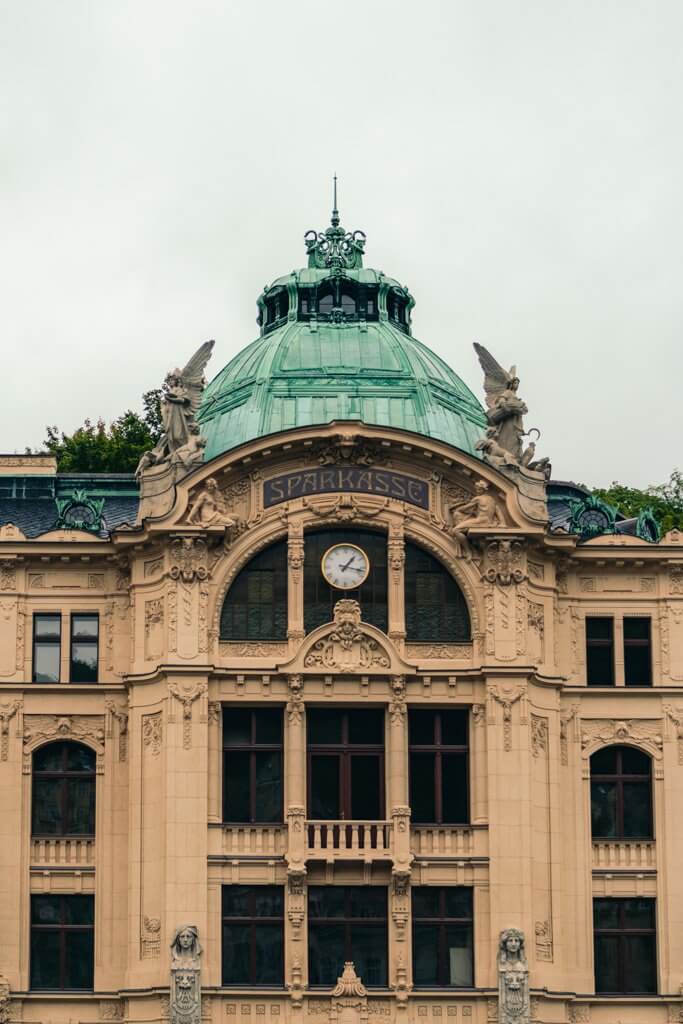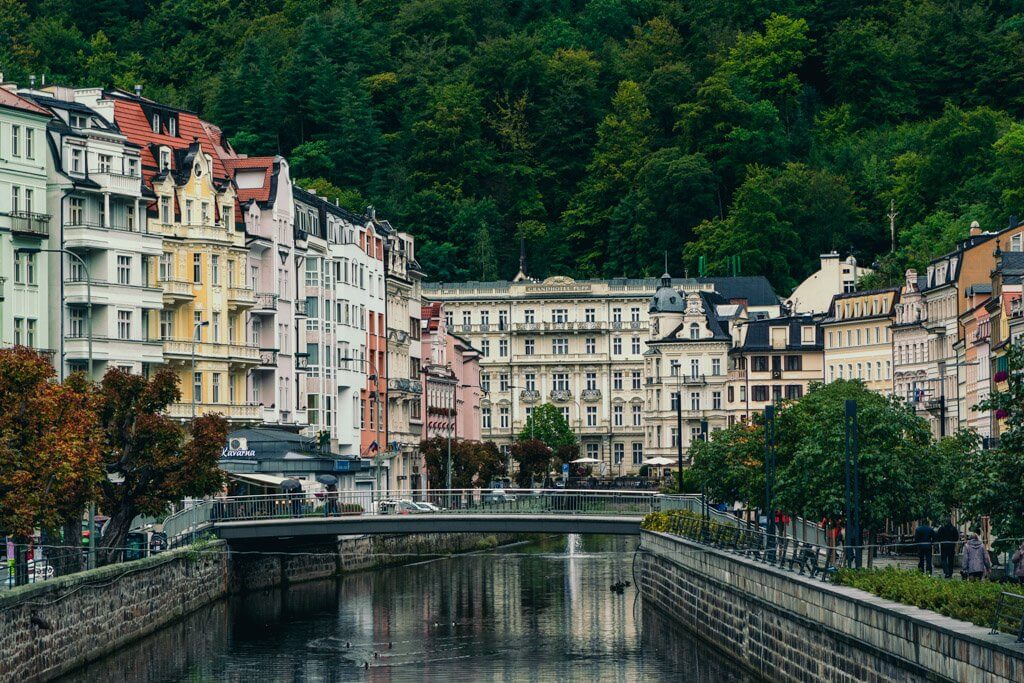 You feel as if the entire town was built only for noblemen and the wealthy just by appearance. You can't help but be in awe by the beauty and elegance of the entire city.
Do some Shopping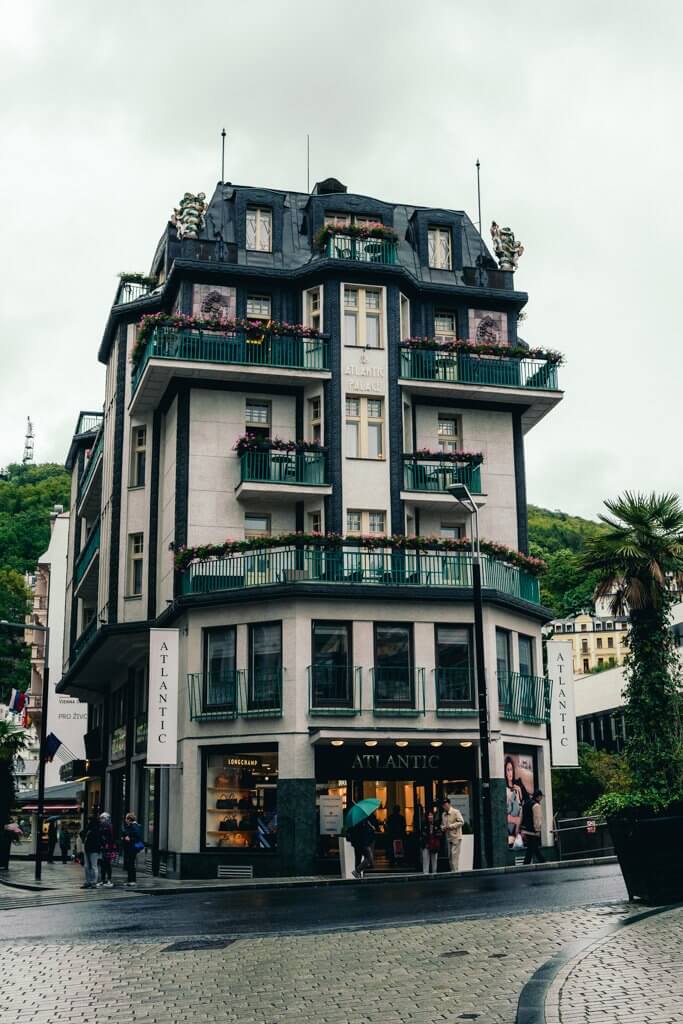 Luxury and designer shopping goes hand in hand with a city full of extravagant architecture and lavish spas, so make sure to check out the boutiques in Karlovy Vary.
The streets lining the Tepla River are full of shops containing designer apparel, fur jackets, leather shops, and anything frilly you can think of.
You can also find plenty of locally run cosmetic and skin care stores featuring everything from beer infused skincare to Karlovy Vary mineral salt skincare products.
For those not able to afford the designer labels there are other options for shopping at a shopping mall near the city center with brands like H&M.
Check out some James Bond filming locations
One of the fun things to do in Karlovy Vary is to check out where some films were shot!
We love discovering that we are visiting famous shooting locations for some of our favorite movies. Two popular US Blockbuster movies filmed here, include Casino Royale featuring Daniel Craig as James Bond and The Last Holiday with Queen Latifah. While we haven't seen The Last Holiday, we may be inspired to do so just because we find it fun to watch the films in places we have been.
We were most intrigued with 007 being here in Karlovy Vary. The scenes filmed in Casino Royale were the Montenegro scenes in the film. They filmed at the Grand Pupp Hotel and the former Kaiserbad Spa just next door. You can also spot the city in some smaller scenes.
We ended up splurging for a date night and enjoying a dinner in the same restaurant and almost the same table location as James Bond in the Grand Pupp Hotel. This is a fun experience if you're a Bond fan!
More scenes in Casino Royale were filmed in the nearby medieval town of Loket, which is also worth a visit.
Visit Loket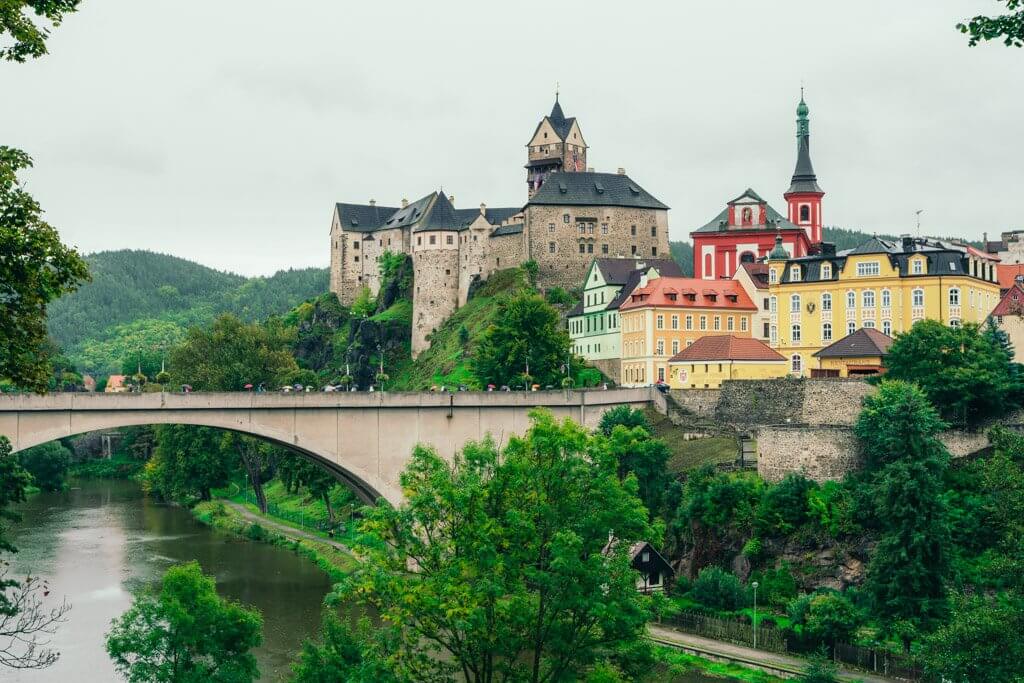 Give yourself enough time for Karlovy Vary to also visit the small, medieval town of Loket nearby. Only a 25-minute drive or bus ride away, this is a sensational little town you don't want to miss.
We only needed a few hours to explore one of the oldest stone castles in the Czech Republic as well as the delightful city center.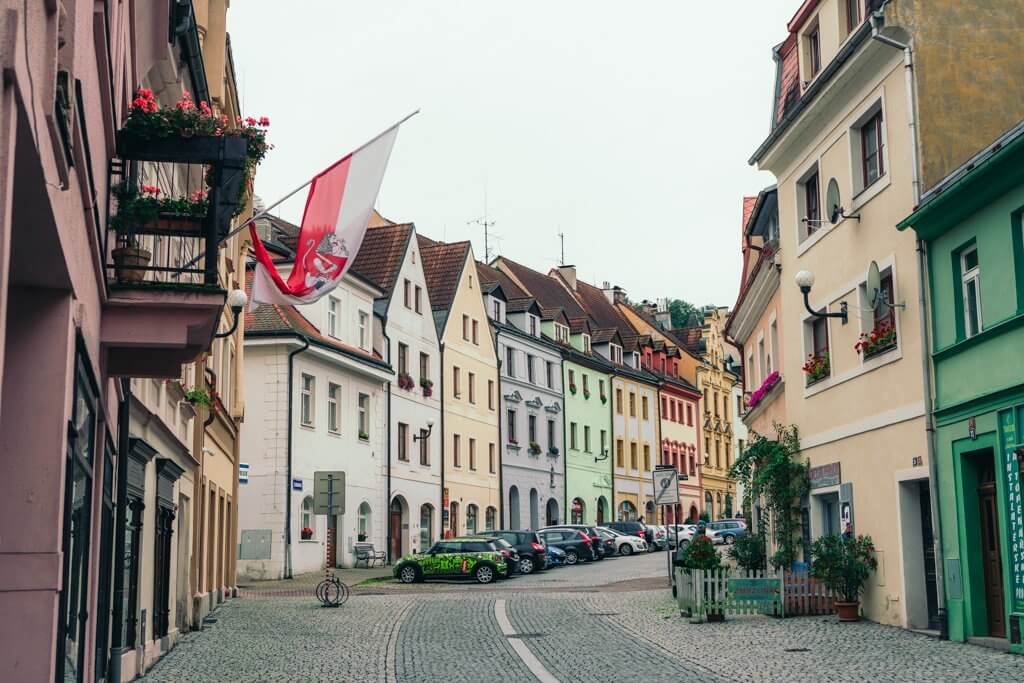 We were reminded a bit of Cesky Krumlov as the Ohre River wraps around the city in a similar way. We were a bit bummed it was raining and we couldn't pop up our drone for a lovely aerial shot.
You can self-guide your way through Loket Castle by weaving your way through the chambers, rooms, dungeon, and ramparts. There are interesting artifacts inside and the torture chamber section will give you the chills. As you're walking around the castle perimeter you can visit the Black Tower for free and take a peek at the goats that live along the outside of the castle walls.
While visiting the town center you can witness the spot where James Bond famously parked his Aston Martin. The restaurant next door Goethe is where Bond and Vesper met Matthis.
Be sure to enjoy a delicious lunch at St. Florian Brewery before heading back to Karlovy Vary.
Try some Karlovy Vary Wafers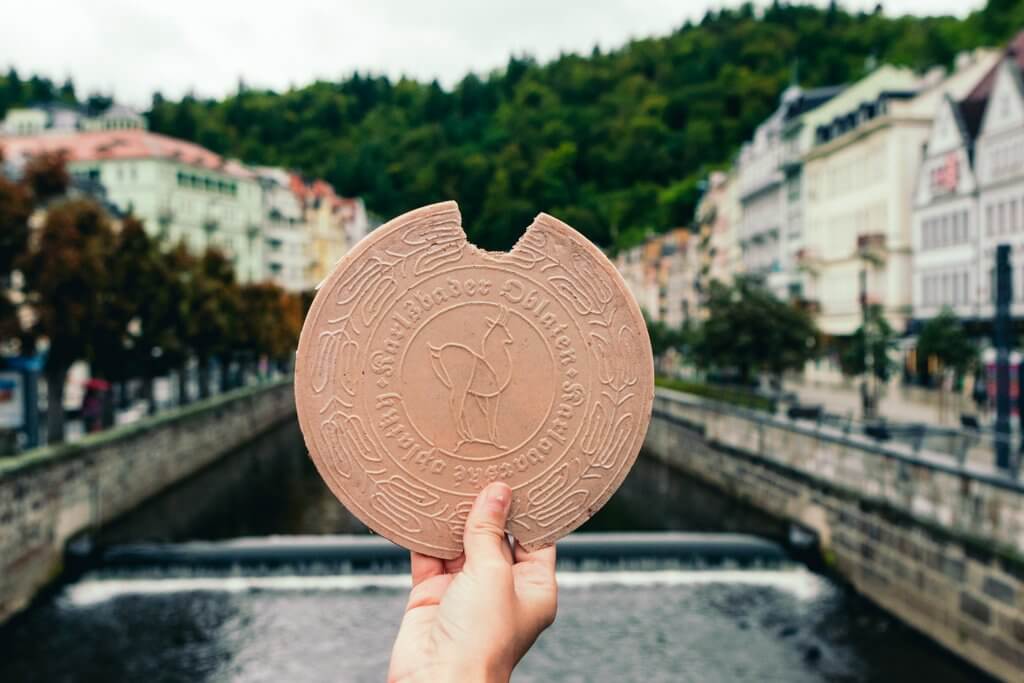 The foodie top thing to do in Karlovy Vary is to try one of the local spa wafers! The wafers come in a few different flavors and can be easily found in the colonnades for next to nothing.
We tried the chocolate one and it was delicious! The wafers were given to guests of the spas and had a unique flavor thanks to the local mineral water and salt. They have become popular and a must try experience for those visiting the area!
Try the local spirit
Another must-try item in Karlovy Vary is Becherovka. This herbal spirit originates here and is used not only as an alcoholic drink but as a digestion aid. It's said to be better than cough syrup!
Becherovka is surprisingly easy to drink and has a unique gingery cinnamon flavor. We ended up loving it so much we bought ourselves a bottle at duty-free! We will be sure to get a bottle next time one of us has a cold.
Where to Stay in Karlovy Vary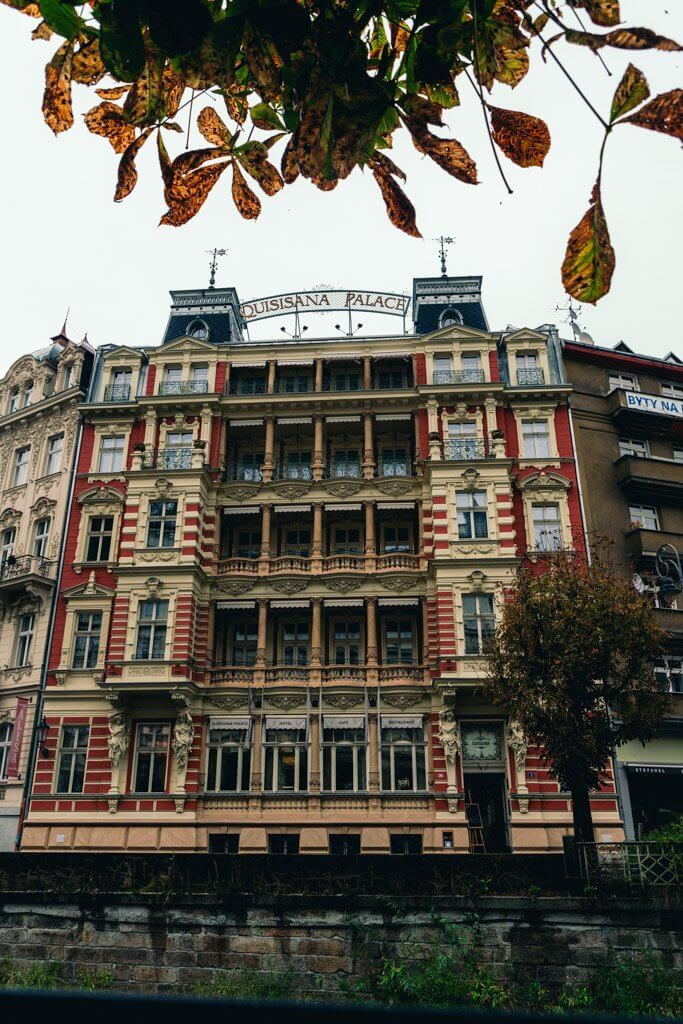 We recommend staying at one of the luxury hotels during your visit to Karlovy Vary. We stayed at Quisisana Palace directly across from Grand Pupp Hotel. Our room had an incredible balcony overlooking the river and the famous scenes where Casino Royale was filmed!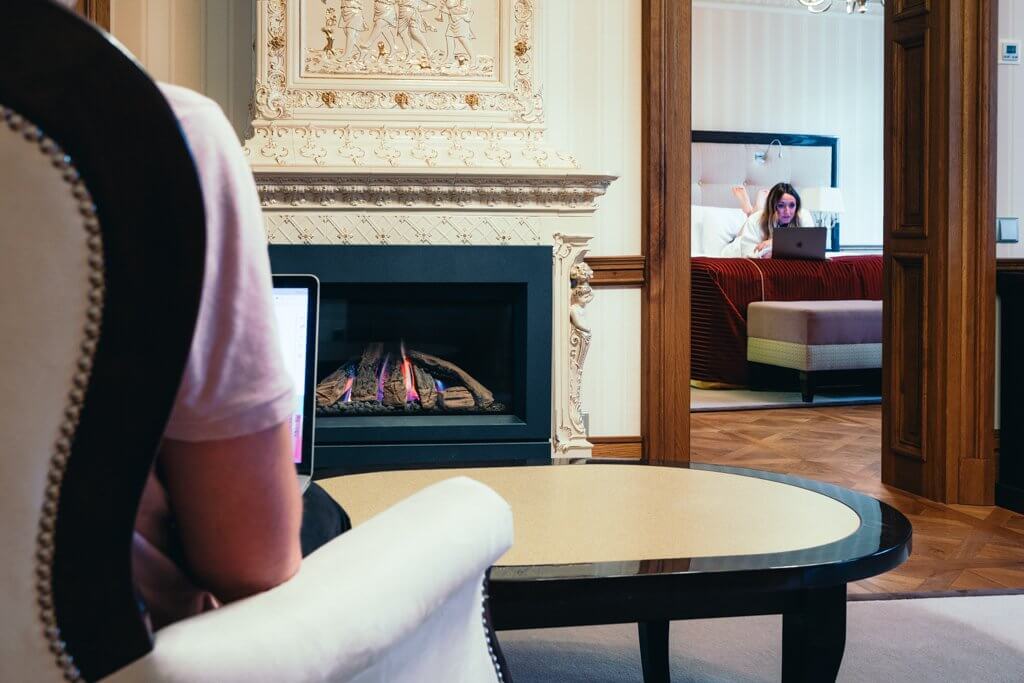 The rooms were luxurious complete with a fireplace and chandeliers. We didn't want to leave.
The best perk to staying at Quisisana would be their private spa you can reserve for up to two hours while staying at their hotel. The spa is prepared with a temperature controlled tub with spring water, steam room, sauna, shower, lounge chairs, citrus water, and tea for the ultimate private relaxation experience.
This was the perfect cure after hiking the past few days in Bohemian Paradise and Bohemian Switzerland.
We booked our stay through Amazing Places, a local company that helps visitors find unique hotel experiences during their trip to the Czech Republic.
For more places to stay in Karlovy Vary, check the map below:
---
Have you been to Karlovy Vary, Czech Republic? What did you think of its healing properties?
If you need help planning you trip, don't miss our Czech Republic travel guide!
Liked this post on the best things to do in Karlovy Vary, Czech Republic? Share the love below on Pinterest!