There's nothing more iconic than a US road trip and one of the best states to do so (I think) is in Oregon! There are endless Oregon road trip options. You have the rugged coast, lush forests, and torrid deserts—all in one state. Oregon kinda has it all, and unfortunately, you'll quickly realize a week just isn't enough. But better to have a taste than nothing at all, right?
There are plenty of adventurous things to do in Oregon to take on but here are some of my favorite areas to explore—so grab your backpack, your car keys, and head on out for this epic 7 day Oregon road trip itinerary.
Things to Know Before Your Oregon Road Trip
Shall I state the obvious? You'll need a car for your Oregon road trip! If you have one, you're good to go. Those visiting the USA, here are some things worth noting…
Campervanning the USA is like a religion and honestly, it's an amazing way to experience the USA. Some well-known companies to rent from are Budget, Escape, Apollo, and Cruise America.
If you don't want to campervan and just want to rent a car, that's cool too! Although, do keep in mind that in high season you may want to prebook a hotel and that limits spontaneity on the road since you HAVE to drive to your hotel to sleep.
A few popular car rental companies in the USA are: Hertz, Enterprise, and Alamo.
We recommend trying to find the best deal for a rental car by comparing prices and booking your rental car in advance with Expedia.
An alternative to the above is camping. If you want to just rent a car, you can keep costs down and spontaneity alive by camping along your Oregon road trip route. There are plenty of campgrounds in Oregon along the areas I have you going to below! Just bring a tent, sleeping bag, mat, and a cooler and you're pretty set to go.
Keep in mind driving in the USA takes a long time and Oregon isn't a small state. Your Oregon road trip itinerary below is pretty crammed because I want you to see A LOT but with that said, you'll need to add on a couple of driving days, or at least, half days to actually tackle everything below.
Oregon Road Trip Day 1 – Columbia River Gorge
Please don't skip this area when you're doing an Oregon road trip! It's an easy day trip from Portland and is teeming with stunning views and adventure activities.
The Columbia River Gorge is famous for Multnomah Falls, a famous waterfall that's easily visited just a few steps from the parking lot, but I recommend you continue along the trail so the crowds start to thin and you'll come across plenty more waterfalls to see.
Here is where there are tons of waterfall hikes near Portland, which makes for an amazing city escape. Make sure to visit the Vista House and maybe do some water sports on the Gorge as well.
Oregon Road Trip Day 2 – Mount Hood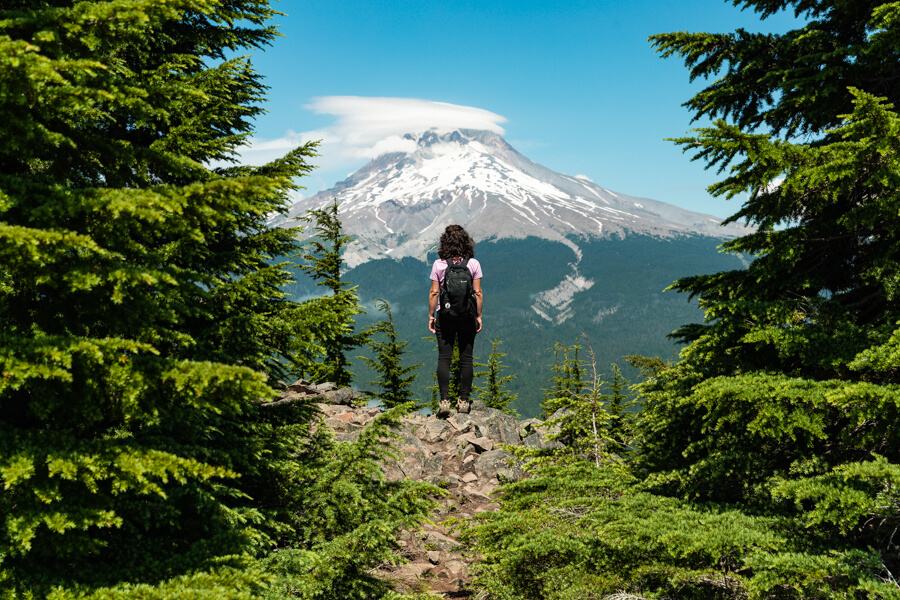 Next up on this Oregon itinerary is Mount Hood! This is where Portlanders head to get up in the mountains. Just about an hour away from the city, you'll get up close and personal with Mount Hood, the State's highest peak. People come here in summers and winters, to ski or hike, this mountain doesn't have a day off!
The hikes in Mount Hood are amazing, my favorites are the Tom, Dick, and Harry hike and the hike to Tamanawas Falls.
Both the Columbia River Gorge and Mount Hood areas offer hundreds of miles of hikes near Portland! So if you're planning on visiting the city, but are in need of a nature fix, there's no shortage with these two spots just an hour east!
Oregon Road Trip Day 3 & 4 – Bend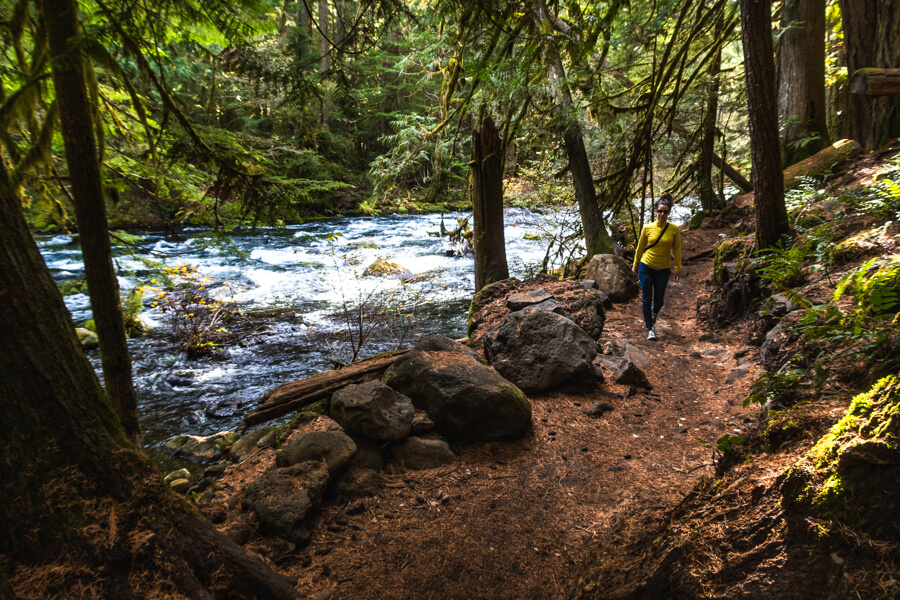 Bend is the best! OK, I'm probably slightly biased as I base here for a few months out of the year every year but seriously, it's great and it's deserving of a week in itself, but two days of this 7 day Oregon road trip itinerary will do.
There are so many things to do in Bend, it's a struggle to recommend only a few.
Take a stroll around, or better yet, float the Deschutes River if you're visiting in summer. It's pretty much an initiation to the town. Drink all the craft beer at any one of the 30 or so breweries in town and watch the sunset at Pilot Butte.
While Bend is amazing itself, it's made even better by its close proximity to tons of cool things. For your next day near Bend on your Oregon itinerary, you could do any number of things…
Summit a mountain like South Sister.

Play in one of the gorgeous Cascade Lakes—you can rent SUP boards or kayaks at Lava or Elk Lake.

Visit

Smith Rock State Park

and go hiking. The popular trail here is Misery Ridge.

Ride out to Paulina Peak, hike to the top, and then visit the hot spring by the lakes below.
You won't have time for all of these things I've recommended for your time in Bend on your Oregon road trip, so I hope you're planning your visit back already for Oregon road trip number 2!
Oregon Road Trip Day 5 – Crater Lake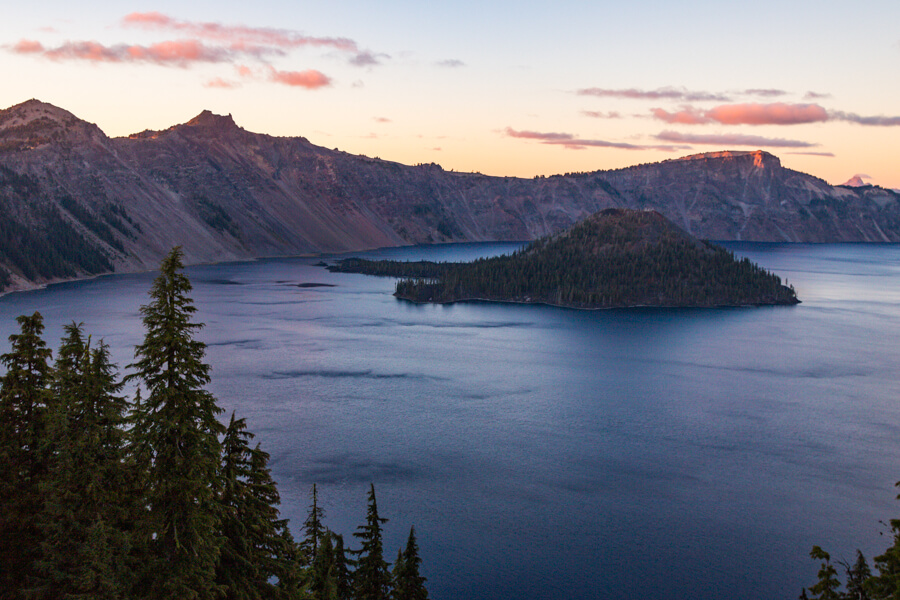 Crater Lake and the Umpqua National Forest deserve a few days themselves so please, if you have some extra time on your Oregon itinerary, just hang out here for a bit! To see both of them a bit quicker, each area would need about a full day.
If you only have one day on your Oregon road trip itinerary, I'll recommend spending the full day at Crater Lake. Aside from it being the coolest lake in Oregon, it's also the State's only National Park.
The Watchman's Peak Trail is less than a two-mile hike and offers great views. If you're not into hiking, you can drive along the entire rim of the lake for incredible views too.
Oregon Road Trip Day 6 & 7 – Oregon Coast
An Oregon road trip along the coast is one of the most epic experiences in the PNW. One of my favorite things is hiking the Oregon Coast!
The amount of incredible views you can get from hiking just a few miles is staggering. The rugged coast is what photographer dreams are made of and the shots here are probably some of the most popular photos you've seen of Oregon.
One of the best spots for Oregon photography is the Samuel H. Boardman area. If you're heading back up north to Portland, stop at Bandon and Cannon Beach along the way to visit a few more iconic coastal towns.
Extra Time on Your Oregon Road Trip Itinerary?
If you have extra time on your Oregon road trip itinerary these are great additions!
Eastern Oregon is often overlooked when visitors come to Oregon. Most head to the coast or hang around Portland but Oregon's eastern side is STUNNING.
I'm sure many of you think about moody skies, a rugged coast, and snow-capped mountains when you think of Oregon. But did you know there are deserts too?
If you have the time, I can't hype the eastern side of Oregon enough, here's a quick rundown on what you can add on to your Oregon road trip itinerary…
John Day Fossil Beds – There are three units here to experience, The Painted Hills are the most famous and deserve a day. The other two, Clarno and Sheep Rock, can be squeezed into another full-on day. Bizarre rock formations, short and sweet hikes with great rewards, and alien landscapes painted in rusty red, golden orange, and dusty yellow await you here.
Alvord Desert – A dried up salt flat that's 12×7 miles. Here you can whip around a desert in your car, camp for free at night on the playa, and visit the Alvord Hot Springs! You can see the Steens Mountain from here as well that has a scenic drive at the peak as well as a couple of hikes. You could do a large chunk of this area within a full day.
The Wallowas – Deserving of at least two days, there are too many hikes to counque, snow capped peaks to gawk at, and lakes to play on.
Hart Mountain – An Antelope Refuge, desert scrub, and natural hot springs will keep you busy for a day here.
Best Time of Year for an Oregon Road Trip
You might be wondering when the best time to plan your epic Oregon road trip itinerary for.
Spring, summer and, fall are all great times and winter could be an option as well if you're wanting some snowy adventures and have the right vehicle.
Summers will pose more crowds though, as it's the most popular time to road trip and explore the state. To get a bit of relief from the masses, try coming around April, May and, October.
Those are just outside the busy months, so you may score cheaper deals on the rental car, and the weather will still be nice!
Oregon Road Trip Tips
You're on a road trip, so remember to pack efficiently and only what you need so you don't have a mess in the car.
If you're looking to save money, camping in Oregon is really easy and very cheap – a great way to save money on your Oregon road trip.
Don't forget driving around the State will take time. It's best to start really early in the morning to get the most out of your day and journey on your Oregon road trip itinerary. You'll struggle to see everything I laid out here in this post but I wanted to give you some options!
You will have to add on a few days to complete this 7 day Oregon road trip itinerary above or slice off a day as the drive-in between spots will take a decent chunk out of each day.
Driving a night is discouraged. If you're riding into the city past dark, that's probably fine but if you're pretty out there you risk getting in an accident with wildlife. They love to come out and play after dark so be on high alert if you're caught out driving at night.
Many of Oregon's parks require a pass. Crater Lake is a national park which requires its own pass, and the Northwest pass (used in Washington and Oregon) is used for most other areas. If you don't get this pass, you'll pay a $5 day fee but after a few of those, and if you're continuing on to Washington, you mine as well pay for the year pass! See where you're going and what makes the most sense to you.
For winter, you may need a snopark pass depending on where you go! Read up so you don't get caught with a fine.
I hope this helped you plan your Oregon road trip around this amazing state!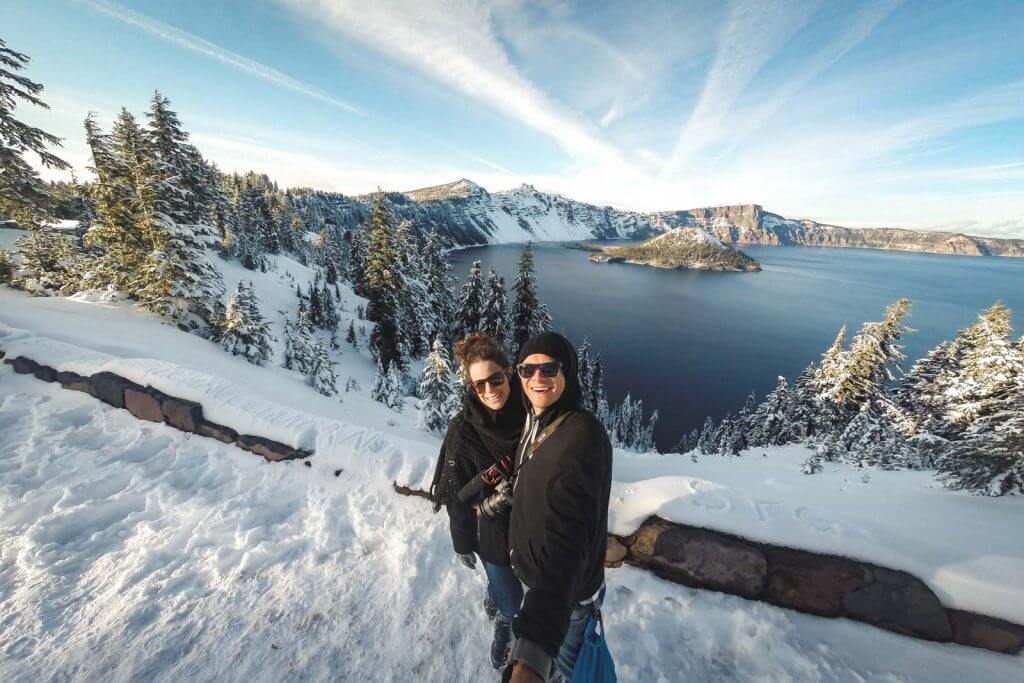 About the Author
Oregon is for Adventure is ran by two Oregon lovers, one native (Garrett), the other, a convert from Florida (Nina). Both are full-time travelers but Oregon reels them back in each year for a visit. Oregon is for Adventure is an amazing resource for those visiting Oregon wanting real adventures and valuable advice from locals/experts on Oregon.
Follow on Facebook
---
Planning more travel around the PNW? Check out our incredible guides to Seattle including unique things to do in Seattle and amazing Seattle day trips! And check out more awesome day trips from Portland for more ideas!
Enjoyed this guide on the perfect 7 day Oregon road trip itinerary or found it helpful? Bookmark for later or share the love below on Pinterest!