Did you know Berlin has its own beach scene? Well, sort of. Along the River Spree in the heart of Berlin are what the locals like to call beach bars. These are popular hangout spots by locals and visitors because this is the closest you'll get in Berlin to relaxing and having a drink or listening to music on the beach.
We've teamed up with other travel bloggers to put together a list of the best beach bars in Berlin to enjoy on your visit.
Whether you're going to just drink and party to live music or to chill and feel the sand against your feet in some cases, you can't go wrong. These chill hangout spots are all unique and a fun place to hangout during your time in Berlin.
Also be sure to check out our city guides to the coolest neighborhoods of Friedrichshain and Kreuzberg as well as the best day trips from Berlin and a perfect 3-day itinerary to Berlin to help you plan your trip.
Also, Berlin has one of the best gay scenes in Europe, check out this Gay Berlin travel guide by Two Bad Tourists for the best bars/clubs, hotels, & more.
Club der Visionӓre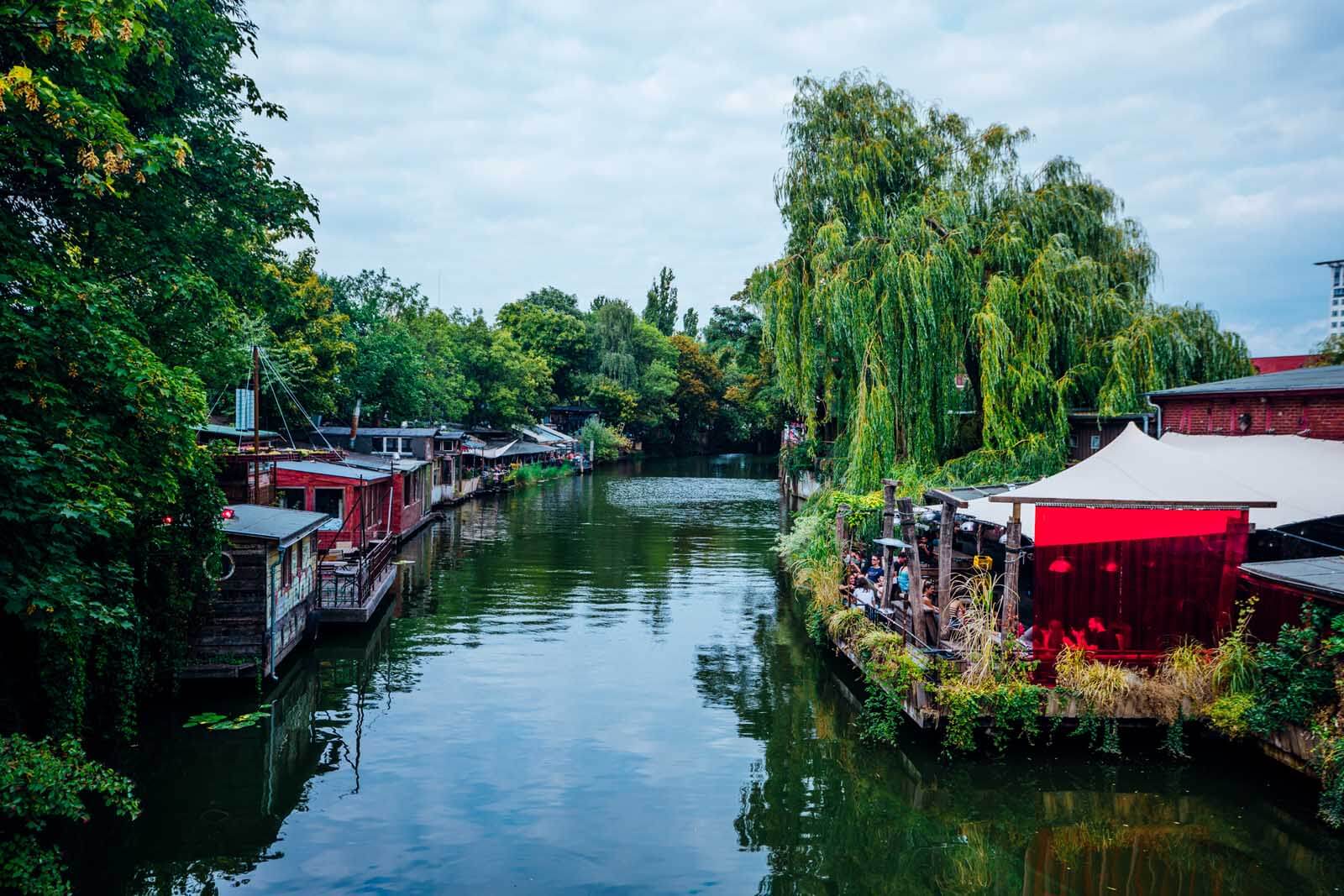 Located on a small canal connecting to the River Spree is our favorite Beach Bar in Berlin. Club der Visionӓre is a chill spot with an outdoor open air patio along the waterside. Listen to music sets by DJs with a beer or cocktail on one of their lounge chairs on their wooden deck or dance the afternoon or night away.
Their Sunday afternoons are the most popular but it is still fun to visit on a weekday or any afternoon. The vibe is very mellow and chill with good music. They do not allow photos inside, so be aware of that ahead of time!
Across the way is also a great restaurant, Freischswimmer also on the riverside with great open air seating or under an outdoor roof with great views and a relaxed atmosphere if you get hungry.
Ku'Damm Beach
Ku'Damm Beach is one of the most luxurious beach bars in Berlin. It lies in a tranquil and gorgeous part of the city called Charlottenburg. Its white lounge furniture, beds on floating wooden walkways and a spectacular view of Halensee Lake provide a relaxing and exclusive atmosphere.
This is not a "simple" bar where you will be served only beer but also cocktails and champagne. There is also an Italian restaurant where you can treat yourself and your loved one.
This fancy bar whose owner is Italian boasts white beach loungers where you can lie down, relax and enjoy the sun.
The bar is open daily, from 9:00 a.m. – 10:00 p.m., the restaurant from Wednesday to Sunday, from 5:00 p.m. – 00:00 a.m.
---
Contributed by Leo of Safari Nomad
YAAM
One of the best beach bars in Berlin is located in the Friedrichshain district right on the edge of the River Spree. Standing for Young African Art Market, this space was created by expats and nomads from Ghana, Jamaica, and Africa. Inside you will find vendors selling art, Caribbean and African influenced food stands, drinks, live music, and a sandy beach and hang out spot.
This beach bar is quite large and has a fun atmosphere. You can't miss the, "Refugees Welcome!!!" grafitti as you're approaching the River Spree from the Kreuzberg side of the bridge that connects to Friedrichshain.
We were told YAAM has actually moved a few times around Europe, so let's hope they stay put here as it is one of the best beach bars in Berlin!
Strandbad Weißensee
Tourists in Berlin usually stay in those districts, that are hip and known and full of other tourists. As a true Berliner, who grew up in the beautiful district of Weißensee in the Eastern part of Berlin, I can tell you that the German capital has more to offer.
In Weißensee you find the "Strandbad Weißensee," which is located right at the lake and is a great beach bar in Berlin. In summer, you can come here for ice cream and a dip In the lake or simply enjoy the bonfires and sometimes even live music in the evening, have a cold beer and some German food from the barbecue.
Above all, you might be the only tourist – how does that sound?

---
Contributed by Clemens of The Travellers Archive.
Badeschiff
Another great beach bar in Berlin is Badeschiff located along the River Spree near Club der Visionӓre. This is an actual "beach bar" as they have a sandy platform with lounge chairs that make you feel like you're on a real beach.
You can rent stand up paddle boards from here or bathe in the sun to music with a drink. The best part might be the floating swimming pool that allows you to enjoy swimming in nice clean water along the River Spree.
Since you can't actually swim in the river since it's polluted this is the closest you'll get!
Holzmarkt
Another fun recent addition to the Berlin beach bar scene is Holzmarkt. Amazing alternative spaces like that can flourish just in Berlin.
Friends who live in Berlin took me to Holzmarkt just this summer. We'd stroll in in the evening, peak at all possible corners, we grabbed a drink from the outdoor bar and then found a spot on the shore of the river Spree.
We'd watch the sun go down and as soon as the sky got dark, it was lit up yet again, this time by a bonfire. Several people left their spots by the river to sit around the fire and enjoy the atmosphere.
Apart from just a cool hangout area, in Holzmarkt you can find numerous street art, often-held events and workshops, as well as a high-end restaurant called the Katerschmaus.
---
Contributed by Veronika Primm of Travel Geekery
Standbar
Standbar in Mitte is a relaxing beach bar that has comfy deck chairs, palm trees, and great views over the nearby River Spree. It's a fantastic place to come and relax after a day's shopping in Mitte, or in the evening to watch the sunset over the city.
As well as a place to grab a drink or coffee, it's also popular with those that like to dance (or want to learn). The bar has outdoor classes almost every day during the warmer months, and you can learn everything from swing to tango, salsa, and even ballroom dancing.
Classes typically cost between €4 and €8 on average. Beginners are welcome to come and try a class and, if you like it, you can join many of the other locals and take regular classes.
---
Contributed by James Cave of the Portugalist Travel Blog
---
Liked this post about the best beach bars in Berlin? Bookmark for later or share the love below on Pinterest.