During our first visit to Berlin, we sought after the hippest and trendy areas in the city to discover which led us to all the amazing things to do in Friedrichshain, Berlin. This neighborhood is being dubbed as the "new hip place," in the city giving the ever popular Kreuzberg a run for being the new cool kid in town.
Going back to World War II, Friedrichshain was one of the most badly damaged spots in Berlin because it was the industrial heart of the city which is why it was bombed heavily, to hit the enemy where it hurts.
Today you'll find this area flooded with street art and where you'll find the highest density of clubs in the city. Once a home to starving artists, this part of the city is obviously becoming gentrified and is considered one of the most desirable places to live in the city.
It's easy to see why, this is a happening place, from the young, fun scene and home to media companies like MTV Central Europe, Friedrichshain has got a lot going on.
We did explore both Kreuzberg and Friedrichshain, and to be honest, it would be hard to pick a favorite and why we recommend seeing both. In the meantime, check out our guide for best things to do in Friedrichshain.
Visit the East Side Gallery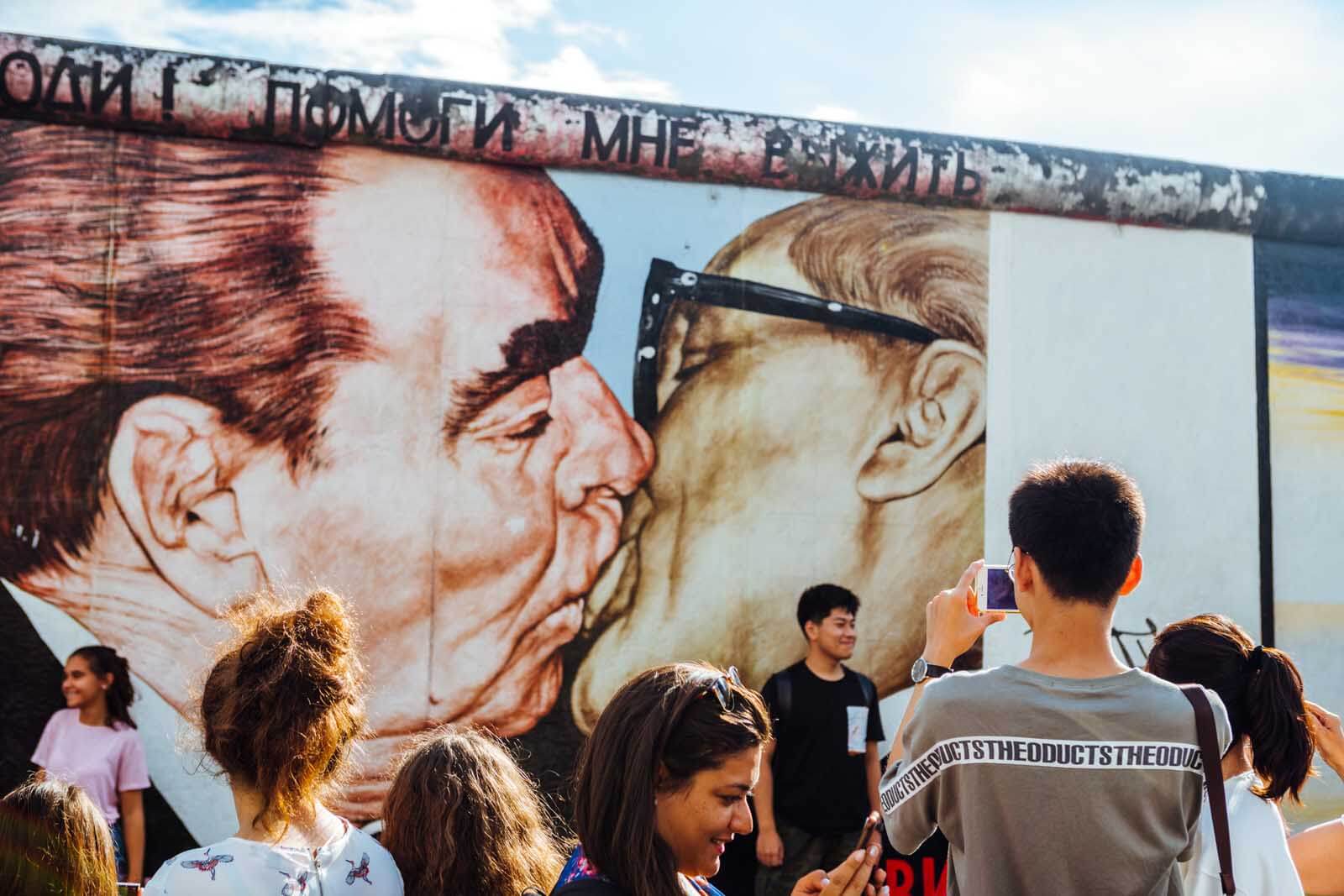 One of the most historical landmarks of the city is also one of the best things to do in Friedrichshain, Berlin. Once the wall that separated the East and the West right here in Berlin and came down in November 9th, 1989 is now the longest running open air gallery in the world.
You'll find over 4,300 feet (over 1300 meters) of artwork on either side of the East Side Gallery. One side with commissioned artists with famous pieces like "My God, Help Me Survive This Deadly Love," the infamous kiss between Soviet leader Leonid Brezhnev and East Germany President Erich Honecker where you will see tons of people lining up to snap a photo. The other side of the wall where any artist can freely express themselves.
It was fascinating to walk along such a historic monument that divided so many physically and ideologically in history that ended in our lifetime.
Oberbaum Bridge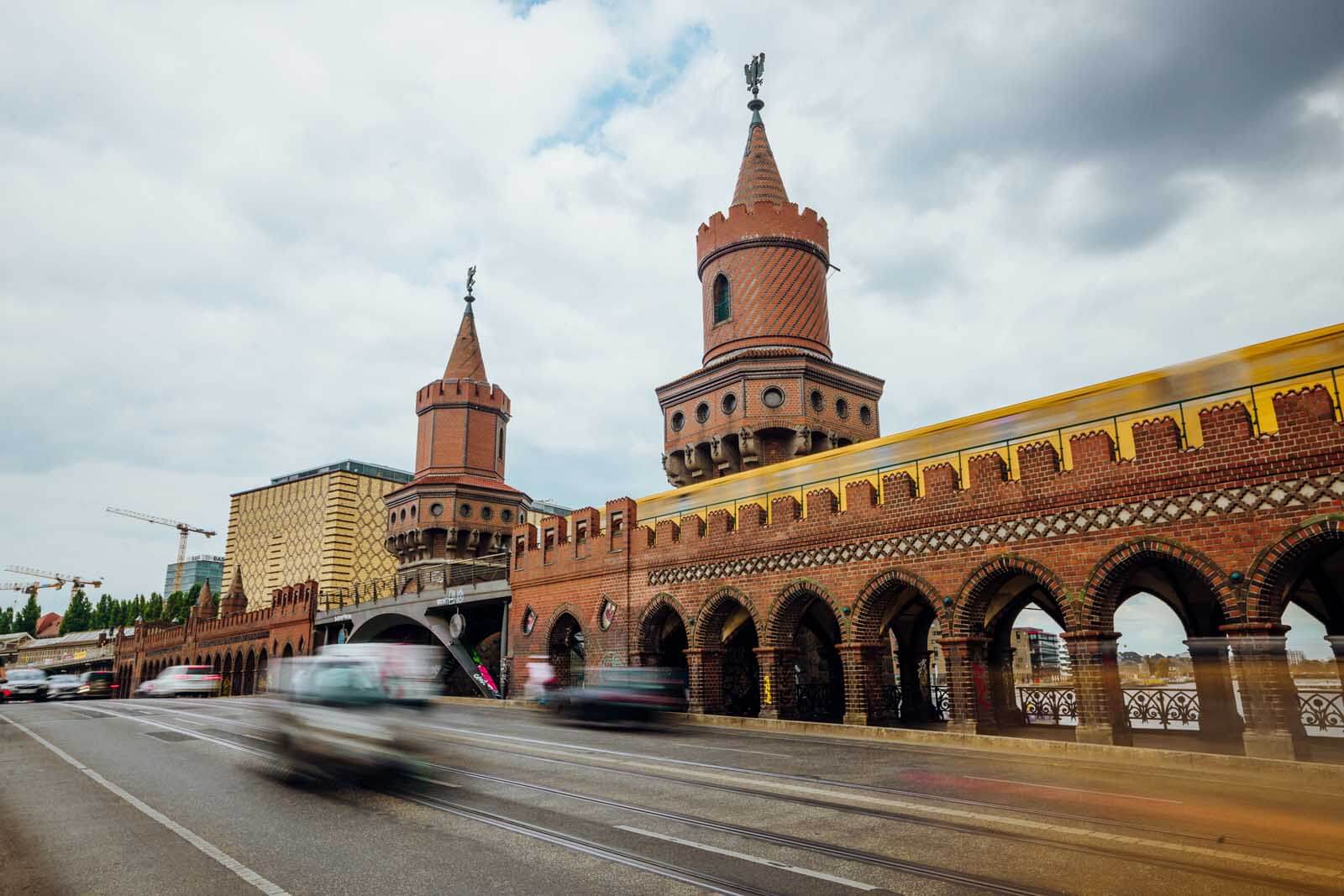 Another one of the best things to do in Friedrichshain is walk across or photograph the Oberbaum Bridge which will take you over to the other hip neighborhood, Kreuzberg.
Besides being a great way to cross the River Spree and photograph this bridge has an interesting history where both Kreuzberg and Friedrichshain "fought" over the bridge from 1998-2003 with annual non-violent battles using rotten produce or water each year crowning a new winner.
This was also a checkpoint from the West to East Berlin during the days of the wall.
You may also recognize this bridge if you're a fan of the Matt Damon Bourne movies as it was used for a filming location in The Bourne Supremacy.
Grab a Drink at Michelberger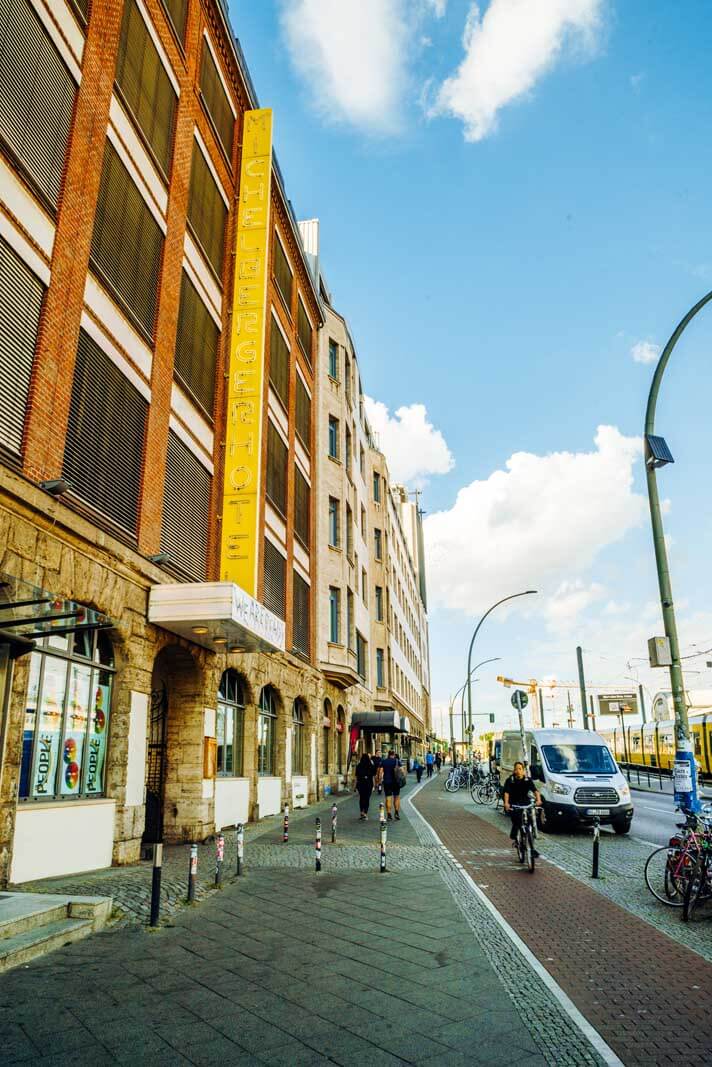 Just a short walk from the Oberbaum Bridge is another great thing to do in Friedrichshain if you're looking for a chill place to enjoy a drink. After trying to explore the city mostly by foot we needed quite a few of these breaks, whether it was for a coffee or a great local beer we needed to rest our dogs from all the walking.
Michelberger Hotel is a great place to do this at. Their common area and bar area has an inviting atmosphere and cozy sofas to sit down on. This is a great spot for a quick break before you continue exploring all the awesome things to do in Friedrichshain.
Stroll Down Karl Marx Allee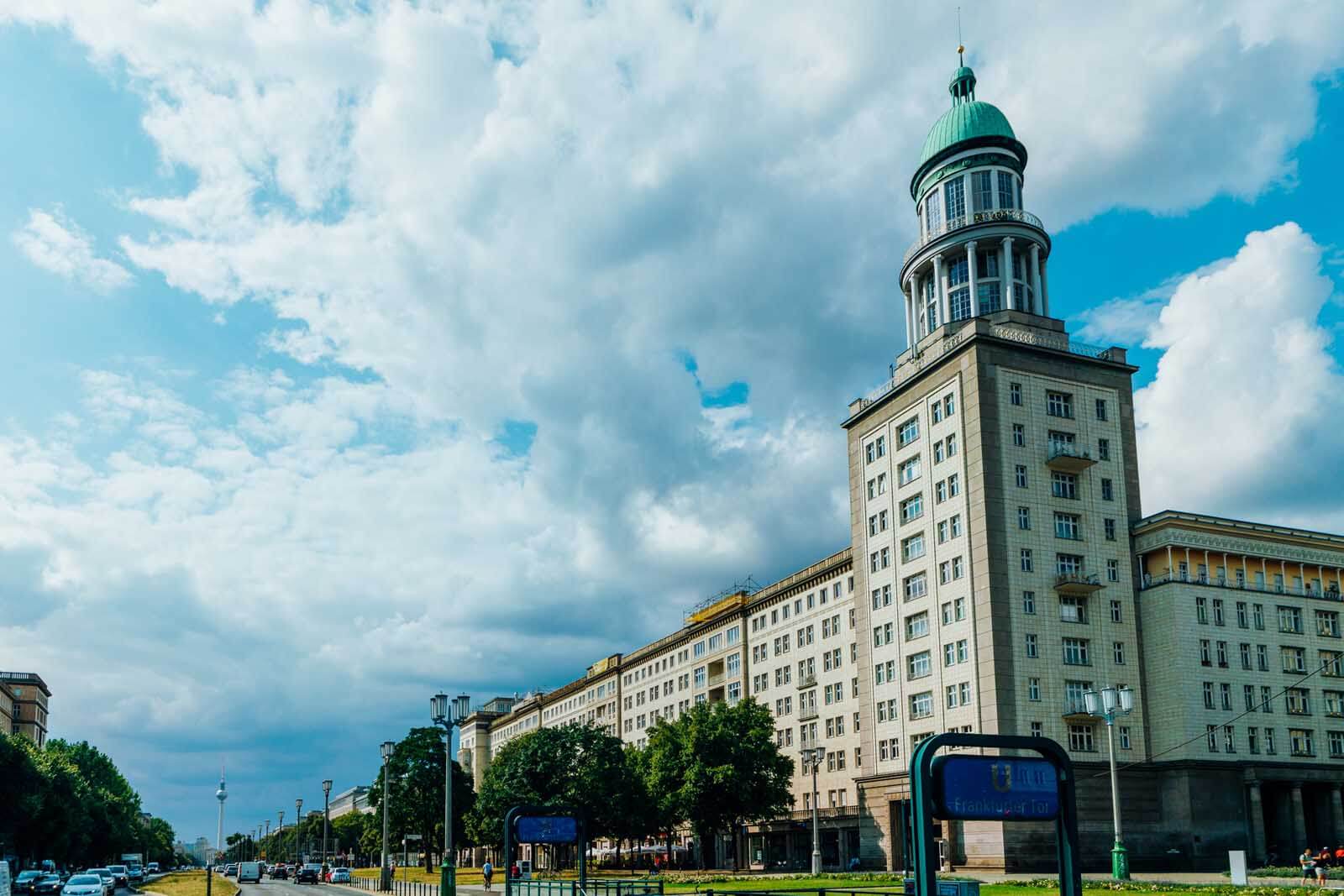 If you're into history and architecture this next thing to do in Friedrichshain is for you. Take a walk down Karl Marx Allee to see the grandest boulevard of the German Democratic Republic (GDR, aka East Germany). This allee is full of the socialist era architecture built between 1952 – 1960 under the East Germany reconstruction after World War II and the area became a shopper's haven for East Germany.
Karl Marx Allee looks and feels a bit uniform even today and unlike anywhere else in the city.
There are cafes, restaurants, and shops along the first story of the buildings where you can stop and along the way or just walk on through for some photography like we did.
Check out the Scene at RAW Gelände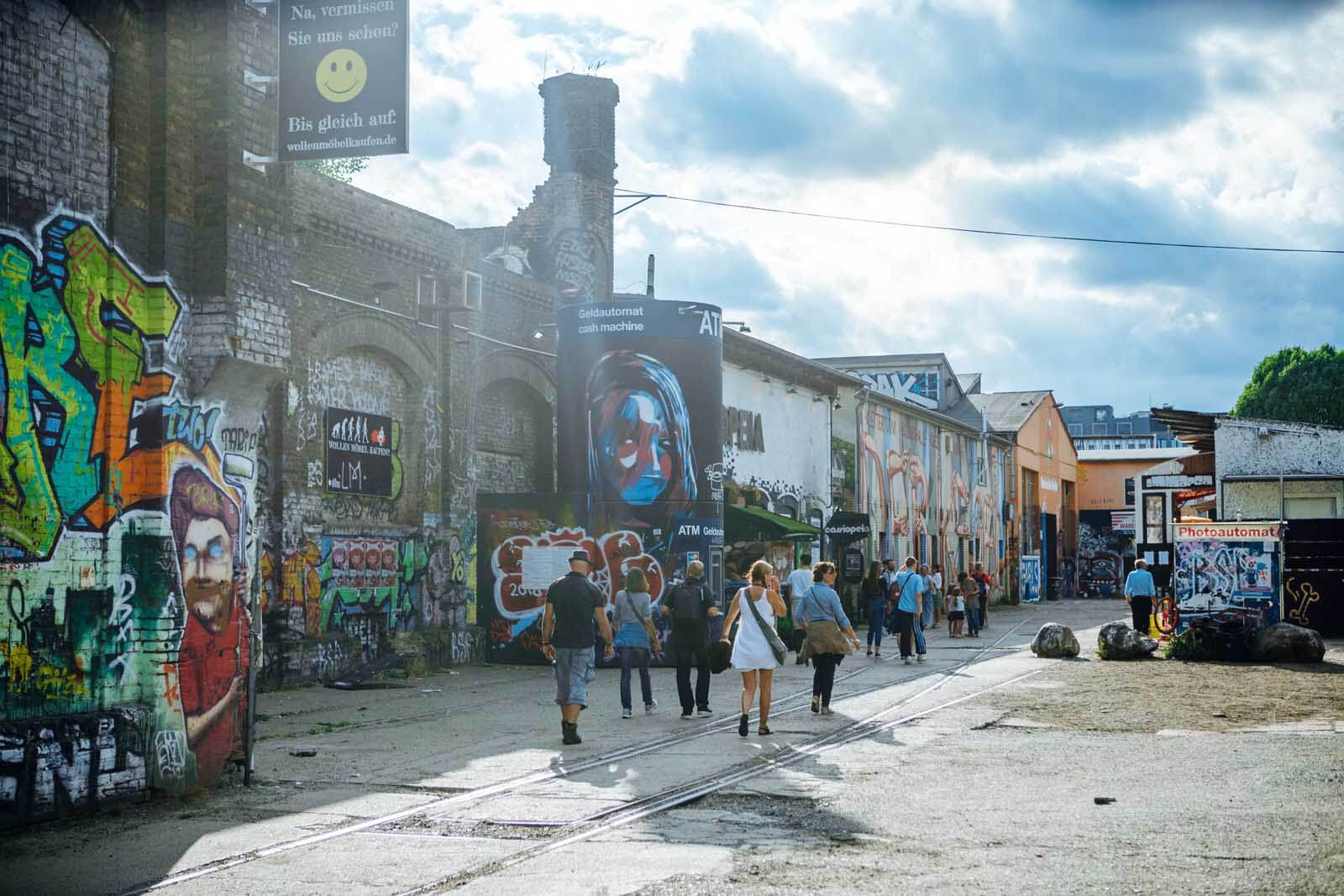 One of our favorite things to do in Friedrichshain is hang out at RAW Gelände in the evening. This former railway station has been transformed into a cool space and area for markets, bars, restaurants, art studios, and even a rock climbing wall on a former round tower.
Covered in cool graffiti and street art, even some from a few of the popular street artists in the city you can have a great evening eating, drinking, and photographing this area while you hang out.
We really enjoyed the vibe here and would have returned for another evening if we had more time in Berlin!
YAAM Beach Bar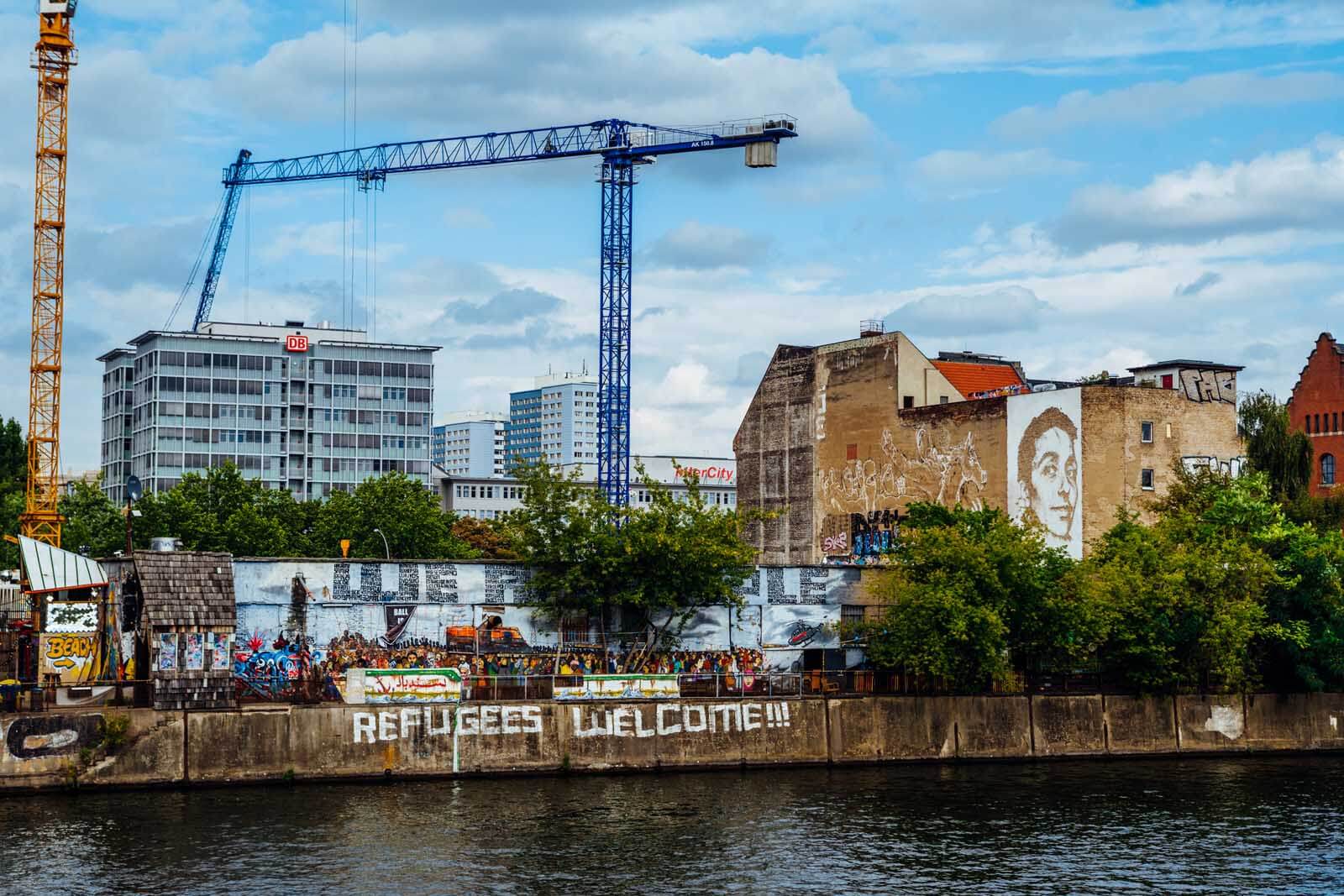 One of the greatest beach bars in the city and best things to do in Friedrichshain, Berlin is hang out at YAAM Beach Bar. YAAM, standing for Young African Art Market was created but expats and nomads from Ghana, Jamaica, and Africa.
This carefree space is large and even has its own sandy beach along the River Spree. You can recognize YAAM from the Kreuzberg side of the bridge from its famous white graffiti painted along the river saying, "Refugees Welcome!!!"
Once you're inside, you'll notice the laid back vibe and atmosphere that is both inviting and energetic to be around. You'll hear live music, you can shop from different artisans or from different vendors selling handicrafts, eat food, or buy drinks as you chill along the River Spree in this laidback spot.
You feel the Caribbean and African influences from the creators of this space. We were told YAAM has actually moved a few times around Europe, so let's hope they stay put in Berlin just a bit longer.
More Things to do in Friedrichshain (or nearby)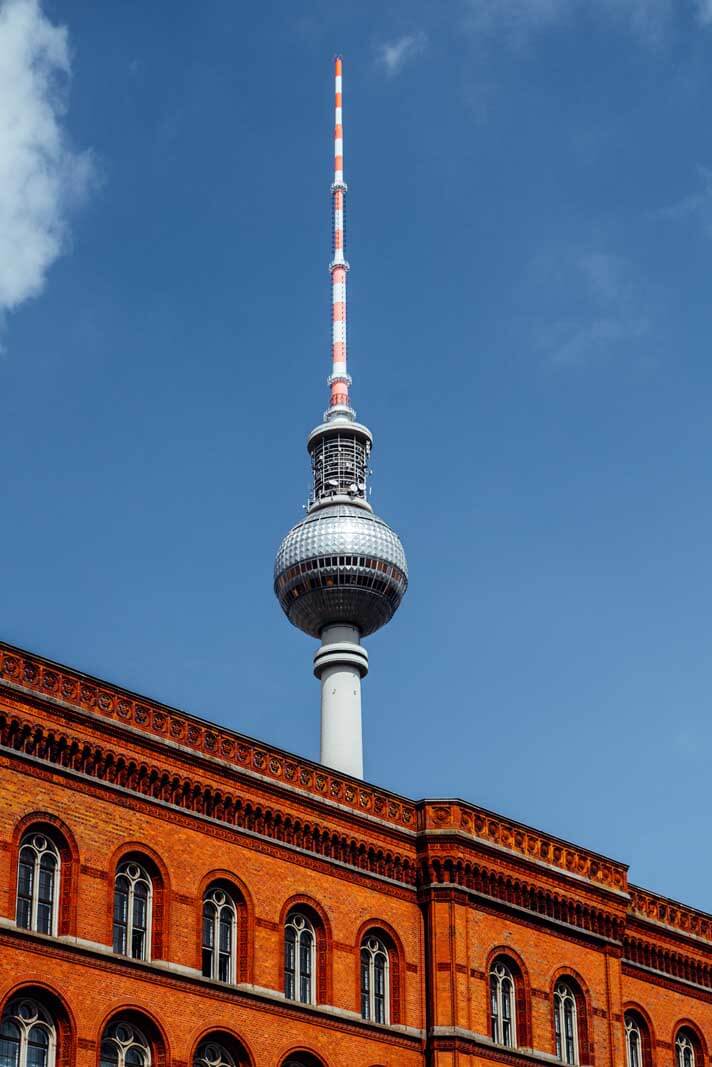 Since you're close we recommend checking out some of the cool things to do right around the corning in the Mitte neighborhood as well, from The Fernsehturm, or iconic Berlin TV Tower to shopping around Alexanderplatz stores you can easily spend a good chunk of your time from staying in or around Friedrichshain also hitting up these cool neighboring spots.
Check out the Street Art
Berlin is home to some of the world's best street art. Walk the walls along Dirkenstraße from Alexanderplatz to Hakescher Markt for an open gallery of always changing street art. We were pointed out the works by two local popular artists who have made a name for themselves, El Bocho and Sobr.
You'll see the works of El Bocho all over the city, his signature work is a girl named Little Lucy and her cat. Little Lucy is always coming up with sick and twisted ways to destroy her cat. I like cats so much that Little Lucy wasn't my favorite but the artistic style is unique and very identifiable.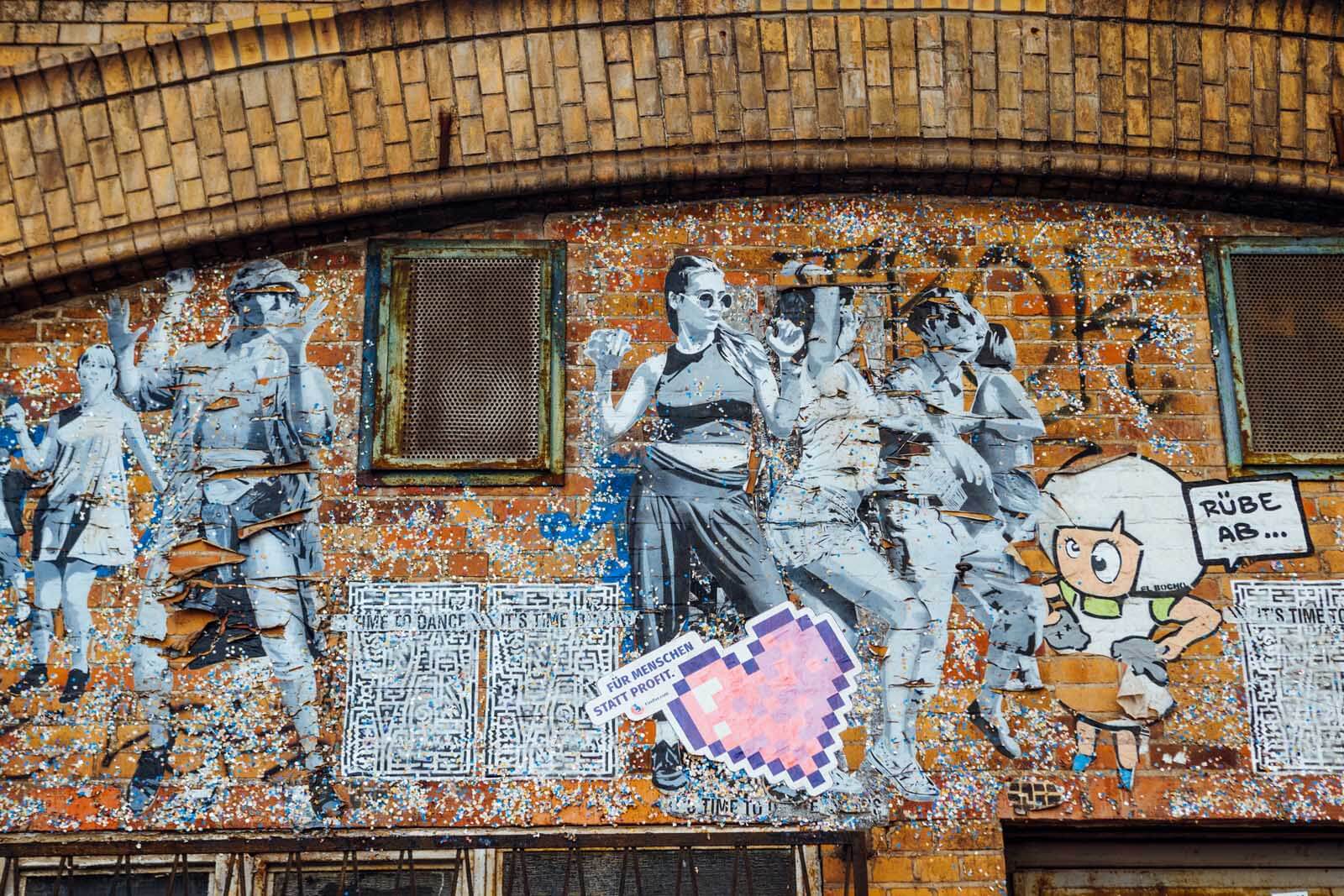 We saw the work of Sobr also all over Berlin. His series, "IT's TIME TO DANCE?" are real life photos of girls he sees clubbing made into his signature style of street art plastered all over the city with confetti. Whenever we saw one of his pieces it really made us feel something good, you sort of feel that happiness of a carefree good time through the subjects in his work.
Besides the two artists mentioned above, there are tons of other work to see here and probably a ton of other great street artists we had never heard of as we haven't been closely following the scene. We were also pointed out work by One United Power, or popular graffiti artists who tag 1 UP. To be honest, we prefer street art to the tagging as it's just more aesthetically appealing to us but find the entire culture of street art and graffiti interesting.
Did you know Banksy hasn't been in Berlin? Well, sort of, it's up for debate and some say he had been in Berlin in 2003 and hasn't returned since, you can read more about it here. Some people believed that Flower Chucker was in Berlin, however, the original of the piece was done in the West Bank, not in Berlin. People thought the one put up in Berlin could be authentic because that means he put both pieces in a place where there is a wall meant for dividing people.
However, there are strong beliefs that a local bar, Zapata, had someone put up the copycat Flower Chucker to attract more business to the area. Regardless, the abandoned Art House Tacheles in Mitte that Flower Chucker was apparently on in Berlin no longer exists so whether it was real or fake, you can't see it anymore.
Also, famous street artist Shepard Fairey is from Berlin, however, most of his work isn't around anymore. It looks as though he had some new work up last year, but whether or not the piece is still up we are not sure. This is something that you will just have to watch out for closer to your visit if it interests you.
Haus Schwarzenberg
Another cool thing to do in Friedrichshain, or while you're in the area since this is in Mitte is visit Haus Schwarzenberg. This courtyard in Hakescher Markt is full of changing exhibits and murals as well as a bar, café, shop, and cinema. This is a cool spot for photos and to take a beer or coffee break.
Want to learn more about the street art and graffiti scene in Berlin? Take a free tour with Alternative Tours. They have daily tours that are free that show you around the best things to do in Friedrichshain, Mitte, and Kreuzberg. You're only asked to tip the guide at the end.
---
Disclaimer: Our trip to Berlin was in cooperation with Visit Berlin and Berlin Welcome Card, however, all experiences and opinions are our own.
---
Looking for more great information on Berlin? Check out this guide to the best day trips from Berlin as well as this great 3 day itinerary for Berlin.
Don't miss out on another awesome neighborhood, Kreuzberg in Berlin as well.
Liked this post about things to do in Friedrichshain, Berlin? Bookmark for later or share the love below on Pinterest! Happy Travels!