When you think of the Czech Republic the first place that probably comes to mind is Prague. Prague is an absolutely breathtaking city popular with visitors and is probably too beautiful for its own good because many people come here and don't see anything else.
What if we told you there were plenty of incredible places to take a day trip from Prague within an hour from the city? Perhaps that would push more people out of the congested city and get them to some of the incredible sites in the countryside including castles, forests, and storybook villages.
The Czech Republic isn't huge, so seeing more places in the country won't take you too long especially with the incredible local transportation infrastructure you can get all the way to the other side of the country in 3 hours.
This guide is going to focus solely on day trips from Prague in the Central Bohemia region surrounding the city. All of these incredible places are accessible in a short amount of time either by renting a car, train, or bus.
What are you waiting for? Make sure your next visit to the Czech Republic you get to see any of these amazing day trips from Prague.
Check out our suggested Czech Republic Itinerary outside of Prague as well as our Czech Republic Travel Guide for useful tips and information before your trip.
Český Šternberk Castle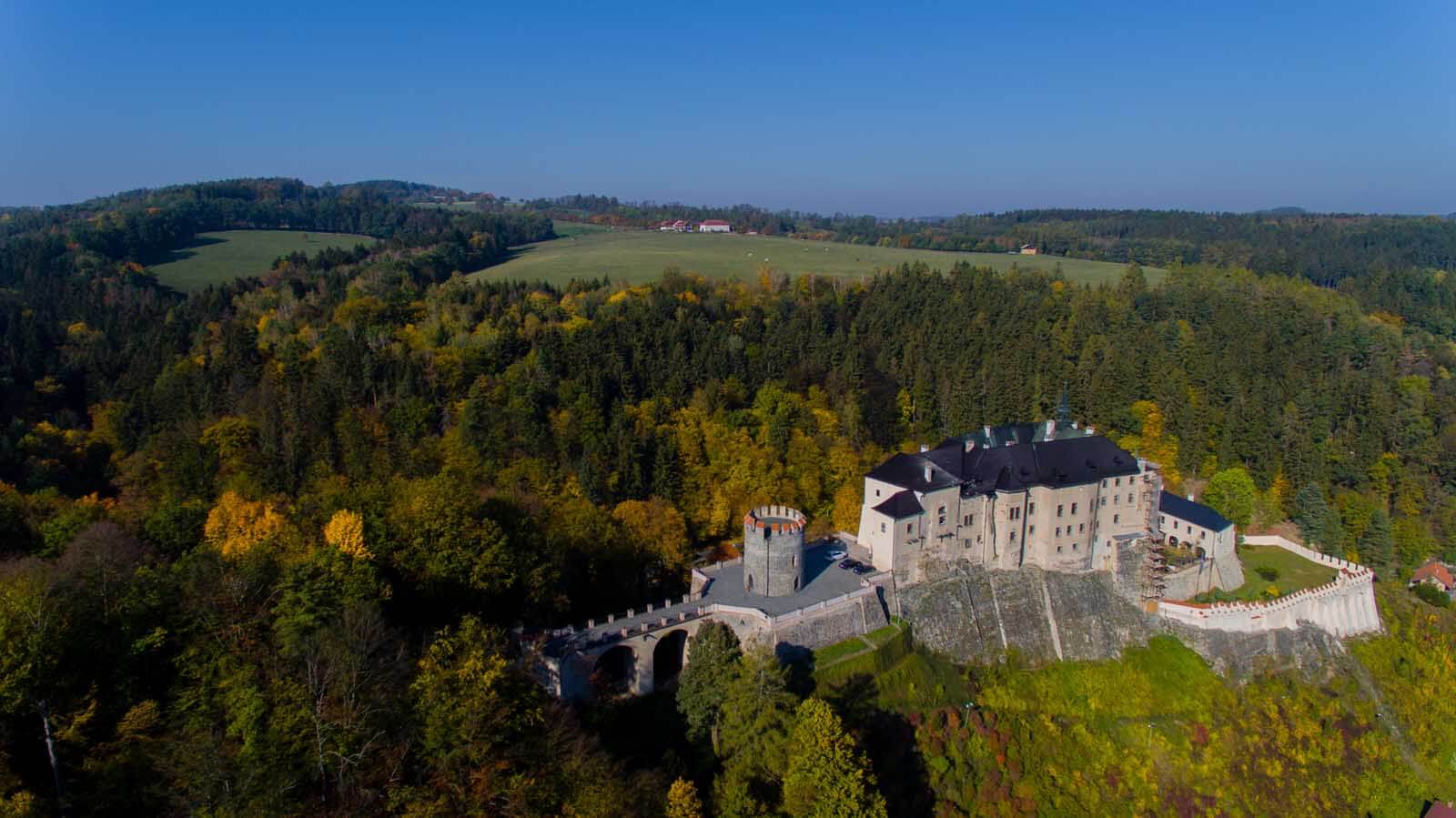 The Czech Republic is the land of castles and one of the best day trips from Prague in the Central Bohemia Region is the Český Šternberk Castle.
This impressive 13th-century Gothic castle is considered one of the best preserved in the region and is one of the few privately owned castles in the country.
The Sternberg family has had castle Český Šternberk in their name for 777 years and resided in the castle all of those years with an exception of years 1949 – 1989 when castles and chateaus were confiscated by the government during WWII and returned under restitution after the Velvet Revolution.
The castle is located on the hill overlooking the River Sazava and the small village below. We were visiting at the perfect time in autumn when all the leaves were changing.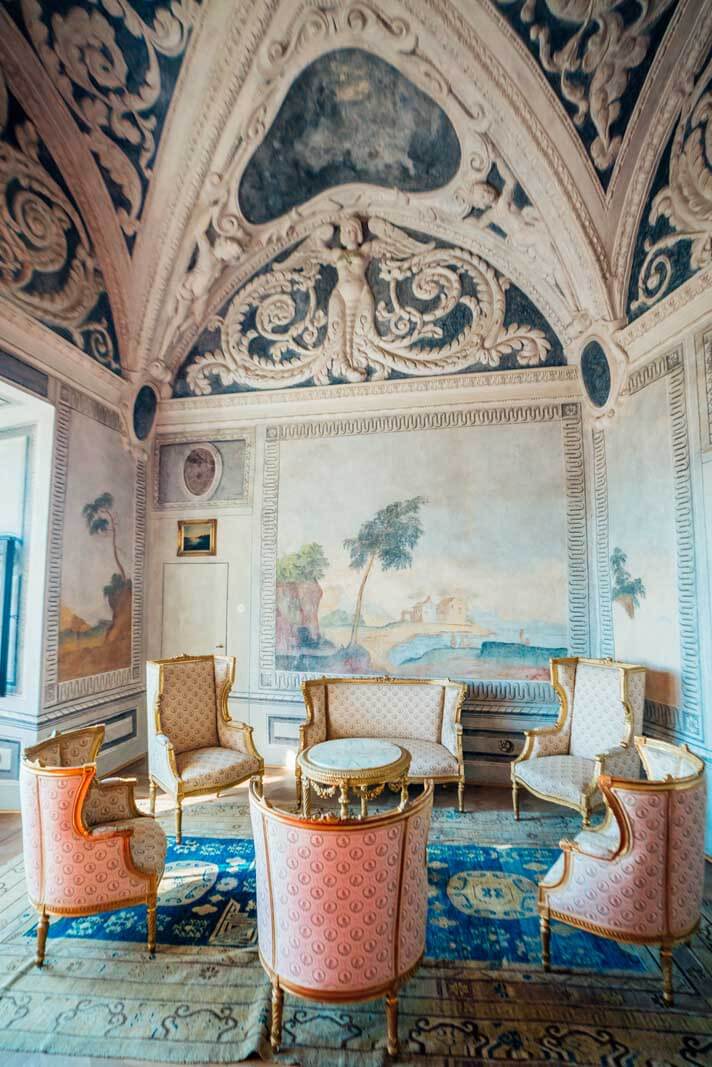 You can tour inside the castle all except for the first floor where the eldest living son of the Sternberg family resides to this day.
The family who has historically owned this castle also had family members who started the Czech National Gallery and the Czech National Museum in Prague.
We found it especially interesting after visiting so many castles and wondering what it would be like to live in one, that Český Šternberk actually has residential quarters today.
Karlštejn Castle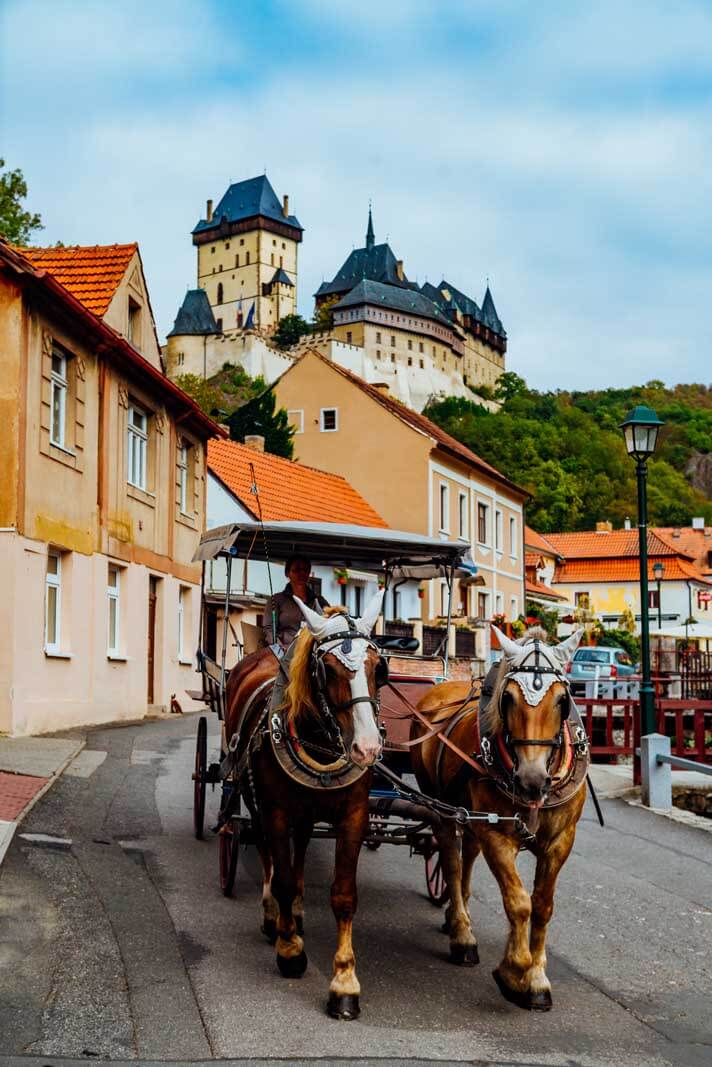 Karlštejn Castle is a very popular castle and easy day trip from Prague in Central Bohemia. Located only a 30-45 minute drive from Old Town and easily visited on your own or by local transport, bus or train.
Dating back to 1348, and founded by Charles IV, this Gothic castle was the home and holding place for the Bohemian crown jewels and other royal valuables and treasures.
The castle is incredibly picturesque and feels straight out of the pages of a storybook. You can freely roam the exterior of the castle or pay to go on a guided tour inside Karlštejn.
Below is the village of Karlštejn dotted with adorable little buildings sloping uphill all the way to the castle. There are plenty of restaurants and shops to enjoy after your visit and even horse-drawn carriage rides pulled straight from the pages of your favorite fairytale.
Sázava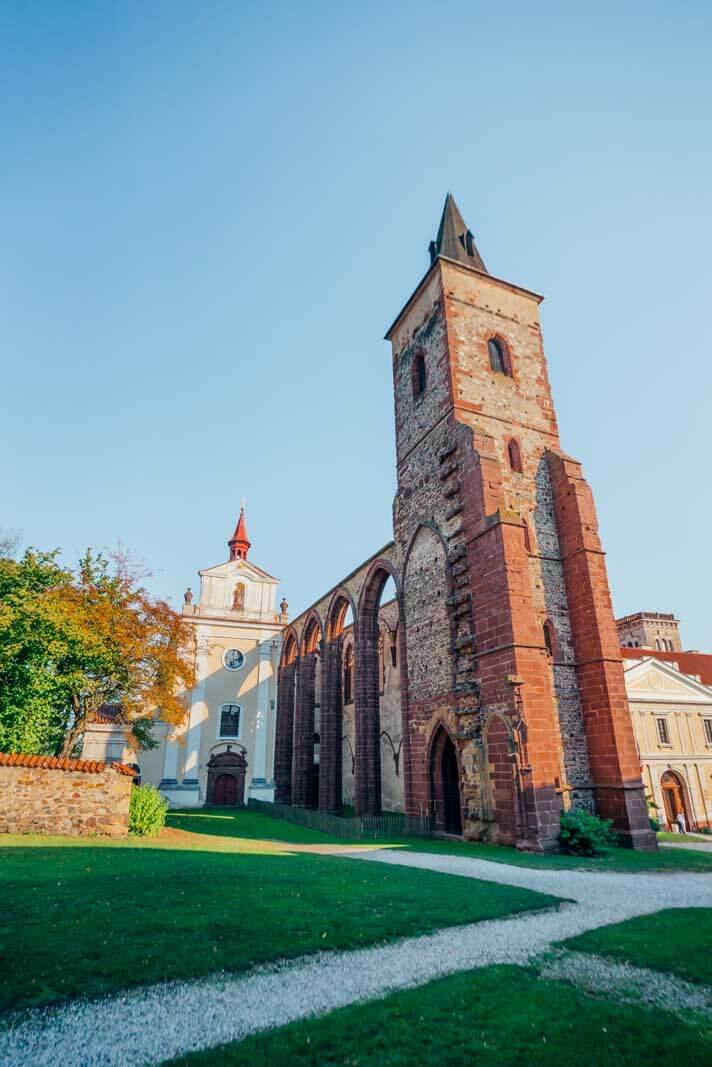 The town of Sázava, named after the river that flows through it, is another fantastic day trip from Prague in Central Bohemia.
Highlights include the Sázava Monastery that dates back to the 11th century and has increased in popularity due to being featured in the new sensation and video game, Kingdom Come: Deliverance.
The role-playing video game is set in the Bohemian Kingdom and the monastery is a perfect digital rendering of what you see in real life.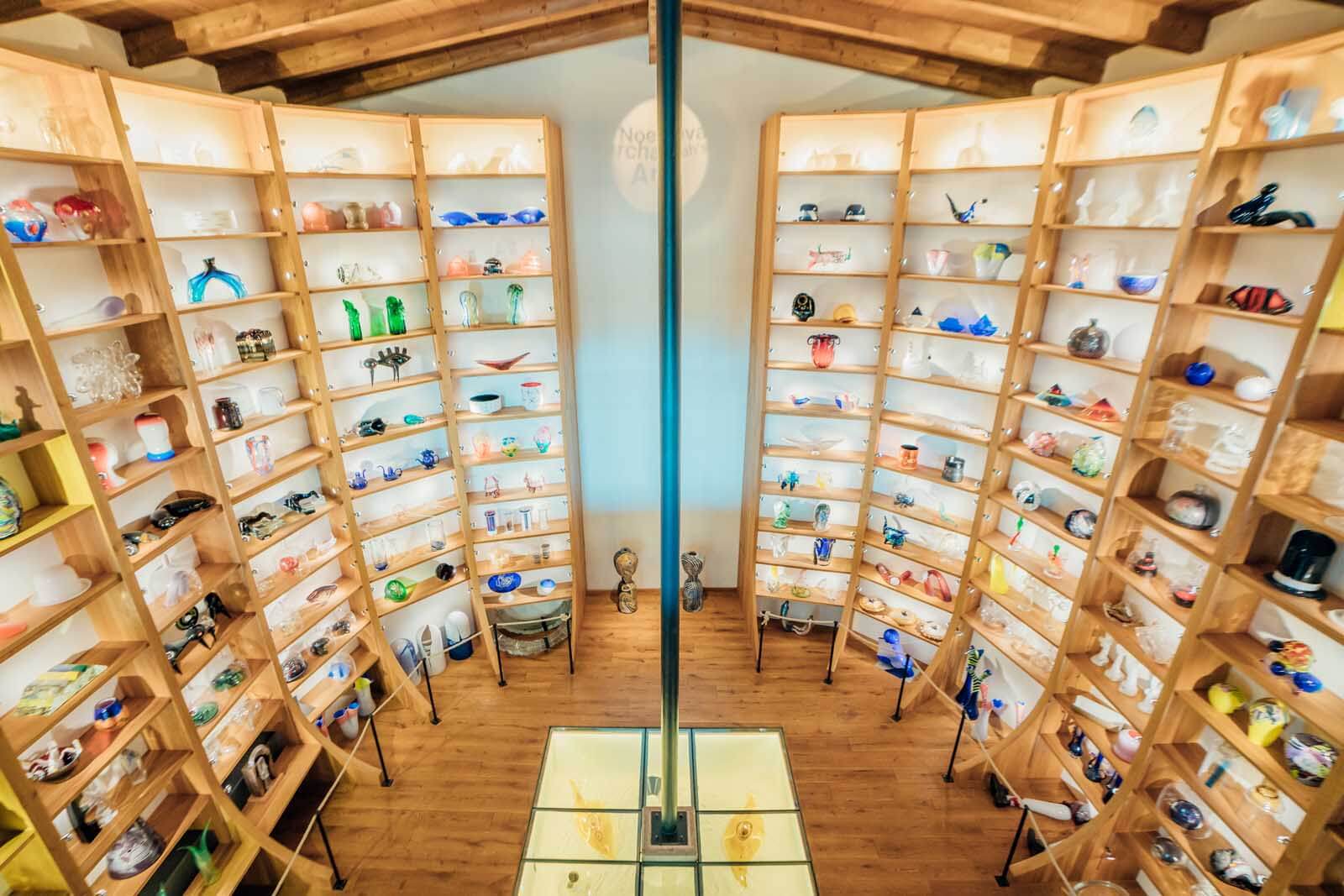 Besides the monastery, there's also Glassworks Frantisek, a glass museum and workshop worth visiting with impressive galleries on display.
During peak visitor season in the summer, there are even live glass blowing and making demonstrations on display for visitors.
Brdy Mountains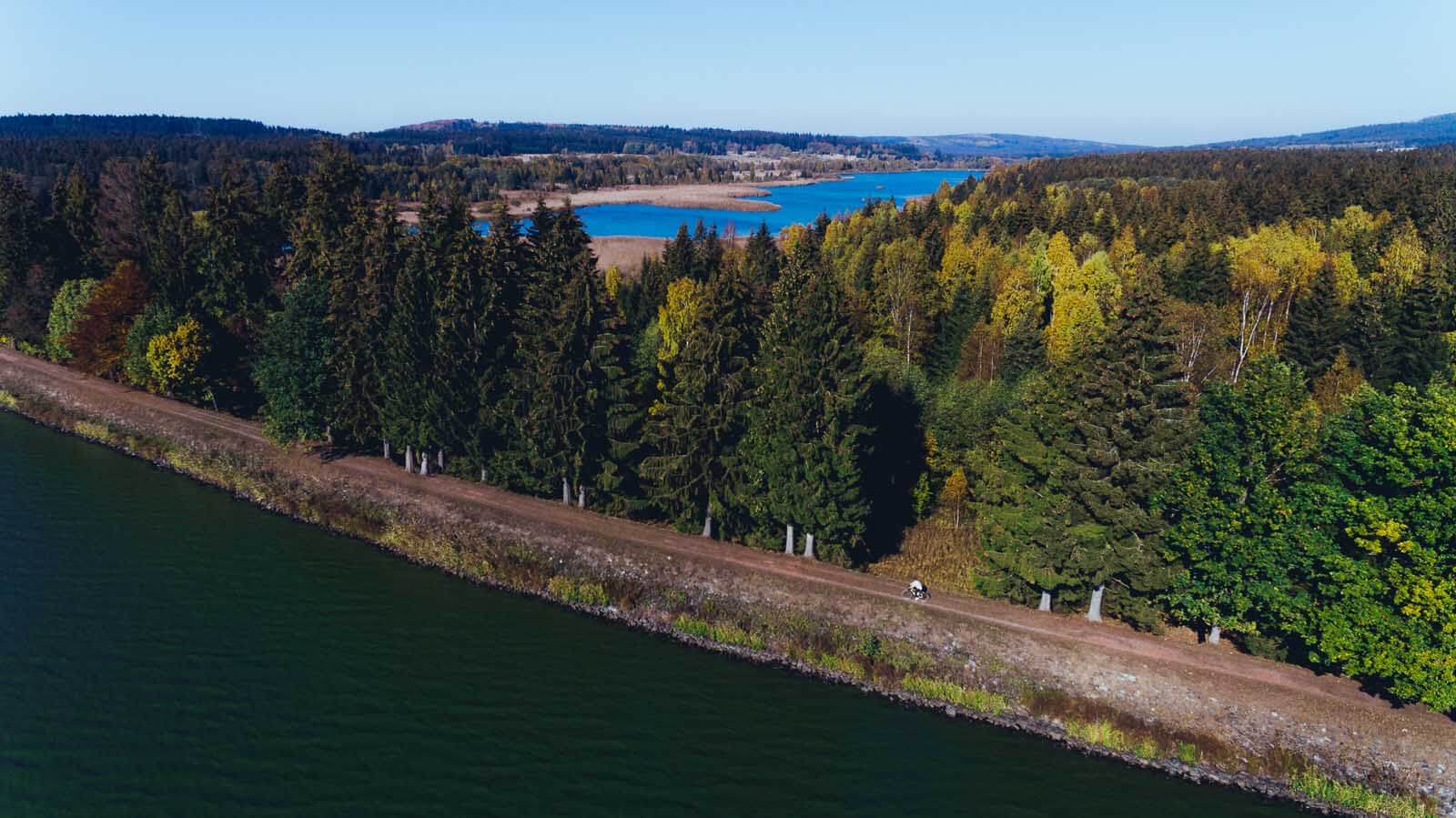 The newly opened Brdy Mountains is a fun day trip from Prague in Central Bohemia if you're a nature lover and outdoor enthusiast.
Formerly a restricted military area, and a local controversial topic, that has now been open to the public for use. However, if you aren't going with a Czech speaking friend you must know that there are still active landmines in the area and there are signs warning visitors not to go off path.
You have nothing to worry about if you stay on path or on the roads, but all the warning signs are in Czech so being an English speaking visitor without Czech knowledge it would be very handy to know this beforehand. MAKE SURE TO STAY ON PATH!
But, don't let that scare you away, as long as you follow the path you will be rewarded with this area which is surrounded by a beautiful forest and two major peaks, Tok and Praha.
We rented e-bikes to explore the area which is a great way to get around if you plan on exploring the Brdy Mountains area by ground. We do not recommend taking the bikes up the mountain unless you're familiar and comfortable with mountain biking and are advanced at it.
We followed a path that took us up Praha Mountain and the path down was a bit too advanced for either of us and a bit terrifying for myself, I ended up having to walk the bike downhill.
To rent an e bike in the area you can visit Ekola Brdy and book your bike in advance. The pick up location is a bit tricky as it's in a residential neighborhood, be sure to make sure you have it marked on your Google Maps before going to make sure you locate it. We only recommend the e bike for flat areas though.
Alternatively, we think the best way to explore the mountains is to hike, especially if you're planning on visiting the peaks of Tok and Praha.
After you've built up an appetite leave the Brdy Mountains and check out Podlesí Brewery, one of the only options near the park and about a 30-minute drive away. Be sure to pack snacks beforehand as there are not options nearby.
The brewery serves up their own beer, we tried almost all of them and they were great. Their menu also has some great options and its a great way to refuel after hiking or biking before heading back to Prague.
If you are too tired to head back or planned a full day outdoors, Podlesí Brewery also serves as a pension with rooms to sleep in for the night.
This day trip from Prague requires a bit of planning and you will want to take the warning signs (even though they are in Czech, they are warning signs not to go off path) seriously. But, it is one of the most untouched places in the Czech Republic for flora and fauna since it was a restricted zone for so many years and a beautiful place to enjoy.
Konopiště Chateau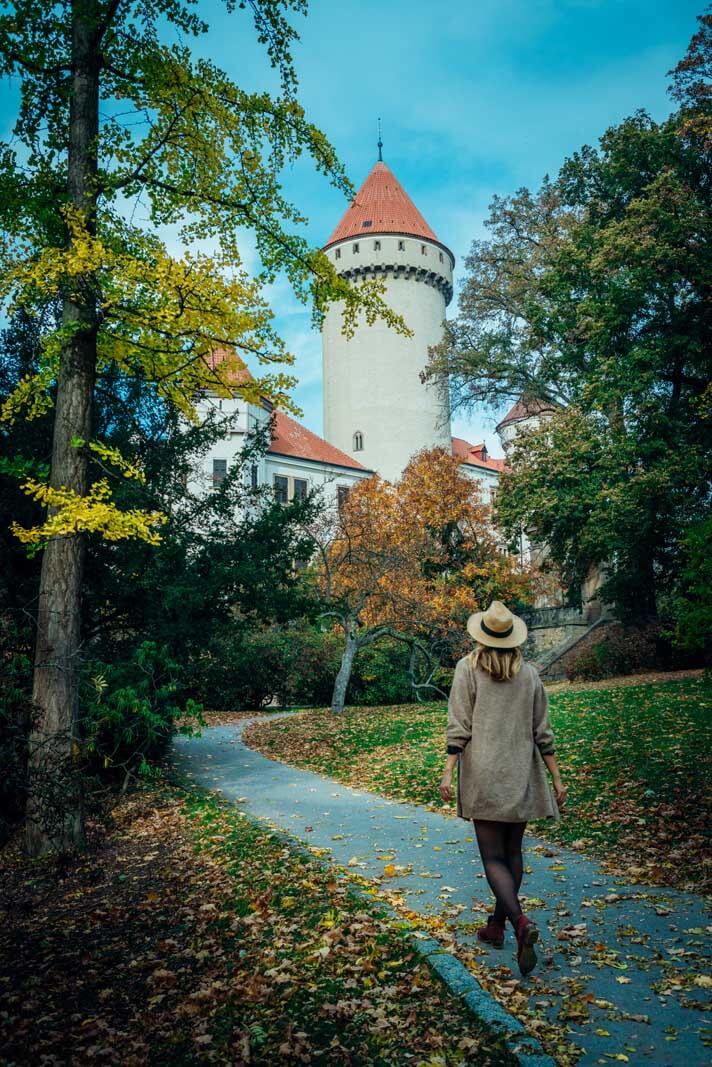 Another amazing castle and awesome day trip from Prague in Central Bohemia is Konopiště Chateau. Another castle that looks straight out of a fairytale with its beautiful towers and castle gardens.
This was the last residence to Archduke Franz Ferdinand before his assassination. If you're interested in the history there's even the bullet that killed him on display inside the castle museum.
We showed up on a Monday which is closed to visitors, so sadly we didn't get to tour the inside of Konopiště which has a famously large hunting trophy collection. Instead, we toured the outside and garden area which is absolutely peaceful and beautiful, especially on the perfect autumn day we arrived.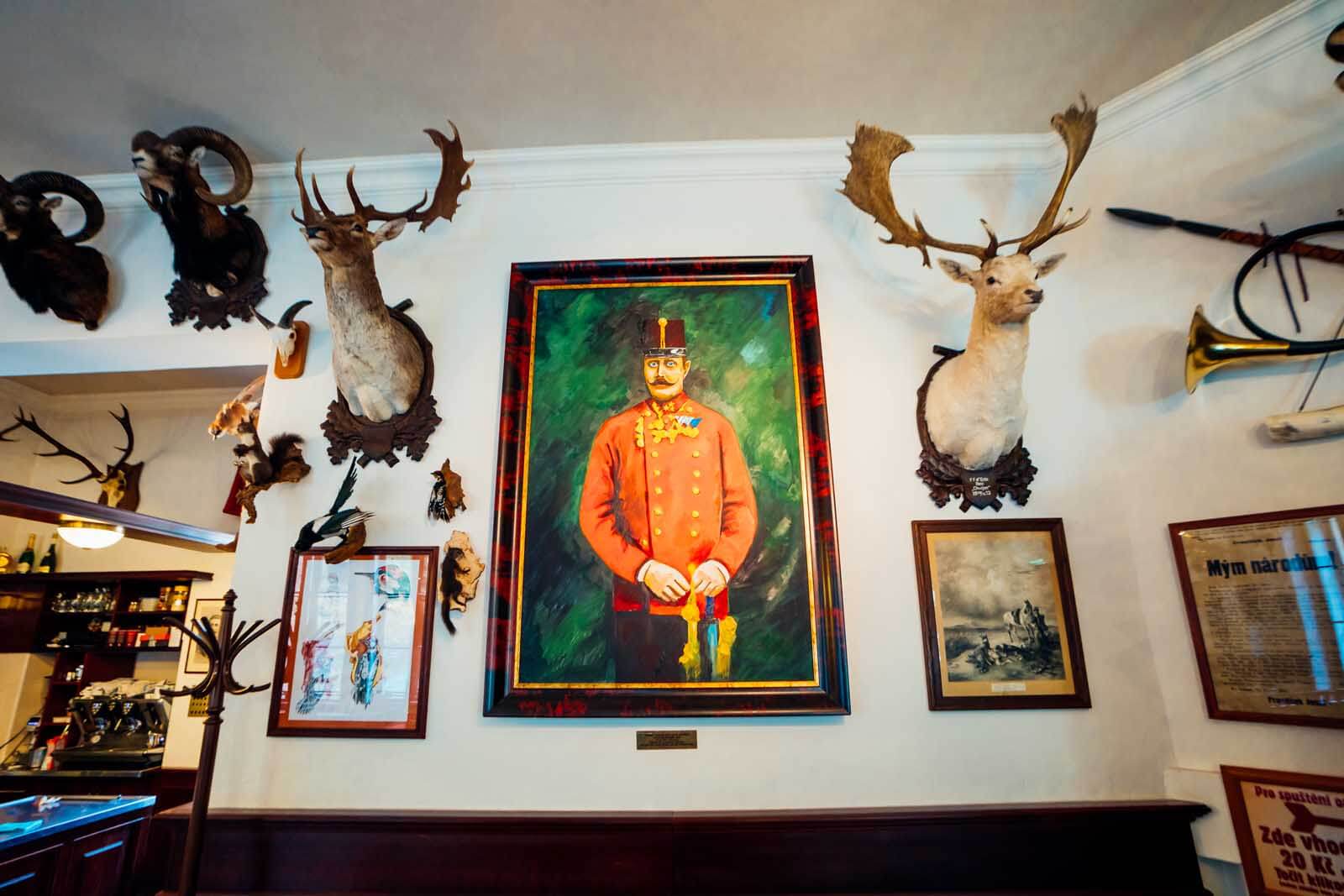 After admiring the beauty, head on over to the restaurant on the property, Stará Myslivna. This restaurant is unique and popular with the locals as it serves local wild game from the forest nearby in honor of Franz Ferdinand, an avid hunter.
As you eat you will see antique hunting trophies on display and the largest known portrait painting of Archduke Franz Ferdinand.
Also, if you're a movie buff, scenes from the film, "Illusionist," were filmed here.
Zruč nad Sázavou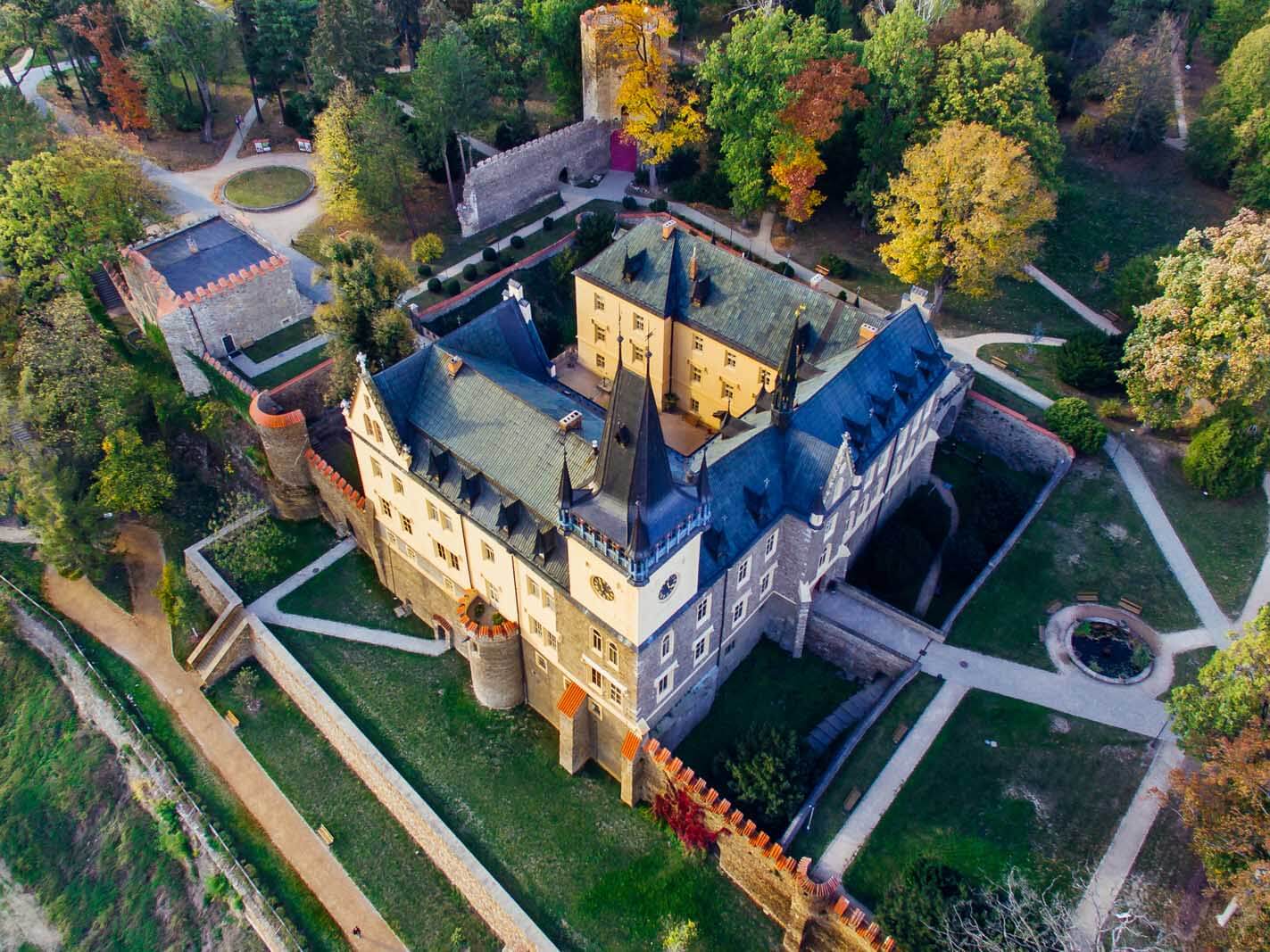 Another small Central Bohemian town and an off the beaten path day trip from Prague is Zruč nad Sázavou. This small village doesn't have a ton to offer but a picturesque castle dominating the view of the area.
The medieval castle dates back to as early as 1328 and is perched above the Sázava River you can tour inside the castle and admire the interior decor, some of which is more modern.
The most impressive rooms inside the castle was the bathing room in the basement and the library room with the wooden spiral staircase bookshelf, a book lovers dream.
Slapy Water Reservoir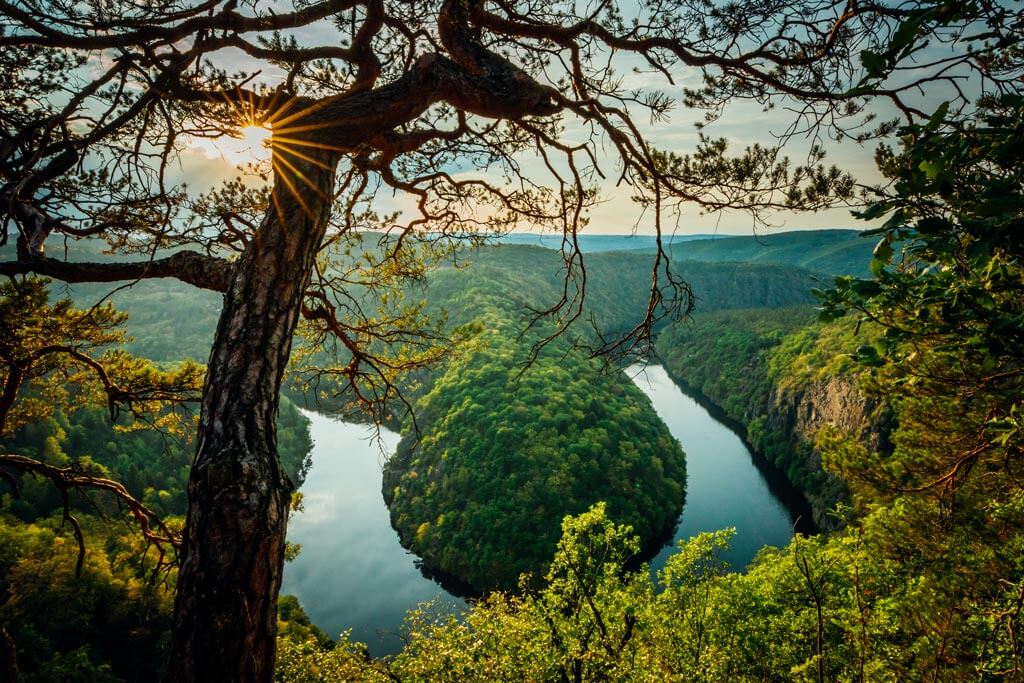 Situated an hour drive from the city is another great day trip from Prague for outdoor activities. The Slapy Water Reservoir is a popular summer escape on the water for locals especially in Prague to get out of the city.
This body of water snakes through the forest and has its own breathtaking viewpoints and the Czech Republic's version of "Horseshoe Bend."
Connecting to the famous Vltava River this is a popular spot for water sports such as canoeing, stand up paddle boarding, boating, swimming, and camping.
If you're not interested in water sports you can just do some hiking in the area to the various viewpoints and be sure to check out the Slapy Dam.
When you're here, you can also make the 3o minute drive to the ruins of Watermill Příčov. This is a giant, Dutch-style windmill, mostly in intact ruins and was one of the largest of its kind.
The windmill probably isn't worth its own day trip from Prague but worth squeezing in after visiting Slapy. Bring a pivo and a picnic as there is a nice bench here overlooking the nearby farmland for a nice peaceful spot to just relax.
To access the fun activities to do on the Slapy Resevior is difficult for a foreigner to do independently, that is why we recommend creating a custom trip with CZ Experience. They focus on custom itineraries and trips from Prague and have a private boat on the Slapy Resevoir where you can enjoy all the leisure and fun activities on the water in this local hangout.
Kutna Hora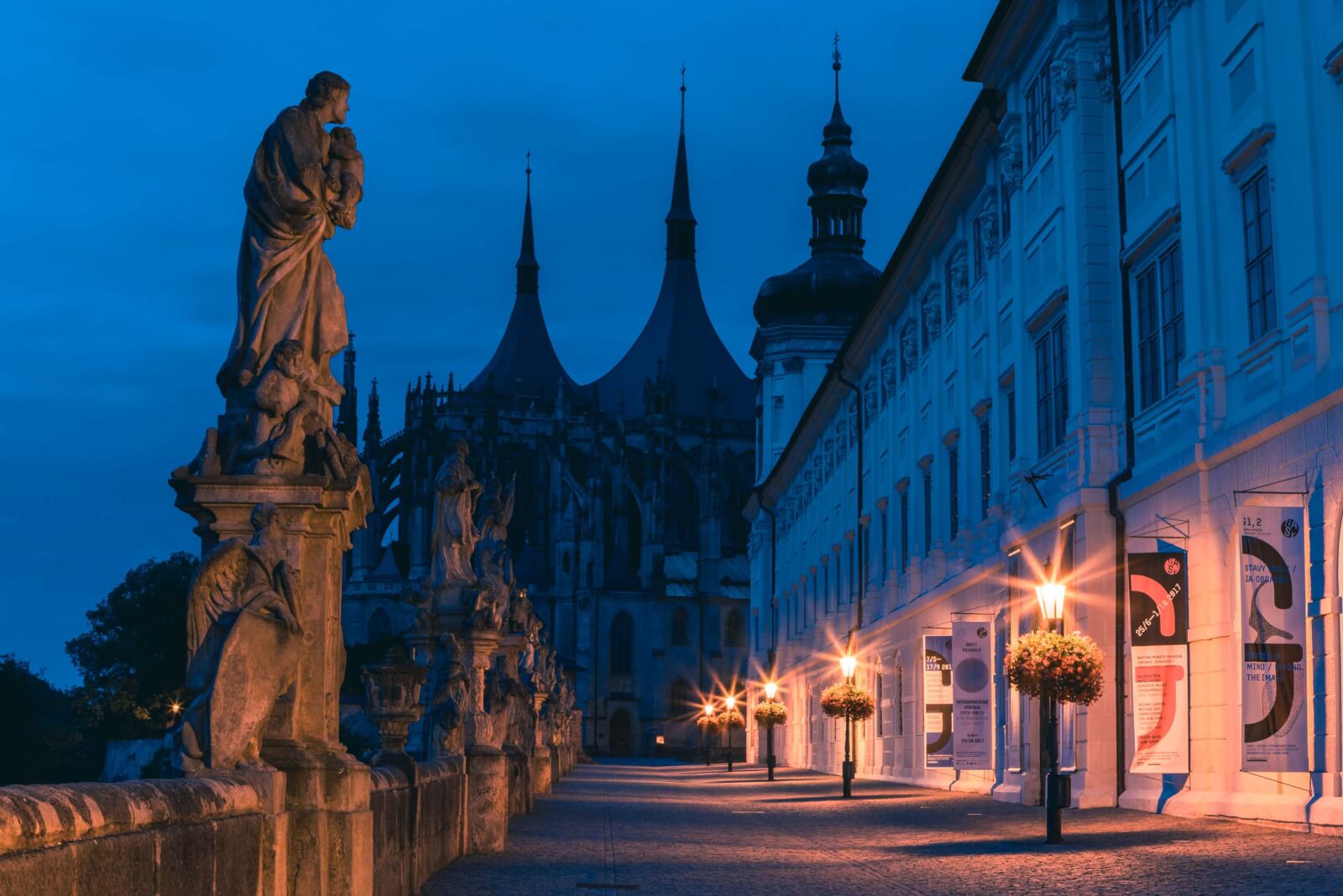 Another great day trip from Prague in Central Bohemia, but if we are being honest we'd spend way more than a day trip here, is Kutna Hora.
We absolutely love Kutna Hora and have already visited twice. From the impressive St. Barbara's Cathedral dominating the city skyline, the beautiful statue-lined Barboska Lane, the world's smallest Chocolate Factory, to great food you can't go wrong.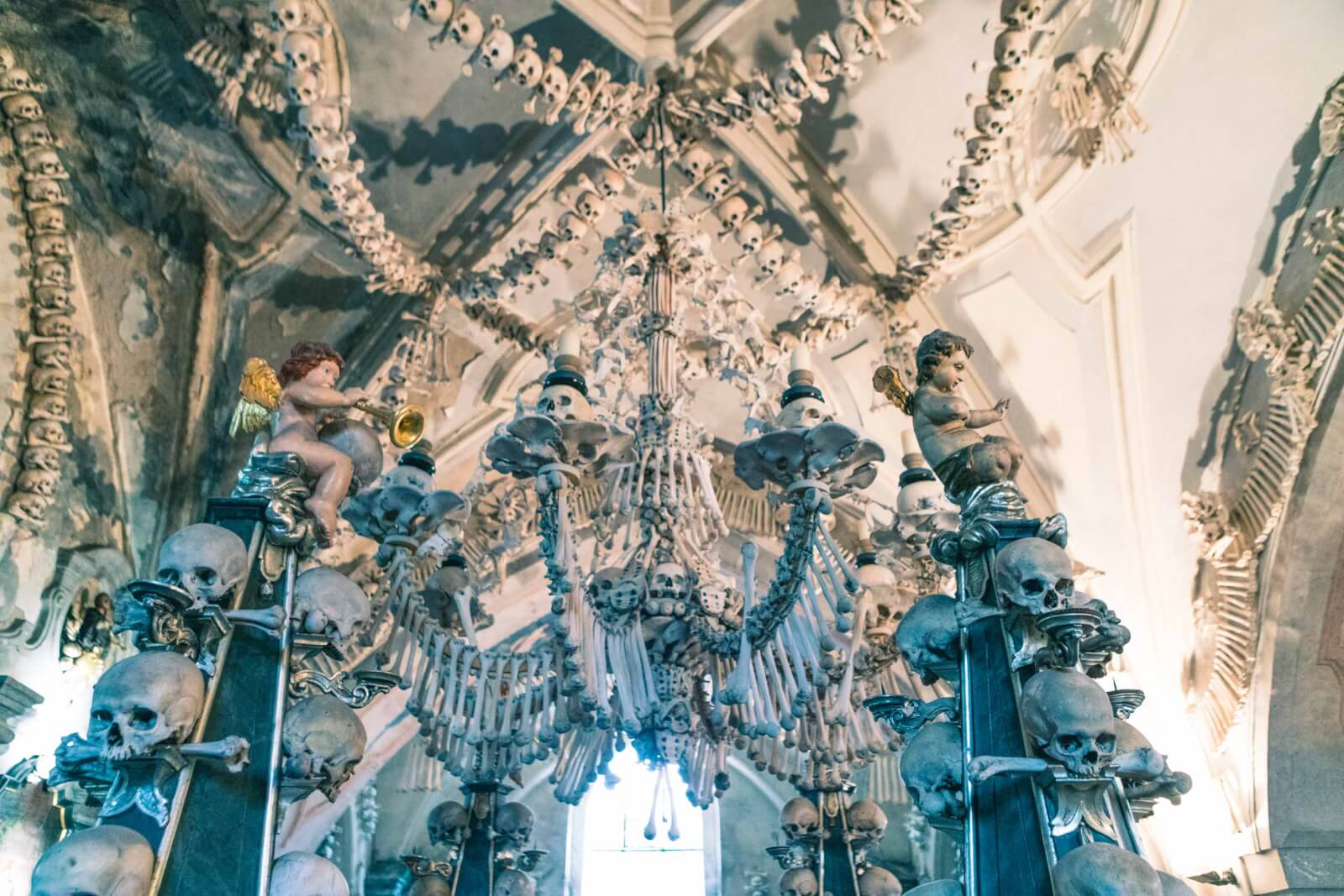 Besides Kutna Hora, just a 20-minute walk or 5-minute drive away is Sedlec, famous for the "bone chapel," or Sedlec Ossuary where thousands and thousands of human remains are on display in the ossuary in artistic designs and patterns.
This is where you can also check off a few UNESCO sites in the Czech Republic as well with the Church of St. Barbara in Kutna Hora and Cathedral of our Lady at Sedlec.
Chateau Mcely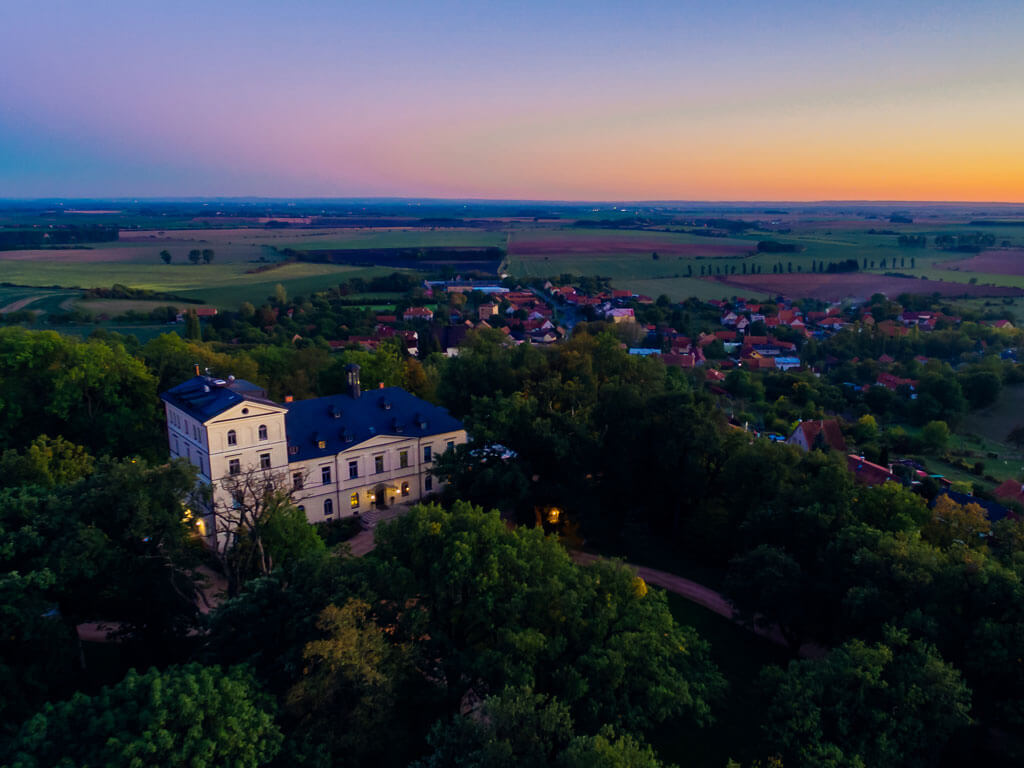 Another amazing day trip from Prague, well not day trip because you will definitely want to stay the night in the heart of Central Bohemia is Chateau Mcely.
This5-star chateau resort in the countryside is surrounded by the St. George Forest and the small village of Mcely. This is one of the most unique places to stay in the Czech Republic where you can relax surrounded by the beauty of the countryside and a quaint little village like royalty.
Chateau Mcely is a beautifully restored chateau that was severely damaged during WWII. The building was bought and renovated in 2001 opening its doors in 2006 to its first guests in their individually curated and themed rooms.
You can enjoy therapeutic spa treatments and rituals with homemade natural essential oils and cosmetics to unwind or soak in the natural swimming pool surrounded by the forest. You won't want to leave!
Book Now | Compare Prices for Later | Read Trip Advisor Reviews
---
Where to Stay in Central Bohemia
Decide to explore more than just a day trip from Prague? The area is best visited and explored by having your own rental car. You can pick up a rental car in Prague before setting off to explore the region and amazing places and day trips from Prague.
If you don't end up in one of the amazing chateaus to stay in, like Chateau Mcely, then we recommend staying in pensions.
One great pension we stayed in was Penzion na Veselce which also has a restaurant on site.
Where to stay in Prague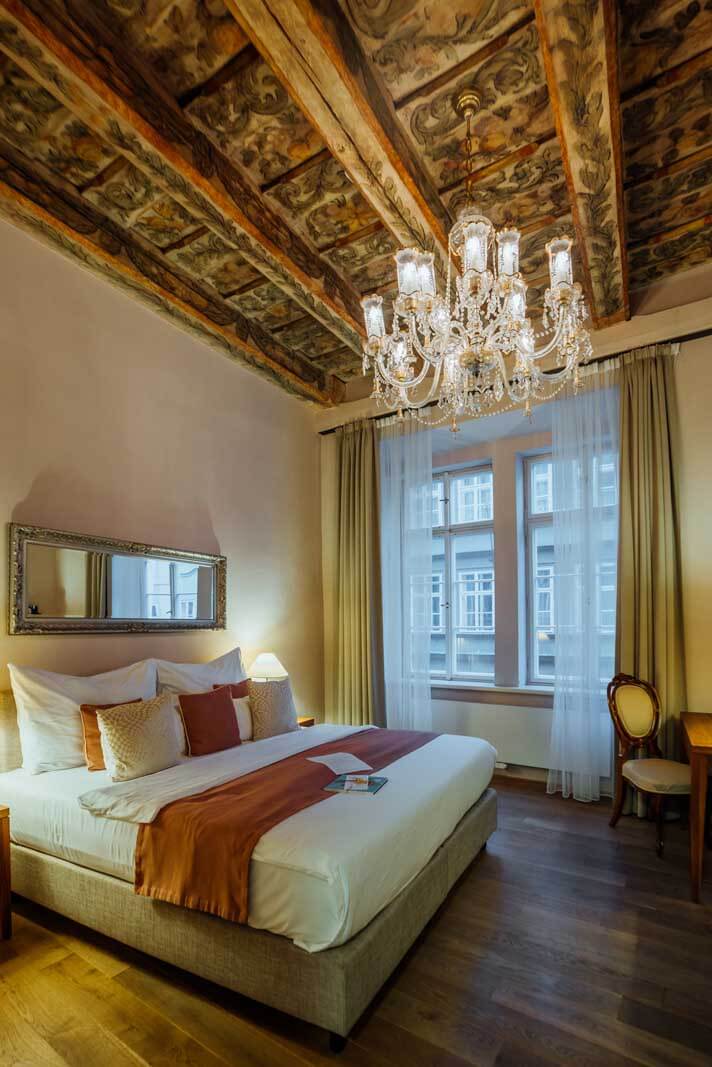 Before or after taking off for your day trips from Prague you will want to have a great base in the city. We recommend staying at Golden Key Hotel. This 4 star hotel has a prime location near Prague Castle and walking distance to all the best attractions in the city.
Even though the Golden Key Hotel is in a busy area, you would never notice as the rooms stayed very quiet and were extremely comfortable.
Our room was gorgeous with beautiful original exposed beams from the 16th century and an ornate chandelier.
Book Now | Compare Prices for Later | Read Trip Advisor Reviews
---
Disclaimer: This post was done in collaboration with Visit Central Bohemia, however all experiences and opinions are our own!
Liked this post about the best day trips from Prague in Central Bohemia? Bookmark for later or share the love below on Pinterest.