One of the reasons we love living in Seoul so much is there is always so much to do and see. It's a huge plus that everything is just a short walk away and no matter how often we come into the city, we have a great time visiting things we've done dozens of times like Gyeongbokgung Palace, Samcheong-Dong, for some fried chicken, hikes, or just trying to discover new nooks and crannies of Seoul.
Recently, a fellow photographer in Seoul, Emre Kanik who had a great Korea travel blog shared a place we realized we had literally walked all around but had never seen. It was a quaint "hanok island" is smack dab in the middle of Seoul surrounded by tall buildings. We are pretty big suckers for these traditional Korean homes and even dream of owning one someday in a woods as a winter cabin. So of course when we realized we had never been to this hidden cluster of hanoks in Ikseon-dong, which looked cute AF and not so touristy like Bukchon or Namsangeol, we had to go.
Another awesome photography spot Emre shared on his blog was Jeong-dong Observatory overlooking Deoksugung Palace and City Hall, that I really wanted to shoot to complete my hyper-lapse video. Unfortunately the observatory was closed, and we ended up celebrating a fun day in Seoul with some pizza and makgeolli for dinner along the Cheonggyecheon Stream.
Ikseon-Dong Hanok Village RD 1.
Taking a stroll through Ikseon-dong is wonderful. Located just outside of the subway stop Jongno 3-Ga (exit 4), you can walk down back-alleys and feel like your lost. Not just in time, but also because there are so many tiny turns you might actually get lost. Embrace it and wander around, if you have a camera and are looking for some inspiration, try shooting some of the different textures. There are tons of them down there.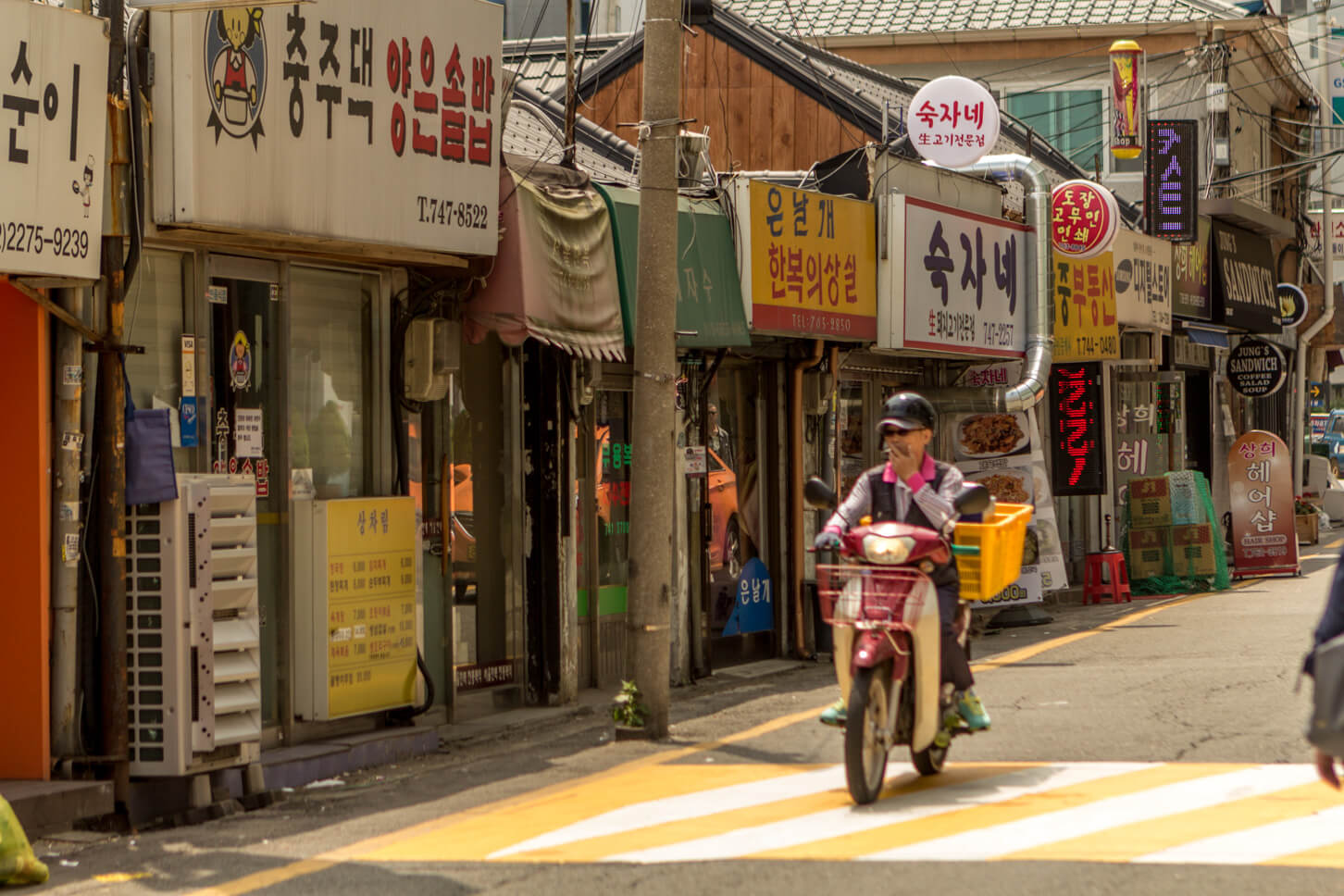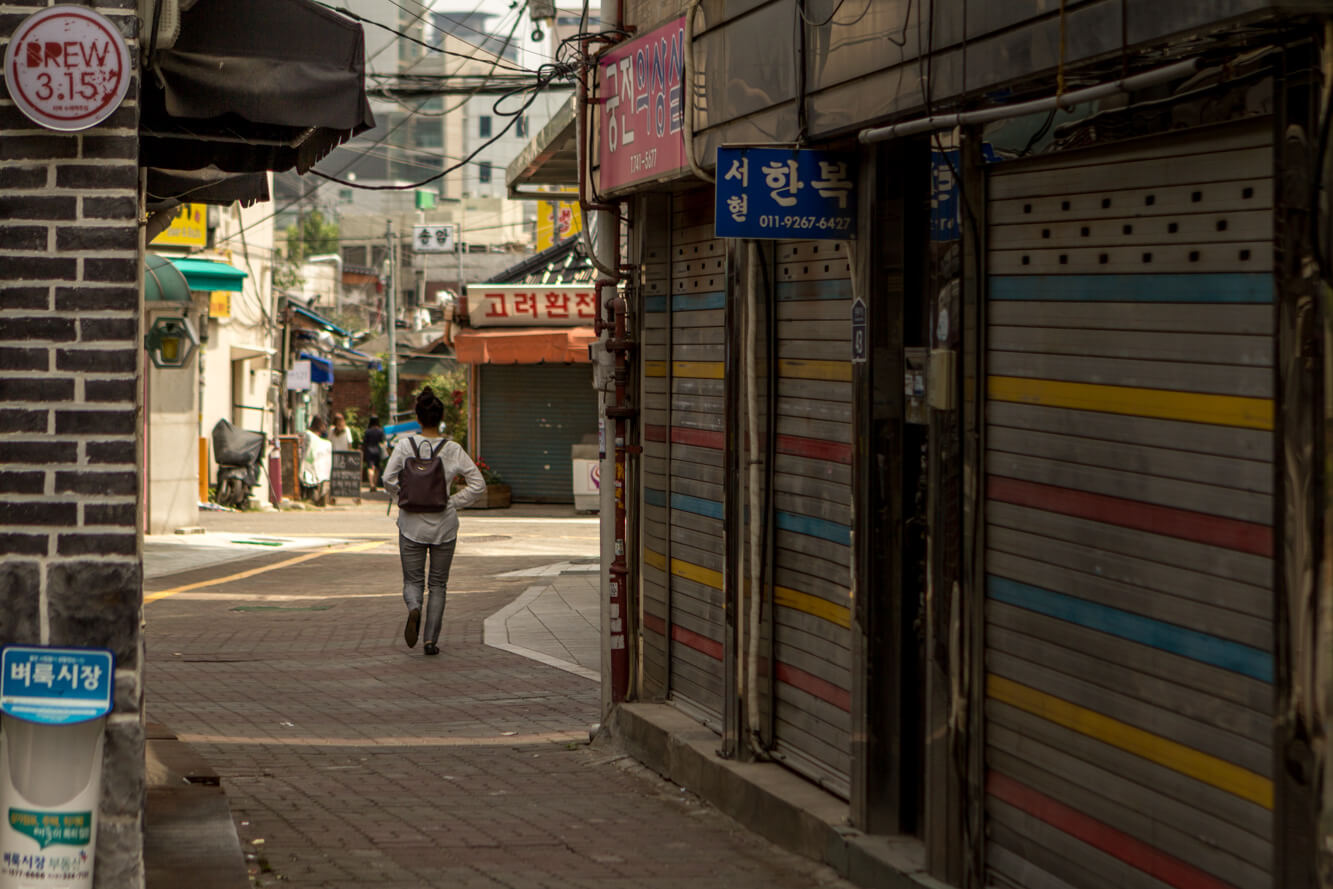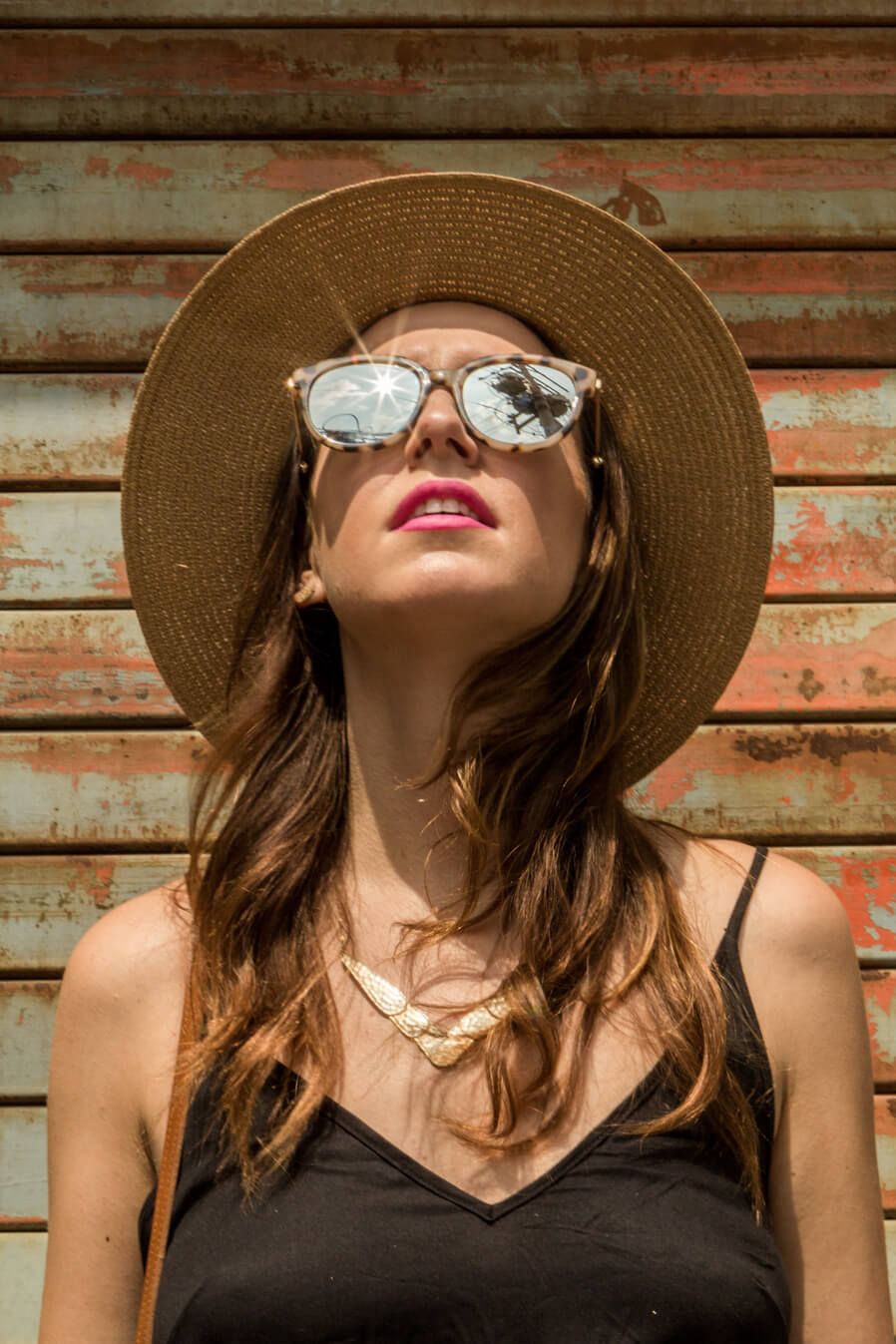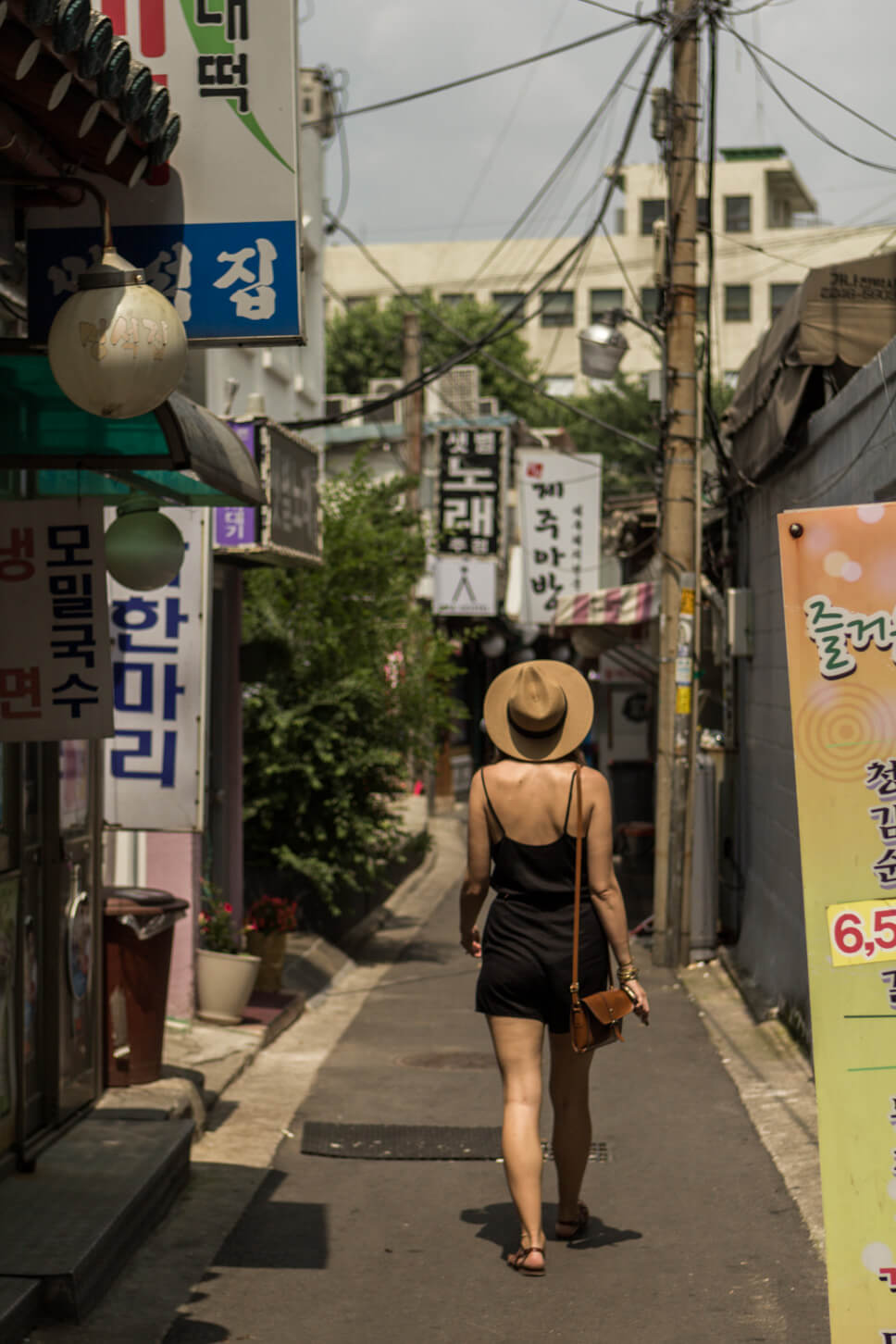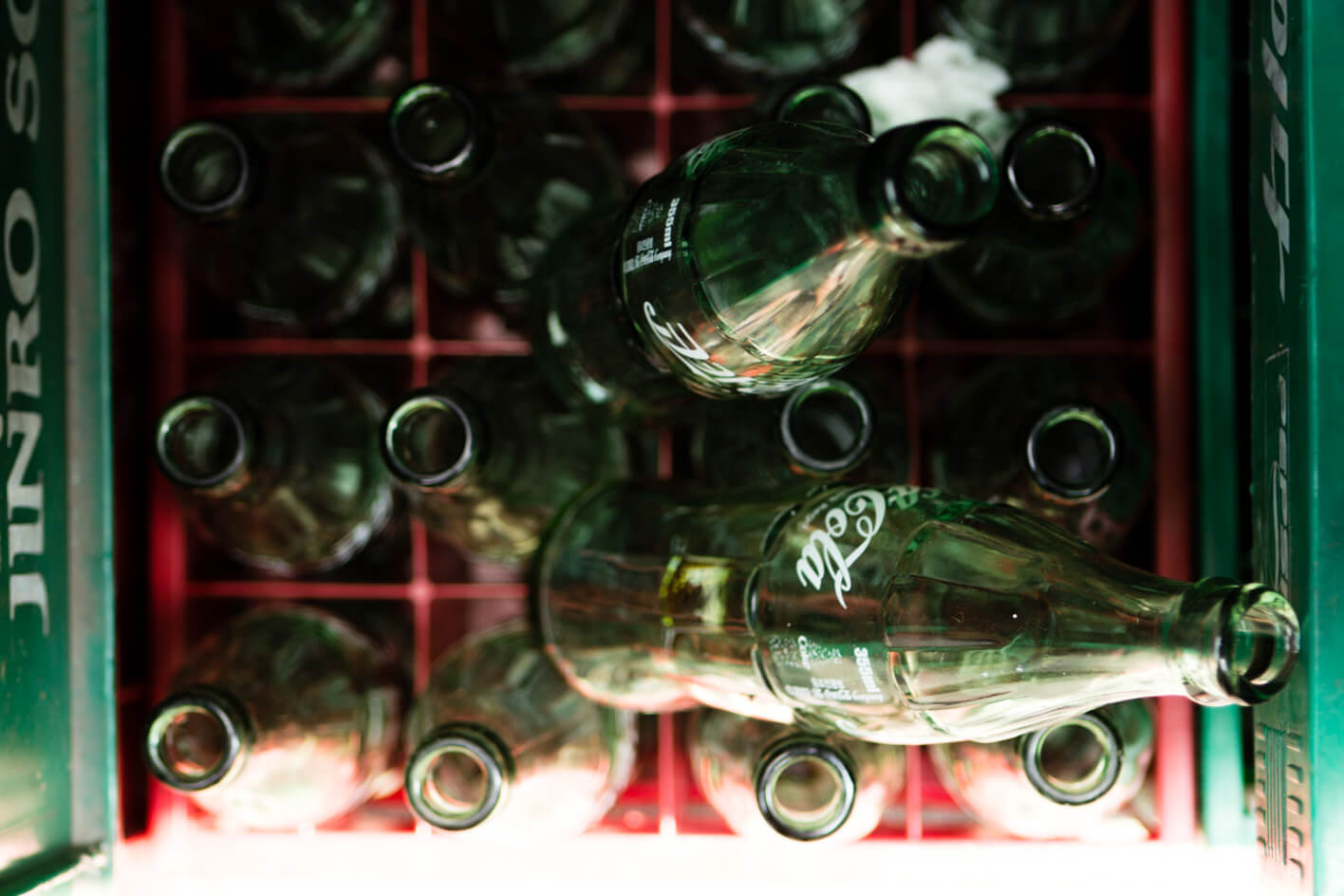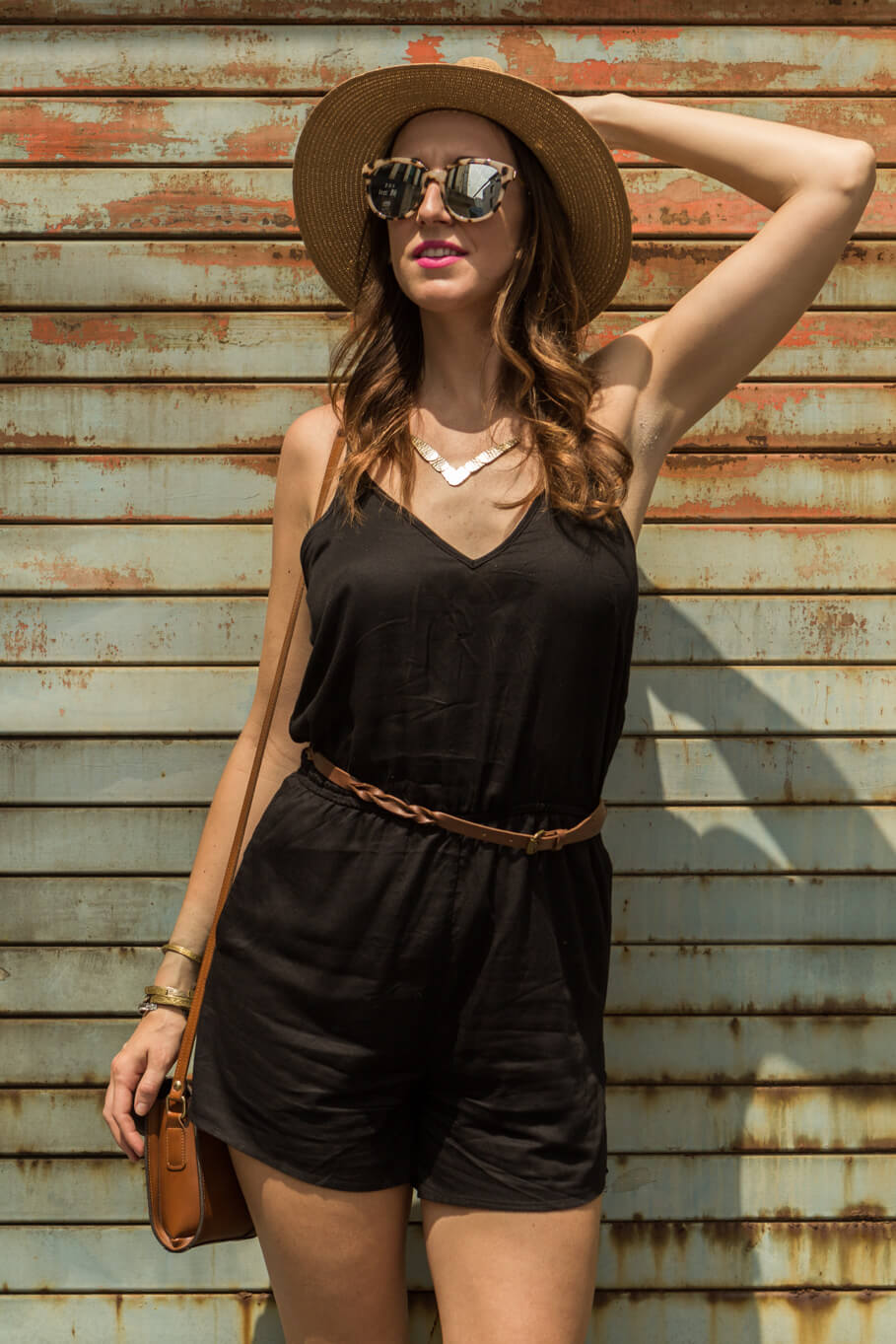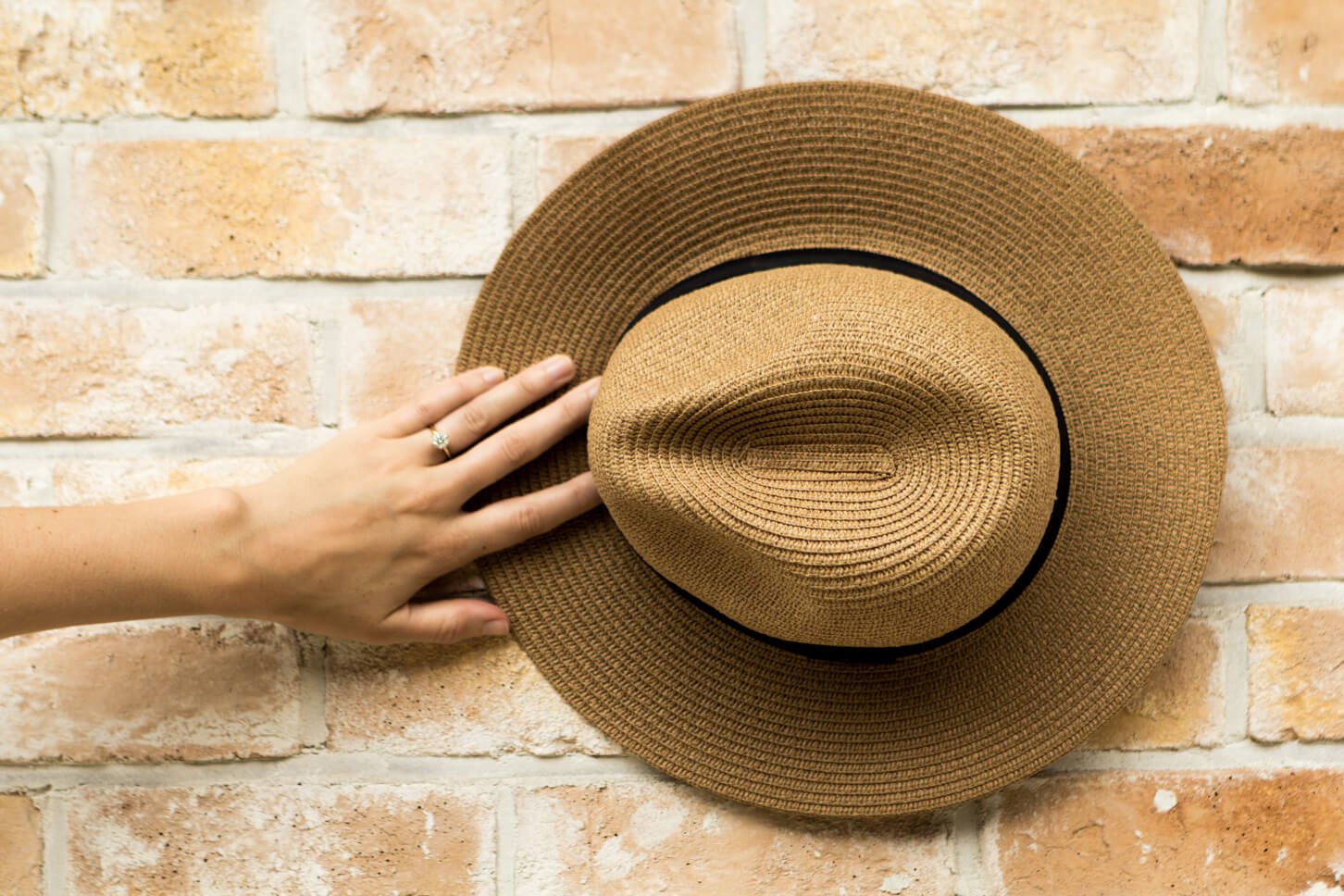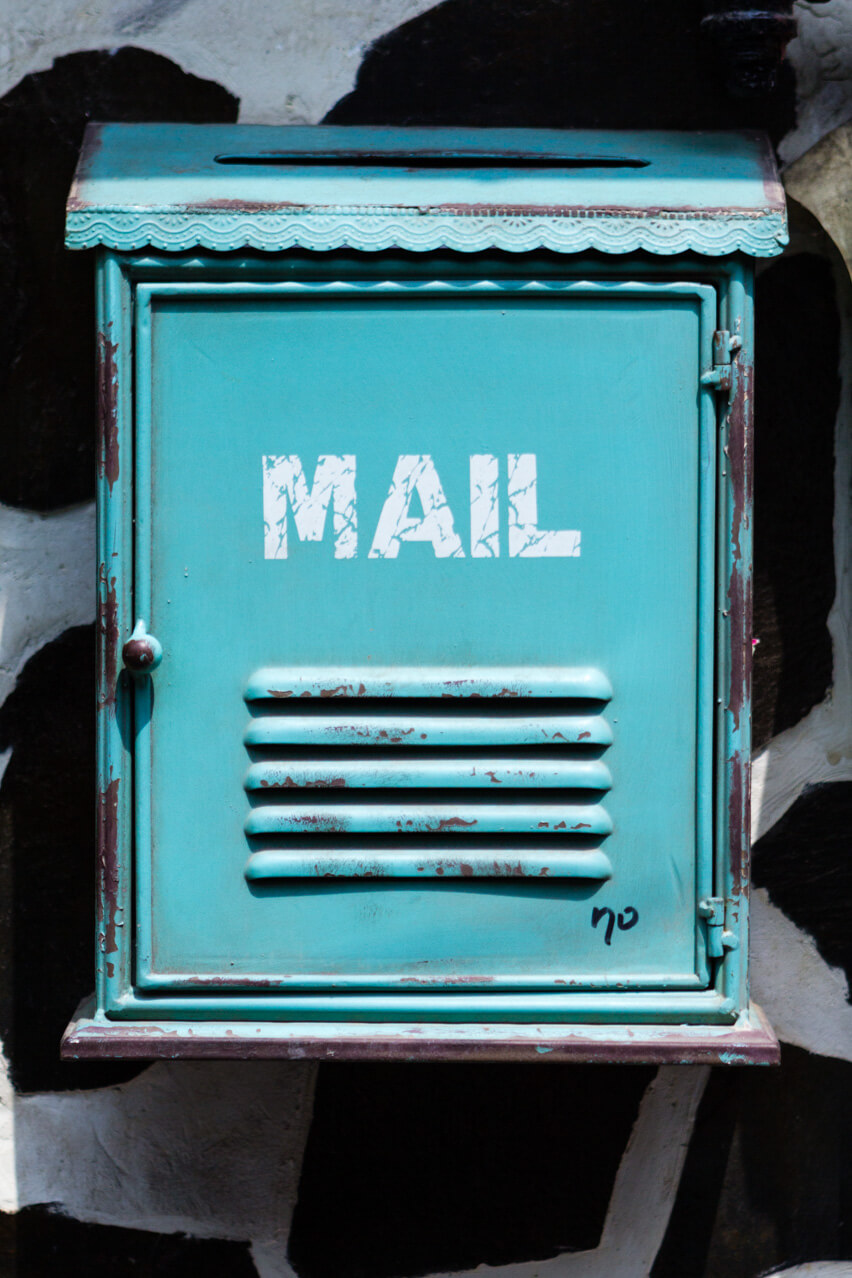 One of the things we loved about Ikseon-Dong was how there were no crowds. If you've ever been to Bukchon or Namseonggol you'll love how empty this gem is. There are charming cafes and trendy restaurants lining a couple of the alleys and other than that not much to incite hoards of tourists.
I'm always trying to hop up on rooftops and was lucky enough to drag Megan up a couple to scout out the hyper-lapse and take some glamour photos. We got up one super easily only to be kicked out in about 20 seconds. We feigned ignorance and snapped of this shot before he had enough of us and escorted us down.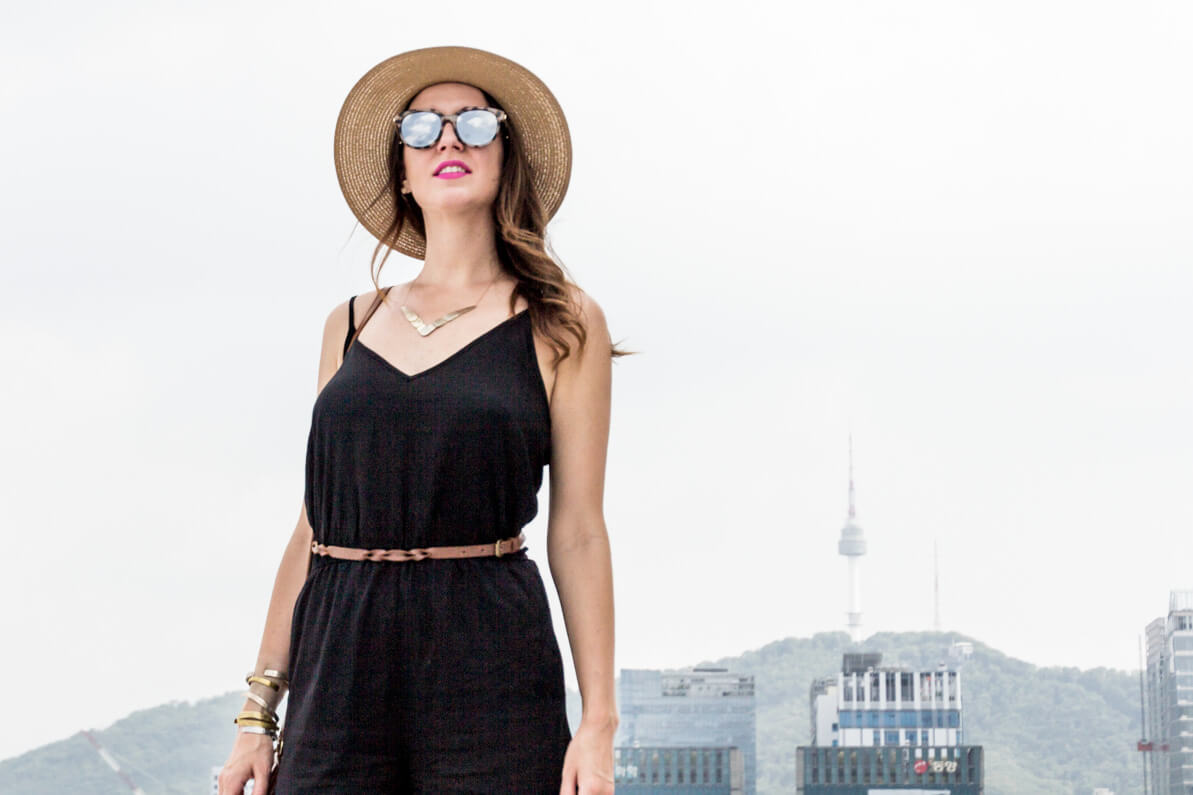 From the view we saw the Ibis Hotel and noticed it had a rooftop terrace. It made for the opening shot and after climbing 10 floors to get to the view, we realized it was perfect.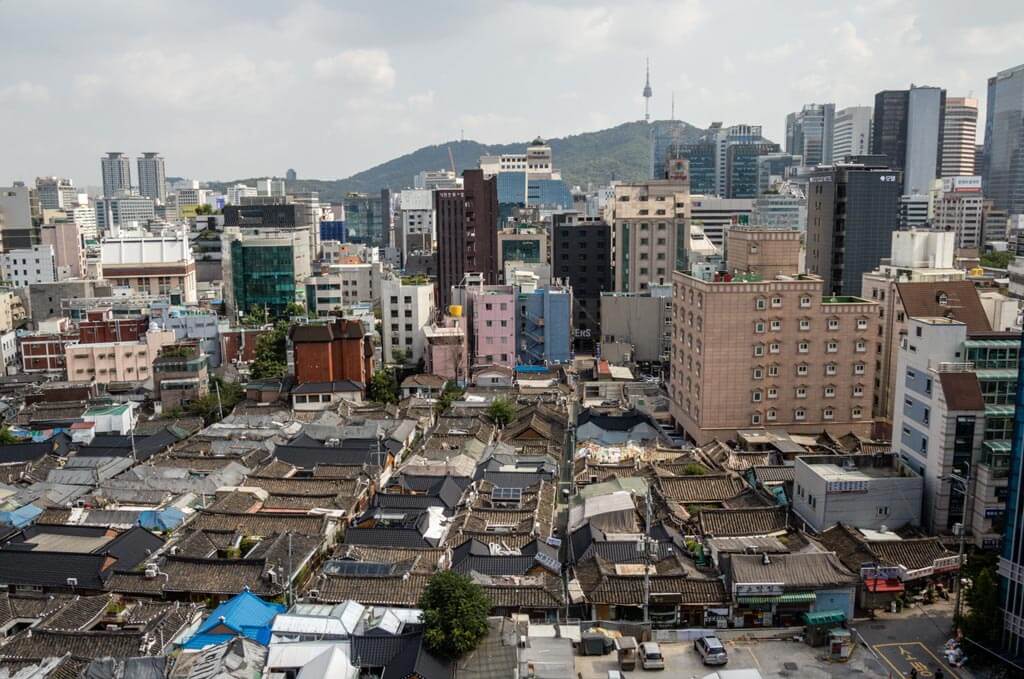 I loved the juxtaposition of this old island of hanok homes in the middle of a bustling city with hi-rises. And of course, Namsan Tower in the background with some blue skies is a nice touch.
We planned on zooming into the super cute street and then turning left to be in Deoksugung Palace that we saw in Emre's video. But as mentioned before, it was closed and we ended up with pizza and makgeolli along the Cheonggyecheon Stream.
Ikseon-Dong Round 2 –
The quest for all you can drink beers and the holy-grail sunset.
We saw an advertisement from our first attempt that the Ibis Hotel had a rooftop terrace that had a summer deal of unlimited draft beer for 9,000 won. So we thought that would be a fun place to do our final sequence during sunset with some cold beers!
We started the next part of our shot at Namsangol Hanok village which is the second most touristy hanok village in Seoul. On our way to Namsangol we made a left turn at Albuquerque and somehow walked in the back entrance for free. I ended up finding a good spot with nice framing from one of hanok buildings and decided it would be our second shot following Megan walking through and then zooming into Namsan Tower.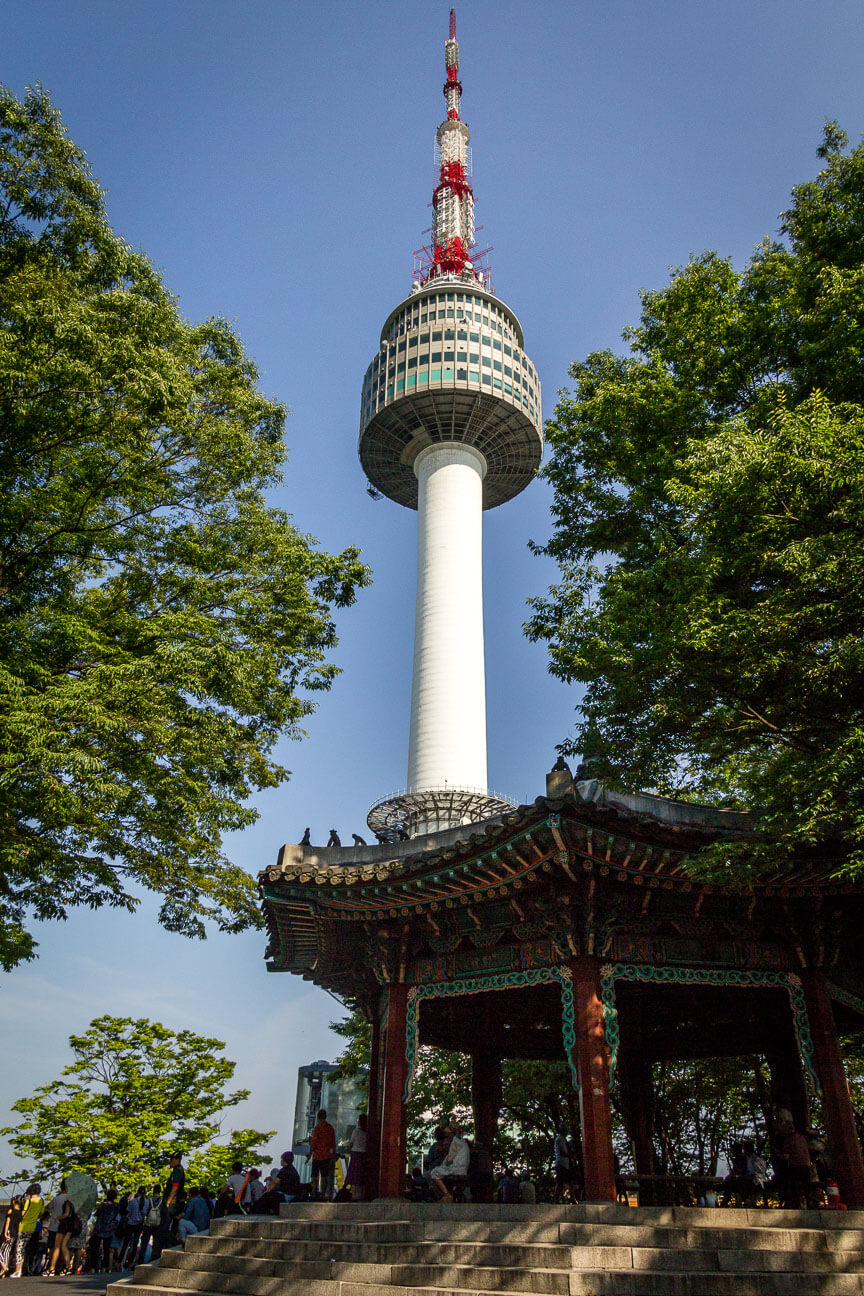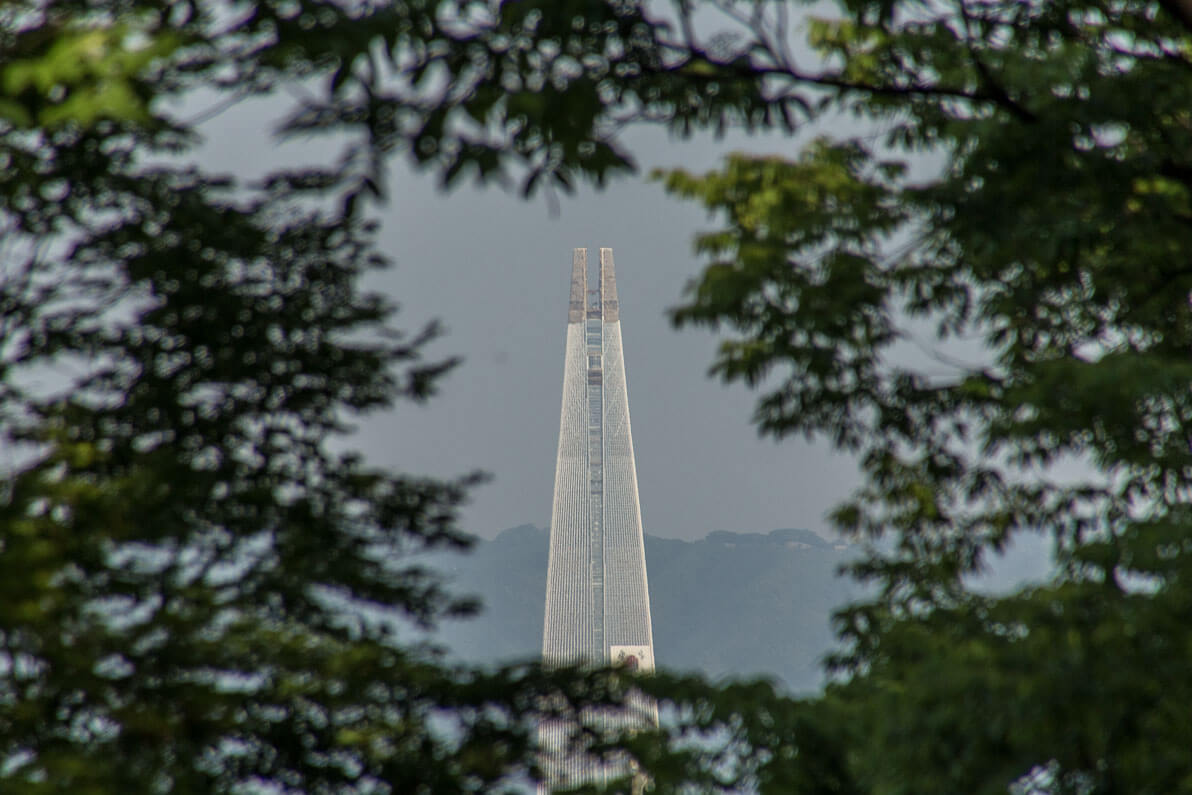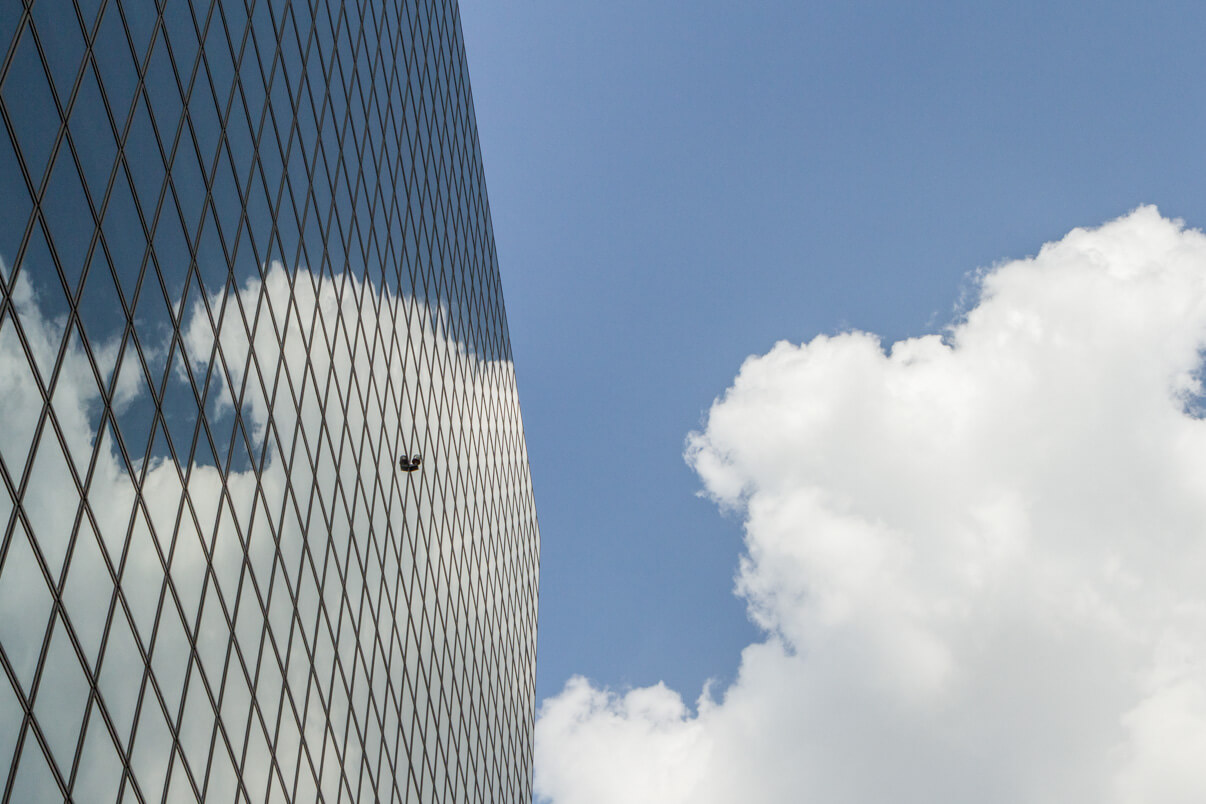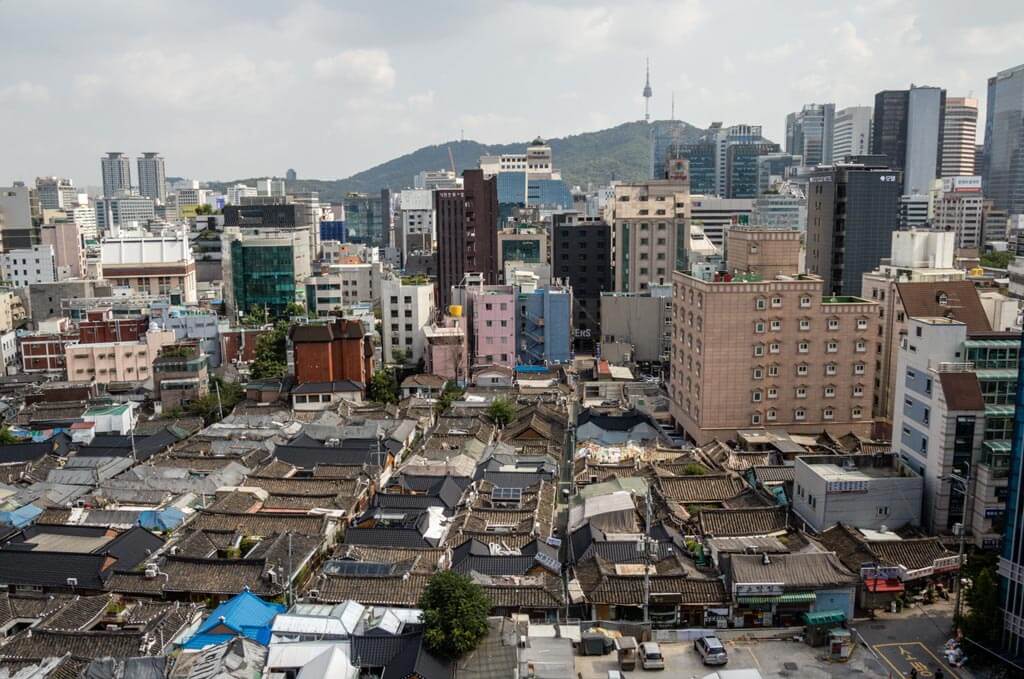 From there we started the hot and humid 2km walk up to Namsan Tower. It was a bit tough but a great exercise. We could have easily taken a bus but opted for the free exercise. Hot and sweaty we took a break and shot a super fast transition sequences that would then reveal back to where we all started at the Ibis Hotel.
The day was had some great clouds, but when it was time for our sunset shot from atop the hotel terrace, the clouds were gone. I was really hoping for the clouds to return to add some movement to the final shot. The only thing that made the final sequence interested would be the shadows racing up the buildings before it turns to night.
What really broke our hearts was that the Summer Special of unlimited draft beers was only if you drank them in the lobby 🙁 not at the rooftop terrace. Womp womp.
Luckily Megan was a super hero and bought us a pizza and carried it up 10 flights of stairs up so we could enjoy the sunset shot with some delicious food.