When it comes to us we love saving money for our future travels. Unfortunately, saving money isn't always romantic. Let's just be honest here, it's probably the least romantic thing. So we try to think of romantic ideas or fun dates to do during our time in Korea.
Luckily there are tons of romantic things to do in Seoul with your lover for a nice day out on the town. Korea is known for it's couple culture and has love holidays every month, you can imagine that they have romantic activities covered.
We've put together a list of 25 date ideas and romantic things to do in Seoul.
Romantic Things to do in Seoul: Afternoon Dates
Rent Bicycles at Yeouido Park
Rent a tandem bicycle for just a few bucks and ride through
Yeouido Park
and down along the Han River. The beautiful view of the Han and the city will win you some serious romance points. Step it up by packing a picnic or just grabbing some food at the nearest GS25 (found just about everywhere) and post up. Enjoy your romantic day in Seoul watching people fly their kites, play games, and camp out for the day enjoying the view of the city and the riverside.
Bonus – Bring Makgeolli and PB & J – There's some sort of heaven when you mix the two.
Pack a Picnic at Seoul Forest
Seoul Forest is a great place for an inexpensive date. You can rent bicycles, feed animals, like deer, at the ecology park, take a gander at the butterfly garden, and walk through the sculpture park. We think Seoul Forest is the perfect place to pack your own picnic and enjoy the small oasis of trees in the big city.
Visit a Theme Cafe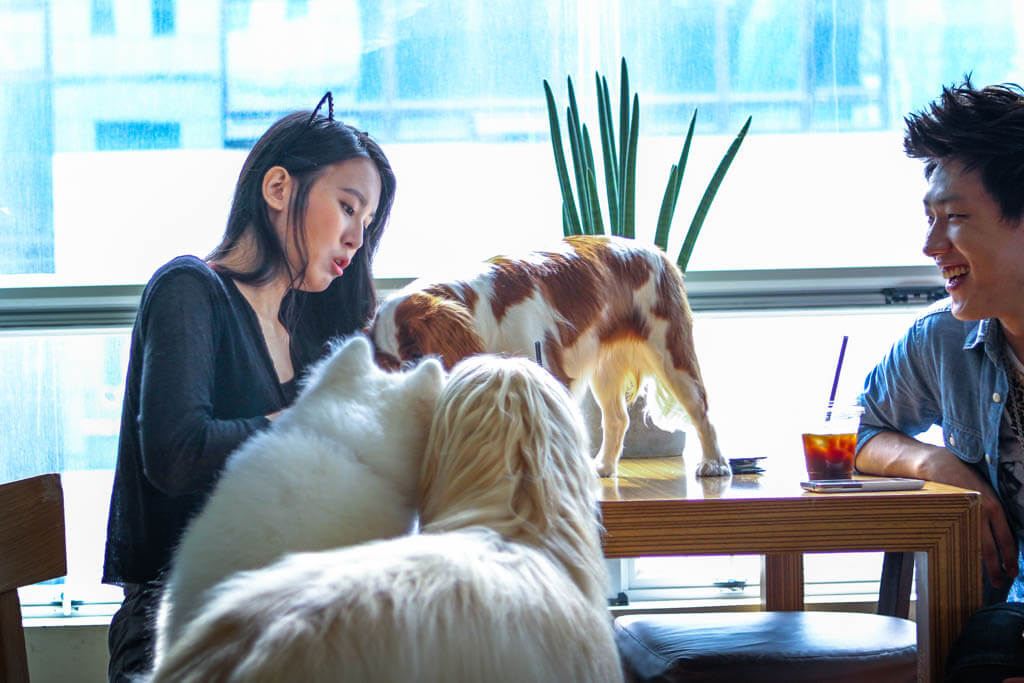 There are thousands of cafes in Seoul, and many of them are themed. From fancy dessert cafes, gameboard cafes, cat cafes, dog cafes, dress up cafes, and even raccoon cafes (you read that right RACCOON CAFE!), Seoul has themed cafe that you and your date will love. Spend an afternoon sipping on coffee in a fun or unique environment with your sweetie.
Check out the Trick Eye Museum
For a more fun date, be a part of the art at the Trick Eye Museum in Hongdae or the Alive Museum in Insadong. You can spend a few good hours posing in the art on the wall and looking like you were painted right in the scene. If you're feeling frisky check out the Love Museum as well, but we must warn you that its a bit X rated!
You can get your discounted tickets for both the Love Museum and Trick Eye Museum from KKday!
Check out more of the best things to do in Hongdae, a neighborhood full of romantic things to do in Seoul and great nightlife!
Go For a Hike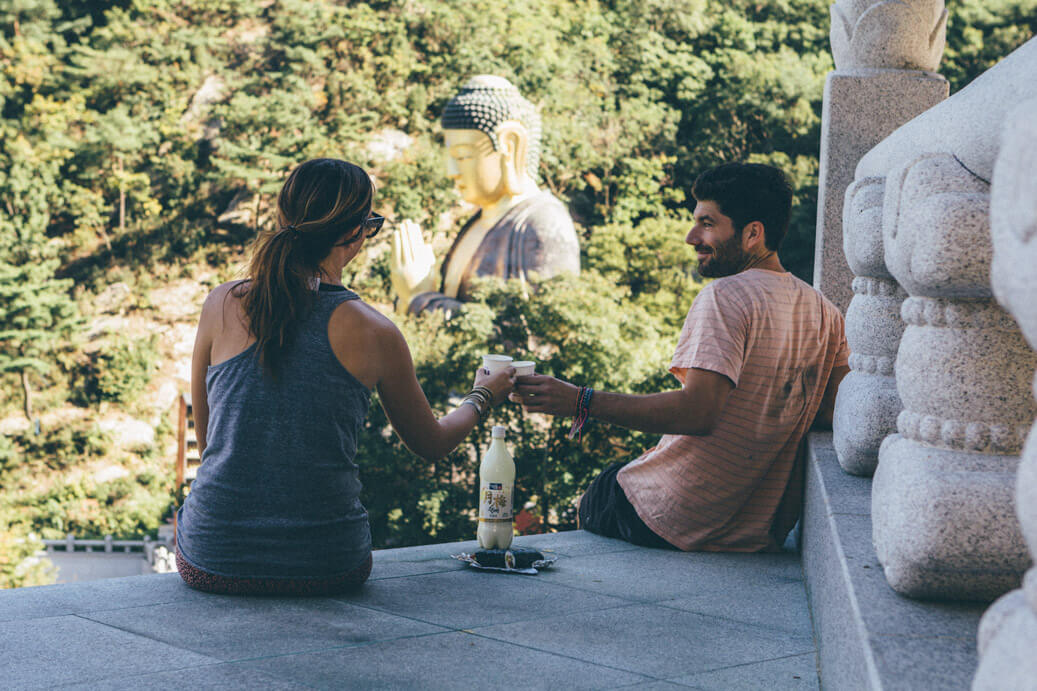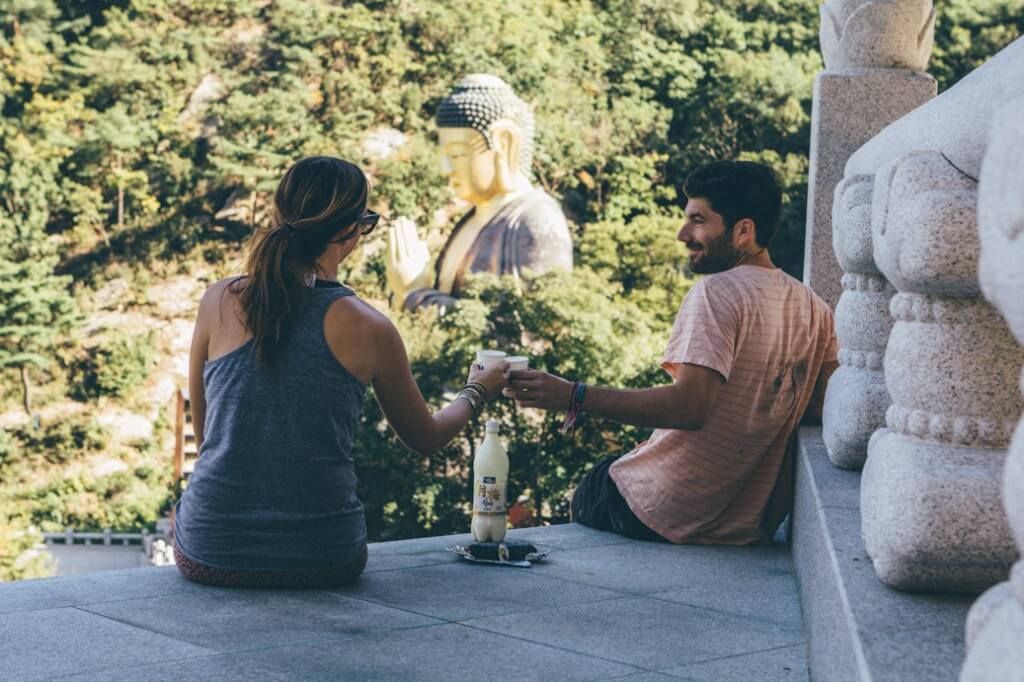 Explore the great outdoors by going on a hike. There are dozens of hikes to choose from with Bukhansan National Park right in the heart of Seoul for all levels of hikers. Make sure you pack the essentials for a Korean hike like makgeolli, otherwise you will feel left out once you reach the top of that mountain!
Stroll through Samcheong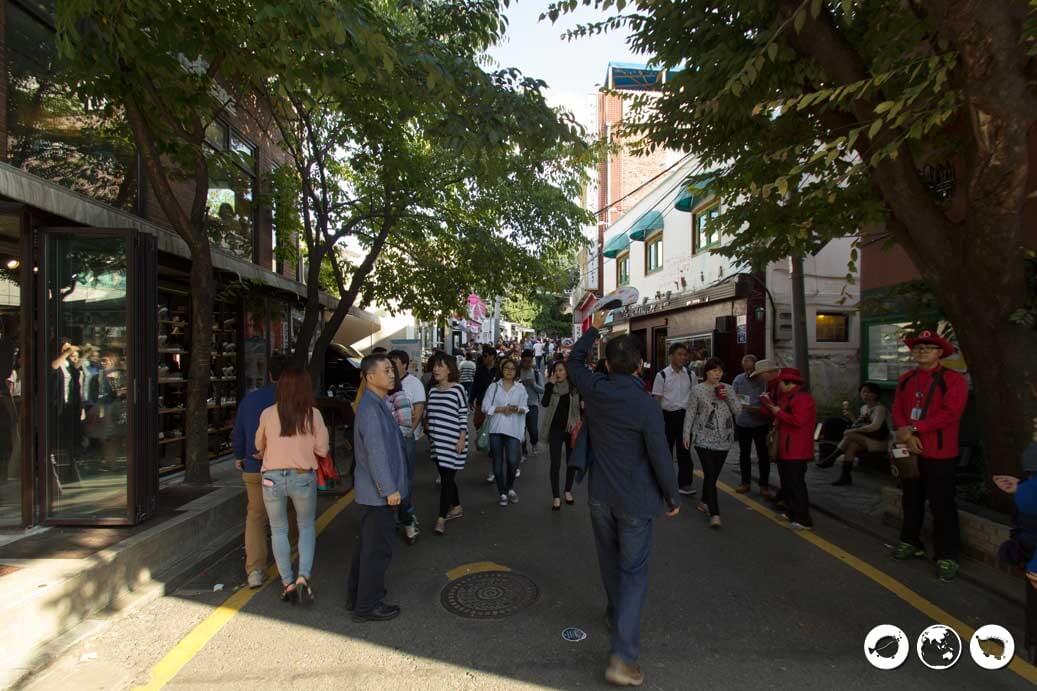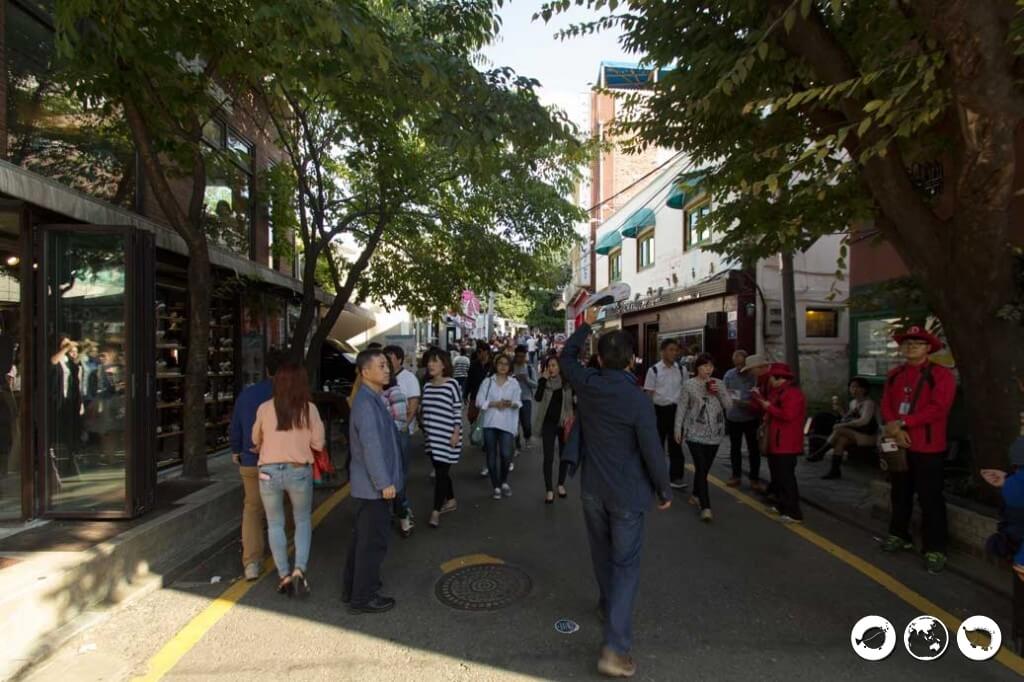 Samcheong has to be one of the most charming areas of Seoul. Located smack dab in between Gyeongbokgung Palace and Bukchon Hanok Village, you can easily spend an entire afternoon strolling the streets shopping and eating different snacks along the way. There are tons of cafes, museums, and shops to check out in the area!
Shop Around Ssamziegil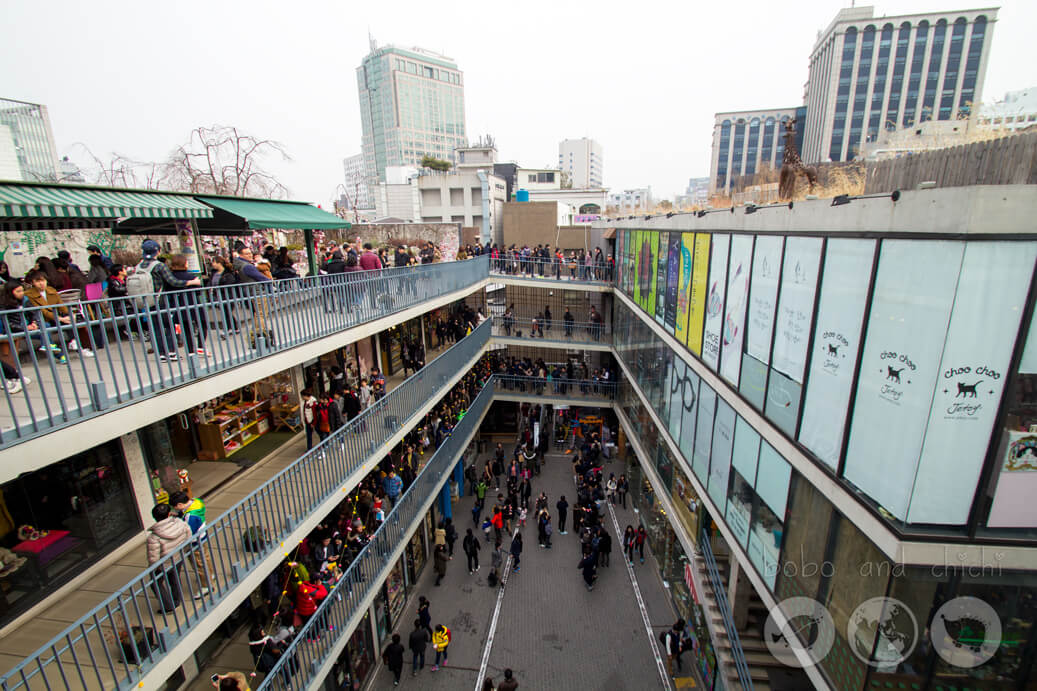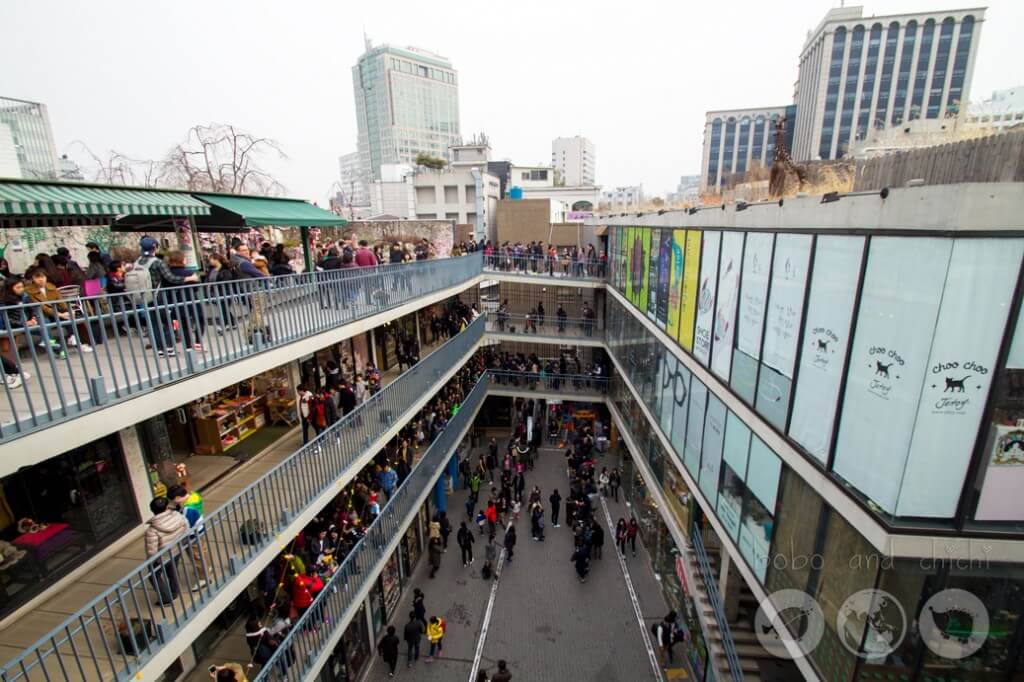 Another shopping spot that features small local boutiques as well as delicious street snacks, drinks, and desserts! Make your way to the top of the shopping center to the love cafe where you can get a love tag to mark your special date with your lover and hang it up with the thousands of others! We had to do one ourselves, which by now has to be buried under so many other lovers love tags!
Wander Through Ihwa Mural Village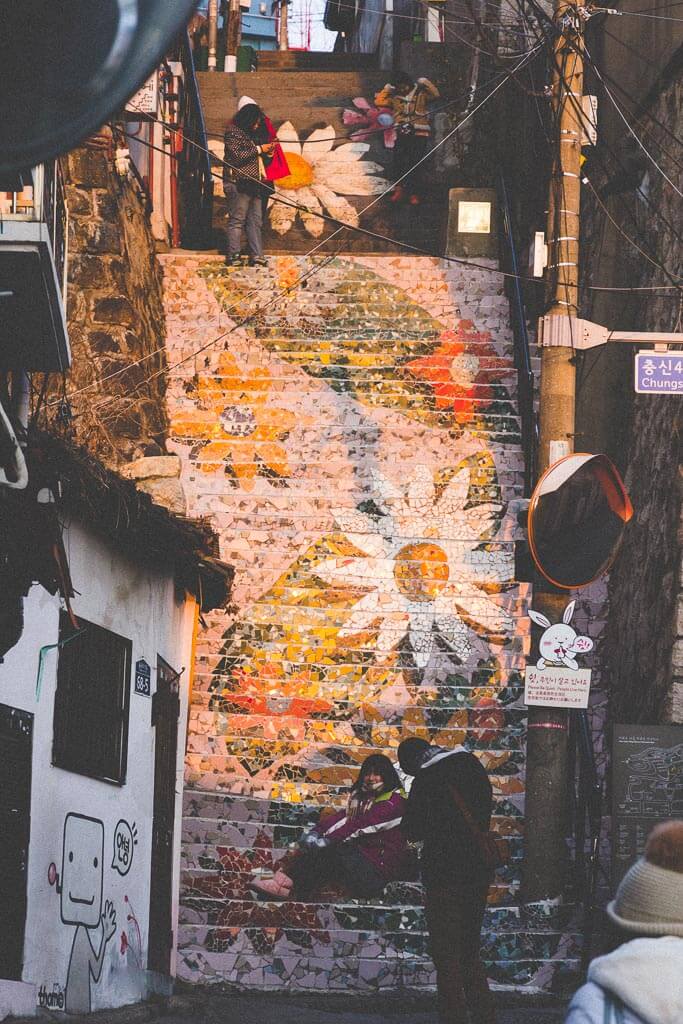 This small mural village is located in Hyewha and is a great place to stroll around and take photos, have a coffee, and enjoy the view of the city. You can walk along the Seoul fortress wall and Naksan Park from Ihwa as well. If you need a good bite to eat, go back down to Hyewha and enjoy one of the many restaurants. If you're feeling adventurous take your date to the Raccoon cafe here as well!
Find a Hangout Spot with a Great View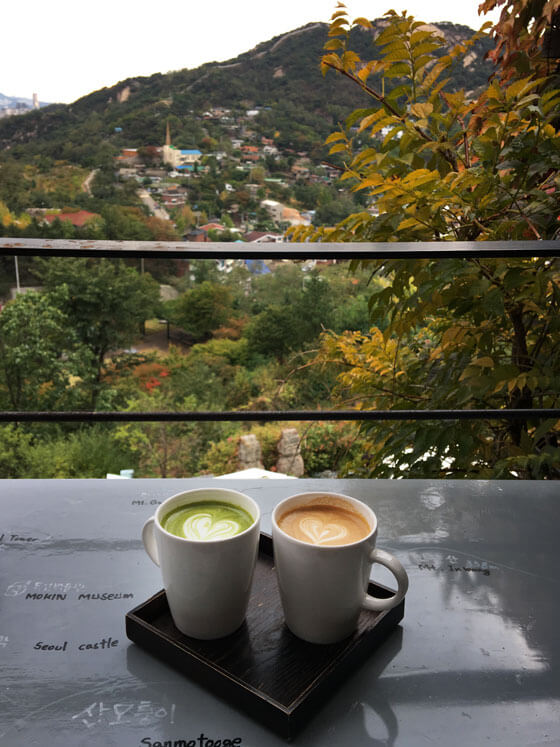 Impress your date with a great rooftop place or cafe with a view to spend a few hours chatting and getting to know eachother. We recommend the rooftop cafes in Samcheong and Sanmotoonge in Buamdong.
Romantic Things to do in Seoul: Evening Dates
Sunset at Namsan Tower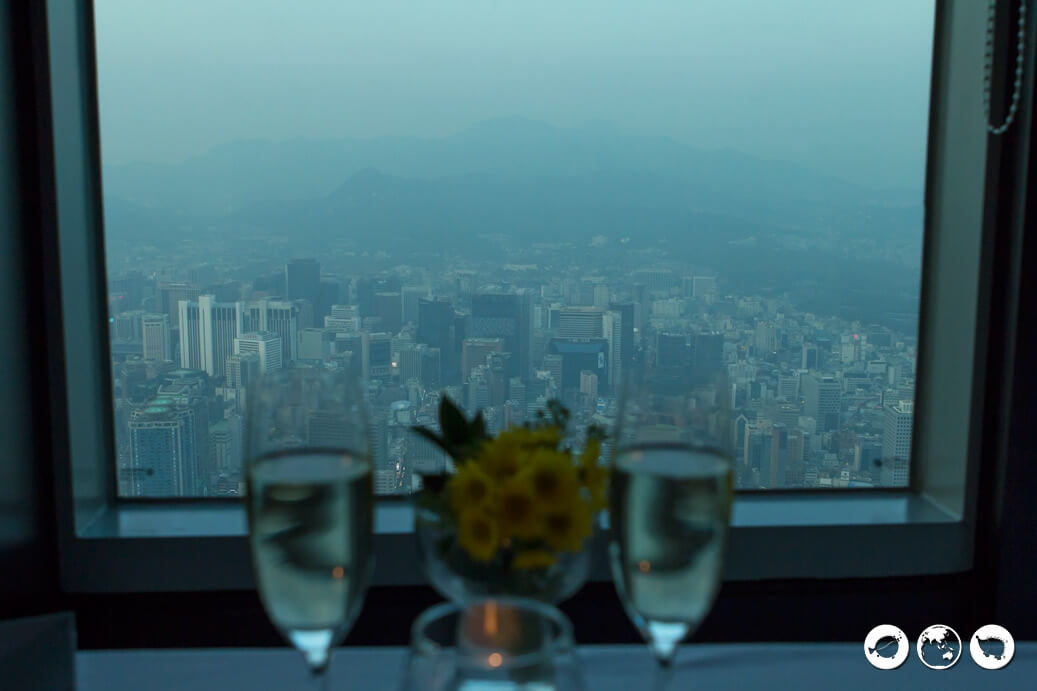 Check out the iconic Namsan Tower for a romantic sunset with a great panoramic view of the city. The city looks spectacular from up here and is a mecca for couples who place a love lock with their names on it for good luck on a fence with thousands of other locks. For a really special occasion you can splurge and head up to N.Grille at the top of the tower and enjoy a 5 star meal while revolving around Seoul. We did this for my birthday two years ago and it was unforgettable!
You can purchase your tickets for Namsan Tower observatory in advance here.
Sing Love Songs to Eachother at a Noraebang

We really weren't big on singing rooms, or karaoke, until moving to Korea. Time magically disappears in these rooms and they end up being a blast and can be a great way to push through those first dates awkward stage. Grab some soju and let loose by singing love ballads to eachother. Make sure you get a fancy noraebang that has a disco ball and room for dancing during your sweet serenade.
Visit a Multi Room
These rooms are similar to noraebangs, and often do have karaoke as an option in them, but offer much more! Multi rooms have thousands of movies to choose from as well as video games! We miss our Mario Kart and wine nights from back at home, so we will go rent out a multi room for a few hours and play wii together with drinks and snacks! It's a pretty fun way to spend a few hours!
Catch a Flick
We think Korea's movie theatres are pretty awesome. Not only can you bring your own food and drinks in, but you can upgrade you and your hunny's seats to a Sweetbox to relax in your own personal sofa in the back of the theatre. There are fancier options in Apgujeong like
Cine de Chef
where you get served a fine dinner with your movie and Temper Cinema where you get to lay on TemperPedic beds during the entire film.
Stay at a Themed Hotel

Korea loves it's themes in cafes, so you can imagine what their themed hotels and pensions are like! There are tons in and around Seoul! One that we have been dying to go to is in Gapyeong called the Cozy Theme Pension and has beds made out of giant soju bottles and ramen bowls. Surprise your date by getting something wacky for the night!
Han River Cruise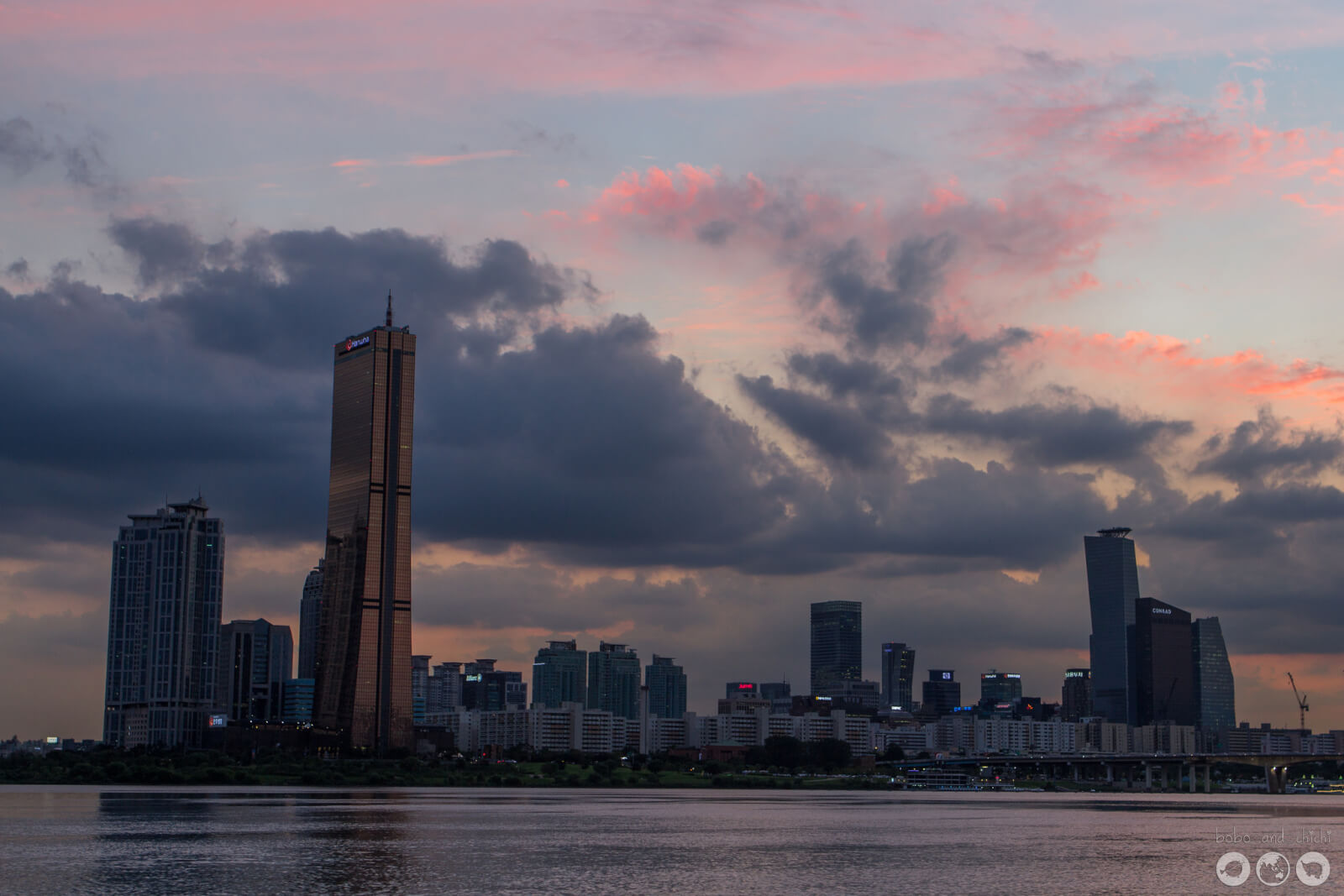 There's something about rivers in cities that are romantic. Hop on one of the Han River cruises for a meal and a tour of the city by water. Afterwards, grab an adult beverage at the riverside bar, Dongjak Bridge Cafe and enjoy the night scenery of Seoul.
Visit the Sex Shop in Hongdae
This is for those who want get a bit naughty with their date. Browse the selection of adult goodies and go back to that love hotel for a wild time.
Romantic Things to do in Seoul:: All Day Dates
Enjoy some Arts and Crafts at Heyri Art Village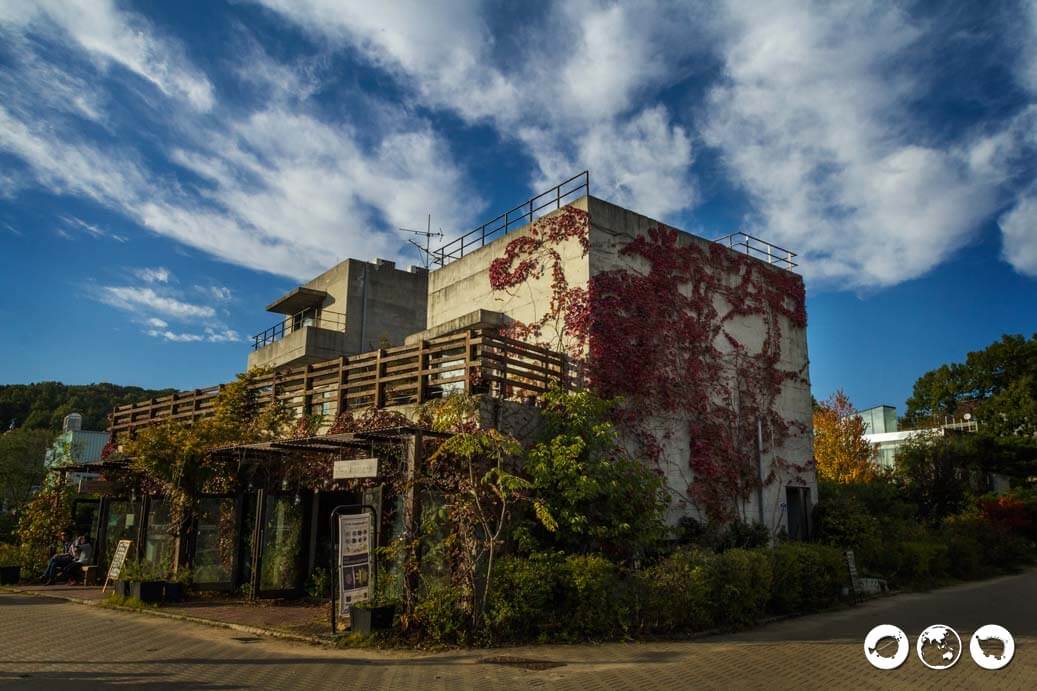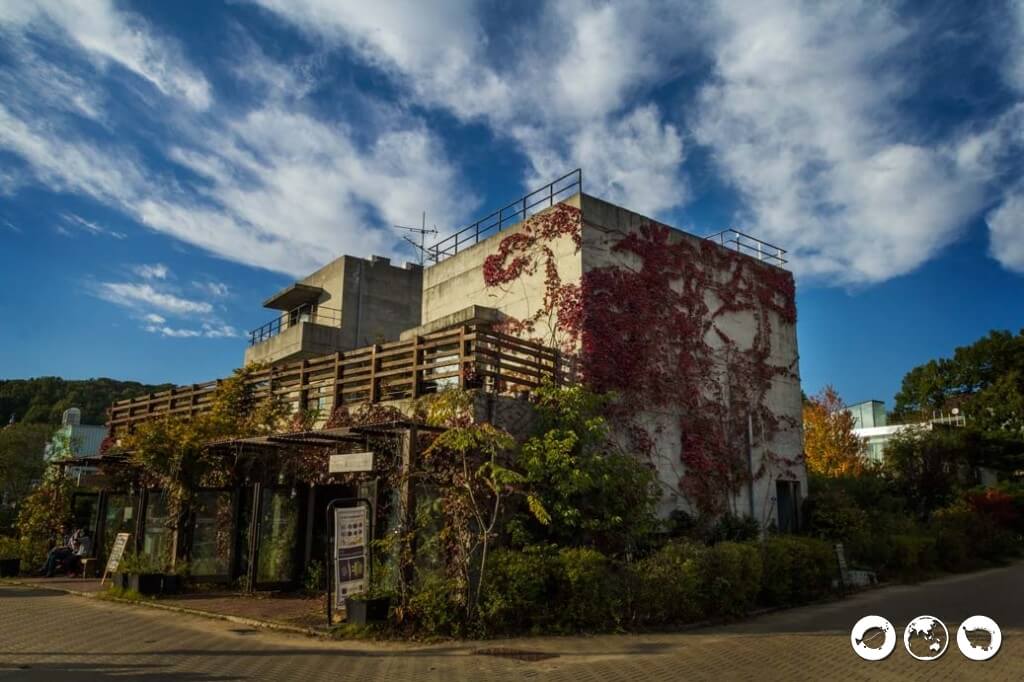 Head out to Paju, northwest of Seoul, and enjoy a day exploring Heyri Art Village. This charming village offers various arts and crafts that you can do together like pottery and jewelry making as well as restaurants, cafes, and museums to explore. If you're feeling spontaneous walk over to Odusan Observatory and take a peek at North Korea through binoculars!
Take a day trip to Paju and visit all the highlights of the area, including Heyri Art Village with a tour. You can purchase your tickets at a discount online with KKday.
Everland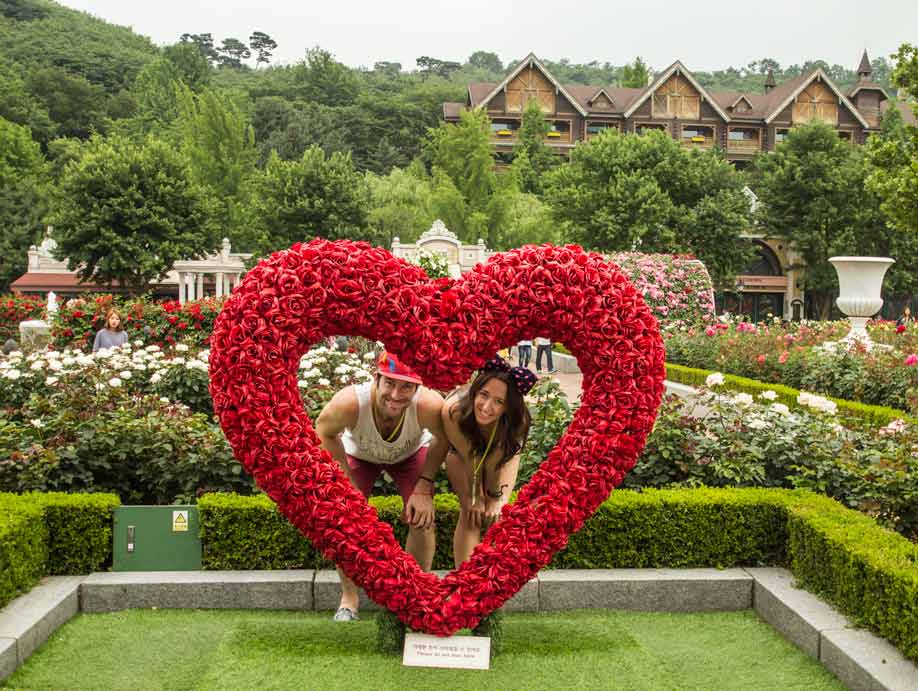 Everland Amusement Park is a great place to go for an action packed day of fun. We see more couples at Everland than we do kids! Ride all the rides, watch the different shows, eat food, enjoy a beer in Holland village, check out all the animals, and enjoy the gorgeous views during your visit!
You can buy your tickets in advance online to avoid a long wait!
Suwon Fortress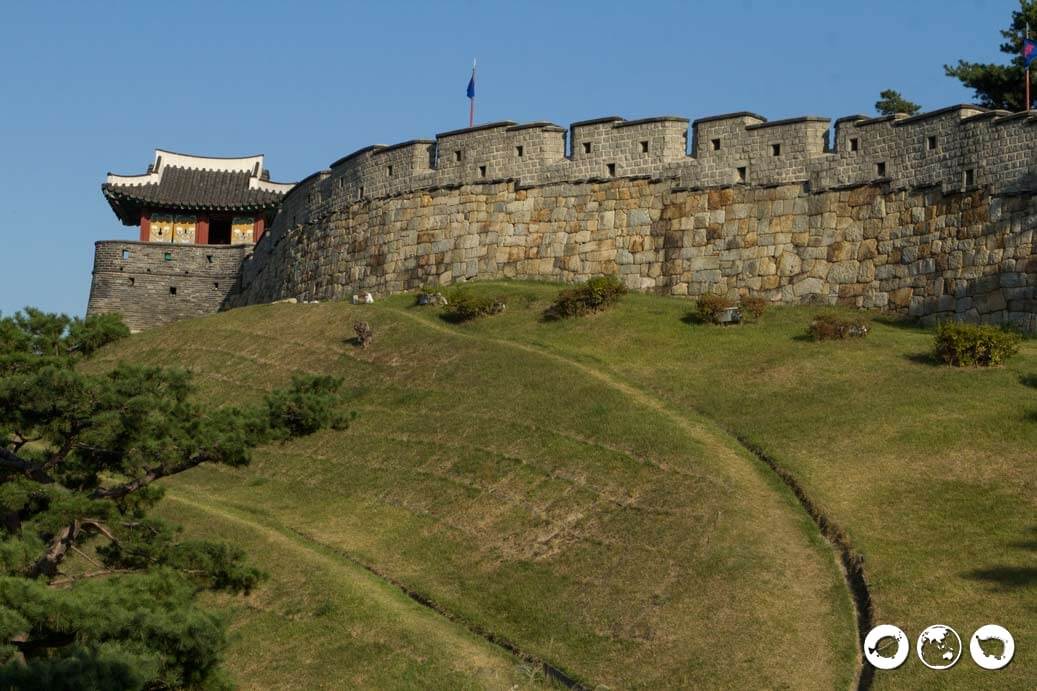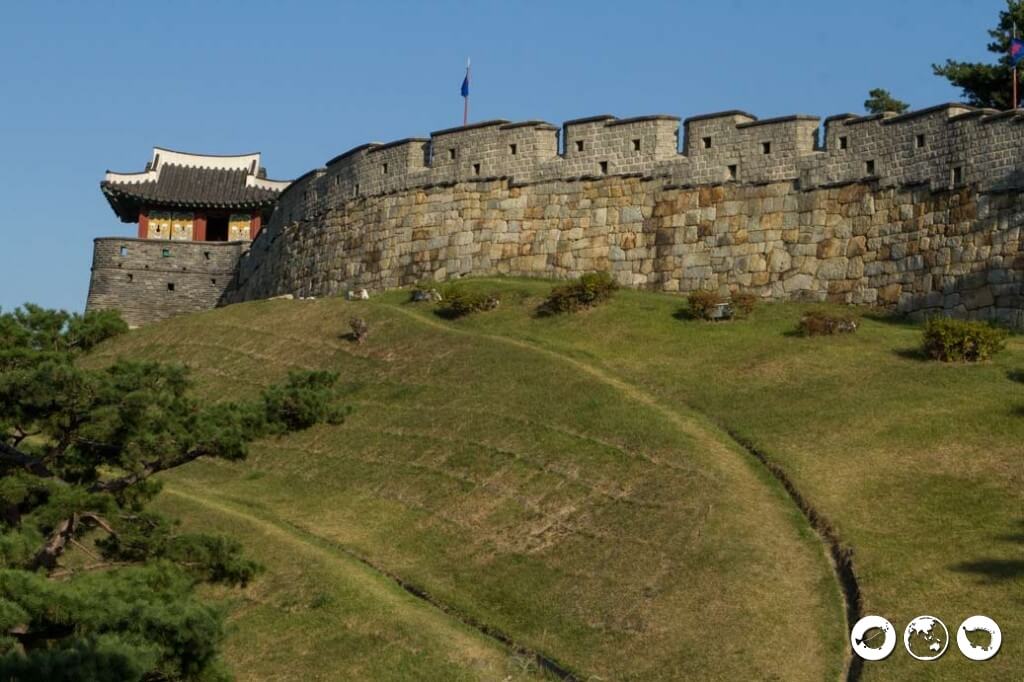 Suwon Fortress is a great place for a day date. You can spend hours exploring the Fortress Walls, then you can impress your lover with your archery skills! Ride the dragon train around the fortress if your legs get tired and try on some old warrior costumes for a great photo! If your date feels crappy then take your beau to the Toilet Museum nearby…
Garden of the Morning Calm
The
Garden of the Morning Calm
isn't just gorgeous in the summer, during the winter they hold a
lighting festival
where the entire garden is illuminated with colorful lights and is really a site to see, the spring is a great time to go when everything is blooming, and the fall's changing colors makes it another picturesque escape.
Take a guided tour to the best spots in the area, Petite France, Garden of Morning Calm, and Nami Island in one day. Purchase your tickets at a discount here.
Namiseom Island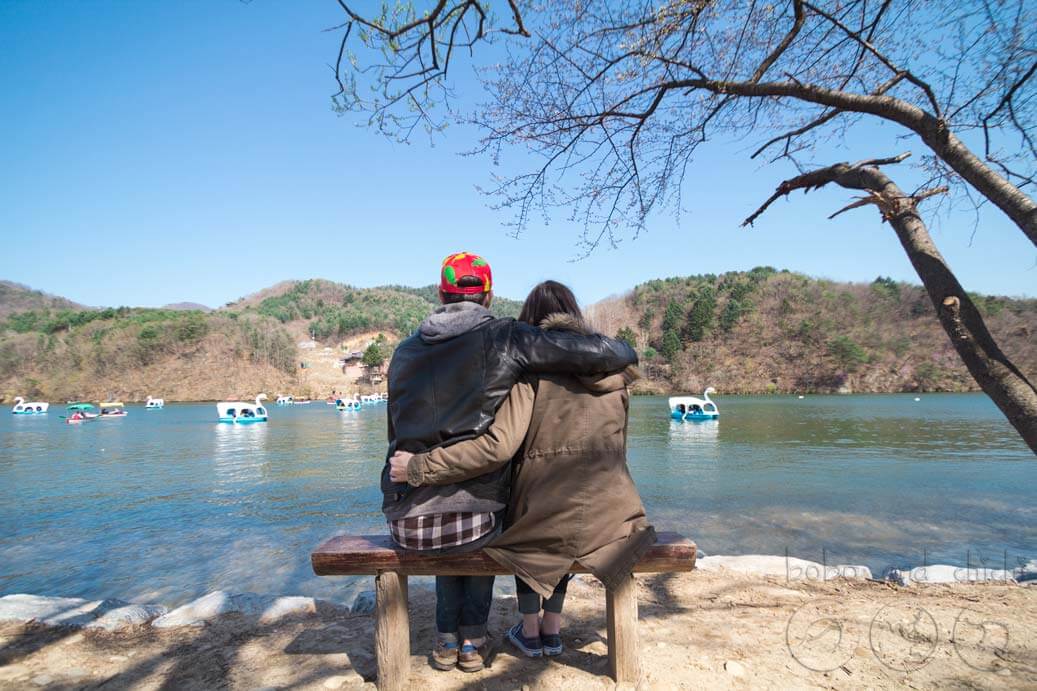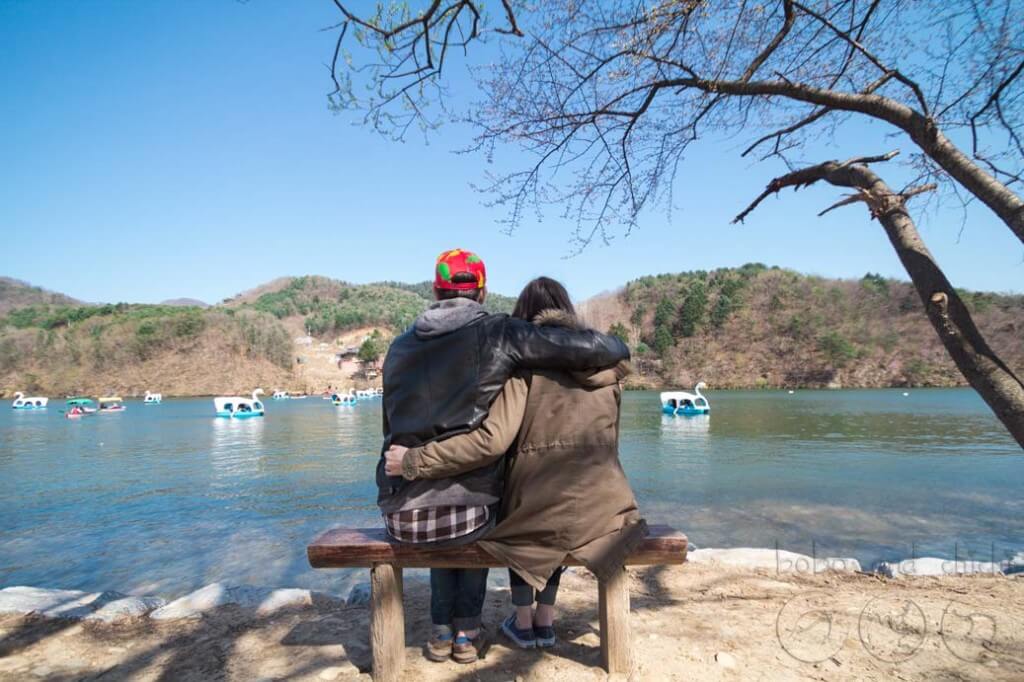 Nami Island is the date spot outside of Seoul. Take a ferry ride or zipline into Namiseom Island where you can rent bikes, check out live performances, ride in a swan boat, explore gardens, visit ostriches, and eat some tasty food. Famous k dramas have been filmed here, such as Winter Sonata, and many couples try to recreate the infamous scene in the tree lined pathway.
Take a guided tour to the best spots in the area, Petite France, Garden of Morning Calm, and Nami Island in one day. Purchase your tickets at a discount here.
Pocheon Herb Island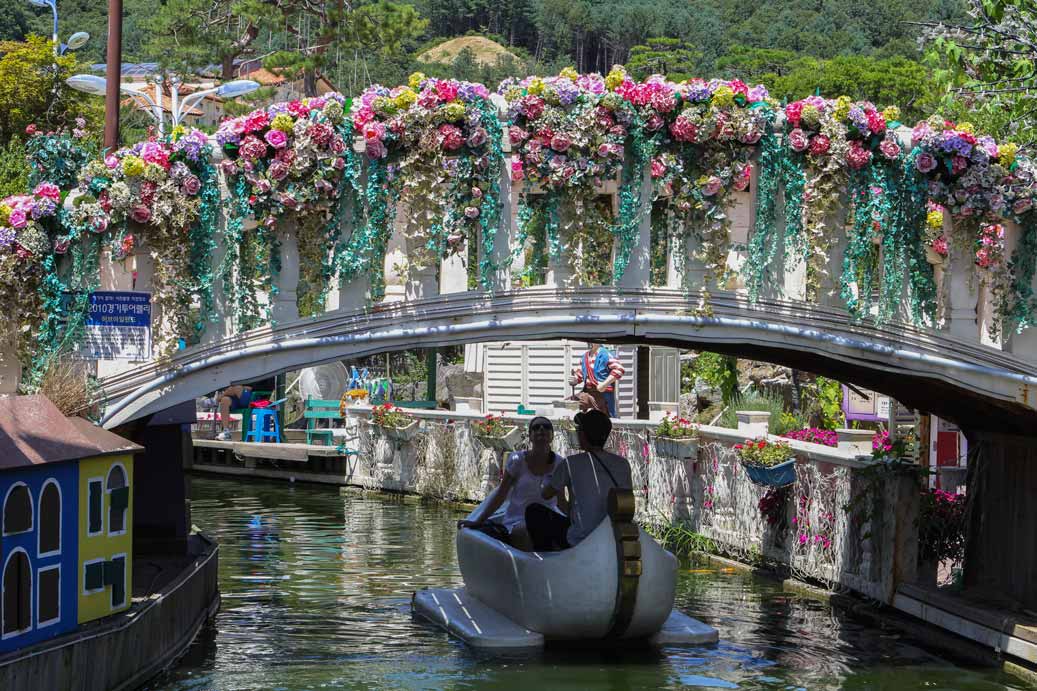 This random theme park has all kinds of fun activities inside for you and your lover to spend an afternoon. Take a boat ride in a love gondola, dress up in costumes for some photos, explore the various gardens, and enjoy some makgeolli and treats! If you get bored, hop on a bus and check out Pocheon Art Valley!
Check out a day trip to Pocheon including Herb Island and Pocheon Art Valley, you can purchase tickets at a discount here.
Pocheon Art Valley
Take the monorail up to
Pocheon Art Valley.
Walk through this old rock quarry and check out the space museum and outdoor sculpture park! We recommend packing some Pocheon's delicious makgeolli for the top with some snacks to add to the experience.
Check out a day trip to Pocheon including Herb Island and Pocheon Art Valley, you can purchase tickets at a discount here.
Wine Train
Board the wine and cinema train in Seoul for an afternoon of wine tasting and eating snacks. The train stops and takes a break for you to enjoy a wine foot bath and check out a Korean traditional music museum where you will get to try out the drums!
Korean Folk Village
Located in Yongin, the
Korean Folk Village
is a great way to spend an afternoon back in time. Witness a traditional Korean wedding, watch actors play out famous scenes from k dramas, watch live performances, do arts and crafts, ride the carnival rides, and check out the museum!
Did we miss any romantic things to do in Seoul? If so, share yours in our comments below!
Also, if you're planning a trip or want to make things extra romantic. Check our guide for where to stay in Seoul with all kinds of great hotels within different budgets by neighborhood to help you plan your trip!
If you enjoyed this post on the most romantic things to do in Seoul, pin it on Pinterest!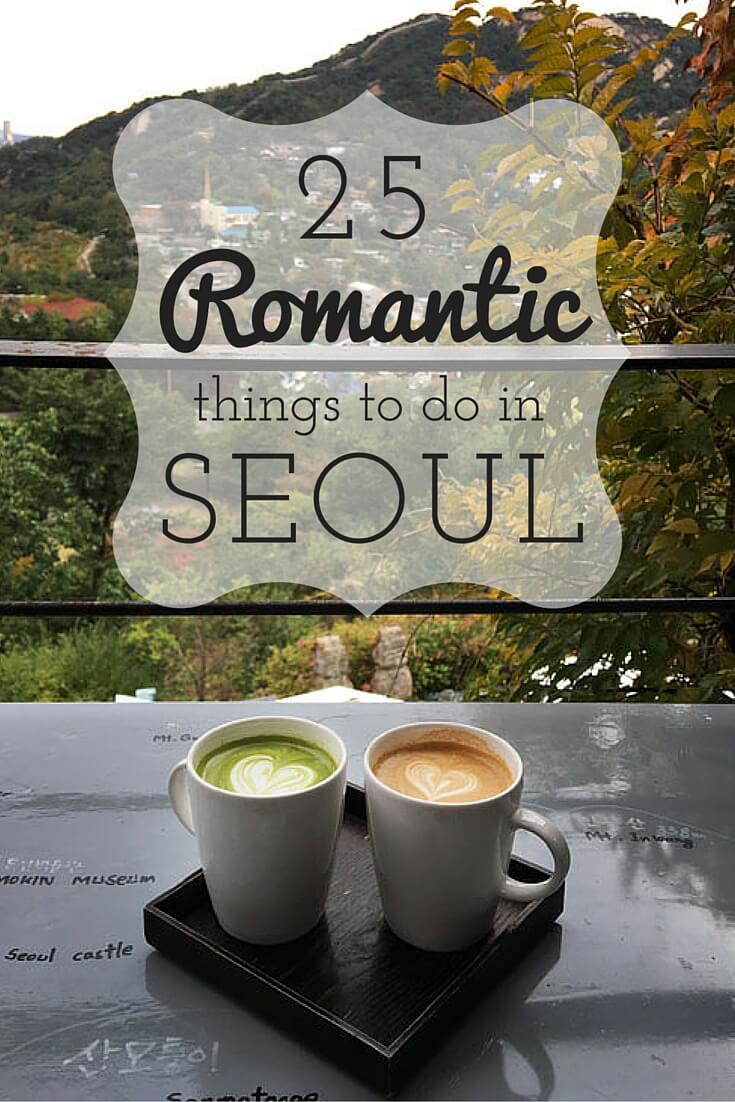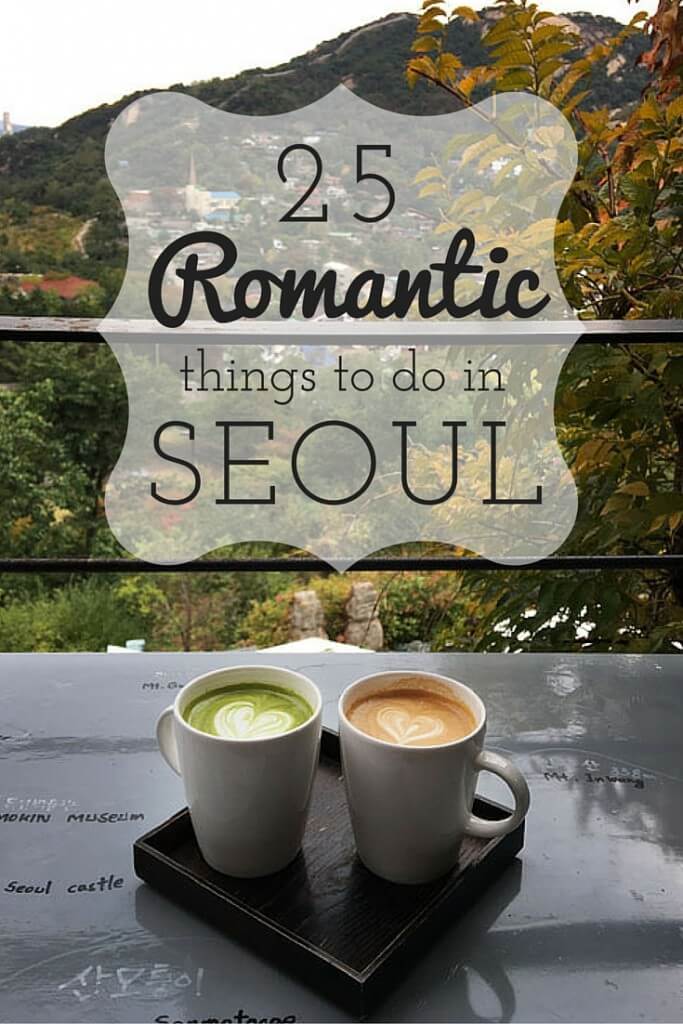 Disclaimer: This page contains affiliate links. By purchasing through the links on Bobo & Chichi you will help us keep the site up and running at no extra cost to you.